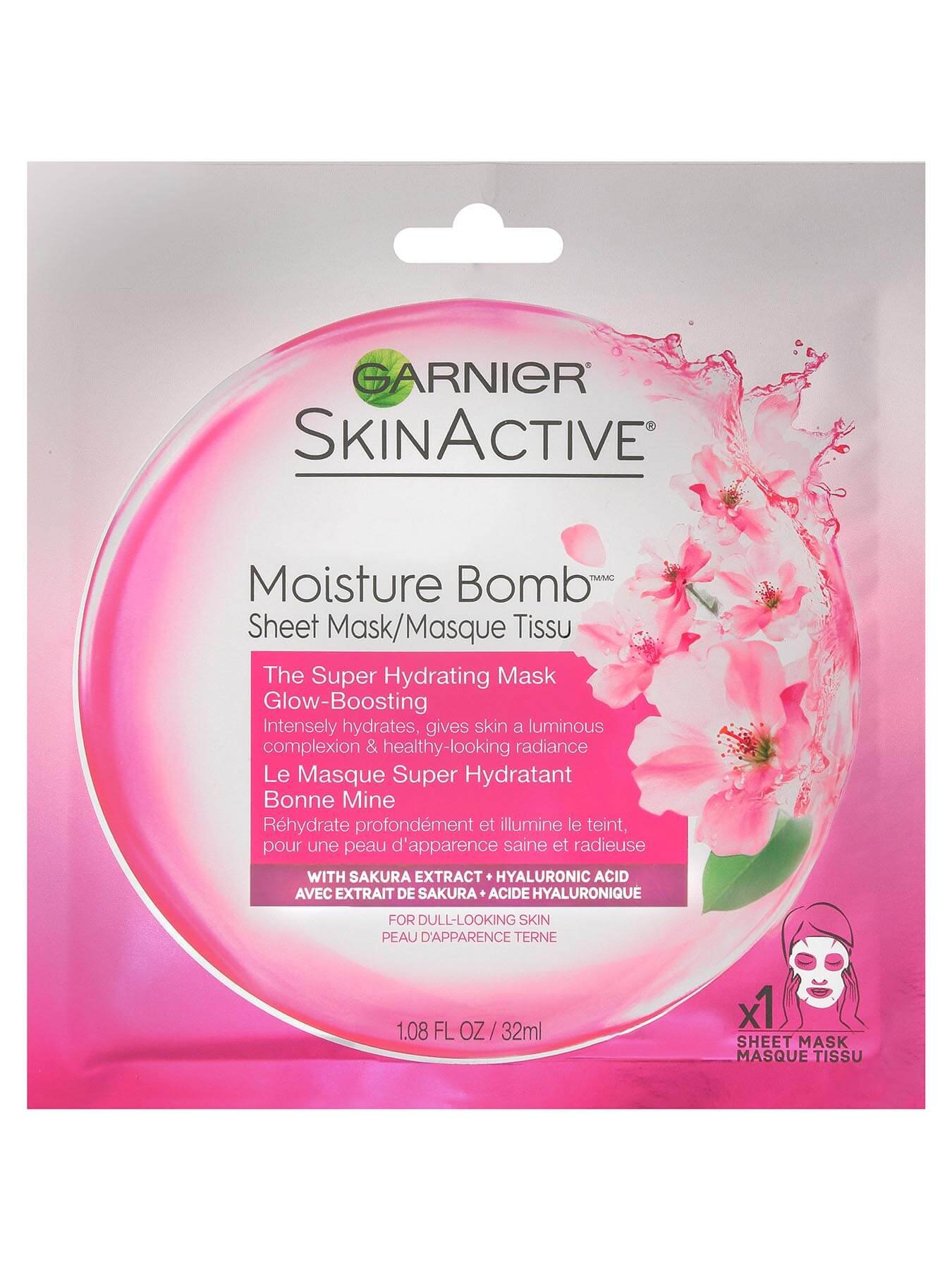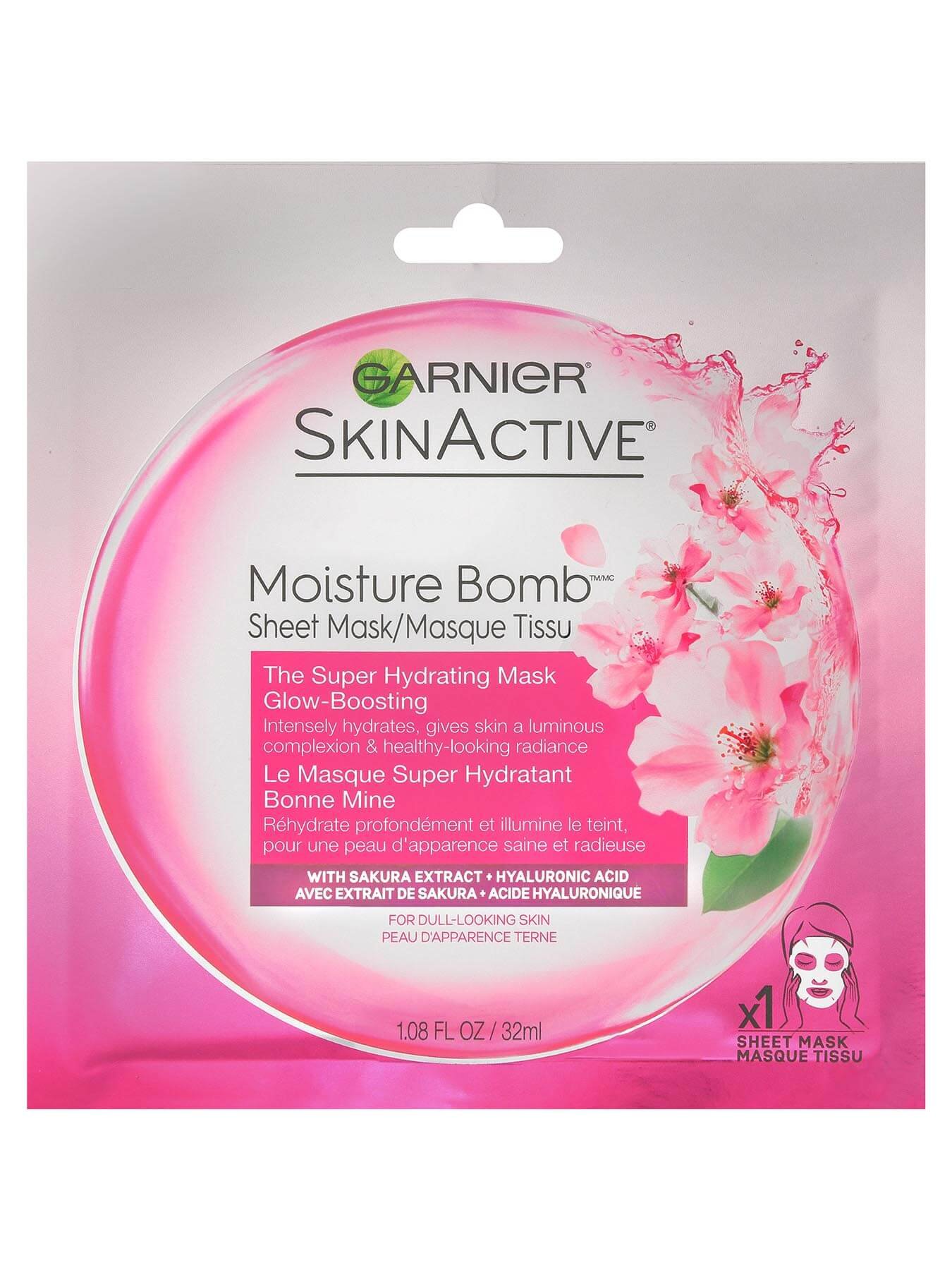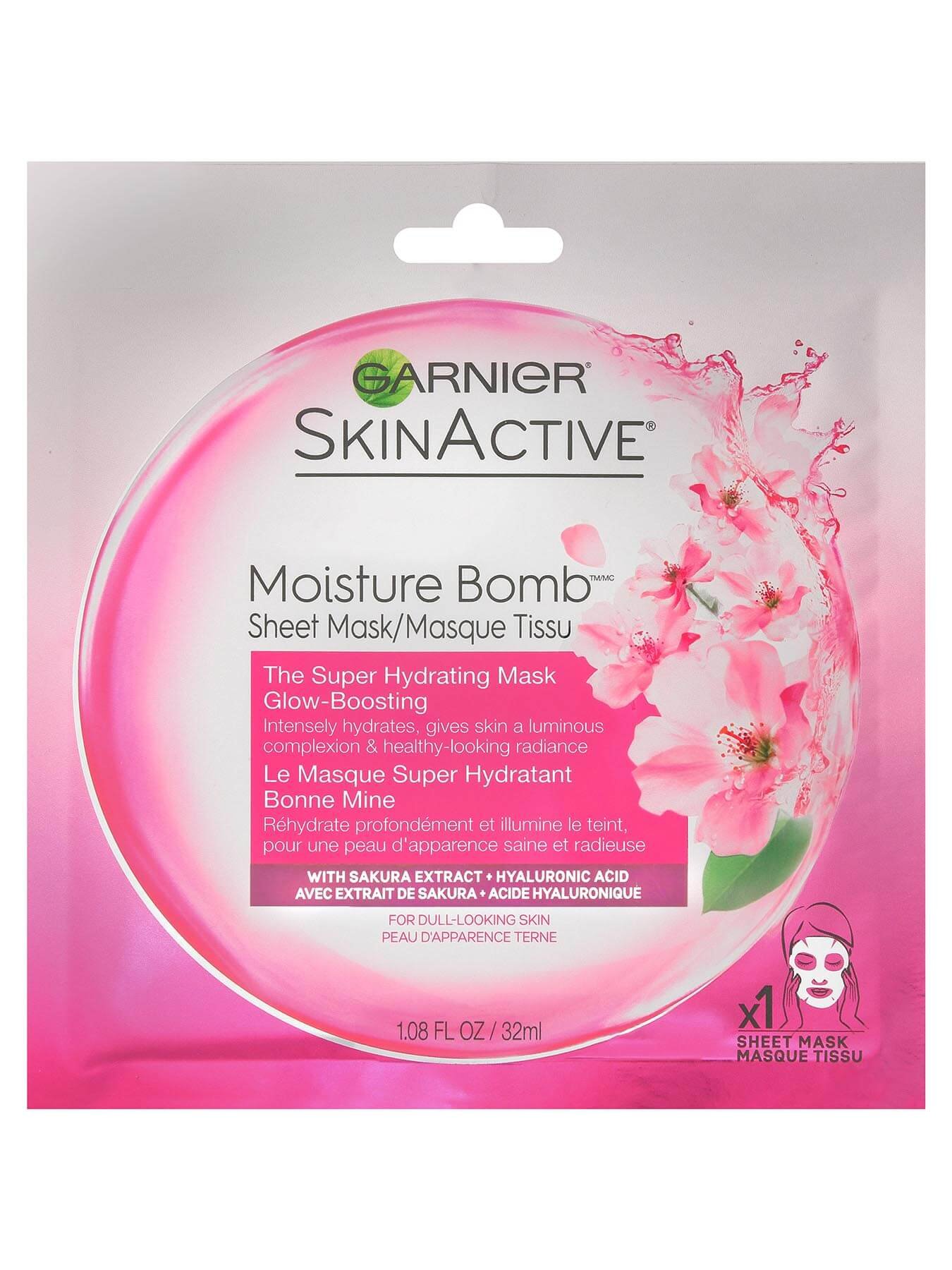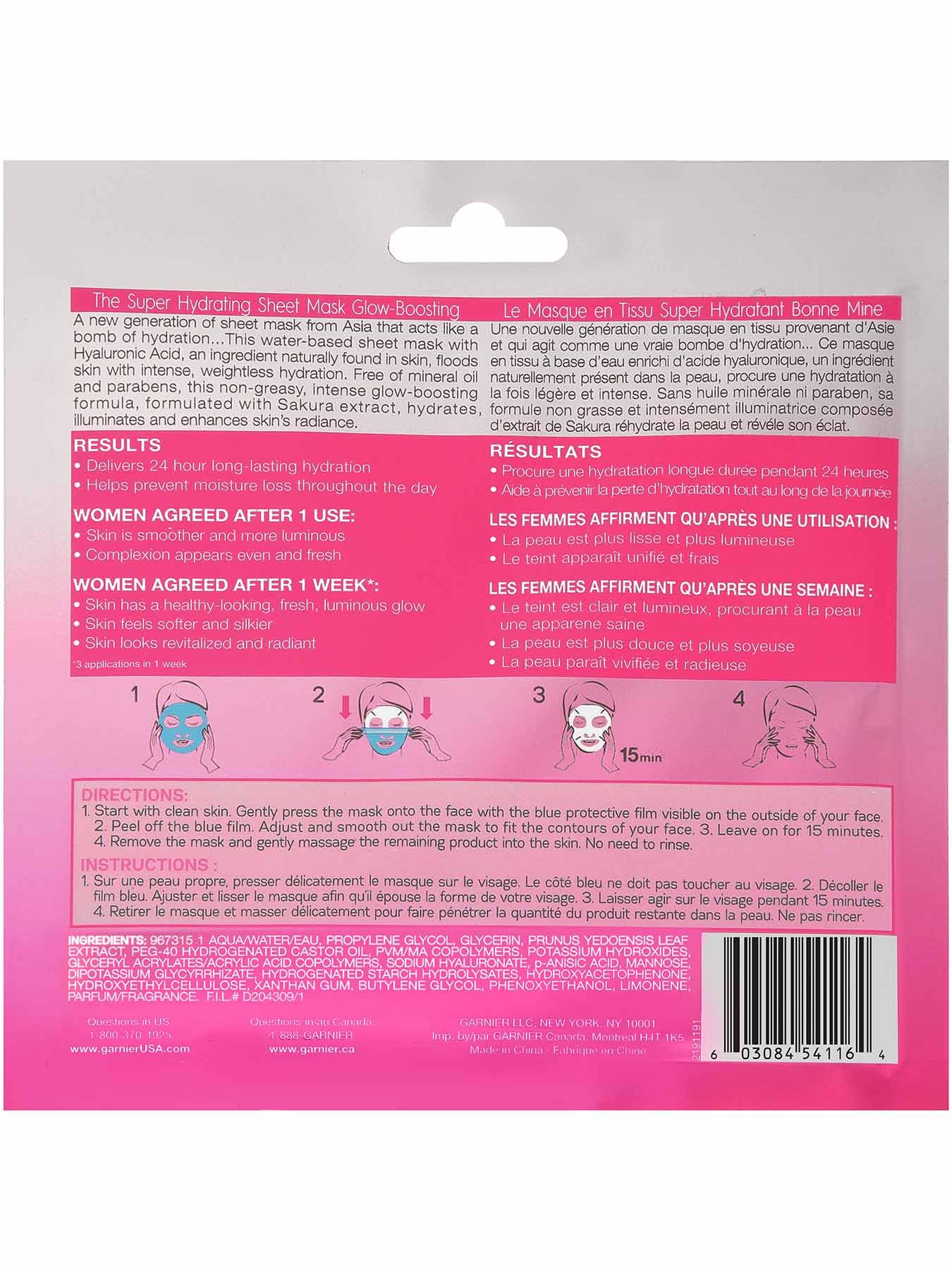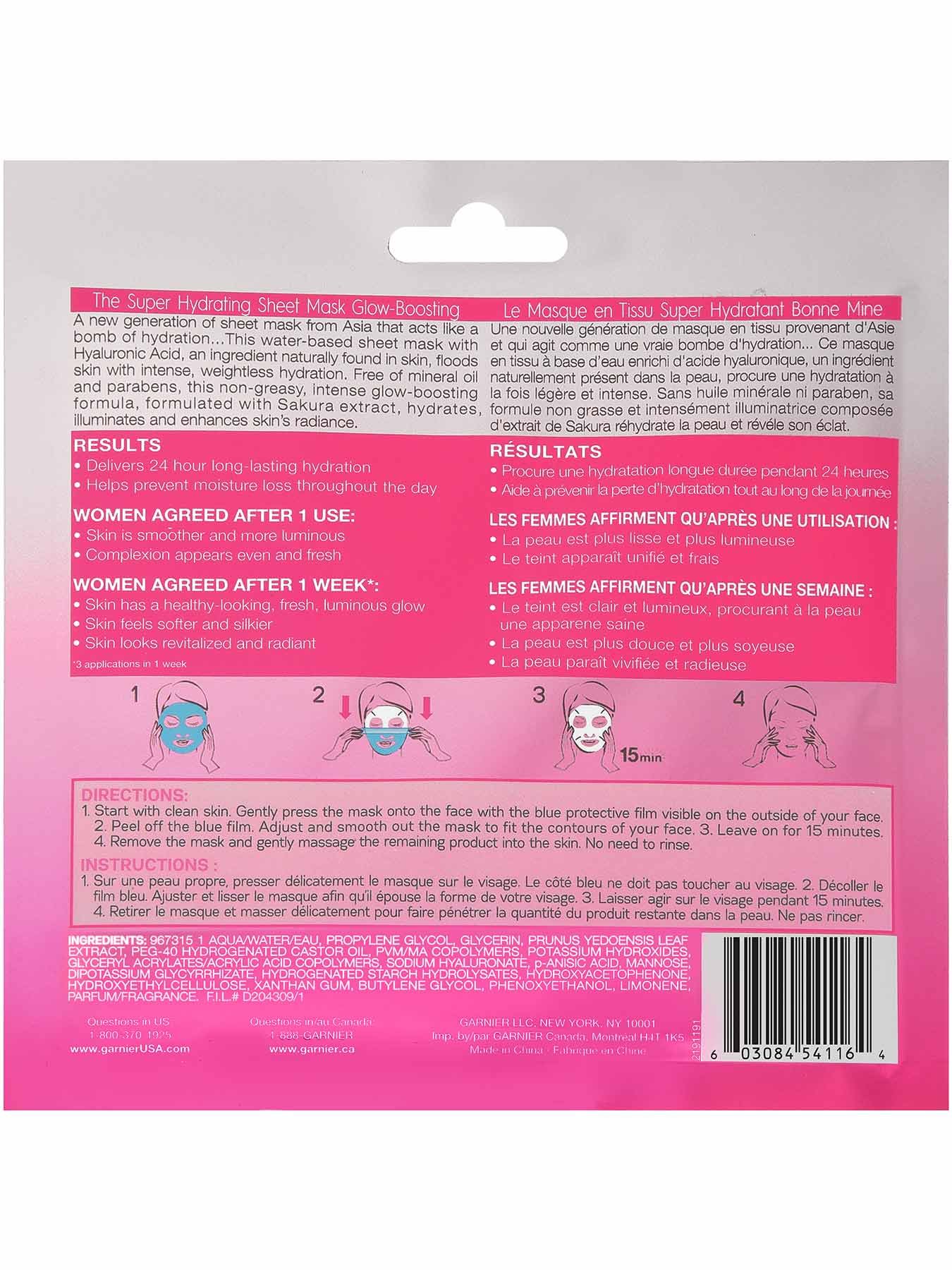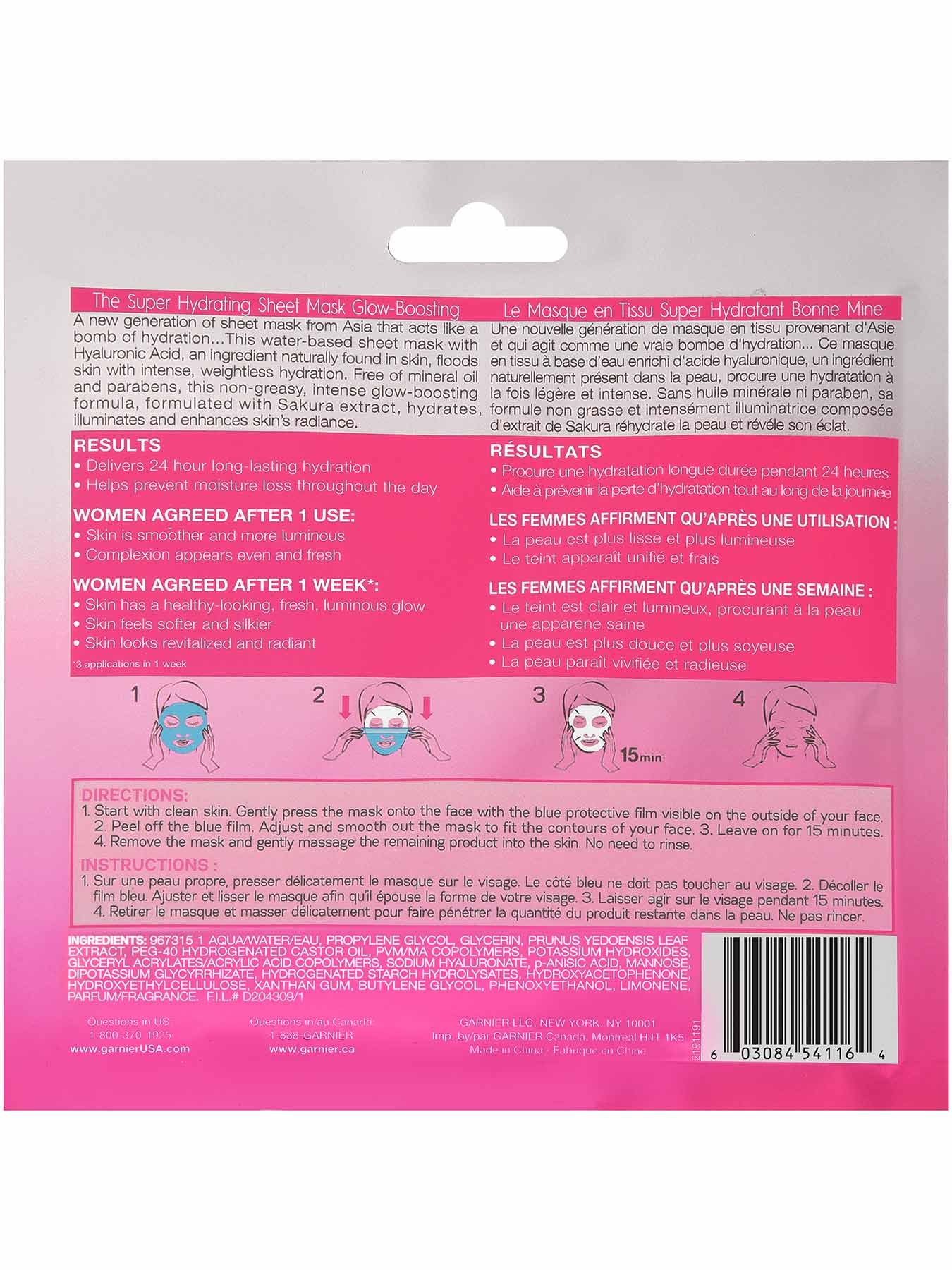 The Super Hydrating Sheet Mask - Glow-Boosting
Garnier SkinActive
$2.99 MSRP
Esta mascarilla de tejido con ácido hialurónico y extracto de hojas de sakura deja la piel radiante e iluminada en solo 15 minutos.
INFORMACIÓN DEL PRODUCTO
Esta mascarilla de tejido hidratante a base de agua con ácido hialurónico, un ingrediente presente naturalmente en la piel, inunda la piel con una hidratación intensa y ligera. Sin aceite mineral ni parabenos, esta fórmula intensa potenciadora del resplandor y no grasa, con extracto de sakura, hidrata, ilumina y mejora el resplandor de la piel.
Medio frasco de sérum hidratante en 1 mascarilla de tejido Garnier
Aporta 24 horas de hidratación duradera
Ayuda a prevenir la pérdida de humedad a lo largo del día
Consigue una tez luminosa y un resplandor de aspecto saludable
Modo de uso
1. Empieza con la piel limpia. Presiona con delicadeza la mascarilla de tejido en el rostro con el lado azul en la parte superior.
2. Despega la película azul. Ajusta y aplana la mascarilla hacia el exterior para adaptarla al contorno del rostro.
3. Deja actuar 15 minutos.
4. Retira la mascarilla de tejido y masajea suavemente el producto restante en la piel. No es necesario enjuagar.
Ingredientes
967315 1 AQUA / WATER / EAU PROPYLENE GLYCOL GLYCERIN PRUNUS YEDOENSIS LEAF EXTRACT PEG-40 HYDROGENATED CASTOR OIL PVM/MA COPOLYMER POTASSIUM HYDROXIDE GLYCERYL ACRYLATE/ACRYLIC ACID COPOLYMER SODIUM HYALURONATE p-ANISIC ACID MANNOSE DIPOTASSIUM GLYCYRRHIZATE HYDROGENATED STARCH HYDROLYSATE HYDROXYACETOPHENONE HYDROXYETHYLCELLULOSE XANTHAN GUM BUTYLENE GLYCOL PHENOXYETHANOL LIMONENE PARFUM / FRAGRANCE D204309/1
Rated

5

out of

5
by
Jennie909
from
Love love love
The best masks I've ever used. I've been struggling with dry skin for year and this helped!!!
Date published: 2018-02-11
Rated

5

out of

5
by
TerriAna
from
great hydration
I bought this to use after 20 hours of flights (the 15 hour flight from the US to Australia dehyadrates my skin terrbily). This mask was easy to use and my skin felt hydrated and wasn't flaky as it normally would be after a long flight. I used another one after the flight back to the US with the same results. I am a forever customer now.
Date published: 2017-11-20
Rated

5

out of

5
by
123gome
from
Feels like I'm at the spa
I'm a big fan of sheet masks, and this is my personal favorite. I love the scent and how the mask feels more like cloth then some of the more paper feeling ones. Though the mask is a little big it easily folds so I can cover my entire face. I've used it several times, and have noticed it can have trouble adhering to my skin if I don't properly clean my face, ex putting on after a quick makeup wipe. But as long as I actually follow the instructions it's amazing.
Date published: 2017-11-19
Rated

5

out of

5
by
The kelsanator
from
Best sheet mask I've used
My friend recommended this sheet mask to me last week and I went out and bought it. By far the best sheet mask I've ever used! My skin was breaking out and looking very dull. I used it at night, and the next day my skin looked a lot more radiant and felt hydrated and smooth. I plan on using it once a week!
Date published: 2017-11-08
Rated

5

out of

5
by
heyravey
from
Not bad!
First time using a sheet mask ever yesterday after being quite overwhelming in how many of them are on the market now. I have dry skin so and I loved how it made my skin feel after. I used it before I put on my makeup. I wish these came in bundles! I have the Super Hydrating one (in the blue pack) so I can't also wait to try that as well. :)
Date published: 2017-09-18
Rated

3

out of

5
by
Kristinald
from
Hydrating sheet mask
I was really excited to try this mask. I have tried other brands before and was very satisfied. However, this one mask does not stick to your face, and it seems to be a little big for my frame. Did not have this problem with other brand. I will continue to use it as it does provide hydration to me face even if its uneven.
Date published: 2017-08-26
Rated

4

out of

5
by
Lovely Rochelle
from
saw a noticeable difference!
I definitely noticed my skin felt softer, I kind of wish they made some for hands and body! Did not really care for the smell though.
Date published: 2017-08-16
Rated

5

out of

5
by
Crystalloves makeup 83
from
I love this sheet mask!!!
I have actually used all the different types of the moisture bomb mask other then the one for oily skin . They are all amazing and do what they say . The glow boosting is my favorite but anti fatigue one and soothing one are great also . They are effective, smell delicious and are very affordable for what they do . I'm usually a clay or cream mask kind of girl but after trying these I can't get enough . So relaxing and a fast affordable way to pamper yourself and do something extra for your skin. I buy more when I run out and use one a few times a week .Try one right away, I'm telling ya!!!
Date published: 2017-07-20
Rated

3

out of

5
by
Seraphinanicole
from
Just alright...
When I first pulled out this mask from its envelope packaging, it was significantly bigger than my face. It was difficult to unfold while still keeping the blue backing that came with it attached without a jumbled mess. Once on my face, I had to tuck the sides near my cheekbones down or I would have looked like I was growing gills. I left it on for the recommended time of 15 minutes and removed it, then massaged in the remaining serum on my face. My face was moisturized and felt smooth afterwards- the mask does what it claims- I just wish it wasn't so large.
Date published: 2017-06-29
Rated

4

out of

5
by
ksmitty
from
Garnier Skin Active Moisture Bomb
Makes my skin feel silky and smooth! I would give it a thumbs up for sure! I have combination skin and it worked great for me.
Date published: 2017-06-28
Rated

5

out of

5
by
treusoul1
from
Loving this moisturizing face mask!!
When I first put on the Garnier Skin Active Moisture Bomb mask, I noticed how silky it feels on my skin! I'm in love immediately! I may never go back to my usual product.
Date published: 2017-06-28
Rated

4

out of

5
by
TheSkyIsfalling
from
These work well
These work very well. The only reason I'm not giving them five stars is the results are temporary, but they are great for before a special event or as a weekly boost to your skin care routine.
Date published: 2017-06-28
Rated

5

out of

5
by
amyboylephoto
from
Time for me and hydration bonus
I had spent the afternoon getting a little sun. My skin felt dry in the evening so it was the perfect time for this hydration mask. 15 mins is all it took. I got to relax and when was done my face felt so refreshed!
Date published: 2017-06-28
Rated

1

out of

5
by
Rose0839
from
Moisture Bomb Bombs
I was very disappointed with this product. It was really slimey and the holes for the eyes were to close together. It said to rub in the extra after you take it off, no need to rinse. But there was so much I had to wipe it off. My face really didn't feel any softer and didn't look any different. The only thing was my face felt cooler.
Date published: 2017-06-28
Rated

5

out of

5
by
kharv35
from
Super Hydrating!
Firstly, I love the smell ! It comes in a nice compact package that makes it easy to store in your bathroom. After a nice relaxing session with my mask, my face felt hydrated and ready to take on the world! It also didn't make my face feel greasy, I was worried about that! Garnier makes it easy to apply and the eye, nose, and mouth holes fit nicely. The other great part was not having to wash anything off my face, I could just rub in what ever was left. Cant wait to try again!
Date published: 2017-06-28
Rated

5

out of

5
by
Heather022
from
Such a great mask!
I love the packaging that the face mask comes in! It's very eye catching! The mask has a nice floral scent to it and seems to be really great quality! When first putting it on there is a lot of extra serum that drops off! This is a very easy to use product! After using this product my skin looks more glowy and hydrated! I would be interested in seeing what my skin looks like after using this for a two week period cause after one application it already is looking better! I like that this product didn't leave my skin feeling sticky what so ever and the extra serum just absorbs into your skin!
Date published: 2017-06-28
Rated

5

out of

5
by
Jenbee3
from
Very impressive mask
I recently tried Garniers Skinactive Moisture Bomb Sheet Mask and I was so impressed. The mask is packaged beautifully and it really performed. After using this mask my skin was super hydrated and my skin was glowing!! I would highly recommend this product!!
Date published: 2017-06-27
Rated

4

out of

5
by
VenSan
from
A great little hydration mask
This mask is thicker than most and kinda cool to apply because it has a blue peel-off side to help you better apply it. Compared to other masks it was super saturated and there wasn't much liquid remaining in the packet, which was great. It fit perfectly on my face but there is room for moving it around and it adheres well because of how saturated it is. After massaging in the liquid on my face I noticed my face was softer and appeared a bit brighter. The only problem I had with the mask, which may have been due to me not properly massaging the liquid in, was a bit of a filmy feeling when I went to wash my face the next morning (did mask before bed). The mask also had a lot of liquid in it so I rubbed it on my neck and other parts of my body that could use the hydration and they also felt softer and smoother.
Date published: 2017-06-27
Rated

5

out of

5
by
Swell32
from
Moisture Bomb!!
I tried Garnier's moisture bomb mask with low expectations. I have extremely dry skin and have tried other masks that just don't seem to help with the dryness. However, I was VERY surprised at the level of moisture this mask brought!! I was hesitant when trying the mask on and had a bit of difficulty stretching it across my face. That hesitation went away after I actually had the mask on! I was so surprised at how moistureized my face felt immediately after using the product. The next morning, my face felt extremely hydrated and smooth! I use nightly moisturizers but my face still feels dry in the morning. With that being said, I definitely plan to purchase this product in the future and have mentioned to a few friends that they should try it as well.
Date published: 2017-06-27
Rated

4

out of

5
by
NrrdFox
from
Moisture Bomb Super Hydrating Sheet Mask
After using the Moisture Bomb Super Hydrating Sheet Mask my face felt very smooth and hydrated. Since its summer now my face tends to get a bit dried out and this mask helped add a little bit of moisture back to my skin, I love sheet masks and use them often but this mask was a bit large and I had a hard time keeping it on. But overall it was a nice mask and one I'll probably pick up from time to time.
Date published: 2017-06-27
Rated

5

out of

5
by
Spidermommy
from
Moisture bomb
I tried the Garnier skin active moisture bomb sheet mask. After leaving the mask on for 15 minutes my face felt moisturized. I will be recommending this product. I will be buying this product.
Date published: 2017-06-27
Rated

4

out of

5
by
stompkins
from
Awesome Moisture
I love this mask! My face was very dry and peeling from a past sunburn. This mask help hydrate my face extremely well. A must have for dry skin
Date published: 2017-06-27
Rated

4

out of

5
by
Tolind14
from
Absolutely LOVE!
I put this mask on last night before bed and will buy these for future use, 100%! The smell was great, it has very hydrating and left my skin with an amazing radiance! It was very easy to put on and I liked the blue film over it. I honestly feel this made my skin look younger. The only thing I didn't like about it was it left my face looking oily the next day.
Date published: 2017-06-27
Rated

4

out of

5
by
mebyrd99
from
Garnier SkinActive Moisture Bomb
I enjoyed this face mask as a way to hydrate and pamper my skin. It felt nice and cool when on, and left my face feeling moisturized. The only downsides were that the mask was a bit large--granted it is supposed to fit everyone, so I suppose that's why. The instructions say not to wash your face after removing the mask, but just to rub in the excess moisture. I did just that, but it did feel a bit slimy on my face until the next morning. The next morning my skin was ultra soft and smooth to the touch, and I felt confident and radiant!
Date published: 2017-06-27
Rated

4

out of

5
by
Charkle
from
A great mask!
I honestly was in no rush to try this mask as I didn't see myself reaping any benefits from it. I also kind of feel like "glow" is just the latest buzzword for the beauty industry. When I was applying the mask I was instantly annoyed with the backing and the cutouts did not fit my eyes or mouth. However, once I removed the mask I did notice that my skin felt very hydrated and comfortable which was nice but would likely not be enough for me to repurchase. A few hours later I noticed that my skin looked very plump and fresh but I wasn't fully convinced until I was sitting at dinner with my mom (sans makeup) and she looked at me and said "wow your skin looks really great! It looks so... I don't know... glowing?" This came from someone who isn't much into skincare and didn't know that I had spent 15 minutes that morning looking to get just that result. I'd that's a pretty good indicator that the results are there. 24 hours later my skin is still smooth and plumped. Despite the frustration with the packaging and fit, I'm totally sold! I will definitely re-purchase this product because the results and price point are fantastic!
Date published: 2017-06-27
Rated

4

out of

5
by
JuliaB
from
Nice sheet mask
Very nice sheet mask. It has light pleasant smell, not bothering at all. Usually scented masks make my eyes sting, this one didn't which is a big plus. Leaves skin feeling moisturized (but not greasy) and tight but in a good way. It left a little bit sticky residue after, nothing too bothering though.
Date published: 2017-06-26
Rated

4

out of

5
by
LFEIZGUD
from
A wonderful, relaxing treat!
I have been dragging my feet on trying the Garnier SkinActive Moisture Bomb Sheet Mask because I have fairly oily skin, and the term moisture bomb conjured visions of my shiny face blinding all who had the misfortune to look upon me. But when I read the "...intense glow-boosting formula..." claim on the package, I couldn't open the foil pack fast enough. The scent was like a character actor; pleasant enough, vaguely familiar, but by no means the star of the show. The blue protective film doesn't really aid in placement, it mostly just gives the mask a little substance so it won't stick to its self since it is so thin and wet. Once the blue film is removed, the mask adhered quite well. The blue film was still pretty juicy, so I tore it in half and placed it on the back of my hands. The mask felt cool and refreshing on my just home microdermabrasioned skin. It felt so nice, I left it on a few minutes longer. I then massaged the remaining product into my skin as directed. The remaining product had enough slip to work it down to my neck and décolletage. As it dried it got a bit sticky, but not uncomfortably so. The now used Garnier SkinActive Moisture Bomb Sheet Mask still had such an abundance of product, I was able to use the mask like a wet wipe and work the product over the rest of my body. It absorbed quite well, and my inner thrifty cheapskate was pleased. The next day I did find my skin brighter and comfortably moisturized which thankfully didn't translate into an oil slick mid morning. As a matter of fact, I would say I was slightly more matte than usual. I also had no breakouts. Although the Garnier SkinActive Moisture Bomb Sheet Mask isn't something I would have purchased on my own, I was pleasantly surprised with the performance. The ritual of relaxing with this mask on was fabulous, and the glowy skin that followed was a pleasant surprise (I really wasn't expecting much). I will definitely be purchasing more in the future.
Date published: 2017-06-26
Rated

5

out of

5
by
Monivg29
from
Moisture bomb mask
I love how my face felt after this,I have dry skin I did this before putting on makeup after my shower face felt amazing,makeup look good not dry at all.
Date published: 2017-06-26
Rated

5

out of

5
by
sammipt
from
Love it! Great product
So many face masques focus on targeting blemishes but very few address moisture. This is a great product to help with dry skin. Awesome product and worth a try if you have dry skin
Date published: 2017-06-26
Rated

3

out of

5
by
baddmilf
from
Moisture Bomb The Super Hydrating
This is a good mask but trying to apply it was the insane part. I did not like the fact that it had two pieces to it and white side down blue side up it made it hard to apply the mask without getting any of the liquids into my eye &; the eye holes were a but to small for me.
Date published: 2017-06-26