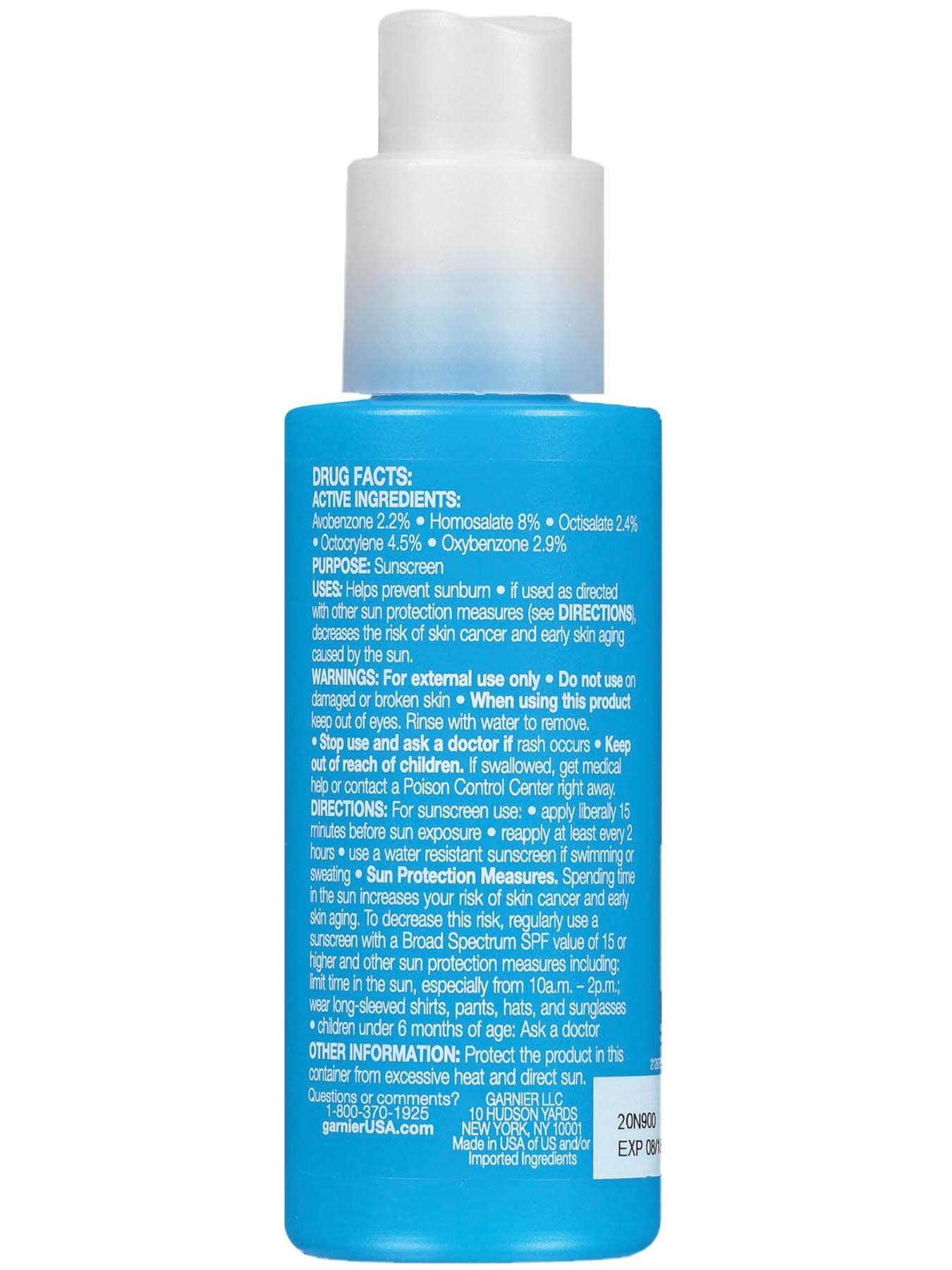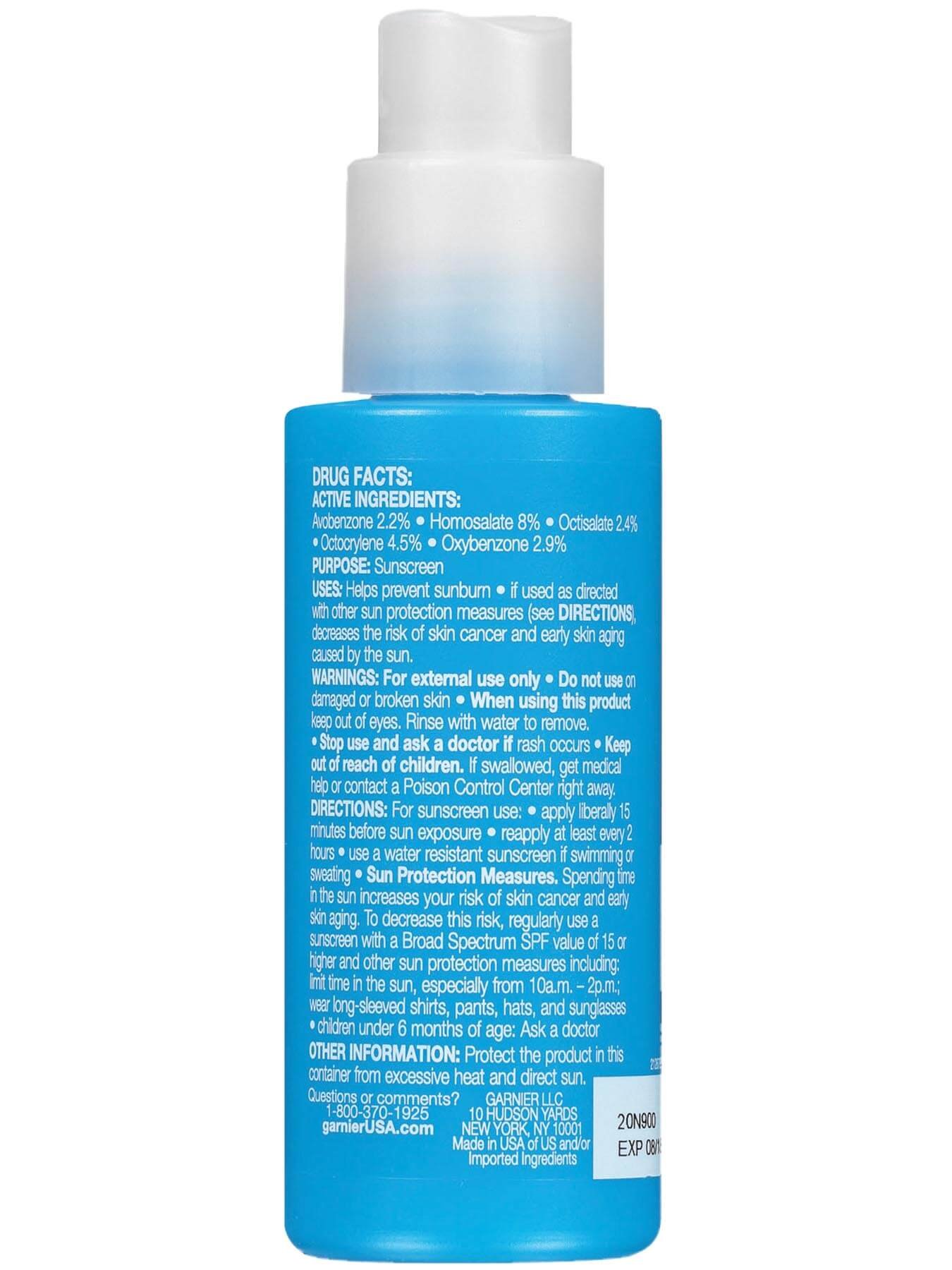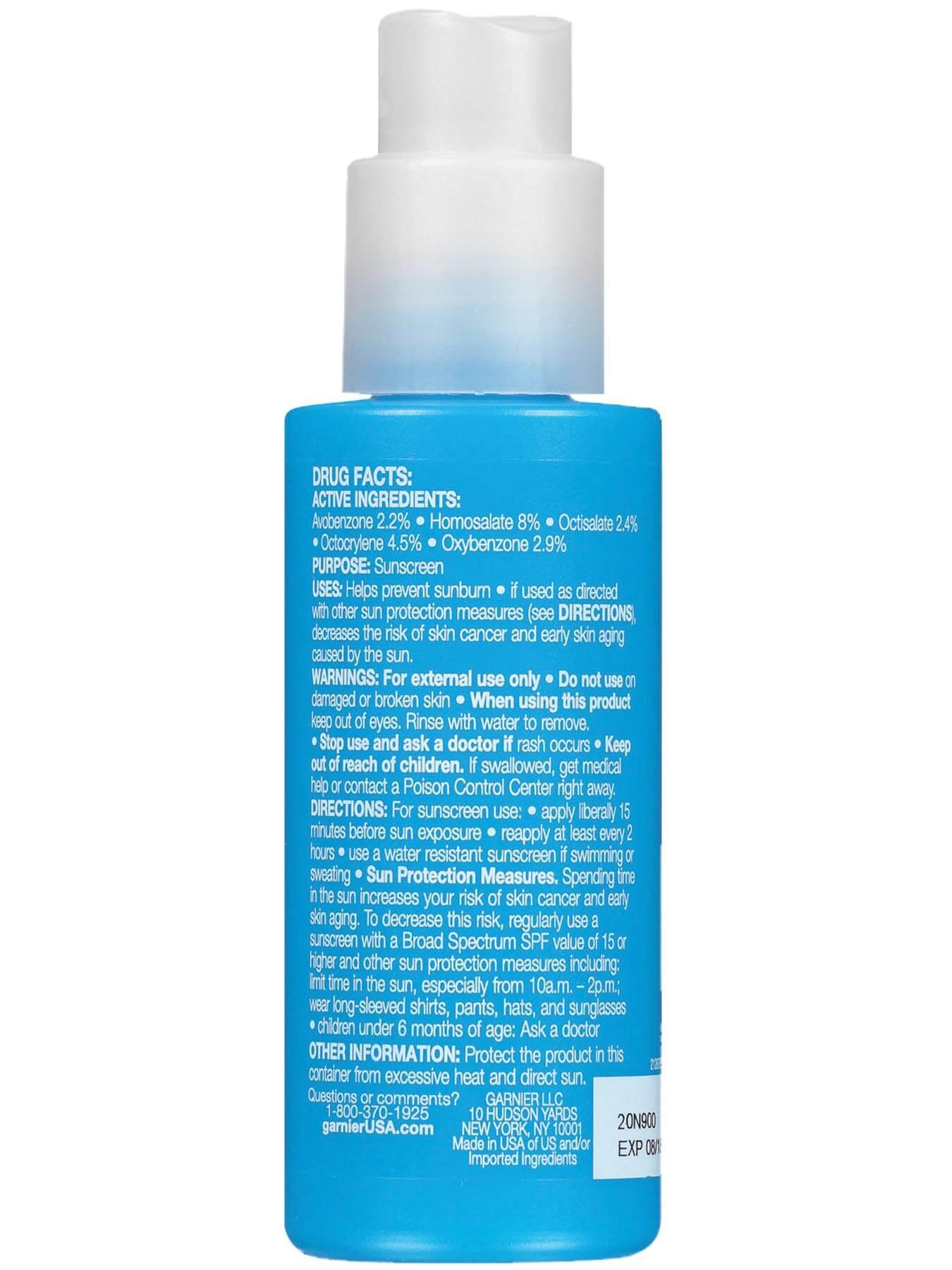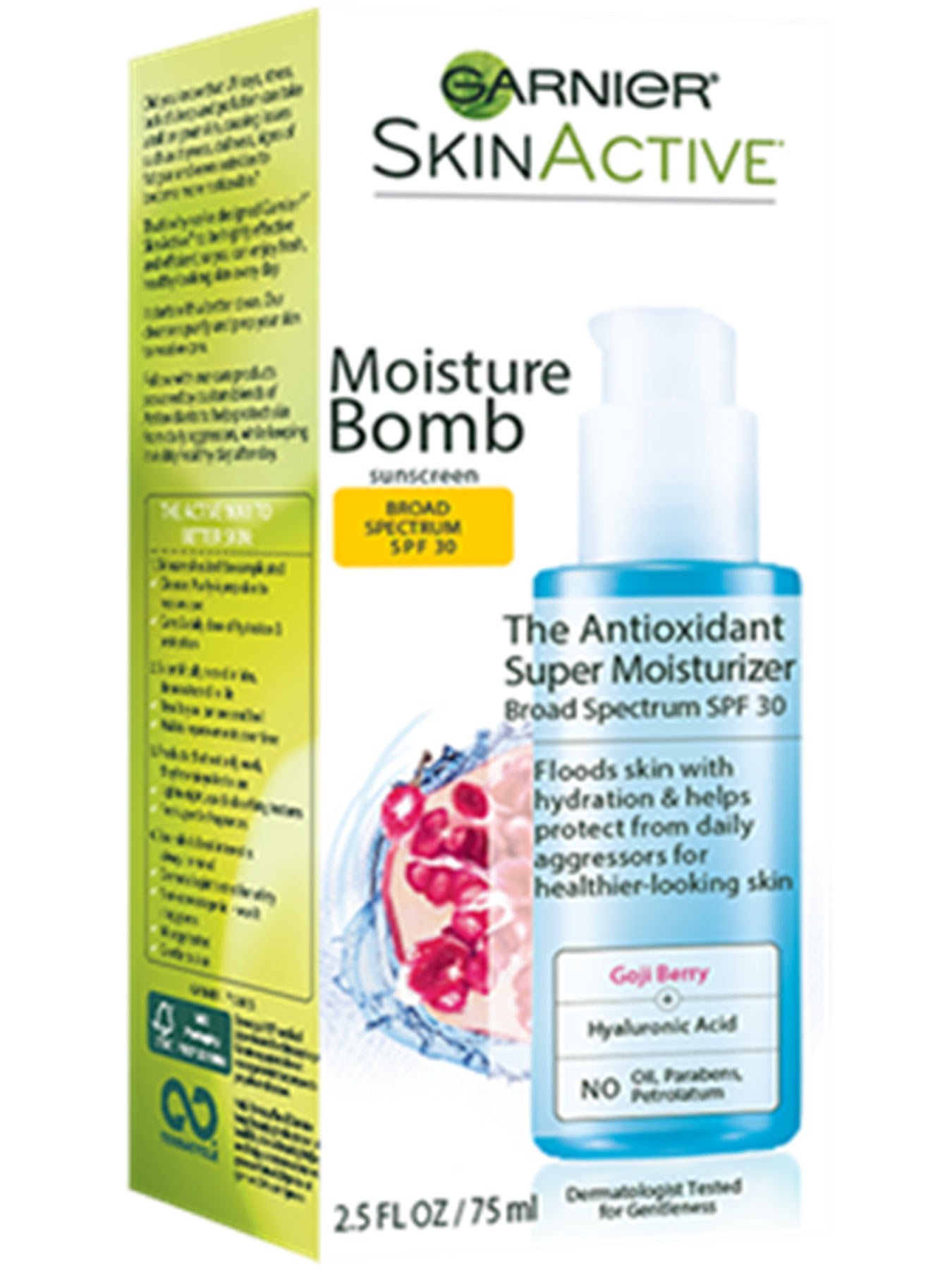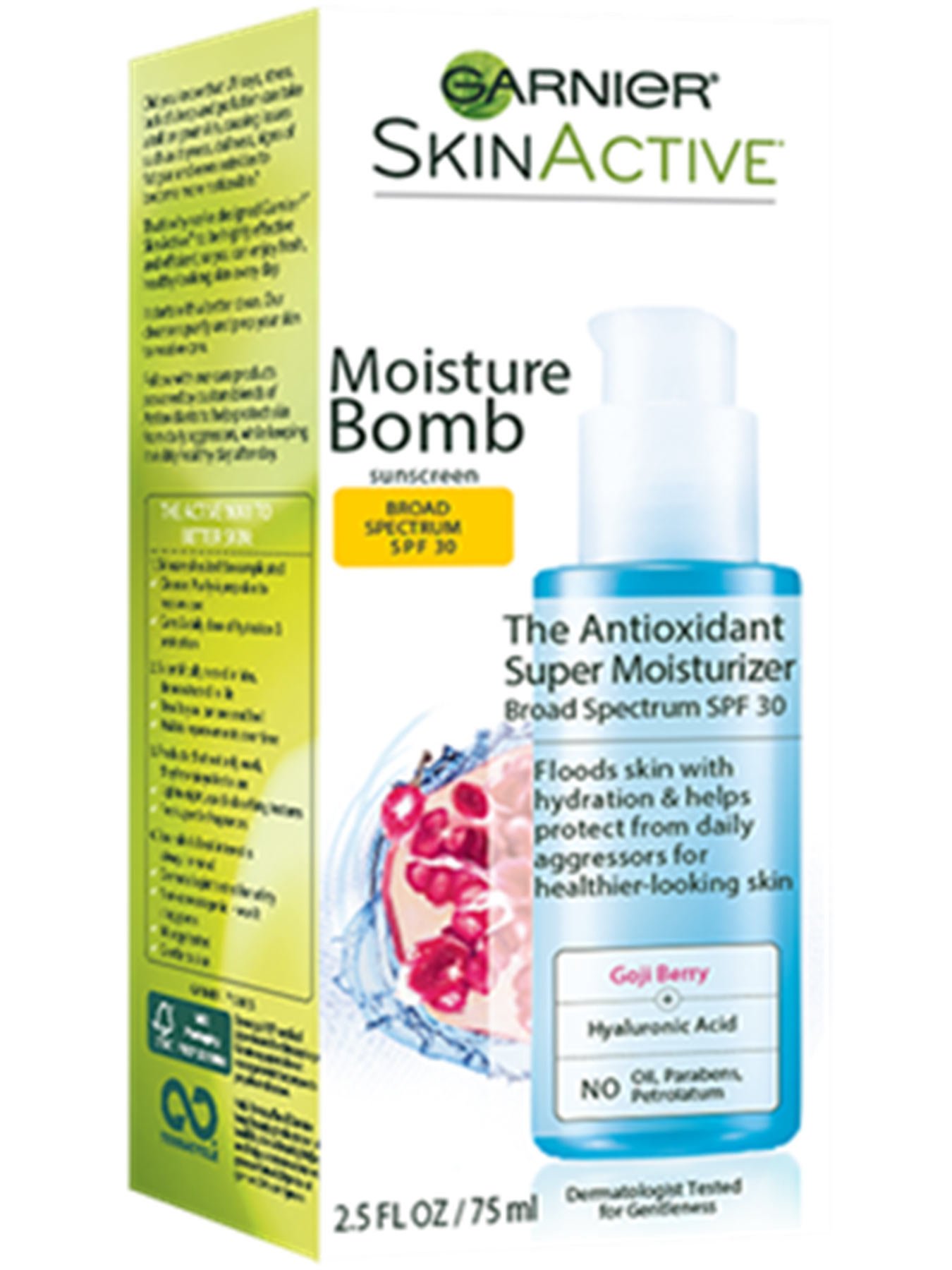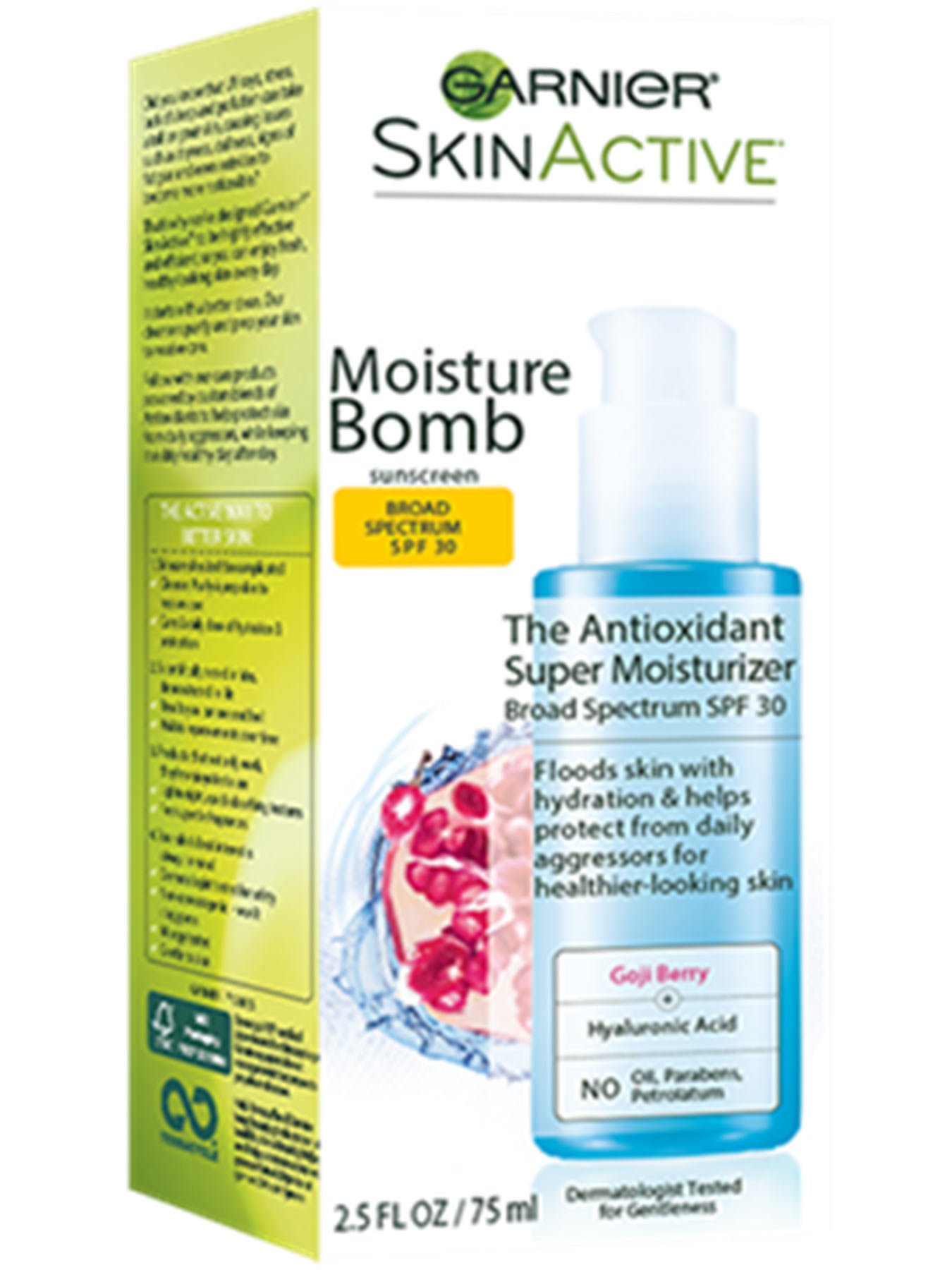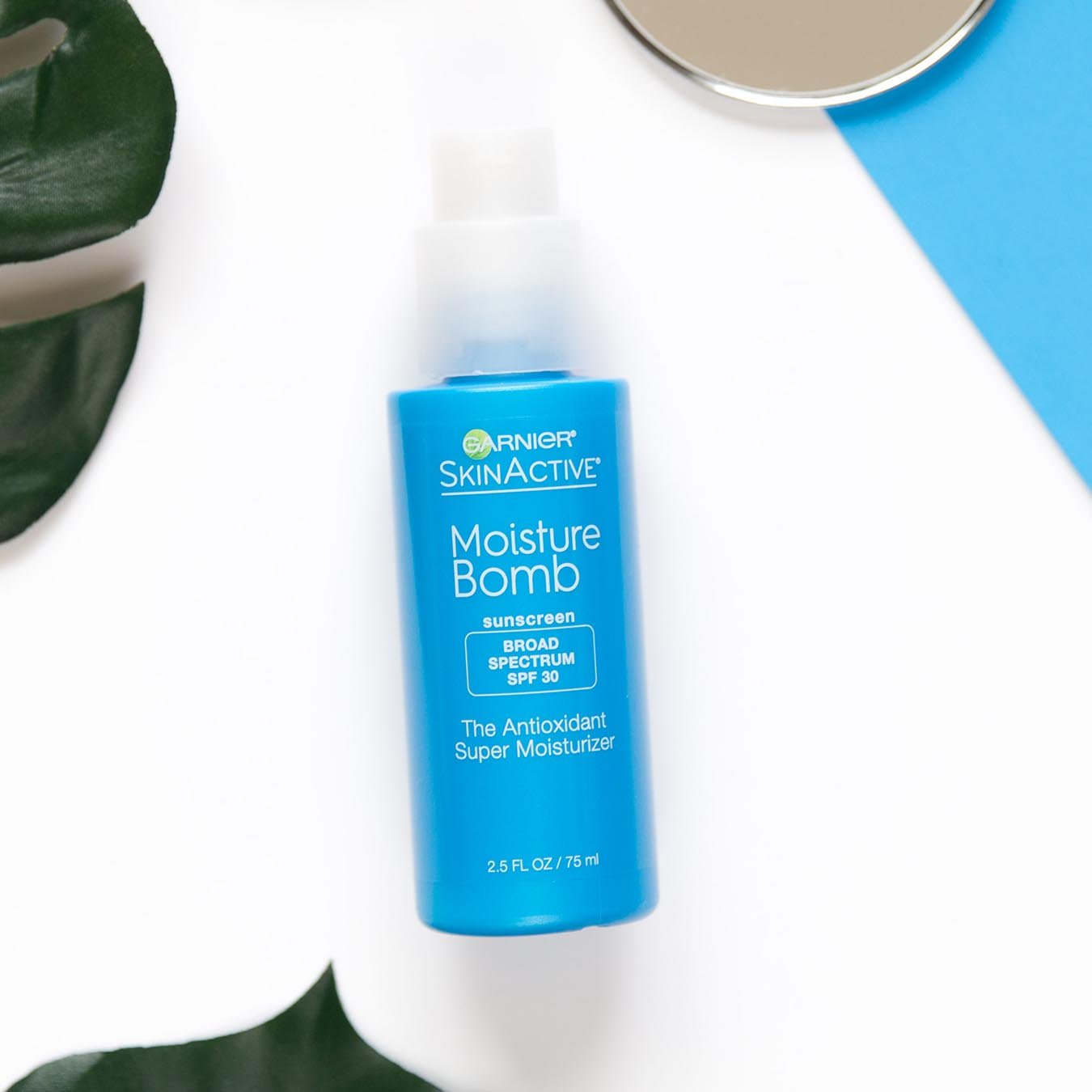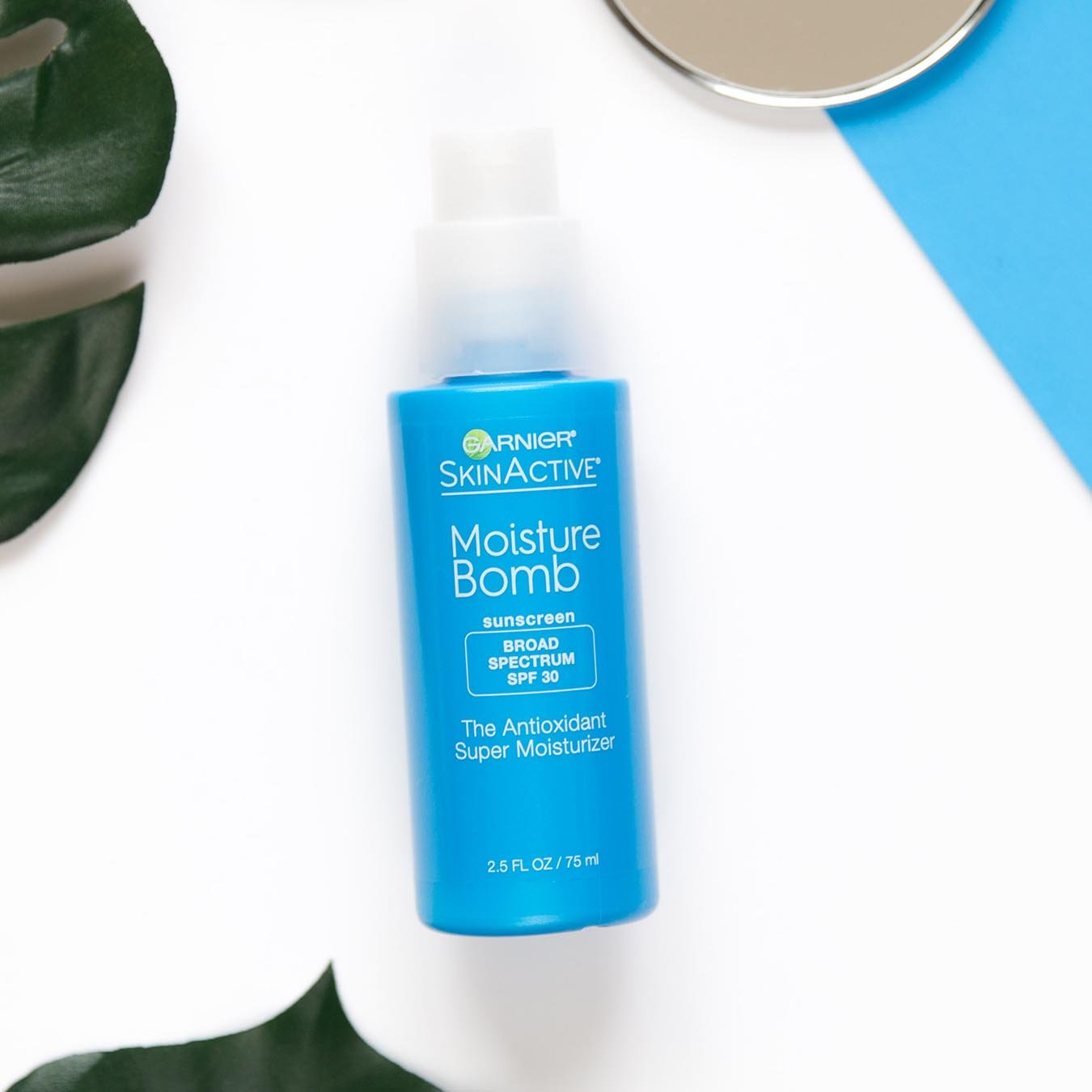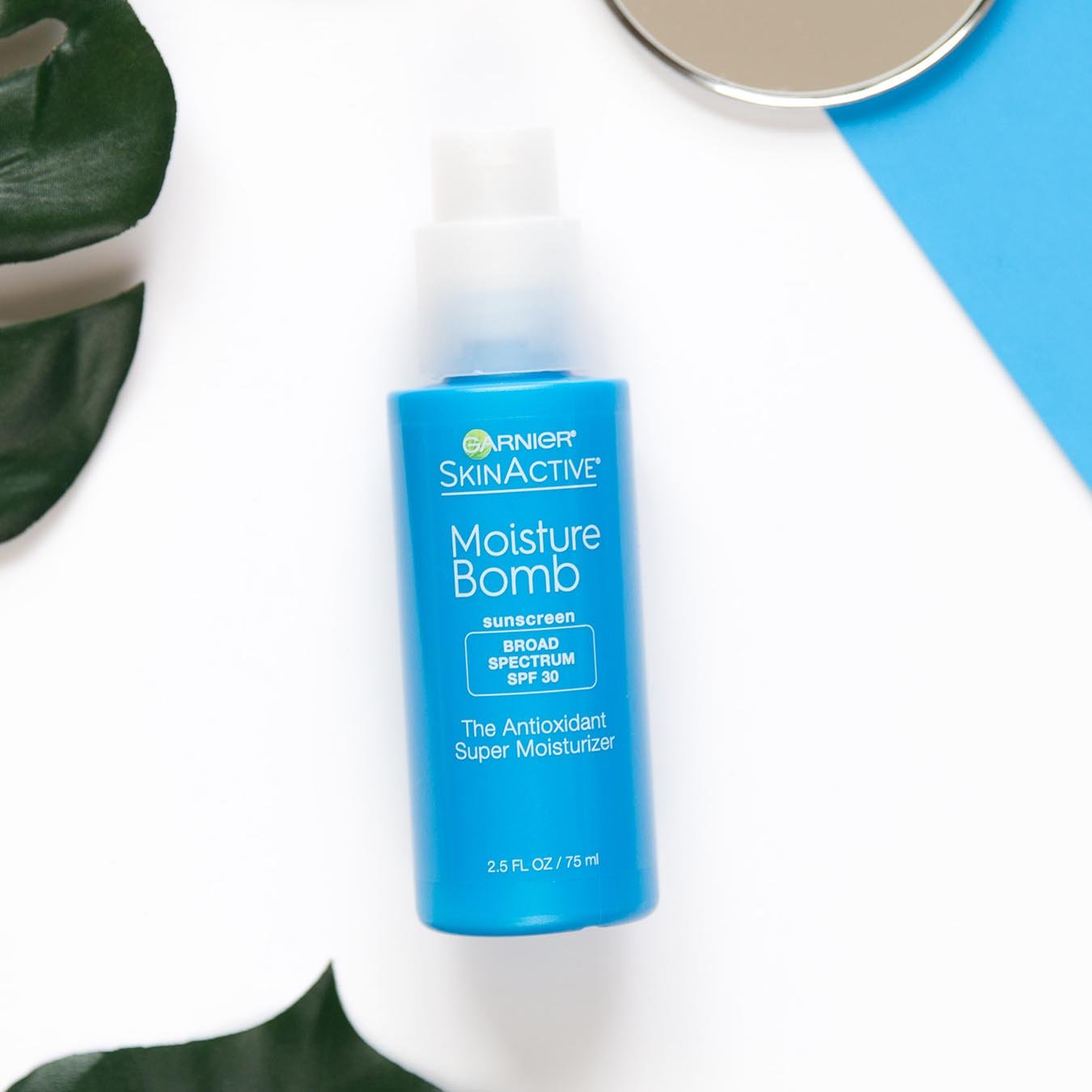 Moisture Bomb The Antioxidant Super Moisturizer SPF 30
Garnier SkinActive
$16.99 MSRP
Antioxidant Super Moisturizer para una hidratación duradera.
*En un test con consumidoras.
INFORMACIÓN DEL PRODUCTO
¡Impregna la piel con una oleada instantánea de hidratación saludable! Esta loción ligera a base de agua con ácido hialurónico, un ingrediente presente naturalmente en la piel, inunda la piel con una hidratación ligera durante todo el día. Esta fórmula no grasa con bayas de goji ricas en antioxidantes, vitaminas C y E y granada ofrece una protección solar SPF 30 de amplio espectro contra los rayos UV perjudiciales. Al instante, observa y siente la diferencia de una piel hidratada con un aspecto rejuvenecido día tras día.
Modo de uso
LIMPIAR: Elige un limpiador de la gama SkinActive™ para preparar la piel a fin de recibir el tratamiento.
HIDRATAR: A continuación, aplica Moisture Bomb The Antioxidant Super Moisturizer SPF 30 a diario en el rostro y el cuello.
CONSEJO DE EXPERTO: Para una hidratación más intensa de noche, prueba la crema-gel Moisture Bomb The Antioxidant Super Moisturizer para una sensación de piel más hidratada.
Ingredientes
Active Ingredients:
Avobenzone 2.2%...Sunscreen
Homosalate 8%...Sunscreen
Octisalate 2.4%...Sunscreen
Octocrylene 4.5%...Sunscreen
Oxybenzone 2.9%...Sunscreen

Inactive Ingredients: 919056 5 water, glycerin, dimethicone, alcohol denat., aloe barbadensis leaf juice, phenoxyethanol, caprylyl glycol, sodium polyacrylate, silica, acrylates/c10-30 alkyl acrylate crosspolymer, tocopherol, ascorbyl glucoside, fragrance, sodium hyaluronate, menthyl lactate, disodium EDTA, sodium hydroxide, lycium barbarum fruit extract, limonene, ceramide 3, linalool, sodium benzoate, citronellol, lactic acid, potassium sorbate, geraniol, citric acid, benzyl alcohol, benzyl salicylate, punica granatum extract
F.I.L #D191446/1
Antioxidantes
Los antioxidantes son un grupo de vitaminas y minerales que protegen contra los efectos dañinos y envejecedores de los contaminantes y las toxinas con «radicales libres». Presentes normalmente en nueces, bayas y aceites vegetales, los antioxidantes más populares en las fórmulas de belleza son las vitaminas A, C y E, el betacaroteno, y los minerales selenio y manganeso.
Baya de goji
Con abundantes nutrientes como vitaminas A y C, hierro, calcio y zinc, las bayas de goji son conocidas por su capacidad de estimular la producción natural de colágeno en la piel y protegerla del daño solar.
Ácido hialurónico
El ácido hialurónico se encuentra presente en el organismo como un antioxidante natural. En el cuidado de la piel, potencia la capacidad de hidratación natural de la piel. En shampoos, acondicionadores y tratamientos capilares, el ácido hialurónico hidrata y protege de los daños las fibras capilares.
Granada
El aceite de semillas de granada contiene ácido punícico, un componente natural rico en antioxidantes. Ayuda a vigorizar para un resplandor saludable cuando está infusionado en el cuidado de la piel. En el cuidado capilar, ayudar a potenciar el brillo.
SPF
El SPF (Sun Protection Factor), utilizado en hidratantes y cada vez más en productos para el cuidado capilar, indica el nivel de protección contra quemaduras de sol por los rayos ultravioletas tipo B (UVB). Por ejemplo, el SPF 15 bloquea el 94 % de los rayos UVB; el SPF 30 bloquea el 97 %; el SPF 50, el 98 %; y el SPF 100, el 99 %. Los productos denominados de «amplio espectro» también bloquean los rayos ultravioletas tipo A, altamente penetrantes.
Rated

5

out of

5
by
Amyzing
from
In love
I bought this about two weeks ago and have been thrilled. I am 42 and have fine lines and a few deeper wrinkles and it really is smoothing them out. Yes, they're still there; yes, I'm using other products. But, I no longer worry when I go outside during day because I know this has SPF.
Date published: 2018-05-01
Rated

3

out of

5
by
Zenlaya
from
Please answe
Is this good for really oily skin? Im used to use gel moisturizers and i like it but i feel like my skin is oily still
Date published: 2018-02-19
Rated

5

out of

5
by
sioux63
from
The perfect moisturizer for me
I wanted something that was lightweight, had a good SPF rating, was paraben-free, and was recommended for oily skin, all at a reasonable price and that was easy to find in any drugstore or supermarket. This is it! I love it and am getting some for my husband to use as well.
Date published: 2018-01-25
Rated

1

out of

5
by
Kay12
from
Size of Product on Box - MISLEADING
I just bought this product so I can't give it a complete review. However, the product is much smaller than it appears on the box. There is a picture of the 'actual size of product' on the box but this image is raised and made to look larger. When you actual see the container of lotion it is quite small. It seems like the lotion is perfect for traveling but for daily use, I'm sure it goes quickly.
Date published: 2017-10-12
Rated

5

out of

5
by
paws117
from
this product is awesome
I checked out all the reviews of this product and thought I would give it a try. I have been using Nivea cold cream most of my life. But after a recent sun poisoning incident I decided I should use a facial moisturizer with sunscreen. This is awesome! You only need a drop or two on your face. And this is coming from a person who has naturally super dry skin. I do not have any issues with acne. And I even received a compliment after using this product for only 2 days! It leaves your skin very smooth feeling and looking. Highly recommend it
Date published: 2017-08-30
Rated

5

out of

5
by
Vicky25
from
great product
The Garnier moisture bomb is super light weight and is a really good moisturizer. It feels great on your skin at an affordable price. I tried this product for the first time a couple months ago and I felt almost instant results. I had super dry skin and had tried all different products but nothing was working after finding this my skin has felt more hydrated and hasn't been dry since. I would definitely recommend this product
Date published: 2017-07-09
Rated

5

out of

5
by
Jmdxo
from
SUPER hydrater!
I got this bad boy about a month ago and I wanted to see review the difference this brought to my face with other moisturizers I use. I have the review on my website because I ABSOLUTELY LOVE THIS MOISTURIZER. So it was only right to share it with others. Not only do I love the fact that it's super hydrating, I love how it feels super light weight this feels on my face. Just a pump goes a long way so your definitely getting your money's worth. The fact that this moisturizer already carries SPF is OUTSTANDING! A two-in-one, talk about a GOOD DEAL! Also, it's great to carry for travel :) LOVE GARNIER
Date published: 2017-05-03
Rated

5

out of

5
by
ChristinaG23
from
Hydration is the secret to Glowing Skin!
I have normal to dry skin, and this works perfect! Thanks to this lotion my make up glides on smoothly with out my dry skin ruining it. This is a must try product, you cant go wrong with getting your face Hydrated!!!
Date published: 2017-04-21
Rated

5

out of

5
by
Sasafrass
from
So impressed!
Always looking for reasonably priced skin care I happened across this. I've tried a lot of moisturizers and have been disappointed with many. I'm in my 40's and have dry/combination skin. My issue has always been finding a moisterizer that works well enough for my foundation to not settle in fine lines, but not so greasy that it melts off. This is perfect daytime moisture. Its lightweight, absorbs quickly and leave no greasy feel. A great base for makeup. My skin is so smooth I am now wearing less makeup because of it. My skin still feels great at the end of the day and what little makeup I'm wearing has stayed put. Please don't ever change this formula or stop making it. I can see this as a moisturizer I could even use in the summer with no breakouts and benefit from it's SPF30.
Date published: 2017-02-20
Rated

3

out of

5
by
MsYachi
from
Lightweight Lotion
I have dry skin so the thought of trying a moisturizer that calls itself the Moisture Bomb was fairly exciting to me. With winter fastly approaching I knew that my skin would only worsen. I wanted to ensure that I gave this a fair shot. I used this every morning for two weeks. My regimen was to wash my face with a non abrasive wash and then apply one pump of lotion to my face. The lotion has a lightweight water base feel to it. It sort of smeared around my face and visibly sat on the surface for 10-12 seconds before my face felt dry to the touch. Once it was absorbed by the skin it worked for the rest of the day. It didn't feel heavy and I didn't feel a need to reapply. It certainly had some pros : lightweight and coverage throughout the day. However, I was looking forward to a quicker absorption rate, especially since this is a lotion not a cream. My skin was not flooded with hydration as the box claims. The SPF is also lower than the 45 I normally use but it is nice to have sunscreen incorporated into the lotion. This is not a product I would purchase unless it was at a low enough price point .
Date published: 2016-12-14
Rated

4

out of

5
by
zstar1
from
Great for oily/combination skin
I've been using Garnier's moisture bomb for a few weeks and it a keeper. I have oily/ combination skin that get pretty dehydrated during the winter and needed a product with a moderately high SPF that I could use as a moisturizer during the day. I have dark skin so when I saw that it had an SPF of 30 I was a bit worried that it would leave a white cast but I saw that zinc oxide was not listed as one of the ingredients so I decided to give it a try. I was happily surprised! The cream is pure white out of the bottle. The consistency is watery without being runny, it spread and leaves absolutely no white cast. It has a slight berry sent and the top of the bottle twist to lock which I adore. The one down side is that the moisture doesn't really last all day. The box doesn't make any claim about the length of time that the moisture last and although I never developed any dry patches after a long day outside I did feel like my skin was bit dried out. I think its great for oily to combination skin types but I think if you have dry skin you may want to layer this product with other moisturizing products or apply it like a normal sunscreen (every 2 hours as the box suggest). This product had Hyaluronic Acid vitamins C and E as well as antioxidants that I assume come from the Goji Berrys. I think this is great and its hard to find a product with so many good things like that on the market. That being said I don't feel like my skin improved any whole using this product. Maybe with longer use I will see a difference but nothings changed in 3 weeks. This bottle will probably last me all winter. A little goes a long way so it perfect for a college kid like me on a budget. I would definitely repurchase this product.
Date published: 2016-12-14
Rated

4

out of

5
by
Fairykitten
from
It feels so great on my skin.
It goes on smoothly and feels great on my skin. I can't even tell it's on and it smells really good too.
Date published: 2016-12-14
Rated

5

out of

5
by
amariex1
from
Garnier Moisture Bomb
I think the Garnier SkinActive moisture bomb is amazing! I was immediately drawn to the scent when I first used it. The moment I put it on my face I felt a burst of refreshment. I told my mom to try some and she liked the way it felt on her face so she tried it on her hands. We both agree it makes our skin so soft and hydrated. I recommend this product to anyone who wants a moisture with some built in SPF.
Date published: 2016-12-14
Rated

4

out of

5
by
Stbutterfly30
from
Moisture bomb
I would want to know how good it works. I liked how good it smelled and that it has spf in it. It made my skin feel soft and got rid of the bumps on my face. I would recommend it.
Date published: 2016-12-14
Rated

4

out of

5
by
Ylor1987
from
Garnier SkinActive Moisture
First of all, it smells really good. Second, it do keeps my face moisturize. I have both dry and oily skin and especially during the cold season my face gets very dry and itchy. I've been using this moisturizer for over a week now and I have notice that I have less red and dry patches on my face. The only downside why I didn't give it a 5 star is because it leaves my face super oily throughout the day so I only use it at night before bed. I would recommend this product if you have dry and crack skin mine.
Date published: 2016-12-14
Rated

5

out of

5
by
Annessa
from
Lovely Product!
I've been wanting to implement a sunscreen in my skin care routine for quite a while now, but I wasn't quite sure which product would suit me best considering I struggle with oily skin. I was given the opportunity to test this product out and I jumped at it! Now I know what you're thinking, "If she has oily skin why would she want a product called 'moisture bomb'?" I noticed this product contained Hyaluronic Acid, which is a key ingredient that is able to hydrate and protect oily/acne prone skin without over moisturizing skin. As soon as the product came, I washed my face and tested it out. The product's consistency is right between a regular lotion and the typical runny sunscreen so it's pretty delicate. It rubs right in on the skin without the heavy feeling some products leave, it has a slight plant smell but that dissipates pretty quickly. My final test was to see how the product fared underneath my makeup in the hot,Florida sun. My pores were slightly more noticeable at the end of the day, but overall I did not look greasy at all. I enjoyed this product and I will most likely continue to purchase it.
Date published: 2016-12-14
Rated

5

out of

5
by
Ivana84
from
Garnier SkinActive Moisture Bomb SPF 30
Im so impressed with this moisturizer. My skin gets pretty dry in a winter time, so just putting this on in the morning eliminates the flakes and extra dryness. The cream is light, which makes my face feel healthy and fresh. It goes on smooth under makeup and makes a great daily moisturaizer.
Date published: 2016-12-14
Rated

4

out of

5
by
Carydantonio
from
Perfect hydration
This is the best face moisturizer I have ever used. My face feels like I put lotion on every 5 minutes and I only use this product once a day. I have also been using this product before I tan and it has helped with dark spots. This product is very lightweight. The only thing I do not like about this product is the smell of the SPF . This product will definitely replace my everyday lotion.
Date published: 2016-12-14
Rated

5

out of

5
by
amiebr
from
Love this product!
Garnier has gotten it right this time! I think this product is light and smells delicious. It doesn't clog my pores or make my face feel greasy.
Date published: 2016-12-14
Rated

5

out of

5
by
cocoaniall
from
Garnier SkinActive Moisture Bomb
The Garnier SkinActive Moisture Bomb moisturizer has been great for me, especially because I have oily skin. You only need one pump and it absorbs right into my skin. Doesn't sit on my skin at all and it leaves it feeling very smooth and matte, but still moisturizing. I love that it has 30 SPF in it and it smells really good, which is a great plus! I have been recommending this to all my friends because I have been so impressed with this!
Date published: 2016-12-14
Rated

5

out of

5
by
ckennedy0710
from
Great Moisturizer!
This moisturizer lasted all day AND didn't leave an oily look and feel to my skin like most others, which is amazing considering how long it lasts. Finding a moisturizer that works in the winter when the air is so dry is a challenge but this definitely works!
Date published: 2016-12-14
Rated

4

out of

5
by
jesse2490
from
Lovely cream
I think this moisturizer is great. It doesn't have that awful sunscreen smell and soaks into the skin quickly. I enjoy applying it and like the fact it has SPF. It leaves skin feeling soft and moisturized. It is an easy daily task that can help prevent skin cancer.
Date published: 2016-12-14
Rated

5

out of

5
by
amazongypsy
from
Moisture Bomb Indeed!
I gave Garnier SkinActive Moisture Bomb SPF 30 a try and am actually quite pleased with it! My skin tends toward the sensitive, dry, flaky side, and I can't stand the way greasy moisturizers feel. Moisture Bomb is light while still packing a moisturizing punch-- without being greasy! On top of that it has SPF, so I don't have to put on another product. I didn't have a bad reaction to it, either. So far, I am a fan! :)
Date published: 2016-12-14
Rated

5

out of

5
by
Sandykim3353
from
It's great!
I am really impressed with this item! I've only been using it twice a day for a week and my skin already feels lovely and soft, it also really nice. This moisturizer is so light and basically melts into your skin. It smells fresh and very floral which is very uplifting. It goes matte on your skin & it comes in a pump bottle which I find very useful. This is a light cream which moisturises without leaving a greasy residue. It is also a perfect base for foundation as well because my makeup applies really easily after using it. Overall I would use this again and again!
Date published: 2016-12-14
Rated

5

out of

5
by
tiffhinds
from
Ahhhh-maxing!
I absolutely love this moisturizer. Let me start off by saying that I have super oily skin and have a difficult time finding a moisturizer that doesn't have my face feeling like a greasy mess within 5 minutes.....even when makeup is applied over it. The product is just the right consistency. And it's smells great!!!
Date published: 2016-12-14
Rated

4

out of

5
by
MsMarshmallow
from
Happy and Healthy Skin
After trying this product for a week or so now, my skin looks and feels healthier. It gives me some relief when going outside and being in the sunlight all day. The product is not greasy and you can feel a difference as you apply it.
Date published: 2016-12-14
Rated

5

out of

5
by
jessicaehrendreich
from
Garnier SkinActive Moisture Bomb SPF 30
I have very fairy skin and I burn easily. I spent a lot of time outside during this campaign in an attempt to give an honest review. I did not burn once! I love this stuff because it doesn't feel greasy or thick like a lot of others do. It goes on smoothly and does its job well. Even during Wisconsin winters it is important to protect my skin from harmful rays. I am so happy to have found a product that I love and I will be purchasing this sunscreen from now on.
Date published: 2016-12-14
Rated

5

out of

5
by
ashley4785
from
Great Moisturizer!
The Garnier Moisture Bomb feels and smells great! I love how it moisterizes my face without giving it the oily look or feeling. I moisturize my face before bedtime and during my makeup routine.
Date published: 2016-12-14
Rated

3

out of

5
by
Km1015
from
Garnier SkinActive Moisture Bomb SPF 30
I was really excited to try Garnier's Moisture Bomb lotion, its winter and my skin is feeling it! The lotion feels light and not at all greasy which is great. My skin felt soothed and moisturized after I applied it. The first thing I noticed against it, and this is a personal preference, it does have a faint scent to it. It smells nice actually, but I prefer non scented lotions. But it felt nice so I kept using it. I've used it daily for about 3 weeks now and while my face feels hydrated when applied, it is not making it any less dry after prolonged usage. If I was seeing a noticeable improvement I would have given this a 4. For my dry winter skin, its just not enough. I will be trying this again in summer though when I want something light!
Date published: 2016-12-14
Rated

4

out of

5
by
My3lilones
from
Garnier SkinActive Moisture Bomb SPF 30
This is a great moisturizer!! One of the best with SPF! The moisturizer is actually lightweight. It didn't feel heavy or greasy on my face. My skin is sensitive and usually "freaks out" when I apply anything with SPF. But not with this one. There was only a slight shine to my skin, nothing like the oil slick I usually get from SPF moisturizers. Other moisturizers with SPF cause me to breakout, but not this one. No breakouts what so ever! The smell is nice, not too strong, and it goes away quickly. I love the fact that it has an SPF of 30 and not lower. I am a natural redhead and I need my SPF!!Great jog, Garnier!
Date published: 2016-12-14