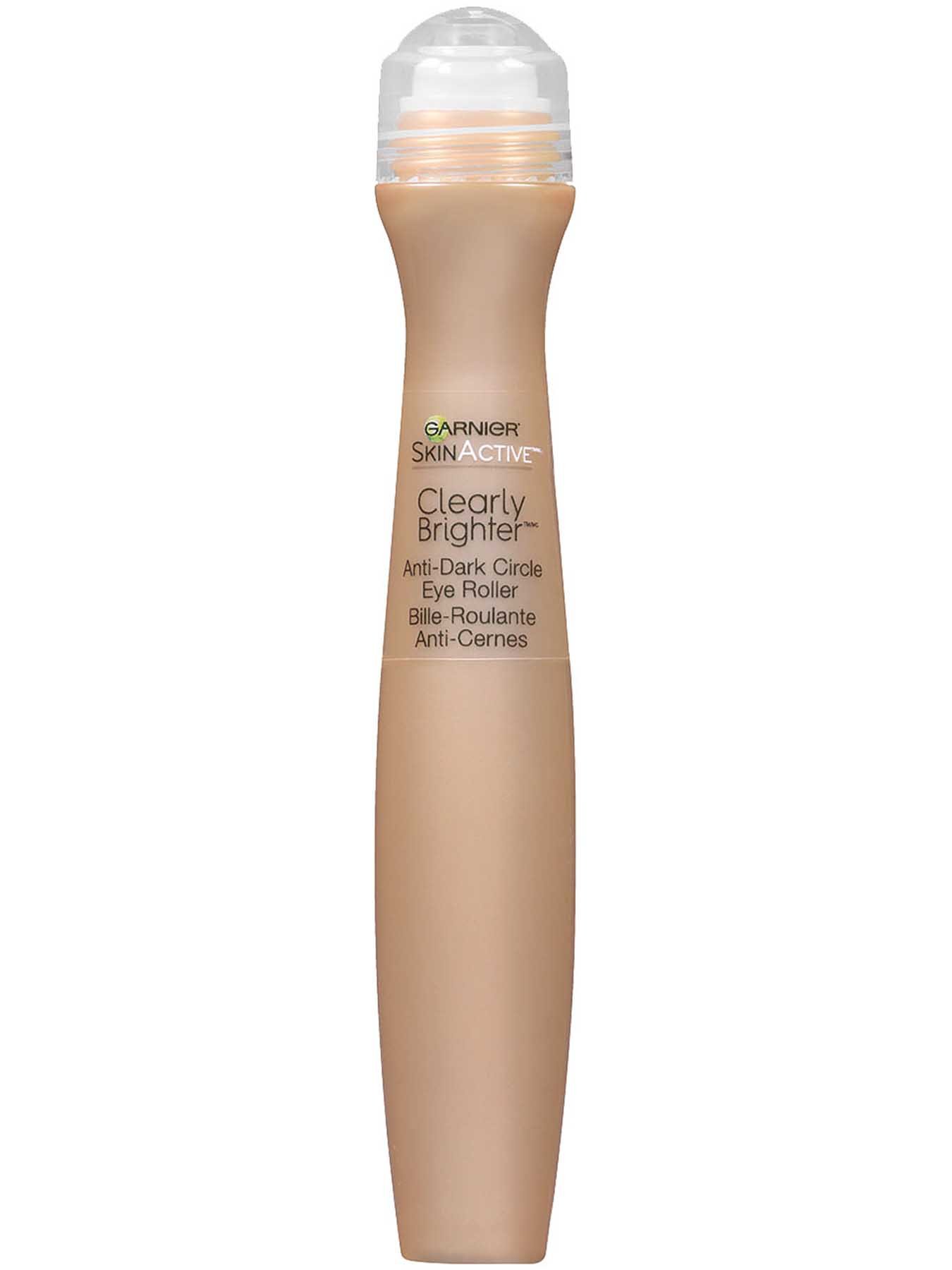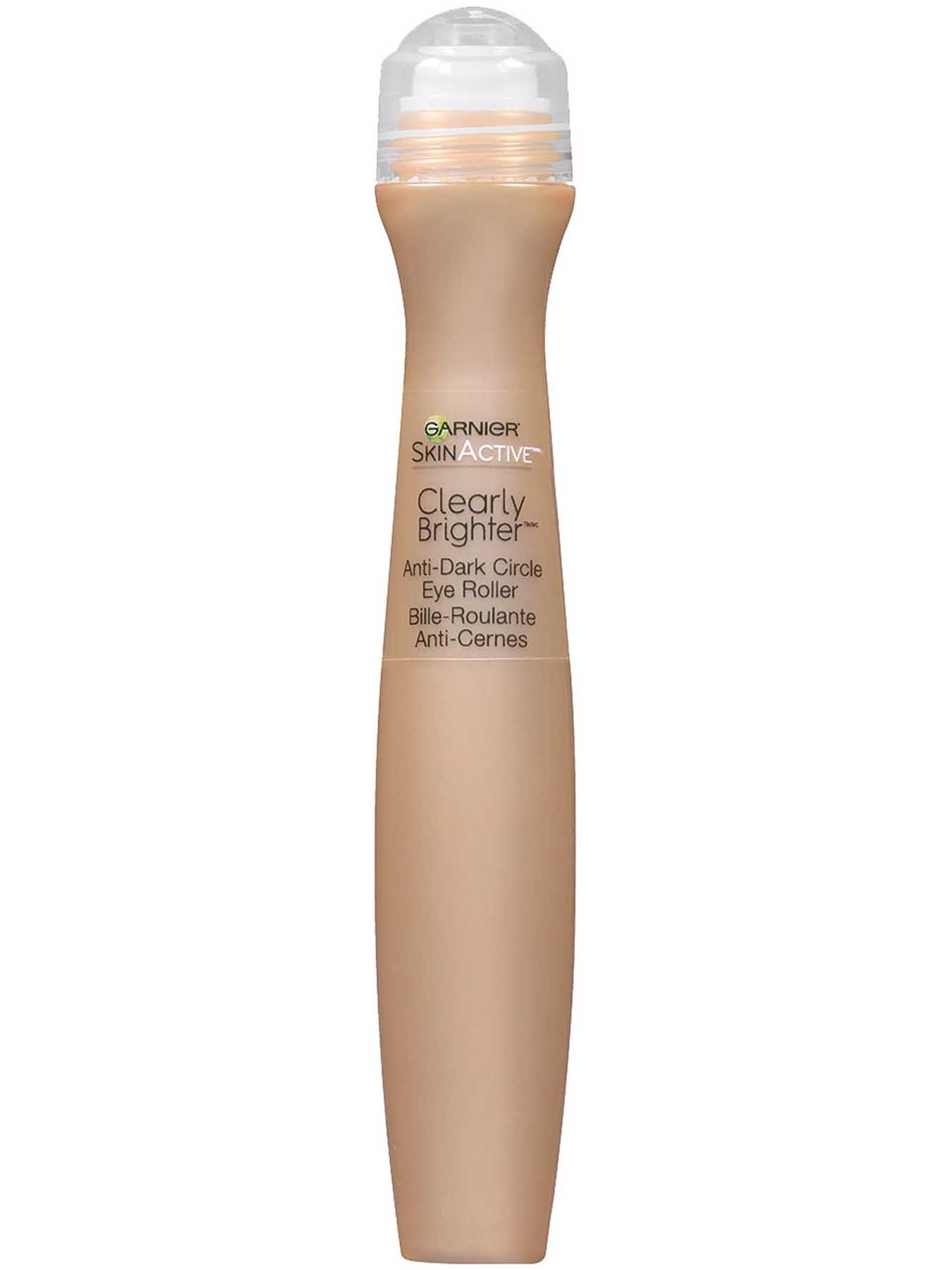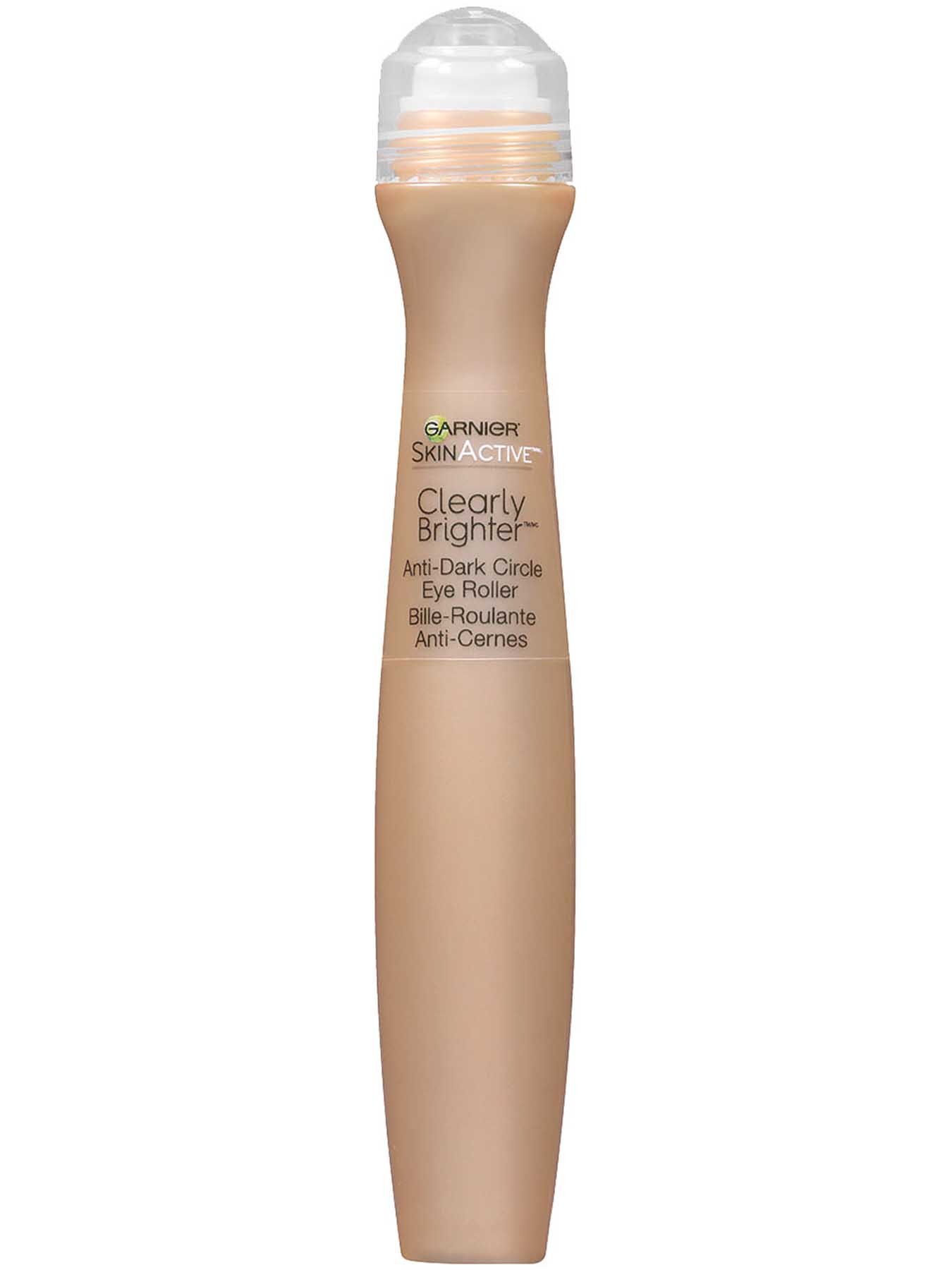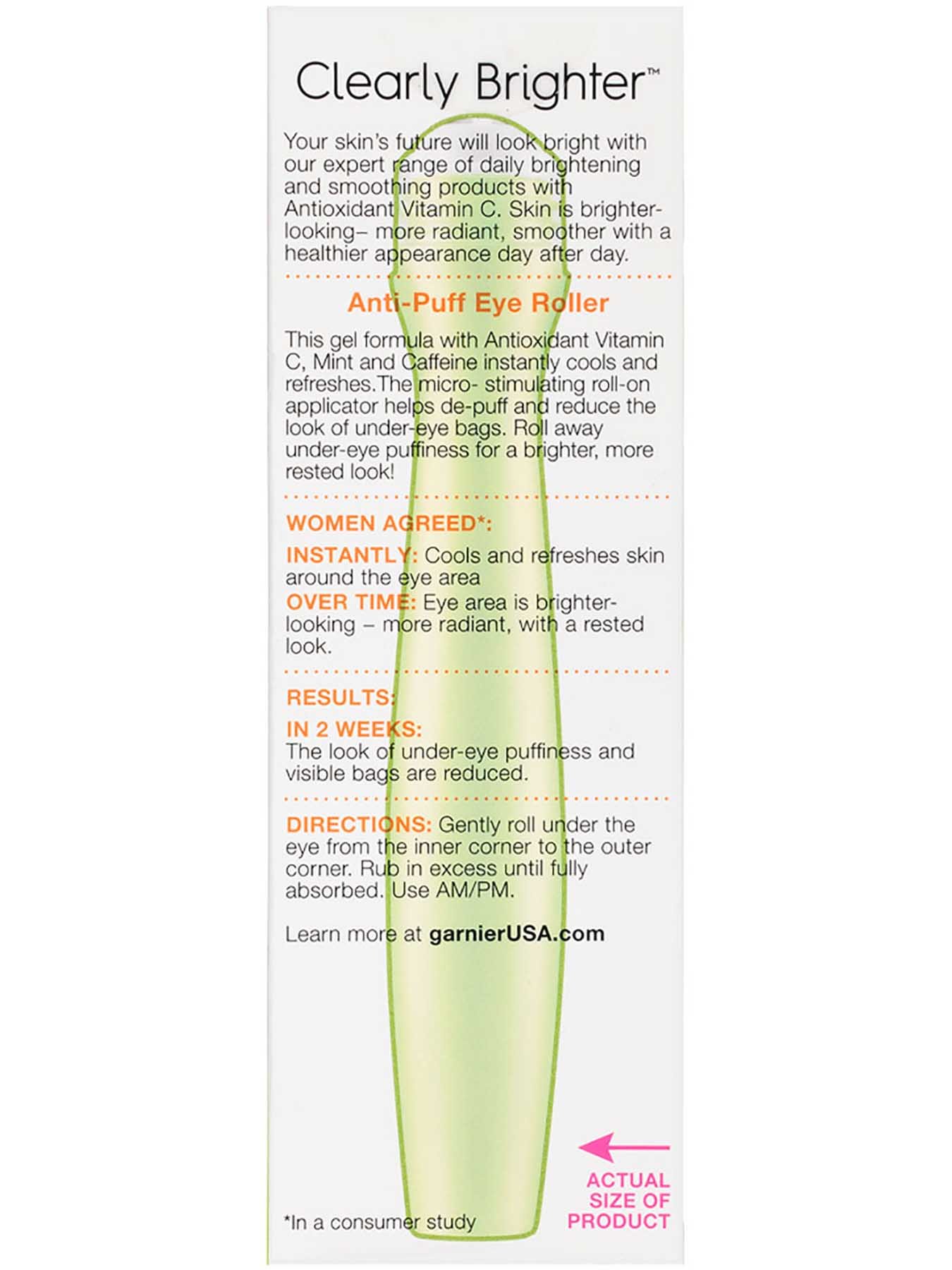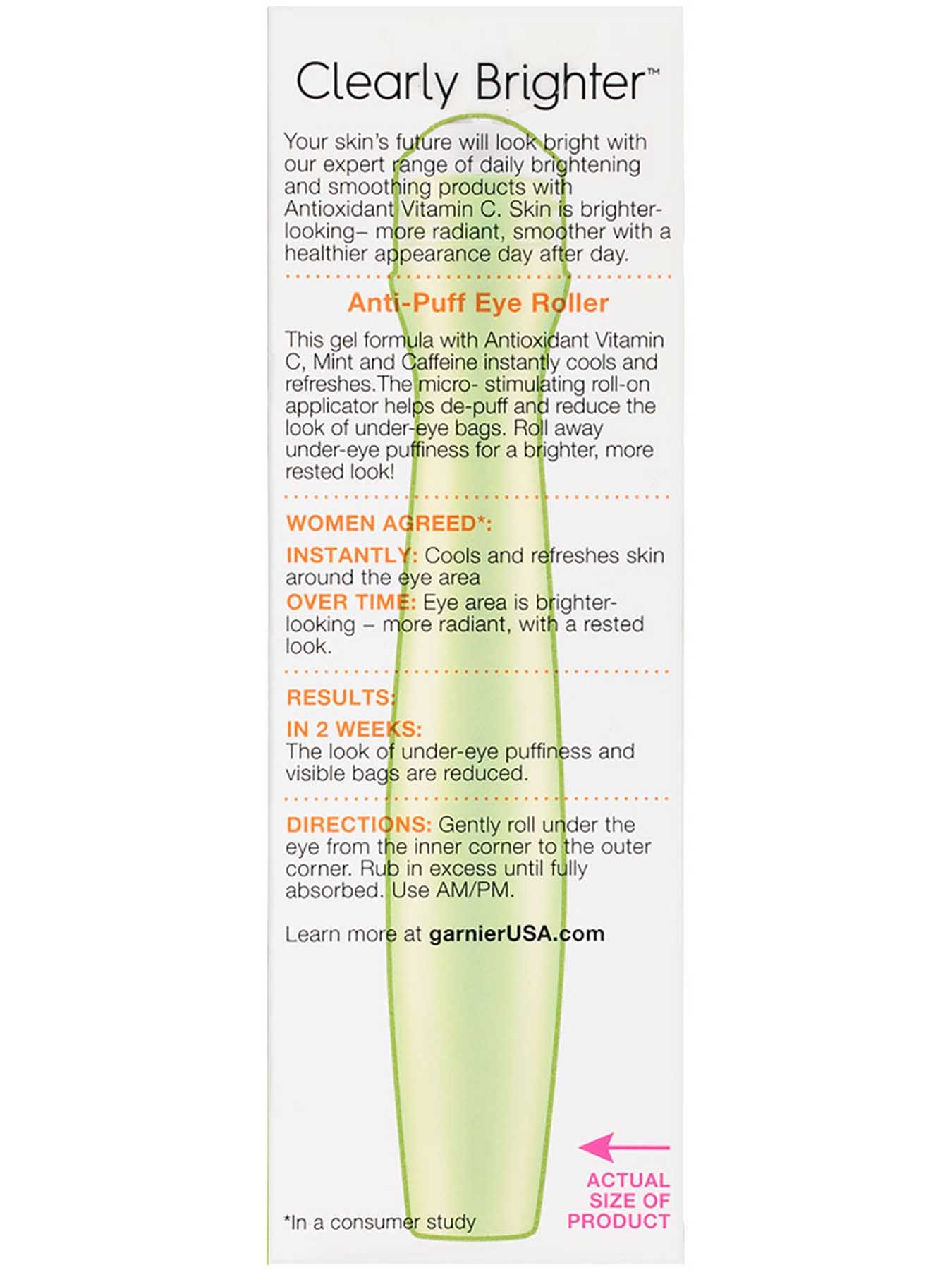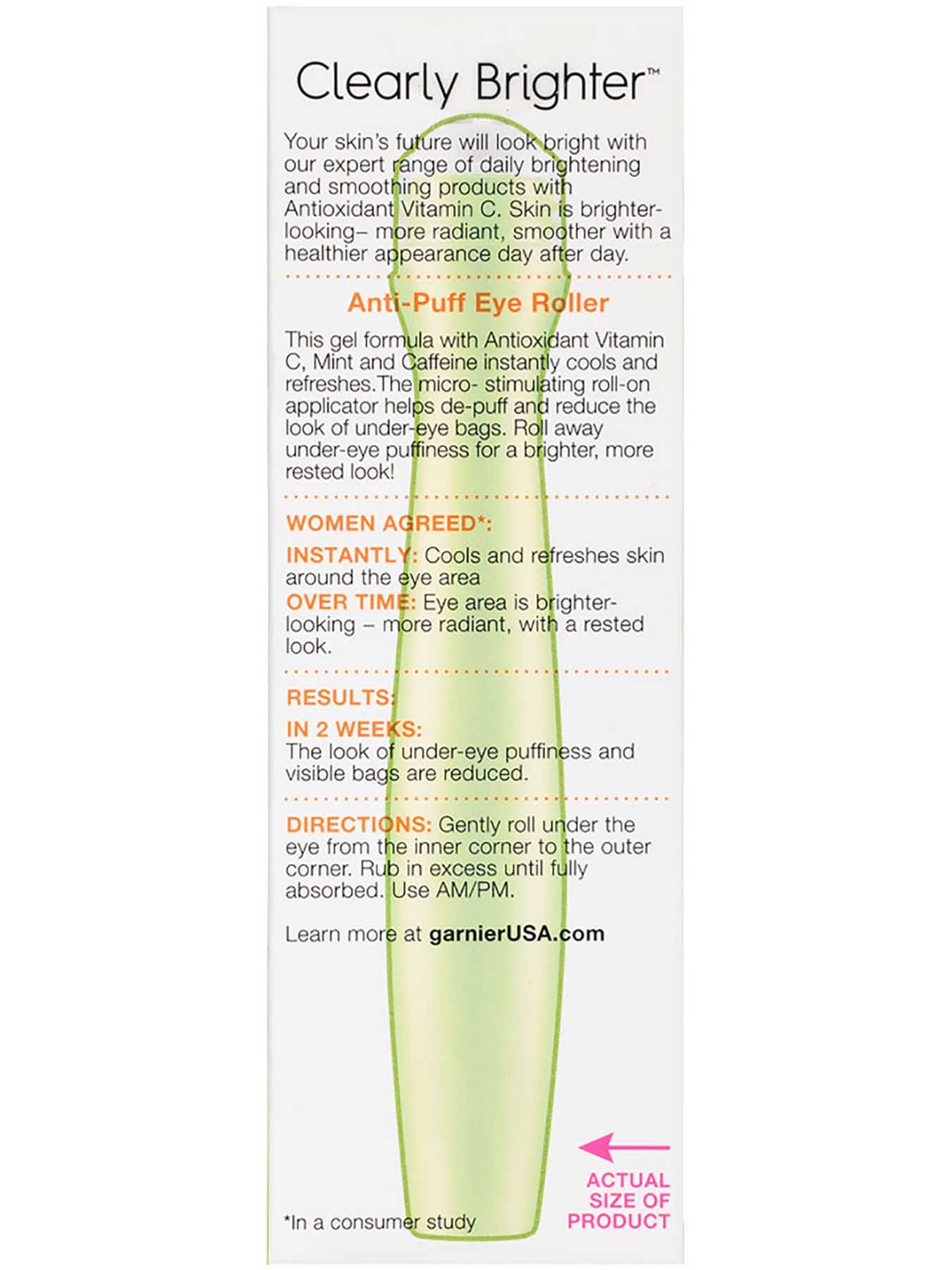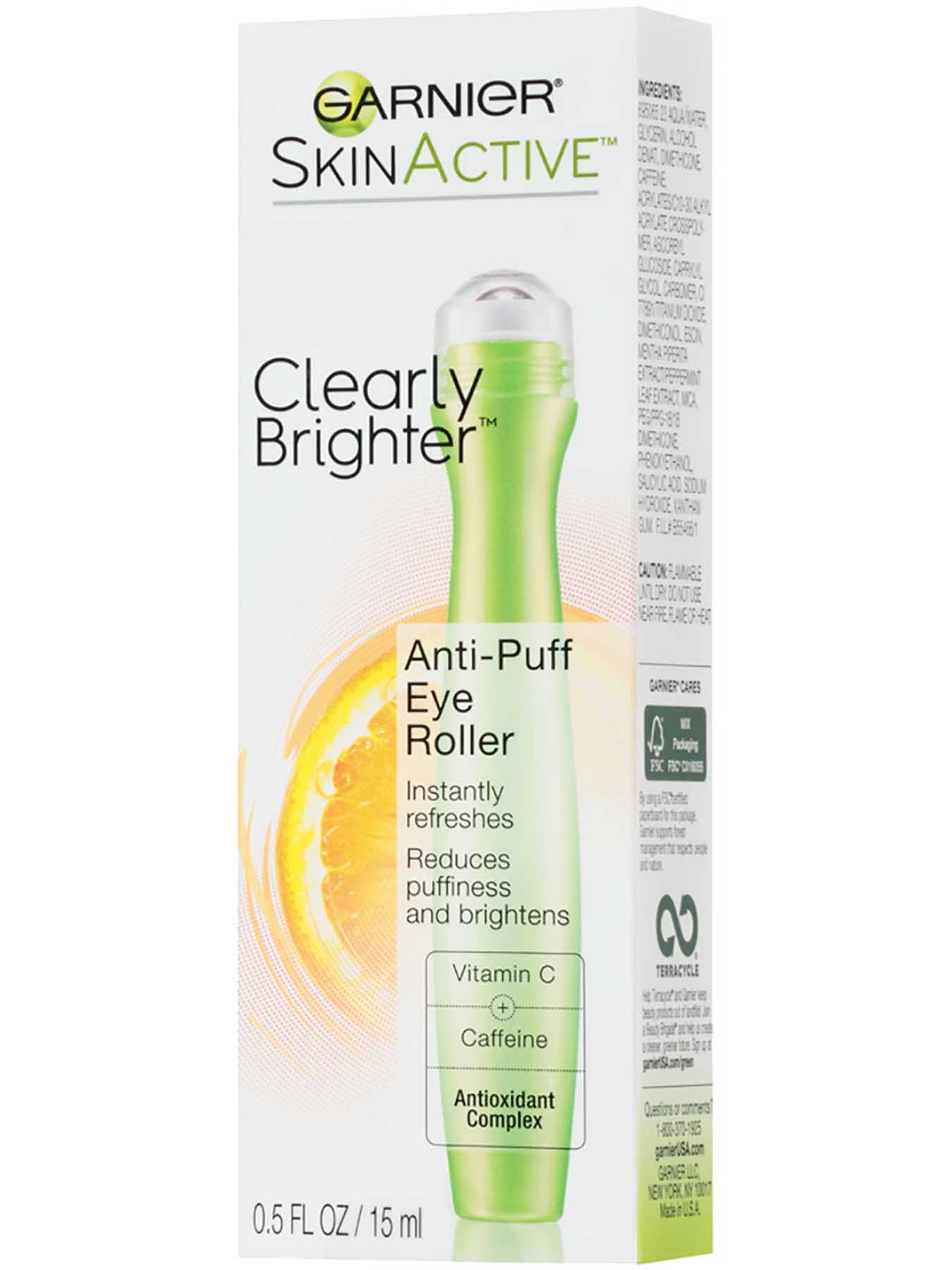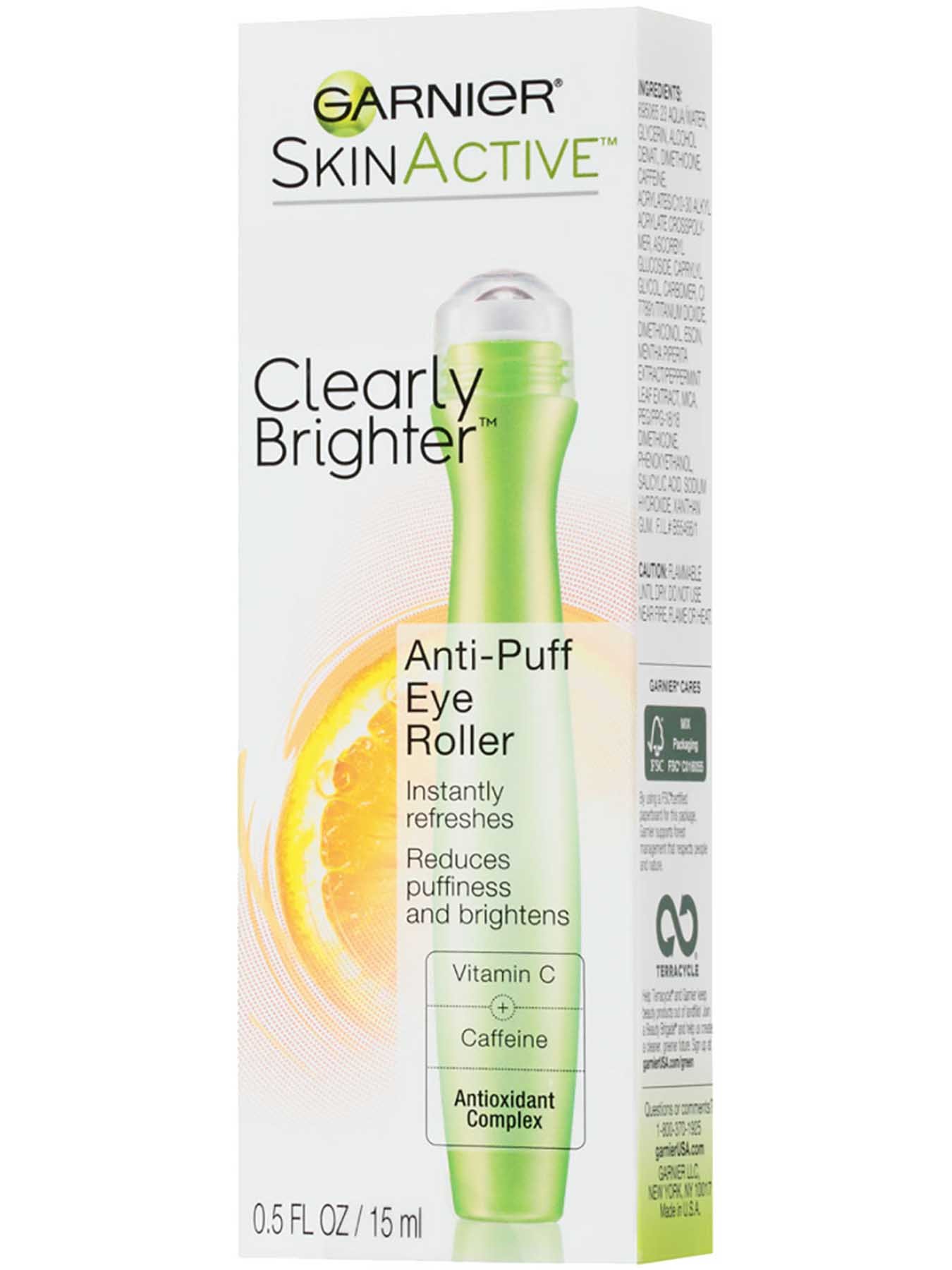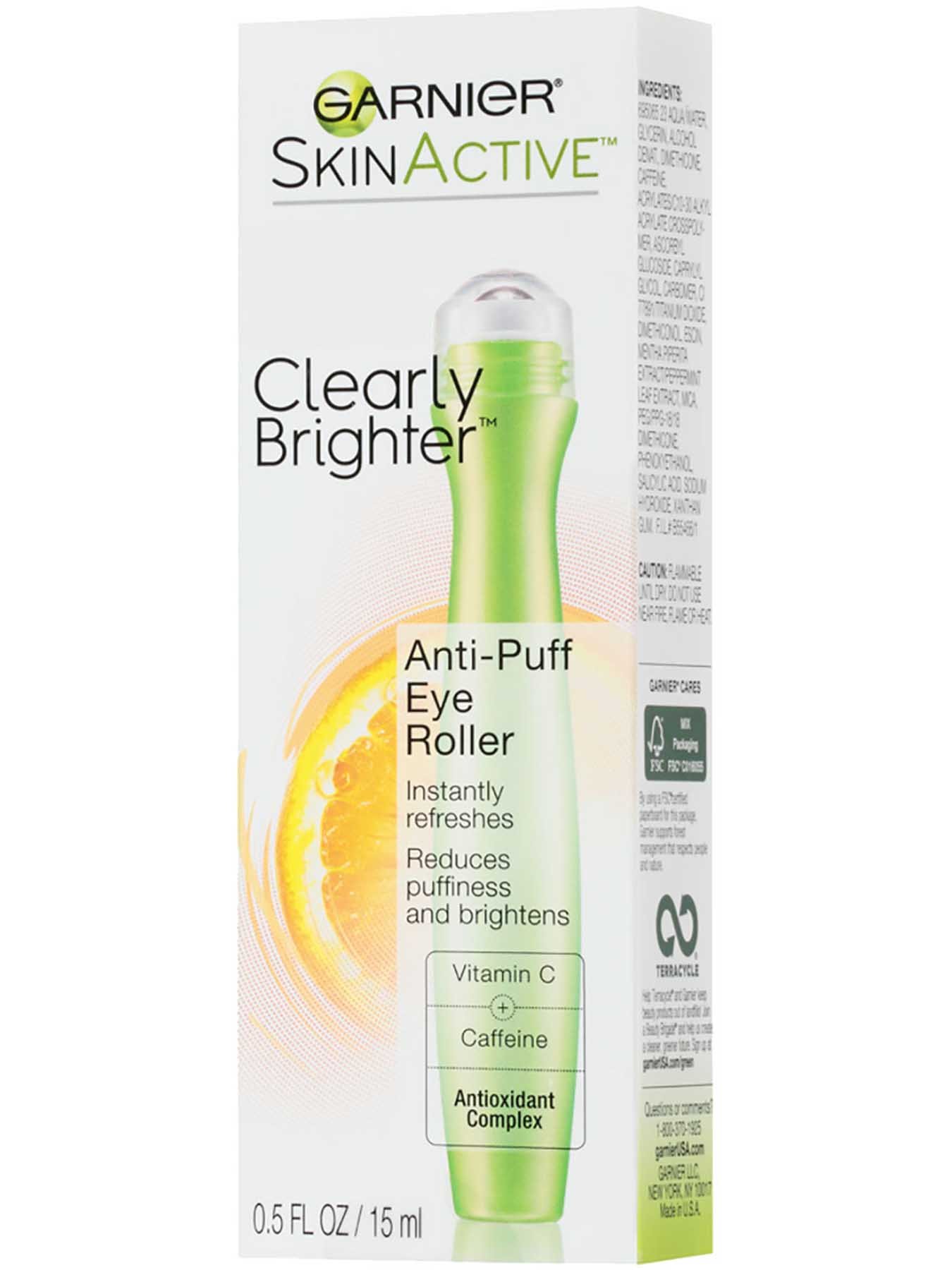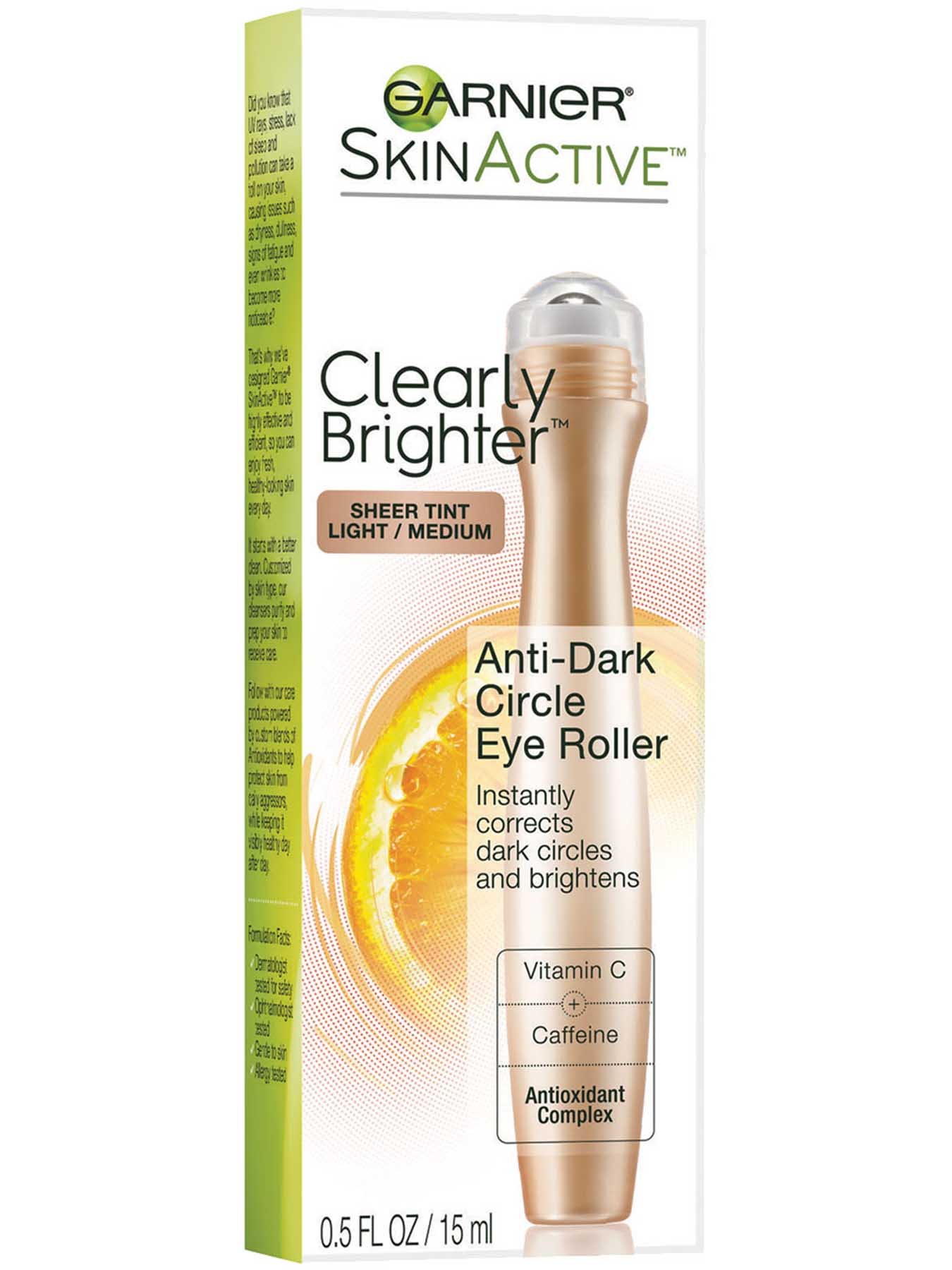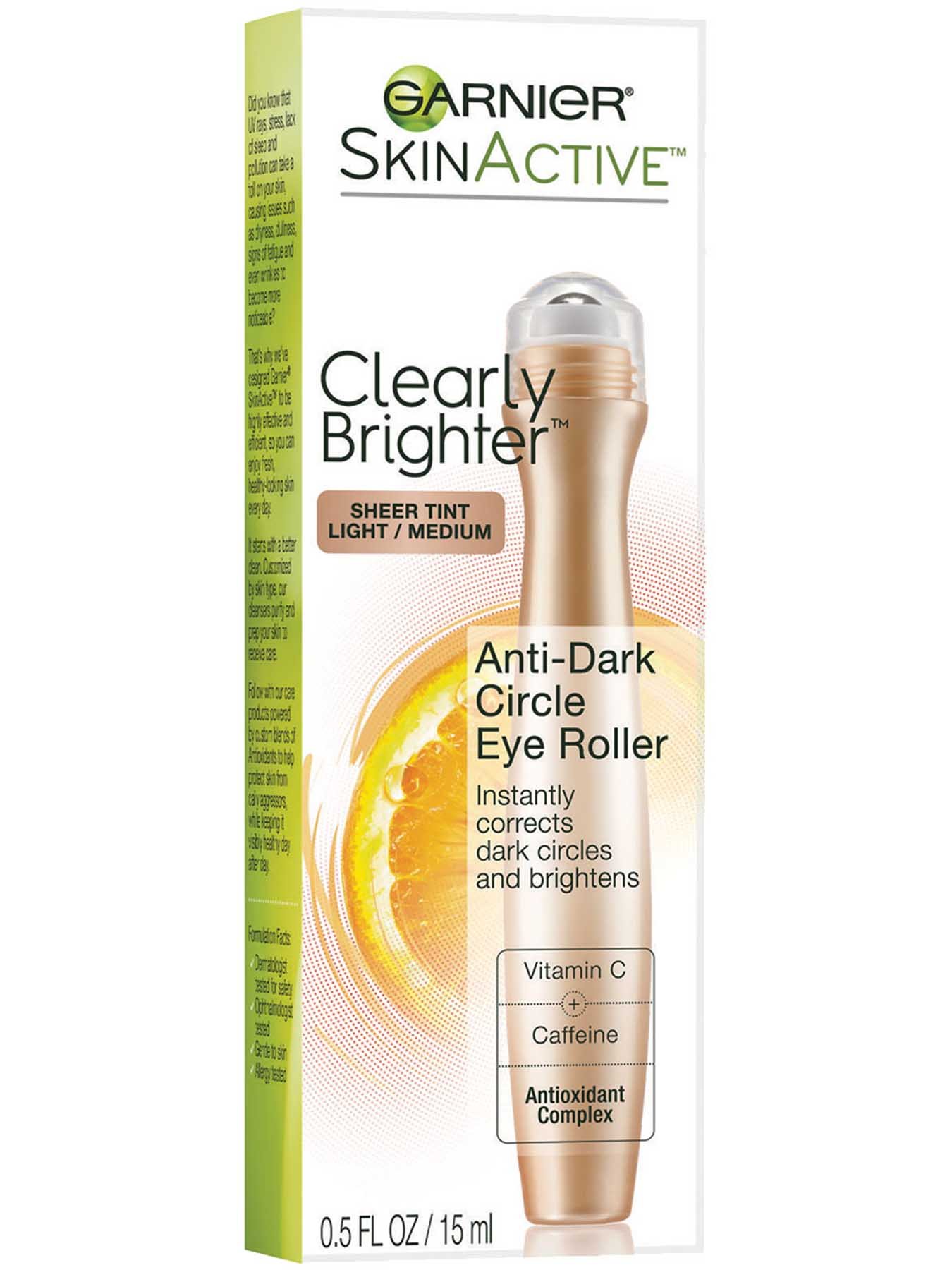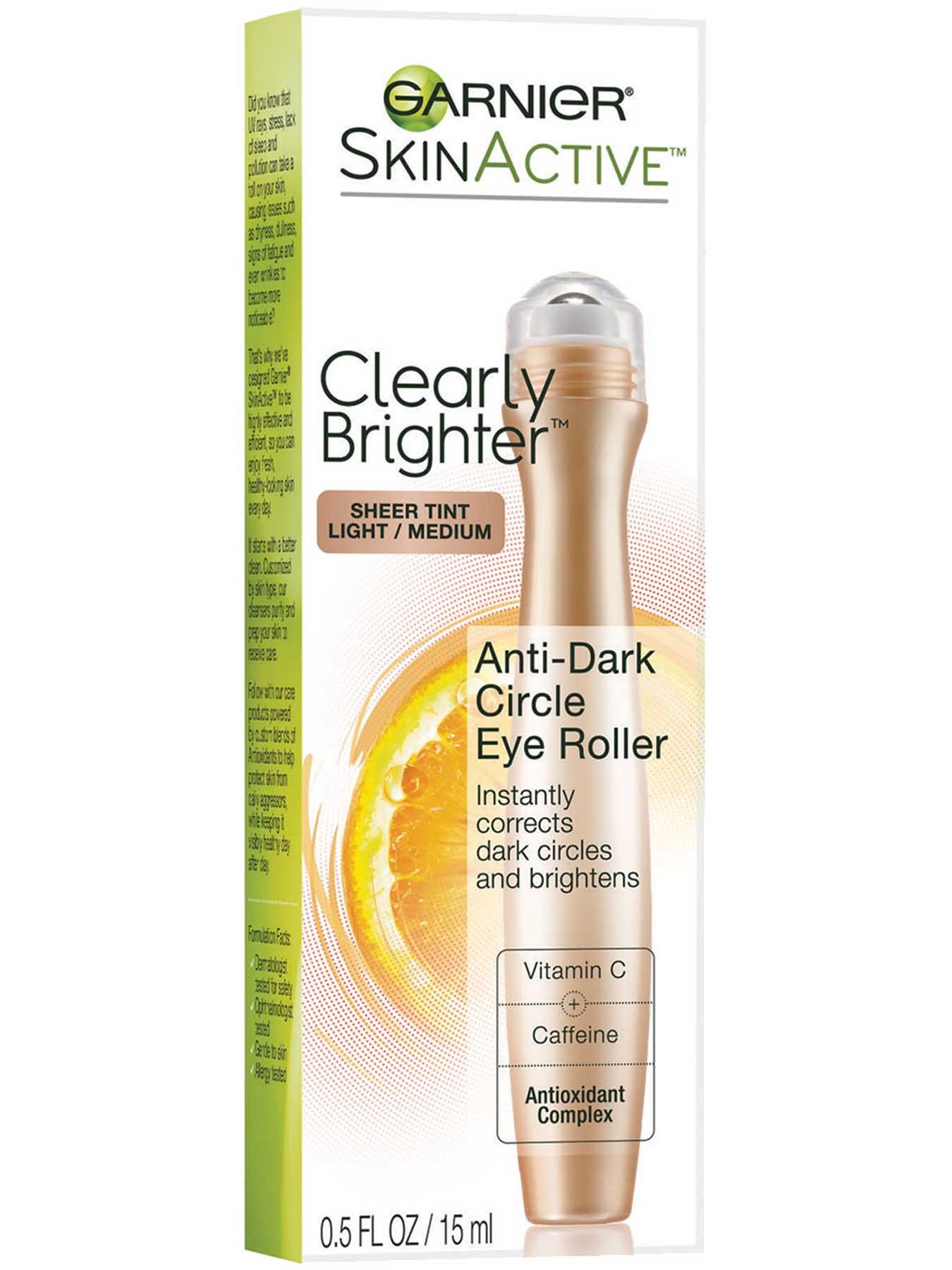 Clearly Brighter Anti-Dark Circle Eye Roller - Light/Medium
Garnier SkinActive
$12.99 MSRP
Corrige al instante las ojeras e ilumina.
INFORMACIÓN DEL PRODUCTO
Esta fórmula 2 en 1 de tratamiento para el contorno de ojos + corrector con vitamina C antioxidante, cafeína y pigmentos minerales con color cubre al instante las ojeras y las sombras. El aplicador en roll-on microestimulante refresca y revitaliza el contorno de los ojos. Borra las ojeras para lucir un aspecto más luminoso y unificado.

MATERIAL INFLAMABLE HASTA UNA VEZ SECO. NO USAR CERCA DE FUENTES DE CALOR, LLAMA O FUEGO. EVITAR EL CONTACTO CON LOS OJOS. EN CASO DE CONTACTO CON LOS OJOS, ENJUAGAR DE INMEDIATO. CONSULTAR A UN MÉDICO SI LA IRRITACIÓN PERSISTE.
Modo de uso
Desliza suavemente por debajo de los ojos de la esquina interior a la exterior. Frota el exceso de producto hasta su plena absorción. Usa por la mañana y a lo largo del día según convenga.
Ingredientes
Aqua/Water, Cyclopentasiloxane, Alcohol Denat., Butylene Glycol, Ethylhexyl Methoxycinnamate, Phenyl Trimethicone, Peg-10 Dimethicone, Squalane, Bis-Peg/Ppf-14/14 Dimethicone, Magnesium Sulfate, Talc, Nylon-12, Maltitol, Disodium Stearoyl Glutamate, Aluminum Hydroxide, Sorbitol, Caffeine, Citrus Medica Limonum Extract/Lemon Fruit Extract. [+/- May Contain: CI 77491, CI 77492, CI 77499/Iron Oxides].
Antioxidantes
Los antioxidantes son un grupo de vitaminas y minerales que protegen contra los efectos dañinos y envejecedores de los contaminantes y las toxinas con «radicales libres». Presentes normalmente en nueces, bayas y aceites vegetales, los antioxidantes más populares en las fórmulas de belleza son las vitaminas A, C y E, el betacaroteno, y los minerales selenio y manganeso.
Rated

5

out of

5
by
Yany
from
We need medium deep back
Disappointed !!!! I need medium deep brink then back!!!!!
Date published: 2019-03-24
Rated

4

out of

5
by
Klkhzd
from
Great product but please make lighter shades too!
This has lasted over a year. Easy application dries nicely , not too dry or oily. I would buy it again but only if I can get a lighter shade
Date published: 2019-03-18
Rated

1

out of

5
by
AnaM211
from
Shade Discontinued
Like most others, I'm disappointed in Garnier having limited the different shades after having generated a market and loyal customers. Light/Medium is too dark and defeats the entire purpose of using this as an "Anti-Dark Circle" solution. Please bring back Fair/Light. Honestly, this product is the only one that naturally conceals imperfections without being caked or creased.
Date published: 2019-03-05
Rated

5

out of

5
by
Silvie72
from
Fantastic Product
I'm over 45 years old and so I bought this product because my dark circles are getting darker. It really does the trick. It doesn't make your eyes crease up or look caked up. It looks very natural and after two weeks the dark circles are starting to lighten up. I highly recommend this product.
Date published: 2019-02-11
Rated

5

out of

5
by
DHK1
from
Great Product
For whatever reason I can't find this concealer in any pharmacy or other store any more in my area. I love it. So, I am at your website to purchase a great product
Date published: 2018-12-22
Rated

4

out of

5
by
Missicamps
from
Use as follows for best results!
I've found this product to be pretty good. It not only helps with dark circles but reduces puffiness. It doesn't take the place of concealer but if put on lightly, tapped out evenly and allowed to dry it is a great base coat that doesn't crease anything like concealers do. My recommendation is to put on foundation after the roller is applied as I described and the apply concealer but very lightly, you won't have to use as much and so you'll have much less creasing. I personally don't wear makeup daily, but use a moisturizer, facial sunscreen, and this product under the eyes (lightly). Have been using this product for 3 years and will not do without it! Will add that garnier needs to bring back a medium/dark for darker complexions!
Date published: 2018-12-16
Rated

3

out of

5
by
Lexy hannah
from
Make medium/dark
Light/medium works for me but it does not work for my mother and it is so annoying that there is only one shade. On the other hand I like this product very much, it brightens, it does not crease and it is very refreshing when I apply it. GARNIER YOU HAVE TO MAKE A MEDIUM/DARK!!!!
Date published: 2018-08-10
Rated

2

out of

5
by
Jen1516
from
Medium/Deep
I also need Medium/Deep!!! It was perfect for my skin tone and the light one doesn't work at all. Please bring it back!
Date published: 2018-08-02
Rated

1

out of

5
by
Lisa Lala
from
Only available in Light/Medium
I'm disappointed Garnier discontinued the color options. I can only find the eye roller in Light/Medium. I NEED MEDIUM/DEEP. I have been using that for years and I loved it. Please bring back the MEDIUM/DEEP. The Light/Medium does not work for me.
Date published: 2018-05-31
Rated

3

out of

5
by
cindysfbayarea
from
Light reflecting moisturizing
This wasn't cakey or flat--it has some luminosity, but not sparkly. I find this best for older women because caking on concealer makes the skin look wrinkled. However I hate the roller ball--way too much comes out and it is too big to get to the corner of the eye. Also it's tricky to reapply later in the day. because it can get on your eyeleashes, etc. I would much much prefer a tube to this. The ball might feel nice, but you can't keep rolling it over your eye, otherwise too much is dispensed--also it's not sanitary to be rolling it over your eye everyday.
Date published: 2018-02-11
Rated

5

out of

5
by
petitedancer
from
I bought this on a whim and was amazed
I purchased this not expecting it to work as well as it did. Wow was I pleasantly surprised. The shade is perfect for me ( I have fair skin), and though it helps me to cover my undereye discoloration on its own, I find it works most brilliantly over the top of my iT cosmetics corrector cream, to set that cream without requiring me to use powder under my eyes, and to provide a little light reflection at the inner corners. The feature I like best about this product is that it does not crease under my eyes. I'm not sure which ingredient delivers this quality, but please don't change the formula! And please always keep this product in your line. Thank you!
Date published: 2018-01-17
Rated

4

out of

5
by
WStar
from
I love this BUT...
I realy like this product when I want a very natural or sheer undereye brightness but the ONLY thing I don't like is why it has ALCOHOL DENAT. in the ingredients list ??? Isn't that supposed to dry the skin, specially not good for the undereye area. I wish this ingredient was out of the ingredients list and leave the rest, because I really like the idea of having an undereye skincare dark circle remedy.
Date published: 2017-09-01
Rated

2

out of

5
by
Lisa K
from
Too light for my skin
I just bought this product today after reading good reviews from other purchasers. I have dark skin as well as dark circles. The color of the product was very light for my skin and I looked like a ghost even after blending it in well. It may work on those who have lighter skin, but this isn't something I can just put on and leave the house with.
Date published: 2017-08-14
Rated

1

out of

5
by
AmReJe
from
I wish I could give it zero stars
This product does absolutely nothing. It's very very thin. There is no substance to it at all. The dark circles were just as visible after application as they were before and I did not notice any overall change in brightness either.
Date published: 2017-06-15
Rated

5

out of

5
by
Julz81261
from
Love this!!!!!
I'm 55 and I have really dark circles. I have a hard time with concealer anyway. However this gives me a great base for my concealer and reduced the look of my circles. I don't find that it sets in my wrinkles any more then normal.
Date published: 2017-06-05
Rated

5

out of

5
by
Gratefull
from
Best Ever!
Have tried numerous high-end concealers over the years and resigned myself to the fact that if your face moves, eventually your concealer will crease. I've stuck with a few that creased the least, but by the end of the day regardless, the concealer that was hiding dark circles was revealing lines and creapiness. NOT THIS ONE!! Garnier has done it!! Light as air, with a no-makeup look, even at the end of the day! Unless this gets discontinued, I will never, never, need another under eye concealer! Thank you Garnier!
Date published: 2017-05-07
Rated

5

out of

5
by
Lisa in Las Vegas
from
Love this product
Seems like it's being discontinued, so I'll use the new version. I hope it's the same! I wish more garnier make up products were carried in stores. Can't really find it in my local stores. Have tried Target, CVS, smith's and Walmart even...so I have to order online.
Date published: 2017-04-14
Rated

2

out of

5
by
Taylornicole
from
Will not purchase again
Purchased this when I was looking for a night cream for dark circles/thin under eye skin. Works as an okay concealer. It creases a little- so I'd recommend using a primer beforehand. I haven't notice a difference in my dark circles. Two stars because it does temporarily brighten the area. You're better off using concealer and a night cream.
Date published: 2017-04-09
Rated

4

out of

5
by
laellis99
from
so great
I bought this product on a whim and I am amazed. I have such a hard time with under eye products. I have really sensitive skin under my eyes and most canceler doesn't work. This is easy to apply and looks great all day
Date published: 2017-04-06
Rated

5

out of

5
by
Jen V
from
It works!!
I was reluctant to purchase this product because I wasn't sure if it would work. Well it does and the price is very reasonable!! I've been using this product for two weeks now and my eyes look great!
Date published: 2017-03-02
Rated

5

out of

5
by
CocoPDX
from
It works!!
I just starting using this product a couple of days ago and can already see a difference. Dark circles reduced and eye area just generally brighter. I put this on in the morning and then again mid-day as a touch up. Feels good on the skin, blends easily and absorbs quickly. Love it!
Date published: 2017-02-13
Rated

5

out of

5
by
Lynn 61
from
Dark circles
I love this product,having tried so many,but not happy until i found this!
Date published: 2017-02-04
Rated

5

out of

5
by
Elle117
from
NEVER LEAVE HOME WITHOUT IT!
This is my #1 first thing I make sure I have on and with me. It Never cakes, plus it's extremely blendable. Dries like a splash of water! Helps if you have puffed, red or dark eyes. Even after crying it gives relief and hides everything. I'm on my 6 th bottle. I normally never find a product I love enough to buy more than twice.
Date published: 2017-01-22
Rated

4

out of

5
by
Armyladee
from
Covers great!
I bought this a few weeks ago. Loved it as a concealer. Until it scratched under my eye!! There is a little piece of plastic from where the roller sits that I cannot remove. If I want to use it I have to put it onto my finger or a cosmetic wedge. So sad. Plus I haven't seen any results on my dark circles. But it is a great concealer.
Date published: 2016-12-24
Rated

5

out of

5
by
Ada L
from
Perfect but having hard time finding it!
I have been using this for years, but couldn't find it recently so I had to buy a high end brand, no good. I've "cheated" on this product with more expensive or cheaper ones and always regret it. I am a little anxious about not finding it recently though. Please do not ever discontinue it!
Date published: 2016-10-10
Rated

2

out of

5
by
Huma
from
Its an okay concealer. that's it!
I am using this since a month but I did not see any improvement though it works as a good concealer with makeup but didn't help to reduce dark circles. Although Garnier is one of my favorite brand.
Date published: 2016-10-04
Rated

5

out of

5
by
Anely
from
Loveeee this
I love this allooot, i used to use this while i was pregnant when i got really dark circles and this would help so much. it covered really well and refreshed my dark circles. i actually really miss this concealer and im totally gonna go buy this again. best thing about it is that is very light weight, it doesnt feel heavy or cakey.
Date published: 2013-11-11
Rated

4

out of

5
by
nolagal
from
Love the product, needs clear container
I actually would have given the anti dark circle eye roller 5 stars if the packaging were better. It needs to be clear so the user can tell when it is about to run out! If Garnier changes this, i'll come back and give it 5 stars!
Date published: 2013-09-26
Rated

5

out of

5
by
Sherrie
from
Garnier skin renew anti dark circle eye roller
I absolutely love this product. The results are amazing.
Date published: 2013-07-06
Rated

2

out of

5
by
MelissaR
from
Leaky cap, sad to throw away
I was looking forward to seeing how this product worked. As a single working mom with an active 5 year old, I get little sleep. Unfortunately, the product kept leaking and making a mess so I couldn't carry it in my make-up bag. Finally had to throw away without using for long, which really made me sad due to the price.
Date published: 2013-07-03