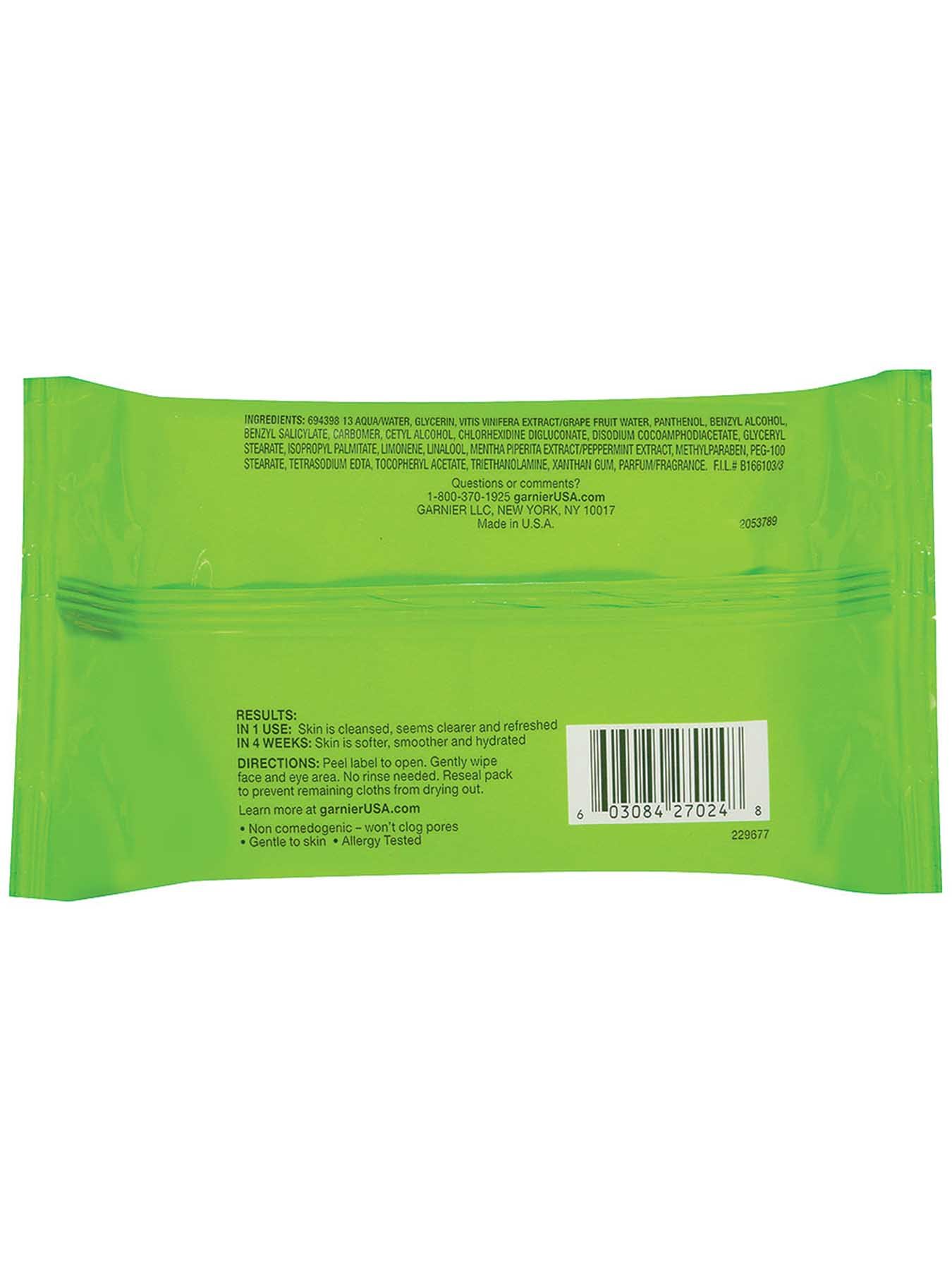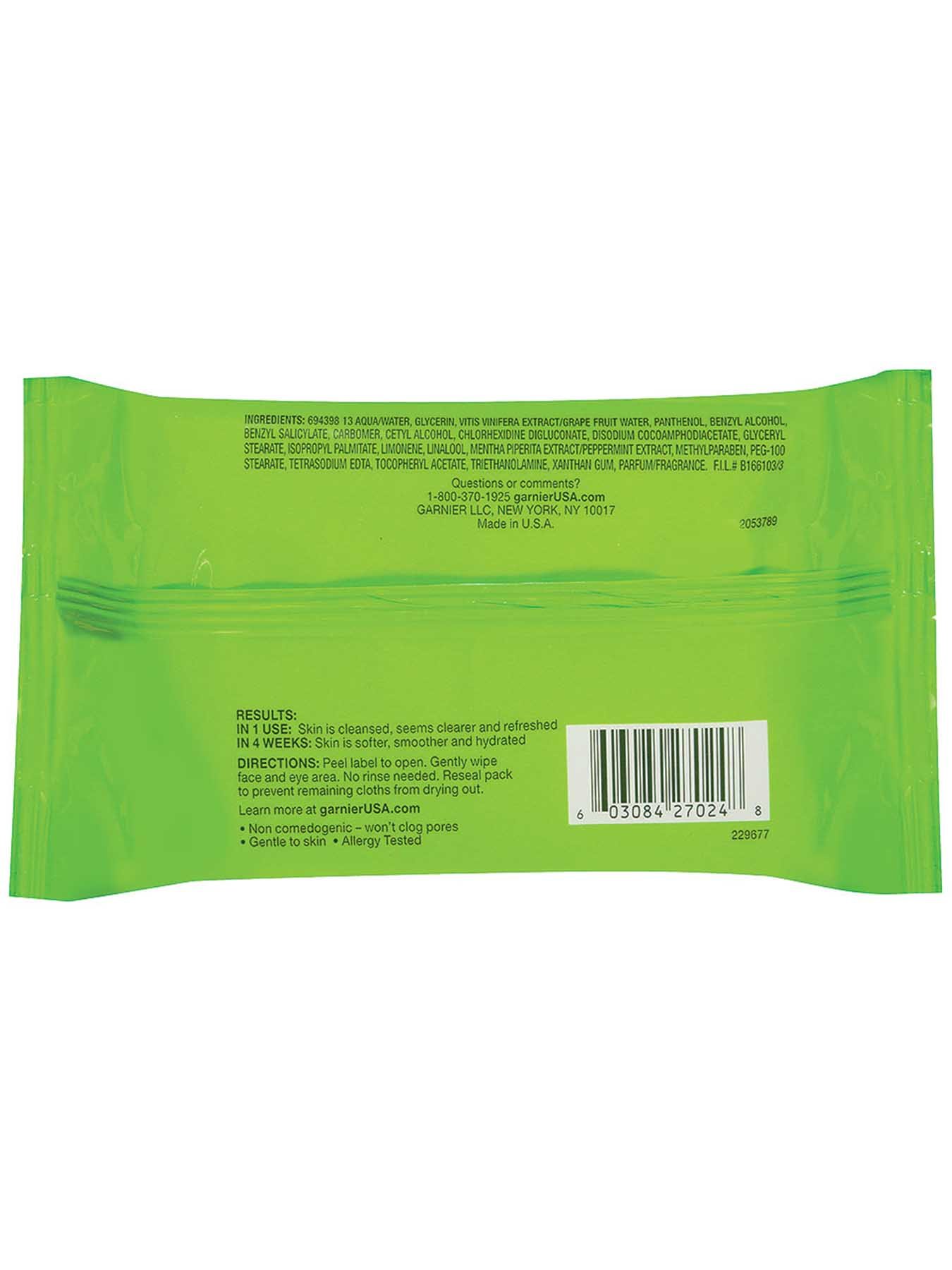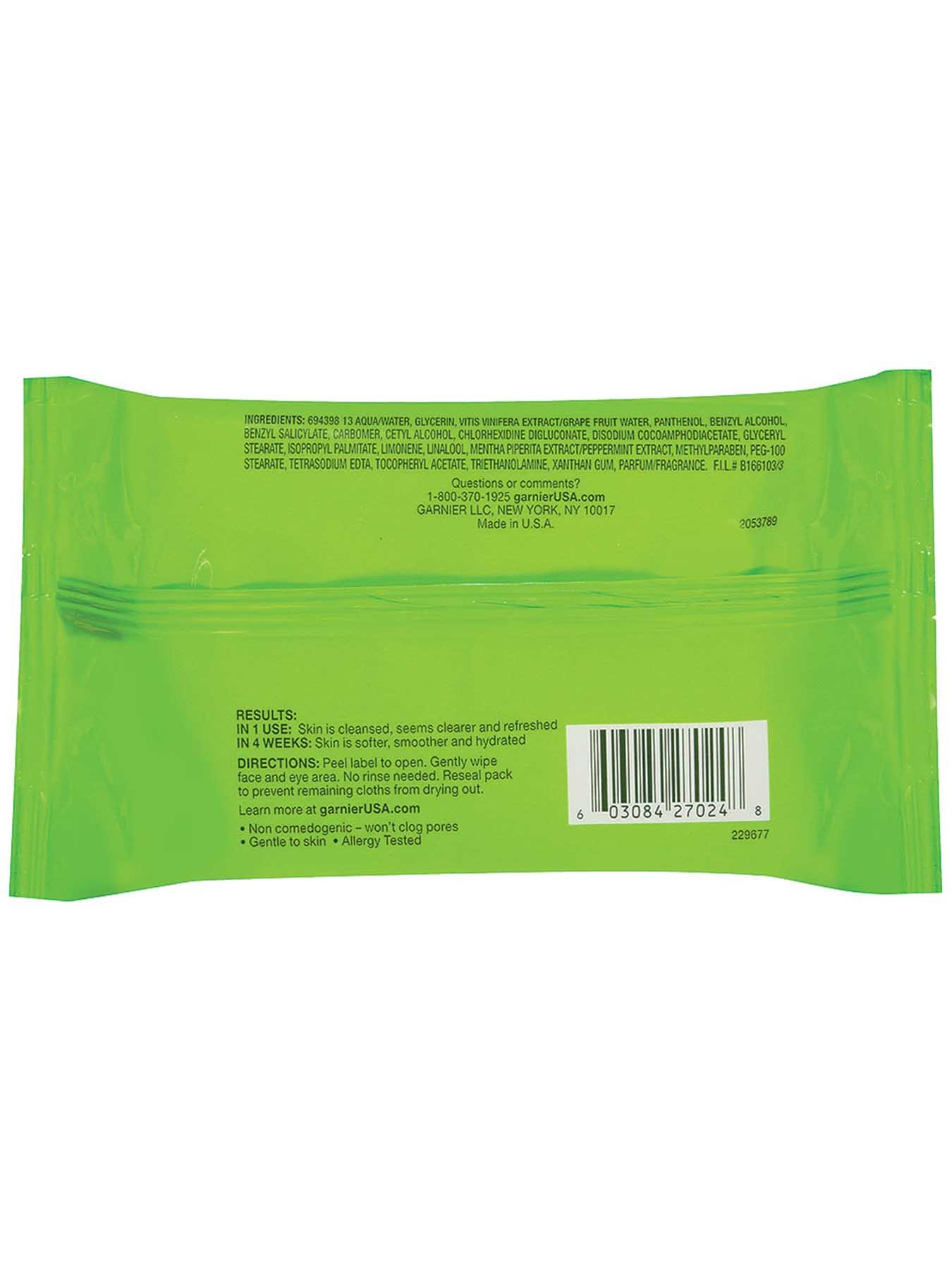 Clean+ Refreshing Remover Cleansing Towelettes
Garnier SkinActive
$5.99 MSRP
Elimina al instante las impurezas y el maquillaje + revitaliza la piel.
INFORMACIÓN DEL PRODUCTO
La piel normal tiene unas necesidades de limpieza específicas. Para una apariencia y una sensación óptimas, necesita la limpieza idónea y un cuidado especifico. Nuestras toallitas suaves eliminan con eficacia las impurezas y el maquillaje en un cómodo paso. La fórmula infusionada con extracto de agua de uva revitaliza al instante la piel para un acabado saludable.
Modo de uso
Despega la etiqueta para abrir. Pasa delicadamente una toallita por el rostro y la zona de los ojos. No es necesario enjuagar. Cierra el pack para evitar que las demás unidades se sequen.
Ingredientes
Aqua/Water, Glycerin, Vitis Vinifera/Grape Fruit Extract, Panthenol, Tocopheryl Acetate, Mentha Piperita/Peppermint Leaf Extract, Triethanolamine, Carbomer, Cetyl Alcohol, Disodium Cocoamphodiacetate, Glyceryl Stearate, Peg-100 Stearate, Xanthan Gum, Sodium Chloride, Tetrasodium EDTA, Isopropyl Palmitate, Myristyl Alcohol, Stearyl Alcohol, Chlorhexidine Digluconate, Methylparaben, Parfum/Fragrance, Benzyl Saylsalicylate, Limonene, Linalool.
Menta
El aceite de menta es un ingrediente imprescindible en las fórmulas purificadoras, calmantes y refrescantes, y deja la piel y el cabello con una sensación y un aroma llenos de frescura.
Rated

5

out of

5
by
Trommers3
from
Garnier Skin Active
I really enjoyed this product. I was so excited to try it!! It was very easy to clean off all of my makeup. I was actually very shocked at how well it worked the first time I used it. It smells very fresh and clean. I love how clean my face feels when I use them. I have nothing bad to say about this product.
Date published: 2017-08-26
Rated

5

out of

5
by
Scapwell
from
Little Heavy Duty Soft Cloth!
I wanted to use this product for a couple weeks, to determine where some minor breakouts were coming from, and test how my skin reacted if I only used this as a night time cleanser over my usual routine. I'm pleased to say, they weren't the culprit of some minor breakouts. Pros: They're gentle. The clothes are soft. They clean makeup like nobody's business, though I can't speak to it's effectiveness on water proof makeup, only water resistant. The formula is non-irritating, and the fragrance is mild and pleasant, not overly pepper-minty like I was expecting. They're great for traveling and keeping in a purse or backpack. Cons: The cloths could stand to be just a tiny bit larger. They also dry out a little too quick if you have a lot of makeup to take off, so you're going to go through at least two if you regularly wear a full face of makeup. I also wouldn't use these as a replacement for a normal skincare routine for any length of time greater than a weekend, maybe a week, as they offer only the mildest of exfoliation.
Date published: 2017-08-25
Rated

5

out of

5
by
Aburdette30
from
Garnier Skin Active
I really like the product itself, it has a very refreshing smell and leaves your skin feeling cool and clean. It doesn't burn or make your skin feel dry after using either. If you have a lot of makeup on you do need to use 2 towels, but it does get the job done for a quick removal. I was worried that if may irritate my skin, because I have very sensitive skin, but there were no issues. The only thing I didn't like about the product was the packaging, because the cover on the top doesn't seal well and I feel like if I don't use them all soon they would dry out.
Date published: 2017-08-25
Rated

5

out of

5
by
HaleyLouisa92
from
Convience and cleanliness, thumbs up!!
I have always been a foam pump action facial cleanser kind of girl and to be honest, with a two year old running around, it becomes a challenge to sneak away long enough to do my daily routine; so I was excited to try Garnier Skin Active Cleansing Towelettes. It was beyond what I expected! The Towelettes are thick and cushioned with a delightful scent that does not leave your face feeling or looking oily, all while being convient enough to use whenever and wherever. This is definitely a product you want to have in your medicine cabinet or purse. You will not be sorry!
Date published: 2017-08-24
Rated

5

out of

5
by
mrsdmitch3
from
Clean & Clear with Garnier Skin Active!
I've always been hesitant to try what I essential felt were a baby wipe for your face, but I was pleasantly surprised with the results of the Garnier Skin Active. I just recently started wearing make up again and anyone with children will know that the time needed to deep clean ones face isn't always permitted. That's when I decided to try this product to see if I could effectively cleanse my face and feel refreshed using them. To my amazement, they actually worked to remove all of the cosmetic residue. Afterwards I didn't even need to apply any facial moisturizers as the product has that feature built in. They're also great for use after working out! I've since gone out and purchased the product to continue using as a part of my facial beauty regiment.
Date published: 2017-08-24
Rated

5

out of

5
by
tarika19
from
Love it!!!
I think the Garnier Clean+ Refreshing Remover Cleansing Towelettes are amazing!!! I can tell from using them my face started to glow and it wasn't oily as much. It didn't dry out my skin while I was using it and I felt like my skin was cleaner. It didn't leave any make-up residue on skin. I will definitely have to buy more of this product.
Date published: 2017-08-24
Rated

5

out of

5
by
kailgirl
from
Cleansing Towelettes
I think these cleansing towelettes are great they gave me great results on taking off all my make-up and left my face feeling refreshed and clean with no break out or rashes on my face never made my eyes string or turn red . I love how easy and quick they are to use and can be taking on the go like when you go camping or travel . I also liked that they Removed my mascara really well and have a nice scent and with no oily residue left on my skin just a smooth clean feeling . I Recommended and must try product .
Date published: 2017-08-24
Rated

4

out of

5
by
Cmwall1
from
Garnier Face Wipes
I don't usually use face wipes. Typically I just use a bar of soap and water but I thought I would try these to see if they were any better at removing makeup. My waterproof mascara was still no match for these, but they did better than my soap and water. All in all they left my face feeling clean and happy but I would have liked if they were a little tougher on waterproof mascara. If you're looking for face wipes that will make your night time routine quicker and remove your makeup, I would recommend these.
Date published: 2017-08-24
Rated

5

out of

5
by
Orihime3
from
Refreshing and Easy
I absolutely love this product, because it was quick and easy to use and it left my skin clean and feeling refreshed after a long day at work and with my two-year-old. I loved that it was easy to use and to remember I didn't have to use multiple products, it was right there and all I needed to do was wipe my face with the towelette and the make-up came off easily and I didn't have to scrub which was wonderful. The cleansing towelettes definitely cut my routine and a half and it definitely left me feeling refreshed rather than oily or overly perfumed, which for me was absolutely wonderful and I would definitely recommend this product to my family and friends.
Date published: 2017-08-24
Rated

4

out of

5
by
Krystine211
from
Pleasantly surprised~
I get very skeptical when trying new make-up removing wipes because, in my experience, most of them are either too rough on your skin or too soft and don't actually remove anything. I was pleasantly surprised by how clean and smooth my skin feels after using these! They thoroughly remove all of the make-up, oil, and dirt from your skin without feeling like you have to scrub really hard or anything! They even remove waterproof mascara! Not to mention, the smell is really nice and refreshing too!
Date published: 2017-08-24
Rated

5

out of

5
by
pjnewland
from
I love Garnier
I think that Garnier products are so great! I love their shampoo, conditioner, and other hair products. I didn't think they could make any products more better. But guess what? They did!! Garnier came out with a new facial product. They are cleansing wipes for your face and they are awesome!!!
Date published: 2017-08-23
Rated

5

out of

5
by
Chacha0518
from
Great facial cleaner
I think this product is great I have been trying it for about two weeks now and it gives me that extra clear and clean feeling on my face and plus I have sensitive skin and it doesn't break me out or make me itch.
Date published: 2017-08-23
Rated

5

out of

5
by
annesdomain
from
Massive convenience in a little package
Garnier face wipes are amazingly convenient. Pull out a wipe, wash the face, throw it away. As a mother of two children, expecting her third any day, it is fabulous to have something that is quick and effective. I even packed them in the hospital bag for when #3 finally decides to arrive.
Date published: 2017-08-23
Rated

5

out of

5
by
QiuDebbie
from
Refreshing Remover Cleansing Towels
These cleansing wipes are amazing. It removed all my makeup even my black eyeliner. The fragrance is pretty nice making me feel fresh and clean. I have sensitive skin and they did not irritate my skill at all. I highly recommend it.
Date published: 2017-08-23
Rated

5

out of

5
by
marketguru7
from
Refreshing Remover Cleansing Towels
I think these face cleansing wipes are great. They do a great job taking the makeup that I wear daily. I have sensitive skin and they do not make me breakout. These wipes leave me looking fresh and clean. I highly recommend these.
Date published: 2017-08-23
Rated

2

out of

5
by
BestReviews
from
Garnier Skin Active face wipes
I have been using these for a few weeks now. They are ok. The package says for normal skin so maybe the sensitive skin one would have been better for me, since my skin is very temperamental. My skin did not feel very refreshing after using them & they left a weird scent behind. They did an OK job of removing my makeup but had a harder time removing very dark colors and waterproof products. One thing these wipes were perfect for was cleaning my counter. I spilled a whole bottle of hair dye on my sink & they cleaned that up very nicely. I would try this product again if they offered it in unscented or for sensitive skin
Date published: 2017-08-22
Rated

5

out of

5
by
saidasolis
from
Fresher than peppermint!
These makeup remover wipes are lightweight in scent so they're not annoying after a couple of uses! I really enjoyed using these wipes because they were easy and handy, and even after long days, I was never too tired to use these to remove my makeup. The scent is pleasant as well. I would really recommend this brand of wipes to anyone who is struggling to find decent wipes.
Date published: 2017-08-22
Rated

5

out of

5
by
Lorrieleopardxo
from
Gym essentials
LOVE these wipes. I keep them in my gym bag for a quick refresher after a great workout! Leaves my face feeling clean and minty! I love the peppermint!!
Date published: 2017-08-22
Rated

4

out of

5
by
CrysOlson
from
Refreshing!
The wipes left my face feeling cool and clean. They also helped clear up some redness and dry spots. I didn't smell any peppermint and it doesn't remove mascara.
Date published: 2017-08-21
Rated

5

out of

5
by
MarissaR23
from
LOVED these make up wipes!!!!
I loved these make up wipes! I have been sticking to the same make up wipes for a while now so I wasn't crazy about trying a new one but wow I loved this. Each wipe is very moist and takes my make up right off. They smell so good and make your face smell good and feel so soft! I wasn't excepting that at all. The scent is still lingering but it's such a nice clean smell I don't mind at all!! I can't believe how much I loved this! I will definitely be purchasing this in the future
Date published: 2017-08-20
Rated

3

out of

5
by
SaraDansbury
from
Face Wipes
I wouldn't buy them again but there wasn't anything necessarily wrong with them. They claim to remove impurities. I don't know what impurities they're supposed to remove- the package doesn't say. It did remove tinted sunscreen from my face. My skin doesn't feel or look any different after using them for 2 weeks. Pros: Easy to use Nice scent Removed sunscreen from face Cons: Rough on under eye skin Tacky afterfeel Stings a little
Date published: 2017-08-20
Rated

5

out of

5
by
SherriW2013
from
Clean+ Refreshing Remover Cleansing
these are amazing. Smell fresh and do not burn my eyes. So many I have tried do. I will continue to use them. They remove ALL your make up/
Date published: 2017-08-20
Rated

3

out of

5
by
mandapanda1982
from
Cleansing wipe
Smell good, but left my face feeling sticky and un clean. some wipes also seemed very dry. probably would not spend my moneyy on these or recommend to anyone
Date published: 2017-08-19
Rated

4

out of

5
by
Vpatrick7
from
Love them! Fragrance is addicting
Pros: I've tried A LOT of different facial cleansing wipes, and I have to say these are definitely my favorite. They are super soft, smell amazing, and clean my face with no breakouts. My skin also doesn't feel gross after I use them like some wipes do. I have dry and sensitive skin, and these do not bother it at all. They also don't dry my skin out, yet don't make it feel greasy either. To me it's the perfect balance. Cons: The scent is strong, but I personally love it so it doesn't bother me. However, if you were sensitive to fragrance or didn't like the scent this may be an issue. Also, these are not the best wipes I've used for removing makeup. They work, but I definitely need more than one wipe to get all my makeup on. I don't use waterproof makeup either, mainly a medium coverage foundation and some eye makeup.
Date published: 2017-08-19
Rated

4

out of

5
by
Bellotti
from
Great product!
I think this product would be great for pre-teens getting in the habit of washing their face at night. That is when I used it, very convenient, fast got my make up off, smell is refreshing!
Date published: 2017-08-19
Rated

5

out of

5
by
kbishel
from
Skin feeling clean and fresh
I am really pleased with the Garnier Skin Active Clean+ Refreshing Remover Cleansing Towelettes. I got a package of the ones for Normal Skin with Peppermint. First, the scent was light and fresh - not overwhelming or overpowering at all. Second, the cleansing towelettes was incredibly easy to use. After a long, hard day at work, I use these to wipe the sweat, grime, and remaining makeup off my face. They have taken makeup off my face with ease. My skin always feels clean, fresh, and soft after using the cloths. These are great for traveling as well, especially when you have to avoid bringing bottles of liquids. I would definitely recommend these cleansing towelettes and will get them again in the future.
Date published: 2017-08-19
Rated

5

out of

5
by
Jengoodlet
from
Love these!
These wipes are awesome! I love using them after the gym, they are refreshing and not oily at all! I keep them in my car and the heat hast effected them at all.
Date published: 2017-08-19
Rated

4

out of

5
by
lxwong
from
Good option for a quick clean
I think Clean+ Refreshing Remover Cleansing Towelettes have a very enjoyable and light peppermint smell. I'm not a huge fan of strong smells so I was positively surprised. I was a little worried they'd give me that annoying tingling feeling on my face, but quite contrary, they leave my face feeling really good and refreshed. I needed just one to clean makeup off my skin. All in all, it's a good product for a quick cleansing.
Date published: 2017-08-18
Rated

5

out of

5
by
Starflyr27
from
A great product
I love these handy wipes. I love the fresh light mint scent and they leave my skin feeling refreshed and clean. They are very handy to use on the go! I have very sensative skin and have had absolutely no issues with skin breakouts from this product. That in itself is a huge win! I am making these a must to my daily skincare routine and you should as well!
Date published: 2017-08-18
Rated

5

out of

5
by
katieharris
from
Fresh, soft, and smells great!
I was pleasantly surprised with my first time using these Garnier face wipes. As soon as you open the package, you can smell a little bit of mint. The wipes are super soft and have just the right amount of moisture to remove all of the oil and dirt on your face. After using the wipes you feel the peppermint kick in and your face feels so fresh. I have started to carry these wipes to the gym to use post-workout. I will definitely buy more when my current pack runs out!
Date published: 2017-08-18