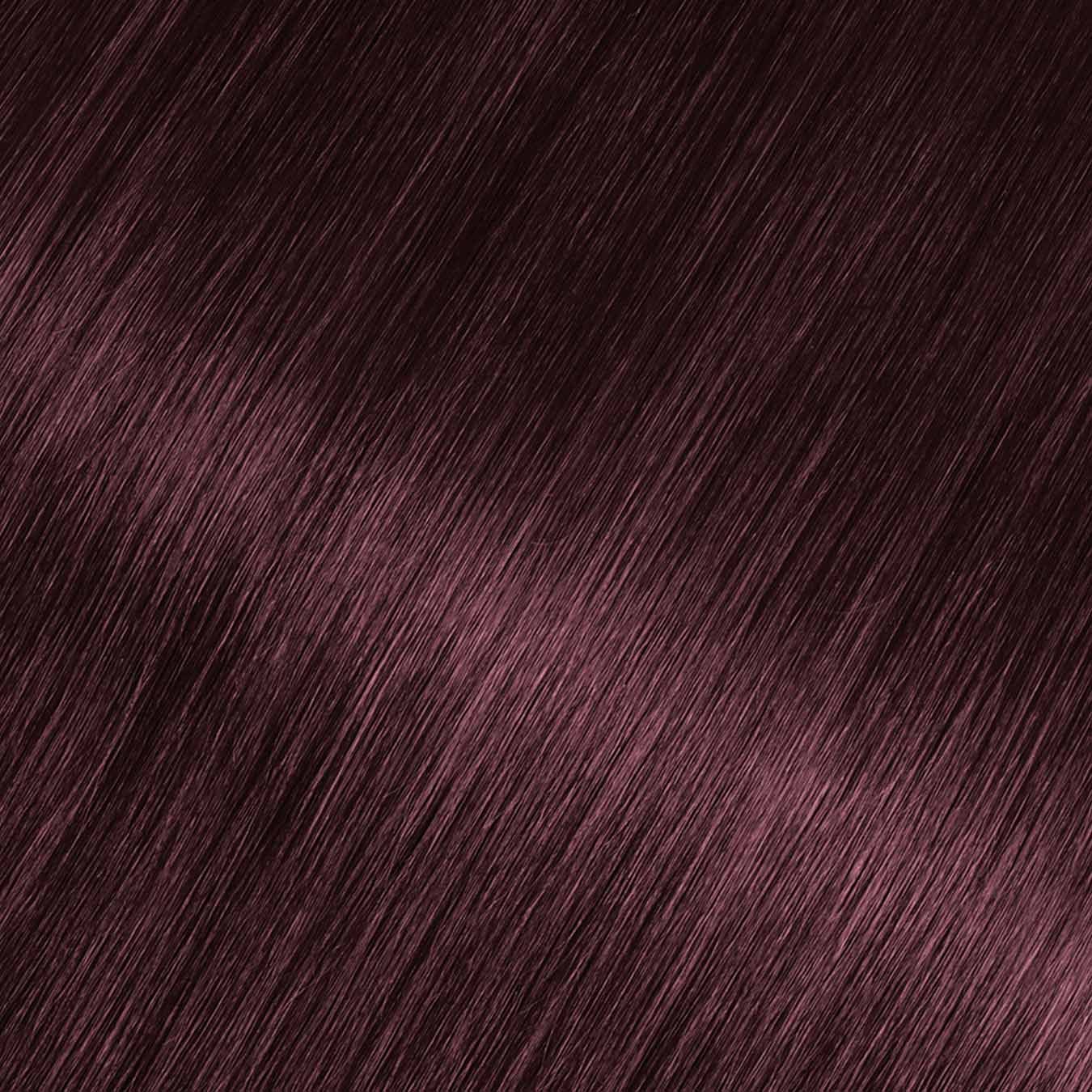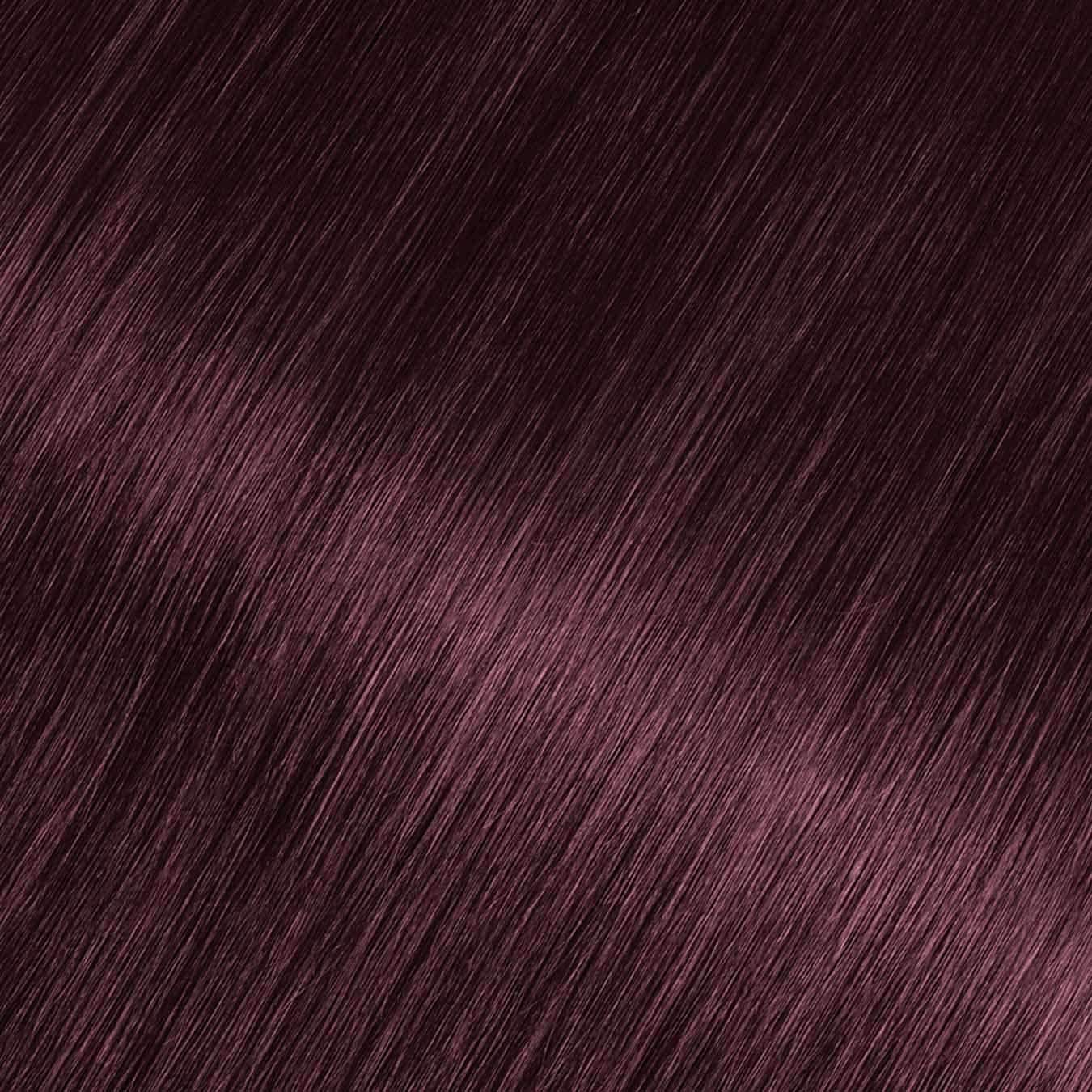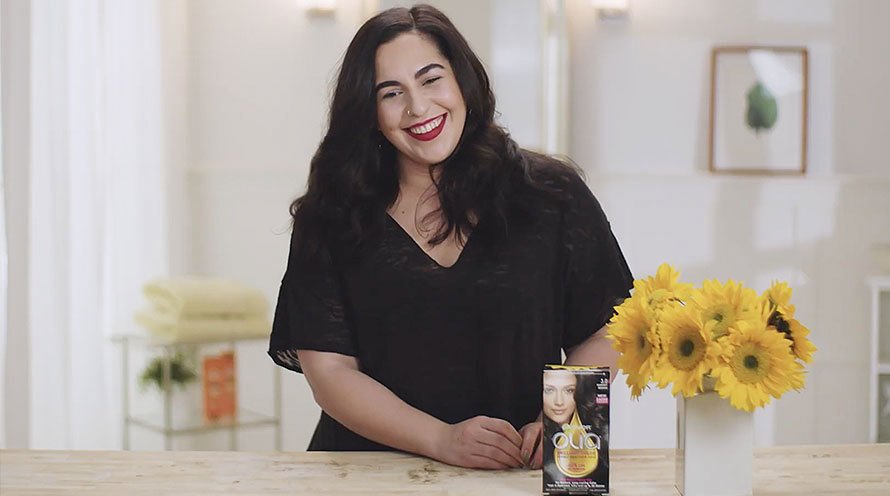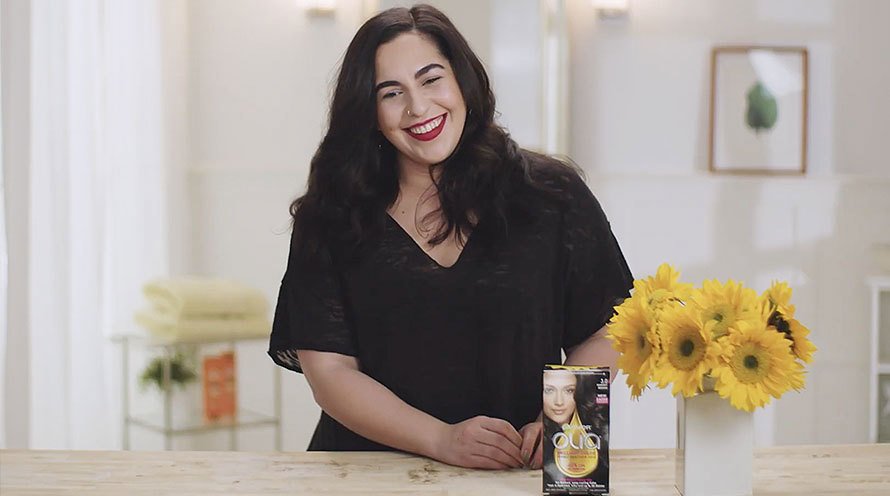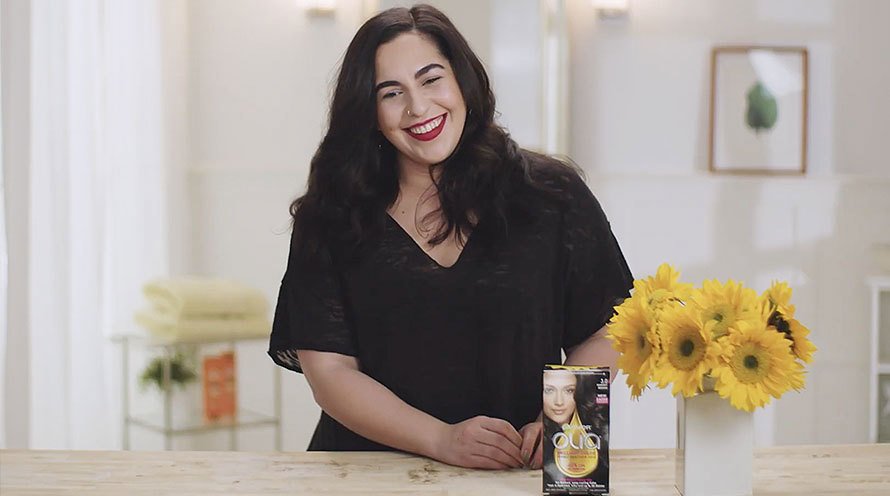 5.12 - Medium Royal Amethyst
Garnier Olia Ammonia Free Hair Color
$9.99 MSRP
Nuestra primera coloración permanente con aceites potenciadores sin amoníaco para un color deslumbrante y un cabello visiblemente más saludable.
IMPORTANTE: ¿Te gusta cómo te queda este tono? Comprueba que sea adecuado para tu cabello. Asegúrate con nuestro test de coloración en 1 minuto.
Explorar productos similares
INFORMACIÓN DEL PRODUCTO:
¿Este tono es adecuado para mí? El tono Garnier Olia 5.12 Medium Royal Amethyst es un tono lleno de intensos reflejos borgoña fríos. Aporta hasta un 100 % de cobertura de canas. El color será más vibrante en las canas. El tono 5.12 es mejor para un cabello sin colorear natural entre castaño claro y castaño oscuro.

Para otros tonos con reflejos borgoña, prueba 4.60 Dark Intense Auburn o 4.62 Dark Garnet Red. Si quieres seguir en la gama de castaños medios pero te gustaría explorar otros reflejos y matices, prueba el tono 5.0 Medium Brown para unos reflejos naturales, 5.03 Medium Neutral Brown o 5.3 Medium Golden Brown.

*En el caso de un cabello coloreado, el resultado de color que se puede conseguir varía en función de una serie de consideraciones especiales. No recomendamos este tono para un cabello coloreado castaño medio o más oscuro. Si necesitas más ayuda, ¡usa nuestra herramienta Selector de tonos virtual y encuentra el tono ideal para ti!

Olia es diferente de cualquier otra coloración permanente tradicional. Potenciado con una mezcla del 60 % de aceites florales naturales, Olia impregna profundamente el cabello de colorantes, para un resultado de color vivo y un 100 % de cobertura de canas. Los aceites ayudan a revertir la aspereza y el aspecto apagado del cabello sin efecto pesado. La fórmula sin goteo no contiene amoníaco, por lo que su aroma es muy agradable. ¿El resultado? Un color más deslumbrante y duradero y un cabello hidratado, sedoso, de aspecto tupido y hasta 3 veces más brillante que el cabello sin lavar ni colorear.

¿Qué incluye el kit de tinte capilar? Un aplicador del revelador, un tubo de colorante y un acondicionador para después de la coloración, junto con un par de guantes y la hoja de instrucciones.
Modo de uso
Aplicación de Olia: Una experiencia sensorial Olia transforma la coloración del cabello en una nueva experiencia sensorial. Con su fórmula sin amoníaco, Olia no desprende ese desagradable olor a amoníaco. Al contrario, Olia posee un delicado aroma floral. Además, su textura en crema aterciopelada sin goteo asegura un confort óptimo durante la aplicación.

Sigue paso a paso este procedimiento al aplicar el color en casa:

1) Haz siempre una prueba en la piel 48 horas antes.
2) Aplica en el cabello seco sin lavar.
3) Con los guantes puestos, vierte el revelador y el colorante en el bote de la mezcla.
4) Parte la punta y agita el frasco con fuerza.
5) Empieza a aplicar el color en las raíces y continúa por toda la extensión hasta las puntas.
6) Extiende el color hasta las puntas y masajea en el cabello.
7) Deja actuar la fórmula 30 minutos.
8) Masajea el cabello minuciosamente antes de enjuagar para optimizar el proceso.
9) Enjuaga el cabello con agua abundante hasta que salga transparente.
10) Aplica el acondicionador después de colorear, deja actuar 2 minutos y enjuaga con agua abundante.
Consejos: Prueba el agua micelar limpiadora waterproof para eliminar las manchas de coloración
Ingredientes
PARAFFINUM LIQUIDUM / MINERAL OIL / HUILE MINERALE
AQUA / WATER / EAU
ETHANOLAMINE
DECYL GLUCOSIDE
SODIUM LAURYL SULFATE
PEG-40 HYDROGENATED CASTOR OIL
2,4-DIAMINOPHENOXYETHANOL HCl
4-AMINO-2-HYDROXYTOLUENE
ASCORBIC ACID
TOCOPHEROL
HYDROXYPROPYL GUAR
SODIUM METABISULFITE
6-HYDROXYINDOLE
THIOGLYCERIN
TOLUENE-2,5-DIAMINE
HELIANTHUS ANNUUS SEED OIL / SUNFLOWER SEED OIL
LIMNANTHES ALBA SEED OIL / MEADOWFOAM SEED OIL
CAMELLIA OLEIFERA SEED OIL
2-METHYL-5-HYDROXYETHYLAMINOPHENOL
N,N-BIS(2-HYDROXYETHYL)-p-PHENYLENEDIAMINE SULFATE
PARFUM / FRAGRANCE
DISODIUM COCOAMPHODIACETATE
PASSIFLORA INCARNATA SEED OIL
EDTA
FIL D223766/1
Sin amoníaco
Con cero amoníaco, Olia difunde una agradable fragancia floral.
60 % aceites
La fórmula aterciopelada y sin goteo de Olia contiene una mezcla del 60 % de aceites florales naturales de girasol, espuma de prado, flor de la pasión y camelia para ayudar a revertir la aspereza y el aspecto apagado del cabello para dejarlo más hidratado, sedoso y brillante.
Rated

3

out of

5
by
gixxergirlie
from
I was really impressed with this hair color initially. The application process was easy and the color was gorgeous at first. However, I've noticed that even after two weeks, the color continues to wash out of my hair, despite using the appropriate shampoo and conditioner for color- treated hair. I didn't completely hate this dye, but I probably wouldn't go out of my way to purchase it.
Date published: 2020-01-09
Rated

5

out of

5
by
arielp_
from
I really like the richness and shine of the color! I have tried this brand before too but in a different shade and I loved it the same. There is not a strong scent which I like and it is really easy to use yourself.
Date published: 2020-01-08
Rated

5

out of

5
by
yeseniacb735
from
Overall a great product! It left my hair feeling smooth and the color was extremely vibrant. My hair is usually colored every few months but Im obsessed with the turn out.
Date published: 2020-01-07
Rated

1

out of

5
by
breederall
from
The product didnt work at all....i wasnt a fan of it. Its probably because my hair is too dark or maybe the product isnt for my hair, but it didnt show at all
Date published: 2020-01-07
Rated

4

out of

5
by
chelseat2088
from
Good at hole hair color, no damaging, kept my hair healthy and soft. Wasnt as vibrant but I have naturally dark brown hair. Would would great if your hair was blonde or lightened.
Date published: 2020-01-06
Rated

2

out of

5
by
haveyasena
from
I received this complimentary product from Influenster. This is the second time Ive used this hair dye and it just doesnt work for me. The color doesnt really come through. However I do have dreadlocks so my hair is obviously thicker. I left it on for 40 minutes and there is barely any color. :(
Date published: 2019-12-22
Rated

5

out of

5
by
loveblancaa
from
Received for free from Influenster. I was sceptical after using 3 different purple hair colors that left my hair nowhere near purple and feeling so damaged. I was pleasantly surprised by the smell and how nice the color looks. Definitely recommend!
Date published: 2019-12-22
Rated

5

out of

5
by
katalinah3c65
from
okay so it took me a week or two bc I was so nervous to dye my hair. I didnt want it to be super dark and I didnt want it to kill my hair. turns out I LOVE the color AND it honestly made my hair feel softer?! how is that possible idk.
Date published: 2019-12-16
Rated

5

out of

5
by
melemelissad
from
I liked this hair color a lot. I have naturally dark hair so the color isnt as bright as the girl on the box but you can definitely see a violet hue in my hair. I was quite happy that this not smell strong at all - didnt get the burning feeling in my eyes I usually do when using hair dye. I will definitely use this again when Ive gotten some color growth.
Date published: 2019-12-11
Rated

3

out of

5
by
shabbygabby
from
I was a little concerned when I first opened the box and saw I tiny bit of color must have leaked out but I still decided to use it. As I started to apply it I thought it really smelled good and not of harsh chemicals. I was really surprised when I got it all over the sink and the tub and it DID NOT STAIN! It just cleaned right up! There was also no burning or irritation as it sat in my hair. I was really excited to see how it would turn out. As I washed it out and blow dryed my hair I looked in the mirror and wasnt really impressed. I was expecting the same kind of hair color as the girl on the box and I was sadly disappointed. The color only really took to my roots (which are a dark blonde) and didnt show through really on the rest of my hair. I even went outside to see if you could see it better in natural sunlight and you cant really see it. Im definitely will to try this hair dye again once my hair gets lighter because I do love the color my roots are!
Date published: 2019-12-10
Rated

5

out of

5
by
twopeopleinaboat
from
love the color and the fact that it doesn't stink to high heaven. it was easy to apply and i really liked the gloves that came with it. no hand staining and definitely enough conditioner.
Date published: 2019-12-07
Rated

5

out of

5
by
butterfly_beauty_13
from
I had previously used this hair dye before influenster sent it to me. I really like how this dye doesn't feel like my scalp is on fire or itches really bad. After I dyed my hair the dye didn't leave my hair dry instead, my hair felt nourished and healthy. The color also last a while before it begins to fade. I wash my hair 2-3 times a week and the color lasted about a good month before it began to fade. I would recommend this dye because its affordable but it also works really well without damaging your hair.
Date published: 2019-12-07
Rated

5

out of

5
by
readysetletsglow18
from
I was a little worried that this color wouldnt be able to dye my dark brown hair but I was amazingly surprised that it did in fact dye my hair a beautiful dark amethyst color! Its not harsh on your hair and it works great! I would recommend to everyone who like a nice easy dye job they can do themselves
Date published: 2019-12-07
Rated

5

out of

5
by
kristyp3de9
from
Amazing! Color is vibrant and gorgeous! Gives that extra pop to the color of your hair. Hides grays very well and leaves your hair feeling super soft and hydrated! I highly recommend this rather than other brands! It works much better! Absolutely love this product!
Date published: 2019-11-30
Rated

1

out of

5
by
Freddinski
from
not worth it
I have been wanting purple hair for a long time. I figured I would give this a shot. I waited 3 days after I washed my hair to dye it. It didn't dye my hair. There was products like hair spray or leave in conditioner in my hair. It didn't even stain the white wash cloth that I used to set the bottle on while seperating my hair. It didn't stain the other white wash cloth that I used to wipe dye off my face and neck.
Date published: 2019-11-13
Rated

1

out of

5
by
The mrs
from
Did not turn out at all like the box
I bought this color on my birthday to dye my hair. My hair was darker red before. It actually lightened my hair and it is absolutely nothing like I wanted the color to be. It didn't damage my hair like other dyes do which is it's only saving grace. Not a happy Birthday girl...
Date published: 2019-09-24
Rated

1

out of

5
by
DisappointedCustomer2
from
Doesn't hold
This is the worst product I've purchased!! I colored my hair, followed all their instructions and realized the color didn't hold to most of my hair so it was really spotty. I ended up purchasing another box and doing it again, it came out a little better but still nothing like what they advertise! A week later and the color is almost completely gone! I will never purchase any of their products again! Save your money and go for something else!!!
Date published: 2019-08-25
Rated

1

out of

5
by
Aanderson0908
from
Not what was advtised
Bought this today. Was uber excited but gravely disappointed. Color result was not as advertised.. stay away from this product far far away.
Date published: 2019-08-07
Rated

5

out of

5
by
Hudyb83
from
Perfect box color
This is the only box dye that I use because it works great and leaves your hair super silky. Definitely recommend
Date published: 2019-06-06
Rated

5

out of

5
by
Bdana
from
Incredible
I've had mixed experiences with my hair. I got it dyed platinum blonde once, and then brown, and then cut it short and started over so as context my hair has not been dyed, and it is chocolate shade brown, and also I do not have much experience dying my own hair. Because of that, I didn't expect a ton of results from this but I was totally wrong. It was easier to use than anything I've used before, and even though my hair is brown it turned the exact color on the box and I know it shouldn't be possible after dying your hair but it actually feels softer than before. I highly highly recommend even if you don't have hair dye experience
Date published: 2019-03-06
Rated

5

out of

5
by
Kae1
from
A Great Purchase!!
10 out of 10 would DEFINITELY buy this to dye my hair again! The dye took wonderfully, even though my hair is rather dark naturally. Not only that, but it even left my hair shinier and silkier than ever before!! An amazing, worthwhile dye from Garnier! It didnt even stain my shower like most colored dyes do
Date published: 2019-03-06
Rated

4

out of

5
by
crooney2012
from
Pretty good
Worked well and I like the fact that it does not have any ammonia or harsh smells. I feel like the color took better in some areas than others but overall I am very satisfied!
Date published: 2019-03-06
Rated

5

out of

5
by
Lou4
from
No ammonia!
Love the bright color and the amonia free mixture. Makes my hair bright, shiny, and damage free!
Date published: 2019-03-06
Rated

5

out of

5
by
Ashley H1
from
Love!
This is one of the only box colors that has not damaged my hair overly much. I would definitely buy again.
Date published: 2019-03-06
Rated

5

out of

5
by
KBBFirefly
from
Very pleased with application ease & color shade
I received a sample of @Garnierusa #Olia No Ammonia hair color in the Bold shade of Medium Royal Amethyst. My natural, undyed hair color is light brown and I felt my hair really took on the color well, without any need for bleaching. I had been looking for a subtle, darker purple shade for my hair and this fit perfectly! It's more of a red purple, so in natural sunlight more of the red undertones are visible than in interior lighting. The application process was incredibly easy and I was able to do it myself in my home bathroom. I'm very curious to see how long the color remains and how many washes it lasts through before it noticeably starts to fade and needs a touch-up. This makes me a #garniergirls squad member! #sponsored
Date published: 2019-03-06
Rated

5

out of

5
by
Mandee1
from
Great hair dye
I loved this hair dyed. I have had problems before with different hair dyes in this same color but with this dye the hair color came out just like the box said it would. It also did not have that harsh hair dye smell which makes it even better.
Date published: 2019-03-06
Rated

4

out of

5
by
RRJD1
from
I love the way my hair feels!
I really enjoy the feel of my hair after using this color! After applying and leaving on for directed amount of time, I rinsed as directed. The color after was very nice , it took to my regrowth brighter than the rest of my hair because it was lighter. After my first wash the color did lighten a bit and even out.
Date published: 2019-03-06
Rated

5

out of

5
by
Misty6
from
So pretty!
This hair color left my hair feeling healthier and stronger than before! The color isn't very rich, but pretty nonetheless. Purple is more of an undertone than it looks on the box.
Date published: 2019-03-06
Rated

4

out of

5
by
Jesstyles
from
Pretty and unique
The color was different than what I'd normally try. It was surprisingly pretty though! It wasn't as deep as the color on the box however, it turned out a bit lighter but overall it was nice. My hair isn't dry either which I love
Date published: 2019-03-06
Rated

5

out of

5
by
QueenNikki
from
Medium Royal Amerhest Heaven
I absolutely love this color, it looks so beautiful and shines like no other product I have used before. I have had so many compliments over this color! Thank you Garnier you made me look awesome again
Date published: 2019-03-06