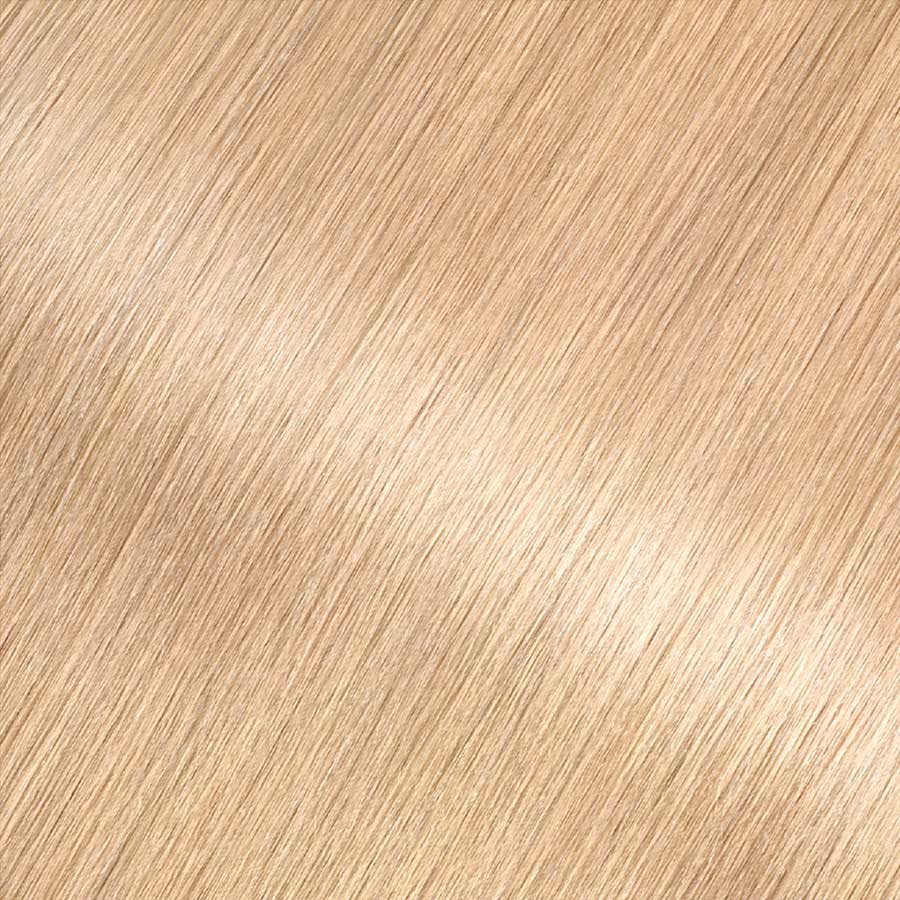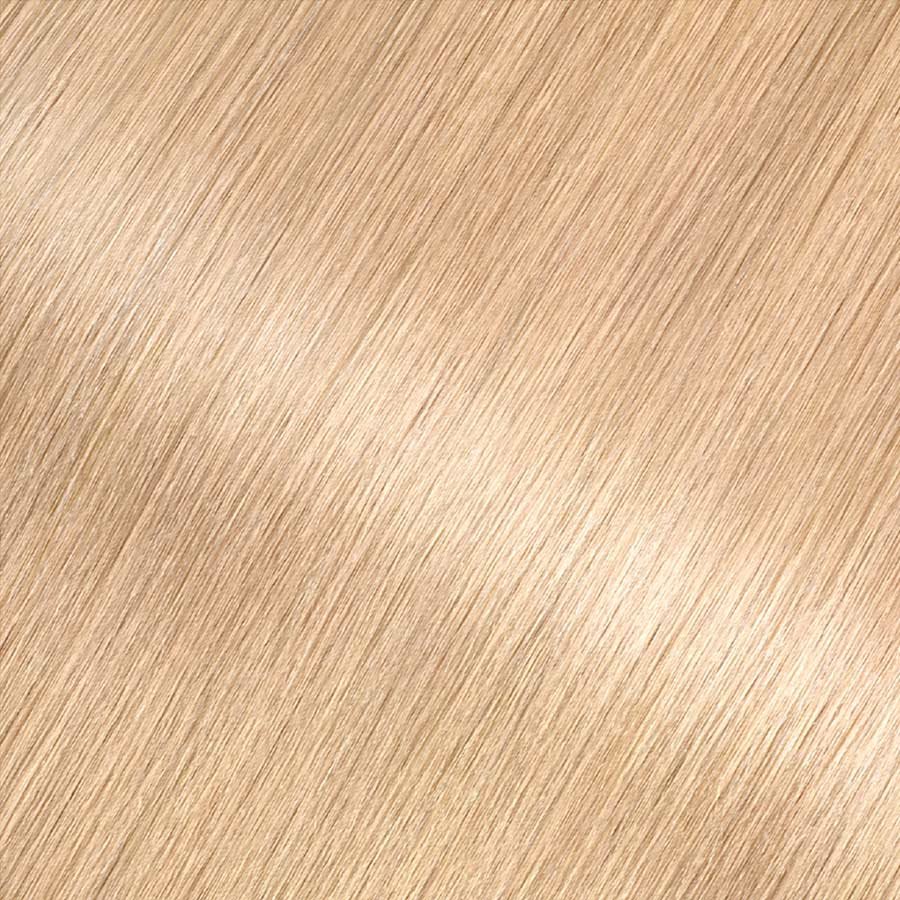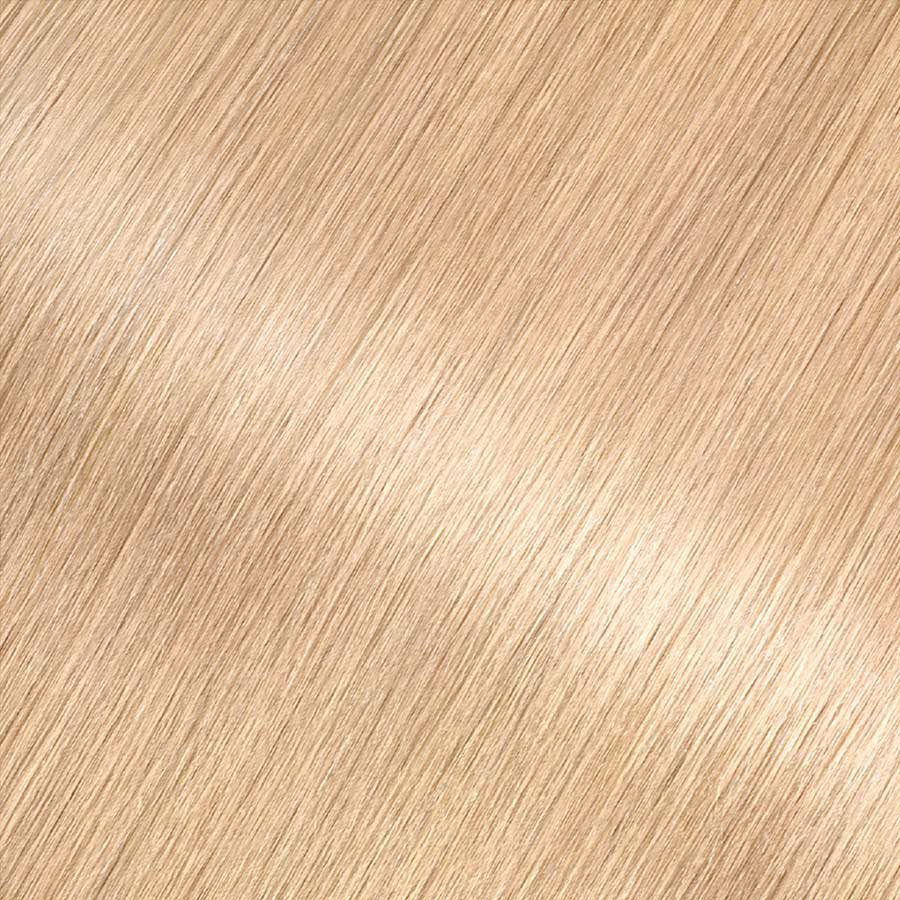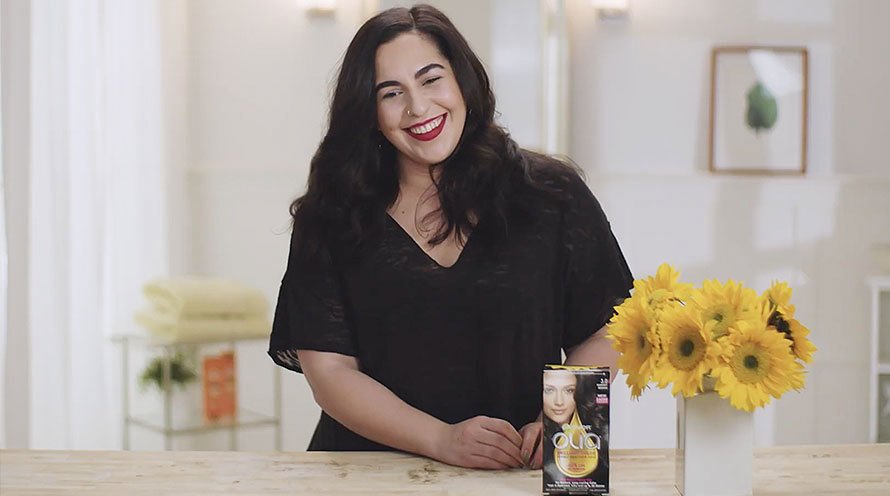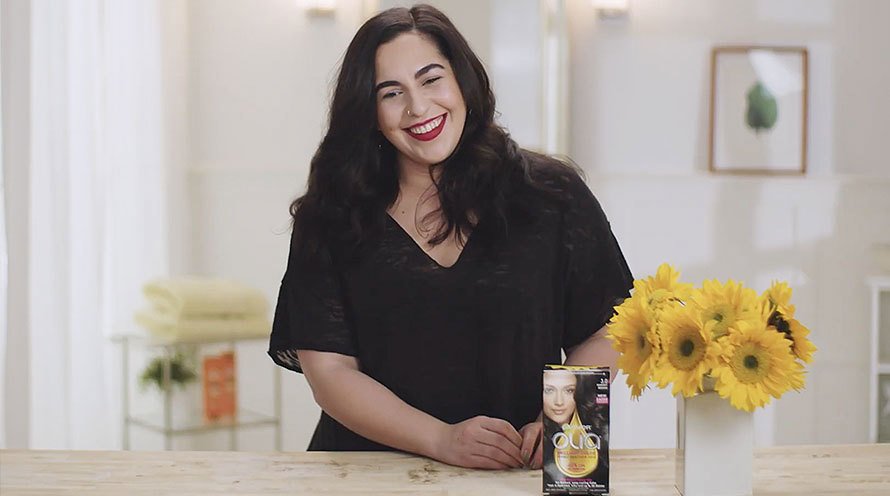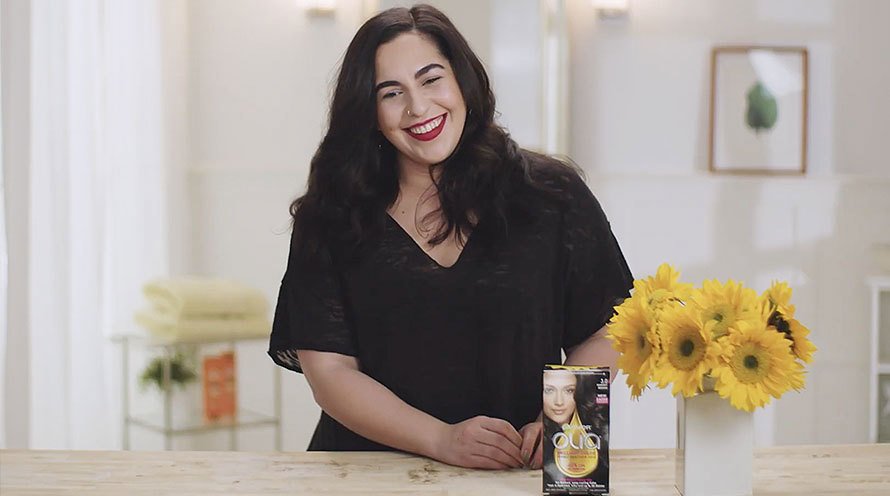 9 1/2.1 - Lightest Ash Blonde
Garnier Olia Ammonia Free Hair Color
$9.99 MSRP
Nuestra primera coloración permanente con aceites potenciadores sin amoníaco para un color deslumbrante y un cabello visiblemente más saludable.
IMPORTANTE: ¿Te gusta cómo te queda este tono? Comprueba que sea adecuado para tu cabello. Asegúrate con nuestro test de coloración en 1 minuto.
Explorar productos similares
INFORMACIÓN DEL PRODUCTO:
¿Este tono es adecuado para mí? El tono Garnier Olia 9 1/2.1 Lightest Ash Blonde es nuestro tono rubio más claro y tiene reflejos fríos, pensados para iluminar y neutralizar el cabello rubio. Es mejor para un cabello natural entre rubio claro y rubio oscuro.

Si este tono es demasiado claro para ti, prueba uno de nuestros demás tonos Blonde como 9.0 u 8.0.

*En el caso de un cabello coloreado, el resultado de color que se puede conseguir varía en función de una serie de consideraciones especiales. Por eso, no recomendamos el tono 9 1/2.1 para un cabello coloreado anteriormente con el tono 7.0 Dark Blonde o más oscuro, con predominancia de canas o previamente decolorado. Si necesitas más ayuda, ¡usa nuestra herramienta Selector de tonos y encuentra el tono ideal para ti!

La tecnología con aceites potenciadores, sin amoníaco, impregna profundamente el cabello de colorantes, para un color puro, vivo y duradero. Olia mejora visiblemente y restaura el cabello gracias a los aceites que ayudan a revertir la aspereza y el aspecto apagado para un color más deslumbrante y duradero. El cabello está hidratado, sedoso y hasta 3 veces más brillante que el cabello sin lavar ni colorear.

¿En qué se diferencia Olia?
A diferencia de la coloración tradicional, Olia usa una exclusiva mezcla del 60 % de aceites florales naturales para unos resultados de color radiantes y deslumbrantes. La fórmula de crema aterciopelada y sin goteo exclusiva, sin amoníaco, impregna el cabello de colorantes con una agradable fragancia sensorial.
Modo de uso
Aplicación de Olia: Una experiencia sensorial
Olia transforma la coloración del cabello en una nueva experiencia sensorial. Con su fórmula sin amoníaco, Olia no irrita el cuero cabelludo ni desprende ese desagradable olor a amoníaco. Al contrario, Olia posee un delicado aroma floral. Además, su textura en crema aterciopelada sin goteo asegura un confort óptimo durante la aplicación.

Sigue paso a paso este procedimiento al aplicar el color en casa:

1) Haz siempre una prueba en la piel 48 horas antes.
2) Aplica en el cabello seco sin lavar.
3) Con los guantes puestos, parte la punta y quita el tapón del frasco del revelador; a continuación, agrega el colorante.
4) Agita el frasco con fuerza para mezclar el contenido.
5) Empieza a aplicar el color en las raíces y continúa por toda la extensión hasta las puntas.
6) Extiende el color hasta las puntas y masajea en el cabello.
7) Deja actuar la fórmula 30 minutos.
8) Masajea el cabello minuciosamente antes de enjuagar para optimizar el proceso.
9) Enjuaga el cabello con agua abundante hasta que salga transparente.
10) Aplica el acondicionador después de colorear, deja actuar 2 minutos y enjuaga con agua abundante.
Consejos: Prueba el agua micelar limpiadora waterproof para eliminar las manchas de coloración
Ingredientes
DEVELOPER:1071243 AQUA/WATER/EAU, PARAFFINUM LIQUIDUM/MINERAL OIL/HUILE MINERALE, HYDROGEN PEROXIDE, CETEARYLALCOHOL, STEARETH-20, PEG-4 RAPESEEDAMIDE, GLYCERIN, POLYQUATERNIUM-6, HEXADIMETHRINE CHLORIDE, TOCOPHEROL,PENTASODIUM PENTETATE, SODIUM STANNATE, TETRASODIUM PYROPHOSPHATE, PHOSPHORIC ACID. F.I.L.# D41208/11

AFTER COLOR CONDITIONER:1119728 A AQUA/WATER/EAU, CETEARYL ALCOHOL, BEHENTRIMONIUM CHLORIDE, CETYL ESTERS, TOCOPHEROL, TRIDECETH-6, CHLORHEXIDINEDIGLUCONATE, HELIANTHUS ANNUUS SEED OIL/SUNFLOWER SEED OIL, CAMELLIA OLEIFERA SEED OIL, AMODIMETHICONE, ISOPROPYL ALCOHOL,PARFUM/FRAGRANCE, CITRIC ACID, CETRIMONIUM CHLORIDE. F.I.L.# D180530/1 US PATENTS: 7,223,385; 7,485,289

COLORANT:1183712 B PARAFFINUM LIQUIDUM/MINERAL OIL/HUILE MINERALE, AQUA/WATER/EAU, ETHANOLAMINE, DECYL GLUCOSIDE, SODIUMLAURYL SULFATE, PEG-40 HYDROGENATED CASTOR OIL, PARFUM/FRAGRANCE, DISODIUM COCOAMPHODIACETATE, HYDROXYPROPYLGUAR, SODIUM METABISULFITE, EDTA, ASCORBIC ACID, HELIANTHUS ANNUUS SEED OIL/SUNFLOWER SEED OIL, LIMNANTHES ALBA SEEDOIL/MEADOWFOAM SEED OIL, PASSIFLORA INCARNATA SEED OIL, CAMELLIA OLEIFERA SEED OIL, TOLUENE-2,5-DIAMINE, RESORCINOL,m-AMINOPHENOL, p-AMINOPHENOL, 2,4-DIAMINOPHENOXYETHANOL HCl, THIOGLYCERIN, TOCOPHEROL. F.I.L.# D182379/1 US PATENTS:7,060,107; 7,988,737; 7,988,738; 8,066,781; 8,114,170; 7,494,513 US PAT PENDING
Sin amoníaco
Con cero amoníaco, Olia difunde una agradable fragancia floral.
60 % aceites
La fórmula aterciopelada y sin goteo de Olia contiene una mezcla del 60 % de aceites florales naturales de girasol, espuma de prado, flor de la pasión y camelia para ayudar a revertir la aspereza y el aspecto apagado del cabello para dejarlo más hidratado, sedoso y brillante.
Rated

5

out of

5
by
be peace
from
the best
I've used this color for a few years and local stores are no longer carrying it. It is far superior to everyother brand I have tried and leaves my hair in better condition than before I retouch. Ive stayed to other brands here and there and am always mad at myself after. I always get compliments on the natural looking ash color when I use this product. Im 50 now, and still able to maintain unbroken long hair even though my hair is naturally wavy thin and fragile. It improves the brittleness that other colants cause. LOVE IT! thanks for carrying online!!!
Date published: 2017-05-27
Rated

5

out of

5
by
Ivory
from
Only ash blonde dye that ever worked for me
I've used probably every ash blonde dye on my unnatural yellow blonde hair through the years and they never did much to fight the brass. Then came this due and OMG! Forget wella toner, forget it all! My hair is a light white blonde shade that I've never been able to achieve. I would say you should only use this if you are strictly a warm shade of blonde or else you might end up gray, because this stuff is powerful. Upon first applying it, I saw it working right away. I'll totally be using this for touch ups from now on. Amazing.
Date published: 2017-05-12
Rated

5

out of

5
by
Shonda1945
from
Lightest Ash Blonde
My Hairdresser Could Be Changes My Hair Into Extremely Full Of Lightest Ash Blonde All Over Everywhere In My Whole Hair.......................................................
Date published: 2017-05-09
Rated

5

out of

5
by
Me12
from
better then any other color
I have colored my hair in the past and this time I was trying to get back to my natural blonde from Henna red. I had to color remove first and go with the Olia light bronze before this color. I have a sensitive scalp and I love how it doesn't sting like other hair colors. I also put coconut oil on three day hair first and it works fine over top.
Date published: 2017-03-02
Rated

5

out of

5
by
Sea breeze
from
The BEST EVER!
I finally found this color and loved it! My hair was naturally very dark brunette but is almost white now. This is a perfect color with no brassy effects ever! I'm sold! (Wish it were easier to find on retail shelves!)
Date published: 2016-12-29
Rated

1

out of

5
by
Whistlerblonde
from
Tried to cover my roots but turned them gold
I bought this product to try and match up with my ash blonde colour from the salon. Sadly the test strip I did turned my roots a dark gold colour and darkened my already blonde colour from the salon. It also left my hair very squeaky and dry feeling. Had such high hopes, what can I do?
Date published: 2016-11-27
Rated

5

out of

5
by
Binnie
from
Absolute Favorite Shade!
Wish they had these in the stores more. This is my dream shade and I am always searching for it. I have dark blonde hair and this gets my hair almost white blonde. Love IT!
Date published: 2016-11-04
Rated

1

out of

5
by
Mish
from
I'm a light brunette and now I'm orange
Feeling pretty stupid with orange hair, wish I would have known it didn't work.
Date published: 2016-09-27
Rated

5

out of

5
by
dzidra
from
Best Blonde
This is the best platinum blonde color I've ever used, even compared to when I used to get my color done at the salon! It's the perfect platinum, with no ugly yellow tones whatsoever. The color looks so natural and pretty. Can not recommend enough!!
Date published: 2016-09-17
Rated

5

out of

5
by
Mom of 3
from
Non-drying floral scented light blonde formula
I'm surprised that more people haven't had a 5 star experience with 9-1/2.1. I had tried the other light blonde shades which left too much orange and not enough light blonde. This one works & it also covers the little sprouts of gray hair, too. I would suggest keeping the product in your hair 45 minutes to really bring out the vibrant shiny tones. Once I forgot about my timer and left it on 60 minutes and my hair was the right color and not in the least over processed or dried out.
Date published: 2016-09-03
Rated

5

out of

5
by
JustB
from
FINALLY no more orange!
I finally found a blonde color that is light enough with out bleaching, yet doesn't leave my hair orange. I know people complain about the bottle but seriously for a great color I could care less!! It's just getting harder and harder to find now and I'm scared it's going to become obsolete :( PLEASE don't take my 9 1/2.1 from me!! I won't be able to live without it!!!! LOVING this color!!!!
Date published: 2016-08-28
Rated

1

out of

5
by
LilyKG
from
I wanted to dye my hair this color to match my highlights and fix my roots and it didn't change my hair color at all or cover my roots. It was a waste of money and my time.
Date published: 2016-08-22
Rated

1

out of

5
by
Chevy
from
Purpleish
The store was out of my normal dye so I bought this. Actually I purchased two boxes cause I have really long hair and this turned my hair blueish and purpleish all over. I had to fix it right away. I was mortified and now I won't touch this brand at all, which sucks cause they have some gorgeous reds I'd love to play with
Date published: 2016-08-07
Rated

5

out of

5
by
nadia4622
from
olia lightest ash blonde
I am a 35 year old woman who has been dying my hair blonde for over 15 years, I have struggled and struggled to achieve a non brassy light blonde color with no damage, and olia lightest ash blonde was truly the miracle I was looking for, it is by far the best product I have used in my life. the color comes out perfect with no brassiness, and keeps hair damage free even when lightening this much. don't waste your time with anything else. perfect results everytime! nadia.
Date published: 2016-01-18
Rated

1

out of

5
by
missfire31
from
It Did Nothing!
I have used a lot of boxed blonds but this one is by far the worst. I wanted to just touch up my roots here and there. Nothing! Just made my hair greasy and cost me money. I usually like your products but this was a real let down.
Date published: 2015-11-20
Rated

5

out of

5
by
kristenkelley1
from
Love this color!
I used this color on top of Olia Light Blonde and my hair looks beautiful. I don't know why people are having problems with gray/blue, but I"m betting it was because their hair was probably bleached? My hair wasn't damaged by this product at all. I've used Olia colors for months now and I only see the softest hair after I dry it. Don't be afraid of this product. If you're bleaching your hair, go by the warning on the box and don't use it. My stylist said the blue/gray comes out because blue/green/gray tints are in ash blonde colors. If you don't have a color already on your hair, beware.
Date published: 2015-07-04
Rated

1

out of

5
by
Gabriela
from
Don't buy this product.
A few minutes ago, I dyed my hair this color. Afterwards, you could clearly see the ends very damaged and falling off. My hair has been recently cut so seeing it broken after dyeing it could only mean the product was responsible for the damage. I'll sadly have to go tomorrow to get it cut up to my shoulders. In the picture, you can see the damage and brushing it and with slight touches, it falls.
Date published: 2015-06-26
Rated

1

out of

5
by
Hlacz
from
Nope.
I am naturally a platinum blonde... But as I've been getting older my hair has been getting darker. I usually use the normal garnier product to dye my hair lighter and love it. Always comes out the color I want it to be. When I saw this product wasn't that much more pricier I decided to give it a try. NEVER AGAIN! My hair is a sickly gray blue color! Definitely not the light blonde I wanted!! I'll go back to garniers other hair dying product.
Date published: 2014-10-18
Rated

5

out of

5
by
Cujolita
from
Awesome
This product is amazing. No burning no smell .. Amazing. The color is true .. I love cool blonde and this is the shade I have been looking for forever. PLEASE DO NOT DISCONTINUE .. EVER :)!!!
Date published: 2014-06-22
Rated

5

out of

5
by
ChristinaPie
from
Absolutely Excellent
I love this dye! I've been using it ever since it came to the stores, the Lightest Cool Blonde shade. It doesn't burn your skin or hair and the end result is always marvellous because of both the good quality of the dye and the conditioner. Hope it doesn't leave the store shelves or I have no idea what I will use! I cannot speak on behalf of girls with darker hair, not entirely sure how it'd work on dark brown hair, but as I have quite dark blonde hair, it works perfectly. Love it!
Date published: 2014-06-07
Rated

5

out of

5
by
JAW82
from
Great results, glad I switched
I've been using another top brand for years but it's hard to find good dye for blondes. The top brand switched their formulas and now the colors turn out weird and different everytime. I thought I'd give this a try as I like some of the other Garnier products. WOW, absolutely NO gross hair dye smell. That was amazing! Color was spot on, very nice and consistent, shiny and my hair felt softer. The conditioner that came with the product is also very nice!! I'd definitely recommend.
Date published: 2014-01-20
Rated

1

out of

5
by
jfitsch
from
terrible
I will never use this color again. I was expecting a cute light blonde with the 9.5.1 and ended up with silvery hair with a chunk of blue. I'm so disappointed. I've always used garnier nutrisse and on a whim tried the olia. Nope, never again. My hair literally looks dull and grey. The smell of it is nice and it did make my hair very soft and smooth but the color is terrible.
Date published: 2013-12-30
Rated

5

out of

5
by
KaseyJ
from
Very pleased!
I really like that Oila doesn't dry your hair out! I use the 9.3 lightest cool blonde since my hair does grab red or brassy tones. If you are a dark blonde naturally or light brown and you want to go really light it might be worth it to do what I do and go to Sally's and get the red brassy corrector that I mix right with the color mixture. It keeps me from turning strawberry blonde or that icky brassy color. My only complaint is I wish that it lasted longer and I didn't have to do it every four weeks. It does say that you will have to redo every four weeks so I can't complain. Kasey
Date published: 2013-12-08
Rated

5

out of

5
by
polishlady66
from
Biggest impact in hair coloring in years!
I've been coloring my hair since I was 16 years old. Olia has changed the way I color my hair. This product not only gives me great color coverage, especially for the gray, but it lasts so much longer than other products.. My hair comes out so much softer and more manageable. Thanks for OLIA.
Date published: 2013-11-11
Rated

5

out of

5
by
levy104
from
I am very satisfied with this product.
This product is outstanding. The smell was fantastic. The color turned out awesome!! I had no bronze or yellow tones coming through. Thanks for making a excellent product and this will be my new product to use from now on!
Date published: 2013-10-21
Rated

1

out of

5
by
FairyCheia
from
Results
My hair is more white than blonde, a few times in the past I have had a problem with yellowing. Yellowing was getting bad so I thought I would go to light blonde. HUGE mistake. Not only did it not turn even a little blonde it is a dark gray. YUCK. So if you are trying to go from white to blonde do a test color first.
Date published: 2013-10-19
Rated

1

out of

5
by
Shannon5886
from
Waste of money
This hair dye is horrible! I havent dyes my hair in years and got professional highlights 3 months ago. They are grown out so I figured instead of forking over another $200 I would just buy this dye to do my whole head since it is the color I was trying to achieve. My hair starting out was lighter than the color on the color chart on the side of the box so I figured there wouldn't be any problem having it dye the cool blonde. I was wrong. Instead of lightening my hair it just make it darker! Even the hair that wasn't highlighted to begin with. You can't even see the highlights I had before all you see if light brown hair. The worst. Now I know why I haven't used diy dye in a long time. Not only is my hair darker but it now feels like straw. Do not buy this dye if you want cool blonde colored hair.
Date published: 2013-10-16
Rated

1

out of

5
by
Shainna768
from
Blonde dye made my hair brown!
I wanted to lighten my hair a bit because I am already blonde but my hair came out a dark brown! I am so mad. stripped the color out immediately. I will never use this product again.
Date published: 2013-10-11
Rated

4

out of

5
by
MirandaMarieLee
from
Pretty
I always get my hair done professionally. I broke down today due to lack of time and money and bought Olia after some research online. It was easy and quick to apply. I think I should have left it on my roots a little longer than 20 minutes. The color is pretty and looks natural but I wish it was a little lighter at my roots. How long do I need to wait to reapply. My hair is super soft and shiny too! :)
Date published: 2013-10-06
Rated

1

out of

5
by
terrible
from
terrible
Please note that the color came out awful. It's between silver with blue highlights. I have used the buttercup color previously and loved it. Now I have to wear a hat until I can fix it. I'm very disappointed with the results.
Date published: 2013-09-26