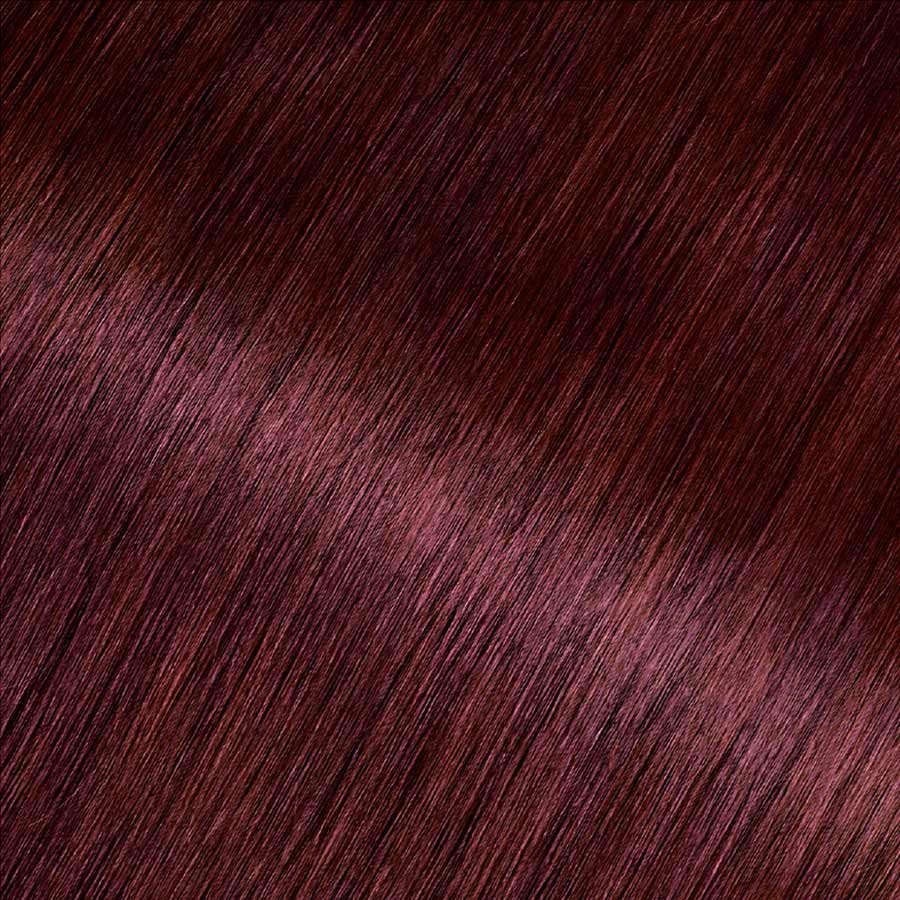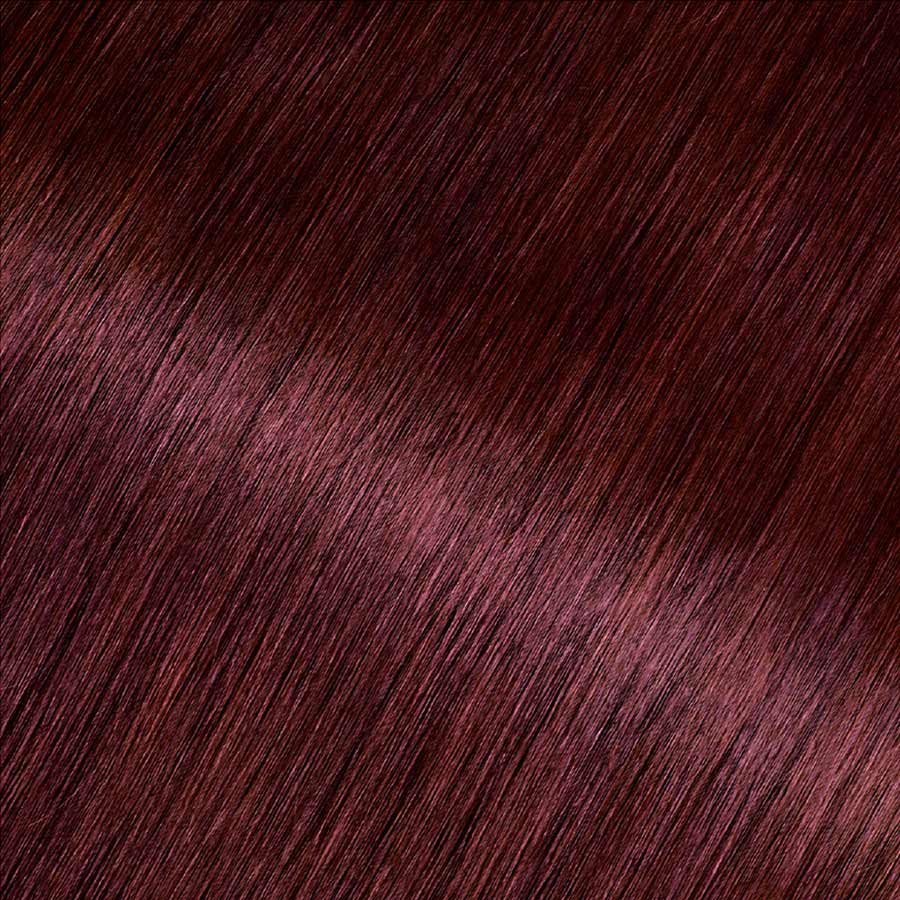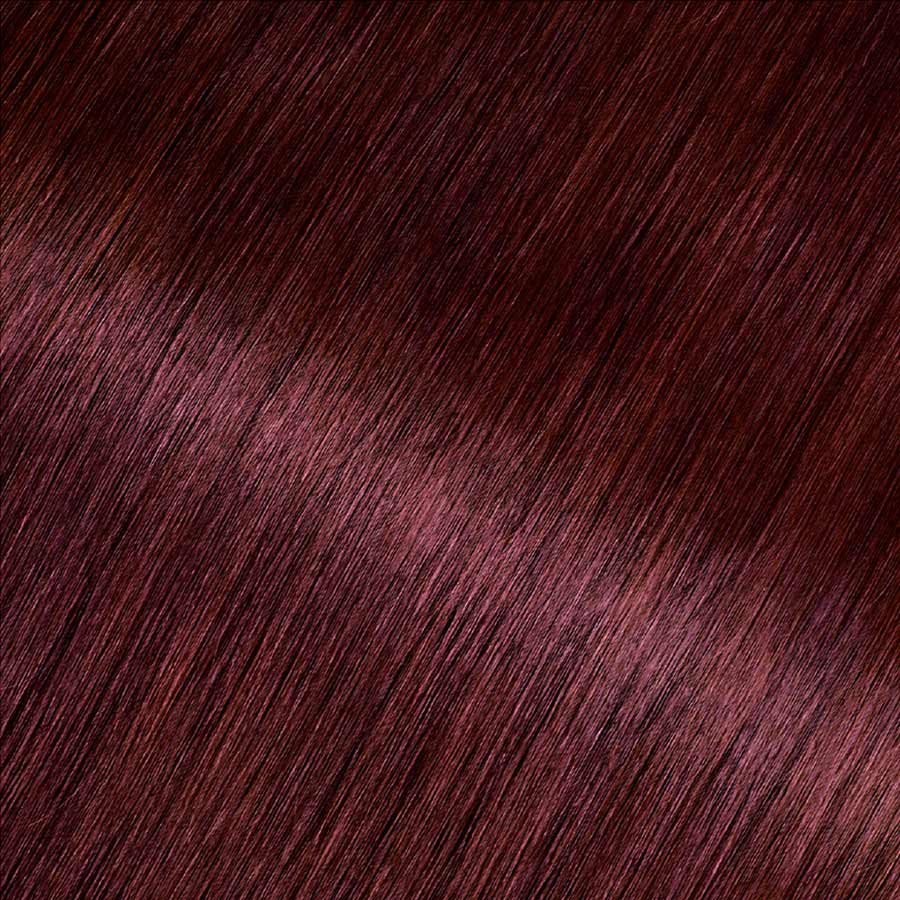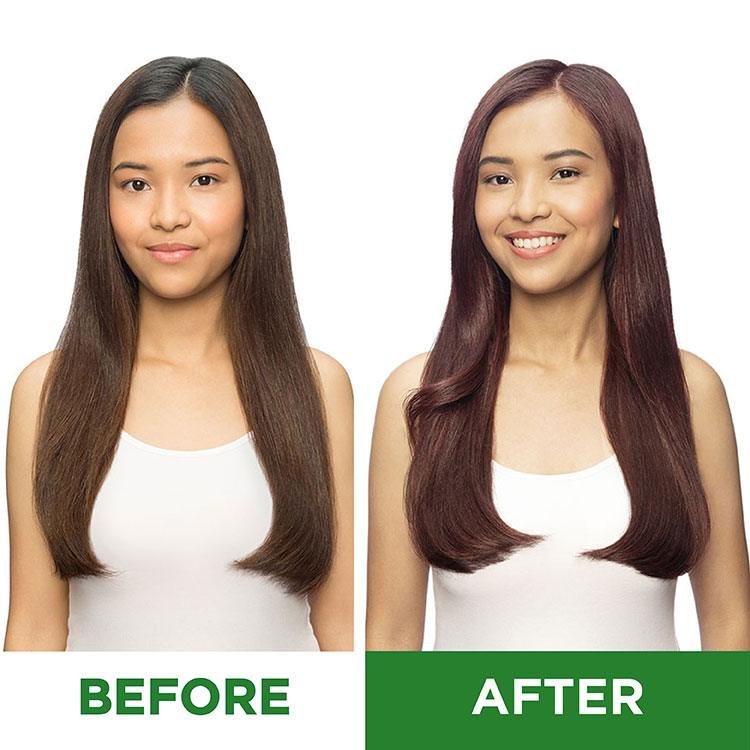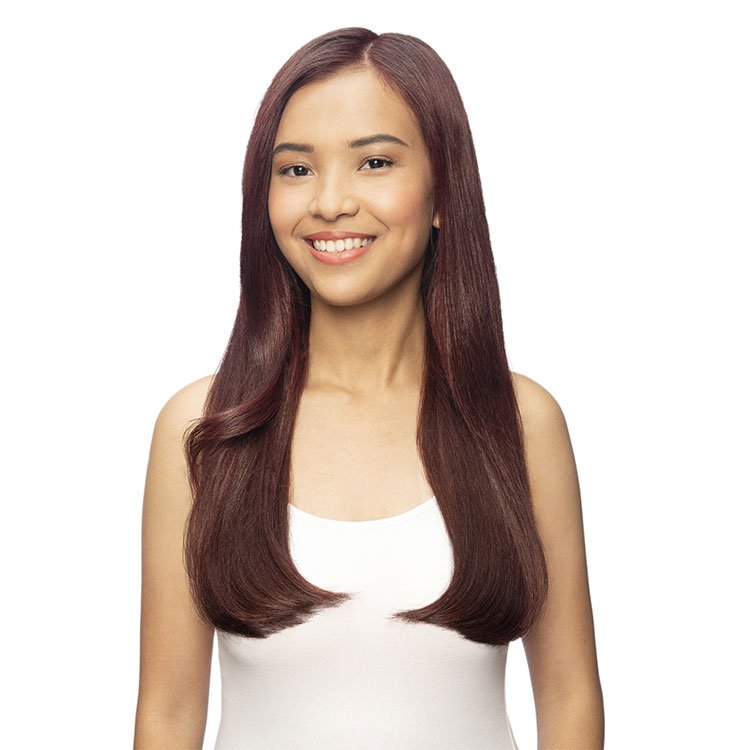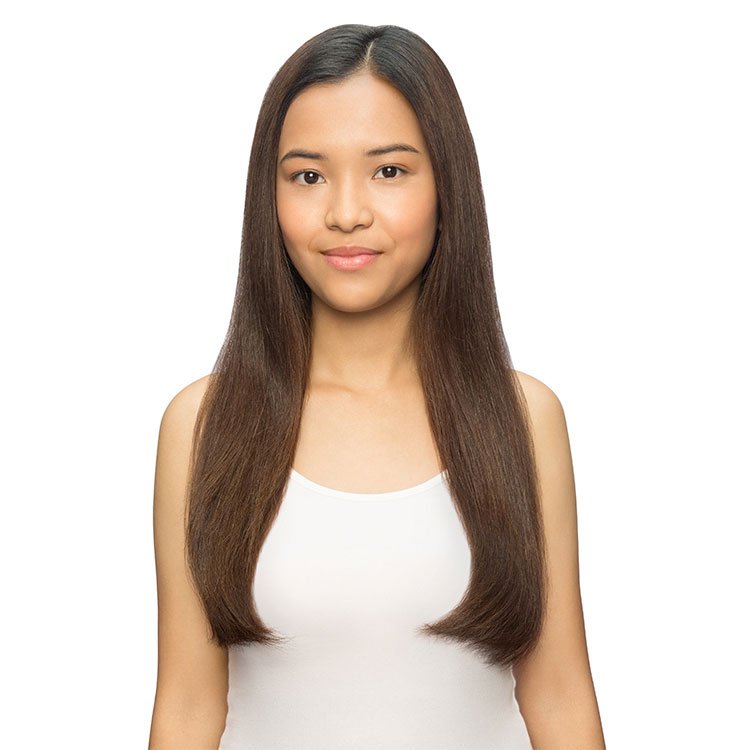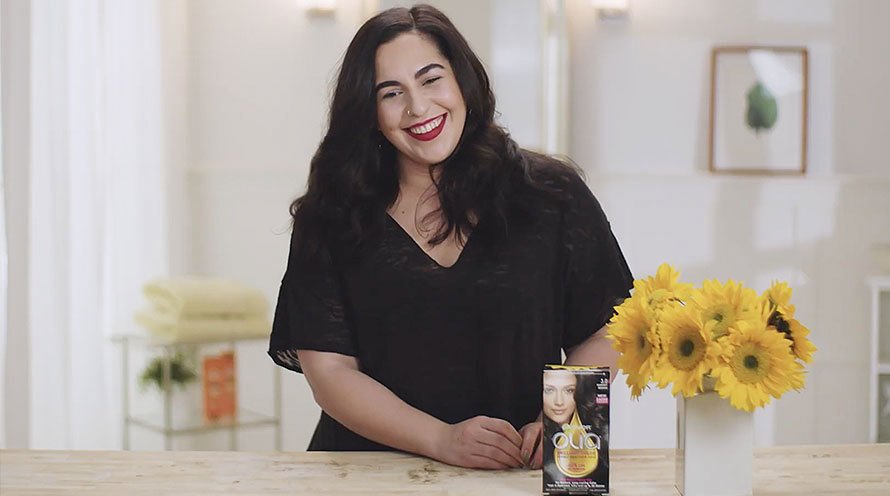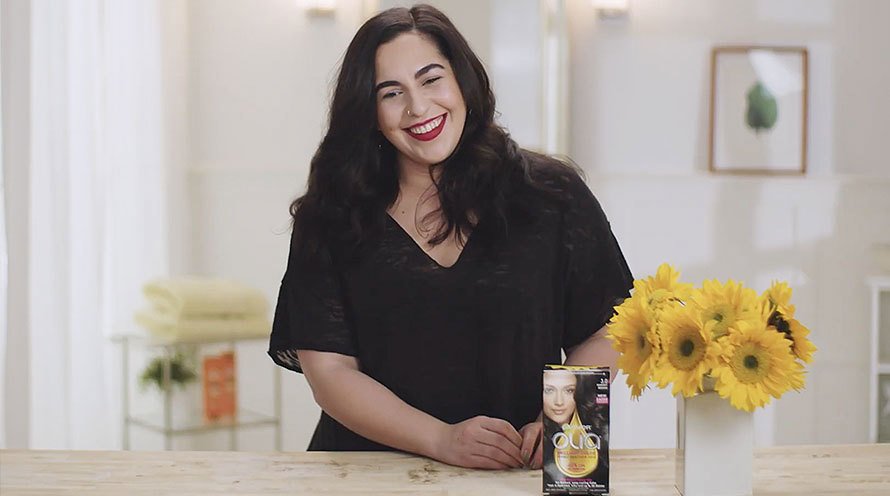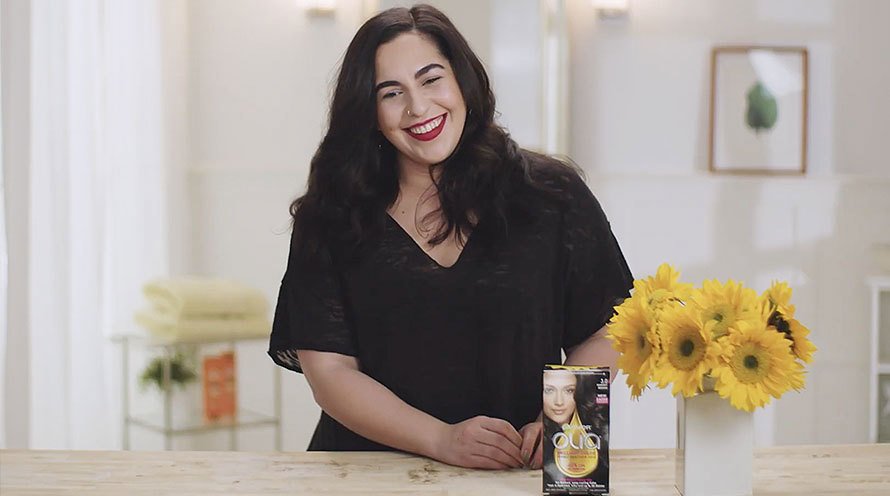 Olia 4.60 - Dark Intense Auburn
Garnier Olia Ammonia Free Hair Color
$9.99 MSRP
Nuestra primera coloración permanente con aceites potenciadores sin amoníaco para un color deslumbrante y un cabello visiblemente más saludable.
IMPORTANTE: ¿Te gusta cómo te queda este tono? Comprueba que sea adecuado para tu cabello. Asegúrate con nuestro test de coloración en 1 minuto.
INFORMACIÓN DEL PRODUCTO:
¿Este tono es adecuado para mí? El tono Garnier Olia 4.60 Dark Intense Auburn añade reflejos rojizos ricos para un deslumbrante pardo rojizo con un 100 % de cobertura de canas. Es mejor para un cabello natural entre castaño claro y negro. Si prefieres un tono más claro con reflejos similares, prueba el tono 5.60 Medium Garnet Red.

Si quieres seguir en la gama de castaños oscuros pero te gustaría probar otros reflejos y matices, tienes muchos tonos para elegir, como 4.0, 4.03, 4.15, 4.3, 4.35 y 4.62.

*En el caso de un cabello coloreado, el resultado de color que se puede conseguir varía en función de una serie de consideraciones especiales. Por eso, no recomendamos el tono 4.60 para un cabello coloreado anteriormente con el tono 3.0 Darkest Brown o más oscuro. Si necesitas más ayuda, ¡usa nuestra herramienta Selector de tonos y encuentra el tono ideal para ti!

Nuestra primera coloración permanente con aceites potenciadores para un color deslumbrante y un cabello visiblemente más saludable.
La tecnología con aceites potenciadores, sin amoníaco, impregna profundamente el cabello de colorantes, para un color puro, vivo y duradero. Olia mejora visiblemente y restaura el cabello gracias a los aceites que ayudan a revertir la aspereza y el aspecto apagado para un color más deslumbrante y duradero. El cabello está hidratado, sedoso y hasta 3 veces más brillante que el cabello sin lavar ni colorear.

¿En qué se diferencia Olia?
A diferencia de la coloración tradicional, Olia usa una exclusiva mezcla del 60 % de aceites florales naturales para unos resultados de color radiantes y deslumbrantes. La fórmula de crema aterciopelada y sin goteo exclusiva, sin amoníaco, impregna el cabello de colorantes con una agradable fragancia sensorial.
Modo de uso
Aplicación de Olia: Una experiencia sensorial
Olia transforma la coloración del cabello en una nueva experiencia sensorial. Con su fórmula sin amoníaco, Olia no irrita el cuero cabelludo ni desprende ese desagradable olor a amoníaco. Al contrario, Olia posee un delicado aroma floral. Además, su textura en crema aterciopelada sin goteo asegura un confort óptimo durante la aplicación.

Sigue paso a paso este procedimiento al aplicar el color en casa:

1) Haz siempre una prueba en la piel 48 horas antes.
2) Aplica en el cabello seco sin lavar.
3) Con los guantes puestos, parte la punta y quita el tapón del frasco del revelador; a continuación, agrega el colorante.
4) Agita el frasco con fuerza para mezclar el contenido.
5) Empieza a aplicar el color en las raíces y continúa por toda la extensión hasta las puntas.
6) Extiende el color hasta las puntas y masajea en el cabello.
7) Deja actuar la fórmula 30 minutos.
8) Masajea el cabello minuciosamente antes de enjuagar para optimizar el proceso.
9) Enjuaga el cabello con agua abundante hasta que salga transparente.
10) Aplica el acondicionador después de colorear, deja actuar 2 minutos y enjuaga con agua abundante.
Consejos: Prueba el agua micelar limpiadora waterproof para eliminar las manchas de coloración
Ingredientes
DEVELOPER:1071397 AQUA/WATER/EAU, PARAFFINUM LIQUIDUM/MINERAL OIL/HUILE MINERALE,CETEARYL ALCOHOL, HYDROGEN PEROXIDE, STEARETH-20, PEG-4 RAPESEEDAMIDE, GLYCERIN,POLYQUATERNIUM-6, HEXADIMETHRINE CHLORIDE, TOCOPHEROL, PENTASODIUM PENTETATE,SODIUM STANNATE, TETRASODIUM PYROPHOSPHATE, PHOSPHORIC ACID. F.I.L.# D42424/9AFTER COLOR CONDITIONER:1119728 A AQUA/WATER/EAU, CETEARYL ALCOHOL, BEHENTRIMONIUM CHLORIDE, CETYL ESTERS, TOCOPHEROL, TRIDECETH-6, CHLORHEXIDINEDIGLUCONATE, HELIANTHUS ANNUUS SEED OIL/SUNFLOWER SEED OIL, CAMELLIA OLEIFERA SEED OIL, AMODIMETHICONE, ISOPROPYL ALCOHOL,PARFUM/FRAGRANCE, CITRIC ACID, CETRIMONIUM CHLORIDE. F.I.L.# D180530/1 US PATENTS: 7,223,385; 7,485,289COLORANT:1183533 E PARAFFINUM LIQUIDUM/MINERAL OIL/HUILE MINERALE, AQUA/WATER/EAU, ETHANOLAMINE, DECYL GLUCOSIDE, SODIUM LAURYLSULFATE, PEG-40 HYDROGENATED CASTOR OIL, PARFUM/FRAGRANCE, DISODIUM COCOAMPHODIACETATE, 1-HYDROXYETHYL 4,5-DIAMINOPYRAZOLE SULFATE, 4-AMINO-2-HYDROXYTOLUENE, HYDROXYPROPYL GUAR, 5-AMINO-6-CHLORO-o-CRESOL, TOLUENE-2,5-DIAMINE, SODIUMMETABISULFITE, EDTA, 2-METHYL-5-HYDROXYETHYLAMINOPHENOL, ASCORBIC ACID, HELIANTHUS ANNUUS SEED OIL/SUNFLOWER SEED OIL,LIMNANTHES ALBA SEED OIL/MEADOWFOAM SEED OIL, PASSIFLORA INCARNATA/PASSIFLORA INCARNATA SEED OIL, CAMELLIA OLEIFERASEED OIL, THIOGLYCERIN, TOCOPHEROL. F.I.L.# D181039/1 US PATENTS: 7,060,107; 7,988,737; 7,988,738; 8,066,781; 8,114,170; 7,494,513 US PATPENDING: 6,306,180; 6,379,396
Olia 4.60 - Dark Intense Auburn - Antes/Después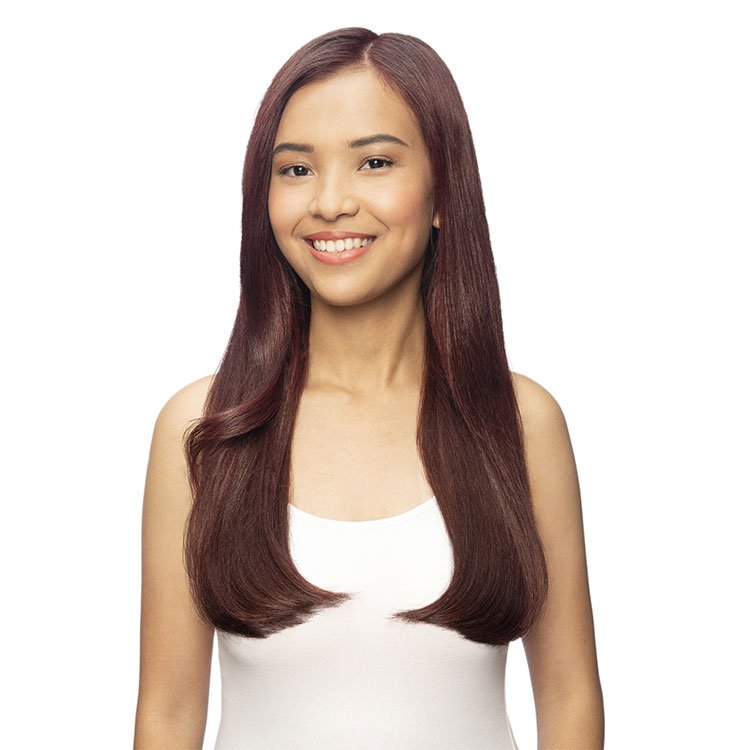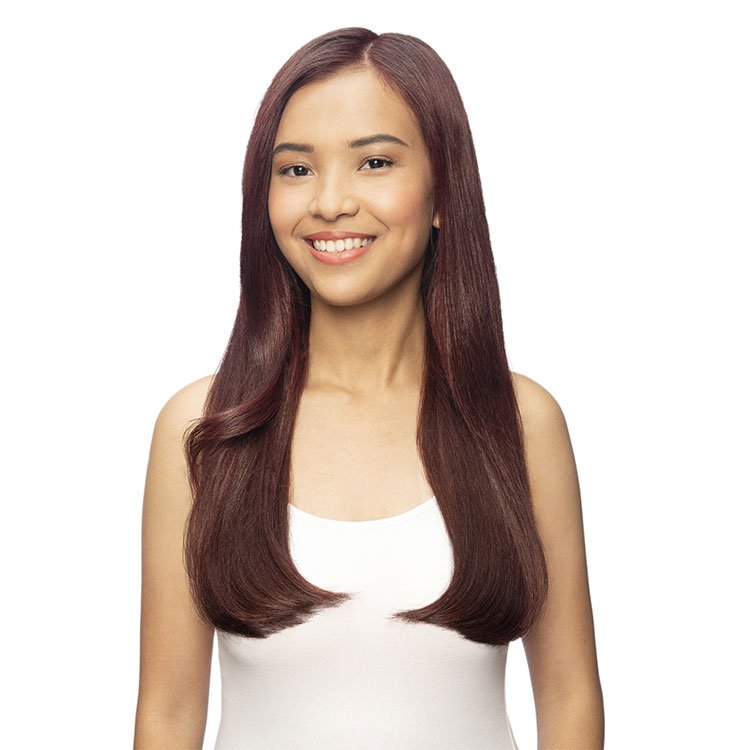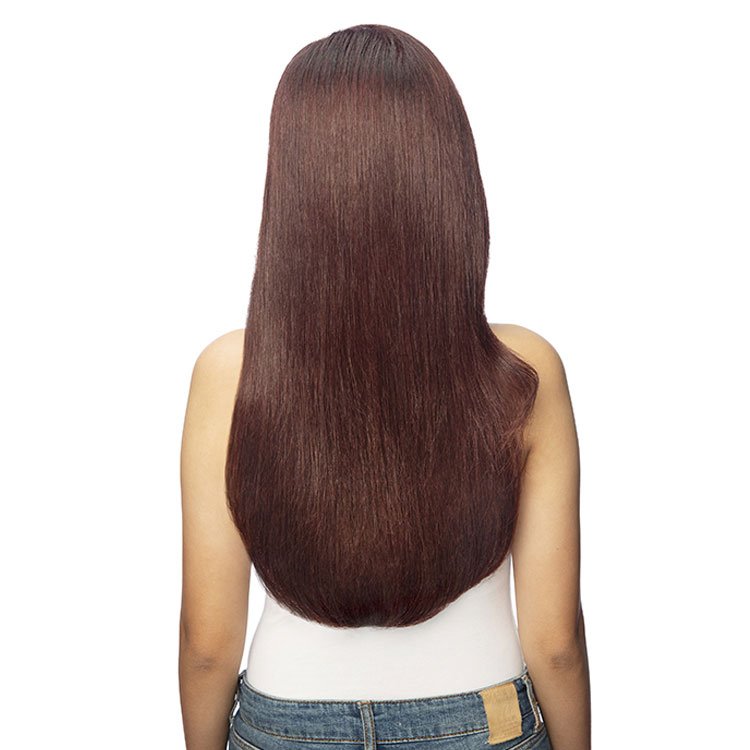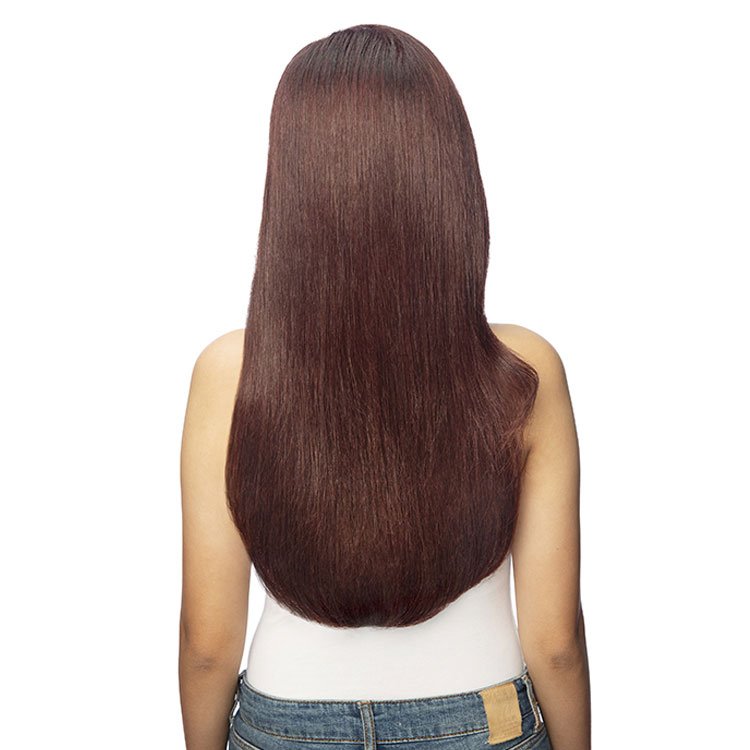 Sin amoníaco
Con cero amoníaco, Olia difunde una agradable fragancia floral.
60 % aceites
La fórmula aterciopelada y sin goteo de Olia contiene una mezcla del 60 % de aceites florales naturales de girasol, espuma de prado, flor de la pasión y camelia para ayudar a revertir la aspereza y el aspecto apagado del cabello para dejarlo más hidratado, sedoso y brillante.
Rated

4

out of

5
by
Anonymous
from
It's a nice Color it just didn't turn my hair to that reddish color that I hoped it would do. But I will definitely try it again later on in the future
Date published: 2020-01-05
Rated

5

out of

5
by
bahenazaragoza
from
this ammonia free hair dye left my hair softer than ever. the color is a perfect shade of red for me, not too purple and not too bright! its pretty simple to use, not many steps in preparing! this is something i would definitely recommend and use again!
Date published: 2020-01-02
Rated

5

out of

5
by
teshah
from
Great product, It definitely served its purpose. There wasnt a strong smell, with the steps being simple and easy there was barely any mess to be made. I may have to wash my hair a few more times before the color completely stops bleeding when wet but besides that Im satisfied.
Date published: 2019-12-16
Rated

4

out of

5
by
rubyjb3b8
from
Influenster sent me the new Garnier Olia hair dye to try out and review! Ive only dyed my hair once with semipermanent dye before this, so I wasnt exactly sure what to expect from a permanent hair color. I was worried about the color not showing up, and the dye drying out my hair. My expectations were low but I was pleasantly surprised with both how nice the color came out, and how soft my hair still is. The fact that its made of 60% flower oils and is 100% ammonia free really helped, im sure. I would definitely recommend you try this dye!
Date published: 2019-12-14
Rated

4

out of

5
by
rach_lee266
from
I have dyed my ends of my hair before with my hair dresser and always wanted to find an easier way to do it, especially at home. Using this product was a little bit messy but the resulting color was beautiful. The color was as expected and turned out the same as when I get it done with my hairdresser. I will definitely be changing how often I go and buy this product to use at home.
Date published: 2019-12-12
Rated

4

out of

5
by
aryelmarie3
from
I received this in a VoxBox, and I immediately wanted to try it! I have pretty naturally dark hair, and I was pretty skeptical. As soon as it dried after washing out the dye, I loved it! Its just tinted so it isnt too much. I love this hair dye! It didnt ruin my hair either which is great
Date published: 2019-12-09
Rated

5

out of

5
by
londonb3b14
from
This product is amazing. it has my has my hair looking bomb!!!! It was not hard to use and did not dry out my hair. The color is a little darker but it still turned out great.
Date published: 2019-12-09
Rated

4

out of

5
by
joellerv
from
This is not my first time using boxed hair dye. But, it is extremely easy to use 1-2-3 step directions, 2 mins to prep, 30 minutes to sit & then you have a different hair look! My hair is completely midnight black & Influenster provided me with a burgundy hair color. It turned out a little darker than I expected, but it looks amazing in the light. The one thing I am NOT happy about is that after rinsing the product out, my hair has completely changed texture. Its more coarse and Ive never experienced that with any other box hair dye Ive used in the past.
Date published: 2019-12-09
Rated

3

out of

5
by
amandas231
from
i received Garnier Olia hair color in dark intense auburn free for testing purposes from influenster. First, the packaging is nice. there are only 3 pieces inside plus gloves and instructions, so it was super simple to mix and use. The smell was pleasant, and the splatters were easy to wipe up and didn't stain as long as I wiped them up quickly. I was concerned about the color, as it was orange, like the color of red clay. I've used red hair colors for years, and usually they look really intense in the bottle but develop while saturating your hair and turn out just fine, so I just let it go and finished. When I rinsed, the color was still showing up as pretty orange, even though I received dark intense auburn. the conditioner that is included was really awesome, and detangled my long hair easily. I was a little disappointed to dry my hair and find that my roots are definitely more orangey red than auburn. I have a lot of gray/white hair but I've used at home colors that covered much better before. I will say my hair is soft and shiny and the red color is fine everywhere except my roots; it's a nice deep red. Overall, I couldn't give this product 5 stars because the color did not turn out like it was represented on the box. It wasn't a bad at home hair color experience, but I've used other products that I liked better, and probably won't purchase this again. Color representation is pretty important when purchasing an at-home hair color.
Date published: 2019-12-08
Rated

5

out of

5
by
queennems4
from
I love the color it gave me I have a filter on this photo but it still looks like a pretty red and it is very visible in the sunlight especially. My hair feels very healthy still and it is shining even more than before.
Date published: 2019-12-07
Rated

4

out of

5
by
janah321b
from
Beautiful hair color with maximum payoff. Easy to apply by yourself, didnt leave hair feeling dry or crispy
Date published: 2019-12-03
Rated

5

out of

5
by
shellied
from
I absolutely love this hair dye that Influenster sent me! Smells pretty good , not like most dyes. Color is vibrant ant leaves hair looking so beautiful!
Date published: 2019-11-30
Rated

5

out of

5
by
Kater72
from
I love it
So great color my husband love this color and others
Date published: 2019-09-30
Rated

3

out of

5
by
Rally
from
Lovely product.
I bought this product and it gave me a slight soft purple color. I left it for 30 mins. I probably should've let it stay on longer . I didn't do my entire hair but just streaks. The color wasn't bright enough and I have jet black hair. It shows a little more in the sun but these are the results. The product was lovely overall, it made my hair sliky and thick.
Date published: 2019-06-07
Rated

5

out of

5
by
Happy CustomerFX
from
I LOVE Olia Hair Color
I started using Olia 9 months ago, I dye my hair every 2 or so weeks. Yes, it grows fast. I loved how moisturizing it is! It made my grey hair shine like no other product I had been using and I was using a salon do-it-yourself products. I must say I have to keep this product on my hair a lot longer than the box says, but because it's so gentle, it hasn't damaged my hair. I leave it on my resistant grey hair - 2 HOURS! It works! Thank you, Garnier for this amazing product! I have not been paid anything for this review! :)
Date published: 2018-06-14
Rated

5

out of

5
by
Rhinette
from
Best color ever!
I love this color! I get more compliments because of it's shine and intense tone. It doesn't stain or irritate my face, scalp or hands. It covers my silver hair well. I think it's as good or better than any salon color!
Date published: 2018-05-12
Rated

5

out of

5
by
Lizag
from
Love the new look!
Love the new look and shape of bottle as well as larger gloves! Easier to handle since i have RA. Love my new color! Needed a change after starting dialysis!
Date published: 2018-02-12
Rated

5

out of

5
by
DustyDuce
from
Great product
I have been using this product for at least a year now and I love it. It leaves your hair so silky and not processed at all like so many others, it is the oil I think. I use 4.6 Dark Intense Auburn and never had a problem with coverage at all, l have short hair and usually don't even need the entire bottle. My color comes out very intense just the way I like it. I only wish you had put on your boxes new bottle with developer inside bottle for the last month I been looking for my color and thought there was something wrong because the bottle had changed and part of the product was in it. I thought the product was defective, I am so glad to read in your review section that this is the new packaging now, it would have saved me many returns and waisted time and bad hair days. Now that I know I simply can only say I love everything about this color and product.
Date published: 2018-01-09
Rated

4

out of

5
by
DKVDV
from
The Best Reds
I've used Olia dyes since they came out, with the best results in comparison to so many others (box and professional). With mild shampoo and conditioner the colors lasts better than any other red (I expect reds to bleed and fade they are some of the hardest to have any staying power with). I have one trick I've done for years when dying my hair; I put half the tube of supplied conditioner in with the dye. I know its not in the directions and all that but it so works for me. :) I've been dying my hair various shades of red for 24+ years and this is by far my favorite. There are two detractors with this product: 1. it is the mixing bottle; I immediately gave up on that idea and grabbed a couple reusable bottles from the near by beauty supply store. 2. Its so FREAKING hard/impossible to find in stores. I've got an Amazon subscription for it but even they don't have this shade (4.6 for fall/winter) available and I use 6.6/5.6 for summer/spring.
Date published: 2017-10-06
Rated

1

out of

5
by
Osborne64
from
Worst box hair dye I've ever used
For one the bottle was so bulky and by the third day the color is coming out already and very uneven color
Date published: 2017-06-09
Rated

5

out of

5
by
Danielle78
from
Best hair dye
I have been dying my hair for years, and found this product 1 year ago, and I have had nothing but positive results, the bottle is a little big, but I found it helpful to leave the cap in so you can mix it correctly, and also it is long lasting, and the color is wonderful, I get compliments about my hair everytime I do it, so if any one is wanting a hair dye, olia is the best and it is good for your hair, I would recommend it for anyone to use.
Date published: 2017-05-06
Rated

5

out of

5
by
Suey
from
Best Red On The Market
This is quite simply the best hair color product I have ever used. It is ridiculously easy to use, the color is amazing and the red does not fade. I get compliments on my hair color constantly, from friends to perfect strangers. Many times these compliments are 5-6 weeks since my last color application. I do not know what products other people have used to give this color a less-than-positive review, but for me, this is the best.
Date published: 2017-05-03
Rated

5

out of

5
by
Sandrarich
from
Love it
Been using this color for about 6 month or longer, and I love it. I get told all the time how pretty my color is and how good it looks on me
Date published: 2017-03-27
Rated

2

out of

5
by
AwesomeAuntie1369
from
Not the only negative experience
I bought this color a while ago and have been looking forward to trying it out. Decided that tonight was the night- directions were easy enough. This was my first time using this product and the process seemed simple enough. Nope, I was wrong. I've never used a boxed dye before where you had to mix the colorant and developer from there own containers into another bottle, which might I also add is terribly designed. You cannot simply cover the tip with your finger and shake the contents of the bottle without dropping the bottle at least 3 times like I did. The mixture is so thick it takes forever to blend and you can never tell if it's blended enough or not. But worst than that the mixture doesn't cover and spread as nicely as other boxed products I'm used to. In fact it left my hair so uneven I had to touch up my hair a second time after I dried my hair from the first application and discovered how much was missed and how little was actually red. Then after coloring and drying my hair after the second application, the red wasn't much more noticeable and the color was still very uneven. I will not be buying this product ever again and I do not recommend this product to anyone.
Date published: 2017-03-14
Rated

4

out of

5
by
sculondon
from
So easy to use and easy on hair
It was very easy to use: just mix the color and activator together and then apply to your hair. I absolutely loved how easy it was to clean up; there was no color staining my face or hands. If I found a spot, it came off easily with water. It does take a little long to sit on your hair. I think 30 minutes wait time is a little long and not what I'm used to. It rinsed out pretty quickly and the conditioner made my hair super soft. The color is really rich and deep and I love it! I would definitely recommend this brand and consider using it in the future!
Date published: 2017-03-08
Rated

4

out of

5
by
czhang5
from
Pleasant smell, okay color
I received the product after my extended New Year trip abroad. I was really excited to try it because I haven't dyed my hair for a while. Anyway, the package is nice. The instructions are easy to follow. The smell was really pleasant during the process. It was very different from the other products I have tried in the past. I loved the smell so much that I didn't want to rinse it after 30 minutes. This was never the case with other coloring products. After the rinse, I put the conditioner on, which was provided in the package. The conditioner is quite thick and creamy. It has a similar fruity smell. Fast forward, I dried my hair after the final rinse. When I looked at my still damp hair, I didn't notice much change. The color of my hair was still dark brown. I saw a little bit red on my forehead. I figured it's normal that some color will only show when the hair is dry, so I used the hair blower to dry my hair completely. I looked through the mirror at my newly colored hair that was dried completely, I was a bit disappointed at the final result. The color was not what I expected. I wanted a more burgundy touch. What I got instead was a light auburn. The worst part was the color was barely noticeable. In sum, I really enjoyed the process. The product appears to be quite natural, doesn't have ammonia. It does make my hair shiny and look healthy. However, it didn't give me the color I want, which is disappointing. I probably will not buy it in the future.
Date published: 2017-03-08
Rated

1

out of

5
by
serendipitydzine
from
No! No! and more No!
I really can't think of one positive thing to say about this product. Therefore, I will only be able to share with you the negative aspects during my experience of coloring my hair. Let me start by talking about the packaging of this product. I don't think the design could be any worse. You are supposed to put your thumb on the tip of the applicator and shake vigorously to mix up the product. The problem is that the shape of the bottle is so awkward and tall that you cannot hold it and put your finger on the applicator top. I dropped it no less than 5 times trying to do this and it splattered and made an absolute mess. Additionally, the consistency of the product is really awful. It is way too thick. You cannot distribute it evenly which causes the color to take in some areas and not others. I found it impossible to get the color to move throughout my hair evenly. I even tried brushing it through my hair and combing it and nothing worked. I think the worse part about this color is it doesn't work. It didn't cover my gray. around my face. Not even a little bit. It is just as gray now as it was before I used it. I have used other gray coverage products on a regular basis. Not only are they more user friendly, they actually cover my gray. I would also like to add that the tube the product comes in cannot be completely emptied. You can squeeze and squeeze but you will never get all of the product out. This hair color has absolutely no redeeming qualities. If I could give it a negative number I would. Even the color is horrible. Not dark auburn at all. I would call it dark eggplant. Yuck!
Date published: 2017-03-08
Rated

5

out of

5
by
Toyodasan1
from
Stunningly Vibrant
Garnier Olia 4.60 Dark Intense Auburn was and is a great product. This product left my hair shiny, soft and covered my grey rather well. The colors are bright and intense. The application process was easy with the applicators contained in the box. Like I stated before, the whole process was easy and I definitely enjoy the color. Will continue to use this product for my future coloring needs.
Date published: 2017-03-08
Rated

5

out of

5
by
kayxiong7
from
Garnier olia
I love to experience different hair dye with my hair. this will be the first time using Garnier olia. I am simply amazed. the smell wasn't too strong. the best part of it is, is that it was easy in my scalp. it did not have a burning sensation on the scalp! besides all that, the color turned out radiant and made my hair smooth and soft... I would totally recommend this product to everyone.
Date published: 2017-03-08
Rated

5

out of

5
by
katlew2128
from
Amazingly Great!
I just used Garnier Olia 4.60 Dark Intense Auburn hair color. This product made my hair soft and shiny. The color is beautiful. I will be using this product every time I need to dye my hair. Gray coverage was fantastic.
Date published: 2017-03-08