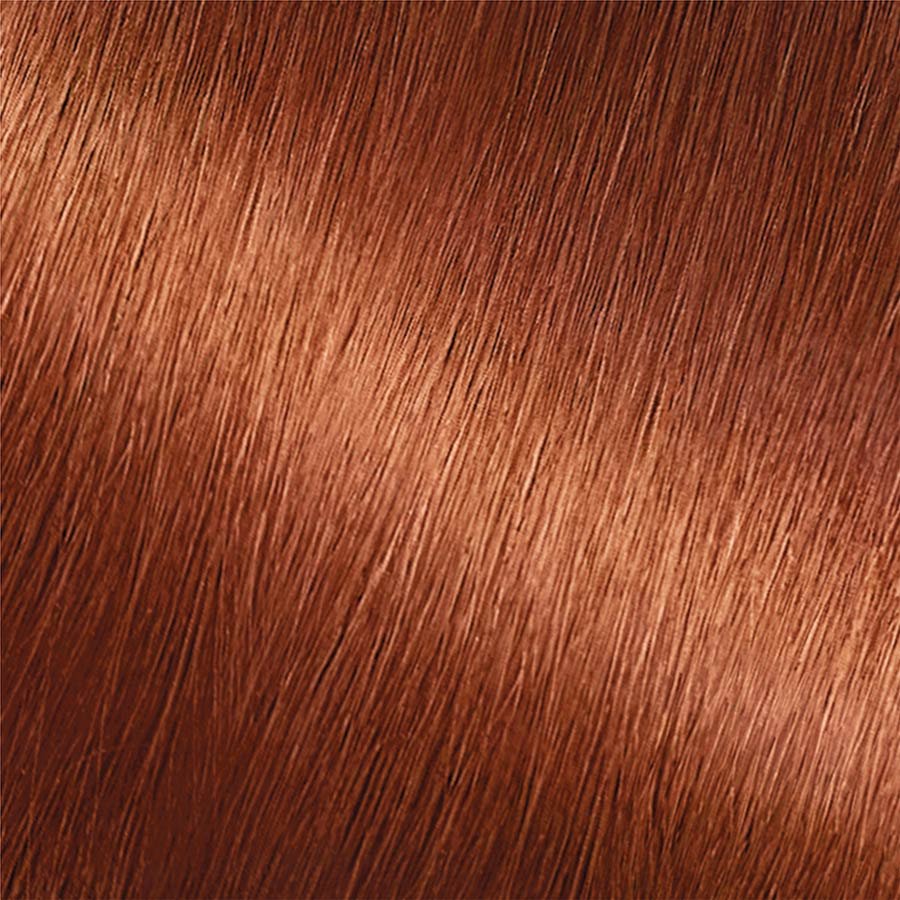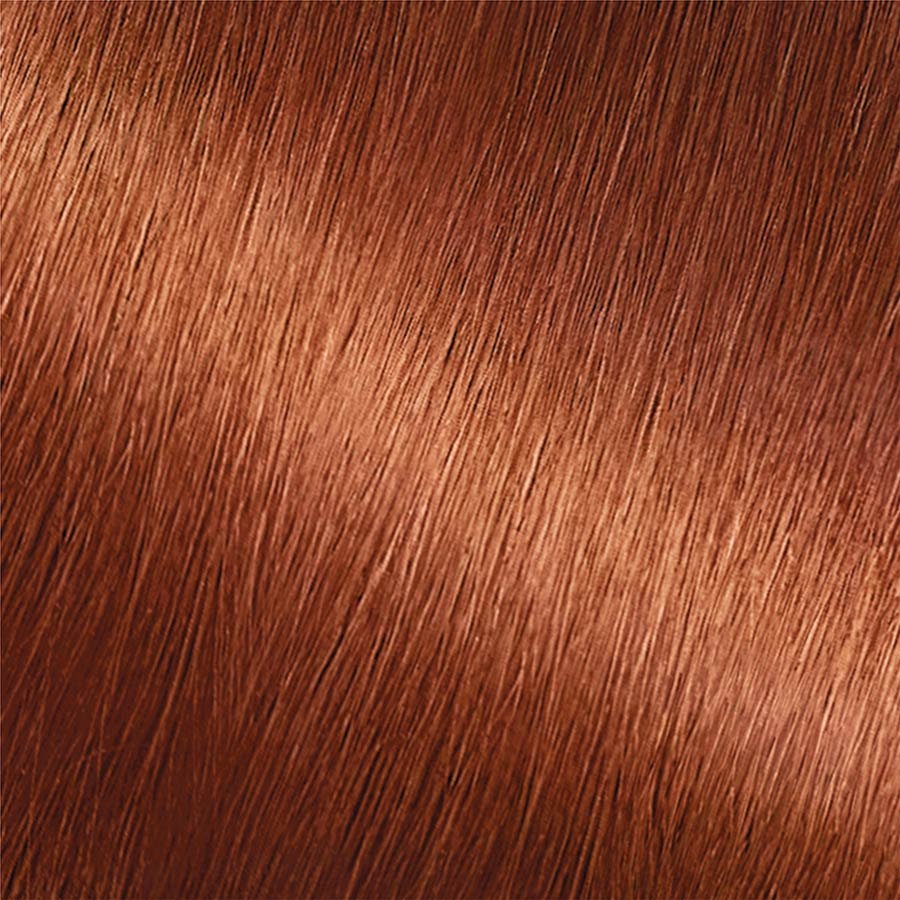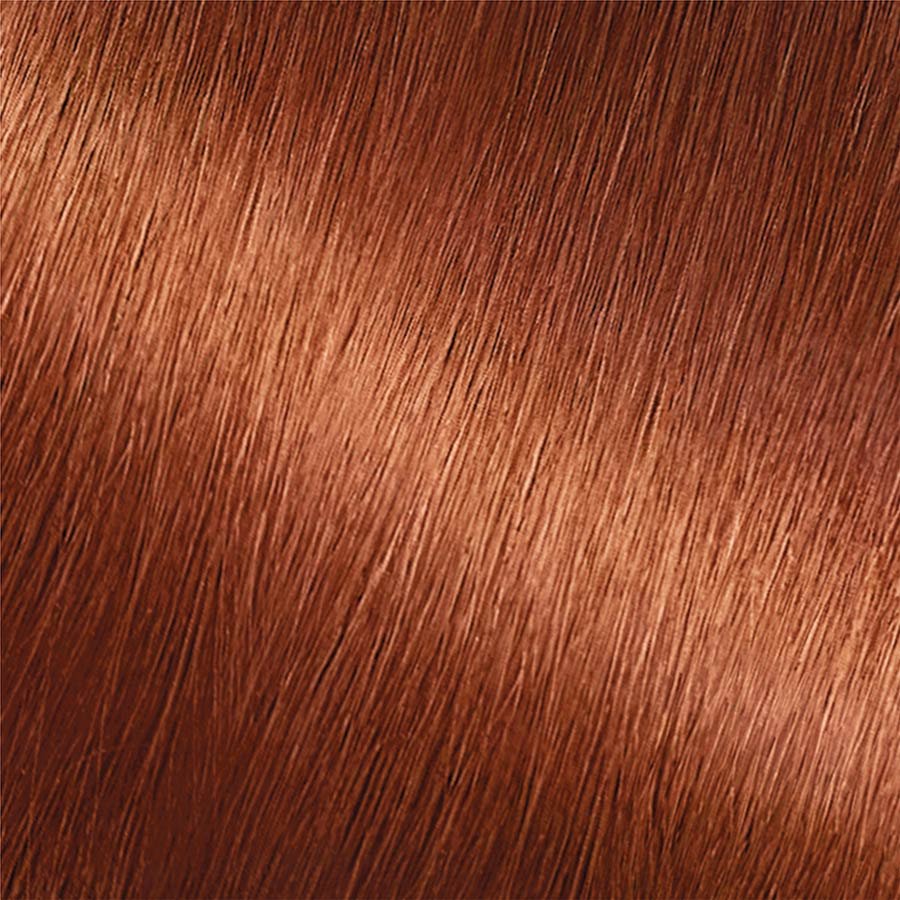 Scarlett Ronze - RZ4
Garnier Nutrisse Ultra Color
$7.99 MSRP
Coloración permanente en crema nutritiva con 3 aceites de fruta: aguacate, oliva y karité
IMPORTANTE: ¿Te gusta cómo te queda este tono? Comprueba que sea adecuado para tu cabello. Asegúrate con nuestro test de coloración en 1 minuto.
Explorar productos similares
INFORMACIÓN DEL PRODUCTO:
La coloración en crema nutritiva Garnier Nutrisse Ultra Color transforma drásticamente el cabello castaño natural con matices ultrarreflectantes.

Elige entre los tonos Ultra Light Blonde, Ultra Intense Red y Burgundy, Ultra Lightening Brown y Ultra Reflective Black. Tonos Ultra Light Blonde para transformar el castaño oscuro en rubio sin decolorante, Ultra Intense Red y Ultra Intense Burgundy para unos vibrantes matices rojizos sobre un cabello más oscuro, Ultra Lightening Brown para aclarar el cabello oscuro hasta 3 tonos sin efecto metálico indeseado y Ultra Reflective Black para transformar hasta el cabello más oscuro con matices brillantes visiblemente reflectantes.

La coloración en crema nutritiva Garnier Nutrisse Ultra Color incorpora una ampolla de aceite de semillas de uva para empezar a nutrir el cabello mientras lo colorea, porque un cabello nutrido significa un mejor color. La fórmula de coloración sin goteo se reparte fácilmente, y el acondicionador post-coloración está infusionado con 3 aceites de fruta (aguacate, oliva y karité) para un cabello más sedoso, brillante y nutrido.

Puede que el envase varíe y el que recibas no sea el visualizado en el sitio.
Modo de uso
Aplicación de Nutrisse: Un cabello nutrido significa un mejor color. La coloración Garnier Nutrisse nutre a la vez que colorea con una fórmula de crema rica sin goteo y, gracias a su ampolla de aceite de semillas de uva, con una fragancia muy agradable.

Sigue paso a paso este procedimiento al aplicar el color en casa:

1) Haz siempre una prueba en la piel 48 horas antes.
2) Aplica en el cabello seco sin lavar.
3) Con los guantes puestos, aprieta para verter el colorante (tubo b) en el frasco del revelador (a).
4) Parte la punta y agita el frasco con fuerza.
5) Empieza a aplicar el color en las raíces y continúa por toda la extensión hasta las puntas.
6) Extiende el color hasta las puntas y masajea en el cabello.
7) Deja actuar la fórmula 25 minutos o 30 minutos si tienes muchas canas o tu cabello es resistente/grueso y áspero.
8) Masajea el cabello minuciosamente antes de enjuagar para optimizar el proceso.
9) Enjuaga el cabello con agua abundante hasta que salga transparente.
10) Aplica el acondicionador después de colorear, deja actuar 2 minutos y enjuaga con agua abundante.

Mira nuestros videotutoriales para ver las instrucciones de aplicación detalladas.
Consejos: Prueba el agua micelar limpiadora waterproof para eliminar las manchas de coloración
Ingredientes
COLORANT:
1212441 AQUA/WATER/EAU, CETEARYL ALCOHOL, PROPYLENE GLYCOL, DECETH-3, LAURETH-12, AMMONIUM HYDROXIDE, OLETH-30, LAURIC ACID, HEXADIMETHRINE CHLORIDE, GLYCOL DISTEARATE, POLYQUATERNIUM-22, ETHANOLAMINE, SILICA DIMETHYL SILYLATE, CI 77891/TITANIUM DIOXIDE, 2,3-DIAMINODIHYDROPYRAZOLO PYRAZOLONE DIMETHOSULFONATE, 5-AMINO-6-CHLORO-o-CRESOL, 4-AMINO-2-HYDROXYTOLUENE, p-AMINOPHENOL, ASCORBIC ACID, TOCOPHEROL, SODIUM METABISULFITE, 1-HYDROXYETHYL 4,5-DIAMINO PYRAZOLE SULFATE, HELIANTHUS ANNUUS SEED OIL/SUNFLOWER SEED OIL, 2-METHYLRESORCINOL, 2-METHYL-5-HYDROXYETHYLAMINOPHENOL, DIMETHICONE, p-PHENYLENEDIAMINE, PARFUM/FRAGRANCE, CARBOMER, RESORCINOL, ROSMARINUS OFFICINALIS (ROSEMARY) EXTRACT, EDTA, VITIS VINIFERA SEED OIL/GRAPE SEED OIL. F.I.L.# D212126/2

FRUIT OIL CONCENTRATE:
1028840 PARAFFINUM LIQUIDUM/MINERAL OIL/HUILE MINERALE, VITIS VINIFERA SEED OIL/GRAPE SEED OIL, PARFUM/FRAGRANCE, TOCOPHEROL, ROSMARINUS OFFICINALIS (ROSEMARY) EXTRACT. F.I.L.# D25829/5

RINSE-OUT CONDITIONER:
1100858 AQUA/WATER/EAU, CETEARYL ALCOHOL, ELAEIS GUINEENSIS OIL/PALM OIL, BEHENTRIMONIUM CHLORIDE, PYRUS MALUS FRUIT EXTRACT/APPLE FRUIT EXTRACT, GLYCERIN, PARFUM/FRAGRANCE, ISOPROPYL ALCOHOL, STEARAMIDOPROPYL DIMETHYLAMINE, NIACINAMIDE, PYRIDOXINE HCl, BUTYROSPERMUM PARKII BUTTER/SHEA BUTTER, CITRIC ACID, OLEA EUROPAEA OIL/OLIVE FRUIT OIL, SACCHARUM OFFICINARUM EXTRACT/SUGAR CANE EXTRACT/EXTRAIT DE CANNE A SUCRE, BENZYL ALCOHOL, CHLORHEXIDINE DIHYDROCHLORIDE, PERSEA GRATISSIMA OIL/AVOCADO OIL, RIBES NIGRUM SEED OIL/BLACK CURRANT SEED OIL, LINALOOL, PHENOXYETHANOL, CITRUS LIMON PEEL EXTRACT/LEMON PEEL EXTRACT, CI 19140/YELLOW 5, CAMELLIA SINENSIS LEAF EXTRACT, CI 15985/YELLOW 6, TOCOPHEROL, GLYCINE SOJA OIL/SOYBEAN OIL. F.I.L.# D174455/5

DEVELOPER:
1152439 AQUA/WATER/EAU, HYDROGEN PEROXIDE, CE TE ARYL ALCOHOL, TRIDECETH-2 CARBOXAMIDE MEA, CETEARETH-25, GLYCERIN, TETRASODIUM ETIDRONATE, TETRASODIUM PYROPHOSPHATE, SODIUM SALICYLATE, PHOSPHORIC ACID. F.I.L.# D209745/1
Aceite de aguacate
El aceite de aguacate, un potenciador capilar alisador y sedoso, rebosa de ácidos grasos vegetales que poseen una habilidad penetrativa única en efectos profundos y duraderos. Este ingrediente rico y placentero suaviza las puntas abiertas a la vez que añade un brillo espectacular.
Aceite de oliva
El aceite de oliva, repleto de antioxidantes, ha sido un elixir de belleza de gran eficacia durante siglos. En las fórmulas de cuidado capilar, ayuda a cubrir el cabello, dejando las fibras capilares fuertes, brillantes y resilientes. En los hidratantes faciales, calma a la vez que suaviza para una piel de apariencia radiante.
Rated

1

out of

5
by
Alice N
from
Just hate it!
It's not even close what is shown in the box. Completely different color and I'm hating my hair now. It claims something that is not true.
Date published: 2019-01-14
Rated

1

out of

5
by
johanmarys
from
I really hate how my hair it is right now... The color showed in the box it isn't the same cuz is darker even if you are using your hair blonde
Date published: 2019-01-04
Rated

2

out of

5
by
ReviewK
from
Darker than on the box
I normally color my hair with the Light Natural Copper shade, but that shade is nearly impossible to find in the stores. I saw this and it looked very similar to Light Natural Copper so I figured I would try it. It turned out a bright dark red. It ended up being a lot darker than what my hair was before. Definitely not light, more like true red or burgundy. Not what is pictured on the box. It still was a decent and pretty color but if you want a lighter or more natural red, get Light Natural Copper or another color.
Date published: 2018-12-25
Rated

1

out of

5
by
Jebbss7133
from
Worst shade ever
Wanted to try a reddish shade on my dark brown hair. This did color it reddish. However, my hair was very course instead of soft. Even after 4 washings, dye still coming off hair. Hard to manage, use curling iron. Used several other Nutrisse shades that worked very well.
Date published: 2018-12-17
Rated

4

out of

5
by
clayrandow
from
I like that color in my hair, I don't like the duration though. I feel my hair more soft and it smells really good. It's easy to use, and the color is perfect! I usually once a month, and I recommend it!
Date published: 2018-10-16
Rated

4

out of

5
by
Therese1979
from
Not the same color as the model on the box
Not the same color as the box but I do like the result. It's a pretty burgundy red. My hair was already colored red before I used it so it is nice & bright. Hope this color doesn't get discontinued because it is now my favorite color!
Date published: 2018-09-09
Rated

3

out of

5
by
nikki1987
from
Not the color on the box, but I'm not mad at it.
It's not as orange/bronze as the box shows. It was a darker red. If it faces out to the color on the box I'm be pleased. Good fall color. I didn't get the violet tones some other mentioned. My hair was about 2 shades lighter then the box and I'd say its 2 dark now. Glad I did full cover instead of just roots.
Date published: 2018-08-28
Rated

1

out of

5
by
Kat284
from
So annoyed and disappointed
Mad at myself for not reading the reviews first. This color is nothing like what the box showed. My copper/auburn hair is now this ugly cherry burgundy color. So unflattering. I cannot wait to wash my hair again and try to fade this out. Do not buy this expecting to have bronze/copper/auburn color. Loved this other Garnier copper color that got discontinued. I might have to go pay to have this color fixed. So disappointed I wasted my time and money on this. This ruined my hair color. I cannot believe this is so bad, I want to cry.
Date published: 2018-08-09
Rated

5

out of

5
by
emalieg1
from
This hair dye color came out to be such a great color on my hair it was the color I really expected it to be on me hair. Garnier Nutrisse Ultra Color Nourishing Color Creme The ending result gives your hair such a vibrant shine it is very easy to use and apply. I feel very satisfied with this hair product.
Date published: 2018-08-07
Rated

5

out of

5
by
jessical1379
from
This hair dye comes in an assortment of colors, does a great job covering grays, it doesn't have an over powering smell and leaves hair soft and shiny.
Date published: 2018-07-27
Rated

2

out of

5
by
SadCheese
from
Not Bronze! Cherry Red
This is actually a bright, violet red after it develops. It started off orangey when I applied the dye and I was excited. But if you're looking for a bronzey or ginger red, don't waste your money. I'm so sad at how my hair looks. Just trashy and will need to be fixed by a pro. I'll literally never purchase this brand again. The only plus side is that I don't believe my hair is too damaged.
Date published: 2018-07-15
Rated

1

out of

5
by
Cara63278
from
Not a bronze color
I tried this color and it turned out a cherry red rather than bronze. I make it a point to try different brands when they come out with a bronze red color and this one, like many others disappoints. Feria by L'oreal still has the best version of what this color is supposed to be.
Date published: 2018-06-25
Rated

4

out of

5
by
glamwithdess
from
I've used most of the colours over the years with this brand. It smells wicked strong but does look great finished. There's been a few times it didn't match the way it stated. Some also washes out really fast. It's a win or lose with certain colours but would recommend if you can stand the smell.
Date published: 2018-06-20
Rated

2

out of

5
by
Dyehair11
from
Doesn't look anything like the box
I have used other colors in this line before and had a good turn out. I just dyed my hair today and I will never buy RZ4 again. I was hoping for a burnt orange/bronze color (like the model on the box and the after pics on the side of the box). I do have dark brown hair but according to the side of the box, what it says dark hair will turn to is completely off. My hair looks very dark with a very unnatural violet tint to it. It's an "older woman" color for sure. Also, being so dark, it would probably be better in the winter months which is unfortunate for me since it's May.
Date published: 2018-05-13
Rated

3

out of

5
by
narelisa
from
I love the Garnier Nutrisse Ultra color in BR2 so when I figured out that I was trying a new color that I have been hoping to find from them, I was ecstatic. The purpose of this type of dye is to take the darkest shades of hair color and bring them to be really vibrant lighter shades without bleaching the hair first. I tried the one box that they gave me and, unfortunately, it wasn't enough for my hair. While using one box did lighten my hair a bit. It didn't do a drastic change in the color of my hair and it didn't last long on my blonde hair. I do think though that if I use two boxes that outcome would be much better.
Date published: 2018-05-11
Rated

3

out of

5
by
shykiaj
from
I received this product from Influenster in my first VoxBox however all opinions are my own. I was excited to try this as it would be my first at home color session but after the allergy test I was discouraged from fully using it on my head after getting some irritation. I also put some on a few shed strands and although I wasn't expecting much it came out well as far as color payoff. For future reference, I would like to use it but possibly just on the ends of my hair, would make great for an ombre color and have someone else apply it to avoid direct skin contact. Ombre would've been the only option anyway being that I would need multiple boxes to cover my whole head as I'd initially planned. As far as I can tell, it is nourishing, my strands were not dry and damaged and the smell wasn't overwhelming and those were my biggest concerns.
Date published: 2018-05-10
Rated

5

out of

5
by
kristib96c0
from
Loved this Garnier Nutrisse Nourishing Color Creme in RZ4 Intense Bronze Red (Scarlet Ronze) it's such a beautiful color and it's perfect for me. My hair is long and fine and one box was more then enough for my whole head. The color came out gorgeous and even. I have received so many compliments and everyone is shocked that it wasn't done in a salon. Best part is the hair dye doesn't stink like ammonia like some others. It actually has a pleasant smell. I have pretty healthy and shiny hair and my hair was even more shiny and soft after dying it which I didn't expect. Absolutely will be my go to hair coloring brand from now on. I'm so glad Influenster picked me to try it!
Date published: 2018-05-08
Rated

4

out of

5
by
sukhpreetsf7d1
from
I was so excited when I receive this product. This was the exact color that I wanted. Left my hair feeling so soft and silky after I washed off the color. I will be purchasing this again. The color when on great and I'm extremely satisfied.
Date published: 2018-05-07
Rated

5

out of

5
by
kittym1
from
I love this brand of hair color! The color lasts, smells great, and isn't to expensive. Thank you influenster for the free box to try!
Date published: 2018-05-05
Rated

1

out of

5
by
Mikka
from
Who Came UP With Such Unflattering Color?
Garnier is beginning to make the same errors other businesses make, once becoming successful--discarding products that work, 100% of the time, in favor of "trends." Hair color should NOT be subject to trends! Hair color should be safe, accurate, and boring. No surprises, in other words, once the final towel comes off. RZ4 FAILS on every level. Color: not true, artificial, unflattering; grey-coverage, forget it; mix with other colors in palette=nope; messy--after mixing, product "erupts" out if bottle like a volcano, so don't remove that finger! Better yet, DON'T buy this terrible color/product/red. Unless you seek a "menopausal-hey-I-color-my-hair-with-the-cheap-stuff" look. SO DISAPPOINTED. 2-weeks in a bandana it is.
Date published: 2018-05-04
Rated

5

out of

5
by
claudiav1264
from
Lovely box and packaging. Everything needed is in the box and dying time was average. Compared to the competition this was very good and the color was as expected. Not much bleeding of the dye and I definitely recomend.
Date published: 2018-05-03
Rated

5

out of

5
by
ashleyprescottmockbee
from
Amazing color! The application was easy, the formula was a good consistency. The instructions were laid out well and easy to follow. The smell wasn't overwhelming.
Date published: 2018-05-03
Rated

3

out of

5
by
beth_collier
from
I have used this hair color before and loved the way it made my hair feel. I was very disappointed to see this carrot colored dye, since I filled out a questionnaire stating that I have medium to dark hair. This color would have looked atrocious on me!!
Date published: 2018-05-02
Rated

3

out of

5
by
lucymarie7297a3e638f44ae8
from
I received this product from Influenster for free to review. I have super dark color treated hair and this is a lighter color. I wasn't hopeful. There was some color payoff but not enough to be honest. The dye itself made my hair feel super soft and conditioned which is awesome. I'd try it again in a different color.
Date published: 2018-05-01
Rated

1

out of

5
by
audreyk2
from
It is with disappointment that I say how little I liked this product. I received it for free so I could test it! I love my voxboxes! But... The color was too dark, it didn't apply evenly, and it was drippy. Having dyed my hair for 14 years, it is clockwork to me. My orange-y red tones with lighter strands are my signature. This was too dark. There wasn't enough to cover all my my hair. I washed my hair 5 times the following 12 hours just to fade it. Thankfully, it did some. I didn't even leave it in all 20-25 minutes! It smelled good and seems to be resilient to fade, so those are the 2 nice things I can say. I certainly do not look like the box. Sorry, Garnier.
Date published: 2018-05-01
Rated

4

out of

5
by
teaserm
from
This is a great do it yourself bright red color. It's very similar to salon bright reds. The color deposits evenly and fades nicely. It will continue to rinse out if the hair in the shower and leave some staining on pillowcases like most brands this bright of red. It looked very multidimensional on my hair because it was applied over highlights. Garnier® Nutrisse® Nourishing Color Creme RZ4 Intense Bronze Red (Scarlet Ronze)
Date published: 2018-04-29
Rated

4

out of

5
by
jessicableininger
from
This hair color turnout out really nice ! It is relatively inexpensive, easy to use , smells nice and left my hair feeling soft. I love that this line has a lot of different color options to choose from.
Date published: 2018-04-28
Rated

4

out of

5
by
stephaniep15
from
Smells amazing and the formula was super easy to use! Was a definitely lighter shade then I'm used to but it's a fun change. I probably will not stay this shade and will opt to go back to my darker auburn.
Date published: 2018-04-27
Rated

5

out of

5
by
ashbrianda
from
This is a great hair color it was able to lift my dark brown hair to a nice vibrant red color the whole process was not long . That is a great drugstore hair dye was very easy to use the oil from the kit had help my hair very much definitely buy this hair color again in the future .
Date published: 2018-04-27
Rated

5

out of

5
by
paulas1
from
I'm shook. I can't believe how vivid this red is on me after one simple application! There is no bleaching step! How?! I'm blown away! Thanks @influenster for this free box of hair color!! Just WOW!
Date published: 2018-04-27