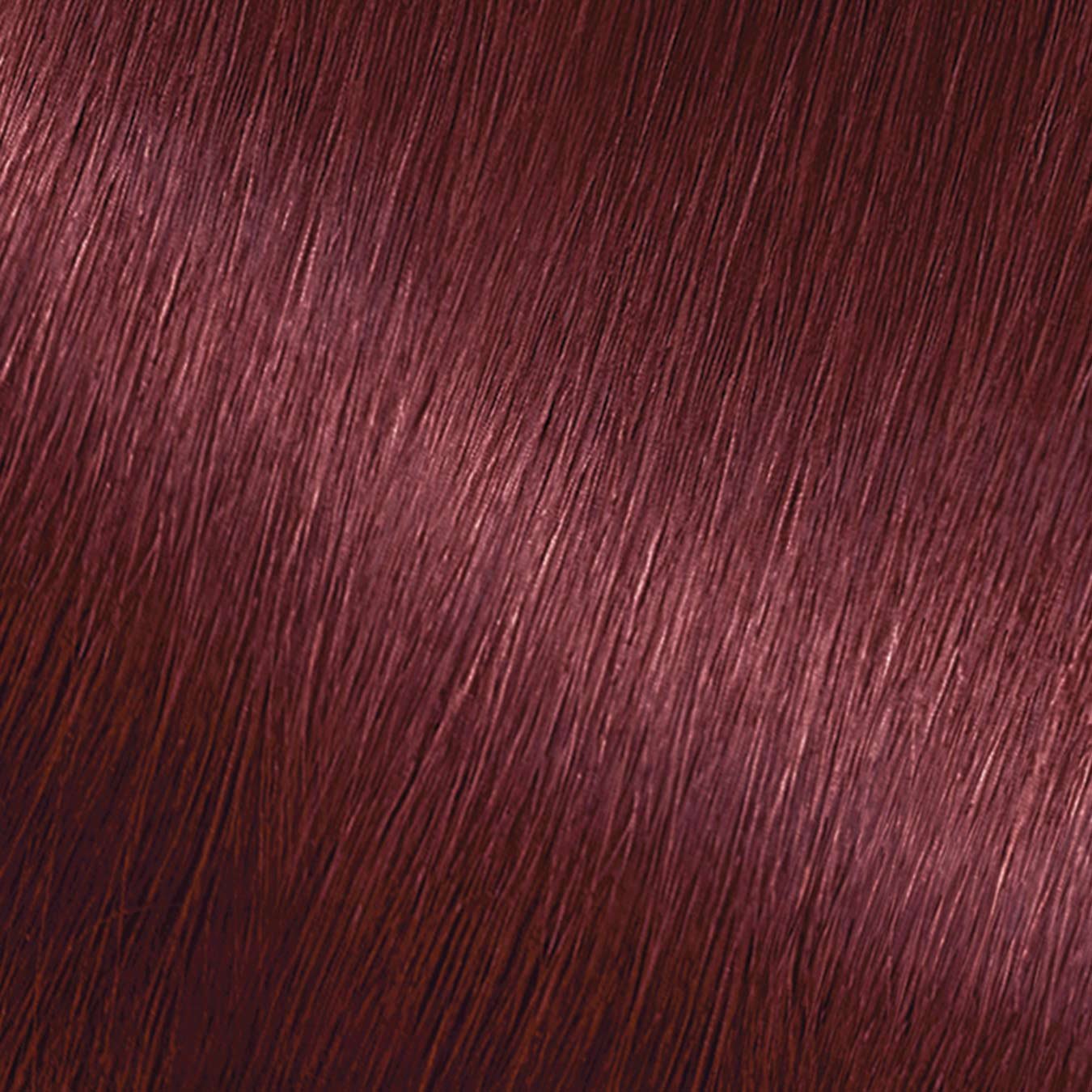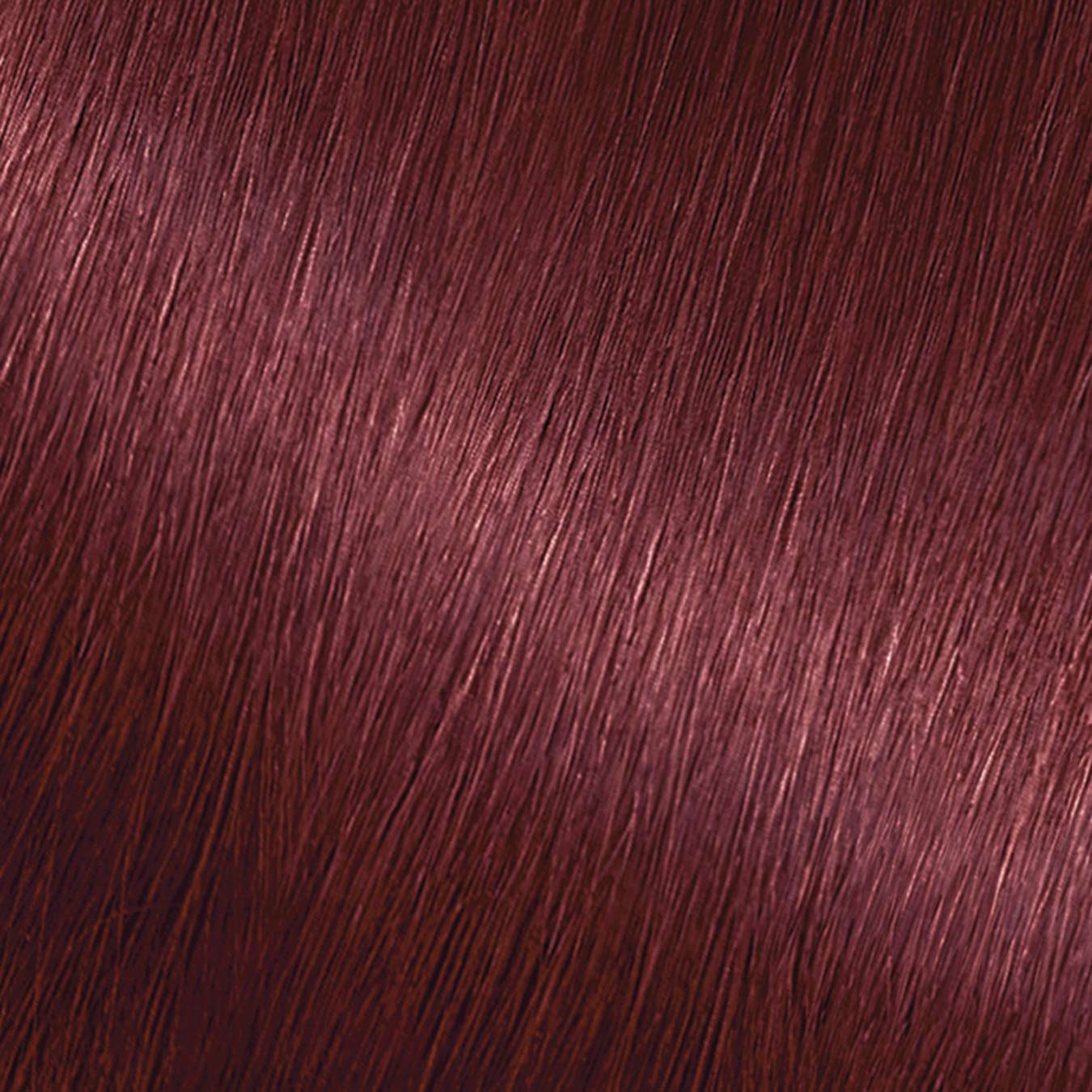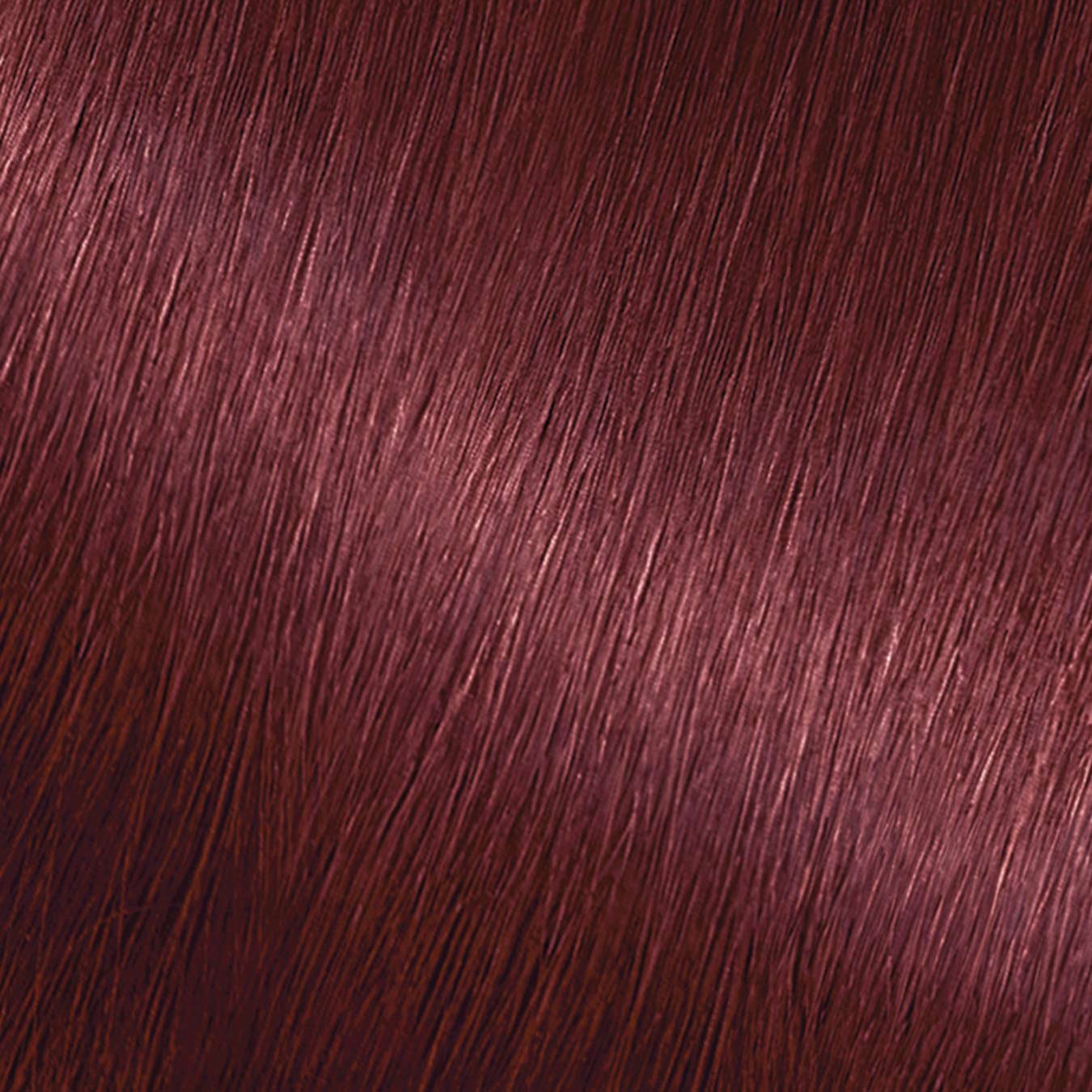 Strawberry Jam 52, Medium Berry Red
Garnier Nutrisse Nourishing Color Creme
$7.99 MSRP
Coloración permanente en crema nutritiva con 3 aceites de fruta: aguacate, oliva y karité
IMPORTANTE: ¿Te gusta cómo te queda este tono? Comprueba que sea adecuado para tu cabello. Asegúrate con nuestro test de coloración en 1 minuto.
Explorar productos similares
INFORMACIÓN DEL PRODUCTO:
La coloración en crema Garnier Nutrisse nutre a la vez que colorea con aceites de aguacate, oliva y karité. La coloración en crema nutritiva enriquecida con un concentrado de aceites de fruta penetra en profundidad en las fibras capilares para nutrir y acondicionar el cabello de modo que el color se absorba mejor y dure más tiempo, de las raíces a las puntas. Garnier Nutrisse aporta una coloración rica, radiante y duradera con un 100 % de cobertura de canas.
Modo de uso
Nutrisse nutre a la vez que colorea con una fórmula de crema rica sin goteo y, gracias a su ampolla de aceite de semillas de uva, con una fragancia muy agradable.
Sigue paso a paso este procedimiento al aplicar el color en casa:
1) Haz siempre una prueba en la piel 48 horas antes.
2) Aplica en el cabello seco sin lavar.
3) Con los guantes puestos, aprieta para verter el colorante (tubo b) en el frasco del revelador (a).
4) Parte la punta y agita el frasco con fuerza.
5) Empieza a aplicar el color en las raíces y continúa por toda la extensión hasta las puntas.
6) Extiende el color hasta las puntas y masajea en el cabello.
7) Deja actuar la fórmula 25 minutos o 30 minutos si tienes muchas canas o tu cabello es resistente/grueso y áspero.
8) Masajea el cabello minuciosamente antes de enjuagar para optimizar el proceso.
9) Enjuaga el cabello con agua abundante hasta que salga transparente.
10) Aplica el acondicionador después de colorear, deja actuar 2 minutos y enjuaga con agua abundante.
Mira nuestros videotutoriales para ver las instrucciones de aplicación detalladas y lee siempre las instrucciones incluidas en el envase.
Consejos: Prueba el agua micelar limpiadora waterproof para eliminar las manchas de coloración
Ingredientes
Ampoule 1028840
PARAFFINUM LIQUIDUM / MINERAL OIL / HUILE MINERALE
VITIS VINIFERA SEED OIL / GRAPE SEED OIL
PARFUM / FRAGRANCE
TOCOPHEROL
HELIANTHUS ANNUUS SEED OIL / SUNFLOWER SEED OIL
ROSMARINUS OFFICINALIS EXTRACT / ROSEMARY EXTRACT
Conditioner 1100858 3
AQUA / WATER / EAU
CETEARYL ALCOHOL
ELAEIS GUINEENSIS OIL / PALM OIL
BEHENTRIMONIUM CHLORIDE
CAMELLIA SINENSIS LEAF EXTRACT
BUTYROSPERMUM PARKII BUTTER / SHEA BUTTER
OLEA EUROPAEA OIL / OLIVE FRUIT OIL
STEARAMIDOPROPYL DIMETHYLAMINE
NIACINAMIDE
SACCHARUM OFFICINARUM EXTRACT / SUGARCANE EXTRACT / EXTRAIT DE CANNE A SUCRE
GLYCERIN
GLYCINE SOJA OIL / SOYBEAN OIL
RIBES NIGRUM SEED OIL / BLACK CURRANT SEED OIL
PYRIDOXINE HCl
ISOPROPYL ALCOHOL
CITRIC ACID
CITRUS LIMON PEEL EXTRACT / LEMON PEEL EXTRACT
PERSEA GRATISSIMA OIL / AVOCADO OIL
PYRUS MALUS FRUIT EXTRACT / APPLE FRUIT EXTRACT
TOCOPHEROL
PHENOXYETHANOL
CHLORHEXIDINE DIHYDROCHLORIDE
CI 15985 / YELLOW 6
CI 19140 / YELLOW 5
PARFUM / FRAGRANCE
LINALOOL
BENZYL ALCOHOL
Developer 1152439
AQUA / WATER / EAU
HYDROGEN PEROXIDE
CETEARYL ALCOHOL
SODIUM SALICYLATE
TRIDECETH-2 CARBOXAMIDE MEA
PHOSPHORIC ACID
CETEARETH-25
TETRASODIUM ETIDRONATE
TETRASODIUM PYROPHOSPHATE
GLYCERIN
Colorant 1206375
AQUA / WATER / EAU
CETEARYL ALCOHOL
DECETH-3
PROPYLENE GLYCOL
LAURETH-12
AMMONIUM HYDROXIDE
OLETH-30
LAURIC ACID
HEXADIMETHRINE CHLORIDE
GLYCOL DISTEARATE
1-HYDROXYETHYL 4,5-DIAMINO PYRAZOLE SULFATE
4-AMINO-2-HYDROXYTOLUENE
ETHANOLAMINE
POLYQUATERNIUM-22
SILICA DIMETHYL SILYLATE
CI 77891 / TITANIUM DIOXIDE
5-AMINO-6-CHLORO-o-CRESOL
ASCORBIC ACID
TOCOPHEROL
SODIUM METABISULFITE
THIOGLYCERIN
TOLUENE-2,5-DIAMINE
HELIANTHUS ANNUUS SEED OIL / SUNFLOWER SEED OIL
DIMETHICONE
PARFUM / FRAGRANCE
CARBOMER
ROSMARINUS OFFICINALIS EXTRACT / ROSEMARY EXTRACT
EDTA
VITIS VINIFERA SEED OIL / GRAPE SEED OIL
D25829/7 D214819/1 D209745/13 D223693/1
Rated

5

out of

5
by
NicholeMarie1
from
BEAUTIFUL COLOR
Honestly, garnier made a beautiful color this time, not to over processed looking, very beautiful and elegant for a louder color. Left my hair feeling silky and smooth. Very Great!
Date published: 2019-03-06
Rated

4

out of

5
by
Nik2
from
Vibrant color
The color was vibrant and looked fresh. Was a nice shade
Date published: 2019-03-06
Rated

5

out of

5
by
Periwinkle Epee
from
Rich Color
This was my first time ever dying my hair (I have bleached before) and it was a great experience. Easy to use, didn't make a huge mess, rich color, and it smelled great. My hair felt silky after which make me feel like it's not damaging my hair. I also love how affordable the product is. Overall, I'm very pleased with this product.
Date published: 2019-03-06
Rated

5

out of

5
by
Rissiroo
from
Strawberry Jam Hair!!!
This hair color is beautiful! I would do it again in the the fall because for me it is more of a fall color!
Date published: 2019-03-06
Rated

3

out of

5
by
Micaylabutter
from
Pretty good
This color looked amazing on brown hair!!! I applied this color to my friends hair and it looks healthy and professional. Some negatives I would say is that it doesnt come with an applicator brush/pick which makes applying the color difficult. I just gobbed some in my hand and it seemed to do the trick. But ultimately wouldn't work that well if applying on yourself. I also mixed this color with conditioner to get more out of it. Even with the delution, when applied on blonde it comes out super bright red. In the end, it's a lovely color when applied on brown hair. She loves it!
Date published: 2019-03-06
Rated

5

out of

5
by
Britt5
from
Amazing color
Upon trying this color I noticed a few different things with the way they packaged the tubes. They have a new twist top feature on the color tube that you have to take a ring off and puncture with the lid. I think it was a great change because I've had boxes come with broken seals a few times. The color went on super orange and I was scared that it would be close to that color after rising and drying but it turned into a deep/medium strawberry red. It didnt dry my hair out or fry it like some dyes do. I highly suggest trying this color and brand
Date published: 2019-03-06
Rated

5

out of

5
by
Skyerock
from
Best color difference
I've tried other hair color products and I didn't like them as much as I like this. I have gotten so many compliments on my hair!
Date published: 2019-03-06
Rated

5

out of

5
by
Hollyhood1
from
Love my new color!
I just love my new color! I have been getting lots of compliments! If you are looking for something that covers grays doesn't splatter everywhere and is easy to apply this is it! I was impressed! Thanks #buzzagent # garnier cause now I am a new member of the #squad #garniergirl #buzzagentgirl
Date published: 2019-03-06
Rated

4

out of

5
by
Red Berry
from
Love love love
It was gentle on my hair and the results are beautiful, nice sheen to it as well and I loved the extra benefits the triple oils. I could feel how healthy and nourished my hair was. It was quick and easy very simple instructions anyone could use. I was hesitant to use because I have thick curly hair and I didnt know if this product was meant for my type of hair but it went great, I will be buying this product from now on.
Date published: 2019-03-06
Rated

5

out of

5
by
bebe1
from
love this!
super easy to put it on and turned out amazing! i love this product!
Date published: 2019-03-06
Rated

3

out of

5
by
paxtonann
from
Garnier Nutrisse Strawberry Jam 52
When I decided to dye my hair with this I knew it would be a huge change from blonde to this medium red. Well my finished result was more than I expected, my hair turned out to be a brighter red. This product overall had great coverage results, it got everything andr fr my hair very shiny. This color just isn't for me but I was happy to have the opportunity to test it out.
Date published: 2019-03-06
Rated

5

out of

5
by
Love this
from
Beautiful color
Garnier Nutrisse color has always been my favorite brand to use. Easy to use with a beautiful finish color. I'll never use another brand. This color is by far my favorite because it gave me a shiny, deep red style.
Date published: 2019-03-06
Rated

5

out of

5
by
Ashley11
from
Absolutely love it!
I absolutely loved the garnier strawberry jam hair color! It was easy to apply and brought my hair to such a beautiful natural vibrant red! The clean up from a few spills was also super easy, which is great for those like me who tend to make a mess when doing their own hair, not to mention the minimal stains it left on my neck, ears & forehead also being easily wiped off!
Date published: 2019-03-06
Rated

5

out of

5
by
Ceejay1
from
Absolutely love this color
This color is beautiful. And the hair color didnt leave my hair dry or damaged like alot of box dyes tend too. Will definitely use this again.
Date published: 2019-03-06
Rated

5

out of

5
by
Gabby1
from
The best purple
I am OBSESSED with the perfect purple hair. I've tried for years- both expensive colorists and boxed dyes. I eventually fell in love with Garnier Nutrisse for their deep, long lasting pigments that don't damage my hair. My new favorite is Strawberry Jam!
Date published: 2019-03-06
Rated

5

out of

5
by
BrittHub
from
Great product for long hair!
I dyed my daughters hair with this product and normally we need to buy 2 boxes to cover her long thick hair. With this Garnier I was able to do her entire head and still had a little left to go back through.
Date published: 2019-03-06
Rated

5

out of

5
by
KW11
from
Amazing
This is amazing an amazing product and did a great job coloring my hair.
Date published: 2019-03-06
Rated

5

out of

5
by
KareBear1
from
Beautiful Vibrant Color
This was so easy to use and the results are just beautiful. My hair is super soft and the color is so vibrant!
Date published: 2019-03-06
Rated

5

out of

5
by
Shellybelly1
from
Wonderful product
This product is fantastic, from it's easy to follow instructions to the awesome reclosable conditioner... Which is fantastic. And the color came out amazing! Highly recommend
Date published: 2019-03-06
Rated

5

out of

5
by
LuLu1
from
Fun Vibrant Color!
For the most part, I have always kept my hair pretty close to its natural color so I was a little unsure about going Berry Red but I figured why not! And I am so glad I did! It gives me such a fun look that I probably never would have tried without this chance to review. I have always loved Garnier products and this one did not disappoint! The coloring process was easy and the color came out great! It did not come out as dark as the box showed but the color guide was based on brown hair and I had blond. Still a cool look though.
Date published: 2019-03-06
Rated

2

out of

5
by
Macey1
from
Spotty hair color
I have colored my hair on multiple occasions and never had this problem before. With that being said this box of the strawberry jam hair color left spots that didn't color in different areas on my head from my scalp to the ends of my hair. I don't know if it was the color, oil, or my hair. I absolutely LOVE the color that did turn out! This box of color had an oil treatment you added in the bottle as well as conditioner to use after you wash your hair out. I would highly recommend rinsing JUST your hair and not take a shower. This vibrant color will show you everywhere the water splashes as your washing it out and you might be a little shocked and have to scrub down everything after. It has been a few weeks since I have colored my hair and the color isn't as bright anymore and I can still see color washing out everytime I take a shower.
Date published: 2019-03-06