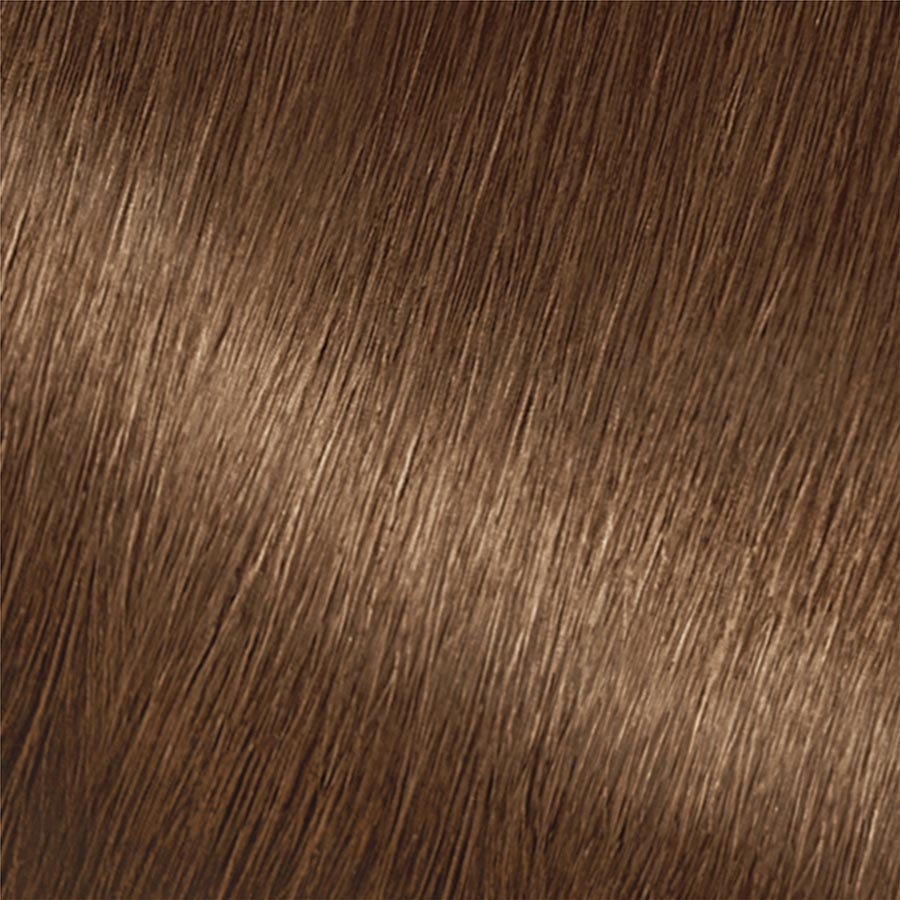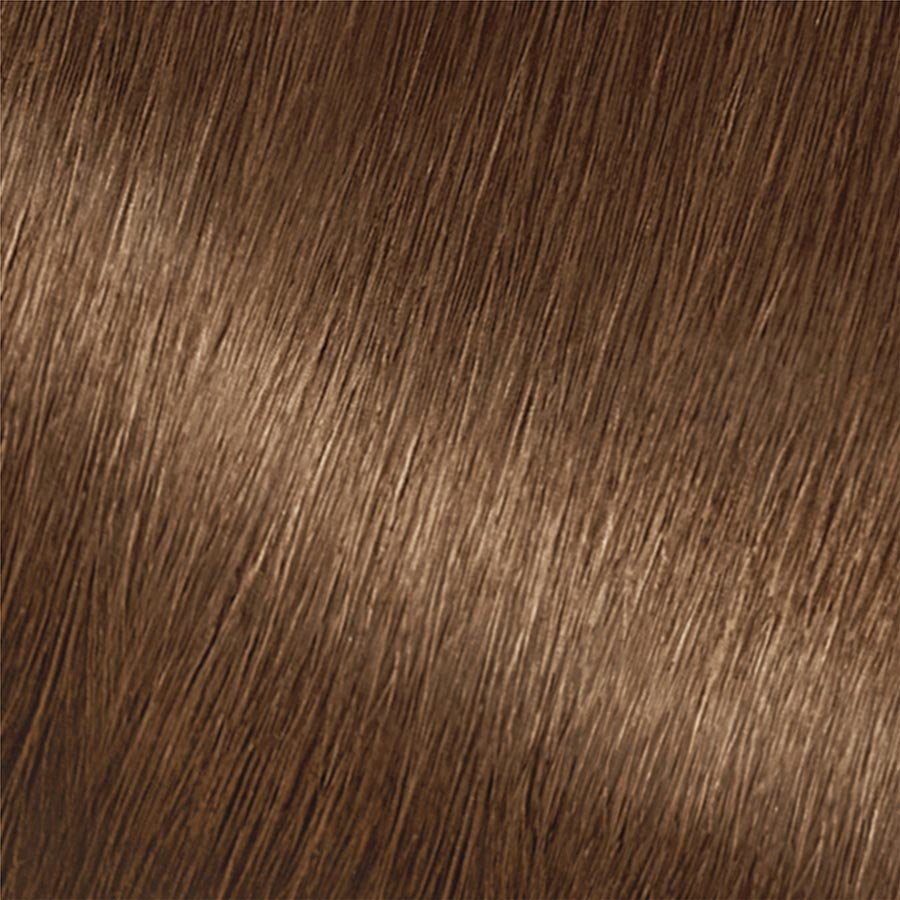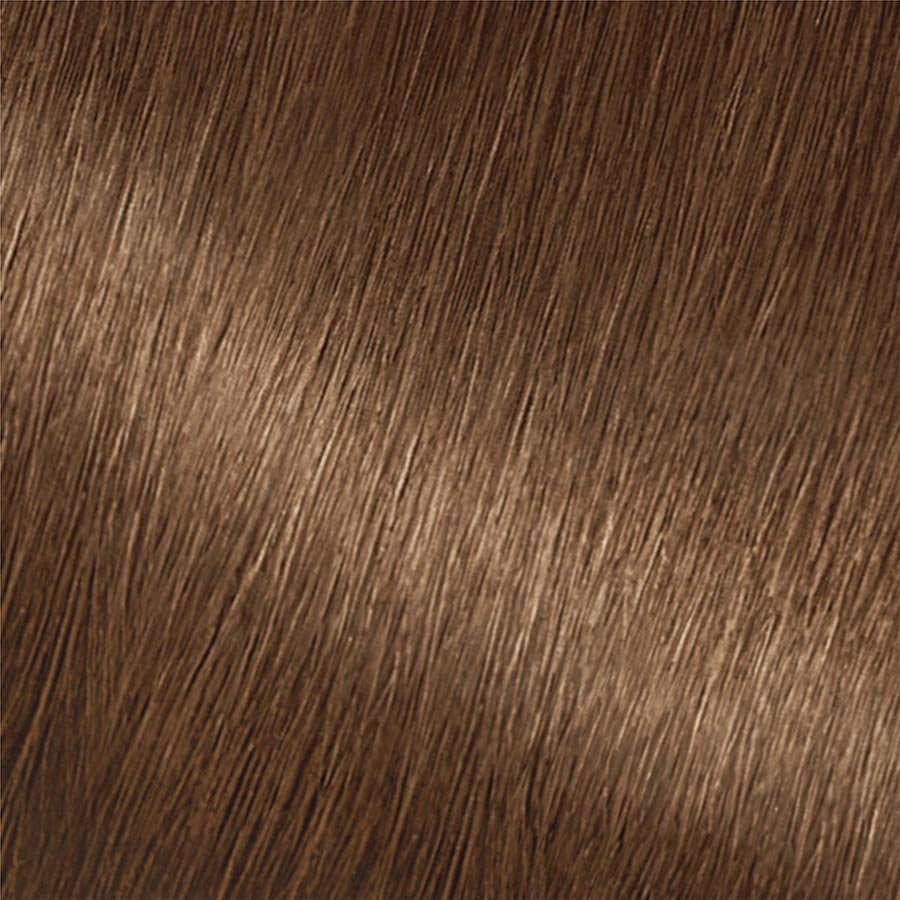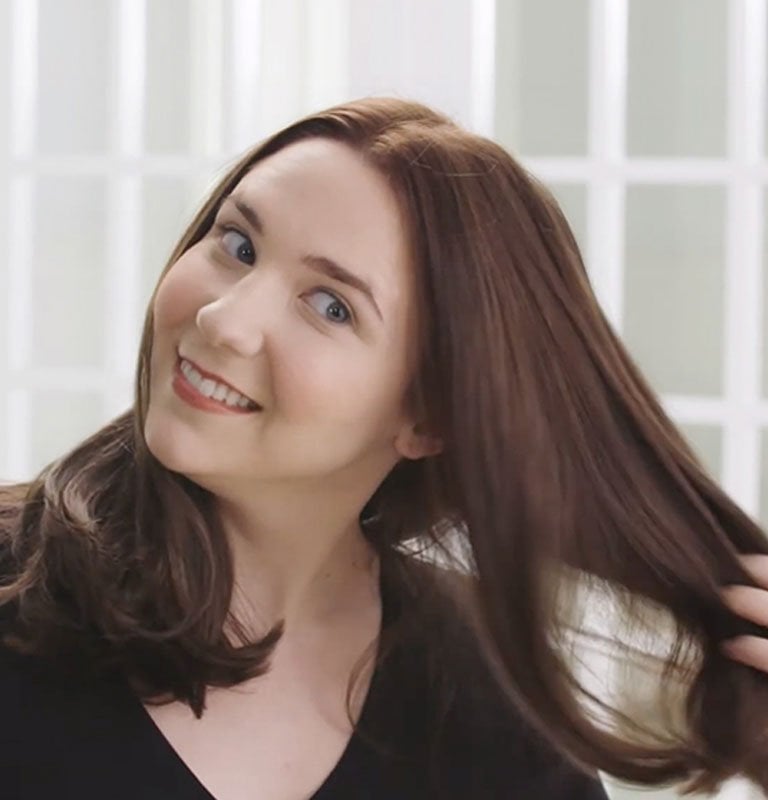 Light Ash Brown 61 (Mochaccino)
Garnier Nutrisse Nourishing Color Creme
$7.99 MSRP
UN CABELLO NUTRIDO SIGNIFICA UN MEJOR COLOR
IMPORTANTE: ¿Te gusta cómo te queda este tono? Comprueba que sea adecuado para tu cabello. Asegúrate con nuestro test de coloración en 1 minuto.
Explorar productos similares
INFORMACIÓN DEL PRODUCTO:
¿El tono 61 (Mochaccino) es adecuado para ti? Garnier Nutrisse Light Ash Brown 61 (Mochaccino) es nuestro tono castaño claro con matices fríos que contrarresta la calidez del color para un resultado frío con un 100 % de cobertura de canas. Es mejor para un cabello natural entre rubio medio y castaño oscuro.

Para un tono más claro con reflejos fríos, prueba el tono 72 (Sweet Latte). Para un tono más oscuro, prueba 51 (Cool Tea). Si quieres seguir en la gama de castaños claros pero te gustaría probar otros reflejos y matices, tienes muchos tonos para elegir, como 60, 63, 643, 66 y 69.

*En el caso de un cabello coloreado, el resultado de color que se puede conseguir varía en función de una serie de consideraciones especiales. Por eso, no recomendamos el tono 61 (Mochaccino) para un cabello coloreado anteriormente con el tono Dark Brown 40 (Dark Chocolate) o más oscuro. Si necesitas más ayuda, ¡usa nuestra herramienta Selector de tonos y encuentra el tono ideal para ti!

La coloración en crema Garnier Nutrisse nutre con semillas de uva y aceite de aguacate. La coloración en crema nutritiva enriquecida con un concentrado de aceites de fruta penetra en profundidad en las fibras capilares para nutrir y acondicionar el cabello de modo que el color se absorba mejor y dure más tiempo, de las raíces a las puntas. Garnier Nutrisse aporta un color rico y duradero con un 100 % de cobertura de canas.
Modo de uso
Nutrisse nutre a la vez que colorea con una fórmula de crema rica sin goteo y, gracias a su ampolla de aceite de semillas de uva, con una fragancia muy agradable.

Sigue paso a paso este procedimiento al aplicar el color en todo el cabello en casa:

1) Haz siempre una prueba en la piel 48 horas antes siguiendo las instrucciones incluidas en el kit.
2) Aplica en el cabello seco sin lavar.
3) Con los guantes puestos, aprieta para verter el colorante (B) en el frasco del revelador (A).
4) Parte la punta y agita el frasco con fuerza.
5) Empieza a aplicar el color en las raíces y continúa por toda la extensión hasta las puntas.
6) Extiende el color hasta las puntas y masajea en el cabello.
7) Deja actuar la fórmula 25 minutos o 30 minutos si tienes muchas canas o tu cabello es resistente/grueso y áspero.
8) Masajea el cabello minuciosamente antes de enjuagar para optimizar el proceso.
9) Enjuaga el cabello con agua abundante hasta que salga transparente.
10) Aplica Nourishing Conditioner (D), deja actuar 2 minutos y enjuaga con agua abundante.

Si solo necesitas un retoque de raíces, sigue las instrucciones de Aplicación para retoque de raíces.

Lee siempre las instrucciones incluidas antes de aplicar cualquier coloración.
Consejos: Prueba el Agua Micelar Limpiadora Waterproof para eliminar las manchas de coloración
Ingredientes
Nutrisse Colorant: Aqua/Water, Cetearyl Alcohol, Propylene Glycol, Deceth-3, Laureth-12, Ammonium Hydroxide, Oleth-30, Lauric Acid, Hexadimethrine Chloride, Glycol Distearate, Polyquaternium-22, Ethanolamine, Silica Dimethyl Silylate, Ci 77891/Titanium Dioxide, 2,4-Diaminophenoxyethanol Hcl, M-Aminophenol, Ascorbic Acid, Sodium Metabisulfite, Dimethicone, Pentasodium Pentetate, N,N-Bis(2-Hydroxyethyl)-P-Phenylenediamine Sulfate, P-Phenylenediamine, Parfum/Fragrance, Carbomer, Resorcinol, Vitis Vinifera Seed Oil/Grape Seed Oil. F.I.L. D42746/2. Fruit Oil Concentrate: Paraffinum Liquidum/Mineral Oil, Vitis Vinifera Seed Oil/Grape Seed Oil, Parfum/Fragrance, Tocopherol, Rosmarinus Officinalis (Rosemary) Extract. F.I.L. D25829/5. Rinse-Out Conditioner: Aqua/Water, Cetearyl Alcohol, Elaeis Guineensis Oil/Palm Oil, Behentrimonium Chloride, Pyrus Malus Extract/Apple Fruit Extract, Glycerin Parfum/Fragrance, Stearamidopropyl Dimethylamine, Niacinamide, Pyridoxine Hcl, Butyrospermum Parkii Butter/Shea Butter, Citric Acid, Olea Europaea Oil/Olive Fruit Oil, Saccharum Officinarum Extract/Sugar Cane Extract, Benzyl Alcohol, Chlorhexidine Dihydrochloride, Persea Gratissima Oil/Avocado Oil, Ribes Nigrum Oil/Black Currant Seed Oil, Linalool, Citrus Medica Limonum Peel Extract/Lemon Peel Extract, Ci 19140/Yellow 5, Camellia Sinensis Extract/Camellia Sinensis Leaf Extract, Ci 15985/Yellow 6. F.I.L. D35637/3. Nutrisse Developer: Aqua/Water, Hydrogen Peroxide, Cetearyl Alcohol, Trideceth-2 Carboxamide Mea, Ceteareth-25, Glycerin, Pentasodium Pentetate, Sodium Stannate, Tetrasodium Pyrophosphate, Phosphoric Acid. F.I.L. D12836/26.
Aceite de aguacate
El aceite de aguacate, un potenciador capilar alisador y sedoso, rebosa de ácidos grasos vegetales que poseen una habilidad penetrativa única en efectos profundos y duraderos. Este ingrediente rico y placentero suaviza las puntas abiertas a la vez que añade un brillo espectacular.
Aceite de oliva
El aceite de oliva, repleto de antioxidantes, ha sido un elixir de belleza de gran eficacia durante siglos. En las fórmulas de cuidado capilar y coloración, ayuda a cubrir el cabello, dejando las fibras capilares fuertes, brillantes y resilientes. En los hidratantes faciales, calma a la vez que suaviza para una piel de apariencia radiante y rejuvenecida.
Rated

1

out of

5
by
Patty15
from
Very disappointing
Used this product as directed. First, it NOT cover any grey hairs of which was the primary purpose of coloring my hair. Also, it lifted my dark brown hair at the roots to a very unnatural orange color. My mid shaft and ends were lifted slightly less than the roots. Overall, this hair dye ( light ash brown) was very dissappointing. There was no ash in this color. I have very fine hair that is prone to breakage and I will have to redamage my hair with another color to fix this one.
Date published: 2018-05-21
Rated

4

out of

5
by
Sandy_12345
from
Garnier Nutrisse 61
Colored most of my as expected and it even covered my grays, but I have lighter tones at the bottom half of my hair which acquired a green tone. I knew this would happen but I am wondering if you carry a similar color that can help me correct this?
Date published: 2018-03-04
Rated

1

out of

5
by
Sarah2007
from
Poor Grey Coverage
I have some grey hairs (not a lot) at roots. This product claims to cover 100% grey hairs but unfortunately did not cover the majority of mine...it also left my hair looking very brassy and I didn't buy a toner because since the color is light "ash" brown, I didn't think I would need one. Anyway, I'm mostly upset that my grey hairs were not covered which is the main reason I was dying my hair...would not recommend.
Date published: 2017-06-03
Rated

1

out of

5
by
Dantschi
from
So disappointed
I also tried the very light ash blond and was very happy with my results! When I decided to go back to my old hair color I got so disappointed!!! My roots got lighter again and I got the same color as when I dyed my hair with the very light ash blond.
Date published: 2017-03-28
Rated

1

out of

5
by
Learn my lesson
from
Very disappointed.
Didnt work. Very disappointed. I wanted to try light ash brown color. And i decided to go with Garnier as it said 100% gray coverage. My hair color is black with light grey hair. It came out as - my grey still there after leaving it for 20 mins for root cover up and another 10 mins for the rest per instruction. - result : the root is a lot lighter than said on the box and no chance to the rest of my hair. So, i have black, grey, dark ash brown and light ash brown all in 1 head. I wasted my time to dye my hair and very disappointed in the result.
Date published: 2017-03-14
Rated

2

out of

5
by
Irmis
from
Color differs on different hair
I bought this a few weeks ago and the color was totally different from what i expected it to be.Ive been dying my hair with Garnier fructis ever since i was 16, i think its time for a change
Date published: 2016-12-18
Rated

2

out of

5
by
Nunya
from
I'm having a hard time understanding why this got so many great reviews.
Pros; There was enough dye to cover my long hair with one box, and I like the overall color ok. Cons; It absolutely DID NOT cover my grays! I only have like, 5 prominent gray hairs (that I can see in front/top of my head) and they were still there, bright and shiny as ever after dyeing. I ended up pulling them out by hand the day after coloring, not something I wanted to do with my already thin hair. And i'm sure there are some in the back that I can't even see,but i'm sure everyone else can. It also left my roots pretty bright. I've come to expect that happening after dyeing my hair a couple shades lighter than my natural color,but usually the brighter roots thing only lasted until my 1st shampoo with the new hair color, but my roots are still brighter than the rest of my hair, 10 days later. And even though this was an "ash" brown, it left a lot of red in my hair, particularly in the aforementioned roots. No (boxed) ash dye color can totally remove the red from my hair, particularly when going a bit lighter, but this left more red than the competing brands "ash" colors. And the competing brands also give you extra conditioner to use later. I would not buy this brand again, but I gave it two stars because a couple of inches from the roots, and the rest of the way down my hair, I kinda like the overall color tone ok, and I don't think it was excessively damaging.
Date published: 2016-01-02
Rated

5

out of

5
by
TracyJeanne
from
Great product for a great price
I finally found a product that COVERS RED tones!!! Awesome product. Great color. I will use this again. One of my FAVORITE garnier nutrisse hair dyes.
Date published: 2015-06-02
Rated

5

out of

5
by
KRod
from
Looks and feels great!
I dyed my hair for the first time independently this weekend (I usually get it done at the salon but it costs way too much!). I was nervous I wouldn't be able to do it alone but was mistaken. This creamy dye is very easy to apply, doesn't drip and there's enough in the bottle to get through medium length, thick hair. The directions are easy to follow. The color looks great and I actually think my hair is softer after using. I am totally hooked. Thank you, Garnier!
Date published: 2015-04-21
Rated

5

out of

5
by
Zachariah
from
Using this color forever!
This hair dye is amazing along with the color. My hair grows fast so i have to dye it every two to three weeks. After dying my hair it feels so soft amazingly, and I get so many compliments on the color!
Date published: 2014-01-08
Rated

4

out of

5
by
wiz1
from
love this
I have to say that this is the best ive tried, doesnt leave hair so dried out...... Im having a hard time finding coupons tho... don't know if its the mail or the newspapers fault... I need coupons!!!!!!!
Date published: 2013-12-12
Rated

5

out of

5
by
GinaMarie
from
Hair Feels so Heathly
I gotta say this is one of the best products I've tried. My hair felt great after coloring it! Excellent conditioning. The directions are easy to follow, the color sticks with no dripping, and it lasts. Its been 6 weeks, and it still looks good! My hair is thin and fine and I was worried because my hair becomes damaged very easily.. The only thing is the color was a little darker then I wanted. I'm still pleased with the outcome and would definitely do it again.
Date published: 2013-11-26
Rated

5

out of

5
by
Scarlett23
from
Excellent Permanent Color
Previously I had dyed bright cherry red hair, and once it had faded after 2 months I decided to go back to brown, so I chose this ash brown color. It covered up the red very nicely! You can barely tell it was ever red, and the brown color it gives is very natural looking and true to the box. It also smells really good unlike most hair dye. I will be using the darkest brown one in a couple months to go darker for Winter.
Date published: 2013-11-13
Rated

5

out of

5
by
PacNorthwest
from
Dont discontinue this color!!!
I used this color twice and was delighted with the color and feel of my hair. Since then I haven't been able to find this shade in my area. The Light Brown and Light Natural Brown gave my very ash brown hair awful reddish highlights. Not a good color for me! Please don't discontinue the Light Ash Brown!
Date published: 2013-02-08
Rated

5

out of

5
by
Hanney96
from
Made my Hair Shiner and Healthier
I absolutely love love love their dark intense red shades for dark hair. I used this color and it made my hair shinier and silkier. My hair felt healthier as well. I highly recommend this product to the moon and back. Whenever I use box dye, I always look for Garnier Nutrisse.
Date published: 2012-10-29
Rated

5

out of

5
by
AnnLu
from
This hair color is the best on the market!
I've been dying my hair to cover the gray for over a decade and have tried many different brands. Garnier Nutrisse is the best hair color on the market today! It's easy to use and the results are fantastic. It covers the gray and leaves my hair so strong and with great shine. I've recommended this product to everyone who colors their hair. I've gotten nothing but compliments with your wonderful product. Please continue producing Garnier Nutrisse - it's great!!
Date published: 2012-02-15
Rated

5

out of

5
by
oxbowlady
from
Covers My Gray
I've tried many home hair coloring products and I feel that Nutrisse is the best. It completely covered all of my gray hair and this product is true to your color chart. It is very inexpensive compared to competitors and yet it works the best. It lasts longer and leaves my hair soft.
Date published: 2012-02-15
Rated

5

out of

5
by
Aleta
from
The Perfect Color
I've FINALLY found the perfect color! I have been unsuccessful for years in finding the right light brown color for me until now! Light Ash Brown is perfect for most skin tones. The coverage is amazing and the smell is so delicious! It doesn't leave me my thick, curly hair dry at all. The conditioner is the perfect amount of moisture needed after coloring!
Date published: 2012-01-18
Rated

5

out of

5
by
MissyK
from
This is my favorite!
But I'm also having trouble finding this color in the stores. I've tried quite a few other Garnier colors and Garnier haircolor products, but this one is the best one I've tried. I would love to know where they are still selling it.
Date published: 2012-01-04