This site is intended for US consumers.Cookies and related technology are used for advertising.To learn more or opt-out, visit Ad Choices and our privacy policy.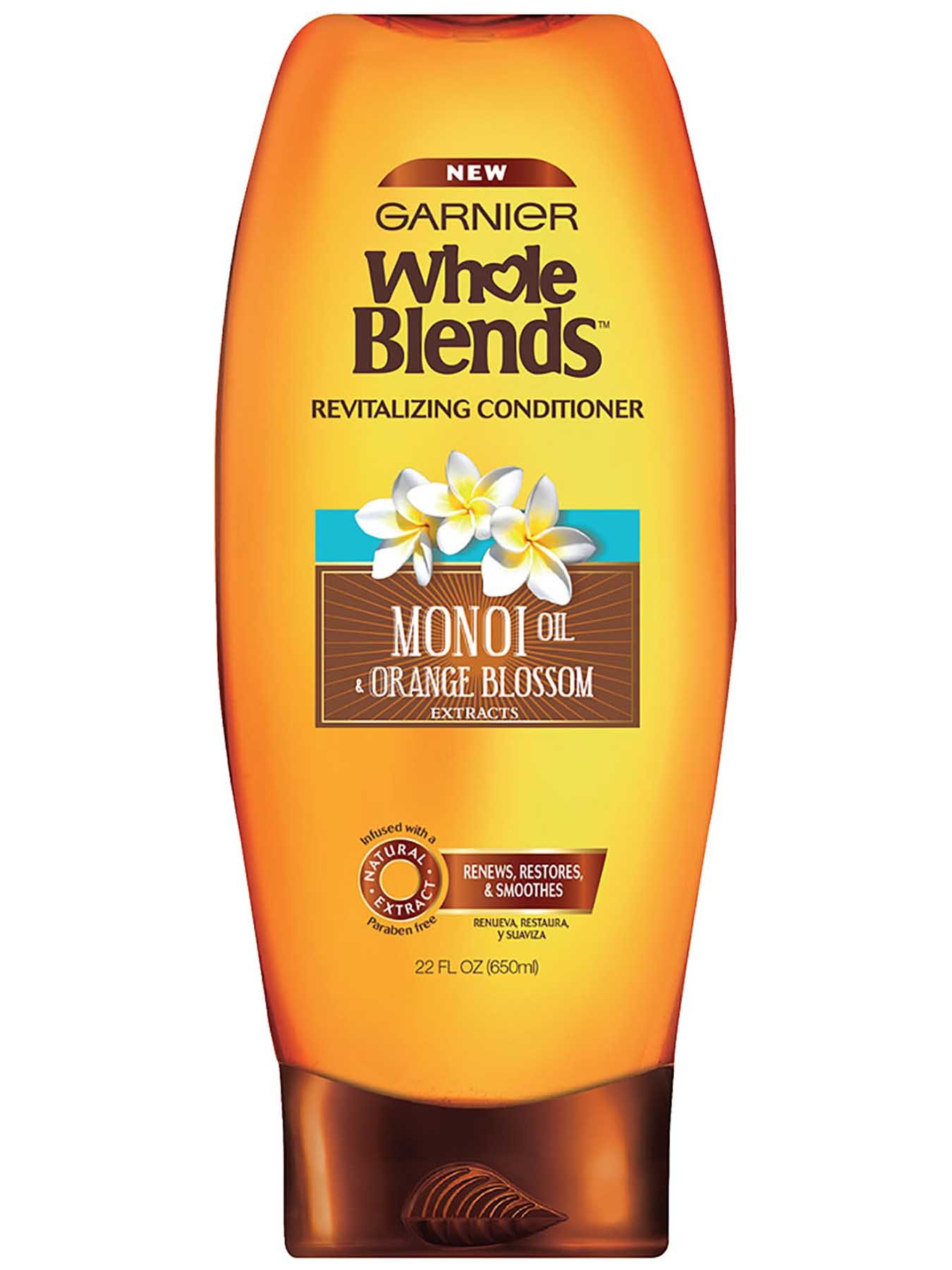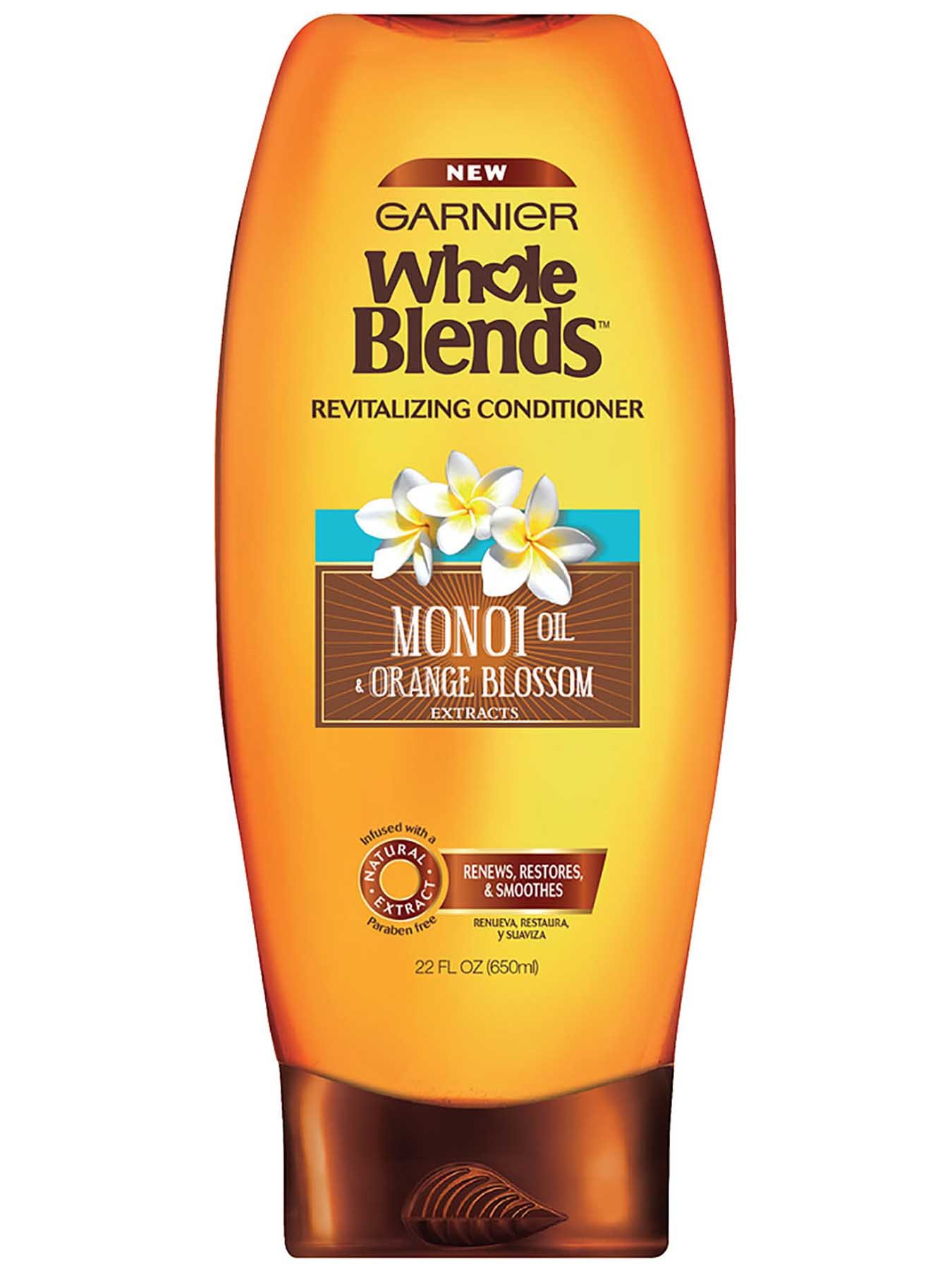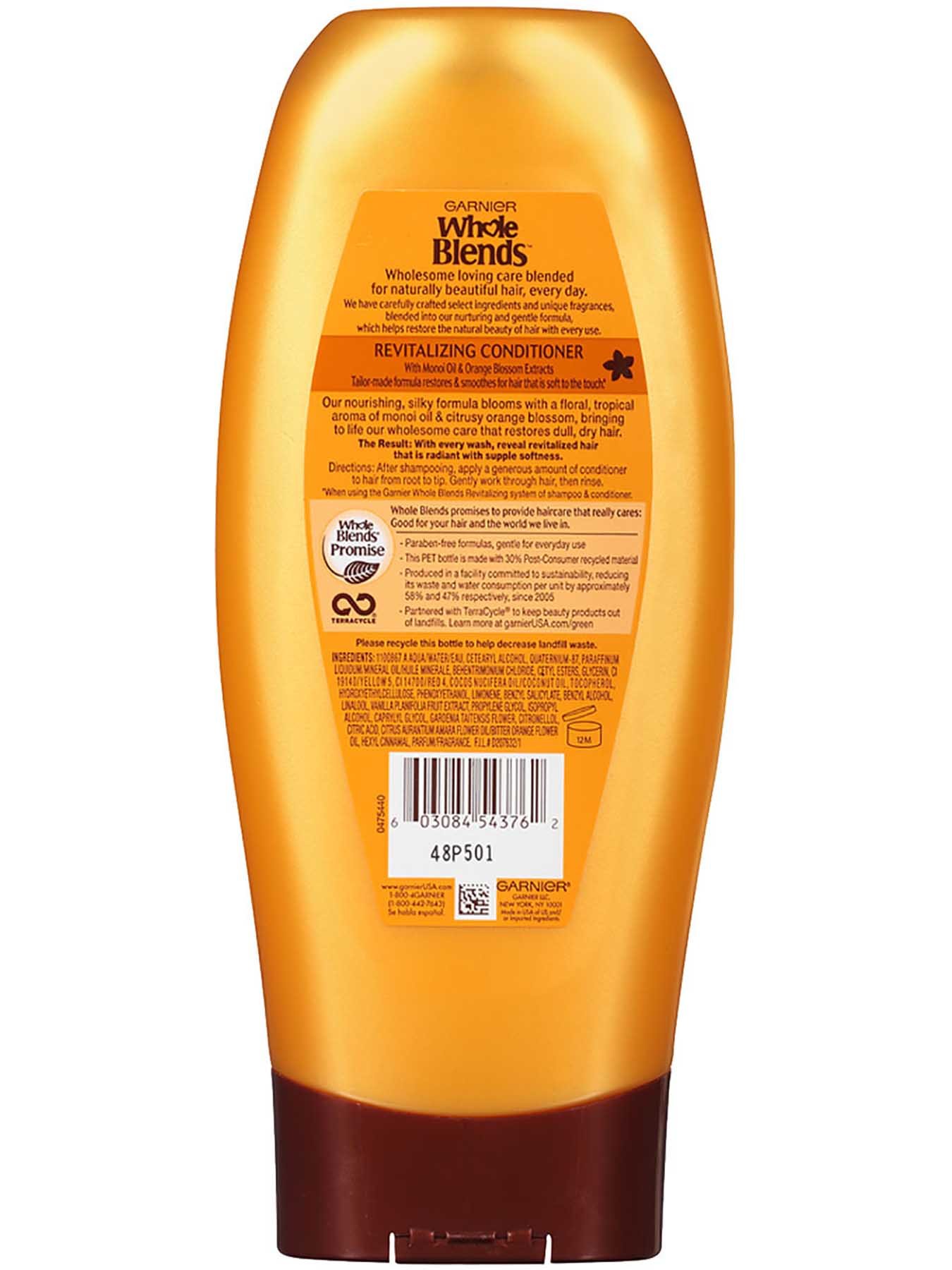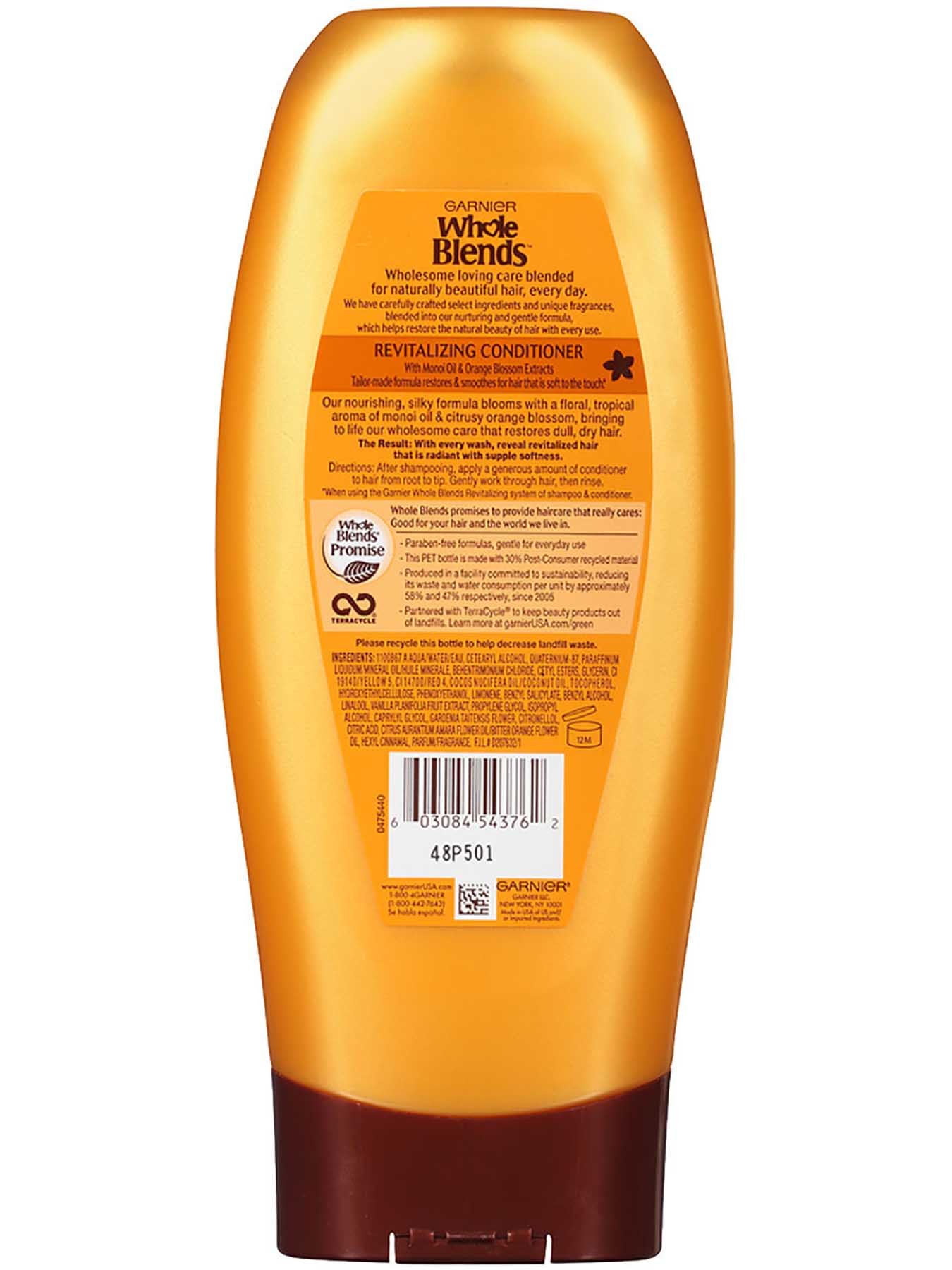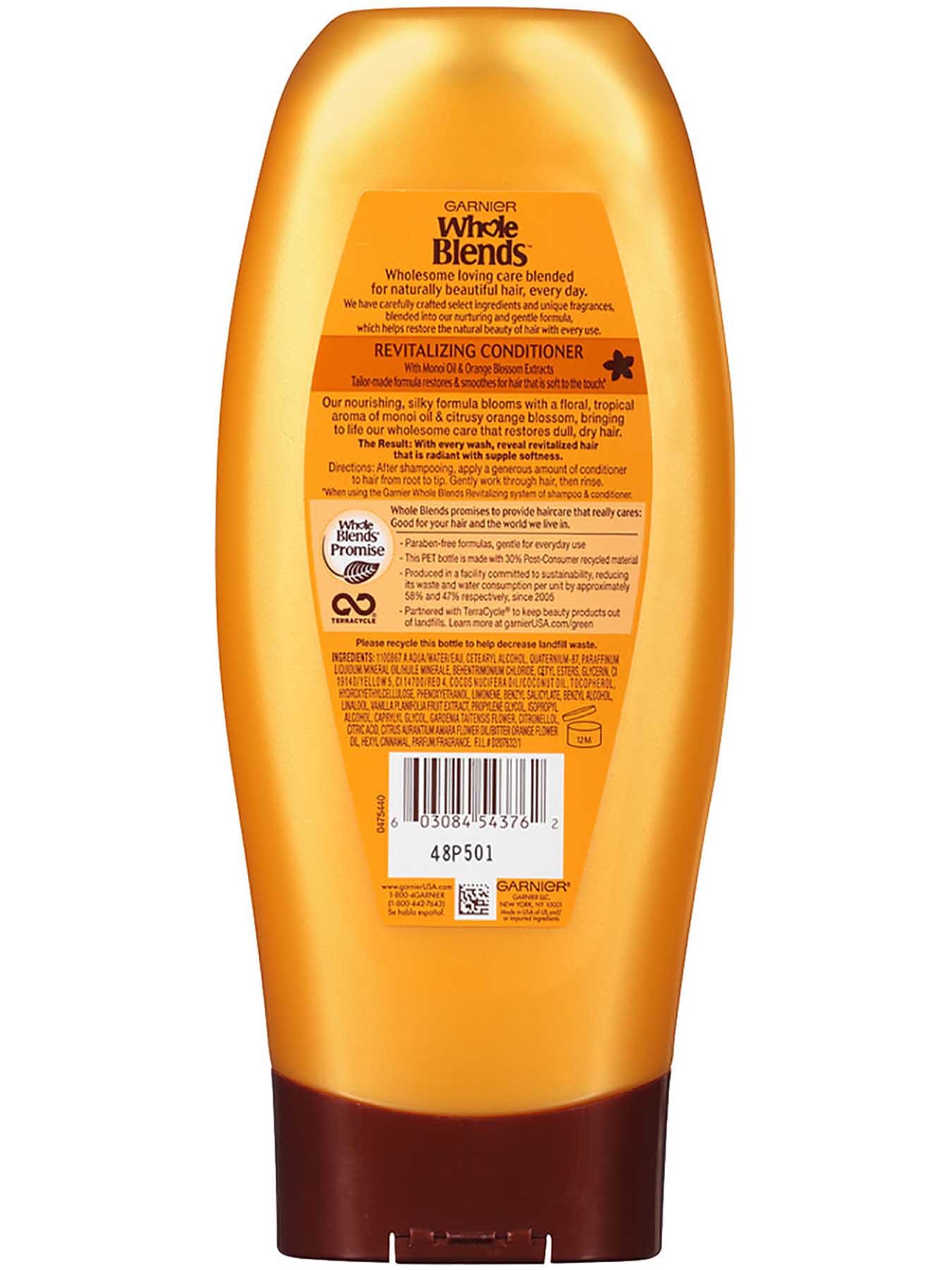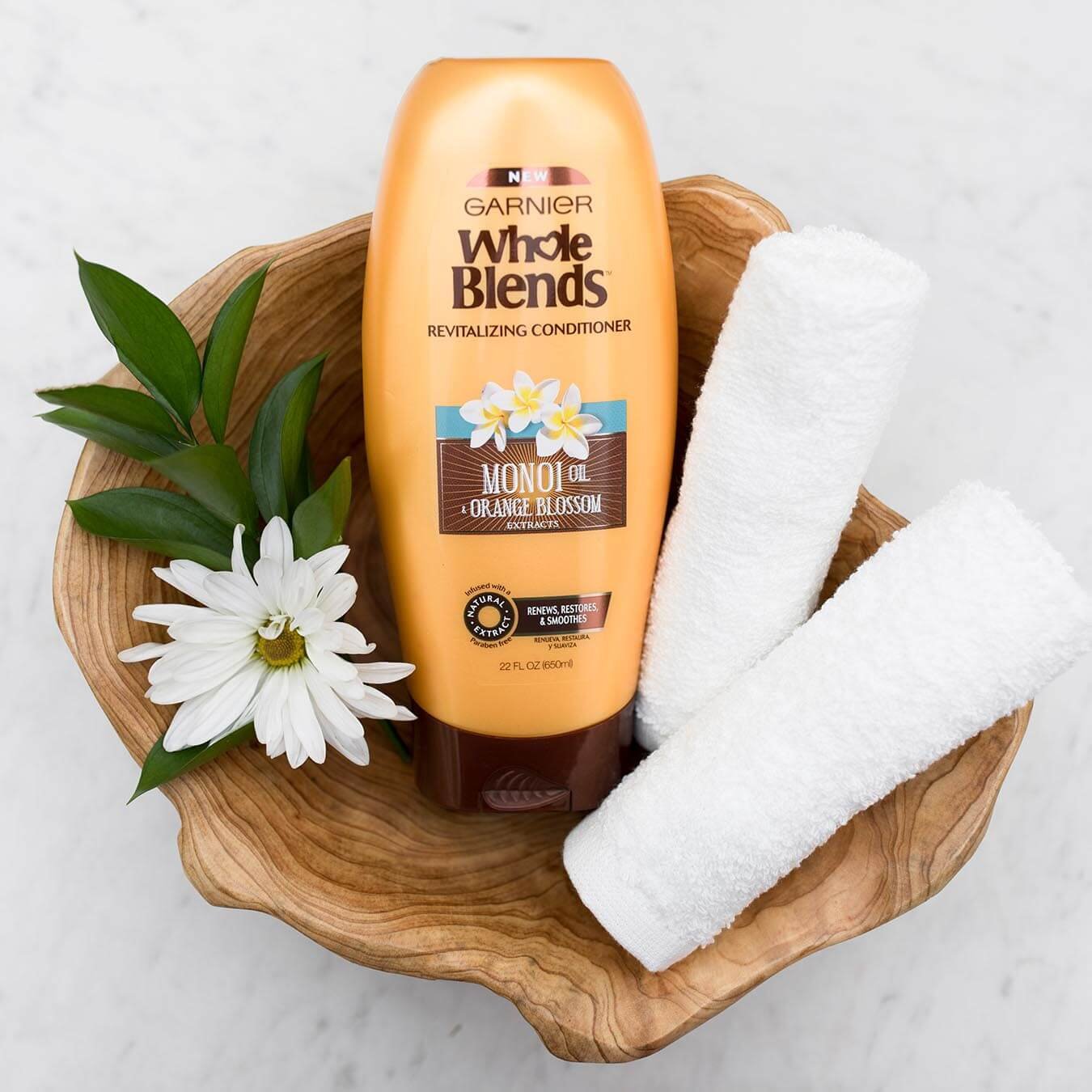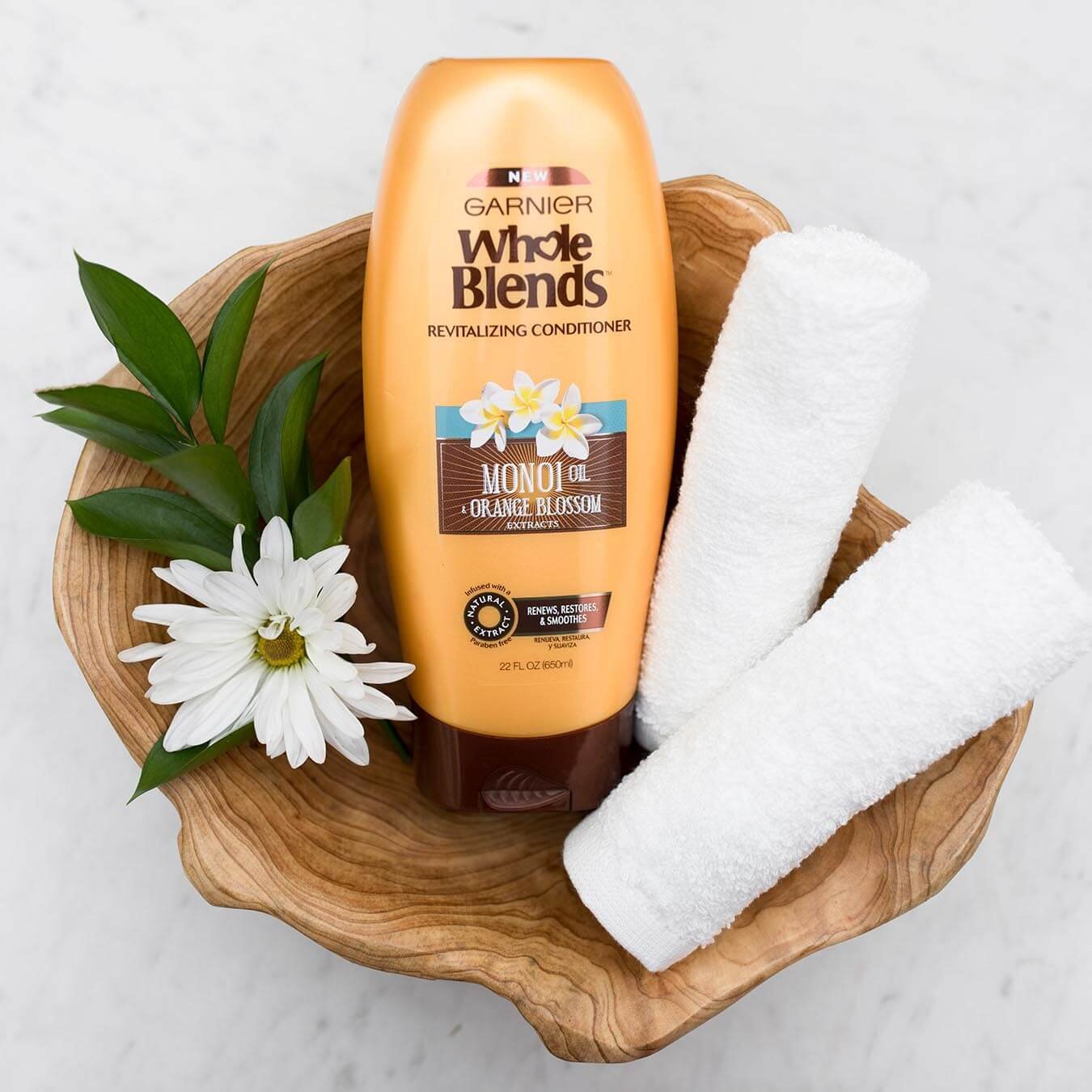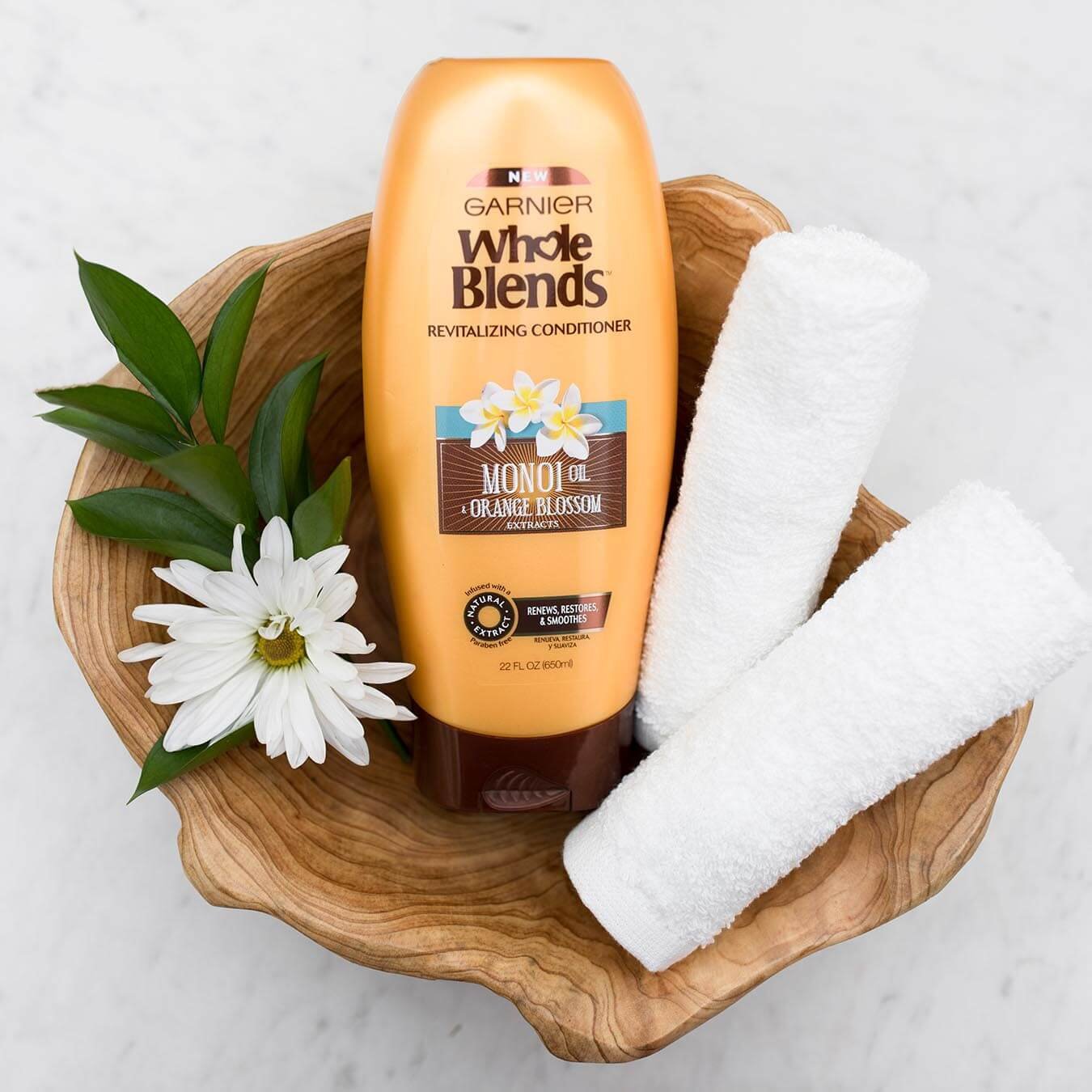 Whole Blends
Revitalizing Conditioner with Monoi Oil & Orange Blossom extracts
PRODUCT INFORMATION:
Our nourishing, silky Revitalizing Conditioner formula blooms with a floral, tropical aroma of Monoi oil & citrusy Orange Blossom, bringing to life our wholesome care that restores dull, dry hair, exclusively at Walmart.
HOW TO USE:
After shampooing, apply a generous amount of conditioner to hair from root to tip. Gently work through hair, then rinse.
Ingredients:
"AQUA / WATER / EAUCETEARYL ALCOHOLQUATERNIUM-87PARAFFINUM LIQUIDUM / MINERAL OIL / HUILE MINERALEBEHENTRIMONIUM CHLORIDECETYL ESTERSGLYCERINCI 19140 / YELLOW 5CI 14700 / RED 4COCOS NUCIFERA OIL / COCONUT OILTOCOPHEROLHYDROXYETHYLCELLULOSEPHENOXYETHANOLLIMONENEBENZYL SALICYLATEBENZYL ALCOHOLLINALOOLVANILLA PLANIFOLIA FRUIT EXTRACTPROPYLENE GLYCOLISOPROPYL ALCOHOLCAPRYLYL GLYCOLGARDENIA TAITENSIS FLOWERCITRONELLOLCITRIC ACIDCITRUS AURANTIUM AMARA FLOWER OIL / BITTER ORANGE FLOWER OILHEXYL CINNAMALPARFUM / FRAGRANCE F.I.L. D207632/1"
Rated

4

out of

5
by
ColoradoJJ
from
Great Scent, Left Hair Soft, Shiny!
I have become a fan of Garnier's Whole Blends Monoi Oil and Orange Blossom Extract shampoo and conditioner. The fragrance is a floral, feminine blend of Tahitian Gardenias and Orange Blossoms. The conditioner was creamy and easily applied. Once dried and styled, it left my hair feeling soft, supple and shiny. I would buy this conditioner again!
Date published: 2017-09-01
Rated

5

out of

5
by
LThorp13
from
Smells great and feels good
I loved this whole blends Revitalizing Hair Care with Monoi Oil & Orange Blossom extracts. I have used other whole blends in the past and have liked all of them. But this one made myhair feel extra soft and it made my hair smell so good. This is a go to for conditioners
Date published: 2017-09-01
Rated

5

out of

5
by
MelissaCampos
from
Thick and wonderful
I think this conditioner is amazing. It comes out super thick. It nourishes the hair. I like to keep it on as a mask also! The scent is perfume-y... but I like it! I think it just the floral. Leaves a soft scent in your hair all day! Really loved it!
Date published: 2017-08-31
Rated

5

out of

5
by
JanetSoto
from
No more frizzy hair !
The conditioner is like the cherry to the sundae so to speak. In conjunction with the shampoo I can see a difference in my hair and the more I use it the more benefits I see. My hair feels light and not weighed down (which you would probably think because of the oils) . The monoi oil goes deep into my hair yet doesn't leave it greasy at all. Using this conditioner I can detangle my hair much quicker and my curls are not left frizzy. Definitely something that I will keep using , when a product shows results from the first use that's when I know it really works.
Date published: 2017-08-31
Rated

4

out of

5
by
marymbs
from
Great scent
I do like this conditioner because it smooths my hair. I have naturally wavy hair but I generally straighten it. This conditioner leaves my hair much smoother, shortening my straightening process. The scent is really nice too! I have never heard of Monoi oil before this, but I like it!
Date published: 2017-08-31
Rated

5

out of

5
by
MMayhair
from
A little goes a long way
This is one of the best conditioners that I have tried. It's almost like a paste, so a little goes a long way. The smell was awesome. Even my husband used it and even put it in his beard. He loved the softness and said that the smell was still good.
Date published: 2017-08-31
Rated

4

out of

5
by
arwenvs
from
Not a Bad Conditioner
I like it overall and I have to say my hair looks amazing. I have very long hair, so keeping it healthy can be a challenge, and this is one of the few products that makes it easy to comb my hair.
Date published: 2017-08-30
Rated

1

out of

5
by
hmcgee7
from
Left my hair cakey and greasy
Well, the conditioner fell even shorter than the shampoo unfortunately. It came in with another bang of the loud, overpowering synthetic fragrance. After rinsing and drying, my hair had an awful wax-like coating and looked as though it hadn't been washed for weeks. I tried rewashing (yay for more scent to choke on) and it helped, but the smell was so strong, it made me a bit sick. I wish I could have loved it, but I did not love any aspect of it.
Date published: 2017-08-30
Rated

3

out of

5
by
Kayyessence
from
Revitalizing conditioner
I actually like the conditioner. The scent is great and the consistency was nice and creamy. It didn't make my hair super silky smooth but it had a nice texture after I let it sit in for a little bit. My expectations weren't all the met, but I like it alot better than the shampoo.
Date published: 2017-08-30
Rated

5

out of

5
by
Jennifer109784
from
Awesome i love it
I love this conditioner so much and charted today for the first time and it made my hair so soft and silky and he made my hair smells so good in the life how big the bottle is if you could use a lot i'm definitely buying again
Date published: 2017-08-30
Rated

4

out of

5
by
Batteredcakes
from
Hair came out better than before!
Less frizz!! This conditioner has been awesome! Not only is the smell amazing but the conditioner calms my frizz down! My frizz isn't completely gone but this conditioner helps a ton. Better than a couple of more expensive brands I've tried. So far, this is one of the best conditioner that I've tried. I will be continuously using this until it's gone to see how it is with build up and to keep my hair more smooth.
Date published: 2017-08-29
Rated

3

out of

5
by
allierae7777
from
A little better
This conditioner is slightly better than the shampoo. smells nice, but I feel like I haven't used it long enough to see any great differences. It has smoothed my hair, but also not sure it helps or hurts. As I feel it weighs is down quite a bit also. Will keep using it to see what it can do.
Date published: 2017-08-29
Rated

5

out of

5
by
ChristinaONeal
from
Gray conditioner
This conditioner worked great! Took all the tangles and knots out of my curly hair and left my hair feeling extremely soft. It's smells good too!
Date published: 2017-08-29
Rated

5

out of

5
by
PaigePanacea
from
Garnier Greatness
This stuff makes my hair sooo soft! Smells great, a fresh and light floral scent. Happy with how my hair looks and feels using this product!
Date published: 2017-08-29
Rated

5

out of

5
by
ColeyQueso
from
Hair is smooth and soft!
This conditioner is making my hair feel nice and soft. I have been using it for several weeks now and there is a noticeable difference. It is a big bottle, so will last a long time, and makes my hair feel super smooth! Love it! The only caution I have is that it has a very particular scent, so if that might bother you I would recommend checking that out in store prior to purchasing.
Date published: 2017-08-29
Rated

5

out of

5
by
Yamaguchiv
from
Garnier conditioner orange blossom
I love this conditioner . It makes my hair feel soft and fresh, always smells great. I also feel my hair more revitalize and bright, perfect for my hair!! Love garnier products!! My sister also used and approved.
Date published: 2017-08-29
Rated

2

out of

5
by
ShawnaAa
from
Too smelly for me
I didn't like the smell. I couldn't get past the smell to use it more than once. I have sensitive skin wouldn't recommend this product to those with sensitive skin.
Date published: 2017-08-29
Rated

5

out of

5
by
Bhulsey77
from
My new favorite conditioner!
I love this conditioner! It smells so clean and reminds me of a fresh field of flowers. It's thick when it comes out which I really like and require from a shampoo. It's not watered down so it thoroughly soaks into your hair instead of sliding off. When my hair dries, it looks so healthy and shiny! And the floral scent lasts and lasts so you always have great smelling hair. I think I've found my new favorite conditioner!
Date published: 2017-08-29
Rated

5

out of

5
by
cantbewrong
from
Better than typical...
After using this conditioner several times I can say that this conditioner is better than typical drugstore conditioner. It has a thicker consistency than others I've used in the past and it is truly creamy. That may not seem like a big deal, but I have long hair and I hate losing half my conditioner to the shower floor before getting it worked through my hair. This conditioner also doesn't have the slippery feel as you rinse it out. It still rinses hair smooth and shiny, but without feeling like it's all sliding right off your hair. I love the scent! If a Moroccan sunset had a scent, if would be just like this conditioner. At least in my opinion. I'm a big believer of the power of coconut oils and that is the only scent missing to complete the sensory experience. On days that are especially humid, I rub a little coconut melt onto the end of my hair. It actually works well with this conditioner without being overly weighty or greasy. I would reckoned this product to my friends and family. Even more so to people with longer hair like myself. When you have long, fine hair conditioner can be tricky. This rinses clean and leaves my hair feeling nurtured and soft.
Date published: 2017-08-29
Rated

5

out of

5
by
sjg7388
from
So thick and softening!
It took me a bit to get used to this conditioner, but in a good way! I was used to using almost an entire palm full of my previous conditioner. I use about a quarter sized dollop now for not quite shoulder length but super thick hair. I get no knots, my curls are loose and soft, and it is helping my hair health. It feels like model hair!
Date published: 2017-08-29
Rated

4

out of

5
by
DainaButkus
from
Super thick and moisturizing!
This conditioner really steps up the shine on my hair! I like that it is really thick conditioner, it makes it easy to get it all over my strands!
Date published: 2017-08-29
Rated

5

out of

5
by
jellybean0623
from
I love.tbis condtioner
I tried the Garnier Whole Blends Conditoner. The shampoo was just ok for me, but I loves the conditioner. It was super thick and luxurious feeling. It smelled great and left my hair soft. Will use again!
Date published: 2017-08-29
Rated

5

out of

5
by
TristinM
from
Amazing Conditioner
I can't believe how soft & smooth my hair feels after only using this product 3 times! My hair was dry and brittle from summer fun & it already feels healthier!
Date published: 2017-08-28
Rated

5

out of

5
by
SweetReality
from
Great pair to the shampoo
Unlike the shampoo the conditioner has a much subtler scent of citrus and so it's not to overwhelming and it pairs greatly for that reason. It makes my hair super soft but as a person who has light curls but super frizzy unmanageable hair this product is great because unlike other repair conditioners it repairs without adding a bunch of volume to my hair which is very important to me. It's also super cheap so it's absolutely worth it. I will be purchasing again. It's
Date published: 2017-08-28
Rated

4

out of

5
by
Shortee231
from
Monoi oil conditioner
This conditioner smells amazing and leaves your hair smelling the same! I think the conditioner is a way better value than the conditioner and works a good lather in your hair. My hair still feels slightly dry at the ends, after using, but leaves a nice shine.
Date published: 2017-08-28
Rated

4

out of

5
by
whendeewoo
from
Very Good Product
I do have to say that I really appreciated this product! I wasn't a fan of the shampoo but this conditioner was amazing! I tried it with another brand of shampoo and it worked so great it left my hair nice and soft and wasn't hard to wash off. I just knocked one star off because I wish the entire line (shampoo and conditioner) worked equally as great!
Date published: 2017-08-28
Rated

4

out of

5
by
bpratt26
from
Thick and rich
Garnier Whole Blends with Monoi Oil and Orange Blossom conditioner is an amazing conditioner. I have very thin hair that gets weighed down easily with conditioner and other products. This didn't weigh my hair down at all. I used a small amount, the size of a dime. Working it into the ends of my hair, it felt so thick and massaged in well. The true test for my hair and a conditioner is the in the rinse. After letting it sit on my hair for a few minutes, I started rinsing it out. The tangles seemed to rinse right away with the product. I was happily surprised how quickly and completely the conditioner rinsed out of my hair! Combing was a breeze as well, no tangles or knots. The finished product, my hair, was great. No fly away. Just smooth, shiny hair. This will be my new weekly conditioner!
Date published: 2017-08-28
Rated

5

out of

5
by
dee1015
from
Oh So Soft!
I haven't had much time to do my hair on account of having my baby five weeks ago. My hair was a complete mess I had just been wearing it up in a ponytail, I first just used the conditioner on my hair dry with a little spray bottle of water and it made my hair sooo soft! I easily detangled my hair put it in two braids it smaller amazing and my hair felt like my hair again with body and soft curls. I love the fact I fact that it didn't have any harsh products in it which was a huge plus for me on account I usually make my own products. I would recommend this over and over again!
Date published: 2017-08-28
Rated

2

out of

5
by
YoGsvin95
from
It wasnt what I expected
Tbh, I'm not that satisfied. Yew, it smells wonderful; however results were not noticeable to me. My hair felt the same, as it would would any moderate priced conditoner.
Date published: 2017-08-28
Rated

3

out of

5
by
meaganprahl
from
Conditioner That Works!! With a Catch
I was so excited to try this product. As a curly-frizzy hair type, I am always looking for a great new conditioner that smooths and tames my curls. This conditioner lived up to the claims. My hair felt better and stronger after using it once, but it came with a huge catch, the smell. I was hoping for and expecting a nice light scent of orange blossom but was met instead with a very heavy perfume. It was so overwhelming that my son wouldn't come near me aftwr using it. I thought maybe it was a fluke and tried it again but alas second time same results. Beautiful hair, silky and easy to brush, great slip and a really great feel to the product but the scent totally ruined the experience for me. If you like perfume than this product would be great for you. I will keep searching for something that does all this but has less of an overwhelming smell.
Date published: 2017-08-28