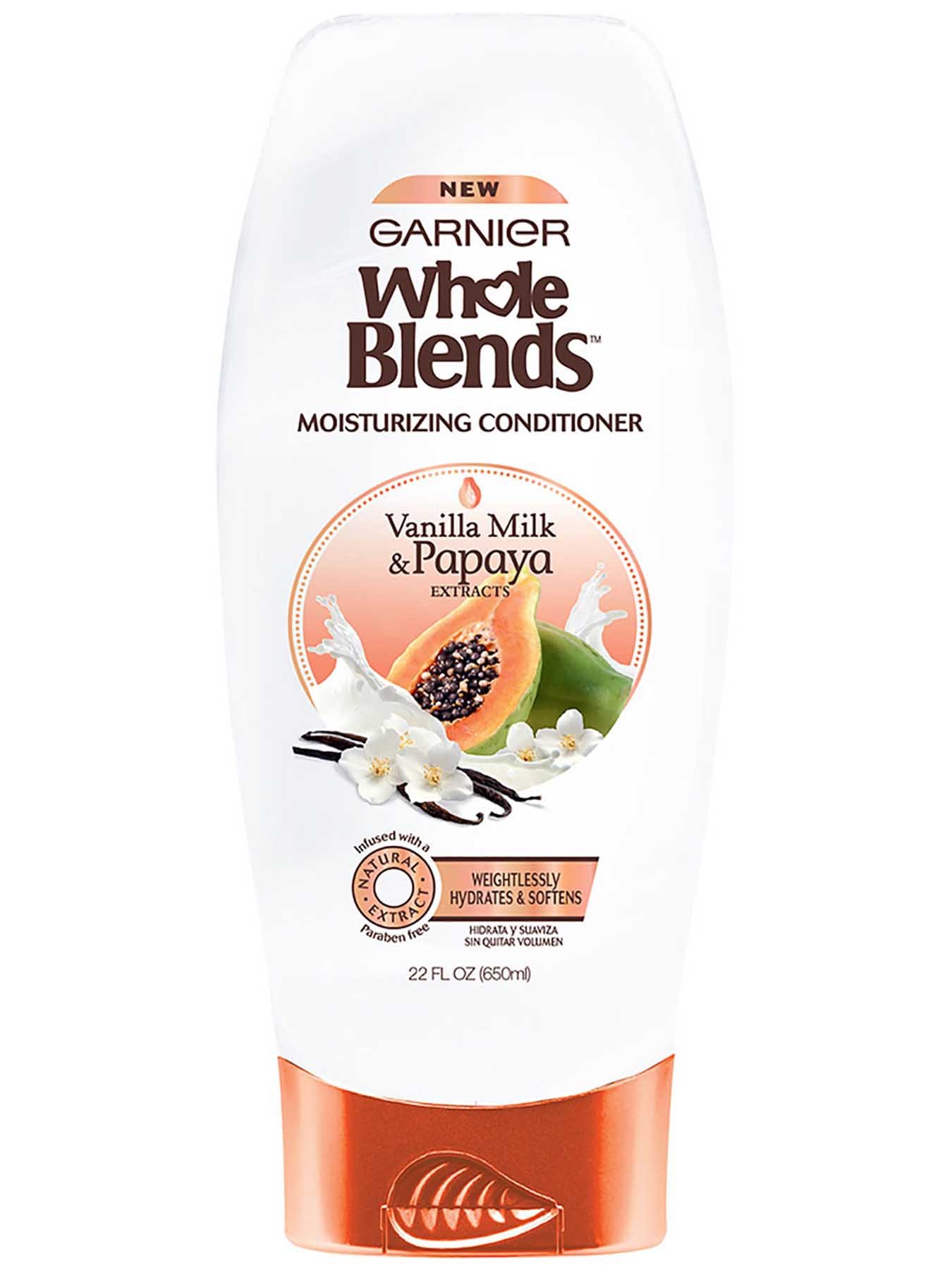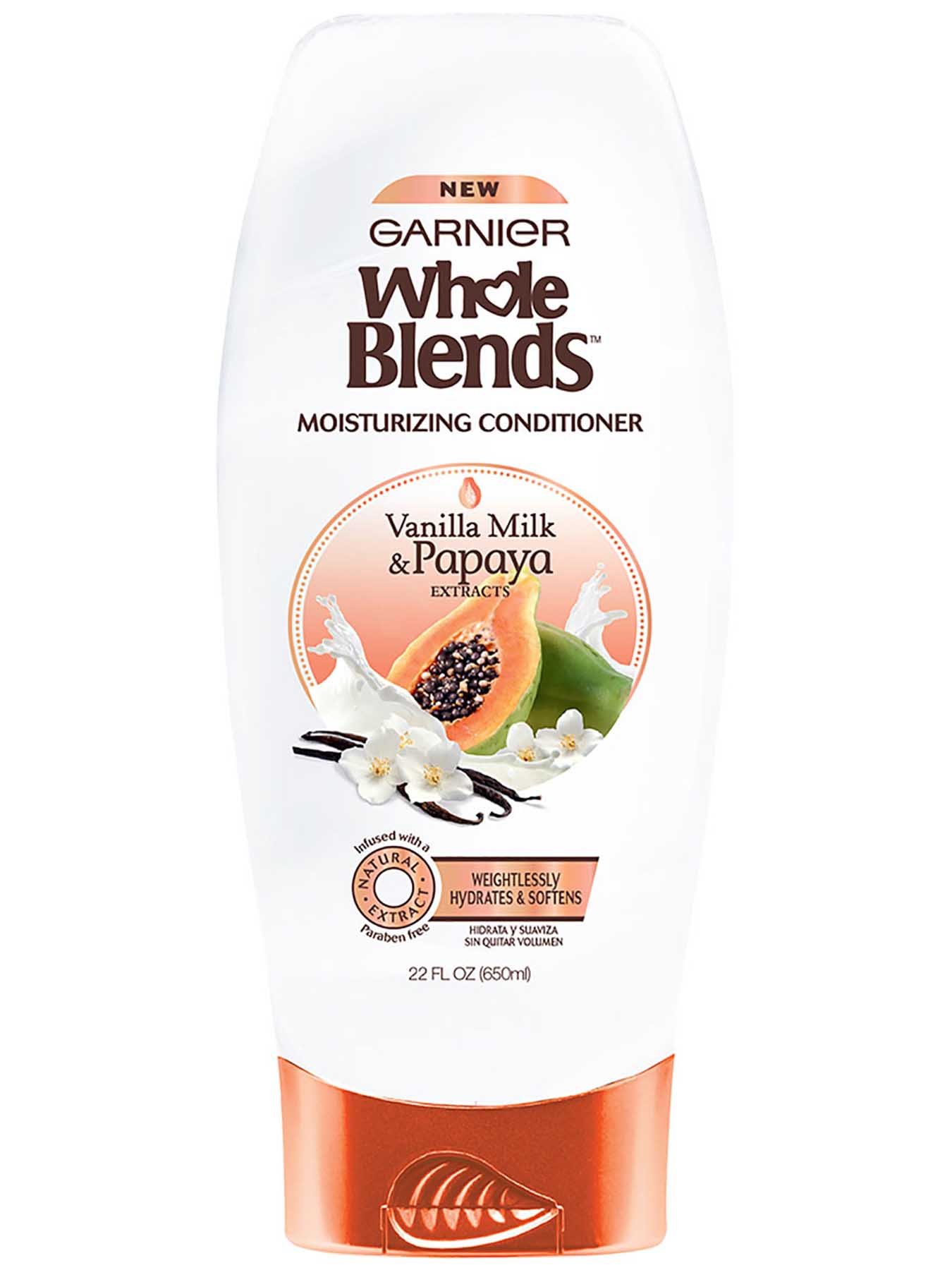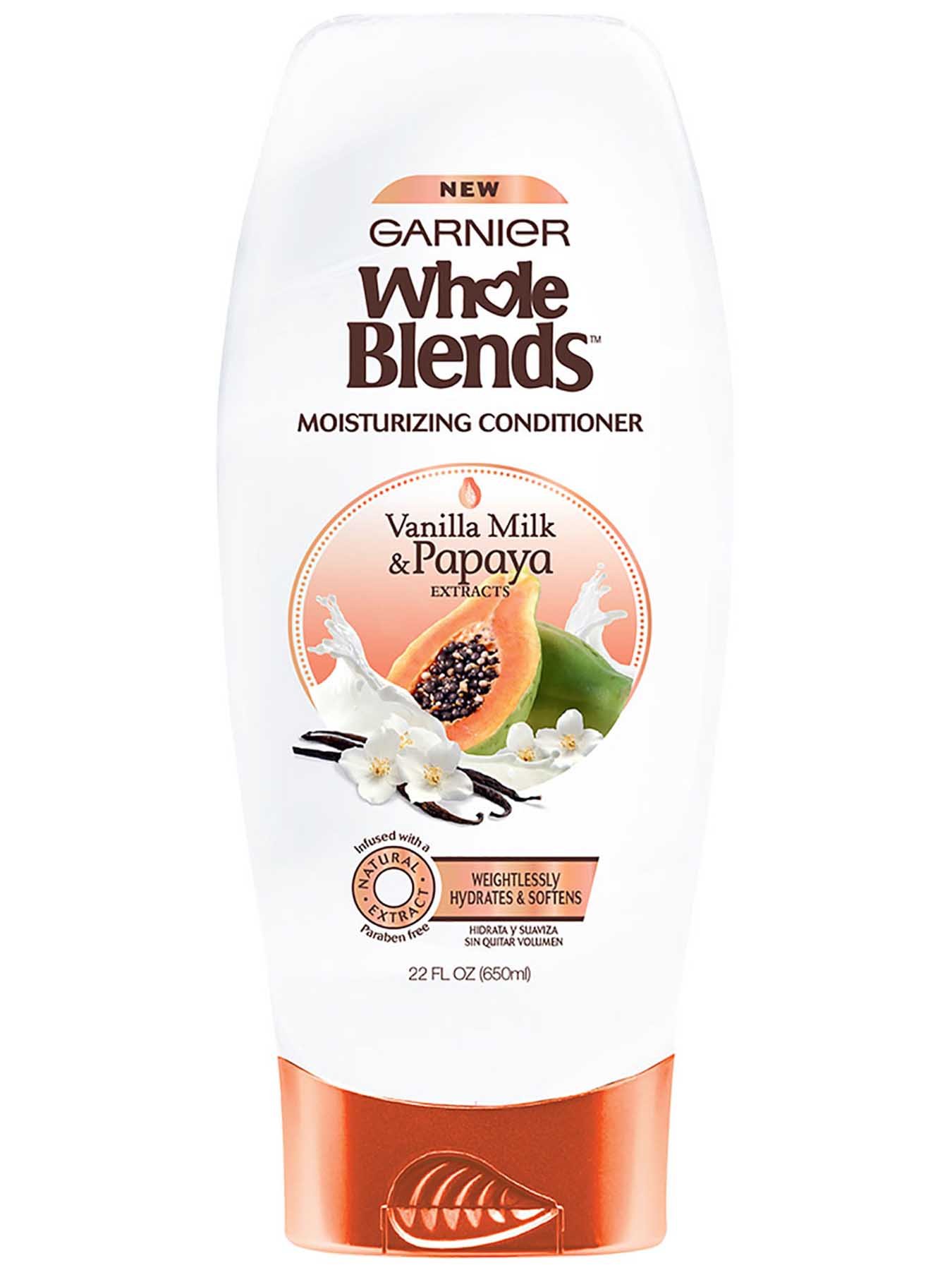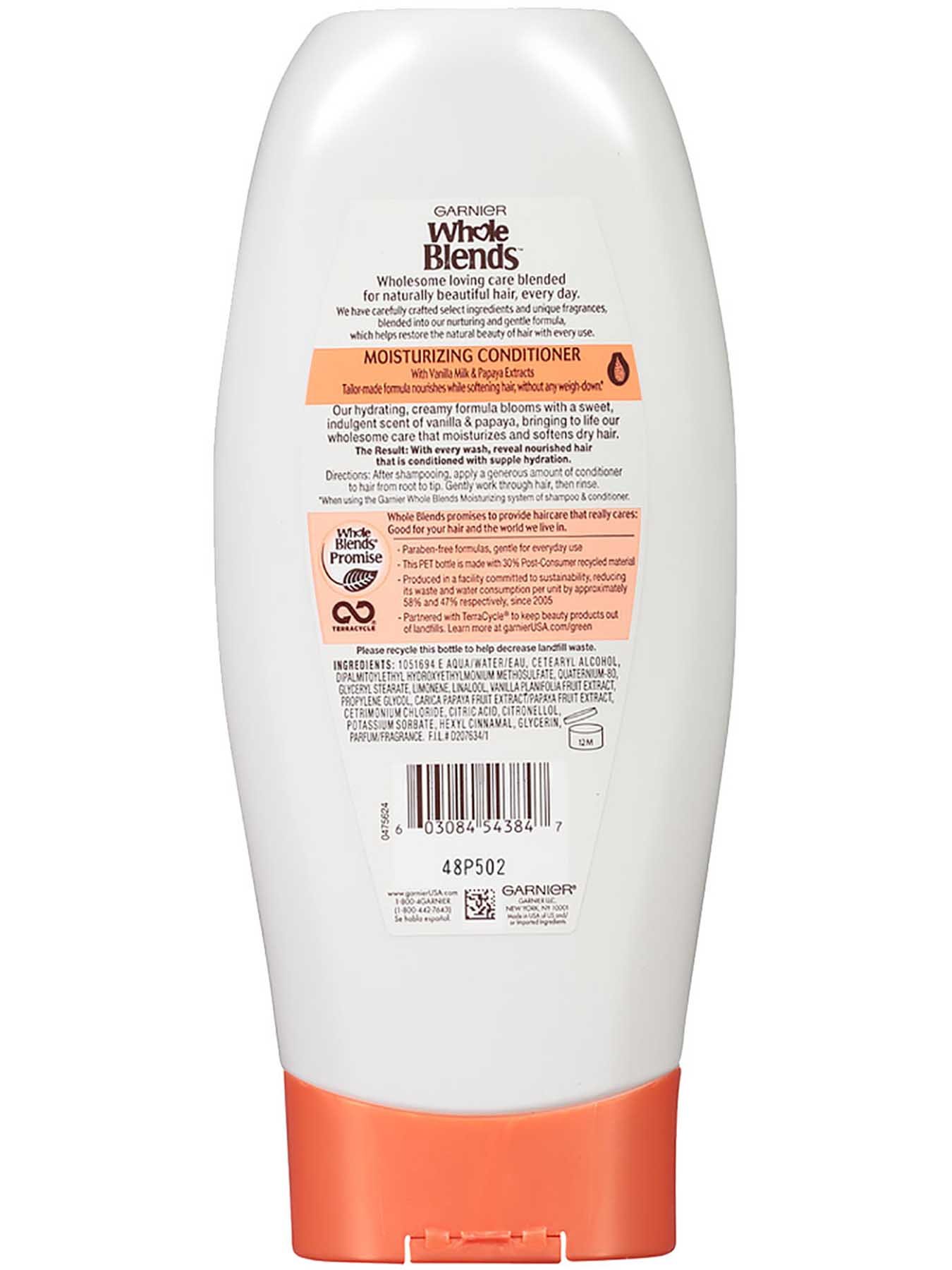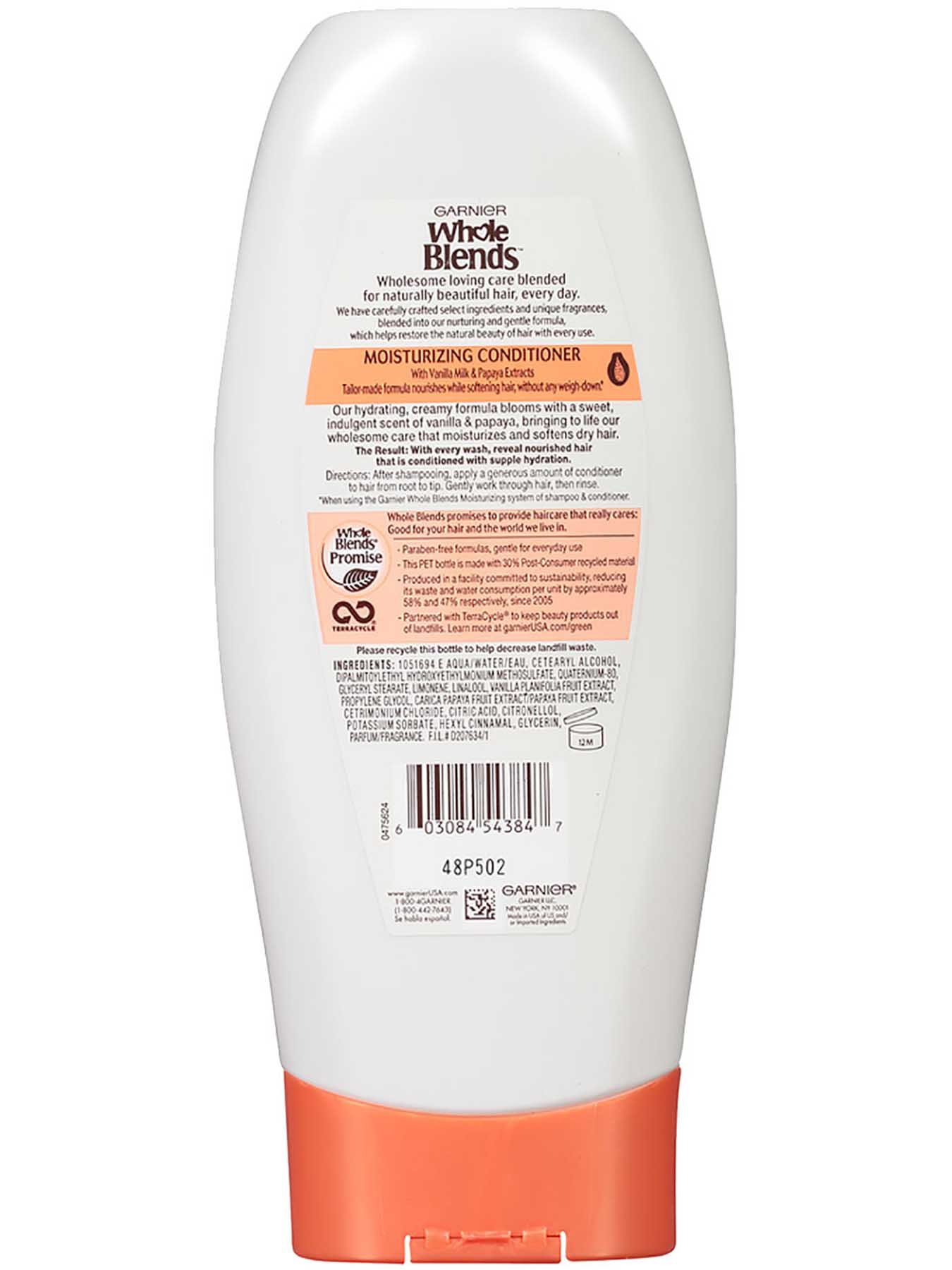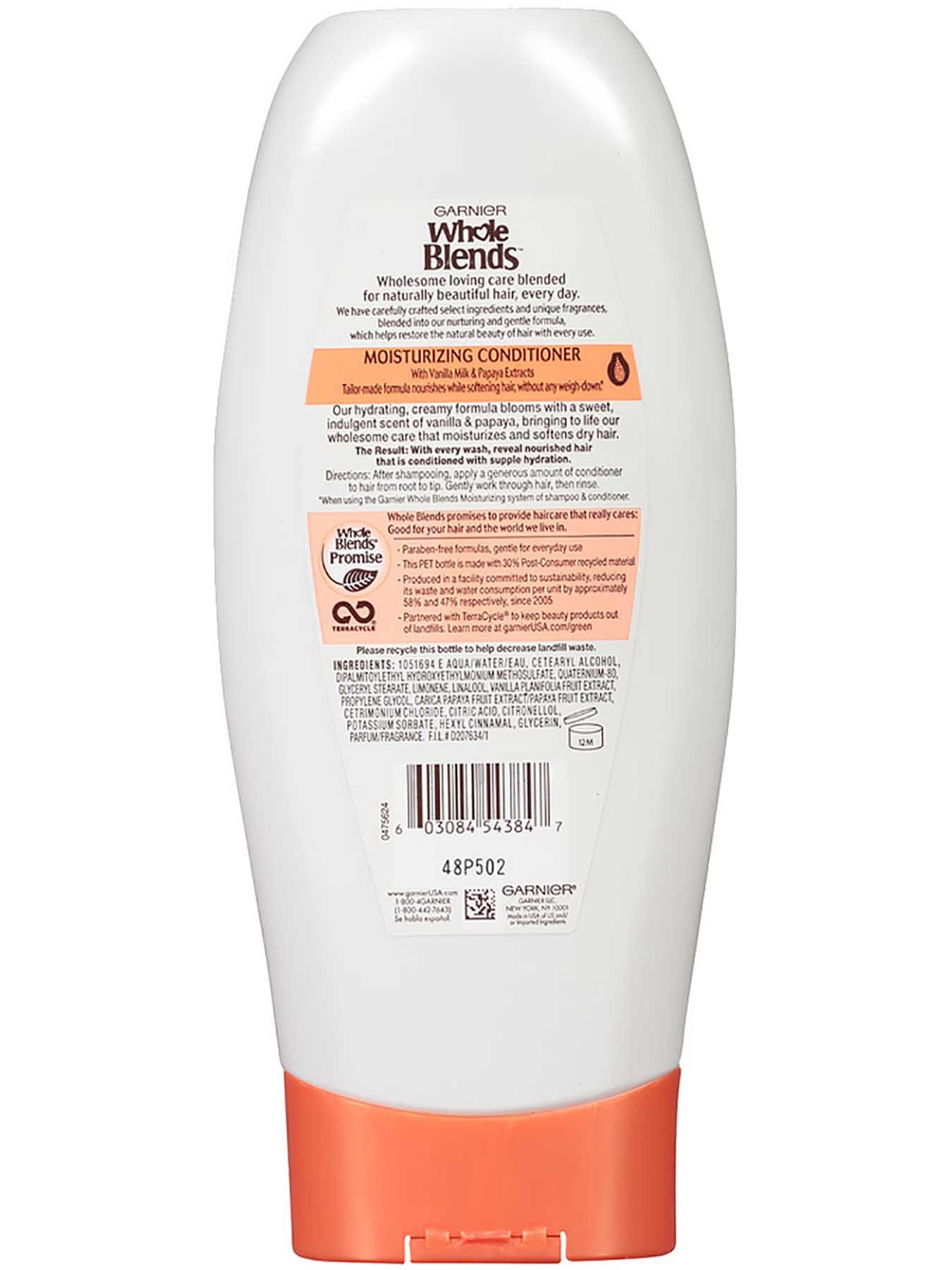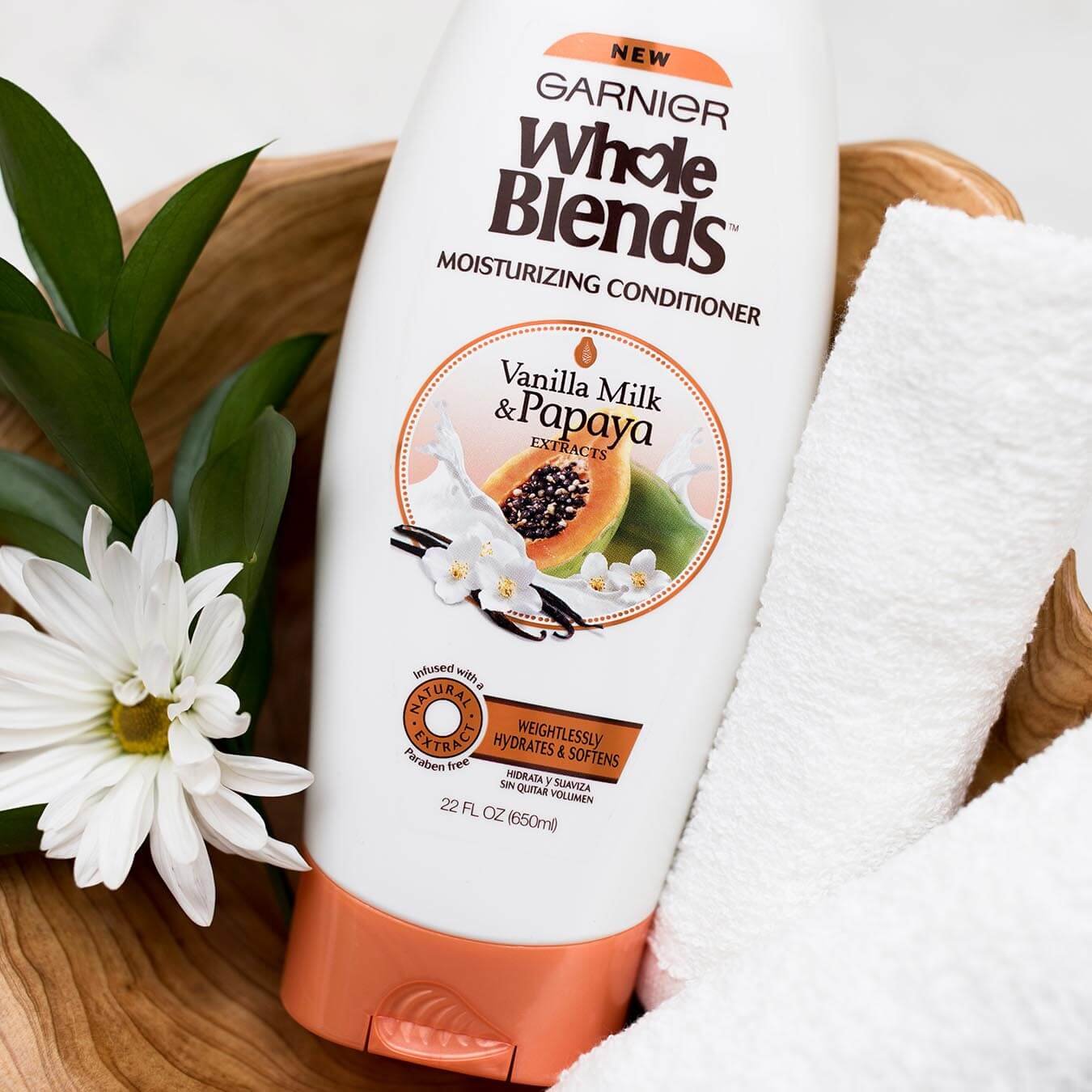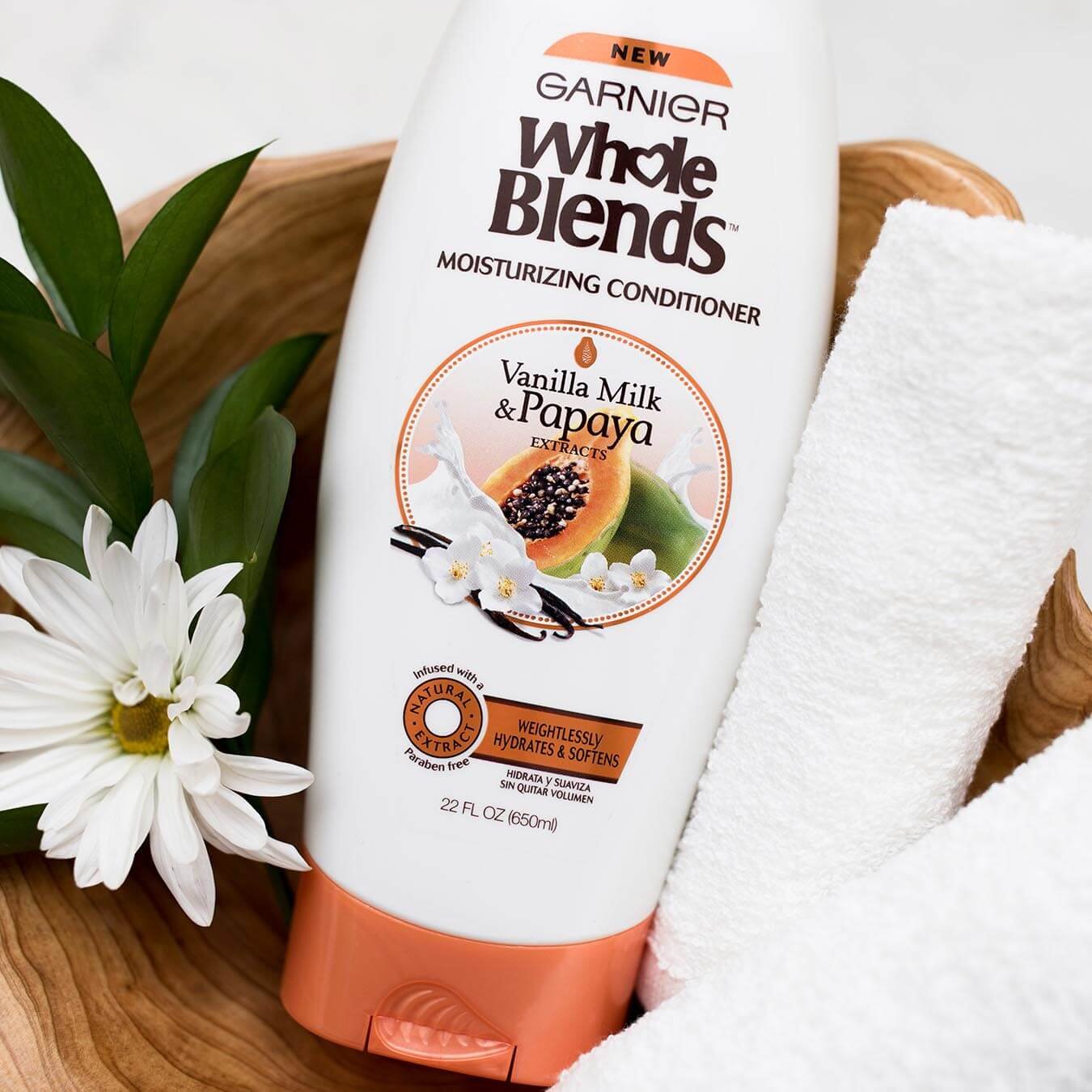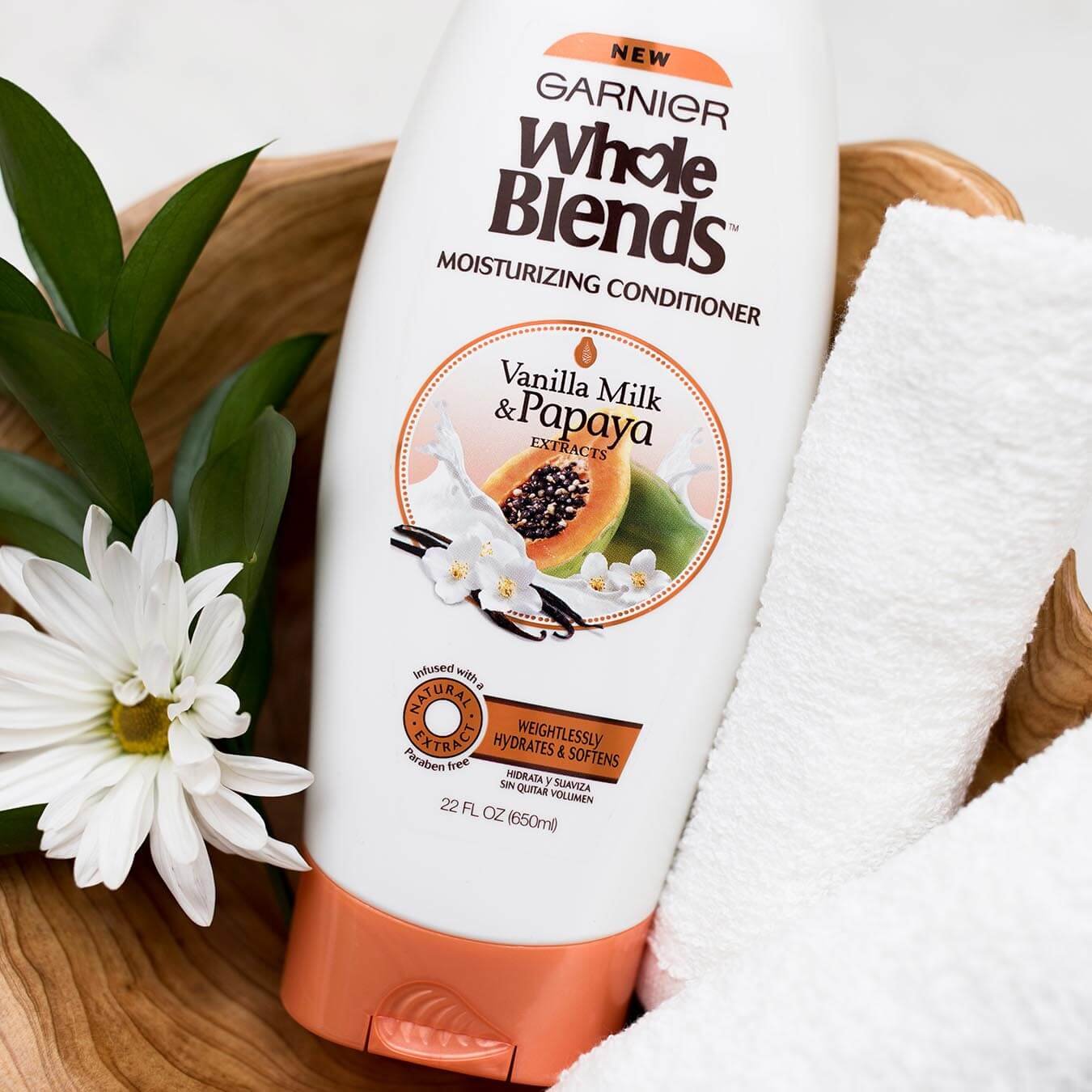 Whole Blends
Moisturizing Conditioner with Vanilla Milk & Papaya extracts
$5.47 MSRP
WALMART EXCLUSIVE

Moisturizing conditioner nourishes with lightweight moisture
**When using the Garnier Whole Blends Moisturizing system of shampoo & conditioner
PRODUCT INFORMATION:
Our hydrating, creamy Moisturizing Conditioner formula blooms with a sweet, indulgent scent of vanilla & papaya, bringing to life our wholesome care that moisturizes and softens dry hair, exclusively at Walmart.
How To Use
After shampooing, apply a generous amount of conditioner to hair from root to tip. Gently work through hair, then rinse.
Ingredients:
"AQUA / WATER / EAU CETEARYL ALCOHOL DIPALMITOYLETHYL HYDROXYETHYLMONIUM METHOSULFATE QUATERNIUM-80 GLYCERYL STEARATE LIMONENE LINALOOL VANILLA PLANIFOLIA FRUIT EXTRACT PROPYLENE GLYCOL CARICA PAPAYA FRUIT EXTRACT / PAPAYA FRUIT EXTRACT CETRIMONIUM CHLORIDE CITRIC ACID CITRONELLOL POTASSIUM SORBATE HEXYL CINNAMAL GLYCERIN PARFUM / FRAGRANCE F.I.L. D207634/1"
Vanilla Milk
With its sweet, soothing scent, and anti-aging benefits, antioxidant-rich Vanilla Milk is a popular addition to hair and skin formulas.

Related Products
Whole Blends
Moisturizing Shampoo with Vanilla Milk & Papaya extracts
Dry & Dull Hair
Rated

4

out of

5
by
nicklepickle54
from
Fragrant-tastic
This smell of this conditioner has to be one of my favorites! It is so light and sweet and fruity all at the same time. I wish the scent lasted longer in my hair though. Also, the consistency of the conditioner was very thin almost runny. I found it was hard to get it from my hands to my hair without feeling like it was dripping all over the shower. I was also finding myself using twice the amount I normally would because it was so thin my hair was soaking it up. However I did notice my hair was silly soft even at the end of the day.
Date published: 2017-08-28
Rated

5

out of

5
by
slong2012
from
Silky smooth and lucious
I really enjoyed this product it made my hair smell and feel amazing. I had no issues styling my hair or worrying about breaks or dandruff with this product.
Date published: 2017-08-27
Rated

1

out of

5
by
patt248
from
Not so impressed
I wasn't so impressed with the conditioner. It made my hair greasy. Smelled awesome but was really oily. Sorry.
Date published: 2017-08-25
Rated

4

out of

5
by
brmahaffey1
from
Smells good
It was a great smelling product. I wish it was thicker. I have thick hair and felt like so had to use more than usual to get a good coating on my hair. I like how natural it is compared to some products out there. It rinses well and was easy to comb through after towel drying. It did it's job so that was good.
Date published: 2017-08-25
Rated

4

out of

5
by
JPena820
from
Garner Fructis Conditioner
I really liked this product both for myself and my daughter. It really softened our hair and made it easier for her to be able to untangle her hair on her own. The smell is also great.
Date published: 2017-08-25
Rated

5

out of

5
by
Duvalbutterfly
from
Silky smooth
This is probably the best brand name conditioner I have ever used. It didn't leave my hair feeling oily and it's very lightweight. The scent is an added bonus!
Date published: 2017-08-25
Rated

4

out of

5
by
setleybrit
from
Review of Garnier Fructis
I really liked this conditioner. It smelled great and left my hair feeling soft. Owe we I wish it was thicker because it came out a little runny. I felt like I used more conditioner than normal because of the consistency.
Date published: 2017-08-25
Rated

4

out of

5
by
addi112211
from
It smells amazing
This conditioner is a little thinner than most conditioners but it makes my hair so soft and it smells amazing. I would recommend this to all my friends and family.
Date published: 2017-08-25
Rated

5

out of

5
by
Anamely18
from
Garnier Vanilla Milk & Papaya
I really liked the fact that the conditioner was weightless. At first it felt weak like what the dollar conditioners feel like but using a little bit hydrated ALL of my hair. When I "detangled" after showering my hair was NOT tangled.
Date published: 2017-08-25
Rated

4

out of

5
by
PBlanchard71
from
Conditioner
This is a good product. It left my hair soft. It is a very good moslisturizer. The smell is awesome.
Date published: 2017-08-24
Rated

2

out of

5
by
My2queens
from
Garnier Whole Blends
I love the smell of the conditioner. It didn't really help my hair with the frizz factor. It also seemed to be really thin and kinda runny. It made my hair static and stick out. I habe natural wavy/ curly hair. I was disappointed because I do use other Garnier and Whole Blends products and I love them.
Date published: 2017-08-24
Rated

3

out of

5
by
nomailinglists
from
Great when used with companion shampoo!
I have fine, thin hair. Normal, but I use a lot of product and do heat styling, so something that helps frizz is appealing. I normally use salon products, so I wasn't expecting much. Tried shampoo and conditioner individually subbed into my routine, and then together. The flip top bottle is easy to open. I hate the ones that lock so tightly you end up breaking a nail, breaking the flip part off trying to undo it, or breaking the entire thing off. Caveat- when you look at the bottle with wording right side up, the flip top is on the bottom. Don't store it this way. Flip it over, or else you'll use it the first time and get about a cup of conditioner in your hand because gravity. Conditioner is a little thin, flows quickly, and smells like a tropical fruit. By itself, it's not great. Cut down frizz, but left my hair smelling dirty, like I hadn't washed it. After a week of this, I could see my ends looking dried out. The real magic came when I used the shampoo and conditioner together. I never usually believe you have to buy both products, but these work together so much better than separately. I've used them together for about a week, and I'm not seeing the issues I had with the conditioner without using the matching shampoo. Bouncy, sleek, non-frizzy, clean hair. I'm not sure about giving up my salon products, but these bottles are large enough I have a while to think about it. I definitely would recommend it, if the friend bought the shampoo and conditioner, but not the conditioner by itself.
Date published: 2017-08-24
Rated

5

out of

5
by
Crystalshirley
from
Garnier rocks milk and Papaya!
I absolutely love the combination.the shampoo cleans and refreshens your hair and then the conditioner makes it feel silky lightweight and smooth.thanks
Date published: 2017-08-24
Rated

3

out of

5
by
crablee
from
Just so so for me
I do love the smell of the conditioner. I was not too thrilled with the texture of the conditioner and also because of the texture and the way the bottle is designed if you're not careful the product just spills out and makes a mess. I tend to like a thicker feel to conditioner. It does make my hair soft and smells good though.
Date published: 2017-08-24
Rated

5

out of

5
by
Beccaluhsyouu
from
I said yes to Garnier
When it comes to Garnier products, we didn't always have the best run ins. Im biracial with mixed hair types and Garnier product usually leave my hair dry and rough.So when I got this product I was sceptical. This product is amazing though, my hair is soft and shiny. It doesn't feel brittle like other products. I love the fact that it has least harsh chemicals and the bottles are recycled. Such a great product. I also let my mom use and she loves how little of it goes a long. I'm definitely buying more when I run out.
Date published: 2017-08-24
Rated

4

out of

5
by
samsfreebies10
from
silky smooth
The shampoo was too strong but this scent was nice and refreshing. It made my hair extra soft and shiny. It looks healthier now and you only need a small amount of product. I will definitely be using this again. Plus it helped with my split ends which are a huge plus. I only wish that it smelt more like papaya.
Date published: 2017-08-24
Rated

3

out of

5
by
BreanneM
from
Surprisingly moisturizing
This conditioner is super thin and liquidy but seems to be surprisingly moisturizing despite its consistency. I don't feel like it coats my hair well though while I'm conditioning because it's so thin. I have thick, curly hair so I need a lot of moisturize to keep the frizz at bay and this didn't quite work as well as others. Like the shampoo, it smells good but the smell doesn't last past the shower.
Date published: 2017-08-24
Rated

5

out of

5
by
Maggieg82
from
Amazing!!!
When i first put this conditioner in my hand i felt that it wasnt going to do anything for me. It seemed a little more liquidy than im used to for a hydrating conditioner but oh was i wrong! It took away my frizzy ends and kept my hair looking sleek even though it is super thick. My hair definitely feels much more manageable. I also love that when i use this ,and the shampoo for that matter, my hair doesnt tangle when im washing it. Usually i wash my hair then spend almost an hour brushing out the knots but not with this!
Date published: 2017-08-24
Rated

4

out of

5
by
hashafierce
from
Creamy and Moisturizing
After using the Whole Blends Moisturizing Conditioner with vanilla milk and papaya extracts, I've noticed that my hair is hydrated and not as frizzy. I'm not the biggest fan of the packaging, but the bottle will last you a long time. The conditioner smells really nice and tropical. The consistency is creamy and easily glides through my hair. I think the conditioner has been keeping my hair hydrated, especially since I have dry hair. It leaves my hair feeling soft. The only reason I gave this 4 stars is because it contains harsh chemicals like sulfates and fragrance that is not naturally derived. I've been working really hard to maintain the health of my hair, so I'm hoping that the sulfates in this shampoo won't strip away softness and eventually make my hair drier than it already is. So far, it hasn't but I hope this is something that Garnier Whole Blends will consider in their future haircare products - less chemicals and more naturally-derived ingredients. And please stray away from animal testing; it doesn't make me feel all that good knowing that the ingredients in this conditioner has been tested on animals.
Date published: 2017-08-24
Rated

5

out of

5
by
Blackiejmw1998
from
Amazing wonders!
I had problems with the shampoo but it seemed as if I put the conditioner in and it helped my hair so much! Smooth, beautiful, shiny, and just smells so amazing! I recommend this to anyone!
Date published: 2017-08-23
Rated

5

out of

5
by
jrb269
from
Thick and Moisturizing!
The name of this conditioner really speaks for itself. Besides the delicious sent like the shampoo, the conditioner is thick and moisturizing. I noticed that my hair was softer and shiner after just one use!
Date published: 2017-08-23
Rated

5

out of

5
by
whiteerosee
from
Smooth and Silky
Not a big fan of the shampoo, but I loved this conditioner! A little backstory: my hair is thick and curly. It gets severely tangled after a couple of days of not washing. Yesterday morning I used the conditioner on my tangled hair and it smoothed out my curls amazingly. The conditioner made my hair feel smooth and it still feels amazing today. The smell isn't overwhelming since I used a different product after washing my hair. I did use a large amount in my hair so I cannot say how soft it would feel if you use a smaller amount. But in my opinion this conditioner surpasses many drug store conditioners.
Date published: 2017-08-23
Rated

5

out of

5
by
Mannanna
from
Moisturizing hair care
I have been looking for a good conditioner for my daughters that smells good and keeps their hair looking shiny and clean. This product does all of that and then some. My daughters hair looks healthy and clean. They love the way their hair smells and feels!
Date published: 2017-08-23
Rated

5

out of

5
by
reneebach
from
Whole Blends Conditioner
I am a fan of Garnier products and this is my favorite yet. The Whole Blends Moisturizing Conditioner in Vanilla Milk and Papaya Scent makes my hair feel soft and keeps it tangle free. It's a refreshing unique scent. The product is thick and creamy but does not weigh down my fine hair. I also like that it's Paraben free.
Date published: 2017-08-23
Rated

1

out of

5
by
kaybrac
from
Was not impressed
I was so excited to try these products. I saw them in the store and was always wanting to take the plunge, and I am glad I did not. The conditioner needs to be creamier. It does not moisturize my hair at all. Which is funny because Moisturizing is in the title. I did not even finish using the bottle. I was very disappointed in the product. The only plus size is the smell is wonderful. They get an A plus for smell!
Date published: 2017-08-23
Rated

5

out of

5
by
3violets4iris
from
Pleasantly Surprised
I d3cided to us this product the day after receiving a full set of highlights. As you could imagine my hair was dry and over processed . This conditioner is thin, but powerful. As soon as it hit my head my tangled began to smooth out. This conditioner has such a light consistency that actually made my hair curl up in the wet shower. This is somthing that i have never seen before. The scent reminds me a favorite body wash I used on all three of my babies to help relax and calm them. It's a very soothing scent. After I dried and styled my hair I was left with soft, shiny, bouncy, beautiful head of highlights that actually looked very healthy.
Date published: 2017-08-23
Rated

5

out of

5
by
wick3dpleasures
from
Great product!
I really liked this shampoo! It smells really nice without overpowering and giving me a migraine. It makes my hair feel really soft which is nice as I tend to have greasy hair. I also have a problem with flyaways and this shampoo has been helping keep those tamed. I wish I had a picture of my hair and how nice and shiny and shift it has been.
Date published: 2017-08-23
Rated

1

out of

5
by
MistyBaty
from
Fell flat.
Sadly I did not enjoy the conditioner much as I did the shampoo. It does smell amazing but as soon as it hit my hand I knew it would bomb. The conditioner is way to thin and doesn't coat the hair properly. This is a product I would not buy in the future.
Date published: 2017-08-23
Rated

3

out of

5
by
Brownskindiva87
from
Pretty good conditioner
The conditioner smells great. I am always looking for a conditioner that has great slip so that the comb can easily glide through my hair stands without getting tangled up and this product provides great slip! It's very easy to comb through my hair in the shower while the conditioner is in my hair. After washing out the conditioner my hair felt kind of dry so I don't think that it would be my staple conditioner as I'm use to my hair feeling conditioned and moisturized after I was out the conditioner. This product works best as a detangler for me. I would buy it again because it smells great and provides great slippage when i am detangling my hair in the shower, and keeps my hair from getting all tangled up. As far as a conditioner it is ok my hair just didn't feel moisturized after washing out the conditioner... I had to go back and add more of the conditioner and let it sit on my hair longer then what was recommended in the directions... after letting it sit on my hair for about 20 mins longer my hair did feel better and somewhat conditioned
Date published: 2017-08-23
Rated

3

out of

5
by
Alaswendy
from
Whole Blends Conditioner
The conditioner works well with the shampoo and hydrates great. I feel this conditioner is way to thin, and i need a decent amount to lather all my hair. If it was a little bit thicker; that would make it perfect:)
Date published: 2017-08-23