This site is intended for US consumers.Cookies and related technology are used for advertising.To learn more or opt-out, visit Ad Choices and our privacy policy.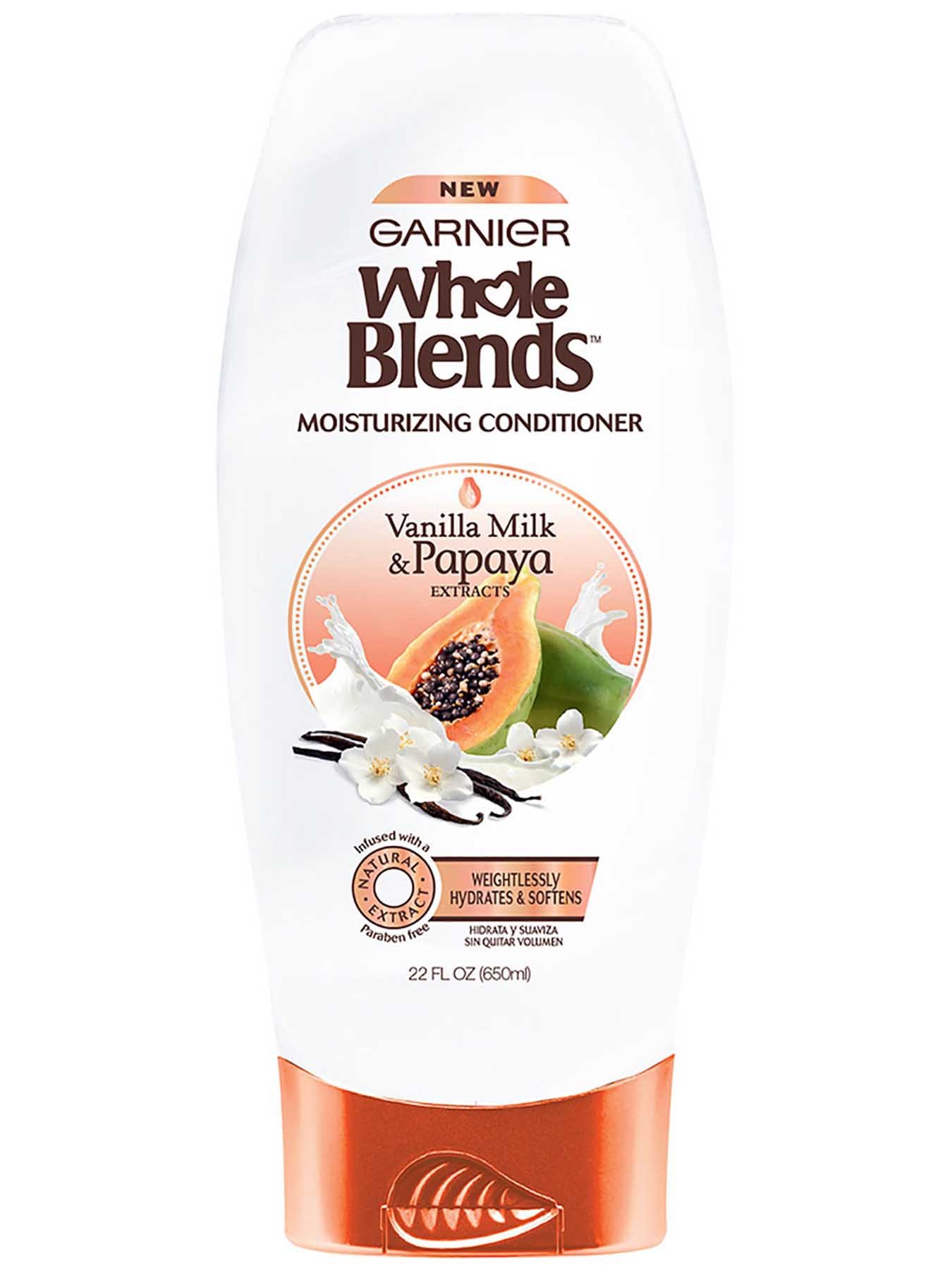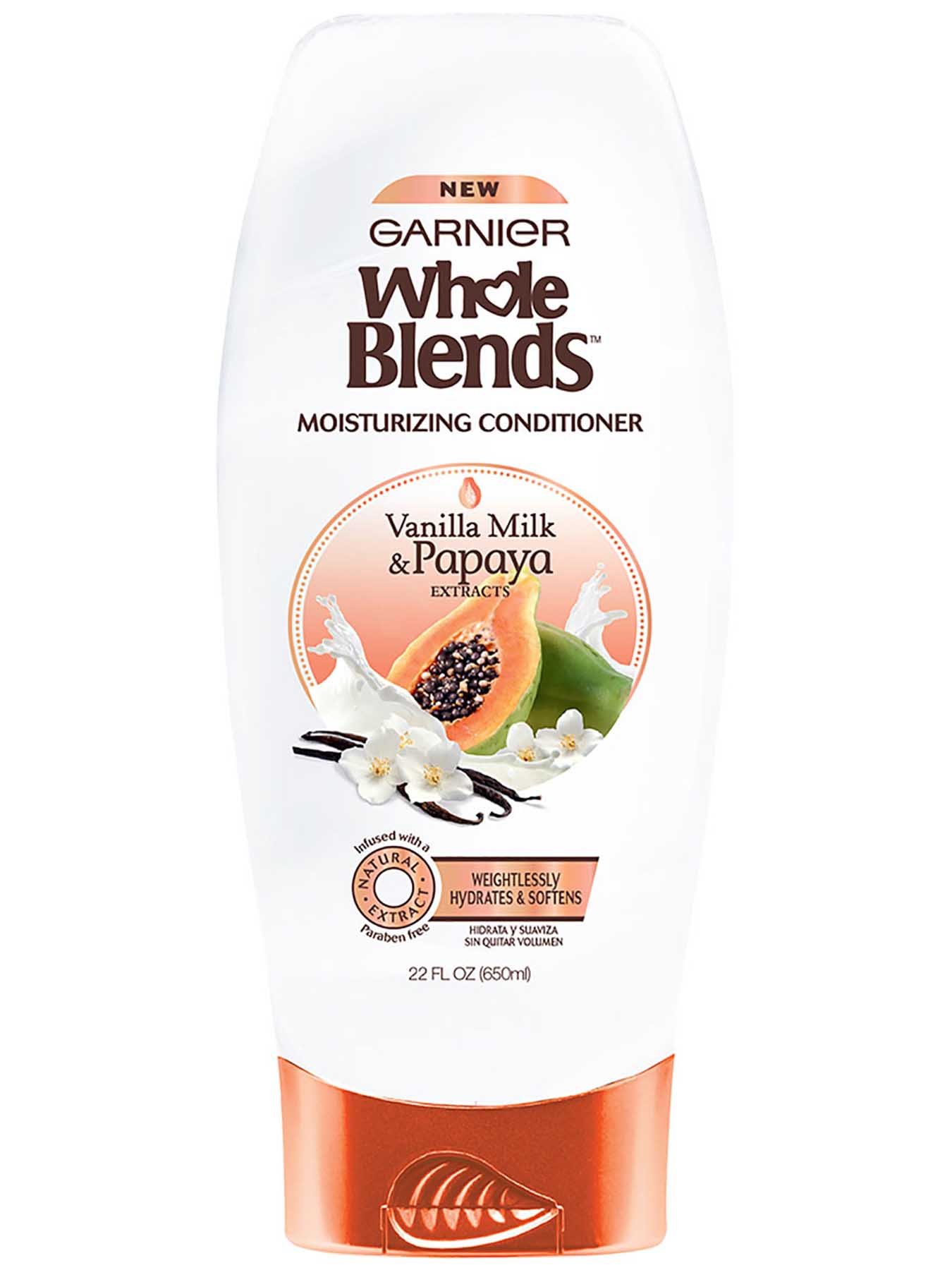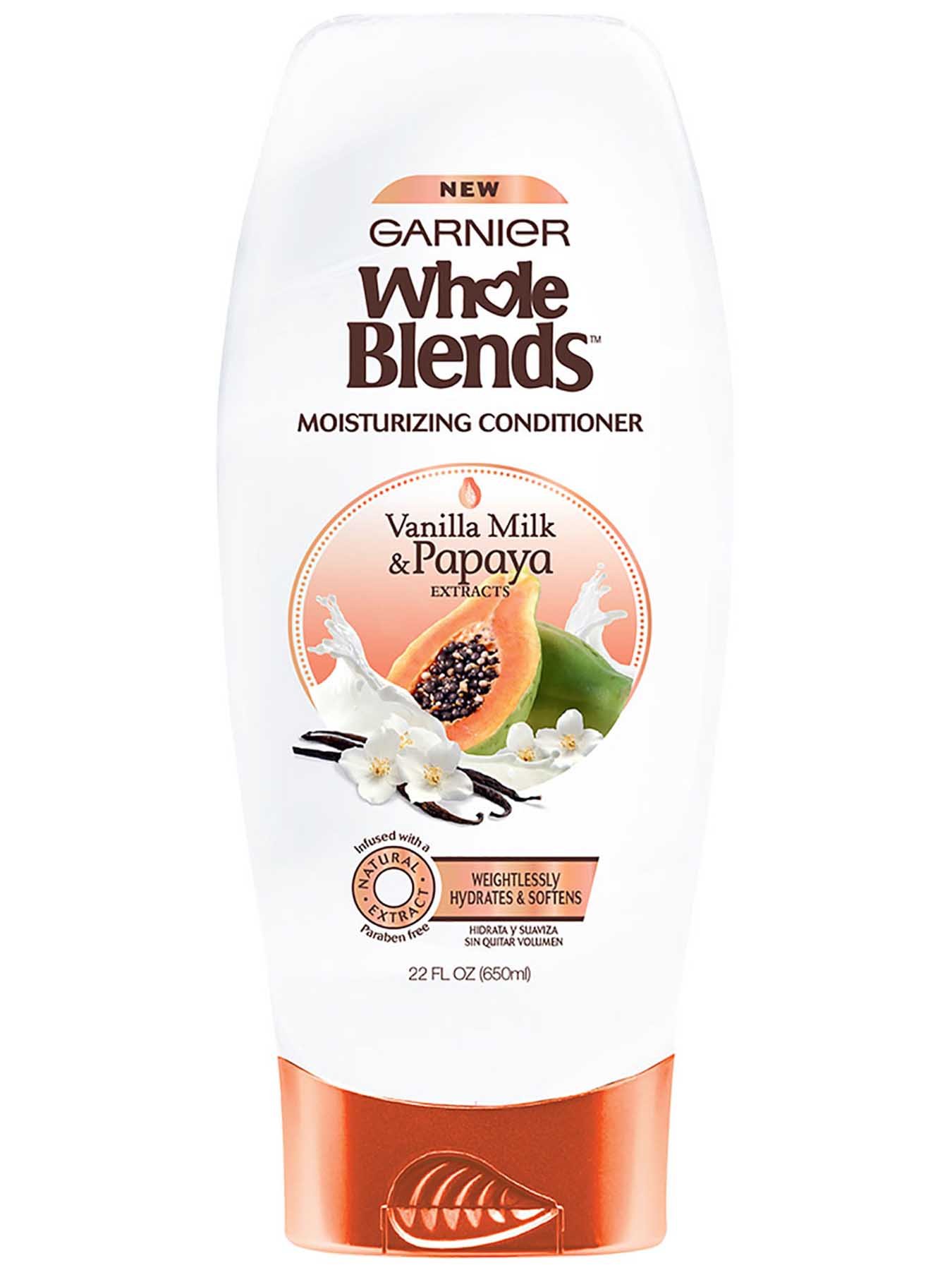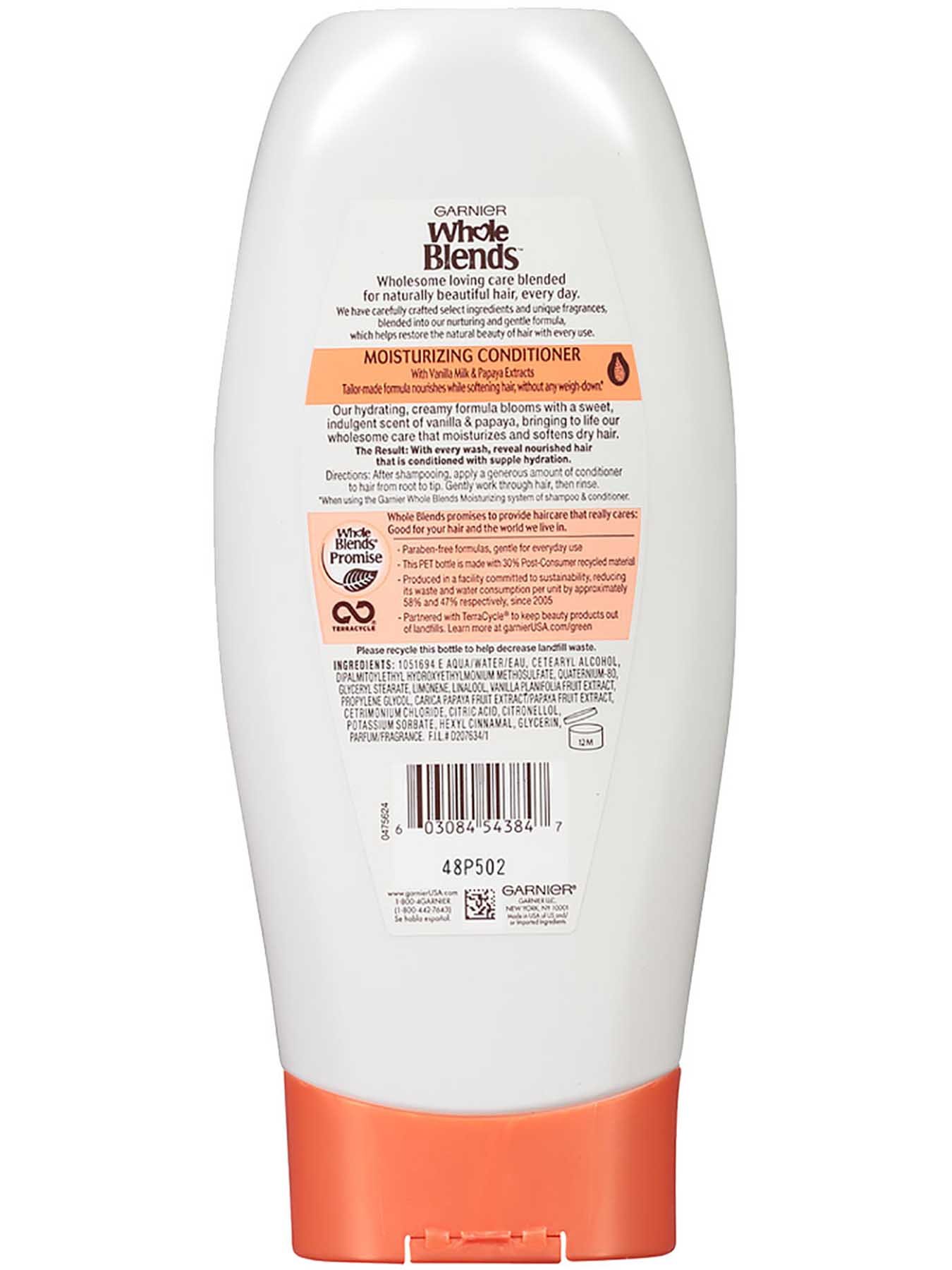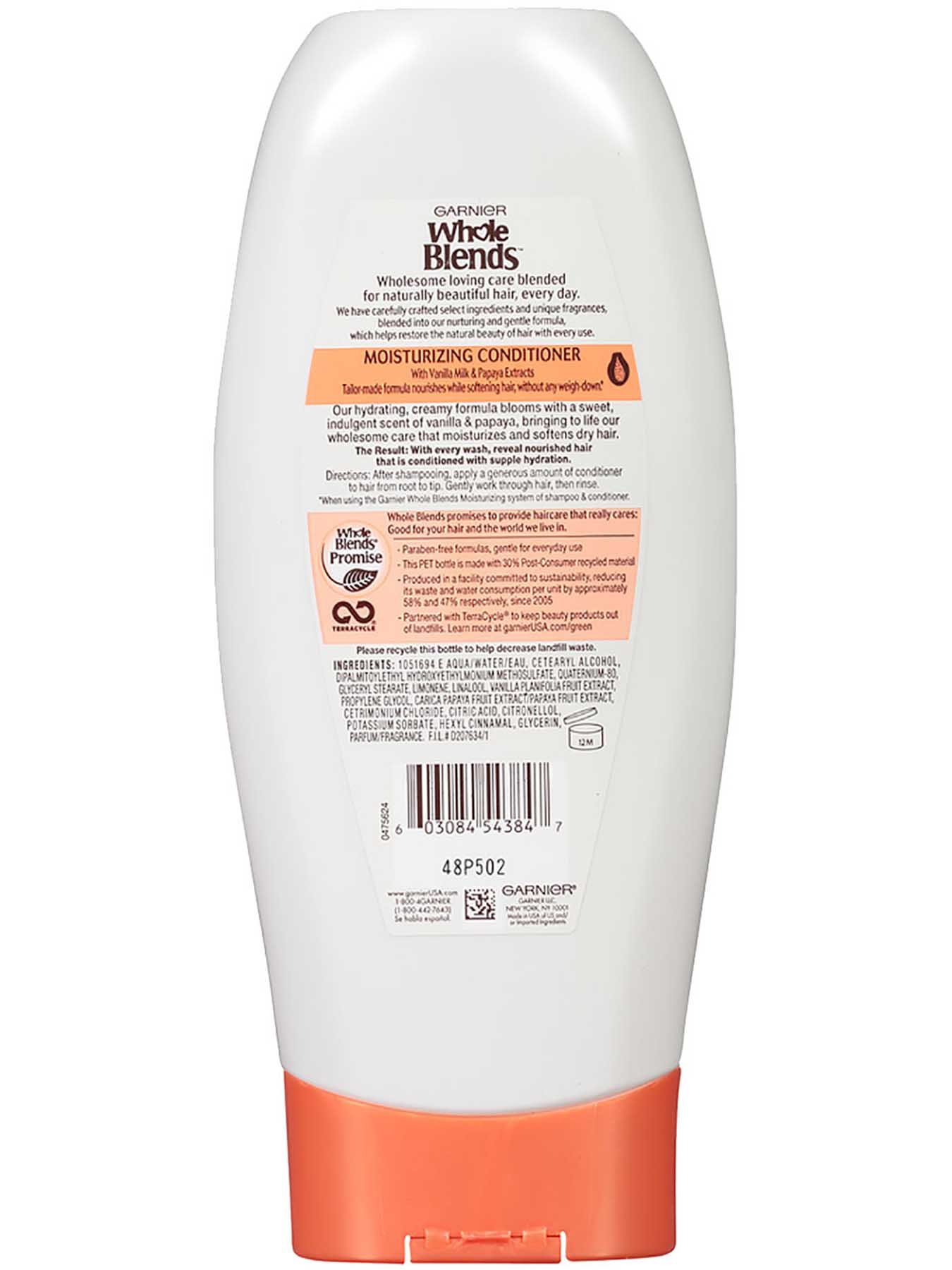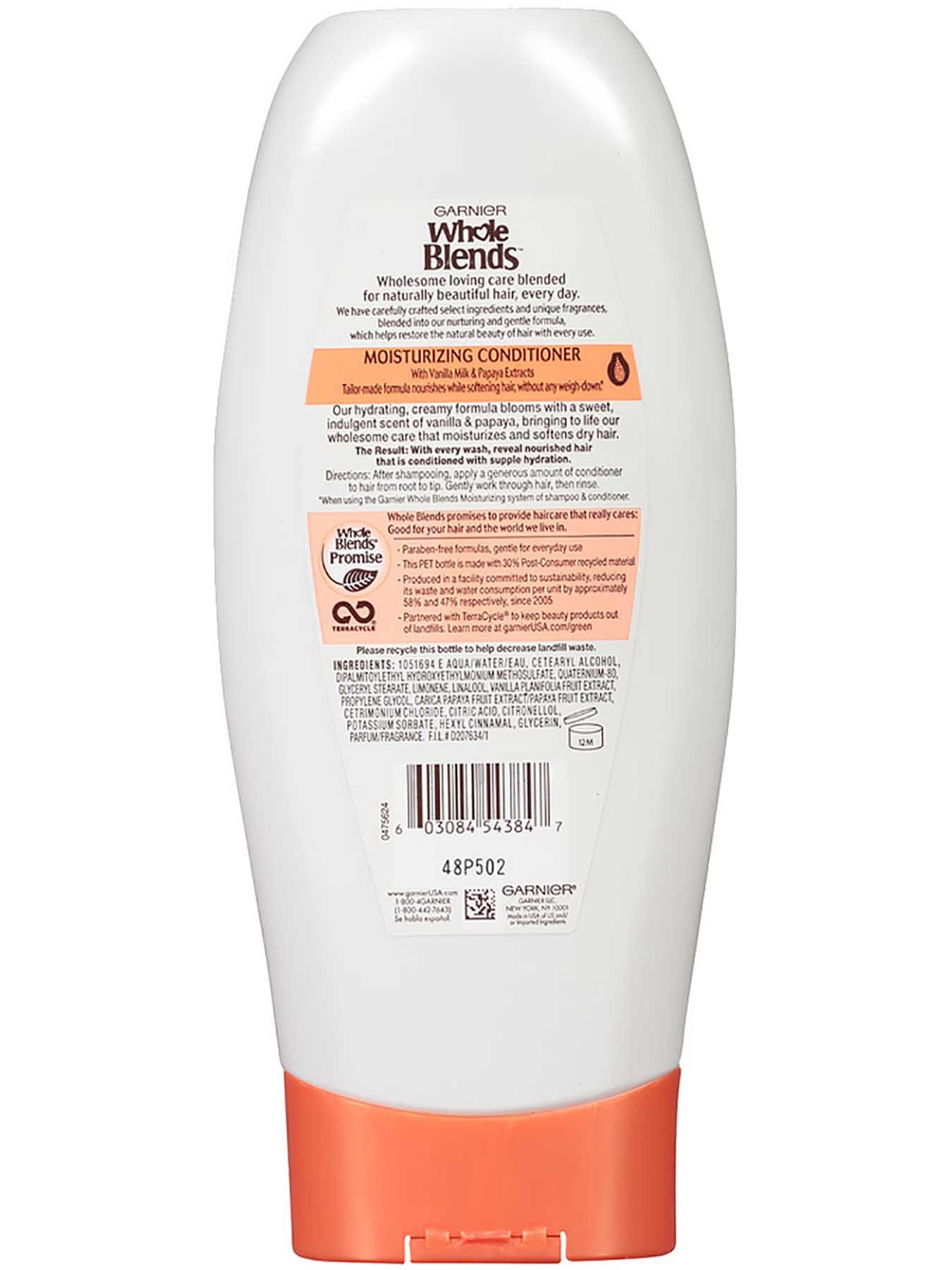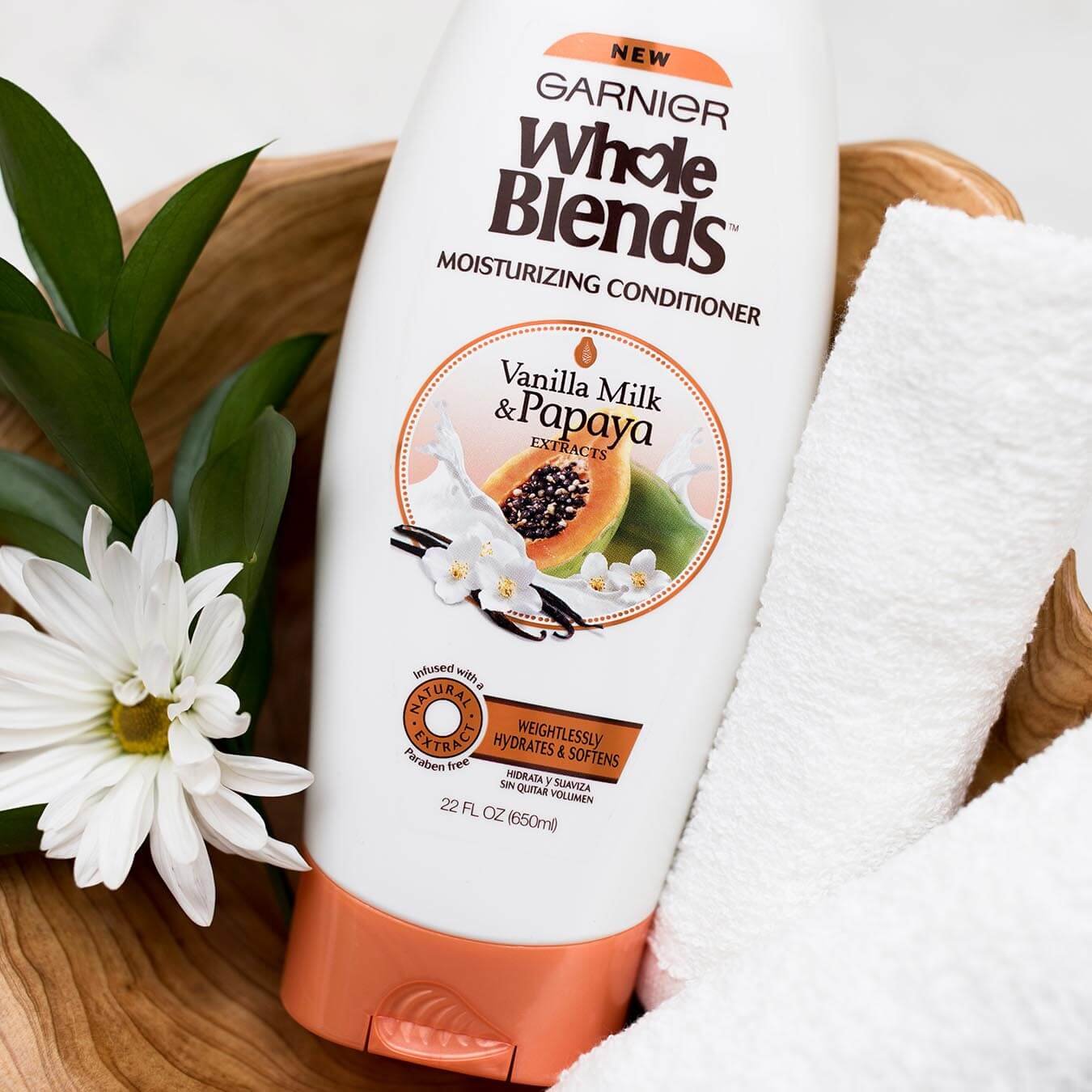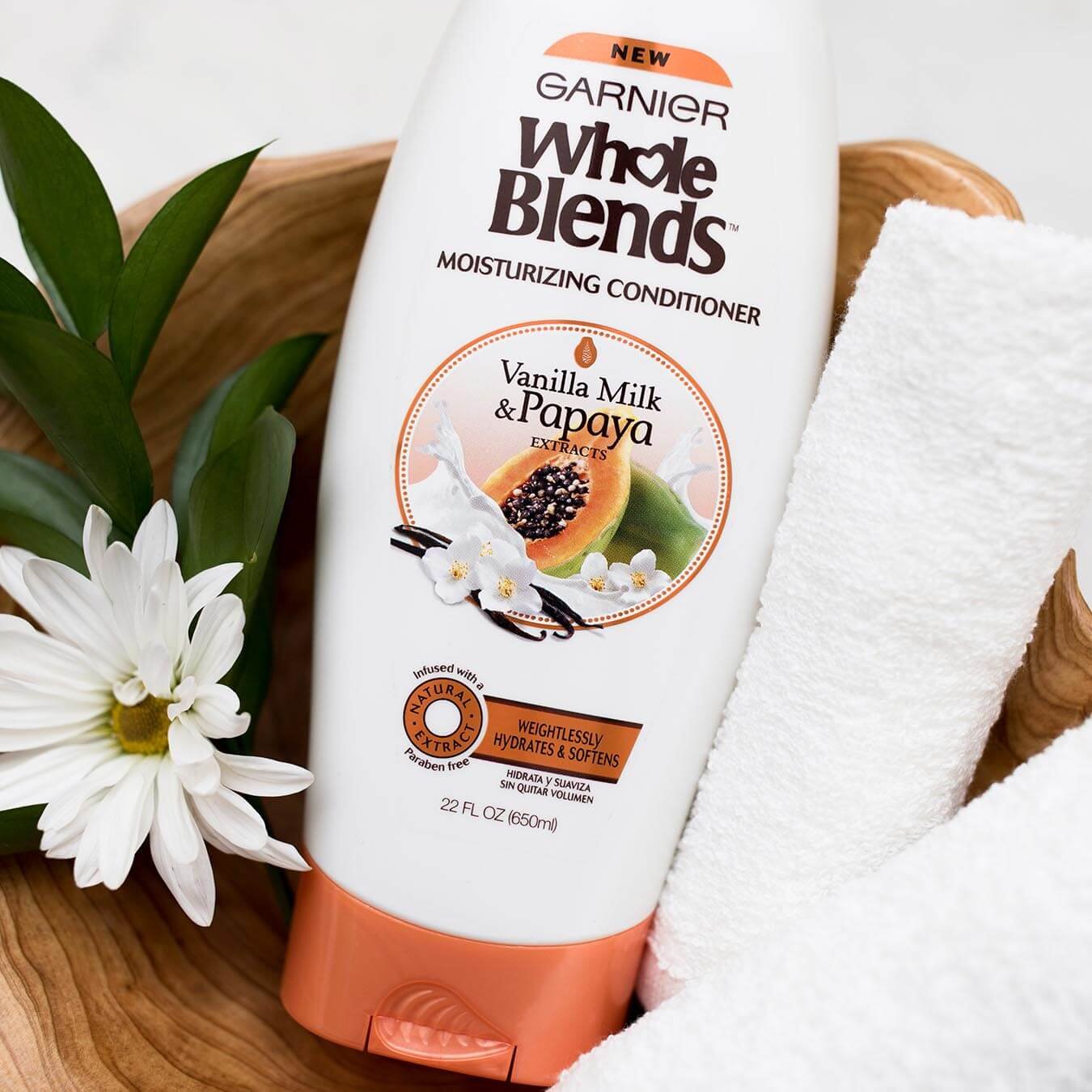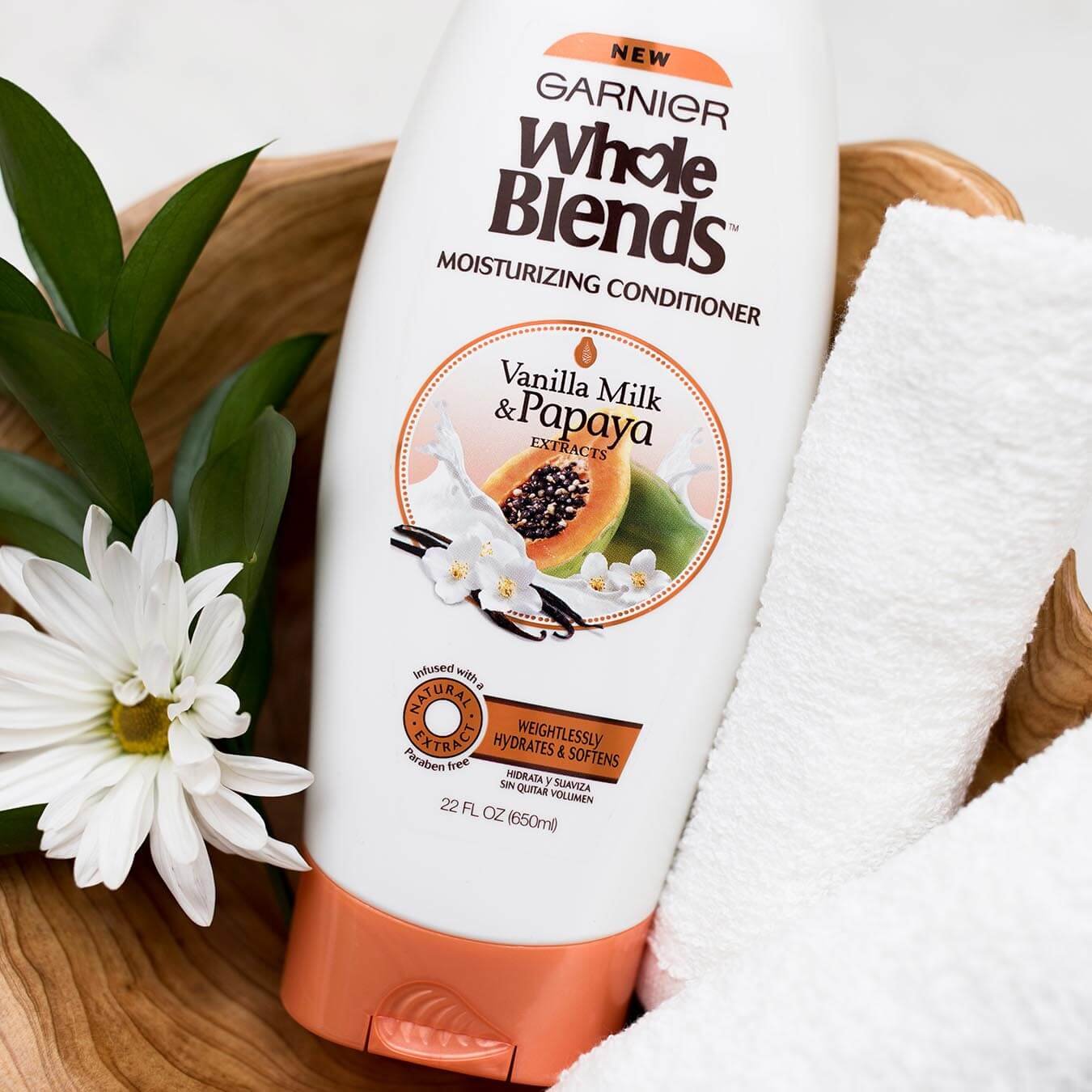 Whole Blends
Moisturizing Conditioner with Vanilla Milk & Papaya extracts
PRODUCT INFORMATION:
Our hydrating, creamy Moisturizing Conditioner formula blooms with a sweet, indulgent scent of vanilla & papaya, bringing to life our wholesome care that moisturizes and softens dry hair, exclusively at Walmart.
How To Use
After shampooing, apply a generous amount of conditioner to hair from root to tip. Gently work through hair, then rinse.
Ingredients:
"AQUA / WATER / EAU CETEARYL ALCOHOL DIPALMITOYLETHYL HYDROXYETHYLMONIUM METHOSULFATE QUATERNIUM-80 GLYCERYL STEARATE LIMONENE LINALOOL VANILLA PLANIFOLIA FRUIT EXTRACT PROPYLENE GLYCOL CARICA PAPAYA FRUIT EXTRACT / PAPAYA FRUIT EXTRACT CETRIMONIUM CHLORIDE CITRIC ACID CITRONELLOL POTASSIUM SORBATE HEXYL CINNAMAL GLYCERIN PARFUM / FRAGRANCE F.I.L. D207634/1"
Vanilla Milk
With its sweet, soothing scent, and anti-aging benefits, antioxidant-rich Vanilla Milk is a popular addition to hair and skin formulas.
Rated

5

out of

5
by
jasminenight
from
Enhances my waves! Just lovely~
I don't ever write reviews, but felt compelled to after seeing the results on my hair. I have thick, wavy hair and normally go for heavy, super moisturizing conditioners. This seemed to me to be more of a lightweight conditioner. It's quite runny so I'm always careful to tilt it before I pour it out. I used about a large palmful the first time I tried it. I rinsed it completely and could already tell it was not going to be enough. My hair felt dry, and dry hair = lifeless waves. The second time I used this (same amount), I decided to leave most of it in. I barely rinsed it out, scrunched the excess water out my hair and left it to air dry. And oh my goodness! What a huge difference. My hair was soft, bouncy, shiny and most importantly, wavier and more defined. They looked good all day long. I've been using it this way since and haven't had a bad hair day in a while. I absolutely love the way this conditioner smells and how easily it detangles my hair. I hope it never gets discontinued. I might have found my new HG!
Date published: 2017-10-21
Rated

1

out of

5
by
Cd1799
from
Not a fan of this conditioner...
When I opened the bottle, the conditioner came pouring out which resulted in some being wasted. It's way too thin, and watery product doesn't condition or moisturize very well. I don't mind the scent, but I would not purchase this product in the future.
Date published: 2017-09-01
Rated

5

out of

5
by
missdeniseblogs
from
Great product!
I have to say I really like the conditioner! The smell is very light and pleasant, leaves my hair super soft and feeling very light. My hair is always hard to comb since I have curly hair and when I use this conditioner I don't have to use a detangler which is a plus. The conditioner is a bit too thin so I will accidentally pour too much out but other than that its great!
Date published: 2017-09-01
Rated

5

out of

5
by
suhailhaitham24
from
Amazing Product
I loved the conditioner even more than the shampoo. It is the most luxurious condition I've ever tried. It made my hair so soft and manageable. I even used it once while my hair was a little tangled and it effortlessly got rid of tangles. A new favorite for me.
Date published: 2017-08-31
Rated

3

out of

5
by
beatlebasher
from
OK Conditioner
This did not smell as bad as the shampoo. But it didn't moisturize my hair either. I wouldn't recommend it to a friend or purchase it for myself.
Date published: 2017-08-31
Rated

4

out of

5
by
redbella
from
Soft, Healthy, Tame Hair!
Whole Blends Moisturizing Hair Care with Vanilla Milk & Papaya extracts Conditioner (in combination with the shampoo from the same line) left both my hair (dyed and processed) as well as my 11 year old daughter's naturally curly virgin hair soft, tame and healthy. This product would get 5 stars if there were a volumizer added. I found that while there was a great benefit in the moisturizing qualities, it also left my hair a bit flatter than usual. Much like the shampoo, I also wasn't a fan of the citrus like smell. However, otherwise, I think it's a great buy. It's difficult finding products that work well with naturally curly hair (as I wear mine on occasion and my daughter sports hers most days). This creamy, thick conditioner really does a good job of giving you clearly defined, soft, tame curls. I also felt like this product wasn't full of silicone and didn't weigh the hair down. I liked the fact that the bottle lasts quite a long time and with both myself and daughter using it daily for a few weeks, we have yet to run out! I would definitely re-purchase if a different scent was available.
Date published: 2017-08-31
Rated

2

out of

5
by
fullrr16
from
Didn't Work for my Long Hair
Sadly, this did not work for my hair. I feel like it was much to lightweight to actually moisturize. I don't have really thick hair, but I have a lot of hair - it is well past my shoulders. It does say it is lightweight, so for shorter hair, this would be fine I would imagine, though I can't say from experience. It washes out easily and does smell really good.
Date published: 2017-08-30
Rated

5

out of

5
by
Curiousbaker
from
Weightless Moisture, Great Smell
I used the Garnier Moisturizing Hair Care with Vanilla Milk & Papaya extracts conditioner for 2 weeks. I have seen great results! I have thick curly hair and I have a hard time finding products that keep the dry frizz away. This product definitely delivered weightless moisture. Whether I kept my hair naturally curly or straightened it, I still felt like the conditioner was preventing damage. As a bonus, it smells great, too!
Date published: 2017-08-30
Rated

5

out of

5
by
RachaelC
from
Softer hair
Garnier Moisturizing Hair Care with Vanilla Milk & Papaya extracts Conditioner left my hair feeling soft and beautiful. I saw immediate results on my dull dry hair. The smell is pretty awesome too.
Date published: 2017-08-30
Rated

5

out of

5
by
ShawnaStechschulte
from
Amazing Conditioner
This shampoo and conditioner was amazing!!! It left my hair feeling refreshed and super soft. The smell was amazing and smelled so sweet!!!
Date published: 2017-08-30
Rated

5

out of

5
by
hisgirlfriday
from
Great drugstore conditioner!
I have very dry, frizzy, curly, bleached hair that I normally cannot use drugstore products on but I absolute love the entire Garnier Whole blends line. I have tried many of the products and they all seem to keep my hair feeling soft,healthy,and smelling amazing. It doesn't get dried out like many other products. For the price you can't beat it!
Date published: 2017-08-30
Rated

5

out of

5
by
ProudMomof3WEB
from
You want soft hair, then here you go!!!
This conditioner is awesome. It leaves your hair silky and shiny, and oh so soft. It's hard to find a conditioner that I really like, but this one done it for me. Using the shampoo and conditioner is an awesome combination. I would highly recommend this to anyone.
Date published: 2017-08-29
Rated

3

out of

5
by
Nkmaddox
from
Smells interesting but too watery
I was excited to try Garnier Whole Blends Moistturizing Conditioner in Vanilla Milk and Papaya. I didn't mind the smell of the shampoo and conditioner, although it wasn't my favorite. My biggest complaint is that the conditioner is of a watery consistency. I found this very frustrating as I felt like I had to move quickly so it didn't run off of my hand. Also, it didn't seem to work well on my hair, as it didn't feel as detangled and smooth as it does with nearly every other conditioner. I also haven't noticed a positive change in my hair since using this product. I would not be willing to purchase the conditioner for these reasons.
Date published: 2017-08-29
Rated

4

out of

5
by
Leahware
from
Whole blend conditioner
My first impression was the smell. I love the way Whole Blend Vanilla Milk and Papaya smells! Such a yummy scent. I love that it's a thick, creamy conditioner, one that doesn't run all out of my hand. The downside for me is that I don't feel it really did much for MY hair. I have very long, very thick, and very very course hair. It's also extremely dry. I was excited to try Whole Blend Vanilla Milk and Papaya because it is specifically a moisturizing blend. Unfortunately, this was not the case for my hair. My hair is shiny, but still dry. Also, the texture is as if I used no conditioner at all. I have always had problem hair, and am chalking it up to that issue. I think that someone else may have better results.
Date published: 2017-08-29
Rated

3

out of

5
by
erina93
from
Average Conditioner
I was so excited to try this new Whole Blends product. However, I'm finding that I don't like the conditioner as much as the shampoo. I can't really smell the vanilla, which is fine, but I have to use a lot of the product to soften my hair. Compared to other conditioners, this is more liquidity/less thick and I need to use more of it. My hair feels weird drying, kind of stiff and not soft. The next day my hair feels less shiny and soft compared to other products, including other Whole Blends products.
Date published: 2017-08-29
Rated

5

out of

5
by
mysunshine072
from
Great conditioner!
This conditioner is great! It definitely tames down the frizz and makes my hair feeling smooth. I love it. I don't know where I would be without the shampoo and conditioner.
Date published: 2017-08-29
Rated

5

out of

5
by
GabrielleCrowell
from
Awesome Shampoo
This conditioner worked exactly as advertised. It is much thinner than normal conditioner, which allowed for better coverage. It made my hair so soft and smooth, which also helped keep the frizz down. It also smelled wonderful!
Date published: 2017-08-28
Rated

4

out of

5
by
AmayaMama
from
Garnier Whole Blends
Great for those days where you don't want to use your expensive salon shampoo and conditioner. The smell takes you away for a minute... Until you turn off the shower and hear the kids fighting LOL
Date published: 2017-08-28
Rated

4

out of

5
by
JenniferBernard
from
I Love the weightless feel!
I loved this product. I have fine curly hair and most if the time I have to settle for body OR condition. This product gave me both with a soft, clean feeling.
Date published: 2017-08-28
Rated

2

out of

5
by
Shelba18
from
Meh- Not great
This product was nothing special. It smelled nice, it had a warm vanilla scent, but that's just about the only thing I liked about it. This conditioner is very thin, almost like milk, and it was difficult to apply the product without making a mess. It seemed like it was watered down. It did a below average job at moisturizing my hair, but somehow still made my hair feel greasy the next day. It felt like a residue was left behind that was just sitting on top of the hair without actually penetrating and moisturizing. I definitely do not recommend this product. The only way I would use this again would be if I was out of every other conditioner and only had this available.
Date published: 2017-08-28
Rated

5

out of

5
by
Taijoura1596
from
Amazing product!
Works great for my 4c hair. Has great slip and smells wonderful! This product left my hair feeling very moisturized and soft! I highly recommend this product!
Date published: 2017-08-28
Rated

3

out of

5
by
MisfitMom
from
VERY light conditioner
The Garnier Whole Blends Vanilla Milk and Papaya Conditioner is good if you like a VERY light conditioner. It says weightless in the name, and they mean it. I have long, dry, thin, curly hair. I prefer a heavy conditioner that gives my hair some weight and prevents frizz. I felt like I had to use A LOT of this with little effect. It didn't help on frizz or dryness. My husband, however, has long, straight, oily hair. He likes light conditioners, but he said this actually was too moisturizing for him and made his hair oily. So perhaps this is best for normal hair. The positive is the smell. It has a really wonderful light smell. Again, the smell is so light, it doesn't last long.
Date published: 2017-08-28
Rated

3

out of

5
by
egiddings
from
Smells good but not very creamy....
Like the shampoo this conditioner smells so amazing. It does make my hair feel nice and smooth, however....it is very liquidy and not as creamy as normal conditioners. Because of this I find myself needing to use much more than normal. Because it smells so good and it does result in smooth hair, I could see myself considering purchasing it again, but the only thing that would be holding me back is that I need to use so much more because it is not as thick and creamy as a normal conditioner. Would definitely recommend it to a friend who has fine straight hair and no friz issues.....but for me....not 100% convinced on it.
Date published: 2017-08-28
Rated

5

out of

5
by
ForgottenGirl
from
Great Conditioner
I love this conditioner it made my hair so soft and smooth in the shower and even after! I love the scent and that it is not overwhelming but just enough so you can still smell it. My hair loved this product as much as I did. After using for a few days I could see a difference in my hair and that is was more healthy than before.
Date published: 2017-08-28
Rated

5

out of

5
by
Kimmiekh
from
Loved this!
Really helped with frizz without being heavy!! Let me daughters try it- they loved it as well. I would buy this again .
Date published: 2017-08-28
Rated

4

out of

5
by
iitytyom1
from
Leaking bottle; poor design
First off, I had a real problem with the container. I understand that it was created upside down from the shampoo so you can tell them apart in the shower, but the pressure caused the product to volcano up and out and I lost a lot of the product twice before I wised up and decided I was going to stand it the other way. The writing is upside down now, but at least it is not leaking all over. On the other hand, I love the sophisticated smell of vanilla and papaya and how it conditioned my hair so nicely. It was touchably soft and smelled great all day. I also like that the products are made from recycled materials and by a company that cares about the environment. It's paraben free too. Used in conjunction with the shampoo, it hydrates and silkens like a much more expensive brand.
Date published: 2017-08-28
Rated

3

out of

5
by
lulupalooza06
from
Great scent
I love the light vanilla creme smell of this conditioner. Although it helped coat my hair and make it soft. I feel like I had to use more of the product, as it seems a little on the water side. I was good as long as I didn't run a brush through my hair after it dried. Otherwise I ended up with untamed frizz. In the end it just didn't work for my hair.
Date published: 2017-08-28
Rated

3

out of

5
by
MeleP5
from
I didn't like it
I tried the shampoo and didn't like it. The conditioner is the same result. It doesn't feel moisturizing. I still don't like the scent. The papaya and milk scent is not what comes across. It smells artificial. The shape of the bottle is great and I like the graphics too. I just didn't think it matched up with the product inside. I wouldn't recommend.
Date published: 2017-08-28
Rated

5

out of

5
by
Blacklotus97
from
Conditioner with the best ingredients.
If your like me when you look for a conditioner you want something that your hair will love. You want something that brings life back to your hair, well guess what i have found it and you should grab it because not only you but your hair will thank you immensely.
Date published: 2017-08-28
Rated

5

out of

5
by
Lulylux
from
Soft hair all week
This conditioner works perfectly for me. It leaves my hair soft and smelling amazing. Best part is that I don't need to use a big amount to cover my entire hair and that's a plus. What I like the most was the scent, I'm not gonna lie here, the scent is amazing and last for days. I really like the shampoo/conditioner combo, it work for me and I'm happy with the product.
Date published: 2017-08-28