This site is intended for US consumers.Cookies and related technology are used for advertising.To learn more or opt-out, visit Ad Choices and our privacy policy.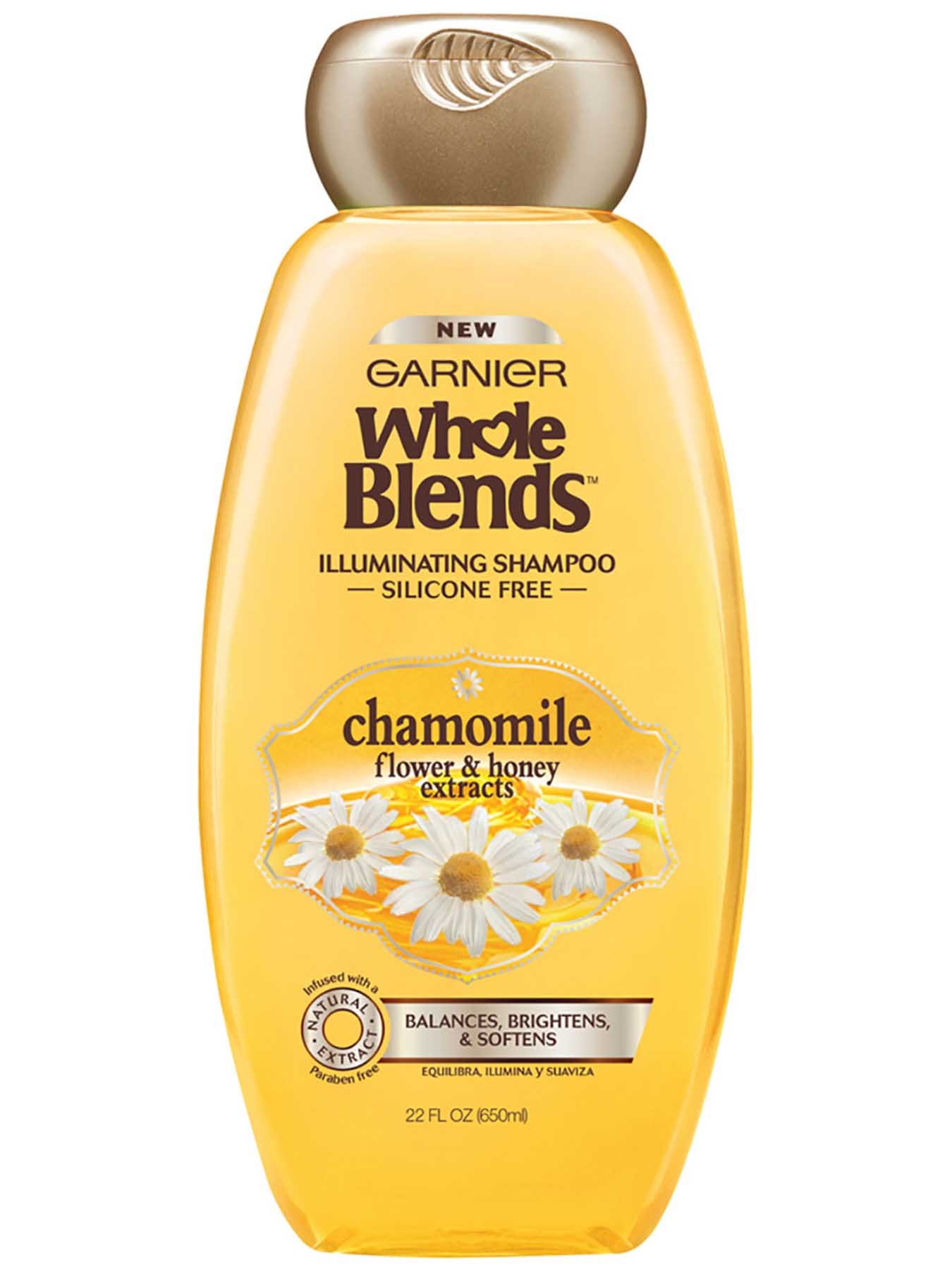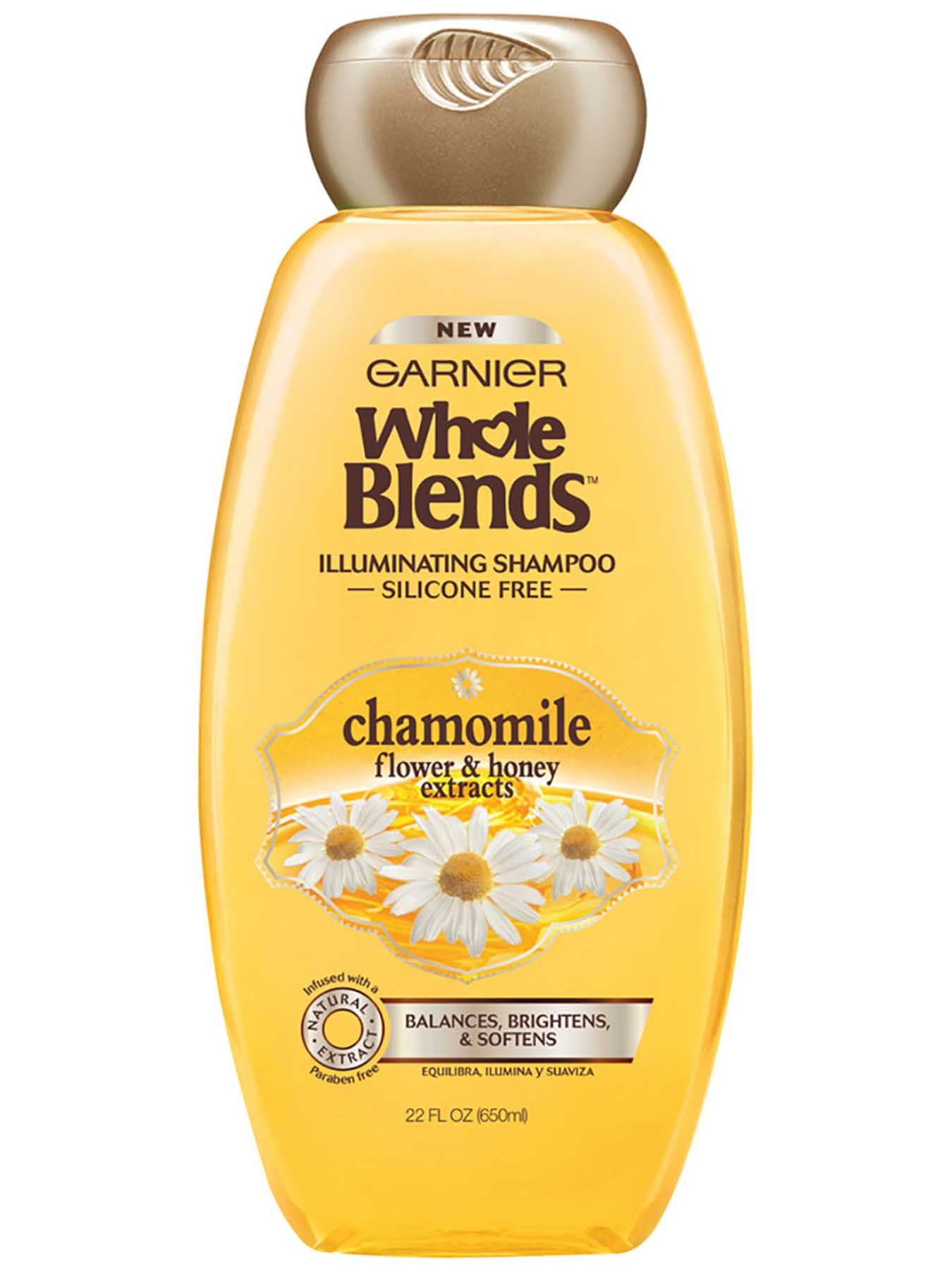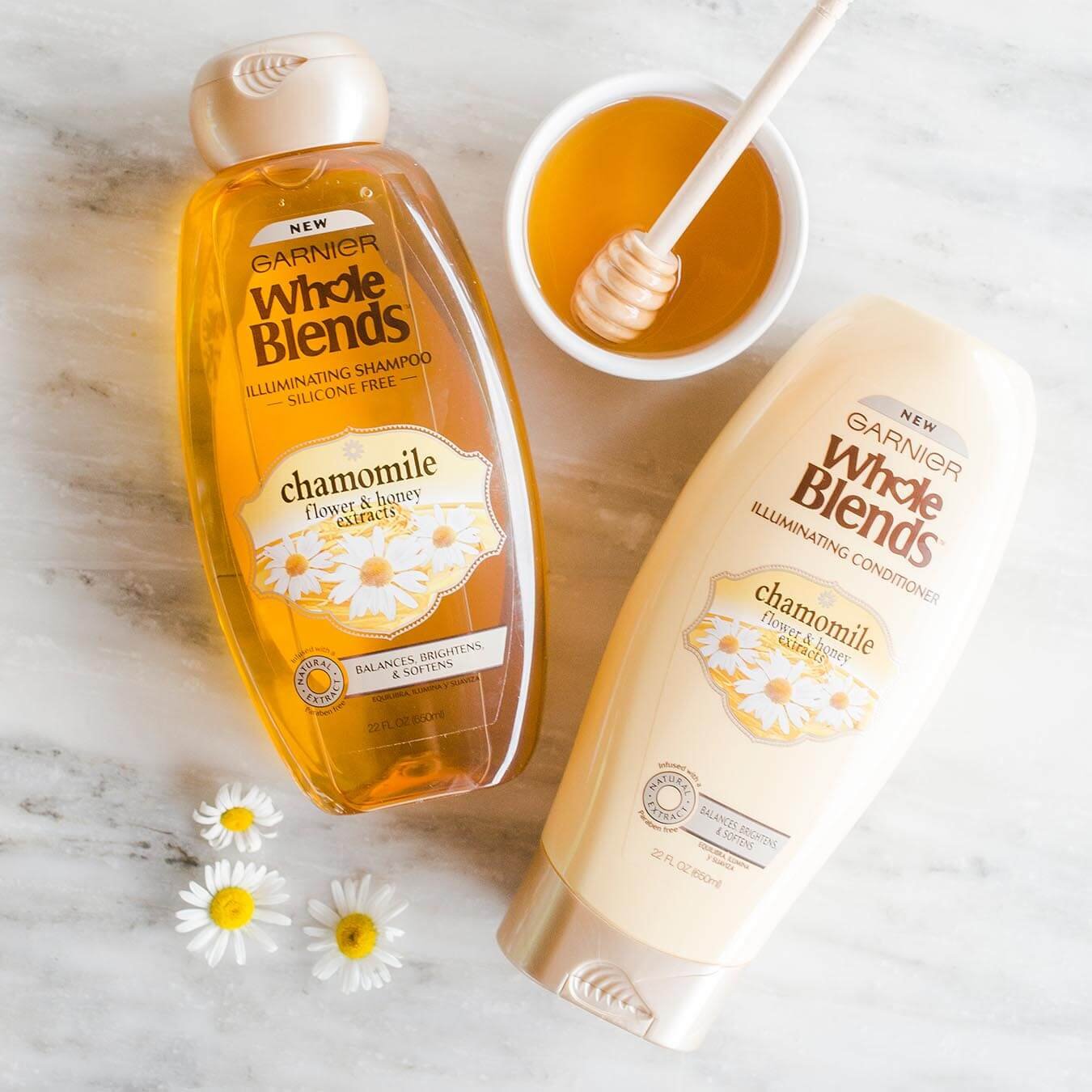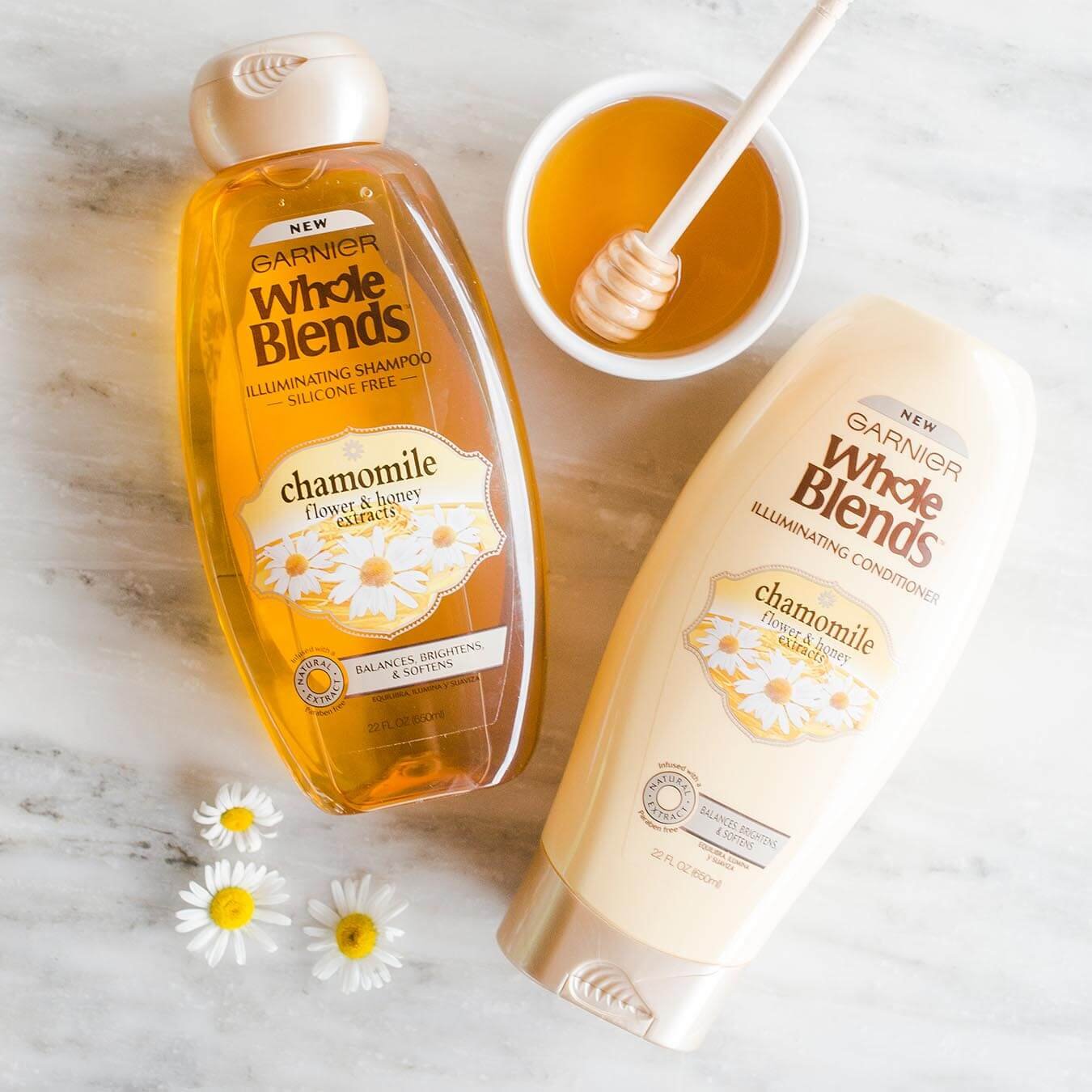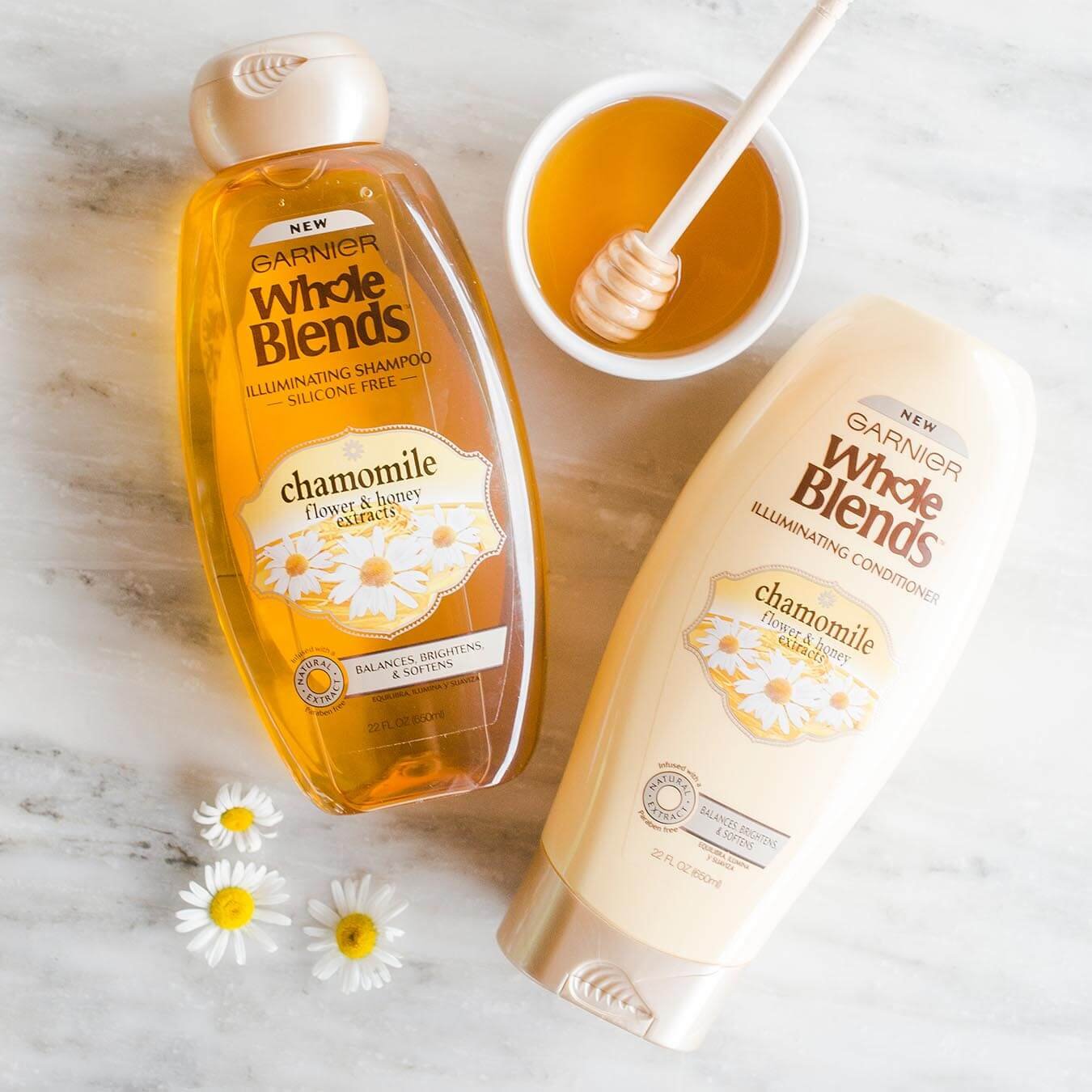 Whole Blends
Illuminating Shampoo with Chamomile Flower & Honey extracts
PRODUCT INFORMATION:
Our luminous, silky shampoo formula blooms with a fresh, floral scent of chamomile flower & sweet honey, bringing to life our wholesome care that illuminates dull hair, exclusively at Walmart.
How To Use
Massage into wet hair, lather and rinse thoroughly. Follow with our Illuminating conditioner.
Ingredients:
"AQUA / WATER / EAU SODIUM LAURETH SULFATE COCO-BETAINE GLYCERIN SODIUM CHLORIDE CI 19140 / YELLOW 5 CHAMOMILLA RECUTITA FLOWER EXTRACT / MATRICARIA FLOWER EXTRACT COCAMIDE MIPA SODIUM BENZOATE SODIUM ACETATE SODIUM HYDROXIDE POLYQUATERNIUM-10 SALICYLIC ACID MEL / HONEY / MIEL MALTODEXTRIN LINALOOL BENZYL ALCOHOL ISOPROPYL ALCOHOL CARAMEL CITRIC ACID HEXYLENE GLYCOL HEXYL CINNAMAL PARFUM / FRAGRANCE F.I.L. D207635/1"
Honey
Prized for its reputed healing properties, Honey is believed to be one of nature's most soothing ingredients. It's also a natural humectant, meaning it helps maintain hair and skin's natural moisture.
Restoring Care Regimen
Everything you need to nourish, reinforce, and repair.
Wash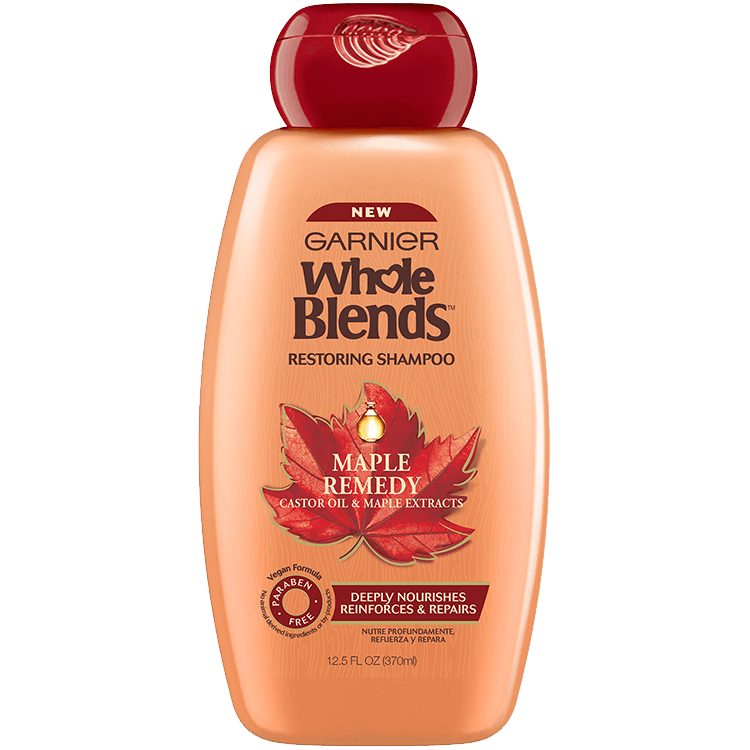 Whole Blends
Restoring Shampoo Maple Remedy
Gentle for everyday use
Condition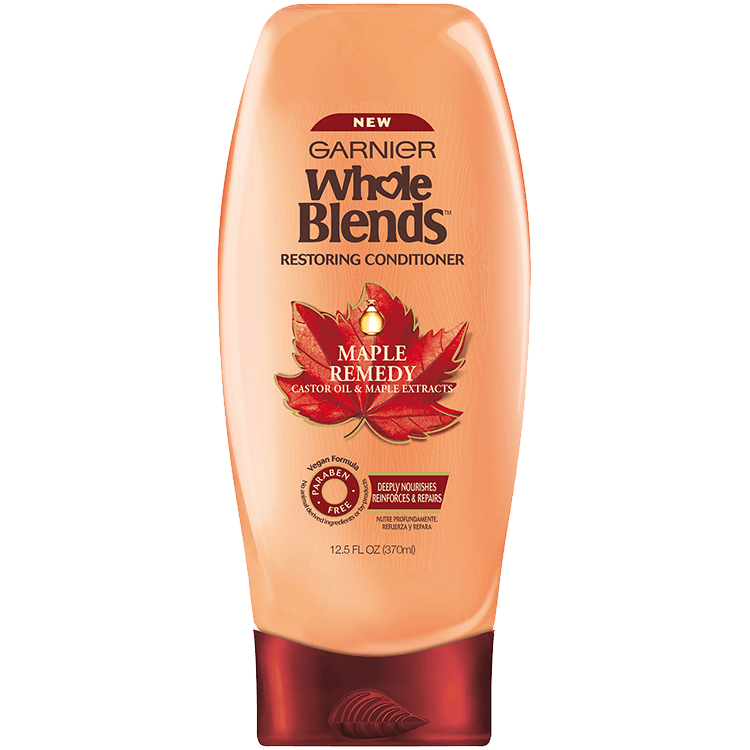 Whole Blends
Restoring Conditioner Maple Remedy
Gentle for everyday use
Treat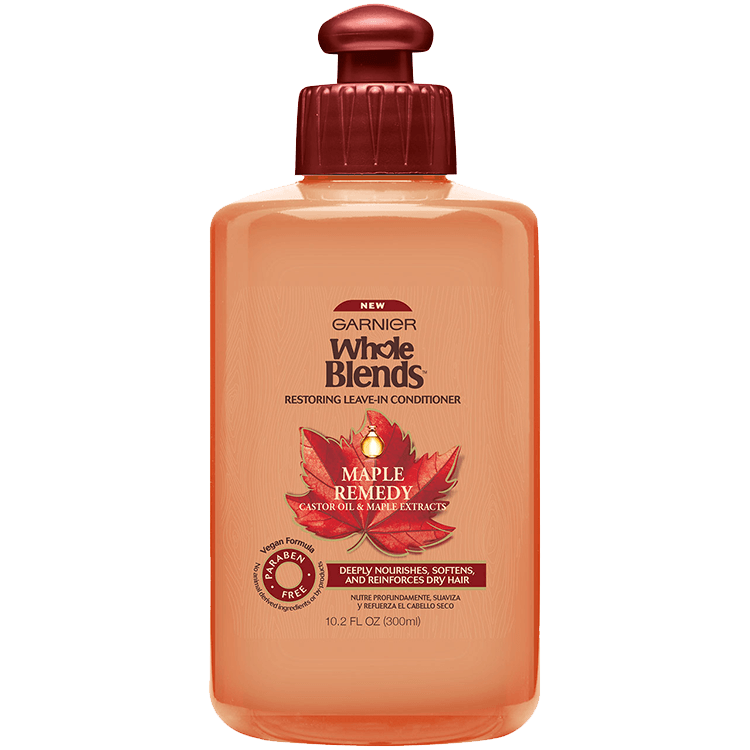 Whole Blends
Restoring Leave-in Conditioner Maple Remedy
Gentle for everyday use
Rated

4

out of

5
by
Ellocorral
from
Great shampoo
I really like the Garnier whole Blends Chamomile flower & honey illuminating shampoo. It left my hair silky, soft, healthy and smelling great. Another great thing about the shampoo is that it does not contain silicone so it did not weigh my hair down. It is also paraben free so that is a definite plus for me because I prefer to use products that have less chemicals.
Date published: 2017-08-31
Rated

4

out of

5
by
freitasnath
from
Bye Bye Frizz
Ok, so I've been doing low-poo for over a year now and my hair has been crazy frizzy. One of my friends recommended me this product, which is paraben and silicone free (but it still has sulfate on, so technically it is a forbidden product) but I must say this is THE BEST forbidden fruit I have ever tried. I let my hair dry naturally and by the end of it my hair was shiny and not frizzy AT ALL. My hair has never been this smooth, and it has a subtle honey smell that I absolutely love! I'll give 5 stars once the shampoo goes sulfate free as well!
Date published: 2017-08-31
Rated

4

out of

5
by
mariewildwood
from
Healthy Hair
I was happy about the size of the bottle for the price. The bottle is rather large and wide so depending on your shower storage, it may not fit. The flip top is nice and the product comes out at a good speed and is easy to get the amount desired. There is a strong floral scent to this shampoo. It's not a pleasant smell to me, but may be to others. However it is not so strong that I would discontinue using the product. One of the advertised benefits of this product is silicone free and paraben free. I haven't done much reading or research around additives in beauty products. However I am happy that this product is trying to remove additives that people are trying to avoid. After two babies and the inevitable aging, my hair has become very dry and starting to gray. My hair has always been prone to frizz in the humidity. After using this product, my hair did feel smooth, clean, and healthy. But after styling I did need to apply additional products that I normally use to bring back more moisture to my hair. Overall this product works well as a shampoo, but don't expect to discontinue use of your styling products.
Date published: 2017-08-30
Rated

4

out of

5
by
Abbsrett
from
Silky smooth
This product smells really good and made my hair really soft and silky without feeling weighed down or heavy. You don't need much either, so that means the product lasts longer!
Date published: 2017-08-30
Rated

2

out of

5
by
Kristyb918
from
Not my favorite
This is one of my least favorite shampoos. It's very drying and leaves my hair feeling very straw like even while wet. Although the smell is great and very familar, but not something I would be repurchasing.
Date published: 2017-08-29
Rated

5

out of

5
by
Tiffany1101
from
The shampoo lathers so well
I think the shampoo cleans my hair very well I have very oily hair and this shampoo makes my hair feel nice and clean
Date published: 2017-08-29
Rated

2

out of

5
by
kfkrmay10
from
Overwhelming smell
The cleaning ability of this shampoo was definitely comparable to others I have purchased however, the smell was unpleasant! Thankfully the conditioner balances it out. I would not recommend this version solely based on smell.
Date published: 2017-08-29
Rated

2

out of

5
by
beav1279
from
Very herbal-smelling
I was hoping this shampoo would have a sweeter smell to it because of the honey. However, it smells very herbaceous (I assume from the chamomile) and it was difficult to get past. The shampoo cleaned my hair fairly well - as good as any drug-store brand I've used in the past - but I won't continue to use it because of the strong smell.
Date published: 2017-08-29
Rated

4

out of

5
by
Aspookey09
from
This shampoo is worth a try!
First of all, this shampoo smells good. I am not a big fan of chamomile scent but this shampoo does smell nice and not overpowering. I like that my hair retains the scent throughout the day. The shampoo has a nice lather and makes my hair feel clean. I like that it has a lot of natural ingredients in it. It is gentle enough for my kids to use and strong enough to get their hair clean! The only reason I didn't give it 5 stars is that I prefer other scents.
Date published: 2017-08-29
Rated

5

out of

5
by
Tamaro35
from
Smells great
I love the way the shampoo has my hair feeling very soft.The smell is great as well will recommended to family and friends.
Date published: 2017-08-29
Rated

5

out of

5
by
Shalai
from
I'm really impressed!
This is truly an amazing shampoo, and I don't say that lightly. I'm seriously tempted to make this my go-to, and as someone who's been buying salon brands for years that's really saying something. First, let's talk about the formula. The immediate draw for me was the lack of silicone and parabens. I generally stay away from mass market brands because I can't be sure they won't include these deal breakers, so knowing that the Whole Blends Illuminating shampoo is free of both was perfect. I also love the fragrance. It has such a light, sweet smell and I love that it lingers in the hair but doesn't become overpowering. The consistency is also really nice and it gives a great lather. All that being said, the results are the real story, and this is where I feel the shampoo really shines. My hair is long and quite curly, and it can be a challenge to find a formula that leaves my scalp feeling clean without stripping my tresses, but this one was perfect! I habitually lather twice before conditioning, but after the first lather my hair was so smooth and soft I almost didn't feel a need for the second. Ultimately tradition got the best of me, but after that second lather I was really happy to note that my hair still felt moisturized. It honestly felt so good that I was tempted to go without conditioning, and that has never happened before. Thank you for bringing this to market. It's a keeper!
Date published: 2017-08-29
Rated

4

out of

5
by
KatieH13
from
Beautiful Hair
The shampoo smelled beautiful and left my hair feeling really clean. The texture felt thinner/more liquidy than most shampoos but worked well. I would recommend it to my friends.
Date published: 2017-08-29
Rated

1

out of

5
by
krissybrooke13
from
Shampoo!!!
This was not my favorite shampoo. I did not like the scent or how it made my hair feel. I wouldn't buy this for myself in the future.
Date published: 2017-08-29
Rated

5

out of

5
by
Julia82782
from
Awesome herbal scent!!!
My hair tends to be quite temperamental when it comes to different shampoos but after using the Garnier Whole Blends Chamomile Flower and Honey Extract shampoo my hair was left extremely soft and smooth. I absolutely loved the smell because I tend to love herbal/natural scents. I also drink a lot of chamomile tea so this product was right up my alley. I also only wash my hair 2 times a week and I had no buildup on my hair after using this product. I will be purchasing this shampoo again.
Date published: 2017-08-29
Rated

5

out of

5
by
burzen1
from
Awesome shampoo
I absolutely was amazed by this product, not only did it smell amazing, but it made my hair feel silky smooth all day long. I live in high humidity area, and at the end of the day, my husband was sitting by me, and smelled my hair, and said how nice it was. Loved the way it lathered up, a little shampoo went a long way.
Date published: 2017-08-28
Rated

5

out of

5
by
MichelleKDuncan
from
Garnier honey Shampoo
I loved this product. I usually have to switch between multiple brands for my hair and with this product, I didn't have to. It left my hair shiny and feeling silky. Best part is that my hair didn't feel weighted down like it usually does.
Date published: 2017-08-28
Rated

1

out of

5
by
carolineandrus
from
Not for dry, curly hair!
I wanted to love this shampoo. I really did. The packaging is beautiful and I love that it's silicone-free. Alas, this shampoo did not work out for me. I have curly hair prone to being dry and this shampoo just left my hair feeling dry. People who love strong floral scents will probably go crazy for this shampoo as well, but for me, it just caused my allergies to flare up. My daughter has oily hair though, so I'm going to have her try this out and see if it works for her.
Date published: 2017-08-28
Rated

2

out of

5
by
bzzagentTrissy
from
Shampoo and Conditioner
So after trying these products I think I would have to say I probably will not be using them again. The smell of the shampoo and conditioner was a bit musky for me I didn't like the smell at all. The consistency of the conditioner was very thin and watery, I didn't like that I have long thick hair so I felt that I used quite a bit in one wash to actually get it through my hair and detangle it. But if you like the smell it does stay in your hair all day so that may be a plus for someone who likes the smell.
Date published: 2017-08-28
Rated

3

out of

5
by
LHooper5554
from
Works Great BUT The Fragrance Not For Me
I have been using the Chamomile Flower & Honey Extracts Shampoo and Condition for the last few weeks. The combination does a great job on my hair BUT the fragrance is not for me. Too strong and not a pleasant scent. If they could change the fragrance this would be a shampoo and conditioner I would use.
Date published: 2017-08-28
Rated

5

out of

5
by
Dazzlerhope
from
Loving the shampoo and conditioner
Loving my garnish Whole Blends Chamomile shampoo and condition. Have been using it since the last two weeks, and my hair feels so much softer and like silky smooth.
Date published: 2017-08-28
Rated

5

out of

5
by
HelpMe16
from
Sweet smelling strands
Wow! I really like how light and natural this shampoo smells. The shampoo is easily distributed through thick AND thin hair. I have thin, fragile, curly hair and the shampoo doesn't make it feel straw-like. I shampoo twice a week, more if I need to (sweaty, dirty from being out, etc.)
Date published: 2017-08-28
Rated

3

out of

5
by
Gabsey18
from
It's not bad
Not good enough to make me switch over from my current shampoo and conditioner but it did leave my hair feeling nice and soft and it smells wonderfully! I just don't feel like it did anything for my frizz. I do enjoy it being a wholesome product!
Date published: 2017-08-28
Rated

4

out of

5
by
DARKSAKURA25
from
Soft and smooth
I think this shampoo was great the smell I am not too fond of but the shampoo work great I like this shampoo because it didn't wight down my hair my hair felt more soft then any other shampoos i ever try it was easy to comb my hair I try the shampoo by itself just to see how soft my hair would be I have tangly hair and to my surprise it was actually pretty easy to comb through my hair Garnier whole Blends is a great product and they are one of my favorite shampoo
Date published: 2017-08-27
Rated

5

out of

5
by
ladyy622
from
My hair feels amazing!
The Garnier Chamomile Flower and Honey Extracts Shampoo is my new favorite shampoo right now. It made my hair so clean and gave it a lingering scent. The scent is not overpowering at all. My hair feels hydrated and very soft. I also feel as though my hair has been give the restoration it has been needing. Unlike many shampoos out on the market, a little goes a long way with using the Garnier Chamomile Flower and Honey Extracts Shampoo. I definitely have been telling my family, friends, and colleagues that they should definitely give the Garnier Chamomile Flower and Honey Extracts Shampoo a try themselves.
Date published: 2017-08-27
Rated

3

out of

5
by
Mommawentz
from
I've had better
Overall the shampoo does its job with the cleaning aspect of it, but as someone who is sensitives to fragrances I would steer clear of this one. It's a very strong, almost over whelming perfume scent. It made my hair soft and shiny, but I just didn't like the smell.
Date published: 2017-08-26
Rated

5

out of

5
by
shelleyl
from
Yummy smell
I loved this shampoo. I wasn't sure how I would feel about the chamomile scent. But it made my hair shiny and made it smell really good. My hair is colored so I was concerned about how it might effect my hair. I think it made my hair easier to manage.
Date published: 2017-08-25
Rated

4

out of

5
by
Pancakebatter03
from
Great smell, good shampoo
This shampoo made my hair silky smooth. The scent made for a wonderful shower experience. I love how it's paraben and silicone free. My hair felt light, but not fluffy. I am prone to frizz and I noticed that this helped tame it slightly throughout the day. It did get my hair very clean. I would not say it's a holy grail product for me, however the scent makes it worth using. Using this shampoo was pleasant, I felt like I would if I drank some chamomile tea.
Date published: 2017-08-25
Rated

4

out of

5
by
aparascando
from
Love the Smell!
I love the fact that this shampoo smells completely natural. It reminds me of flowers on a cool spring day. I have long, curly hair on the thicker side and I think the shampoo did the job. My hair definitely feels lighter and smoother.
Date published: 2017-08-25
Rated

4

out of

5
by
jjbaby12
from
Great clean feeling
This shampoo does all that I claims to do. It left my dry hair feeling very soft after just one wash. It also seemed to give my hair a little bit more shine. Most importantly for me, it left my hair and scalp feeling extra clean. With Many shampoos that I've tried, I would have to use a lot to get my hair to feel only a little clean. But not with this garnier product. The smell is just ok for me. It is not bad but I was expecting more of a sweet honey smell.
Date published: 2017-08-25
Rated

5

out of

5
by
Kmdoherty
from
Smooth and Natural
I will admit I was not too sure when I first smelled the shampoo...but now I am in love!! The scent is so soothing and comforting like a warm cup of tea on a winter night. My hair is so smooth and soft, often I have to switch up my shampoo and conditioner products because after a short while my hair starts to feel straw like...not with this one! I definitely would recommend this product to anyone who wants an affordable product that's results are salon quality.
Date published: 2017-08-25