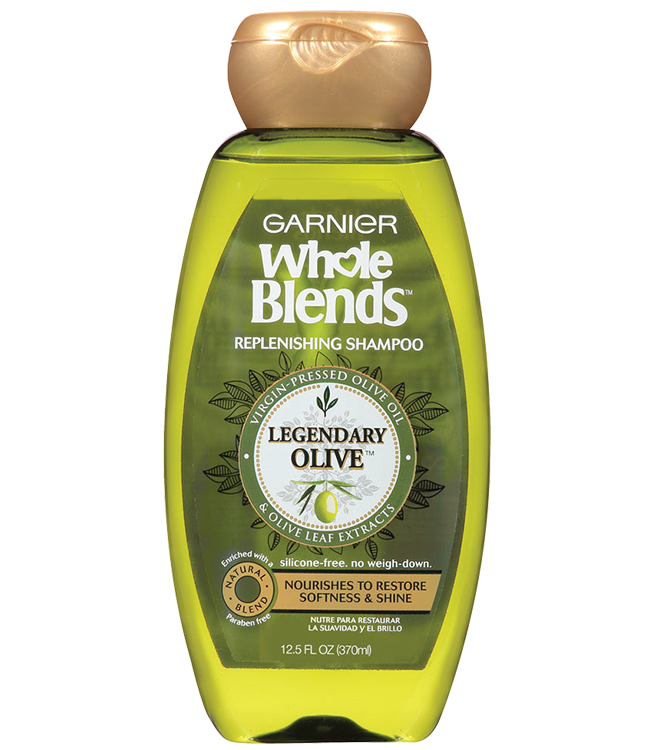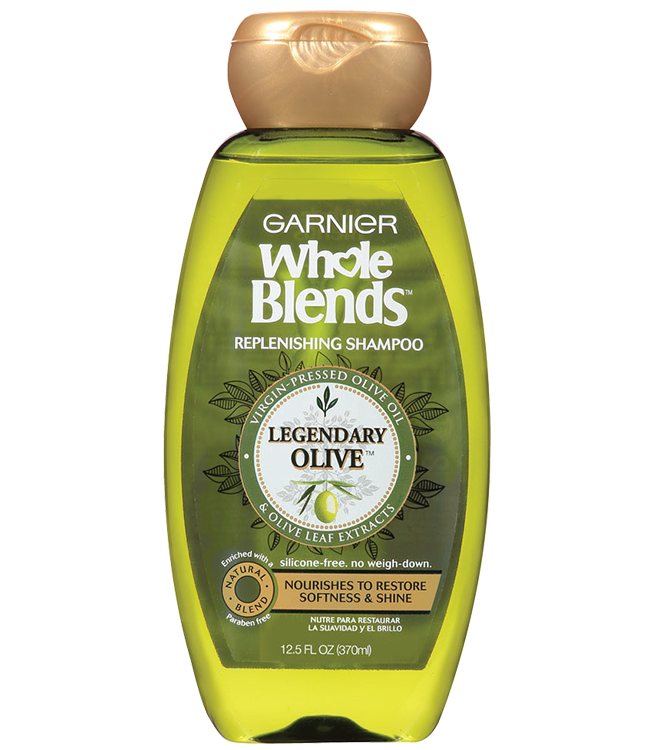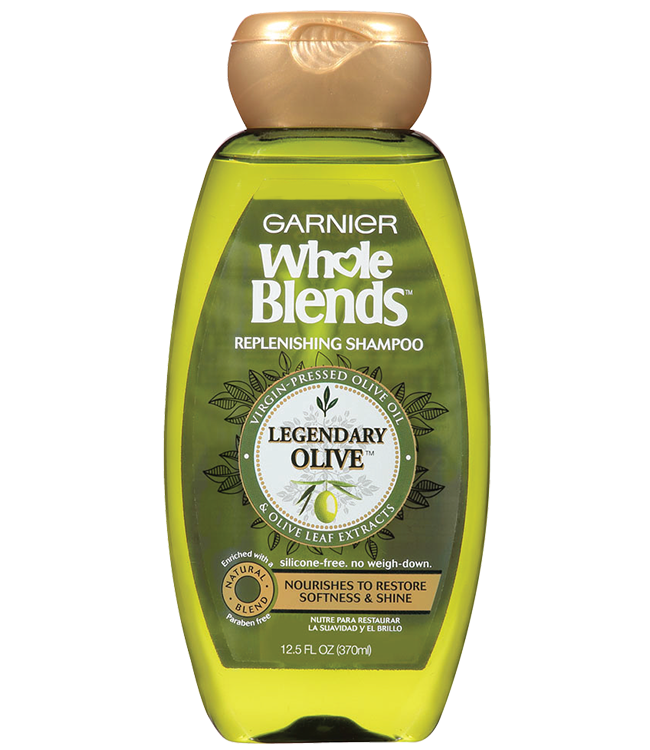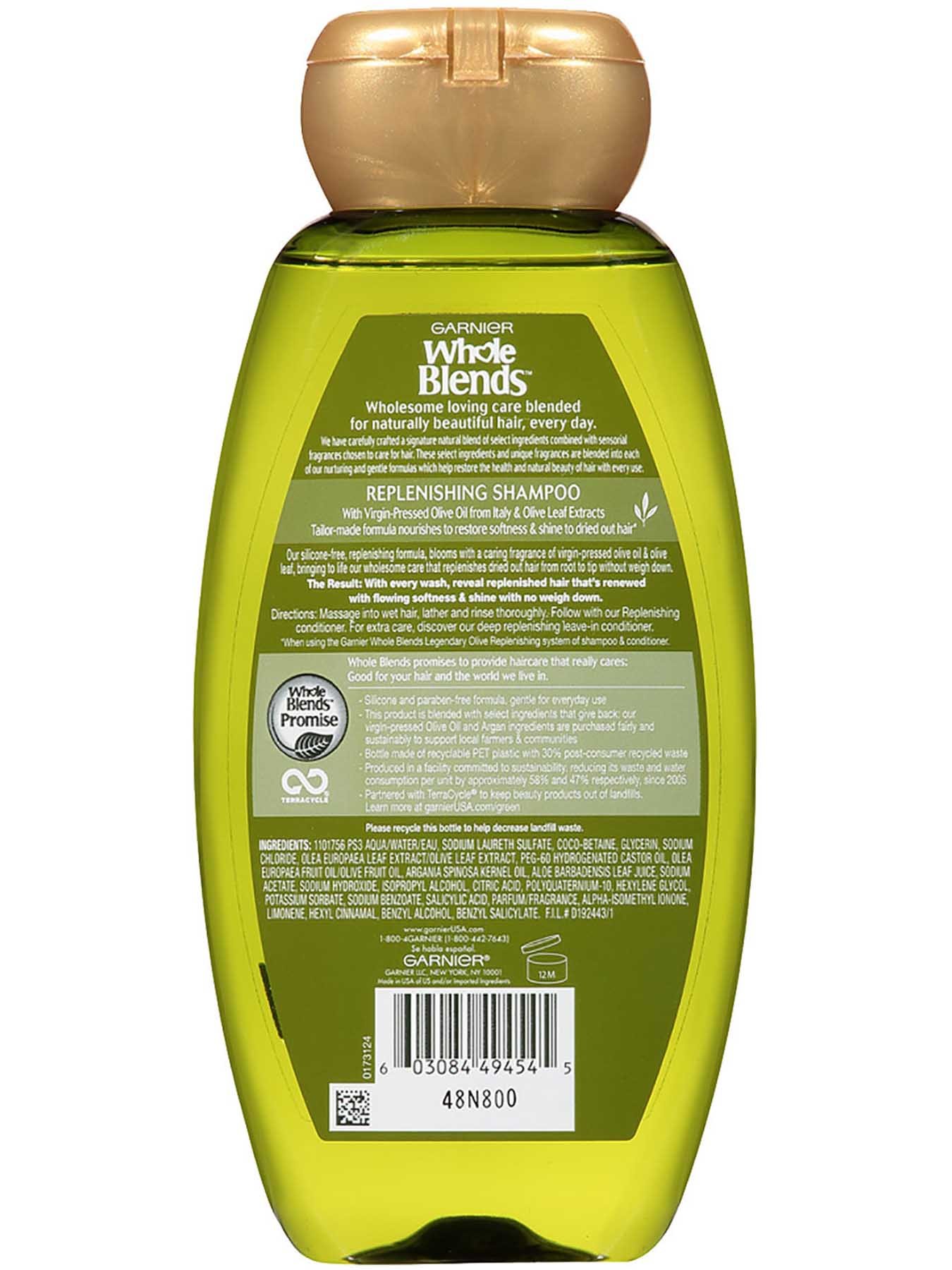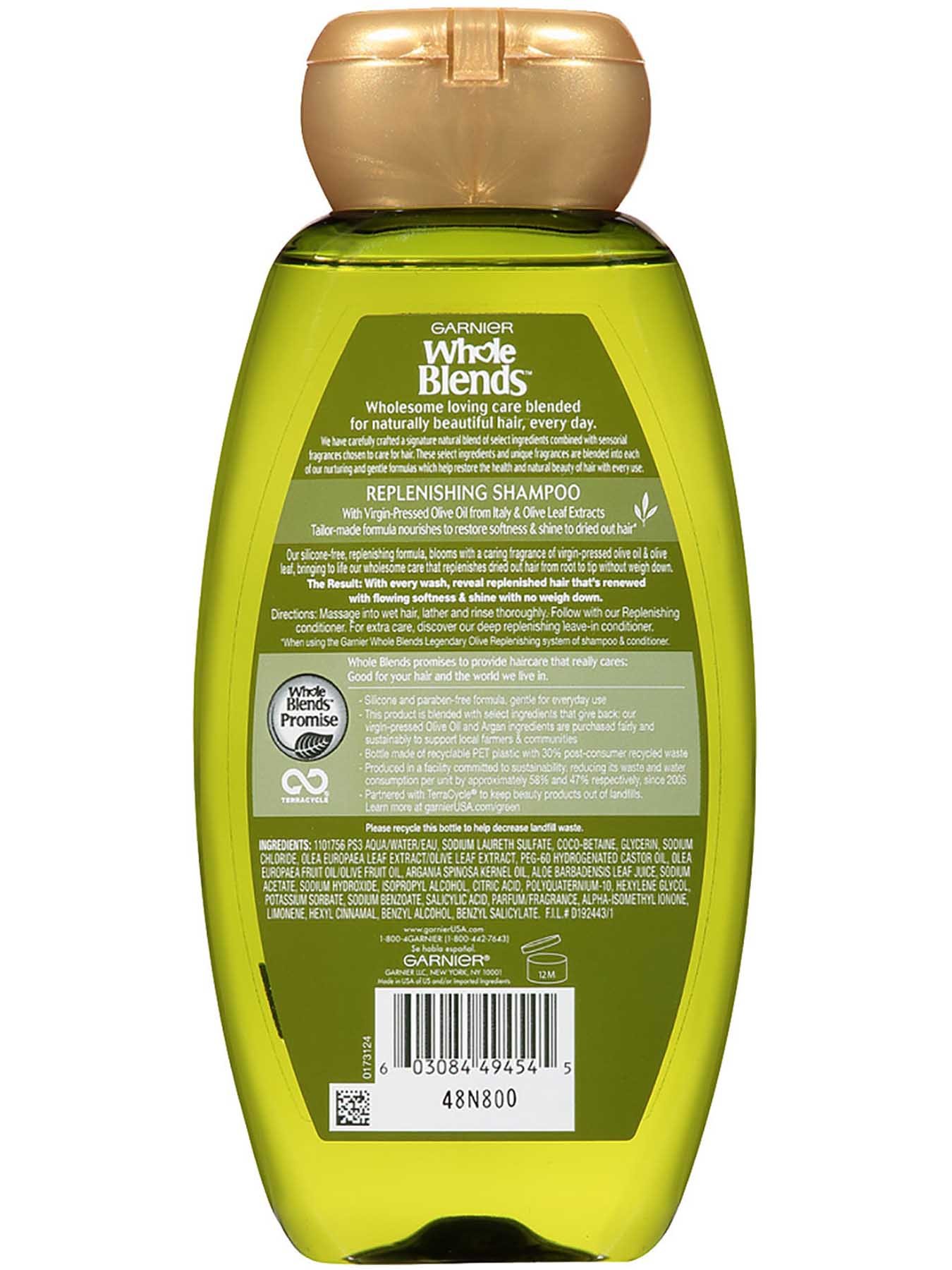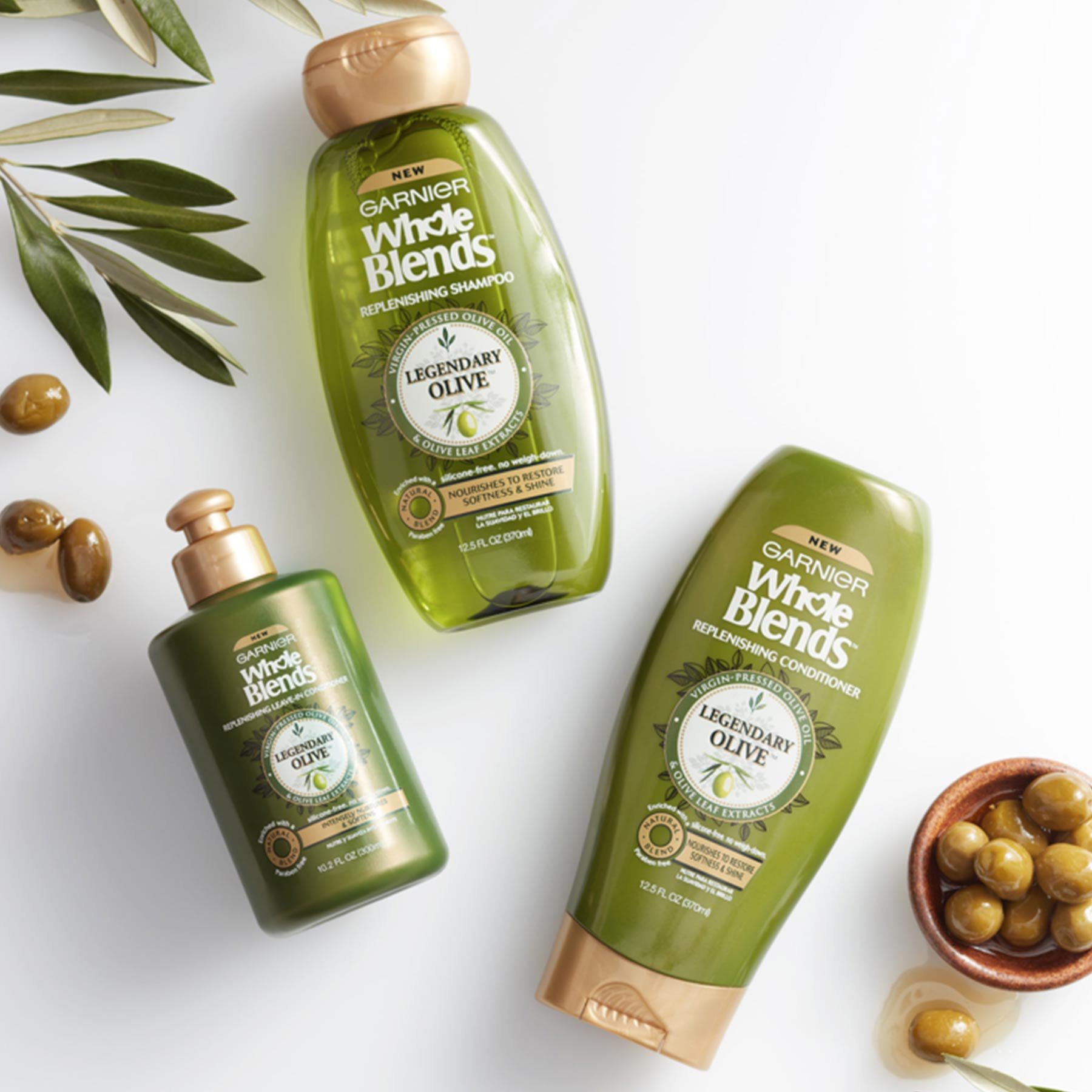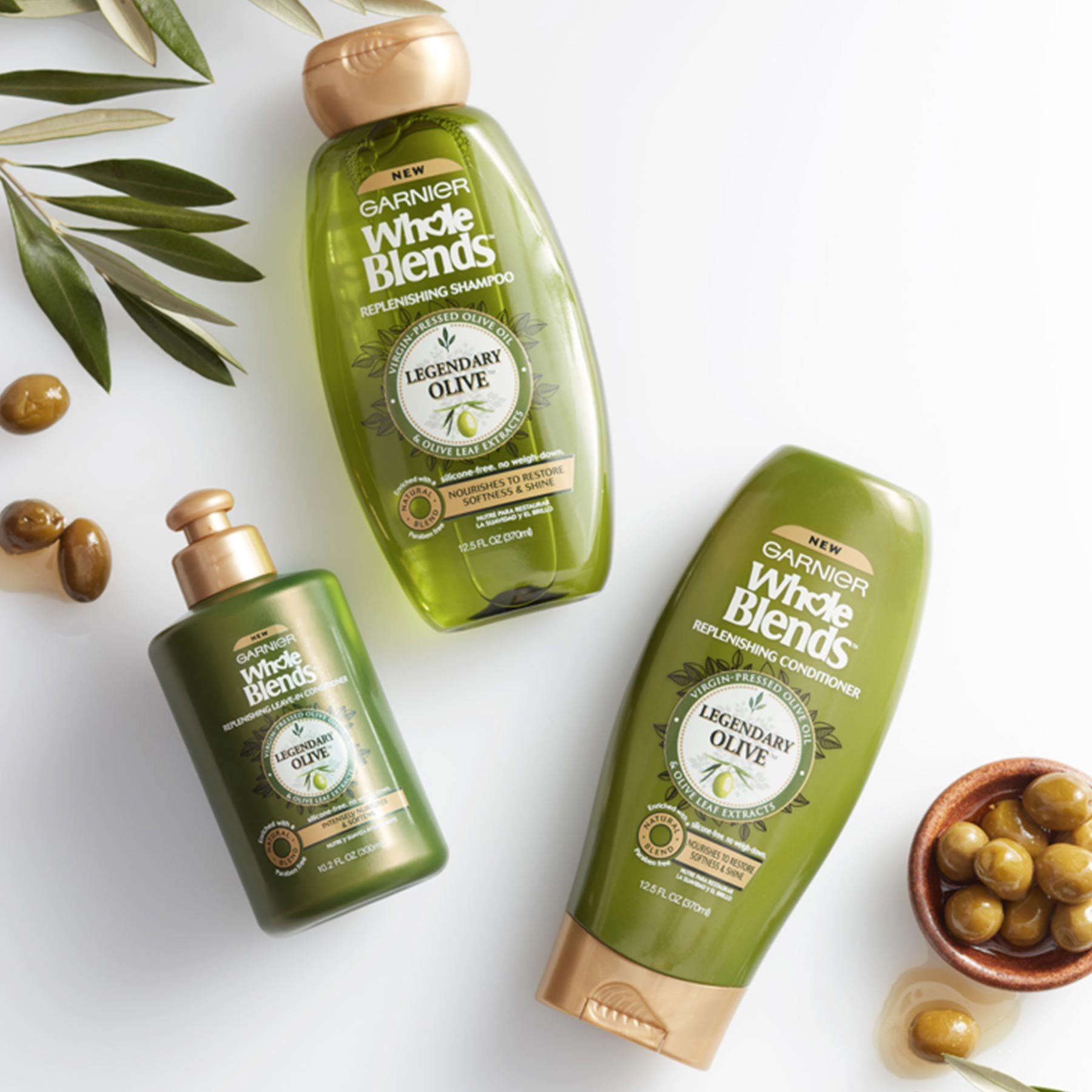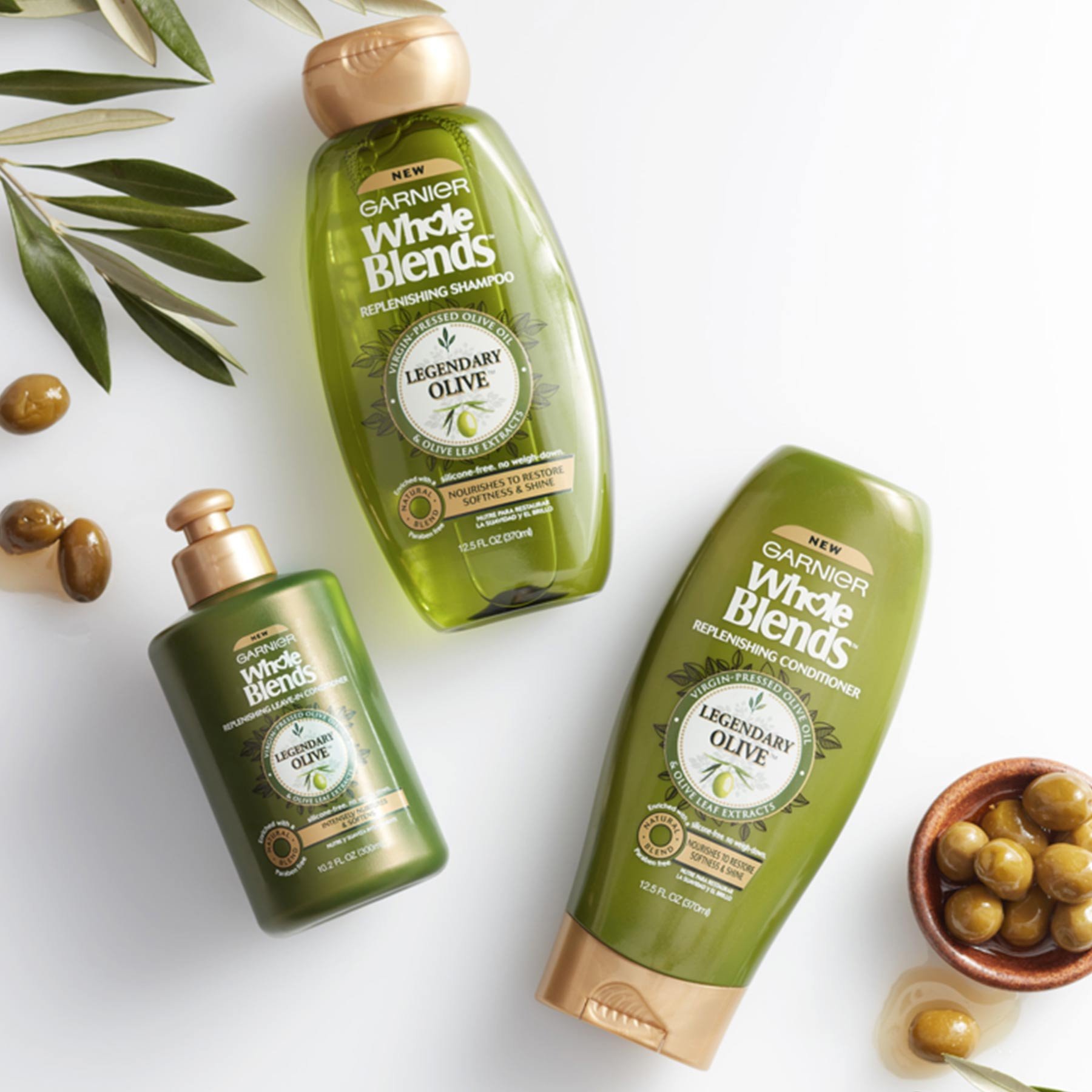 Replenishing Shampoo with Virgin-Pressed Olive Oil & Olive Leaf Extracts
Whole Blends
$4.49 MSRP
Replenishing shampoo renews softness, shine & suppleness.
*When using the Garnier Whole Blends Legendary Olive Replenishing system of shampoo & conditioner
PRODUCT INFORMATION:
Our Garnier Whole Blends silicone-free and paraben-free, replenishing formula for dry hair, blooms with a caring fragrance of virgin-pressed olive oil & olive leaf, bringing to life our wholesome care that replenishes dried out hair from root to tip without weigh down.
How to Use:
Massage into wet hair, lather and rinse thoroughly. Follow with our Replenishing conditioner. For extra care, discover our deep replenishing leave-in conditioner.
Ingredients:
1101756 PS3 AQUA / WATER / EAU SODIUM LAURETH SULFATE COCO-BETAINE GLYCERIN SODIUM CHLORIDE OLEA EUROPAEA LEAF EXTRACT / OLIVE LEAF EXTRACT PEG-60 HYDROGENATED CASTOR OIL OLEA EUROPAEA FRUIT OIL / OLIVE FRUIT OIL ARGANIA SPINOSA KERNEL OIL ALOE BARBADENSIS LEAF JUICE SODIUM ACETATE SODIUM HYDROXIDE ISOPROPYL ALCOHOL CITRIC ACID POLYQUATERNIUM-10 HEXYLENE GLYCOL POTASSIUM SORBATE SODIUM BENZOATE SALICYLIC ACID PARFUM / FRAGRANCE ALPHA-ISOMETHYL IONONE LIMONENE HEXYL CINNAMAL BENZYL ALCOHOL BENZYL SALICYLATE F.I.L #D192443/1
Olive Leaf Extract
Olive Leaf Extract is even more antioxidant-rich than Olive Oil. With a high concentration of the potent antioxidant oleuropein, it naturally soothes, hydrates, and stengthens, protecting from irritation and leaving skin and hair with a naturally healthy radiance.
Olive Oil
Packed with antioxidants, Olive Oil has been a high-performance beauty elixir for centuries. In hair care and hair color formulas it helps coat hair, leaving strands strong, glossy, and resilient. In face moisturizers, it soothes as it smoothes for glowing, youthful-looking skin.
The Replenishing Care Regimen
Everything you need to restore softness and shine.
Wash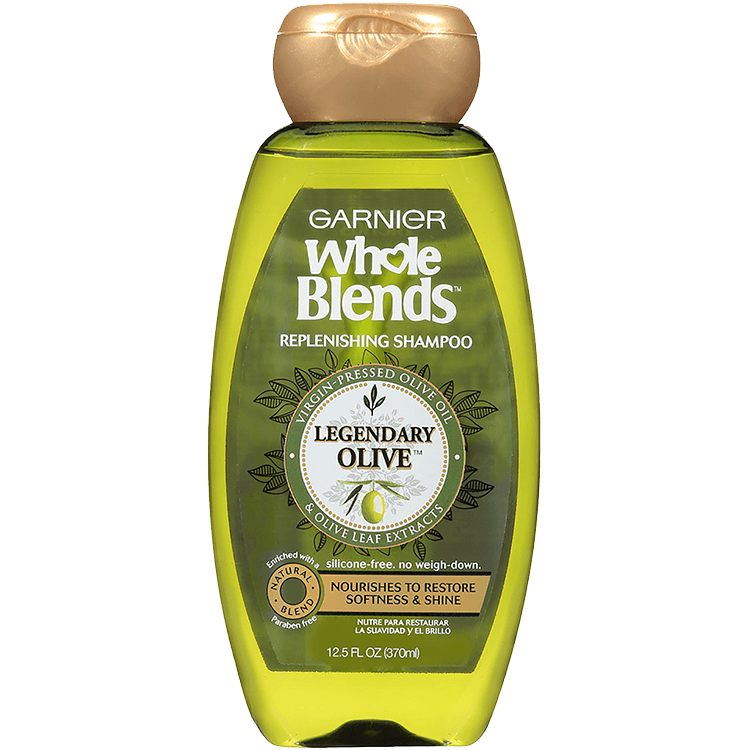 Whole Blends
Replenishing Shampoo with Virgin-Pressed Olive Oil & Olive Leaf Extracts
Dry, Depleted Hair
Condition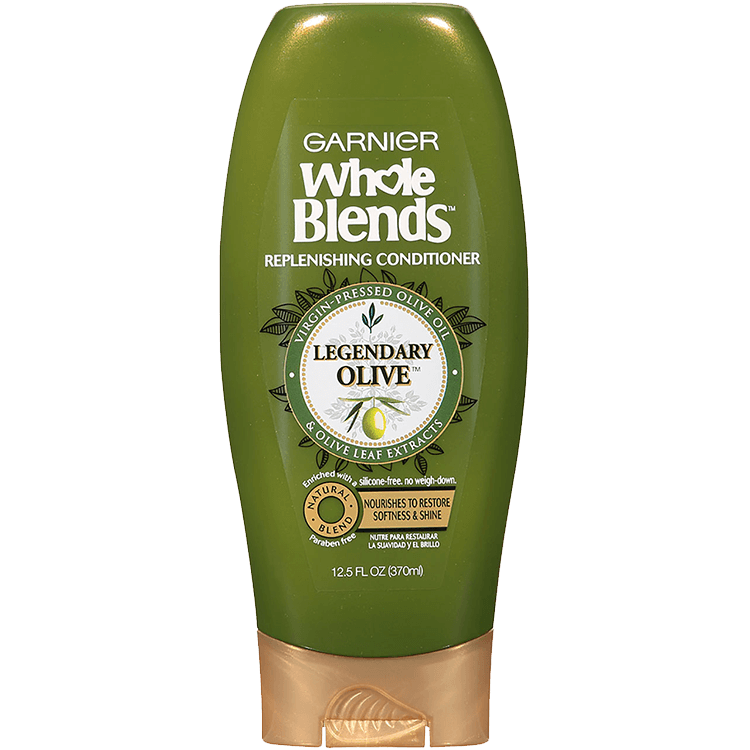 Whole Blends
Replenishing Conditioner with Virgin-Pressed Olive Oil & Olive Leaf Extracts
Dry, Depleted Hair
Treat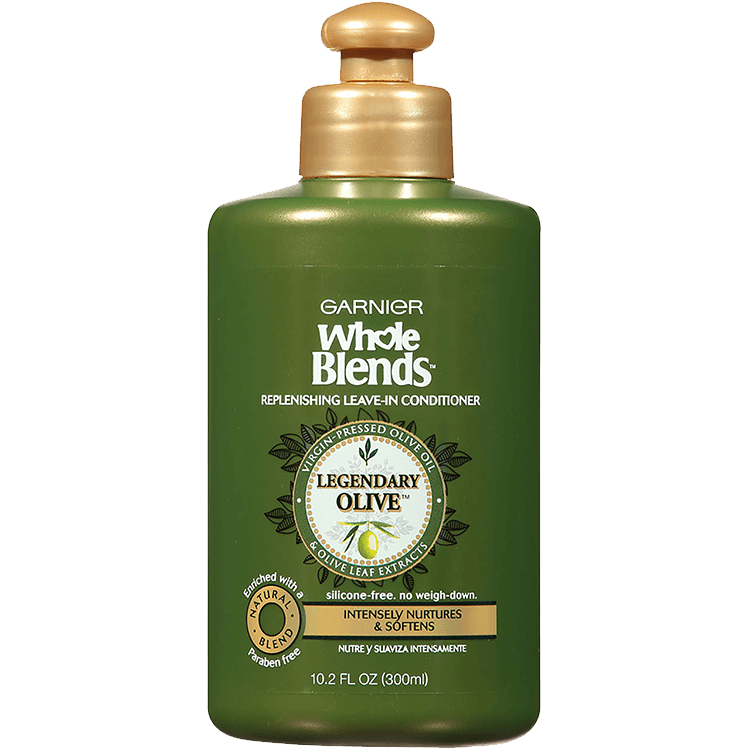 Whole Blends
Replenishing Leave-in Conditioner with Virgin-Pressed Olive Oil & Olive Leaf Extracts
Dry, Depleted Hair
Rated

5

out of

5
by
Donnah
from
Amazing result in just one use!
The only shampoo I've tried that relieved my long time problem with itchy scalp with flakes for just one use! Million thumbs up!!!
Date published: 2017-04-05
Rated

1

out of

5
by
SophiaGamache21315
from
Greasy
I bought this maybe 2 weeks ago and everytime I wash my hair I come out with super greasy feeling hair it's gross to touch and it doesn't matter how long I rinse for. I thought this would be great but honestly it's not.
Date published: 2017-04-05
Rated

5

out of

5
by
Detroitgirl51
from
Works for Me
I purchased this product on a whim because I have been using extra virgin olive oil for my pre-poo because I have dry, natural, African American hair and I need moisture . I also wanted a shampoo, conditioner and leave in to help keep moisture in. It does not weigh my hair down and not sticky. I love the smell which is important because I have allergies.
Date published: 2017-03-05
Rated

5

out of

5
by
LydiaK116
from
The Shine is back!
I love the Olive Oil Whole Blends shampoo and conditioner.My hair is thick and curly and over the years,I'm 56, became dull with no shine. I am prone to frizzies too.I love the Green Apple whole blends too but when this came out I had to try it.After the FIRST shampoo, the softness and shine that had been gone was now back. My hair is more manageable,no frizz and I could go on and on about the shine and softness to my hair.LOVE IT!!!!!
Date published: 2017-03-01
Rated

5

out of

5
by
Kathyn53
from
Wonderful for gray hair
If you have gray hair, you know the problem...dry, fly away, wiry hair that is hard to damage even with conditioning. Many of the conditioners and shampoos affect the color as well. This shampoo is perfect. It is actually clear not green, so you you don't pick up any tint. The amount of olive oil is just enough to add back in some of the oil my hair needs without weighing it down too much. I love this stuff. I don't think I'd recommend it for oily hair though.
Date published: 2017-02-19
Rated

5

out of

5
by
Moonandthestars
from
I finally found a shampoo and conditioner
I am an African American woman and moisture is extremely important for my hair texture in order to prevent breakage. I have looked for a shampoo and conditioner that could provide an adequate amount of moisture during the shampoo and conditioning process. I am extremely happy with the outcome of how my hair felt after I washed it. My hair was not stripped of all it's natural oils like most shampoos have done I the past and the conditioner instantly moisturizer my hair. I did not have to use a large amount of conditioner either. The product is inexpensive and it works. I highly recommend it!!!
Date published: 2017-02-03
Rated

1

out of

5
by
Awesomemommyof3
from
DOESN'T WEIGH DOWN YOUR HAIR, HAH!!!!!!
I purchased this shampoo and conditioner about a week ago. I normally use the Apple & Green tea, but it was out of stock. So I thought I would give this a try, yeah, well big mistake!! My hair felt awful, weighed down and very greasy!!
Date published: 2017-01-24
Rated

4

out of

5
by
ucsucs
from
Olive it, you might, too!
I know that most of my friends would shy away from the thought of putting oil on their hair and likely imagine putting oil in a shampoo would be counterintuitive. Well, believe it or not, it worked well for me when I tried Garnier Whole Blends Legendary Olive Shampoo! I don't pretend to understand the science behind it, but you know how sometimes your scalp feels tight after you wash your hair? Mine didn't after using the Garnier. My hair looked and smelled clean (noit oily at all) and instead of any dryness, I felt that it was lightly moisturized. (I did use their conditioner as well, but I always feel my hair between steps.) The scent is light, so you won't walk around smelling like olives (not that it would be a horrible thing). You shampoo as normal, so there aren't any confusing steps to follow in order to use the Garnier Shampoo. For me, it lathered well and rinsed cleanly - I didn't have to do anything extra. Even if you don't use conditioner and probably, especially if you don't, I'd recommend trying the new Garnier Whole Blends as it made my hair look and smell great and it sells for a reasonable price. (You can get a product made with natural oil without paying a hefty price tag as with some natural brands out there.)
Date published: 2016-12-27
Rated

5

out of

5
by
Menolie
from
Loving that smell!
My daughter and I have both been using Garnier Whole Blends Legendary Olive Replenishing Shampoo, and are both loving it to the point that she keeps stealing the bottle from me. It doesn't leave a heavy residue that you would expect from olive oil, but it does leave a hint of the smell in a good way.
Date published: 2016-12-26
Rated

5

out of

5
by
Jbailey7944
from
Garnier Whole Blends Shampoo
This shampoo was great. It has a nice light, clean, neutral scent that was just enough without being too overpowering. It lathers really well and rinses easily. I only used this product with the coordinating conditioner so I do not know how it performs alone, but I would definitely consider buying this shampoo again.
Date published: 2016-12-26
Rated

5

out of

5
by
mattox949000
from
Exceptional Lather
Not only do I love the scent of this shampoo but you only need a little to work up a good lather to wash your hair. It rinses easy and clean. I love this shampoo and conditioner.
Date published: 2016-12-26
Rated

4

out of

5
by
amazonaddict
from
Clean Feeling
My hair feels lighter. The smell is truly clean and natural. It lasts for 3 days but isn't overwhelming. I will say that when I was washing my hair, I could feel the damage where it was colored a couple weeks ago. I wouldn't use it on color treated hair more than a couple times. I think that it washed some of the color out of my hair. I don't think the shampoo could be used without the conditioner if you have any damage in your hair.
Date published: 2016-12-26
Rated

5

out of

5
by
krw64633
from
A Legendary Shampoo
I think that this Legendary Olive Replenishing Shampoo by Garnier Whole Blends is a great find! It helps to restore softness/shine and nourish dry hair. My hair is extremely dry, but it gets particularly bad during the winter season. So I was able to try this shampoo at the perfect time. I used this for a few consecutive days and could already see that my hair seemed to be softer. This shampoo is silicone and paraben free. I did not feel that this shampoo weighed my hair down at all. I did use this product in conjunction with the Legendary Olive Replenishing Conditioner by Garnier Whole Blends too. Overall I would definitely recommend this shampoo to other people!
Date published: 2016-12-26
Rated

4

out of

5
by
huckl3berry
from
Spend Less Time Straightening Your Hair
Before I buy or try using any hair products, I always open the bottle cap to smell it. Garnier Whole Blends Legendary Olive Replenishing Shampoo has a subtle scent that is not overpowering. On first use, I liked that it smelled nice on my hair that does not make me dizzy. I was amazed that this product did not make my hair dry. It kept my hair moisturized and it was evident even on the first use. I was even surprised that it made my hair less wavy the following morning which made me spend less time straightening my hair. I would certainly recommend this to my friends.
Date published: 2016-12-25
Rated

5

out of

5
by
Mama_Asbell
from
nourishing shine without the weight
It was a thrill to be able to try this wonderful Whole Blends Legendary Olive Shampoo & Conditioner with Virgin-Pressed Olive Oil and Olive Leaf Extracts! It is just what I have been looking for to help my color treated hair. This formula nourishes my color treated hair without weighing it down. It restored the softness and shine which makes me look years younger. Olive oil is a great emollient which means it penetrates the shaft of the hair better than other oils to create shiny hair that looks healthy and feels soft. It also helps improve elasticity which helps prevent hair breakage which is a problem with color treated hair like mine. If you are looking to improve the condition and appearance of your hair, this is a great product to try!
Date published: 2016-12-24
Rated

3

out of

5
by
suzan261
from
Nourishing While Washing
I tried the new Garnier Whole Blends Replenishing Shampoo- Legendary Olive. The shampoo is silicone and paraben free with virgin-pressed olive oil. The shampoo claims to nourish and replenish hair to reveal flowing hair with restored softness and shine. I used this shampoo on my naturally curly hair and can say that a little quarter sized amount goes a long way. The shampoo has a pleasant fragrance that is not too strong or overbearing and fades quickly after the wash. Upon application, the shampoo immediately made my hair feel silky soft and allowed my fingers to glide through my hair with ease. Although, I appreciated the silky softness during the wash process upon air drying my hair felt stripped and dry even after following up with the matching conditioner. The shampoo is good value for the small amount that you use because it will last a long time. However, if you tend to have dry hair then this may not be the best shampoo to restore moisture to the hair strands even though during the wash it really felt nourishing.
Date published: 2016-12-24
Rated

5

out of

5
by
clcontr
from
WONDERFUL product
WONDERFUL product. The first thing I noticed when I opened the bottle was the nice, fresh aroma. This shampoo goes on easy and lathers very well. My hair was so soft and looked very healthy after just one use. The more I shampoo, the better my hair is.
Date published: 2016-12-24
Rated

4

out of

5
by
sharieh
from
Garnier uses olives!?
Who would have thought olives in shampoo would be awesome? Not me for sure,that's why I was excited to try Garnier whole blend olive shampooed & conditioner. I've used their coconut whole blends (which I enjoyed) but hated the hard plastic bottle..now with the olive shampoo the bottle is more of a soft plastic which makes it easier to squeeze out every drop. Not only that but the sent is light & the shampoo makes your hair soft enough for your husband to keep running his hands thru even though you were trying to relax. Garnier developed a shampoo & conditioner that isn't over priced & works.
Date published: 2016-12-24
Rated

5

out of

5
by
funkycatt
from
Clean yet gentle.
This shampoo is strong enough to get your hair clean, but gentle enough not to over strip it. I have curly hair and the worst thing you can do is take too much moisture out of it. That leaves it looking dry and frizzy. I hate the look and feel of greasy hair, however. I need a shampoo that gets my hair looking clean but not dried out. This shampoo did an excellent job at getting my hair clean, but not drying it out. This shampoo also smells great. It has a light scent, not too strong. It also did not leave me with a rash. I have dry skin that can be sensitive. A lot of products can leave my face and hair itchy. And I won't use them again! I did not have any problem with this product irritating my skin.
Date published: 2016-12-23
Rated

5

out of

5
by
ksviatko
from
A fantastic duo! Must try for dry locks!
I just reviewed the Garnier Whole Blends Legendary Olive Shampoo. It's hard to find a duo shampoo and conditioner that actually does what it advertises. I sometimes end up with one or the other of different brands. Not the case here. The conditioner smells amazing. It glides on without feeling heavy. I can actually leave a tiny bit in after rinsing and get even more luster. My hair is soft and light after blow drying. I can't get enough. I will be looking for the full line!
Date published: 2016-12-23
Rated

4

out of

5
by
KimmiP
from
Soft yet a bit greasy
I was lucky enough to get to tryout the Garner Whole Blends Legendary Olive Replenishing Shampoo. After my first wash I fell in love, it made my hair soft and healthy looking with the prefect amount of shine. The shampoo has a nice relaxing smell and made the show experience amazing. But after about a week of using the Olive Replenishing Shampoo my hair started to become greasy and had a buildup from using this shampoo. I tested out using it in a rotation with other shampoos. I fount if you use a stripping shampoo once a week to strip the buildup off then it makes my hair look amazing. So I am extremely happy with this product with just one little tweak, but I do have extremely thin hair so greasiness is always an issue I find with most hair products.
Date published: 2016-12-22
Rated

5

out of

5
by
Ricepatty
from
I am in love
Oh my hair. I am in love with Garnier Whole Blends Legendary Olive Replenishing Shampoo. My hair is thick and damaged. After using the shampoo, my hair is soft and manageable. I am in love with my hair now.
Date published: 2016-12-22
Rated

2

out of

5
by
goodwithout
from
Not our cup of tea.
We didn't care for this shampoo for our long, thick, curly hair. It did make our hair soft, and paired with the matching conditioner it made our hair manageable and tamed the frizz. BUT we both found the shampoo unpleasant to use. It made our hair feel greasy and unclean, and didn't rinse out well. We felt like we needed to wash again with a different shampoo. I once used a conditioning cowash, and this shampoo feels like that. I think it would eventually build up if we used it daily.
Date published: 2016-12-22
Rated

4

out of

5
by
WildHoney
from
A bit much for me
I think this isn't the best shampoo for someone with curly hair. For me it served as a decent clarifying shampoo, although I don't think that was the original intention. It wasn't harsh and it did remove any product buildup from my hair and scalp. The smell for this shampoo is pretty decent. I like that it isn't overpowering. As with most Garnier products the ingredient list is filled with quality ingredients.
Date published: 2016-12-22
Rated

5

out of

5
by
christinac2006
from
Amazing stuff
I think this product is awesome. It leaves my hair soft, clean and smelling amazing. This shampoo lathers up nicely so a little goes a long way. The conditioner leaves my hair silky smooth. I love this product and will definitely buy more when I run out!
Date published: 2016-12-22
Rated

5

out of

5
by
missywilcox
from
Loving Garnier Olive Replenishing Shampoo
I love the way the Garnier Whole Blends Legendary Olive Replenishing Shampoo is making my hair feel and smell! I unfortunately color treat and flat iron my hair so it can get a little dry and brittle. I have also gotten several compliments on how good my hair smells.
Date published: 2016-12-22
Rated

5

out of

5
by
RiverSong52
from
I am in LOVE!
I have tried many different shampoos recently. My hair is dry and damaged. I have not been able to find any product to make my hair look healthy and shiny, until now. Garnier Whole Blends Legendary Olive Replenishing Shampoo, is a miracle in a bottle! It has been hard to find a shampoo for dry hair that does not weigh it down. This shampoo left my hair with a good amount of volume. My hair also looked shinier than it has been in a very long time. I love the smell and I love that it is paraben free. I will be purchasing this in the future!
Date published: 2016-12-22
Rated

5

out of

5
by
Jhernandez1985
from
Great product
Makes hair fuller, softer, adds volume and bounce. This is coming from someone with a lot of hair but it is thin, weak and brittle. This shampoo helps a lot.I recommend this product all the way.
Date published: 2016-12-21
Rated

5

out of

5
by
COmountaingirl
from
I really liked this shampoo!
I have been searching for a paraben-free shampoo for a long time and I was so happy to try Whole Blends Legendary Olive Shampoo with Virgin-Pressed Olive Oil and Olive Leaf Extracts. First of all, I am familiar with the Garnier brand so I was confident of its quality before even trying it but once I used it I was pleased on so many fronts. Foremost, I am so happy to see a major company trying to make a shampoo that is paraben-free and silicone- free. When I use other major brands I just cringe because of all the unknown chemicals. There are still a lot of unpronounceable ingredients in this product but at least it seems like they are making a good effort. I used the shampoo and loved so much about it! When you open the bottle there is a very pleasant, light-smelling scent. When you massage it into wet hair, it lathers just a little bit, which is important since lather does not help clean your hair and it is very harsh on the environment. The bottle is a perfect size, holds a lot but is not overly huge sitting in the shower caddy. The flip top makes it easy to open and you can set it upside down without it falling over - I love those types of bottles. The shampoo itself is light and rinses out very cleanly, it really is a winner! Lastly, I really like how the label on the shampoo bottle spoke to the company's commitment to recycling, sustainability and the environment, things that are important to me.
Date published: 2016-12-21
Rated

5

out of

5
by
EBryant
from
Lovely shampoo!
This shampoo made my hair feel less tangled and a lot smoother! I've used it now for 7 days straight and I would recommend to anyone that uses shampoo, this stuff is the bomb diggity!
Date published: 2016-12-21