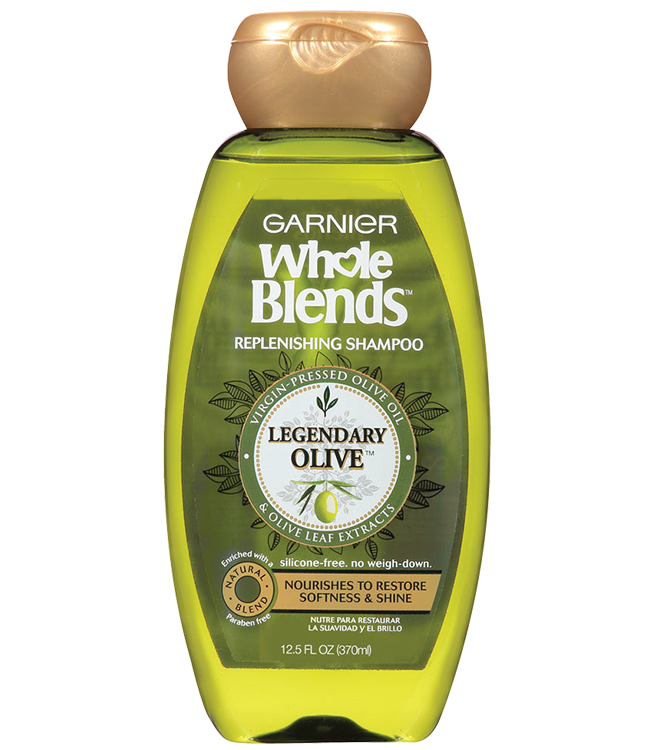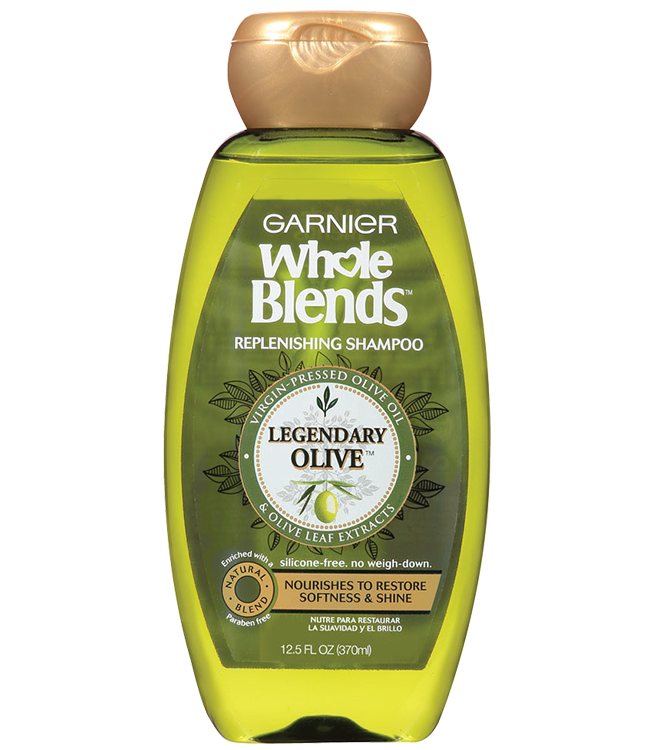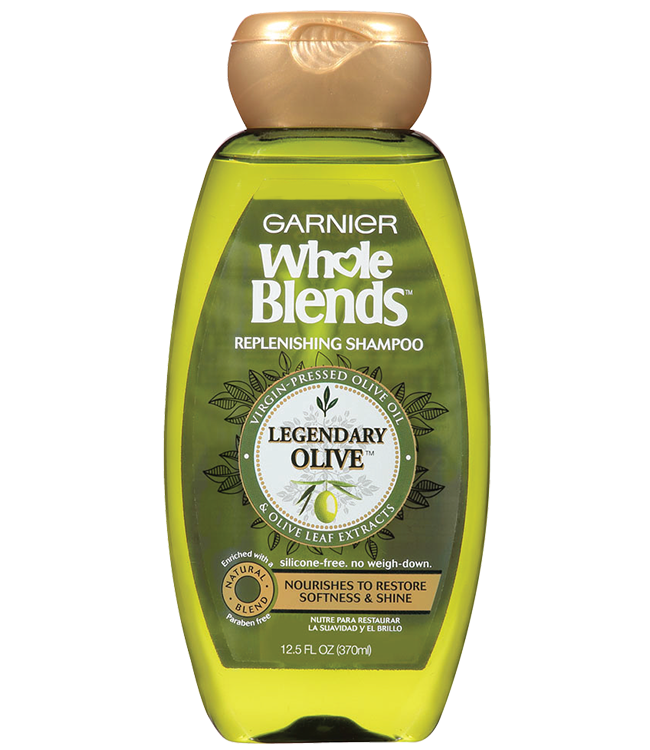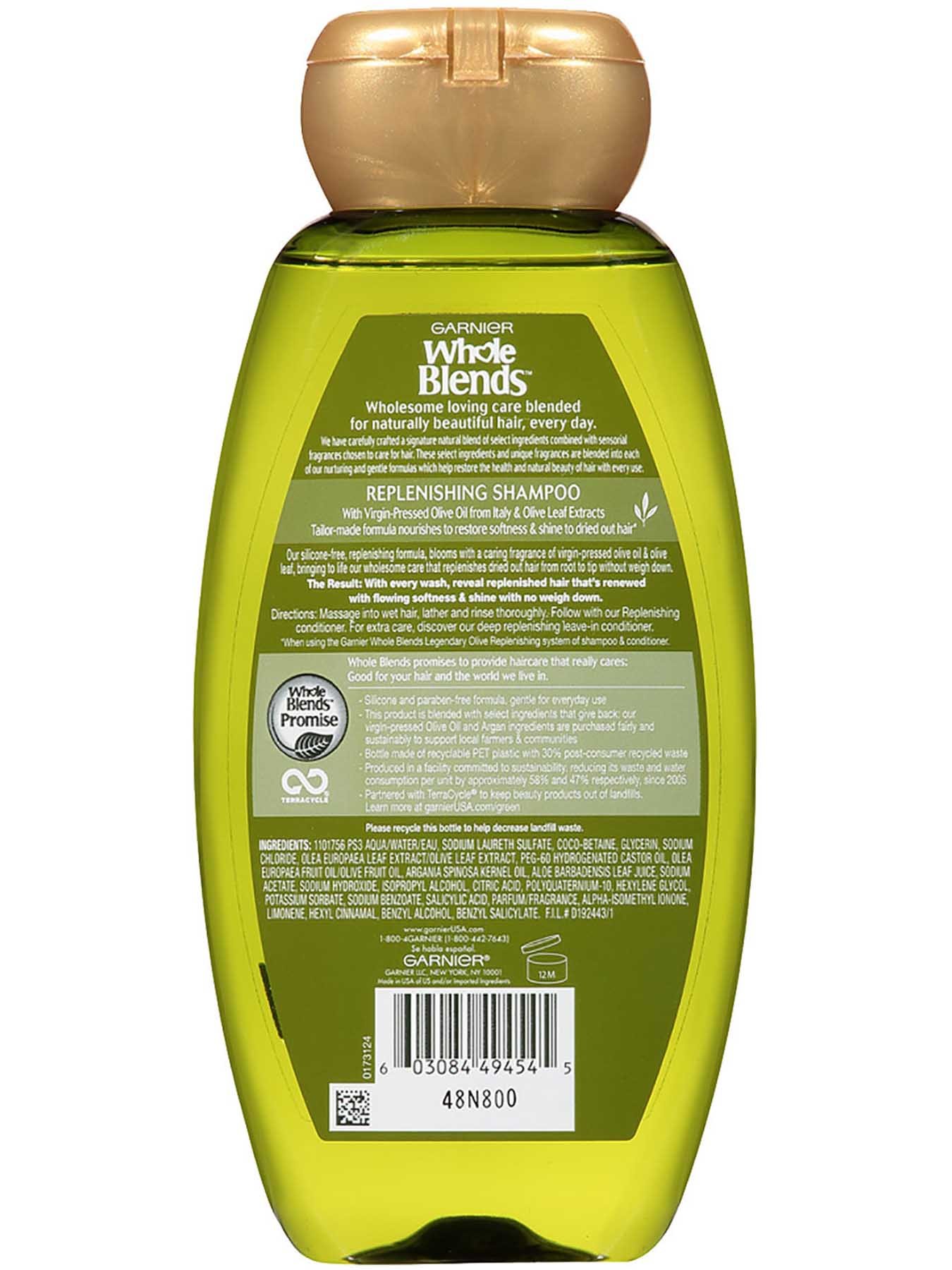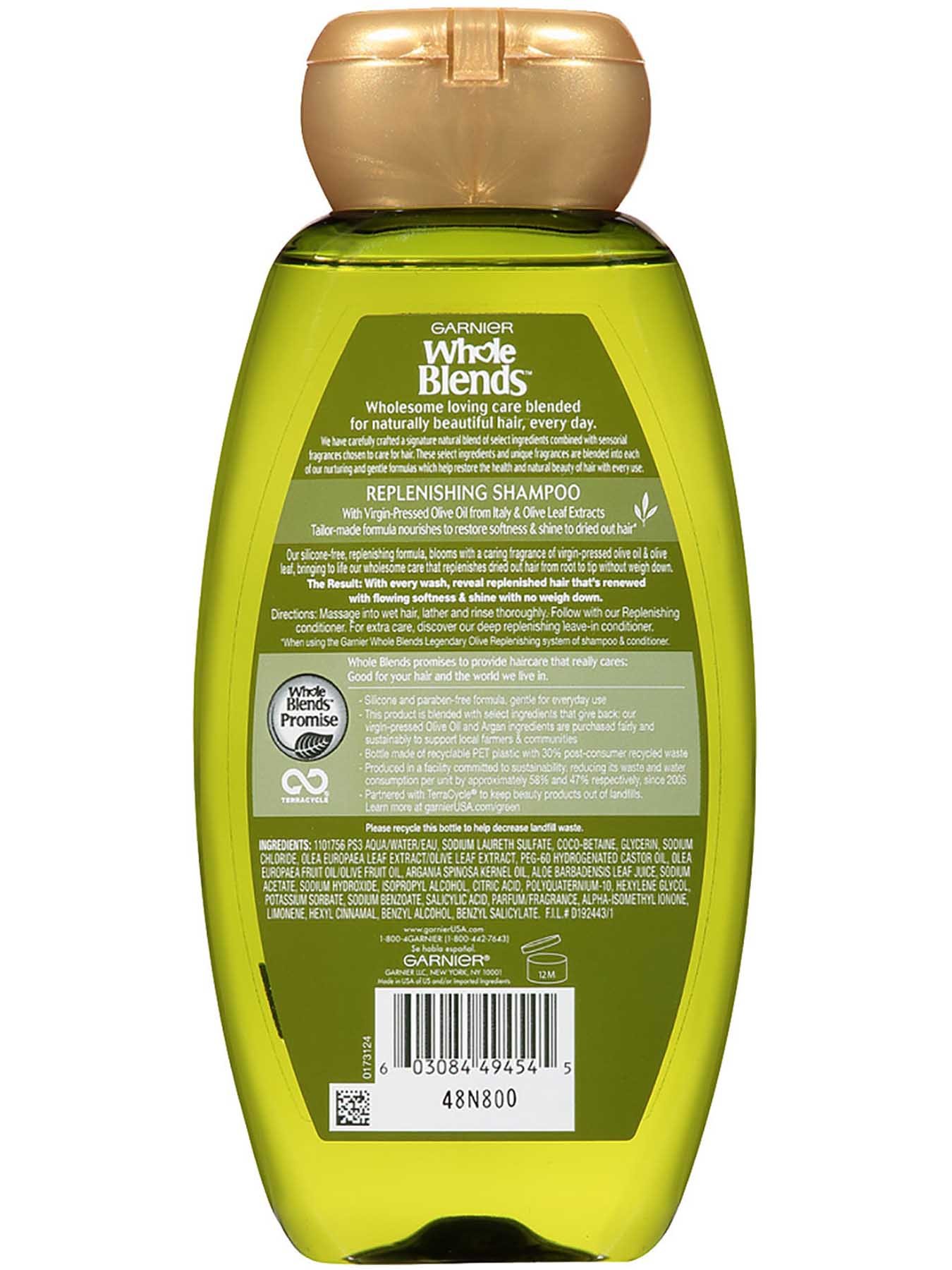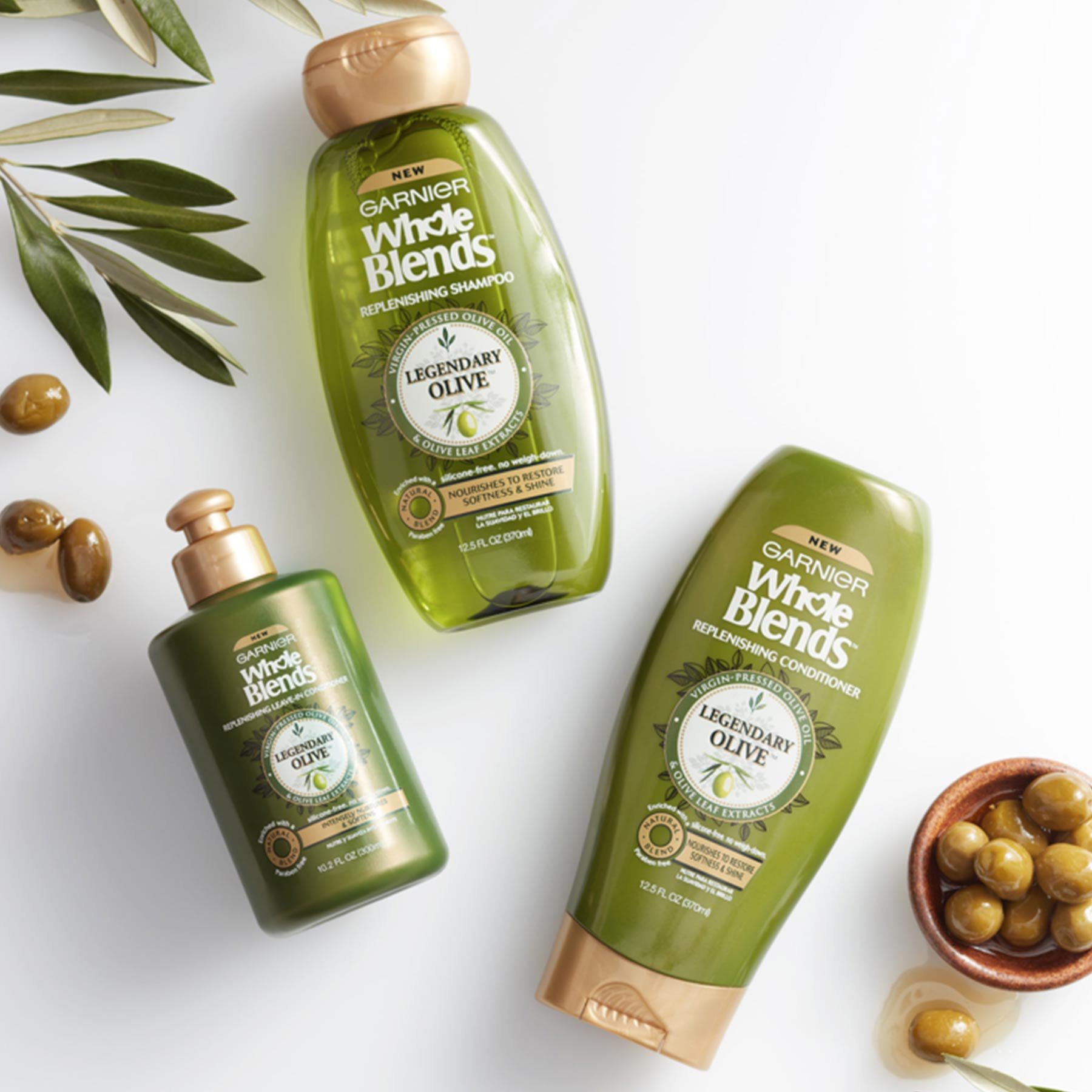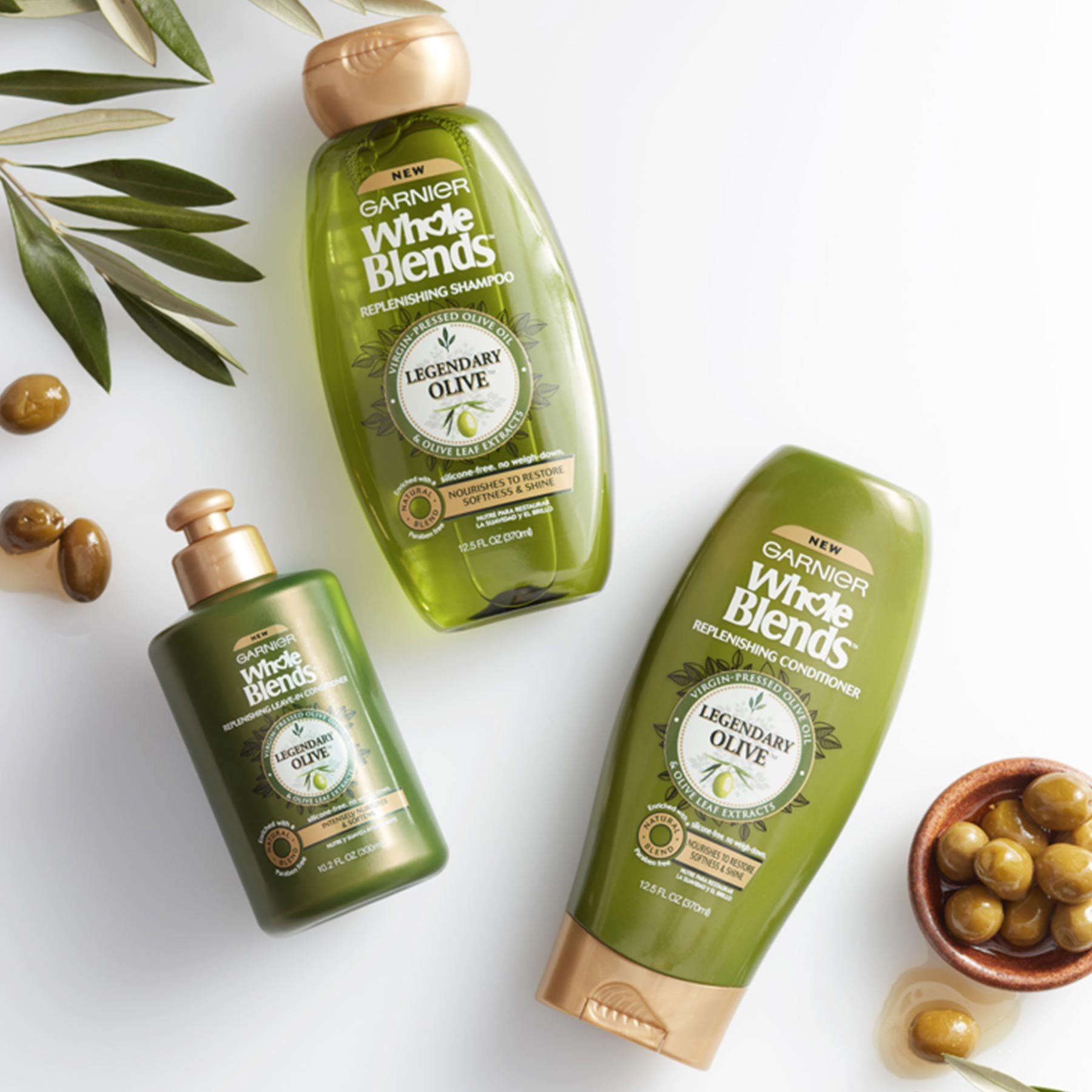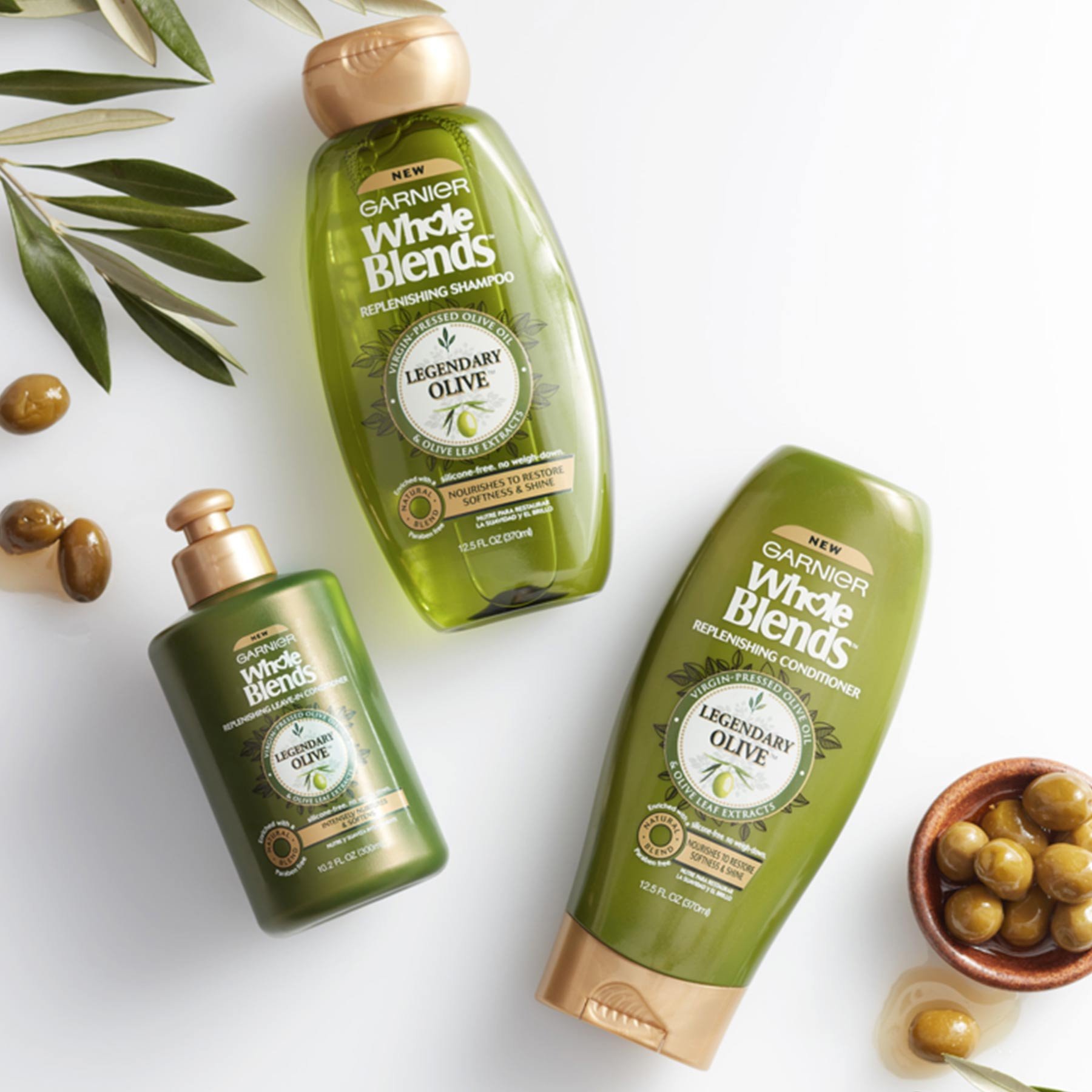 Replenishing Shampoo with Virgin-Pressed Olive Oil & Olive Leaf Extracts
Whole Blends
$4.49 MSRP
Replenishing shampoo renews softness, shine & suppleness.
*When using the Garnier Whole Blends Legendary Olive Replenishing system of shampoo & conditioner
PRODUCT INFORMATION:
Our Garnier Whole Blends silicone-free and paraben-free, replenishing formula for dry hair, blooms with a caring fragrance of virgin-pressed olive oil & olive leaf, bringing to life our wholesome care that replenishes dried out hair from root to tip without weigh down.
How to Use:
Massage into wet hair, lather and rinse thoroughly. Follow with our Replenishing conditioner. For extra care, discover our deep replenishing leave-in conditioner.
Ingredients:
1101756 PS3 AQUA / WATER / EAU SODIUM LAURETH SULFATE COCO-BETAINE GLYCERIN SODIUM CHLORIDE OLEA EUROPAEA LEAF EXTRACT / OLIVE LEAF EXTRACT PEG-60 HYDROGENATED CASTOR OIL OLEA EUROPAEA FRUIT OIL / OLIVE FRUIT OIL ARGANIA SPINOSA KERNEL OIL ALOE BARBADENSIS LEAF JUICE SODIUM ACETATE SODIUM HYDROXIDE ISOPROPYL ALCOHOL CITRIC ACID POLYQUATERNIUM-10 HEXYLENE GLYCOL POTASSIUM SORBATE SODIUM BENZOATE SALICYLIC ACID PARFUM / FRAGRANCE ALPHA-ISOMETHYL IONONE LIMONENE HEXYL CINNAMAL BENZYL ALCOHOL BENZYL SALICYLATE F.I.L #D192443/1
Olive Leaf Extract
Olive Leaf Extract is even more antioxidant-rich than Olive Oil. With a high concentration of the potent antioxidant oleuropein, it naturally soothes, hydrates, and stengthens, protecting from irritation and leaving skin and hair with a naturally healthy radiance.
Olive Oil
Packed with antioxidants, Olive Oil has been a high-performance beauty elixir for centuries. In hair care and hair color formulas it helps coat hair, leaving strands strong, glossy, and resilient. In face moisturizers, it soothes as it smoothes for glowing, youthful-looking skin.
The Replenishing Care Regimen
Everything you need to restore softness and shine.
Wash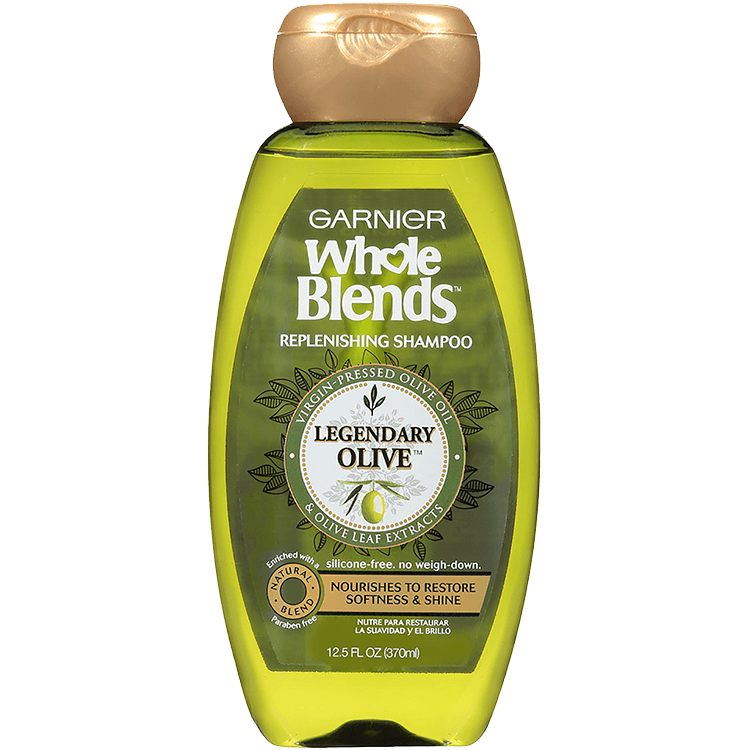 Whole Blends
Replenishing Shampoo with Virgin-Pressed Olive Oil & Olive Leaf Extracts
Dry, Depleted Hair
Condition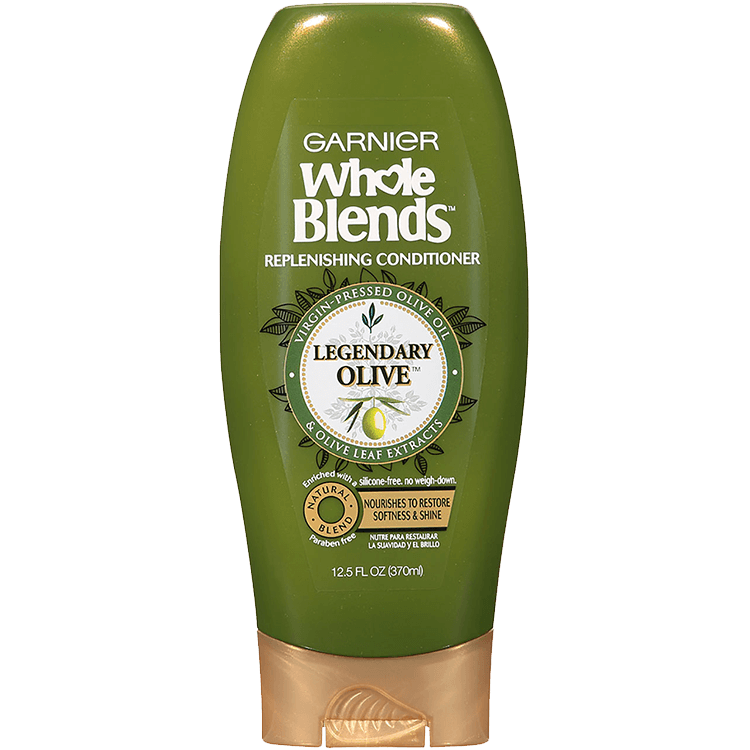 Whole Blends
Replenishing Conditioner with Virgin-Pressed Olive Oil & Olive Leaf Extracts
Dry, Depleted Hair
Treat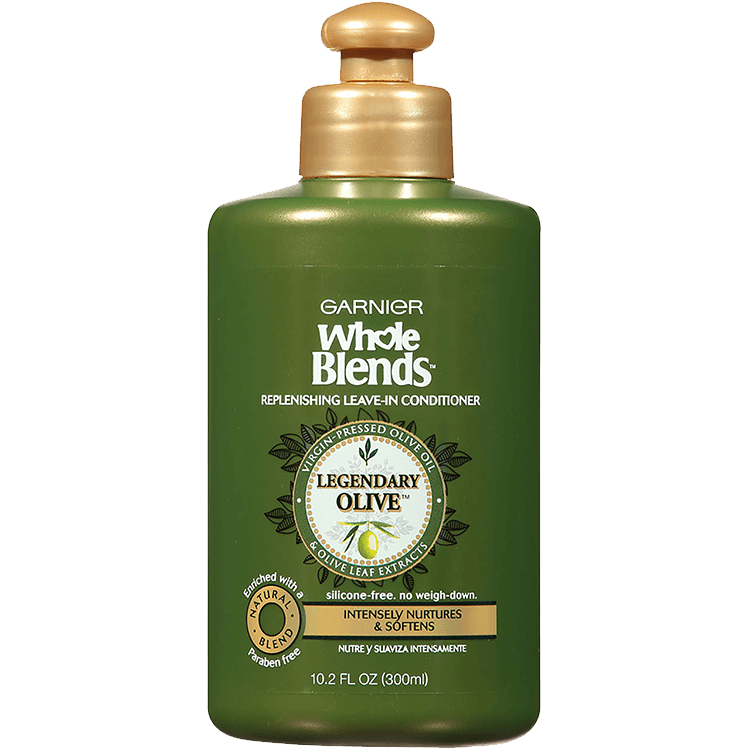 Whole Blends
Replenishing Leave-in Conditioner with Virgin-Pressed Olive Oil & Olive Leaf Extracts
Dry, Depleted Hair
Rated

5

out of

5
by
Deb Johnson
from
Awesome!!!
I have tried many products on my 4c hair but this one moisturizes and defines my curls without leaving my hair looking white or feeling dry. Totally love love love it and would recommend it to anyone with my hair type!
Date published: 2018-11-01
Rated

1

out of

5
by
Tbrown1990
from
Trash
I bought item while in Florida as well the conditioner. I thought I disliked due the hard water in Florida,brought it home to Ohio and still dislike my hair feels mated and very nasty. Will not use again
Date published: 2018-10-24
Rated

1

out of

5
by
Astrong2
from
Weighed hair down
I bought this product in hopes that it restore some of the dryness of my hair, and also because it specifically said no weigh down. After using the shampoo my hair was so weighty and very oily feeling. I was very disappointed
Date published: 2018-10-01
Rated

4

out of

5
by
Jalaya
from
Apprehensive at first but I love it !
I usually avoid garner products because I have 3c/4a hair and I could never find products from them that my hair liked. I have been paying close attention to what I put in my hair for the last few months so I was starting to run out of options. I had always seen the products in the store and just never look at them but recently I stopped and looked. I went for the the olive oil shampoo and conditioner because I know my hair love olive oil. I was apprehensive At first bc I really didnt want to buy another product that didn't work for my hair. Especially bc I have tried the honey line from this brand and all it did was tangle my hair up. But I decide to give it another shot and I'm glad I did! The olive oil line work amazing for my hair and I'm really so glad it did. With this Garnier has given me a new perspective on them and i won't overlook them in the aisles now.
Date published: 2018-09-11
Rated

5

out of

5
by
DIll
from
Garnier is back!
I grew up loving Garnier products. A while back the formulas changed, and i struggled for a long time finding a shampoo and conditioner that worked for my sensitive skin. Garnier if you change or discontinue this product i will hunt you down.
Date published: 2018-09-10
Rated

5

out of

5
by
Pickyconsumer
from
Shampoo for dry hair that doesn't weight it down
Finally a Shampoo for dry hair that doesn't weight it down! Natural care for the hair without those nasty chemicals. Leaves my hair soft, shiny and healthy without weighting it down like the other shampoos for dry hair. To use with the conditioner. Planning on keeping on using it.
Date published: 2018-07-22
Rated

5

out of

5
by
kryjaku
from
Has done what I thought was impossible!
I've been using this shampoo along with the conditioner for a couple of months now and it has done wonders for my hair! I don't know if it's the silicone-free element, if it's the olive leaf element, or both, but I swear by this line. My usual (not anymore!) frizzy and dry curls are now soft and flowy, and my hair is soooo much easier to manage. I would recommend this product to everyone who suffers from dry and/or frizzy hair really, because the improvement in my hair's health has been amazing. Please never change or discontinue this line! I have found my shampoo and conditioner for life!
Date published: 2018-07-16
Rated

5

out of

5
by
SilkyStraight
from
Best shampoo and conditioner ever!!!!
I bought the combo after several other brands left my hair dried out and brittle. ONE use and my hair is like silk!! Please don't ever change or discontinue.....I have found my shampoo and conditioner for life!!!!!!!!
Date published: 2018-06-16
Rated

5

out of

5
by
Waffle
from
Perfect
I received a sample of the olive oil shampoo from Pinch me and I love it. It lathers up nicely, rinsed out well and left my fine hair feeling soft but not fly-awy. Thank you.
Date published: 2018-03-31
Rated

5

out of

5
by
courtcole
from
Great Line
I finally found the perfect Shampoo and Conditioner. Both leave my hair soft and tangle free with a nice fresh scent. Please keep this line! I will never purchase another shampoo and conditioner! These are my absolute favs!
Date published: 2018-03-17
Rated

5

out of

5
by
Ashleyk1
from
Love it
Absolutely enjoyed this product! Would recommend to everyone
Date published: 2018-03-07
Rated

5

out of

5
by
Vahnah
from
Hair Laid Like Silk and Satin Sheets!
My hair is popping! I purchased the set (Shampoo + Conditioner) from Walgreens a few months ago. Due to the Winters drying air and temps, I thought I would use this for a little TLC. The shampoo is super smooth and moisturizing. My hair felt clean, but not tripped of its natural oils. It was super soft after I rinsed it out! The conditioner is SUPER BOMB! My hair was so smooth, silky, detangled. Each coil was popping. I have natural 4b thick hair.
Date published: 2018-02-13
Rated

5

out of

5
by
Modest girl 57
from
Makes my hair very shiny!
I saw this new Olive Oil Blend, and had to try it!!! I had been using the Coconut Blend, and was happy with that too, but was anxious to try the new one. Oh my, the shampoo smells wonderful, and my hair was very manageable after use. The product made my hair very shiny too. I have very long hair, and it tangles easily, but with the Olive Oil blend, my hair was much easier to comb through. Thank you for this great shampoo and conditioner, and at a very affordable price.
Date published: 2018-02-12
Rated

1

out of

5
by
KristinB30
from
AWFUL!
Awful! My hair feels like straw after using. Made my hair look so frizzy.
Date published: 2018-02-06
Rated

5

out of

5
by
Love your product
from
Product needs different packaging
I love your Whole Blends products and I have recommended to extended family and even my hairdresser. We have curly hair, and it is less drying then other products and no build up after long use. However, the packaging is horrible, it slips out of my hands with every use and the conditioner is hard to squeeze to get out of the bottle. The bottle when wet in the shower is very slippery. This product is even good on our golden retriever!
Date published: 2018-01-04
Rated

5

out of

5
by
Ricaleigh
from
Leaves your hair feeling beautiful!!
I have used many different, even more expensive, shampoos and conditioners, but I always go back to Whole Blends Olive Oil & Olive Leaf extracts. It leaves my hair feeling clean and beautiful. Absolutely no residue feeling left on my hair like some of the other brands out there, nor does it feel weighed down. I cannot wait to try some of the other Whole Blend shampoo blends.
Date published: 2017-12-29
Rated

4

out of

5
by
In love with Garnier
from
So far is good!
I had always used Garnier products, which I love! I started using this particular product last week (shampoo & conditioner) and I can see & feel the difference. My hair is less dry and more manageable. I will recommend it.
Date published: 2017-07-29
Rated

1

out of

5
by
Savannah1
from
horrible
I bought this particular set, along with the cocoa butter, and honey treasures last month. I loved the other two, but this one has left my hair very brittle. it flattens my hair, and leaves it extremely dry rather than shine,where I cannot style and curl my hair. I will not be purchasing this product again.
Date published: 2017-07-21
Rated

4

out of

5
by
Samantha504
from
Really impressed for an OTC product
I usually color my hair and have chlorinated water at home. Wanted to try something new and nourishing but knew I didn't need anything too heavy. This product is exactly what I needed. I only shampoo 2x a week because I have curly hair and I love how soft and shinny it's left my hair. Super restorative after swimming in the pool too.
Date published: 2017-07-16
Rated

5

out of

5
by
Gladys
from
I love it!
My hair was really dry and didn't have shine at all. With this shampoo and conditioner I notice my hair is smoother, it Control frizz and also it's shinny without using any heat tools. It's awesome I'm seriously thinking on buying like 10 bottles Just in case they decide to descontinue or change the recipie. It's just awesome I love it. I have used a Lot of diferent shampoos and consitioners for my hair, some very expensive and que quality does not deserve even a penny. This is quality results for cheap.
Date published: 2017-06-30
Rated

1

out of

5
by
Sarah23
from
My hair is dryer than before.
I bought this to take on a trip with me. After 2 days of use, my hairline was flaking and my hair was brittle. I stopped using it for the trip. When I got back home I gave both the shampoo and conditioner a second try and the result was even worse. Not only was my hairline flaking (almost like severe dandruff) all of my head was flaking! I am not allergic to any of the ingredients nor did I have any crazy product build up. This shampoo and conditioner totally backfired on me, and has left me with a mess to fix.
Date published: 2017-06-28
Rated

1

out of

5
by
Maybe
from
This product is horrible
I have used this product hoping to get the restored shine and softness advertised and my hair is more straw-like than before. There is no one to contact at customer service and my attempts to email the company have been unsuccessful.
Date published: 2017-06-27
Rated

5

out of

5
by
Jody61
from
Best shampoo I have used in years!
I just got my hair colored and had run out of my usual expensive shampoo/conditioner. Saw an ad for this product in a magazine that day and decided to give it a try. I liked the price too. This shampoo and conditioner have left my hair shiny and bouncy. Have not seen this much bounce in years! I will use no other. Thank you!
Date published: 2017-06-16
Rated

5

out of

5
by
CT611
from
I LOVE this product
I have become very sensitive to many shampoos in the last couple years, one of which was Garnier Fructis shampoos. My 6 year old daughter picked up the legendary Olive shampoo and fell in love with the smell of it. she begged me to buy it and against my better judgment, I did. I'm so glad I did buy it. I love this product and so does my daughter. I haven't had any problems as far as my sensitivity goes, yet. My hair honestly hasn't felt this good in years.
Date published: 2017-06-12
Rated

1

out of

5
by
Kimber78
from
Not worth the money
I bought the Legendary Olive shampoo & conditioner a month ago. It did not nourish my hair to restore softness & shine as indicated on the bottle. It left it dry & dull. Not pleased.
Date published: 2017-06-08
Rated

1

out of

5
by
JING
from
Not great after 3 months
I bought this products the olive oil and the shea both shampoo and conditioner. They made my hair soft and easy to comb after applied them. Truly I fell in love and become a fan. Then after 3 months of using them the quality of this products change my hair become rough and dry, no more softness as if you did not applied conditioner at all. NOT WORTH IT! I gave one star only its affordable.
Date published: 2017-05-30
Rated

5

out of

5
by
reviewerkpc
from
Moisture and Softness...Love, Love, Love!
OMG…this whole blends olive oil line is AMAZING! I started with the leave-in conditioner but used a different shampoo and conditioner line. It made my hair sooooo soft and manageable (relaxed African American). I loved the leave-in so much, I decided to try the shampoo and conditioner from the line as well and I'm glad I did. This is now my absolute new favorite go-to shampoo, conditioner and leave-in (I also use the other four Garnier leave-ins while my hair is wet, 2 from Whole Blends and 2 from Fructis, but use the olive oil leave-in on wet and dry hair). I have used the complete Smoothing with Coconut Oil/Cocoa Butter line and the complete Nourishing with Avocado Oil/Shea Butter line. They were good but something was lacking from both for my hair. I've found a complete package with the Replenishing with Virgin-Pressed Olive Oil/Olive Leaf line. PLEASE, PLEASE, PLEASE never discontinue this line. I'd be devastated.
Date published: 2017-05-10
Rated

5

out of

5
by
JaylaRi
from
Best shampoo i've used so far
I am in love with this shampoo it did wonders on my hair. If you have super thick natural hair like me then I would recommend you try this shampoo + the conditoner. Usually I won't try just any product on my hair because I am a woman of color and I know I can't use any kind of product on my hair so I went ahead and tried a sample of the whole blends shampoo and conditoner and I must say that it is quite awesome. It made my hair softer and more bouncy than before, its smooth, smells good, and lasts for days which is great. I will definately be purchasing this product in the future, thanks!
Date published: 2017-05-07
Rated

1

out of

5
by
KellyB
from
Not for me
I bought this product. It smelled Pleasant. I'm pretty particular about that. I have fine oily hair. This didn't say on the bottle it was for dry hair. It said it wouldn't weigh your hair down. It may work for people with thick dry hair. For me, however, it was the most disgusting thing I have ever used on my hair. My hair felt dirty, looked like it hadn't been washed in a month. Weighed down was such an understatement. I can't express my disappointment. It was gross. My hair felt like I had put conditioner on dirty hair and not rinsed.
Date published: 2017-04-26
Rated

2

out of

5
by
Kristenn
from
Eh
I've used other garnier products before with no problem but this shampoo makes my hair feel heavy and look greasy. Can't wear my hair down after using it because it looks like I skipped my shower.
Date published: 2017-04-05