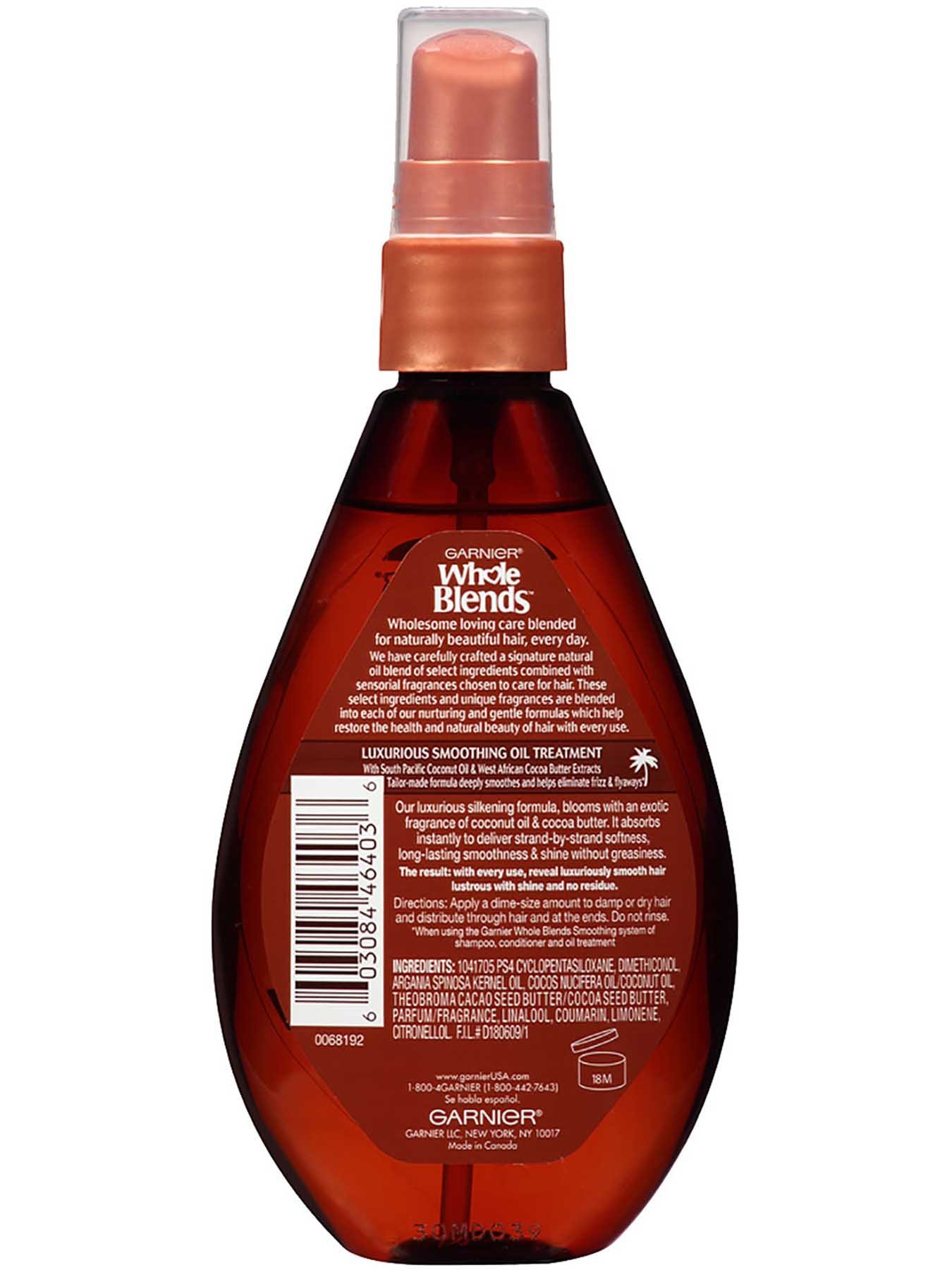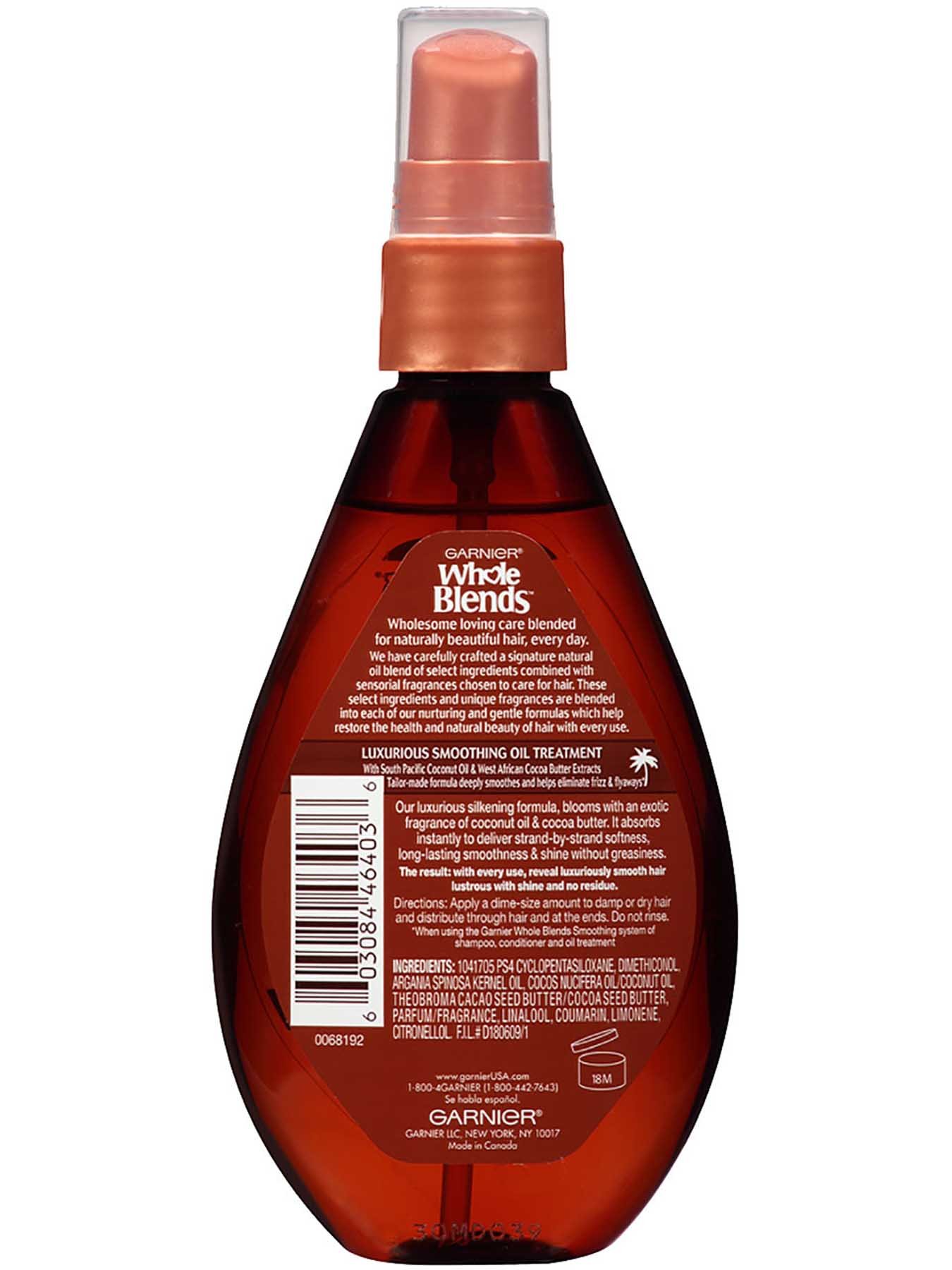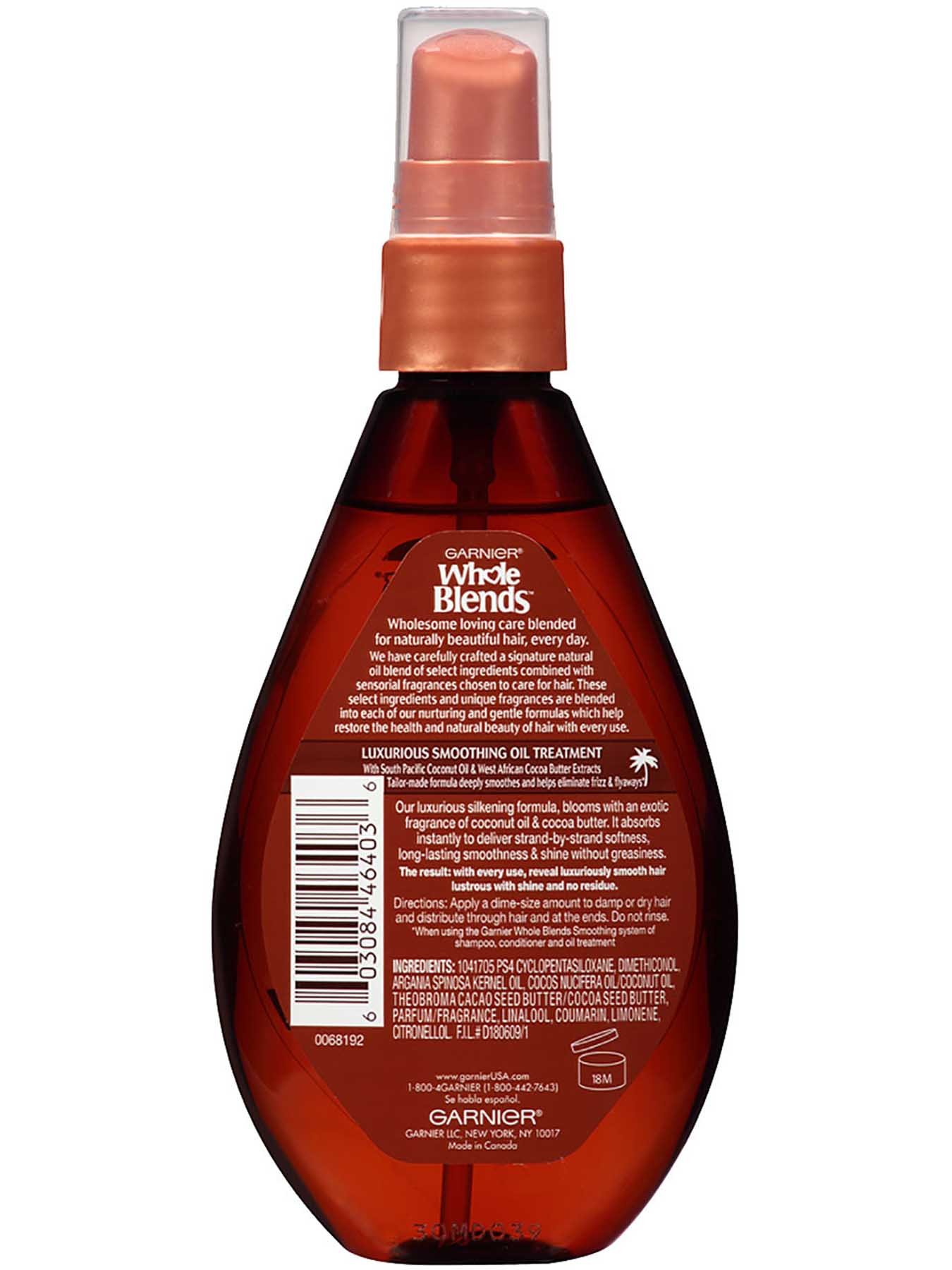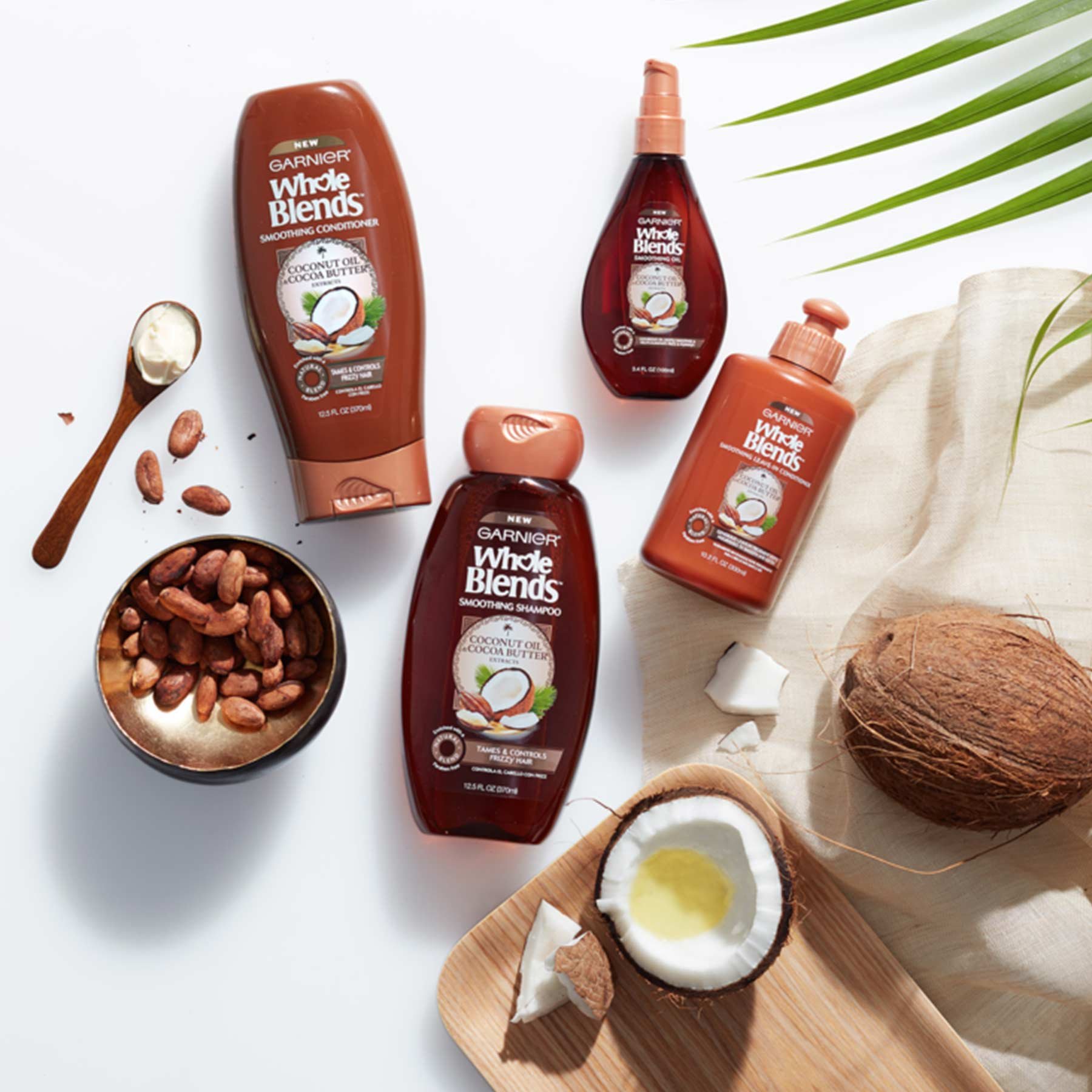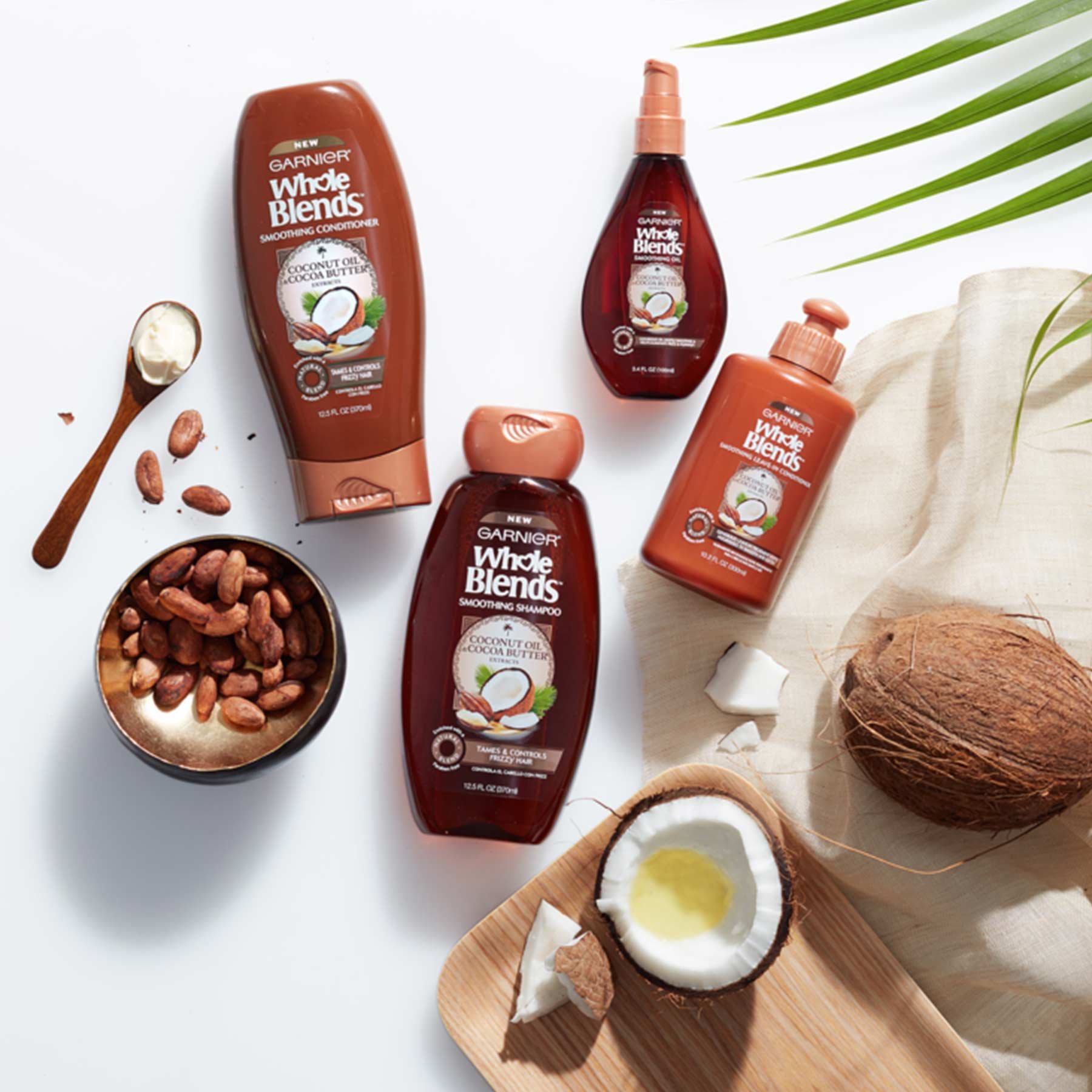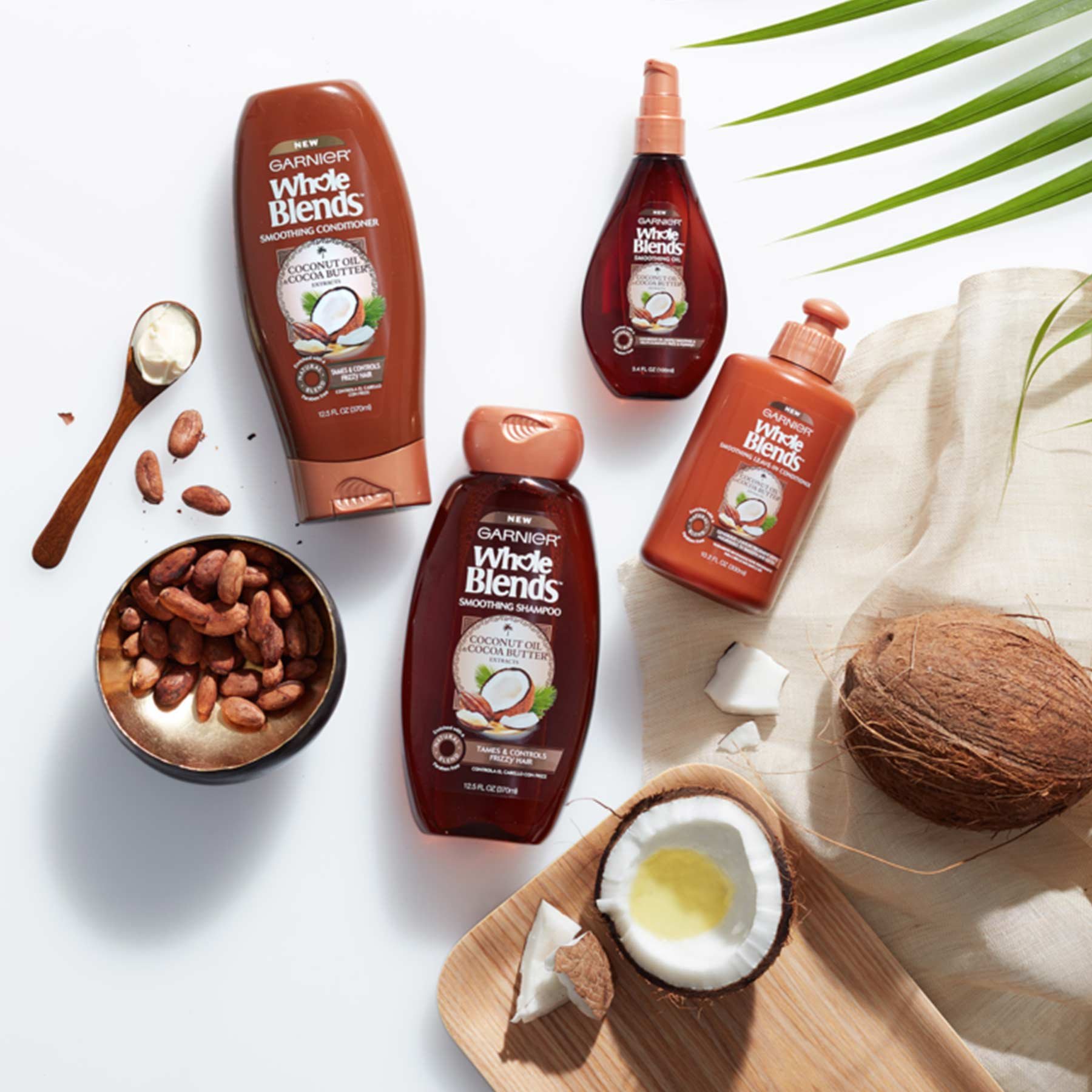 Smoothing Oil with Coconut Oil & Cocoa Butter extracts
Whole Blends
$6.99 MSRP
Deeply smoothes & helps eliminate frizz & flyaways
PRODUCT INFORMATION:
Our luxurious silkening formula, blooms with an exotic fragrance of coconut oil & cocoa butter. It absorbs instantly to deliver strand-by-strand softness, long-lasting smoothness & shine without greasiness.
How to Use:
Apply a dime-size amount to damp or dry hair and distribute through hair and at the ends. Do not rinse.
Ingredients:
CYCLOPENTASILOXANE DIMETHICONOL ARGANIA SPINOSA KERNEL OIL COCOS NUCIFERA OIL / COCONUT OIL THEOBROMA CACAO SEED BUTTER / COCOA SEED BUTTER PARFUM / FRAGRANCE LINALOOL COUMARIN LIMONENE CITRONELLOL
Cocoa Butter
Extracted from cocoa beans native to West Africa, Cocoa Butter is well known for its nourishing qualities in hair and skin formulas (not to mention its delicious scent). The smoothing balm is also renowned for taming frizz and flyaways.
Coconut Oil
Coconut Oil is one of the most penetrating natural oils there is. With super hydrating properties, it's ideal in formulas that help combat frizz, prevent damage, and boost smoothness and shine.
The Smoothing Care Regimen
Everything you need to complete your Smoothing hair care routine.
Wash
Whole Blends
Smoothing Shampoo with Coconut Oil & Cocoa Butter Extracts
Frizzy, Dry, Unmanageable Hair
Condition
Whole Blends
Smoothing Conditioner with Coconut Oil & Cocoa Butter Extracts
Frizzy, Dry, Unmanageable Hair
Treat
Whole Blends
Smoothing Leave-In Conditioner with Coconut Oil & Cocoa Butter Extracts
Frizzy, Dry, Unmanageable Hair
Rated

4

out of

5
by
Trisana86
from
Works well
The Smoothing Oil with Coconut Oil & Cocoa Butter extracts made my hair feel very soft. I still had some frizz issues though.
Date published: 2017-08-26
Rated

5

out of

5
by
Krys84
from
Shimmer & shine
You know a hair product is good when your husband even notices a difference & comments on how great your hair looks. I naturally have thick hair but my hair sheds a lot which means I constantly have little fly away hairs growing & makes my hair look very frowy (is that a word?) To my point it just doesn't look sleek & tame. Even after straightening my hair I don't get that sleek silky look. I've tried a couple of smoothing oils before & didnr like them because they left my hair looking & feeling very greasy like I hadn't showered for days & that's just not the look I'm going for. When I tried Whole Blends I literally put a small dime size & drop for my thick Hair & not only was it more than enough but it didn't give me that yucky greasy head look that I hate. It made enough of a difference that my husband commented on how my hair looked & that he likes that it look "contained" hahaha his exact word. That comment alone made me love this product. It's pretty legit, not pricey & yet still leaves my hair looking smooth, shiny healthy & like my husband says "contained" I highly recommend this product to people who tend to have a lot of little baby hairs or frizzy hair
Date published: 2017-08-26
Rated

2

out of

5
by
CarolenaE
from
Silky Feeling...Nothing Smooth About It
So, 2 stars for the feel of the product, the oils, though they are far down on the ingredients list, and the bottle. Perhaps, this is a better product for people with straight hair... or straighter hair than I have. I might recommend this to a friend with different hair
Date published: 2017-08-26
Rated

3

out of

5
by
agarcia991
from
Makes your hair soft!!
I love the way this product makes your hair shinny and so soft to the touch. Love the smell as well. The only drawback is that the next day my hair looks a bit dirty. If you hair is dry or for the colder winter moths with so much static in the air this will be a must!!!
Date published: 2017-08-26
Rated

5

out of

5
by
kybird
from
Great Product!
I recently had weight loss surgery and because of this I have seen a lot of damage and loss of a lot of hair. This actually makes my hair look and feel healthy! I highly recommend
Date published: 2017-08-26
Rated

5

out of

5
by
mmcarlin1229
from
Smoothing hair oil
This is the first oil I've found that doesn't make my hair look oily! It tames the frizz and makes my hair look hydrated without weighing it down or looking dirty. Big fan
Date published: 2017-08-26
Rated

5

out of

5
by
Amberlynn1771
from
The Right Look for the Right Price
First off, this smells amazing. Upon immediately opening the bottle, the fragrance hits you. It's not overpowering and the coconut smell is awesome. A littl dab will go far. All you need is a dime size helping and it's enough to take care of a full head of hair, too much will leave your hair more greasy looking than shiny. I used this after the shower and styled my hair appropriately and I had no problems with pesky fly aways. Works well with both styling and letting your hair dry for a more natural "messy" look.
Date published: 2017-08-25
Rated

5

out of

5
by
CzechPeach
from
Softer is better
I worry about putting oils in my hair. Mostly because I feel that they make the hair look greasy and unkept. I have to say I was very pleasantly surprised when I tried Garnier Whole Blends smoothing oil. It smells amazing and leaves the hair feeling like silk. There is no oily residue to worry about and the oils do not weigh down your hair. I have that natural beach wave to my hair and the smoothing oil helps curb the frizz without weighing down the curl. I am definitively going to keep this little gem in my haircare routine . I've even brought it to work and made some of the other girls in the office give it a try !
Date published: 2017-08-25
Rated

4

out of

5
by
deanna519
from
Makes such a difference
It smells good! It works well! My hair really does seem more smooth and less frizzy and soft when I use this.
Date published: 2017-08-25
Rated

5

out of

5
by
rachelfaulkner
from
Super soft curls
I love the way my hair feels! I usually wear it straight, but this oil makes my love my curly hair. It is so simple to use and makes my hair feel wonderful, which makes me feel beautiful.
Date published: 2017-08-25
Rated

3

out of

5
by
Cakin
from
Not much of a difference
After trying this product several times, I still have not seen much of a difference. My hair feels a little softer, but not enough that I would continue to use the product. Also my doesn't look any shinier or smoother than it did before trying the product. Overall, it's OK but not something I would continue to buy.
Date published: 2017-08-25
Rated

3

out of

5
by
Sarahmariewhite
from
Smoothing oil review
I loved trying this product! It left my hair feeling smooth and healthy. It did not leave my hair heavy or greasy. It has a tropical fragrance that I loved.
Date published: 2017-08-25
Rated

4

out of

5
by
insanecollegian
from
Definitely recommend
The smoothing oil smells amazing, and really does work! I mean, my hair is pretty frizzy so it didn't make it smooth as silk or anything, but it did make it softer and it only took a tiny bit, so this bottle will last a WHILE.
Date published: 2017-08-25
Rated

4

out of

5
by
lilscion
from
Whole blends smoothing oil
I want to say I was pleasantly surprised when I first tried this smoothing oil. I have oily hair and try not to add anything to make it polite faster but .... this works great and smells fantastic. It didn't leave my hair looking greasy. It left it smooth and soft. It definitely helped with the frizzy hair I have when it was humid outside. I highly recommend everyone gives this a try.
Date published: 2017-08-25
Rated

4

out of

5
by
Karensgc18
from
Garnier Whole Blends
I was skeptical of trying this product because my hair gets very oily fast. When I would get out of the shower and towel dry my hair I would apply a small amount but enough to run it through my hair; when my hair was completely dry it would feel very soft! I am happy with this product and plan on purchasing in the future. Thank you!
Date published: 2017-08-25
Rated

4

out of

5
by
tanya19
from
silky cocunut oil
I think Garnier smoothing oil with coconut oil and coco extract is one of the best product around for hair! I have been using this product since I received it! I love it! Keeps my freeze and fly a ways away! The smell is great! I have had many complaints on how well my hair looks and smells since using this product! I love it
Date published: 2017-08-25
Rated

4

out of

5
by
brittschmidt
from
Smells Amazing!
This serum smells amazing! It's thick, so doesn't immediately feel oily on your hands. Do not let that fool you though, a little goes a long way! I have 4/5 stars because it doesn't completely de-frizz like it should, but it smells great.
Date published: 2017-08-25
Rated

5

out of

5
by
frugalncmom
from
Smooth, Light and Smells great!
I have been looking for a product to help tame my long hair frizz for a while. So many products make my hair heavy and greasy, but the Garnier Whole Blends Smoothing Oil with Coconut Oil & Cocoa Butter extracts is wonderful! It gets rid of my frizz and is lightweight so it doesn't weigh my hair down. Plus, it's not greasy at all so my hair looks clean and soft when I use it. The other really nice thing about the Whole Blends smoothing oil is that it smells great but isn't too strong. I have allergies to some strong beauty scents but this smoothing oil doesn't bother me at all. That's a big plus! I will definitely be buying this product in the future. The only problem I may have is keeping my 16 year old daughter from running off with it since she loved it as well. I was wearing the smoothing oil in this photo and we had been in the heat for a couple hours, but my hair was still smooth and shiny, not frizzy and chaotic. I call that success!
Date published: 2017-08-25
Rated

4

out of

5
by
jhewitt
from
Love this Whole Blends Oil!
I was a bit skeptical before trying this oil because I am not a huge fan of coconut smelling products, however I have been having a lot of issues with the smoothness of my hair, as well as trying to tame tangles. The oil actually smells really good and not overpowering at all. It goes on smooth and disperses into the hair nicely, not leaving that "Oil slick" feeling. It definitely helps with taming the tangles when applied to damp hair and left my hair feeling really soft and easy to control. I now use this product every time I finish washing my hair and add it to the ends between washing's. It does not weigh down my hair or leave it with a greasy feeling. I will be making this product part of my regular hair care regime.
Date published: 2017-08-25
Rated

5

out of

5
by
wendythewriter
from
Love the scent, the feel, and the result
The first thing I notice about this product is the smell. Cocoa butter, the scent reminiscent of beaches, sand and sun, tickled my nose and made me inhale even more deeply to enjoy the wonderful fragrance. The next thing I noticed was the feel as I rubbed the oil between my palms. Silky smooth, it warmed quickly and spread easily over my hands. This meant that my hands slid easily over my hair as I began to apply it to the strands. Quick and easy to apply, it transferred beautifully from my hands to my hair. I have very curly, very frizz-prone hair, especially in the ridiculous Florida summer humidity. This oil made my hair smoother, tamer, and less prone to frizziness. It worked well with my other hair products, too - most products tell you that you should use all the same line in order for them to work well, but this blended beautifully with the Shea Moisture products I already use. It was a wonderful addition to the line up that I will probably continue to use long after this first bottle is gone.
Date published: 2017-08-25
Rated

5

out of

5
by
Kmartin19
from
Smooth and no frizz
I love the Garnier brand and was very excited to try this smoothing oil. It has a nice aroma to it, but not overpowering. It leaves my hair soft and silky, with no frizzy flyaways. No greasy, heavy feeling with it either!
Date published: 2017-08-25
Rated

5

out of

5
by
Mpolak
from
Reduced frizz and flyaways!
I used this on hot humid days when my hair gets super frizzy and just feels awful! The Whole Blends product dodna great job taming the frizz, and the smell was great also. It didn't make my hair feel greasy or weigh it down. I would recommend this to anyone looking to tame frizz or flyaways!!
Date published: 2017-08-25
Rated

5

out of

5
by
sheanv
from
Tames the Frizz
Garnier Whole Blends Smoothing Oil has taken my frizzy and thinning hair and turned it into smooth with volume in the front. I love the feel of the oil which smooths my hair making it manageable. This product is now a must in my morning regimen
Date published: 2017-08-25
Rated

4

out of

5
by
xosteph117
from
Why didn't I find this sooner?
I absolutely love this stuff!! I don't normally use Garnier products because I feel like my hair is too thick & the shampoo/conditioner just doesn't do it for me. I have been using one of their products from the sleek & shine line which is a blow dry creme & it works miracles on my hair, so I should've known this stuff would do the same!! It's so weightless & leaves my hair smooth, shinny & smelling amazing! My hair is so frizzy and this stuff works wonders for my frizz! My only regret is not finding it sooner!!
Date published: 2017-08-25
Rated

5

out of

5
by
K1mmyT
from
Works and smells great!
As someone with natural hair, I am always leery of new products, especially oils. I received this product for review and am a happy camper! There is a fine balance with hair oil, and I was pleasantly surprised that Garnier Whole Blends fit the bill! The oil has a really great feel ( not too slick or dense) and distributes easily throughout your hair. I would say this easily works for all hair types. I definitely noticed that my hair was less frizzy, but also didn't have that greasy feeling, which is important.
Date published: 2017-08-25
Rated

4

out of

5
by
Hwright1130
from
Smooths the hair
This product, Garnier Whole Blends Smoothing Oil is pretty great. The scent is the only thing that could be improved. This nearly weightless smoothing oil works as well as more expensive brands to keep hair virtually frizz free and you use a comparable amount to smooth the hair. Shoulder length hair requires 6 pumps and a short hair cut requires 4 pumps. I pump the oil in my hand,rub it between my palms, apply to my hair, comb through with my fingers, and brush to perfection. I am glad to have tried this product and recommend others with frizzy hair try it as well. My toddler son and I have enjoyed this quality product since the first use.
Date published: 2017-08-25
Rated

5

out of

5
by
Kadwade
from
Super Smooth
I love Garnier Whole Blends Smoothing Oil! Just a small amount smooths my normally frizzy hair and cuts the amount of time I need to spend straightening it with a flat iron. I love that it allows my hair to feel natural, but does a fantastic job keeping it frizz free without weighting it down or making it greasy. I also use it on my daughter who has curly hair. It makes her curls smoother while still allowing for her natural curl. We have had some extremely humid days while trying this product and I have to say I am very impressed. My daughter loves the scent, for me it's not my favorite. This is a must in our daily routine now.
Date published: 2017-08-25
Rated

5

out of

5
by
emack3608
from
It keeps my summer frizz at bay.
I was really skeptical at trying this product. I recieved it right in the middle of a heatwave. My hair is wavy and when the humidity is high my hair tends to stand straight up. I have to wear my hair back for my job. Most of the time my hair is in a ponytail or bun. I wanted to try it out while wearing my hair that it is most days. I do like the coconut scent. It wasnt overpowering and once I put the product on my hair I barely smelled it. I found it easiest to spray some on my hair brush directly and the brush it through my hair. I found it to be more evenly distributed that way. I was really overall impressed with the product. It kept my hair pretty smooth. Its scent was pleasant & not overpowering. Finally it didnt seem to leave a film on my hair. If it wasnt for the subtle smell I would probably have forgotten it was on my hair.
Date published: 2017-08-25
Rated

5

out of

5
by
terri3000
from
What a awesome product
This is the best stuff for my hair makes it smooth and easy to brush through just put it on damp or dry hair and my hair is smooth and soft the smell is so good. thank you for a amazing product.
Date published: 2017-08-24
Rated

3

out of

5
by
mandabee883
from
Wish it had more frizz protection factor
I have wavy (2A/2B) thin, fine frizzy hair AND I live in the humid DC Metro area so I am constantly combating unruly-looking hair. I am always on the lookout for new products that will help me tame my frizzy mane. While this smells and feels great in my hair it doesn't help protect against frizz the way I would want. As you can see in the images my hair is still quite frizzy and I haven't even been outside yet! One note to all those complaining about how oily it makes their hair, since it is an oil product, just put it on the ends of your hair and very sparingly mid-shaft. Don't put any on the roots! Wish I could recommend this but it doesn't work well for me.
Date published: 2017-08-24