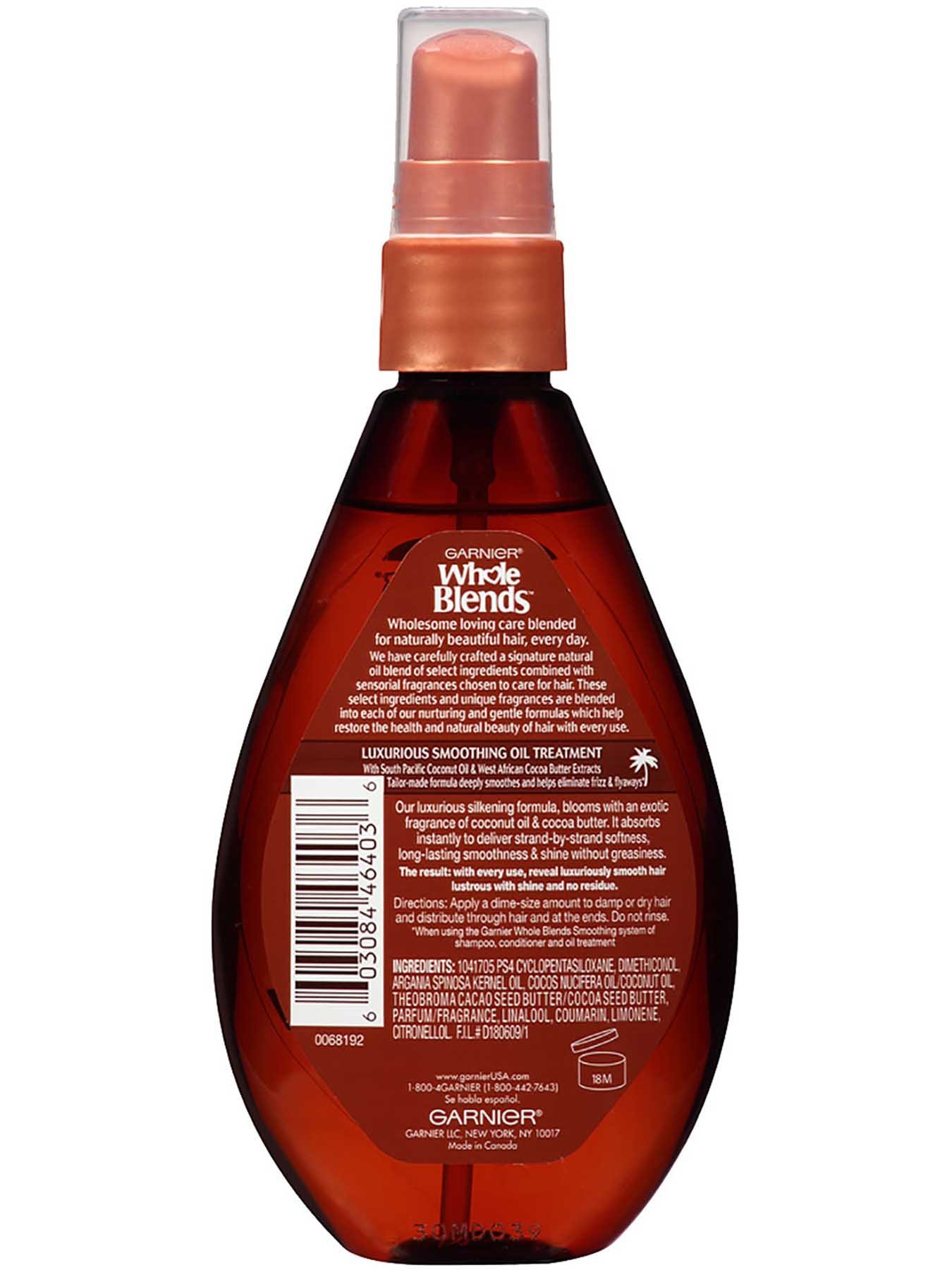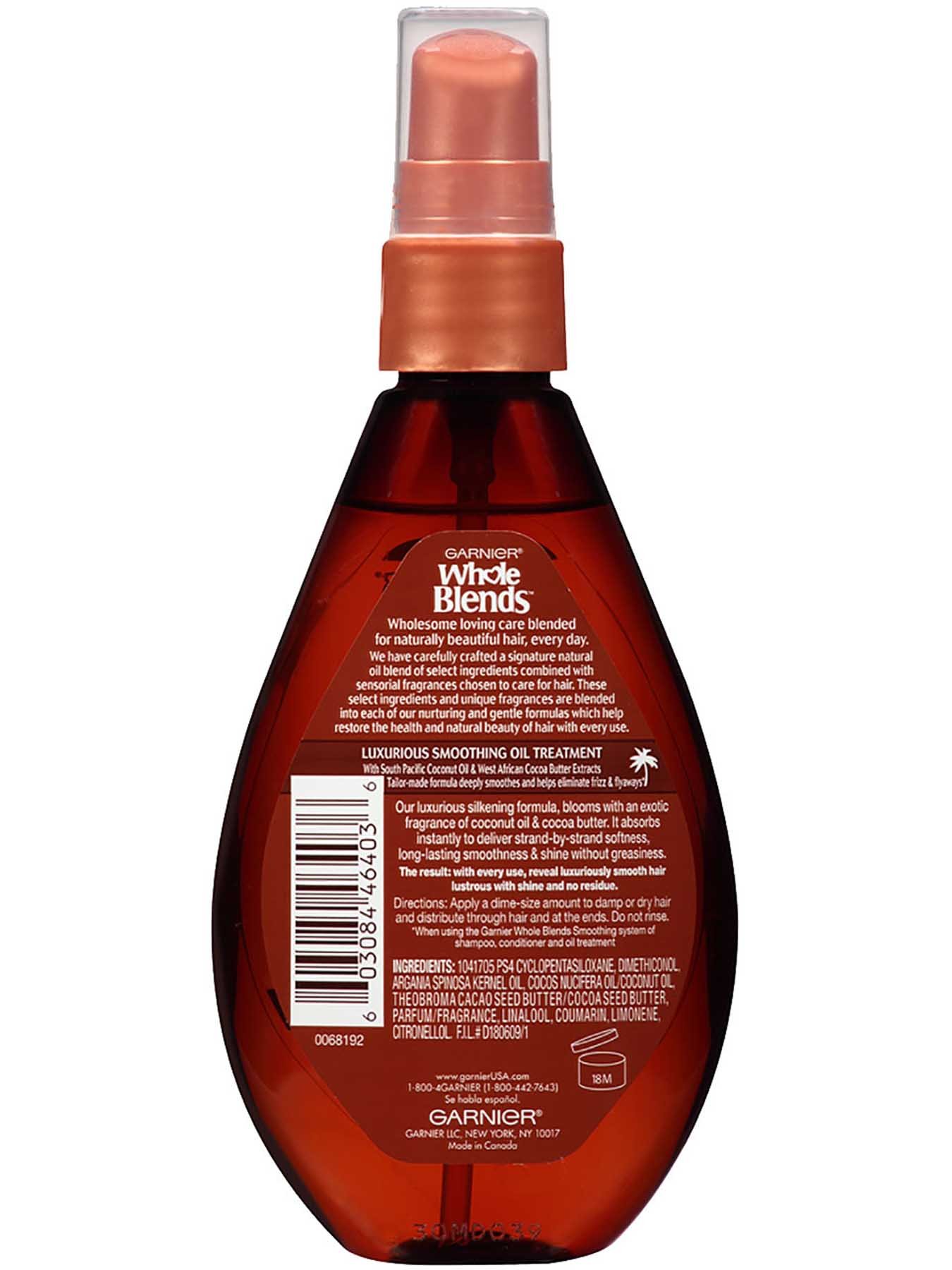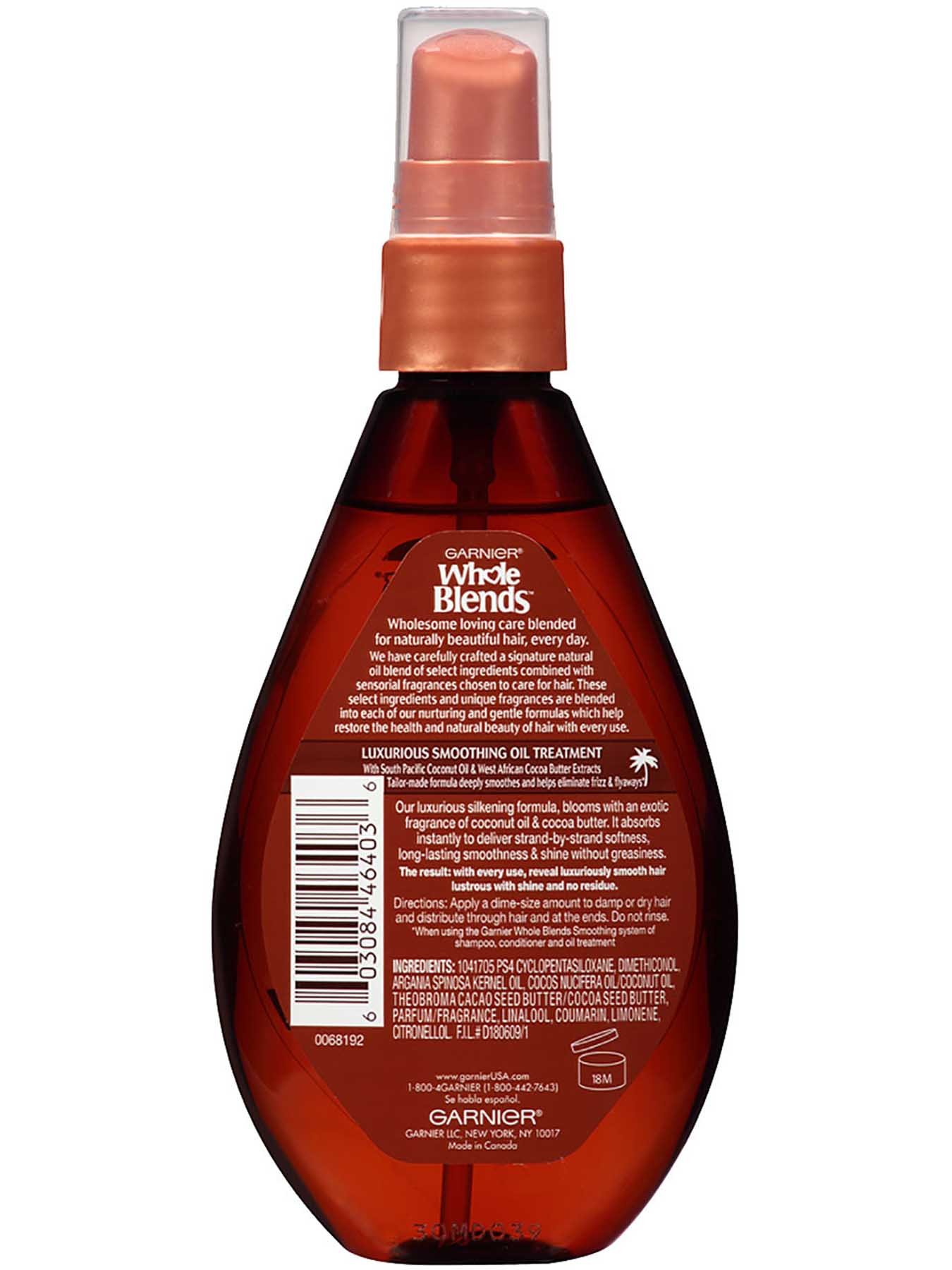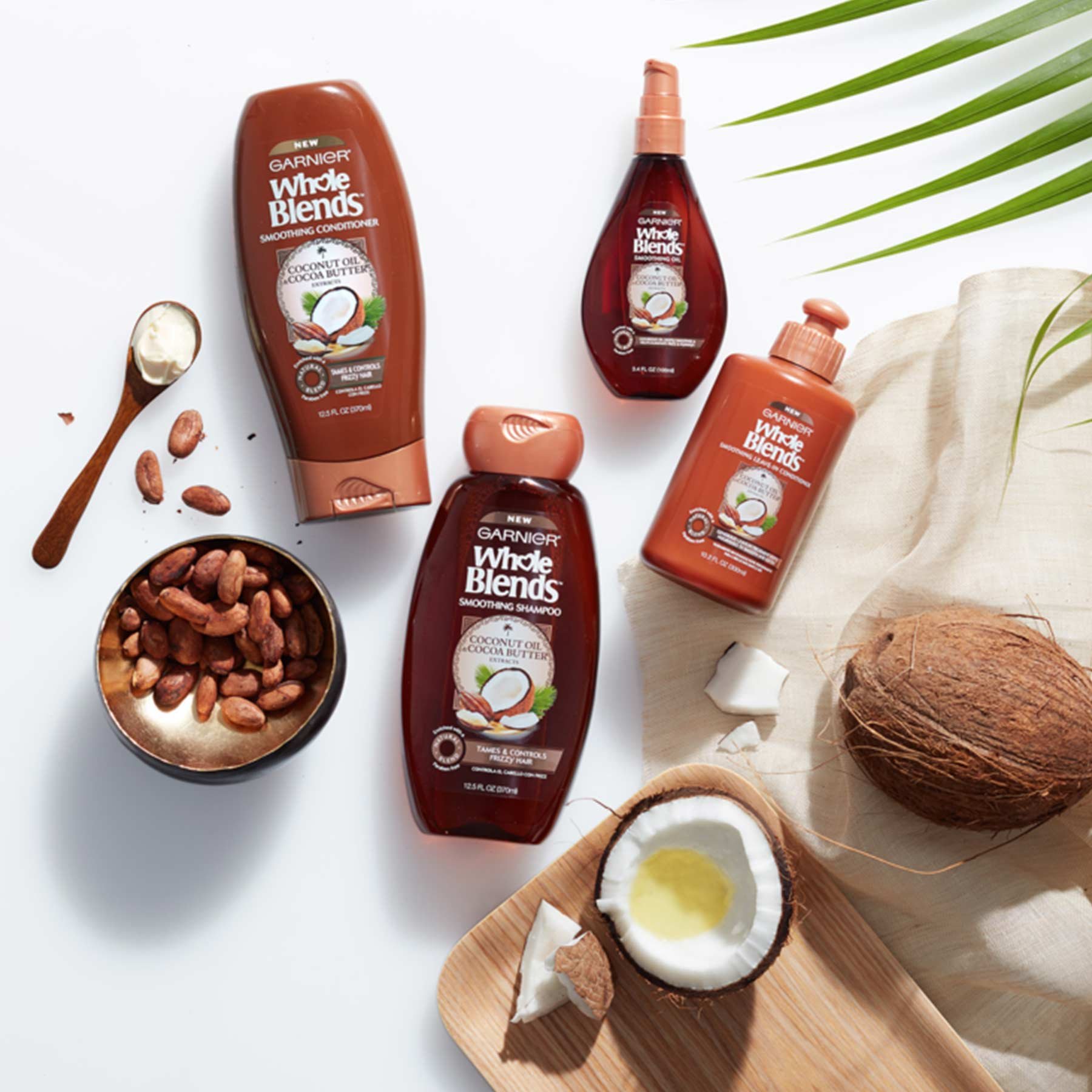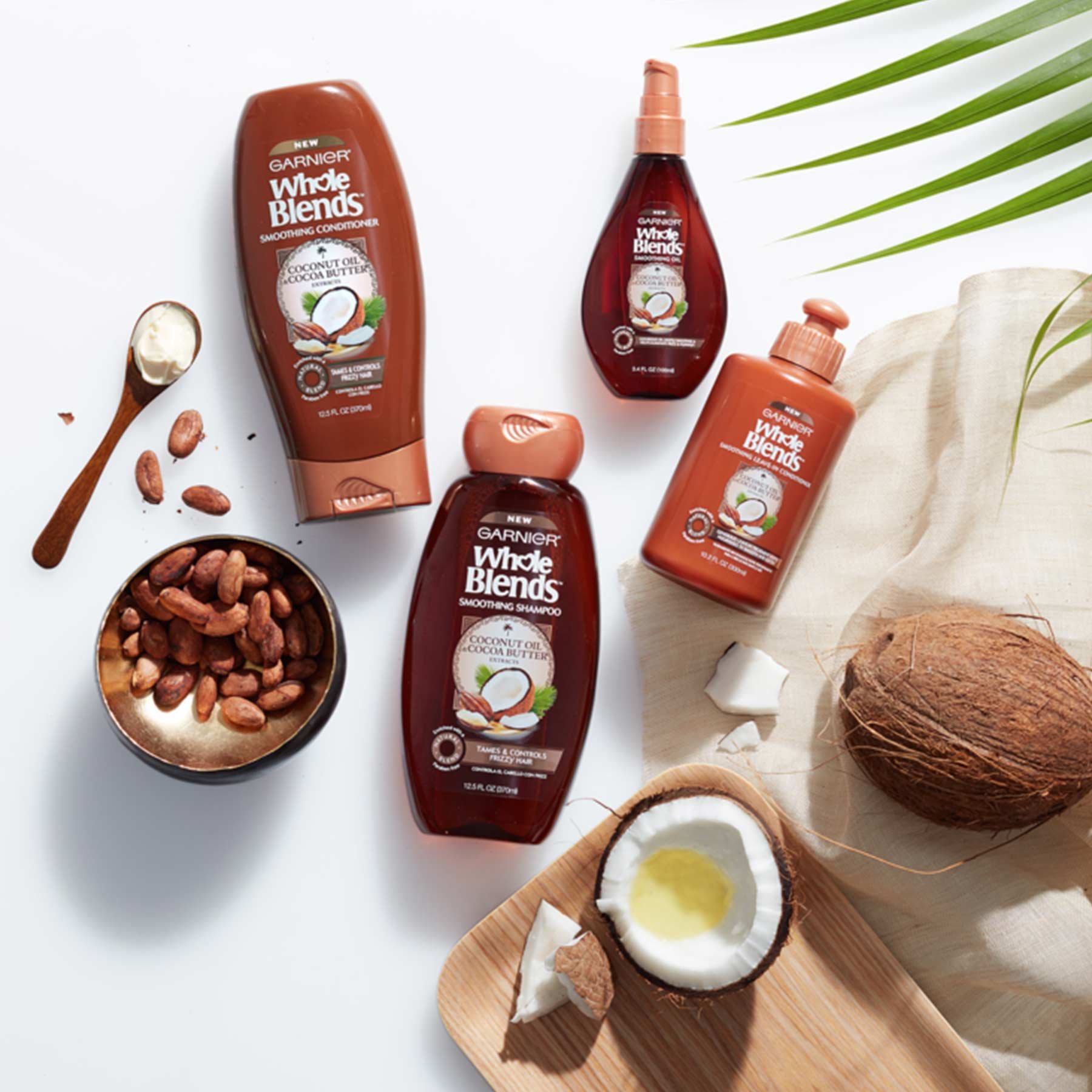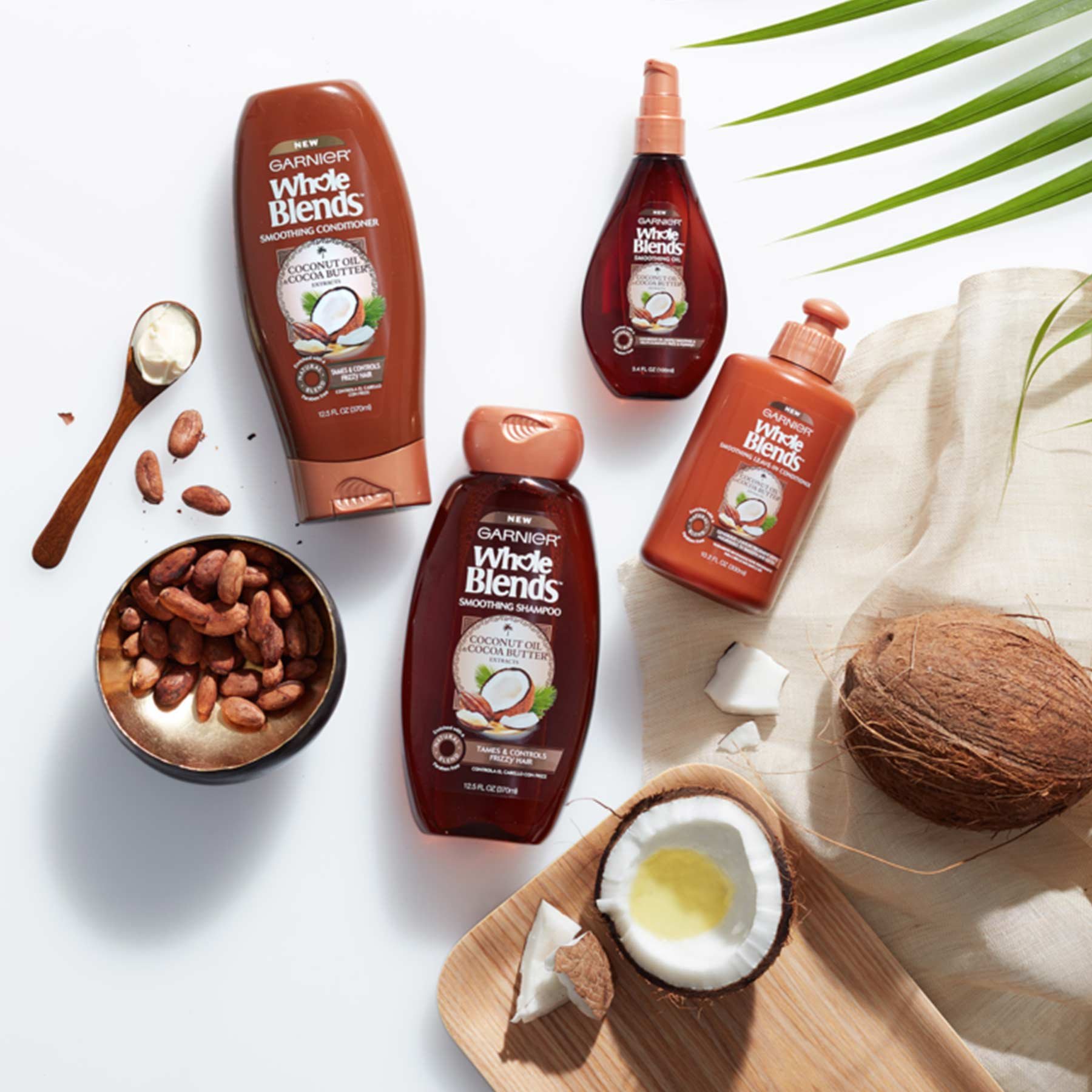 Smoothing Oil with Coconut Oil & Cocoa Butter extracts
Whole Blends
$6.99 MSRP
Deeply smoothes & helps eliminate frizz & flyaways
PRODUCT INFORMATION:
Our luxurious silkening formula, blooms with an exotic fragrance of coconut oil & cocoa butter. It absorbs instantly to deliver strand-by-strand softness, long-lasting smoothness & shine without greasiness.
How to Use:
Apply a dime-size amount to damp or dry hair and distribute through hair and at the ends. Do not rinse.
Ingredients:
CYCLOPENTASILOXANE DIMETHICONOL ARGANIA SPINOSA KERNEL OIL COCOS NUCIFERA OIL / COCONUT OIL THEOBROMA CACAO SEED BUTTER / COCOA SEED BUTTER PARFUM / FRAGRANCE LINALOOL COUMARIN LIMONENE CITRONELLOL
Cocoa Butter
Extracted from cocoa beans native to West Africa, Cocoa Butter is well known for its nourishing qualities in hair and skin formulas (not to mention its delicious scent). The smoothing balm is also renowned for taming frizz and flyaways.
Coconut Oil
Coconut Oil is one of the most penetrating natural oils there is. With super hydrating properties, it's ideal in formulas that help combat frizz, prevent damage, and boost smoothness and shine.
The Smoothing Care Regimen
Everything you need to complete your Smoothing hair care routine.
Wash
Whole Blends
Smoothing Shampoo with Coconut Oil & Cocoa Butter Extracts
Frizzy, Dry, Unmanageable Hair
Condition
Whole Blends
Smoothing Conditioner with Coconut Oil & Cocoa Butter Extracts
Frizzy, Dry, Unmanageable Hair
Treat
Whole Blends
Smoothing Leave-In Conditioner with Coconut Oil & Cocoa Butter Extracts
Frizzy, Dry, Unmanageable Hair
Rated

4

out of

5
by
Learaujo
from
Almost frizz free
By using Garnier Whole Blenda oil, I did feel a big difference towards my frizzy hair. Usually when I wash my hair, I can't just leave it as is because it gets insanely frizzy. By using the smoothing oil I felt a great diffence, even if I only use it every other wash. The tricky part is to be careful not to over use it otherwise my hair gets very oily. It smells very pleasent making it a good oil to use every time, I find that some hair products are too strong, wich bothers me and probably other people. I will continue using it and recommend it to others.
Date published: 2017-09-01
Rated

5

out of

5
by
wible25
from
Great smelling smoothing oil
I have been putting this oil through my hair after I shower. I normally do it from my ears down and it never weighs my hair down. I like how my hair looks and feels for the next few days. It does help with flyaways and keeping my hair very soft. It also has a pleasant coconut smell which I enjoy. My husband really likes the way my hair smells too.
Date published: 2017-09-01
Rated

4

out of

5
by
Samar3323
from
An Absolute Must Try
From the first pump, I could feel the potential for ultimate hydration, calming my unruly hair. The consistency was more like that of an oil rather than a thick serum. I am usually weary of products with cocoa butter, as they tend to be overwhelmingly pungent in scent. I was pleasantly surprised to discover that the level of fragrance was very mild. Upon application, the product was easily absorbed by my hair and left no residue. It can be challenging to find a product that smooths and hydrates without leaving your hair feeling heavy and weighed down, but Garnier has created the perfect blend to avoid that. I have very curly hair and this product absolutely helped to keep my locks under control. I will repurchase in the future.
Date published: 2017-08-31
Rated

5

out of

5
by
etoiles
from
Wow! Exceeded expectations!
I was skeptical before trying Garnier Whole Blends Smoothing Oil. While my hair isn't greasy it's not dry like straw either so I thought it would make it more greasy. I also like to wash my hair every other day so I didn't want to have to wash it more often because of the Oil. Well, this product did none of those things! My hair didn't get more greasy looking and I didn't have to wash it more often. What Garnier Whole Blends Smoothing Oil did was make my hair less frizzy and stay more smooth and keep it's style throughout the day, even in high humidity. I also loved the coconut smell of it! My husband loved the smell as well. I had never put an Oil in my hair and I wasn't sure if it would work but I loved it and will keep using it!
Date published: 2017-08-31
Rated

5

out of

5
by
MrsEpuhvus
from
Great! Highly recommend
Overall, I've been really happy with this product! I've been using it daily and my hair is dyed pink and purple. It's not in the best shape but not in the worst. My hair naturally is very curly and course, but this product has helped smooth out my hair and keep it from being so frizzy all the time. I would absolutely recommend picking this product up
Date published: 2017-08-31
Rated

5

out of

5
by
AmandaScott
from
One Happy Lady
I have never tried Smoothing Oil with Coconut Oil & Cocoa Butter extracts before. I always had problems with frizz so I would try anything at this point. After using this, I was in awe. Love the smell !! Brought a smile to my face!
Date published: 2017-08-30
Rated

4

out of

5
by
kfawkes
from
Great for smoothing
This product has pleasantly surprised me. I have very fine hair but lots of it that's somewhat wavy and curly. I always like to straighten my hair for a more polished look but my hair frizzes no matter what I do to it. I have used this exclusively since receiving it. On it's own it didn't do much for frizz. It would be smooth when i blow dried my hair but within a few hours the frizz would return. But when I used it with my regular hair regimen of a leave in conditioner and another styling product, my hair would stay frizz free for most of the day. The exception was very very humid rainy days where within hours my hair was a puffy mess (but this isn't different from how my hair usually reacts in that kind of weather). This product comes in an easy to use pump bottle. You can control how much you use. I used about 2-3 pumps of product on my hair. It is an thicker oil consistency. Not runny at all. I rub between my hands then run through my hair and distribute evenly throughout. I never had a problem of greasy hair using this, but probably would happen if you used too much. The scent is very very light, almost non existent. Overall I think this helped my hair with overall frizz and adding a little shine. I would have loved to have tried the whole Coconut Oil and Cocoa Butter line with this to see how they all worked together.
Date published: 2017-08-30
Rated

5

out of

5
by
chelseagirlky
from
Soft, beautiful hair.
I love this product. Previously, I used Garnier Whole Blends Coconut Oil & Cocoa Butter Shampoo and Conditioner and it made my hair really soft so I was thrilled when I saw Garnier Whole Blends Smoothing Oil. I have tried other brands of hair oils and have had mixed results with them, with most making my hair look greasy or doing nothing at all. But I had fantastic results with Garnier Whole Blends Smoothing Oil. It made my hair silky smooth and very soft to the touch. It hydrated my split ends and made it look very smooth. After I washed, conditioned and towel dried my hair, I sprayed about ten pumps of Garnier Whole Blends Smoothing OIl into my hands and worked it through my hair. My boyfriend loved the sweet scent and soft results. He couldn't stop running his hands through my hair and even offered to brush it for me, which is something he rarely does. I was very impressed with this product and it has replaced all the other brands I have in my bathroom cabinet. I highly recommend it, especially if you have split ends or dry and damaged hair. Here are my before and after pics to show you what Garnier Whole Blends Smoothing Oil did for my hair.
Date published: 2017-08-30
Rated

5

out of

5
by
Keriwilliams
from
Amazing product
I think this hair product is absolutely amazing!! Especially for someone with naturally curly REALLY frizzy and thick hair!! Garnier has always been a go to product choice of mine but never tried the Whole Blends products till now and I must say this is definitely a must have in my shopping cart from now on!!
Date published: 2017-08-30
Rated

4

out of

5
by
ember50
from
Say goodbye to frizzy hair
I loved this product. My hair is allway frizzy and has a lot of static. This oil settles everything down. However, you have to be careful not to use too much otherwise it will make your hair look oily.
Date published: 2017-08-30
Rated

4

out of

5
by
mimii92
from
Pretty good!
This coconut oil smells really good and it hydrates really well my hair It does eliminates a liitle bit my freeze and a flyaways but I have curly hair. My curls when I uses this I feel my curls, not curls it puts it more and loose more straight. This product is really good if you going to Blow dry your hair.
Date published: 2017-08-29
Rated

5

out of

5
by
SarahEMccormick
from
It Rocks My Locks!
I have got to tell you - when I first received this amazing smoothing hair oil, I thought it was going to be just another hair oil. Boy, was I wrong. At first smell, it invigorates the senses and takes you away to an island paradise - if you close your eyes, you can almost hear the waves! At first touch, the oil smoothes through your hands without leaving them feeling greasy, just soft - so if you're in a hurry, you don't need to worry about washing up. And best of all, when you pull it through your hair, no matter what style you want to wear, it adds brilliant shine, tames frizz, and leaves your hair smelling uber amazing all day long. I seriously love this stuff, and I will for sure be buying it as soon as my product runs out. I trust Garnier, and have always liked their products. I give this two huge thumbs up and definitely recommend this product to everyone!
Date published: 2017-08-29
Rated

4

out of

5
by
Janire
from
Pretty Good
I got this product in hopes of it taming any fly aways but I did not expect it to somewhat straighten my hair. I have wavy/curly hair and if I put no product in it, it curls but with lots of frizz. I figured this product could hydrate it and take away some of the frizzand it did that but also weighed down my curls. Will I continue to use this product? Yes but not if I'm going to go out and want my natural hair to show. It is a good serum type of product for those days where I know I'll be home or am not going to let my curls be free. It does smell super yummy! It also works nicely when my hair is straightened out.
Date published: 2017-08-29
Rated

5

out of

5
by
FirefliAlaska
from
Garnier smoothing oil
I have been using the Garner Whole Blends Smoothing Oil for a little over a week now. My favorite way to use it is to smooth one pump of this product through the ends of my damp hair. I have very fine thin hair and this product doesn't weigh it down at all. The smell is tropical and delicious. This smoothing oil leaves me with soft and shiny hair. I also want to note that I have extremely sensitive skin and quite a few hair products cause me to break out. I so far haven't had any bad reaction from this hair oil.
Date published: 2017-08-29
Rated

5

out of

5
by
Sands0719
from
Great product
Really love this product!!! From the feel to the great smell it leaves on my hair. I love using it to smoothed out my hair and it works great for frizz.
Date published: 2017-08-28
Rated

5

out of

5
by
Sasskeys3
from
Smells like Summer Heaven
I think that Garnier Whole Blends Smoothing oil is Awesome!! I have always battled with frizzy hair and flyaways, and am constantly looking for new products to try! After I put the recommended amount in my hair and let it air dry, I still had noticeable flyaways; But when I put it on to my dry hair, that is when the real magic happened!! Garnier Smoothing oil left my hair smooth and shiny, and not even the least bit greasy! I was amazed! To top it off, the coconut oil and cocoa butter extracts leaves your hair smelling Gorgeous!
Date published: 2017-08-28
Rated

5

out of

5
by
ECCaradine
from
Herbal Essence Coconut Oil
This product is a miracle fix for my crazy hair days! I would definately reccomend it to everyone i know. It also made my daughters ringlet curls PERFECT all day long! Very soft and smooth!
Date published: 2017-08-28
Rated

5

out of

5
by
Mlawrence0709
from
Bringing my old hair back
The Garnier Whole Blends has been a huge help to my dry and frizzy hair. It has given it that silky feel and look again. I take many meds for health reasons and this has helped bring my hair back to what it was at one time. My hair isn't 100% of what it once was but so much better than it was before I started using this product.
Date published: 2017-08-28
Rated

5

out of

5
by
gotpuzzles
from
Worked great on my course/frizzy hair!
I have course hair that has flyaways on top and on the sides and I try not to use too many unnatural products on my hair, but once and awhile my hair needs a little help to look "tame" when going out in public and Whole Blends was just the ticket. We recently went to Oregon and I got the 3.4oz size which was the perfect size for airport securities limit. I was also able to carry it discreetly in my purse, when we landed and use as needed. I spray it in my hands, rub them together and then work it through my hair. It has a great coconut scent to it, that is not over-powering...more like a hint of coconut. It worked great on keeping my hair tame, especially after the wind kicked up at the beaches. It left my hair smooth and easier to work a comb through afterwards. Not sure if it comes in larger sizes, but I would recommend this size, just for the portability factor and with the scent not being too strong, you can discreetly pull it through your hair, at a moments notice.
Date published: 2017-08-28
Rated

4

out of

5
by
leekbecker
from
Smooth Silky Hair
Garnier Smoothing Oil has a wonderful scent and really helped tame the flyaways. It was very easy to apply and comb through my hair. I really loved the pleasant coconut scent and reminds me of the beach. It left my hair very silky and smooth and didn't weigh it down at all. I also noticed I had less frizz and flyways and it also helped encourage my waves to come through. LOVED this product.
Date published: 2017-08-28
Rated

5

out of

5
by
Strbrntiger
from
Really good for the frizzes
I have tried so many different anti-frizz hair items I wasn't really that hopeful trying this one..... but it works wonderfully. I have very thin (fine) shoulder length hair and often times things weight my hair down so much it just feels horrible; this product did not do that. While helping to control frizz, my hair remained manageable which is a big bonus. It has a very strong smell but to me it was very pleasant as I love the smells of cocoa and coconut. If you don't like those you probably won't like this item. I would recommend this to my fine haired friends out there as it didn't weight my hair down and worked very well to control those nasty frizzes.
Date published: 2017-08-27
Rated

5

out of

5
by
amydeguire
from
Coconut Oil for great hair
I have long hair that seems to get frizzy at the ends often, especially in humid weather. I don't usually use anything on it, just pull it back into a pony tail. I love the Garnier line of products and decided to try this Whole Blends Smoothing Oil. It is easy to use and has a fantastic coconut scent. The best part, it actually works. My hair was smooth and sleek, looked great, and was easily manageable. I whole heartedly recommend this product to anyone wanting to make their hair look fantastic! Two thumbs up from me!!
Date published: 2017-08-27
Rated

5

out of

5
by
oliviabushorn
from
Garnier Smoothing Oil
My expectations for a smoothing oil is that it will leave the hair greasy and matted looking. This is not the case for this product. It smoothes my hair and keeps it from getting frizzy like my hair normally does. After I shower, I do my regular routine with mousse and hairspray, and when I added this into the mix, I couldn't believe how much less frizzy my hair was. I do have to use a little more than the recommended "dime size" squirt because I have a lot of hair. The smell is awesome. The coconut oil and cocoa butter smells so good and reminds me of being on the beach!! This is just for when I let my hair air dry. When I straighten my hair after it dries, it gives it a softer appearance and makes my hair have more of a shine to it. It is good to use on fly away hairs too at the part of my hair instead of hairspray that feels sticky and doesn't look as nice. The bottle is a nice size and easy to use. It comes out per pump as an oil. I definitely recommend this product for anyone trying to tame their frizz, hydrate their hair, catch the flyaway, or overall just a healthier appearance.
Date published: 2017-08-27
Rated

5

out of

5
by
reginagriffin
from
Whole Blends Smoothing Oil
This is by far the best oil I've ever used. Not only does it leave my daughter's braided hair shiny but it keeps the frizz down and the smell is NICE. I love the way it makes my hands and feet feel and it keeps the ash away.
Date published: 2017-08-26
Rated

4

out of

5
by
jenrazzle
from
Great New Hair Care Product from Garnier
I usually don't like to use/review products that are readily available in the US but I recently ran out of the oil that I used on my hair (the bottle lasted several years!!) and I was interested in trying something knew. I generally like Garnier as a brand and was intrigued by the natural aspect and product design. The product worked really well for me - it is smooth and clear and has a wonderful smell, like summer coconuts. I put a small squirt in my palms, rubbed it around and then applied it to my hair. It was easy to apply and did not leave my hands feeling greasy. After I finished styling my hair it was soft and sleek, not heavy or oily. A small amount of the hair oil went a long way, meaning that the bottle will last a long time. I really appreciate that it has a pump as previous products that I have used did not. The pump makes it much easier to use without making a mess.
Date published: 2017-08-26
Rated

3

out of

5
by
thomasyne
from
Smells amazing
I have crazy curly hair. I'm always looking for products to help tame the frizz and keep my curls bouncing! First off, I felt like I was using straight coconut oil. It was very greasy and somewhat hard to even wash off of my hands. Secondly it smelled amazing. Like the beach in the height of summertime! It definitely tamed my frizzy hair but it also weighed it down. I felt like my volume was really lacking. I would maybe use this if I wanted to tame the frizz for a low ponytail.
Date published: 2017-08-26
Rated

5

out of

5
by
k9habber
from
Pleasantly surprised
I am very pleasantly surprised at how fabulous this is. I have tried coconut oil products before and found them to leave my hair looking like I used oil. This was lightweight and made my hair smooth and shiny. It also smelled fabulous. A little goes a long way. Thrilled to add this to my regimen.
Date published: 2017-08-26
Rated

5

out of

5
by
vloky82
from
Great for frizzy and textured hair
This stuff smells great and works well for taming hair. It was a little too greasy for me personally, but I have a lady I work with who has textured hair and was in need of product and I tried it on her and it looks beautiful and keeps her braids looking tight and right. I'd share a pic, but HIPPA.
Date published: 2017-08-26
Rated

4

out of

5
by
linz3921
from
Smooth operator
This product did wonders on my hair. I live in Florida and my hair is always dry. I put some of this in my hair when it was damp before bed and woke up w/the softest curls ever! My hair didn't feel slimy or greasy. The smell was amazing (I'm a stickler for coconut scents) and it made my hands nice and soft too. I plan on using this whenever I wash my hair.
Date published: 2017-08-26
Rated

5

out of

5
by
tweetiepie3
from
From Frizzy to Smooth
I really enjoyed the luxurious feel when I put this in my hair. I have naturally curly hair , and this helped to smooth out the frizz. The product smells really nice and fragrant. I would recommend to anyone who needs to tame unruly frizz.
Date published: 2017-08-26