This site is intended for US consumers.Cookies and related technology are used for advertising.To learn more or opt-out, visit Ad Choices and our privacy policy.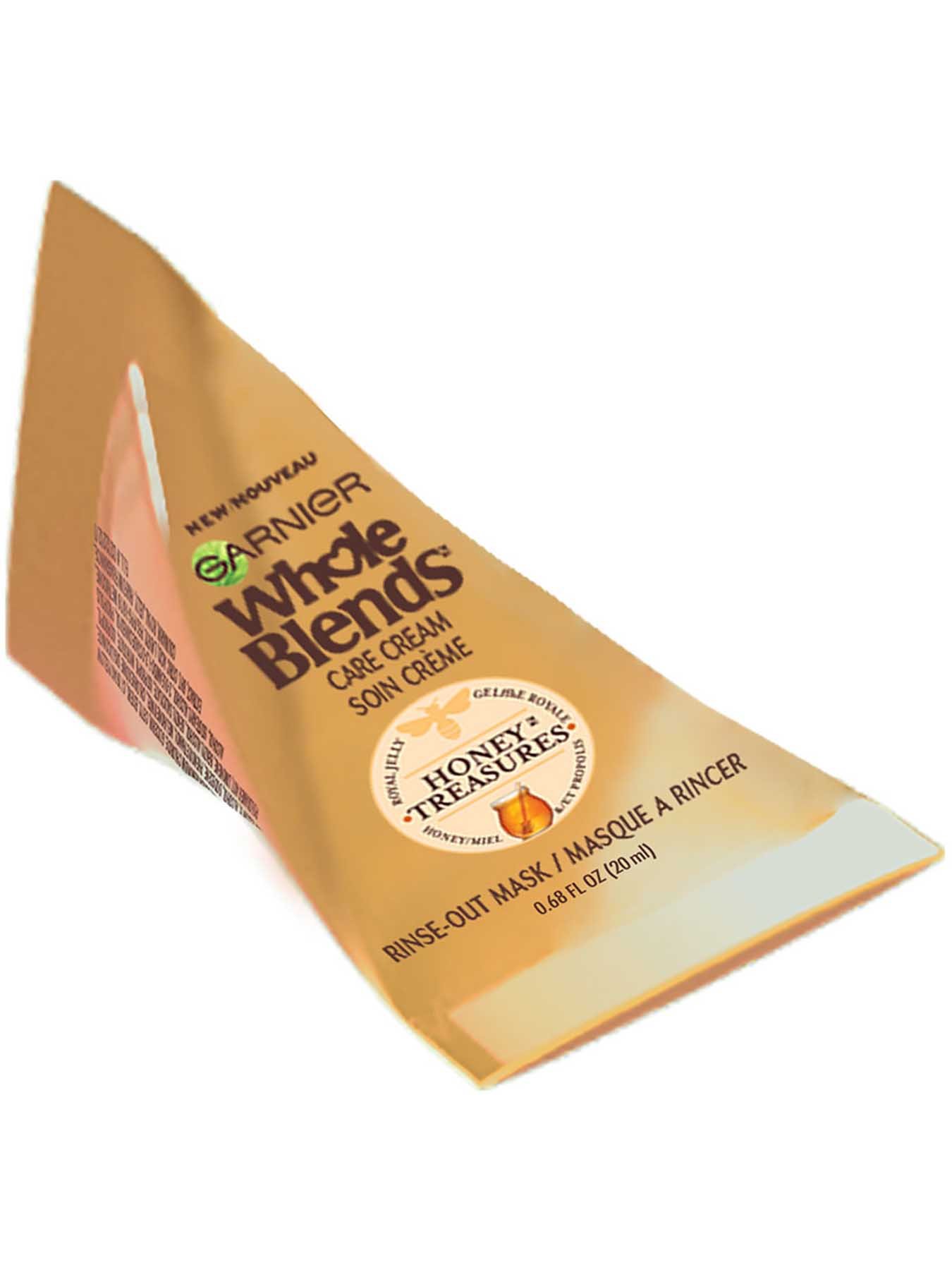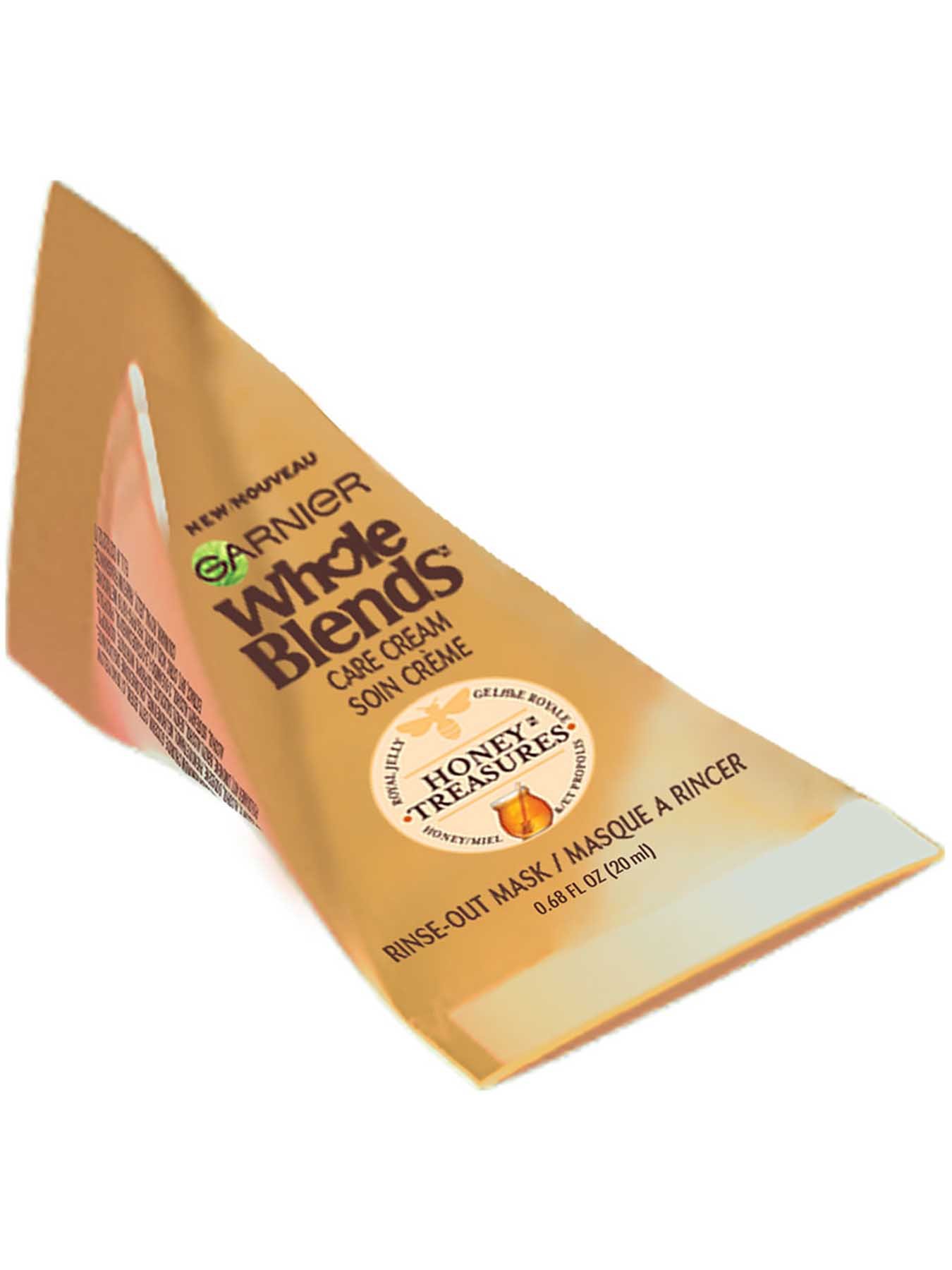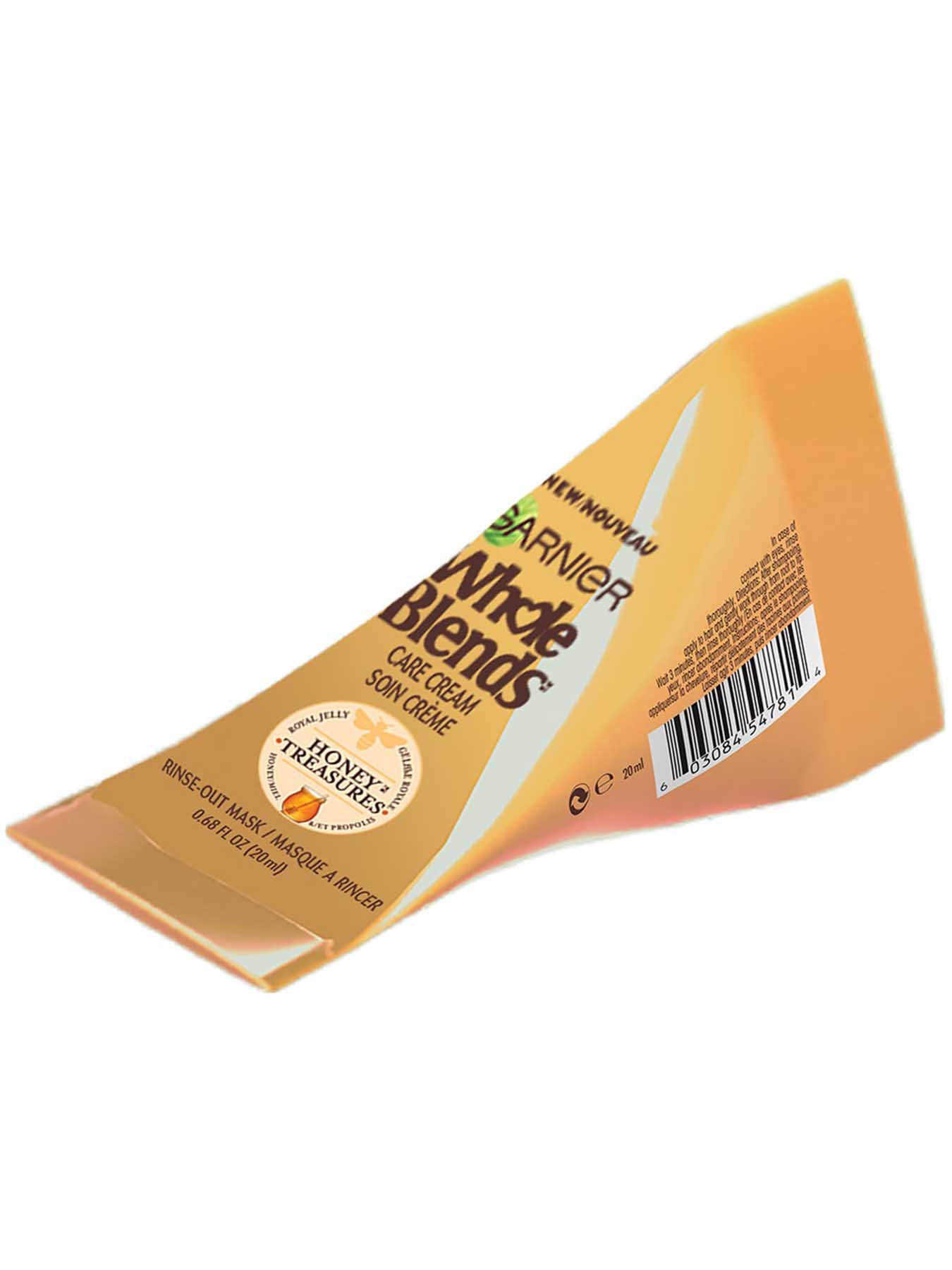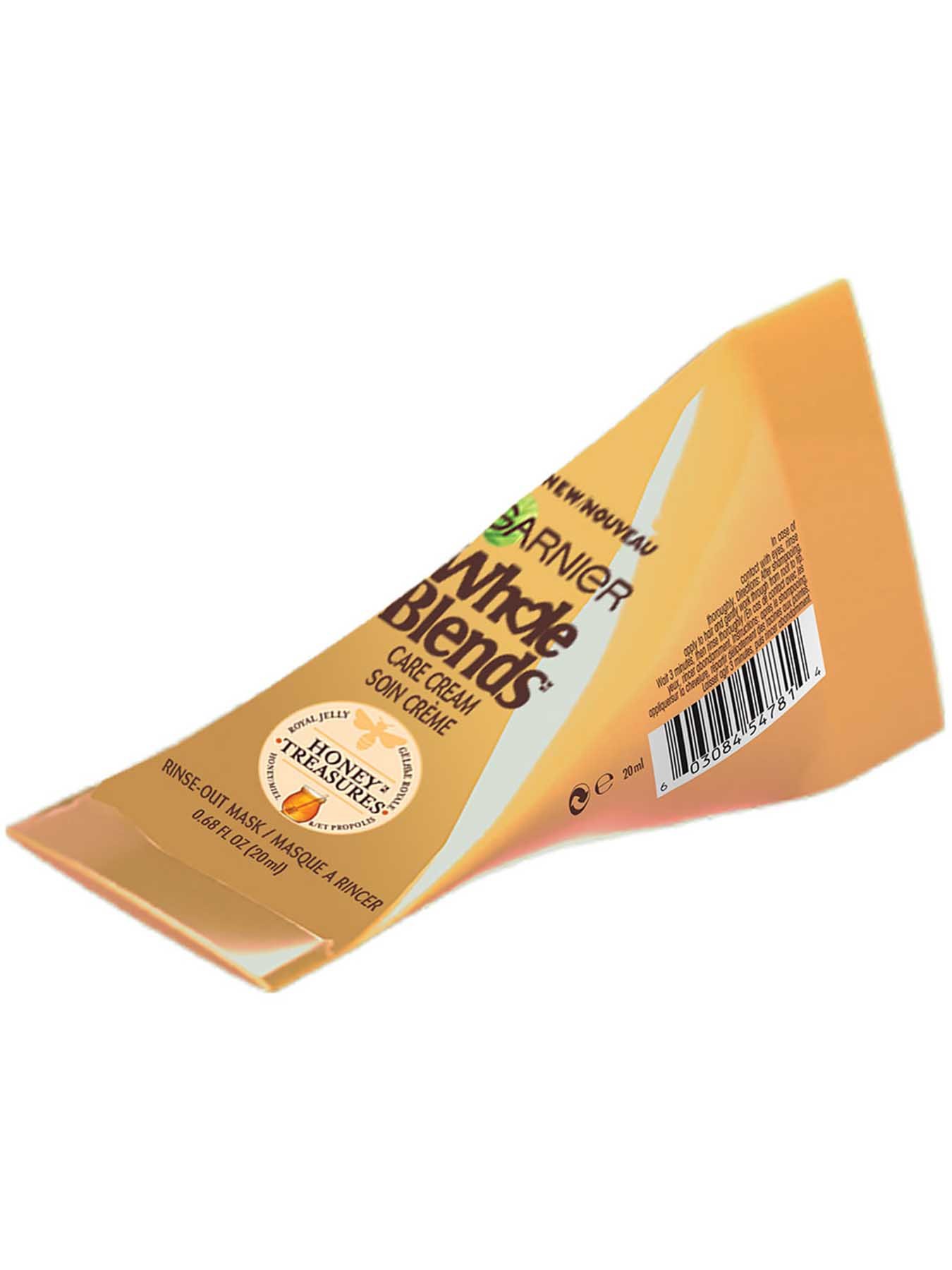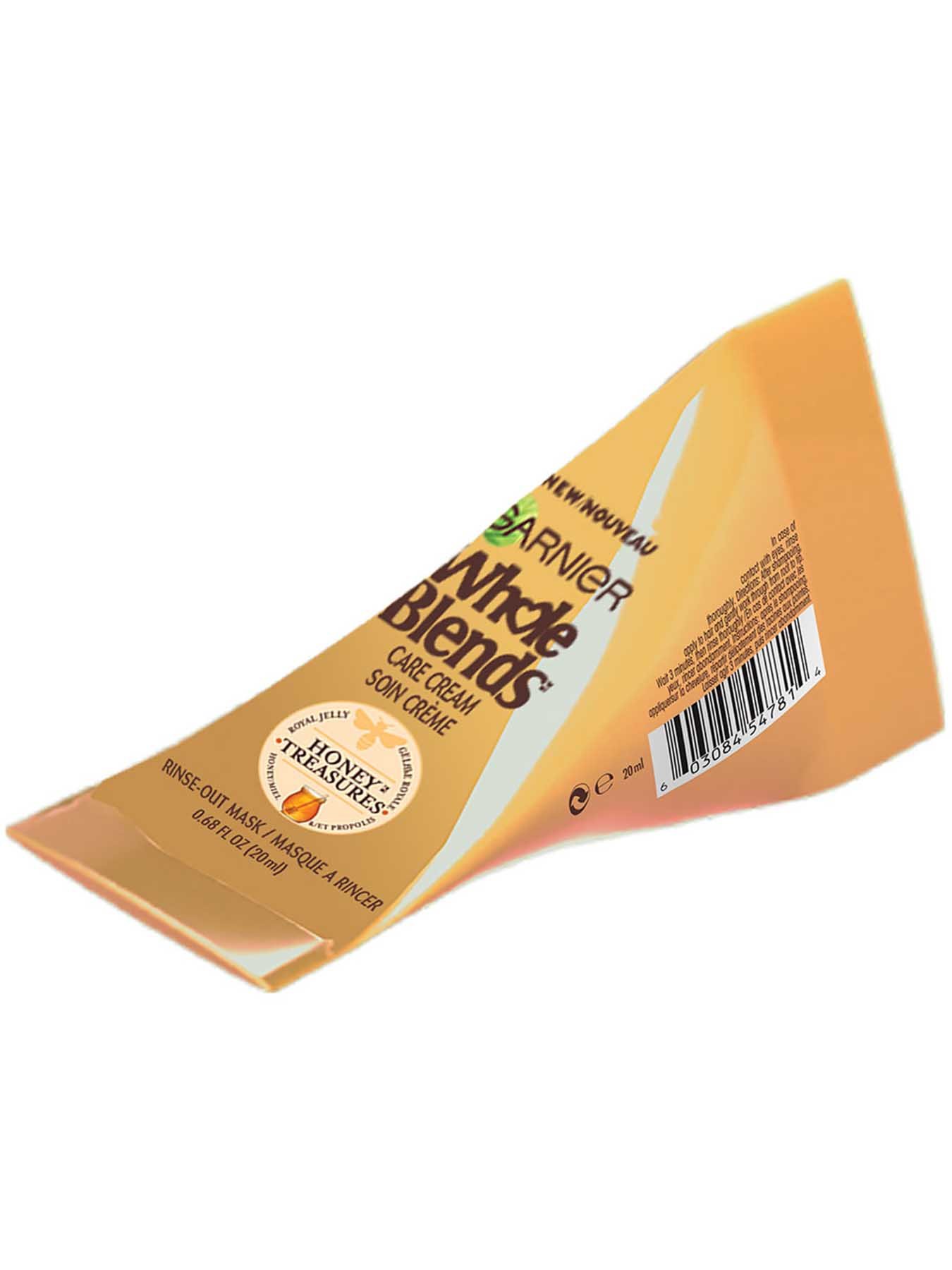 Whole Blends
Care Cream Hair Mask Honey Treasures
PRODUCT INFORMATION:
Our creamy, lush formula, blooms with a delicious fragrance of royal jelly, honey & propolis, bringing to life our wholesome care that nourishes and renews dry hair.
How to Use:
After shampooing, apply to hair and gently work through from root to tip. Wait 3 minutes, then rinse thoroughly.
Ingredients:
1100861 G AQUA / WATER / EAU CETEARYL ALCOHOL BEHENTRIMONIUM CHLORIDE GLYCERIN CETYL ESTERS CI 19140 / YELLOW 5 CI 15985 / YELLOW 6 ALCOHOL DODECENE PHENOXYETHANOL MEL / HONEY / MIEL CHLORHEXIDINE DIGLUCONATE POLOXAMER 407 LIMONENE BENZYL ALCOHOL BENZYL SALICYLATE ISOPROPYL MYRISTATE ISOPROPYL ALCOHOL ISOSTEARYL ALCOHOL 2-OLEAMIDO-1,3-OCTADECANEDIOL PROPOLIS EXTRACT BHT CITRIC ACID LAURYL PEG/PPG-18/18 METHICONE COUMARIN ROYAL JELLY PARFUM / FRAGRANCE F.I.L. #D212212/1
Honey
Prized for its reputed healing properties, Honey is believed to be one of nature's most soothing ingredients. It's also a natural humectant, meaning it helps maintain hair and skin's natural moisture.
Rated

5

out of

5
by
mmderemiah
from
Love this!
I was so pleasantly surprised by my experience with the Garnier Whole Blends Honey Monodose Hair Mask. When I first opened the package and rubbed it between my hands, it seemed identical to Garnier Repairing Mask I tried before. It's not! This monodose mask is great! I used it once and I immediately noticed the difference. My partner used it and loved it, too! The Great: The smell is amazing. Warm and gentle - nothing too overpowering but definitely leaves your hair smelling great. The effect it had on my hair - it turned my usual wavy mess of thin strands of hair into a straighter, smoother, and sleeker mane. I usually go to bed with wet hair, then wake up and straighten it (I rarely blow dry). With this product, I went to bed with wet hair and woke up with hair that looked ten times nicer and I didn't even need to turn on my flat iron. The effect it had on my partner's hair - beautiful body, but nothing over the top. My partner has a short cut and she generally blow dries it on a daily basis. After using this product and blow drying, her hair had the look of a fresh cut and revived color. It had a beautiful shine and the perfect amount of volume without looking poofy. The average: I just wish that this type of product could be designed as a daily use product rather than a monodose. I love the effects it had on my hair and feel that I could benefit from using it regularly. The not so great: The packaging - I found it difficult to squeeze the product out (especially with wet hands). And with the sharp edges and the difficulty gripping it, it stabs into the palm of your hand. I think the packaging could be designed in a way that is more shower-friendly. Overall, it's a great product and would encourage everyone to try it. I can't speak to those who have long, thick hair. But for all of us with thin, fine hair - it worked wonders.
Date published: 2018-01-23
Rated

5

out of

5
by
ssinex
from
Great Product
I used this the day it came in the mail and it REALLY helped my dry, damaged hair. I straighten my hair daily, it is coarse, curly and frizzy but straightening it helps a lot. This product made it even easier for me to straighten and for it to stay straight all day long. I will definitely be buying the full product.
Date published: 2018-01-23
Rated

4

out of

5
by
MoxieMoments
from
Good Hydrating Mask
I liked this product. It smells really good, which is a plus. I like the little weight texture and how it applies to my hair. It made my hair soft and manageable. Its great for a quick boost outside of my normal deep conditioning routine. I would recommend this product.
Date published: 2018-01-22
Rated

4

out of

5
by
nehaakther
from
New Favorite
Based off of first impressions, The texture of it was very cooling, it wasn't mousey or thick but it wasn't watery. It smelled more like floral vanilla than anything. As soon as I applied it, my damaged hair felt like it got thicker and fuller. It says to use it for 2-3 minutes but I kept it on for five. After I rinsed it out and blow dried my hair, I realized my split ends weren't as crazy as they usually are. It made my hair softer and look darker in color. I would definitely recommend it to anyone who needs to help their hair grow/heal.
Date published: 2018-01-22
Rated

4

out of

5
by
MadRicePatty
from
Pleasantly Surprised
I have thick and coarse 4c hair. I usually shy away from Garnier hair products. In the past they just haven't been able to meet my hair needs. However, the Whole Blends Honey Monodose Hair Mask broke that pattern. It smells absolutely wonderful, which isn't a surprise considering all Garnier hair products smell amazing. But, this in particular had a very sweet yet subtle and pleasant aroma that lasted. I loved catching little whiffs of it's scent in my hair throughout the day. Aside from it' scent, the best features of this product are its moisturizing capabilities & how quickly it works! You only have to leave it in for 3 minuets, which is great! I used it to give my hair a boost during a morning wash and go. For that purpose it was perfect! There are, however, a few negatives about this product. Those being, the tiny container it comes in and its moisturizing properties are not long lasting, and the ingredients. Although this does contain honey and some fatty alcohols, I did notice it also has isopropyl alcohol. Because of how drying isopropyl alcohol can be I try to avoid putting it in my hair too often. Because of that I gave it 4 stars. I personally would not use it as my weekly deep conditioning hair mask; but on days where my hair is dry and I need to do a quick wash and go before running out the door, this works perfectly.
Date published: 2018-01-22
Rated

4

out of

5
by
shailove08
from
Smells wonderful
This product felt wonderful and had an amazing smell. Might go out and get some as soon as I finish it.
Date published: 2018-01-22
Rated

5

out of

5
by
jds1016
from
Let's Fix Your Hair!
I love masks. A little me time at home, without spending a lot of money. Hair masks are not as popular as face masks, but they should be. They revitalize your hair in between salon visits The Garnier Whole Blends Honey Monodose Hair Mask smells great and left my hair smooth and soft. It freshener my ends, and gave it a glossy sheen. I will definitely be using this again!
Date published: 2018-01-22
Rated

5

out of

5
by
KaraBowersock
from
Made my hair super soft!
First I love the smell and it lasted in my hair for over a day. The softness lasted longer. I wash my hair every other day and it was still so soft when I went to wash it again. I almost didn't want to. My only issue was with the sample itself. I have thick hair and it wasn't enough to get all underneath but I am sure if I did have enough it would of been magical!
Date published: 2018-01-20
Rated

4

out of

5
by
mojoraven
from
Good for Extremely Long Hair
First here's some relevant info about me. I have wavy, waist length hair which, since I am 6'1", means I have a lot of hair. Consequently I try a lot of products to try to keep it soft, brushable, and free of damage. So I decided to try Garnier Whole Blends Honey Monodose Hair Mask. I'll start with the negatives to get them out of the way. As I mentioned, I have a lot of hair. It must be difficult to decide the amount of product to put in a monodose and I don't envy whoever has to make that decision. There wasn't enough product in the monodose to cover all my hair so I applied it from my neck down, saving a bit for the hair that frames my face. That poor area gets abused by my pillowcase and is the most noticeable when I look in the mirror so I like to treat it well. The amount given worked fine for that. Over half the time I condition I only do these areas anyway to avoid weighing my hair down too much. It also saves the pocketbook since otherwise I'd be using a bottle of conditioner every three showers. It would have been nice to have the option to apply more, though. My only other complaint is about the waste monodoses produce. It's just the nature of the packaging. Not only are there all the one use packages being tossed but often there is wasted product by people who don't have Disney princess hair. I'm not an environmentalist but I do believe in making earth friendly decisions when I can. Now for the good. The smell was pleasant. Honestly, I wouldn't have known it was honey if it weren't written on the package, but it was a nice odor. It probably wouldn't work for people who want their hair to smell like a tropical fruit buffet but it worked just fine for me and I often have problems with fragranced products. The texture of the product initially had me concerned. I'm used to thick concoctions that need to be scooped out of a tub. This was much thinner. I admit that I doubted it would leave my hair feeling soft. I was wrong. It enabled me to comb through my hair just fine in the shower, rinsed out easily, and left my hair silky after air drying. There was no greasy residue, nor did my hair feel weighed down. Even though the consistency resembled a regular conditioner I found the performance to be closer to a hair mask. It left the ends of my hair soft enough to brush through until I had to wash my hair again a few days later. So, for you super readers who made it to the end of this review I'll say that I have no reservations about recommending the product but would likely only buy it regularly myself if I could find it in a multidose package. Preferably a tub or a squeeze container with the opening on the bottom since those waste the least amount of product. #WholeBlends
Date published: 2018-01-20
Rated

5

out of

5
by
pearls2cents
from
Renewed And Smelling Good!
First off, this hair mask smells amazing! I can't get over how nice my hair smelled after using the mask. My hair was so soft and shiny. I love the ingredients, honey and royal jelly, because they are filling my hair with good nutrients that my hair needs.
Date published: 2018-01-19
Rated

3

out of

5
by
Jen9921
from
Garner Whole Blends Honey Hair Mask
I have long, thick, color treated hair and use a deep conditioning hair mask at least once a week. I'm always looking for a new one to try and was excited to get this one! First thing, this smells amazing! I also love the idea of the convenient monodose packaging since I travel for work and need travel friendly products. Unfortunately there wasn't quite enough product in the packet for my hair length/thickness. I washed my hair with my usual shampoo and I put this on from my ears to the ends of my hair for about 5 minutes. It rinsed out easily, didn't weigh my hair down, and left my hair soft, but not any softer than my regular conditioner. I didn't notice a difference in the shininess or frizziness of my hair. I think it would be nice for those with finer or shorter hair, but if you need a deep conditioning mask or have very long or very thick hair this probably wouldn't be the hair mask for you. I would use this formula again as a daily conditioner if it came in a jar or bottle, but I won't be using it again as a single use hair mask.
Date published: 2018-01-19
Rated

5

out of

5
by
Brittanymng
from
Sweet Treat
The Garnier Whole Blends Honey Monodose Hair Mask is such a great treat for my hair! I recently bleached my hair for the first time, so it has definitely been dry and straw-like at times. This mask not only smells amazing, but comes in a perfectly dosed size for my hair. My hair is thick but short, so people with longer hair may need two doses. The product made my hair very soft through the next 2 days, and I noticed significantly less frizz, but no greasiness or negative effects on volume, and the scent did not linger. The only negative aspects of this product is the packaging, which has a unique but not very ergonomic shape, and the premade slits for easy opening do not actually open the packaging deep enough to squeeze out product.
Date published: 2018-01-18
Rated

2

out of

5
by
Miag2399
from
I wanted to love it....
I wanted to love this item but alas I didn't. The smell of the hair mask was amazing, but thats where my love for the product ended. The consistency of it was very thin for as mask type product and when I applied it to my hair I felt like I needed more and more. The product did not make my hair feel soft and moisturized and when I washed it out it felt similar to how it felt before I put it in (like I only shampooed my hair). After putting in my regular styling medications my hair still had a crisp/dry feeling to it which is not how most hair mask leave my hair feeling.
Date published: 2018-01-18
Rated

5

out of

5
by
carolann1970
from
Garnier Whole Blends Honey Mask
I have to say I was really looking forward to trying the Garnier Whole Blends Honey Monodose Hair Mask. This made my hair feel so smooth and soft and also smell so wonderful! I would definitely buy this and recommended this to anyone and everyone!
Date published: 2018-01-18
Rated

2

out of

5
by
hotyellowsocks
from
Wish it would've lasted
I am a complete nut about my hair. Considering it is extremely long (low back), I do everything to keep it healthy, and deep conditioning products such as this are essential. This one felt really nice right after I used it, and my hair felt lovely after using the mask. However, I noticed within a day, that the soft, moisturized feeling was gone. I would think that a mask such as this would "seal in" that conditioned feeling, but my hair went right back to how it feels normally. Whelp... It was a lovely one day!
Date published: 2018-01-18
Rated

5

out of

5
by
Cjatlpeach
from
Good things come in small packages
Gariner Whole Blends Hair mask has a creamy texture that smells like a mixture of botanical blends. When i applied the mask on my hair, and i have coily, kinky curls, i was pleased from the outcome. It left my hair feeling soft, detangled and smelling great.
Date published: 2018-01-18
Rated

4

out of

5
by
yackievds
from
I'm impressed!
This mask is great. For starters, I have medium length hair and I'm a brunette with stubborn, color treated hair (it's grey from my ears to the ends). Anyone who's ever gotten a bleach job done knows how damaging it can be and how hard it is to make your hair feel softer again. Well, after trying this mask I can say Garnier created a great, thick mask that will help you improve the appearance of your hair. It smells amazing and works really well. I gave it 4 starts because alcohol is one of the main ingredients and it's very drying, however if you don't have super dry hair this will work for you. Personally my hair felt softer and got less tangled.
Date published: 2018-01-18
Rated

5

out of

5
by
Raevynlee
from
This stuff is legit!
At first I was skeptical about what a little tiny packet of conditioner could do for my hair that I haven't already tried? Well the answer is A Whole Lot! This stuff is legit. It made my hair silky and manageable. And this shouldn't be taken lightly considering I bleach my hair about once a month! My hair was totally wrecked! Until I tried the Garnier Whole Blends Honey Hair Mask. I definitely recommend this hair mask to anyone with dry, damaged, or thirsty hair. You won't regret it!
Date published: 2018-01-18
Rated

5

out of

5
by
falibreal
from
Great mask!!!
This mask is just wonderful. I love how it makes my hair feel revived, vibrant and well moisturize. It was a small sample and my hair is really thick but it did the job. Would definitely try this again.
Date published: 2018-01-18
Rated

5

out of

5
by
FrozenIceberg
from
Holy Grail Hair Mask
This hair mask is the holy grail of hair masks. It has an amazing smell and made my hair feel very smooth, it even made my curls more pronounced.
Date published: 2018-01-18
Rated

5

out of

5
by
magellian48
from
Whole Blends
I think that whole blends honey mondoosk hair mask is a really excellent product for dry hair. My hair is really dry and after one wash I could really feel a difference and my hair looked healthier. The smell lasted all day and got compliments how wonderful my hair smelt. I would most likely buy all the time.
Date published: 2018-01-18
Rated

5

out of

5
by
xokarma420xo
from
Garnier whole blends care cream
I absolutely loved this hair "mask". It smells fantastic and goes on your hair very well. I used it and Left it on about 5 minutes while I showered and it washed out easily. Left my hair feeling AMAZING for about 3 days. No greasy feeling or oiliness afterwards. Would DEFINITELY recommend to everyone I know.
Date published: 2018-01-18
Rated

5

out of

5
by
sharkygirl
from
Silky smooth
When I first used Garnier Whole Blends Monodose Hair Mask I wasn't sure if I would like it or not because I don't usually purchase Garnier products. I was pleasantly surprised by how well I liked it. The first you notice about the single use packet is it's interesting shape. Unlike other hair masks that come in flat packets this product come in an triangular pouch. I found this shape to be way to use especially in the shower when your hands are wet and slippery. Once the package is opened, the mask itself is thick, rich, and creamy. And the scent is great! A light honey smell that is not overpowering. I have course curly hair and it often feels dry at the ends. After using the Honey Monodose Mask my hair felt silky all the way to the ends. And while I was afraid that a product not designed for curly hair would leave it too frizzy, I found my hair to be minimally fizzy. I would definitely use this product again.
Date published: 2018-01-18
Rated

5

out of

5
by
Sjcase001
from
Pleasantly surprised!
Honestly I wasn't expecting much from this product. I was worried that it would weigh my hair down, strip the color that I paid a fortune for and smell weird. I was pleasantly surprised I was wrong on all counts. After use my hair feels so soft, manageable and very easy to style. It didn't affect my color and the smell was very pleasant. It was easy to use and performed beautifully. I'm definately going to purchase a larger size and incorporate it into my hair regimen.
Date published: 2018-01-18
Rated

5

out of

5
by
ajbjmom
from
My hair loves it!
I think this is just what my hair needed. My hair after 1 use felt so much softer as well as looks so much healthier. I love the fresh scent! I will always have this ,that's how much I love this product. I recommend this to everyone, it leaves your hair healthier I feel. I'm loving the way my hair looks and feels! I used this and it only takes a few minutes,I am so impressed!
Date published: 2018-01-18
Rated

5

out of

5
by
apricot78
from
This is something special
I hate to admit this but I was very skeptical of this activity. I have hair down to the middle of my back that is very thick and gets very oily if I don't wash it for one day. I have tried lots of different shampoos, conditioners and leave ins. Most leave ins or deep conditioners leave me very underwelmed. A goopy mess that does nothing but weigh down my hair. As a busy mom to two, my hair is usually in a pony tail or messy bun depending on what the day holds. When this product arrived, I put it in my shower for the next day. My showers are not the luxious affairs they once were so I was pleased to see that this worked in the shower and didn't need a long time to work. I also liked how easy the product was to open with wet hands. As I squeezed it out and noticed the goop I was used to I applied it and immediately noticed something was different. It felt more like an oil then a conditioner right away and it worked into my hair very nicely. I rinsed it out after the alloted time and went about my routine. My hair was very easy to brush though and I could tell that it felt different. But wasn't weighed down at all. I wore it up again that first day as usual and really like how it felt even in the pony tail. It wasn't tangled or unruly at all. It was very sleek and soft. The next day was the biggest surprise. Even after another washing it felt even better. I could run my fingers through it easily and even wore it down for a few days. It really is something special.
Date published: 2018-01-17
Rated

2

out of

5
by
Reddog70
from
Hopeful, but left disappointed
First let me start by saying my hair has been damaged...dyed, dried, ironed and drowned in chlorine. So my hair can use every bit of moisture that it gets. I was hoping that the Garnier Whole Blends Honey Hair Mask was going to be my knight in shining armor And bring back some of the luster and shine to my hair that it's so desperately needs. I am disappointed to report that it really didn't do that. Instead, it didn't really do all that much to make it stand out from the rest. It is indeed a light weight conditioner with a pleasant smell, and it may have done better if my hair wasn't so damaged. I was hoping for something that was a little thicker… because when you think of a hair mask you think it's going to be super thick and really moisturizing. And that itself was a letdown for me. But on the flipside if you have hair that is lightweight and not to severely damaged I think he would farewell using this product.
Date published: 2018-01-17
Rated

5

out of

5
by
clamity
from
Excellent product for hair
This is such an excellent product for hair! I recently came back from a vacation that left my hair very dry and needed fast repair, thankfully I had received this product just in time and WOW its amazing! I was able to get two uses out of it, just leave it in and after its removed my hair became so soft and smooth lasting for days. I feel it has restored my hair to its prior texture and improved it a bit. The smell is beautiful, I've always been a huge fan of honey. Overall I would definitely recommend this and plan on purchasing it myself asap, its going to be part of my hair routine from now on going forward.
Date published: 2018-01-17
Rated

5

out of

5
by
jaclynnb
from
Honey, This Is Great!
This is the perfect little boost I've been looking for especially during this cold winter weather when my hair tends to get on the dry side. It not only made my hair soft and shiny, it smells delightful. I also love that you don't have to leave this on for an eternity. 3 minutes is all it takes, of course, if you've got extra time, leave it on longer! Often, I have to skip masks because I simply don't have the time to hang out in the shower but this one works on your schedule and it really works! Loving my Garnier Whole Blends Honey Monodose Hair Mask!
Date published: 2018-01-17
Rated

4

out of

5
by
wgloglo
from
Quick, easy, worth it!
Garnier Whole Blends Honey Monodose Hair Mask makes my hair soft and shiny. It's a must especially during these cold and dry winter months. I have shoulder length, thick hair and there's plenty in the pouch for 2 treatments. What a bonus! The mask has a rich, creamy, sweet smell that makes your whole steamy shower feel luxurious. The treatment only takes 3 minutes so it's easy to incorporate into a regular shower routine and is the perfect way for this busy mom to be able to doing something nice for herself regularly.
Date published: 2018-01-17