This site is intended for US consumers.Cookies and related technology are used for advertising.To learn more or opt-out, visit Ad Choices and our privacy policy.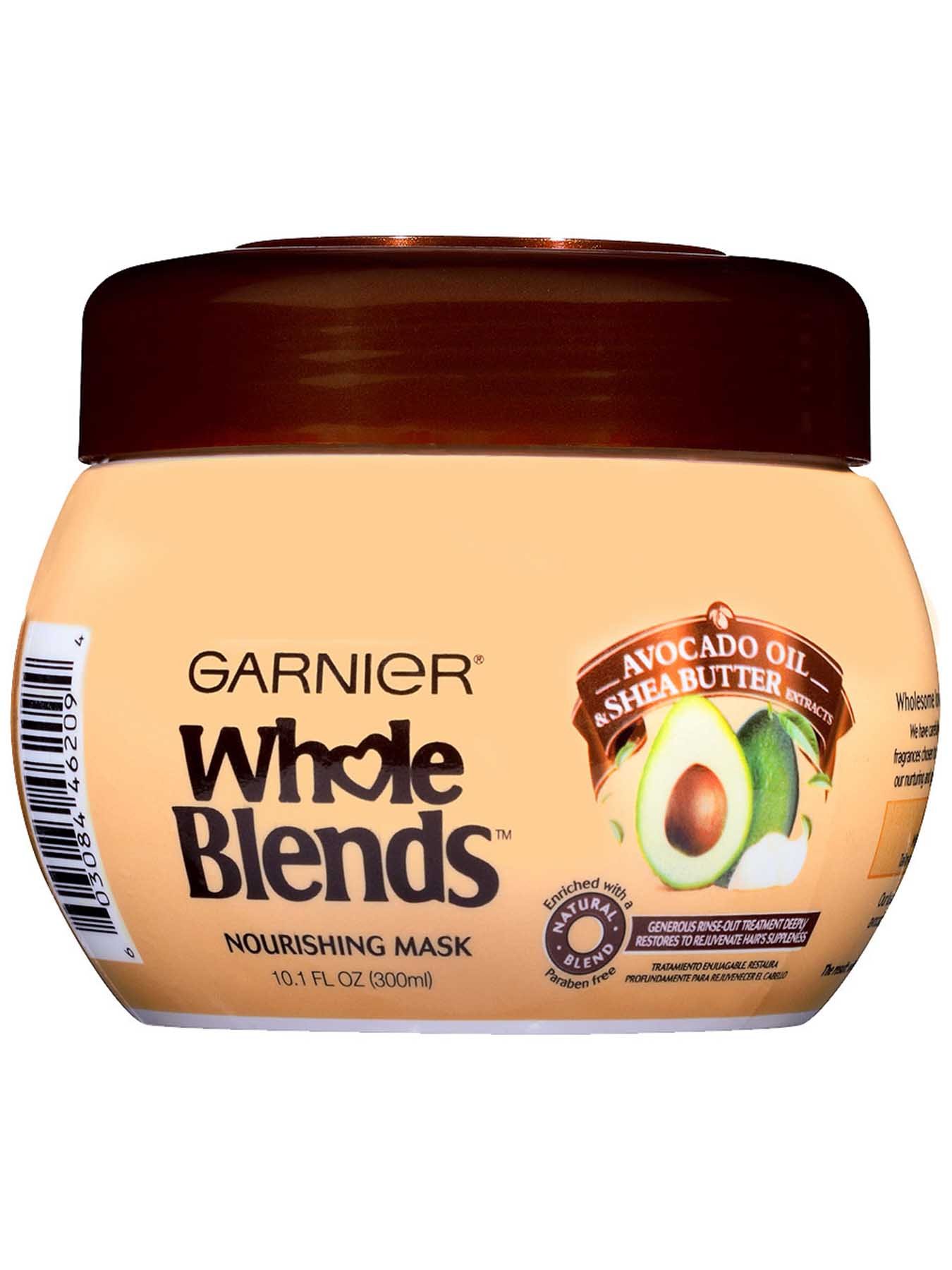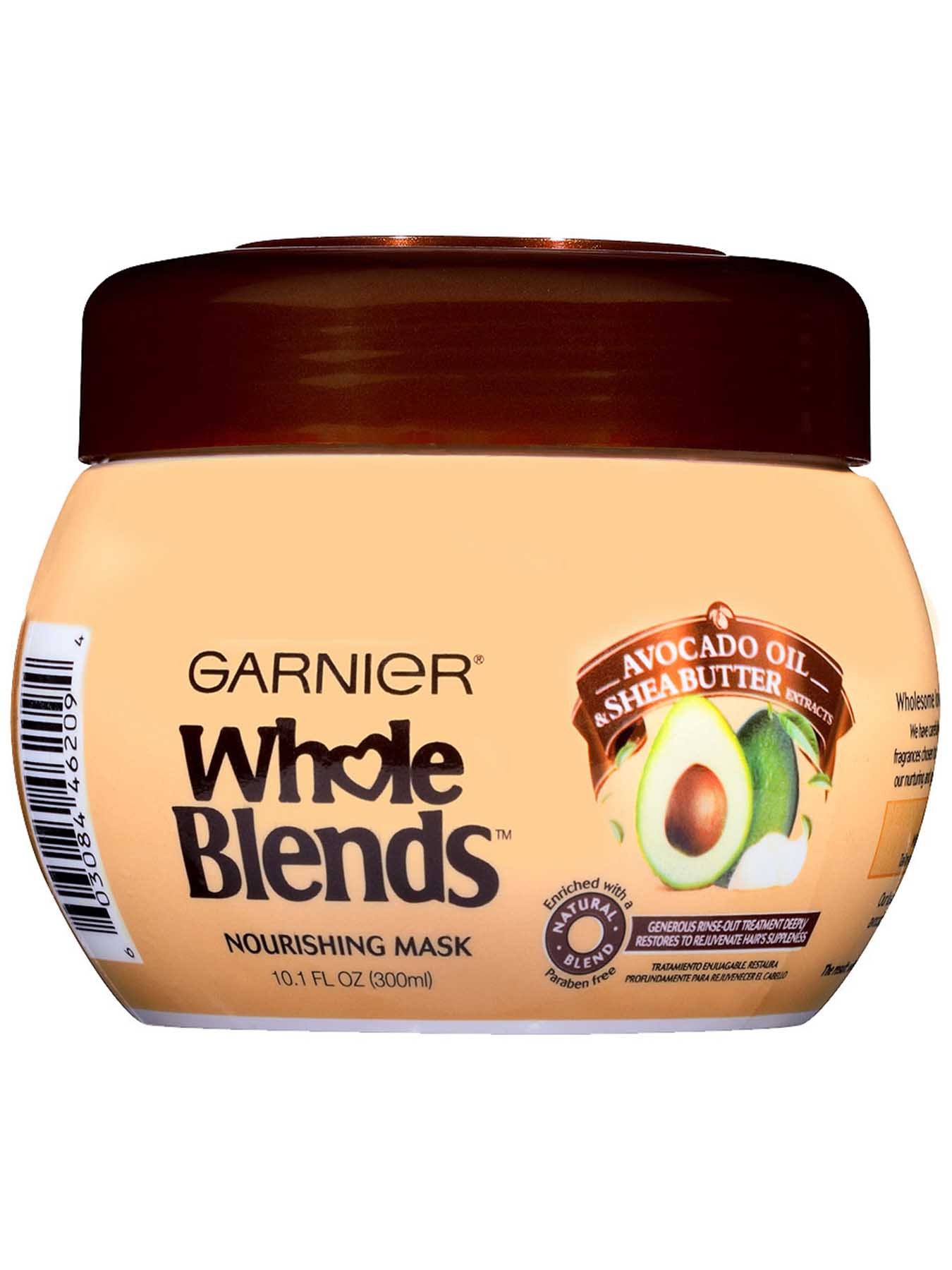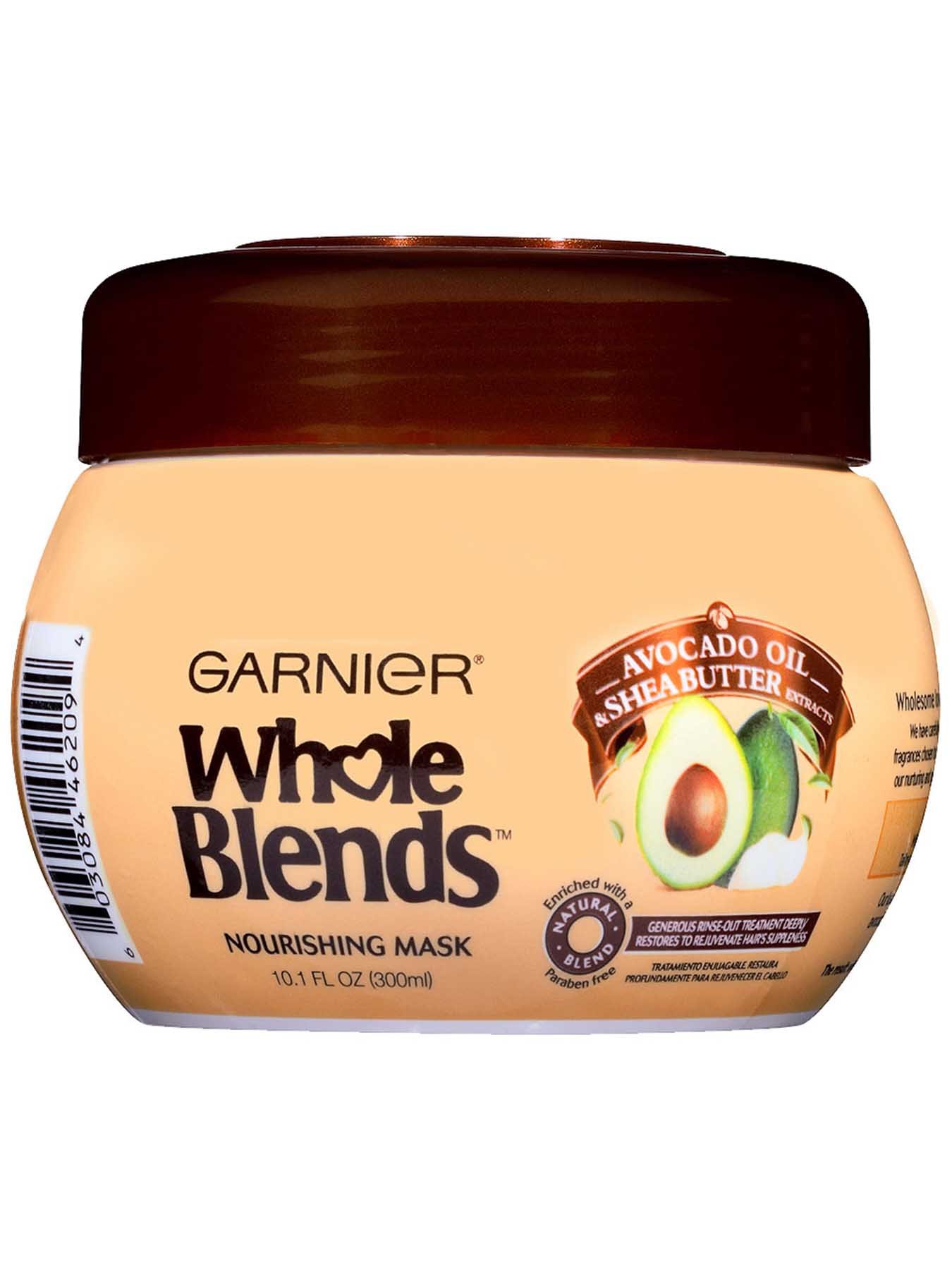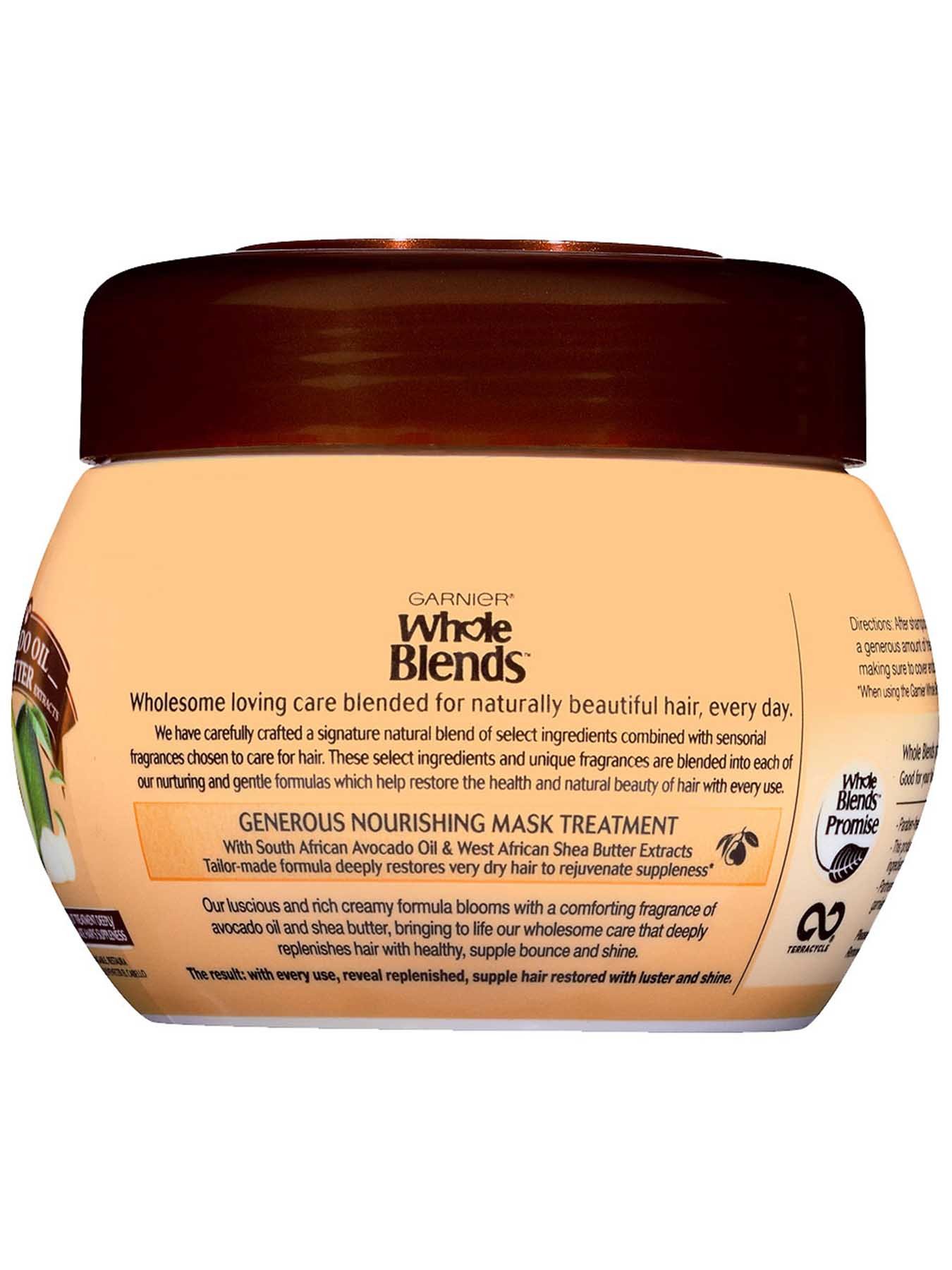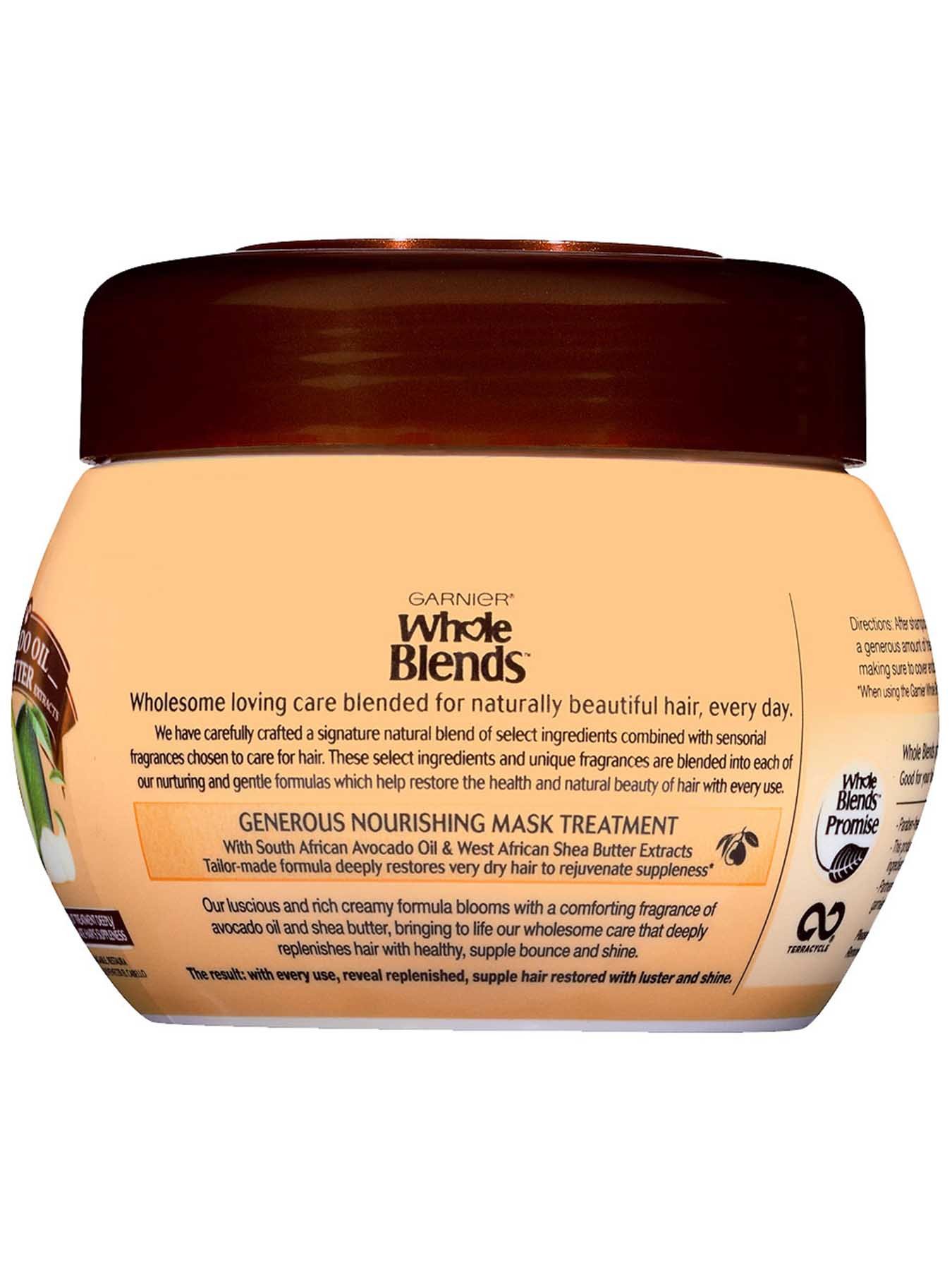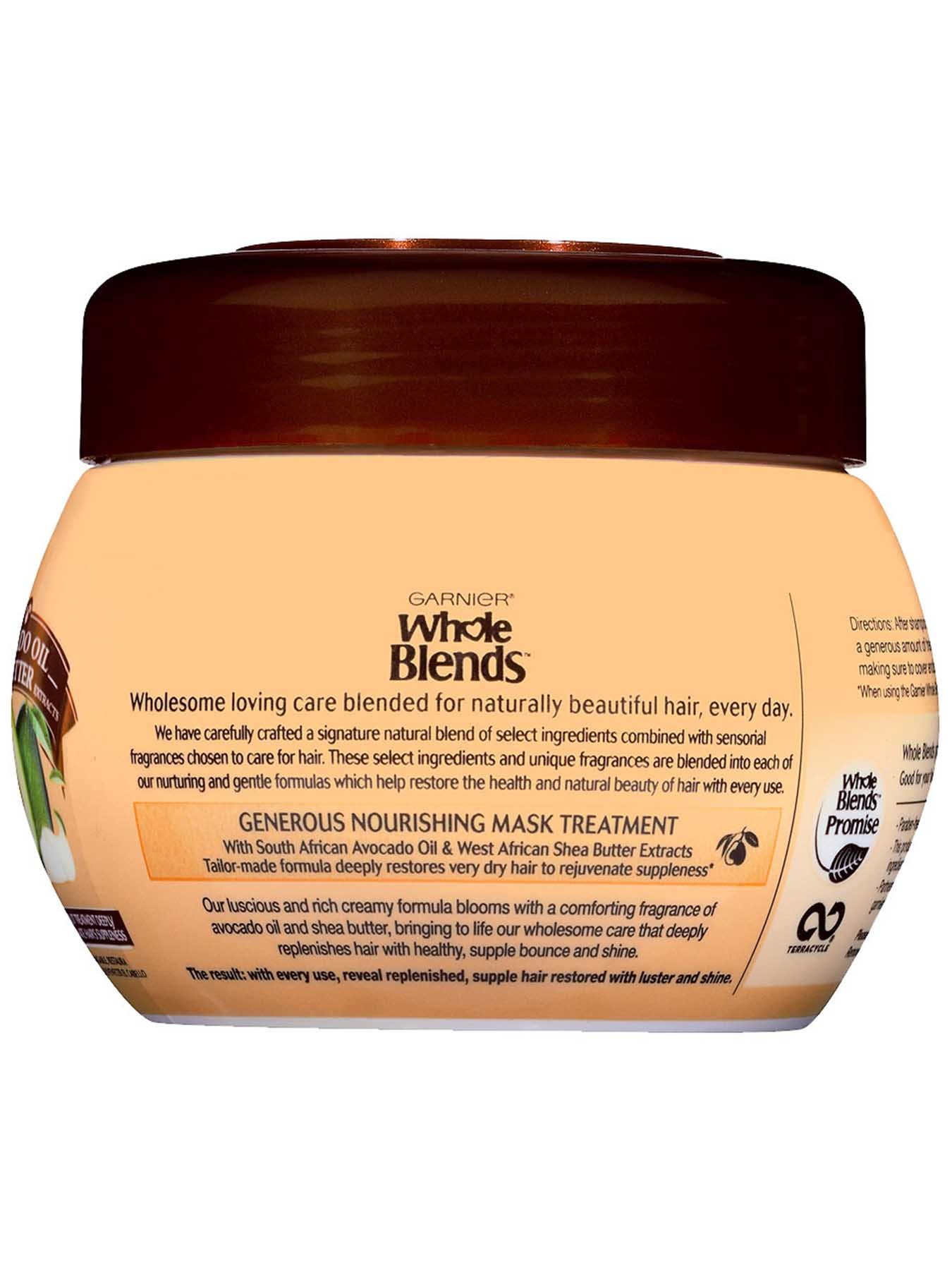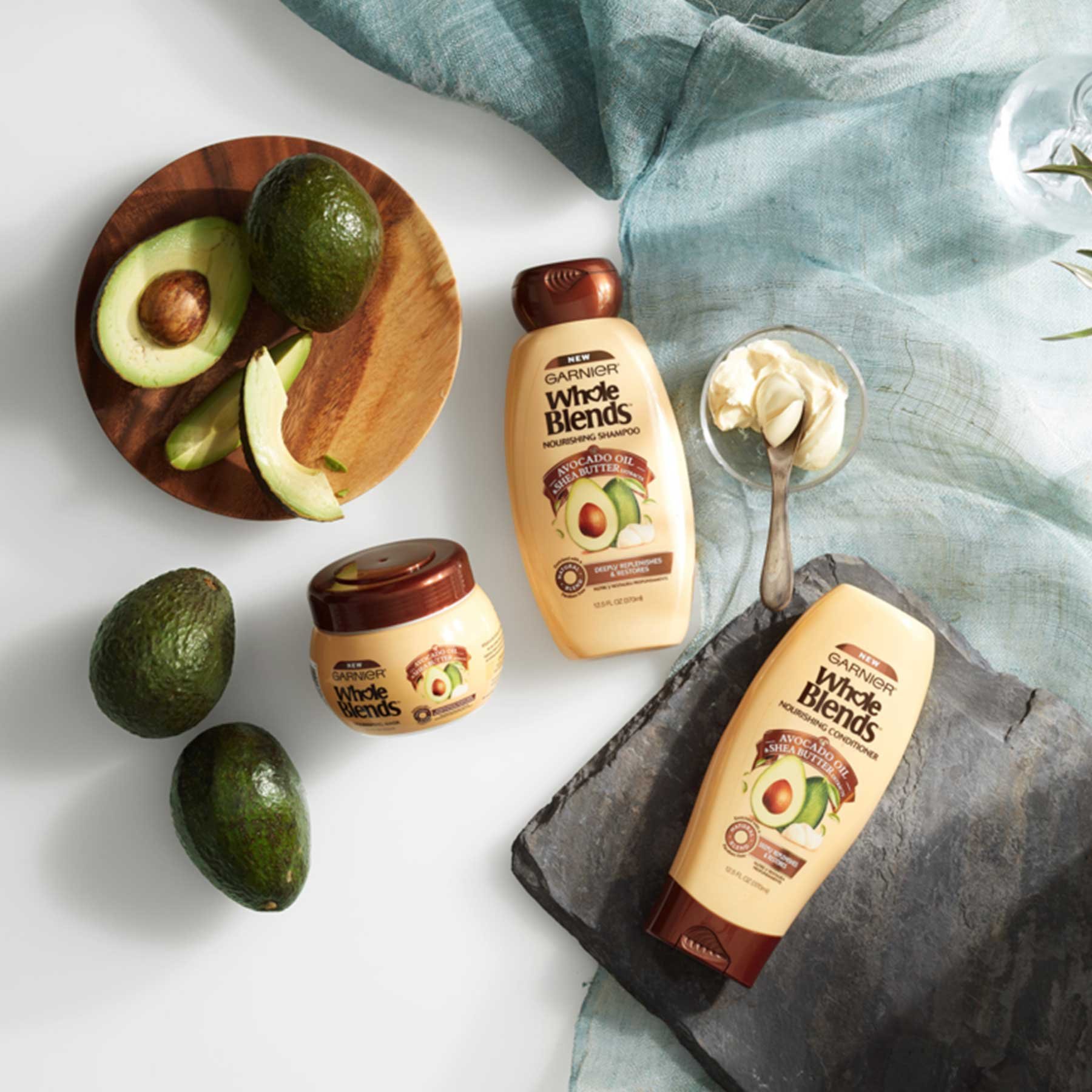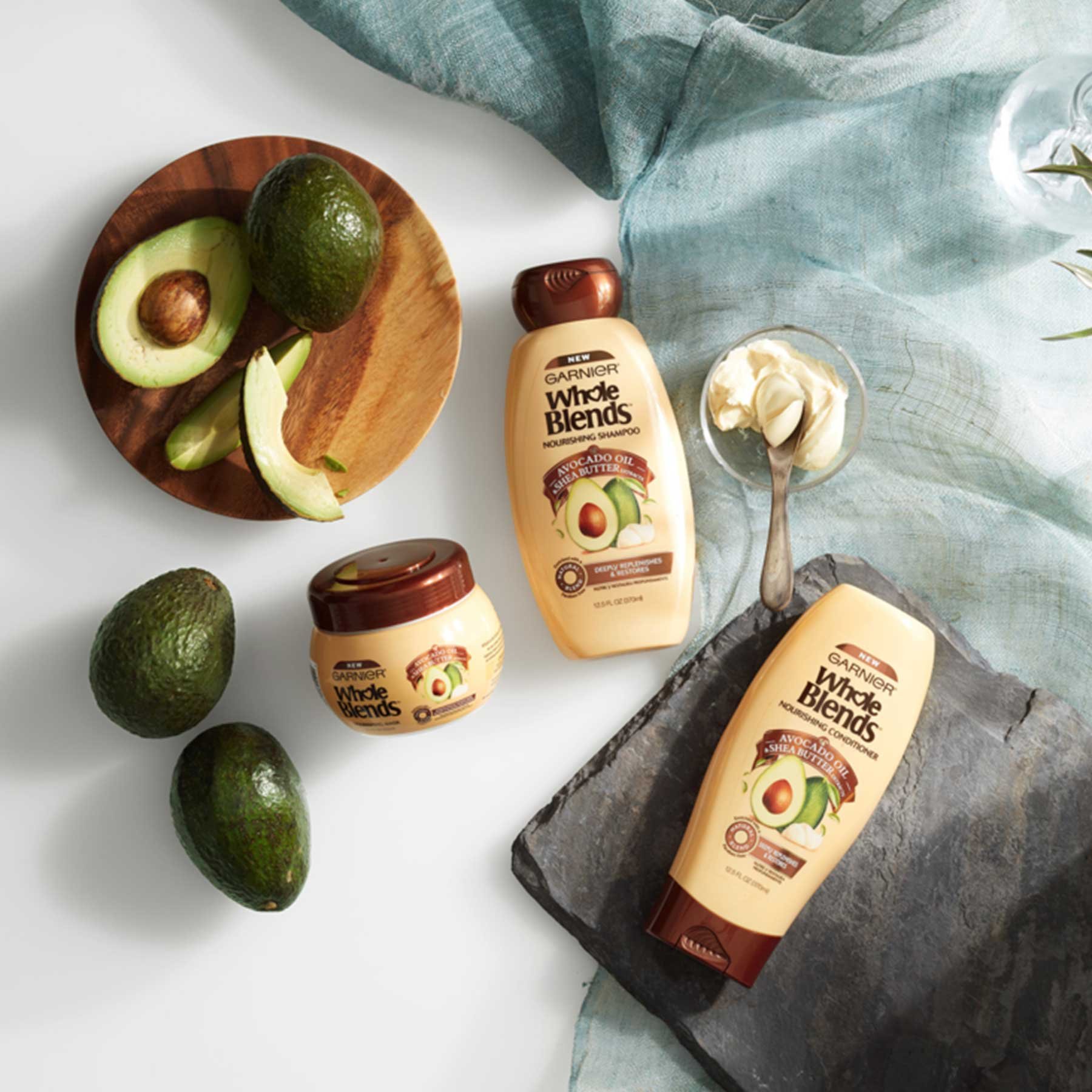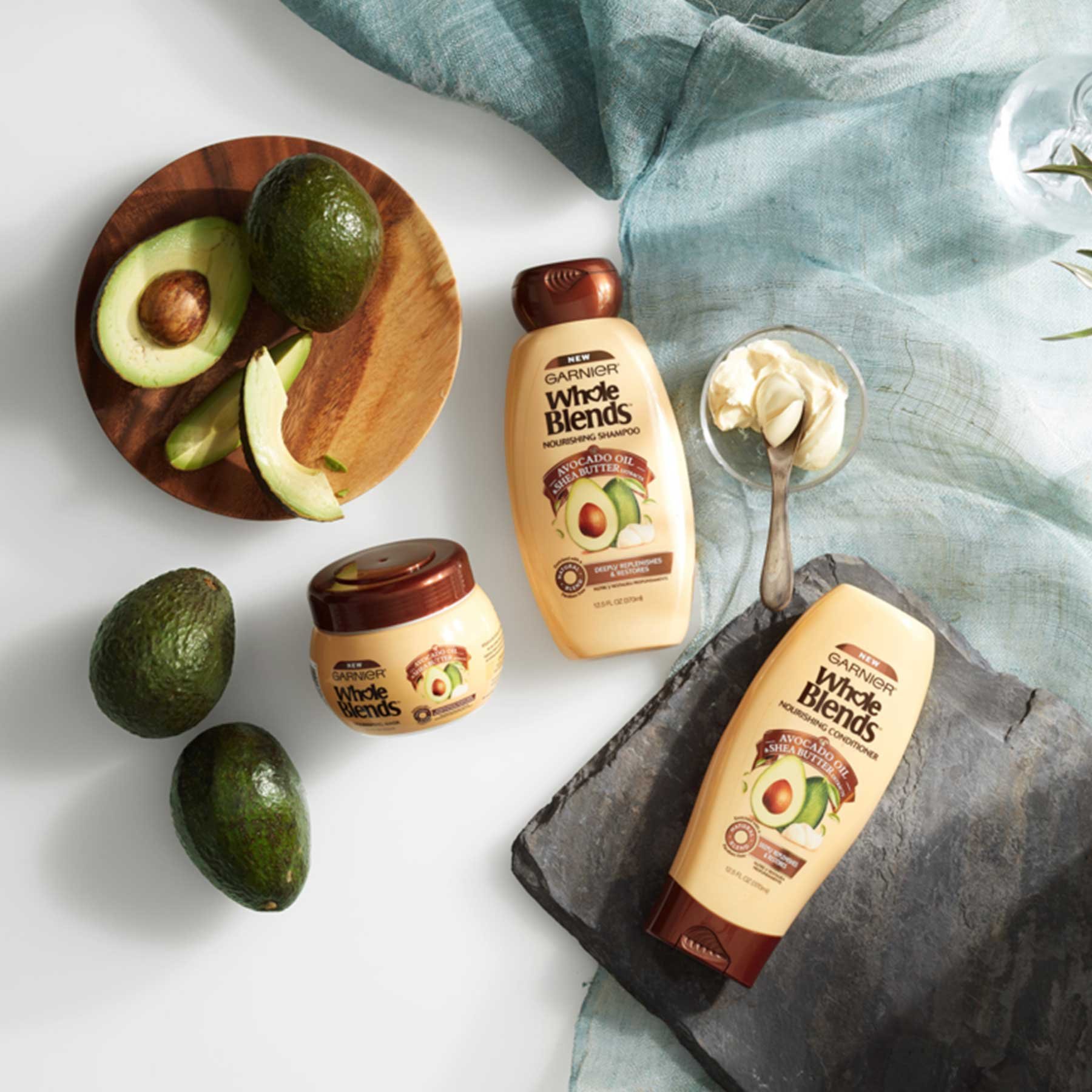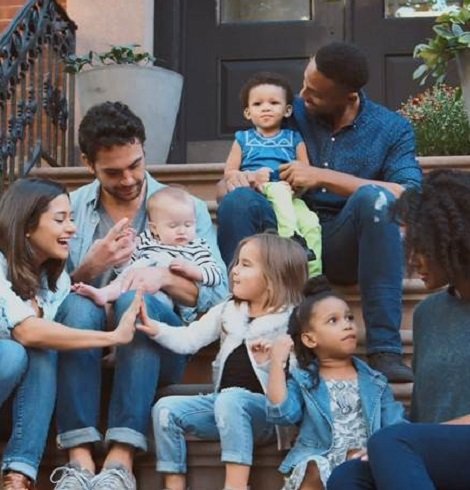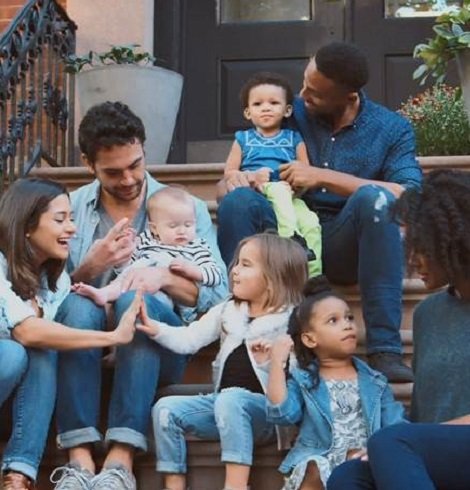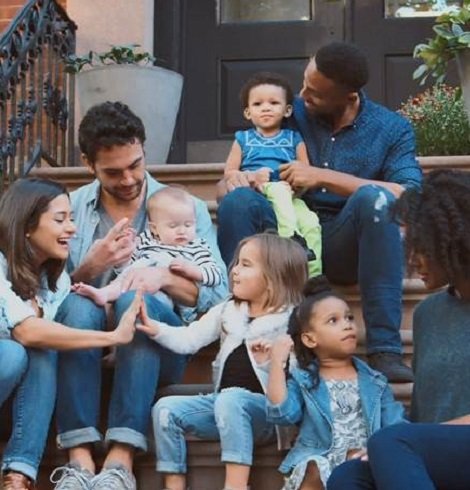 Whole Blends
Nourishing Mask with Avocado Oil & Shea Butter extracts
$6.99 MSRP
Generous Rinse-out treatment deeply restores to rejuvenate hair's suppleness
PRODUCT INFORMATION:
Our luscious and rich creamy formula blooms with a comforting fragrance of avocado oil and shea butter, bringing to life our wholesome care that deeply replenishes hair with healthy, supple bounce and shine.* *When using the Garnier Whole Blends Nourishing system of shampoo & treatment.
How to Use:
After shampooing with our Nourishing shampoo, apply a generous amount of treatment to hair. Gently work through hair, making sure to cover ends. Wait 3 minutes, then rinse thoroughly.
Ingredients:
AQUA / WATER / EAU CETEARYL ALCOHOL BEHENTRIMONIUM CHLORIDE AMODIMETHICONE CANDELILLA CERA / CANDELILLA WAX / CIRE DE CANDELILLA CETYL ESTERS GLYCERIN BUTYROSPERMUM PARKII BUTTER / SHEA BUTTER ARGANIA SPINOSA KERNEL OIL TRIDECETH-6 ALOE BARBADENSIS / ALOE BARBADENSIS LEAF JUICE HELIANTHUS ANNUUS SEED OIL / SUNFLOWER SEED OIL ROSMARINUS OFFICINALIS LEAF EXTRACT / ROSEMARY LEAF EXTRACT ISOPROPYL ALCOHOL HYDROXYPROPYL GUAR CITRIC ACID PERSEA GRATISSIMA OIL / AVOCADO OIL TOCOPHEROL PHENOXYETHANOL CHLORHEXIDINE DIHYDROCHLORIDE CETRIMONIUM CHLORIDE CI 15985 / YELLOW 6 CI 19140 / YELLOW 5 PARFUM / FRAGRANCE LINALOOL BUTYLPHENYL METHYLPROPIONAL HEXYL CINNAMAL BENZYL ALCOHOL BENZYL SALICYLATE
Avocado Oil
A smoothing and silkening hair booster, Avocado Oil is loaded with plant-based fatty acids, which have a unique ability to penetrate for deep long-lasting effects. This rich indulgent ingredient helps to smooth split ends while adding a brilliant shine.
Shea Butter
Ideal for soothing and restoring parched hair, Shea Butter is the common name for the dense, penetrating balm that comes from the African Shea tree.
The Whole Regimen
Everything you need to complete your Nourishing hair care routine.
Wash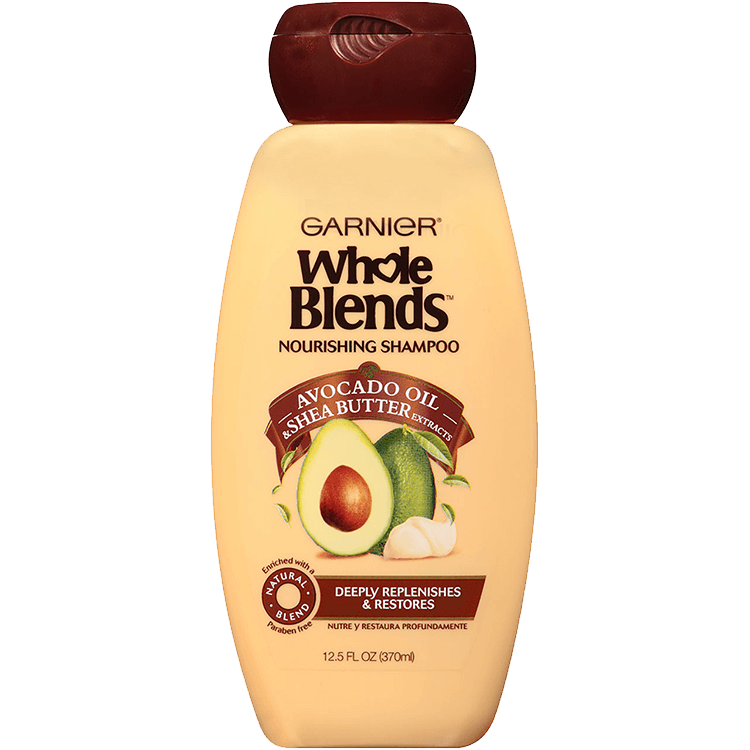 Whole Blends
Nourishing Shampoo with Avocado Oil & Shea Butter extracts
Very Dry Hair
Condition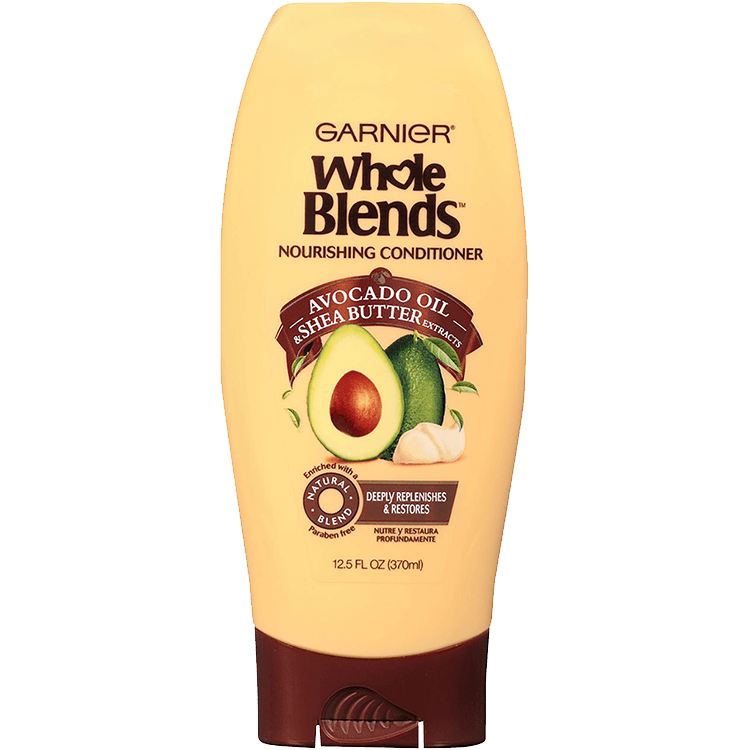 Whole Blends
Nourishing Conditioner with Avocado Oil & Shea Butter extracts
Very Dry Hair
Treat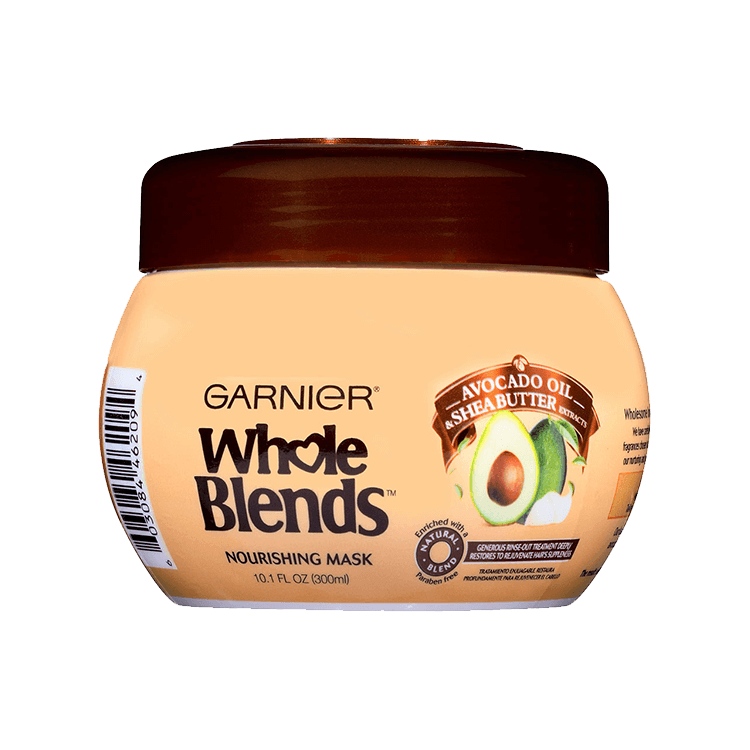 Whole Blends
Nourishing Mask with Avocado Oil & Shea Butter extracts
Very Dry Hair
Rated

5

out of

5
by
kimmysue53
from
Garnier Whole Blends Nourishing Mask
I was a little leery to try this product. The first thing I noticed was it had avocado oil in it. Typically any shampoo or conditioner I try that have any type of oil in it makes my very thick hair a matted greasy mess. This however did not! It has a very nice smell and left my hair so soft and smooth. My hair was so shiney and soft after straightening. I highly recommend this product. My hair is in desperate need of a haircut and with all my dead ends from coloring and straightening this product really gave me the out of the salon feel and shine. The only down fall would be the packaging... I only have 1 little shelf in my shower stall so this took up alot of room and it was awkward to take the lid off, scoop up some conditioner and then try to put the lid back on with slippery hands without getting everything soaked.
Date published: 2017-08-31
Rated

5

out of

5
by
KatySue
from
Love This Product!
I must say that Whole Blends exceeded my expectations! This mask has nourished my hair like nothing else has. I have very long hair, it almost reaches my butt. I struggle to keep it healthy, but I truly think I may have found the product to remedy that in Garnier's Whole Blends Mask! Usually the ends of my hair are dry, brittle, and dull. After using this mask, my hair was moistourized and looked healthy too. Since I began using it, split ends have not been an issue for me whatsoever. Highly recommended!
Date published: 2017-08-30
Rated

4

out of

5
by
GeniGee
from
Pretty good with added oils
I think think this a pretty good product. My hair normally runs dry, but was extremely dry when I tried this product. I added some natural oils that I had on hand and, and let it sit while using a plastic cap to use heat to open the pores of my hair. It made a great hot oil/ conditioning treatment. I like that it was thick enough to coat my hair without sliding off. Afterwards, my hair felt like it was in a much better state.
Date published: 2017-08-30
Rated

5

out of

5
by
Manders67
from
Finally a mask for fine hair
I have very thin, fine hair that is also damaged at the ends. The Garnier Whole Blends Nourishing Mask helped to moisturize the ends of my hair without weighing it down too much - which a lot of hair masks do. My hair feels very soft for days after using this product. The smell is also pleasing - not too strong and with no synthetic smell. I would highly recommend this product to anyone looking for a moisturizing mask that is not too heavy for fine hair.
Date published: 2017-08-30
Rated

3

out of

5
by
Mia2251
from
Whole Blends Hair Mask
The hair mask smelled amazing and felt rich enough to work with my hair but it didn't really do all that much. Once I put the mask in my hair it made it feel moisturized but once I rinsed it out my hair felt dry. It didn't stay moisturized as it dried and made my hair feel brittle. Maybe for a different hair type it would work better but for mine it didn't do anything.
Date published: 2017-08-30
Rated

4

out of

5
by
mrsmort29
from
Beautiful Hair
I have been using Garnier Whole Blends nourishing mask for a little over a week. My hair is loving this new treatment. I have thick hair and this mask makes my hair so shiny and soft, it has been extremely easy to brush through my hair. The smell is extremely pleasant and the texture is perfect. It sits in the hair nicely and washes out nicely and does not leave the hair oily. I have gotten several complements since i have started using the mask. My hair has a beautiful shine and my hair just looks so much more vibrant and healthy. The only thing I would change is the packaging. It would be more convenient to use from a bottle instead scooping it out.
Date published: 2017-08-30
Rated

4

out of

5
by
jess_i_ca
from
Luscious locks!
I recently tried Garniers Nourishing Mask with Avocado Oil & Shea Butter Extracts and I have to say I'm in LOVE! After a summer of swimming in the pool and being in the sun my hair needed a little help! After using this product about 2 or 3 times I noticed a complete difference! My hair had life back! It's shiny, soft and moisturized without a greasy feeling. It's light and bouncy! And to top it off the smell is amazing! I can still smell it after a long day at work. I would highly recommend this product to anyone who's hair needs a little "pep in its step!"
Date published: 2017-08-29
Rated

4

out of

5
by
laurenmoncion
from
A 3 minute Shea butter dream!!!
I have used many hair masks before and this one is definitely in my top 5. Its thick whipped texture covers every inch of the hair shaft and nourishes it to the core in just 3 minutes. It leaves your hair with a delicious Shea butter scent. My only con would be that if you are too generous with it, as the directions suggest, your hair can end up feeling a bit weighed down, but aside that it was 100% worth it.
Date published: 2017-08-29
Rated

5

out of

5
by
Melendez421
from
Great Product!
This product works great on MY hair. I usually have my hair up for work and it is summer so leaving my hair up is a must. When ever I take a shower a bunch of my hair always falls out due to sweat and being tied up the whole day. I've noticed that after using this products I would lose less hair to almost no hair while taking a shower. I feel the difference. My hair actually feels healthier and the product smells good. I didn't get to try it with the products it recommends you to use on the bottle but it didn't matter. I used regular shampoo and conditioner, let the garnier whole blends set in on the recommended time and got instant results. I loved the product and I'm even considering buying the other recommended products just because it worked so well on my hair. Definitely a product I would strongly spread the word about.
Date published: 2017-08-29
Rated

5

out of

5
by
jaceyrae24
from
Love this!!
I think I'm in love with this hair mask, I love how soft it leaves my hair and the scent is so good I love how long lasting the scent is it's a great mask for your hair. Works as a great detangler, my hair feels so healthy after using it I'll definitely be adding this to my hair care routine. It's a must for your hair definitely a keeper.
Date published: 2017-08-29
Rated

5

out of

5
by
Shirnika
from
THE best hair mask ever!
This has to be the best hair mask I have ever used! When I read the directions and saw that I only had to leave it on for about 3 minutes I was a bit skeptical but I followed the directions to get a true sense of how the product worked. Let me tell you, it left my hair feeling so soft, I had no tangles and this product smells great which is a plus. Once my hair dried, it was still soft, shiny and smelt so good! I have used this twice and have gotten great results every time so it will be added to my hair care staples. I was in need of a great hair mask and didn't even know it! LOL I would definitely recommend this.
Date published: 2017-08-29
Rated

4

out of

5
by
Izabella98
from
It Takes Time
I tried the Garnier Whole Blends nourishing mask for about three and half weeks. At first I was not happy with the results. My hair became very brittle and dry, it did not react well. But after a couple more uses my hair began to be more softer than ever before. I was and still am in love with the softness that my hair now has. The mask has now been fully incorporated into my daily hair routine. I love it!!!
Date published: 2017-08-28
Rated

3

out of

5
by
Staceyblazer2
from
Garnier Whole Blends hair mask
I used the Garnier Whole Blends hair mask with avocado oil and shea butter. I thought the mask left my hair too oily. My hair was softer when I used the mask. It had a pleasant smell. I may try a different blend of this mask.
Date published: 2017-08-28
Rated

4

out of

5
by
BStandert
from
Decent Hair Mask
Though I did not fall in love with this product I know I will continue to use it until the container is wiped clean. The smell of the shea butter is wonderful, the bowl container makes it easy to scoop out and apply to your hair, working it through your just shampooed hair is very relaxing and doesn't feel like work, and the fact that the container is recyclable is just a bonus! My hair is color treated and has been through a LOT this past year and thankfully it's decently healthy, but it does often feel on the dry side. So I figured a mask couldn't hurt and should only help and this nourishing mask did not disappoint! The first time I used it I left it on the directed three minutes and after I let my hair dry it still felt a bit course. I should note that I did not use their nourishing shampoo in combination with this so I do not know if it would have had different results, but the next time I left it on for about ten minutes and my hair felt like straight-from-the-salon soft! It is wonderful! I only give it four stars because I feel like there is room for improvement. Anyone with hair that could use some attention and moisture without sacrificing volume, this is the hair mask for you! Pictured is a before showering and after using Garnier Whole Blends Nourishing Mask and letting my hair dry. I cropped my face so you could see the hair comparison better.
Date published: 2017-08-28
Rated

3

out of

5
by
kristenrae
from
This mask works hard!
I was excited to try this hair mask! I have long, thick hair that is dry. Especially the ends. This mask left my hair feeling so soft! I loved the smell as well. It was just too much for my hair and made it look greasy. I think it would be great for someone with darker hair. But my blonde hair just couldn't handle this much.
Date published: 2017-08-28
Rated

4

out of

5
by
roxie07
from
Great Conditioner
I've never used a product like this before. I wasn't even sure that it would work. Luckily I was proven wrong. My hair is dry and damaged from styling. This completely improved my hair in one use. It's noticeably more smooth and shiny. I really like that you only need to leave it in for a few minutes so it doesn't take much more time in the morning. I'm crazy about the scent but since my hair looks amazing after using it I'm not going to complain.
Date published: 2017-08-28
Rated

5

out of

5
by
SakuraBloom
from
Nourishing Hair Mask
I have straight hair but it tangles so easily. If I don't use certain shampoo and conditioner, then I end up ripping my hair out every time I try to brush it. It's also dry and lifeless with oily roots and dry ends. However, my hair went through a miraculous transformation after using this nourishing mask. The combination of the avocado oil and the Shea butter extracts give it a tropical and exotic scent that is to die for. First it made my hair so manageable because the formula is made to rejuvenate the dry strands and bring it back to life. One stroke and I am able to brush my wet hair from scalp to end. It also gave my hair such a healthy shine and added volume without the help of a blow dryer. Apply, wait, rinse, and my hair is transformed. It doesn't get better or easier than that!
Date published: 2017-08-28
Rated

5

out of

5
by
troose08
from
Great Deep Conditioner!
My hair has been damaged from years of off and on coloring, highlighting and heat styling. After having a baby a few months ago, my hair was completely wrecked from the oh so wonderful "post partum shed" I have been in the market for a great deep conditioner to work into my hair care routine. This product is everything I wanted and needed it to be. It smells great, like warm vanilla sugar. I've been using it twice weekly and it has done a great job with making my hair smooth and silky and feeling very moisturized. It's doing a great job making my hair look and feel less damaged.
Date published: 2017-08-28
Rated

5

out of

5
by
blumenaugen
from
Awesome Hair Mask
I must say, I'm pleasantly surprised with the Garnier Whole Blends Nourishing Mask. I have very thick, curly hair that gets tangled easily even with through brushing and lots of moisturizer. I've spent $20+ on a bottle of conditioner to help combat this. I never expected a hair mask that's available in drugstores and supermarkets to be so fantastic. What I love about the product is that is doesn't smell chemically; I'm used to using a lot of ethnic hair care products that smell chemically. Also, there is plenty of product in the packaging and I like that you can just scoop out the product. The product also has a nice consistency to it. My curly, thick hair loves the moistuizer. I would recommend this product, and already have, to my friends, coworkers, and family who have thick, curly hair. Will definitely be buying it when it runs out - bye DevaCurl!
Date published: 2017-08-28
Rated

5

out of

5
by
KenzieCole
from
Great Nourishing Mask
I love the Garnier Whole Blends line for my hair! Using the Avacado Oil & Shea Butter Nourishing Mask greatly helped my hair ( which is damaged from bleaching and coloring). The mask isn't overly smelly and has a nice thickness to it. It really stayed in my hair and gave it a nice shine and my hair was more supple and soft. Plus you get quite a lot in the jar which is a nice size and has a large opening so I can get all the product out!
Date published: 2017-08-27
Rated

5

out of

5
by
Jossely
from
Never tried but I can say I'm happy
I got this in the mail fairly quickly, first of all. I must also say, I have the bottom half of my hair bleached green and what not, so you know off the bat that it's a little dry and damaged. Well, let me tell you, this mask is perfect for dry hair. On my first try, after leaving it on for the recommended amount of time, I got instant results. My hair was soft and shiny and if you've ever had a good hair/make up day, then you know the selfies wouldn't stop coming! Can't wait to try out more products from the Whole Blends line. I already have the shampoo :)
Date published: 2017-08-27
Rated

5

out of

5
by
Apinkjellybean04
from
smells amazing
This product is down right amazing. I am a bleach blonde and my ends on my hair were very dry and i couldn't find any products to help. So once i tried this it helped my ends and made my hair super soft.
Date published: 2017-08-27
Rated

4

out of

5
by
becca2013
from
Extra conditioning
I could have not of started using Garnier Whole Blends Nourishing Maskat a better time. The ends of my hair have started to become dry due to the summer and activities. I started using Garnier Whole Blends Nourishing Mask, and it makes my hair soft and smooth! It gives you extra conditioning without making it greasy or oily. The only thing I don't care for is the smell. It doesn't have a very pleasant smell compared to the other Garnier Fructis products.
Date published: 2017-08-27
Rated

3

out of

5
by
berlykim22
from
Nutrising for Hair
Garnier Whole Blends Mask worked better then regular conditioner, made my hair feel soft and smooth. I left is on for longer to let soak in my hair. Smelled good and made my hair feel healthier.
Date published: 2017-08-27
Rated

5

out of

5
by
mamaseymour
from
Fantastic for thin, fine hair
Nourishing Mask with Avocado Oil & Shea Butter extracts conditions the ends, making them feel soft and luxurious, without making the hair at my scalp look or feel greasy. I was very skeptical at first, because I have very fine, thin, over processed and under cared for hair and this is by far the best conditioner I've tried yet! I've attempted other 3-minute leave-in conditioners only to have heavy, greasy looking hair. This stuff is amazingly light but somehow works the magic on the rough patches of my hair, making it all feel soft and healthy. I am very impressed and a new regular.
Date published: 2017-08-27
Rated

5

out of

5
by
OutlawPumpkin
from
Soft Hair? Yes!!
I live in Arizona (it's so dry here) and have short hair. That being said, it can be very difficult to find a good conditioner that doesn't weigh my hair down, make it greasy and still make my hair soft. Whole Blends nourishing blends does it all. My hair is super soft and it's not weighed down at all. It has an amazing smell of shea butter. It is a little strong if you don't like shea butter but I love it. I use this 3 days a week but I've also found a small amount of it is great for a light conditioner. Overall, I really like this hair mask/conditioner. If you're looking for super soft hair that smells great this may be just right for you. One more reminder...I live in a very dry climate which causes my hair to be dry. I noticed during our short rainy season my hair seemed a little heavy. Nothing major but depending on where you live, that detail could make a difference.
Date published: 2017-08-27
Rated

4

out of

5
by
A1KF
from
Great hair mask for dry or damaged hair
The mask is a really creamy texture, and it had a nice smell. I have highlighted hair, and my ends tend to get a bit dry, so I was excited to try this. It was easy to apply, and I used a comb to distribute it through my hair in the shower. I let it sit for a bit and then rinsed it out. My ends do feel more moisturized, and my hair is smooth and shiny. The only reason I didn't give this 5 stars is because my roots tend to get a little oily, and this took a while to rinse out. But I think for people with drier hair, it would be fantastic.
Date published: 2017-08-27
Rated

4

out of

5
by
autrae
from
Softer Hair
I want to start by saying I have really damaged hair. I have bleached and dyed my hair to beyond repair. I have tried many products, some work better than others, and this product does pretty well. I really like that it's more natural than similar products out there. My only complaint is it left my hair a little flat. It did seem to deeply condition my hair and it felt much softer than before. I felt like I could brush my more smoothly than before. Overall I enjoyed this product though there were some flaws.
Date published: 2017-08-26
Rated

5

out of

5
by
Miag2399
from
Say hello to my new hair mask....
Garner whole blends nourishing mask with avocado oil & shea butter extracts is amazing!!! I didn't know how this would work with my natural hair, but figured with avocado oil and shea butter it had to be decent. Well I was pleasantly surprised with how soft and manageable it left my hair, which is a big plus on wash day!!! The product smells good and is thick enough that you don't have to over use it to get coverage. It did not irritate my scalp and did not leave behind a residue. I will definitely making it a permanent part of my wash day routine. It may not be for everyones hair but I'm glad it works in mine.
Date published: 2017-08-26
Rated

5

out of

5
by
kels1245
from
Gave me silky smooth hair!!!
This Whole Blends Nourishing Mask by Garnier is absolutely amazing!! You can smell both the avocado and Shea Butter mixed together and I love it! It's not an overpowering scent at all. I used this after my Shampoo and before my conditioner and I could already tell a huge difference in my hair and you don't need a lot because a little goes a long way! I also like the packaging of the hair mask and just one of these will last you for a very long time!! And here's a picture of how amazing my hair looked after I used the amazing Nourishing Hair Mask by Garnier!!
Date published: 2017-08-26