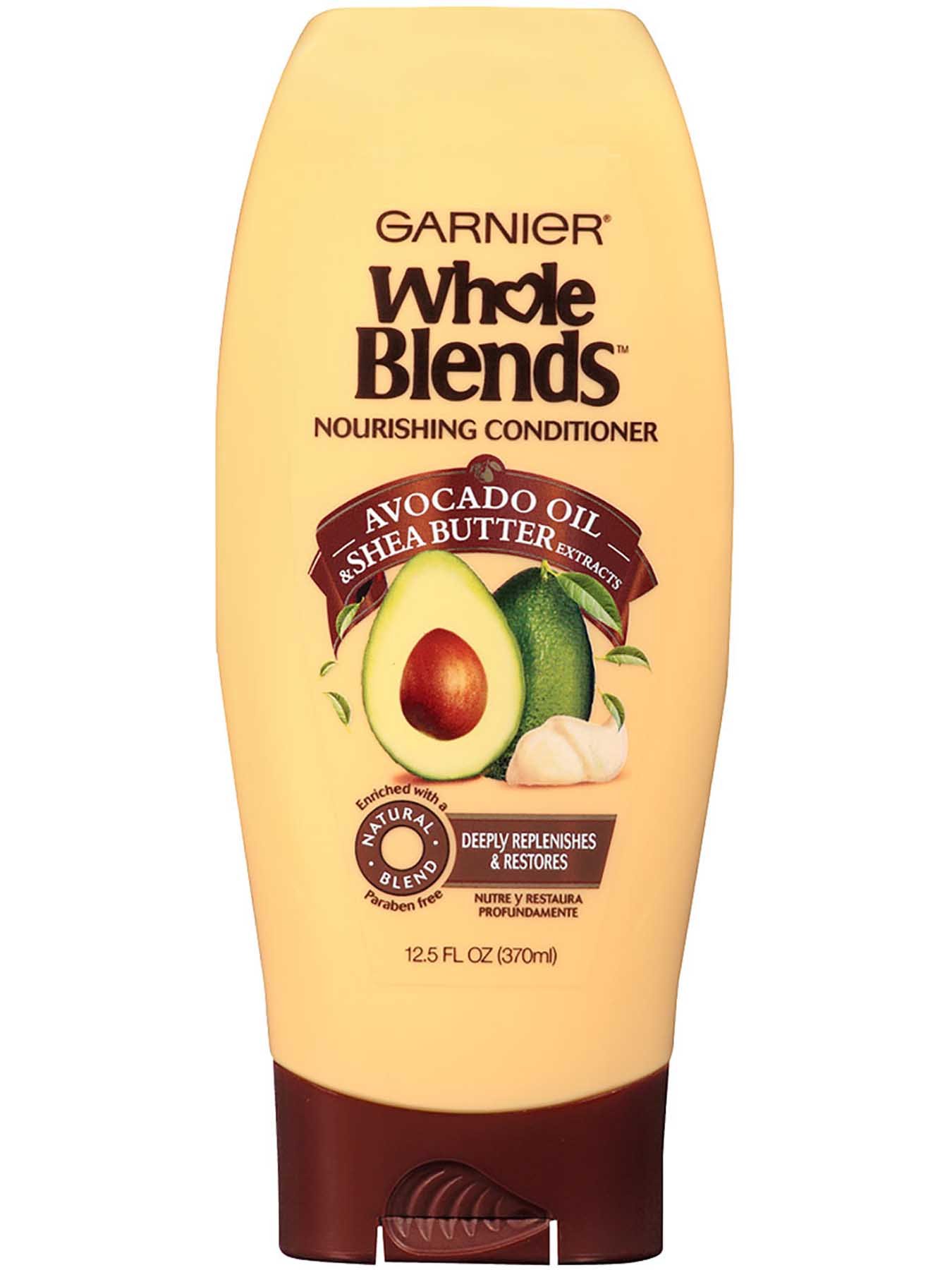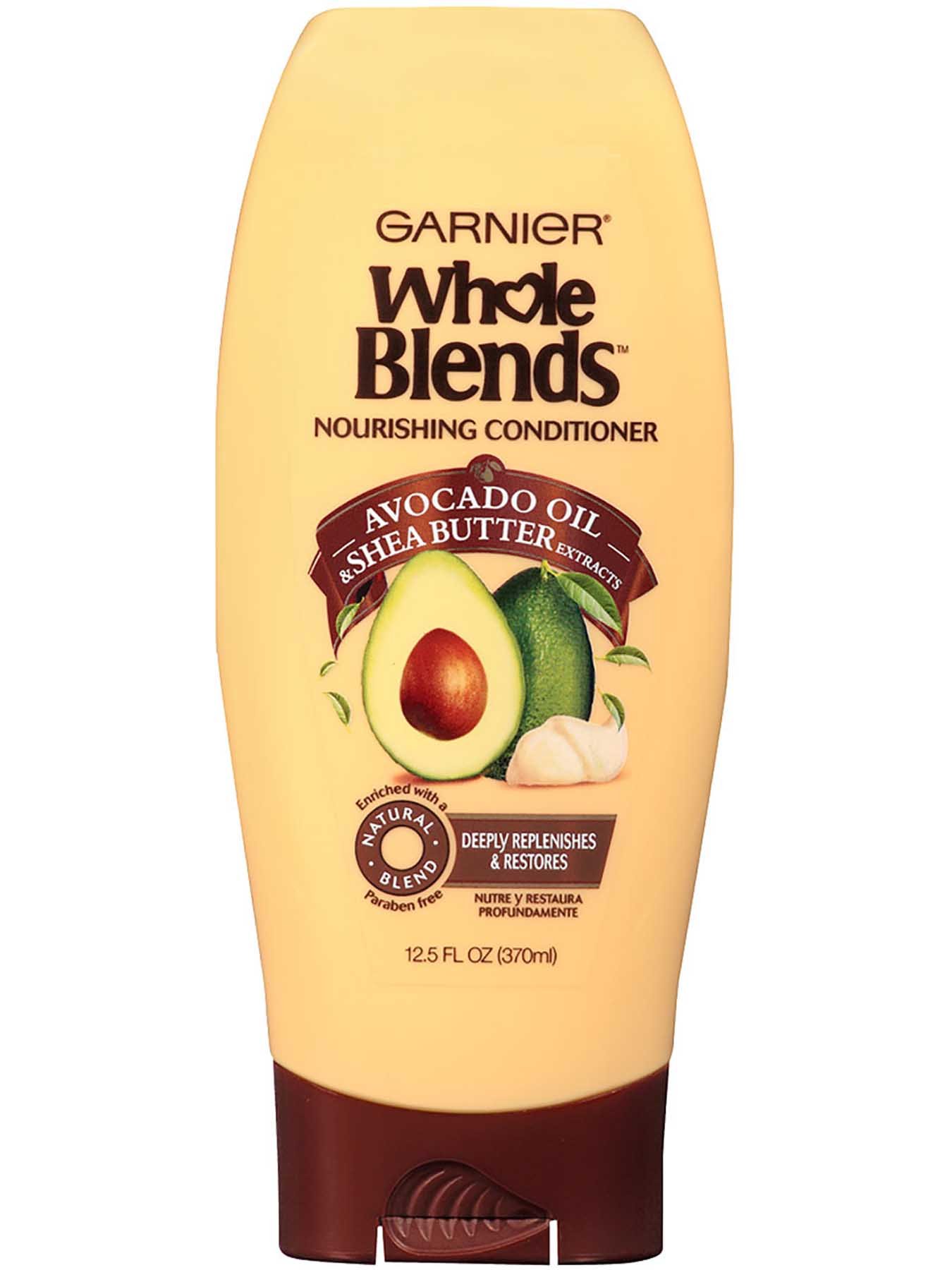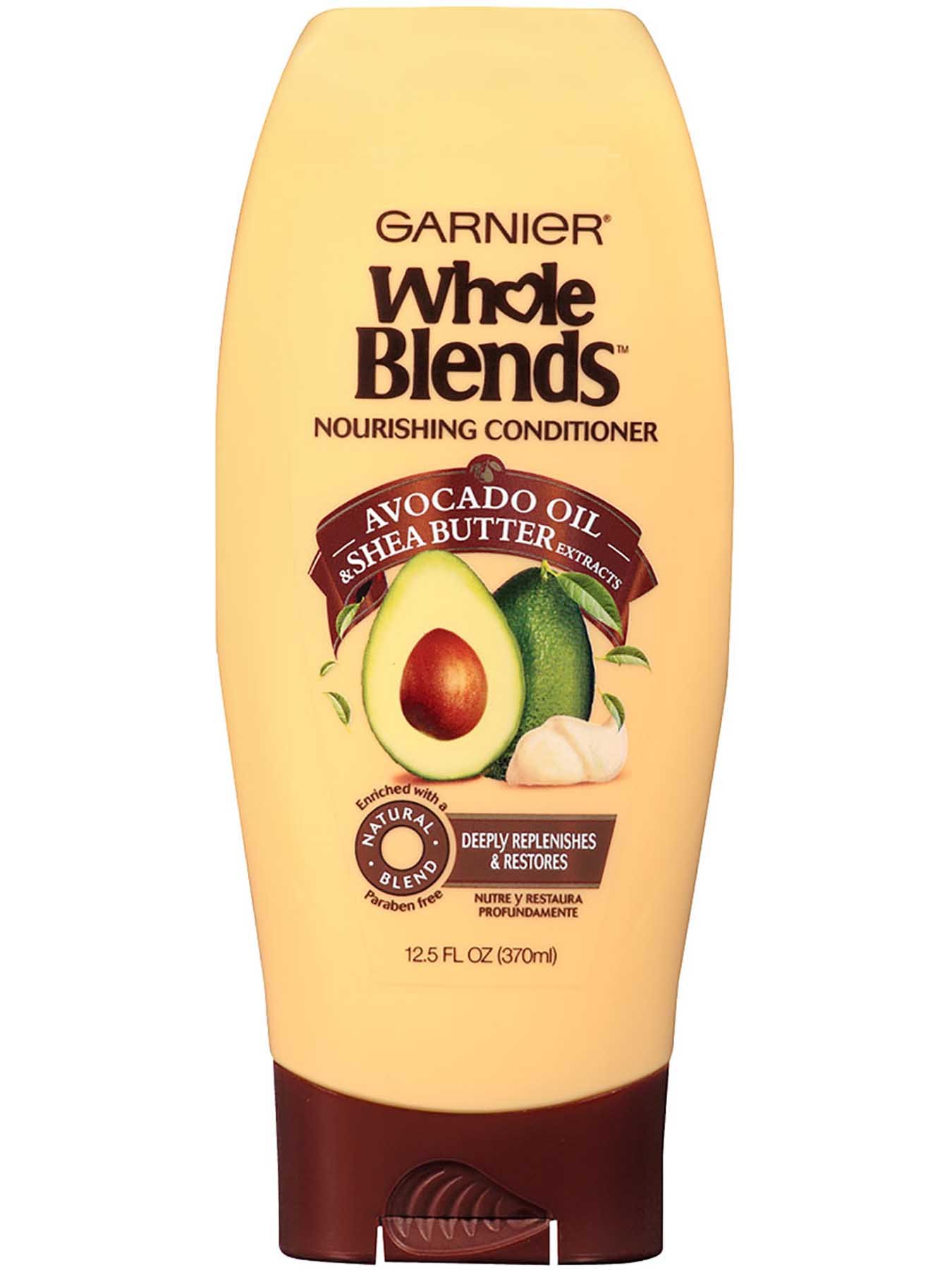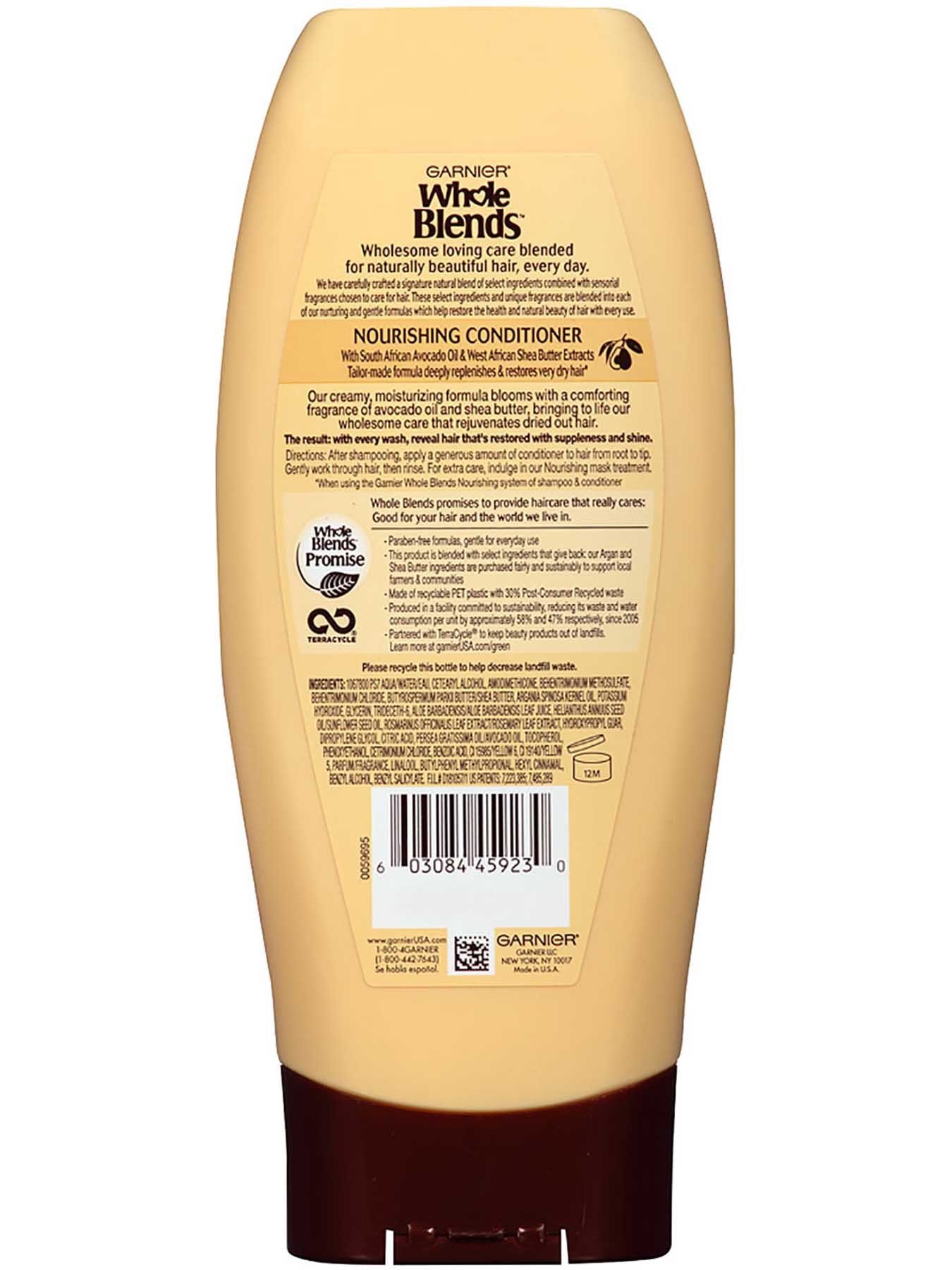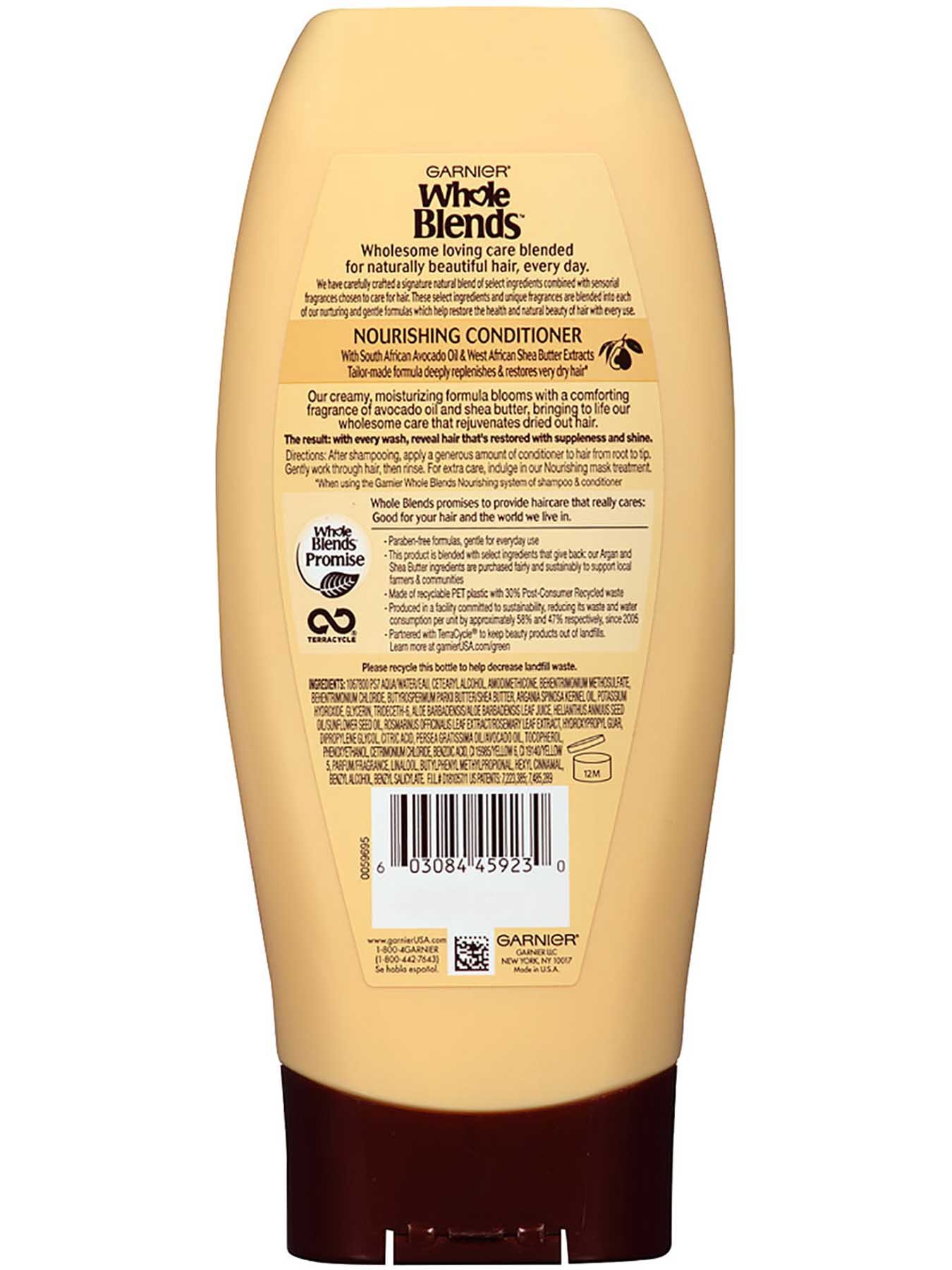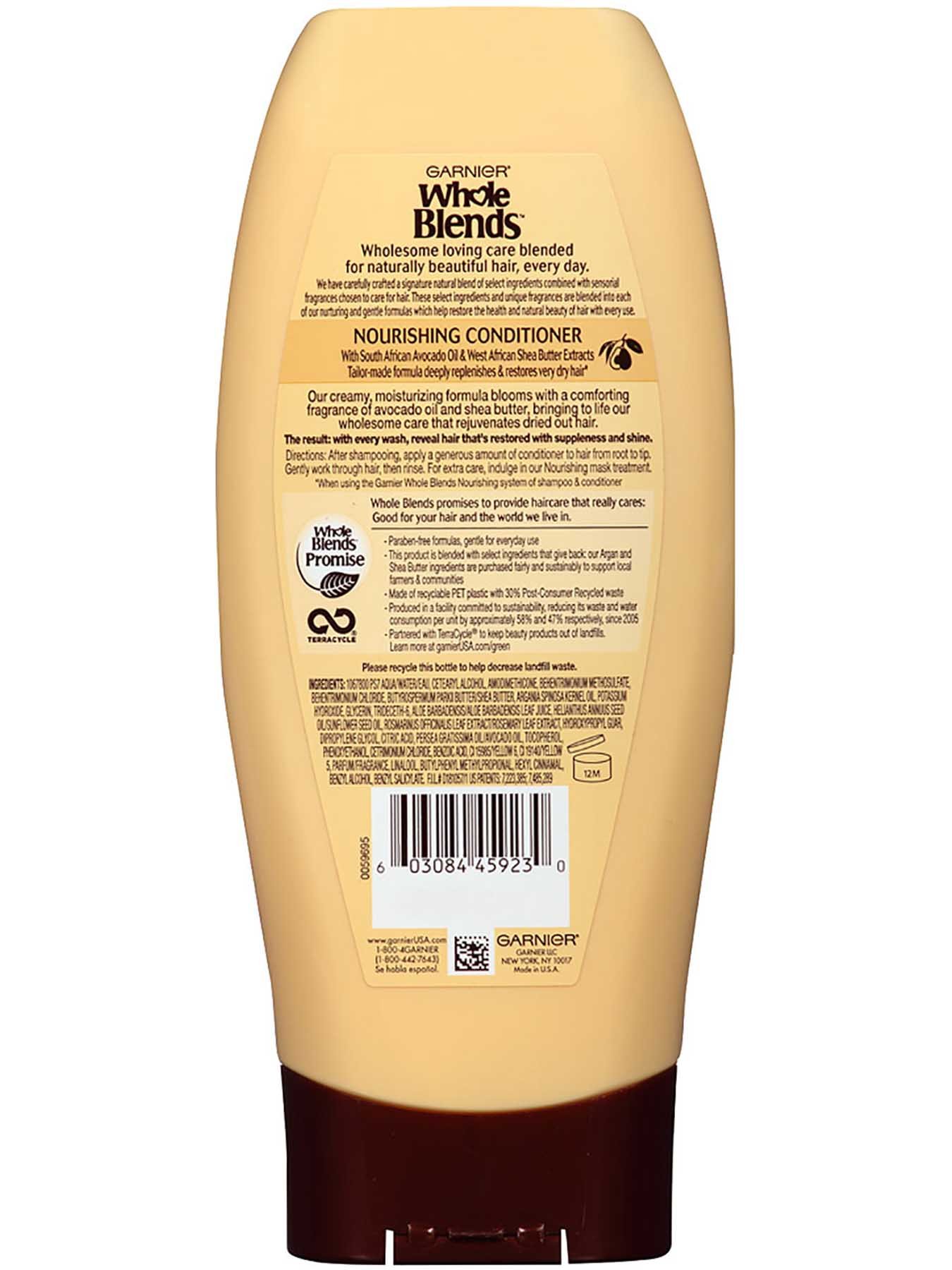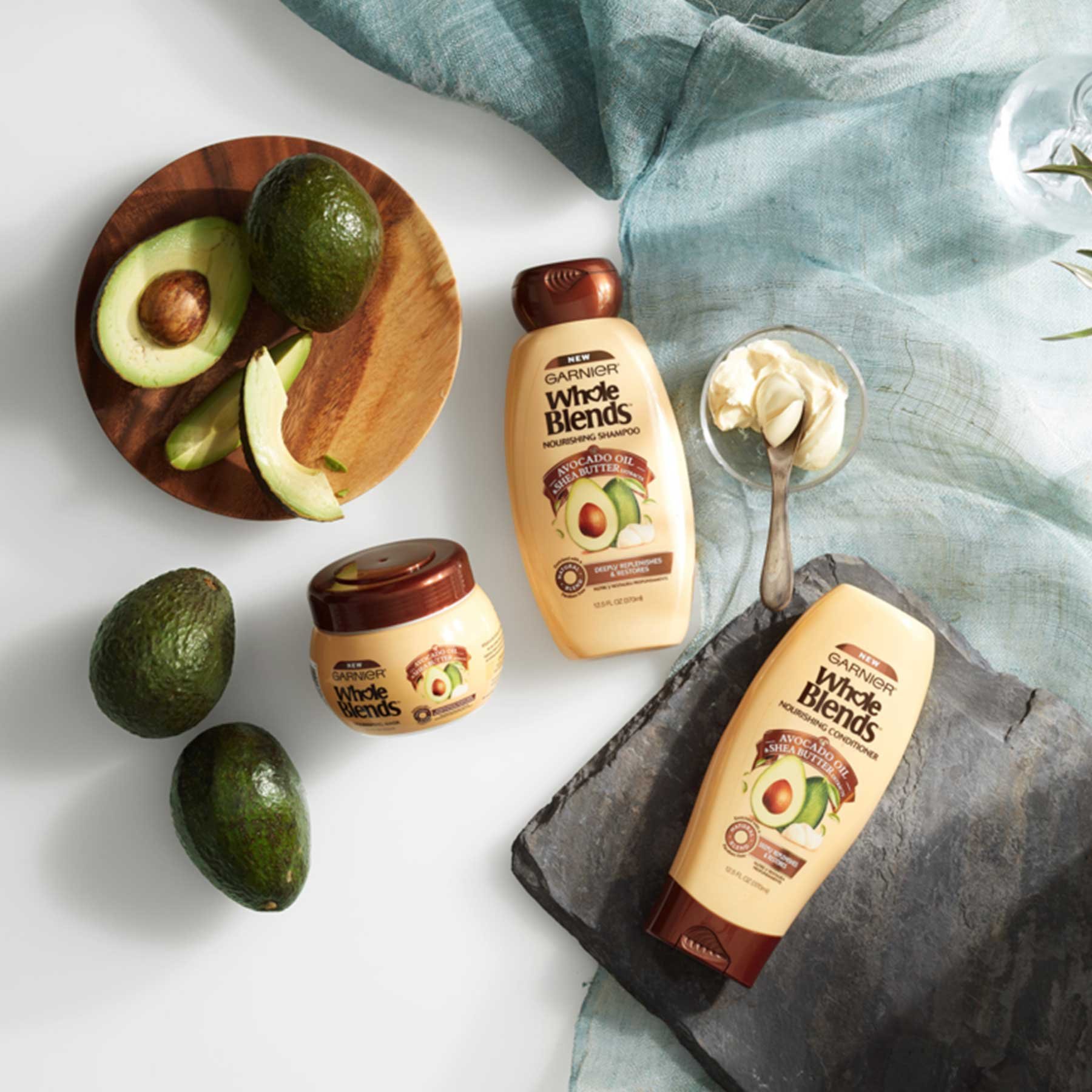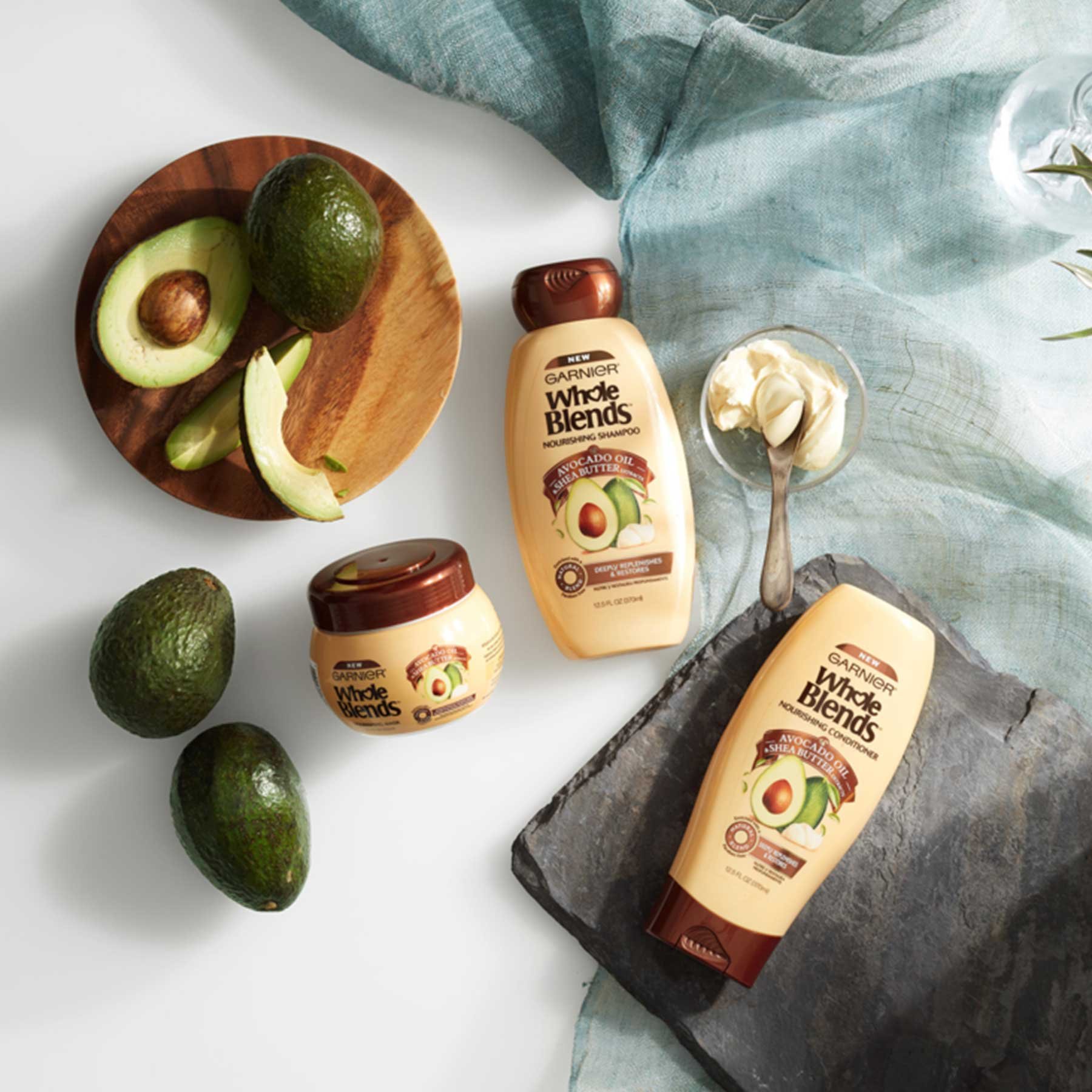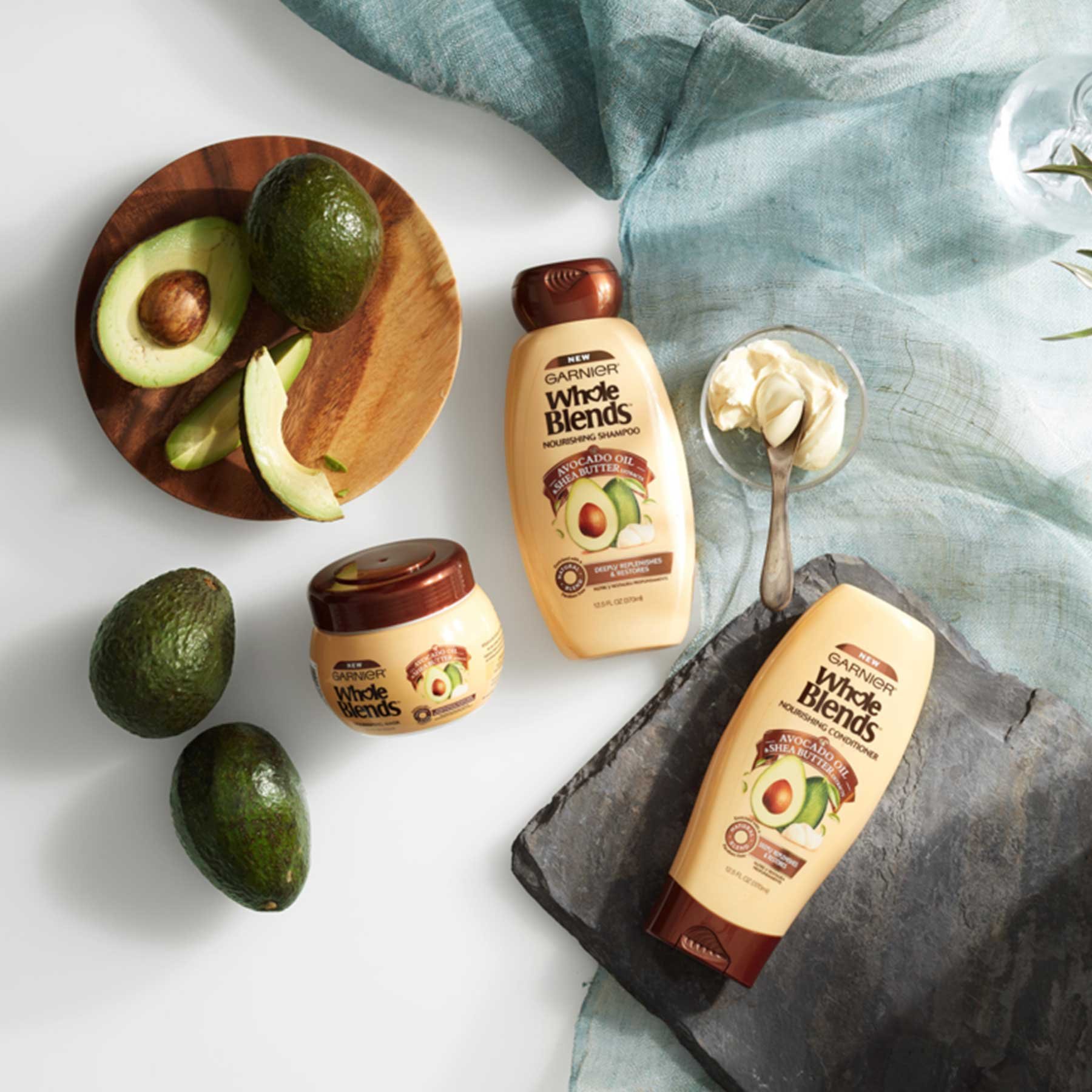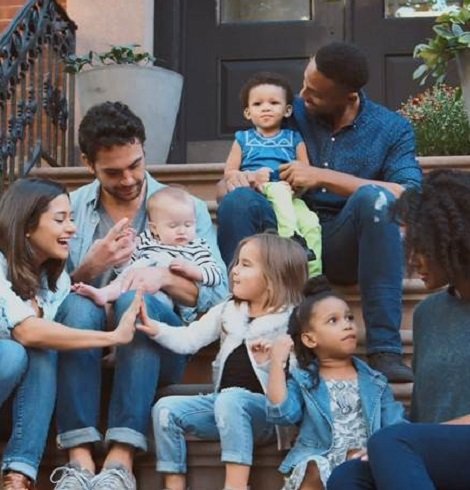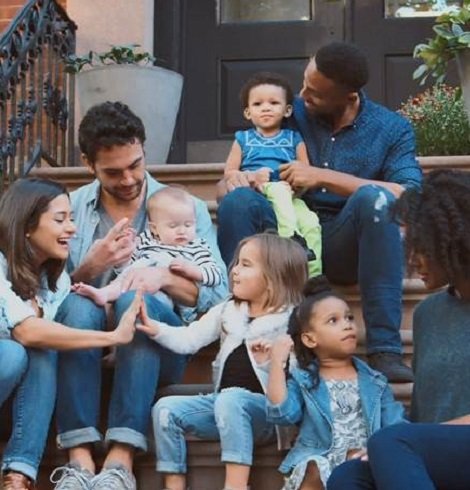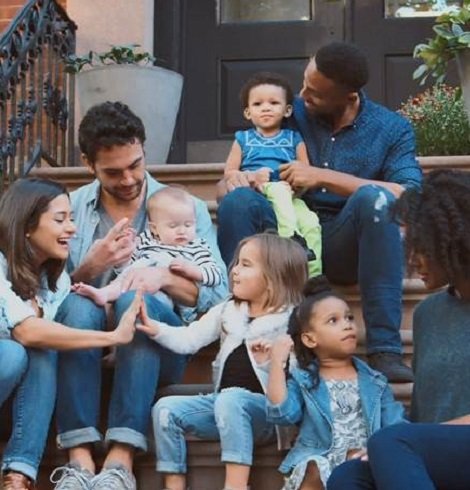 Whole Blends
Nourishing Conditioner with Avocado Oil & Shea Butter extracts
$4.49 MSRP
Nourishing Conditioner Deeply replenishes & restores
PRODUCT INFORMATION:
Our creamy, moisturizing formula blooms with a comforting fragrance of avocado oil and shea butter, bringing to life our wholesome care that rejuvenates dried out hair.**When using the Garnier Whole Blends Nourishing system of shampoo & conditioner.Also available in 22 oz.
How to Use:
After shampooing, apply a generous amount of conditioner to hair from root to tip. Gently work through hair, then rinse. For extra care, indulge in our Nourishing mask treatment.
Ingredients:
AQUA / WATER / EAUCETEARYL ALCOHOLAMODIMETHICONEBEHENTRIMONIUM METHOSULFATEBEHENTRIMONIUM CHLORIDEBUTYROSPERMUM PARKII BUTTER / SHEA BUTTERARGANIA SPINOSA KERNEL OILPOTASSIUM HYDROXIDEGLYCERINTRIDECETH-6ALOE BARBADENSIS / ALOE BARBADENSIS LEAF JUICEHELIANTHUS ANNUUS SEED OIL / SUNFLOWER SEED OILROSMARINUS OFFICINALIS LEAF EXTRACT / ROSEMARY LEAF EXTRACTHYDROXYPROPYL GUARDIPROPYLENE GLYCOLCITRIC ACIDPERSEA GRATISSIMA OIL / AVOCADO OILTOCOPHEROLPHENOXYETHANOLCETRIMONIUM CHLORIDEBENZOIC ACIDCI 15985 / YELLOW 6CI 19140 / YELLOW 5PARFUM / FRAGRANCELINALOOLBUTYLPHENYL METHYLPROPIONALHEXYL CINNAMALBENZYL ALCOHOLBENZYL SALICYLATE
Avocado Oil
A smoothing and silkening hair booster, Avocado Oil is loaded with plant-based fatty acids, which have a unique ability to penetrate for deep long-lasting effects. This rich indulgent ingredient helps to smooth split ends while adding a brilliant shine.
Shea Butter
Ideal for soothing and restoring parched hair, Shea Butter is the common name for the dense, penetrating balm that comes from the African Shea tree.
The Whole Regimen
Everything you need to complete your Nourishing hair care routine.
Wash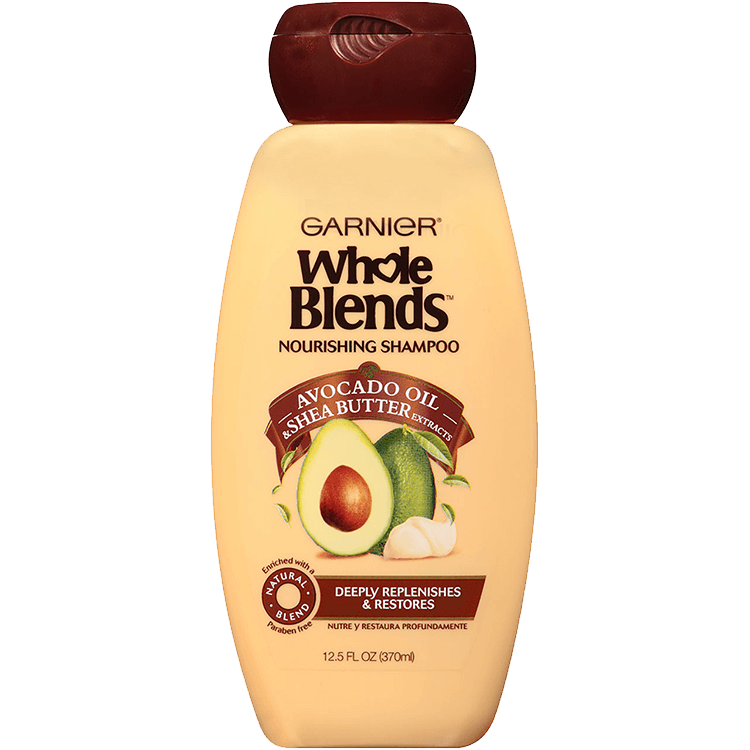 Whole Blends
Nourishing Shampoo with Avocado Oil & Shea Butter extracts
Very Dry Hair
Condition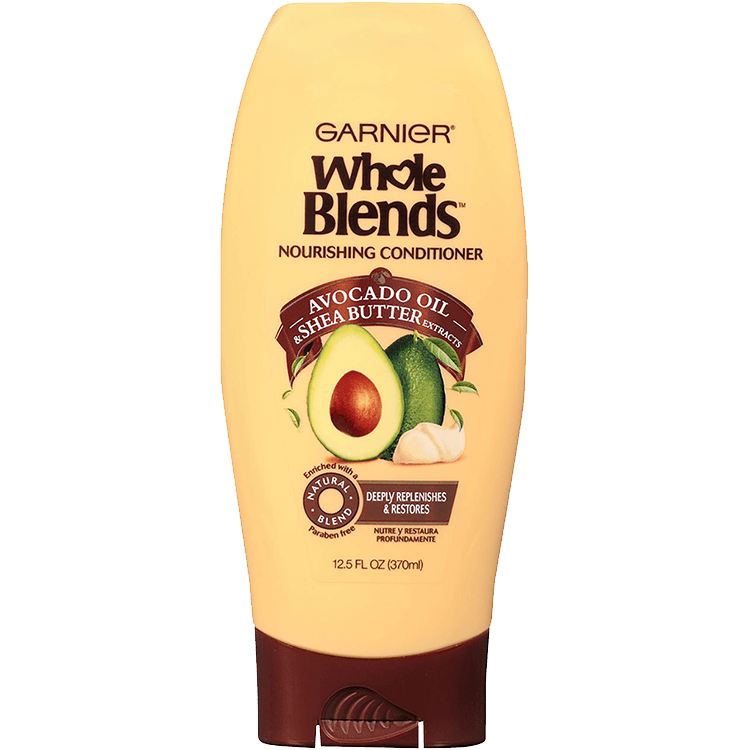 Whole Blends
Nourishing Conditioner with Avocado Oil & Shea Butter extracts
Very Dry Hair
Treat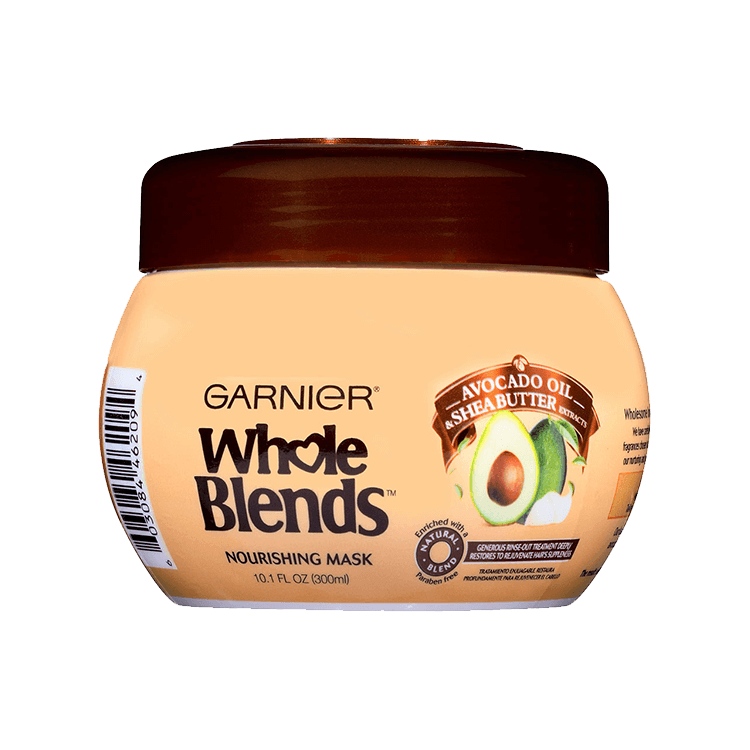 Whole Blends
Nourishing Mask with Avocado Oil & Shea Butter extracts
Very Dry Hair
Rated

5

out of

5
by
Dsugai
from
Fabulous scent; Great conditioner
I think that this shampoo and conditioner smells great! I love the fact that the smell lasts all day. After using the conditioner, I feel like my hair untangles easier and is very soft to touch. The conditioner washes out easy and doesn't leave my hair super oily. I would definitely use these products again.
Date published: 2017-08-31
Rated

5

out of

5
by
lhk3blauren
from
Very impressed
I was really impressed with this conditioner! It is a great complement to the shampoo which also works and smells GREAT. After two weeks my hair feels deeply replenished and restored -- it must be that South African Avocado oil and West African Shea Butter extract that is supposed to rejuvenate dried out or brittle hair. I also love that it is paraben-free and very gentle! My hair feels incredibly smooth and there are far less tangles than with my previous conditioner. The smell is wonderful- fresh and clean. It will come out thick but spreads easily through your hair. I highly recommend that you give this conditioner a try!
Date published: 2017-08-31
Rated

5

out of

5
by
anabelwilliams
from
Awesome Conditioner
Garnier's nourishing conditioner with avocado and shea butter is awesome. This conditioner leaves my hair feeling nourished and soft, use after use. I have damaged and dry hair, but this conditioner revitalizes it completely. I totally recommend this conditioner along with the avocado and shea butter shampoo.
Date published: 2017-08-30
Rated

5

out of

5
by
Graysongirl
from
Conditioner makes my hair really soft
The conditioner made my hair feel really moisturized. After blow drying my hair, it didn't feel as dry and my hair did pretty well with flat iron, because some reason after a wash it'll feel fried
Date published: 2017-08-30
Rated

5

out of

5
by
Countryangel4life
from
Love my hair now
I love this product I normally wouldn't buy an expensive conditioner like this but I love this so much I'm going to keep using it. It makes my hair feel like silk. I love my hair after a shower now it works really well with my high chemical and heat product uses hair.
Date published: 2017-08-29
Rated

5

out of

5
by
tpersonett23
from
Garnier Whole Blends Conditioner
Alongside the Garnier whole Blends shampoo, this conditioner also works wonders. With the kids and I being in and out of the pool constantly this summer, this is been a lifesaver. We all have curly hair which tends to be more dry, and we were very happy with its moisturizing benefits. I will gladly try some of their other products in this line. I'm very impressed as I am usually pretty picky about shampoo and conditioner.
Date published: 2017-08-29
Rated

4

out of

5
by
katiebug5190
from
Softness that lasts
So I have a go to conditioner for as much as I color my hair. This avacado conditioner may become my new go to. I use bleach and very loud colors on my hair so it can be quite dry and frizzy. I have used this about 3 times on my bright purple hair and my color isn't fading. I fell like my hair is very soft and my color is vibrant. It's a great product so far.
Date published: 2017-08-29
Rated

5

out of

5
by
Sgrode
from
Smooth Conditioner
I love using the conditioner after the nourishing shampoo. My hair tends to be very dry and frizzy during the summer months, but I found my hair was definitely softer and healthier looking after using this product. The great smell and natural formula was an awesome plus as well. I'm looking forward to trying the other scents.
Date published: 2017-08-29
Rated

5

out of

5
by
Iloveyou2017
from
Nourshing Hair Care Conditioner
I loved the way my hair felt after washing the conditioner out. My hair can be very dry and it left my hair feeling nice and smooth. The product smells good too. Im always trying new products for my hair to keep it healthy, so I probably would've bought it in the store.
Date published: 2017-08-29
Rated

5

out of

5
by
JaySeeKa
from
Best conditioner ever!
This is the most hydrating conditioner I've ever tried. It repaired my over processed hair. I keep getting compliments on how good my hair looks. It also smells amazing and the fragrance stays in my hair unlike other conditioners I've used. Highly recommended this!
Date published: 2017-08-29
Rated

4

out of

5
by
SunakoChan
from
Smooth and lovely
Left my hair feeling smooth and soft. Its not as moisturizing as I would have hoped, but if your looking for a nice conditioner and not something super moisturizing, Id say give this a try. I have thick, wavy hair thats often frizzy and can use all the moisture it can get! :)
Date published: 2017-08-29
Rated

5

out of

5
by
mls09121
from
Kiss Frizz Goodbye!!
I tried Garnier True Blends Conditiiner! I love that this conditioner is made with natural ingredients- avocado and shea butter!!! It really helped calm my frizzy hair and control my curls!
Date published: 2017-08-29
Rated

4

out of

5
by
Kkimmikk
from
Loved the smell
The best quality of the Garnier conditioner I tried (Avocado with Shea Butter) was the smell - I really liked it. It did not smell like perfume and wasn't overpowering, just a nice subtle fresh smell. I would have liked it to be a bit thicker - I do like my conditioner concentrated so it stays where I put it for a bit before I rinse. My hair felt good after it was dry though, so it definitely did its job!
Date published: 2017-08-28
Rated

4

out of

5
by
jungleprincessBR
from
Whole blends nourishing conditioner
This conditioner is great. It softens my frizzy unruly hair really well. It also smells great and the smell stays in your hair for days. I would recommend this product to all my friends. Also a little goes a long way so you don't run through the bottle very quickly. I did see that it did weigh my hair down alittle at first . I have a natural wave in my hair and it made my hair pretty straight the first couple uses but it seemed to go back to wavy after the first couple uses. This problem is common for me with most conditioner s as I have thin hair.
Date published: 2017-08-28
Rated

4

out of

5
by
kalandkin02
from
Nice and Smooth
I think this is a great product! I got the one for frizzy/dry hair and it has helped so much! I constantly try new shampoos/conditioners trying to find the right one to help manage the knots, and frizziness. I get really bad knots, which typically leads to me cutting them out. Using this shampoo and conditioner I have not had any knots. I am a very happy girl!
Date published: 2017-08-28
Rated

5

out of

5
by
AAnkudavich
from
Deep conditioning
I haven't found a conditioner quite like it. My hair tends to get very dry and frizzy in the summer. This felt like a deep conditioning treatment for my hair. Even with the chlorine in pools my hair still feels silky smooth.
Date published: 2017-08-28
Rated

4

out of

5
by
noromyxof
from
Quality great, but not the best
This surprised me--I didn't expect much. Very hydrating and nourishing, but the smell was so bland and unappealing to me--I just tend to prefer more of a scent. But it got the job done! I'd be interested in a different scent because I did love the formula!
Date published: 2017-08-28
Rated

5

out of

5
by
DawnMichelle
from
Have fun in the sun
I threw this into my swim bag for my shower after swim lessons for my 2 year old. If you have never experienced the joy of removing a two year old from the fun swimming pool to the boring shower, let me recommend this conditioner to help. After getting both of us shampooed and soaped, I gave my toddler a little conditioner to put in his hair to be just like mommy. I love how soft it leaves mine after coming from chlorine and it even smells delightful. He loves that it makes excellent Mohawks and is "soft like kitty kitty" when we dried our hair. We both loved the smell and how soft it left our hair, so approval from both mom and toddler son.
Date published: 2017-08-28
Rated

5

out of

5
by
kiararockzz
from
Moisturizing king
Ahhh I can't rave enough about this conditioner, it leaves my hair silky smooth and makes it so easy to detangle without any breakage. The smell is amazing, the texture is smooth and it lathers a lot so a little goes a very long way, I'd say go for it!! If you're a curly girl like me, suffering from frizz in this humidity then I'd say go out right now and buy this conditioner, you cannot go wrong with it
Date published: 2017-08-28
Rated

4

out of

5
by
ajdewerd
from
Moisturizing conditioner
Overall, I was really happy with this conditioner. It's thick, nourishing, smells great, but it did weigh my hair down a bit. I think it's a little too thick maybe? It didn't leave any oil or greasiness behind, but I could tell it weighed down my locks a bit. I will keep using it though!
Date published: 2017-08-27
Rated

4

out of

5
by
Seadreamer20
from
Smooth and Shiny
The conditioner, along with the shampoo, is great for my hair. I have very sensitive skin and this is the first hair product that hasn't made me break out just by switching. I also love that the smell is mild and I don't have to spend all day getting faint glimpse of the scent. I also recently colored my hair and it has done wonders for the damage I just did to it! It's soft and smooth, even after bleaching it! This would be a great product for anyone to use. And as an added bonus even my husband's hair looks great again!
Date published: 2017-08-27
Rated

5

out of

5
by
Kittiemw
from
Nourishing hair care Conditioner review
I think it is a very good product for thick, curly hair. It's a great product that helps me manage my crazy hair. My daughter loves this product. I will definitely recommend this to everyone I know.
Date published: 2017-08-27
Rated

5

out of

5
by
MrsBieler
from
One of my top conditioners
I'm really digging this conditioner right now. First, I really appreciate that it doesn't have any parabens in it. I also love how smooth it makes my hair. I have naturally wavy/curly/frizzy hair, and this conditioner completely takes care of my frizz problem, while not weighing my hair down at all. Honest,ly I was afraid of the smell because avocado oil and shea butter together doesn't sound like it would be the nicest scent, but it actually smells great. I'm excited to try some other products in this line!
Date published: 2017-08-26
Rated

4

out of

5
by
AgentAmi
from
Great for Normal Hair Types
This product smells lovely and it's great that it does not contain parabens and harsh chemicals. I have short normal hair so it did a good job detangling and softening my hair. This is one of my favorites from the Whole Blends product line.
Date published: 2017-08-26
Rated

5

out of

5
by
koragoma
from
Really DEEP nourishing conditioner
This product has done so much for my hair. I started out 2 weeks ago with extremely dry frizzy hair that lacked moisture and had split ends galore and this conditioner revitalized my hair completely. I now have shiny thick and lushious hair that had a noticeable difference. This stuff gets down deep and saturates your hair to the core providing nourishment all the way. I leave it on for 5 minutes in the shower and my hair is so silky smooth all day. It truly has healed my split ends and moisturized really well I would recommend this to anyone having problems with dryness it also smells wonderful and that sticks with you through the day it's a great product.
Date published: 2017-08-26
Rated

5

out of

5
by
XxTru143xX
from
Avocado Conditioner
I've been using this for the past week along with the shampoo. My hair is greasy near the roots and dry on the ends. I really liked the combination of the shampoo and condition. I was a bit worried that this conditioner would make my hair really greasy, but it didn't at all. Perfect amount of silkiness! I love it!
Date published: 2017-08-26
Rated

5

out of

5
by
TabathaD
from
This is a great conditioner!
I have tried a lot of conditioners, expensive salon brands and regular store brands and this kind is one of the very few that I can use everyday. I have something strange going on, it may be with my water is the only thing I can think of, and with most conditioners it will make my hair very hard to brush even after conditioner it can sometimes feel all knotted up, well this brand doesn't make my hair that way and it smells great! It's so nice to be able to easily brush my hair out! Helps with frizz too. I have Highlighted naturally curly hair. Will continue to use this and recommend to friends!
Date published: 2017-08-25
Rated

3

out of

5
by
diamondmyth
from
Just to heavy.
I just like to start by saying I personally do not use a lot of conditioner as I have very thin hair and conditioner weights it down. I did love the smell of the conditioner, and my hair felt very soft after using it. Having said that; the combination of avocado oil and shea butter was just to much; and the day after using the conditioner my hair was a little oily and flat. But, I have to I would definitely recommend it to a friend with thick hair.
Date published: 2017-08-25
Rated

5

out of

5
by
HeatherMN
from
Luxurious feel at drugstore price
This conditioner was surprisingly moisturizing, usually you have to get salon brands for this good of results! Great scent too!
Date published: 2017-08-25
Rated

5

out of

5
by
MelissaMrs
from
Light weight conditioning dream!
I love this! I have thin colored hair that has damage from bleaching it and this made it feel so soft and tangle free! The texture of it is smooth and smells great! My hair feels clean and healthy all day without looking weighed down or greasy!
Date published: 2017-08-25