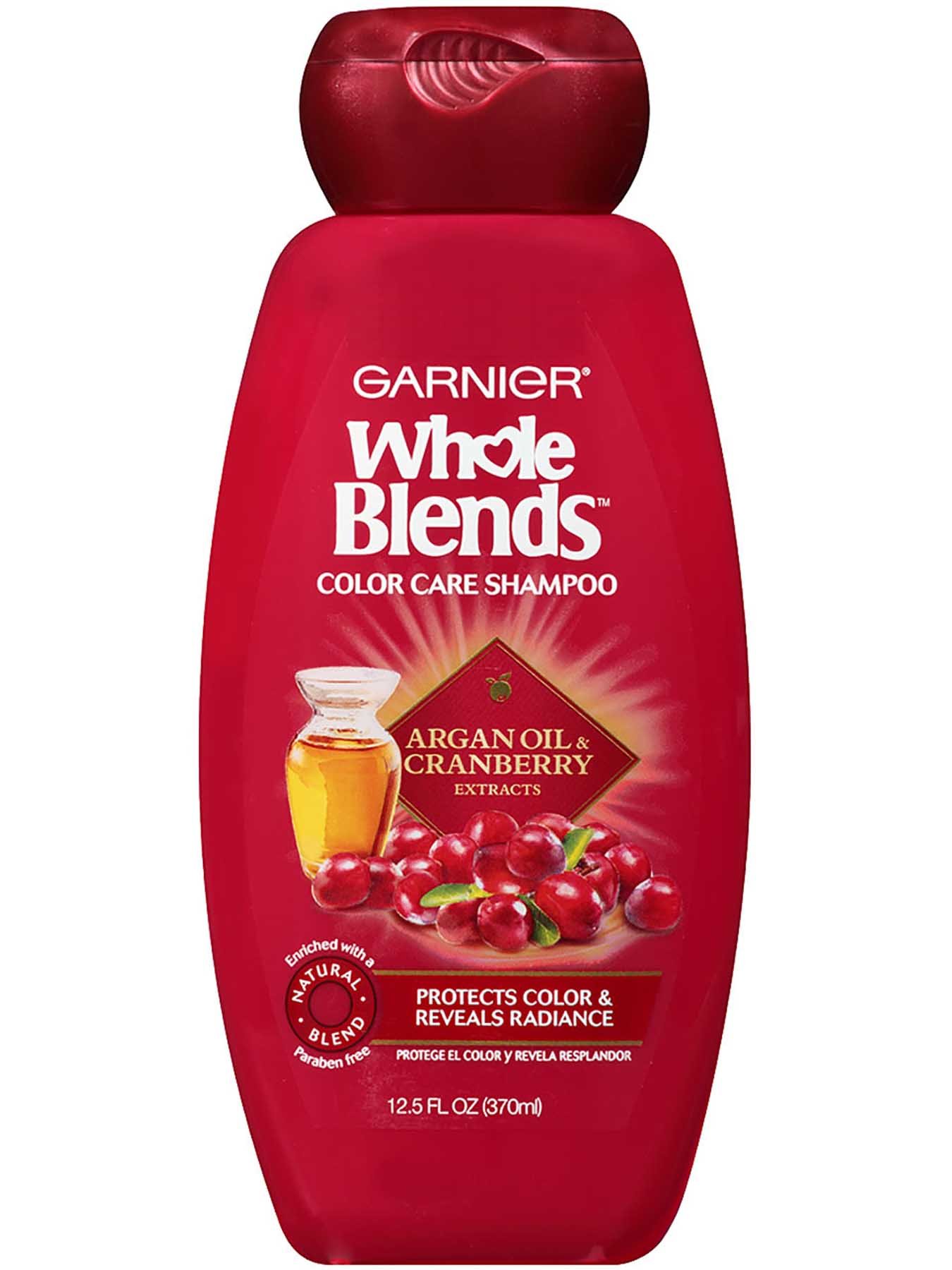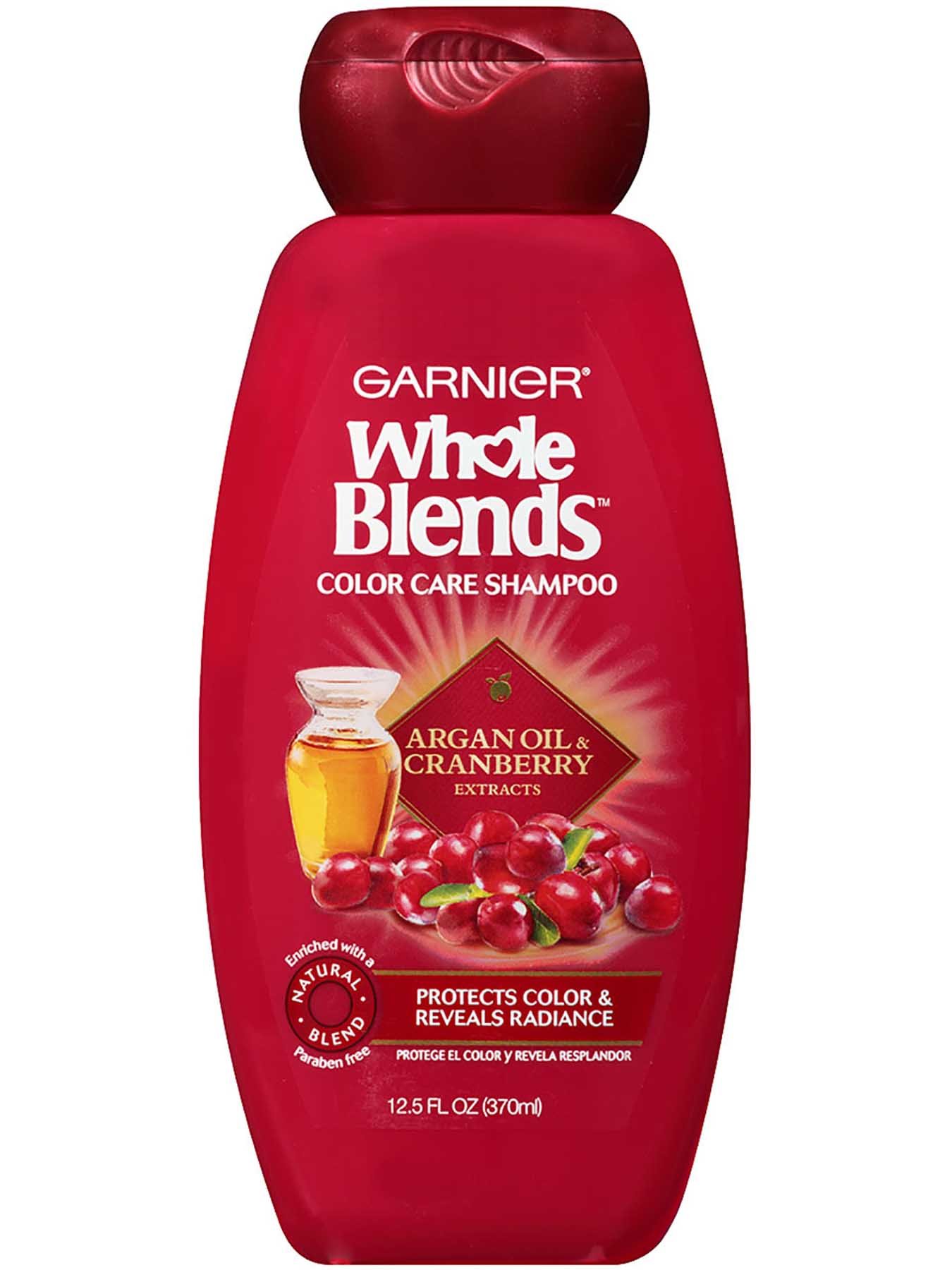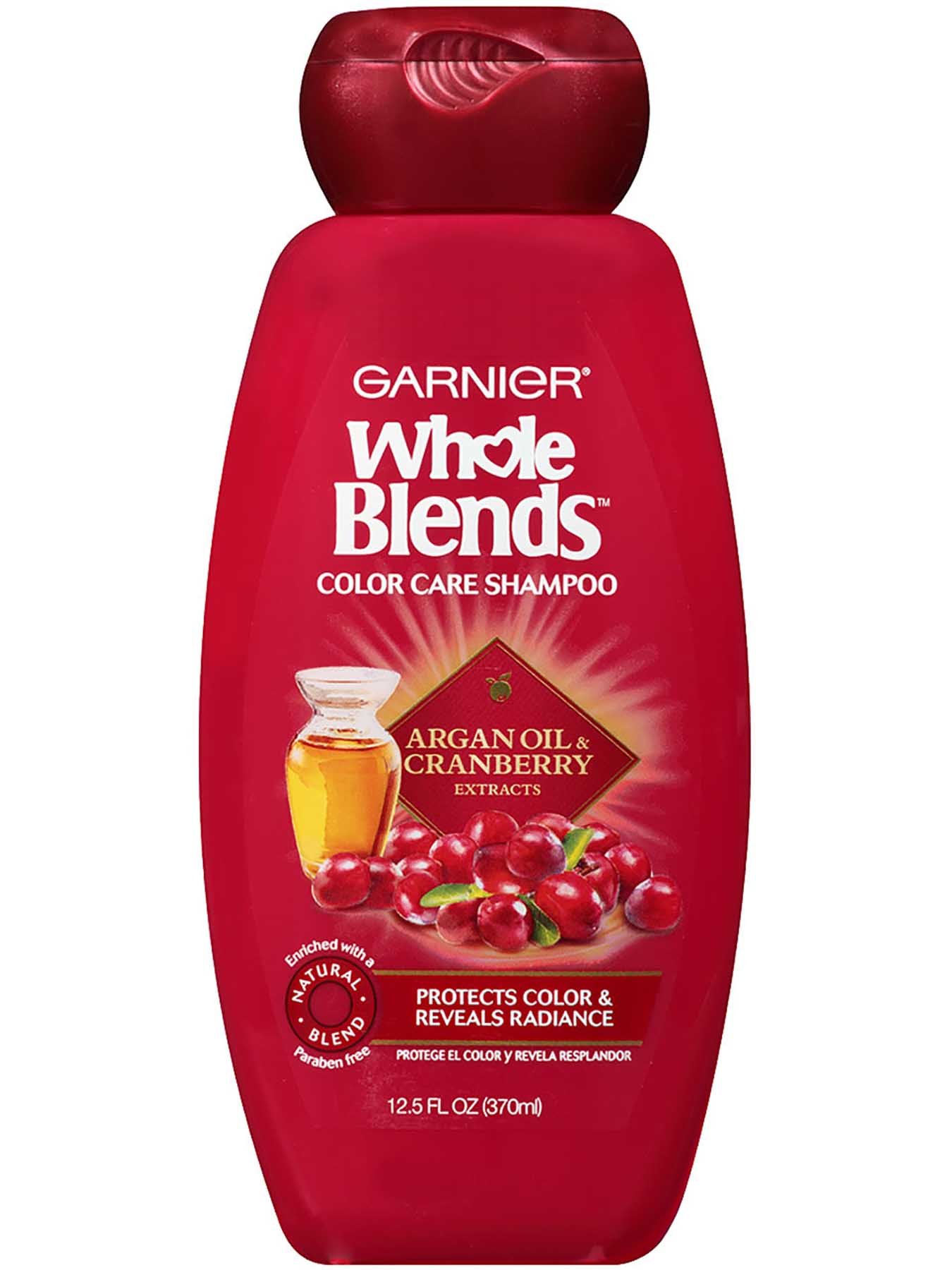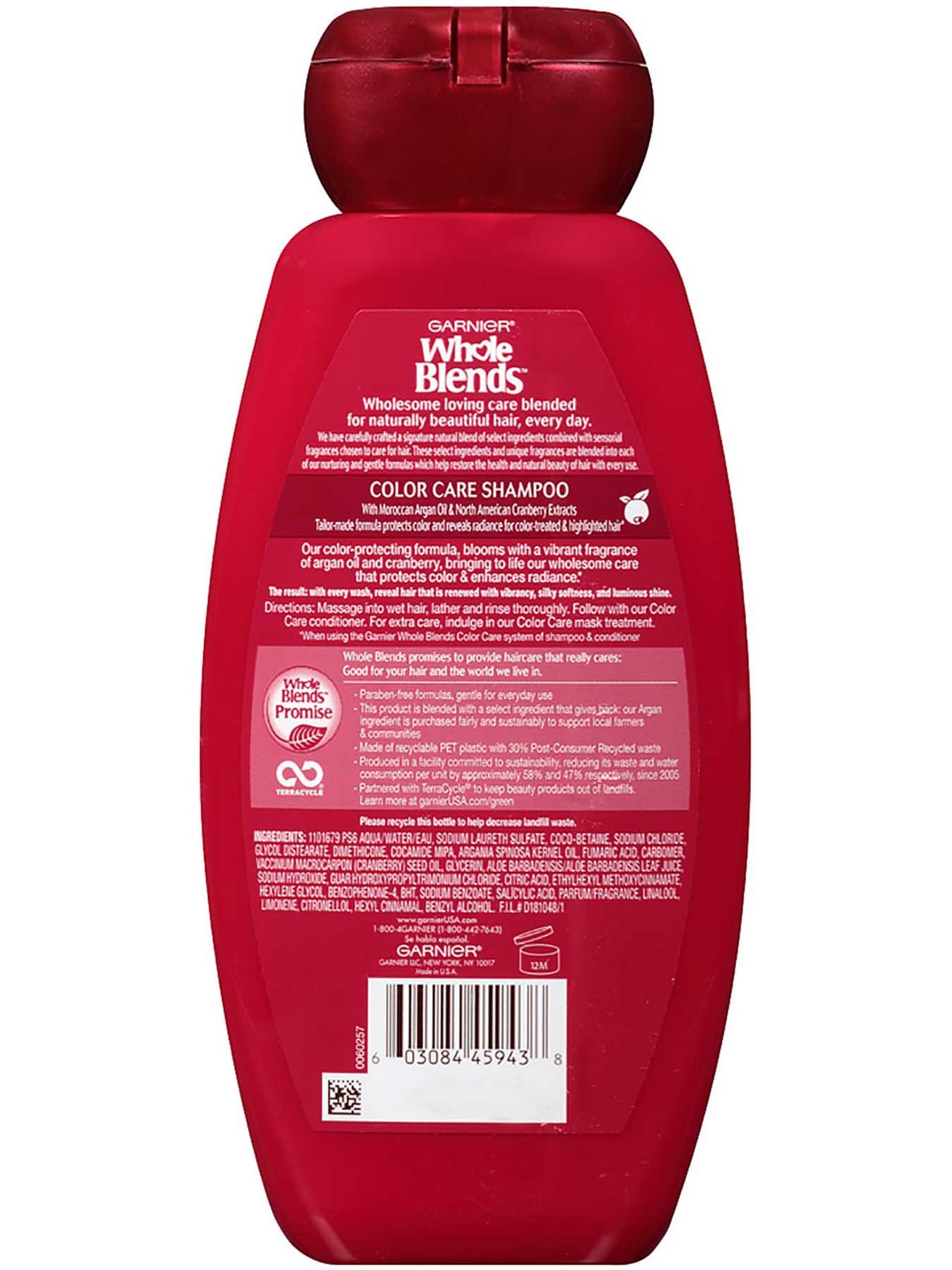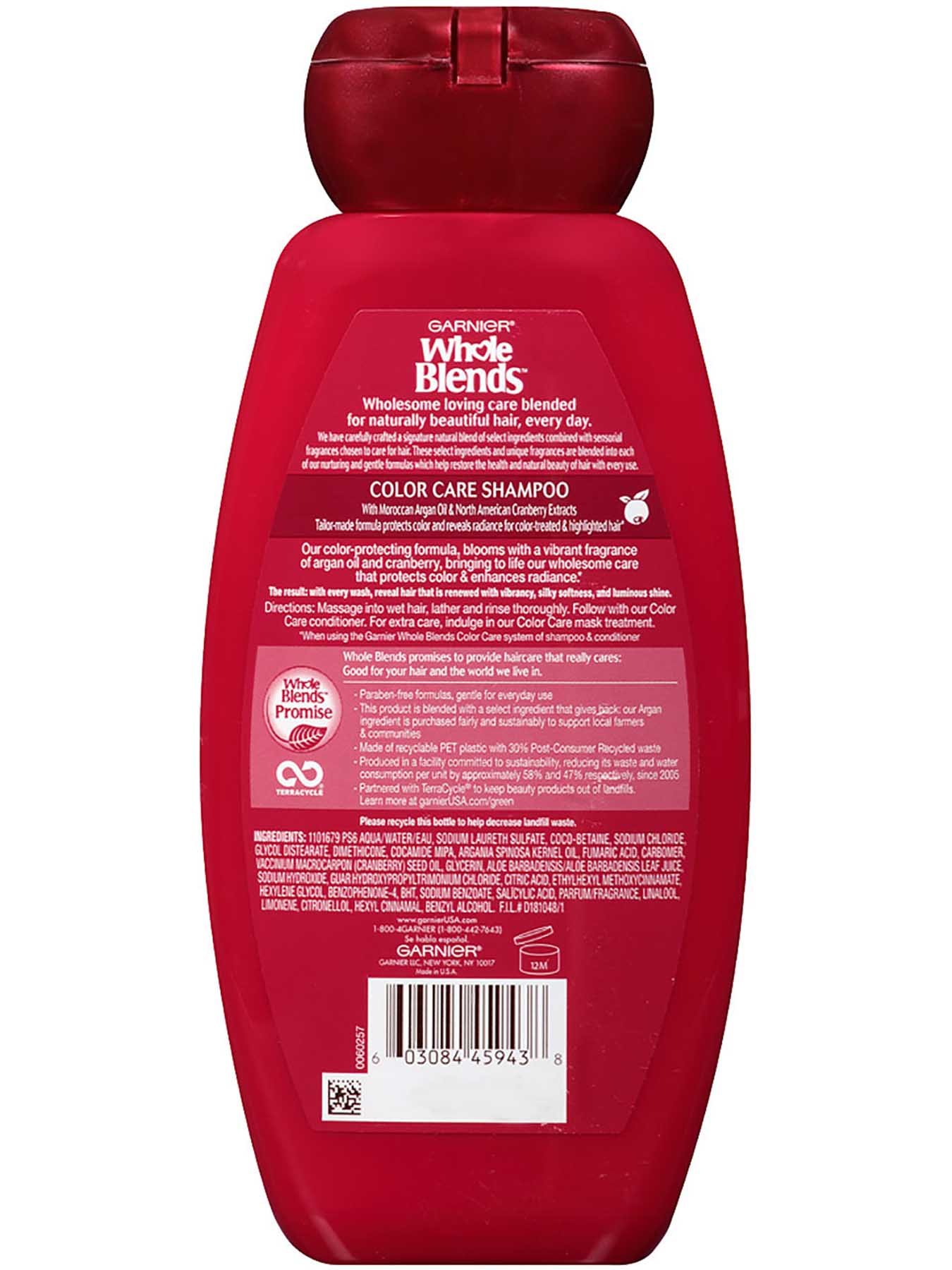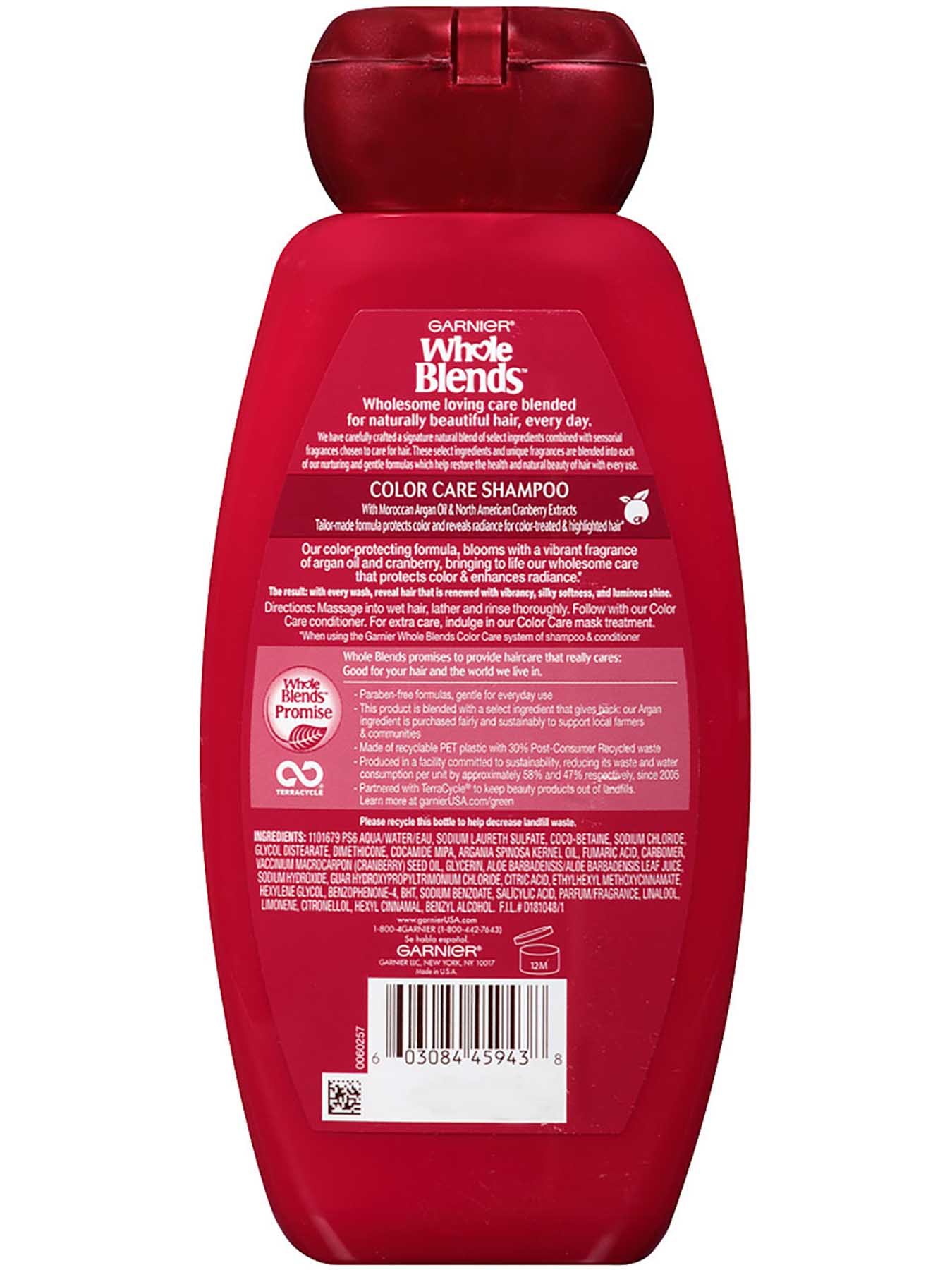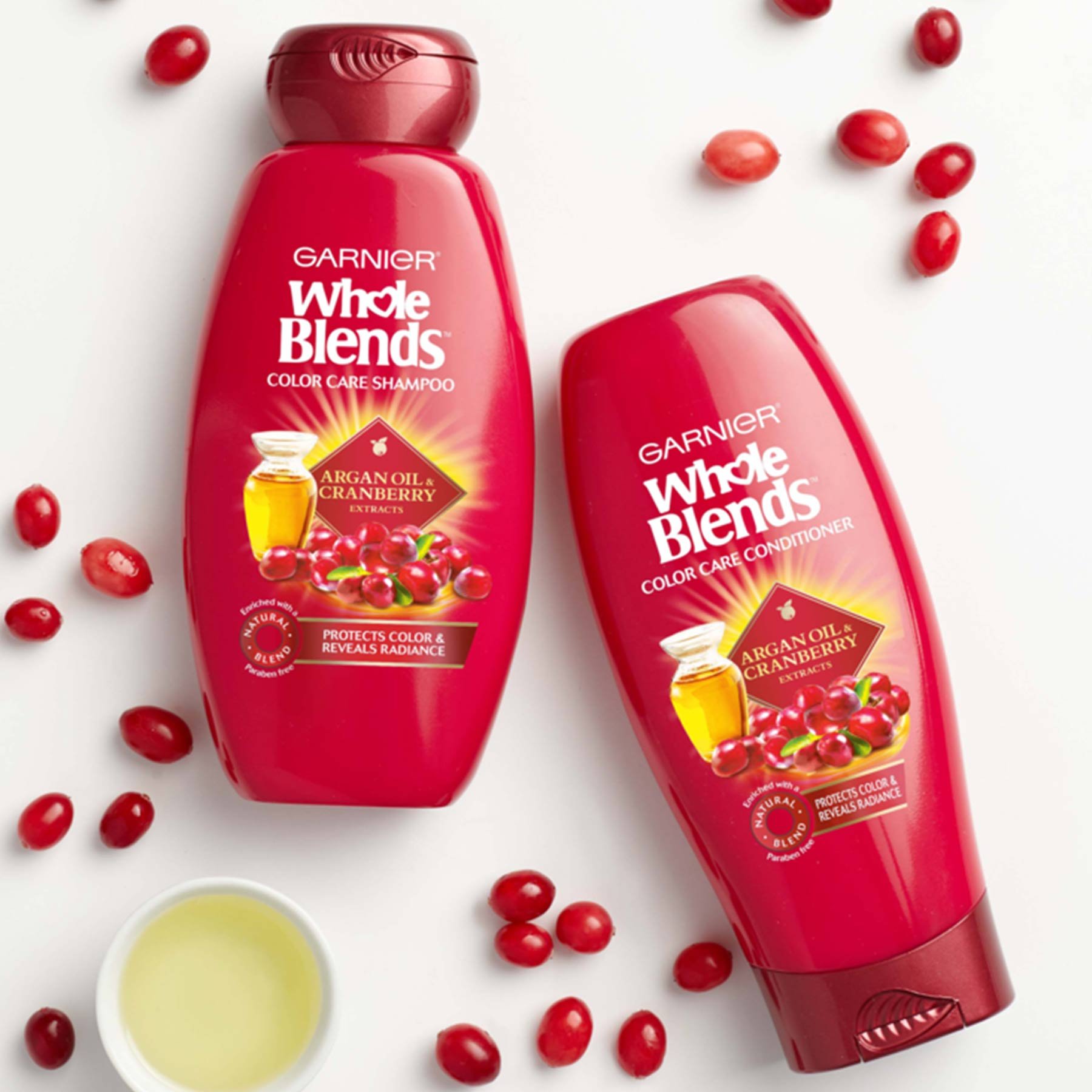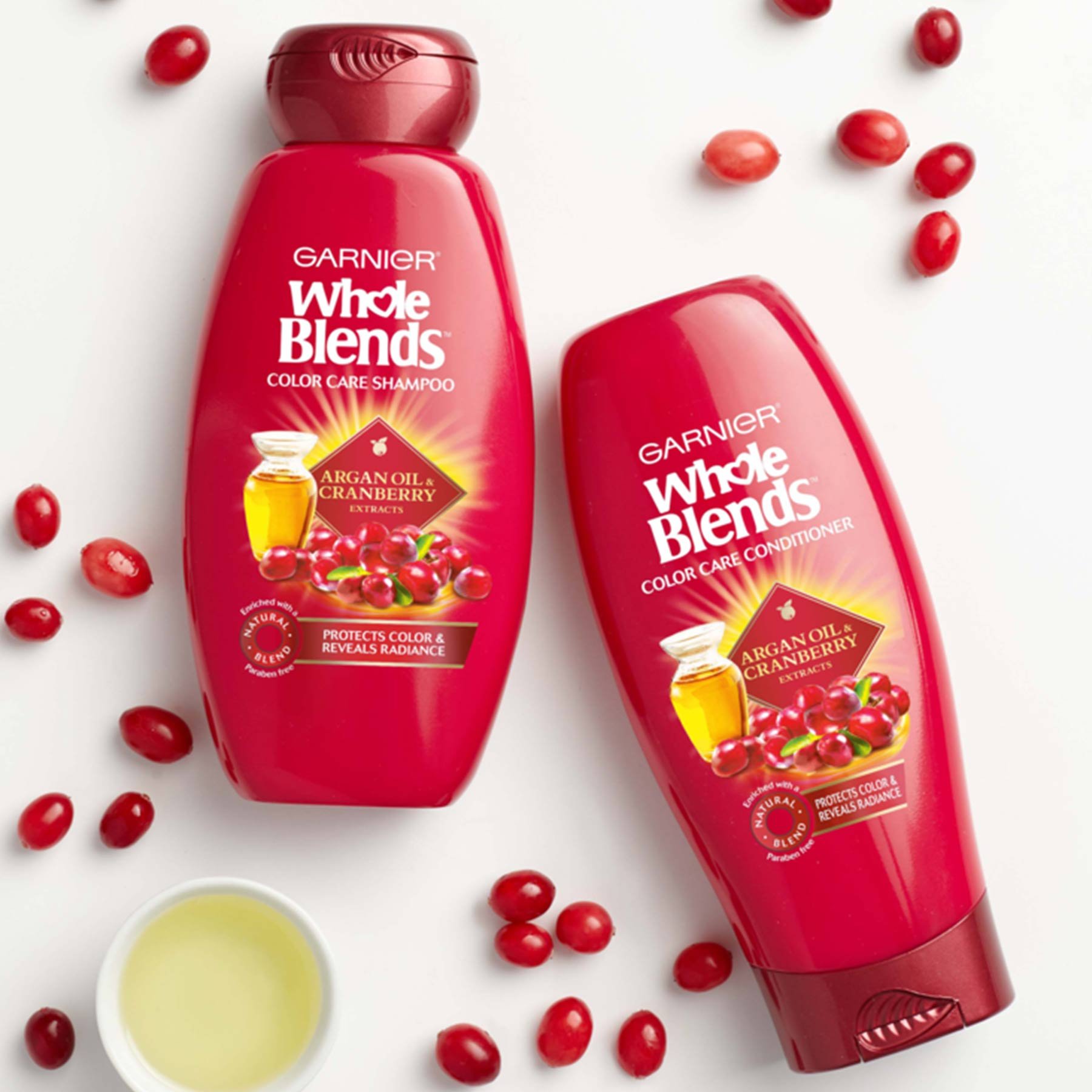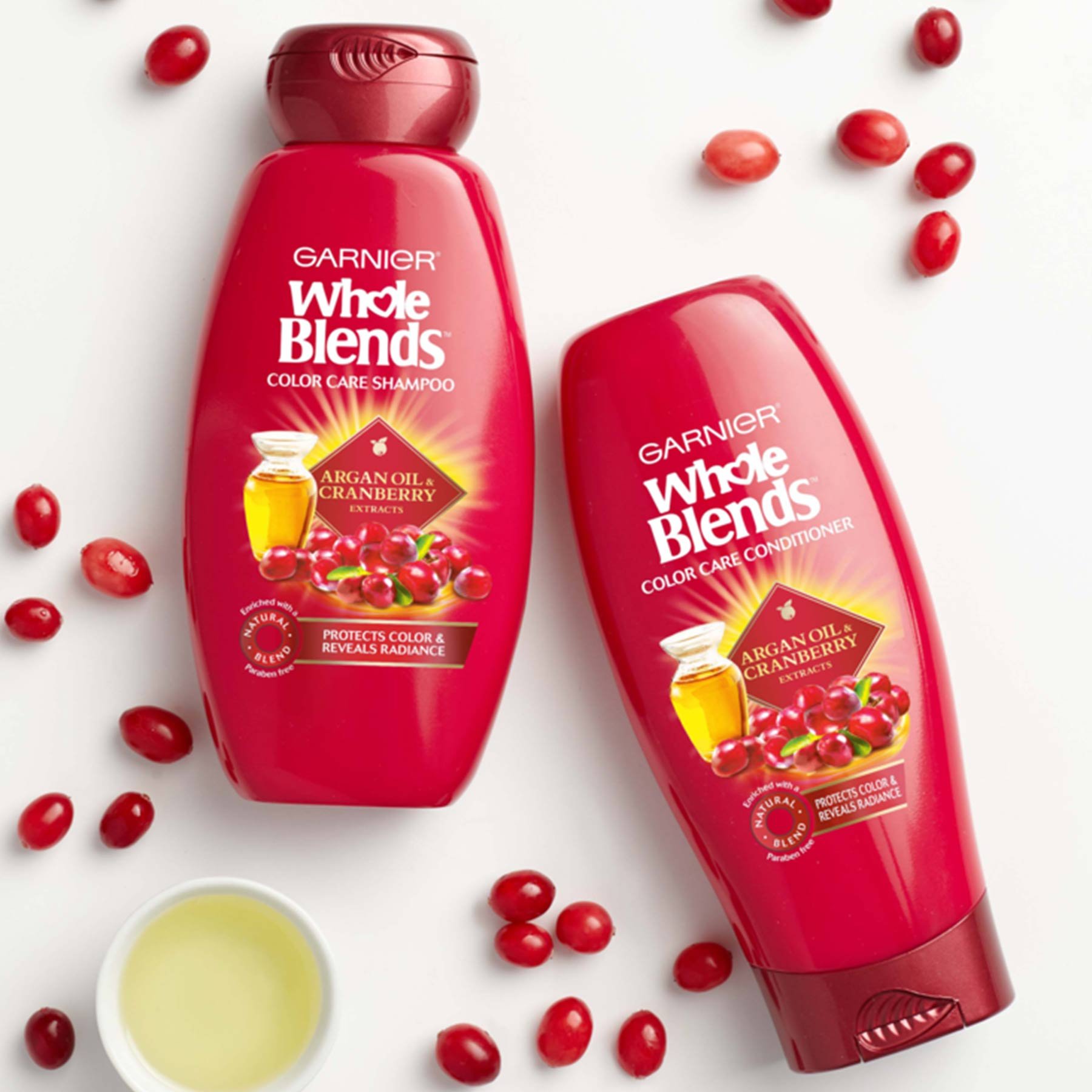 Color Care Shampoo with Argan Oil & Cranberry extracts
Whole Blends
$4.49 MSRP
Color Care Shampoo Protects Color & Reveals Radiance
PRODUCT INFORMATION:
Our color-protecting formula, blooms with a vibrant fragrance of argan oil and cranberry, bringing to life our wholesome care that protects color & enhances radiance.* Also available in 22 oz. *When using the Garnier Whole Blends Color Care system of shampoo & conditioner
How to Use:
Massage into wet hair, lather and rinse thoroughly. Follow with our Color Care conditioner. For extra care, indulge in our Color Care mask treatment.
Ingredients:
AQUA / WATER / EAU SODIUM LAURETH SULFATE COCO-BETAINE SODIUM CHLORIDE GLYCOL DISTEARATE DIMETHICONE COCAMIDE MIPA ARGANIA SPINOSA KERNEL OIL FUMARIC ACID CARBOMER VACCINIUM MACROCARPON (CRANBERRY) SEED OIL GLYCERIN ALOE BARBADENSIS / ALOE BARBADENSIS LEAF JUICE SODIUM HYDROXIDE GUAR HYDROXYPROPYLTRIMONIUM CHLORIDE CITRIC ACID ETHYLHEXYL METHOXYCINNAMATE HEXYLENE GLYCOL BENZOPHENONE-4 BHT SODIUM BENZOATE SALICYLIC ACID PARFUM / FRAGRANCE LINALOOL LIMONENE CITRONELLOL HEXYL CINNAMAL BENZYL ALCOHOL
Argan Oil
The same emollients that make Argan Oil so beneficial for skin work wonders on dry, dull hair. Argan Oil is used to help smooth the look of split ends, detangle, improve dry scalp feel, and strengthen hair as it grows.
Cranberry
Bursting with goodness, the Cranberry's high concentrations of antioxidants and Omegas 3, 6, and 9 naturally hydrate skin and hair.
The Color Care Regimen
Everything you need to protect color and reveal radiance.
Wash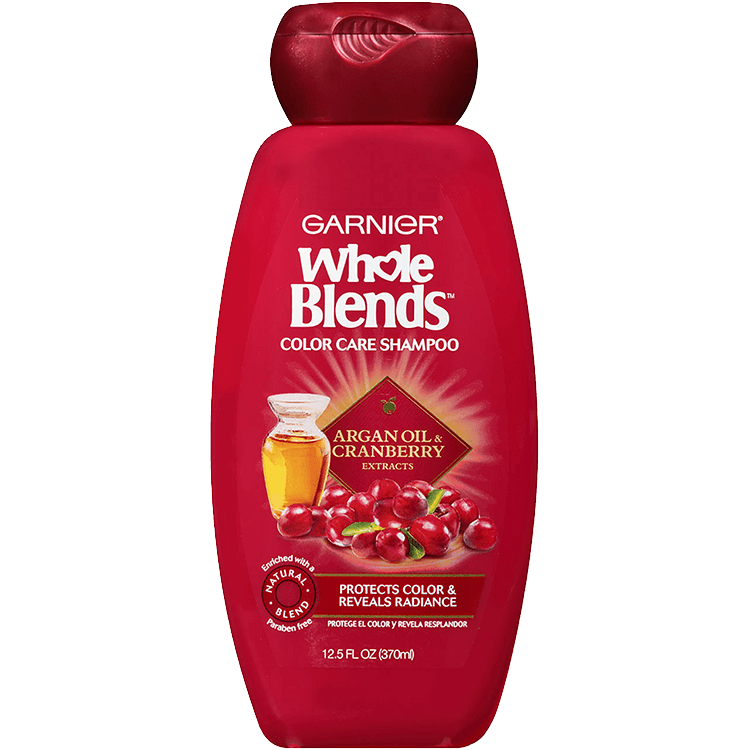 Whole Blends
Color Care Shampoo with Argan Oil & Cranberry extracts
Color-Treated Hair
Condition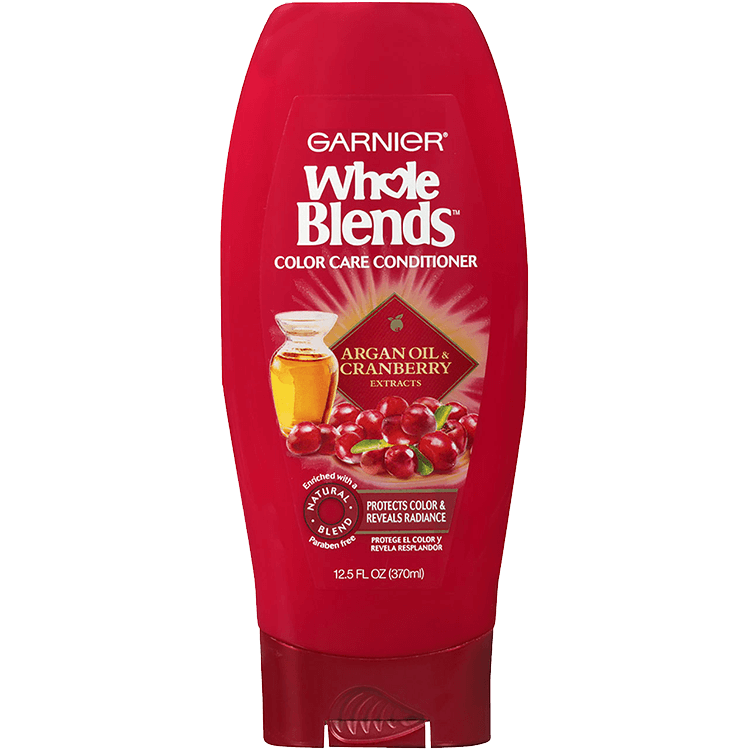 Whole Blends
Color Care Conditioner with Argan Oil & Cranberry extracts
Color-Treated Hair
Treat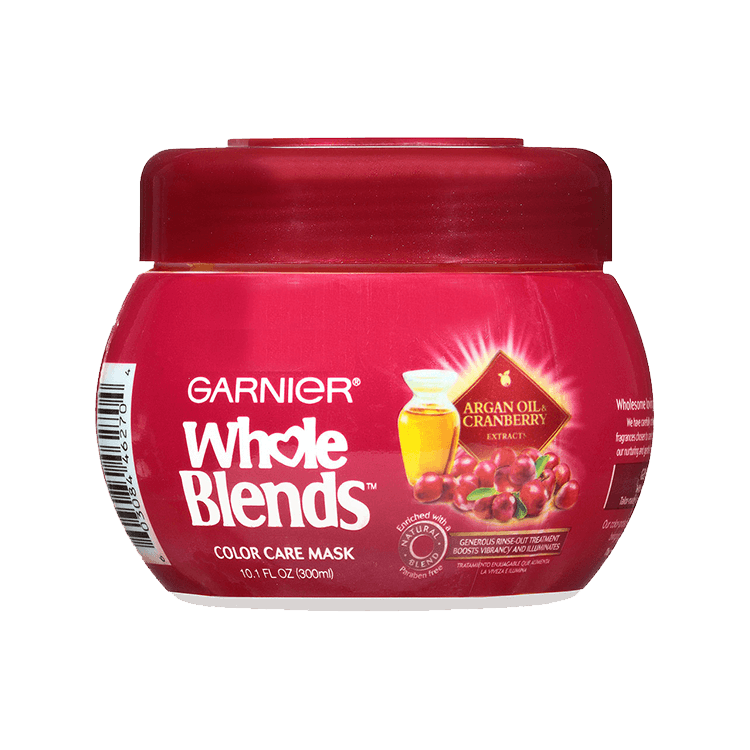 Whole Blends
Color Care Mask with Argan Oil & Cranberry extracts
Color-Treated Hair
Rated

5

out of

5
by
tonyahsu
from
Phenomenal Scent!
I was so excited to try this shampoo/conditioner set because it is especially formulated for color treated hair and I found the ingredients of argan oil and cranberry particularly appealing. Both of these products have an amazing scent (although the scent of the shampoo is slightly stronger than the scent of the conditioner) that lasted long after my hair had been washed. After using the conditioner, my long hair was left tangle free, soft and shiny. The conditioner was very moisturizing which is something I require of a conditioner for my dry, color treated hair. These products should be used in conjunction with one another for optimal results. I thoroughly enjoyed using these products (especially the scent and that they are specially formulated to protect color treated hair) and I will definitely continue using them in the future. An added bonus is that they are also an excellent value; such an economical price for such a high quality product!
Date published: 2017-11-02
Rated

5

out of

5
by
bzzagentbusymommylist
from
Phenomenal Shampoo!
Not only is the scent enough to make my heart pitter patter but, this stuff is a rare gem! It is great for a daily shampoo and it not only helps keep my color treated hair in check and as vibrant as the day after but, it also cleans very well! I always have a hard time finding a product that does more than one thing. This actually cleans my hair, makes my hair smell lovely, makes my hair feel weightless, easy to control, helps with frizziness and helps to prolong my hair color. I am switching to this from my most recent brand. (I have been a longtime Garnier fan already.) But, the products I've been using are usually what comes with my at-home hair color kits and nowhere near this quality.
Date published: 2017-11-02
Rated

5

out of

5
by
bzzagentnatashadees
from
Color Care Shampoo
This shampoo left my hair feeling squeaky clean. My hair feels and looks fabulous! I notice with some shampoos that some of color in my hair washes out each time. With this shampoo I did not have that problem. The pomegranate scent is amazing!
Date published: 2017-11-02
Rated

5

out of

5
by
shrimpster
from
Color Care Hair Care Shampoo
My hair is very long near my waist and tends to be fairly wavy to curly. Overall I like this shampoo. It kept the frizz down that tends to happen with my hair and worked best on it's own without the conditioner. Following up with the conditioner just seemed to flatten out my hair a good deal. The scent for the shampoo is great. It last a long time and is not an overpowering smell that would give you a head ache overall.
Date published: 2017-11-02
Rated

2

out of

5
by
bzzagentchosenvessell
from
Garnier Color Hair Care Shampoo
I was not a fan of the shampoo. It seemed to be stripping of my natural oils in my hair and drying. I am a curly haired african american woman and I don't believe this product is for my demographic group. I did appreciate the texture and the smell was decent, just not a fan of the performance. I would recommend it to others in another demographic.
Date published: 2017-11-01
Rated

4

out of

5
by
citizenkym
from
Just Right
I recently tried Garnier While Blends Color Care Shampoo. I liked the scent, it wasn't too heavy. Lots of lather for a Color Care shampoo! I have oily roots and my hair felt clean and light but not stripped. My color held well. I let my husband try it and he liked it. His hair isn't color treated and is dry, but he liked the light scent and the way his hair felt. I would recommend it for anyone (Colored hair or not) as it worked well for both my oily hair and his dry. Good balance.
Date published: 2017-11-01
Rated

5

out of

5
by
bzzagentmnmbigelow
from
Color Care Hair Care
I really liked the Garnier Whole Blends Color Care Shampoo with Argan Oil and Cranberry extracts. It left my hair smelling nice and my color did seem to last a bit longer. I have used other Garnier products but had never tried this. I would certainly purchase it in the future.
Date published: 2017-11-01
Rated

5

out of

5
by
LilianaRazo1976
from
Beyond my expectations
I'm adventurous.. So why not give it a try. Garner Whole Blends Argan Oil and Cranberry Extracts Color Care Shampoo really did it for me. Is the right fragrance, kind of fruity and consistency is not so thick. It lather very good. I recently dye my hair and didn't notice any fading at all. My hair felt smoother after using it. In my opinion great product.
Date published: 2017-11-01
Rated

3

out of

5
by
roseyykayy
from
Cranberry Red
Hello, I regularly color my hair. So I look for products for color treated hair, specially products that will nourish my hair and reverse color damage. I tried Garnier Whole Blend Shampoo and really enjoyed the cranberry scent. The argan oil blend left my hair soft and shiny. However, although the product has argan oil blend, my hair still seemed dry and frizzy. The shampoo thoroughly cleaned my hair, but combined with the conditioner, did not leave my hair feeling nourished or restored its health. Furthermore, the product says "natural blend, paraben free," which always attracts me because I look for organic Shampoos and Conditioners. However, the Shampoo contains sulfate, which is known to be bad for your hair. I liked this product, but I gave a 3/5 stars because the Shampoo contains harmful ingredients and was not different than any other color treated hair products. If you're looking for an all natural conditioner, then this may not be the best product.
Date published: 2017-10-31
Rated

5

out of

5
by
ChelzZap
from
Amazingly Soft
I have seen a change in my hair since I have been using this brand. I love how soft my hair is and my color hasnt faded with the use of it
Date published: 2017-10-31
Rated

5

out of

5
by
staceychris
from
soft and silky
I love this shampoo. I thought that the scent was very pleasant and not overpowering. I wasn't expecting my hair to be so silky afterwards. I have frizzy hair and this product made it smooth. I was pleasantly surprised.
Date published: 2017-10-30
Rated

5

out of

5
by
LmDoc13
from
Entrancing and hydrating
I have not tried a Garnier product in many years and decided to give their Whole Blends Color Care Hair Care with Argan Oil a chance. I have very fine textured hair, but a lot of it, so it is heavy. I typically do not go for any hair products with oil because it generally weighs my hair down and looks dirty after a few hours. I have dyed hair with some bleached highlights, so it can get pretty dry in places. After even the first use I was pleasantly surprised with this shampoo. The scent is light and refreshing, and the lather is perfect. It isn't too sudsy, but also doesn't make my hair feel stringy and coarse when wet. It rinses clean and easily, without a residue feeling. I let my hair air dry, which typically results in quite a bit of frizz that is difficult to get rid of without weighing it down. I was amazing at the lack of frizz and the volume. This is not advertised as a volume product and was a very welcome bonus! I will recommend using this product to my family and friends in a heartbeat. It hydrated without weighing it down, and somehow tamed the frizz I am so used to having to flat iron out.
Date published: 2017-10-29
Rated

5

out of

5
by
katyweym
from
Moisture And Shine
The product I am reviewing is Garnier Whole Blends Color Care Shampoo featuring argan oil & cranberry. The first thing I noticed about this product was the packaging, a simple and eye-catching bright red color featuring pictures of the ingredients- cranberries and argan oil. The bottle was easy to open and close with just a simple snap. I saw that the ingredients are all natural featuring no hair-drying sulfates or parabens, which is something I personally look for in hair care products. I have found most shampoos to be too drying and harsh on my treated hair but I am happy to report that this shampoo was not. The scent of the product upon application was a pleasant fruity scent with notes of cranberry which stayed in my hair for awhile after washing. I am someone who frequently color treats my hair, often lightening it, so I was eager to see the effects of this shampoo. After the first use, I was happy to see the product moisturized my hair and reduced split ends and the effects held up over multiple washes. I also noticed shine had been returned to my previously somewhat dull hair. This is an affordable product available where I shop that I could see myself using over and over again. I have already recommended it to others who color their hair and will continue to do so.
Date published: 2017-10-29
Rated

4

out of

5
by
QJohnsen
from
awesome sauce
The shampoo and conditioner is so awesome. So I normally wash my hair everyday but lately I haven't been able to. For the most part I can't do this because I bleached my tips so my hair gets off from brittle at the ends. The shampoo and conditioner have maintained my hairs Health without being used daily. I love that even though my husband has natural colored hair that the Red's within it has brightened with the use of this product. Both of our hair has gotten softer and most importantly descent blast for a lot longer than most shampoos and conditioners. Only reason can't rate this 5 out of 5 is because of the packaging. I don't know how but the top of the shampoo broke off just a little part that happened to be the piece that seals the hole to retrieve the shampoo out of. I don't like having water in my shampoo so I've had to replace the small piece each time I've used it since then. Other than that I believe it's a great product and I will definitely be looking for this exact product for its fragrance.P
Date published: 2017-10-28
Rated

5

out of

5
by
crazed4candy
from
Cleans well
Does the job. Shampoo and conditioner both smell great. Very fruity and like pomegranates. Leaves hair feeling clean and soft with the conditioner.
Date published: 2017-10-27
Rated

3

out of

5
by
mish19
from
Nice Product
I used Color Care Hair Care with Argan Oil & Cranberry extracts Shampoo and conditioner and a few things stood out to me: Pros: Great smell, like the fact cranberries and argan oil is being used, makes hair soft and easy to comb through (although my hair is long and very thick), paraben-free Cons: Second ingredient is sodium laureth sulfate on shampoo, so I was disappointed that this shampoo and conditioner duo is not sulfate-free and I'm wondering how this is made for color protection. It is pretty hard to read the words on the back of the bottles. My hair did smell wonderful afterwards, and the texture of my curls are less frizzy. I did have to make sure to spray down the bath tub due to the product making the bottom a little slippery.
Date published: 2017-10-27
Rated

5

out of

5
by
KoolGirl
from
Amazingly clean feeling all day
The shampoo left my hair feeling clean and fresh all day. It actually carried me into day three before I had to wash my hair again!
Date published: 2017-10-27
Rated

4

out of

5
by
Sarbear56
from
Great shampoo!
Overall, this is a great shampoo with many positive attributes. There is 1 thing that did not meet my expectations, but the overall experience with this shampoo outweighed the negatives. I'll start with the positives: 1) The packaging- as someone who travels frequently, I was very pleased with the packaging. The plastic bottle is thick and sturdy, and the top closes nicely (and stays closed!). These features are extremely important to travelers, especially those who have experiences leaks of shampoo bottles in their suitcases! The packaging also does a nice job of calling out the special features and ingredients of the product. 2) The shampoo smells fantastic, and the scent stays on your hair after washing, which is nice. This shampoo does require a larger amount of product in order to get a good lather going, which isn't a problem for me, as I have fine hair, but for someone who has thicker hair, this might be more of a concern. 3) The shampoo rinses clean, and does not leave a film or residue behind. This is extremely important for me, as my hair is extremely fine, and any type of residue weighs my hair down, which is not a desirable look! 4) After blow drying, you could definitely see that this shampoo left my hair shiny and clean. It was easy to style afterwards as well, since there was so residue left behind. Now for the negative. Luckily, there is only 1 negative feature (in my opinion). The shampoo promotes "color care" on the packaging and is supposed to protect color and radiance. This shampoo didn't seem to protect my color well, and for some reason I did experience some color fade. This was not a big deal for me at this moment, as I am in the process of switching hair colors, but once I have my new color I would probably refrain from using this shampoo while it is still fresh on my hair. Overall, I really liked this product and felt that the positives outweighed the negative. This is a quality product and a great shampoo!
Date published: 2017-10-27
Rated

4

out of

5
by
HolleeTrujillo
from
Great shampoo
I was quite skeptical about using a product that didn't come from a salon. I have been very surprised by my results. I color my hair all the time and was worried about the possibility of this shampoo stripping my hair. It didn't! Paired with the Conditioner it worked just as well as the salon stuff I was using. It smells amazing and won't bust the bank to purchase it.
Date published: 2017-10-27
Rated

5

out of

5
by
Cinnydoll
from
Perfect pairing
This smells amazing!! I colour my hair religiously and it's brought a new shine to my hair. The smell is strong enough to notice but not overpowering. Since I colour so much I have a lot of breakage and I've seen a drastic improvement on my strands since using this
Date published: 2017-10-27
Rated

4

out of

5
by
couponbp
from
Refreshing in Many Ways
I tried the Shampoo with Argan Oil and Cranberry Extract and I have to say that the smell wasn't overpowering, but totally refreshing! I loved the scent of Cranberry! It was just enough to wake up my senses! The shampoo felt great going on in my hair and I noticed it really lathered a lot compared to my other shampoos. I didn't even use a lot of it in my hair either! I used it addition to the conditioner, so I feel that it did help add to the softness of my hair afterwards - but would attribute that more to the conditioner. I felt it cleaned really well. I would totally use this again. I loved how the Cranberry smell lingered for more than a day too!
Date published: 2017-10-26
Rated

3

out of

5
by
kear276
from
Very nice scent
I think that the scent of the garnier whole blends is very nice, very pl asking to the nose. It had a very good lather, was not runny, it thick in consistency. After using the shampoo I felt that my hair felt like hay, it very dry and was hard to even work my fingers through it as I rinsed the shampoo from my hair. For hair type which is thin and damaged from being color treated I would not purchase this product for myself
Date published: 2017-10-26
Rated

5

out of

5
by
DejaGooden
from
Smells Lovely, Soft, & Shiny
I love this shampoo so much! My hair felt so soft after using it, not dry, brittle, or dull. It was very clean but not to the point I felt like it was stripped bone dry. After washing my hair was shiny and vibrant and smelled so good. It works very well with straightening hair I had not troubles it was silly smooth.
Date published: 2017-10-26
Rated

5

out of

5
by
Hefaroni
from
Awesome lather and smell
I think this shampoo is perfect it lathers up awesomely and smells fantastic. The argan oil and cranberry scent has awesome staying power and isn't too fruity or overbearing. It's more tart and clean scented. There is no need for a rinse and repeat even on my extra oily or sweaty days and it's gentle enough to go without use of conditioner which is normally unheard of for my dry, frizzy hair. I had no trouble with my strawberry blonde hair color fading which was abnormally awesome and I'm still in shock that this is affordable and can be purchased at the grocery or mass chain stores. I'm overly impressed and can't wait to try the other formulas.
Date published: 2017-10-26
Rated

4

out of

5
by
rivera519
from
Great Smell
I have always used the same old brand of hair products but I love how this shampoo actually makes your hair feel with just one application added. The smell stays once you have dried out your hair.
Date published: 2017-10-25
Rated

4

out of

5
by
willisj202
from
Good product
I have been using the same old brand of shampoo and conditioner for awhile now and was beginning to think that my hair was just ruined from all the bleaching and coloring. Then I tried the Garnier whole blends color care shampoo and conditioner. The first time I used them I was a little put off by the smell (not much of a cranberry fan) but used them anyway. I am so thankful that I did. My hair is soft again! Worked great on softening and taming the frizz of my sort of curly hair. Can't really rate it for color fading as I am due to recolor but I will continue to use even after I dye my hair just because it has totally changed the texture of my hair.
Date published: 2017-10-25
Rated

3

out of

5
by
veenzz
from
Argan oil- yay shampoo itself- eyh
Ok so I base my liking of disliking on a few different things. First off, smell... love this it smells ahhhhmazing! However the smell doesn't linger very long. I also rate in how long between washings... I try to go three days I got to 1 and a half before the greasy set in. Next is how it feels after I wash it... in the shower. I look for a softened feeling, like I don't need to condition. This left me feeling soft but the feeling that conditioner was definitely needed. I loved the fact it had argan oil in it.... I am obsessed with argan oil, it's the secret ingredient to my hair to tame the frizzies. However it didn't do the taking I would hope for. Overall, it's good. I personally would only use this if it was the stuff sitting around when I run out of my go to.
Date published: 2017-10-25
Rated

5

out of

5
by
pmmm1036
from
Love it sooooo much
I absolutely love this shampoo. Most shampoos leave my hair feeling dry. After using this shampoo without the conditioner my hair was so soft. I love it
Date published: 2017-10-25
Rated

5

out of

5
by
jramlet
from
Love the way it makes my hair feel
I love the way it makes my hair feel! It's easy to use. I like how it smells. And it lathers greatly.
Date published: 2017-10-24
Rated

3

out of

5
by
lbreakfield08
from
Whole blends color protectant
I tried the shampoo and honestly wasn't impressed I'll still with my salon shampoo & conditioners it made my hair feel stiff and gross felt like it left a weird residue on my hair.
Date published: 2017-10-24