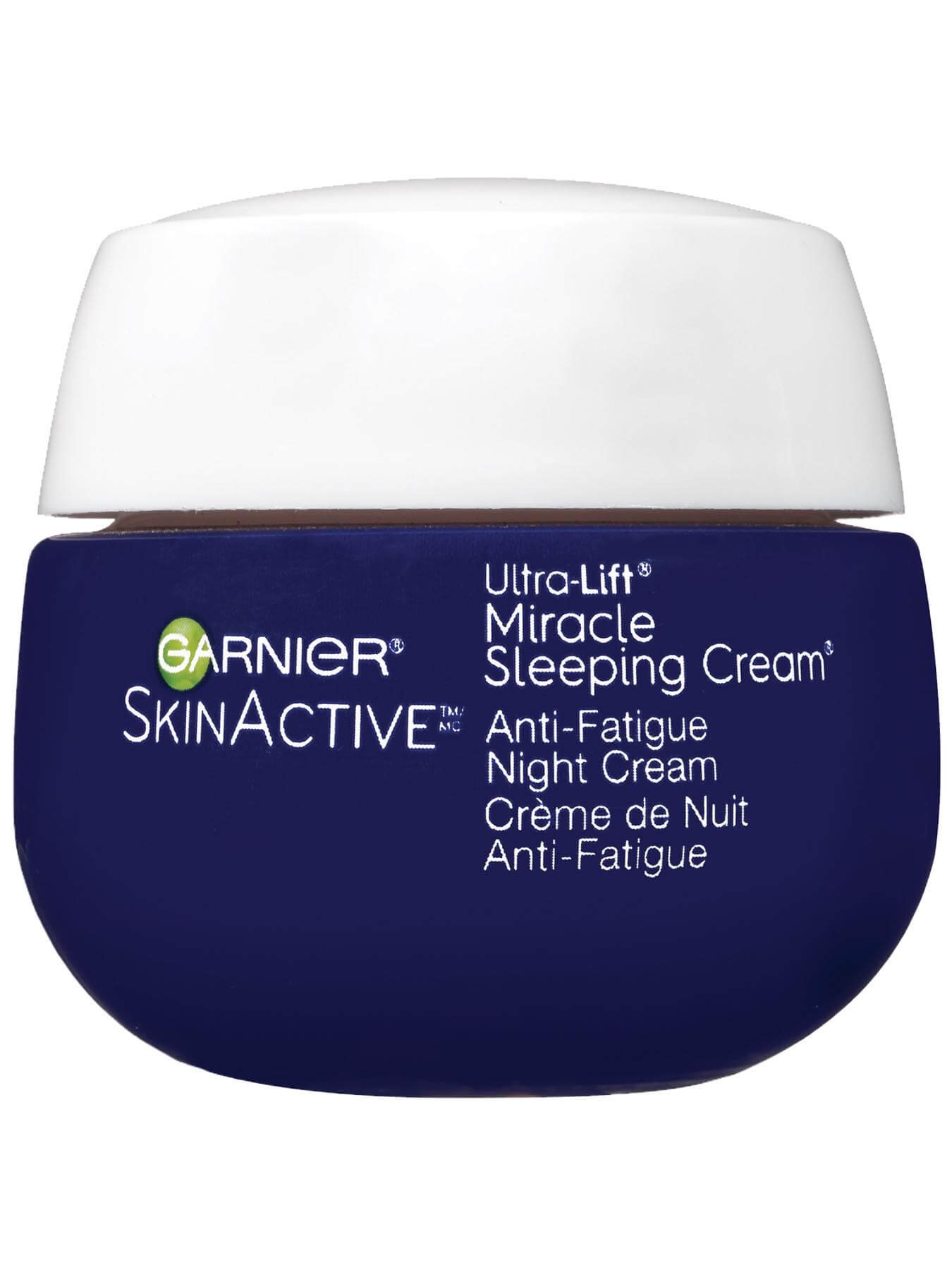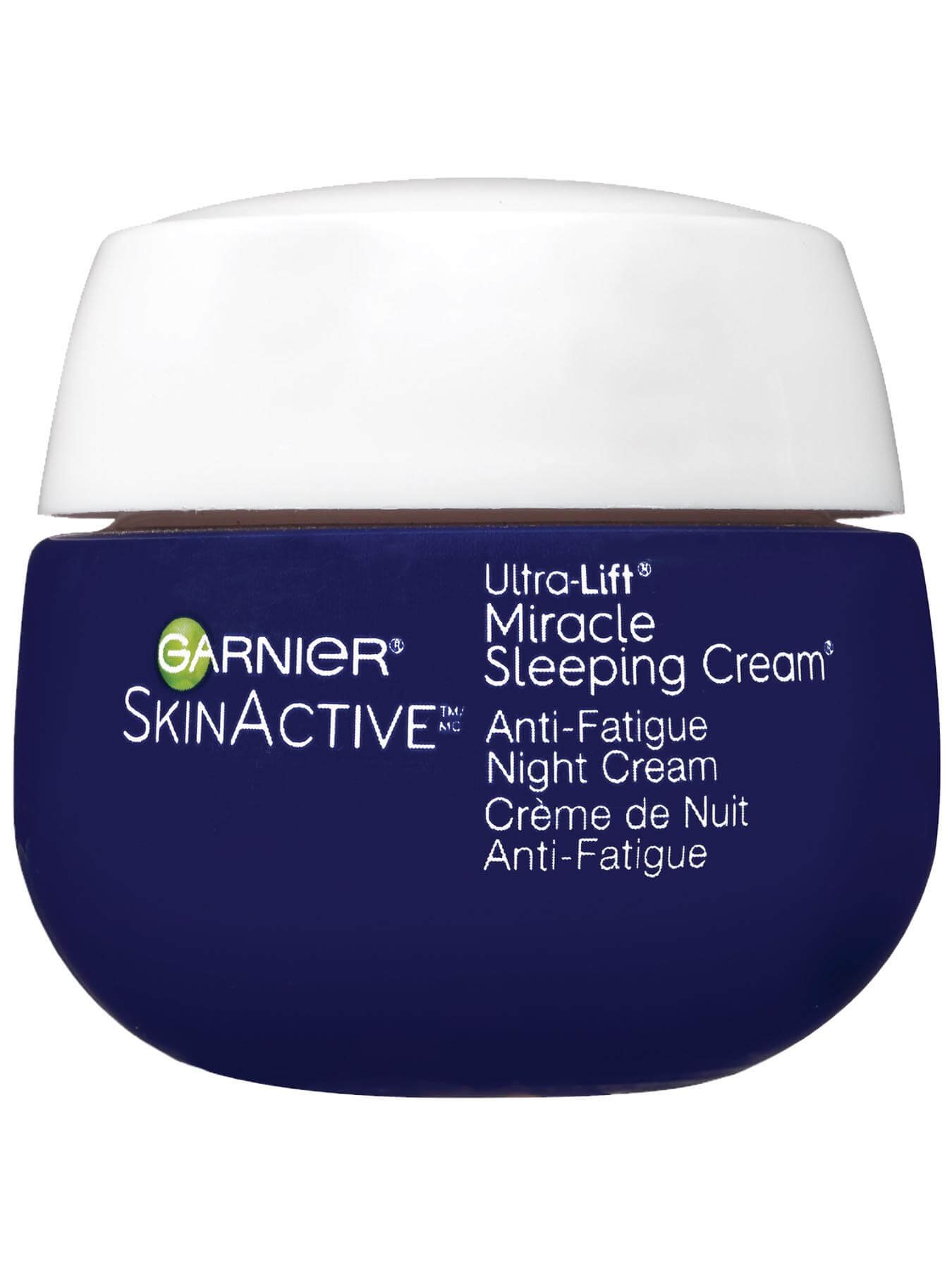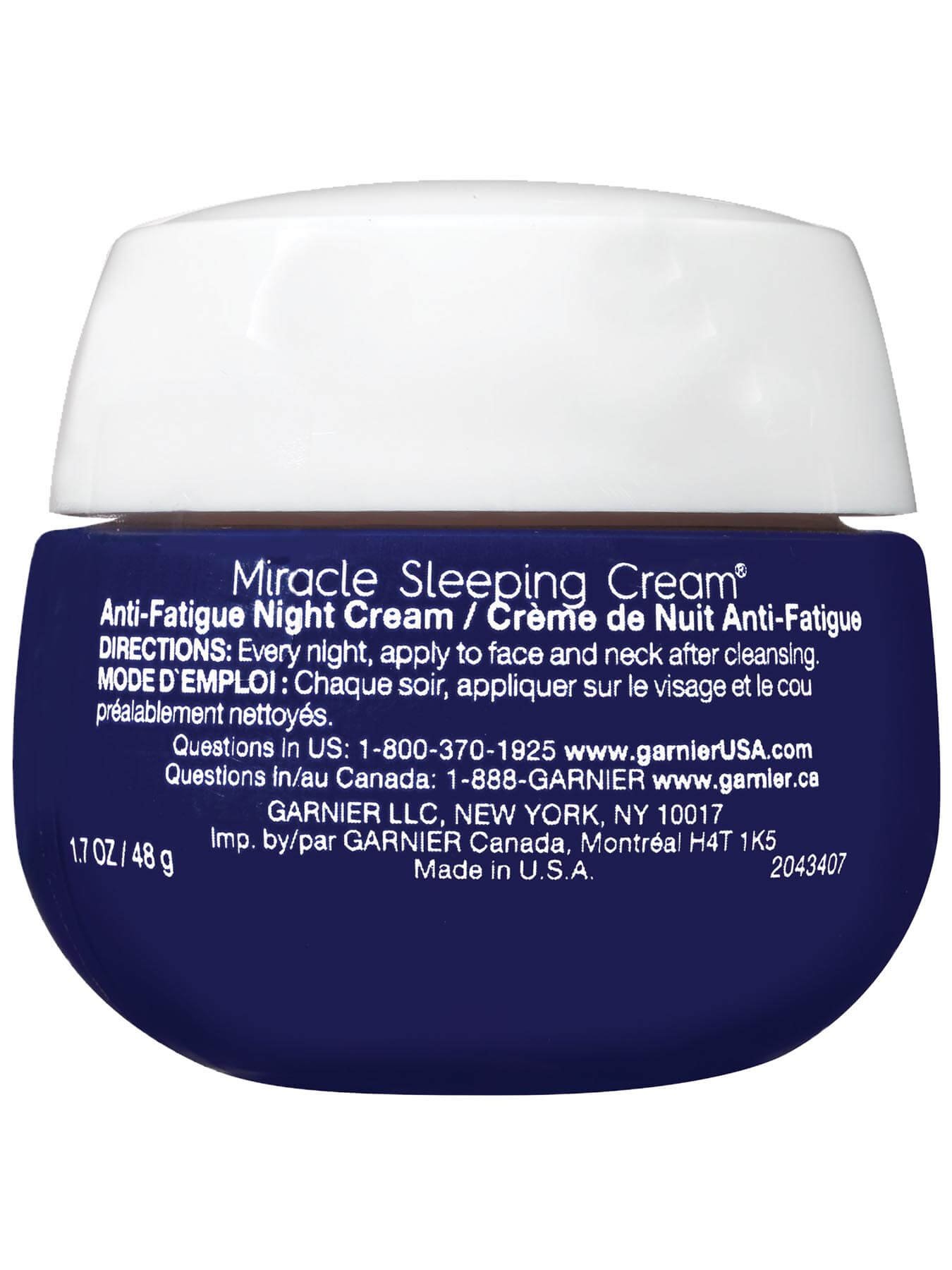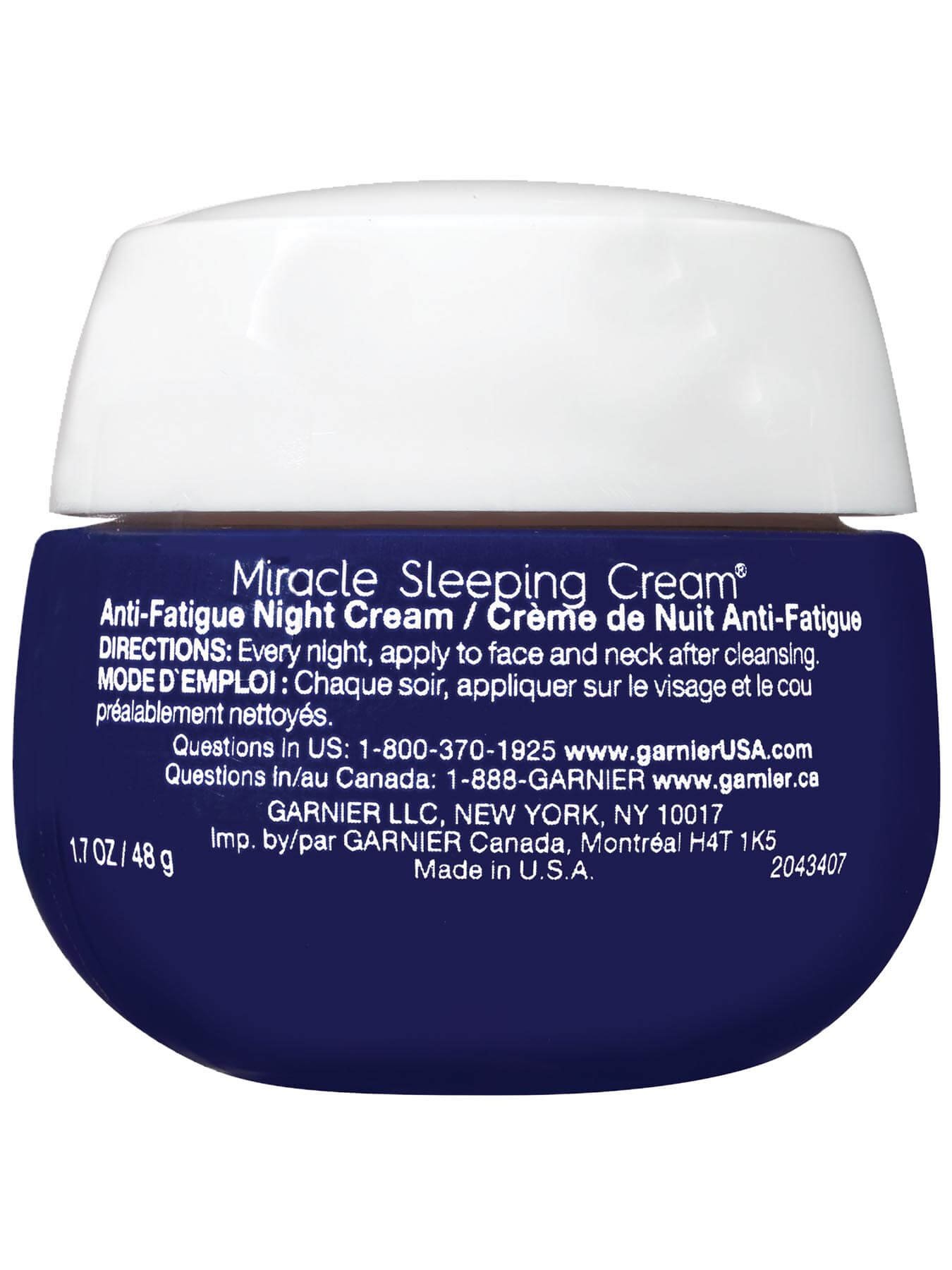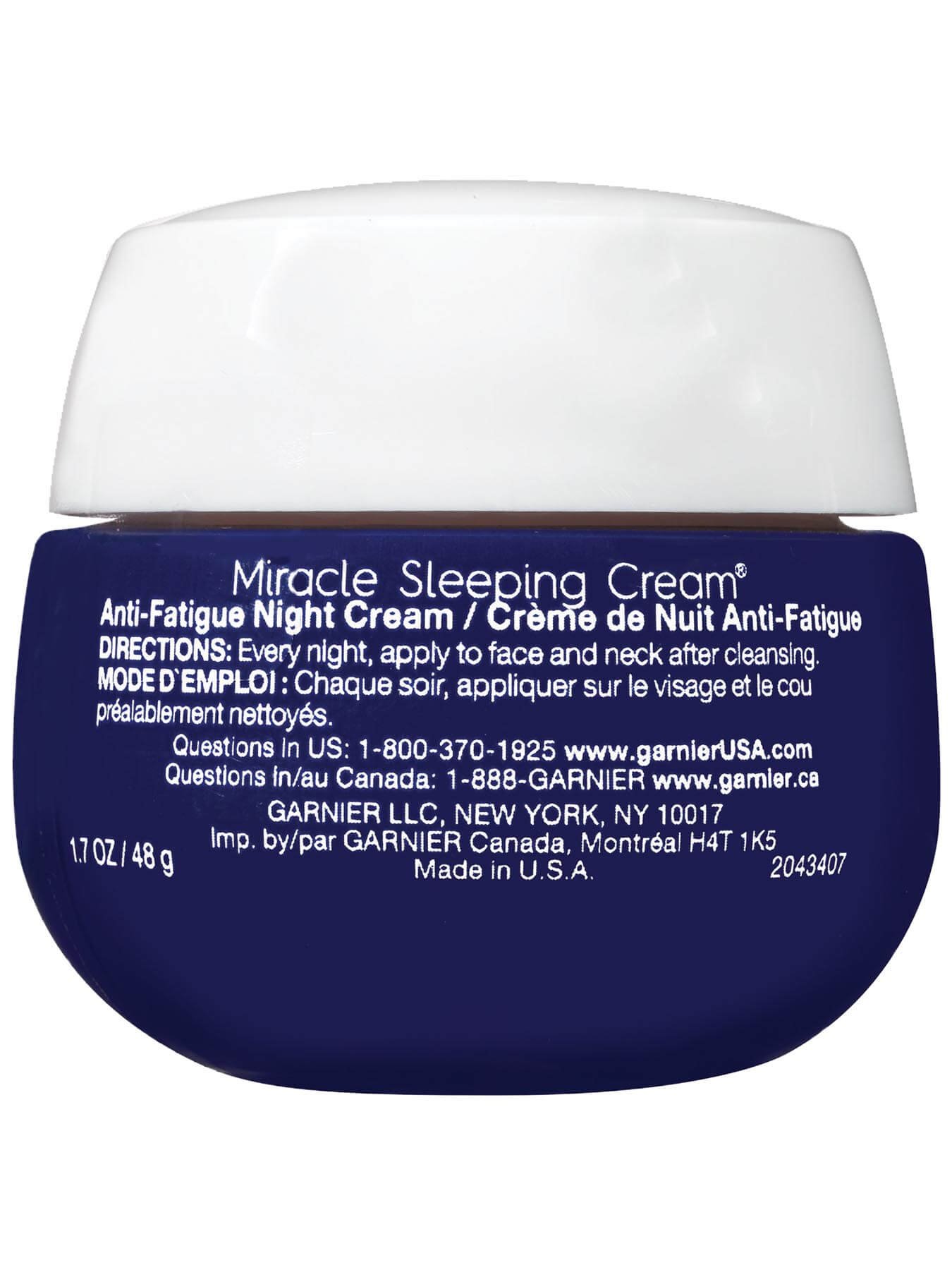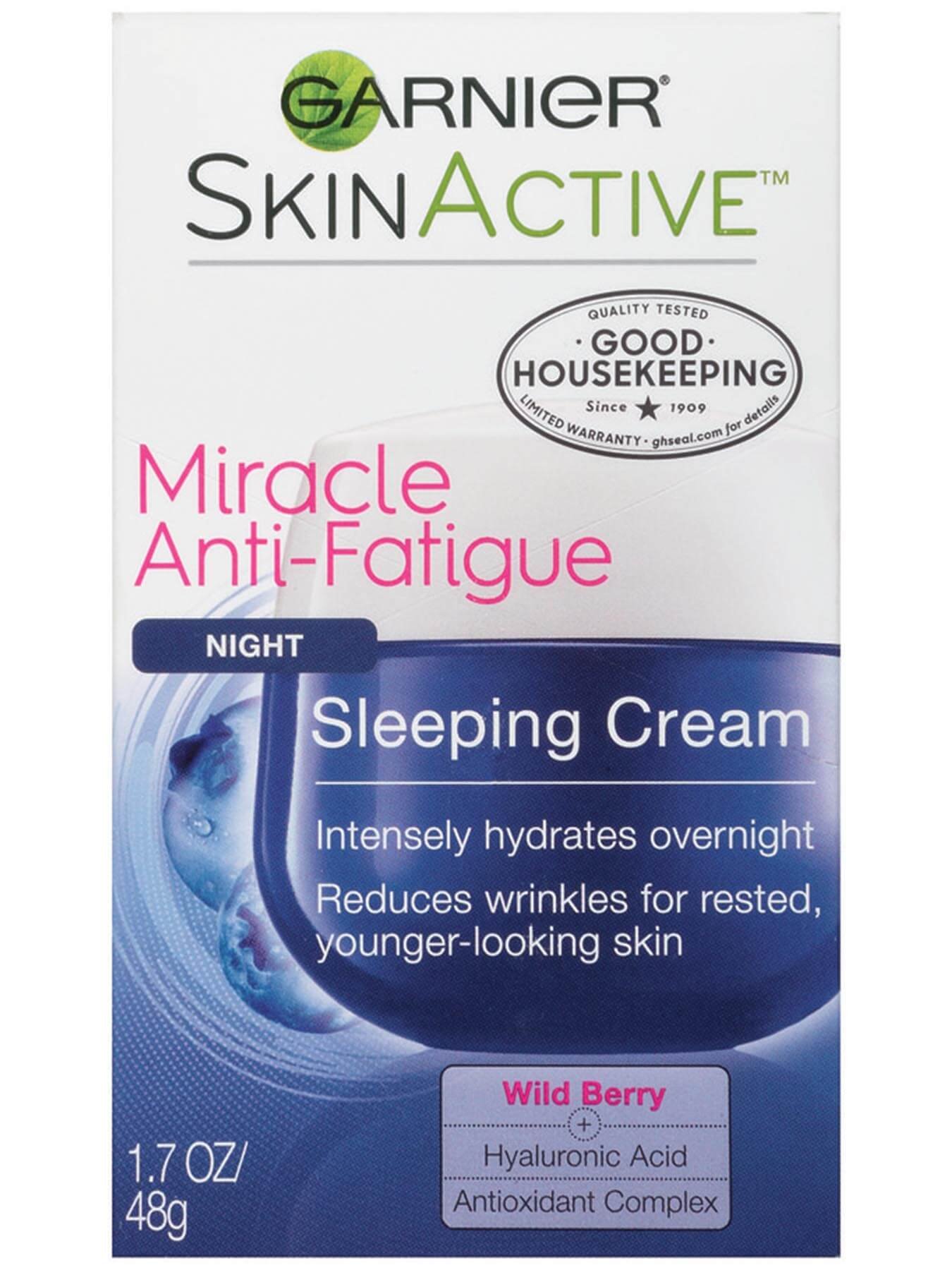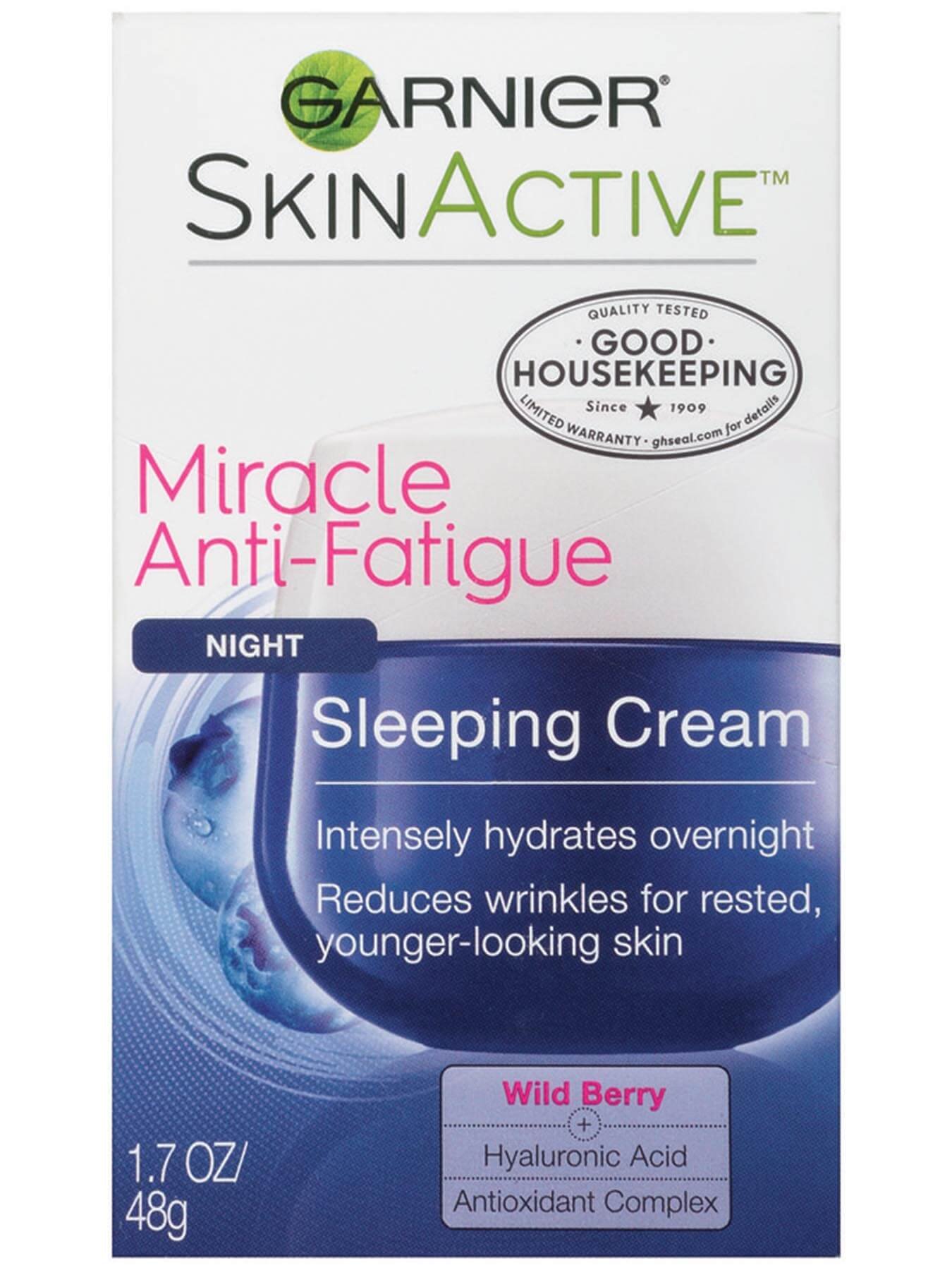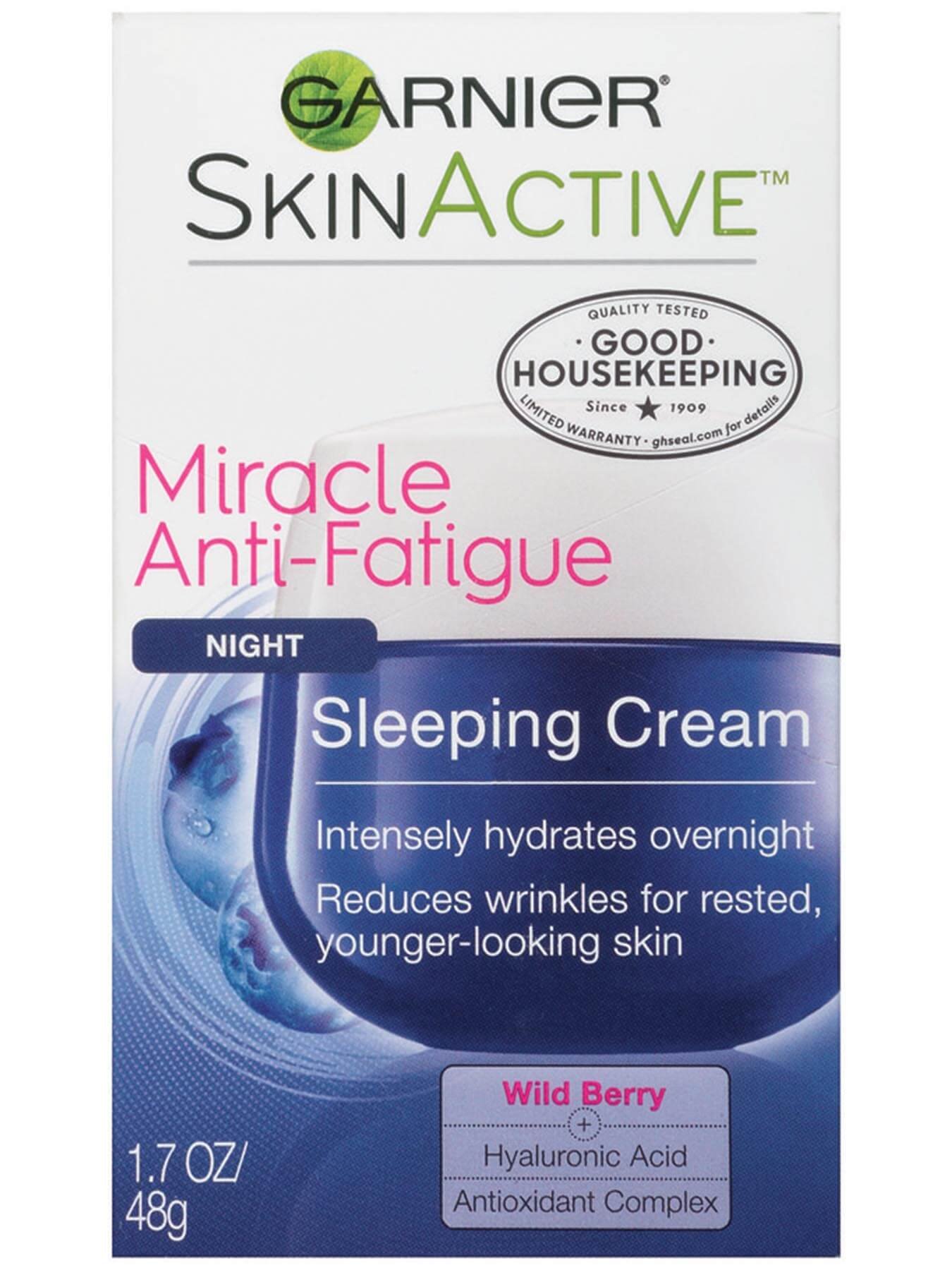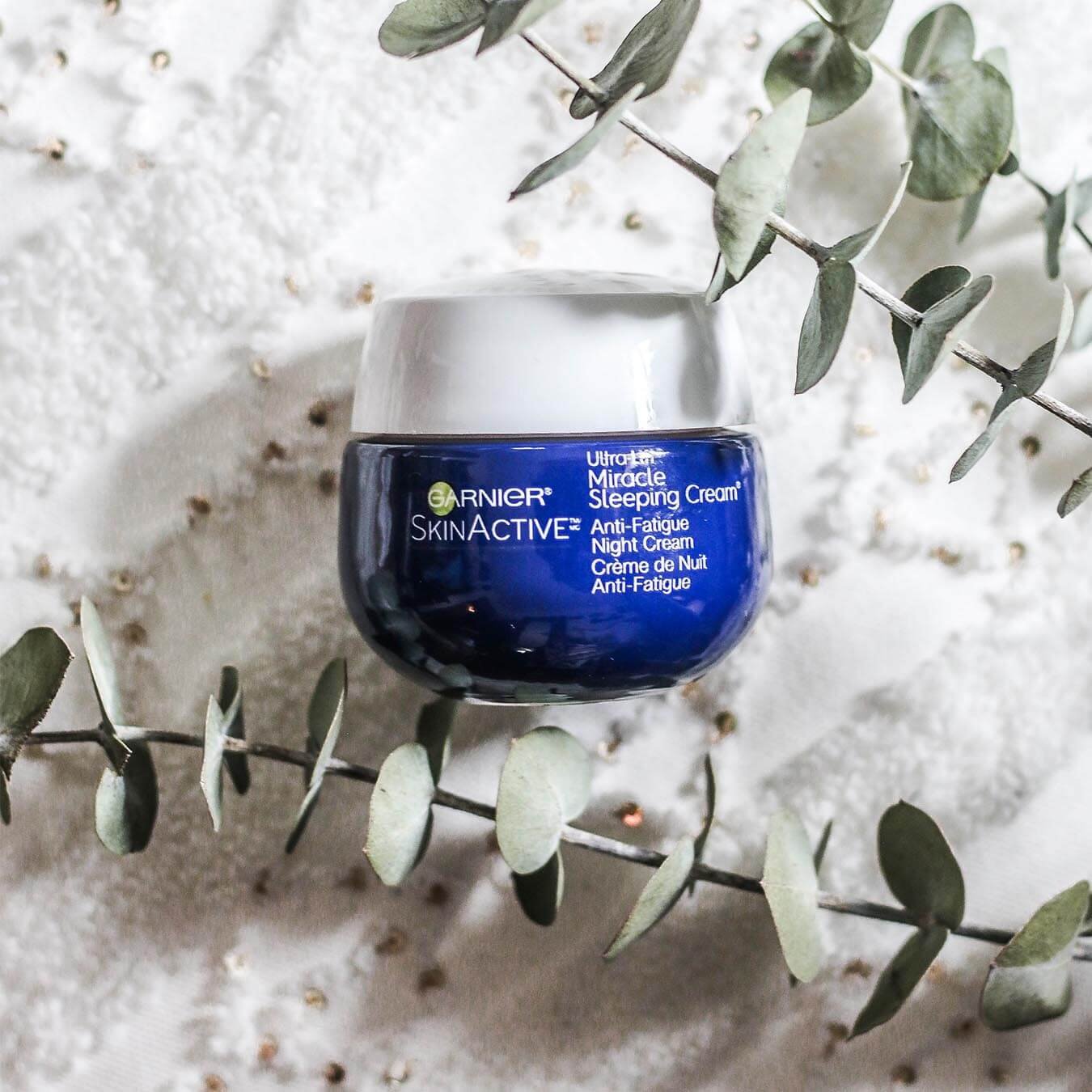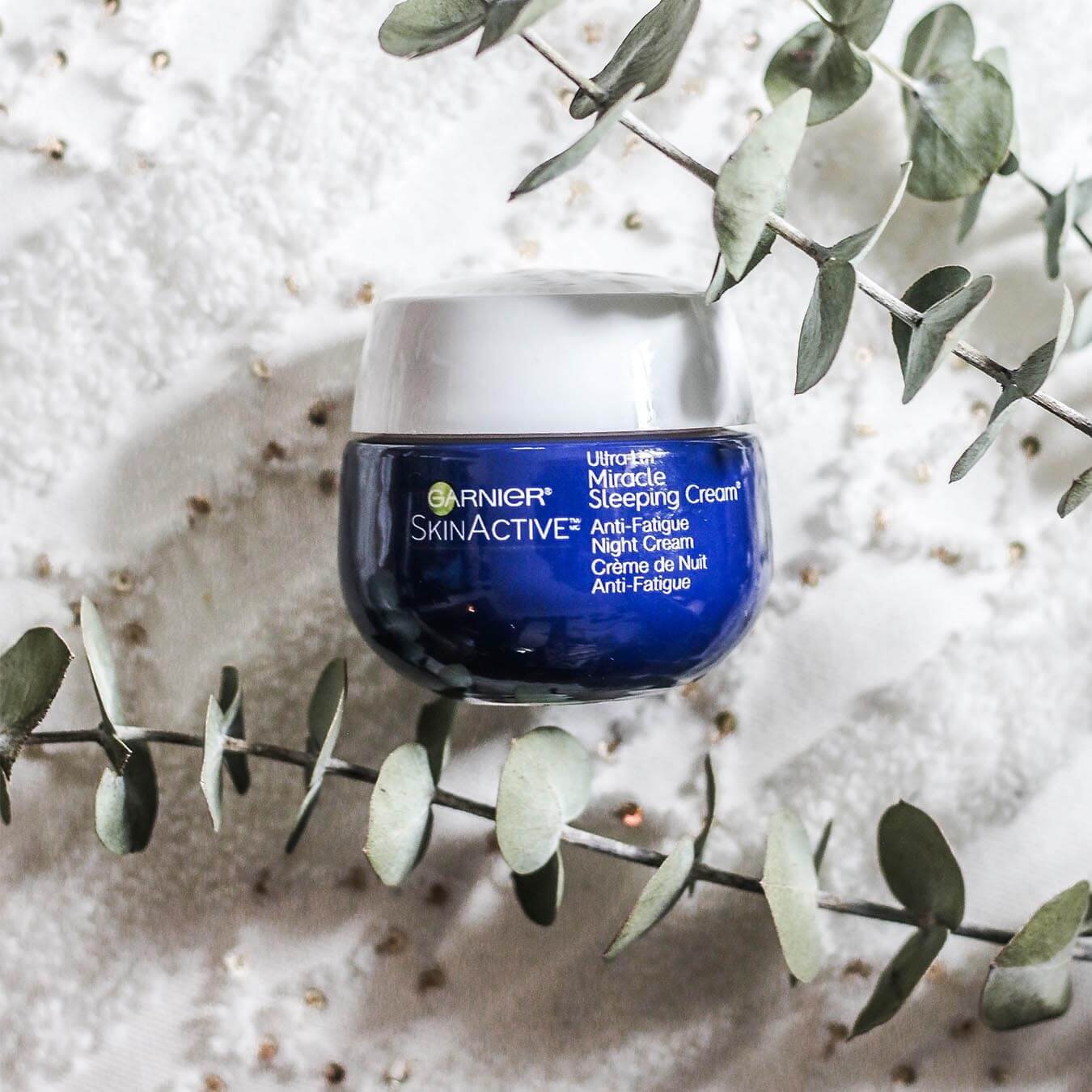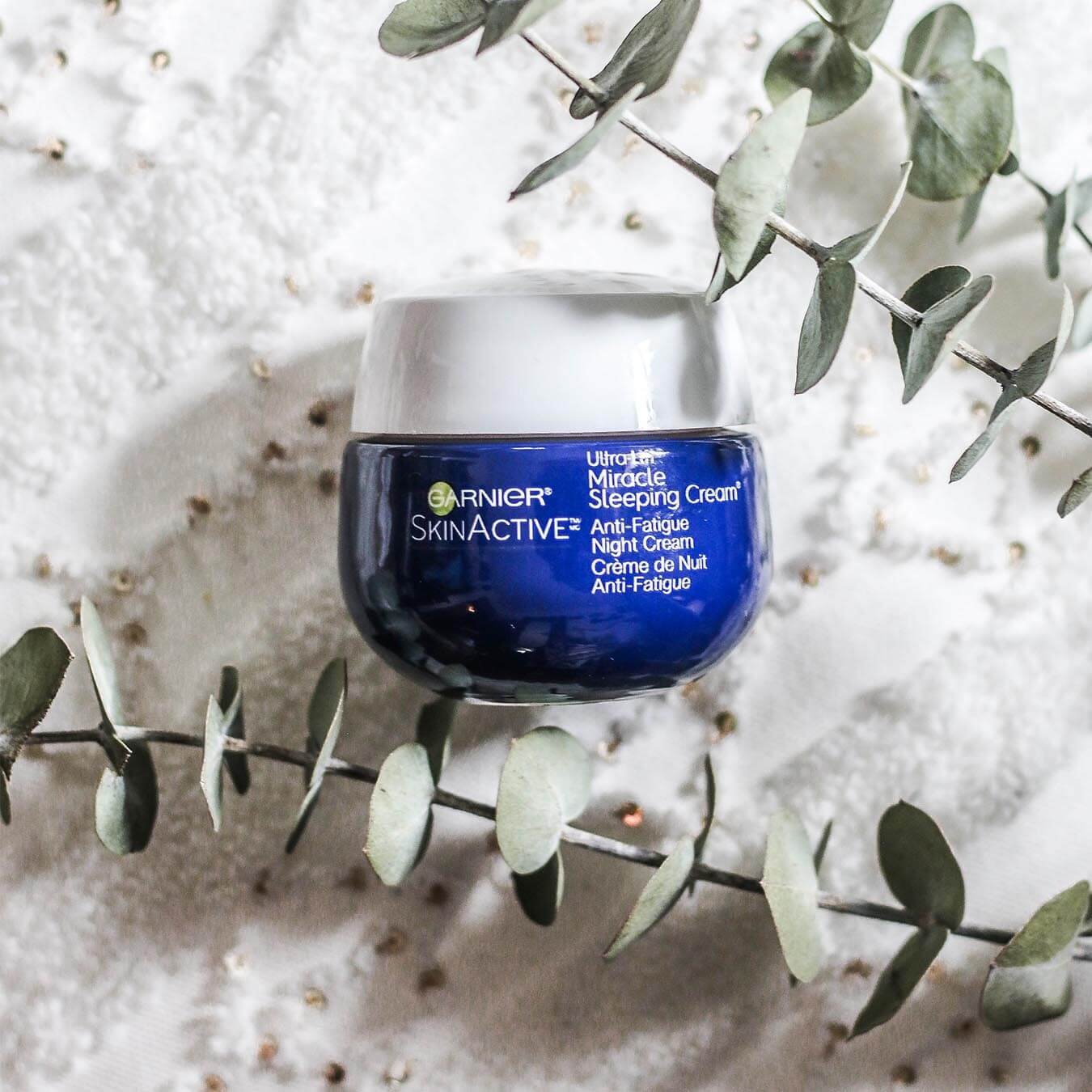 Garnier SkinActive
Miracle Anti-Fatigue Sleeping Cream
PRODUCT INFORMATION:
While we no longer offer this product, we have something even better to meet your needs. Find it here.
Put dullness to bed and wake up to rested, younger-looking skin. This refreshing formula combines the deeply hydrating power of a mask with the light feel of a lotion. Infused with Lavender Essential Oil, Hyaluronic & Hydroxy Acids, it renews, firms and even reduces the appearance of wrinkles. Now go ahead and recharge skin while you sleep!
How To Use:
Apply nightly to clean skin.

Use nightly with Garnier SkinActive Miracle Anti-Fatigue Eye Gel-Cream.
Ingredients
AQUA/WATER, DIMETHICONE, GLYCERIN, SIMMONDSIA CHINENSIS SEED OIL/JOJOBA SEED OIL, HYDROGENATED CASTOR OIL DIMER DILINOLEATE, ROPANEDIOL, ALCOHOL DENAT., CAPRYLIC/CAPRIC TRIGLYCERIDE, CETYL ALCOHOL, CETYL HYDROXYETHYLCELLULOSE, OCTYLDODECANOL, ADENOSINE,ALBIZIA JULIBRISSIN BARK EXTRACT, BENZYL ALCOHOL, BENZYL SALICYLATE, CAPRYLOYL SALICYLIC ACID, CAPRYLYL GLYCOL, CI 16035/RED 40, CI 19140/YELLOW 5, CITRONELLOL, DARUTOSIDE, DISODIUM EDTA, DISODIUM PHOSPHATE, GERANIOL, LAVANDULA HYBRIDA OIL, LIMONEN, LINALOOL, METHYLPARABEN, POLOXAMER 338, POLYSORBATE 60, RUSCUS ACULEATUS EXTRACT/RUSCUS ACULEATUS ROOT EXTRACT, SILICA, SODIUM ACETATE, SODIUM HYALURONATE, SODIUM NITRATE, XANTHAN GUM, PARFUM/FRAGRANCE.
Antioxidants
Antioxidants are a group of vitamins and minerals that defend against the aging, damaging effects of "free radical" toxins and pollutants. Usually found in nuts, berries, and plant-based oils, the most popular Antioxidants used in beauty formulas include Vitamins A, C and E, Beta-Carotene, and the minerals Selenium and Manganese.
Hyaluronic Acid
A natural antioxidant, Hyaluronic Acid naturally occurs in the body. Infused in skin care, it boosts skin's natural moisturizing capacity. In shampoos, conditioners, and hair treatments, Hyaluronic Acid helps protect strands from damage with hydration.
Lavender
Originally grown in traditional groves in the French countryside, Lavender is known for its fragrant oil. This natural oil is widely infused in skin care and hair care formulas that restore shine and soothe damage.
Salicylic acid
In cleansers, moisturizers, and masks, Salicyilc Acid is used to soothe irritation, prevent breakouts, and plump skin for a more youthful glow. In shampoos, conditioners, and hair treatments, it leaves the scalp feeling healthier and refreshed.
Rated

5

out of

5
by
Sue 123
from
Hard to find, but worth the search...
Good Housekeeping magazine recommends this product, so I thought I would give it a try. It is fantastic, but very hard to find. I have bought up all the jars I could find locally. I think it is the most effective moisturizer out there. It feels and smells great and works well on combination skin.
Date published: 2018-08-09
Rated

5

out of

5
by
Aguas
from
Great cream
Been using this for 2 years now, it works great. I used to look so tired upon waking up but since using this less sleep or not I feel n look refreshed! Thank you garnet!
Date published: 2018-04-16
Rated

5

out of

5
by
Erilum
from
Really works
I'm 38 and went through a really rough time when my dad passed. My skin went into freak out mode. I seemed to age over night. I bought this and have been using it for two weeks. First it's not to heavy for my combo skin, second I really do wake up looking refreshed, third my skin looks more even and not blotchy like it had been, fourth my skin looks and feels more supple and my fine lines less noticeable. I'm pretty impressed for the price. Now I just bought the eye cream and I'm not seeing quite as much as the night cream.
Date published: 2018-04-13
Rated

2

out of

5
by
Skymotorsun
from
Worked Great at first !!
Bought this a CVS & it really seemed to help my wrinkles & fine lines for a while.Bought the 2nd time & the texture didn't seem to be the same.
Date published: 2018-03-06
Rated

1

out of

5
by
CM216
from
Unpleasant smell/Tingling on skin
I wasn't a huge fan of this product. The smell was really strong and unpleasant - it reminded me of this perfumed powder that my grandmother used to get. Even after washing my face the next morning, I noticed the odor stuck around.
Date published: 2018-03-05
Rated

5

out of

5
by
Ala A
from
Want to buy miracle night cream
I have try to buy miracle night cream, I go to store I used to buy, however they don't have, I notice this product run out so fast. I was wondering if I can buy from this site. Thanks
Date published: 2018-02-28
Rated

5

out of

5
by
Amanda R
from
You made me a believer!!
I have oily skin and no wrinkles so I've never even really thought of using a moisturizer. That is until I was lucky enough to find this product on clearance that I happened to have a coupon for. This stuff is very light, absorbs quickly, and leaves your skin feeling very soft. It's even helped with the oilyness. And a little bit goes a long way. THANK YOU! I will continue to buy this, even if I have to pay full price for it. :)
Date published: 2018-02-03
Rated

5

out of

5
by
Miss Kitty
from
This cream is GREAT!!!
I have used Ultra-Lift Miracle Sleeping Cream. Notice my cream says ULTRA-LIFT Miracle Sleeping Cream. I have concerns that Wal-Mart had it on clearance. I assume they are not carrying it anymore or you have discontinued the item. So is this product called just Anti-fatigue Miracle Sleeping Cream replacing the Ultra-Lift item??? This is the best face cream for my dry skin that I have tried. I use it every night and even daytime I use under my make-up. It is fantastic and keeps my face from being so dry and tight. Supple skin is the result of using this product.
Date published: 2018-01-20
Rated

5

out of

5
by
DemiDuchess
from
Very Hyrdating but bad smell
I bought this 2 weeks ago at CVS pharmacy. It is amazing! Very hydrating and doesnt irritate my skin...but the smell of it is like cheap wine Other than its stench it does what it says on helping your skin appear healthy and glowy. It also reduced the appearance of the small crows feet I have by my eyes. If you are discontinuing this because of the stink when the product sits on the shelf for a while I fully understand that. But I hope a new one with the same main ingredients comes out. I love it!
Date published: 2018-01-03
Rated

4

out of

5
by
Trina H
from
Absolutely Great!
Finally tried this cream last week - I wish I had tried it months ago. It's fabulous! My hubby noticed the difference right away. Would recommend this cream without hesitation.
Date published: 2017-12-22
Rated

5

out of

5
by
Carol99
from
Best nightime cream ever
I've tryed sooo many creams , and this is the very best ! I have acne scaring and this has helped tremendously! Please do not discontinue!
Date published: 2017-11-26
Rated

5

out of

5
by
KatieTe
from
Amazingggg
Amazing. Soft and smooth. Helped even out my skin tone. I use it right after a hot shower and mild soap face wash. My face and neck are so soft. PLEASEEE DO NOT DISCONTINUE!
Date published: 2017-11-20
Rated

5

out of

5
by
Joy23
from
I really like it :)
This night cream is gentle. I have sensitive skin so it doesn't irritate it, & it makes my skin glowy. Please do not discontinue this. Thank you.
Date published: 2017-10-31
Rated

5

out of

5
by
Roxxie81
from
Great job
I bought this product and fell in love with it works great I recommend it
Date published: 2017-10-04
Rated

5

out of

5
by
Wild Thing
from
It truly works!!
I have tried many products in my days but I must say this is absolutely amazing. I love the product............
Date published: 2017-08-19
Rated

5

out of

5
by
Creative one
from
Good night cream
This night cream is good. It makes me look well rested, & I think this makes my skin look glowy. It's also hydrating on my skin. Thank you, Garnier. Please don't discontinue this.
Date published: 2017-08-15
Rated

5

out of

5
by
Kris10 How
from
Great product!
I was given a sample a few months ago, but just got around to trying it. Boy have I been missing out! This stuff is amazing....super moisturizing and lasts through the night. When I woke up the next morning, my skin felt super soft and not greasy at all.
Date published: 2017-03-27
Rated

5

out of

5
by
stacyn
from
My skin looks awesome!!
I have bought expensive creams that didn't work and was so impressed with this one at half the cost! I am over fifty and finally have that fresh face again. Thank you!
Date published: 2017-02-17
Rated

5

out of

5
by
Ricardo
from
Excellent texture and moisture activation
I was given a sample of SkinActive Miracle Anti-Fatigue Sleeping Cream yesterday, and used it last night. Immediately upon using, I could tell the texture of the product was superior to other sleep creams I've tried; far richer and more absorbent. It reminded me of higher-priced lines I've tried that trigger moisture production. I woke up to revitalized, smoother skin and a feeling of increased circulation in the higher epidermis. Strongly recommended.
Date published: 2017-01-18
Rated

5

out of

5
by
Alonaok
from
Fountain of Youth
I was hesitant at first to try the new miracle anti-fatigue line because my skin is very dry yet sensitive and my pores can get irritated and break out. What a surprise from the light and refreshing application that was quickly absorbed and was fragrant leaving my skin feel hydrated and fresh. it must be non-comedogenic since my skin did not break out. It truly is the fountain of youth that taps into your skin and invigorates it.
Date published: 2016-12-28
Rated

3

out of

5
by
Victoria Z
from
Love this cream, but....
Love this cream- super hydrating, but...the jar was only half full! See photo. Not cool, Garnier.
Date published: 2016-12-22
Rated

4

out of

5
by
Koko98
from
Thick cream
I used a sample just now and really like the texture of this cream. Usually my skin feels still dry after my usual moisturizer, but not with this cream. Can't wait to feel my skin tomorrow morning!
Date published: 2016-12-13
Rated

4

out of

5
by
sdchelle
from
Moisturizes
I've noticed my skin has become much drier over the past few years and it's been difficult to keep it moisturized. I usually shower at night and even after I put on moisturizer, my face still has a hint of dryness. With this cream, my skin feels smooth and hydrated. I also have sensitive skin and this gave me no issues. The smell is also light and almost "soapy", compared to perfume. I liked it.
Date published: 2016-11-15
Rated

5

out of

5
by
Mama Lou
from
Fantastic product
I absolutely love this product! I've only been using it a few days and already my skin looks luminous! When I wake up in the morning, my skin is incredible soft. This and the BB Cream are my 2 favorite Garnier products. Love!
Date published: 2016-11-15
Rated

5

out of

5
by
baby
from
refreshing
Received a sample in the mail a while back and after keeping it for a while, I finally tried it. It absorbed in very quickly. Also made my skin feel wonderfully refreshed the next day. I bought a jar afterwards and it's lasted for a long time.
Date published: 2016-11-05
Rated

5

out of

5
by
Celina
from
Alien Technology Rules
I always have a backup jar so I don't run out. Love this product. Great moisturizer. I've been using it now for about 3 years and love it!
Date published: 2016-10-28
Rated

5

out of

5
by
Mum of Three
from
Hydrating
I have been using the night cream now for 3 weeks. I love it. The skin feels beautifully soft in the morning. After showering, I use the day cream. I would definitely recommend. It is non-greasy and just enough fragrance, not overpowering smell.
Date published: 2016-10-13
Rated

5

out of

5
by
barbie62
from
Smelled great and moisturized my face!
I really liked the soothing lavender scent! The cream really left my face feeling moisturized overnight! Not greasy! I liked it!
Date published: 2016-09-07
Rated

5

out of

5
by
Trish27
from
relaxing
I was very surprised, both the day time and night sleeping creams were nongreesy, smooth, and relaxing. They had just enough fragrance, not overwhelming. Great product!!!!
Date published: 2016-09-01
Rated

4

out of

5
by
Squawv90
from
Amazing product
I've been using this cream at night and the gel in the mornings. And its working so well! Soft skin plump and bright. I will be using the whole jar and getting more!
Date published: 2016-08-18