This site is intended for US consumers.Cookies and related technology are used for advertising.To learn more or opt-out, visit Ad Choices and our privacy policy.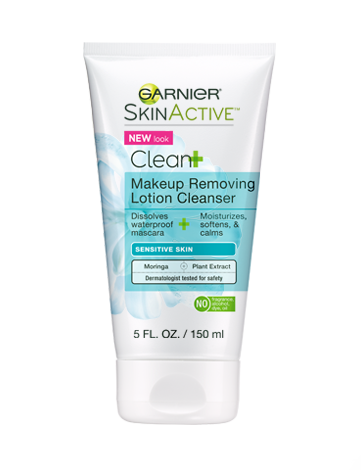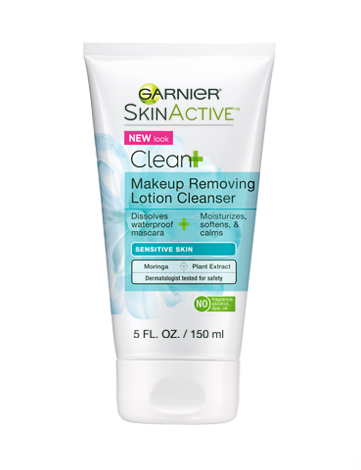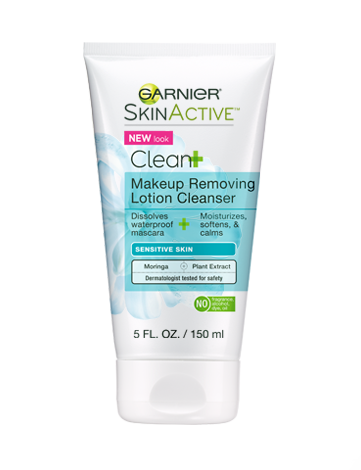 Garnier SkinActive
Clean + Makeup Removing Lotion Cleanser
PRODUCT INFORMATION:
We no longer offer this product, we have something even better to meet your needs. Find it here.

Sensitive skin has specific cleansing needs. To look and feel its best, it needs the right clean and specific care. Our quick-break lotion releases the powerful cleansing agents to dissolves impurities and waterproof mascara. The formula infused with plant extract leaves skin feeling moisturized and protected.
How to use:
Apply lotion to dry skin with fingers. Gently massage into skin and around eyes. Remove with cotton pad or rinse clean with water. Use AM and PM
Ingredients:
AQUA / WATER, ISOHEXADECANE, ISOPROPYL MYRISTATE, GLYCERIN, CYCLOPENTASILOXANE, SODIUM ACRYLATES COPOLYMER, CAPRYLIC/CAPRIC TRIGLYCERIDE, CAPRYLYL GLYCOL, METHYLPARABEN, ACRYLATES/C10-30 ALKYL ACRYLATE CROSSPOLYMER, BUTYLENE GLYCOL, IMPERATA CYLINDRICA ROOT EXTRACT, HYDROLYZED OPUNTIA FICUS-INDICA FLOWER EXTRACT, MORINGA PTERYGOSPERMA SEED EXTRACT, BIOSACCHARIDE GUM-4, LITCHI, CHINENSIS EXTRACT / LITCHI CHINENSIS PERICARP EXTRACT, CARBOMER, ETHYLHEXYLGLYCERIN
Rated

5

out of

5
by
PalazzoJ
from
WHY GARNIER WHY???
I brought this a while ago and foolishly let it sit on my shelf but once I picked it up to use it I fell in LOVE! It removes my makeup like nothing else. Please bring this back, it's an amazing product. Please, please, please!!!
Date published: 2018-01-27
Rated

5

out of

5
by
maliss
from
Bring this back!!!
Like everyone else on here, I wish this would come back! Amazing product for removing waterproof mascara, and actually cleaning skin, and making skin so soft! So So SO DISAPPOINTING!! :(
Date published: 2017-09-21
Rated

5

out of

5
by
Amy33
from
Please bring this back!
This stuff is amazing! It's way better than micellar water, which doesn't even begin to touch waterproof mascara. This is the only product that I've found that doesn't the forever to work and is very gentle and hydrating. Please bring it back!
Date published: 2017-08-17
Rated

5

out of

5
by
Paigey
from
NOOOOO!!! I NEED THIS! Please BRING IT BACK!!!!
This my only trustworthy make up remover I could use on my eyes as well as getting off Lipstain! This has got me through life happy and now you have taken it away and made a stupid foam that doesn't work the same. Please bring this product back or make a small batch and let me buy it in bulk. I have high end products that do not match up to the effectiveness of this product. I am an actress and have to wear tons of theatrical make up and this was the only product that is tough enough to get it all off and still not hurt my eyes and keep my skin moisturized. I am so sad to see this go. :( Please let me know when you bring this back. This is your best product that I have used and I hate that it will be gone. This is me with a really annoying cry in hopes you will listen and bring back your best product; "WAAAaaaaaAAAaaaaaa aaaaaaaAAAA!!!!!!!!!"
Date published: 2017-07-14
Rated

5

out of

5
by
foxyloxy324
from
Discontinued?!? BRING IT BACK!
For a year this product was my go-to cleanser. It was gentle on skin and as a wearer of full-coverage foundation daily, this product was the BEST. One swipe and make-up was gone. It was gentle on eyes and easily removed mascara. Since I searched and searched and could no longer find it, I tried several other products, including the Micellar water (which was cold and didn't even remove my make-up without a harsh scrubbing), the Make-up Removing Gel (which was ok, but also didn't remove make-up well either), as well as a multitude of other brands. NONE is like this product. I have a bathroom cabinet FULL of cleansers and none can compare. Luckily, I found 2 at TJ Maxx and am trying to make them last. It was a HUGE mistake to discontinue this product, especially since your other cleansers don't even come close.
Date published: 2017-06-06
Rated

5

out of

5
by
patty211
from
Discontinuing was a Total Mistake!
This was the BEST product for my skin and I have used the replacement for months now and had nothing but problems. I'm so very disappointed that I can no longer get the product I need.
Date published: 2017-05-12
Rated

5

out of

5
by
Yazzy
from
PLEASE BRING THIS BACK!
I have sensitive oily skin and I was a bit hesitation try this product out in fear of breaking out, BOY WAS I WRONG!! This lotion is my excellent! It doesn't break me out at all, dissolves my makeup, leaves my skin feels smooth and very clean free of makeup! Please do not discontinue this product! I absolutely love it so much!!
Date published: 2017-04-20
Rated

5

out of

5
by
Tota
from
YOU MUST BRING THIS BACK!!!!
It was the only product that actually removed my waterproof mascara without me having to rub too much. Other products leave my skin soooo irritated and I even lose my eyelashes. Pls pls pls make it come back!!!
Date published: 2017-04-19
Rated

5

out of

5
by
Cathycaw
from
Makeup removing lotion cleanser
So so very upset u discontinued this item. Please restock this item!!! Love love it!! Possibly the advertising of this item was done poorly. Because now that we found this nothing compares!!! Awesome product..Dissapointed consumer.
Date published: 2017-04-13
Rated

5

out of

5
by
Lula777
from
I love this make up remover!
If I knew this was being discontinued, I would've stocked up! Please bring this back! It was the. Eat make up remover. It removed my waterproof mascara without ripping out my lashes like others. I need it in my life. There is no comparison. Please!
Date published: 2017-03-28
Rated

5

out of

5
by
Kathy2017
from
Bring this product back
Best make up remover! So sad that it has been discontinued. The product that is being suggested as a replacement is a cleanser not a make up remover. It was perfect for water proof mascara. PLEASE bring it back
Date published: 2017-03-27
Rated

5

out of

5
by
maryanne38
from
Please Bring It Back!
I loved this cleanser! As others have stated, it was the only cleanser that easily removed waterproof mascara without irritating my eyes or drying out my skin. I have yet to find a replacement that even comes close. Your new cleanser does not remove wp mascara- even if used with your makeup remover cloths. The new water cleanser is eye irritating and messy. Listen to popular opinion and please, please, please bring this wonderful lotion cleanser back!!
Date published: 2017-03-02
Rated

5

out of

5
by
Mama7í
from
THIS WAS THE BEST PRODUCT!!
UGH! I am SO upset that this has been discontinued!! I absolutely loved this product! I hope you bring it back! It worked so well without irritating my eyes. Is there a comparable product to this? I'm so disappointed :(
Date published: 2017-02-24
Rated

5

out of

5
by
Kellyvega
from
Makeup removing lotion cleanser
I love this stuff. I don't have to scrub my eyes to get the eye makeup off and it doesn't make my eyes burn. The only bad thing is that I can't find it anymore where I live
Date published: 2017-02-23
Rated

5

out of

5
by
ldowli
from
PLEASE BRING IT BACK!!!
This was the best cleanser for my dry, sensitive skin!!!! Please answer why it was discontinued!!! So very disappointed!
Date published: 2017-02-10
Rated

5

out of

5
by
Stempleton
from
Best waterproof makeup cleanser ever!
This is the ONLY cleanser that completely removes waterproof mascara and makeup without hurting my skin! Why had it been discontinued??
Date published: 2017-02-08
Rated

5

out of

5
by
kfw2007
from
Bring it back, PLEASE!
Garnier, why do you keep discontinuing such amazing products?! First it was the cleansing oil, now this? Every time I fall in love with a product from your company you take it away--it's really bumming me out. I loved this cleanser because it left my dry skin feeling both clean and hydrated. I loved using this as my AM cleanser because I could use it without water--this was a major plus for me as I am a night time shower person and found it much quicker to use a lotion cleanser in the morning. I beg you to please highly consider bringing this cleanser back. From what I have been able to gather from researching, and looking in all my local stores--your company was the only company with a lotion cleanser that was drugstore priced, and did not require the use of water to remove it or apply it. You really had a great leg up on your competitors, in my opinion. Again, I urge you to reconsider bringing this cleanser back.
Date published: 2017-02-04
Rated

5

out of

5
by
Alexandrina
from
This product was PERFECT!!!
Why oh why would you discontinue this product ???? It was perfect for dry skin and or sensitive skin!!! I don't like your new one. This one was a cream. Almost like a cold cream that I could put on and remove with a tissue or a cotton pad. I am literally crying. Please bring it BACK!!! Your new one foams up and it dries my already patched skin. It doesn't hold a candle to this old cleanser!!!!
Date published: 2017-02-04
Rated

5

out of

5
by
Makeup lover
from
Fantastic mascara remover
I got this for my sensitive skin. I use it to take off my heavy waterproof mascara. It's fantastic ! I do wash my face afterwards with a sensitive skin cleaner, I just needed a mascara remover that was good for sensitive skin and that was not oily. This really fits the bill. It removes all of the mascara with no oily feel after. I hope they make this forever !
Date published: 2016-12-09
Rated

5

out of

5
by
Saraf
from
Amazing!!
I bought this product based on other reviews because I had chosen a waterproof mascara that would not come off no matter what I tried. This worked exactly as it said! Removed all my makeup including ultimate waterproof tar mascara. Left my face feeling so smooth. And the best part. I have extremely sensitive skin and any cleaner even near my eyes burns. This was comfortable like baby lotion. Love love love this.
Date published: 2016-11-04
Rated

5

out of

5
by
MrsPThrash
from
The best makeup remover!
This is the absolute best! I've never had a cleanser remove all my eye makeup/mascara/liner before! It's gentle on my skin and a perfect all in one remover and cleanser!
Date published: 2016-10-16
Rated

5

out of

5
by
VerKit66
from
Better than Department Store!
I picked this up for my daughter at a big box, and was shocked at how great it worked! In my opinion it is better than Clinique which I have used for years! It lasted us both about a month or so (had bonus 35% more), now I can't find it anywhere locally, and one drug store clerk told me they were discontinuing it - I'm going to order a few online hopefully the shelves will restock soon!
Date published: 2016-10-14
Rated

5

out of

5
by
Renee1
from
Love the Make Removing Lotion Cleanser!
I absolutely love this product. Whenever I find it in stock, I buy the entire store's supply! It melts my layers of waterproof mascara - without needing to use cotton balls/pads - which dry out the skin around my eyes! It leaves my skin soft and moisturized, amazing product!
Date published: 2016-08-25
Rated

5

out of

5
by
Gabi
from
I absolutely LOVE this product! It melts your makeup off, even waterproof!!! I have the hardest time finding it in stock at the local stores around my area. I went to 4 stores looking for it today!!
Date published: 2016-02-09
Rated

5

out of

5
by
MUALisa
from
Great alternative to cold cream
I like using creams to remove my makeup but cold cream is too heavy and wipes are too drying This is a great alternative. I use it daily. I have sensitive skin and no reactions so far. The price is great. I'm adding it to my makeup kit to use on clients.
Date published: 2016-01-23
Rated

1

out of

5
by
CDWWS
from
Cleanser, not so much
The product name including the word cleanser is an oxymoron. As well as the literature on the tube that states completely removes all traces of dirt & makeup, including waterproof mascara. Followed the directions applying to dry face, massaging well with fingertips and rinsing off with warm water. The photo shows what was left ON my face after washing with this product.
Date published: 2015-10-15
Rated

5

out of

5
by
STL76
from
Good for Dry/Sensitive Skin
Very good affordable cleanser for my dry/sensitive skin. It calms, cleans & leaves my skin supple. I highly recommend this cleanser,
Date published: 2015-09-01
Rated

5

out of

5
by
tenngarden
from
Works for me...
I guess it works because I don't/can't wear makeup anymore. As I've gotten older, my skin has become increasingly drier and more sensitive. I also work in an environment where makeup would be useless. It sweats right off in summer.. I'm always looking for cream cleansers with no sudsing action, but many of them contain anti-aging additives my skin won't tolerate. Many of the products are very expensive, also. I happened to be in WalMart, stalking the skin care aisle, when I saw this cleanser. For under $4, this cleanser does a great job. I use it in the shower on wet skin. It leaves just enough emollient on my skin to make it soft, not greasy. Doesn't bother my eyes, either. My face feels clean. Haven't tried it on dry skin. A great product and reasonable, too.
Date published: 2015-07-24
Rated

1

out of

5
by
JessieH
from
Don't waste your money!
My favorite cleanser is the Radiance Renewal Cleansing Gelee but Garnier seems to have stopped making it and I can't find it in stores anymore, so I bought this one to try because it claims to remove makeup, even waterproof mascara. Well, that is NOT the case at all. I followed the instructions, rubbing it in on dry skin and washing it off, but not only did it not remove mascara - it wasn't even waterproof - it barely removed the rest of my makeup! I use toner after cleansing and there was still tons of makeup left on my face. It's frustrating and a waste of money, and I wish I could get a refund.
Date published: 2015-06-10
Rated

2

out of

5
by
smattson
from
Make-up removing cleanser
I bought this product because it stated that it could "dissolve even waterproof mascara". This is not the case, I have to scrub my face when I get out of the shower to get the mascara off and it is not even water proof mascara, this product simply smears it around my face. I do like the way it makes my skin feel but the make-up does not come off.
Date published: 2015-04-06