This site is intended for US consumers.Cookies and related technology are used for advertising.To learn more or opt-out, visit Ad Choices and our privacy policy.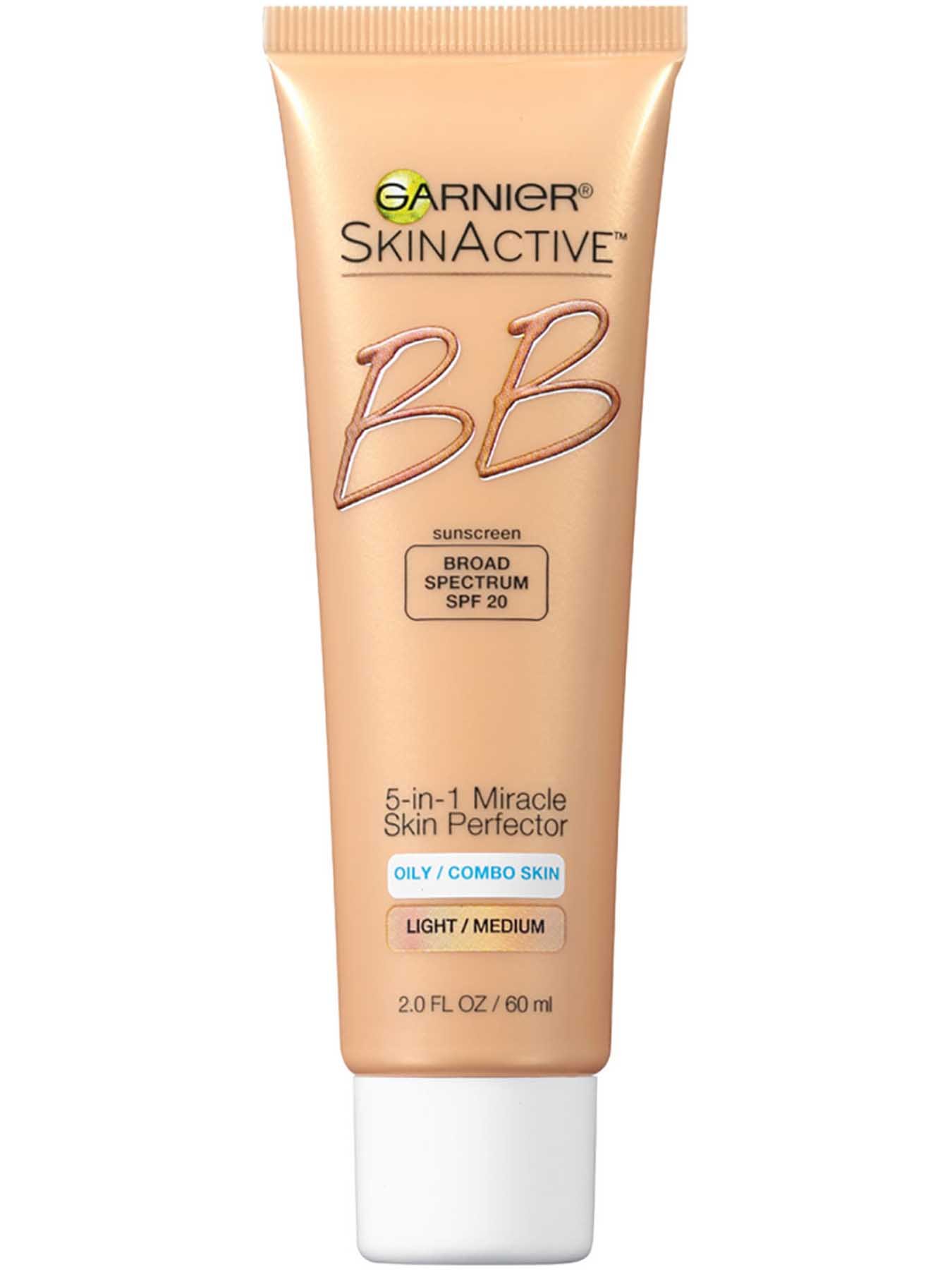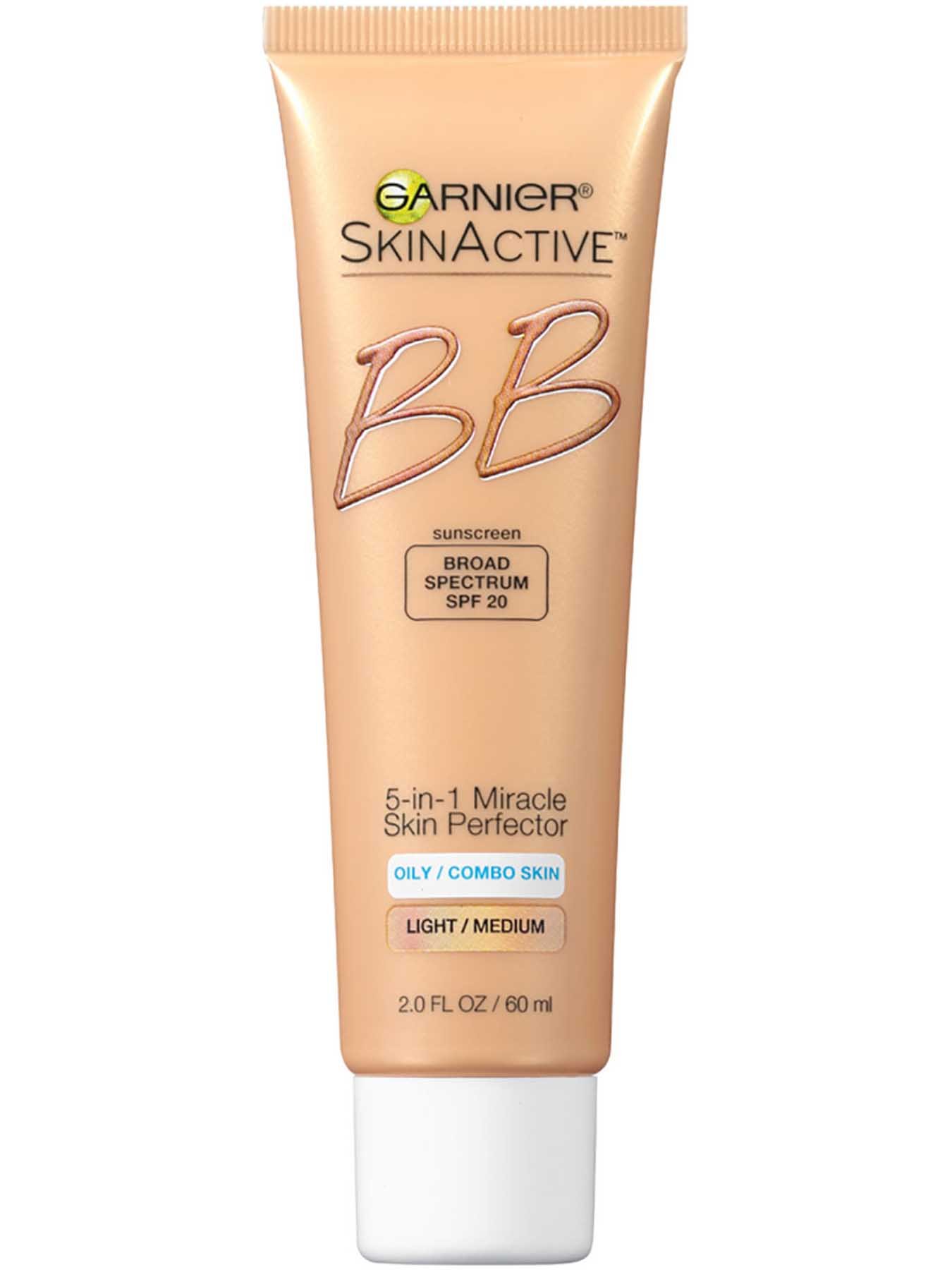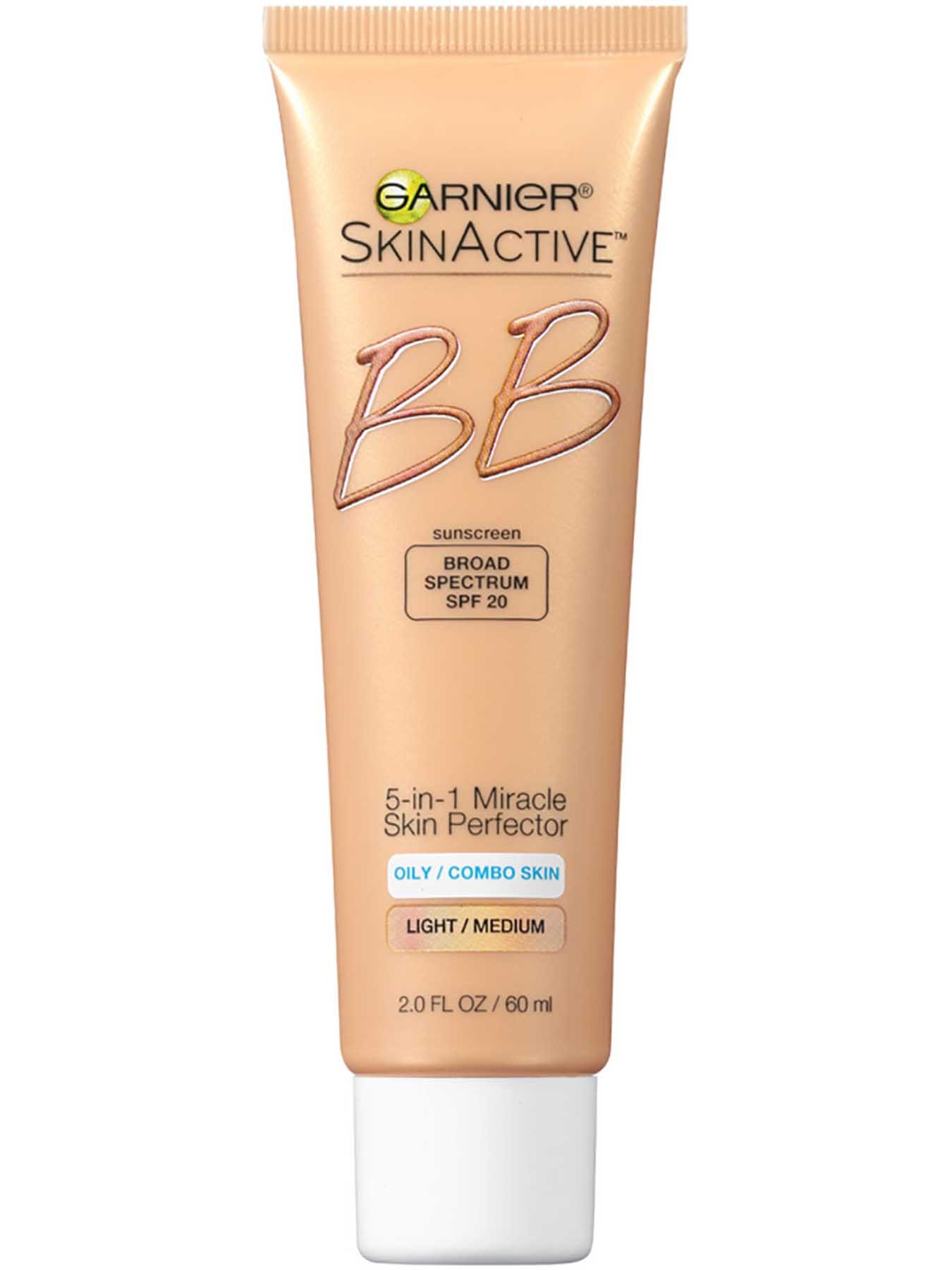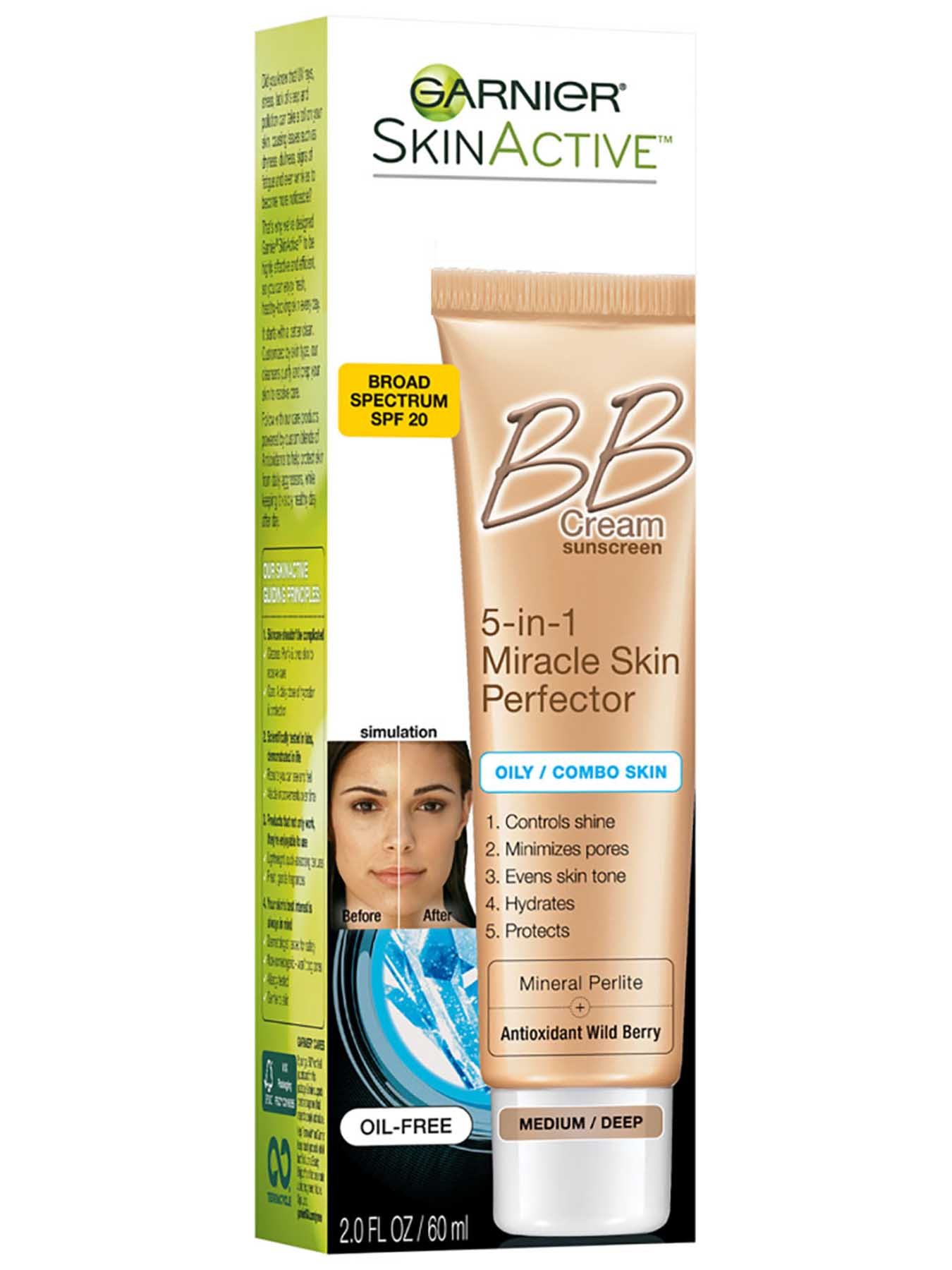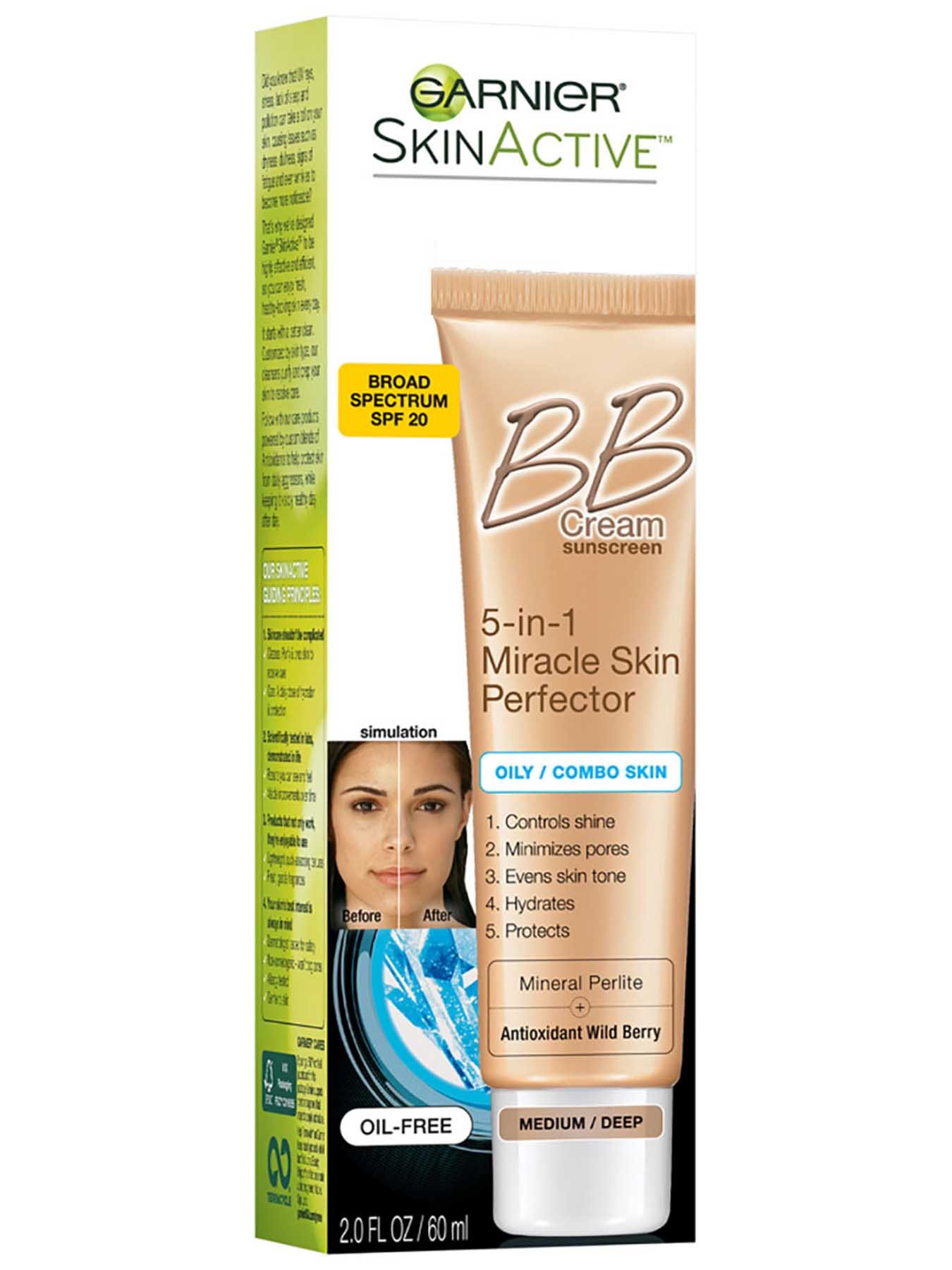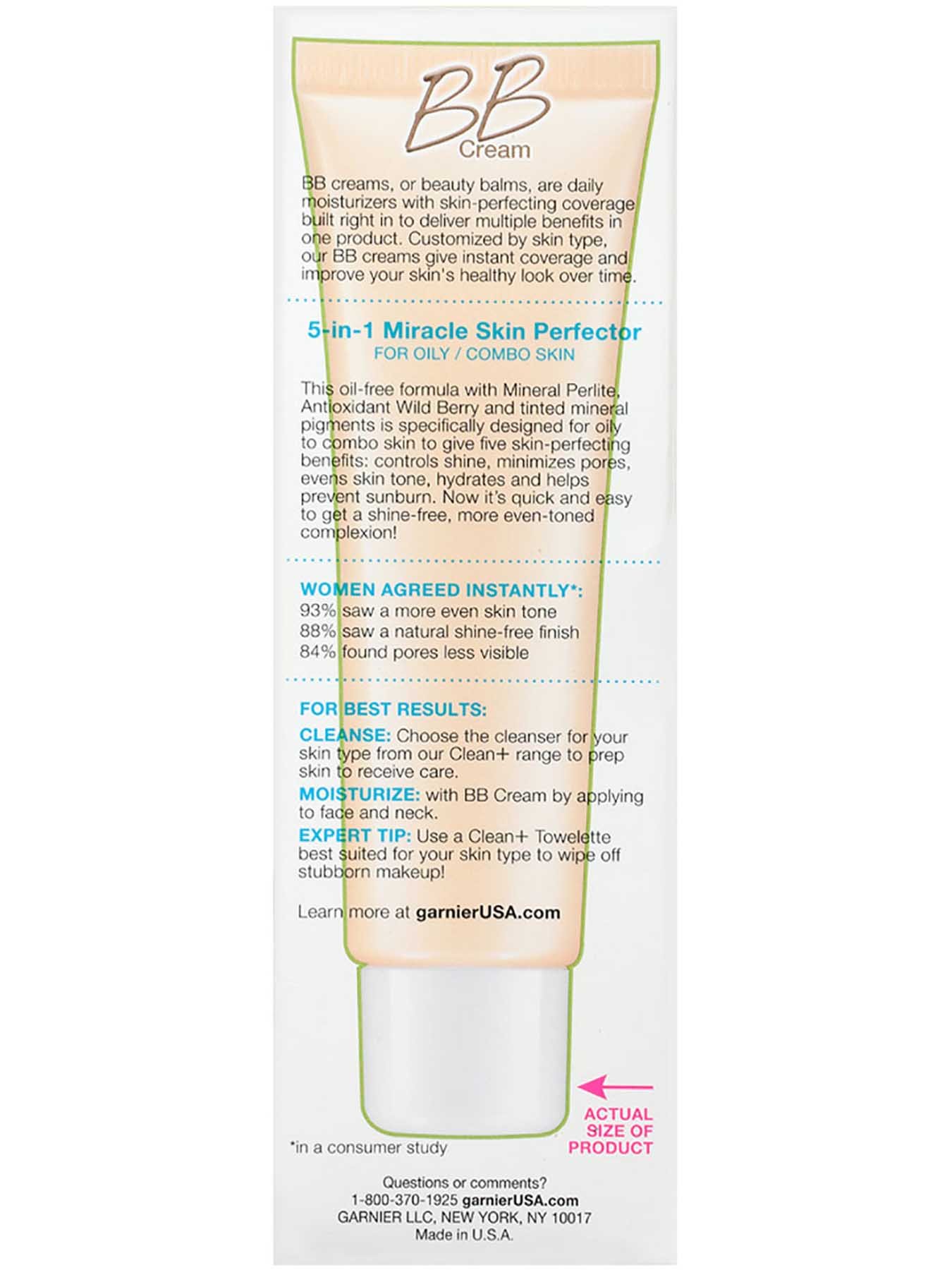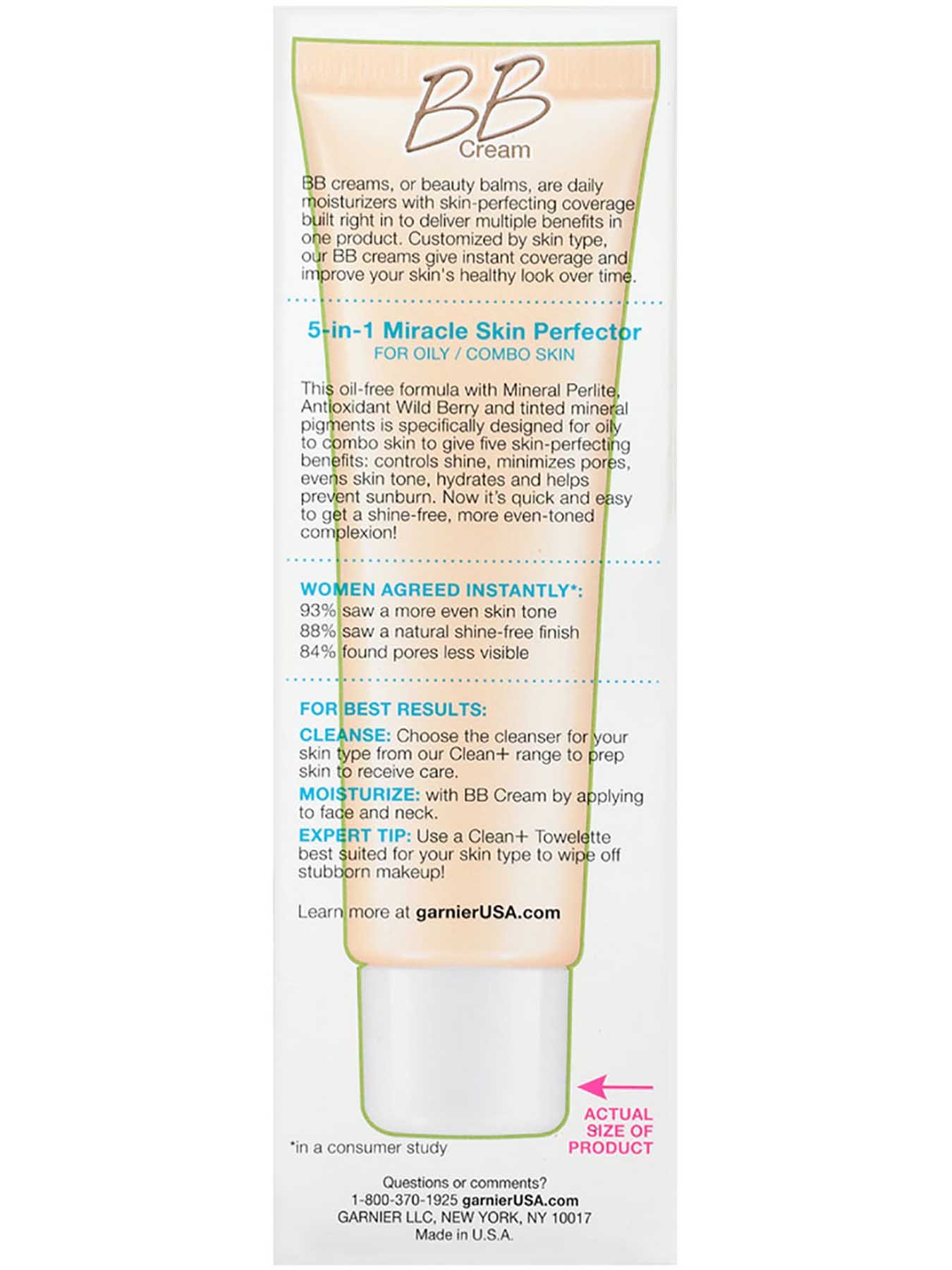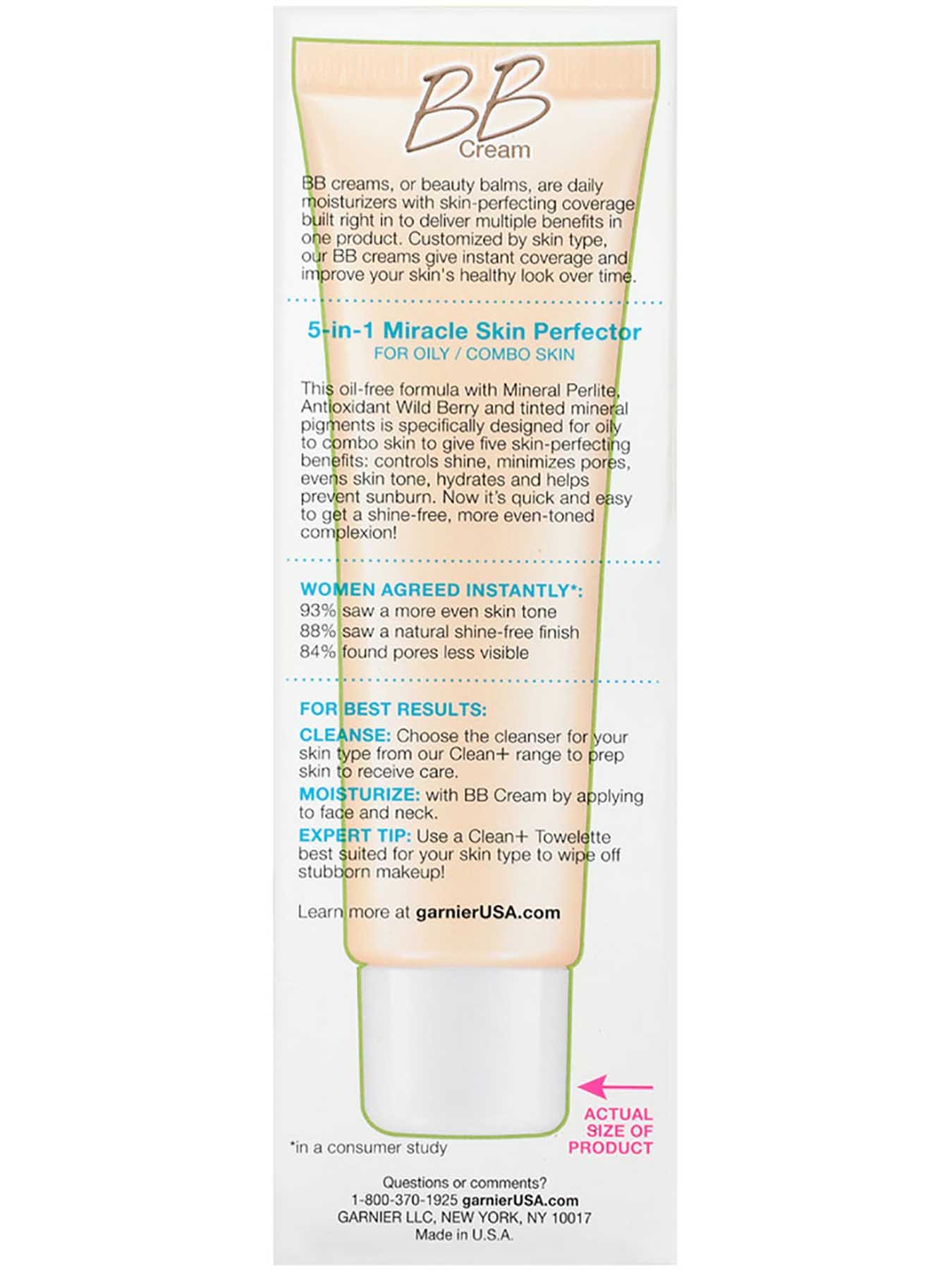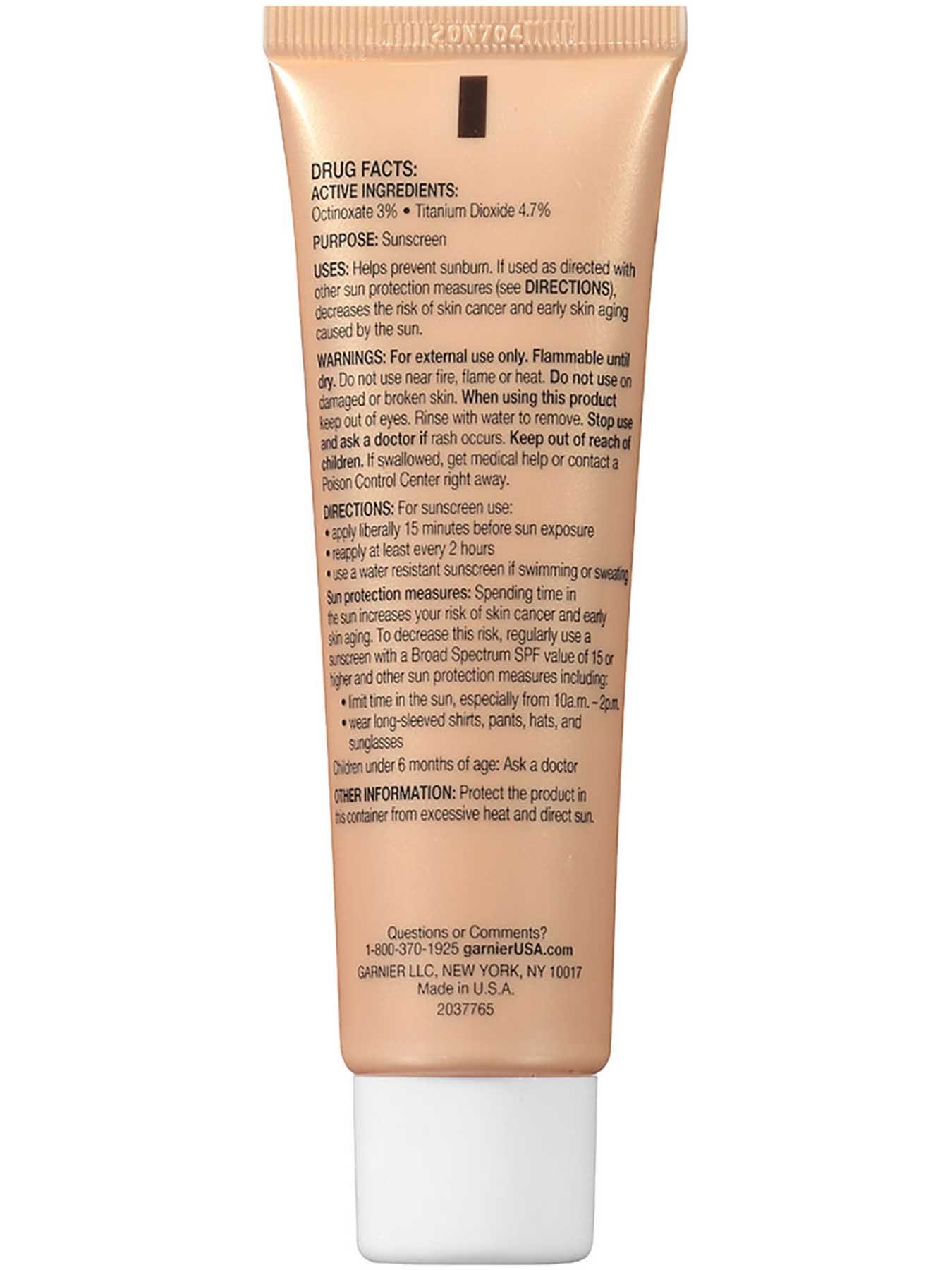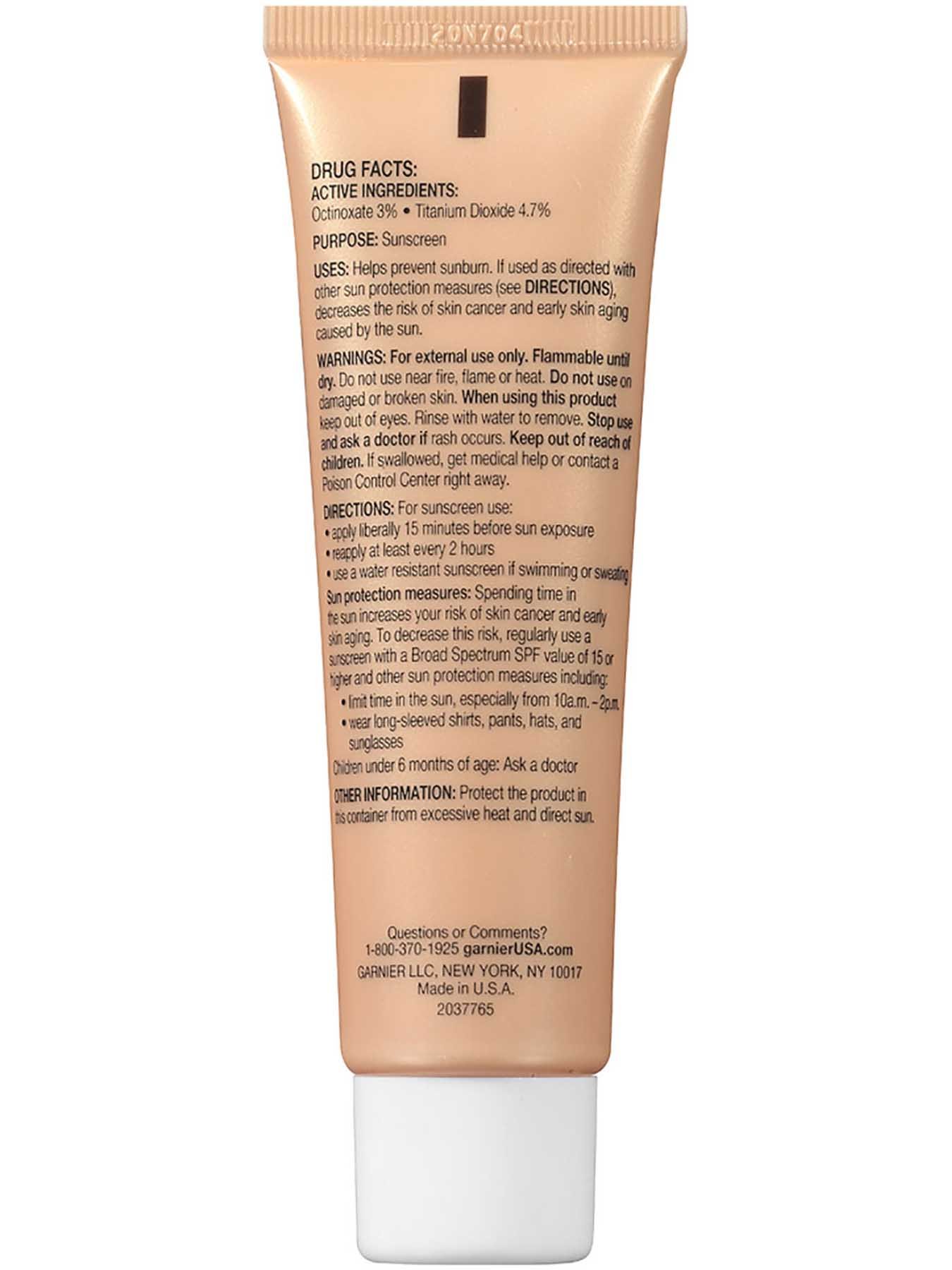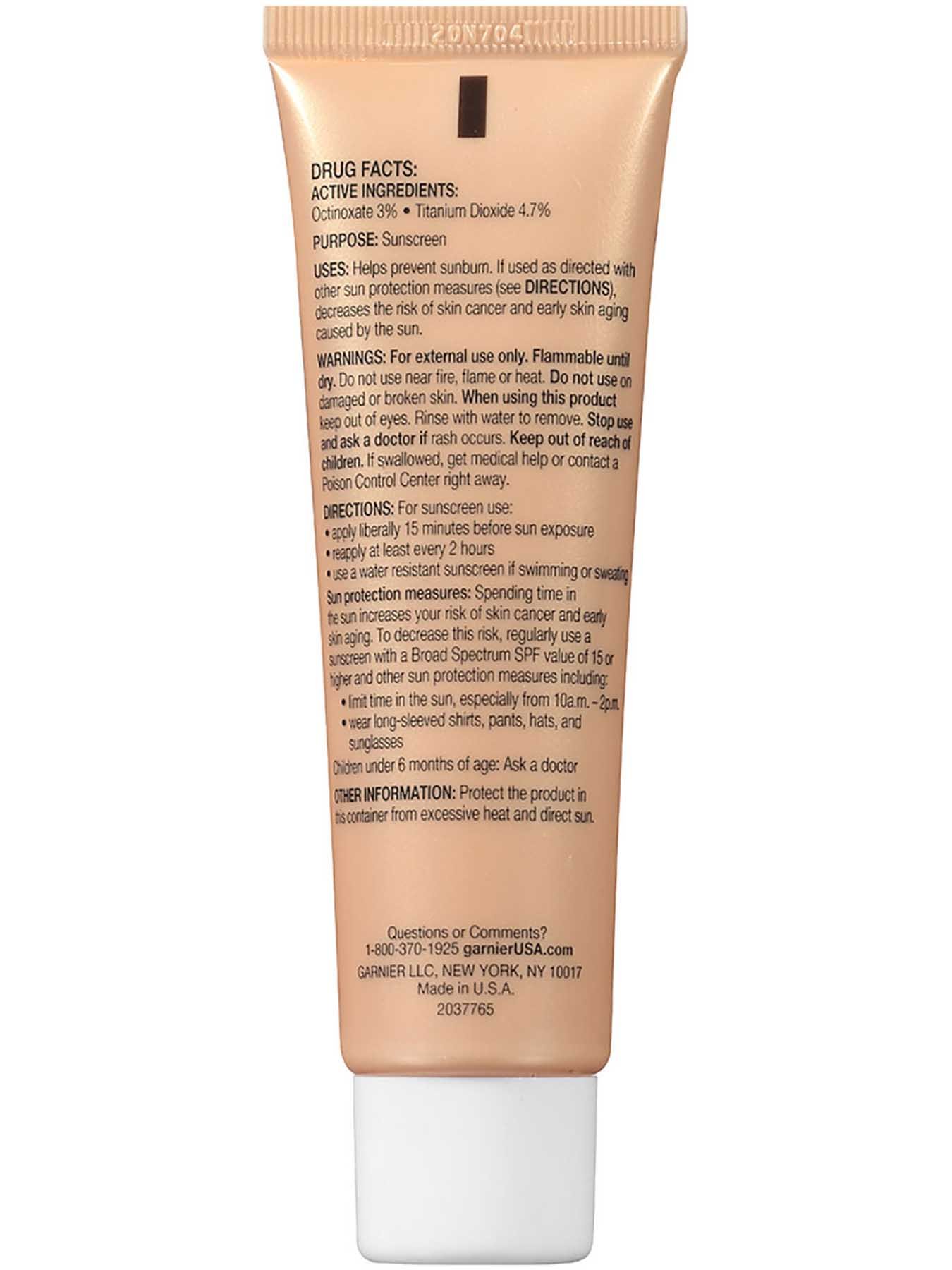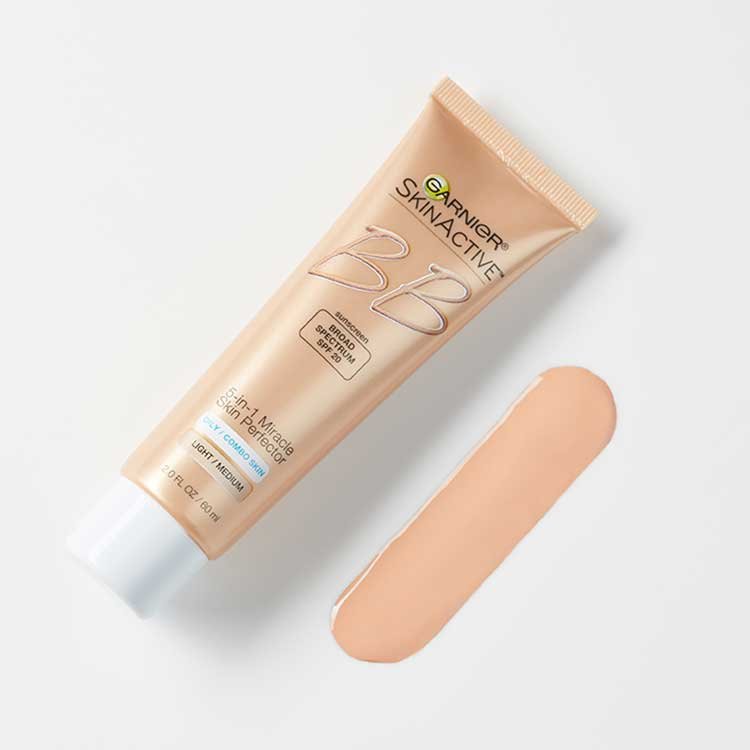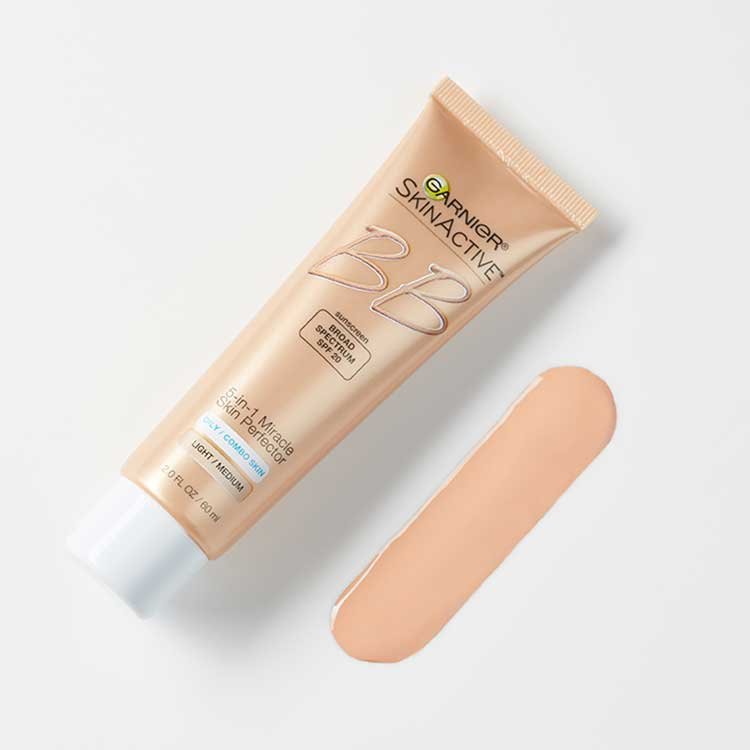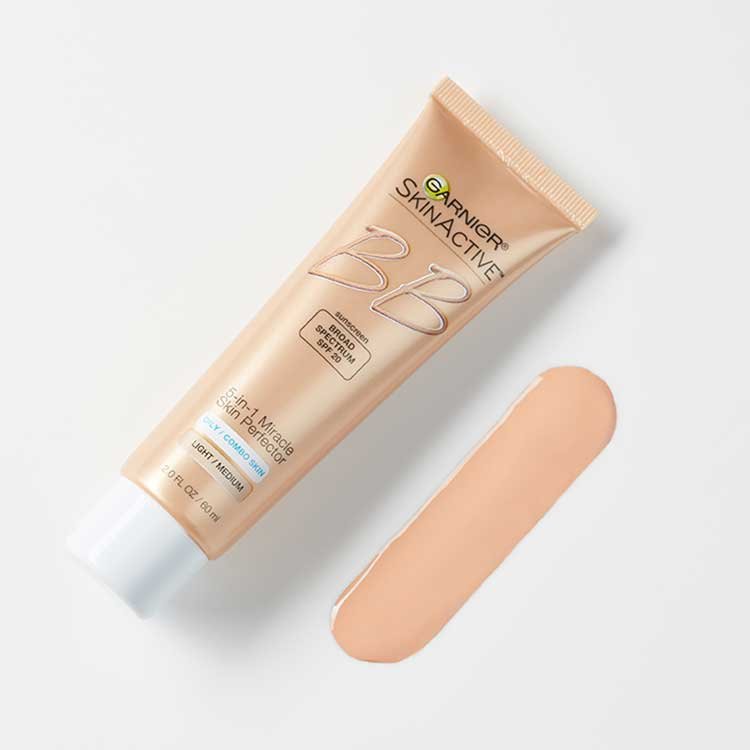 Garnier SkinActive
5-in-1 Miracle Perfector BB Cream Oil-Free - Light/Medium
$12.99 MSRP
1. Controls shine 2. Minimizes pores 3. Evens skin tone 4. Hydrates 5. Protects
PRODUCT INFORMATION:
This oil-free formula with Mineral Perline, Antioxidant Wild Berry and tinted mineral pigments is specifically designed for oily to combo skin to give five skin-perfecting benefits: controls shine, minimizes pores, evens skin tone, hydrates and helps prevent sunburn. Now it's quick and easy to get a shine-free, more even-toned complexion.
Results:
Women agreed instantly.* 93% saw a more even skin tone, 88% saw a natural shine-free finish, and 84% found pores less visible.*In a consumer study
How to use:
Gently apply Garnier SkinActive 5-in-1 Miracle Skin Perfector BB Cream to face and neck prior to sun exposure for instant coverage and correction as well as for protection. Reapply as needed.
Ingredients:
Active Ingredients: Octinoxate 3%, Titanium Dioxide 4.7%. Inactive Ingredients: Water, Isononyl Isononanoate, Isohexadecane, Glycerin, Alcohol Denat., Peg-20 Methyl Glucose Sesquistearate, Methyl Glucose Sesquistearate, Cetyl Palmitate, Nylon-12, Cyclohexasiloxane, Propylene Glycol, Hydrogenated Polyisobutene, Stearyl Alcohol, Magnesium Aluminum Silicate, Phenoxyethanol, Caprylyl Glycol, Lithium Magnesium Sodium Silicate, Disodium EDTA, Linalool, Benzyl Salicylate, Limonene, Caffeine, Ascorbyl Glucoside, Benzyl Alcohol, Geraniol, Cellulose Acetate Butyrate, Polyphosphorylcholine Glycol Acrylate, Citral, Ammonium Polyacryloyldimethyl Taurate, Polyvinyl Alcohol, Sodium Chloride, Butylene Glycol, Sodium Hyaluronate, Fragrance; May Contain: Titanium Dioxide, Iron Oxides.
SPF
Commonly found in moisturizers and increasingly in hair care, Sun Protection Factor, better known as SPF, indicates the level of sunburn protection you can expect from the sun's Ultra Violet B rays. SPF 15, for example, blocks 94% of UVB rays, while SPF 30 blocks 97%, SPF 50 98%, and SPF 100 99%. Products labeled "Broad Spectrum" block the deeply-penetrating Ultra Violet A rays too.
Vitamin C
There's more to Vitamin C than meets the eye. A powerful antioxidant, it is also highly effective in fighting signs of aging, brightening skin tone, and helping reduce the appearance of dark spots over time.
Caffeine
Found in tea leaves, Yerba mate, and other tropical plants, Caffeine is often used in hair and skin beauty formulas known to energize and rejuvenate.
Rated

1

out of

5
by
KateM18
from
Not enough cream options now
I really loved Garnier BB cream Miracle Skin Perfector SPF 15 for normal/dry skin. Now it's discontinued, and the only replacement would be for oily/combo skin. It's not good on my face. I wish my old one was not discontinued((( I have to find something else. Bye-bye Garnier BB cream
Date published: 2019-03-09
Rated

1

out of

5
by
NicoleV1
from
Bring back the old formula!!!
For years i've been wearing this BB Cream..its the best affordable daily cream out there! The old formula gave you a flawless finish and felt like you didn't have anything on. The new one makes your skin dry and flaky!!! Why change something that was working?? And don't get me started on the cap...you make the new cream a liquid and give it the most leaky cap!!!
Date published: 2019-03-08
Rated

1

out of

5
by
Valpal
from
Bring back old formula!
I bought this not knowing the formula had been switched. I will no longer purchase this bb cream. I will be looking elsewhere.
Date published: 2019-02-19
Rated

2

out of

5
by
Oompah
from
Makes my skin feel great but I hate the shade!!!
I would have given this a 5 star for consistency. I love the way it goes on and how my skin feels after it's applied. However, the Light/Medium is way too dark for my pale skin. It has kind of an orangey tint and I feel like an oompah loompah. I see by reading other reviews I'm not alone here. Please consider making more shades.
Date published: 2019-01-27
Rated

1

out of

5
by
Unhappier
from
I need the Medium/Deep shade
I would be happy if you still made the medium/deep shade. I love using the light/medium shade in the winter, but need the medium/deep shade in the summer and I mix them as my skin changes seasons. Please bring the medium/deep shade back!!!
Date published: 2019-01-26
Rated

5

out of

5
by
Kinsey217
from
Bring back shades!
This has been a miracle BB cream for me- it's the only one I've found that controls shine and doesn't cause acne. The light/medium is too dark in winter and too light in summer- please bring back more shades!
Date published: 2019-01-06
Rated

2

out of

5
by
madamdreamweaver
from
Works okay---tube cap leaks around threads
I bought this Skin Active BB cream because the box store was out of a different brand I prefer. I've used Garnier BB cream before and it's not my favorite because the coverage is more chalky and dry-ish on application then creamy and smooth, but what I hate most is the tube is always leaky no matter how tightly I screw the lid on. It still seeps over the threads, into the cap and can seep out onto the counter. I believe you need to redesign the container lid to make it leak-proof or move to a pump container.
Date published: 2018-12-30
Rated

1

out of

5
by
Kristen88
from
BRING BACK MEDIUM/DEEP
This has been my go to foundation for about 5 years, I finally ran out of my most recent and now I can't find it anywhere !!!!! Please bring it back !!!
Date published: 2018-12-24
Rated

3

out of

5
by
JennKA
from
Love it BUT
I have been using this BB cream forever and I love it, but now that I'm not tanning to protect my skin, light/medium is TOO dark for me. Please bring back the fair/light shade and also a darker shade for others. Sadly, I can't wear this anymore due to the lack of shades and I haven't found a replacement.
Date published: 2018-12-04
Rated

1

out of

5
by
Ann Marie
from
Bring back Medium/Deep!!
I would give this product 5 stars if you still made the medium/deep shade. I love having the flexibility to mix the light/medium and medium/deep shades to make my perfect shade in the winter, and using the medium/deep shade when I have a bit of a tan after vacation or in the summer. Please bring it back!!!
Date published: 2018-11-14
Rated

5

out of

5
by
JWhitfield
from
My go-to makeup
I have been using this B.B. cream for about 4 years now, and I absolutely love it! I use the light medium shade, and a lot of my friends have complimented me on it and now use it too. I have had several people tell me I should be a model, and I tribute it to this product! I just felt like I needed to write a positive review because I hope this never goes off the market. I wear it everyday, and love that it has SPF in it and gives a matte finish. It's pretty light coverage, which is perfect for me because I love the light weight feel. I wear more of a foundation for evening events (weddings, special occasions,etc). The ONLY negative I could even find in it is that I wished it lasted longer. Sometimes after an 8-hour work day, I notice a little streaking or just unevenness. Other than that, I love this product and highly recommend!
Date published: 2018-10-22
Rated

5

out of

5
by
Nikki027
from
Best bb cream
This is the best bb cream I have ever used. I have tried other ones mostly korean bb creams which only caused breakouts. This one has never caused me any and it does really cover my imperfections while giving me a good kind of glow. It also doesnt oxidize and turns orange on me. I really love the shade light/medium because it is just perfect for my skin tone. I think it would be my HG from now on. Good job garnier!
Date published: 2018-10-19
Rated

5

out of

5
by
Garnier BB cream addict
from
LOVE Garnier BB cream BUT
I use regular anti-aging, not oil free. Why isn't there a "light" shade? Light/medium works fine in the summer, but when the season changes, I need a lighter shade.
Date published: 2018-09-22
Rated

1

out of

5
by
ccwalker66
from
Medium Deep discontinued
It was very disappointing when you discountinued this shade. Now I have to pay double the price for it on Amazon. I can go go to Ulta for a upper end brand name for what Amazon is charging me. I was able to use this and only this as a foundation. Please bring this shade back or explain why you chose to discontinue. Seems there are quite a few of us that used it.
Date published: 2018-09-01
Rated

5

out of

5
by
Dee B
from
Great!
I've been using this product for a couple of years now and I Love it!! It's not enough to use as a foundation but under it's fantastic!! It's more a tinted moisturizer/sunscreen. If people would understand this I think it would hopefully get better reviews.
Date published: 2018-08-26
Rated

1

out of

5
by
sharper84
from
Bring back medium deep!
I wore the medium deep shade for years and recommended it to all of my friends! I can't believe you discontinued that shade when so many women continue to ask for it - don't you understand that not all women have the same skin tone?!?
Date published: 2018-08-21
Rated

5

out of

5
by
Jazzy cat
from
Love the old formula
Please bring back the medium/deep. Light/ Med is way to light for my skin in the summer. I am heart broken that was my favorite make-up to wear.
Date published: 2018-07-18
Rated

1

out of

5
by
lovedoldform
from
Need old formula!!!!!!
This formula is awful and drying. I loved the highlighting effect the old formula had, this is obvious with all the great reviews this product had in the past and now I just wasted my money! Returning to the store after a few uses.
Date published: 2018-07-05
Rated

1

out of

5
by
jessmdom
from
Bring back medium/deep!
This stuff really was a miracle for my skin. Please bring back the medium/deep shade! The light/medium just doesn't work for my skin tone. I am so disappointed that Garnier has discontinued this product. Please consider bringing it back and representing more than just light skin tones!
Date published: 2018-07-01
Rated

1

out of

5
by
I am sad
from
DO NOT LIKE AT ALL
I agree with all the reviews. I so loved the old medium/dark version better. Now I will have to find a different brand to buy as this does not work with my skin tone.
Date published: 2018-05-31
Rated

1

out of

5
by
Jamjohns8408
from
Bring back the old!
I hope there are good reasons for discontinuing this BB cream in medium/dark. It looked great on my skin. My mom saw it on me and asked what I was wearing and she wanted to buy the same one. After searching for a while I realized that it was no longer available. Such a shame. While the medium/dark portion of your consumers may be small in comparison to the light/medium consumers, as shown by the many disgruntled reviewers, it is still a significant group. Please don't follow the suit of so many cosmetic companies who choose to not invest in cosmetics for those of darker complexion and bring this back!
Date published: 2018-05-31
Rated

3

out of

5
by
Merashleigh
from
Love it but the color is off
I am in love with the formula of this but am disappointed because the lightest color makes me so orange looking. I am fair with a warm ubdertone and the lightest shade is definitely a few shades darker than I am. I would definitely buy this again if the shades were better.
Date published: 2018-05-26
Rated

1

out of

5
by
Eliz7
from
BRING BACK ORIGINAL IN MED/DEEP
This product was my favorite for so many years. I have been driving to every drugstore near me and could only find the light/medium (too light for me) so I decided to look for it online, only to find out that it was discontinued. I am extremely disappointed in the company. I used to recommend this product to everyone searching for a BB cream and now I can not find it in my skin tone.
Date published: 2018-05-25
Rated

3

out of

5
by
Peppermint Patty
from
Where is medium-deep?
I have used this product for many years. I am about to be 82 years old and have a great complexion, attributed to BB Cream use every day and my Cherokee heritage. Am so disappointed it is now available only in light-medium. Have looked everywhere. The light is simply too light.I have always been happy with your products. I am often complimented on my complexion and I credit Garnier BB Cream.
Date published: 2018-05-21
Rated

1

out of

5
by
Krock10
from
Same sentiments as the rest
I have looked EVERYWHERE for the old version and do not like the new version AT ALL. Have also tried sooo many alternatives and spent a lot of money with no luck. Since it doesn't appear that garnier is bringing this product back, has anyone on this forum found a different brand that works for you? I hate to switch brands, but you leave us no choice!
Date published: 2018-05-16
Rated

5

out of

5
by
bettina
from
BRING THIS BACK
Oh come on, why would you discontinue such a wonderful product? bring it back!!!!
Date published: 2018-05-15
Rated

5

out of

5
by
NAWH
from
BRING THIS BACK
This is TH ONLY foundation that works for me. The anti-aging BB cream is horrible and sticky. Please bring this product back.
Date published: 2018-05-13
Rated

1

out of

5
by
nicolemarie
from
BRING THIS BACK!
I am absolutely devastated this was discontinued. This needs to be brought back and the light/medium is too light for my skin tone. I don't know why you would discontinue such a great product. PLEASE BRING THIS BACK!!!
Date published: 2018-05-11
Rated

1

out of

5
by
Mommylovebug
from
Very disappointed in discontinue
I have been a faithful customer of the medium/dark oil controll B.B. cream for many years. I loved how it controlled my oily skin without being cakey and made me skin youthful and flawless. I have been trying many other brands, wasting my money and have yet to find a replacement. I can't understand why you wouldn't listen to customers pleading for you to bring back an amazing product that is already perfected. I never leave reviews but I was so desperate I was willing to turn to amazon to purchase your product which is against my own judgment because i have always been told amazon is a no no for makeup products. After reading the terrible reviews that stated the products there were fake I decided to come to you directly and ask that you consider your faithful customers. Give the people what they want. I hope that I can one day return to be a faithful customer once again but untill then I will not be purchasing your products. My one star is not for the product because that deserves a 5 but instead my one star is for the poor decision to discontinue an amazing product that so far in my opinion can NOT be replaced.
Date published: 2018-05-11
Rated

5

out of

5
by
Candy77
from
Disappointed....Bring back medium deep
I have used the medium deep BB cream for years, when I was near the end and was searching for another and couldn't find it in the stores, came to the website and saw the disappointing news. Please bring that back. I had clear skin and didn't need to use any other foundation or products, now that I have had to shop for other BB creams I have acne really bad. My skin tone is too dark for the light medium shade, NEED THE MEDIUM DARK Shade. Please bring it back.
Date published: 2018-05-08