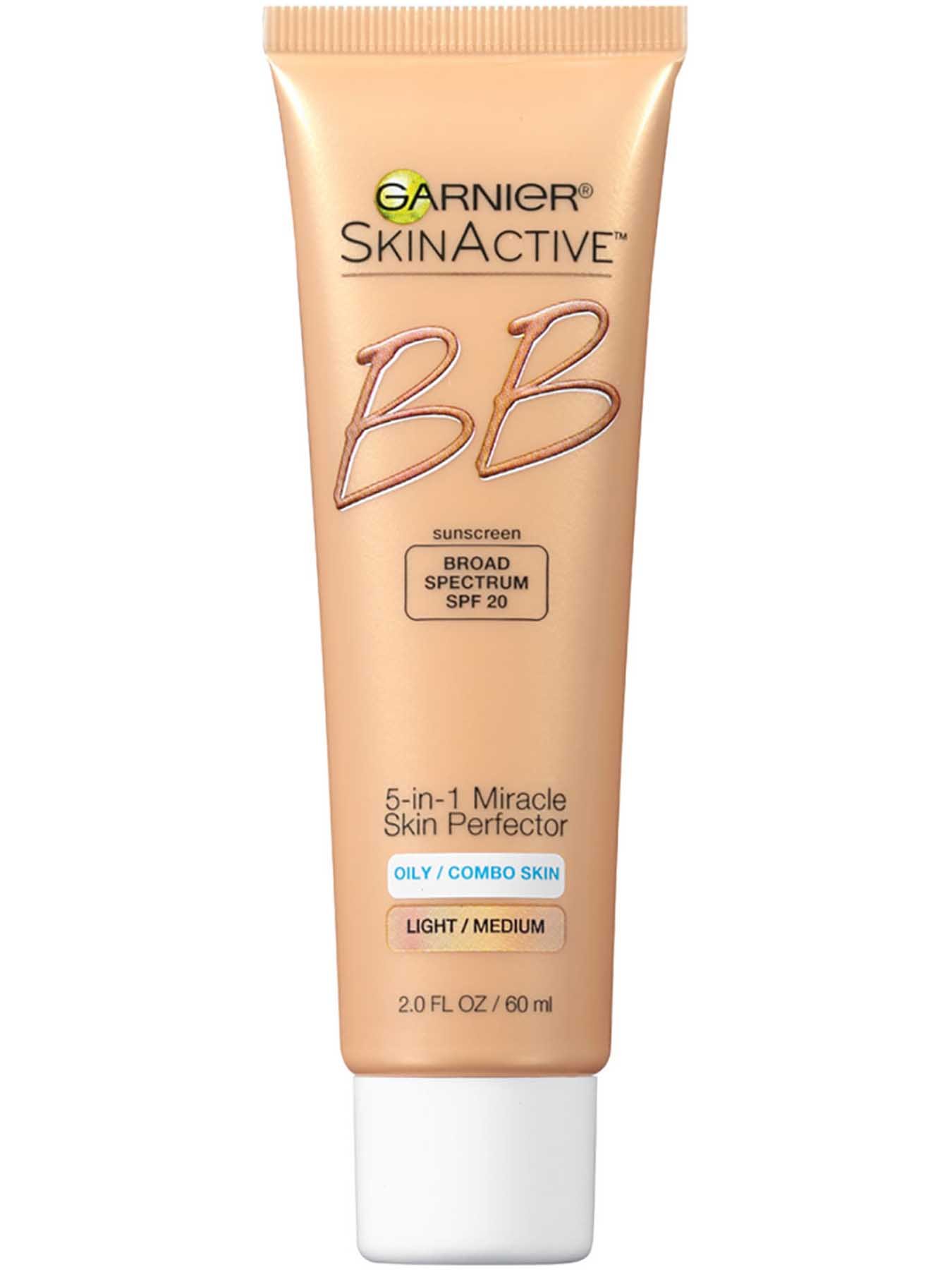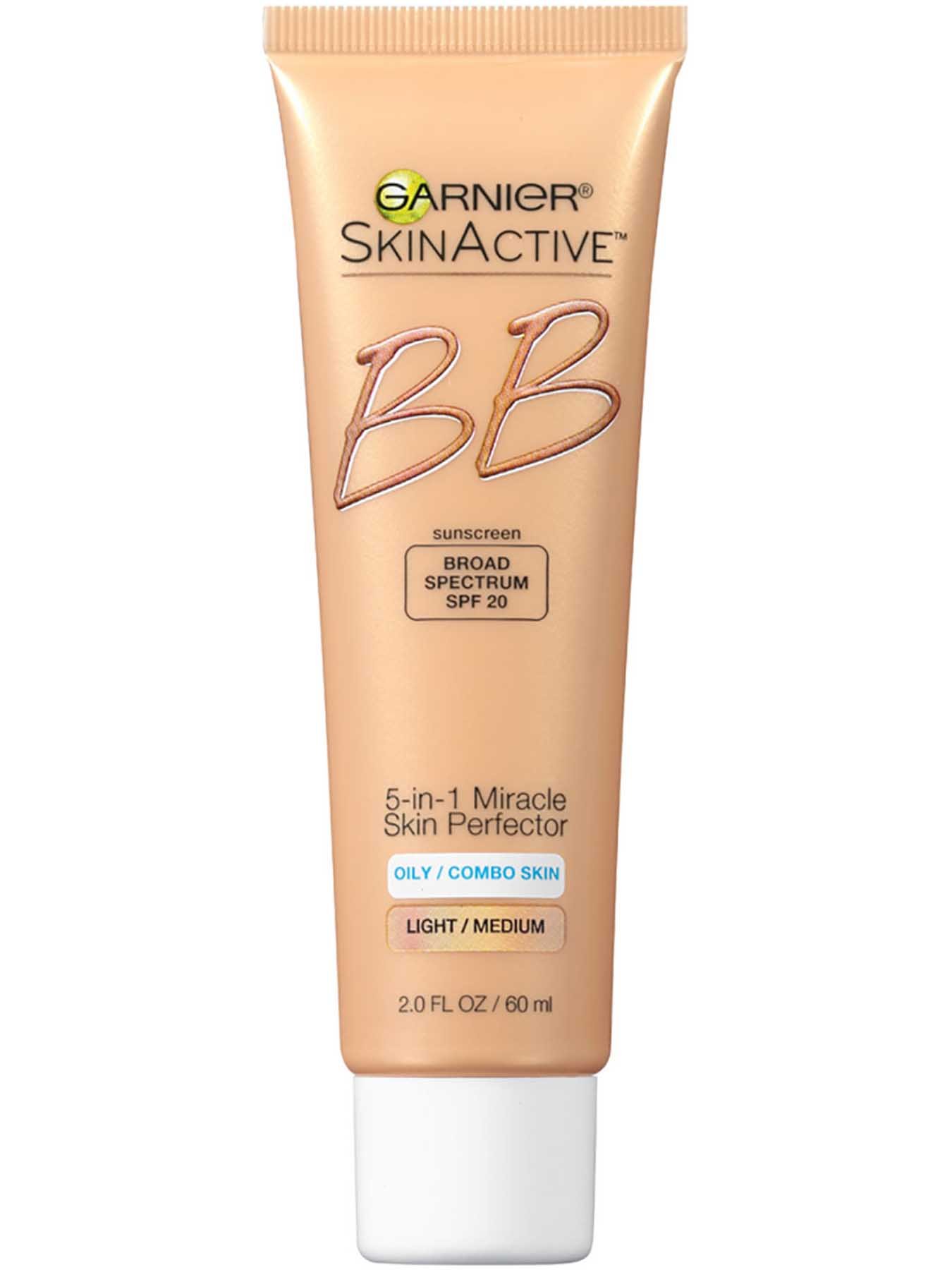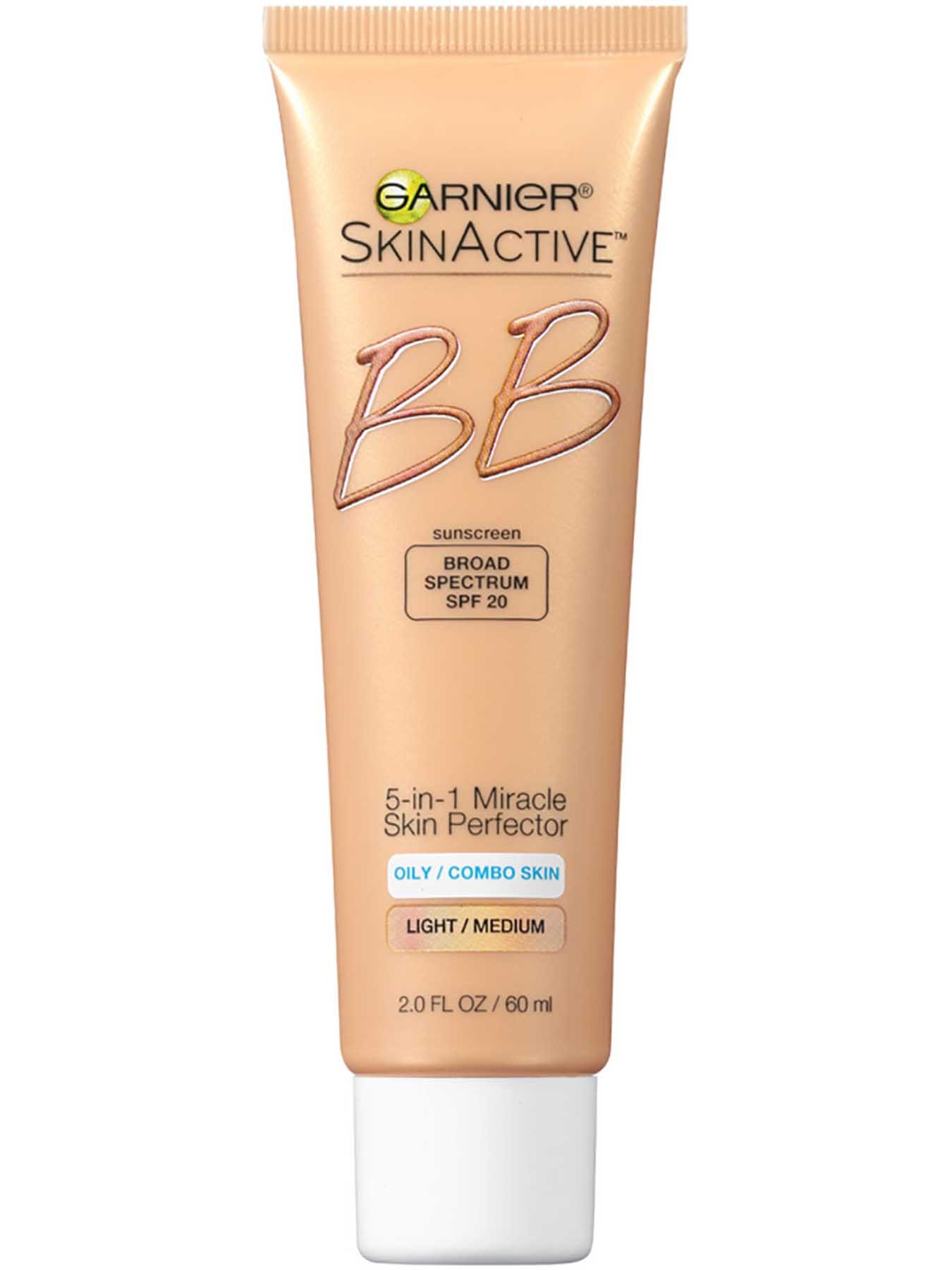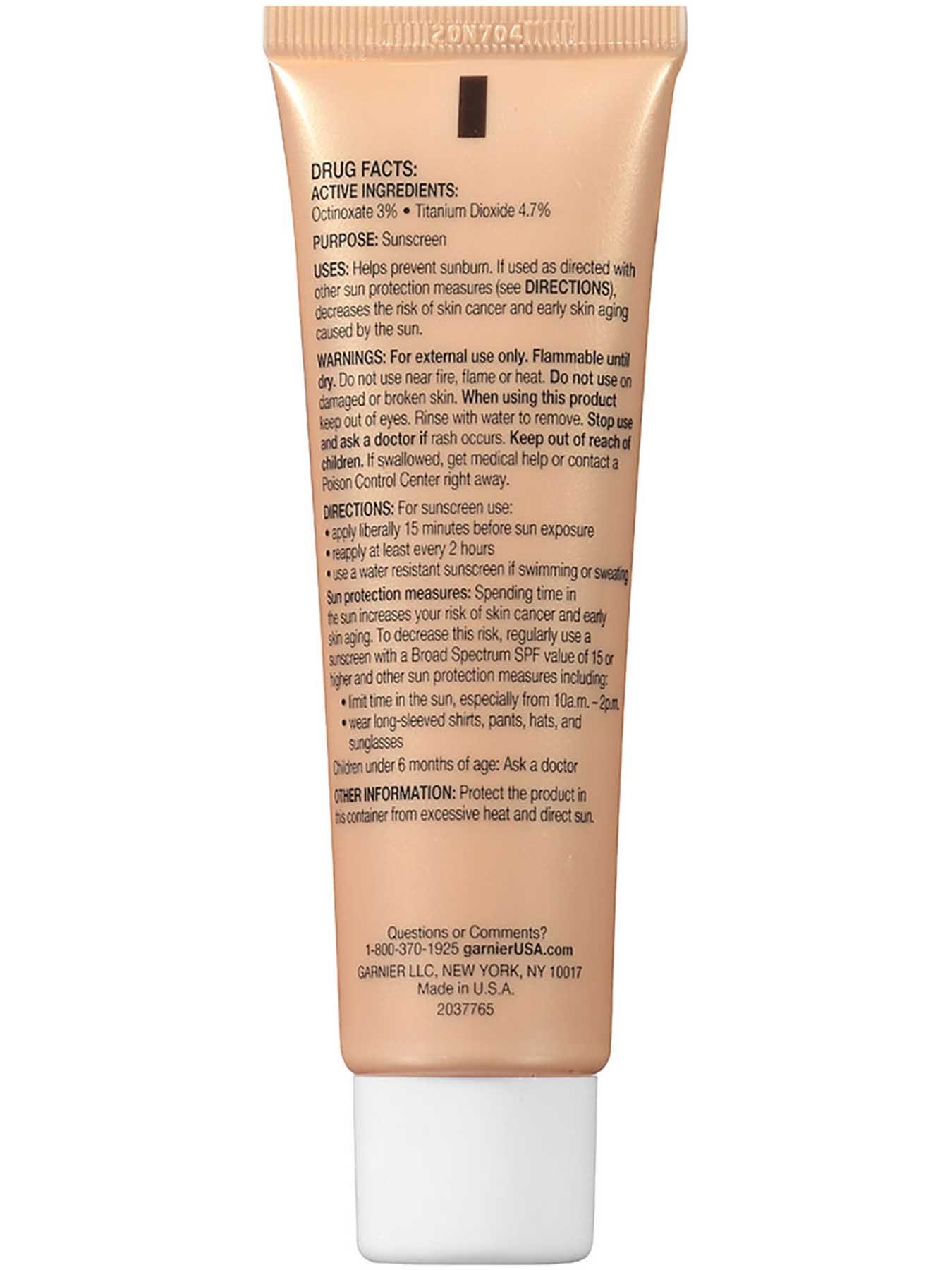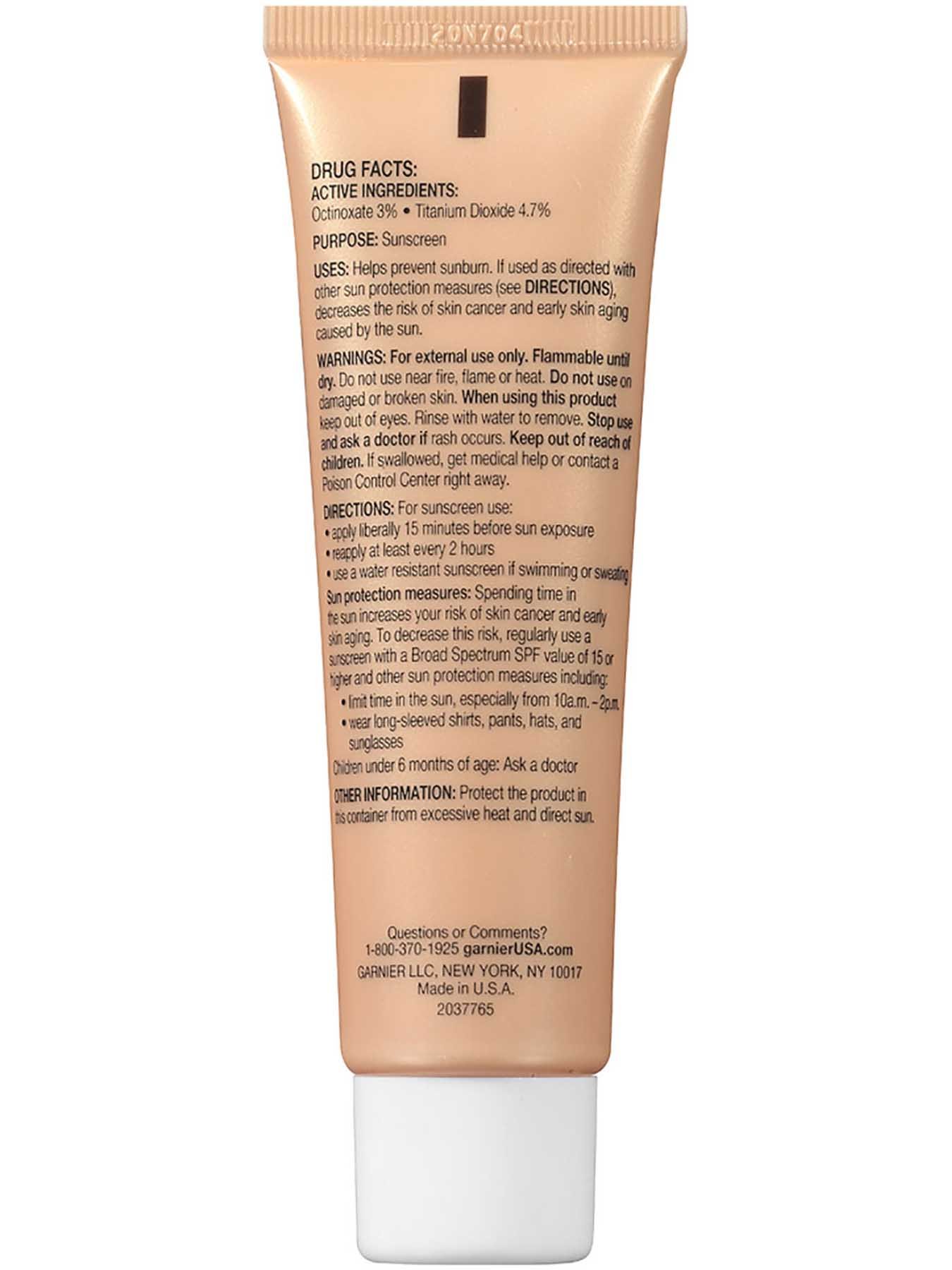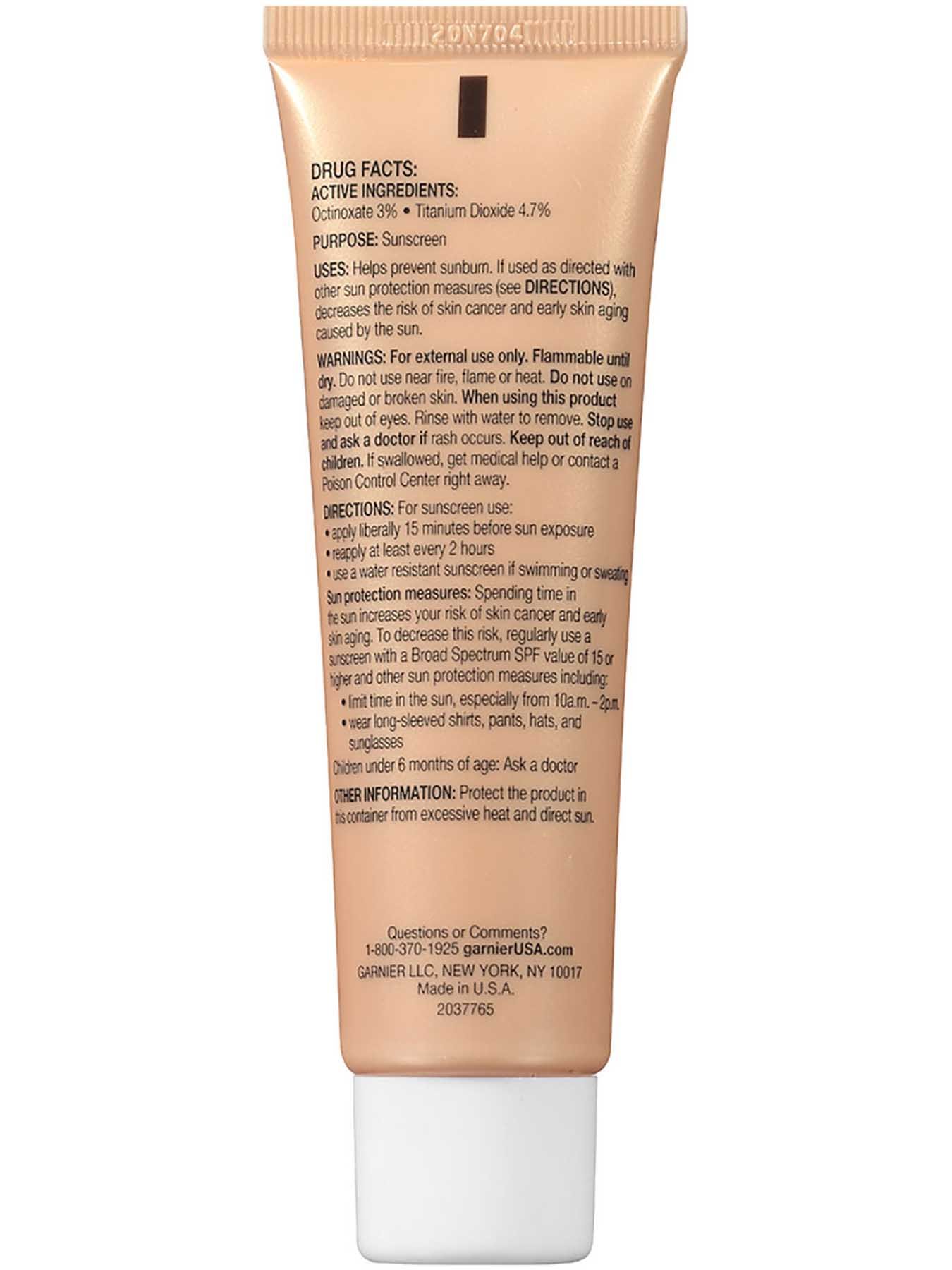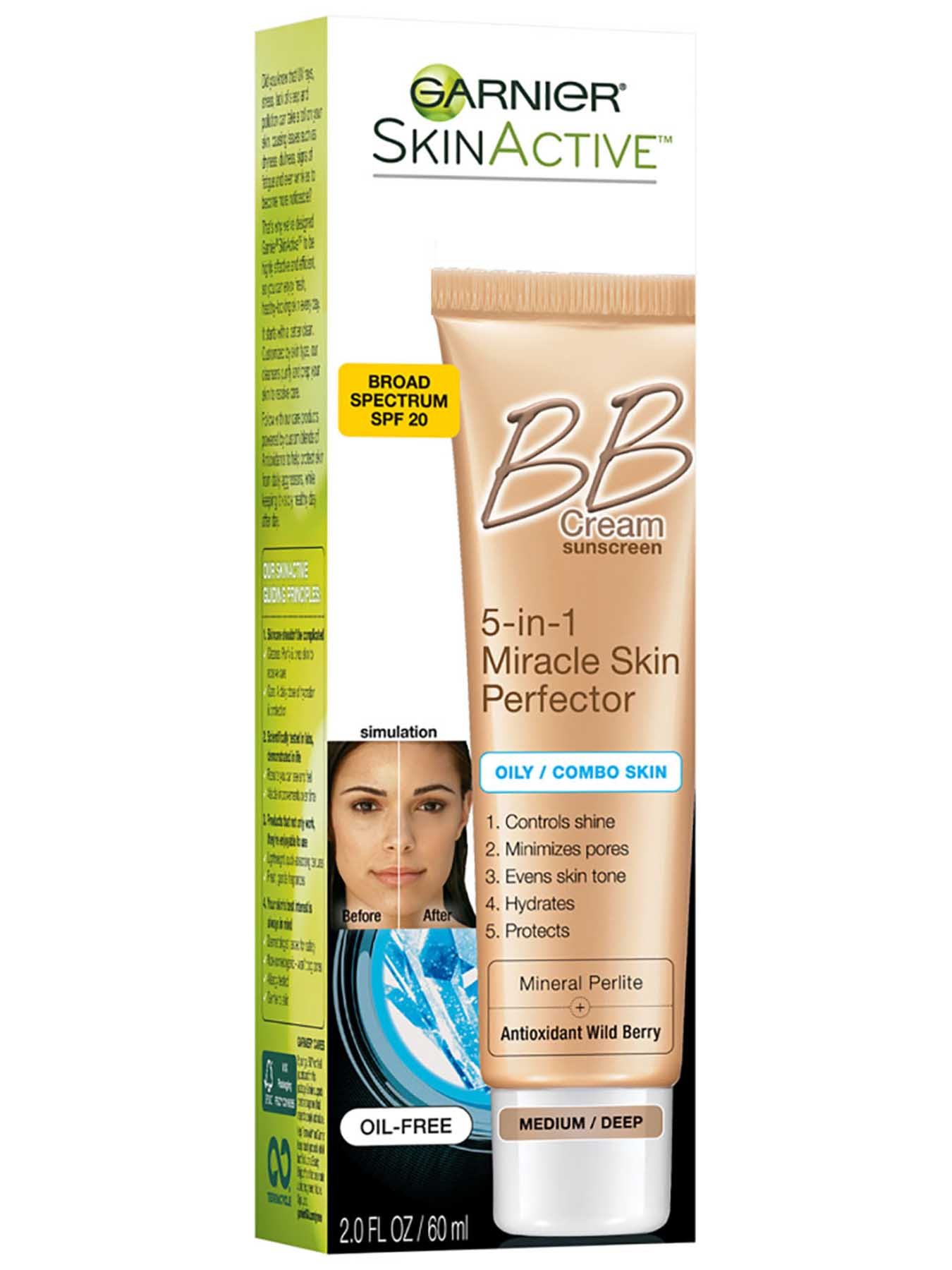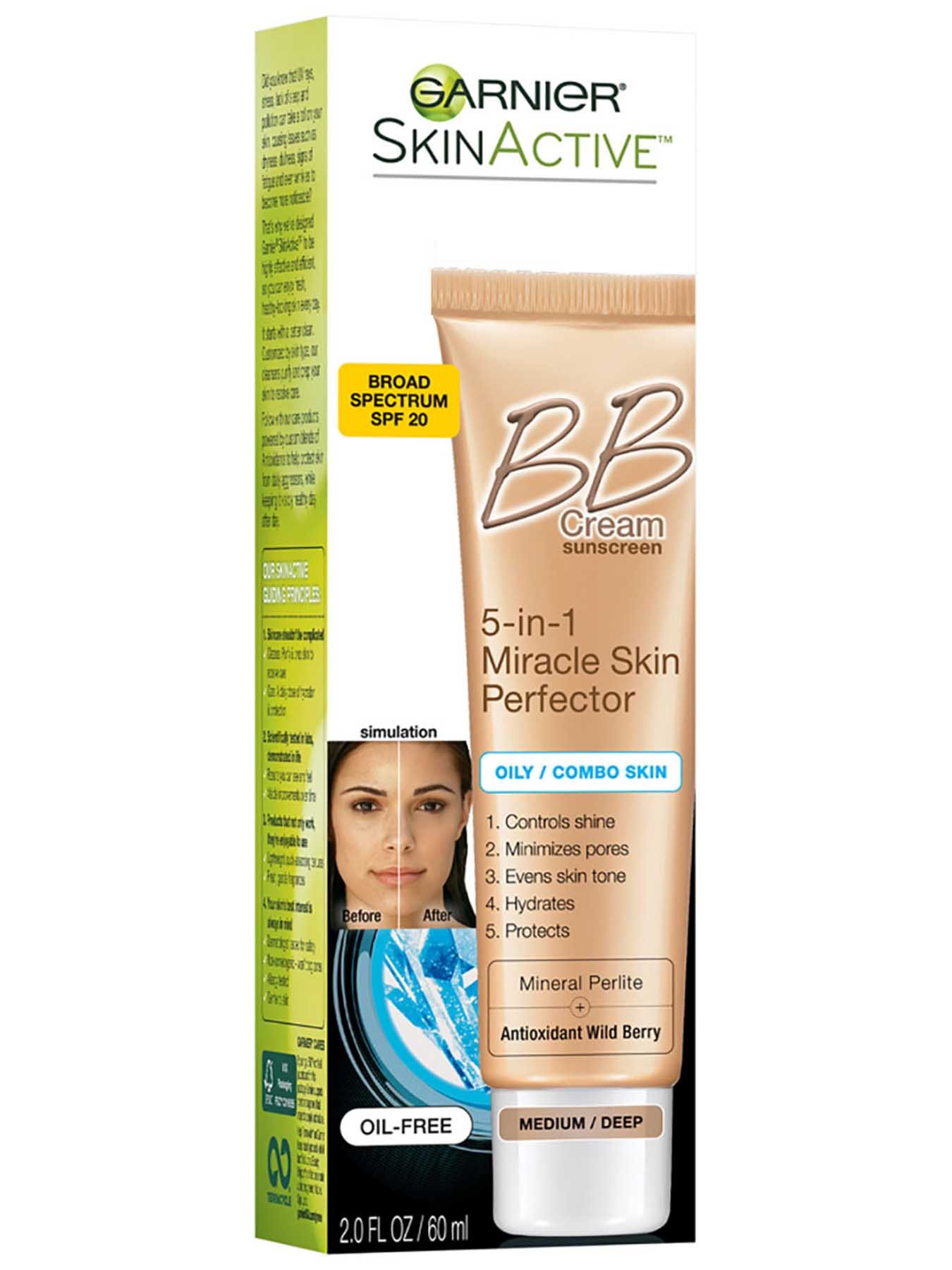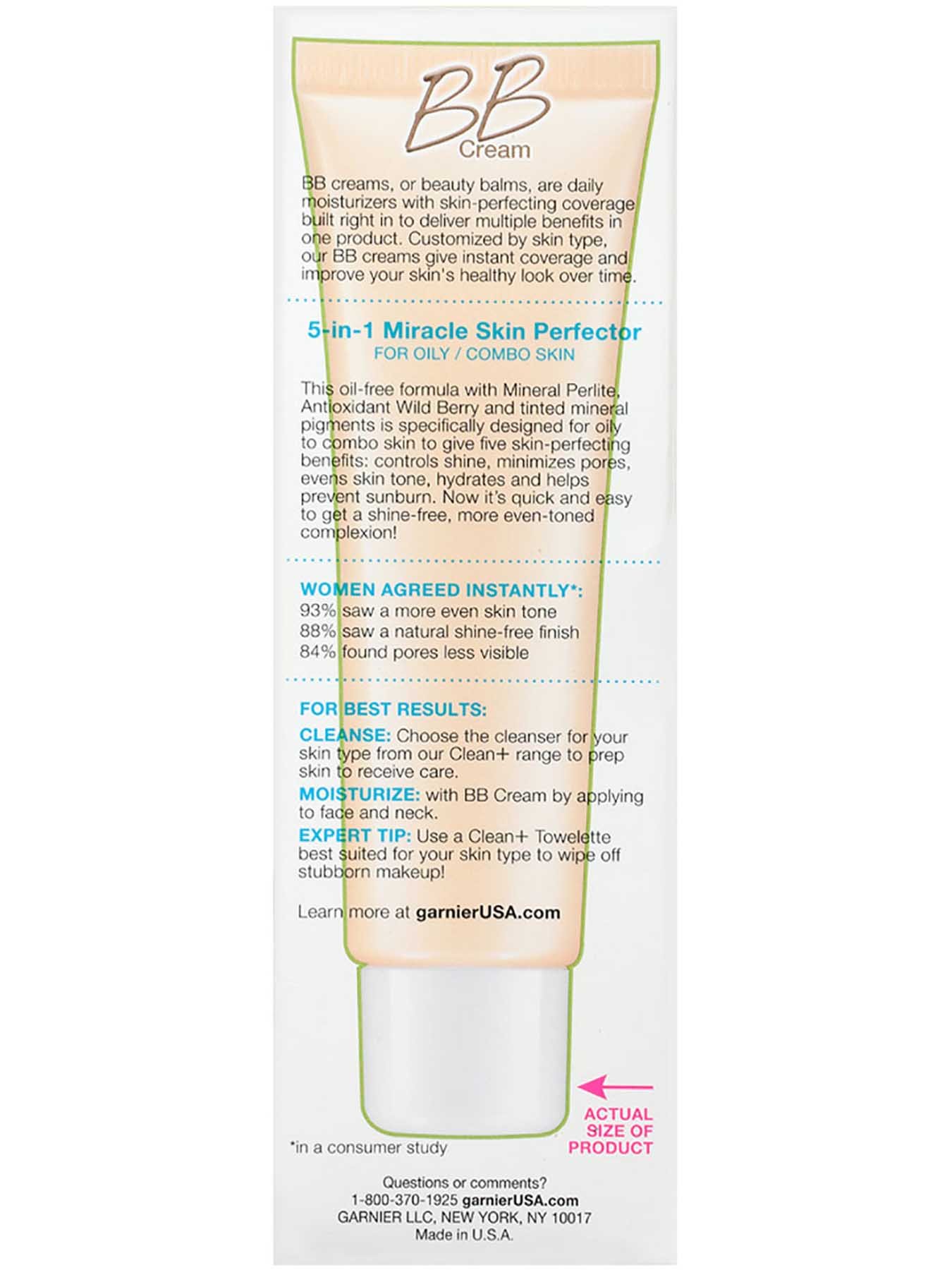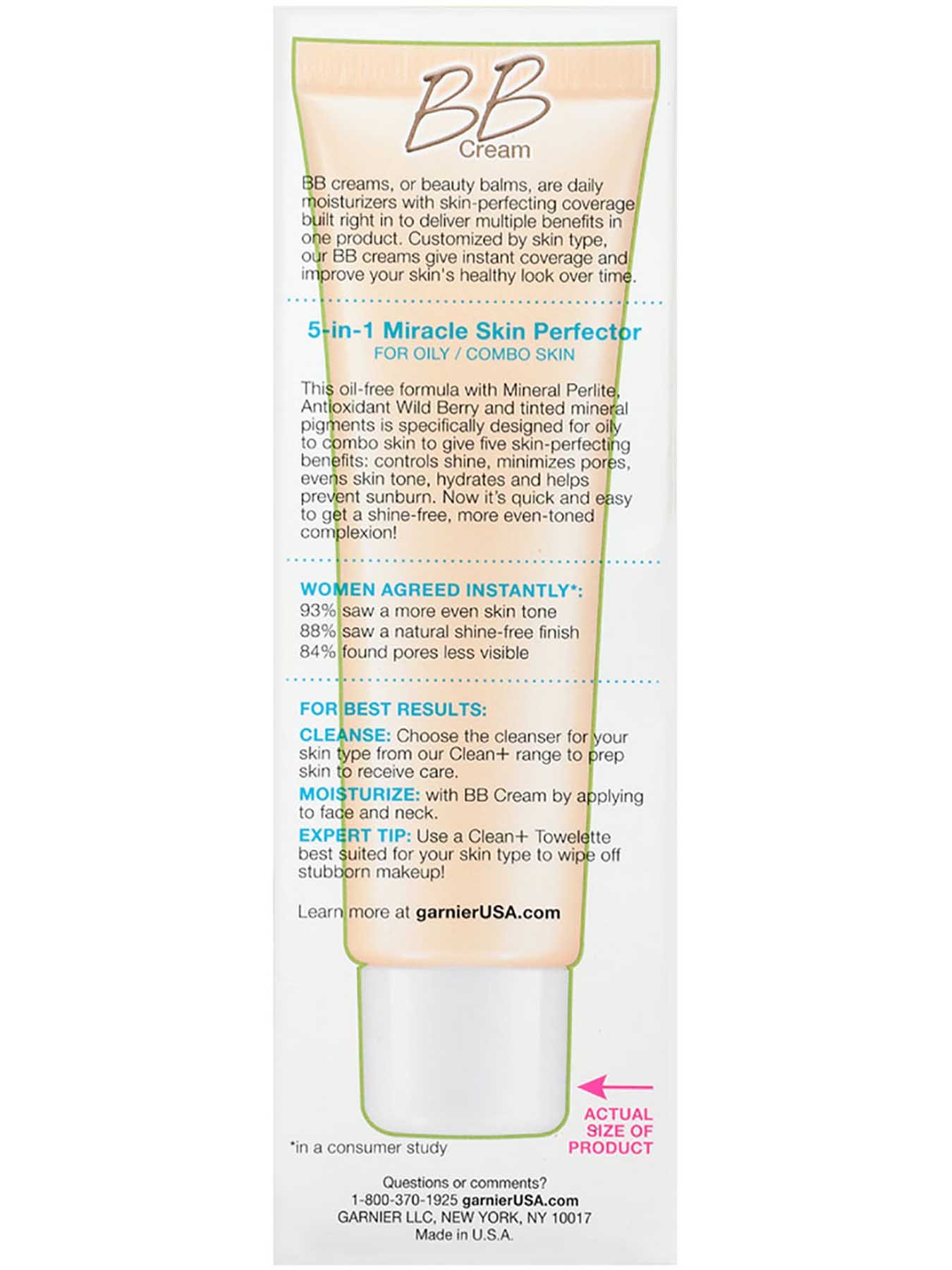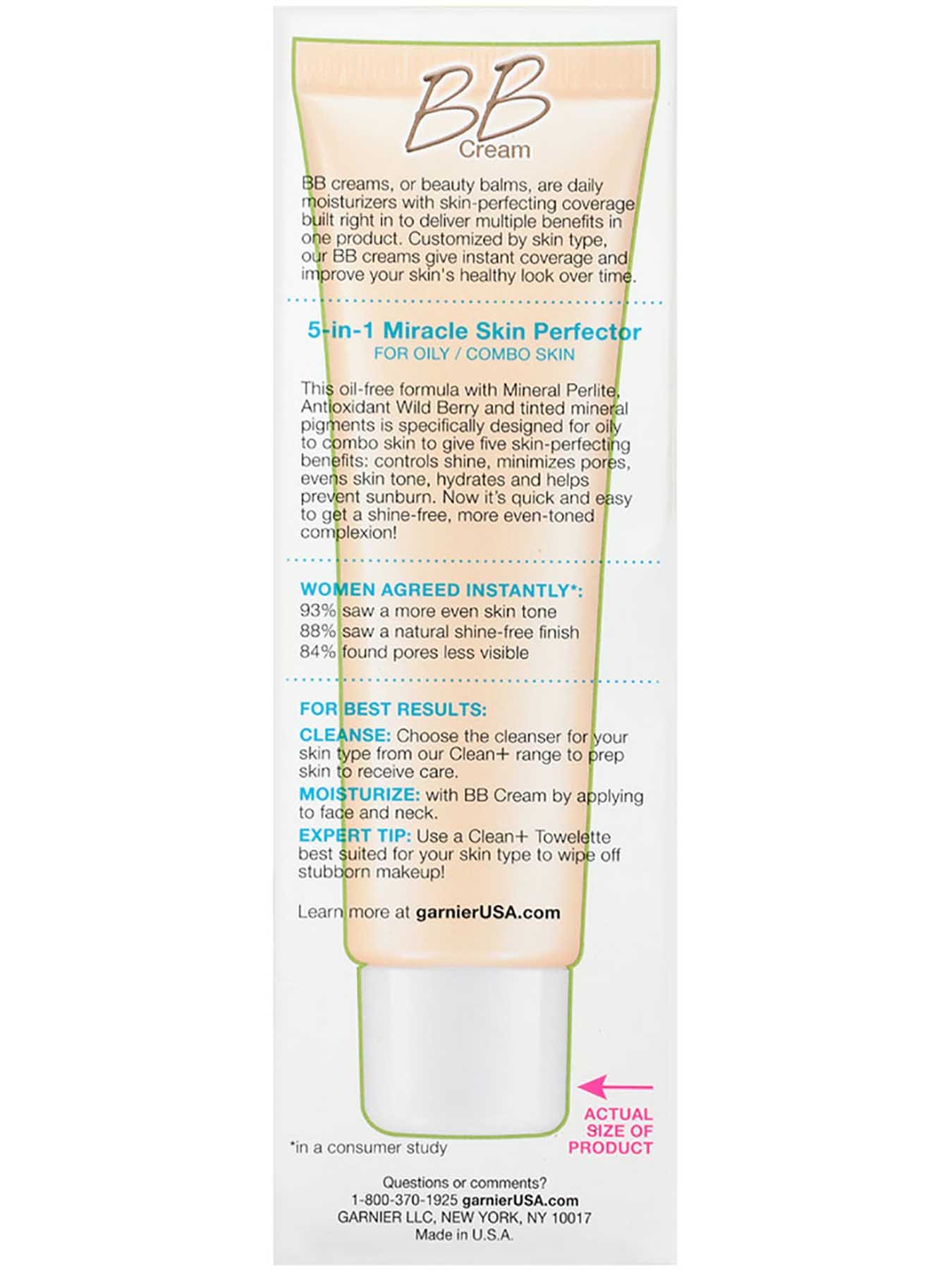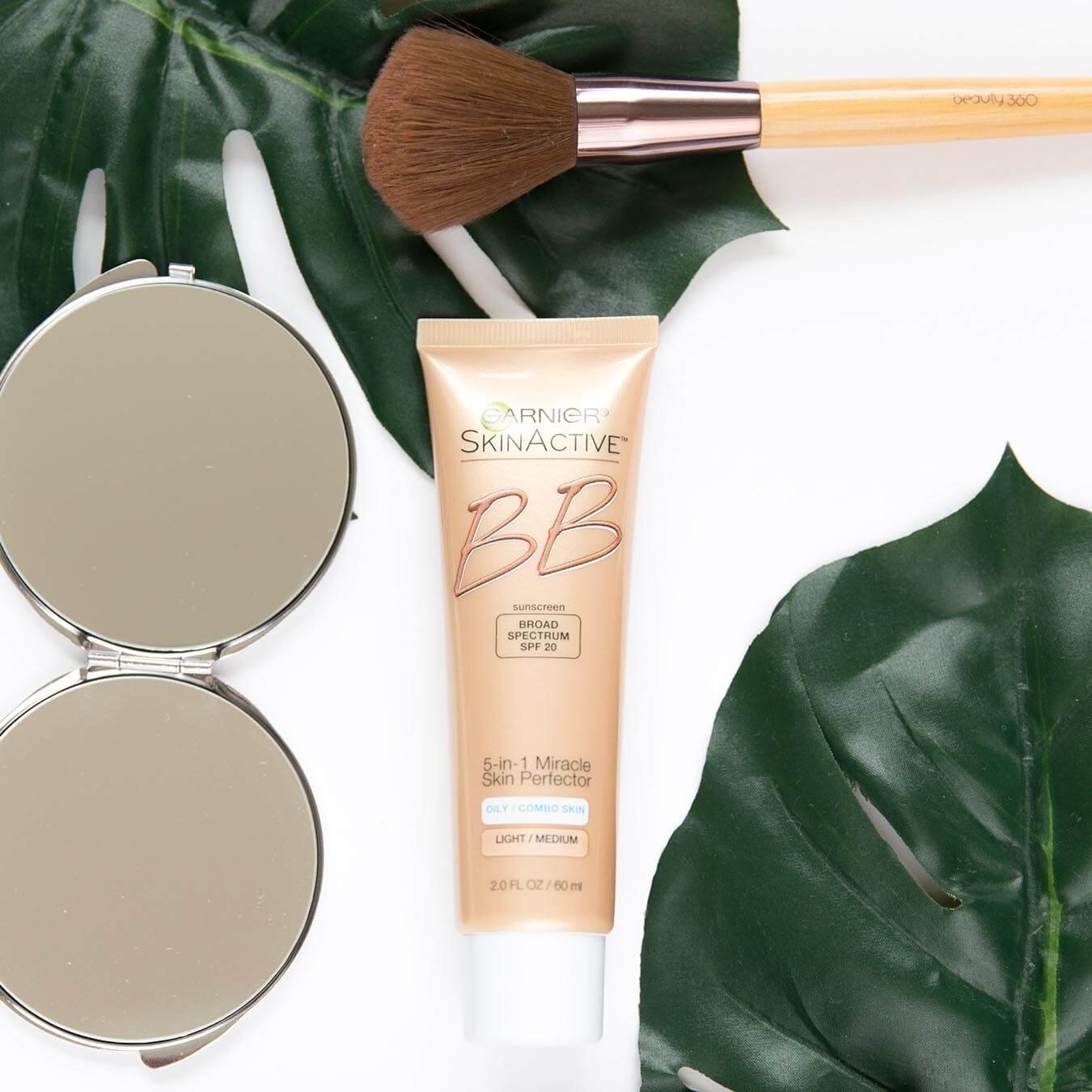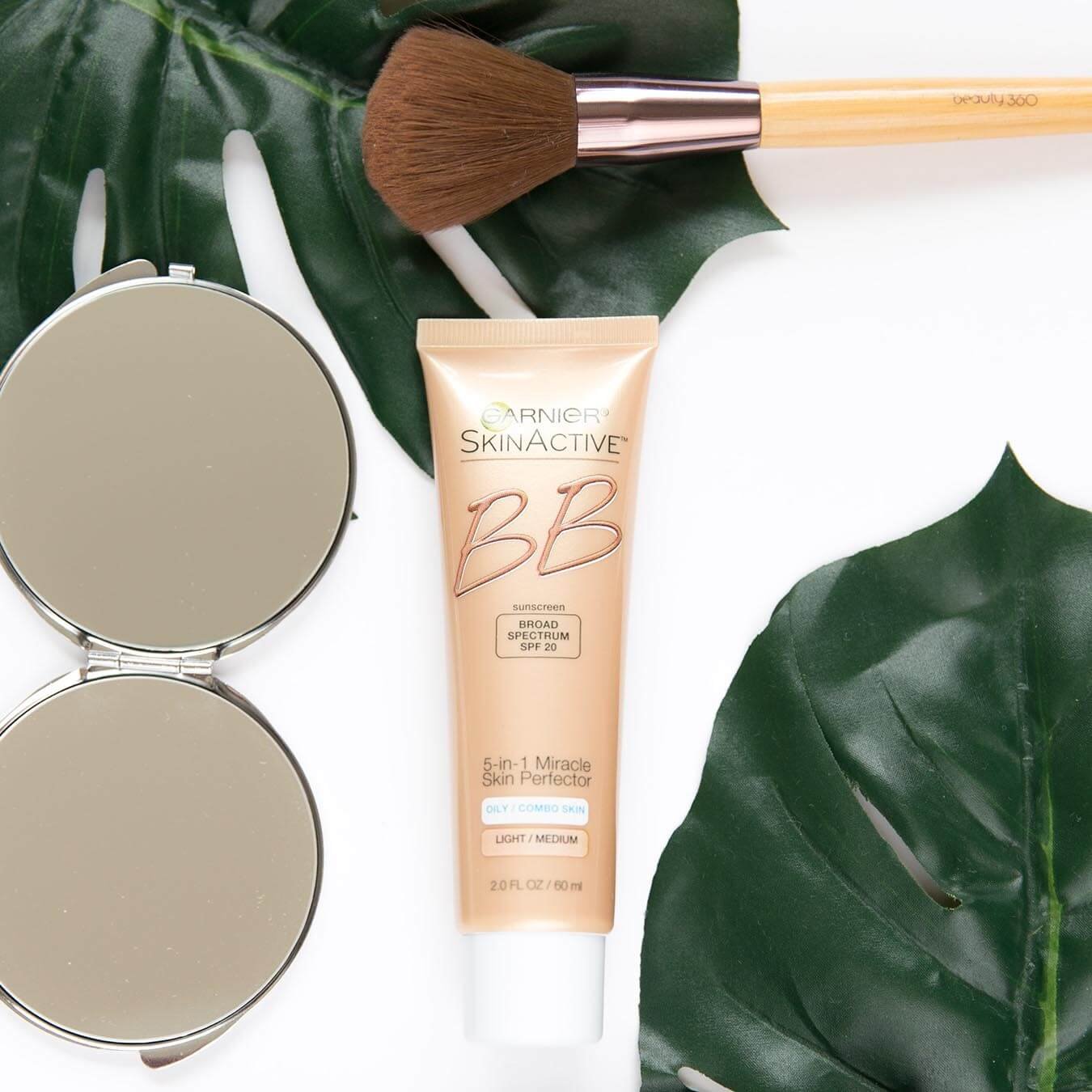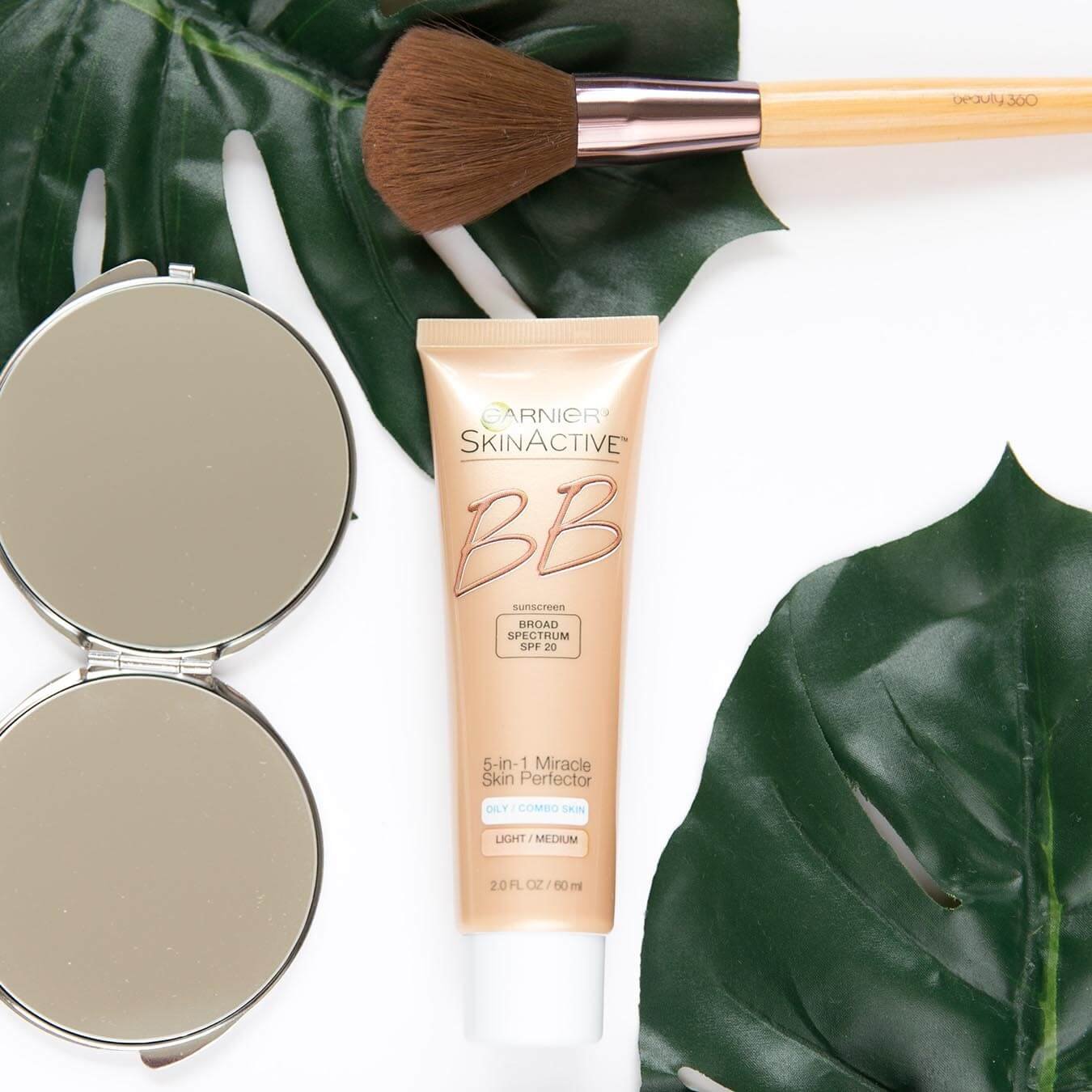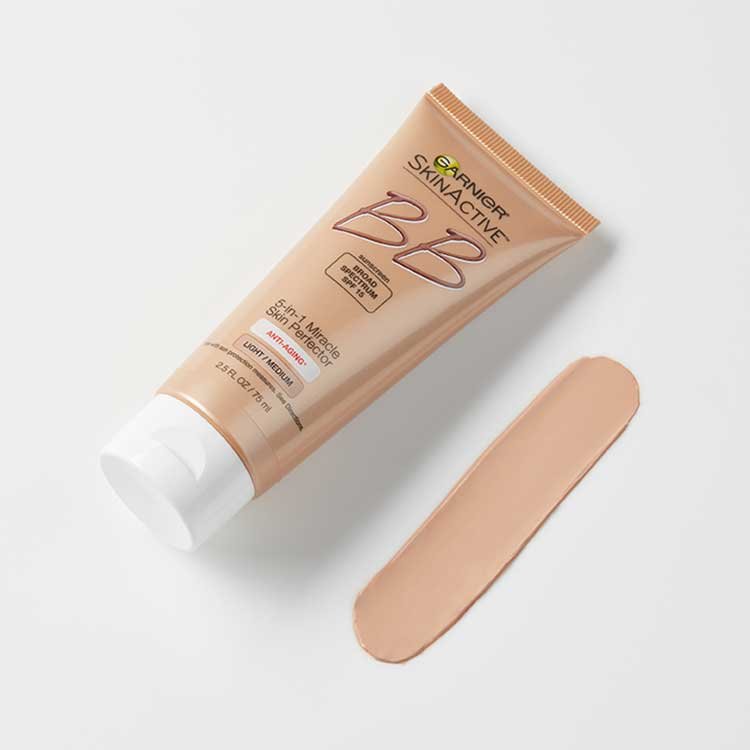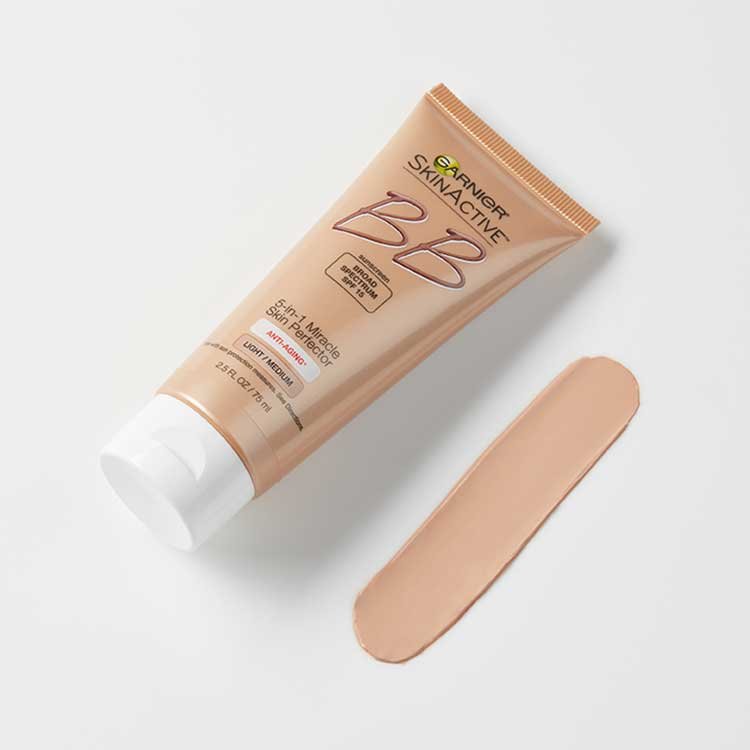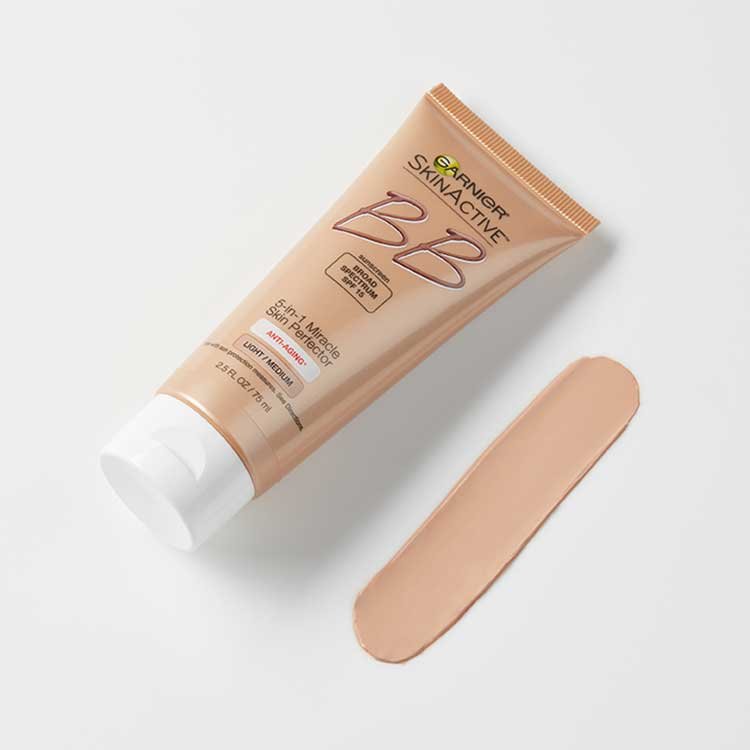 Garnier SkinActive
5-in-1 Miracle Skin Perfector BB Cream Anti-Aging - Light/Medium
$12.99 MSRP
1. Reduces wrinkles 2. Firms Skin 3. Evens skin tone 4. Deeply hydrates 5. Protects
PRODUCT INFORMATION:
This moisturizing formula with Pro-xylane™ Antioxidant Apricot, and tinted mineral pigments is specifically designed to combat the signs of aging to give five skin-perfecting benefits: reduces the look of wrinkles, firms skin, evens skin tone, deeply hydrates, and helps prevent sunburn. Now it's quick and easy to get a youthful-looking, more even-toned complexion!
How to use:
Gently apply Garnier Miracle Skin Perfector B.B. Cream to face prior to sun exposure for instant coverage and correction as well as for protection. Reapply as needed.
How do I use Skin Renew products together
After cleansing with The Radiance Renewer, apply Garnier Miracle Skin Perfector to face and neck. For best results use 2x a day.
For Advanced Care, Incorporate Into Your Routine
Skin Renew Anti-Puff Eye Roller
Skin Renew Dark Spot Overnight Peel
Ingredients:
Active Ingredients: Avobenzone 3.0%, Octisalates 5.0%, Octocrylene 7.0%. Inactive Ingredients: Water, Isononyl Isononanoate, Glycerin, Cyclohexasiloxane, Propylene Glycol, Ethylhexyl Pamitate, Poly C10-30 Alkyl Acrylate, Butylene Glycol, Aluminum Strach Octenylsuccinate, Dimethicone, Nylon-66, Styrene/Acrylates Copolymer, Glyceryl Stearate, Behenyl Alcohol, Solanum Lycopersicum (Tomato)Extract+, Ascorbyl Glucoside++, Tocopheryl Acetate, Actinidia Chinensis (Kiwi)Fruit Water, Rosa Canina Fruit Oil, Capryloyl Salicylic Acid, Ammonium Polyacryloyldimethyl Taurate, Caprylyl Glycol, Magnesium Pca+++, Manganese Pca+++, Mica, Sodium Pca+++, Zinc Pca+++, Titanium Dioxide, Dimethicone/Vinyl Dimethicone Crosspolymer, Dimethyl Isosorbide, Peg-8 Laurate, Disodium Edta, Glyceryl Stearate Citrate, Octyldodecanol, Polycaprolactone, Sodium Citrate, Sodium Dicocoylethylenediamine Peg-15 Sulfate, Sodium Hydroxide, Xanthan Gum, Methylparaben, Propylparaben, Butylparaben, Fragrance, Linalool, Benzyl Salicylate, Limonene, Geraniol, Citral, F.I.L.B27838/2 +Lycopene ++Vitamin C +++Magnesium.
SPF
Commonly found in moisturizers and increasingly in hair care, Sun Protection Factor, better known as SPF, indicates the level of sunburn protection you can expect from the sun's Ultra Violet B rays. SPF 15, for example, blocks 94% of UVB rays, while SPF 30 blocks 97%, SPF 50 98%, and SPF 100 99%. Products labeled "Broad Spectrum" block the deeply-penetrating Ultra Violet A rays too.
Vitamin C
There's more to Vitamin C than meets the eye. A powerful antioxidant, it is also highly effective in fighting signs of aging, brightening skin tone, and helping reduce the appearance of dark spots over time.
Caffeine
Found in tea leaves, Yerba mate, and other tropical plants, Caffeine is often used in hair and skin beauty formulas known to energize and rejuvenate.
Rated

2

out of

5
by
Anonymous
from
Giving it a two because it isn't terrible
The product is actually AMAZING, but what upsets me is that I am pale as all get out and garnier discontinued the shade that I can use (fair/light) and I was redirected to this shade. This shade is WAY too dark for me and I had to cover my whole dang neck and ears so that I didn't look ridiculous this morning at work.
Date published: 2019-08-21
Rated

1

out of

5
by
nzgirl33
from
Too shiny and poor coverage
Unfortunately Garnier have discontinued the BB Cream Oil Free for oily to combination skin. They recommended I try the 5-in-1 Miracle Skin Perfector BB Cream Anti-Aging but it's way too shiny and has very little coverage. I've now had to switch to another oil free brand as I'm sure a lot of consumers will have to. Please listen to your consumers Garnier and bring the oil free version back.
Date published: 2019-07-30
Rated

5

out of

5
by
Blondee
from
The Absolute Best for Older Beauties
I have been using this BB cream/ makeup for the past 8 years and have found no product that comes close to this. I have 63 year old skin naturally with wrinkles and infamous smile lines. This product covers up the age- related skin issues and truly improves the appearance of my skin! I work with the public in a high light environment that usually shows every flaw. Conversely I am often told by others that I have beautiful skin. Actually it's the BB cream in a light shade since, without it, I look my age. Love this cream and plan on using it forever.
Date published: 2019-07-20
Rated

5

out of

5
by
Cartallica
from
Keep coming back to this!
I've been trying many kinds of tinted moisturizers and bb creams but keep coming back to this product. It covers well, doesn't enhance my wrinkles and scars and moisturizes. It's easy to use and blends we'll into the skin. Use it everyday.
Date published: 2019-06-08
Rated

5

out of

5
by
CarrieB777
from
Bring back Light/Medium!!
This is the only thing I have used for years. I love the SPF and the full blend of color I get on my face. This removes all my flaws but now I'm stuck with the 5 in 1 and after using it, I would rather switch brands. Please bring back my shade!
Date published: 2019-06-06
Rated

1

out of

5
by
Britneyjo12
from
Greasy, Splotchy, Mess!
Reading the reviews, I'm so confused. How can I be the only one that feels like this is the greasiest, heaviest "BB cream" on the planet? It's not a BB cream by the way. It's a tinted sunscreen and nothing more. It is greasy like sunscreen and it rolls off your skin like sunscreen. It slightly evened my skin tone but it got splotchy in a matter of minutes. I'm prone to dry skin so I'm surprised how oily this made me. It felt like I was wearing a face mask all day. So heavy!! I will not be buying this again or recommending it to anyone.
Date published: 2019-04-08
Rated

1

out of

5
by
kikiishi16
from
Why no more medium/deep???
I had purchased this for years. As I sparing use the last few drops, I am trouble and saddened that you no longer make my shade. I have Mediterranean descent and need the medium/deep shade. I am so disappointed that your company continues to make the light shade but discontinued to make the medium/deep shade. It's like you are punishing us for having darker skin. I have tried your other products in the medium/dark shade but it left my skin so greasy and shinny that several people asked if I just left the gym.
Date published: 2019-03-11
Rated

1

out of

5
by
Ada_627
from
BRING IT BACK!!!!!
I've used this product for so long and now I cant find anything to replace it, I've looked everywhere...PLEASE BRING BACK THE OLD FORMULA in medium deep!!! This is so frustrating!!!!!!!! :(
Date published: 2018-11-27
Rated

5

out of

5
by
TerriL1
from
bb cream color
I have used this bb cream for a long time. In the winter I use light/medium, but in the summer I used medium/deep. Now I can't find medium/deep. Did you stop making it and if so why.
Date published: 2018-08-20
Rated

1

out of

5
by
redhed
from
Fair/light
Where is a redhead going to find her skin tone? Please bring back the fair/light color. Light/medium is too dark for my skin.
Date published: 2018-08-17
Rated

1

out of

5
by
Mbecks028
from
Bring back Skin Renew!
This formulation is horrible! Just awful! My sister and I used the skin renew for years. In my opinion it looked better than foundations that cost $$$. I don't know why you would alter or discontinue a product that was already so amazing. I am disappointed in this company. And it would appear that I am not the only one.
Date published: 2018-08-05
Rated

1

out of

5
by
Lynnie
from
Garnier
I am not a fan of this new product.way to thick please bring back the old formula.uktra lift transformer anti aging skin correction spf20
Date published: 2018-07-11
Rated

2

out of

5
by
tp2020
from
Bring back the old formula
I have extremely sensitive skin and the old formula worked perfectly and never broke me out. This one makes my skin look oily and doesn't cover nearly as well as the old formula. I thought I'd like it better at first because the formula is thicker but I'm not loving it.
Date published: 2018-07-06
Rated

2

out of

5
by
Ginger G
from
I want my old BB cream!
I absolutely LOVED your old BB cream. Used it every day! The new cream is not nearly as good and I am heartbroken. When I read the other reviews that loved the old version too, the only response from the company is that they will pass on the information to someone else. Well, how do we talk to the "someone else"? How many customer complaints does it take to get some action? Help us please!
Date published: 2018-06-08
Rated

1

out of

5
by
Imim
from
Bad BB Cream
I bought this a month ago and I believe that it is a BB cream that needs major improvements. The only pro is that it doesn't smell. It is way too dark and orange for my skin tone. It makes me look orange and that is not something I want from a BB cream. I wish the color was more light and fair for people with really light skin tones. It is pure liquid and gets everywhere. I wish it had a creamier texture so it wouldn't get everywhere when I opened it. If you could make these improvements, that would be greatly appreciated. Thanks so much for reading this and have a great day.
Date published: 2018-05-14
Rated

3

out of

5
by
Slevoy
from
Great product. Wrong color.
This product works great. But its much too dark i wish it was a few shades lighter so it would look more natural and i didn't have to add more make up ontop
Date published: 2018-04-30
Rated

1

out of

5
by
SassySensitiveSkin
from
So sad that fair/light has been discontinued!!
Garnier, when I discovered miracle skin perfecter BB cream in Fair/Light is was LITERALLY a life and game changer!! Why oh why oh why did you go and discontinue it??? Light/medium is too dark for me -- Fair/Light BB was the product I had been seeking for my whole life! Now I am forced to seek a substitute elsewhere. :-(. You had me at hello; sadly, I need to say goodbye. :-((((
Date published: 2018-04-25
Rated

1

out of

5
by
bbbbbb
from
New formula terrible
This new formula is thick and difficult to blend. Coverage seems blotchy and color does not look natural. Old product was great - why did you change it??
Date published: 2018-04-20
Rated

3

out of

5
by
Tegan
from
Wish they still had skin renew
Apparently this is the replacement for the skin renew version of their B.B. cream and I have to say it is not as good. I really liked how the skin renew version really did help my acne and scars heal MUCH better. Please bring back skin renew, oil control
Date published: 2018-04-07
Rated

4

out of

5
by
Baylie93
from
I love this stuff, however..
This product is my all-time favorite thing to put on my face, but the light/medium shade is still a bit too dark for my face. It would be amazing if you guys released a lighter shade!
Date published: 2018-04-04
Rated

5

out of

5
by
Debbiehuha
from
I use this 4-5 ×week!! Love it
This is an amazing daytime makeup. Foundation is too much when your running around from jobs then to kids and I work in an animal shelter part time. I dont have time to check my face and powder up. This doesn't break down or clog pores. Stays the same keeping my skintone even snd hydrated.
Date published: 2018-03-28
Rated

2

out of

5
by
LindaListen
from
Bring back the old formula
I threw out my old bb cream thinking I could purchase it again at CVS but found this as the replacement. It leaves my face shiny, does not provide the coverage I want and leaves my face looking orange. I want to return this immediately and find a different brand
Date published: 2018-03-04
Rated

2

out of

5
by
GrammarMaiden
from
Please bring back the old color and formula!
I used the Oily/Normal BB Cream in the fair/light shade almost every day for over 5 years. I loved everything about it— the SPF, color, texture, coverage, finish, wear, and even the scent. I finally (unfortunately) ran out of my stash and purchased the anti-aging formula in the Light/Medium shade (the only Garnier BB that's available in my geographic area now). I used the new product/ shade this morning, and I'm so disappointed. The shade is way too dark, the formula is way too thick, and the coverage is too light, which seems odd, given the thickness of the formula. I'm so sad to lose my favorite product.
Date published: 2018-02-28
Rated

2

out of

5
by
Stylingirl45
from
Miss the old cream
I thought I bought this by mistake, only to find out it has replaced the normal/dry skin version. This product slides all around the surface of my skin. It never seems to settle, requiring some sort of powder to make it even... defeating the purpose of a B.B. cream .
Date published: 2018-02-01
Rated

2

out of

5
by
Nancy12
from
Too thick
I couldn't find the original BB cream that I've used for years. Bought the Anti-Aging formula instead and thought it would be the same. I find it too thick of a consistency and doesn't seem to go on as smoothly as the original daily moisture care BB Cream. I'd like to see it brought back. After I use this tube up, I'll probably go back to the No. 7 line from England.
Date published: 2018-01-01
Rated

1

out of

5
by
Anghar
from
Sad.
My light/medium bb cream discontinued. It says the anti ageing is my alternative. I will give it a try but I sure loved my other!!!!!
Date published: 2017-12-04
Rated

5

out of

5
by
shahida
from
Ultra Lift Transformer
its not fair to take Ultra lift transformer off market bec it was a mirecale cream plz bring it back
Date published: 2017-10-17
Rated

1

out of

5
by
April Lyn
from
The Ultra-lift Transformer is much better.
The Ultra-lift Transformer is so much better than this BB cream. I liked the fact that you transformer is not cakeee! Your BB cream cakes to your skin and dries my face out. PLEASE - PLEASE bring back the Ultra-lift Transformer anti-aging cream!!!
Date published: 2017-10-16
Rated

3

out of

5
by
LAWS
from
Too dark for my skin
I loved the Fair/Light Skin Renew Miracle Skin Perfector with SPF15 but sadly it was discontinued. I tried this recommended replacement, but it's too dark for my skin. I guess I'll have to look elsewhere.
Date published: 2017-10-10
Rated

5

out of

5
by
HeatherH
from
the original discontinued? It was my holy grail...
I absolutely adore and love the original bb cream! Please bring it back!!! I wear this cream every single day and love it, I get so many compliments on how beautiful MY SKIN looks...before using this people would say MY MAKEUP sure looks good. I really do love it. I guess since the original is no longer made I'll try the antiaging bb cream.
Date published: 2017-09-09