This site is intended for US consumers.Cookies and related technology are used for advertising.To learn more or opt-out, visit Ad Choices and our privacy policy.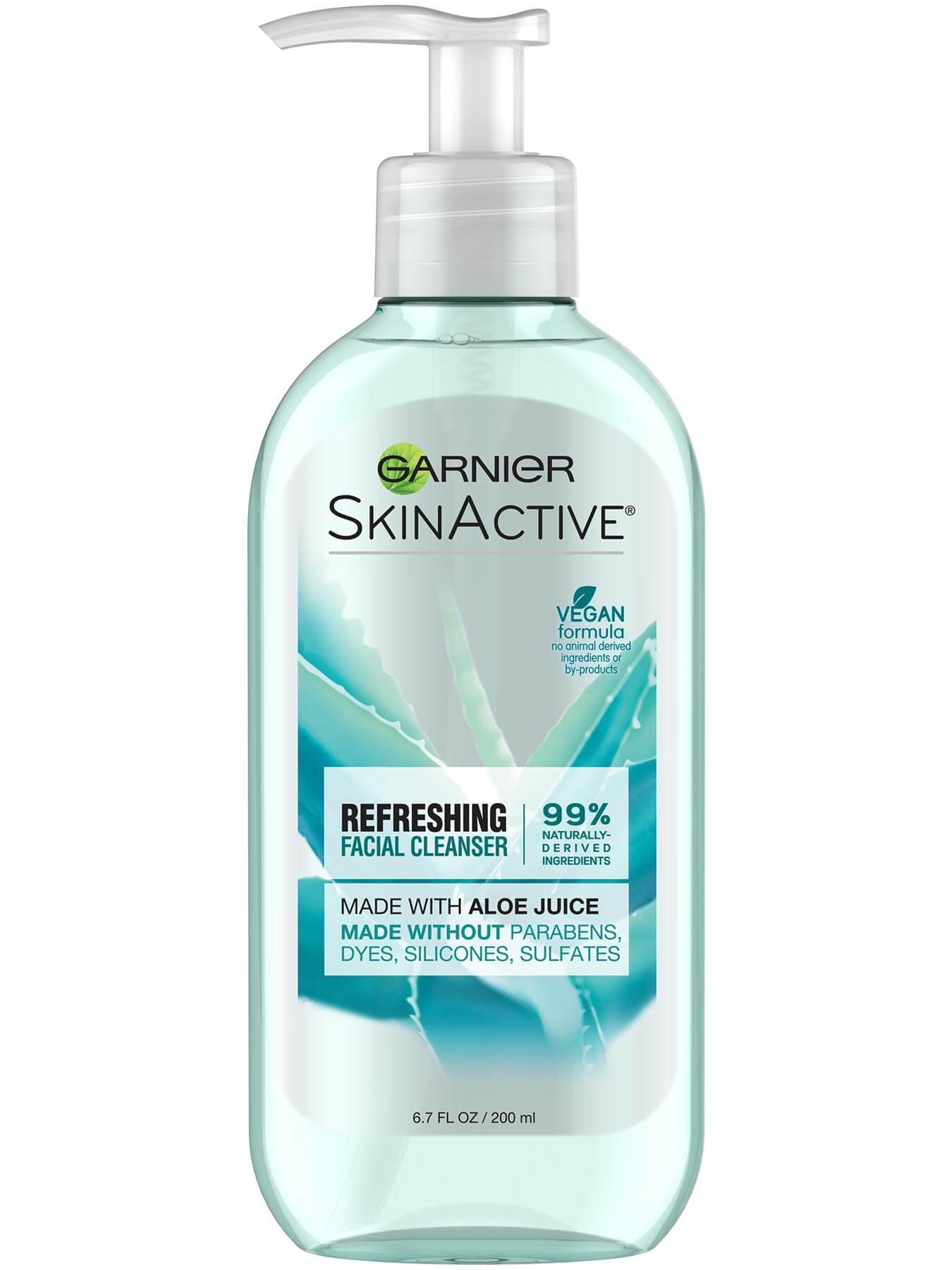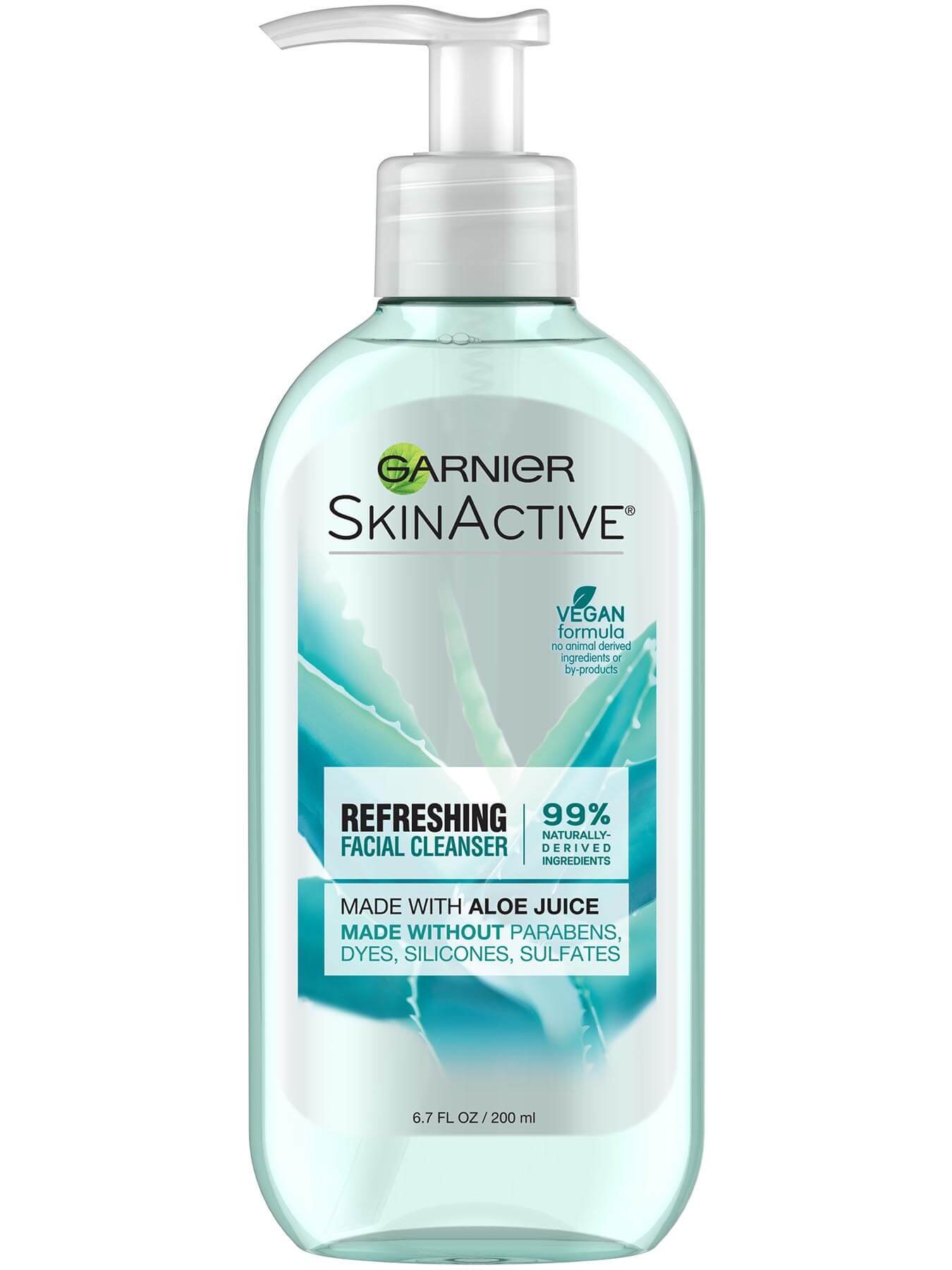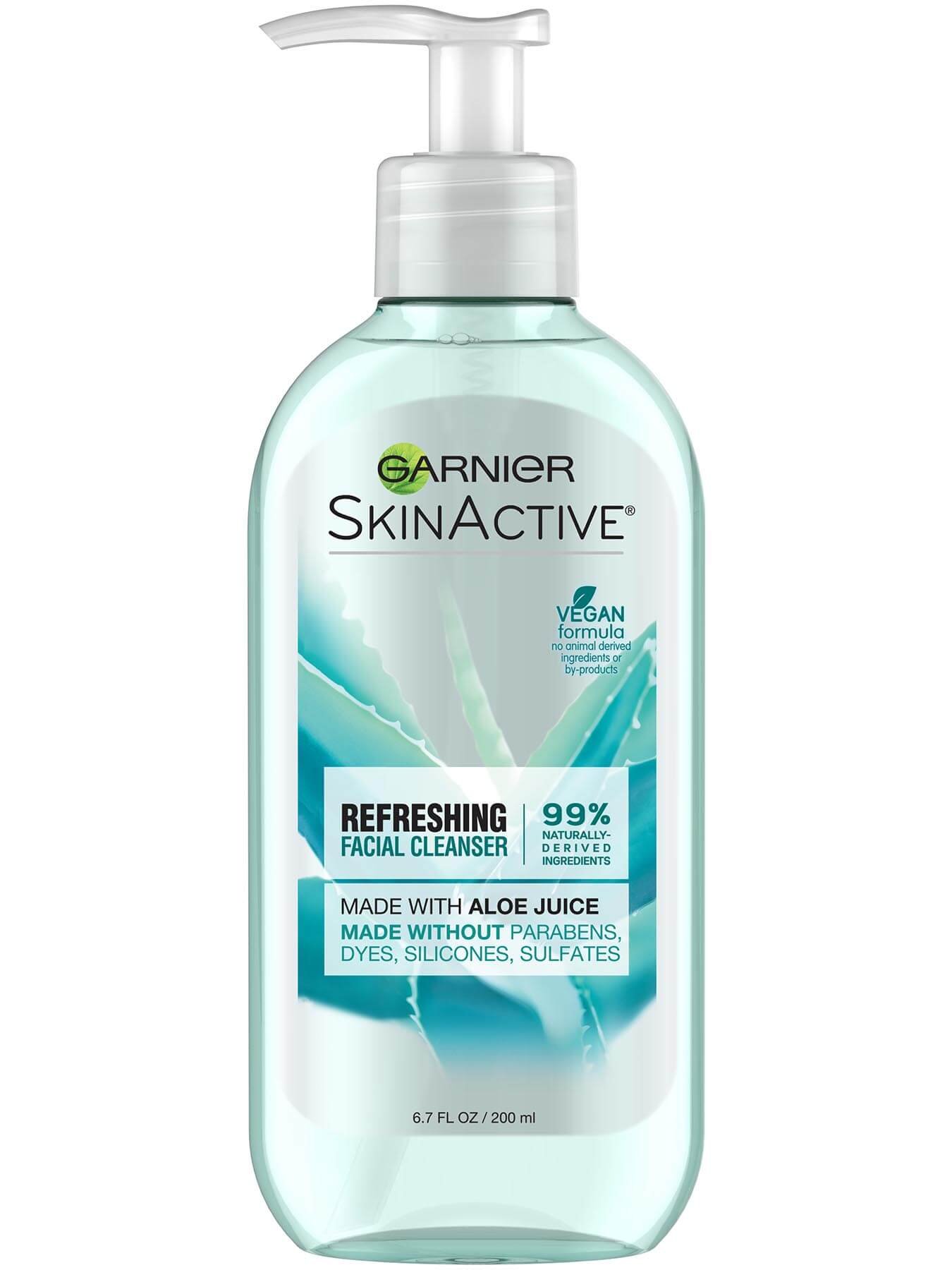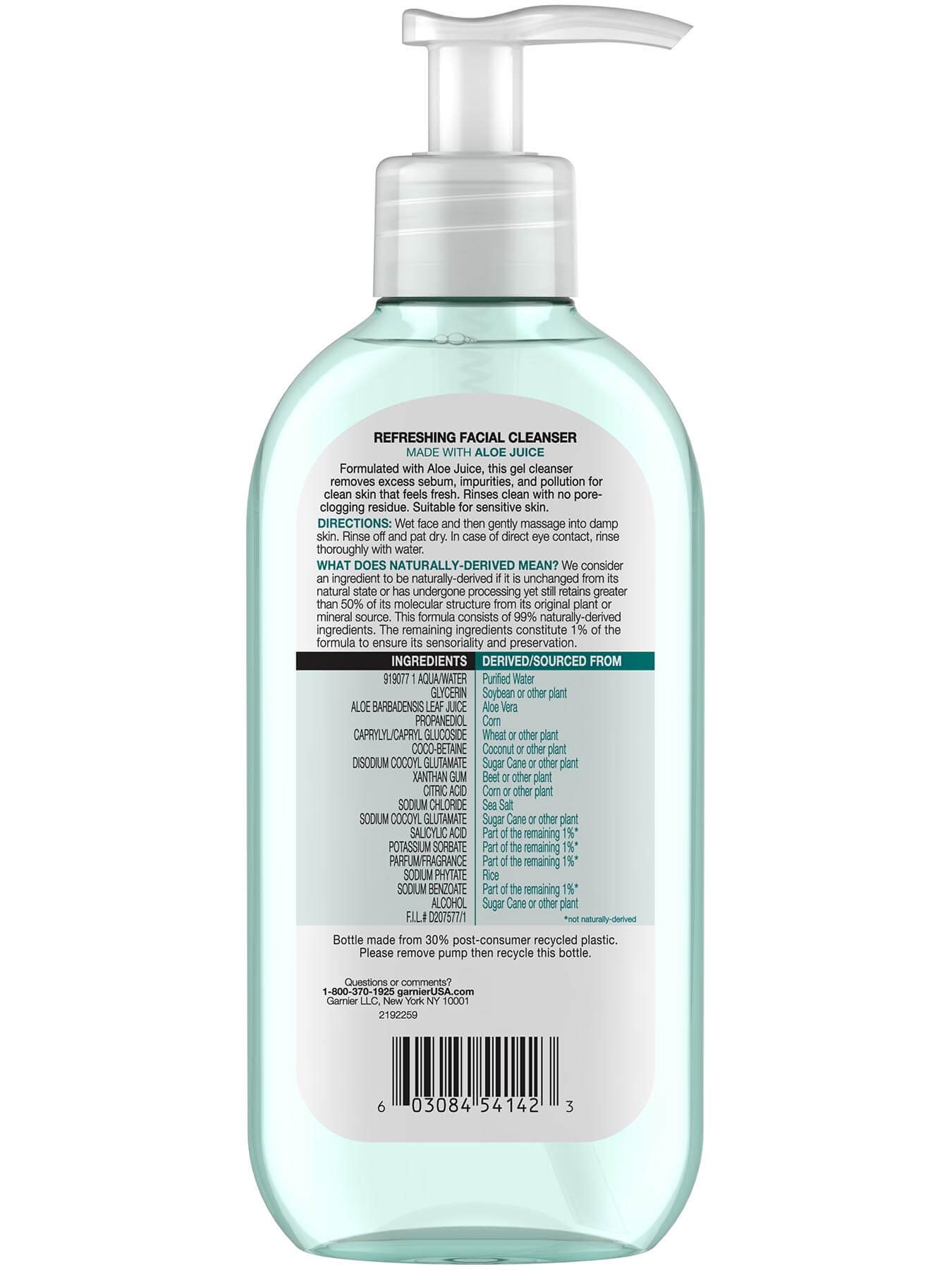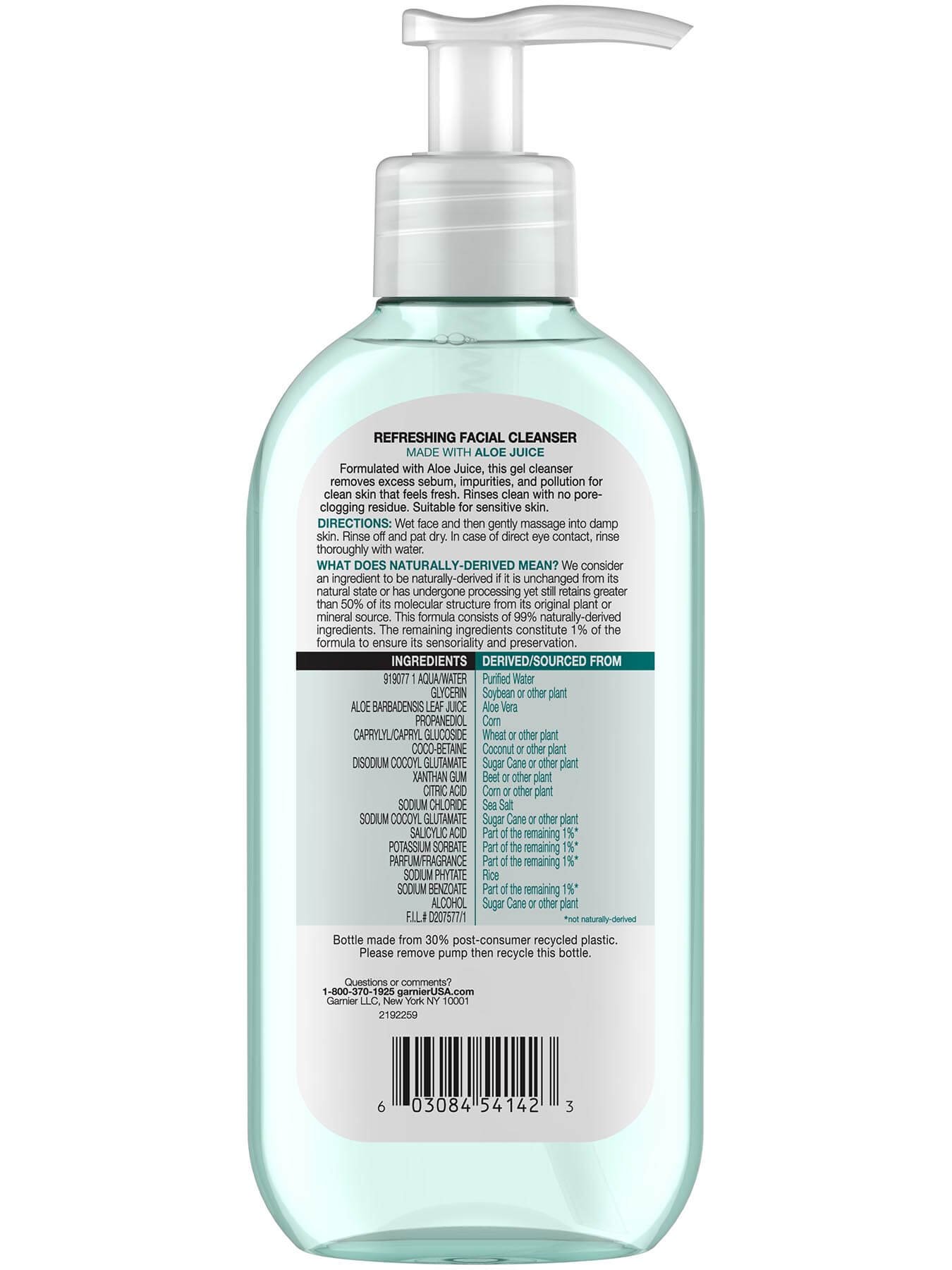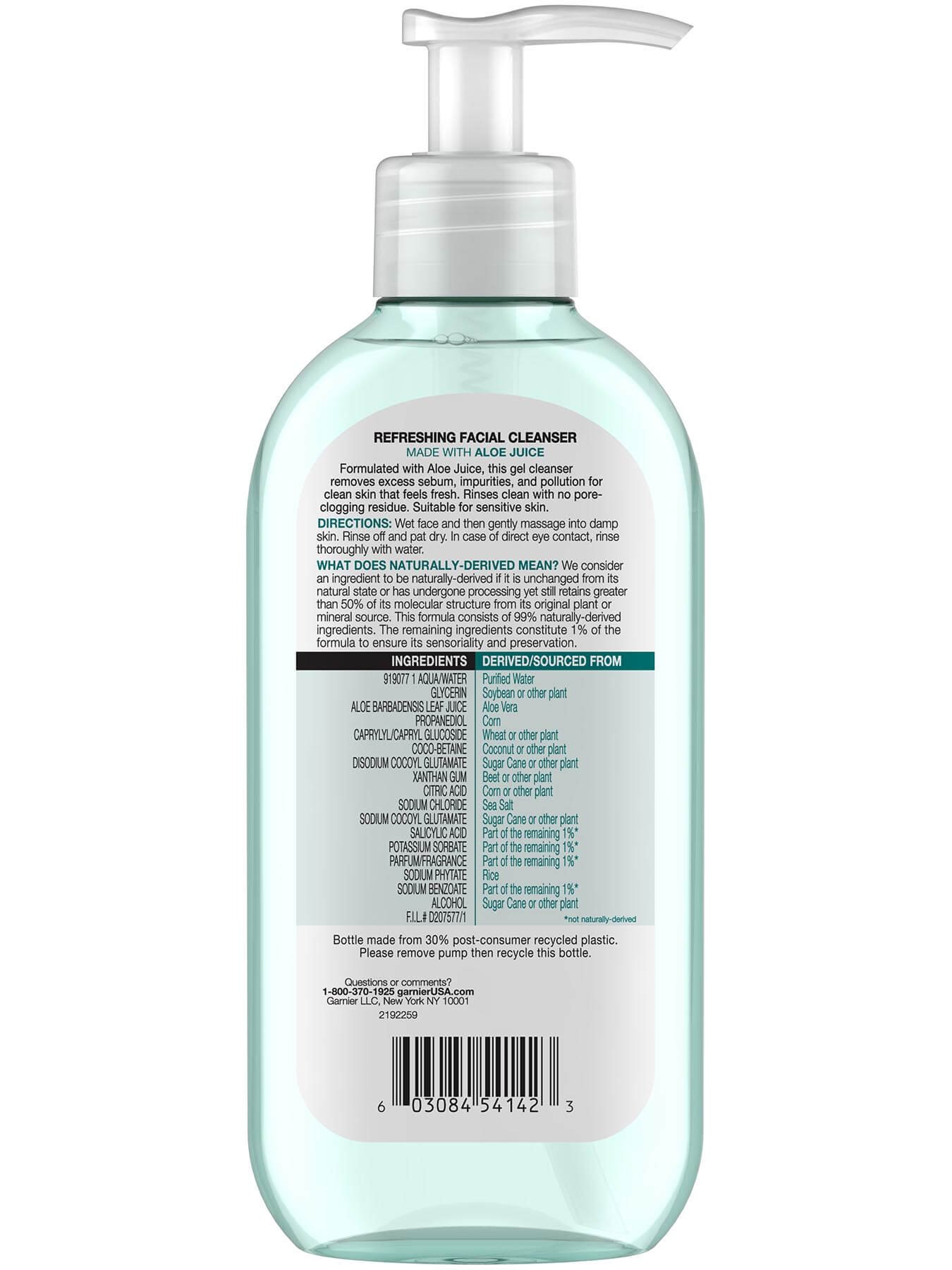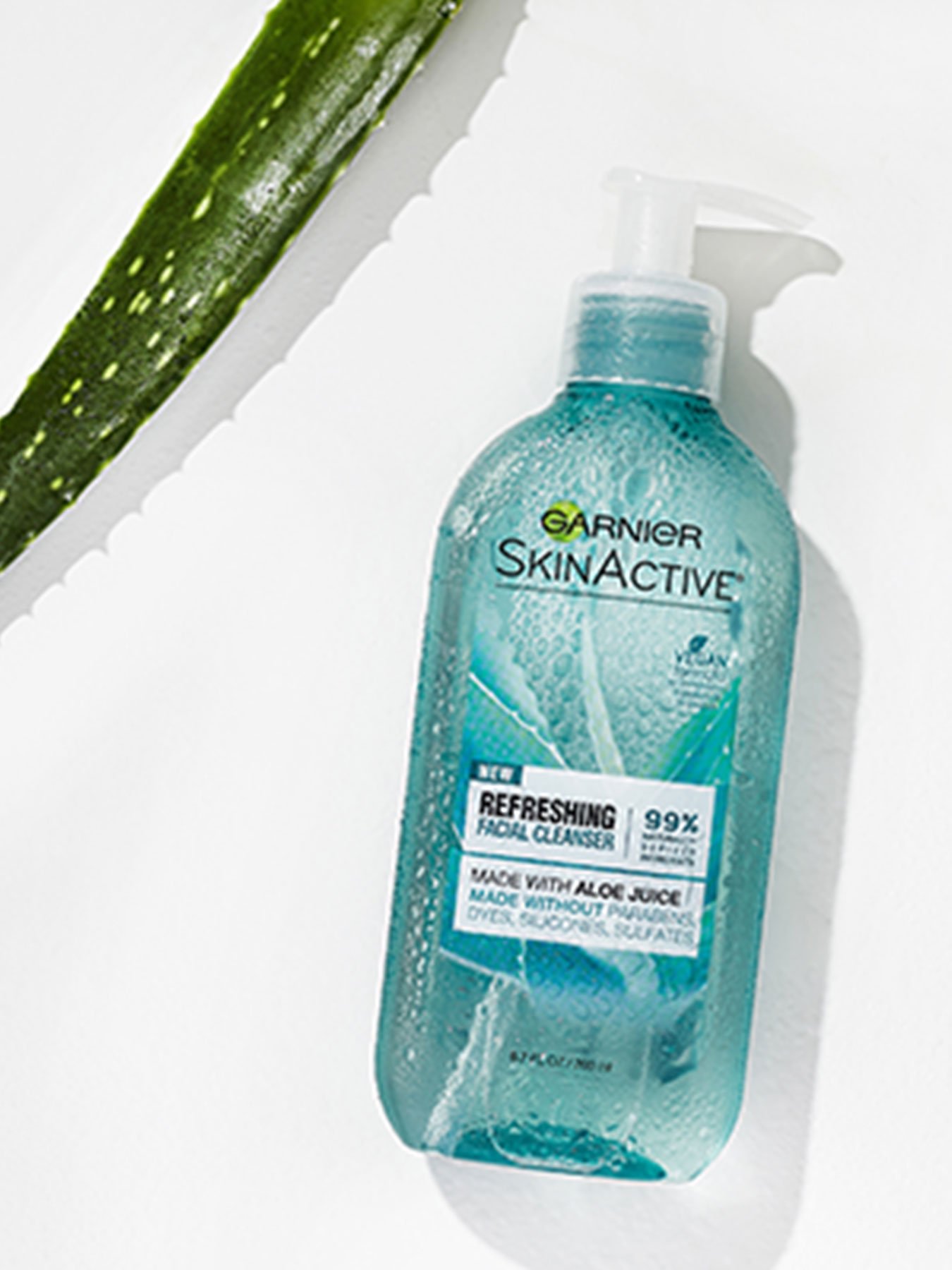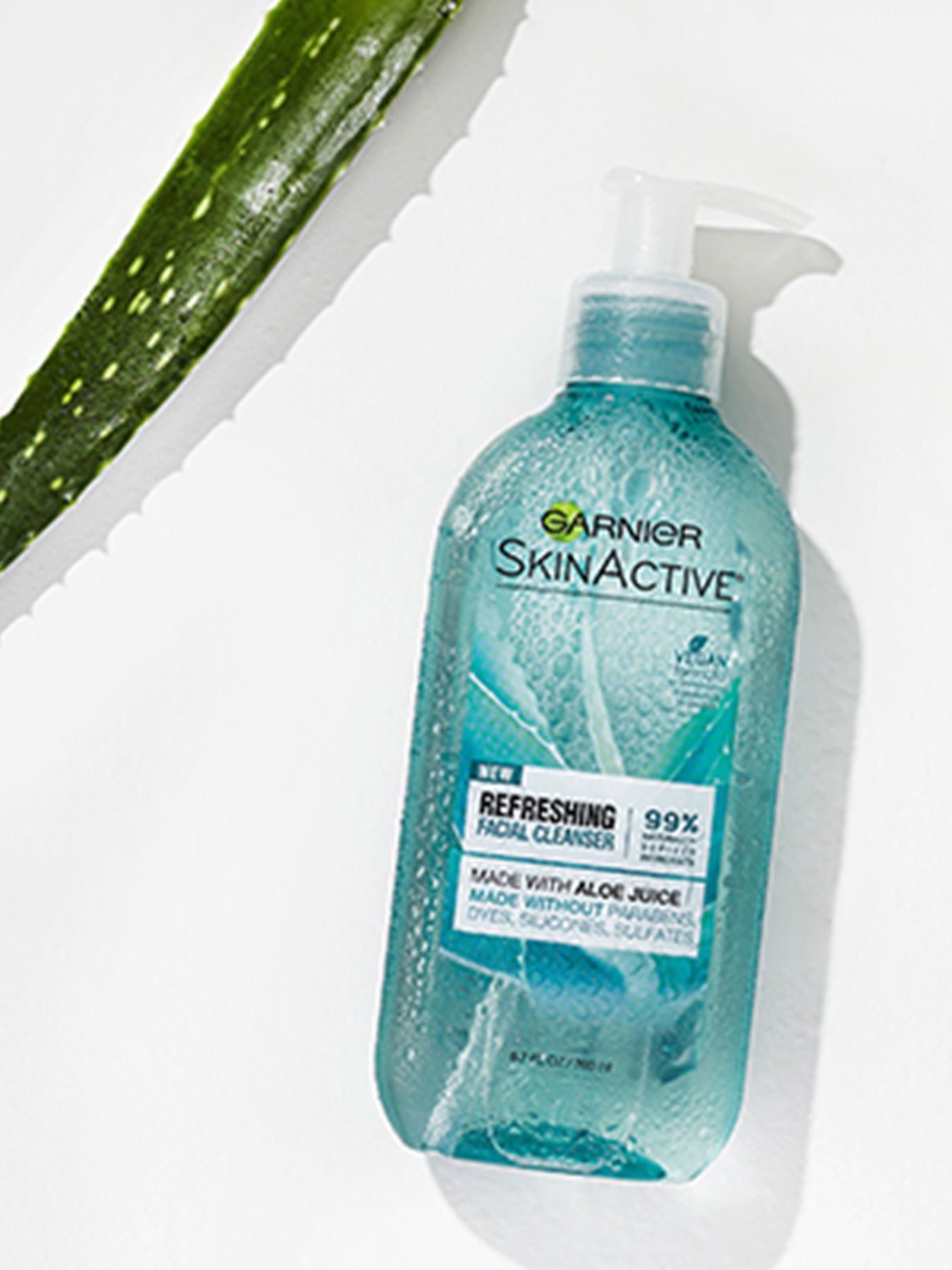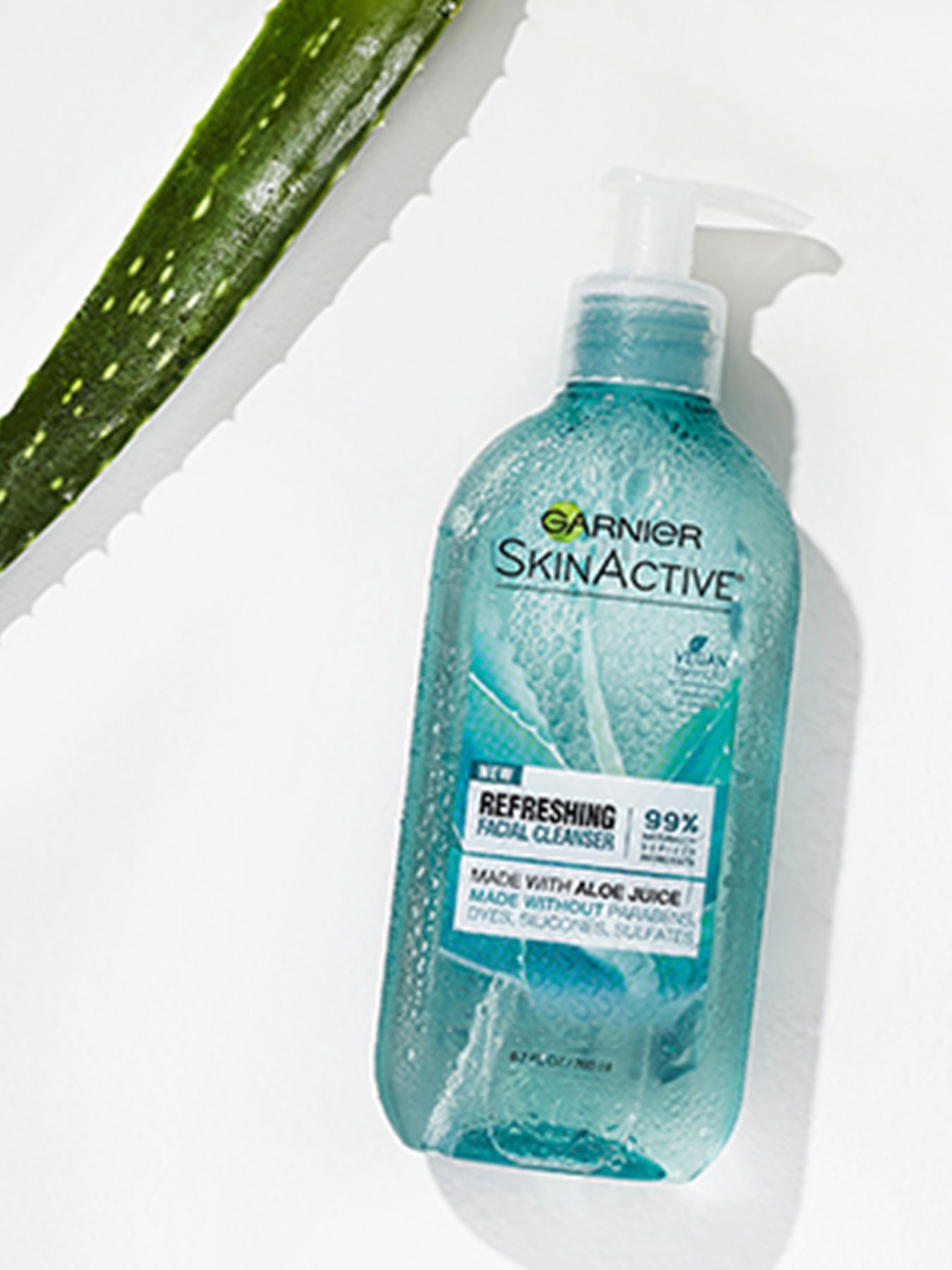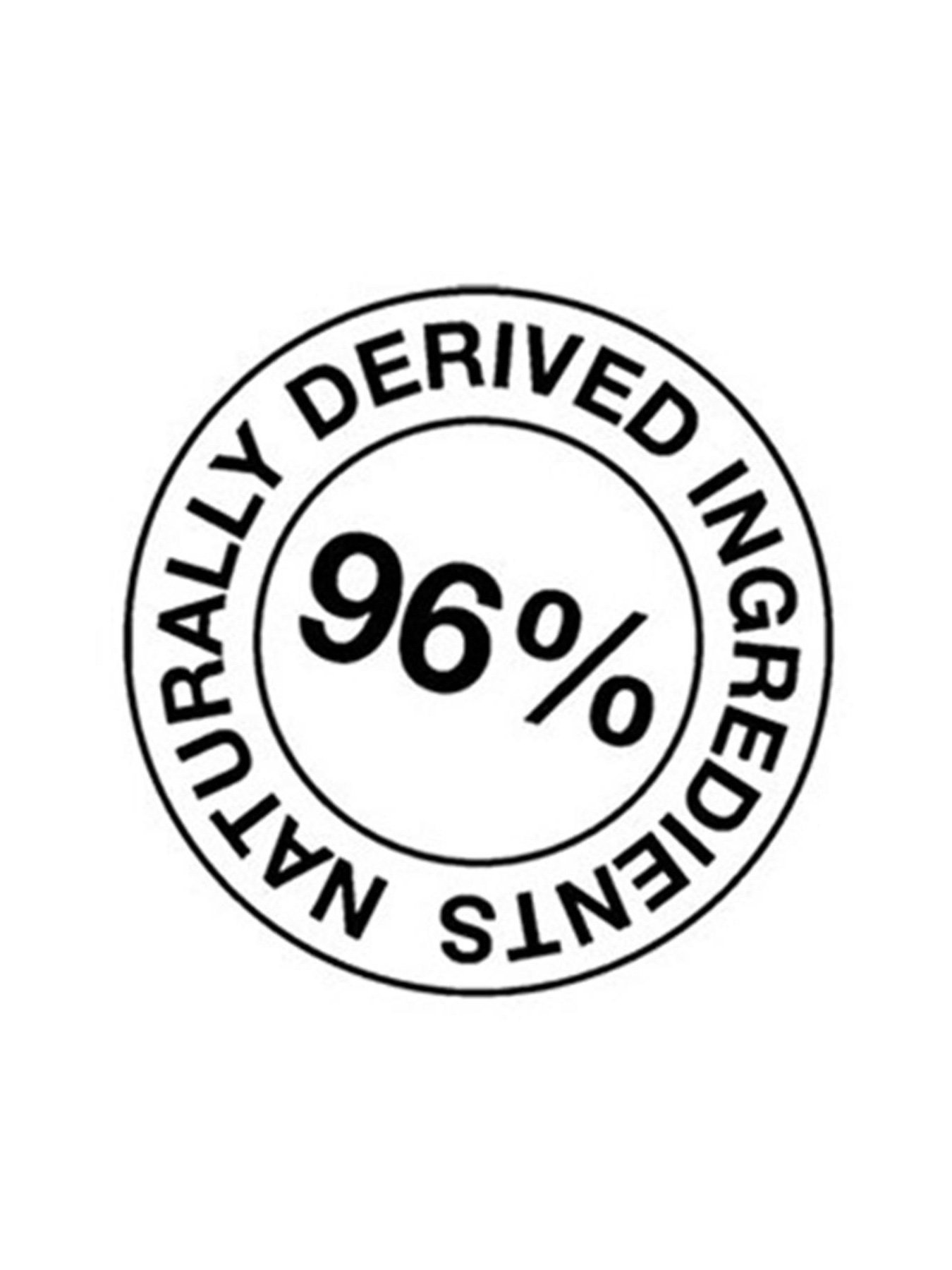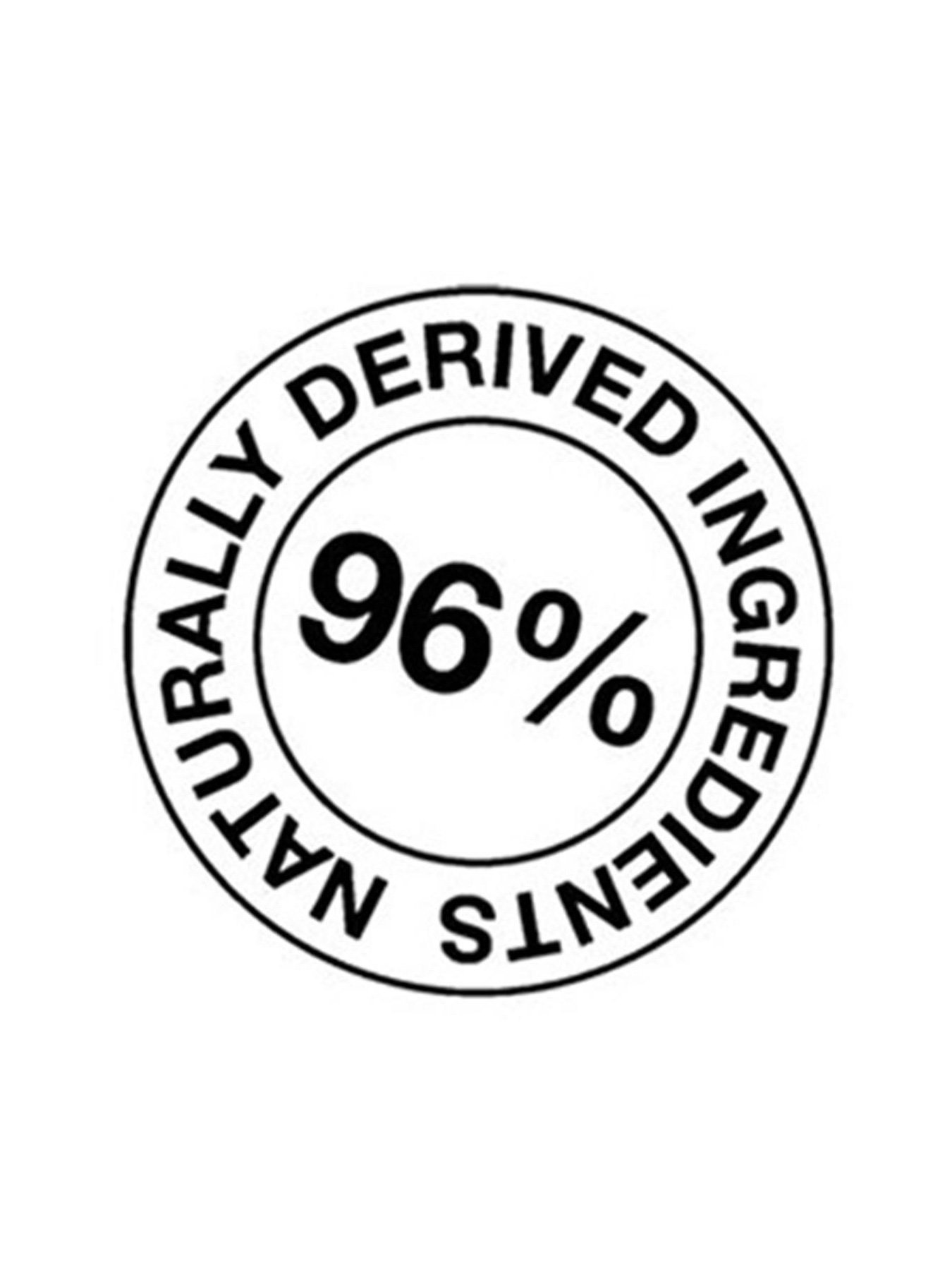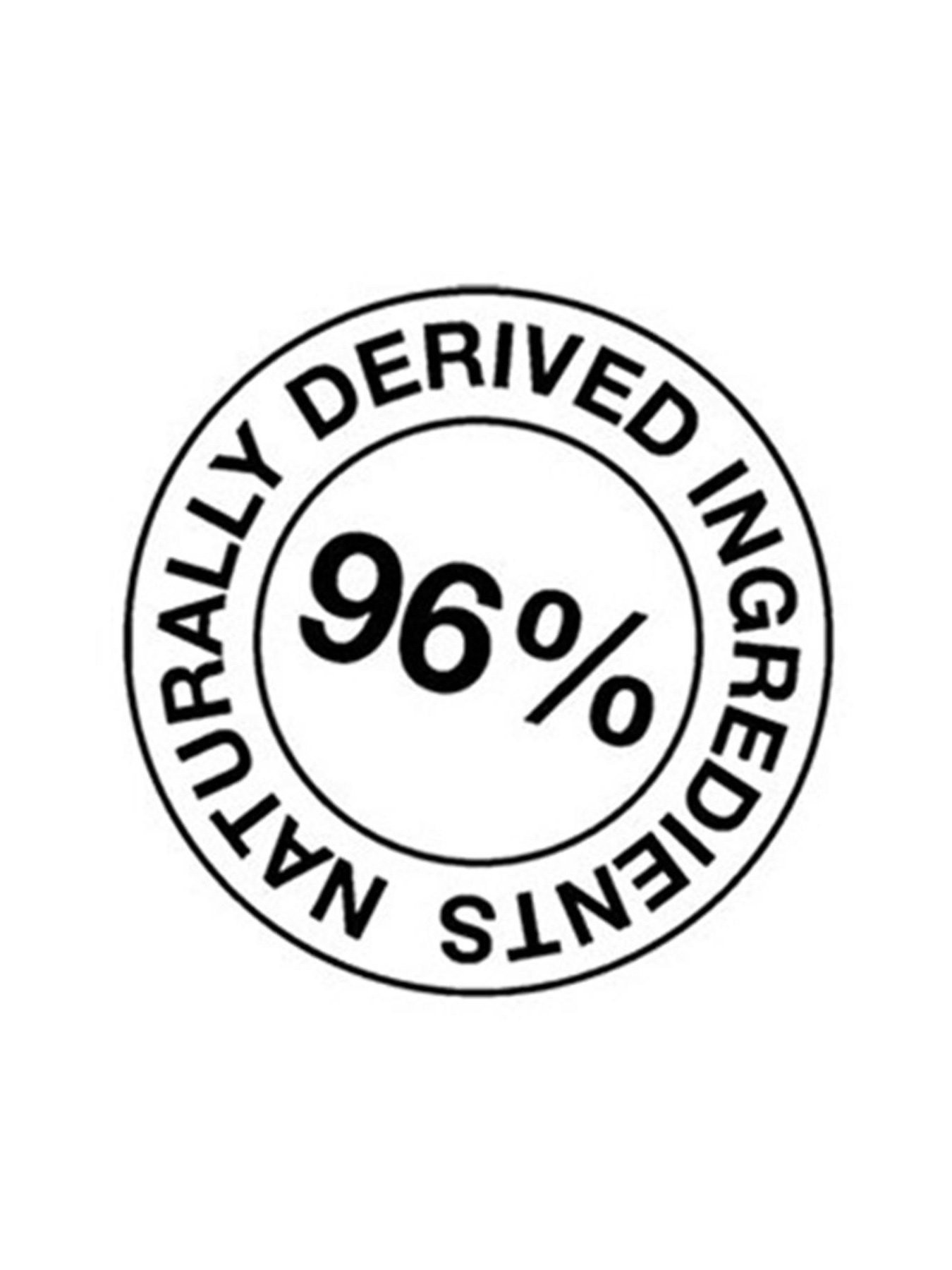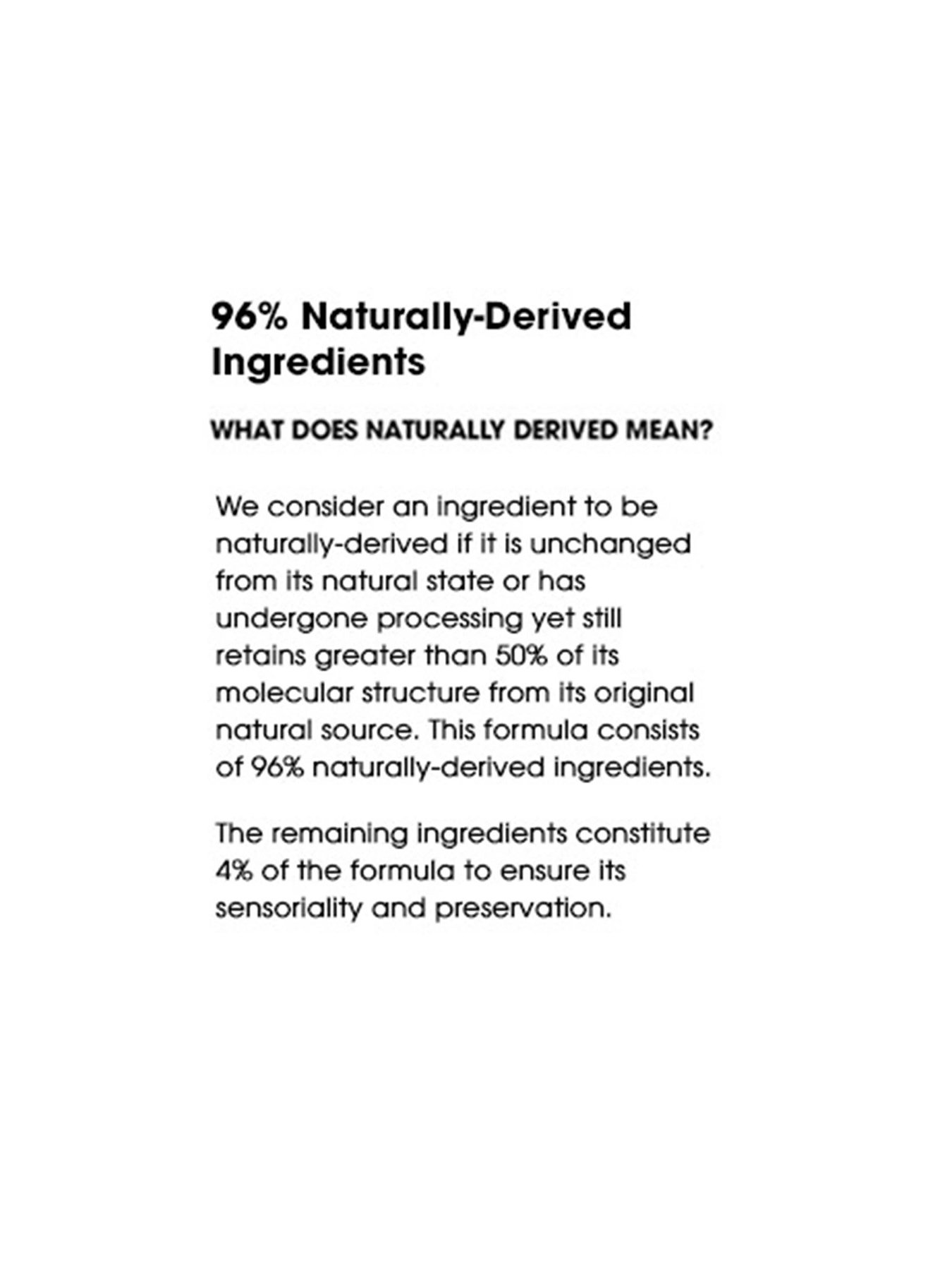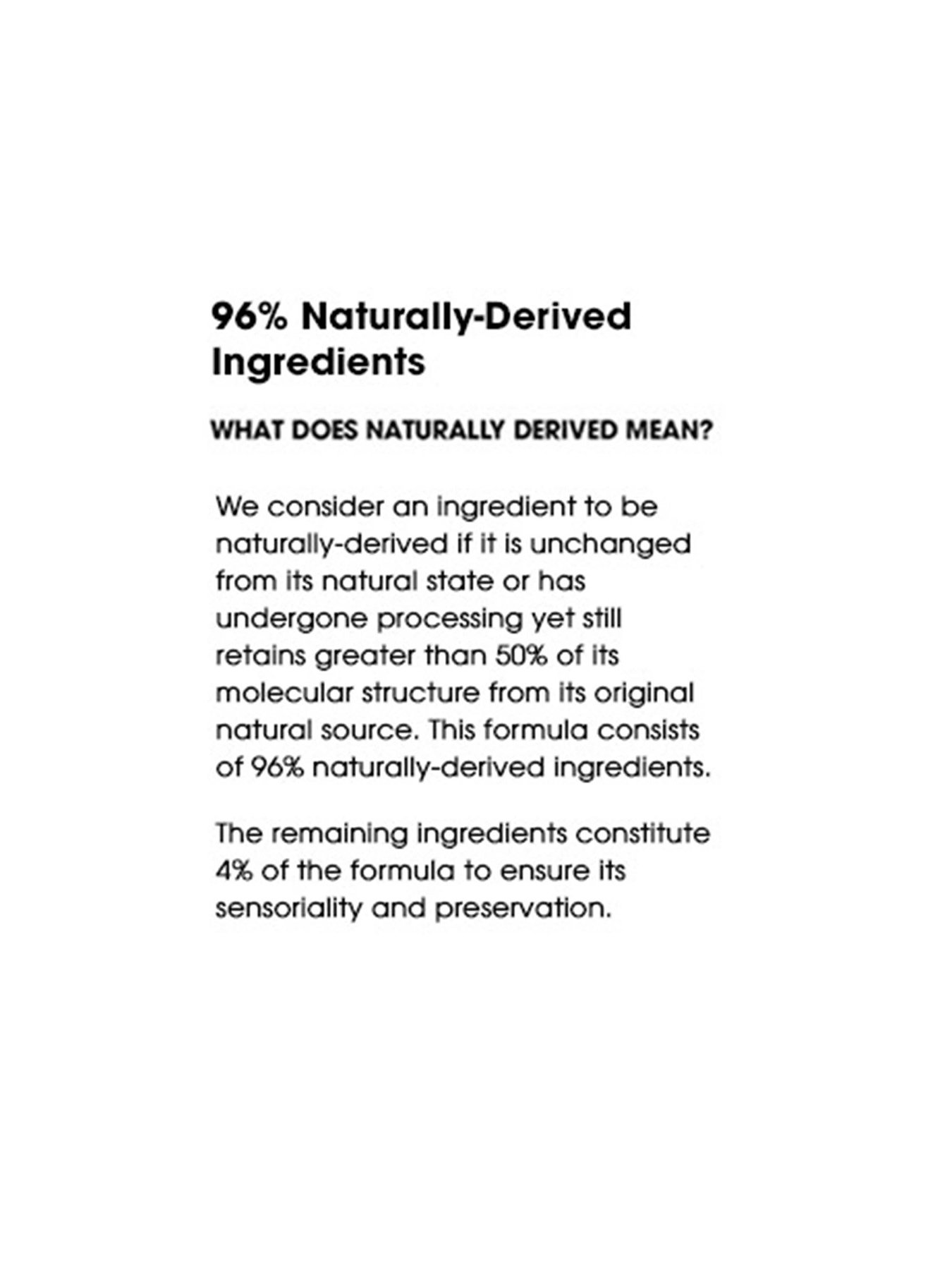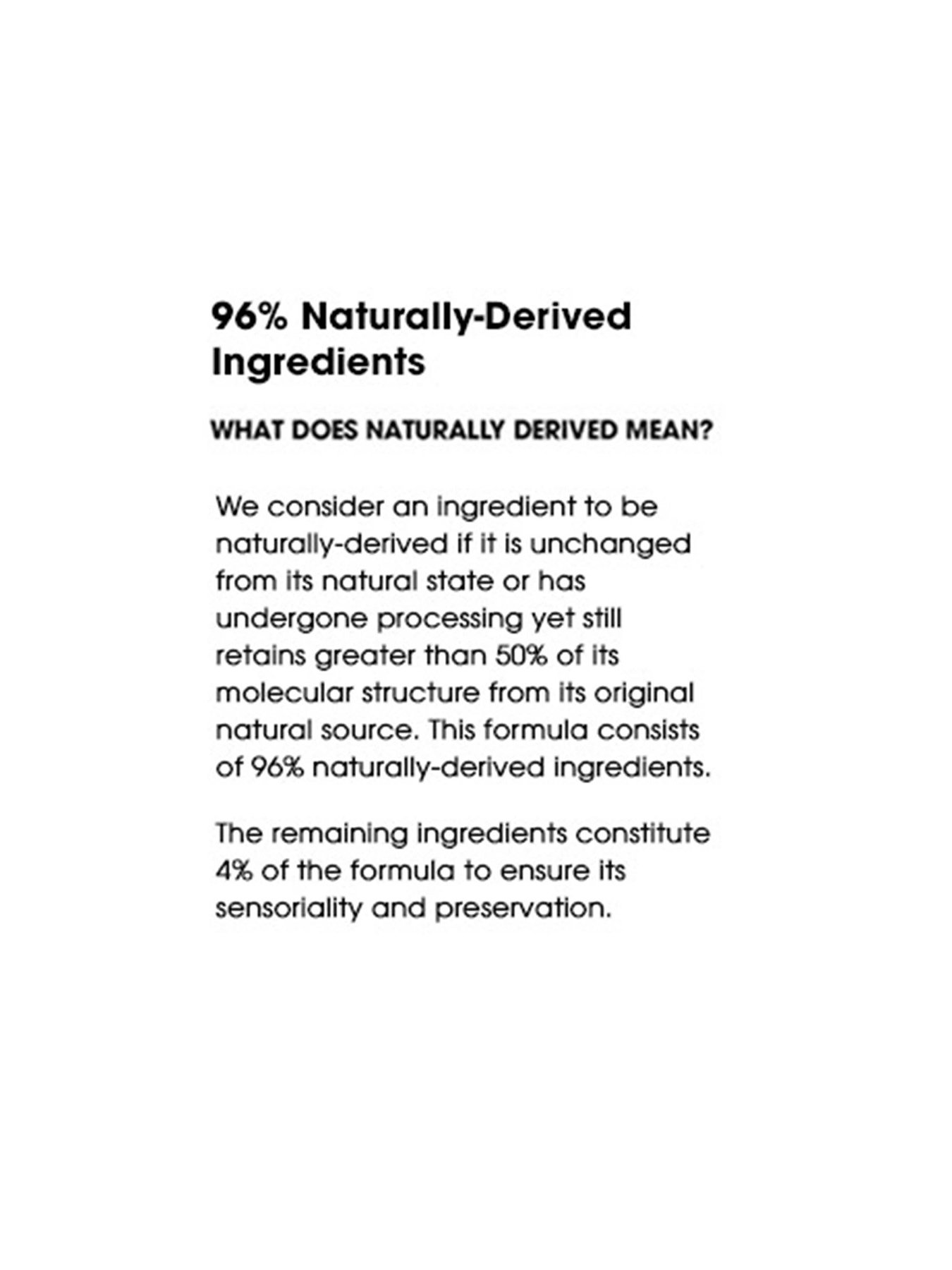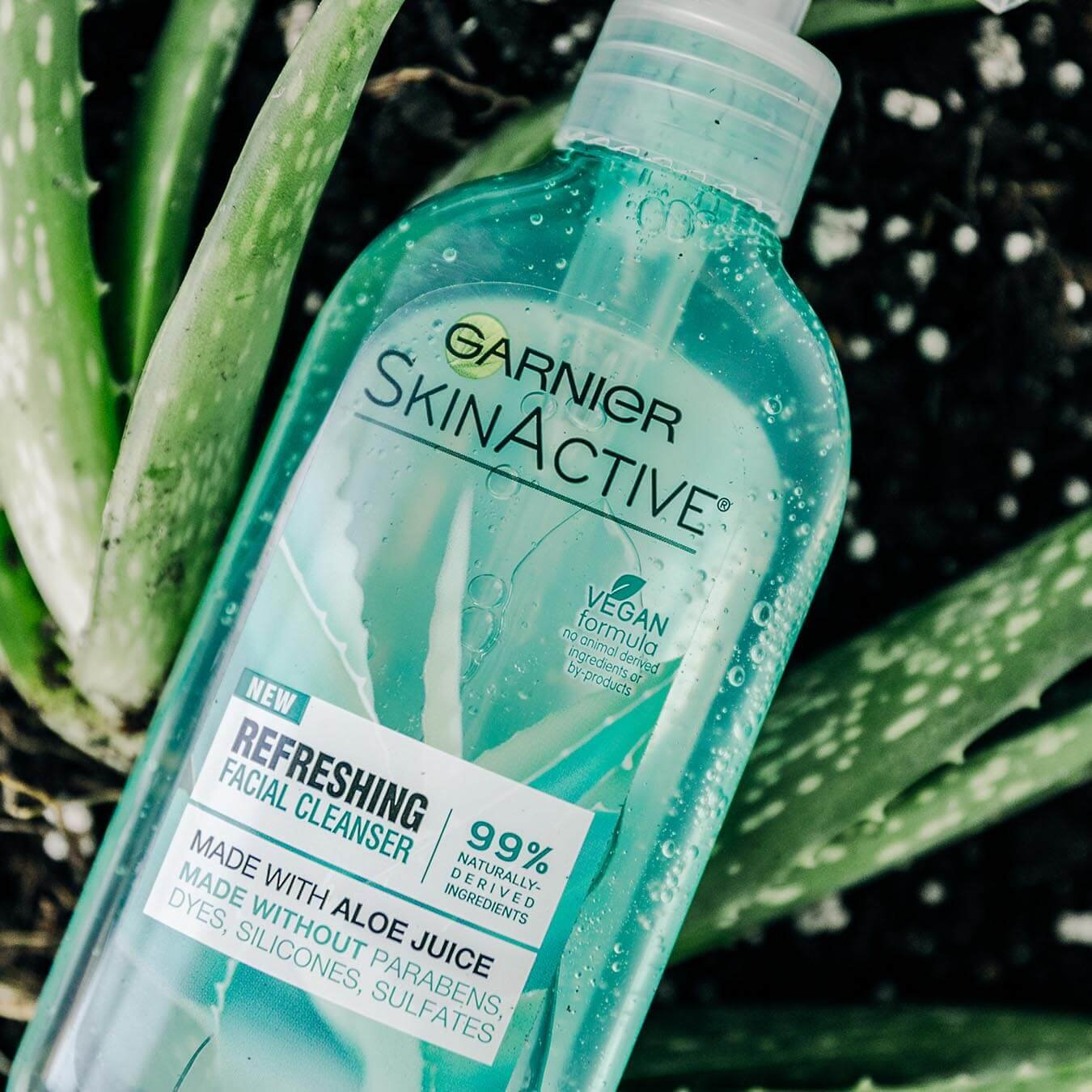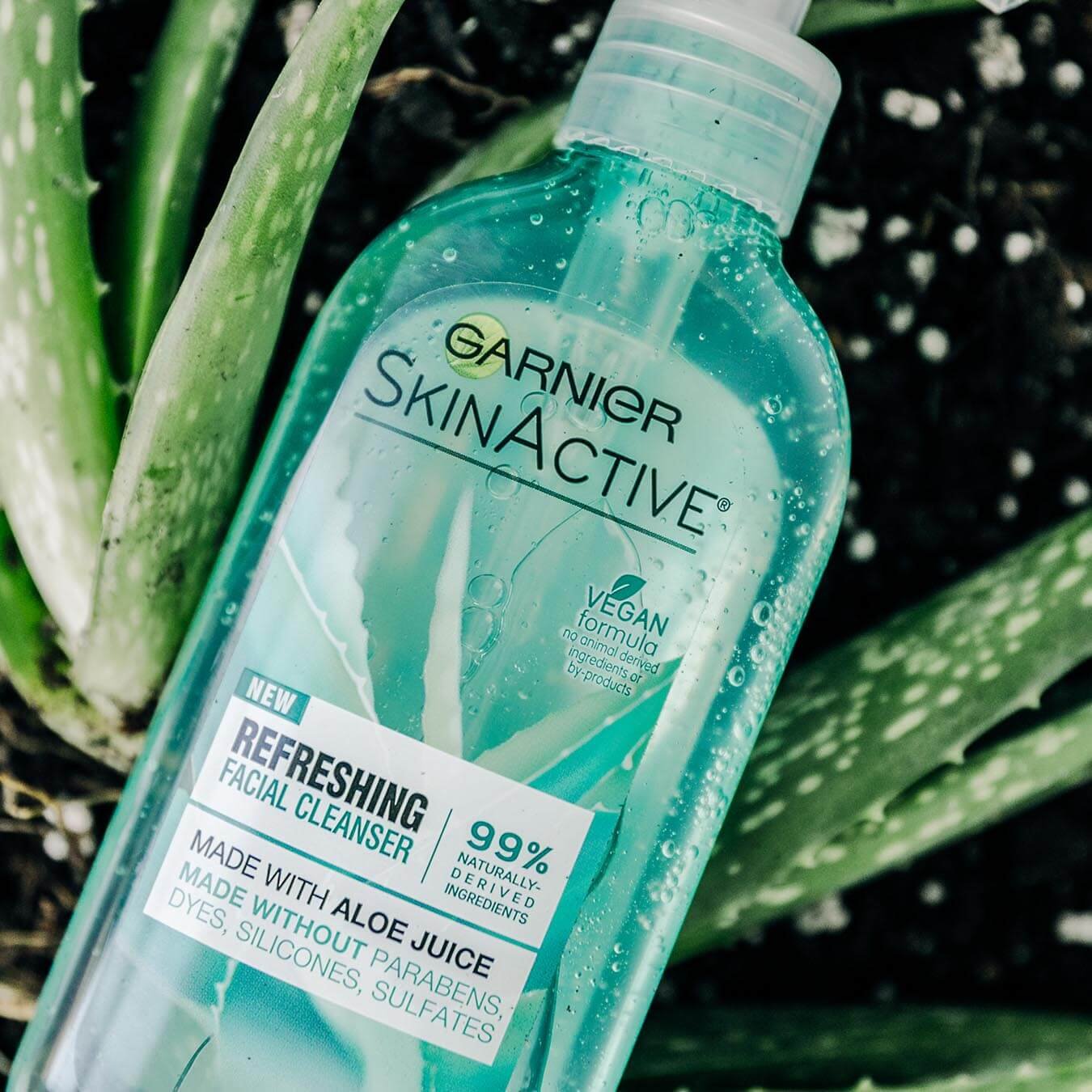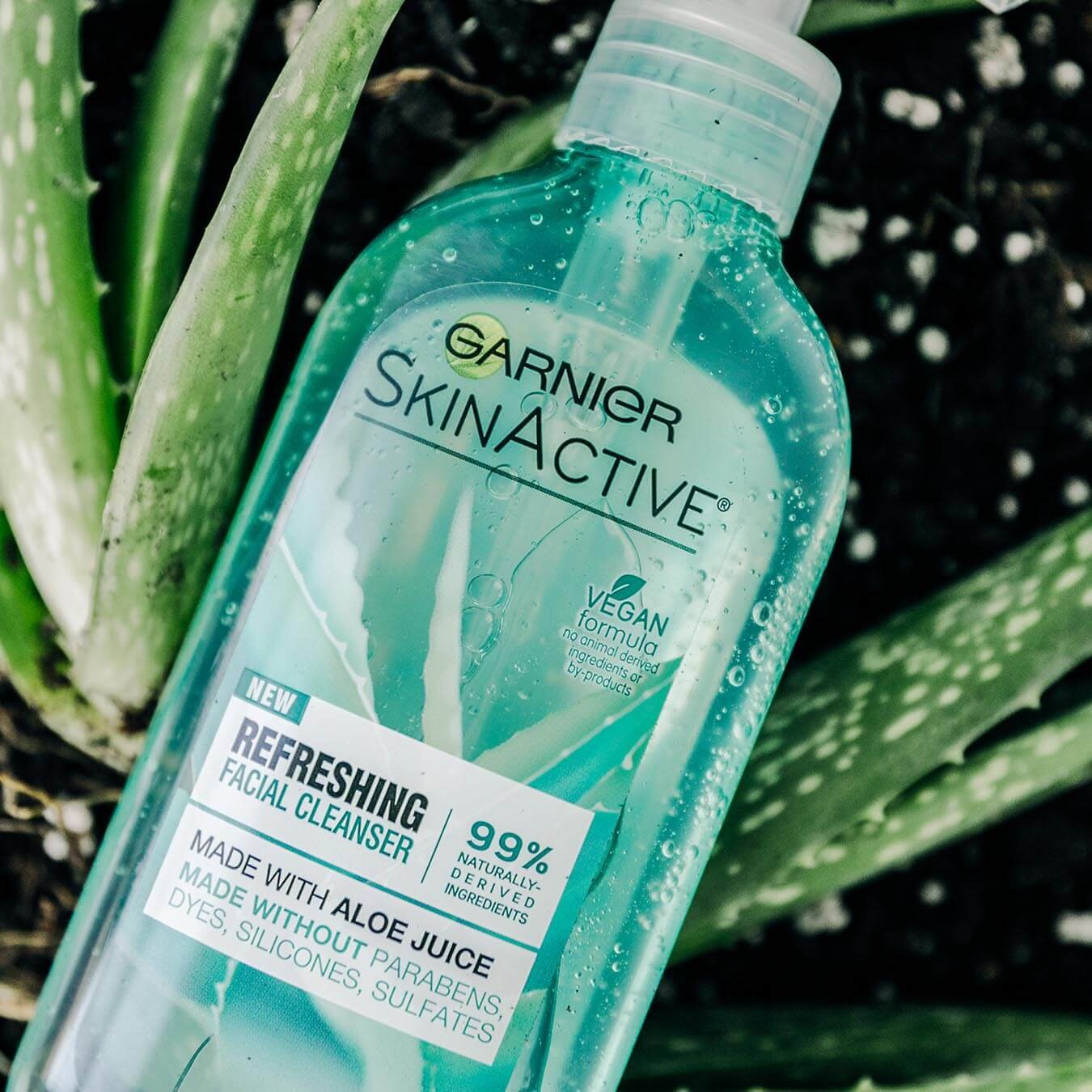 Garnier SkinActive
Refreshing Facial Wash with Aloe
$8.99 MSRP
Removes excess sebum, impurities, and pollution for clean skin that feels fresh
PRODUCT INFORMATION:
Made with Aloe Juice, this gel face wash removes excess sebum, impurities, and pollution for clean skin that feels fresh. Rinses clean with no pore-clogging residue. Suitable for sensitive skin.
How to use:
Wet face and then gently massage into damp skin. Rinse off and pat dry. In case of direct eye contact, rinse thoroughly with water.
Ingredients:
919077 1 AQUA/WATER GLYCERIN ALOE BARBADENSIS LEAF JUICE PROPANEDIOL CAPRYLYL/CAPRYL GLUCOSIDE COCO-BETAINE DISODIUM COCOYL GLUTAMATE XANTHAN GUM CITRIC ACID SODIUM CHLORIDE SODIUM COCOYL GLUTAMATE SALICYLIC ACID POTASSIUM SORBATE PARFUM/FRAGRANCE SODIUM PHYTATE SODIUM BENZOATE ALCOHOL F.I.L.# D207577/
Garnier SkinActive Recognized for Sustainability Efforts with Cradle to Cradle Certification
The international organization Cradle to Cradle has awarded 5 Garnier 96% Naturally-Derived skincare products with a Silver Certification, confirming these sustainably-produced products are a positive force for society and the environment. From sustainable ingredients to the production process and packaging, boost your beauty routine with products that promote renewable resources and social fairness.

Garnier's commitment to beauty responsibly: good for you, good for the planet.
Aloe
Rich in Vitamins A, B, C, and E, Aloe's hydrating properties make it a popular ingredient in skin care formulas that help to soothe and moisturize, and hair products that promote healthy shine.
Rated

5

out of

5
by
Brankica711
from
In love with Garnier Facial Cleanser
I have very sensitive skin, so I am always in search for products that are gentle enough for my skin, but also effective. The first time I tried Garnier SkinActive Facial Cleanser I was pleasantly surprised. My face was so gentle, so clean. I felt like my face is younger. Fresh and healthy. I continued to use it for another two weeks, in the morning and at night and I can tell you that I am very satisfied.
Date published: 2017-10-26
Rated

4

out of

5
by
NaryMoh
from
So Fresh...
My face feels so fresh after washing with the cleanser. It smells so fresh too but it leaves my face a little dry maybe because it is already dry. It's a kind of a light cleanser , it doesn't feel like a scrubbing one. I would recommend it for normal face washing and light makeup removing.
Date published: 2017-10-26
Rated

5

out of

5
by
Kma1011
from
A very gentle clean!
Garnier Skin Active Refreshing Facial Cleanser truly works and feels exactly like it sounds- refreshing! At first, I thought the formula was so thin it would not really get into the pores well enough to give me that true cleansing feel, but it definitely does! The aloe in it is very soothing and once you start to gently massage it into your face it lathers up quite nicely. The scent it very pleasant and gives you that refreshing feeling that i found is great for giving me that extra nudge I need in the mornings! I have very sensitive skin and am hesitant to try anything new because I will either break out or feel like my skin has completely been stripped; then I'll have super dry, red, irritated skin- and no one wants that on their face! Thankfully this formula has the prefect balance and is perfect for sensitive skin!! I definitely recommend it for anyone who has sensitive combination skin that needs a cleanser that will add a little umph to your morning or nightly routine with it's refreshing scent and feel. I have found that I love it the most as an in shower facial cleanser. Love love love that it is 99% derived from natural ingredients and is a vegan formula! Just adds even more peace of mind knowing I am not putting any harmful chemicals, dyes, or perfumes on my sensitive skin!
Date published: 2017-10-23
Rated

3

out of

5
by
MomOf3jec
from
A little on the thin side
The first thing I noticed was how thin this cleanser is. I was expecting it to be a little thicker since it has aloe in it, but the first pump went right through my fingers and down the drain! The cleanser itself was very gentle, I have sensitive skin and it didn't leave me red or blotchy like many harsh soaps do. Overall, it is a decent cleanser, just wish it wasn't so runny.
Date published: 2017-10-23
Rated

3

out of

5
by
Shanteezy25
from
Garnier Refreshing Facial Cleanser
I tried this cleanser out for a few days to see how I liked it. Since it is advertised as refreshing I was expecting to feel it a little more when I applied it to my face. It is a very light cleanser so I didn't really feel that It was cleaning my face all that well. I personally like when I can feel the face wash working. It did remove my makeup pretty well but didn't see my face clearing up or anything. It also smelled really good! I am going to finish the face wash that I received but don't think I'd buy it again.
Date published: 2017-10-22
Rated

3

out of

5
by
Anneaux
from
Fresh feeling
I've used several similar items on my combination skin. This left me feeling clean and fresh but didn't wow me. I might try it again during warmer months when my skin is a little more oily than dry and I think I would like it better.
Date published: 2017-10-21
Rated

4

out of

5
by
BamaBumkin44
from
Really surprised!
I really like this cleanser for several reasons: First, I liked the soft and clean scent of the cleanser. My husband has a very sensitive "sniffer" and usually finds my beauty products offensive to smell. He had no objections about this one, surprisingly. Next, I wear little to no make-up and have found myself washing my face a few times a day sometimes. I used the cleanser in the morning and before bed, only washing in between a few times after strenuous activity. My skin has sun damage, oily and dry areas, and enlarged pores and blackheads. This is the first cleanser I have used that even comes close to tackling the pores and blackheads. I cannot say that it is some amazing cleanser that works miracles, but I can say that my skin has felt fresh and hydrated and somehow is working on my pores. Those things alone make me very likely to purchase it in the future, the fact that my sweetie hasn't found issue with the fragrance is icing on the cake.
Date published: 2017-10-21
Rated

4

out of

5
by
Bweanna827
from
Surprisingly Impressed
When I first got this product I didn't think it would work that great. I have mild to moderate acne breakouts. I usually use a strong face wash that has benzoyl peroxide in it. So when I got this face wash that has no strong chemicals in it I was a bit hesitant to start using it. I was proved wrong though. I love the fact that it doesn't have no strong chemicals and still does a good job at keeping my face clear! I love that it is also so smooth and soapy to use! I could definitely it was cleaning it well and taking off all my make up. This stuff was surprisingly impressive! I'll continue to use this in place of my other strong face wash!
Date published: 2017-10-20
Rated

3

out of

5
by
Robinder
from
Like any other face wash
Garnier skin active face wash foamed up well and left my face feeling smooth. I liked that it is mostly natural ingredients. It has a light scent, which I didn't care for and did in fact clean my face. I don't think I will buy it only because it felt like any other face wash I have ever used before.
Date published: 2017-10-20
Rated

4

out of

5
by
Jringjess
from
Amazing Aloe face wash
Absolutely love love love... To start I have get oily skin and I have a huge problem with blackheads. I have been using this product for about 3 weeks and my skin feels softer I've noticed my blackheads are clearing up and I have a noticeable red blemish in between my eyes even that has calmed down alot. This is a serious one step product now you do need a smidge of help with mascara and eyeliner but honestly not much at all which blew my mind because it doesn't say anything about being a make-up removal cleanser so yay for that. I love how is made of mostly natural ingredients the first thing I noticed on the bottle was were it stated made without parabens,dyes,silicones, and sulfates. I remember my first thought was that I am already liking this then I noticed how the bottle was made from recycled plastic. That's big for me. I recycle everything. I start my day washing my face and how it gives my skin a cooling sensation and it leaves my face hydrated and smooth. I end my day washing all the dirt away and this product leaves my face feeling completely clean and soft. I have even stopped using a hydrating lotion for my face. I would and do recommend this to people I can't wait until it comes out I've already told my family and friends about this product and to top it all off it's a Garnier product. I hope this helps it come out sooner before I run out.
Date published: 2017-10-19
Rated

4

out of

5
by
jenpjmia
from
Aloe Face wash
First off let me start with this product is amazing!! I've used this product since 10/02/17, it is now 10/18/2017 i wanted to use it for awhile with no other products. Usually after I wash my face with my previous face wash my skin would feel tight right after I would apply my moisturizer not with this face wash . It has left my skin feeling hydrated and happy also the texture of my skin in this short time i've been using it has changed to soft and smooth. Smells good too, clear aqua gel feels cool and refreshing to your face. Works also on removing mascara with ease another bonus when its not meant to be a makeup remover . This product is definately one to buy, I would recommend this to a friend and will be buying when my bottle runs out as a little goes along way. Hope this helps you out and hope you give it a try.
Date published: 2017-10-19
Rated

5

out of

5
by
Bellefox
from
Garnier SkinActive
Love this facial cleaner. It is made from 99% naturally derived ingredients which is awesome! Unlike a lot of facial cleaners I have tried thus doesn't leave a residue at all. It is a nice gentle cleanser that gets the job done!
Date published: 2017-10-18
Rated

4

out of

5
by
MizzMeli
from
Refreshing and Silky!
The Garnier Skin Active Refreshing facial cleanser is exactly what it sounds like. Super refreshing! There is a nice cool feel after you wash your wash. The product is a vegan formula made from aloe juice. It leaves for skin feeling soft, hydrated, and fresh. I love how it's silky and once your rub the product into your face it turns into a light lather that gives you that deep down clean feeling. This product is gender friendly so it wouldn't deter any man to want to use and would be family friendly! I would enjoy small exfoliating beads in the facial wash to feel I'm getting a deeper clean but overall I enjoyed this product!
Date published: 2017-10-18
Rated

5

out of

5
by
johnnycarver1949
from
Cleansing Goodness
This is a great cleanser! A wholesome, back to nature vibe is really what you get. Great for any kind of skin, no sensitivity or redness. Removes makeup and leaves skin soft and healthy without the dry, stripping feeling of other cleaners. I feel like I can use this any time of day for a quick, cooling treat. The smell is not something I'm a fan of but without added fragrance and chemicals the benefits to the skin far outweighs the scent. I've used many cleansers and I've been converted.
Date published: 2017-10-18
Rated

4

out of

5
by
hollymclear
from
Garnier Face Wash
I really like this product, i have used it almost daily and it has cleared my skin up. The only thing i do not really care for is that it really dries out my skin. I think it helps my acne go away though because it dries it out.
Date published: 2017-10-17
Rated

1

out of

5
by
jmconnolly03
from
Skin Care Don't
I really didn't like this product because of a number of different reasons: 1. did not lather up as well as I thought a facial cleanser should. 2. Did not have a really pleasant smell. 3. Felt like there was something left on my skin, not oily or sticky but somewhere in between. It is for those 3 reasons above that I would not recommend this product to my friends or anyone else.
Date published: 2017-10-17
Rated

4

out of

5
by
RebeccaAtkinson
from
Lightweight, gentle Cleanser
I recently started using Garnier Aloe Refeshing Cleanser and love it! I had used the same apricot face Scrub since the early 90's and I was ready for a change. This Cleanser is much lighter than my old trusty Scrub which is really what I was looking for. I still use my Scrub on days when I wear a lot of makeup and maybe 1 to 2 times a week in addition to my new daily regimen. My 17 yr old daughter who is prone to oily skin and breakouts, she usually has a flare up anytime she tries a new product, amazingly no flare up ! And her oily skin is not as oily as usual. I do have one thing I have been trying to adjust to and that is the consistency . It has a very thin, it is almost water like. And since I have used a heavy,thick paste like Scrub for so long, it has taken some getting use too. But after a few uses and a couple of tries , I have grown to actually enjoy, the smooth lightweight texture. I would highly recommend this to anyone looking for a lightweight, gentle daily Cleanser ! Oh and the very subtle smell will work for either male or female , another plus in my household! We can always use more room in the bath .
Date published: 2017-10-17
Rated

4

out of

5
by
stelande
from
Aloe Refreshing Facial Cleanser
I love the clean, refreshing scent of this facial wash. It feels very pure, free of harsh chemicals that many face washes have. For my sometimes very oily skin, I feel like those chemicals are necessary, so this isn't a face wash that I would use for long term facial care. I would use it when I feel like I need a gentle, refreshing cleanse, rather than a deep detoxing cleanse.
Date published: 2017-10-16
Rated

5

out of

5
by
Aengle12
from
Refreshing
Garnier aloe refreshing facial cleanser works well makes my skin hydrated as well as cleans my pores. Feels smooth and cooling to put on and soft and moisturized after i take it off. Im very impressed.
Date published: 2017-10-16
Rated

5

out of

5
by
Bobbyjo70
from
Perfect for sensitive skin!
My oldest daughter an I decided to give this product a try since it's a vegan formula. Now my daughter is transgender an she has sensitive skin special after shaving she loves it. It doesn't break her out or make the face red. I use it at night An doesn't dry my face out I'm 47 years old. There is not much of a smell to this product either. I would definitely recommend this product!
Date published: 2017-10-16
Rated

4

out of

5
by
Wendycowley
from
Love this aloe gel face cleanser
This leaves my skin clean, not dried out,not oily or any residue, it is clean. It is very gentle on my skin and I love that it is vegan. My only complaint I I don't care for the smell, it isn't a bad smell but it could be better.
Date published: 2017-10-16
Rated

3

out of

5
by
ohashley
from
Smells Great!
I love the way the product smells-refreshing! Unfortunately, after using it daily for two weeks I haven't noticed a difference in regards to controlling oil and shine. I think it'll be a better fit for someone without these concerns.
Date published: 2017-10-16
Rated

5

out of

5
by
KimberlyThomas
from
Truly Refreshing
I don't always have good luck when it comes to face wash products as they leave my skin irritated and dry. This SkinActive refreshing face cleanser truly left my skin feeling new and clean. It comes out thinner/runnier than most cleansers I'm used to but I think that helped in leaving my face feel light not weighted down. For an added bonus I liked that the ingredient origins are listed on the label.
Date published: 2017-10-16
Rated

5

out of

5
by
hotchocolatte85
from
More than refreshing
I like the light consistency and smell of this cleanser. It suds easily and washes off just as easy. The gel is refreshing on the skin, and also moisturizing. My skin feels cleaner , softer and supple after each wash. I can definitely tell that the health of my face has improved since using this face wash.
Date published: 2017-10-16
Rated

5

out of

5
by
GioRey
from
Best Gentle Cleanser Yet
This is probably my favorite gentle facial cleanser in the market. I have sensitive, oily skin and this cleanser does not irritate my face at all. It cleans my face well without clogging my pores or making it feel "tight" afterwards. With that being said, this is not a deep cleanser. If you want to remove make up and deep clean this may not be the product for you. Been using it for about 2 weeks and it hasn't broken me out. It does what it says.
Date published: 2017-10-16
Rated

5

out of

5
by
HillaryShaw
from
My face feels so refreshed
The Garnier Skin Active Refreshing face cleanser is wonderful . I have sensitive skin and this cleanser is amazingly gentle and yet such a good cleanser. My face feels and looks younger and more vibrant.
Date published: 2017-10-16
Rated

5

out of

5
by
Mkhibbs
from
Wonderful!
This is a wonderful product. I was drawn to the 99% natural ingredients, and will stay with this product for its incredible smoothness, it's moisturizing properties, and the clean feeling I get every time I use it!
Date published: 2017-10-16
Rated

5

out of

5
by
AnastasiyaN
from
Truely refreshing facial cleanser
First time trying Aloe Refreshing Facial Cleanser and loving it! It works great with my combination skin type. It doesn't dry your face and not harsh on your skin. I use it twice a day, morning and before bedtime. Love how my skin feels after using it.
Date published: 2017-10-15
Rated

5

out of

5
by
hawilliams1
from
Garnier Skin Active Cleanser
Overall, I did really enjoy this product. Something to consider is, if you have a problem with blackheads, this product isn't the best for you. I have large pores and am prone to blackheads, and this product does not help with that issue. It also isn't a great match if you have dry, flaky skin. While it is not as drying as most cleansers that contain salicylic acid, it does have a slight drying effect. As someone with combination skin, my face goes between dry and oily constantly. I find that, as a cleanser, it does a good job, is not harsh at all, has a fraction of the skin drying properties that most salicylic acid products have, and has an overall pleasant aroma. As far as acne goes, it has also helped cut down on zits (just not blackheads). Since trying it, I have added this product to my skincare rotation, along with an exfoliating cleanser for blackheads, a mask for dry skin, and daily moisturizer. I recommend this product to people with sensitive skin that can't handle the drying nature of most products. It is gentle and smells nice. Anyone that has problems with harsher cleansers should try it.
Date published: 2017-10-15
Rated

4

out of

5
by
cazmere
from
Garnier face wash
I received this product and tried it immediately. I wanted to try it more than once before the review. I liked it, I have combination skin, it gets dry which then causes the over production of oil. I like that this product is all natural and after use, it leaves my skin feeling soft and hydrated. I would recommend this to people who have dry skin, and people who have oily skin. I did not like the fact that the product is watery and slips out of your hand sometimes. Overall great facial cleanser.
Date published: 2017-10-15