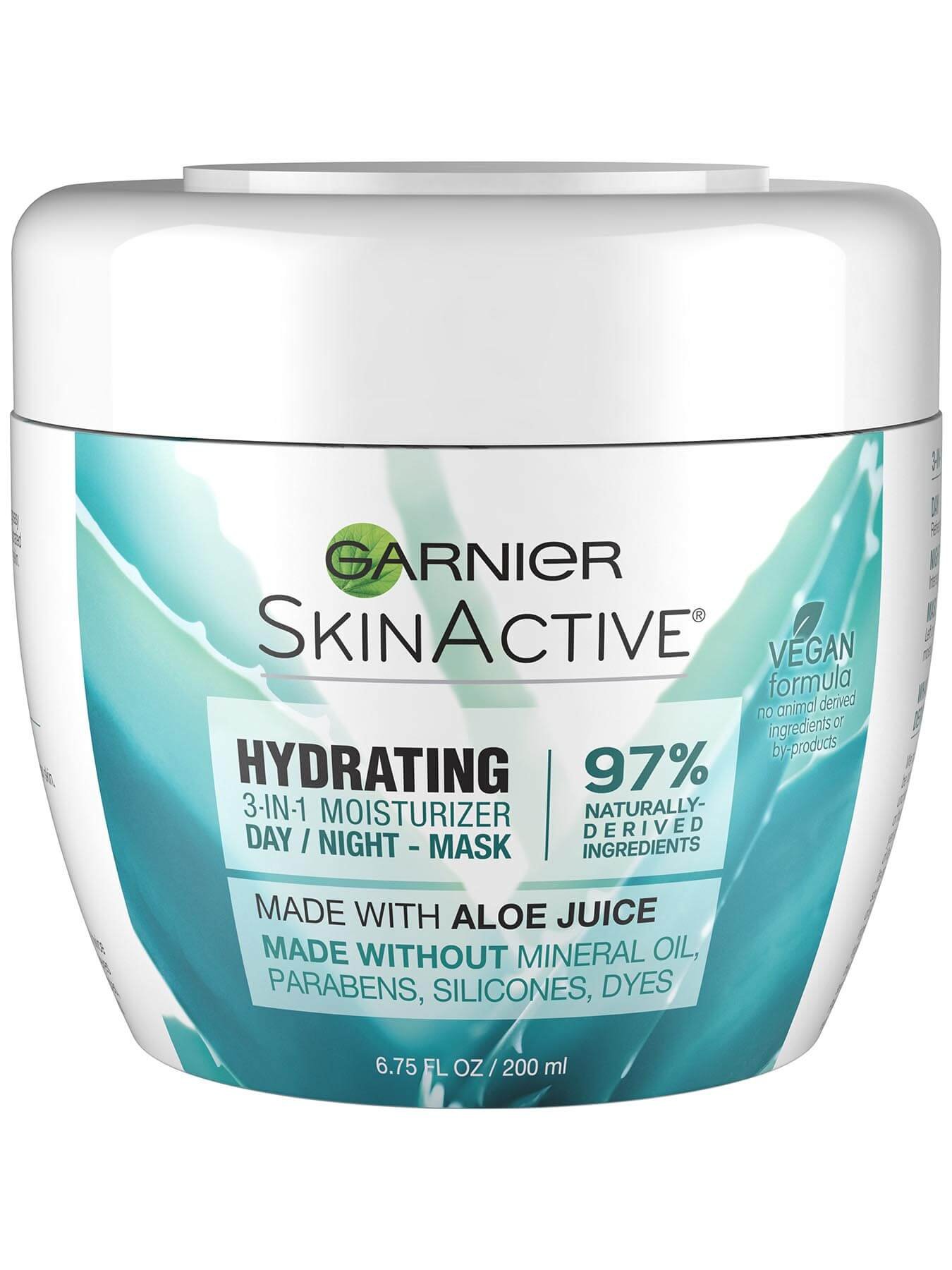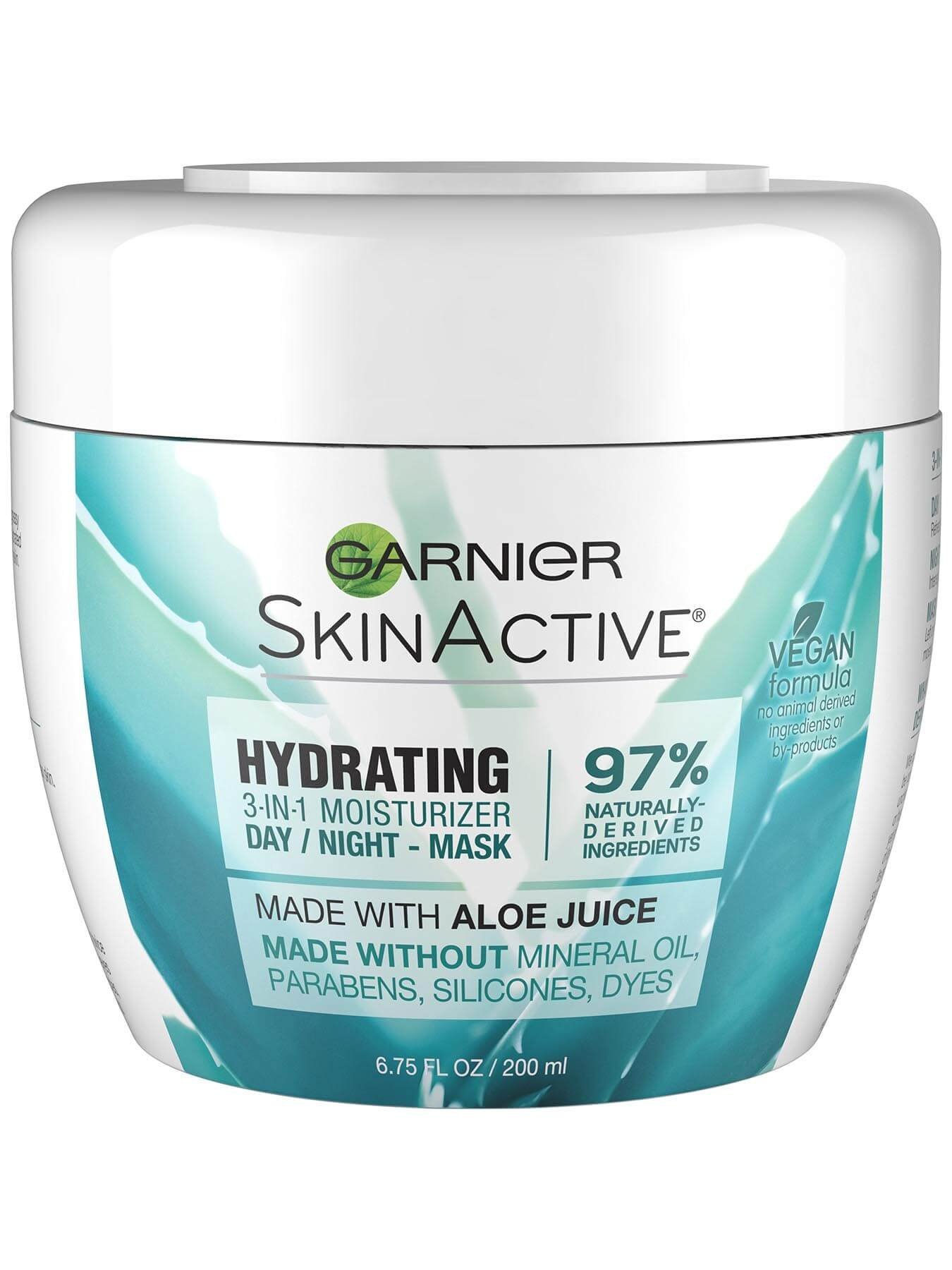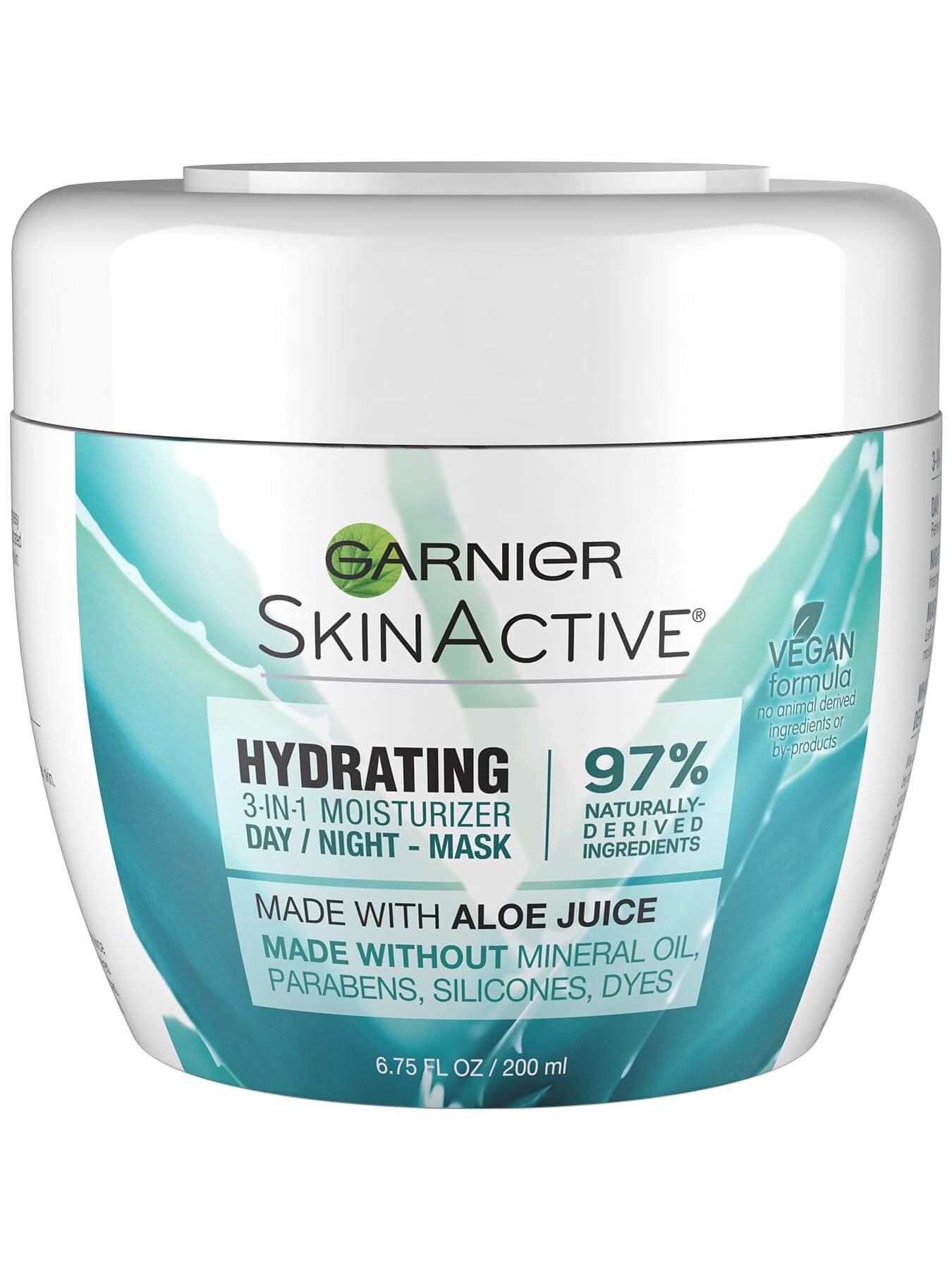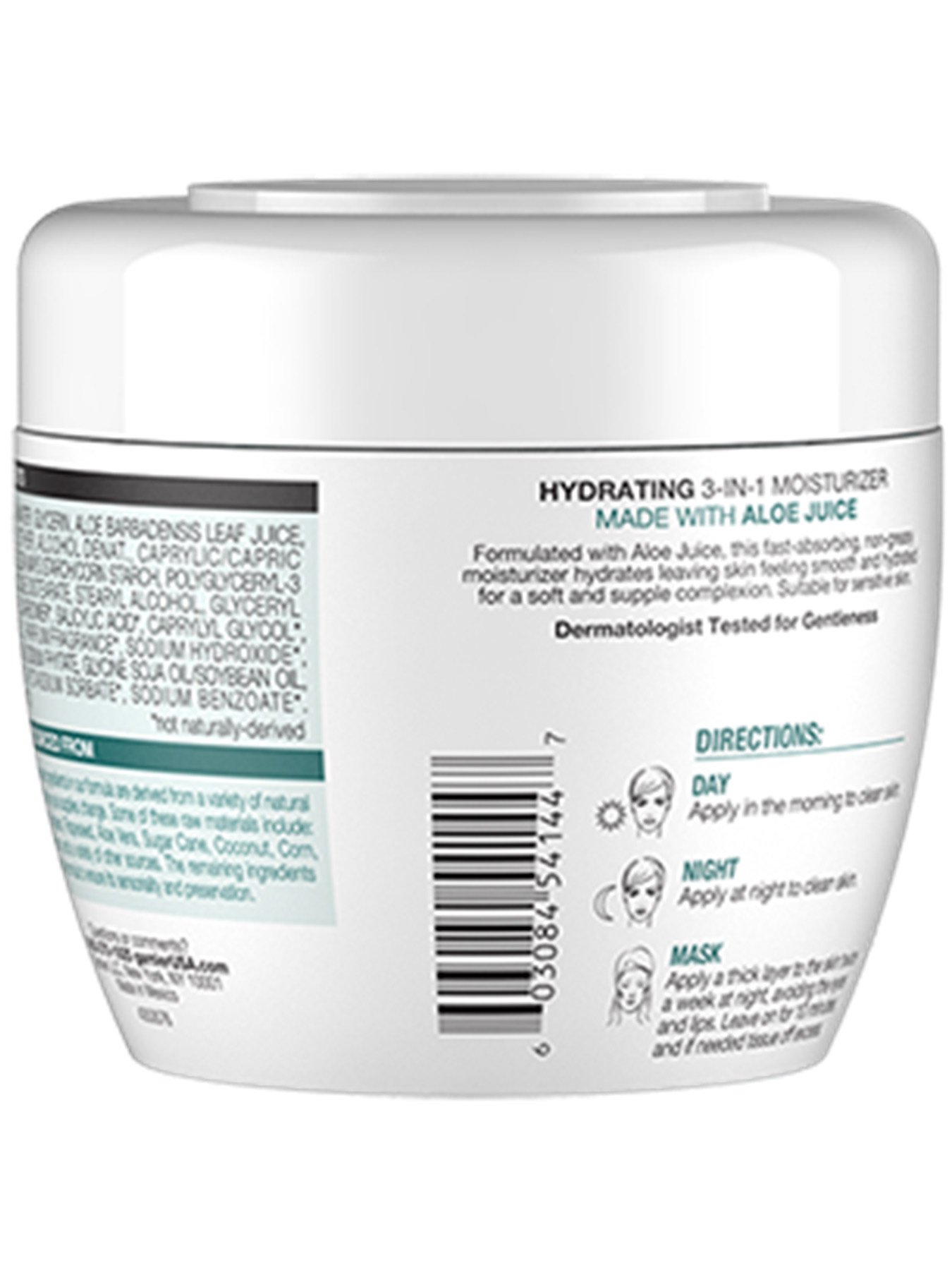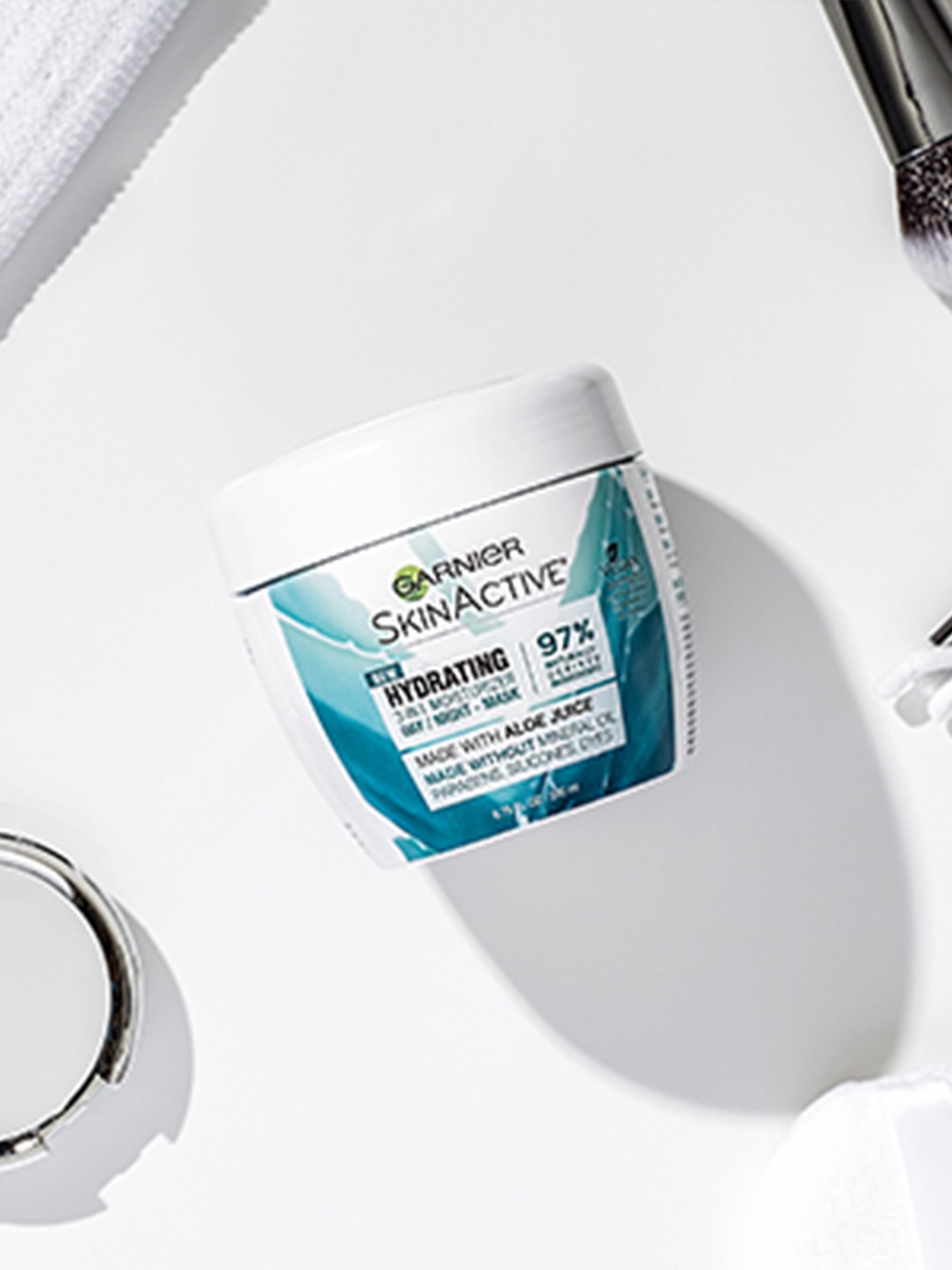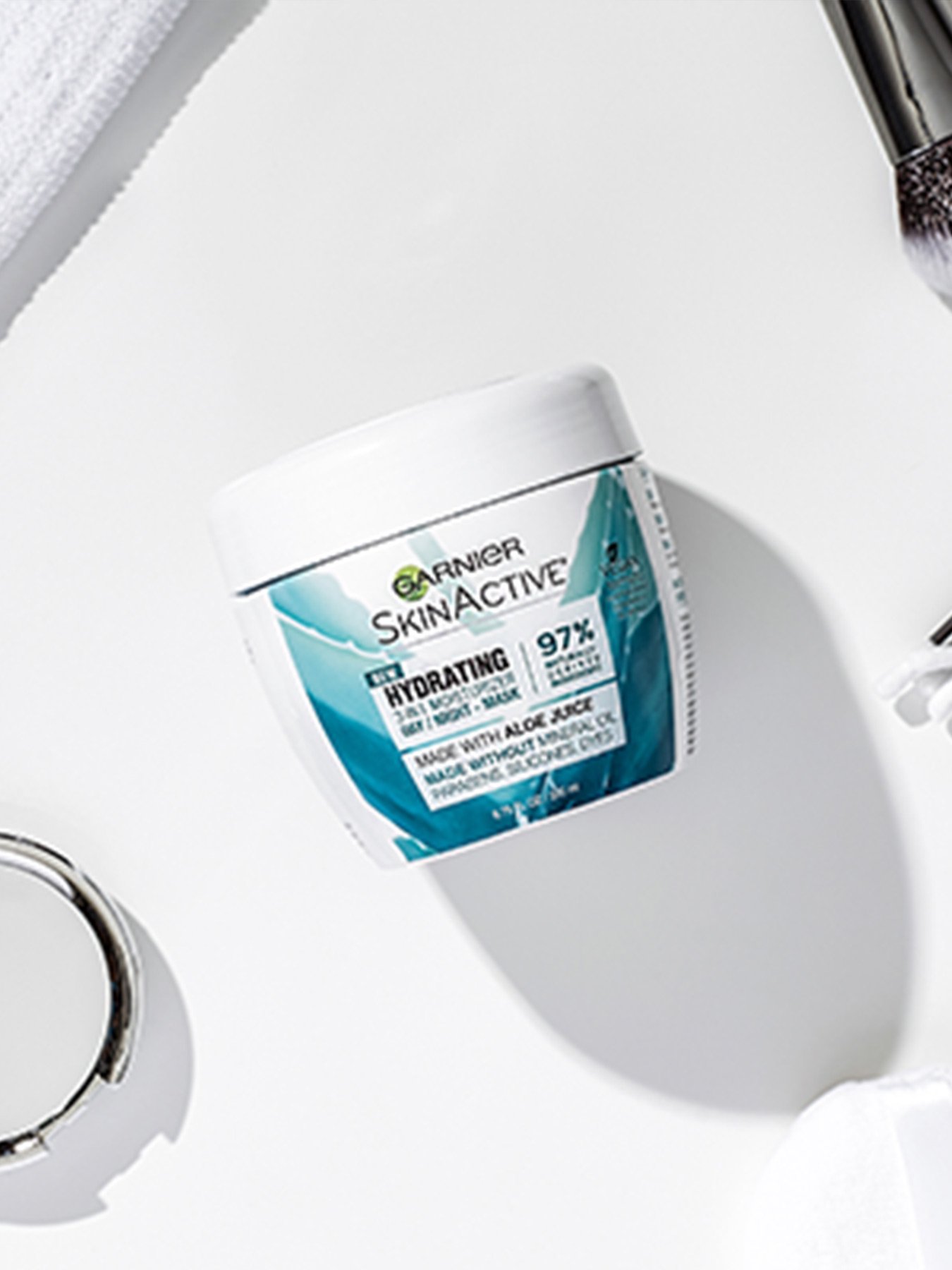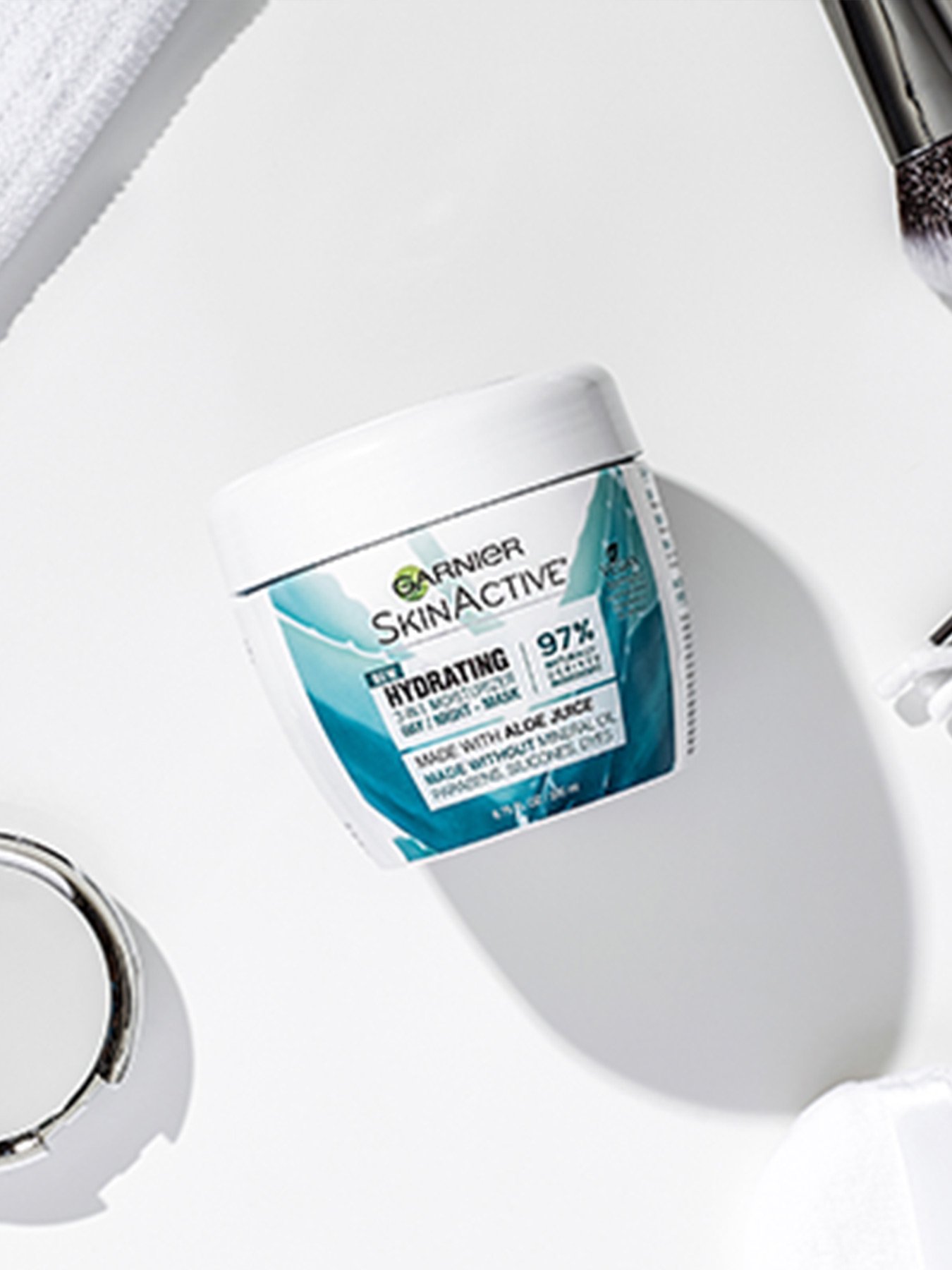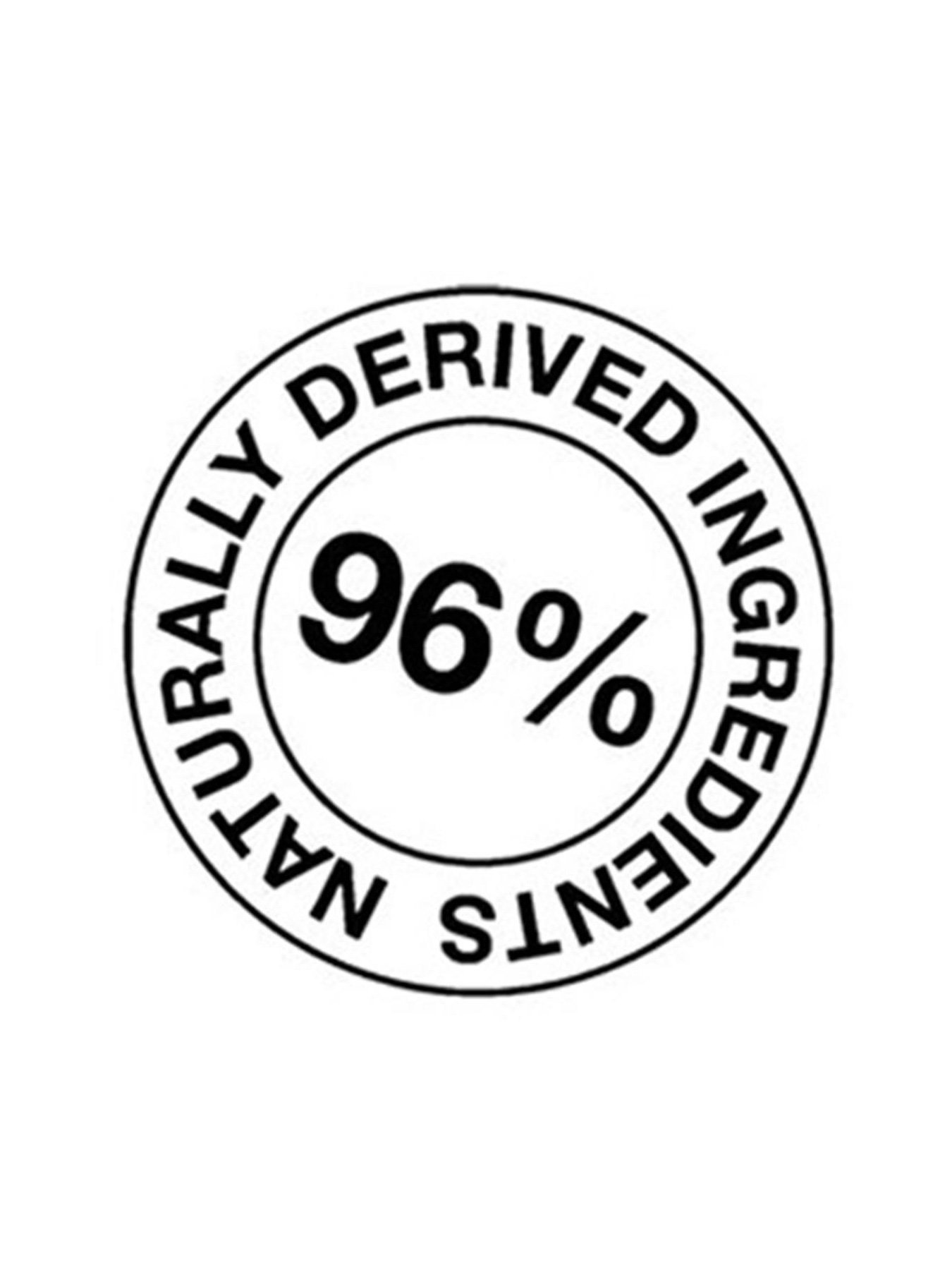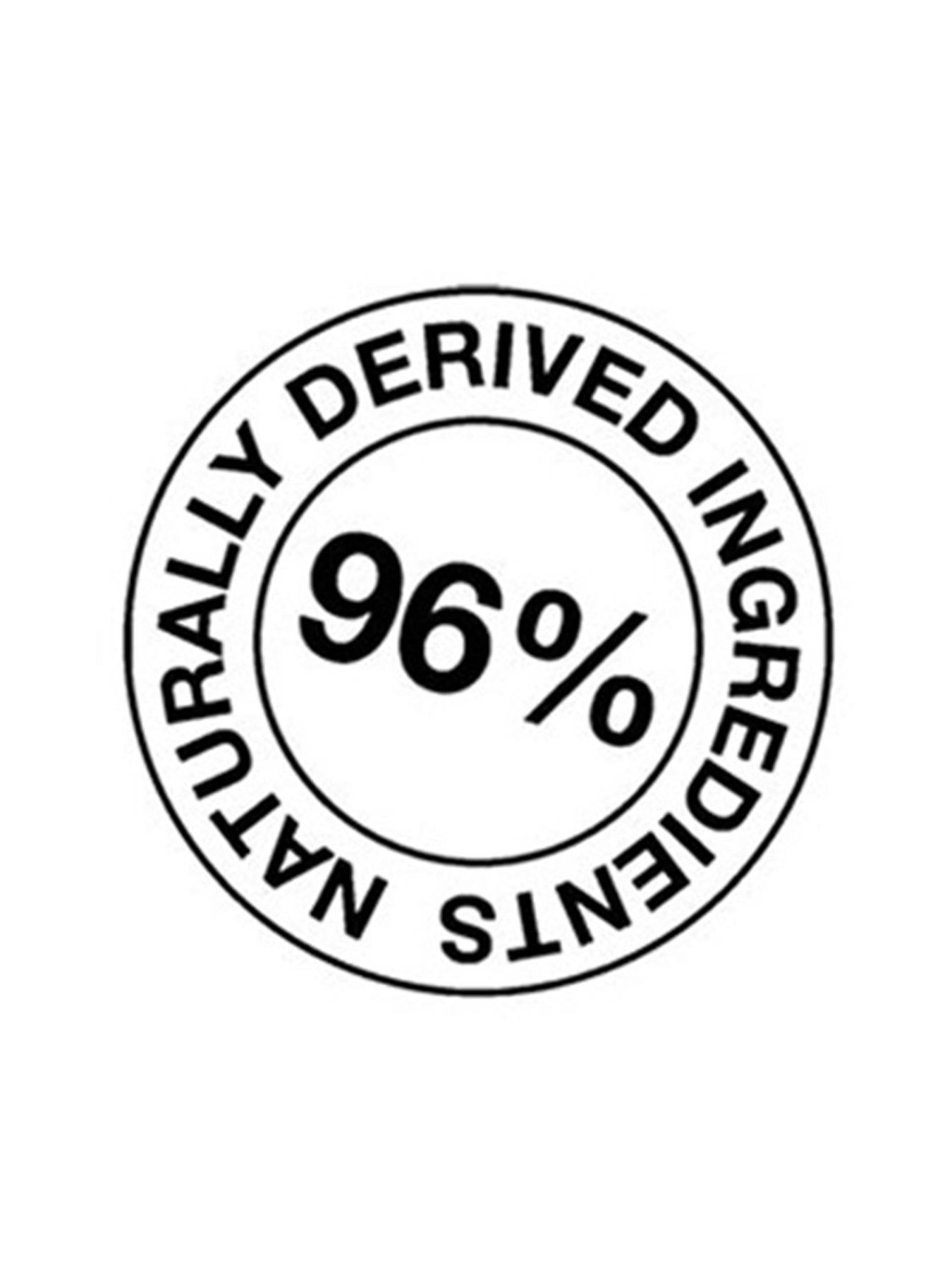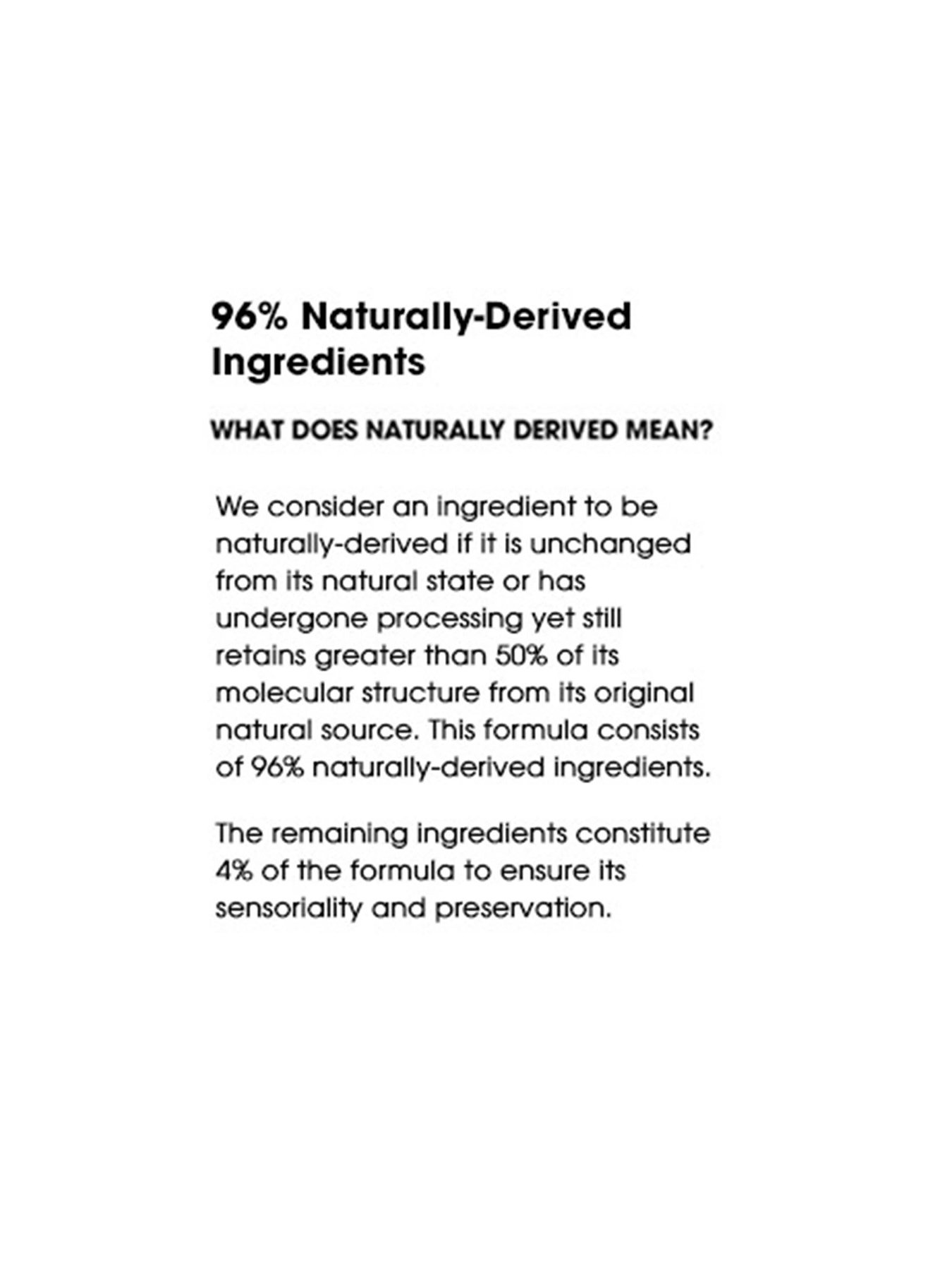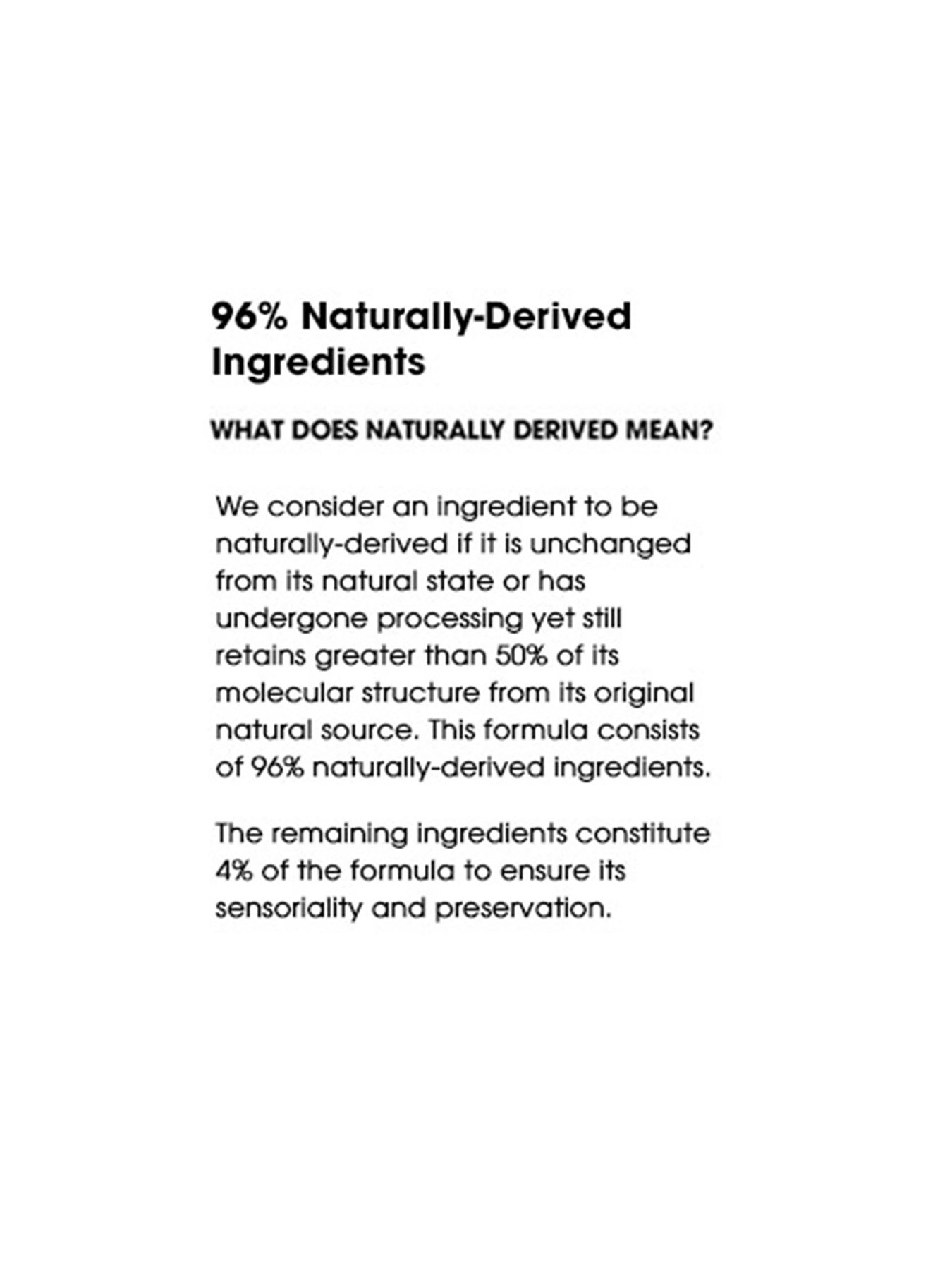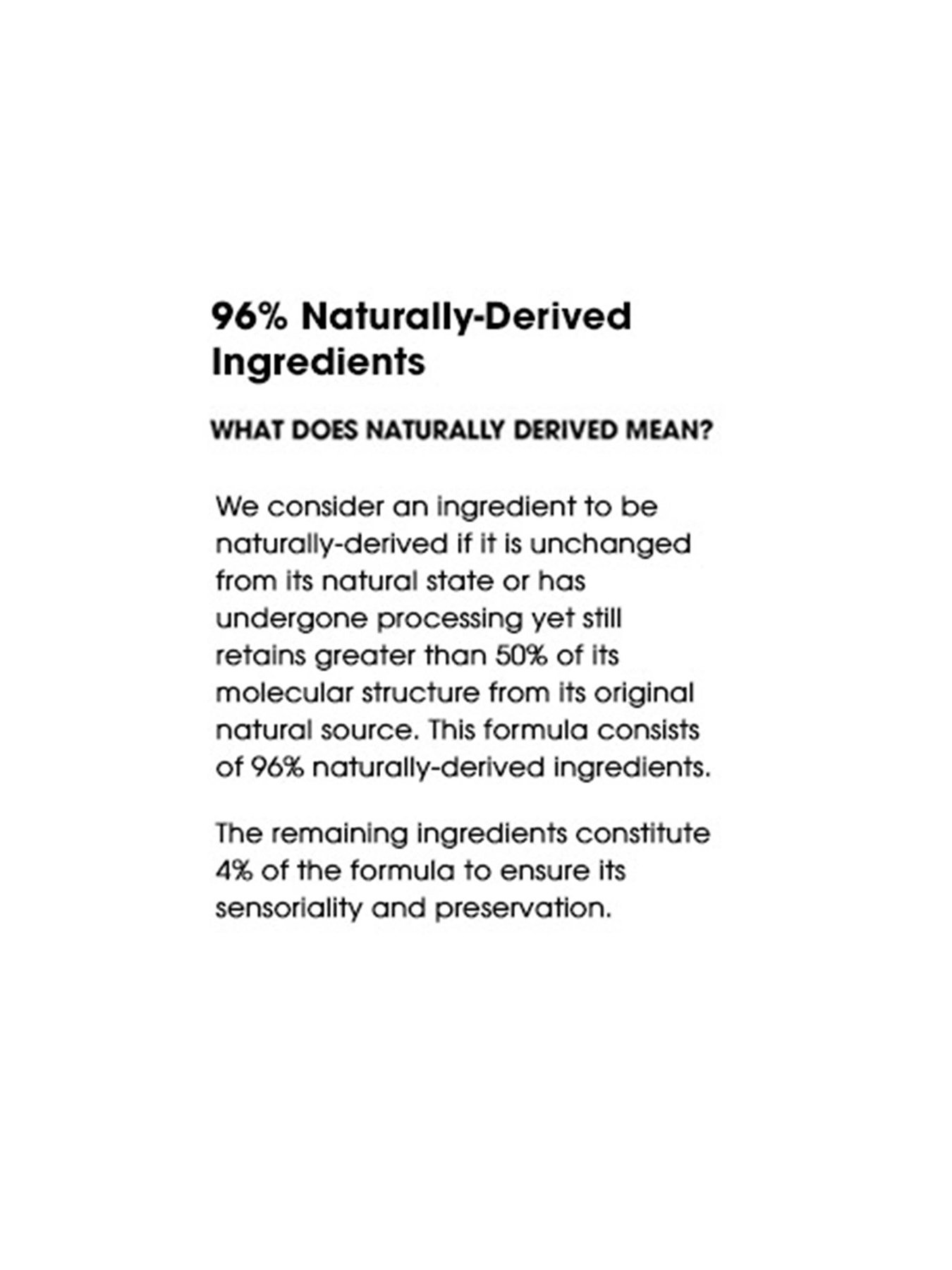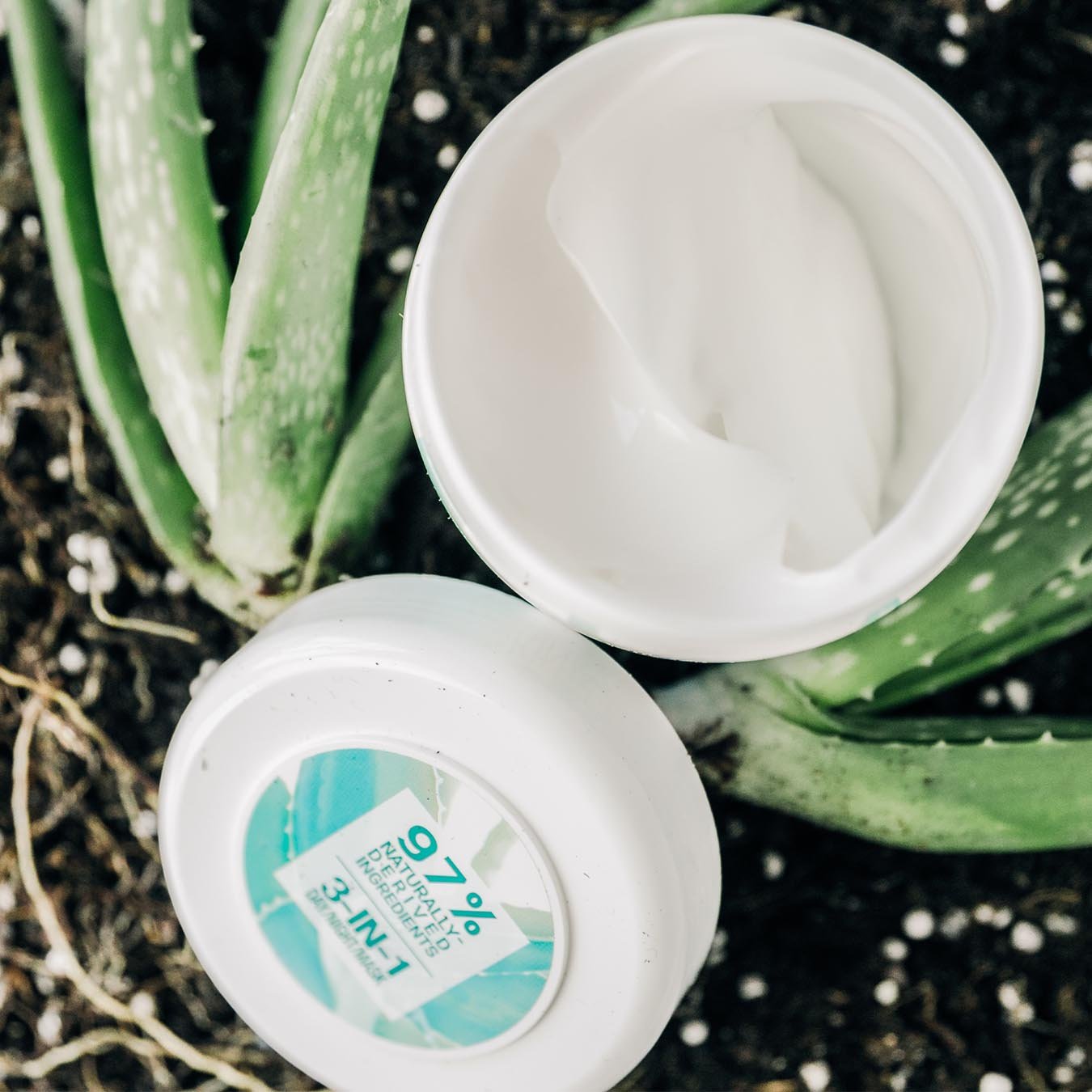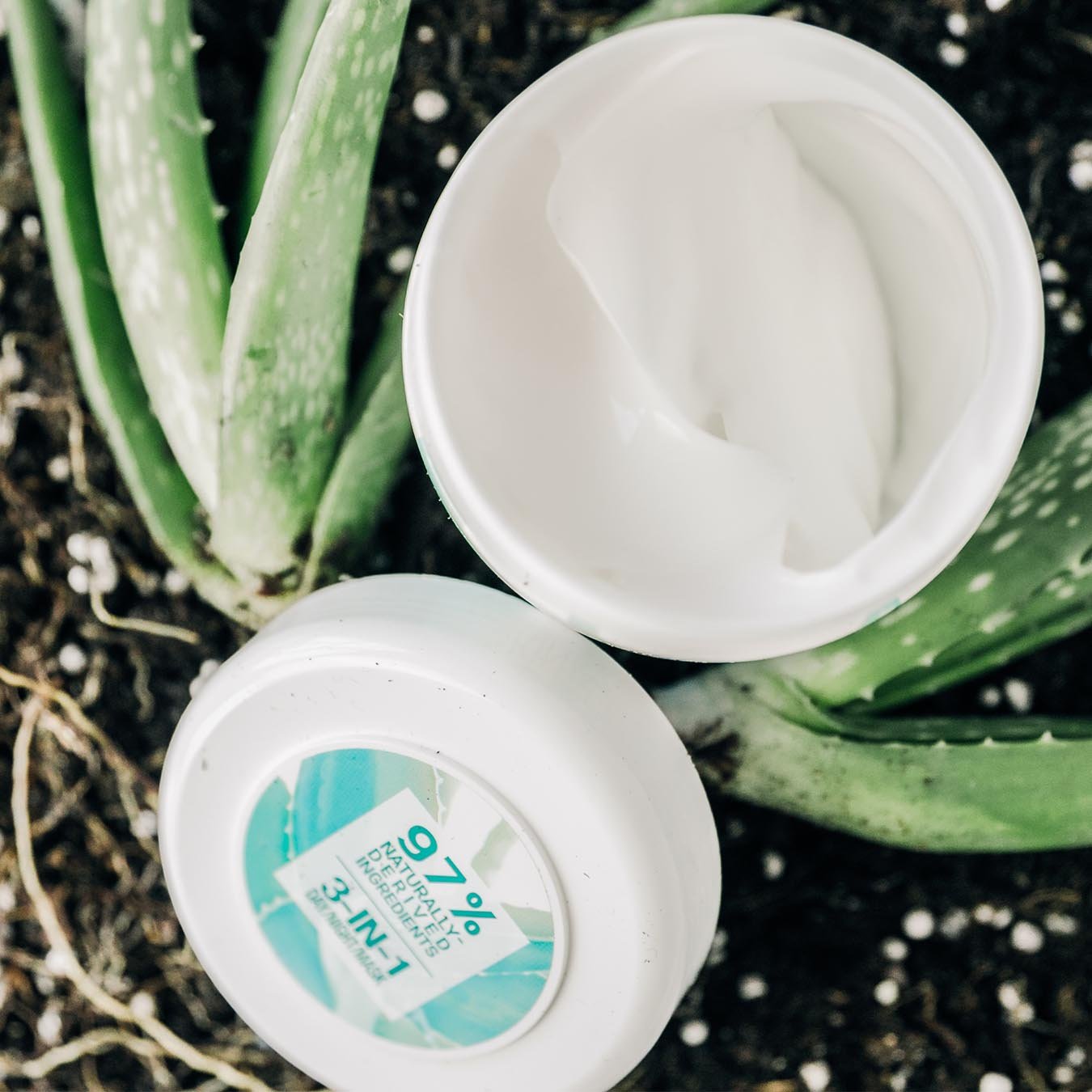 Garnier SkinActive
Hydrating 3-in-1 Face Moisturizer with Aloe
$11.99 MSRP
3-in-1 Face Moisturizer- Day, Night, Mask
PRODUCT INFORMATION:
Made with Aloe Juice, this 3-in-1 face moisturizer is three products in one: a day moisturizer that refreshes, a night moisturizer that hydrates, and a face mask that nourishes. This fast-absorbing, non-greasy cream instantly hydrates leaving skin feeling smoother and softer day after day. Suitable for sensitive skin.
How to use:
DAY: Apply in the morning to clean skin. NIGHT: Apply at night to clean skin. MASK: Apply a thick layer to the skin twice a week at night, avoiding the eyes and lips. Leave on for 10 minutes, and if needed tissue off excess.
Ingredients:
919078 AQUA/WATER, GLYCERIN, ALOE BARBADENSIS LEAF JUICE, DICAPRYLYL ETHER, ALCOHOL DENAT., CAPRYLIC/CAPRIC TRIGLYCERIDE, ZEA MAYS STARCH/CORN STARCH, POLYGLYCERYL-3 METHYLGLUCOSE DISTEARATE, STEARYL ALCOHOL, GLYCERYL STEARATE SE, CARBOMER*, SALICYLIC ACID*, CAPRYLYL GLYCOL*, TOCOPHEROL, PARFUM/FRAGRANCE*, SODIUM HYDROXIDE*, XANTHAN GUM, SODIUM PHYTATE, GLYCINE SOJA OIL/SOYBEAN OIL, CITRIC ACID, POTASSIUM SORBATE*, SODIUM BENZOATE*. F.I.L.# D207617/1
Aloe
Rich in Vitamins A, B, C, and E, Aloe's hydrating properties make it a popular ingredient in skin care formulas that help to soothe and moisturize, and hair products that promote healthy shine.
Rated

5

out of

5
by
AB26
from
So hydrating!
This product really helped fix my winter dry skin. I loved how great my skin felt when I woke up in the morning after leaving a thick layer overnight.
Date published: 2018-05-18
Rated

5

out of

5
by
Cl86
from
Amazing product
I ordered this online at Walmart and received it a couple days ago I have used it a total of 3 days and I am blown away by the results my skin was super dry and I had flaky patches around my mouth and now they're gone and my face feels so hydrated without feeling greasy. The price is so low and you get a ton of product!
Date published: 2018-05-10
Rated

4

out of

5
by
WenDeeBee
from
Great for rosacea
In general, I love Garnier products for both hair and skin. Since I suffer from rosacea, I'm always looking for skin care products. I maintain real aloe plants but it's messy and impractical. This product is pretty good after a week of twice daily use. My redness is diminished. I'd like to point out that several other Garnier products have worked for my rosacea and then they stop making them. Please don't stop making products that calm and cool skin. Rosacea is hard to treat.
Date published: 2018-04-01
Rated

5

out of

5
by
Aimeej
from
Great moisturizer
The first product I tried by Garnier was the Micellar Water. I love it and decided to venture forward with other products. I suffer with atopic dermatitis...all over my body...so I have to be careful what I use. I like this 3 in 1 product in every way that makes it that way. It definately does what it promisses and with very natural ingredients. It's gentle enough yet powerful enough at the same time...which can be hard to find. The smell is very nice as well a the creamy texture that feels really great when applied as a mask or a moisturizer. Having used Aloe in its purest form before while seeking some skin relief, I can definately feel its presence in this product. I will continue to use this along with the Cream Cleanser...they go very well together or just on their own. I recommend this for those with sensitive skin like mine. Its nice to find something that works and holds up to its promisses.
Date published: 2018-03-28
Rated

4

out of

5
by
gabriel69
from
Yes!!!
I just got this yesterday from Target. I saw this line last summer when i was on vacay in London and bought a couple of the toners and cleansing milks. So glad when I heard that the line got brought over here in US! I love anything aloe for its soothing, moisture-rich, and cooling properties so II thought to give this a try. (In London, I only got the Rose, Green Tea and Honey variants). I LOVE IT. This is what I need for months that claim are Spring but actually are winter (really, Ohio?!). Everyone should give this a try, especially those with dry skin. it feels heavy at first, but let it sink in - doesnt even take long. Not sure how this fares under make-up, because I tend not to wear makeup on a day to day basis to college. But i have other moisturizers for that so I am not going to worry. All i know is this is going to hydrate your skin very well in dry and cool climates. it has only been a day's worth of using this product, so I can't say more - but stay tuned and I'll update!
Date published: 2018-03-26
Rated

4

out of

5
by
Irishbeauty
from
3 in 1 aloe garniers day night and mask cream
I been using this for almost 2 weeks. I love it as a day and night moisturizer. I would giving this 5 stars but when for the first time trying to use it as a mask it burn little. And the mask instructions weren't clear. I have sensitive skin and that light irish skin. But overall it was amazing I love it and will still use it as a day and night moisturizer cream only.
Date published: 2018-03-23
Rated

2

out of

5
by
Nicole26
from
Leaves me confused and annoyed
I've been using this product for several weeks now. I like that it feels light, smells night and isn't greasy. However, after I apply and it soaks in, my skins "rolls" off in sheets when I run my finger across my face. Which in turn makes my make up extremely patchy, even a day after application. I don't think I'll continue using this product.
Date published: 2018-03-02
Rated

5

out of

5
by
blm 712
from
:)
my mom got this for me when i told her i needed a moisturizer after my face started peeling because it was so dry during the winter months. within a week of using this my face has been hydrated as ever and i'm very impressed with the results. my skin isn't too sensitive but it doesn't seem to contain any ingredients that don't agree with my skin type. also a plus, it doesn't make your face feel greasy and/or oily. love it!
Date published: 2018-02-20
Rated

4

out of

5
by
Pninnem
from
Confused
Bought this because I my skin was scaly from the winter air! Loved how nourishing it was, but if you rub it in to your skin, it takes out what's in your pores.... Love my pores being cleaned, but not sure it's supposed to do that.
Date published: 2018-01-13
Rated

4

out of

5
by
Dee2193
from
Great moisturizer!
I just bought this yesterday and so far I love how it made my skin feel so soft and moisturized while using only a little bit of product. A little definitely goes a long way with this product due to it's consistency. The only thing I didn't like about it was the smell. I do love that its 97% naturally and a vegan product. I would definitely recommend it for dry skin.
Date published: 2017-12-24
Rated

5

out of

5
by
MaryGil
from
Please don't discontinue
I was having a few break outs and couldn't find a skin routine to help, I don't like to use acne meds, when I saw all the natural ingredients I wanted to give it a shot! I use this night and day and like other uses said, it does feel heavy at first on the skin, but give it a minute! Let it soak in! My skin is feeling great and the tone is evening out, even though this isn't a claim of the product. I love it! Please don't discontinue!!
Date published: 2017-11-30
Rated

5

out of

5
by
Tamilton
from
Absorbs nicely
I was looking for something for extra moisture for the winter. This is it! I picked this up and am enjoying the added hydration this is adding to my face both morning and evening. I like that I can apply it extra thick as a mask as well.
Date published: 2017-11-19
Rated

5

out of

5
by
Aggie2019
from
This Moisturizer is AMAZING
I absolutely loved it. One of the main things I love is that it actually works. it ACTUALLY moisturizes your face. It helps that it has a nice smell and it is thick! So you don't need too much of it, it doesn't feel or work like those watered down moisturizers that you need like to pumps to make it work. This you only need a dime size and it works like a charm. I have not used it as a mask yet but Ive used it in the morning and in the night and I can honestly say my face looks and feels amazing.
Date published: 2017-11-08
Rated

5

out of

5
by
BritishSweetheart
from
3 in 1 moisturizer
Omg this moisturizer has made my skin feel so smooth. Normally they leave my face oily or dry but I didn't have any oil on my skin or anything plus i don't need a lot on my face.
Date published: 2017-11-08
Rated

5

out of

5
by
AngelaGandara
from
Garnier Hydrating 3 in 1 Moisturizer
Ok so, I have been using Garnier Skin Active Hydrating 3 in 1 Moisturizer for about four weeks now, I absolutely love it, my skin is very oily and is alway shiny, i was afraid it would make my skin more oily, I starter using and it leaves you're asking feeling very soft and silky, a very good sensation and the smell is amazing, it's almost like a cucumbery smell to me, i liked how my skin felt after i used it,Ii would definitely recommended to anyone to use it, my skin did not became more or less oily but if left it feeling very silky, smooth, five stars for me
Date published: 2017-11-08
Rated

5

out of

5
by
luisfontel
from
A-MAZING!!!!!!!
i was very skeptical about trying this because I have extremely dry skin I mean EXTREMELY!! and this did its magic the mask way to use it is definitely calming and leaves you feeling very moisturized I also like to apply it at night because the aloe in it just helped me feel so relaxed before bed. I do not recommend it for day use because it does unlike told leave a greasy feeling on your face *hint how moisturized you feel* I highly recommend this to anyone with dry skin but for use as a mask or night hydrating cream.
Date published: 2017-11-07
Rated

1

out of

5
by
jenjurado
from
Garrnier Skin Active
I did not feel this product lived up to its claims of being fast-absorbing and non greasy. Left me feeling like I needed to immediately wash my face. It was, however, gentle enough that I did not have a problem with skin irritation.
Date published: 2017-11-06
Rated

4

out of

5
by
BeautyBucketList
from
Solid multi-tasking moisturizer
I've been really enjoying the Garnier Aloe Hydrating 3-in-1 Moisturizer. It's an awesome multi-tasker which can be used as a day cream, night cream or a hydrating face mask. The jar is huge so you don't need to worry about running out too quickly even if you use the product every day. The cream smells like some other products I've tried from the brand before (I'm sure I had a body lotion with the exact same fragrance). The scent is subtle and non invasive. The texture of the product is on a thick side which is great when you use it as a night cream or a mask. When applied in the morning I'd recommend using a light hand. My skin usually soaks every cream in no time but this one actually required a couple of minutes even with a thin layer. My skin is dry and can play up a bit around this time of year, but so far the Garnier cream was able to keep it well hydrated and soft to the touch. I haven't experienced any irritation or unexpected breakouts so overall I don't have much to complain formula-wise. The only small bone I have to pick with the Garnier Hydrating Aloe 3 in 1 Moisturizer is the brand's disclaimer on what they consider to be a naturally derived ingredient. It doesn't necessarily align with my understanding of the term and just doesn't feel right. I've used many natural products in my life and what I like about those is the transparency when talking about ingredients. In case of the Garnier cream, the disclaimer sounds a bit fishy. At the same time I do appreciate that Garnier is trying to use natural ingredients and they were able to create a solid product.
Date published: 2017-11-06
Rated

4

out of

5
by
ColieWeston
from
Great, Versatile Moisturizer
Garnier loves to stay on top of the latest trends, and they've done just that with this unique aloe-based moisturizer that doubles as a super hydrating mask. As someone with combination skin, I'm always looking for products that will provide a good barrier of moisture without sending my skin into oil over drive. The salycic acid in this product (that you'll find in many of your acne products!) does a great job of taming the oil, while the aloe and vitamin complex acts as an excellent soothing shield for your skin. It smells like a fresh shower, and it comes in a tub rather than a bottle so you can be really picky with the amount you're using. It's much thicker than a traditional lotion, making it especially great for a night time miracle before you hit the pillow. As with most products, there IS a catch. While it doesn't feel "greasy", there IS a slick feel to your skin for about 30-40 minutes after you apply it as a mask. I would only recommend using it as a mask at the very end of the day, as it does make cosmetics application a bit tricky. If you're using it as a moisturizer, however, just a dime sized amount on your skin shortly before you apply makeup is a great base and could almost double as a primer. I have incredibly acne prone skin and the use of this product religiously for the last month has made visible improvements to the texture of my skin and the oil production has decreased. The aloe is great for redness, and if you're anything like me you have the tendency to wake up looking like an extra from Rudolph the Red-Nosed Reindeer. I would highly recommend this to anyone who has skin in need of a major moisture upgrade. Thanks, Garnier!
Date published: 2017-11-06
Rated

5

out of

5
by
BMWing620
from
Great for combo skin
I love how smooth and silky my skin feels after using this moisturizer. It works well with my combination skin without making me shiny, and yet mositurizes the dry spots that tend to peel. Just ensure to rub it all in, otherwise it becomes the mask and will peel - I usually rub the leftover into my hands/cuticles!
Date published: 2017-11-06
Rated

5

out of

5
by
PWeaver
from
Extremely Surprised
Honestly, I was extremely surprised by this product. I have a lot of allergies and my skin is super sensitive so I was a little hesitant to try this, BUT I am so glad I got the chance to try this. My skin is feeling so great right now. It feels renewed, it's hydrated without being oily. I use this mostly as a mask and I've had no issues with break outs or oily skin.
Date published: 2017-11-06
Rated

4

out of

5
by
Ross2337
from
Good hydrating moisturizer
I like the fact that this is a very hydrating moisturizer without feeling too heavy on. The smell is nice and natural without being too strong, and a little bit will go a long way. It is very gentle and doesn't irritate my skin.
Date published: 2017-11-05
Rated

4

out of

5
by
Amandacox2005
from
I am hooked on moisturizing my face now!
This moisturizer is a game changer for me. I used it every other morning and night. It left my skin feeling so soft and smooth. The consistency was creamy yet not oily like others I have tried. It didn't break me out and I loved that. I didn't enjoy the smell but it wasn't unbearable for me. I would definitely recommend trying the Garnier SkinActive Hydrating 3 in 1 moisturizer with Aloe to anyone with dry skin.
Date published: 2017-11-05
Rated

4

out of

5
by
Girlslucky7
from
Actually good all over
I actually thought this was a body lotion. That is what I started using it for. I tried this on my legs first. They looked so great shiny and smooth. I was a little apprehensive about using such a rich product on my face. But, after trying this on my face and I was very impressed the way it helped fill in my fine lines and smooth my face just the way it helped all my skin and it didn't cause my face to break out which I was particularly surprised about. I am used to department store brands. Now I'm thinking about replenishing my budget a bit. Looking forward to a spf option Garnier.
Date published: 2017-11-05
Rated

3

out of

5
by
redrosie
from
An ok addition to daily regimen
I took a chance and tried Garnier SkinActive Hydrating 3 in 1 Moisturizer. I've never been one to use facial creams. I'd usually just slap in a little lotion or petroleum jelly and go. That's if I remember lol. I'm glad I tried it. Aloe is in it which I love. I don't know why salicylic acid is in it. That's usually in acne medicine. There's good news. The cream states that there are no silicones, dyes and parabens. It left my skin soft and smooth. I do caution, if you use acne medicine or anything that will add another layer of product, use a small dab (dime size). If not, there will be dried pieces that must be wiped off of the skin. A little goes a long way. This will not be my go to product, but I did like Garnier SkinActive Hydrating 3 in 1 Moisturizer enough to use it again.
Date published: 2017-11-05
Rated

5

out of

5
by
BrandyMcCpmbs
from
Amazing with a light, fresh scent
I think this lotion is fantastic! I have a very sensitive face and was concerned when I opened it to find it smelled pleasant, but was scented. It has a light fresh cucumber melon like smell to it. It is very spreadable and takes just a little bit to cover your whole face. It gives you perfect moisture after a shower and before bed. It takes a minute or so to soak in before you put on makeup. The only issue I had was when I was in a rush and put makeup on too soon. It made my face a weird texture.
Date published: 2017-11-05
Rated

4

out of

5
by
Kriztin25
from
Good on skin
I'm particular with what I put on my skin. My skin tends to be a combination of oily and dry on some parts. I'm not fond of moisturizers that leave my skin feeling too oily though. I didn't find that the case with the Aloe hydrating moisturizer. My face felt smooth and non oily. I didn't feel like my pores were clogged. I didn't develop rashes as well which concerns me whenever I use new products. I would put this moisturizer first thing after washing my face before putting on my foundation. At night, I would put this first as well after washing my face. I was just not sure about how to use this as a mask. Do I put a lot of it then wipe it off with a towel or rinse with water? That was probably the only thing that confused me with this product. Other than that, I loved it. It's a great base to put on my face as part of my daily beauty regimen.
Date published: 2017-11-04
Rated

5

out of

5
by
wilding213
from
Garnier 3 in 1 moisturizer
I have been trying this moisturizer out for about a month now and it's anazing. I have sensitive skin so a lot of products turn my face red and it ends up feeling greasy. Not this. My face feels great, I'm not breaking out. It smells amazing! Not too much that the smells overwhelms. I definitely would recommend this to others!
Date published: 2017-11-04
Rated

5

out of

5
by
Woodgrainjane89
from
Light Weight and Moisturizing
When you first open the jar of this moisturizer is smells so heavenly and it's very very light weight. I have combination skin so I don't need thing to oil or dry. The is the the perfect moisturizer it's non-oily and the aloe soothes my skin especially living in Texas we are prone to face drying out so often. It is so awesome I even used it on other places. Also when you apply a thick layer at night you wake up with your face feeling so smooth.
Date published: 2017-11-04
Rated

5

out of

5
by
kmarshall90
from
Garnier 3 in 1
I think it's an awesome product. It's non greasy feeling makes your skin feel smooth and hydrated without the clogged pore feeling and it's very light cream compared to others I have used. It doesn't consume much time at all to use this product whether it's used morning and night or as a mask which I tried both. It doesn't have much of a scent except for the aloe smell. I definitely would recommend this product especially it being all natural with a fresh feeling.
Date published: 2017-11-03