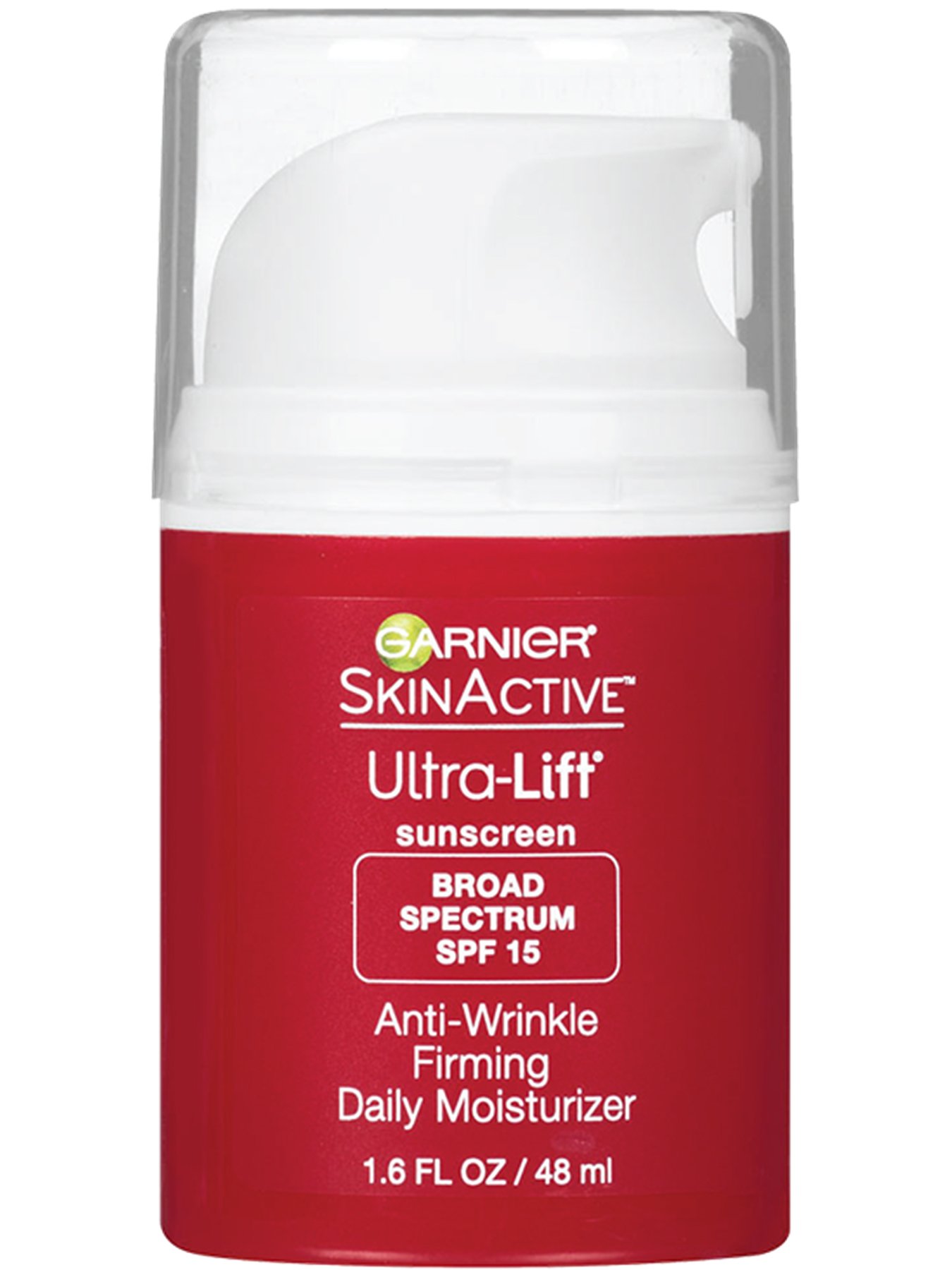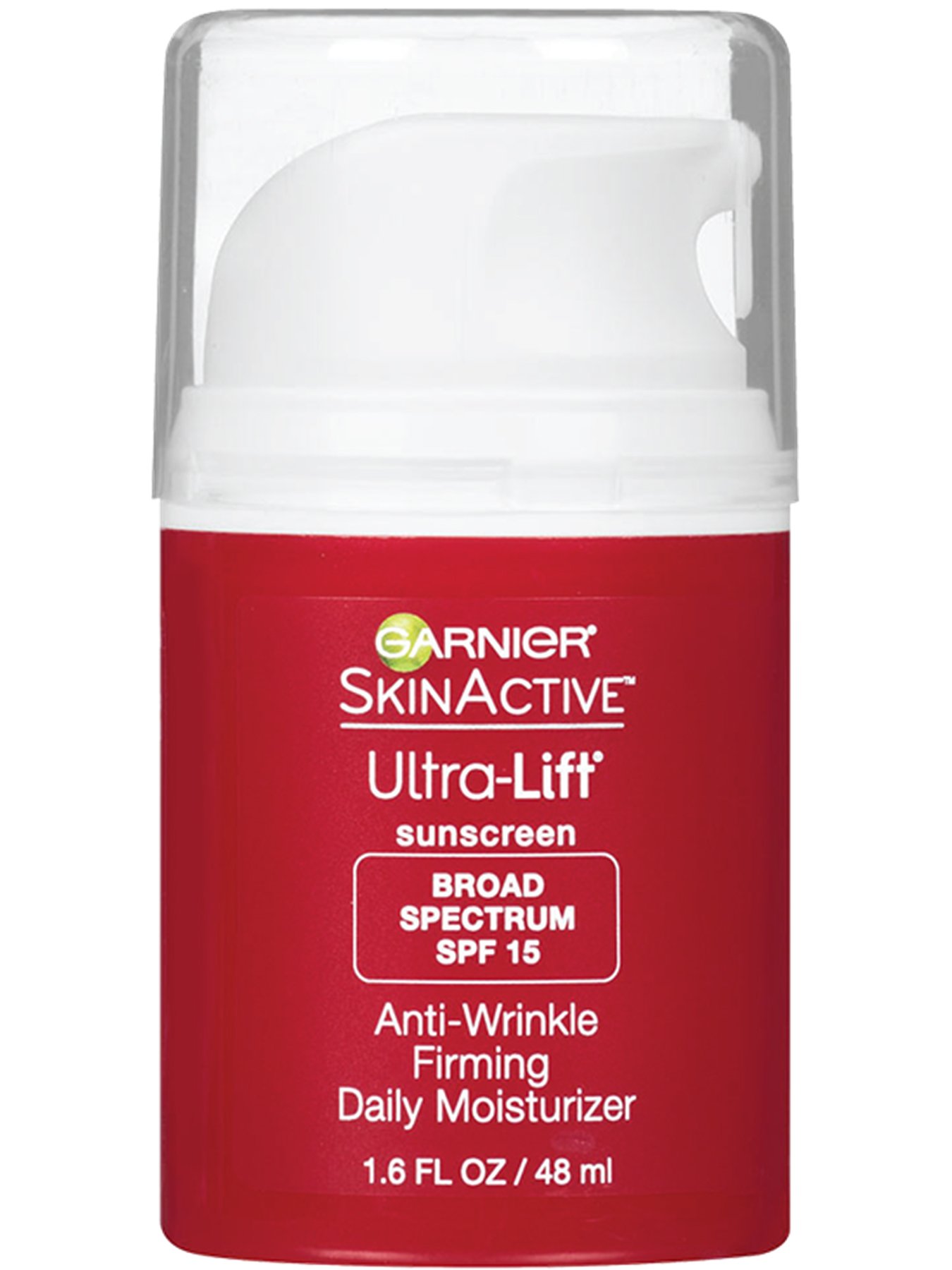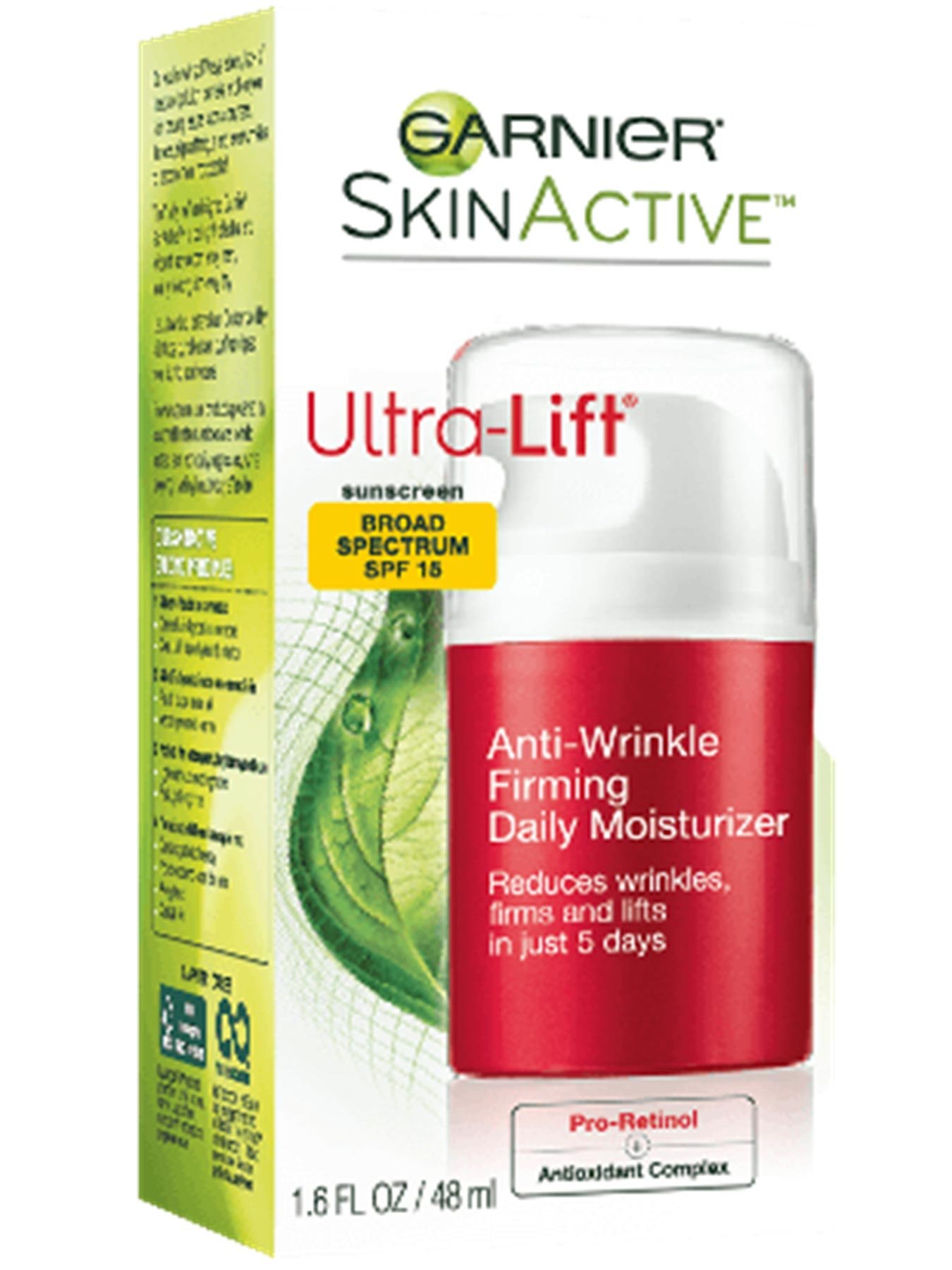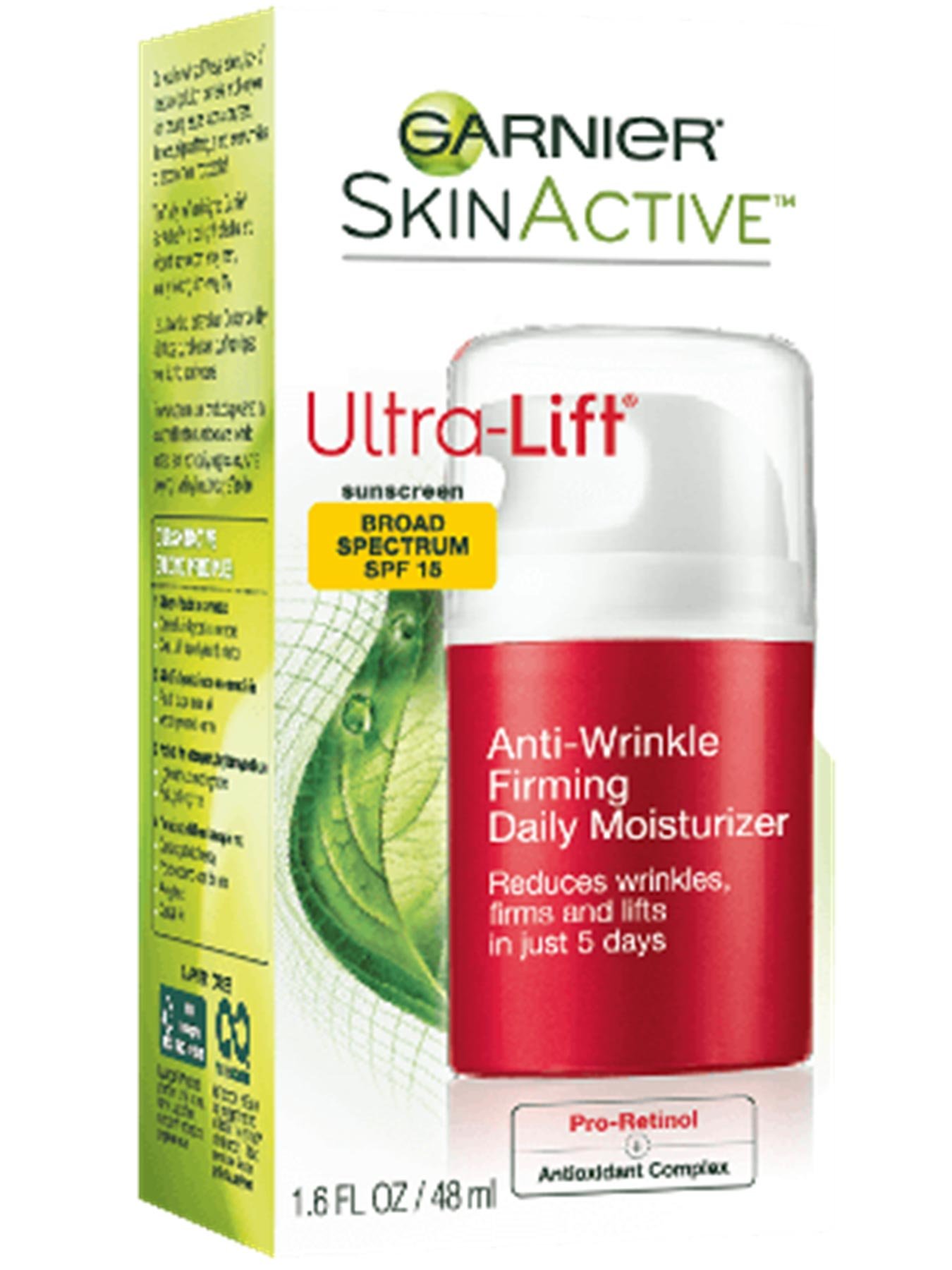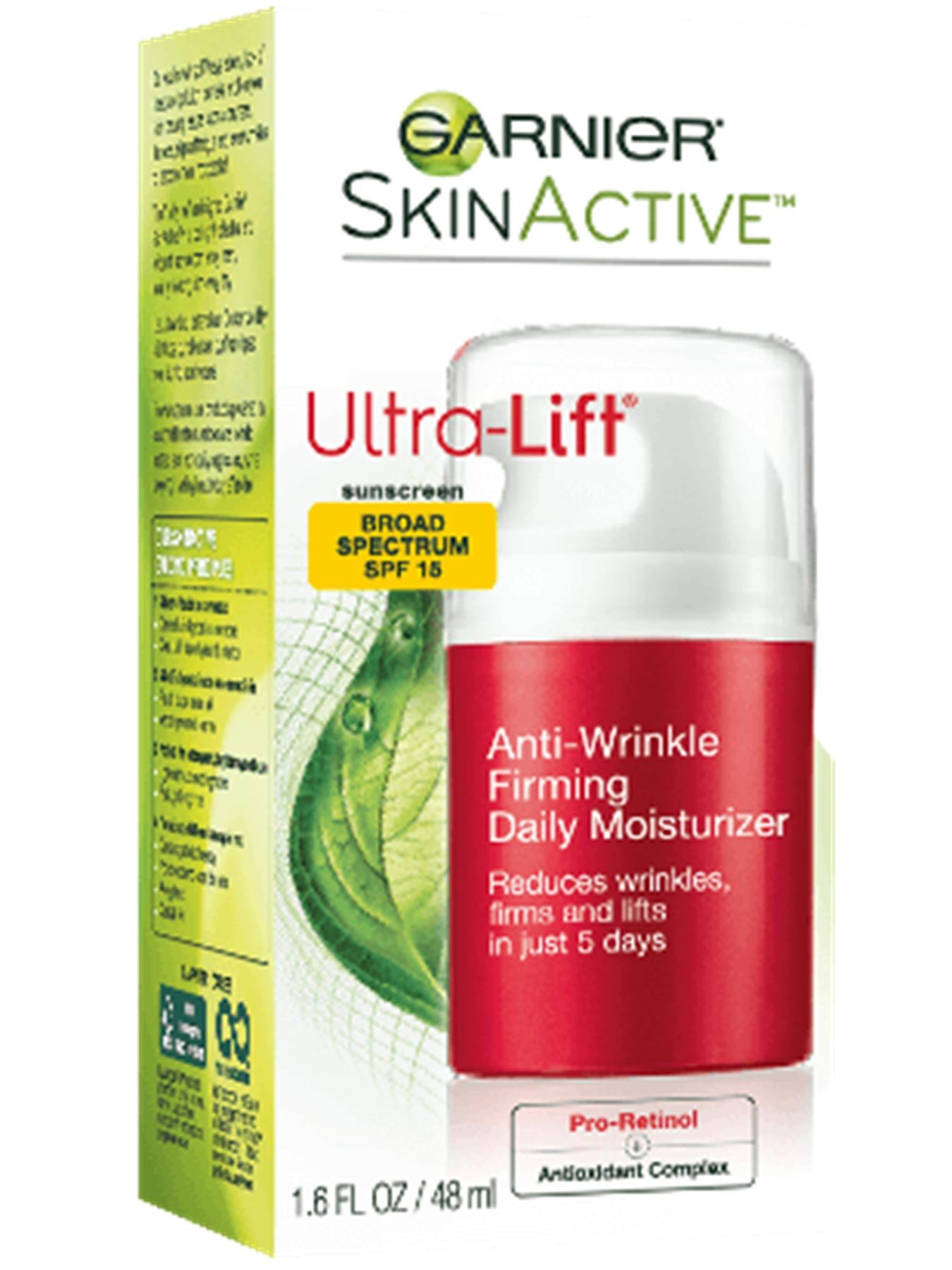 Ultra-Lift Anti-Wrinkle Firming Moisturizer
Garnier SkinActive
$14.99 MSRP
Reduces wrinkles, firms and lifts in just 5 days.
PRODUCT INFORMATION:
This light, non-greasy daily moisturizer with vitamin E, Pro-Retinol (a form of Vitamin A) and Rice Peptides deeply hydrates skin. It fights wrinkles and improves elasticity as skin regains its youthful appearance.
How to use:
Apply Ultra-Lift Anti-Wrinkle Firming Moisturizer SPF 15 to clean, dry face and neck daily, prior to sun exposure. This rich, yet lightweight moisturizer is immediately absorbed without leaving a greasy or sticky feel.

How do I use Ultra-Lift products together?
Use Ultra-Lift Anti-Wrinkle Firming Moisturizer SPF 15 as your daily moisturizer with sun protection during the day. After, dab Ultra-Lift eye cream around the delicate eye area, morning and night.
For advanced care, incorporate into your routine:
Ultra-Lift Anti-Wrinkle Firming Night Cream
Ingredients:
Active Ingredients: Avobenzone 3%, Octisalate 5%, Octocrylene 3%. Inactive ingredients: Water, Glycerin, Dimethicone, Ptfe, Alcohol Denat., Isopropyl Isostearate, Octyldodecanol, Ammonium Acryloyldimethyltaurate / Steareth-25 Methacrylate Crosspolymer, Arachidyl Alcohol, Behenyl Alcohol, Benzyl Alcohol, C13-14 Isoparaffin, Capryloyl Salicylic Acid, Carbomer, Cetearyl Alcohol, Cetearyl Glucoside, Cetyl Alcohol, Dimethicone/Vinyl Dimethicone Crosspolymer, Dimethiconol, Disodium Edta, Disodium Stearoyl Glutamate, Glycine Soja (Soybean) Protein, Hydrolyzed Rice Protein, Laureth-7, Linalool, Methylisothiazolinone, Methylparaben, Mica, Panthenol, Peg-100 Stearate, Phenoxyethanol, Polyacrylamide, Retinyl Linoleate, Silica, Sodium Benzoate, Titanium Dioxide, Tocopheryl Acetate, Fragrance
Antioxidants
Antioxidants are a group of vitamins and minerals that defend against the aging, damaging effects of "free radical" toxins and pollutants. Usually found in nuts, berries, and plant-based oils, the most popular Antioxidants used in beauty formulas include Vitamins A, C and E, Beta-Carotene, and the minerals Selenium and Manganese.
Vitamin E
Vitamin E is an antioxidant that helps maintain skin snd hair's natural hydration. Used in skin care, It helps absorb and protect from damaging UV rays. In hair care, it helps seal in protective moisture.
Rated

5

out of

5
by
Lillyopeth
from
Great moisturizer!
I really love this Ultra-Lift Anti-Wrinkle Firming Moisturizer from Garnier! I haven't used too many of their products before and this really surprised me! It goes on very nicely and soaks in quickly. There is no disturbance to your foundation or other makeup you put over it. It also has a spf which is super for added sun protection. I like that it doesn't feel greasy and I like the light fragrance of it. It took me a few tries to get used to the pump so I wasnt wasting product. I havent noticed a big change in reduction of fine lines yet but will keep using and see what happens!
Date published: 2017-08-19
Rated

4

out of

5
by
Mvespinal220
from
Works well, Smells Bad
I agree that it improves skin elasticity, but it smells too much like a typical sunblock that you wear to the beach (not the ones for your face). Every time I put it on my daughter asked me why I was putting it on. Typically, the moisturizer I use with spf do not have that strong of a smell.
Date published: 2017-08-19
Rated

5

out of

5
by
fabiely
from
Have my face Moisturizing
This is the first time I use a moisturizing creme and I have like it so far. What does make me so sure about this is that it leaves me an oily face. W
Date published: 2017-08-18
Rated

4

out of

5
by
mamaco14
from
fountain of youth
Let me start by saying that I have very combination skin, I get oily in my T zone throughout the day but dry on the tip of my nose and the outer parts of my cheeks. Moisturizer is a really hard thing for me to use because I can never find one that works well with my skin without causing more problems in my already problem areas. However, this particular moisturizer did an AMAZING job of moisturizing the areas that needed it without causing my T zone to be extra oily. I found that it did actually make my skin feel a tighter after two weeks of use and I could start to see a difference in the lines underneath my eyes. My skin looks brighter without looking too dewy. I always thought that products made for fine lines and wrinkles were for an older age group, but now I think its never too early to prevent bad skin!
Date published: 2017-08-18
Rated

5

out of

5
by
mari2716
from
Awesome moisturizer
Hi I have the try this moisturizer and is awesome because is like you dont need too many products because this one is all in one. I really like all the benefits and the most important is non greasy. I have sensitive skin and it really works for me.
Date published: 2017-08-17
Rated

5

out of

5
by
Robinson524
from
Garnier Ultra Lift
I think this product works well. I would recommend it to someone else. It feels lightweight and has a pleasant scent.
Date published: 2017-08-17
Rated

4

out of

5
by
robinrage2005
from
Great Moisturizer Plus Sunscreen
I have tried this for 7 days and while I did not really see any noticeable results, as far as my fine lines go, I have noticed great improvement of my skin texture. It has a nice scent but it does smell like sunscreen and I like the smell of sunscreen. It's non greasy and absorbs quickly. All in all this is a great daily moisturizer with the added protection of sunscreen.
Date published: 2017-08-16
Rated

4

out of

5
by
easterly
from
Great Sunscreen
First of all, I love the way Garnier Ultra-Lift Anti-Wrinkle Firming Moisturizer feels on my skin. It's light, certainly not greasy and really freshens my skin up. The pump feature is another plus! I feel like I am getting just enough to rub on my face for ultimate sun protection. It smells wonderful. With that being said, I think I am going to use this mostly for days I know I'll be spending a lot of time outside. I don't feel like I need to use it every single day. While it doesn't necessarily have the heavy feeling of sunscreen, it still feels like a sunscreen.
Date published: 2017-08-16
Rated

5

out of

5
by
Pingram24
from
Garnier Skin Active Ultra Lift sunscreen
I think Garnier SkinActive Ultra-Lift is a great product because it leaves my skin moisturized & protected from the sun rays also it doesn't have a strong smell, I sweat a lot because I'm outside quite a bit and the product stays on without any white residue.
Date published: 2017-08-16
Rated

4

out of

5
by
Vnacastillo
from
Garnier moisturizer
I have a combination skin oily and dry depends on the weather so for me its very hard to find a moisturizer that works for me and also i started to see some laughing lines ( ) and its just something that i know i have to deal with but, I have been trying the Garnier moisturizer for about 5 day and my face feels very soft and looks hydrated. I would definitely buy this product.
Date published: 2017-08-15
Rated

2

out of

5
by
Jmritz2
from
Garnier skin active Ultra-lift
I'm still a bit confused about what this actually is. At first I thought it was an anti-wrinkle moisturizer but when I threw out the box and read the directions on the bottle the directions were all about using it as a sunscreen. I mean, my skin feels slightly more moisturizer but not much and there is no way I would use this as a sun screen. It just isn't practical considering the rest of me and my family needs sunscreen too. I'm scratching my head a bit.
Date published: 2017-08-14
Rated

3

out of

5
by
dianaj01
from
Garnier SkinActive Ultra Lift
To be honest I didn't love this as much as I wanted to. My face feels slightly more hydrated but other than that this is more of a sun screen for me, which isn't bad. It isn't too thick and it does not leave a film. It also did not make me break out or make my skin oily. So overall I will continue to use it as a sun screen, but will continue my search for a daily mousturizer. I would recomend it just because everyone's skin is different, so it could work for someone else.
Date published: 2017-08-14
Rated

5

out of

5
by
Ashkre6
from
Garnier SkinActive Ultra Lift
I absolutely love this product. A little goes a long way. It's thick but not too thick so it doesn't feel like it's going to be runny. So far it has hydrated my face and the wrinkles around my eye seem to be disappearing. It's very affordable so I will most definitely be getting more! It's a very low smell which is great also. Can be used Morning and night! I highly recommend this!
Date published: 2017-08-13
Rated

5

out of

5
by
Chanda26
from
Garnier SkinActive Ultra Lift
Wow! I love skincare products this is awesome pleasant smelling, non oily no heavy or film feeling on face. Works great under my makeup which is a must for me! Sensitive skin like me no worries, face feels hydrated and happy.
Date published: 2017-08-13
Rated

5

out of

5
by
Jentdreamworlds
from
Great Anti-Wrinkle Firming Moisturizer
I love it because Anti-Wrinkle Firming Moisturizer also has 15 spf. Make my skin is softer, tightening, and lifting.
Date published: 2017-08-13
Rated

3

out of

5
by
Letty838
from
Great as a Sunscreen
I think Garniers, Ultra-Lift Anti-Wrinkle Firming Moisturizer is more of a sunscreen than everyday moisturizer. It smells like sunscreen and seemed to smell that way for a while. It was thick, but not too thick. It was very gentle around the eye area. Unpleasant when sweating. Would definitely use it for being out in the sun, just not everyday.
Date published: 2017-08-13
Rated

4

out of

5
by
Prjrwifey
from
Protection and reapplication
I would have given 5 stars because it works really well but there was a major con for me. Having to reapply so often was a hassle for a busy mom. That being said I feel like I see results with the anti wrinkle formula and it definitely has protected my precious face from the sun ever day since I've started using it. I would recommend it.
Date published: 2017-08-12
Rated

5

out of

5
by
Chayapapaya
from
Great Product
The Garnier SkinActive Ultra-Lift is amazing. It's think and creamy. It makes your skin smooth and silky. It really helps reduce your wrinkles and hydrated your skin. I love it!! It also smells very good. The only thing is that I wish this product was much bigger.
Date published: 2017-08-12
Rated

5

out of

5
by
grover9199
from
Nice product
Ultra lift anti wrinkle moisturizer by Garnier works as well as the company claims. I have used it straight out of the shower for a over a week. It absorbs quickly and is does not feel greasy, even after a long summer day. My skin feels firm and looks better instantly. I have sensitive skin and don't like heavy products on my face, this product not bothered me at all and I love how it makes my skin fuller and hides those pesky fine lines. I probably would want more SPF, if I were to be outside for any period of time, but great for a normal day when I'm outside for short periods of time, this is just fine.
Date published: 2017-08-12
Rated

5

out of

5
by
Musikfan0528
from
Skeptic No More
What a fantastic product! I am so glad that I decided to give Garnier's Skin Active Ultra - Lift Anti-Wrinkle cream a try! I am not one to believe that a cream can get rid of wrinkles. I always think it is a gimmick. But, I must admit that this product has proven that cream can reduce wrinkles. I don't have many...but the ones I do have are annoying. I used this cream for a week straight and was surprised by the results. Some of the fine lines on my face had disappeared! Also, my skin felt healthier. It was not dry at all! I definitely recommend this product to anyone who has a few wrinkles that they would like to see diminish.
Date published: 2017-08-11
Rated

5

out of

5
by
Kareena1992
from
Beautiful face
Oh my gosh! I absolutely love my new Garnier Skin Active Anti-Wrinkle Firming Daily Moisturizer! I make sure to put it on every single day after exfoliating my skin in a nice warm shower. The results thus far are amazing! I'm noticing more healthier firmer looking skin. This product has definitely made me feel more confident and comfortable in my own skin!
Date published: 2017-08-11
Rated

4

out of

5
by
jkearl
from
Garnier Ultra- Lift
I have tried many different anti-wrinkle creams only to find I have to discontinue use because it burns the skin around my eyes. This product DOES NOT do that. It is is very moisturizing , however, that does not mean it is greasy. I can use it in the morning and before going to bed. A little goes a long way and the smell is great. A soft scent that is not over-powering. I would absolutely recommend this product to everyone I know.
Date published: 2017-08-10
Rated

3

out of

5
by
missysawyers
from
Garnier Ulta-lift
I think this a good product not greesy and oesn't leave a film. It is very moisterizing and has sunscreen which is a plus. It is affordable and I love how its packaged the only thing I didn't like about it was its strong scent but other than that I would recommend this product
Date published: 2017-08-09
Rated

4

out of

5
by
Bnbrown6796
from
Amazing moisturizer!
I love this moisturizer! It is light and non greasy and smells wonderful! It leaves my skin feeling soft, smooth and fresh! I've been using it for a week and already feel a difference in my face as well as my complexion! Love that it has sunscreen in it as well to protect my skin from the damage the sun can have on it! Highly recommend this product.
Date published: 2017-08-09
Rated

3

out of

5
by
Leahh0xo
from
Garnier SkinActive Ultra-Lift SUNSCREEN.
This is a sunscreen with possible added benefits. At first I thought this was more of a daily moisturizer with spf that helped wrinkles and firmed your skin up, since that is what it says on the box. But everything on the bottle makes it seem like just a sunscreen to stop sunburns. It has to be applied every two hours but If you plan on being in water or sweating it says to use a waterproof sunscreen. For a SPF product its fine its thick and it doesn't smell great but its not terrible. I used half a squirt and still had to really work it in. My hands are still greasy after washing them. I also don't see any difference in wrinkles or firmness. Some might like it but I wouldn't go out of my way to recommend or buy this product.
Date published: 2017-08-09
Rated

4

out of

5
by
Twest1234
from
Seems more like sunscreen
I think its ok. It seems to be a little thick for a everyday moisturizer. Since it is more like a sunscreen. I will use it when I am going to be outdoors or when we go camping.
Date published: 2017-08-09
Rated

4

out of

5
by
angelfaceblue
from
Good product but not a miracle worker.
While I do like the Garnier SkinActive Ultra-Lift Anti-Wrinkle Firming cream, I would like to see a little more improvement in my skin after having using this product for many weeks now. While my skin does feel slightly more hydrated, I don't really see any of the skin firming that it claims to provide. I also haven't noticed any change in the fine lines and wrinkles I already have, but on a positive note, I also don't see any new or deeper lines forming. The product seems to be absorbed quickly and is non-greasy... I would recommend this product simply because it does a decent job with hydration, has a light scent, and is very good as far as price is concerned
Date published: 2017-08-08
Rated

4

out of

5
by
shoobydo
from
Garnier Ultra-Lift
I think I would like to see some results before buying this product. I like that it has a light scent and has SPF 15 right in the product. Does get a little greasy on some places on the face. Waiting to see the results as I've only used it 3 days.
Date published: 2017-08-08
Rated

5

out of

5
by
Dollface73
from
Garnier Skin active ultralift
Wow! I am a true convert! I am always skeptical of trying new skin care products, but, this one changed my mind! I noticed a big difference in the first day of using it, and it just keeps amazing me more, as each day goes by! It is so light weight and creamy, with a very pleasant fragrance. Its not heavy on the skin, and makes my face feel soft and gives it a dewy appearance!
Date published: 2017-08-08
Rated

5

out of

5
by
RetroChik
from
Great Protection
The Garnier Ultra-Lift Anti-Wrinkle Firming Moisturizer is great for reducing wrinkles. When applying it is light and rubs in nicely, not leaving a greasy feel behind. The pump dispenser makes it easy to get just the right amount. After using for several days, I could see the texture of my skin looking more radiant and smooth. It contains SPF 15, so it does provide some protection from UV rays. It also contains antioxidants and pro-retinols which help to reduce wrinkles and fine lines. At the age of 47, I definitely need this product to help me maintain youthful skin. Overall, I really enjoy using it and plan on keeping it a part of my daily skin care routine.
Date published: 2017-08-08