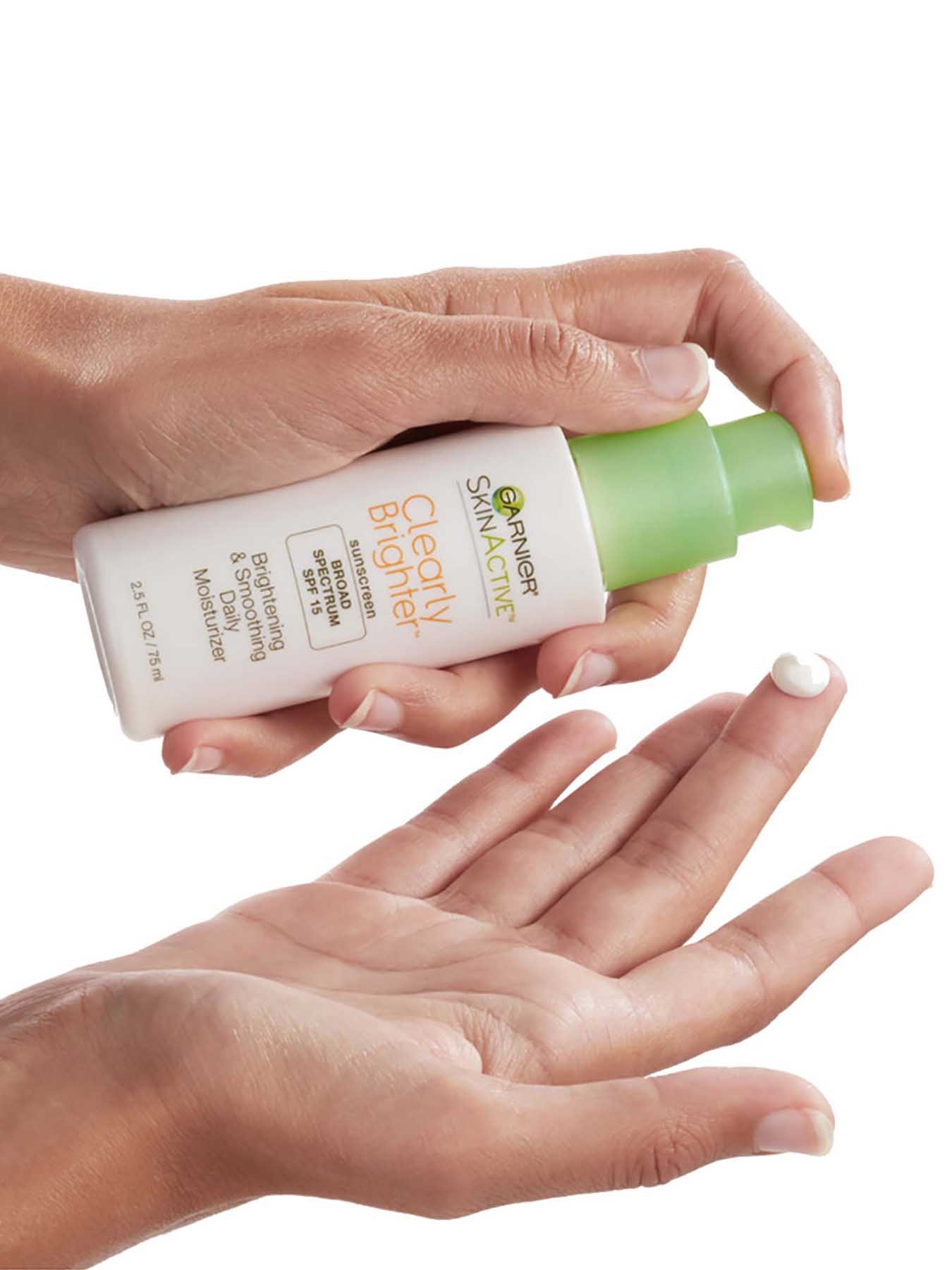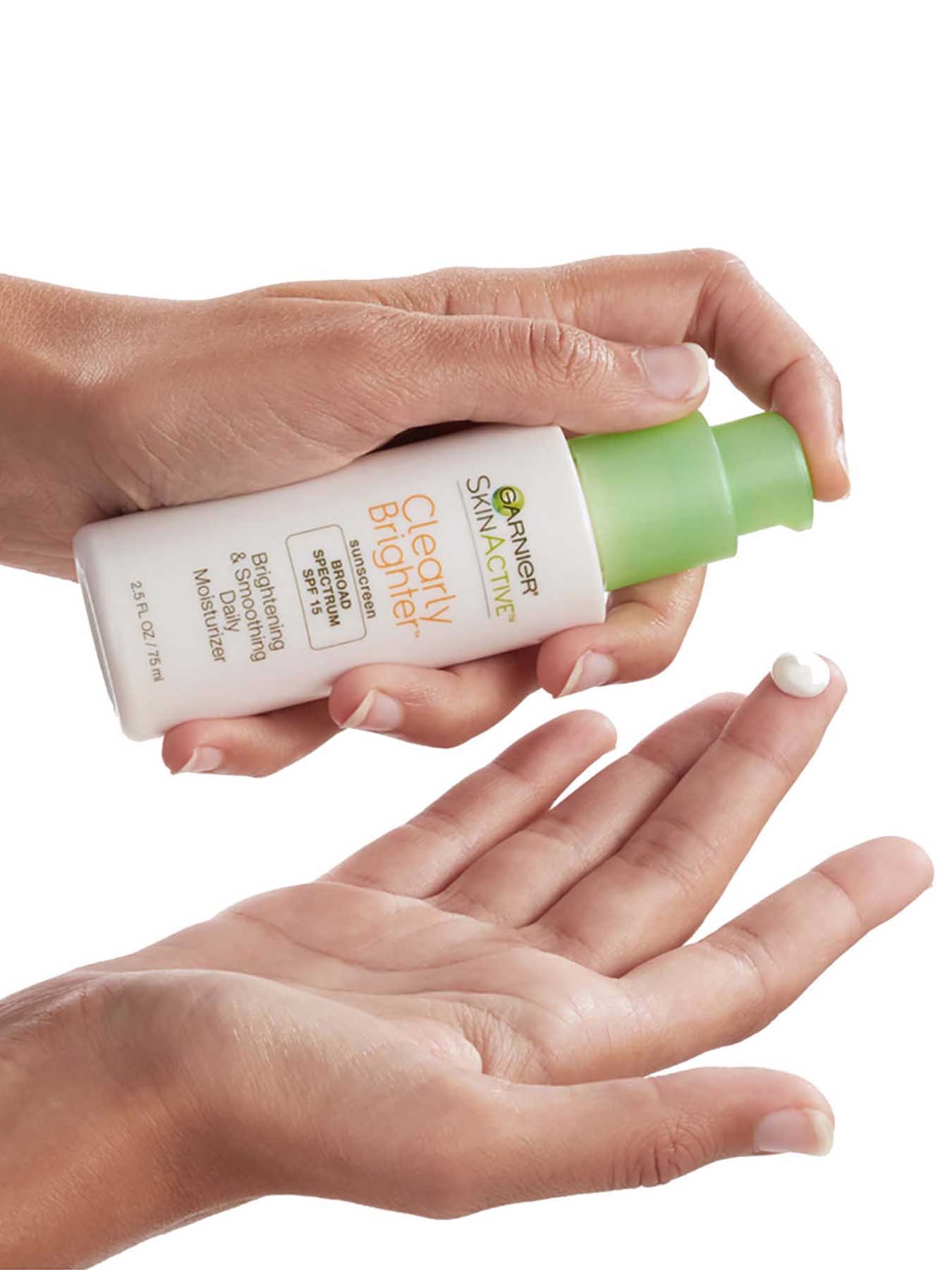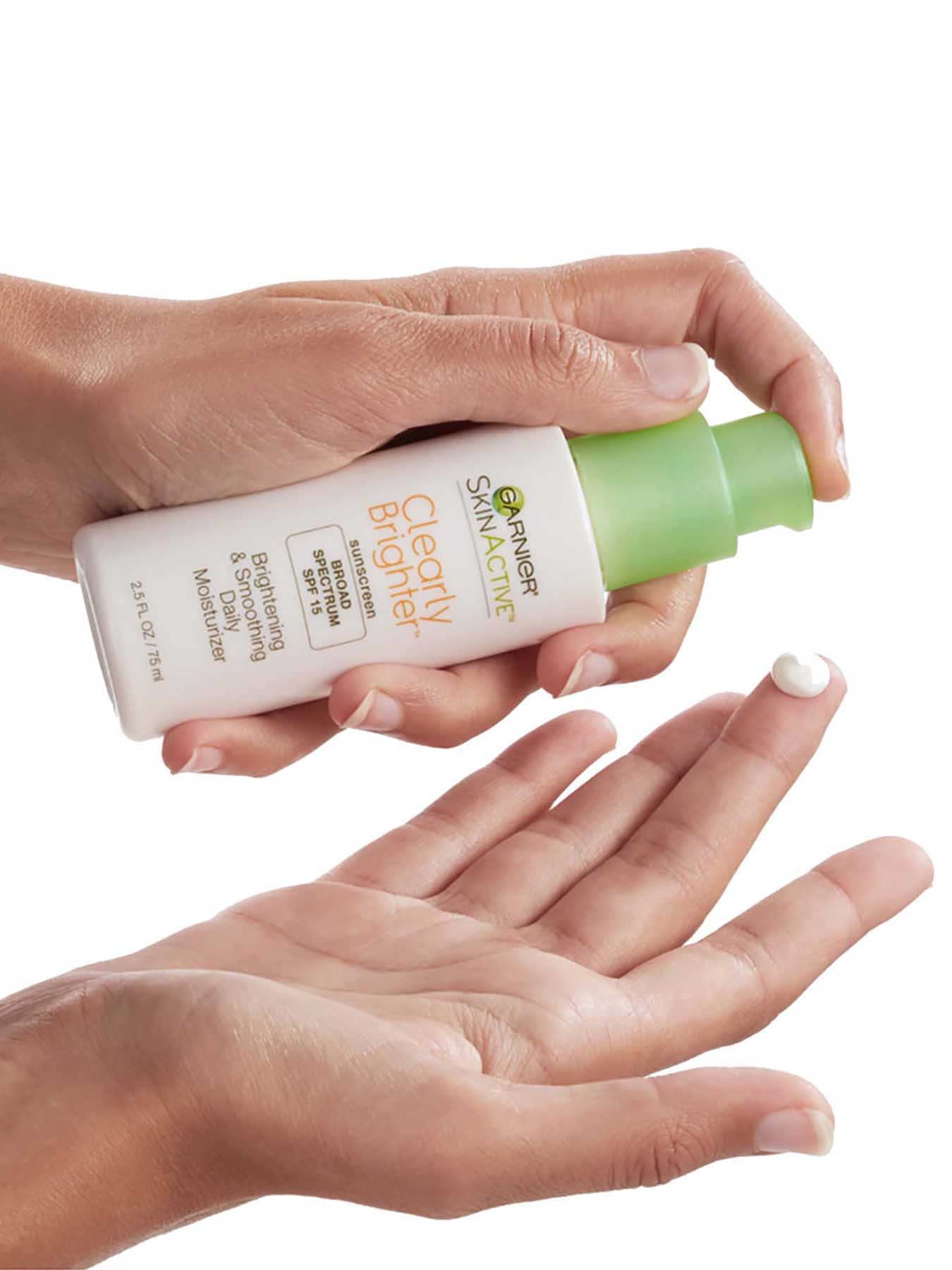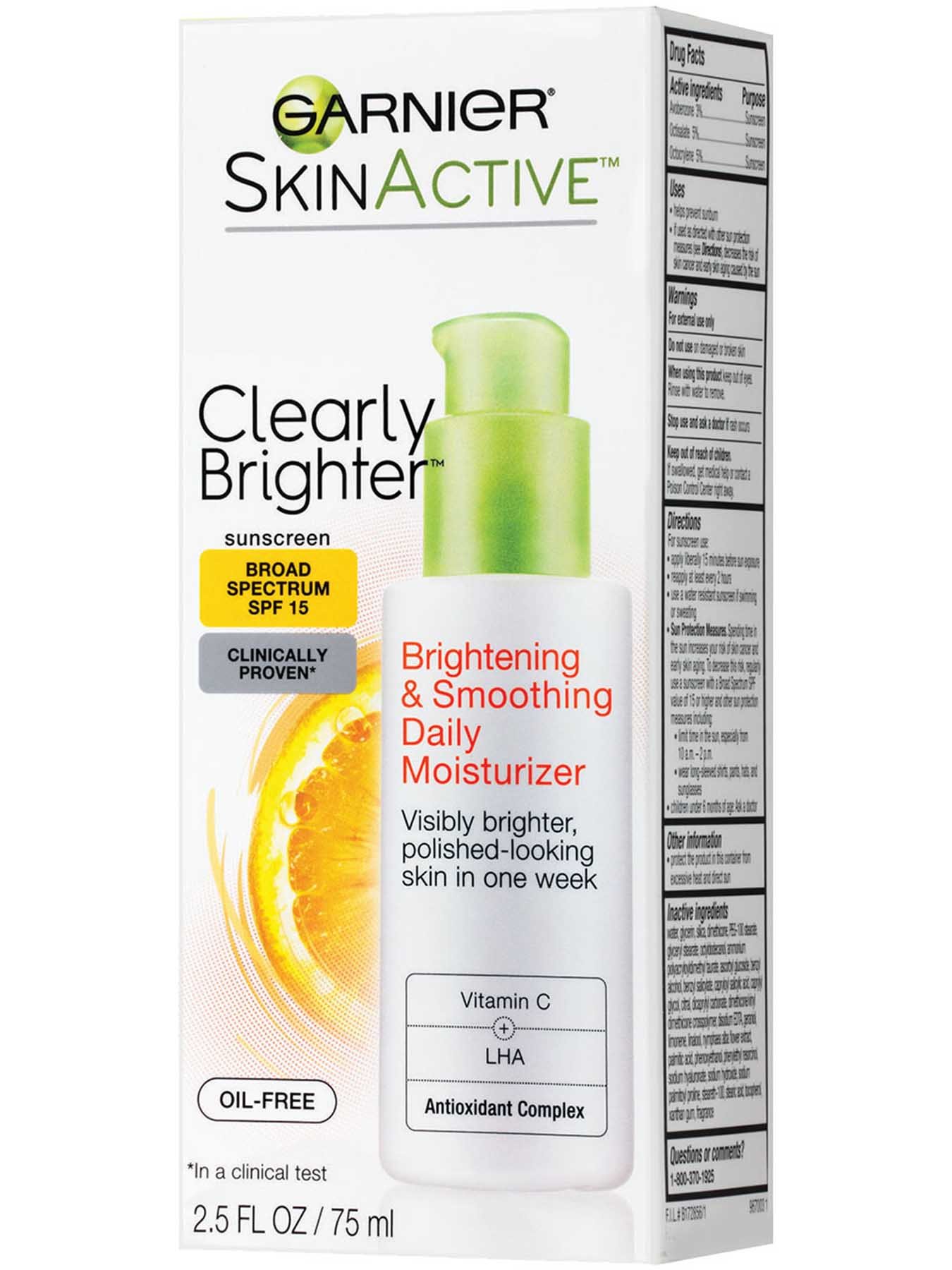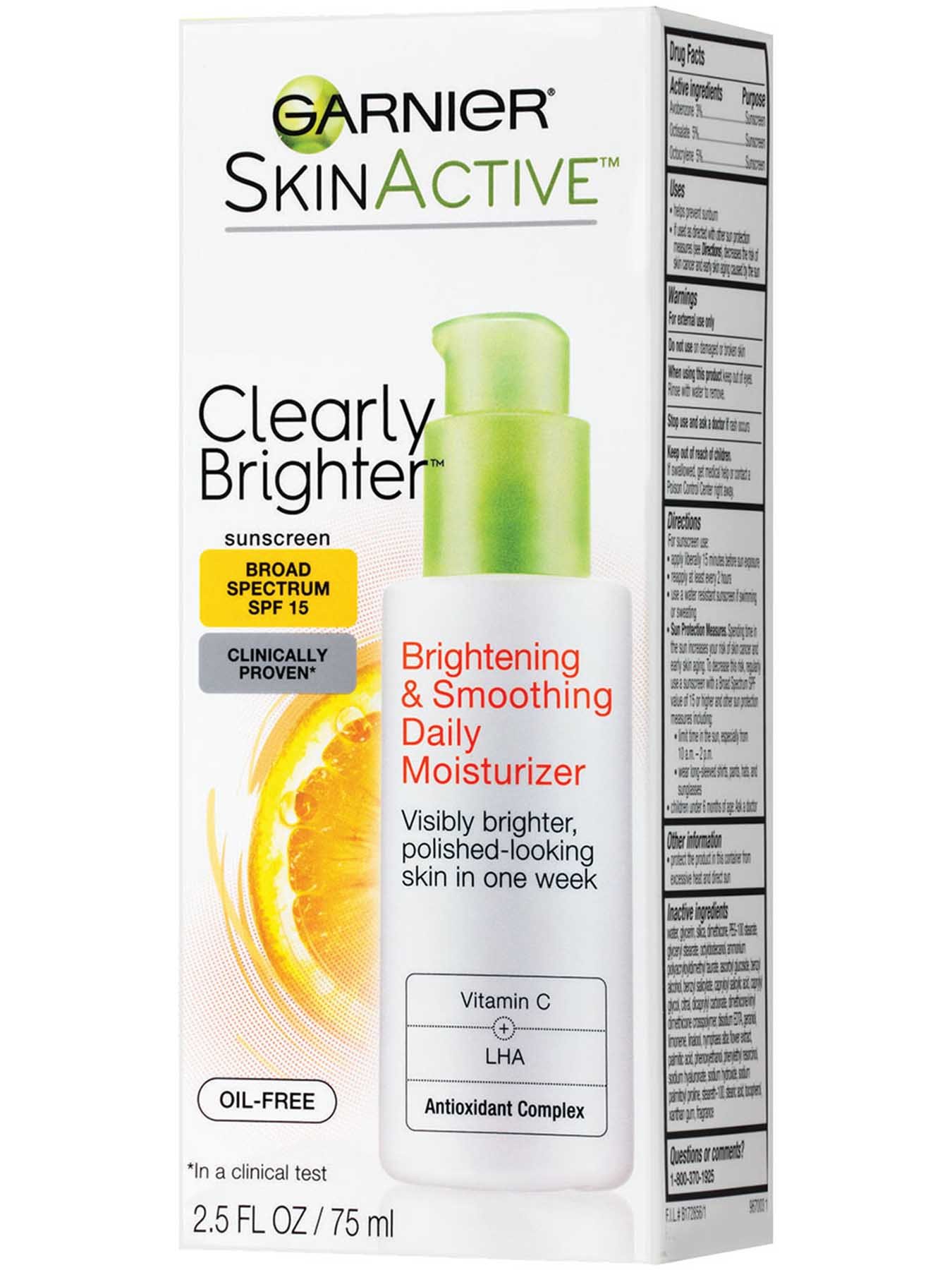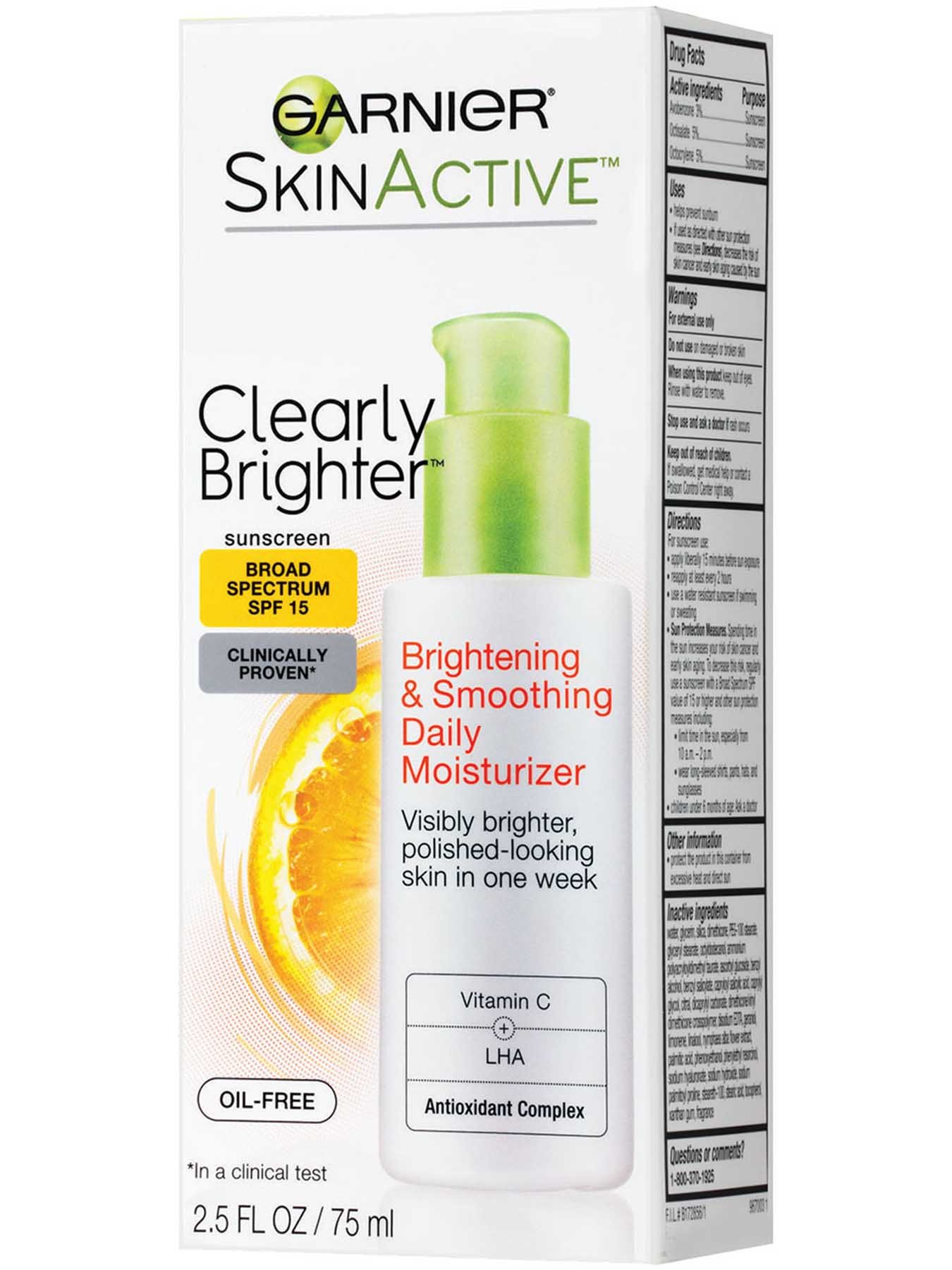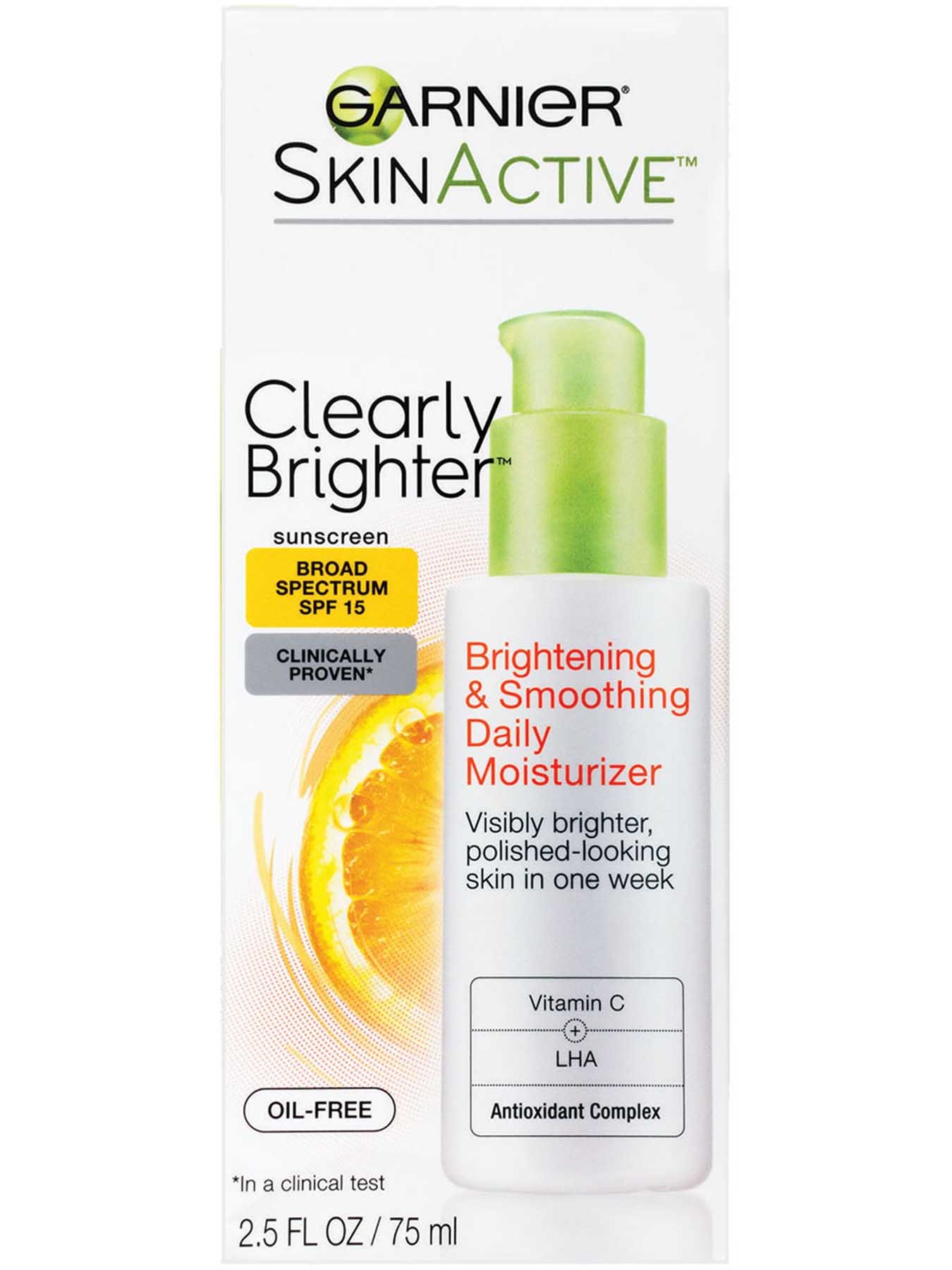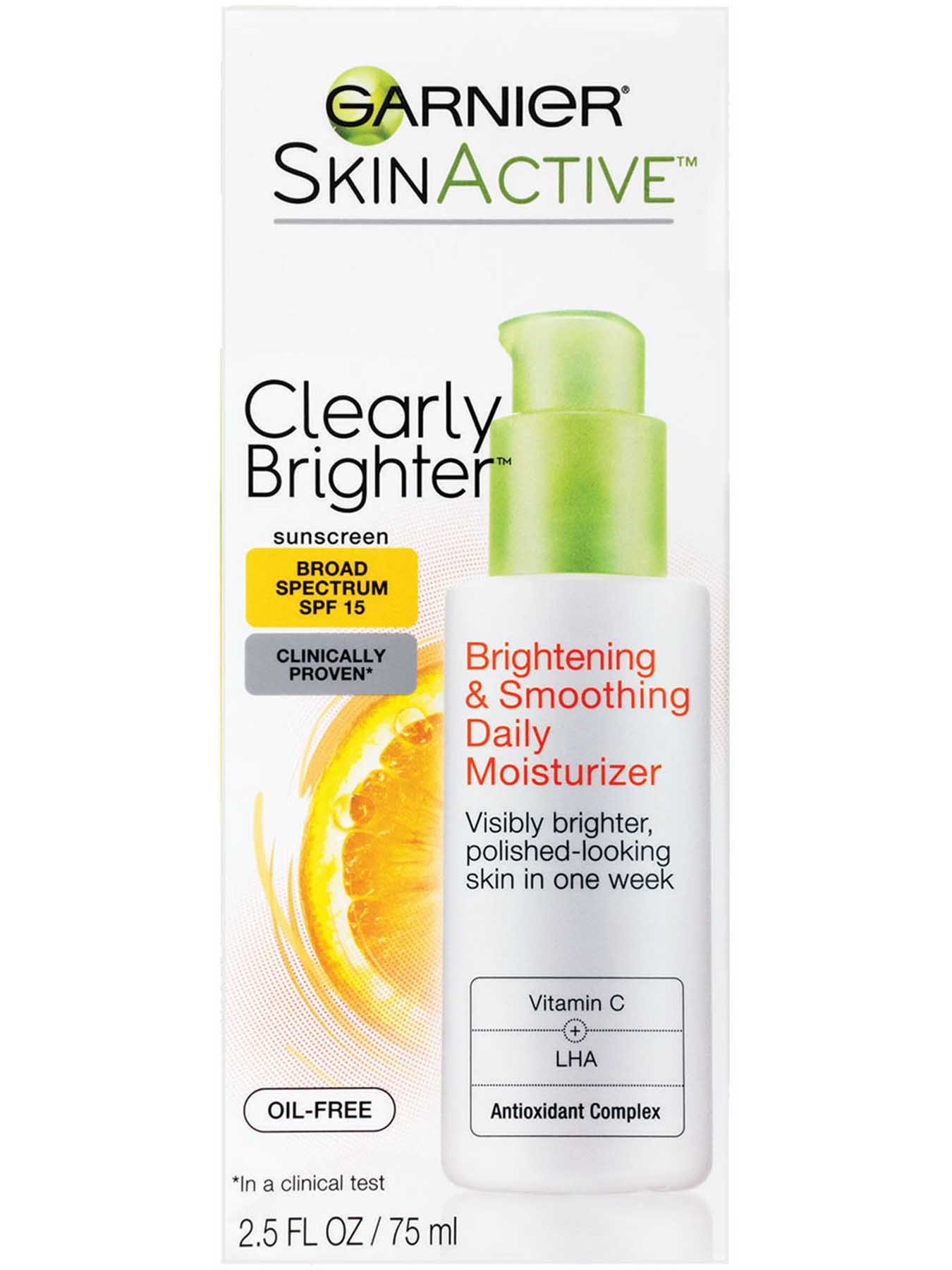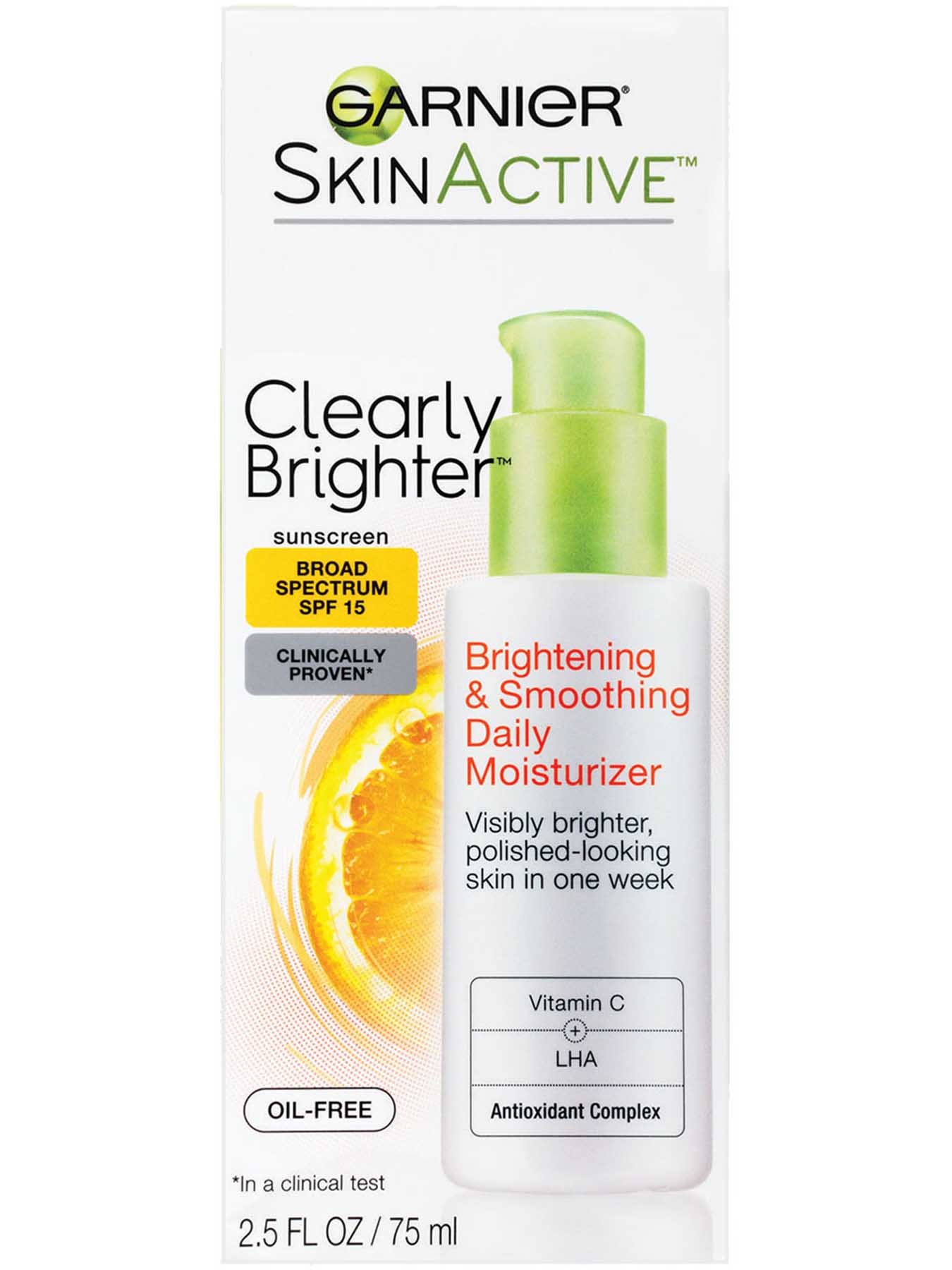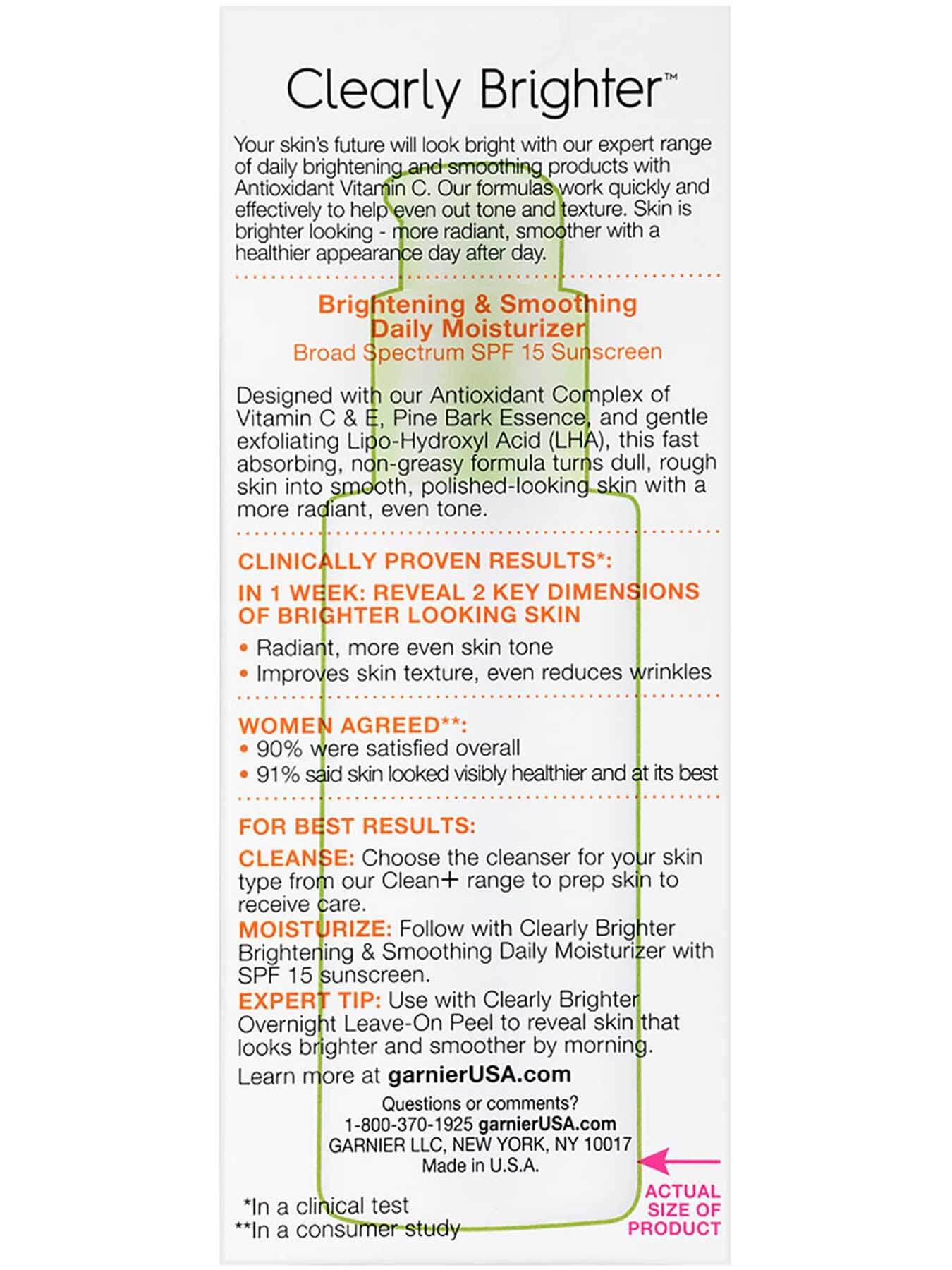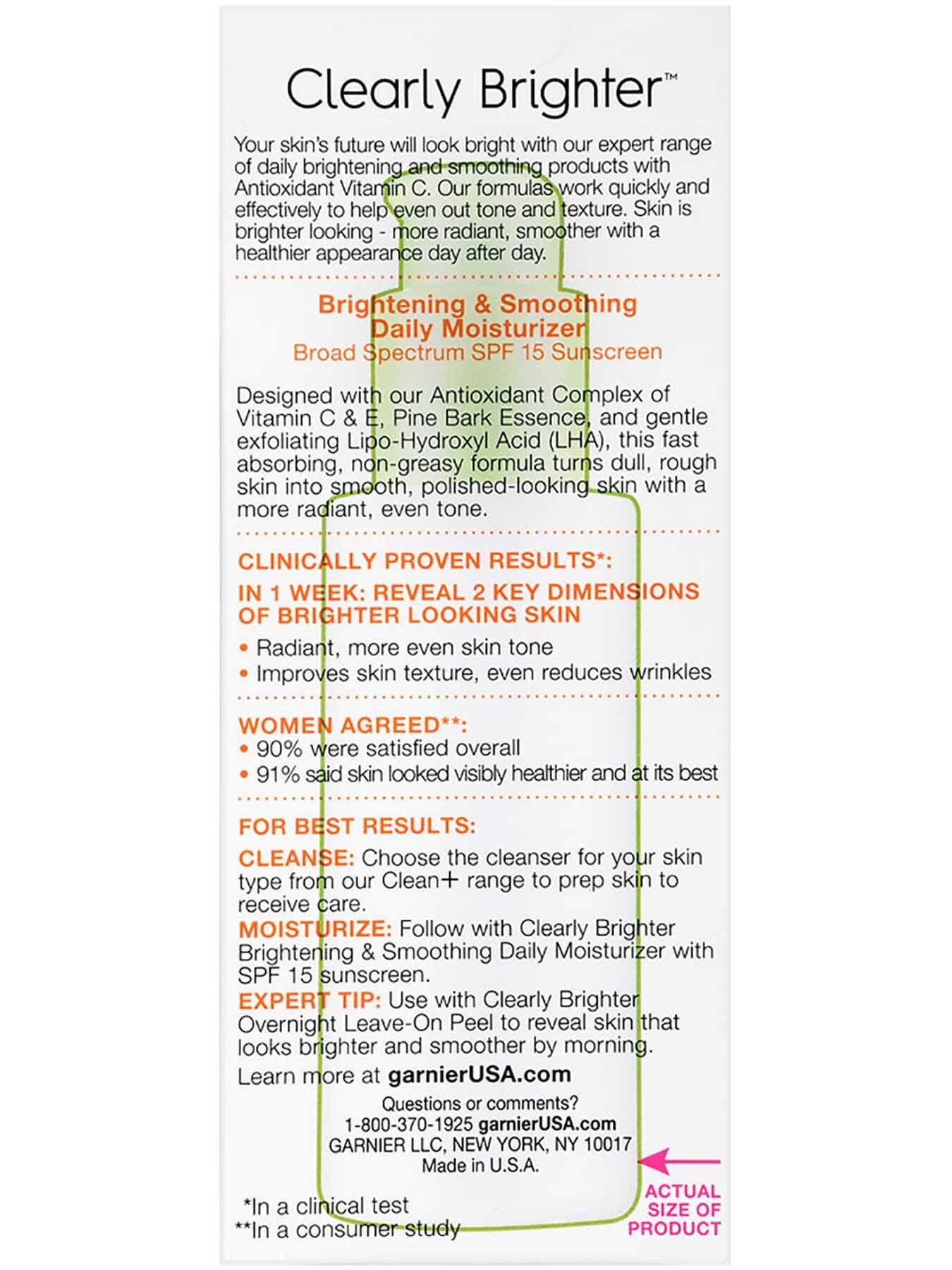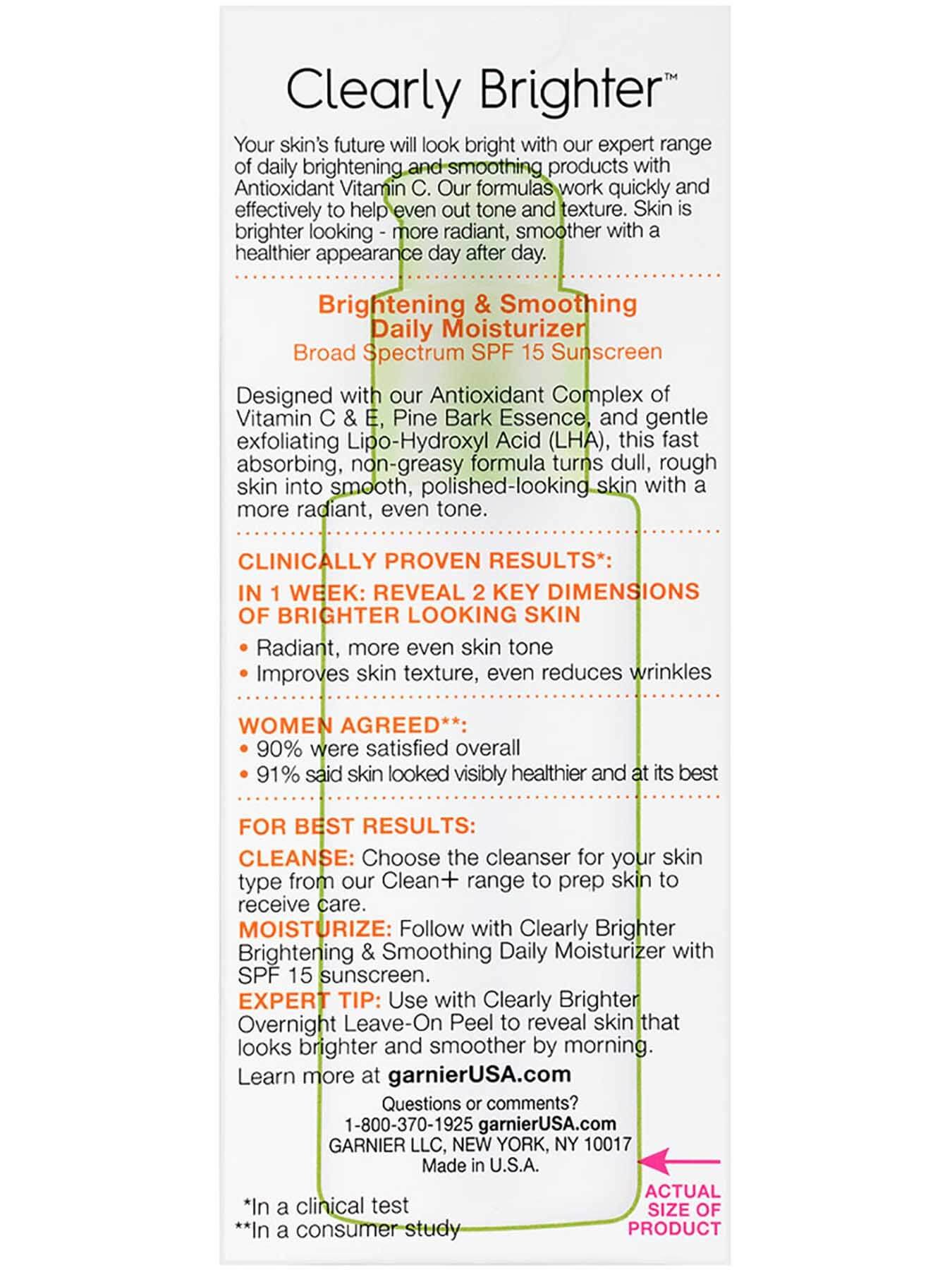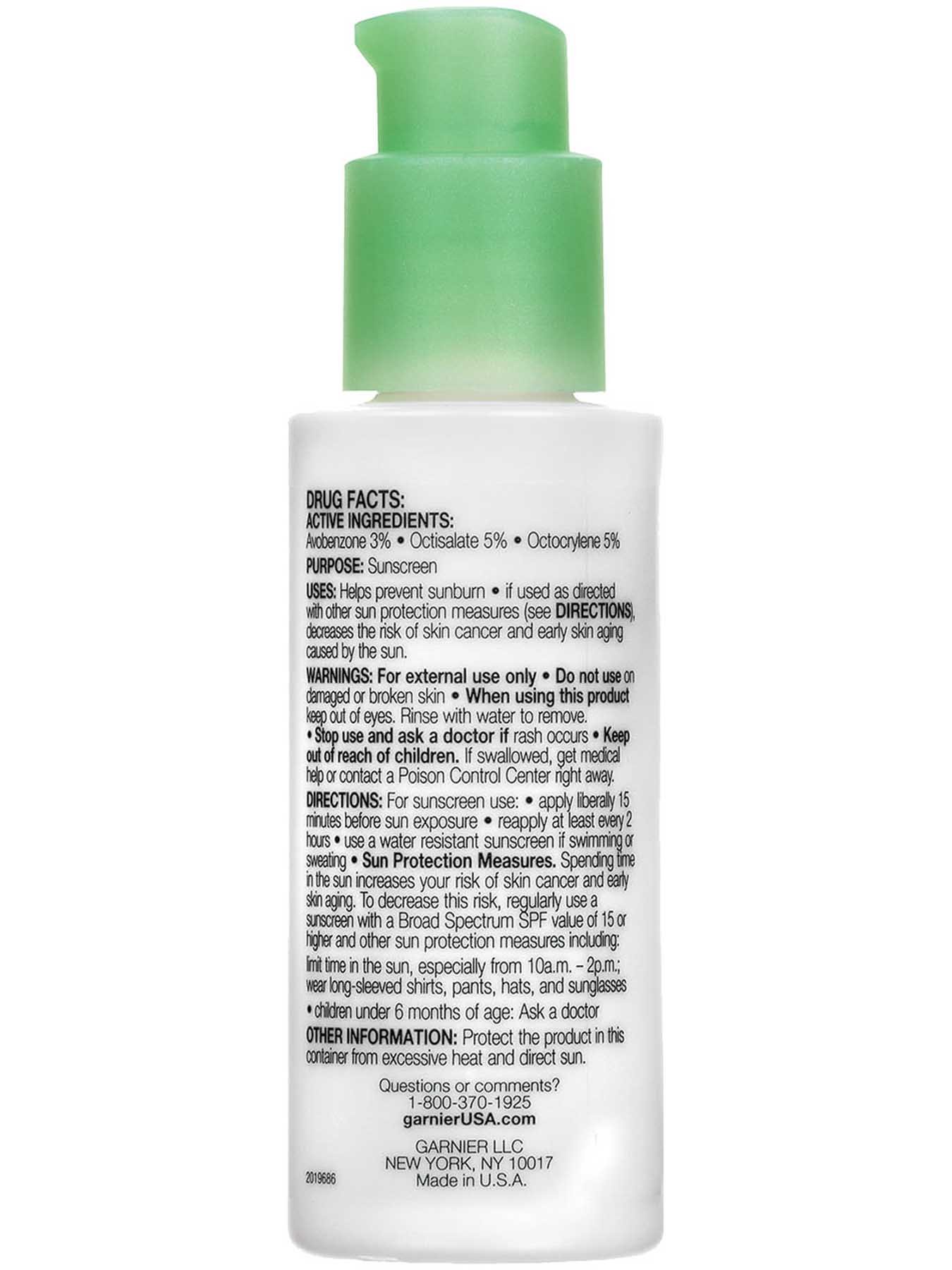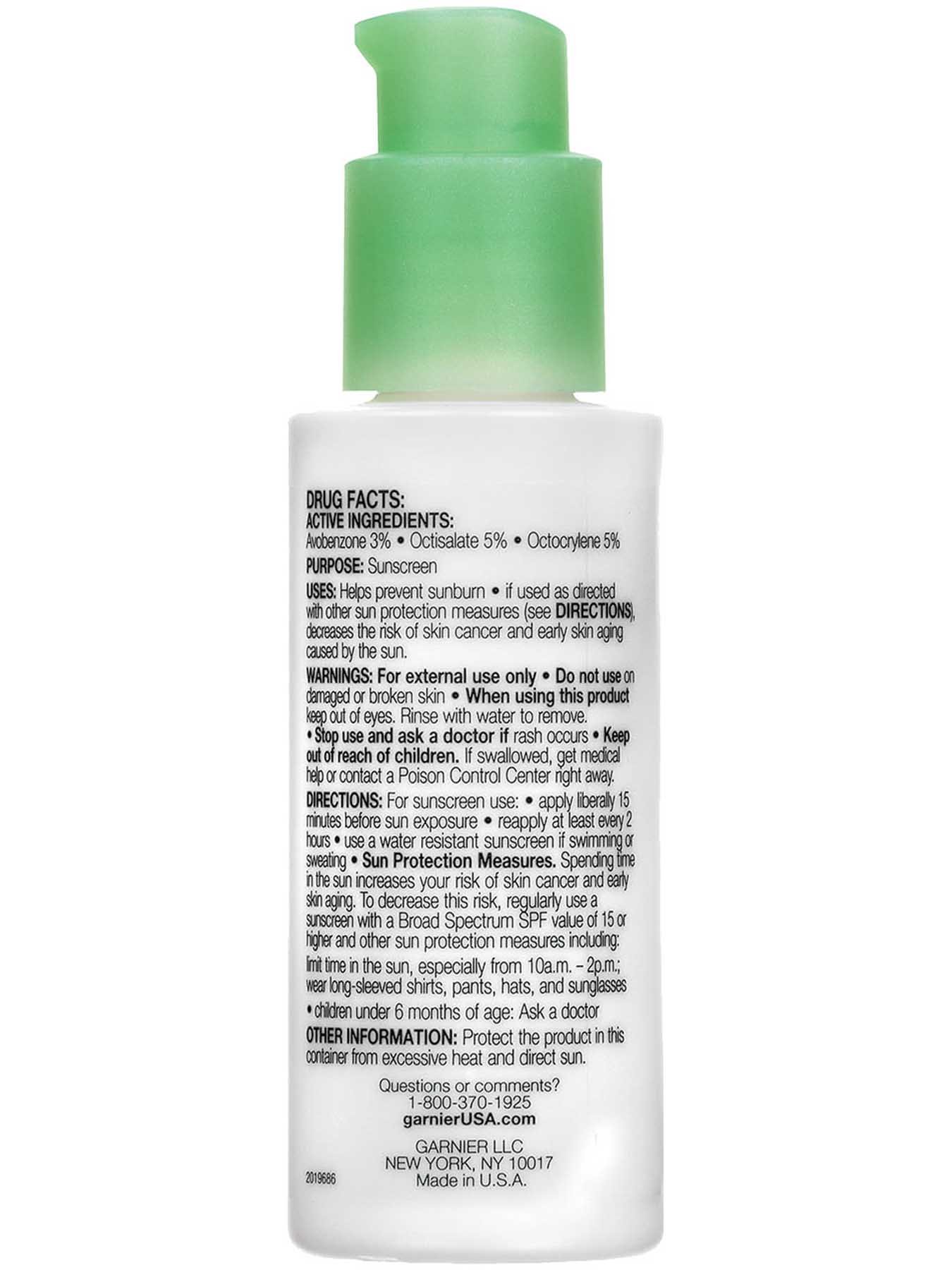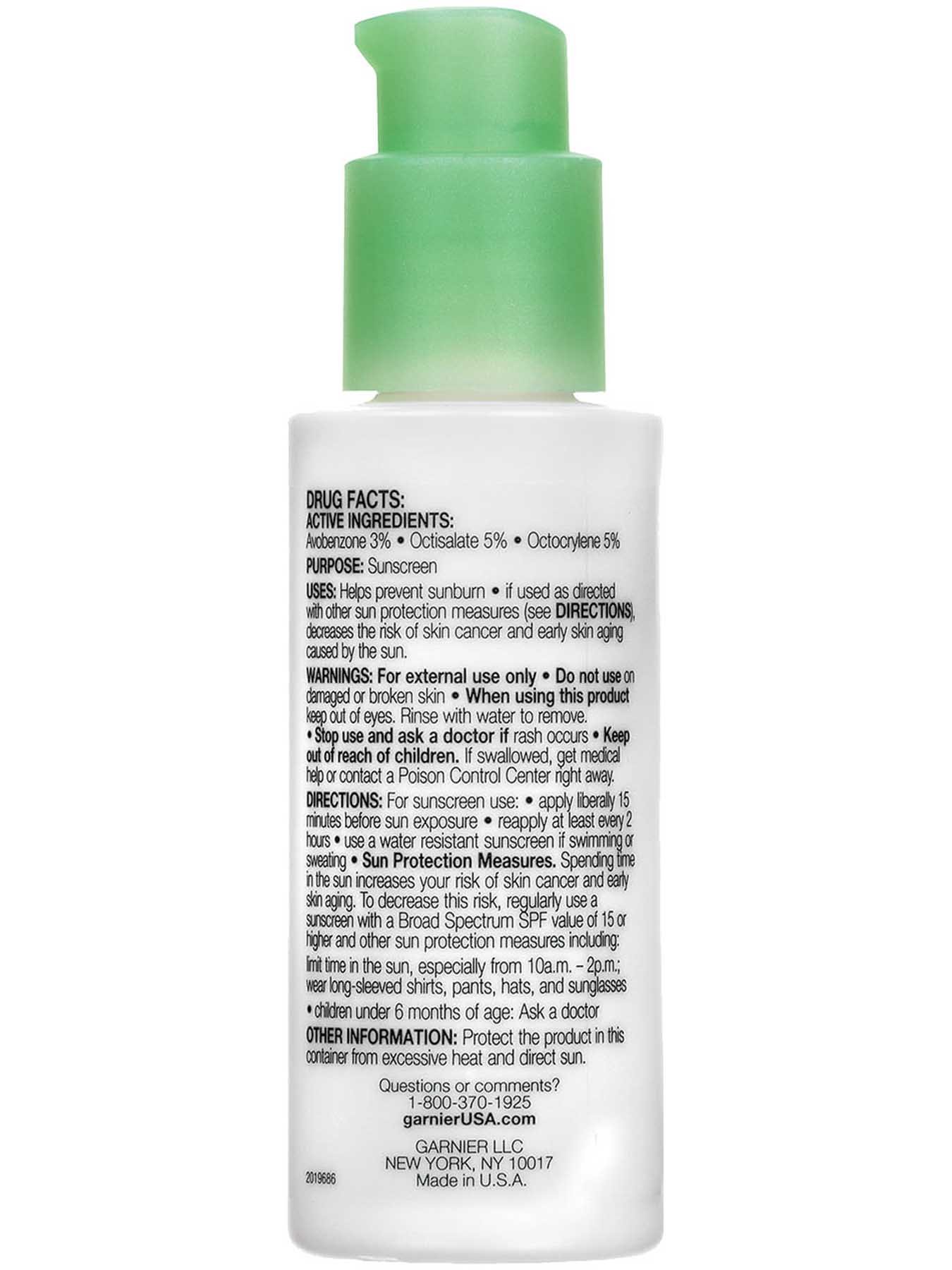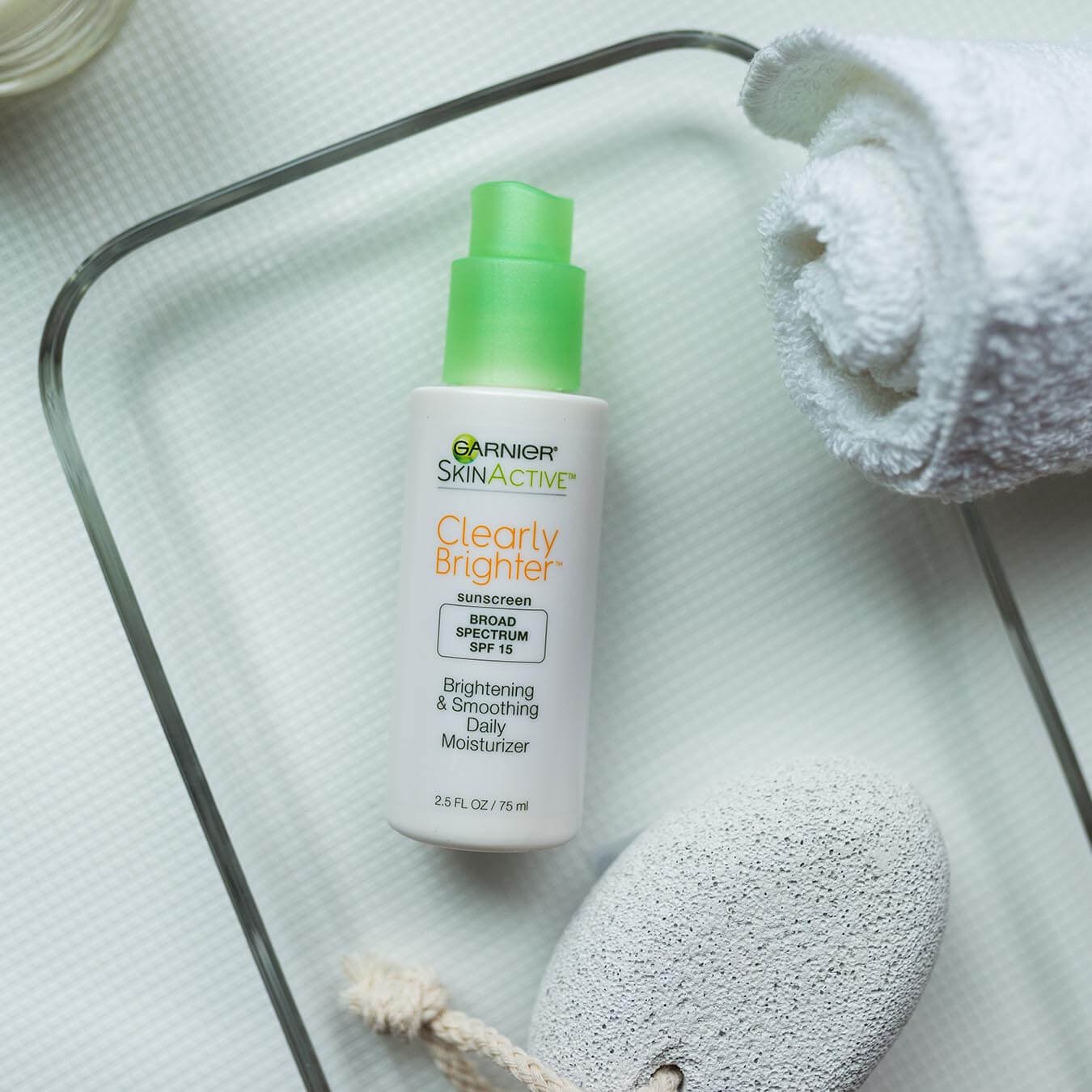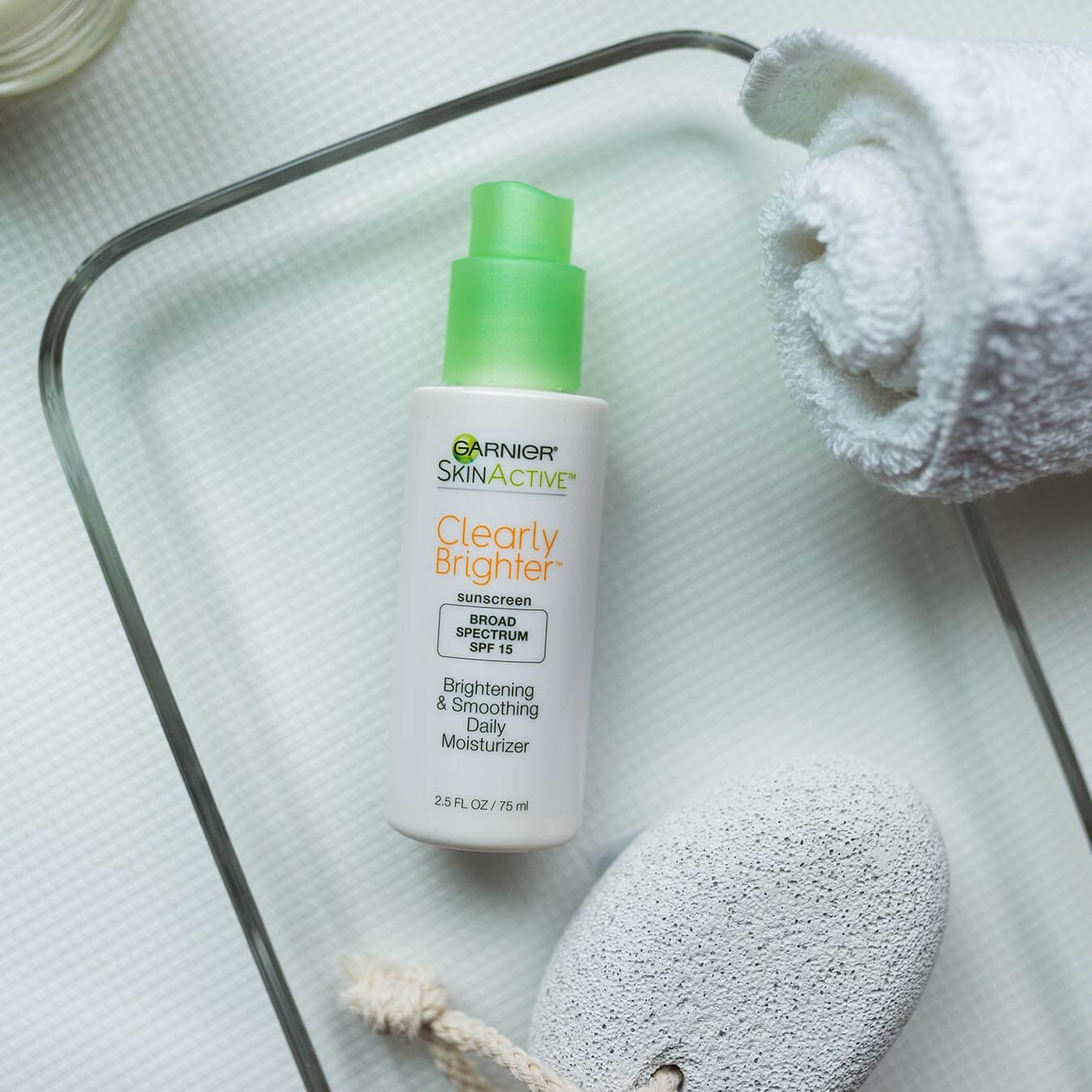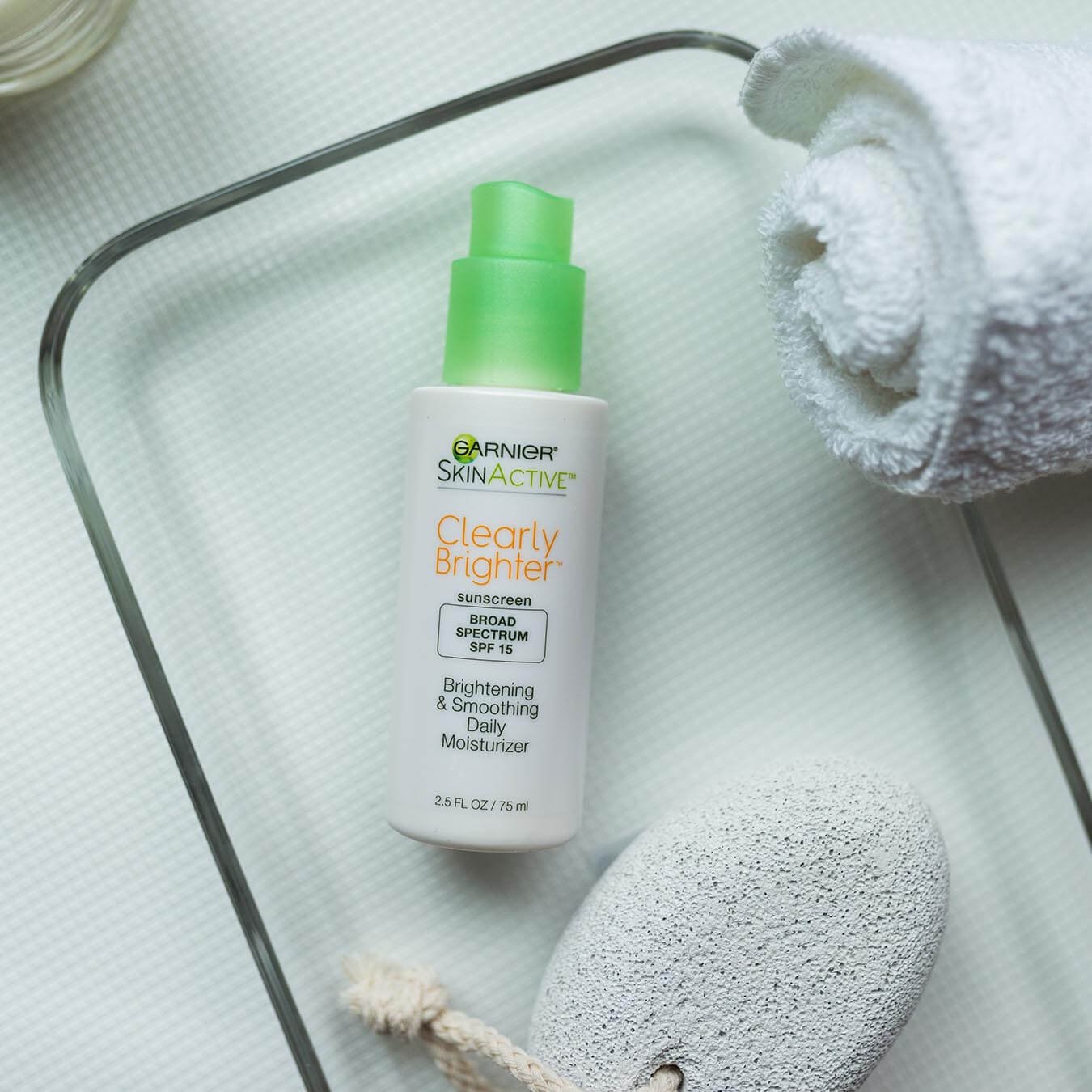 Clearly Brighter Brightening & Smoothing Daily Moisturizer SPF 15
Garnier SkinActive
$14.99 MSRP
Visibly brighter, polished-looking skin in one week.
PRODUCT INFORMATION:
Designed with our Antioxidant Complex of Vitamin C & E, Pine Bark Essence, and gentle exfoliating Lipo-Hydroxyl Acid (LHA), this fast absorbing, non-greasy formula turns dull, rough skin into smooth, polished-looking skin with a more radiant, even tone.

Warnings: For external use only. Do not use on damaged or broken skin. When using this product keep out of eyes. Rinse with water to remove. Stop use and ask a doctor if rash occurs. Keep out of reach of children. If swallowed, get medical help or contact a Poison Control Center right away.
Results:
Clinically proven results.* In 1 week, reveals two key dimensions of brighter looking skin: radiant, more even skin tone and improved skin texture, even reduces wrinkles. *In a clinical test
How to Use:
For sunscreen use: Apply liberally 15 minutes before sun exposure. Reapply at least every 2 hours. Use a water resistant sunscreen if swimming or sweating.

Sun Protection Measures. Spending time in the sun increases your risk of skin cancer and early skin aging. To decrease this risk, regularly use a sunscreen with Broad Spectrum SPF value of 15 or higher and other sun protection measures, including: limit time in the sun, especially from 10a.m. – 2p.m., wear long-sleeved shirts, pants, hats, and sunglasses. Children under 6 months of age: Ask a doctor.
Ingredients:
Active ingredients Purpose
Avobenzone 3% .................... Sunscreen
Octisalate 5% .................... Sunscreen
Octocrylene 5% ................... Sunscreen

Inactive Ingredients: water, glycerin, silica, dimethicone, PEG-100 stearate, glyceryl stearate, octyldodecanol, ammonium polyacryloyldimethyl taurate, ascorbyl glucoside, benzyl alcohol, benzyl salicylate, capryloyl salicylic acid, caprylyl glycol, citral, dicaprylyl carbonate, dimethicone/vinyl dimethicone crosspolymer, disodium EDTA, geraniol, limonene, linalool, nymphaea alba flower extract, palmitic acid, phenoxyethanol, phenylethyl resorcinol, sodium hyaluronate, sodium hydroxide, sodium palmitoyl proline, steareth-100, stearic acid, tocopherol, xanthan gum, fragrance
Antioxidants
Antioxidants are a group of vitamins and minerals that defend against the aging, damaging effects of "free radical" toxins and pollutants. Usually found in nuts, berries, and plant-based oils, the most popular Antioxidants used in beauty formulas include Vitamins A, C and E, Beta-Carotene, and the minerals Selenium and Manganese.
SPF
Commonly found in moisturizers and increasingly in hair care, Sun Protection Factor, better known as SPF, indicates the level of sunburn protection you can expect from the sun's Ultra Violet B rays. SPF 15, for example, blocks 94% of UVB rays, while SPF 30 blocks 97%, SPF 50 98%, and SPF 100 99%. Products labeled "Broad Spectrum" block the deeply-penetrating Ultra Violet A rays too.
Vitamin c
There's more to Vitamin C than meets the eye. A powerful antioxidant, it is also highly effective in fighting signs of aging, brightening skin tone, and helping reduce the appearance of dark spots over time.
Vitamin E
Vitamin E is an antioxidant that helps maintain skin snd hair's natural hydration. Used in skin care, It helps absorb and protect from damaging UV rays. In hair care, it helps seal in protective moisture.
Rated

5

out of

5
by
Suza
from
All ages
My son came home from college and brought this with him, he told me to try it and I have been using it since September and there has been a dramatic change for the good in our skins appearance. I am 60 yrs old and it has made me extremely happy to use it in my daily routine. I ABSOLUTELY RECOMMEND THIS TO ALL AGES
Date published: 2017-11-29
Rated

5

out of

5
by
Ashmarie
from
Awesome product!
I received a sample with a purchase I made from ULTA. I love it! It made my skin smooth and added a nice glow. Will most definitely be going to purchase a full size. It's amazing and works well under makeup which is a plus for me!!
Date published: 2017-04-12
Rated

5

out of

5
by
perkysmom
from
This stuff is terrific!
I am 68 years old and never had any compliments on my skin (as a teenager, I had acne). I have been using this Garnier product for several months and have been told that my skin is "luminous". Great product, highly recommend.
Date published: 2017-01-19
Rated

5

out of

5
by
Reynita
from
Bright and glowy skin!
I got a sample of this with my micellar water and became obsessed. I've been using for about a month and ended up buying the full product. I have oily/combination skin and it leaves my skin really hydrated without being greasy. It really brightened up my skin and gives me a healthy glow. It minimized my breakouts and feels so fresh.
Date published: 2016-12-20
Rated

5

out of

5
by
Cherrychapsick
from
Really works!!!
I bought this on a whim, and it was the best purchase I've ever made for my skin. I had really bad acne in my forehead which resulted in horrible scars. This product really helped get rid of those dark spots, it smells great and it has SPF which is a total win! I've told 3 of my girlfriends to buy it and they all love it. I love it so much that I repurchased it. I'm really looking forward to trying more things from this line!
Date published: 2016-11-06
Rated

5

out of

5
by
Jen67
from
Great
I received a sample I love it I recommend to all my friends
Date published: 2016-11-04
Rated

5

out of

5
by
Mags27
from
Awesome!
I received a sample in one of my magazines and I have to say I love this very much! Will definitely buy it!
Date published: 2016-10-24
Rated

5

out of

5
by
Elle61373
from
Its Great! It Works!
I Love it. It moisturizers but doesnlt leave an oily residue. I feel like it doesn't clog up more nearly as bad as other products I have tried. I recieved a little sample in the mail to try. And I loved it. Great Product. I will be buying some of this for myself!!
Date published: 2016-10-14
Rated

5

out of

5
by
BlueStang03
from
Smooth Skin
I received a sample and tried used it as my night cream. Left my skin feeling refreshed and clean. Goes on smooth.
Date published: 2016-10-09
Rated

5

out of

5
by
Meganlee54
from
Great coupon
I used the coupon and tried Clearly Brighter. My skin felt smooth and polished, great product.
Date published: 2016-10-05
Rated

5

out of

5
by
aimee00
from
Works amazingly!
I recieved a sample of this in the mail, and it actually exceeded my expectations. On my 5th day of using it I could already see how great is was working with my skin, it felt rejuvenated and had a gorgeous glow to it. Would definitely recommend this product!
Date published: 2016-10-05
Rated

4

out of

5
by
Jwinkler08
from
Nice feeling.
I got a sample of this in the mail and I love the way it makes my skin feel. My skin is smoother, brighter and has a more even tone. Very nice.
Date published: 2016-10-04
Rated

5

out of

5
by
Swulie
from
Clearly the best
I love the way my skin feels after using this product. No more dry tight skin.
Date published: 2016-10-04
Rated

5

out of

5
by
chloesnana
from
Never would have known
I recieved a free sample of this product and have used it ever since. It is not greasy and my skin at 60 is in good condition. I need the spf in it as well. I use it day and night. You do not even feel it on your skin it is so light but effects are noticable.
Date published: 2016-10-03
Rated

5

out of

5
by
emilyg237
from
A Wonderful face product
I really love the way this product absorbs quickly making my skin feel hydrated and soft!!
Date published: 2016-09-28
Rated

5

out of

5
by
Connie Cordell
from
Clearly Brighter is Right!!!!
I received a sample of the Clearly Brighter Brightening & Smoothing Daily Moisturizer in something ordered from Walmart, used it and went to Walmart and purchased it today. I could see a difference in my skin within 2 days
Date published: 2016-09-28
Rated

5

out of

5
by
Shanna1971
from
Light weight moisturizer
I recieved a sample in the mail. Loved it so much, I made a trip to the store just to pick it up for the next morning. Loved it! It feels much better on my skin than a name brand moisturizer that I have been using for at least 10 years or more....I'm hooked
Date published: 2016-09-27
Rated

4

out of

5
by
Elizabeth77
from
Smooth Moisture
I like this product because you don't need a separate sunscreen and moisturizer. This lotion gets the job done in one step. It is great under makeup and it doesn't 'pill' like some products do when I apply my foundation. The scent is light and fresh so I don't think it will bother sensitive noses.
Date published: 2016-09-27
Rated

5

out of

5
by
Delaney12
from
Amazing for skin!
I got a sample and I'm going to buy some more today! It works so well and makes my skin feel amazing
Date published: 2016-09-24
Rated

1

out of

5
by
Colleen68
from
TooPerfumey
I do NOT like anything with even a HINT of perfume in it on my face. I had to wash this product right off.
Date published: 2016-09-24
Rated

4

out of

5
by
CruzE82
from
Love it!
Definitely noticed a significant difference in my skin. Brighter and healthier.
Date published: 2016-09-24
Rated

5

out of

5
by
Jackie777
from
wake up delightfully
I got a sample of this moisturizer and I felt awake, refresh and it smells so good!
Date published: 2016-09-22
Rated

5

out of

5
by
nannybelle
from
smooth, silky skin
I received a sample and decided to give it a try. Loved the feel on my face, make my skin look brighter and was not oily. Bonus was the billt in sunscreen I highly recommend this product as it both protects and sooths.
Date published: 2016-09-17
Rated

5

out of

5
by
marjoe11
from
Non Greasy, absorbs great!
I received a sample of the clearly brighter and am impressed! While I didn't have enough to use for an entire week, I loved how light and non greasy this was and how quickly it absorbed into my skin. I will be purchasing!
Date published: 2016-09-15
Rated

5

out of

5
by
Mandiegirl
from
Love it!!!
Works great, not greasy, leaves skin smooth and silky
Date published: 2016-09-14
Rated

5

out of

5
by
Kk4ever
from
It really clearly brightens you face !
Hi ,my name is Karianne and I do whatever I can to keep my face clear and healthy .So I got clearly brighter as a sample and I thought to myself it going to just leave my face oily .The thing is it didn't clearly brighter works so good .My friends keep asking me how I keep my face so clear and I told them and they were like we have to got some that . Normally I don't fill out surveys ,but this time I am because this product is amazing .Two thumbs up!
Date published: 2016-09-10
Rated

1

out of

5
by
Laceeloo
from
Broke out in rash
I got three or more samples and I was excited to try it because of the brightening it said it gave. After using it I broke out in red rashes all over my face which my I am not use to! It's very disappointing this product didn't turn out well for me.. I first thought it was just mean but I saw other reviews that it did the same thing to their skin also!!! Unfortunately this does not work well with my skin but just glad I'm not the only one who experienced it. I'll be throwing the rest away don't want this happening to anyone else I know.
Date published: 2016-09-07
Rated

5

out of

5
by
asherrow
from
Best Moisturizer, Hands Down!
I received this as a sample and figured I would try it out since my skin gets so dry around this time of the year. I am SHOCKED at how smooth and nourished my skin feels after a few days of applying this after my shower. Seriously, I love this product!!!
Date published: 2016-09-07
Rated

1

out of

5
by
mbabyox
from
Dissapointing :(
I bought this product along with the tinted moisturizer, under eye roller, and face wash. I've used the previous bb cream and other products in my daily makeup routine, but when I decided to upgrade to these new and improved products, after a few days of wearing, my face is completely broken out :( I loved the old moisturizer and bb cream, but sadly this one made my skin red and blotchy.
Date published: 2016-09-05
Rated

4

out of

5
by
Liztess
from
Absorbs Easily
I got a sample in my Fabletics package. Really like the lightweight, absorbable moisture unlike many similar products with sunscreen. Definitely easy to use every day, all seasons, rain or shine!
Date published: 2016-09-04