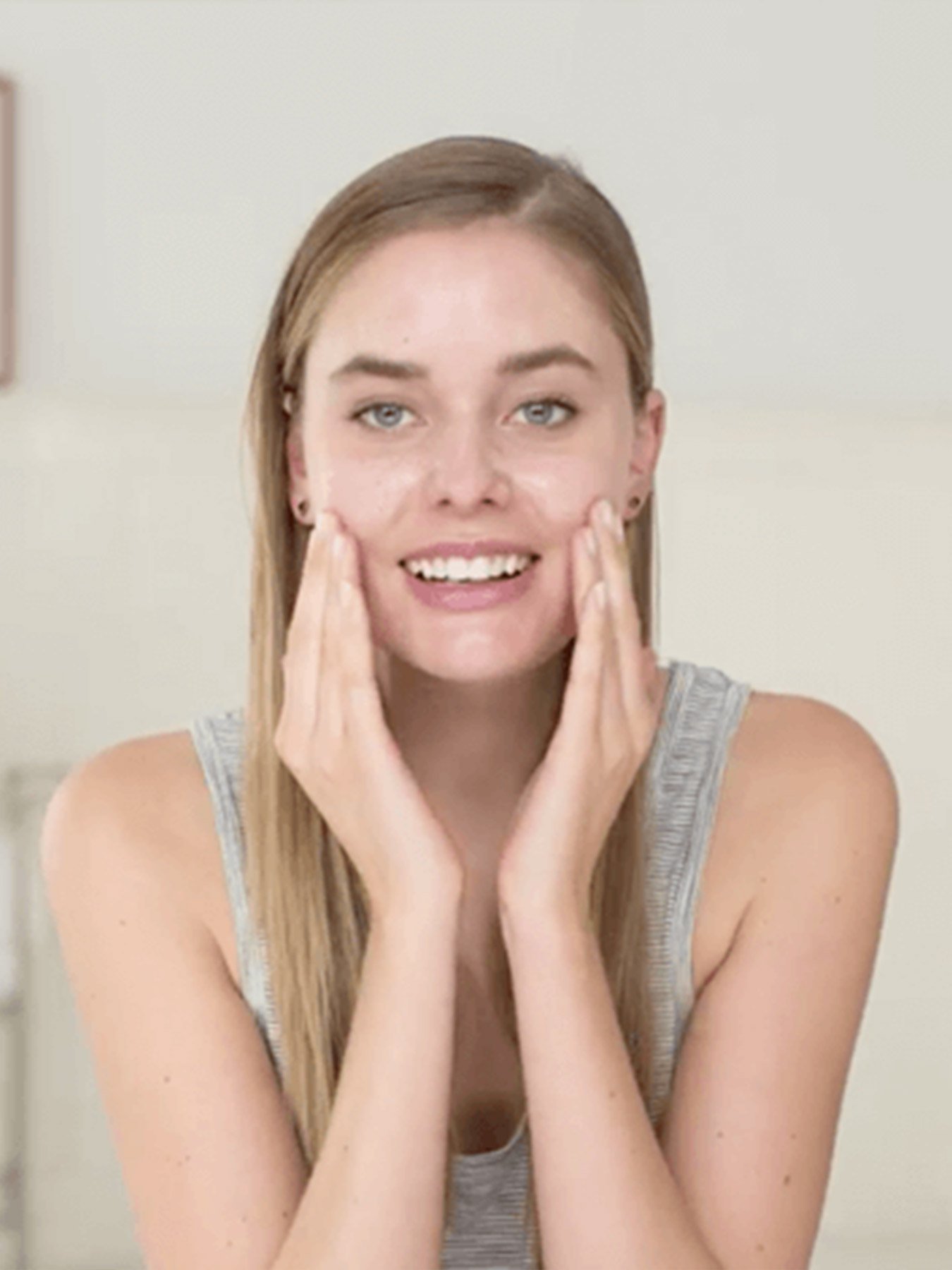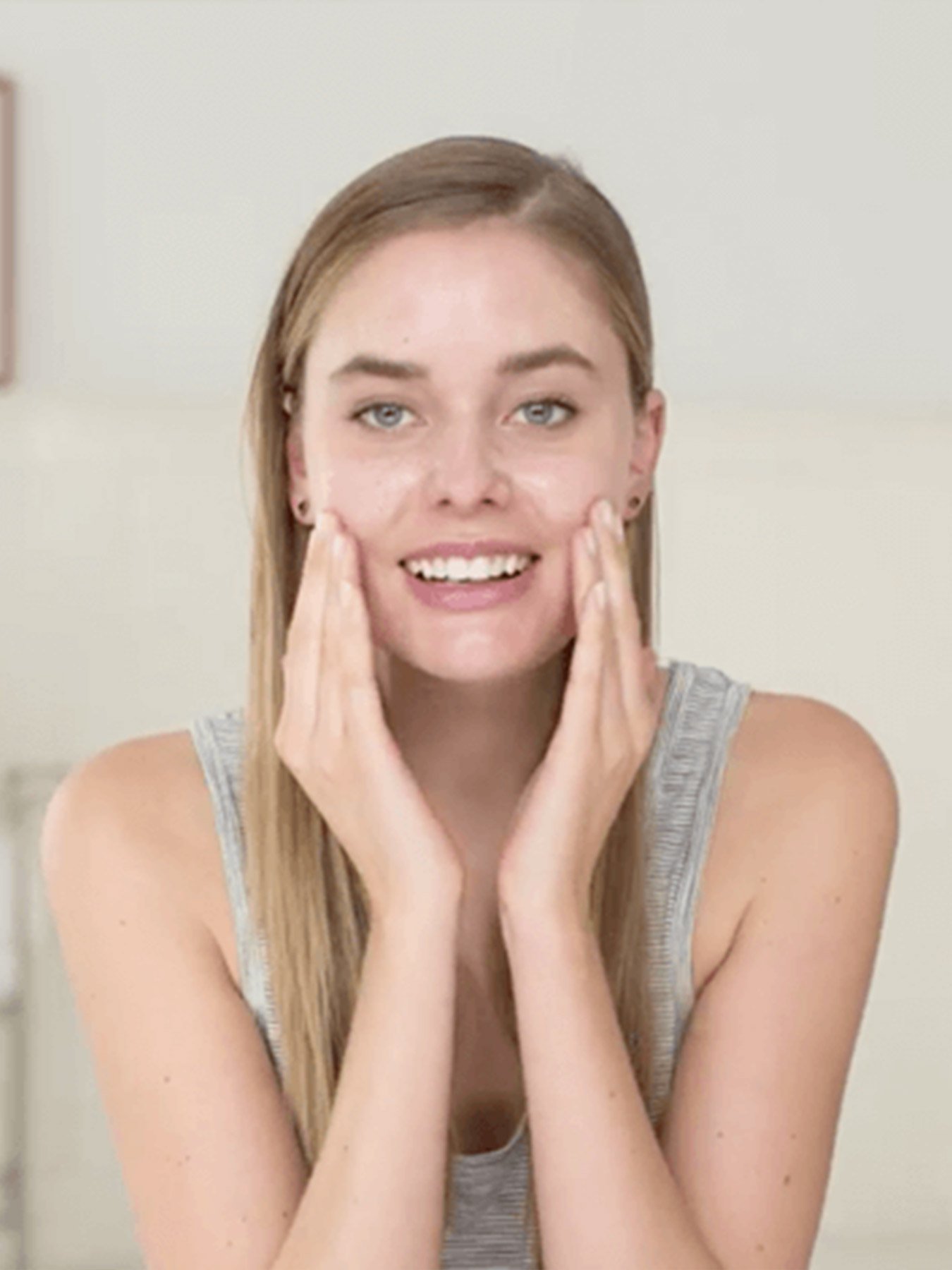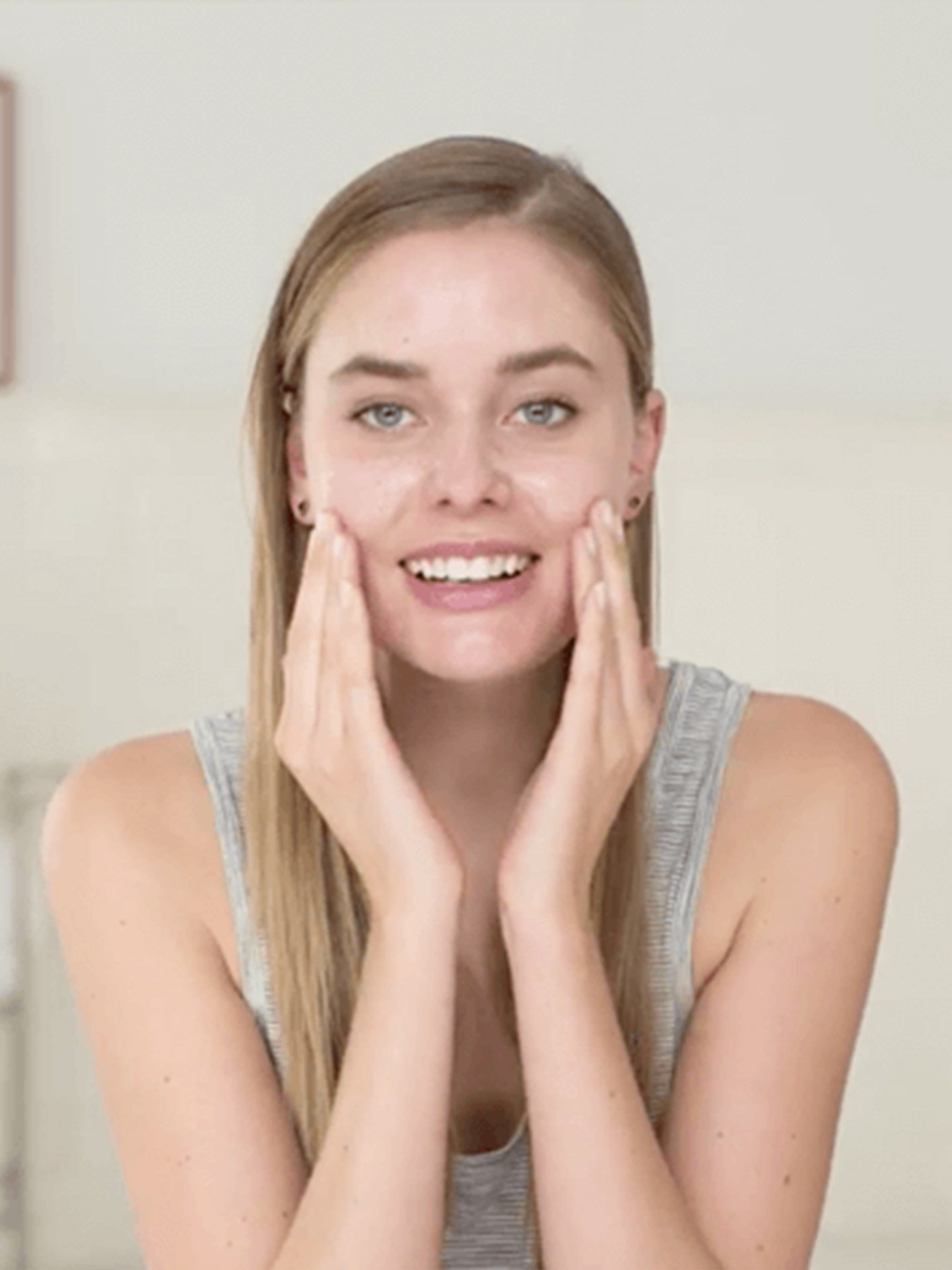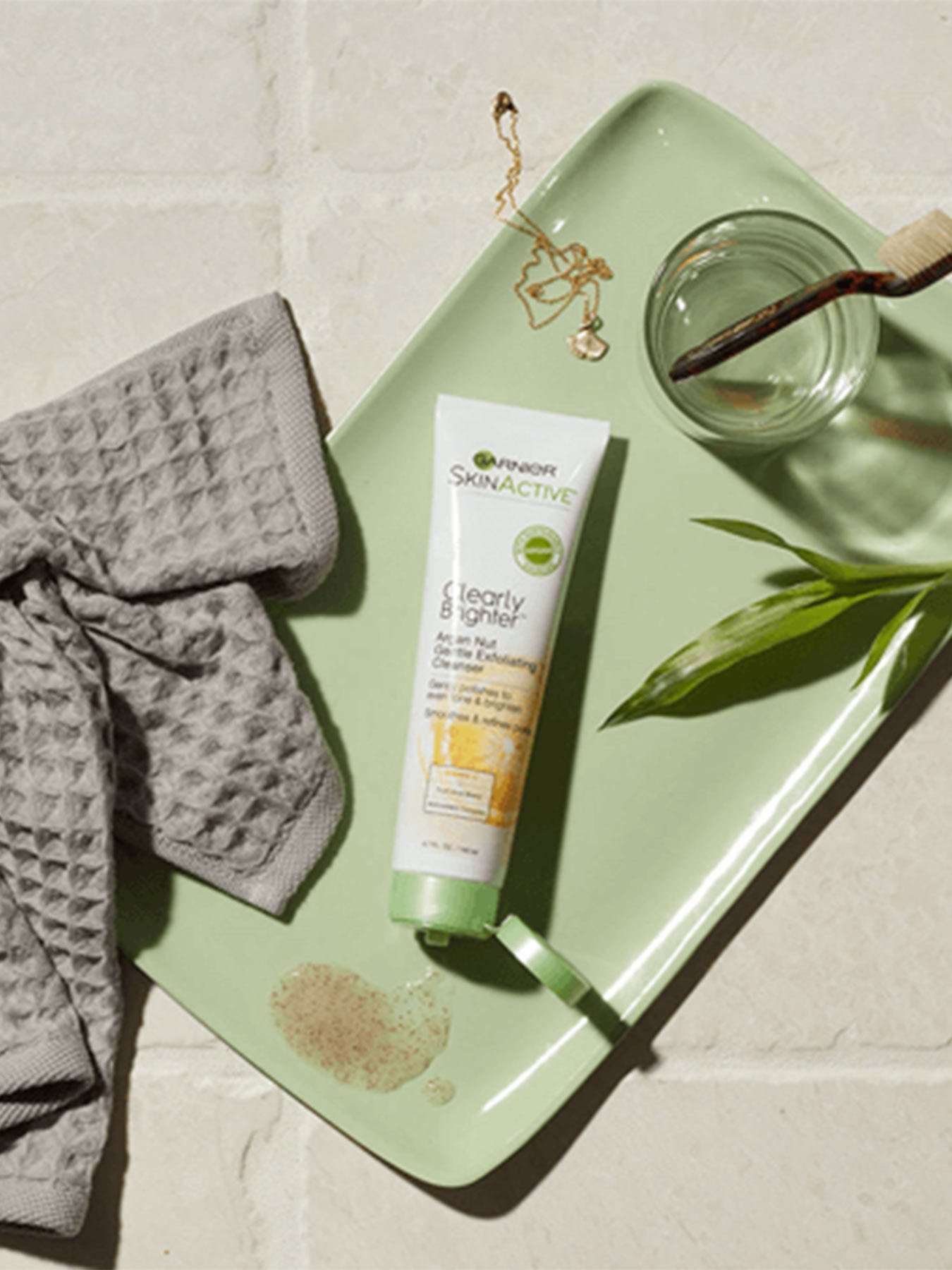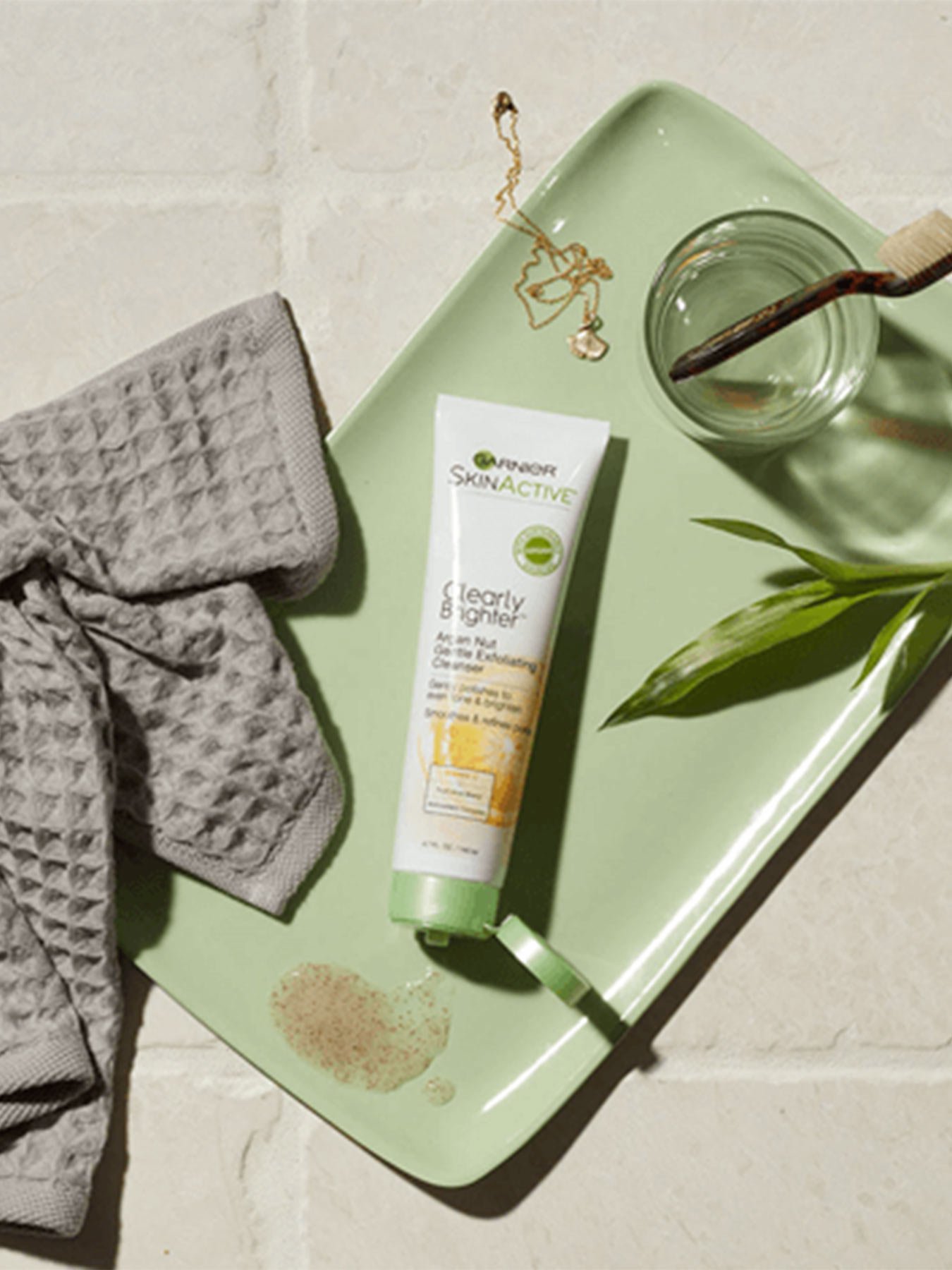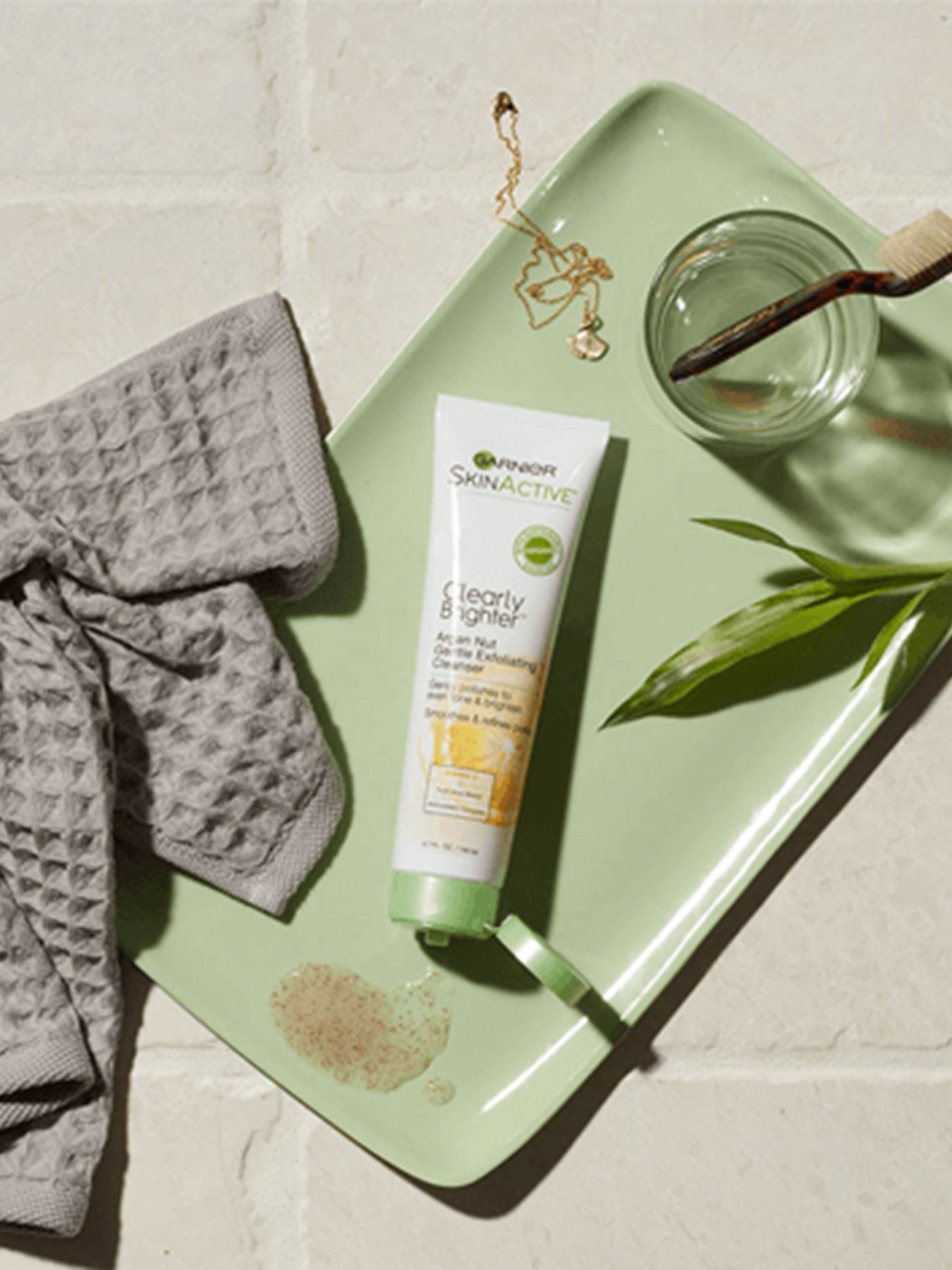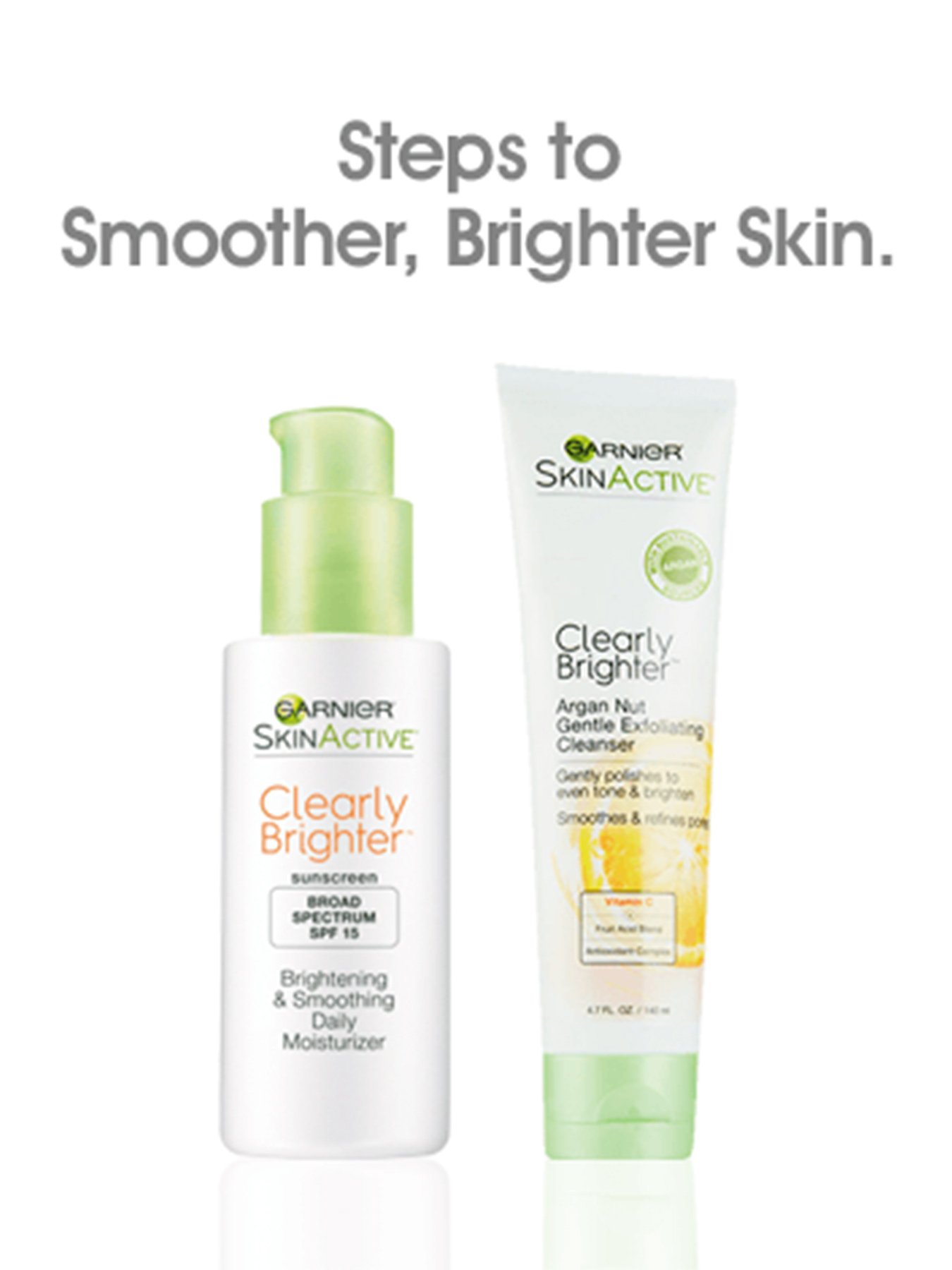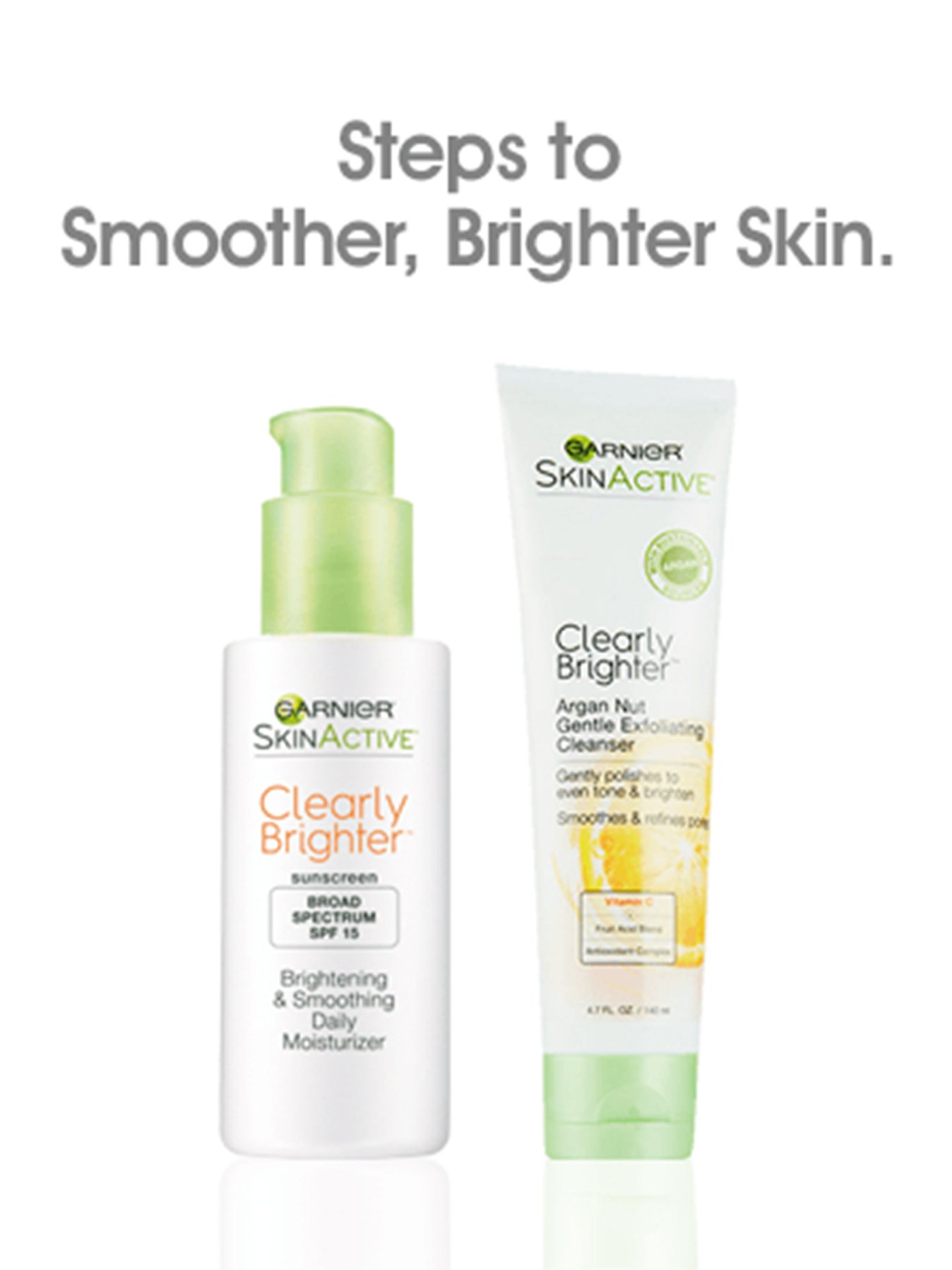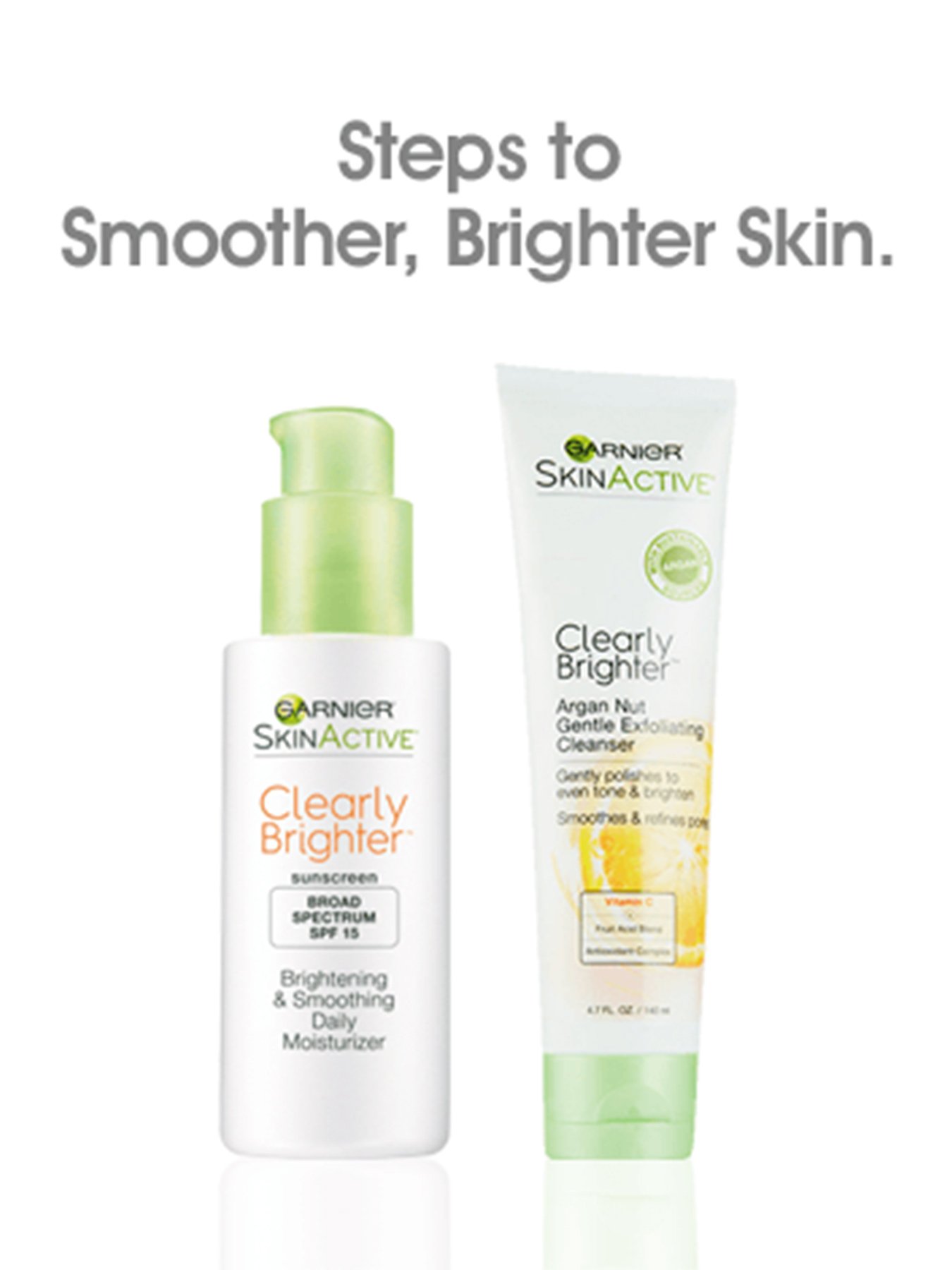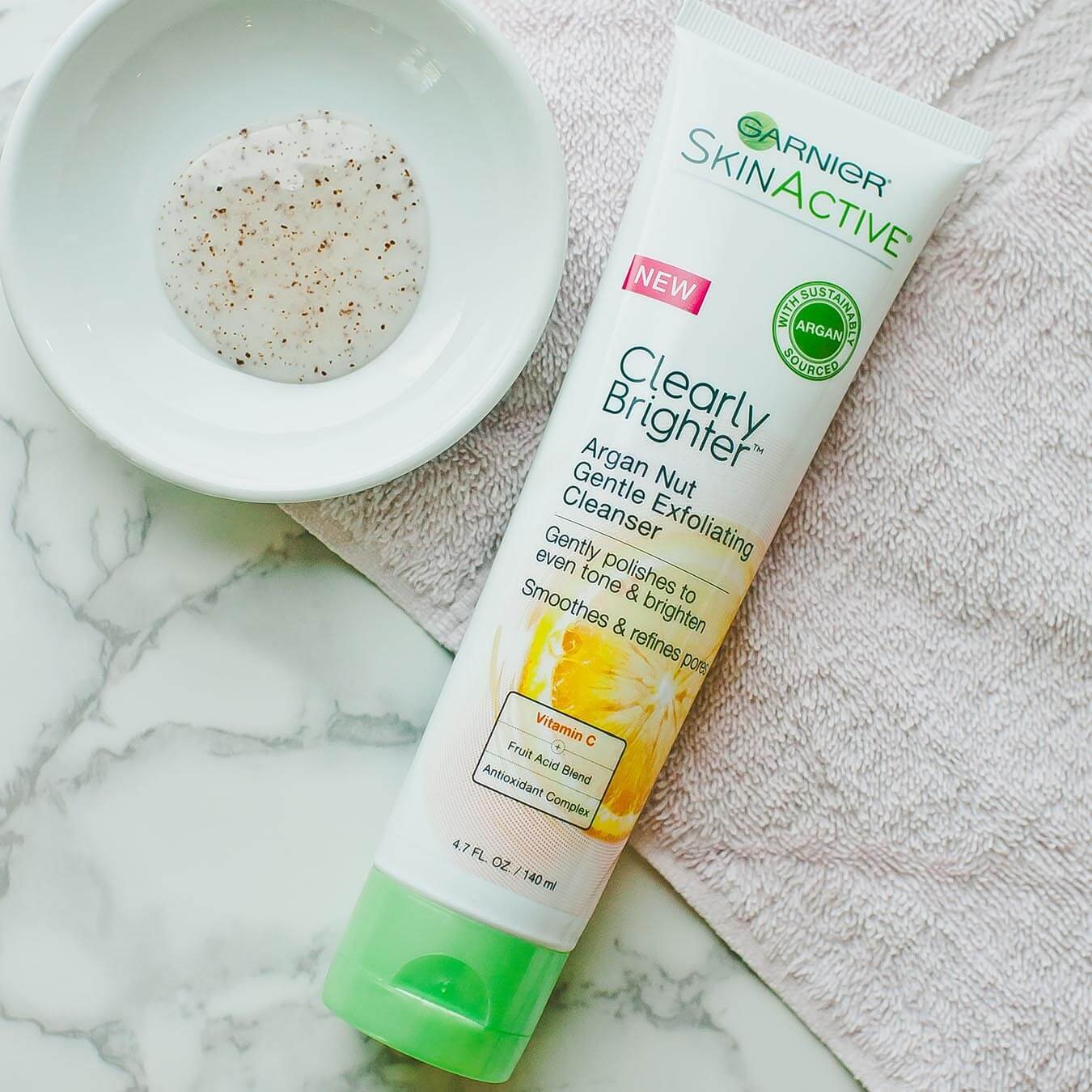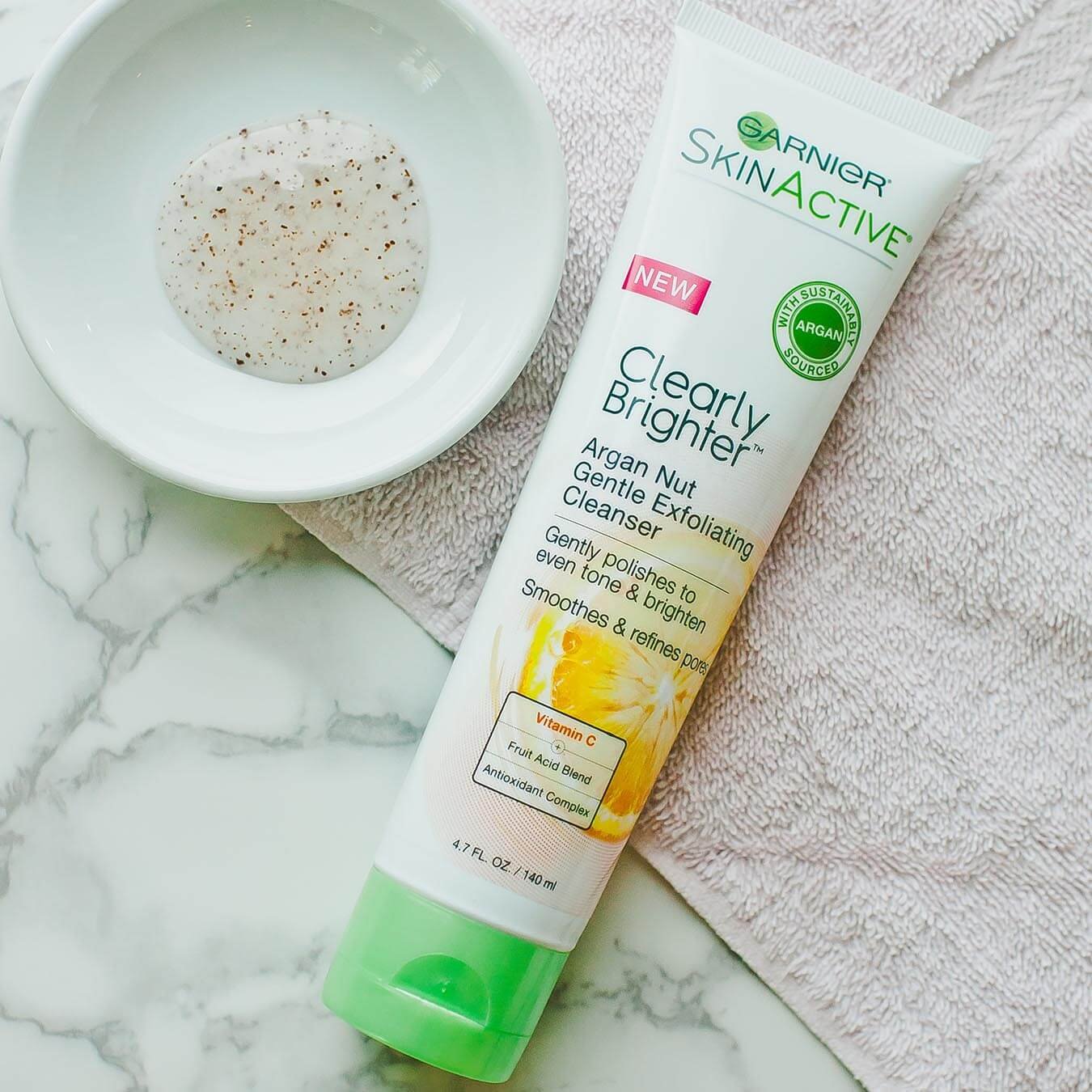 Clearly Brighter Argan Nut Gentle Exfoliating Cleanser
Garnier SkinActive
$7.99 MSRP
Gently polishes to even tone & brighten.
PRODUCT INFORMATION:
This effective, yet gentle daily exfoliating cleanser works double duty to brighten and deeply cleanse skin. A non-drying formula with finely ground, sustainably sourced Argan Nut shell, Antioxidant Vitamin C and Multi-Fruit Acid blend helps to refine pores, even skin tone and wash away dirt, oil & makeup in one step.
How To Use:
Use twice daily. Wet face and hands. Gently massage, avoiding eye area. Rinse thoroughly and pat dry. Follow with a Clearly Brighter moisturizer.
Ingredients:
919050 19 AQUA/WATER, SODIUM LAURETH SULFATE, GLYCERIN, COCO-BETAINE, ACRYLATES COPOLYMER, ARGANIA SPINOSA SHELL POWDER, PERLITE, SODIUM CHLORIDE, PEG-14M, PHENOXYETHANOL, LACTIC ACID, SODIUM BENZOATE, PARFUM/FRAGRANCE, SODIUM HYDROXIDE, SALICYLIC ACID, VACCINIUM MYRTILLUS FRUIT EXTRACT, ASCORBYL GLUCOSIDE, SACCHARUM OFFICINARUM EXTRACT / SUGAR CANE EXTRACT, LIMONENE, CITRUS AURANTIUM DULCIS FRUIT WATER / ORANGE FRUIT WATER, CITRUS LIMON FRUIT EXTRACT / LEMON FRUIT EXTRACT, LINALOOL, ACER SACCHARUM EXTRACT / SUGAR MAPLE EXTRACT, BENZYL SALICYLATE, PPG-5-CETETH-20, CITRIC ACID. F.I.L.# D191439/1
Argan Nut
Thanks to its natural emollient properties, Argan Nut helps to seal moisture into dry skin and promotes a healthy skin-oil balance. This indulgent ingredient contains Vitamin E which helps protect skin from the elements and moisturizes for a fresh glow.
Vitamin A
Naturally found in leafy vegetables like spinach and animal proteins like beef liver, Vitamin A is popular in beauty formulas that tout strengthening benefits. An antioxidant known for helping smooth skin and slow the appearance of aging, it also boosts hair growth.
Vitamin C
There's more to Vitamin C than meets the eye. A powerful antioxidant, it is also highly effective in fighting signs of aging, brightening skin tone, and helping reduce the appearance of dark spots over time.
Rated

4

out of

5
by
clean face
from
remove blemishes
I tried this product because I have noticeable blemishes. Even though the product works slow I can see fewer blemishes. I want to give it more time to work to see if it is truly as good as I think.
Date published: 2017-11-23
Rated

1

out of

5
by
PatriciaP
from
This is NOT a gentle cleanser!
I bought this product because the name says "Gentle" cleanser. I am a licensed Esthetician, and this is NOT gentle. The "finely ground" NUT she'll is more like SHARDS, scraping the skin. I will NOT use it, and DO NOT recommend using it.
Date published: 2017-09-17
Rated

1

out of

5
by
rob761
from
Bring back the pomegranate cleansing gel!
I returned this immediately after I saw that it contains AHA's which increase sensitivity to the sun and sunburn. Bring back the pomegranate cleansing gel, it was the best. Why remove it?!
Date published: 2017-08-25
Rated

5

out of

5
by
Aleens
from
Magical !??
I got this as a sample and tried it for fun...woke up next morning and my skin visibly cleared up! No product has done that for me before. It's magic, will be buying the full size ASAP! Try this, it'll change your skin.
Date published: 2017-08-22
Rated

5

out of

5
by
SusanSummer
from
Great Cleanser
I love this cleaner!!! My skin is so clear now. No more acne.
Date published: 2017-07-27
Rated

5

out of

5
by
Angela Garrett
from
In love with this cleanser!!
I've only been using this product for about a week and I can already see amazing results!! Will definitely repurchase
Date published: 2017-06-06
Rated

5

out of

5
by
sabon001
from
Great for reducing pores
I don't usually review products but I loved this one so much I wanted to share. I have large pores and cystic acne, getting clear skin for me has been a very long journey. I went to target one day and the beauty expert recommended this product. I was a bit hesitant at first since it had just come out but now i absolutely love it. I use it once a day rather than 2 times a day and I usually use it in the morning when I shower. Its not a product that works right away but the longer you use it the more you will notice a big change. I have oily skin with the t-zone some times drying out which is why I use it once a day and then a toner which I let dry followed by a oil free moisturizer. Ive been using it for about a month now and I have gone from having really large pores and black heads to barely noticeable pores and no black heads. I use it even on my back where I sometimes get acne. I really recommended it and just stick with it and you'll see the change. If your skin is more sensitive than mine then you can use it every other day or once a week whatever works for you the best.
Date published: 2017-05-22
Rated

3

out of

5
by
MedTechInFL
from
Not a great substitute
Because I couldn't find Garnier's Grapefruit and Pomegranate face scrub, I bought this instead. I'm not happy with the sharp- edged, extra rough grit in this product. The base cleanser seems to work well, but I have delicate skin. I can't use this product daily like the discontinued stuff.
Date published: 2017-04-11
Rated

5

out of

5
by
JMcCall
from
Great product!!!
I love this stuff! It's only been a week and i have never felt so happy about my skin and complexion! People have complimented how beautiful and smooth my skin looks. And i enjoy the attention. Lol.. I will definitely be buying more real soon. And will purchase the moisturizer to go with it also!
Date published: 2017-02-14
Rated

4

out of

5
by
lacelis06
from
Fresh face forward
Garnier's Clearly Brighter was simply that! This product is a great way to wake up and brighten your face in the morning. The smell of fresh citrus fruit is a pleasant burst of energy. It has just the right amount of scrubbing beads to exfoliate leaving your skin feeling soft. My skin is combo (oily/dry in the fall/winter) and this product did not disappoint. My skin felt fresh and hydrated throughout.
Date published: 2016-12-14
Rated

4

out of

5
by
Kikidalil1
from
Light Bright
First thing I noticed was the slender long tube. Easier to grip, especially with wet hands. Similar products usually have a short and wide tube. Second, the smell, oh my, delicious. I made almost everyone in the house take a whiff. The smell is so fruity. The fimely ground argan nut shell exfoliats nicely without the scratching that tags along with the plastic beads. Goes on smooth and washes right off. My fiancé calls me light bright now bc he sees the difference in my tone. It did cause a little dryness but nothing a little moisturizer can't fix. Overall, I love this product and definitely will be buying more.
Date published: 2016-12-14
Rated

4

out of

5
by
JenWins88
from
My new go to face wash!
I really loved this product, from the bright colors of the packaging to the invigorating citrus scent of the gel. The first time I used it, I could instantly feel that my skin was softer and smoother, which was really surprising to me because I feel like other products' moisture doesn't last beyond drying your face. This exfoliates and also claims to help you have brighter skin, and I definitely think it comes through on both promises. Within less than a week, I noticed that some recent acne scars seemed way less apparent. My boyfriend also noticed a positive difference by the third day of use. I stopped using any other products so that I could see exactly what I thought of this one, and my skin still looked and felt great. I only gave it 4 stars because when I opened it, some of the gel came out and made a mess, and I don't know if that is a packaging error or what. Overall, I will keep using this Garnier facial cleanser and I'm very happy with the results. I will recommend this to friends and family.
Date published: 2016-12-14
Rated

5

out of

5
by
ETMommy
from
One of the best facial wash
I've been using this for a few weeks now and to be honest, I have seen great improvements in my skin. I have been trying to find a facial wash that I'm comfortable using and I think this is it. Im definitely adding it to my must hAve skin products. It has even out my complexion aND actually works on removing my annoying whiteheads
Date published: 2016-12-14
Rated

5

out of

5
by
AMihal
from
Exfoliating + Cleanser = In One Product
The product lived up to it's name of being an"Exfoliating Cleanser." Disclaimer: I used a separate product to remove my makeup before using Garner SkinActive Clearly Brighter Argan Nut Gentle Exfoliating Cleanser. After one use I instantly felt that my skin was smoother (exfoliating) and the buildup of daily grime was removed (cleanser.) Overtime I saw the coloring in my face perk up and acne marks fade. I thought the quantity of product in the tube was sufficient, considering I only used a nickel size amount of product each time, this should last a long time. Personally, I thought a plus side of this product was watching it foam up on my face so I could see what areas I had paid attention to and which I had neglected (the majority of exfoliators on the market don't suds up.) Added bonus: The citrus aroma was a nice touch to my morning routine in helping to wake me up.
Date published: 2016-12-14
Rated

4

out of

5
by
Cguz26
from
Great Exfoliating Cleanser!
I used this cleanser every day for 3 weeks. Overall, I really enjoyed it. Pros: First off, the cleanser has a pleasant citrus-y fresh smell. It reminds me of grapefruit! It doesn't smell too much like chemicals, which is nice. The Argan nut was big enough that it didn't feel too much like sandpaper on my skin. I've had experiences with other cleansers having the exfoliating beads too small and traveling to my eyes, even though I was careful with exfoliating around my eyes. It did a good job of exfoliating my face and leaving it smooth. I enjoy a cleanser that foams, which this cleanser did do. It makes me feel like it's actually working. I was a little concerned, because I was using it while having some breakouts on my face. I was scared that it would aggravate my acne and make it worse. Actually, I think it improved the appearance of the blemishes. Usually, I have some discoloration for a couple of weeks after a blemish subsides, but after using it once or twice a day, my skin definitely looks a lot more even. It definitely did not dry out my skin! Usually, an exfoliating cleanser would dry out my skin and I would have to double up on the moisturizer, but this product did a good job of not drying my face out. No plastic micro beads! Definitely a pro for our environment. One of the claims of this product is that it gently polishes to even tone and brighten. It did! I can see my face being more even toned and brighter. It's been fairly cold with gusty winds, so usually my face is dry and gets red patches due to wind burn, but I've noticed that my face looks a lot more brighter! Cons: It did not do much for my pores. The cleanser states that it will smooth and refine pores, which to some degree I think it did, but not to the point that it was a noticeable difference. If you have small pores to begin with, you might see a difference, but my pores are pretty big. Overall, the Garnier SkinActive Clearly Brighter Argan Nut Gentle Exfoliating Cleanser is a great product. I will definitely purchase it once I run out.
Date published: 2016-12-14
Rated

4

out of

5
by
Rubysantiago7
from
Refreshing
I wanted to try this product because is said it lightens dark spots. I have been using it for nearly 4 weeks but have seen little to no improvement. I will say that my face fills extremely Fresh and clean after each washing. So all in all it was not a waste of time it does cleanse you face and leaves it feeling Fresh, clean and soft.
Date published: 2016-12-14
Rated

5

out of

5
by
sbkedk
from
Gentle on skin
I am very picky on my face wash. I have sensitive skin and have to be super careful. This was very gentle on my skin and made it feel so soft. I love it! It didn't dry out my skin like other cleaners tend to do. I have super dry skin around my nose and the little bead like texture took it right off!
Date published: 2016-12-14
Rated

3

out of

5
by
allefan88
from
A good basic cleanser
I've been using the Garnier SkinActive Clearly Brighter Argan Nut Gentle Exfoliating Cleanser twice daily for several weeks, and I'm ready to share my opinion. I should start by saying that I have very oily, acne-prone skin that always seems to need exfoliating. Things I liked: 1. This product foamed up nicely and removed dirt, oil, and (light) makeup well, and didn't leave any kind of waxy residue like I have experienced with some other scrubs and cleansers. 2. This product was indeed GENTLY exfoliating; for me, it wasn't exfoliating enough unless I used it with a washcloth or facial brush. 3. As long as I used a good moisturizer immediately afterward, it didn't leave my skin feeling too dry or tight. 4. I didn't experience increased breakouts, which anyone with acne-prone skin will tell you is key! Things I didn't like: 1. The pieces of argan nut shell were similar to those found in other scrubs, but felt a little bit sharp to me, and there were few enough of them that I'm not sure they offered much benefit. 2. I didn't notice any improvement in brightness of my skin or evenness of my skin tone, or refinement of my pores. In summary: For me, the Garnier SkinActive Clearly Brighter Argan Nut Gentle Exfoliating Cleanser is a good everyday cleanser, but didn't noticeably improve the appearance of my skin.
Date published: 2016-12-14
Rated

4

out of

5
by
Lindsey1144
from
Garnier Clearly Brighter Cleanser
I'm someone who can be very particular about facial cleansers. It's taken me most of my life to find one that works well so I was definitely skeptical about trying the Garnier Clearly Brighter Argan Nut Gentle Exfoliating Cleanser. To start, the size of the product is fantastic, it's 4.7 fl oz. I'll admit, I'm a fan of Garnier and have used their makeup, face wash and eye creams in the past. It's got a great fruity, citrus smell and it has good sized exfoliating beads. It did a good job of getting rid of any dirt, makeup, dead skin and left my face feeling clean. I can't use harsh cleansers that have anti-acne ingredients in them because they tend to dry my face out and I break out more. Thankfully this product isn't aimed towards acne and I didn't have any issues with breakouts or dryness. I have combination type skin with minor breakouts usually. It claims to even your skin tone and to brighten. I do believe that it did that but I only noticed because I was consistently paying attention to the affects it had on my skin. Generally, I don't think I would have noticed. It also claims to smooth and refine pores. I do think it smoothed some but I did not notice any difference in the size of my pores and I do have fairly large pores in my tzone area. Would I repurchase this in the future? Yes, good smell, good size, and a good cleanser.
Date published: 2016-12-14
Rated

5

out of

5
by
Pixie2236
from
Great exfoliator!
This is a great exfoliating cleanser- you can really feel the difference after just one use. I used this for about three weeks, morning and night as directed. I was initially a bit concerned that it is a gel-based product, as gels tend to dry my skin out, but this one was not drying at all, and the argan nut scrubbers did a great job of polishing and keeping everything clean. I did not really notice the brightening or the pore-refining effects promised, which I was hoping for as large pores are a concern for me, but immediately I did notice something unexpected that the product did not claim- super oil control :) After my first wash I noticed right away that my skin had no oil breakthrough the entire day, and I did not have to powder my makeup at all while using this cleanser, and that is something I've never gotten from any other product (high-end or drugstore), so that was impressive. Overall a really good product, especially for those of us with a bit of oil, and I would recommend it for daily cleansing and exfoliating. I like that the argan nut is sustainably sourced, it's oil-free, no parabens or plastic beads, and that it uses vitamin C and fruit acids which also give it a great, grapefruity smell :) It also contains lactic acid and AHA's which is pretty huge for me in skincare. It does rinse really clean, but again, without feeling tight or drying, and it says it's good for all skin types (even sensitive), so it's pretty universal. Nice sized slim package too, so doesn't take up a lot of room :) I usually like Garnier products, and have added this one to my list. Note: I'm 41 with normal to combination skin
Date published: 2016-12-14
Rated

4

out of

5
by
lkm111
from
Garnier SkinActive
This exfoliator works great! My pores became noticeably smaller after about 2 weeks of using. I would recommend though to have already washed your face with a gentle cleanser in order to remove any makeup or dirt to achieve the best results.
Date published: 2016-12-14
Rated

4

out of

5
by
Srobi007
from
Excellent daily cleanser
I really enjoyed using this cleanser. I waited to review so that I had enough time to really test it out and see how it worked. First, the details on the product itself. It's a clear gel with specks of grit/shell in it, and it smells fabulous. The scent is a sort of grapefruit/orange smell. I was concerned at first that the shell pieces (the argan nut?) would be too abrasive, but I didn't find them abrasive at all, only gently exfoliating. The cleanser foams slightly but not overly so. The best part is that I felt that it really did a good job of cleaning my skin, but did not overdry it in the least. I truly enjoyed using this and even reach for it over my other cleansers that cost several times as much.
Date published: 2016-12-14
Rated

3

out of

5
by
DixieGypsy
from
Doesn't feel harsh on sensitive skin
I think it's nice for sensitive skin and I feel like it really removes the dead skin. It's not abrasive or aggressive. It made my skin a bit brighter. I would definitely recommend this for people that have sensitive skin.
Date published: 2016-12-14
Rated

5

out of

5
by
KELLY808
from
Finally Got My Gatnier
My Garnier skin active clearly brighter finally came yesterday I was so excited to try it. The scent is amazing!! The texture is a little different than I expected, smoother and lighter. Love what it's done so far with only two applications!!
Date published: 2016-12-14
Rated

5

out of

5
by
fnbbbbb
from
A great body scrub
This is a great cleanser! The scent is wonderful and really nice in the shower in the morning. It smells slightly sweet and citrusy, but not cloying. The amount of "scrubbies" in this cleanser is on the low end of all the scrubs I have, but they are very smooth so I can feel that my skin is being exfoliated without being scratched up. I found that it worked well on both my face and body. And the bottle is huge, so I didn't feel like it was wasted as a body cleanser! I can't tell yet after using it a few times if I really experienced an evening of my skin tone, but I like it enough to keep using it every time I shower!
Date published: 2016-12-14
Rated

5

out of

5
by
TNGRANT1
from
my new favorite wash
Garnier SkinActive Clearly Brighter Argan Nut Gentle Exfoliating Cleanser is officially my new favorite face wash. When trying new things on my face I'm always really cautious so it was important for me to take my time and try this product for more than just a few days. The first thing you will notice is the scent, it's amazing. The texture is also not to creamy and not to rough with the exfoliants. After applying it washes off very easy with just a rag. My face afterwards feels very soft and i can see that the tone of my skin has evened out. I am a medium browm skinned women and dryness has always been a concern for me but now my skin looks and feels amazing since using the cleanser. I have replaced my after makeup wash with Garnier SkinActive Clearly Brighter Argan Nut Gentle Exfoliating Cleanser and I am very appreciative that I was able to test out this product.
Date published: 2016-12-14
Rated

3

out of

5
by
Pinkston13
from
Not completely useless
For starters this product smells AWESOME!!!! It is a very silky feeling when it goes on to clean. I didn't personally notice any visiable difference even after almost 2 weeks. It did make my skin feel very soft for most of the day after using it. For that fact and the smell 3 stars but ultimately I would not purchase it.
Date published: 2016-12-14
Rated

4

out of

5
by
schne740
from
Better than more expensive brands
I have been using this cleanser for the last couple weeks to give it a fair shot--I am a devotee to a much more expensive brand of skin care products--and Garnier may have turned me! With just TWO weeks (!!!!) of use, I have noticed more lightening of some of my hyperpigmented spots than I've ever noticed with my more expensive specialty line. I even went and bought the moisturizer a couple days ago. I think I may be a convert! The only reason I didn't give this 5 stars, is the ingredient list. I have a hard time giving a product 5 stars when some of the ingredients aren't totally natural. Guess that's the trade off though for a product that works!
Date published: 2016-12-14
Rated

5

out of

5
by
foofinsky
from
Great cleanser
This face cleanser with such a great one that I am definitely going to be purchasing a full size one again once I run out!
Date published: 2016-12-14
Rated

4

out of

5
by
thair21
from
The smell is amaizing
Like I said in the title the smell is amaizing and the fórmula is very nice because it leave my skin feeling super soft after applying it! But in the next day I had a little bit of breakouts on the cheeks... maybe for the dead skin.. after all I still use it on my T zone and I works really good
Date published: 2016-12-14