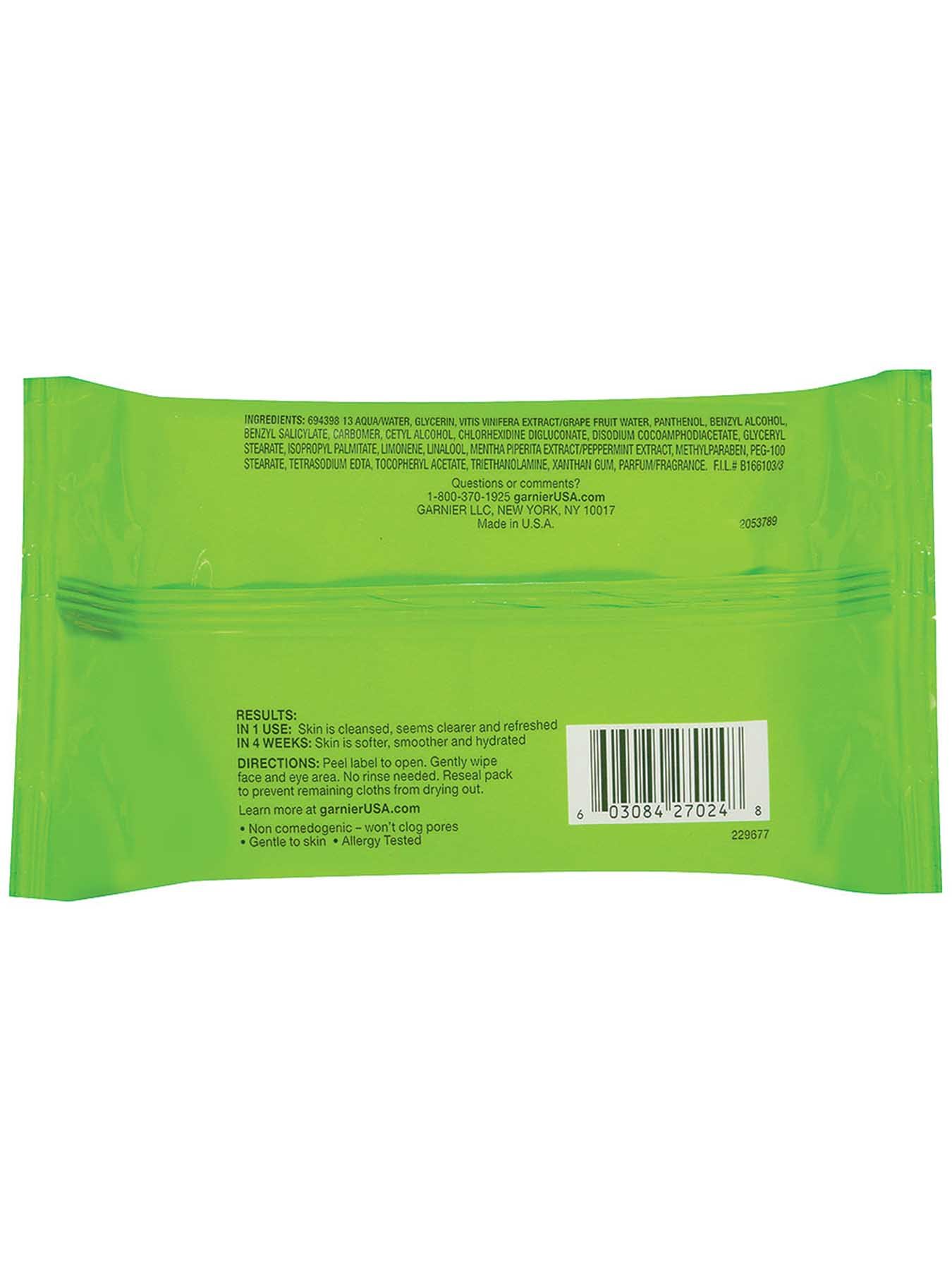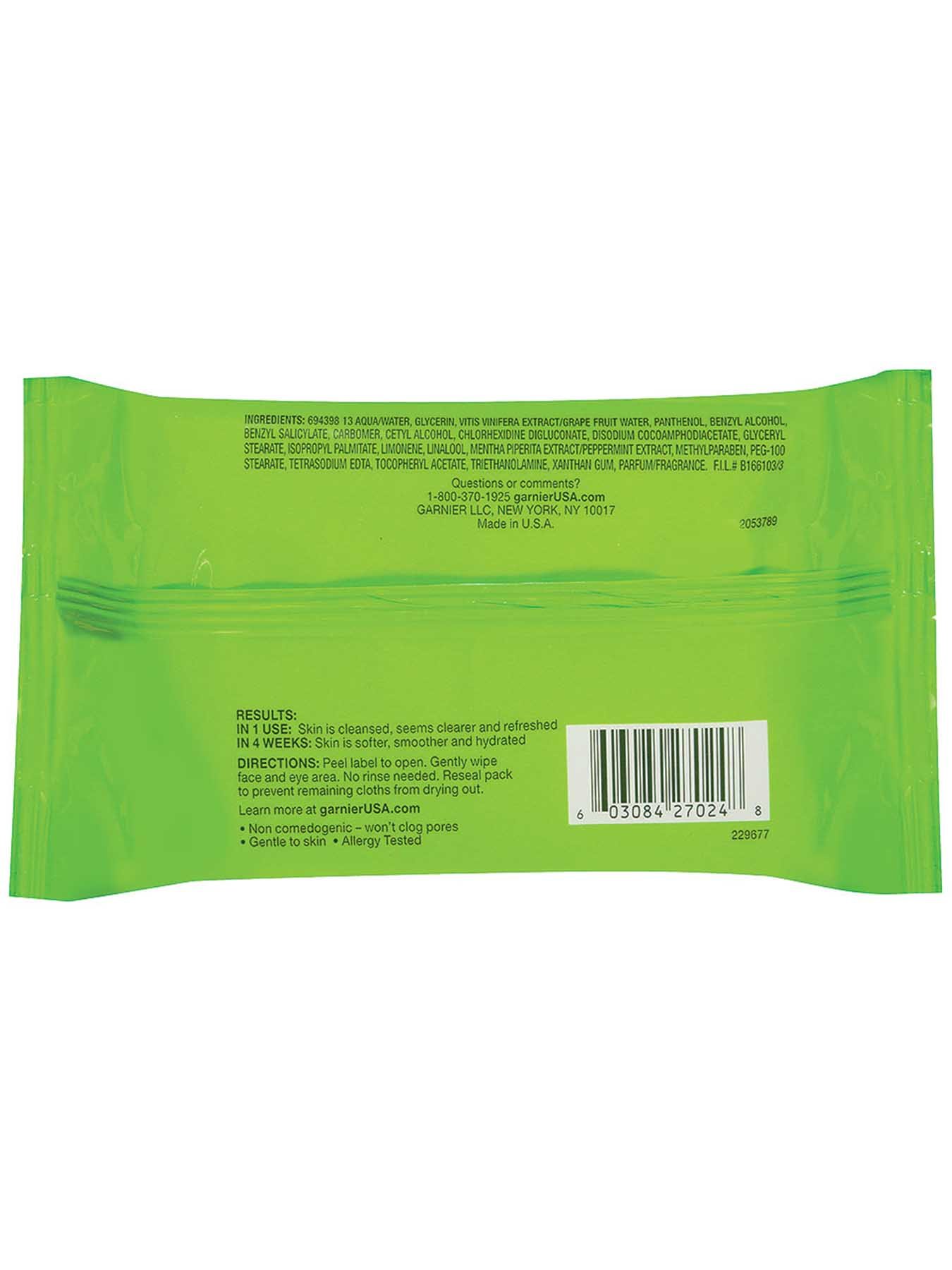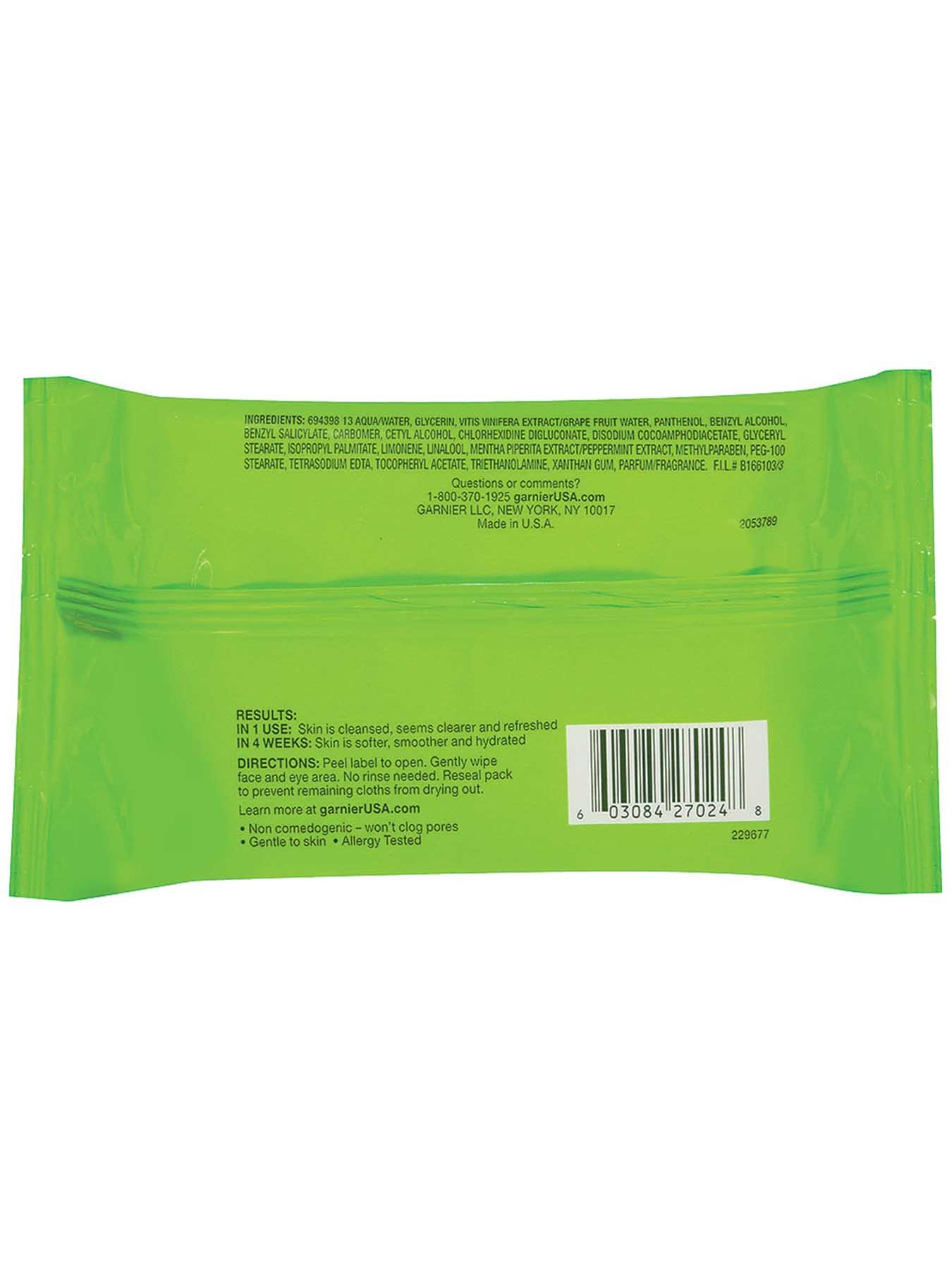 Clean+ Refreshing Remover Cleansing Towelettes
Garnier SkinActive
$5.99 MSRP
Instantly removes impurities and makeup + Revitalizes skin.
PRODUCT INFORMATION:
Normal skin has specific cleansing needs. To look and feel its best, it needs the right clean and specific care. Our soft towelettes effectively removes impurities and makeup in one convenient step. The formula infused with grape water extract instantly revitalizes skin for a health look.
How to use:
Peel label to open. Gently wipe face and eye area. No rinse needed. Reseal pack to prevent remaining cloths from drying out.
Ingredients:
Aqua/Water, Glycerin, Vitis Vinifera/Grape Fruit Extract, Panthenol, Tocopheryl Acetate, Mentha Piperita/Peppermint Leaf Extract, Triethanolamine, Carbomer, Cetyl Alcohol, Disodium Cocoamphodiacetate, Glyceryl Stearate, Peg-100 Stearate, Xanthan Gum, Sodium Chloride, Tetrasodium EDTA, Isopropyl Palmitate, Myristyl Alcohol, Stearyl Alcohol, Chlorhexidine Digluconate, Methylparaben, Parfum/Fragrance, Benzyl Saylsalicylate, Limonene, Linalool.
Peppermint
Peppermint Oil is a go-to ingredient for formulas that purify, soothe, and refresh leaving skin and hair feeling and smelling fresh.
Rated

5

out of

5
by
DMath86
from
Fantastic Gone Proof Makeup Removal
The smell is amazing for one and you only need one wipe to take away dirt and makeup. I absolutely love this product. No need to scrub only softly wipe away your face once!
Date published: 2017-08-18
Rated

5

out of

5
by
zaksmom7492
from
Feels So Good!!
I absolutely LOVE these!! The Garnier Clean Cleansing Towelettes leave my face feeling not only clean but refreshed! They have a light clean scent that I truly enjoyed. They leave your face feeling moisturized without the typical greasy feeling of most moisturizing cleaners.
Date published: 2017-08-17
Rated

5

out of

5
by
mobmom2
from
Refreshing and great!
I absolutely love this product. While opening the package I could smell who good it was! It took all my makeup off with out having to rub really hard leaving my eyes all red. It leaves your skin feeling soft and leaves behind a great smell. It doesn't dry out your skin either! I definitely recommend this to anyone who uses makeup and has a hard time getting it off at the end of the day. I have found my new life saver!
Date published: 2017-08-17
Rated

5

out of

5
by
torali
from
Takes All your makeup off
I have been in the market for a makeup remover wipe for when I am traveling or camping. I got the Garnier Clean + Refreshing Cleansing Towelettes and they are so great that I not only use them for travel, I use them at home. They actually take all my makeup off, and by that I mean it all comes off on the wipe, it doesn't just smear all over the rest of my face. It also doesn't leave that tacky residue on my face that others due. My face actually feels clean and refreshed.
Date published: 2017-08-17
Rated

5

out of

5
by
angeleyez2306
from
Squeaky clean
I usually use Vaseline to remove my makeup, because frankly it's difficult to find a product that will actually remove my makeup easily. Garniers Skin Active Clean Wipes removed my makeup with ease. I have to be honest , I was somewhat apprehensive on these wipes because I break out easily and I didn't believe they would remove my makeup. But to my surprise, I didn't break out and my face was squeaky clean! The smell is amazing also!
Date published: 2017-08-17
Rated

5

out of

5
by
Aprilhunter77
from
Fresh Feeling
Normally I wouldn't use facial wipes do to my skin being really sensitive. These I had to try and I'm glad I did. They leave my skin feeling fresh and clean. They remove my mascara and eye shadow with ease. The smell is amazing. I knew within the first 30 minutes after use that they were good for my skin. I would strongly recommend these to friends.
Date published: 2017-08-17
Rated

5

out of

5
by
sportyshorty626
from
Refreshing Face Wipses
These were my favorite face wipes I have ever tried! I have been using them for a little over a week now and I am beyond impressed. They not only smell great (I find some face wipes smell terribly) but they also are very gentle while getting the job done. I would definitely recommend these to a friend!
Date published: 2017-08-16
Rated

4

out of

5
by
Michele1976
from
Awesome freshness in a wipe
I think many ladies would love these wipes. The GARNIER SKINACTIVE Clean Refreshing Remover Cleansing Towelettes are really nice. I found the package to be easy to open n get a wipe out. Wipes were super easy to use as well. I felt a freshness on my face that was very inviting, not overwhelming at all. The peppermint adds a nice cool feel also. I would recommend these to all my friends.
Date published: 2017-08-16
Rated

4

out of

5
by
meganl07
from
Makeup remover wipes
Overall I really like these wipes to remove my makeup at the end of the day. I like that both sides can be used so only one wipe is ever needed. They are gentle enough for my eye makeup but strong enough to get it all off. I've used lotion makeup remover in the past with a cotton swab and having this all in one step is very convienant. My only complaint with the product is sometimes the package doesn't completely seal or unseals itself overnight so I'm afraid the sheets will dry out faster than I want. I've just had to be very careful when closing the bag and making sure it's sealed perfectly closed.
Date published: 2017-08-15
Rated

3

out of

5
by
Meeshellyanne
from
Garnier Cleansing Towelettes
I think these cleansing towlettes are pretty good. I loved the smell and feel of them. They did remove most of my makeup. No issues with removing foundation but it didn't seem to remove all of my mascara. I just saved same towelette and rewiped later. It seems to leave a soapy film afterwards as well which I didn't care for. It made me feel I needed to wash my face. Good for travel though or if your in a pinch and no access to water.
Date published: 2017-08-15
Rated

3

out of

5
by
Stephp7
from
night routine
So i wanted to use a few times before reviewing. i really lliked how easily it removed my eye makeup. i dont really wear a lot of makeup to begin with so a heavy user may have a different experience. however, whenever i use makeup remover i wash my face after and i always always have black on the towel when i dry my face. this time i did not!! i must say though i did need to wash my face. the cloth was really moist and refreshing but a little dewy and i just didnt want to wait until it dried because i just wanted to get the full clean dry feeling. so althought i really liked that it wasnt oily or sticky i still felt a need to wash my face after using
Date published: 2017-08-15
Rated

5

out of

5
by
tashialynn
from
Excellent & Complete
The Garnier SkinActive Clean & Refreshing Remover Cleansing Towelettes actually worked better than my current brand of towelettes. First let's start with the smell. These were quite pleasant in how they smelled upon opening the pack. Next was how they felt against my skin, not too harsh but just the right touch of softness especially for my eyes. Next, how easy was it that all of my eye makeup was easily removed in one swipe. Compared to my having to use at most times, upwards of 5 swipes before getting all the makeup off. Then last, I was able to wipe off any residue dirt on the remainder of my face without it feeling again too rough and/or losing its effectiveness in getting me clean. I love this product and definitely plan on purchasing in store because not only does it work, but it is soft on my face and particularly my eyes where I do wear makeup.
Date published: 2017-08-14
Rated

5

out of

5
by
smattylove
from
Awesome Towelettes!!
I work really long hours so by the time I get home from my busy week days I am exhausted and in dire need of relaxation. Most of the time I don't even feel like washing my face. These towelletes are awesome to wipe my face with when I get home from work. That way it holds me over until it is time to do my "nightly before bed ritual". It honestly makes my face feel clean and smooth as if i did do my ritual. Which is AWESOME! It is great that it doesnt leave my face feeling too oily or too dry either. I passed a few on to my mom as well and she loved it just as much as i did.
Date published: 2017-08-14
Rated

5

out of

5
by
LizSol
from
A Must-Have
Honestly, I am very lazy when it comes to taking off my makeup. It's just such a tedious process. But wow, how pleasantly surprised I was that these towelettes did the job with just a couple wipes. My first reaction, though, was- "wow, they even feel soft on my hand when I took it out of the package". My skin is naturally very dry and sensitive. But these wipes turned out to be very gentle and took the dead skin right off. Also, I love how refreshing your face feels afterwards. It's like it can finally breathe!!! Have to stock up on more packs, though, because these wipes go fast! Would definitely recommend for people who consider taking make up off a terrible hassle, but want fresh skin nevertheless.
Date published: 2017-08-14
Rated

5

out of

5
by
Heartofgold0304
from
All new go to!
I was very scared to try this product as I have very sensitive skin and the fragrance is peppermint. I opened the package and to my surprise the fragrance was very gentle and not overwhelming. I thought surely one wipe won't take off all my weekend makeup. I began to use it and it took off all my face makeup. Now to my thick eye makeup. Wow! That same wipe took all my makeup off. I was very very surprised. Now, due to the glycerin in the ingredients it does temporarily leave a sticky residue but it does subside fairly quickly. To my shock, no sensitivity or allergic reaction. Please, go grab this product now! This is my new go to for clean skin after a weekend of mistreatment from my makeup!
Date published: 2017-08-14
Rated

5

out of

5
by
MHan81
from
Amazing and soft towelettes
I love how gentle and fresh it feels. It removes all my makeup without irritating my skin. I felt refreshed and clean after I used it. Great product and definitely a keeper.
Date published: 2017-08-14
Rated

4

out of

5
by
MrsSmith091704
from
Just right!!
It does what it says it does. The towelettes don't have that scratchy feel to them and the scent isn't overpowering. It didn't dry my skin or cause any other irritations.
Date published: 2017-08-13
Rated

5

out of

5
by
kelane104
from
Refreshing and Lightweight
These are truly the best makeup removal wipes I've ever tried. Ones I've tried in the past have a slick, oily feel to them that I feel leaves a sticky residue behind. These did not do that. They are just the right thickness and leave my face feeling clean and refreshed. I like the lightweight feel of the cloth and that the scent is not too overpowering.
Date published: 2017-08-13
Rated

4

out of

5
by
creese92
from
My face feels so clean!
I tried these Garnier face towelettes for the first time this week, and I just have to say that I love them! I was expecting a plain ol' wipe, nothing special, but I was pleasently surprised when I first opened up the package. They smell so good (it puts me in mind of a green tea scent, although the package says peppermint) and my face feels super clean. They're also nice to have around on hot days- if I'm sweaty or over heated all I do is pull out a wipe and my face feels clean, cool and all-around refreshed. The only thing I wish the product could do (and the only reason I give a 4/5 rating) is remove some of the shine from my face. They do well with removing makeup and excess oil, but I still have the shininess. Other than that these Garnier wipes do their job pretty well!
Date published: 2017-08-12
Rated

5

out of

5
by
kimbondy
from
Great makeup remover!
These makeup remover wipes are great! Some of the highlights: - the wipes are soft and feel a little on the thick side - they are damp, but they aren't so wet that they are dripping - the solution smells good - my skin feels soft and clean afterwards and in the morning
Date published: 2017-08-12
Rated

5

out of

5
by
yayashortii
from
I love it!
I love this make up wipes! There a make up remover and a face mask in one. I can take my make up off and it won't irritate my face or eyes. Like most make up remover do. After you take your makeup off your face feels moisturize and soft. I highly recommend if you have sensitive skin. And they smell amazing never again buying any other make up wipes!
Date published: 2017-08-11
Rated

4

out of

5
by
Jkrugger
from
Handy makeup removers!
I was mostly impressed with these wipes. They have a light scent which is similar to the rest of the Garnier products. The wipe is large, too, which is nice. They're just wet enough to get the job done (they don't sop or drip on you). The material is really soft, so it isn't a problem for sensitive skin. It removed all of my makeup very nicely. I even scrubbed at my eye makeup a bit and it never irritated my eye or made me feel like I had to rinse my eyes. You don't have to rinse at all after using them, which is super nice. The only drawback I've noticed (and I've used them twice so far), is that they do leave a slight residue feel on my skin after and I don't love that. But, that feeling is gone by morning and my skin feels super soft then. They haven't irritated my skin, dried it out, or anything like that and I can be sensitive to products sometimes. Overall, great product!
Date published: 2017-08-11
Rated

5

out of

5
by
sbeary
from
Garnier Towelettes are fast and easy!
Fast, easy, clean and refreshing. Those are the words I would use to describe Garnier SkinActive Refreshing Romover Cleansing Towelettes. I got these right before leaving on vacation and let me tell you I will not be taking another vacation without them! They were so easy to grab and use after a long day of vacation and my face felt clean and refreshed. Also Garnier towelettes did not dry my skin out at all and were very gentle but still removed all dirt and make up. Would highly recommend them and have already recommended them to family and friends.
Date published: 2017-08-11
Rated

5

out of

5
by
anthonyzwife413
from
Great product
Love this product. Left my face feeling nice and clean and soft. Not harsh and doesn't dry your skin out. Would definately recommend
Date published: 2017-08-11
Rated

4

out of

5
by
freelynat
from
Fresh Face
I'd give this product a 4 out of 5 because after use I feel a little residue left behind. I would recommend washing your face afterwards even though it's not required. The smell is pleasant and they feel super soft.
Date published: 2017-08-10
Rated

5

out of

5
by
Micheline22
from
Very refreshing
I normally don't use facial wipes, but I really liked these. They have a nice light scent and are perfect for when I come home from work and want to take my makeup off quickly. Other facial wipes leave my face feeling sticky or oily, but these didn't. They made my skin feel fresh and clean. They do a pretty good job removing my makeup, but needed to use a couple to get the job done. Overall great product.
Date published: 2017-08-10
Rated

5

out of

5
by
Celestedudek
from
Nice Little Towelette
I Never like face cleaning towels because, they usually leave a sticky film on my face. However, I really like these. They leave my face really clean, even though I have to use two to get everything off. The scent is not overpowering, and it left my face Super Soft... Sometimes I break out with these products, but not these. My face after a few days seems hydrated, clean, shiny, and No break outs... Thumbs up over here..
Date published: 2017-08-09
Rated

5

out of

5
by
Junebug0614
from
Garnier cleansing towelettes
I honestly like these make up removing towelettes more than any other I have ever tried. I love the fact that it is oil free and doesn't require you do wash rinse your face after use. It does the trick as far as removing makeup and my skin felt smooth and fresh. The scent was pleasant. I got a peppermint scented type but the most was subtle and I liked that a lot. Very soft, cold and clean scent.
Date published: 2017-08-09
Rated

2

out of

5
by
Thelody
from
Not for me
Honest review time. I will be sticking with the brand of wipes I've been using previously. I have extremely sensitive skin and I'm always hesitant to try new products on it. The good news is I didn't end up with any hives or break outs from it. It did not feel oily like some products. It did leave my skin feeling dry, something that doesn't happen with the other brand I've been using. The smell when you open the package is nice but I don't care for the lingering smell it leaves on your skin. As for it's cleaning effectiveness, it did a good job removing dirt/sweat but I had to scrub pretty hard to remove my waterproof eyeliner. If I used eye makeup remover beforehand the wipes would have been fine but I buy wipes specifically to make it a one step process. If you don't wear anything waterproof it would probably be ok but it just doesn't work for me.
Date published: 2017-08-09
Rated

5

out of

5
by
Rocky7113
from
Great Product
The Garnier Skin Active Towelettes did a great job of removing all my makeup at the end of the day. The scent was refreshing and clean. My skin felt very clean afterwards and was not left dried out. This is a great product for daily use and one I would recommend to friends and family.
Date published: 2017-08-09