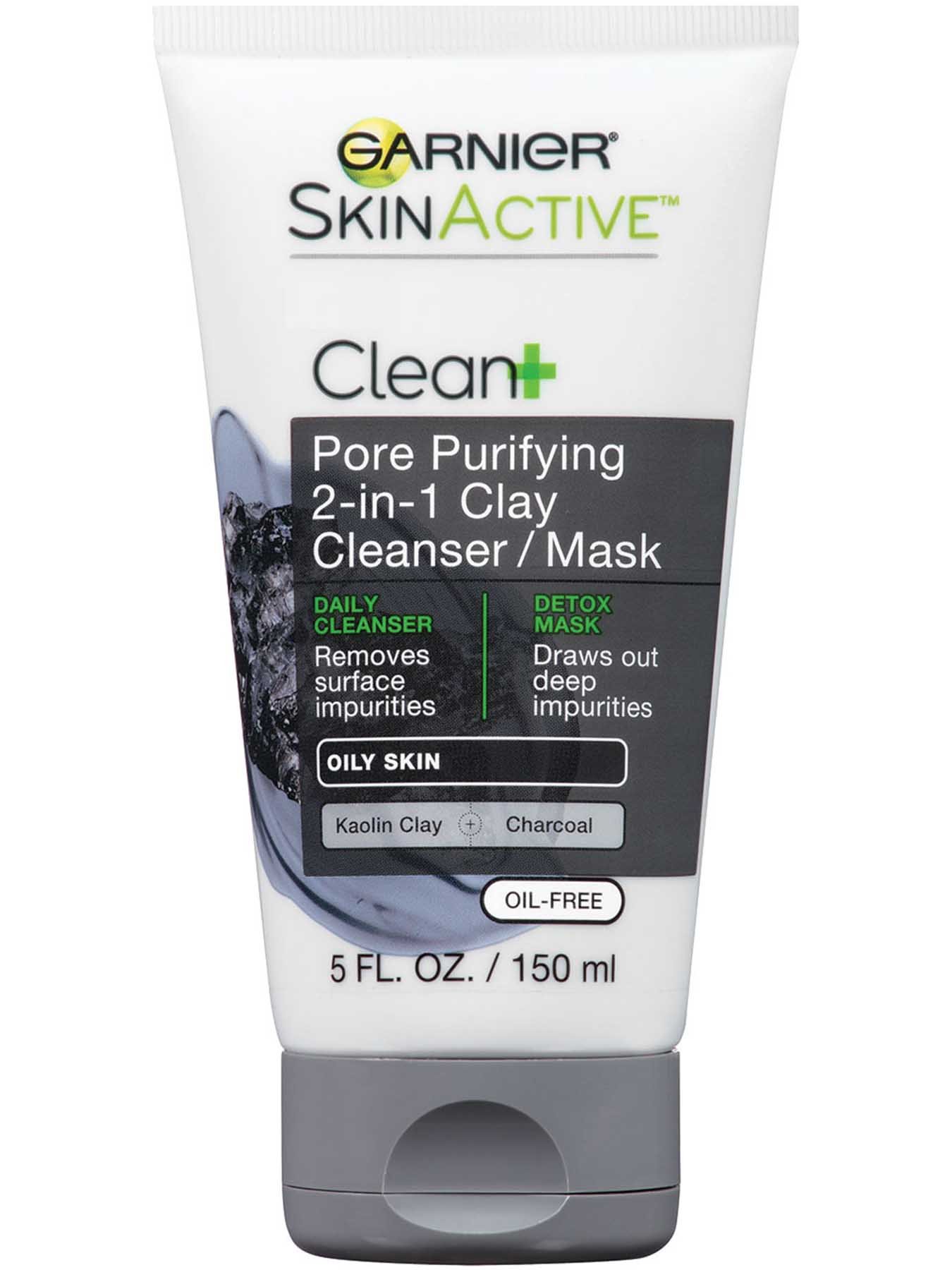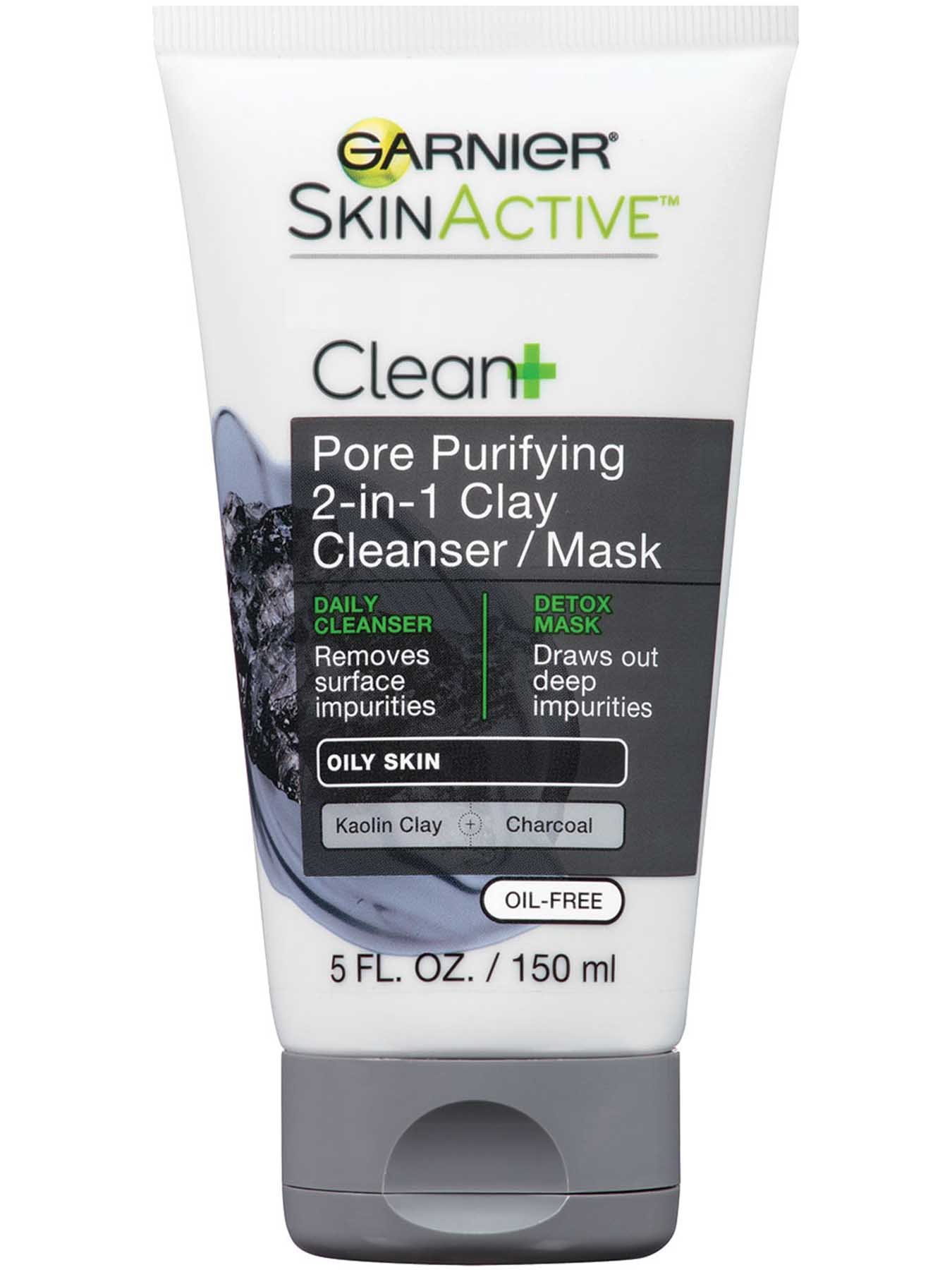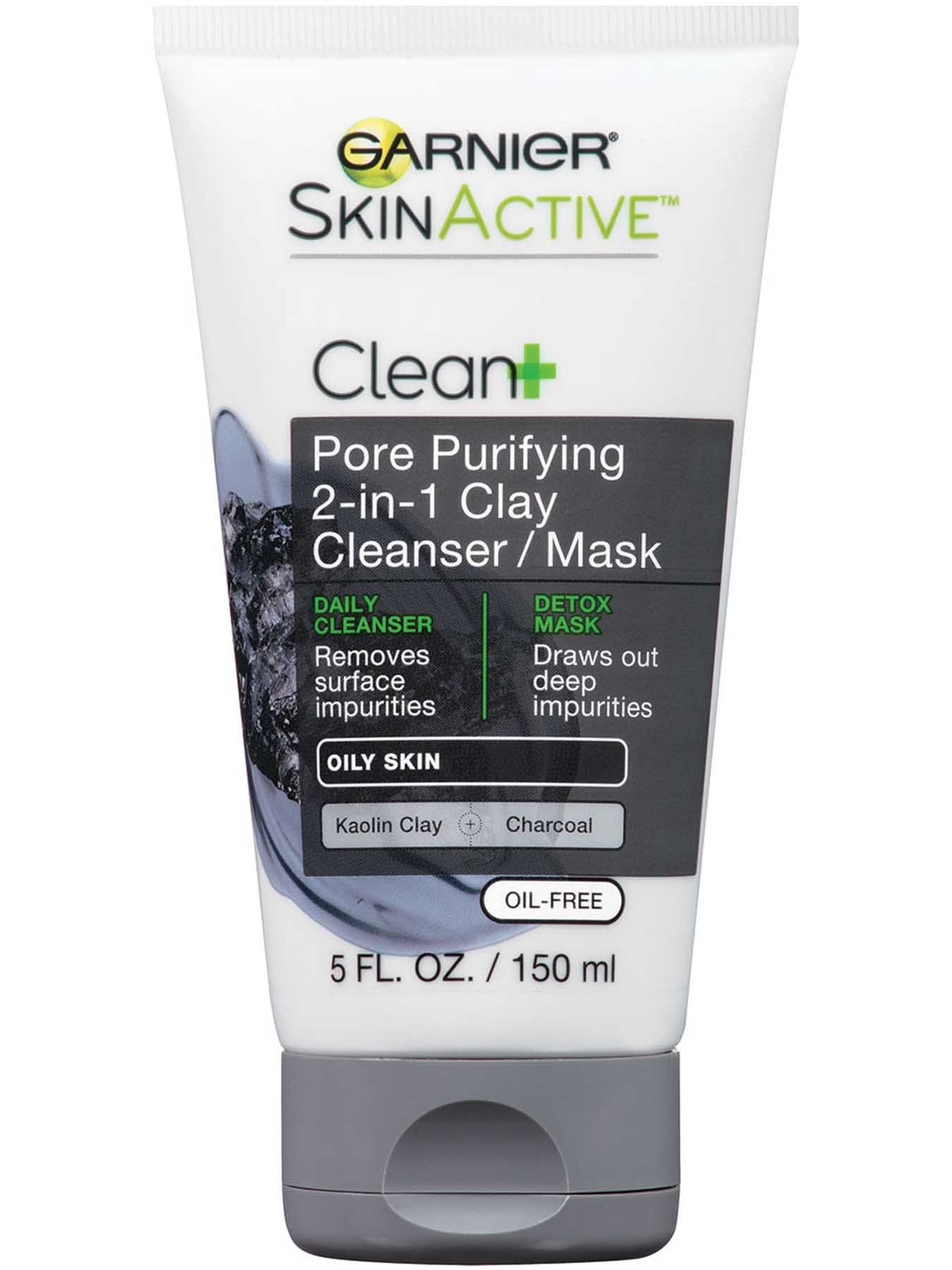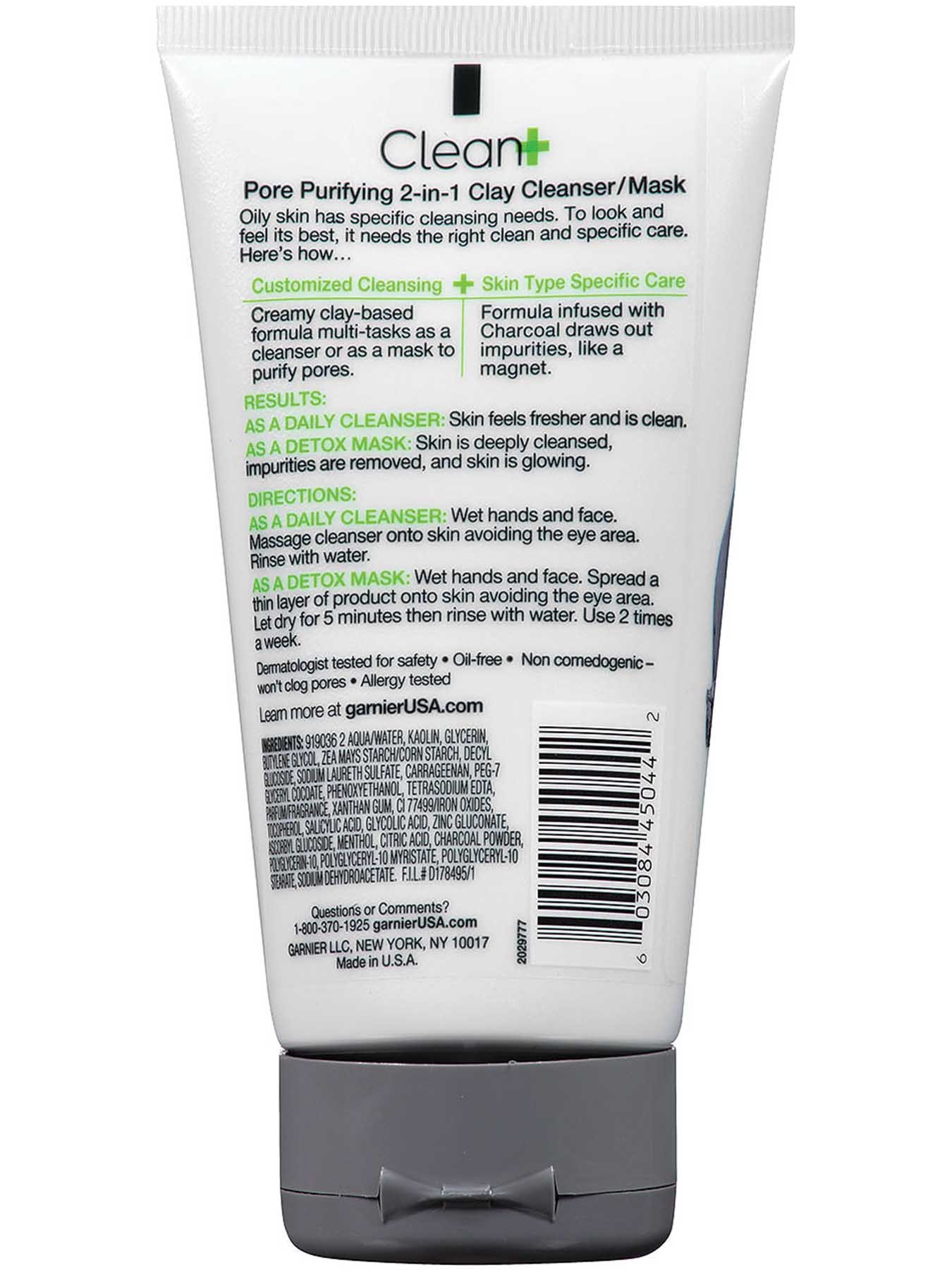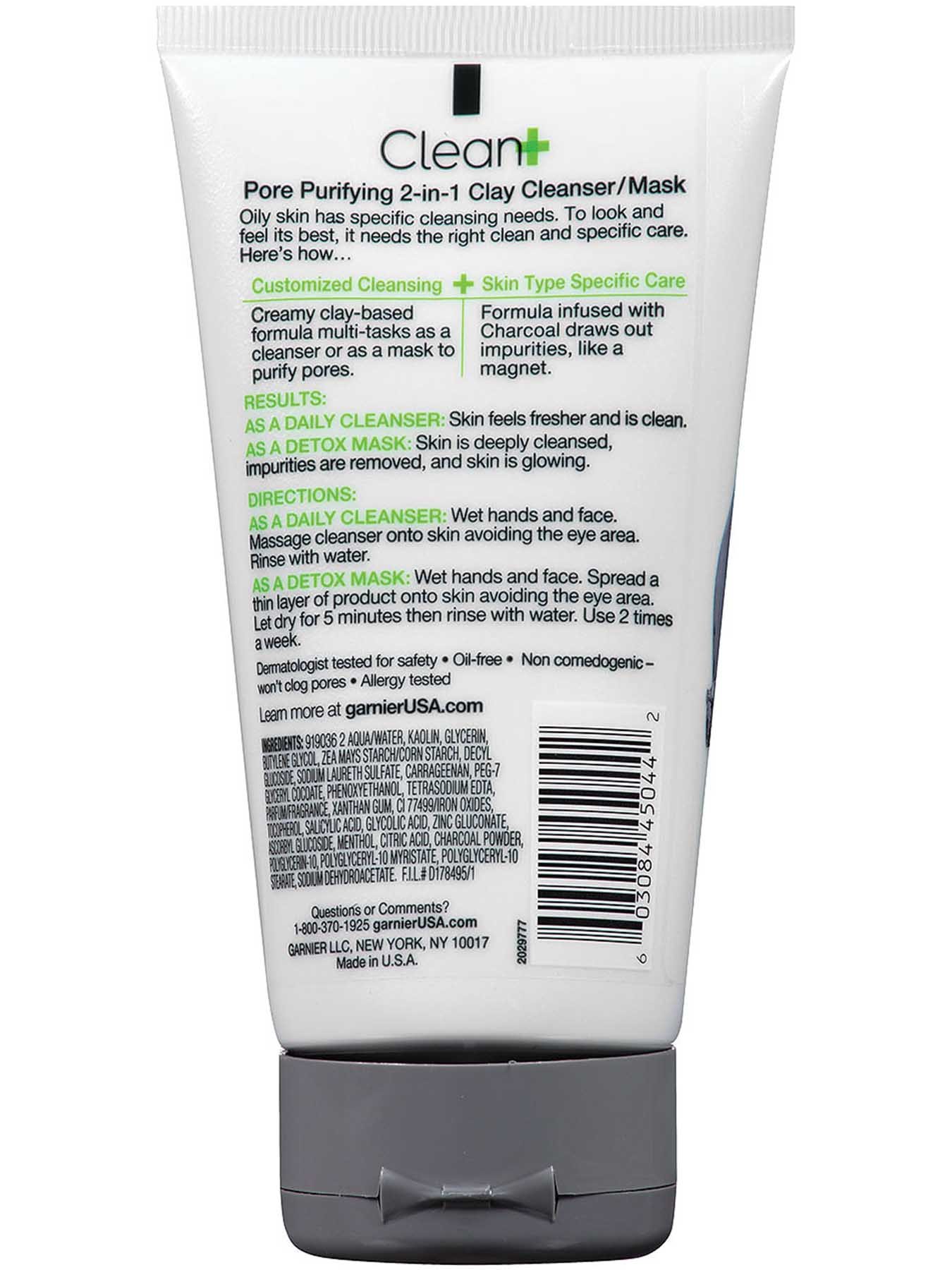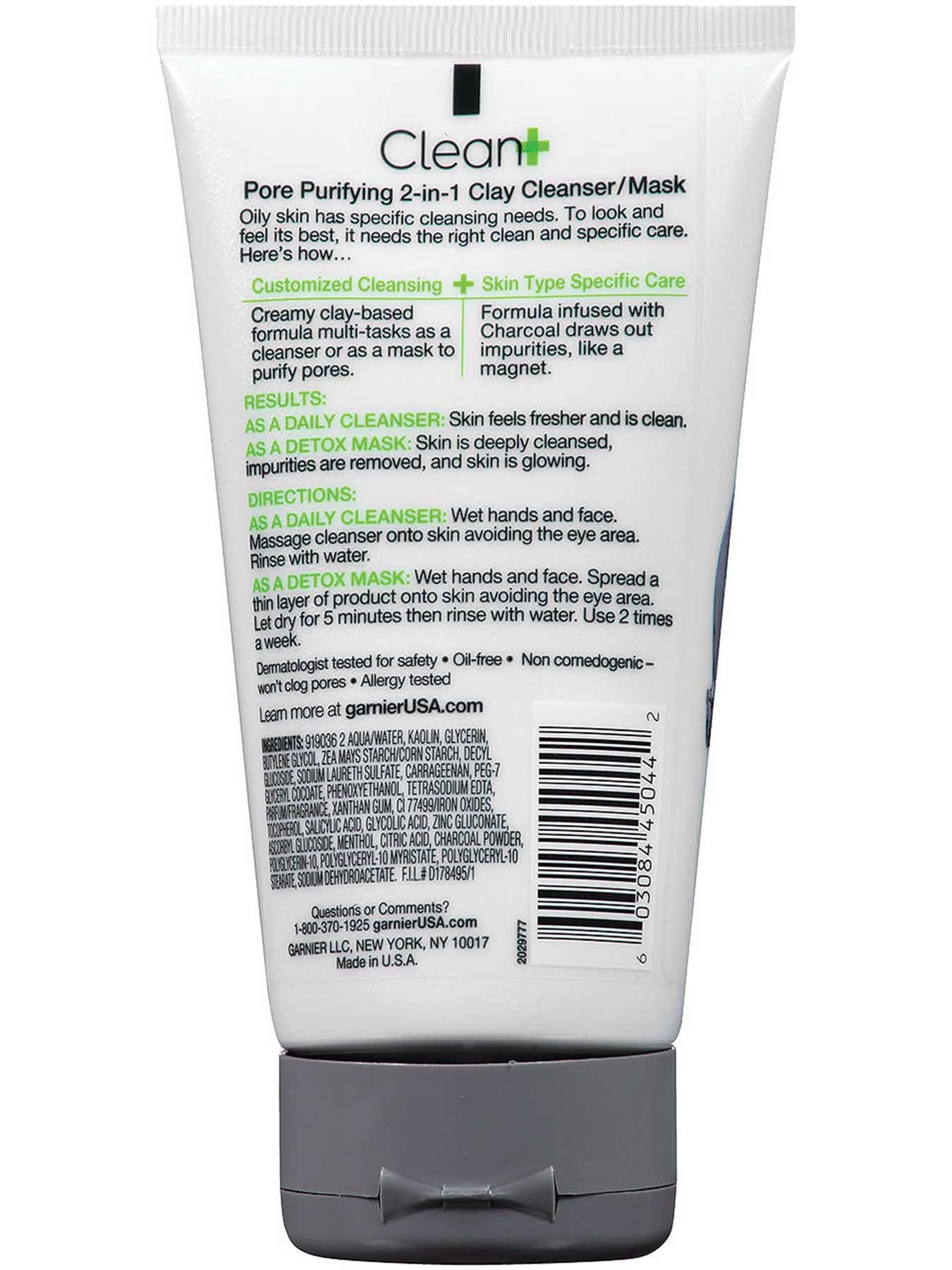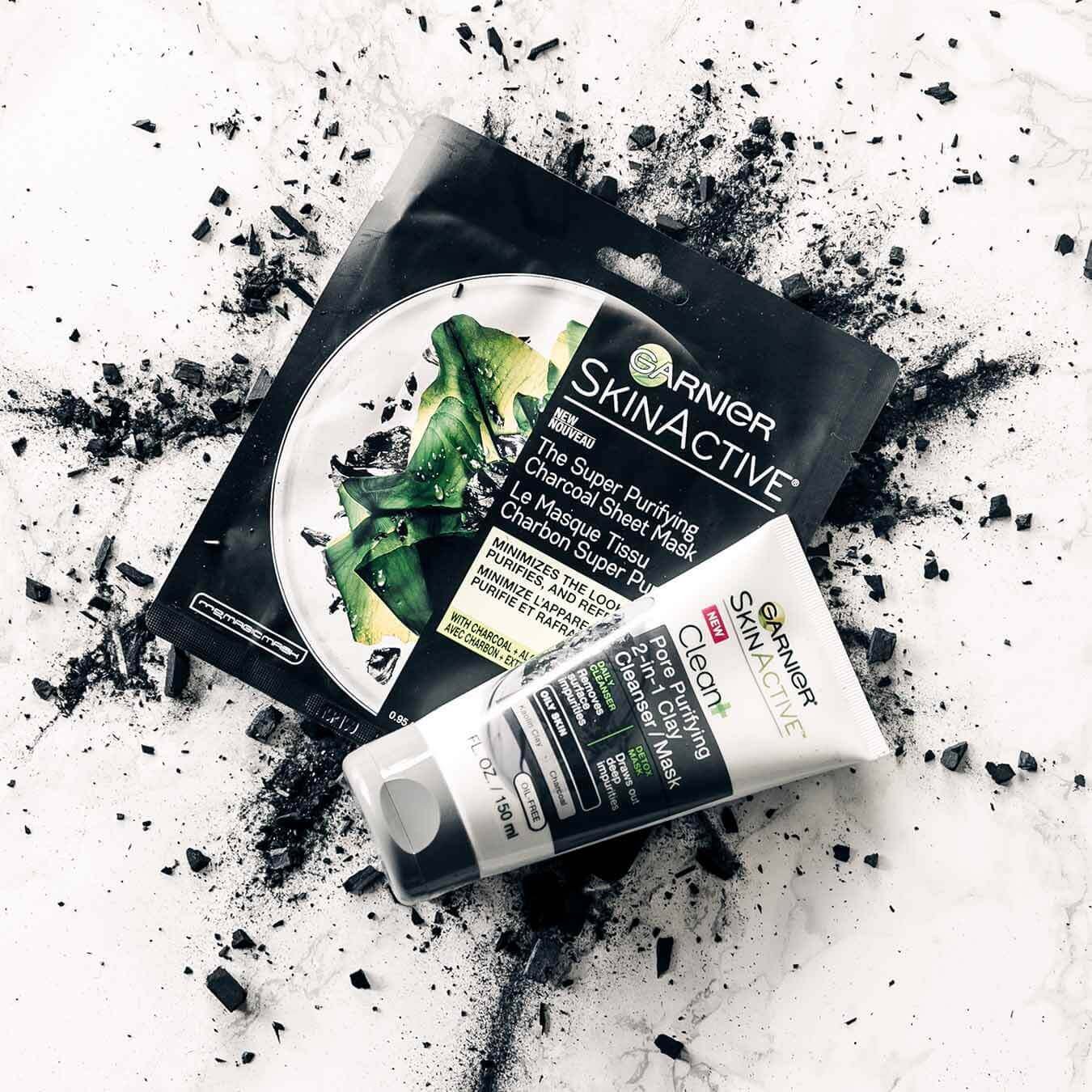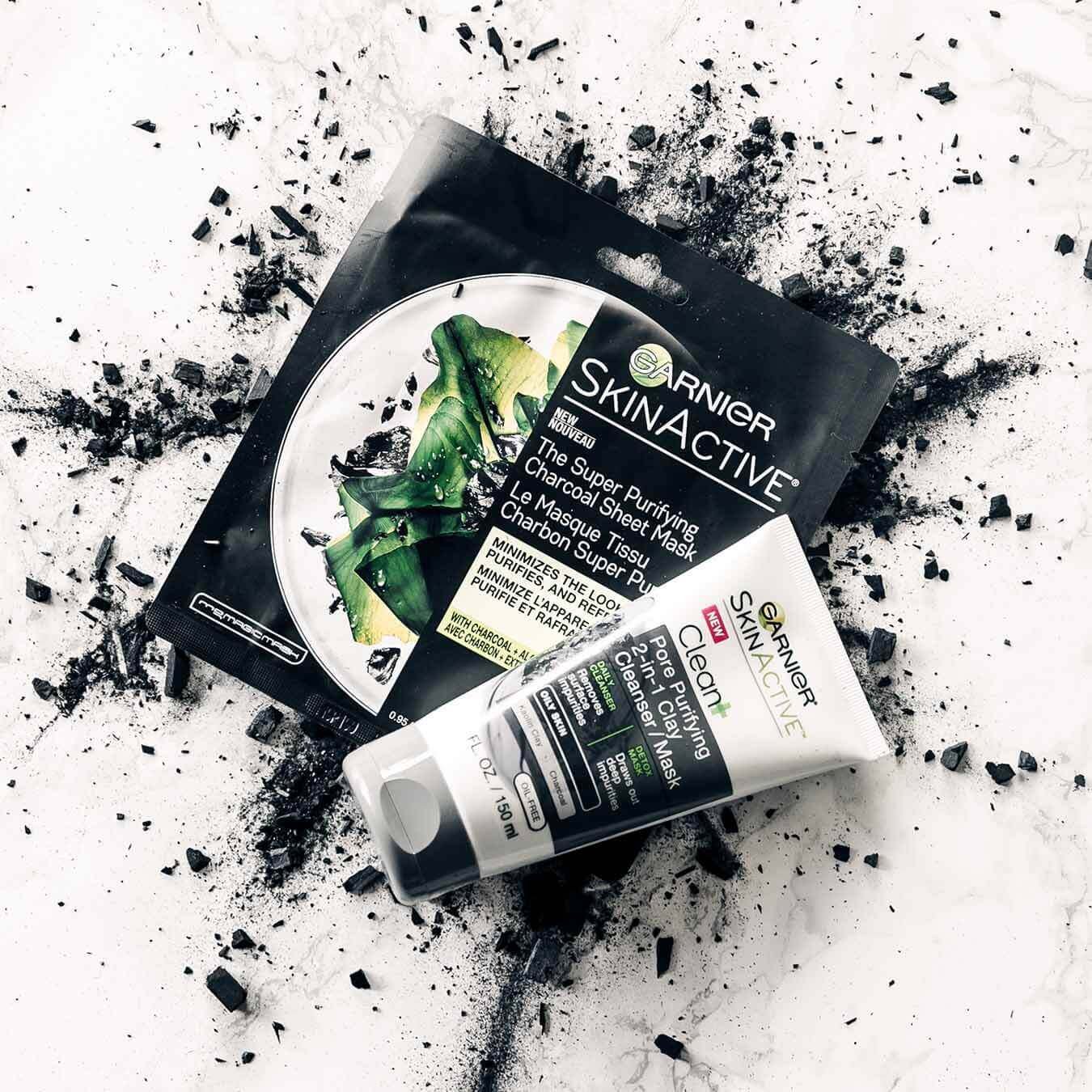 Clean+ Pore Purifying 2-in-1 Clay Cleanser/Mask
Garnier SkinActive
$7.99 MSRP
Daily Cleanser & Detox Mask in 1 Product
PRODUCT INFORMATION:
Oily skin has specific cleansing needs. To look and feel its best, it needs the right clean and specific care. Our creamy clay-based formula multi-tasks as a cleanser or a mask to purify pores. The formula infused with charcoal draws out impurities like a magnet.
How to Use:
AS A DAILY CLEANSER: Wet hands and face. Massage cleanser onto skin avoiding the eye area. Rinse with water.

AS A DETOX MASK: Wet hands and face. Spread a thin layer of product onto skin avoiding the eye area. Let dry for 5 minutes then rinse with water. Use 2 times a week.
Ingredients:
AQUA / WATER, KAOLIN, GLYCERIN, BUTYLENE GLYCOL, ZEA MAYS STARCH / CORN STARCH, DECYL GLUCOSIDE, SODIUM LAURETH SULFATE, CARRAGEENAN, PEG-7 GLYCERYL COCOATE, PHENOXYETHANOL, TETRASODIUM EDTA, PARFUM / FRAGRANCE, XANTHAN GUM, CI 77499 / IRON OXIDES, TOCOPHEROL, SALICYLIC ACID, GLYCOLIC ACID, ZINC GLUCONATE, ASCORBYL GLUCOSIDE, MENTHOL, CITRIC ACID, CHARCOAL POWDER, POLYGLYCERIN-10, POLYGLYCERYL-10 MYRISTATE, POLYGLYCERYL-10 STEARATE, SODIUM DEHYDROACETATE, F.I.L. D178495/1
Jojoba
Rich in Vitamins A and E, Jojoba Oil is a natural moisturizer often used in products that soothe sensitive skin and scalp.
Peppermint
Peppermint Oil is a go-to ingredient for formulas that purify, soothe, and refresh leaving skin and hair feeling and smelling fresh.
Rated

5

out of

5
by
Emilyd81797
from
Good product!
I think this product is worth the money, and it's on the inexpensive side as well. It is a smooth texture and you instantly feel it cleaning your face as soon as you put it in. The fact that it's a 2 in 1 makes it better being that you don't have to buy two separate products. It's a dark gray so you see exactly where you're putting the product and it smells nice and clean as well. I would definitely try this for oily skin, and it's available at any drug store.
Date published: 2017-08-22
Rated

5

out of

5
by
Oumziyad
from
Great product!!
Great cleanser!! Im a faithful customer of garnier i always use this product I loved this pore purifiying cleanset! Works great and leave face smooth and clean!! After trying it i purchased all the other cleansers!!
Date published: 2017-08-22
Rated

3

out of

5
by
aLee55
from
Acne Spots!!
I was really excited to try this product out since i have oily/acne prone skin. This mask is refreshing once applied to the face, but I was really sadden that this product broke me out really bad. I got 4 acne spots around my face the day after I used it, I liked how it left my skin feeling, really soft and cooled. I still want to keep giving it a try and see if I get more acne spots. As far, my sister tried it out yesterday, but haven't heard back, to see if she got any spots too.
Date published: 2017-08-22
Rated

5

out of

5
by
Letty1
from
Clean and fresh face!
It left my face soft after every use and loved it! I can't stop touching my face after every wash. I even got my brother using it and he was hooked on it. I'm glad I got to try this I will be getting this soon I am low!
Date published: 2017-08-22
Rated

5

out of

5
by
Maecephas
from
A must have for your face care routine!
I usually have pretty sensitive skin to new products. But this was nothing short of amazing! It's glides on so smooth and the smell is fantastic. I can't even begin to tell you how soft my face was just after one use! Been using it about twice a week and it's great. Would definitely recommend
Date published: 2017-08-21
Rated

5

out of

5
by
nikkirenee
from
Excellent cleanser and mask
I have extremely oily, acne prone skin, so I'm always excited to try any product that could help combat either of those conditions. I love clay masks, though I don't use them very often since they're fairly messy. This cleanser and mask was the perfect compromise that allows me to get my skin incredibly clean with little fuss. My skin didn't break out from using this product and my face felt very clean afterwards. I didn't really notice a reduction in the amount of oil that shows up on my face almost immediately after washing, but I did notice that my skin was cleaner and clearer than before I started using this product. I highly recommend.
Date published: 2017-08-21
Rated

5

out of

5
by
kendallsmom4
from
Great for oily skin
I have very oily skin and products I've tried in the past designed for oily skin just didn't work. I was skeptical of this one working but I should've never doubted it! This is the first dual product I've tried and it is very effective. It goes on smooth and easy. I use it as a daily cleanser and once a week I use it as a mask. I find easier to use as a mask when I first get in the shower and before I get out I rinse it off. My skin feels refreshed and so clean. I have fairly large pores and this does get them cleaned. The fragrance is also great.
Date published: 2017-08-20
Rated

5

out of

5
by
jlnicole
from
Smooth and detoxed
I've used the Garnier Clean + Pore Purifying 2-in-1 Clay Cleanser/Mask for a little over 2 weeks now. Day after day it has continued to leave my skin smooth and very fresh. I even got my very manly boyfriend to try it out and he used it as a mask and wash. He said he didn't notice the difference, but of course his skin needs are different than mine. He had a beard and normal skin. I was impressed with how smooth my skin felt after I rinsed the product off. I love how easy it was to rinse off after using it as a mask. The texture is more of a gel than the usual clay texture. I will recommend this 2 in 1 product to my friends with oily skin. Since it has sodium laureth sulfate (SLS) I wouldn't recommend to those that have dryer skin because it will take the oils away from the skin. I did not have any negative experiences, and I will buy it again. I was also wary to try because it has SLS in it, but it did not dry my skin out at all. I have mild to moderate oily skin, but it left just the right amount of moisture behind. Also, this is great for make-up wearers because after I take off my make-up, use it as a face wash, and use toner after there is NO make-up left over on the cotton ball. That made me give it 5 stars. I've even seen some black heads come up after I've used it as a mask. This product definitely worked for me! I'm becoming a fan of the Garnier line now.
Date published: 2017-08-20
Rated

5

out of

5
by
Vixter26
from
Confidence again
Will this product remove my black heads and not leave red irritated areas on my face? This is what I experienced when using Clean+Pore Purifying 2-1 Clay Cleanser /Mask. I found that it was giving me me a clear, smooth, clean face after the first use, after the first couple weeks of use I noticed my face had a glow to it, the black heads that were once on my cheeks were no longer there, this was amazing. When I first applied the mask it was tingly and cool and a most refreshing feeling, after that the mask started to tighten but not extreme tightening like other mask. I will definitely continue to keep using this product it's made me feel confident with myself. I will definitely buy this product again.
Date published: 2017-08-20
Rated

1

out of

5
by
mariafaith01
from
Not the Best Clay Mask
I was not too impressed with this Garnier Pore Purifying 2-in-1 Clay Cleanser/Mask. I do generally like some of the Garnier products, but this cleanser/mask seems to fall short for me. The first thing I noticed is that the substance is a thick, glue-like consistency with a thick, dark grey color. It was not very appealing to me and did not seem at all natural. The mask does have a very strong fragrance. Although not a bad fragrance, I find strong fragrances are generally not that good for skin. It also contains Menthol which can also irritate skin. I am glad to see that it also has charcoal, which can be beneficial to skin. When I used this as a mask, I didn't have any burning at all which is a positive. My face did feel refreshed, but I can't say my face felt better than it ever has before. When I used this as a cleanser, I wished there were some exfoliating properties to it, since it is mostly a smooth gel type consistency with no exfoliates. I will probably use up the rest of the bottle as face masks, as I don't want to be wasteful. However, I likely won't be purchasing this product in the future.
Date published: 2017-08-19
Rated

5

out of

5
by
Eliceh
from
charcoallover
I think it works great as a mask and a cleanser. It's doesn't have too much exfoliation in it either. Ours get smooth and gives you a tingly fresh clean feeling.
Date published: 2017-08-19
Rated

4

out of

5
by
bjsrn
from
Never used anything like this before!
I recently started using this cleanser/mask, and it's unlike anything I've ever used before. It is a very smooth, creamy consistency that goes on evenly. After applying to my face, I feel a slight tingling sensation (nothing major or uncomfortable). The longer I leave it long, the more it tingles and gets down into my pores. I've been using it at night in the shower and just leaving it on while I bathe. My face feels very soft, smooth, and clean after I rinse. I have oily skin, so the oil-free formulation is nice. My only complaint is the smell. It's not an awful smell, but is slightly medicinal. I would prefer something a little more pleasant for more my face. But other than that, I plan to keep it in my skin care routine.
Date published: 2017-08-19
Rated

4

out of

5
by
Bribrio
from
Love the smell!
I think this clay cleanser is a great way to get a dual role out of one product. My husband loves the citrus and cooling feel and I like the clay consistency.
Date published: 2017-08-19
Rated

5

out of

5
by
ashleyclairex3
from
Amazing!!!!
I was super excited when I received the email for this product and even more excited when I received the package! It had been everything i need and more. I have horrible skin and this is helping so much!
Date published: 2017-08-19
Rated

4

out of

5
by
rocheleau
from
2-in-1 Clay Cleanser/Mask
I loved it!! My sons also used it. Made our skin less oily and soft. Came off with just wash cloth and warm water
Date published: 2017-08-19
Rated

5

out of

5
by
Bluedot1998
from
Amazing product!
If youre looking for good oil control and just an over all great product this is definitely a great choice. I had not found anything that I've really liked and that has really worked for my oily skin until now, since using this I see and feel a noticeable difference in my skin and I am very impressed.
Date published: 2017-08-19
Rated

5

out of

5
by
EL549
from
This stuff is amazing!
I work in a dirty repair shop so I regularly have break outs and dull skin, I have been using his for about a week and the changes are amazing! I wash with it every night and twice a week use as a mask, my face is clear and so smooth
Date published: 2017-08-19
Rated

3

out of

5
by
HaleyRose924
from
Equal Pros and Cons
Pros: it smells awesome, it makes my skin feel soft, it makes my skin look glowy, and it doesn't irritate my very sensitive skin Cons: my skin is just as oily if not moreso, it doesn't reduce breakouts, it can be very drying at times, it doesn't make my skin feel clean like other cleansers do The choice is yours, but I probably wouldn't buy this. I would recommend it though because it has the potential to work, just not for me.
Date published: 2017-08-19
Rated

5

out of

5
by
heidipeoples
from
Awesome cleanser
I loved trying Garnier's Clean+Pore Purifying 2-in-One Mask! It goes on smoothly and has a pleasent smell. I leaves my skin feeling cool and moisterized. I have been using it for over a week and feel it has helped my complextion. I also like using it as a mask. It makes my face feel really clean.
Date published: 2017-08-18
Rated

5

out of

5
by
Amancino
from
Refreshing
I wanted a mask to use on my face and this product was great!!!! I liked that it was a quick, in the shower product. When I put it in i automatically felt it working! It had a great smell also! After 5 minutes I washed it away and automatically felt my skin was so much smoother. My redness went down significantly and I didn't feel like rough. I would definitely recommend this product to my friends and family
Date published: 2017-08-18
Rated

5

out of

5
by
shastas84
from
Works great!
I have super sensitive skin so I was a little nervous about trying the Garnier core cleanser/mask. But I am so glad I did! I love the 2 in 1 convenience. I only have to keep 1 product for both daily cleansing and weekly deep cleaning my skin. My skin was softer, smoother, and glowing clean after I used the mask the very first time. It has a nice feel, and pleasant smell so it's not a chore to use. I'm in love.
Date published: 2017-08-17
Rated

4

out of

5
by
whatathymeitwas
from
New Garnier Skin Active Face Wash
This product was fantastic! I tried the new Garnier Skin Active Face Wash with reserved feelings about it - I don't usually use face wash without acne-fighting ingredients as they tend to break me out, but this highly exceeded my expectations. Not only did the Skin Active face wash NOT break me out, it also helped clear my skin some. I tried it as both a daily cleanser and as a 5 minute mask. While I don't think I would replace my daily acne-fighting cleanser, I would buy this to use as a mask a few times a week in addition. My skin feels refreshed, cleansed, soft, and supple after using this product.
Date published: 2017-08-17
Rated

5

out of

5
by
Mom2Three124510
from
Silky Smooth Skin
I absolutely loved the Garnier skinactive clear +. I used this to not only wash my faces at night but also tried the option to leave it on a clean face as a mask. I am not a fan of using as my daily face cleaner but did love how my skin felt and looked after I left the mask on for the recommended 5 minutes. Once I washed it off my skin felt so smooth and shiney. Very refreshing! I would definitely recommend this to my friends! I would want to know prior to this product that it will slightly discolor some colored wash cloths.
Date published: 2017-08-17
Rated

5

out of

5
by
dsolis
from
Garnier skin active face wash
I have used garnier products before but never this face wash/mask. I have used masks with charcoal ingridients but nothing like this product. Not only does it smell good and does a great job leaving my skin super clean and soft. I loved it and will be buying the Garnier skin active face wash and mask.
Date published: 2017-08-17
Rated

5

out of

5
by
Ejhenigin
from
Great product!!
I LOVE this product! I used it three times a week as a mask and I noticed that my acne has cleared up..my skin is not as oily and my face feels super soft! I will always make sure to have this product on hand at all times!
Date published: 2017-08-16
Rated

5

out of

5
by
Skitles521
from
Awesome Product!
I have used the product as a face wash and a mask and I love it! My face isn't as oily during the day and lot of black heads I could never get rid of using my old face wash are gone!
Date published: 2017-08-16
Rated

3

out of

5
by
SnowStormWife
from
Just An Okay Product
After using this product as a face wash daily and a mask 3 times, I would rate this product as okay. The smell is nice, it is not over powering making this a good product for all genders. When using this product as a face wash, it is thin and does not foam or suds up. I am not a fan of this, I like products that mix well with water so I feel like I am getting good coverage when I am washing my face. I did not notice a reduction in acne or redness when using this product. As a facial mask however, I loved the feel of the charcoal pulling the oil from my skin. My skin felt smoother after use. Overall this is an okay product. I will continue using it as a mask but I will probably switch back to my regular brand of face wash.
Date published: 2017-08-15
Rated

5

out of

5
by
Lalayponcho
from
Helps oily skis
I love this stuff. I have very oily skin and after i wash my face it makes it feel tingly and refreshed. Will purchase this in the future
Date published: 2017-08-15
Rated

4

out of

5
by
ashleyest1988
from
Garner skin active clean +
Really liked it! Went on thinner than some other masks I've used but was effective. Liked it as a wash too! Convenient having a mask and wash in 1!
Date published: 2017-08-14
Rated

4

out of

5
by
Thesciencegeek
from
Good cleanser great mask
Pros: cleanses as well as any other facial cleanser. It felt great as a mask, it was a little tingly but not too much. Left my face feeling clean and smooth Cons: has an odd smell, almost like windex but it didn't bother me and did not last after using the product. Overall: I would buy again to use as primarily as a face mask and occasionally as a cleanser.
Date published: 2017-08-13