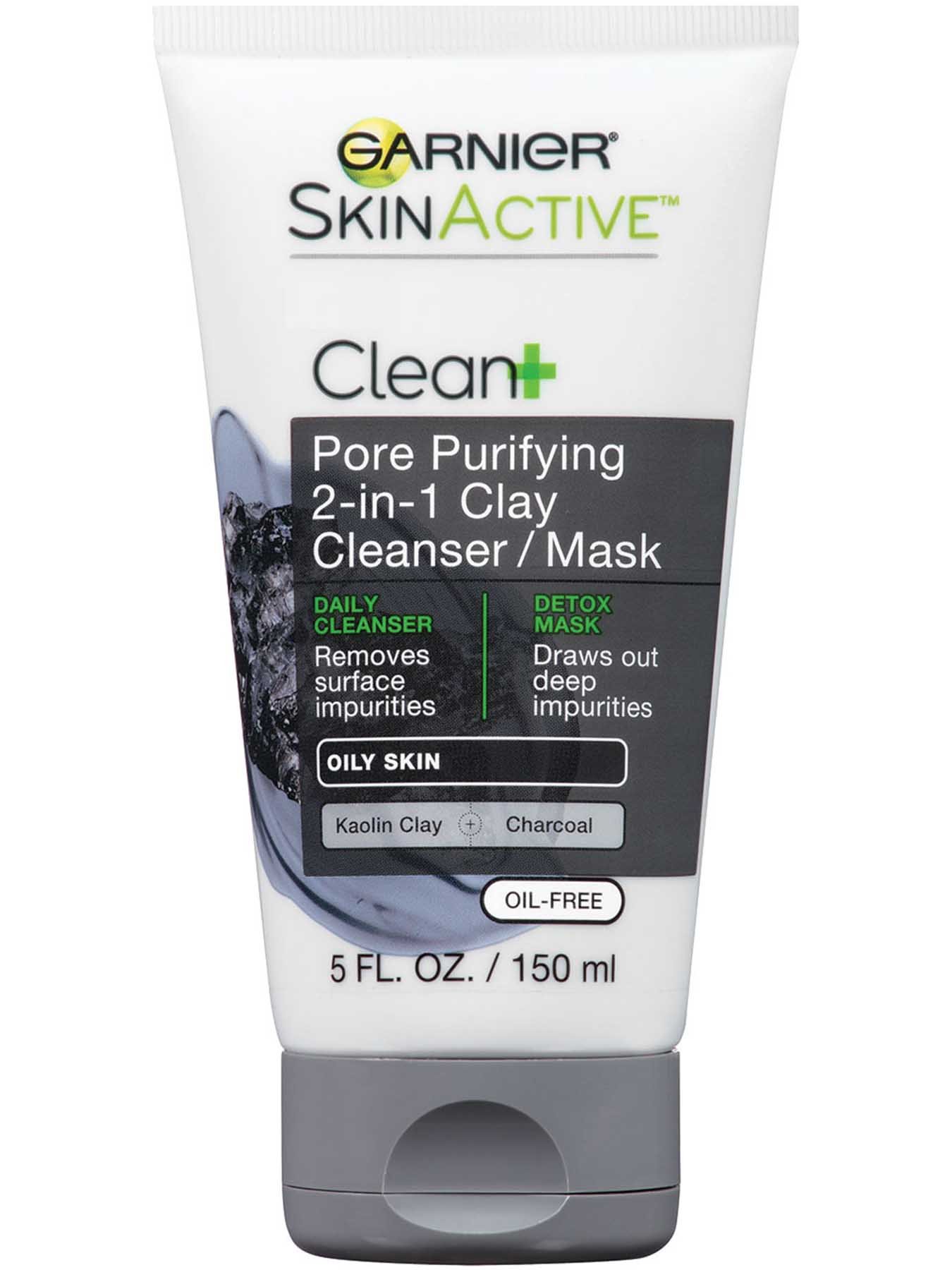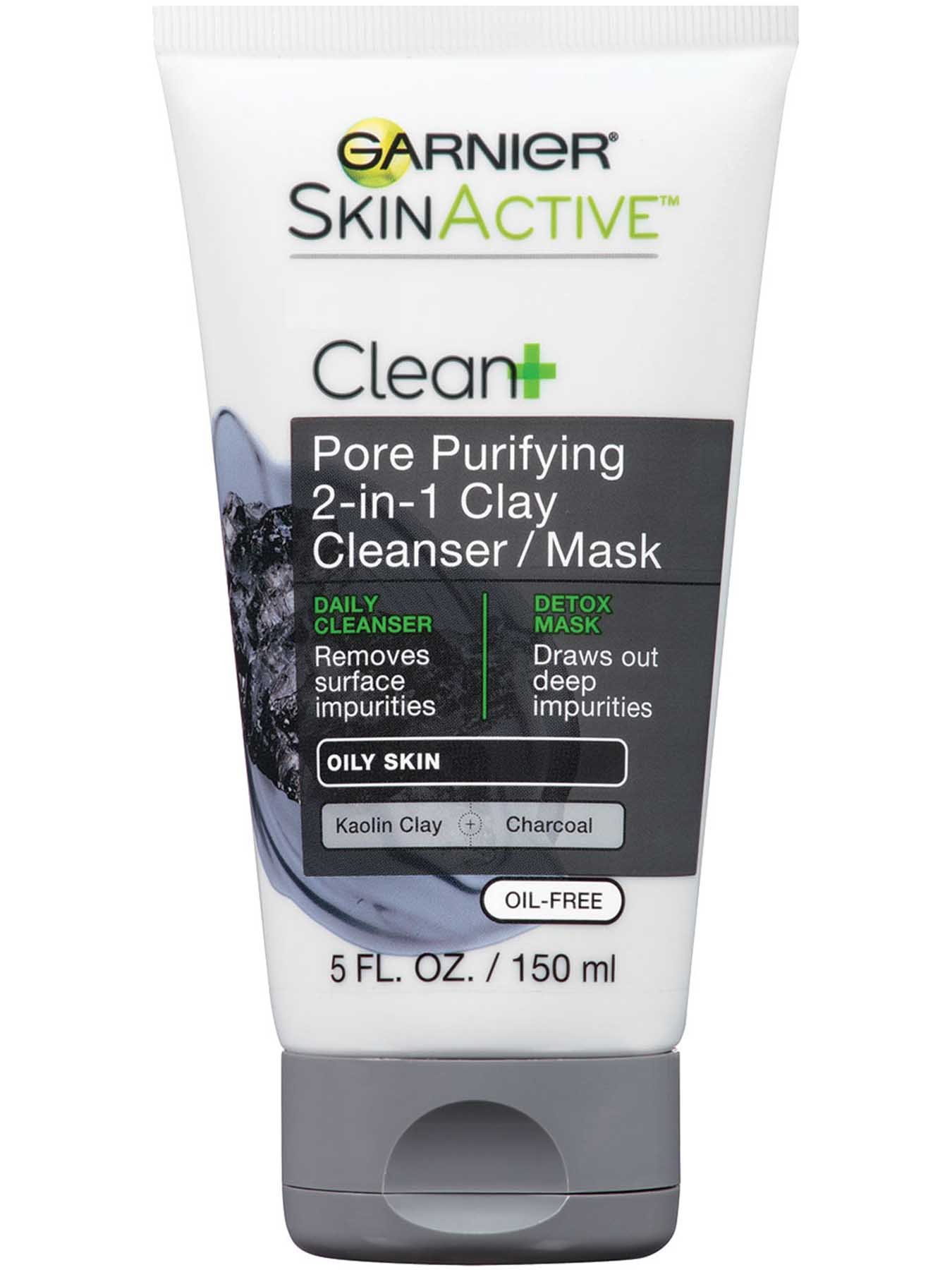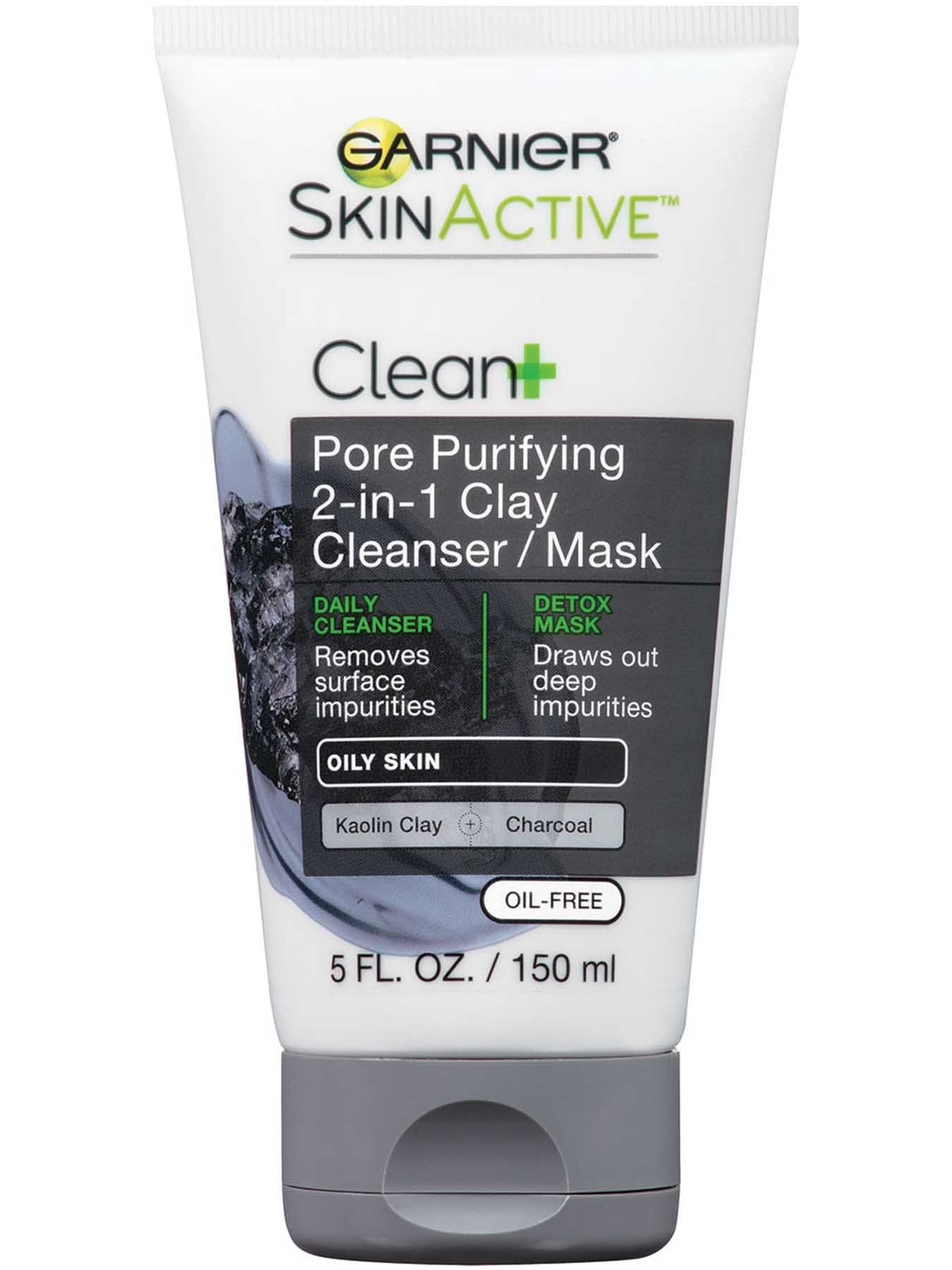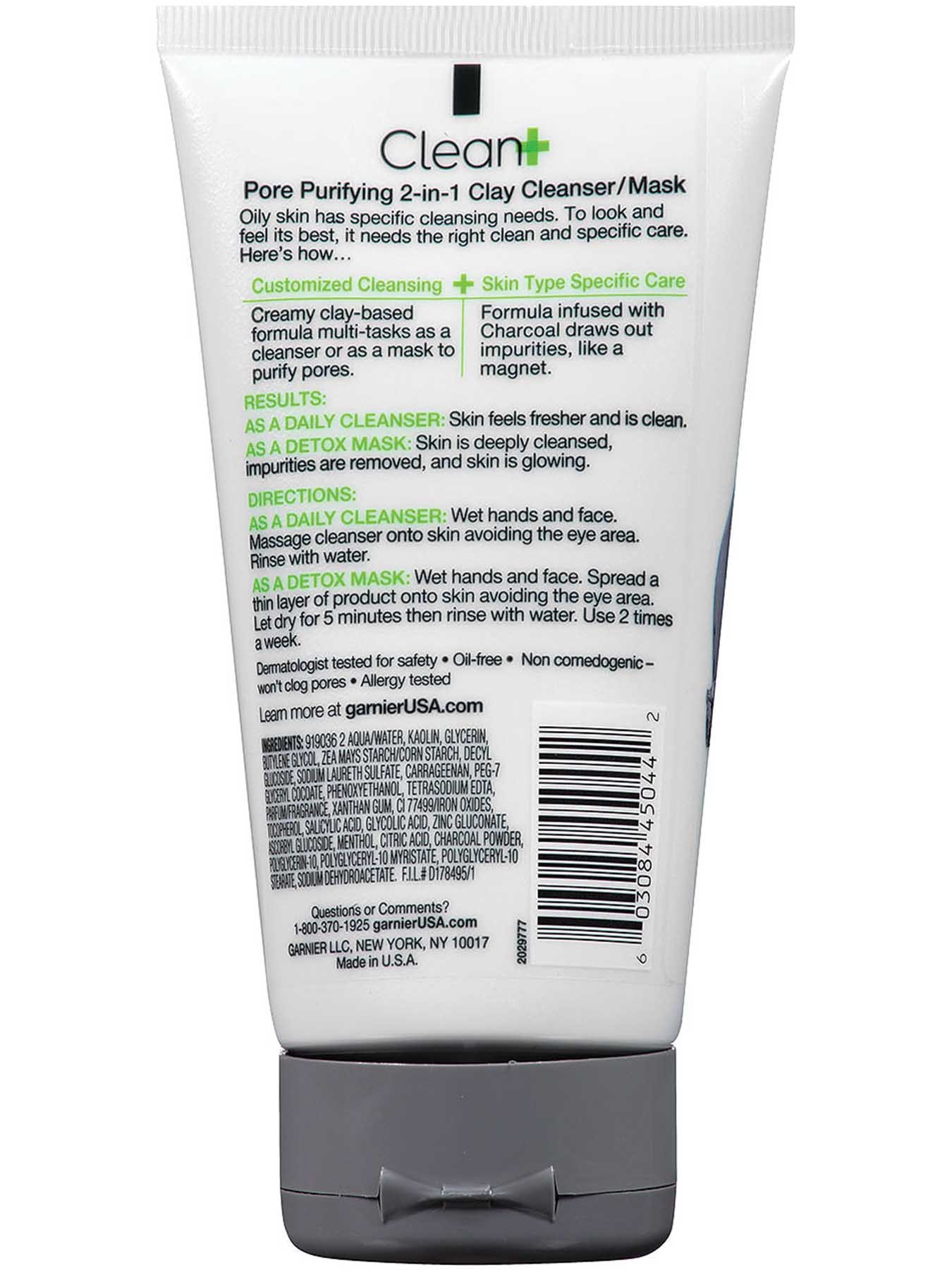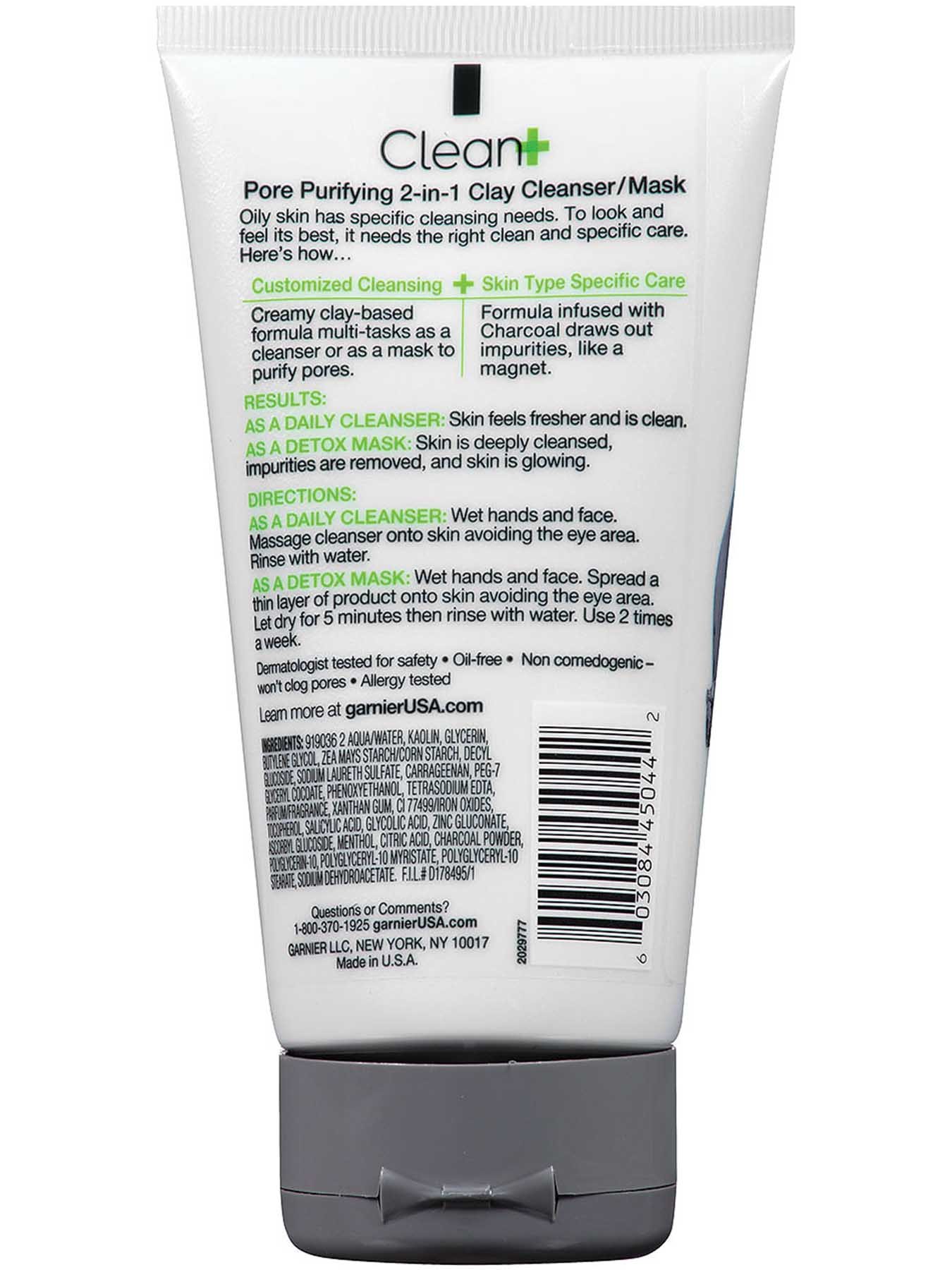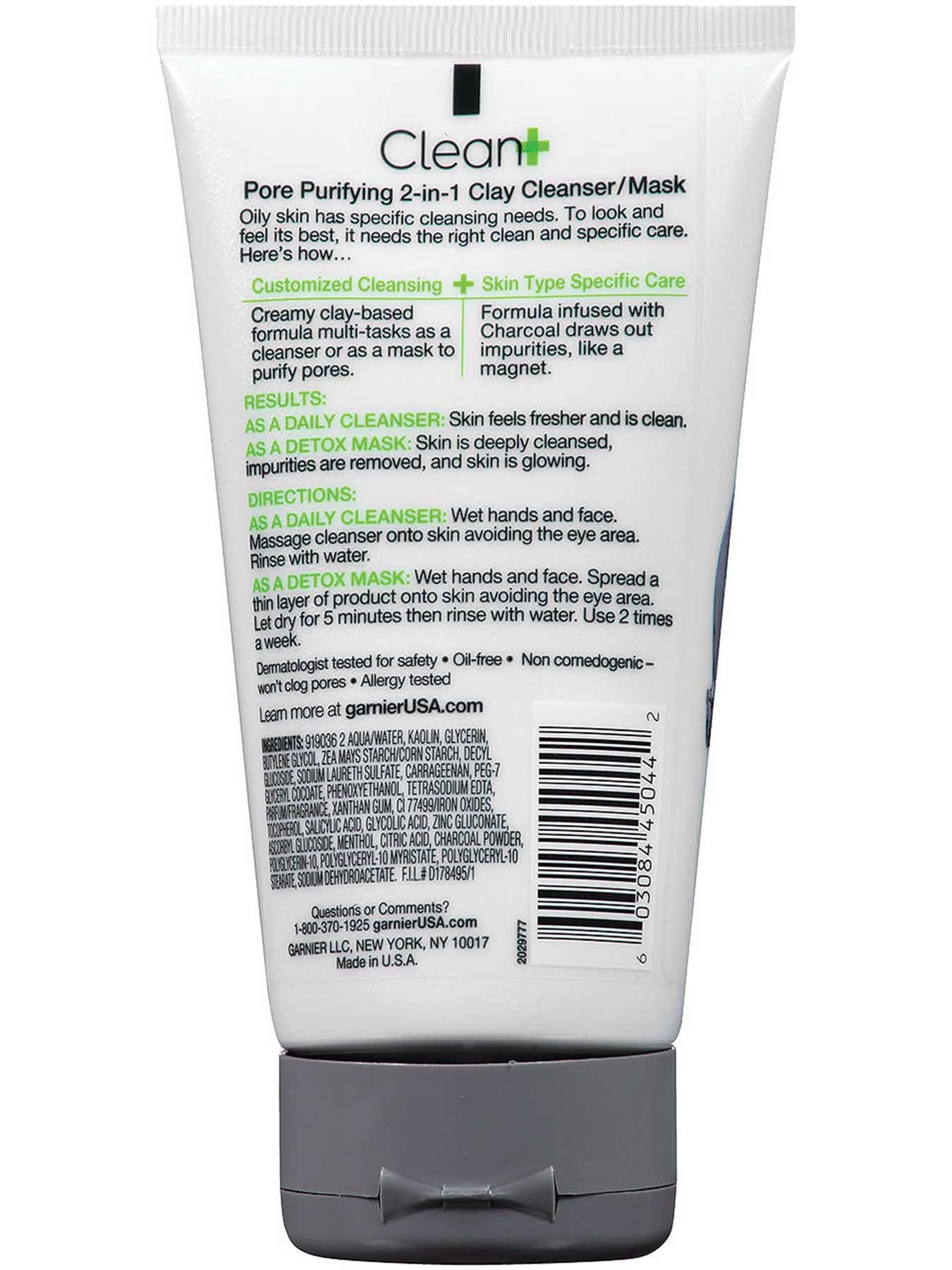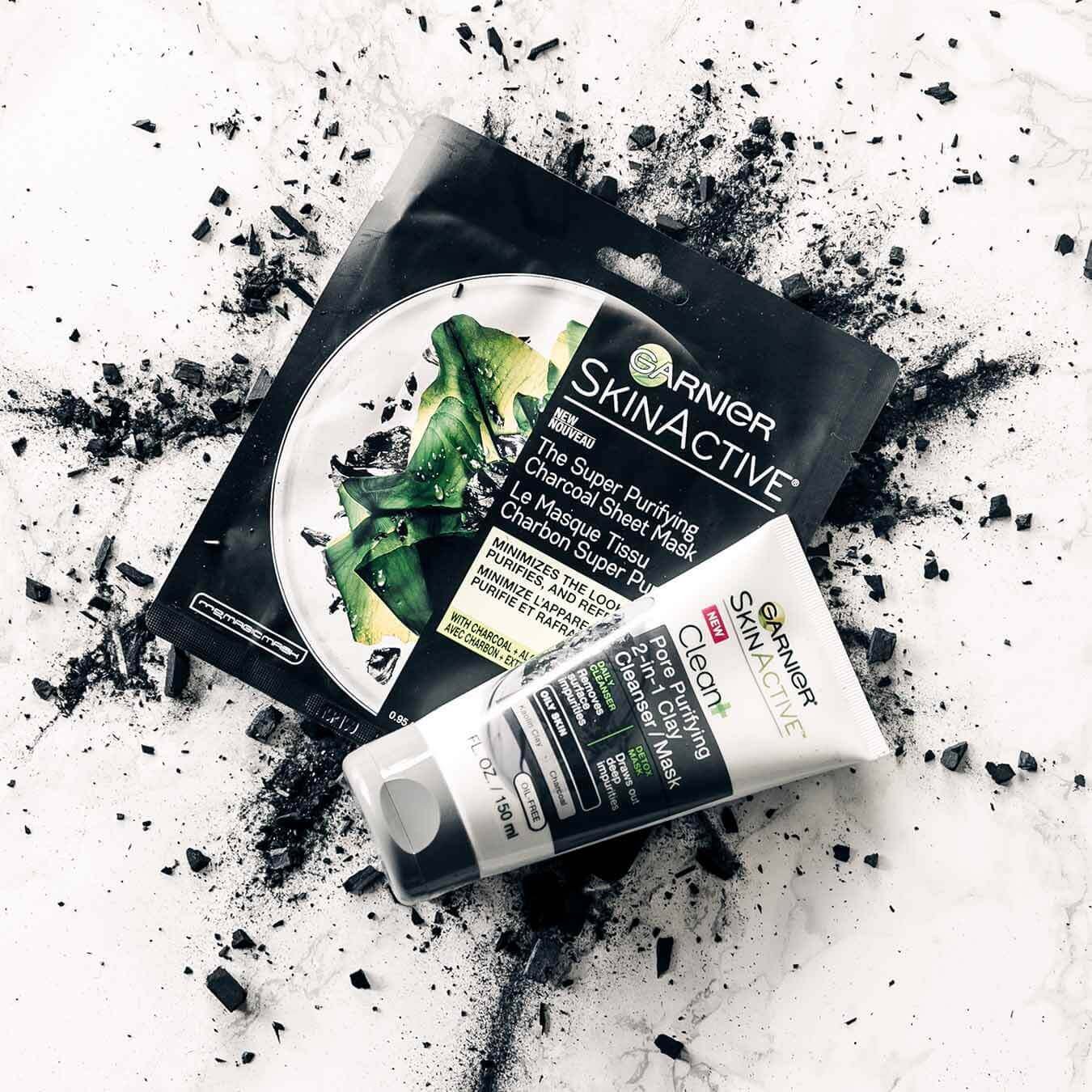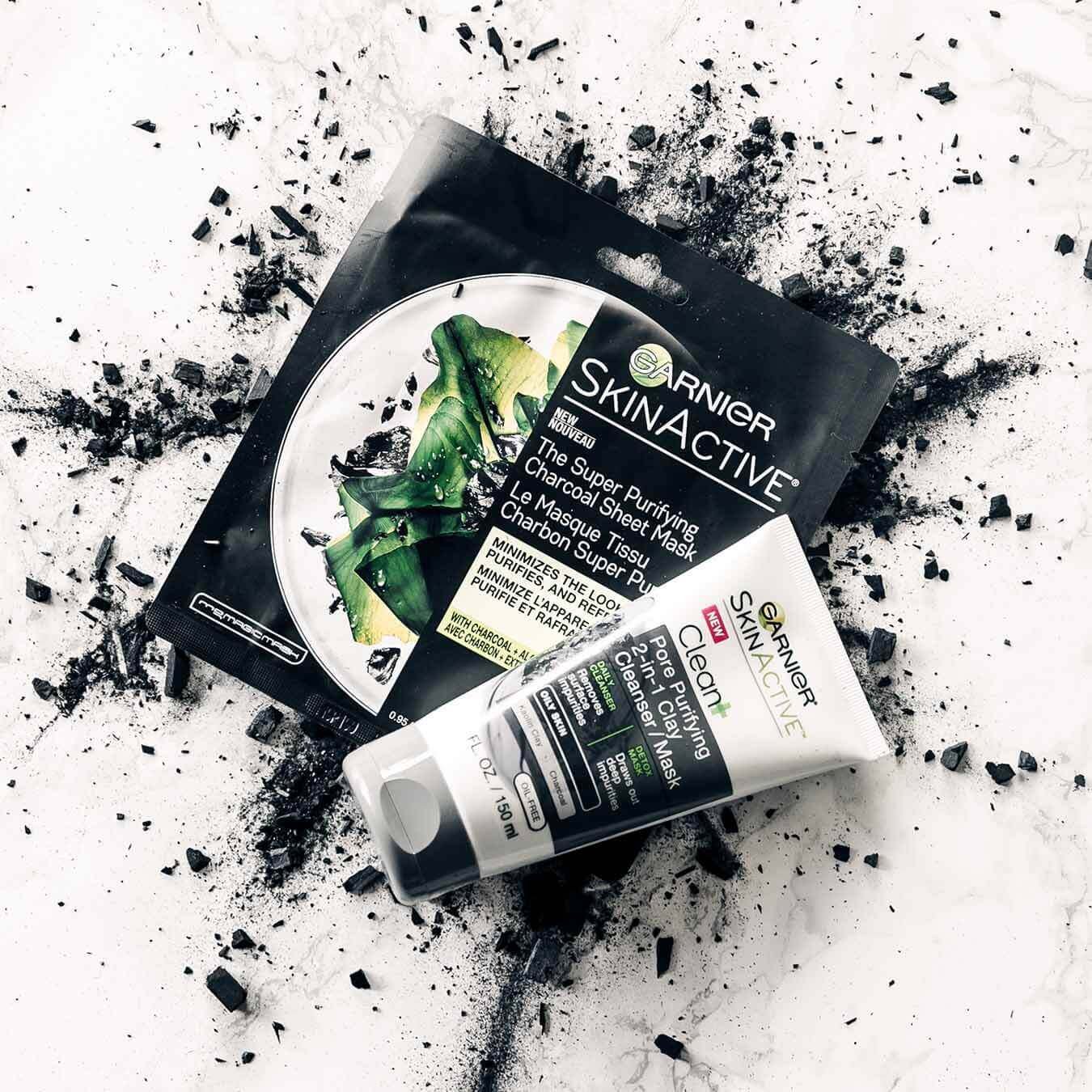 Clean+ Pore Purifying 2-in-1 Clay Cleanser/Mask
Garnier SkinActive
$7.99 MSRP
Daily Cleanser & Detox Mask in 1 Product
PRODUCT INFORMATION:
Oily skin has specific cleansing needs. To look and feel its best, it needs the right clean and specific care. Our creamy clay-based formula multi-tasks as a cleanser or a mask to purify pores. The formula infused with charcoal draws out impurities like a magnet.
How to Use:
AS A DAILY CLEANSER: Wet hands and face. Massage cleanser onto skin avoiding the eye area. Rinse with water.

AS A DETOX MASK: Wet hands and face. Spread a thin layer of product onto skin avoiding the eye area. Let dry for 5 minutes then rinse with water. Use 2 times a week.
Ingredients:
AQUA / WATER, KAOLIN, GLYCERIN, BUTYLENE GLYCOL, ZEA MAYS STARCH / CORN STARCH, DECYL GLUCOSIDE, SODIUM LAURETH SULFATE, CARRAGEENAN, PEG-7 GLYCERYL COCOATE, PHENOXYETHANOL, TETRASODIUM EDTA, PARFUM / FRAGRANCE, XANTHAN GUM, CI 77499 / IRON OXIDES, TOCOPHEROL, SALICYLIC ACID, GLYCOLIC ACID, ZINC GLUCONATE, ASCORBYL GLUCOSIDE, MENTHOL, CITRIC ACID, CHARCOAL POWDER, POLYGLYCERIN-10, POLYGLYCERYL-10 MYRISTATE, POLYGLYCERYL-10 STEARATE, SODIUM DEHYDROACETATE, F.I.L. D178495/1
Jojoba
Rich in Vitamins A and E, Jojoba Oil is a natural moisturizer often used in products that soothe sensitive skin and scalp.
Peppermint
Peppermint Oil is a go-to ingredient for formulas that purify, soothe, and refresh leaving skin and hair feeling and smelling fresh.
Rated

5

out of

5
by
ACNE SUFFERER
from
Must buy!!!
I have delt with bad acne my whole life. White heads/black heads....it was ugly. After 3 days of using this my skin was so clear! Never using anything else again.
Date published: 2018-07-26
Rated

4

out of

5
by
Elizabeth0212
from
Refreshing
I love using this in the summer to cool down my face and prevent acne from sweat and makeup.
Date published: 2018-05-29
Rated

5

out of

5
by
Lavalee
from
GREATEST CLEANSER EVER ❗❗❗❗
I have adult acne and used Garner Skin Active clean+pore purifying 2 in 1 Clay cleaner/ mask a year and more ago and my face looked great but I thought it was the other products that I was using. The CVS near me stop selling it and I started using other cleansers and for almost a year my face kept breaking out. Two months ago I got it at another drugstore and haven't had not even 1 acne breakout since even though I have stop using differin. My 16yr old cousin asked what I was using and I got it for him and he is not breaking out anymore and this is all he uses twice a day nothing else. Who knew a cleanser alone could stop acne breakouts-it DOES!!! THAT charoal and kaolin clay combination is super effective so PLEASE don't stop making it. Thank you Garnier
Date published: 2018-05-27
Rated

5

out of

5
by
Breezy breeze
from
Absolutely the best hands down!
I suffer from hormonal acne and I get really bad cystic pimples on my cheeks and forehead areas. I've tried using only natural products but it wasn't clearing up at all. Did some researching and came across this product. Absolutely grateful I did because it works wonders! My face showed improvement within a couple days of use! You can use it as a mask or a cleanser. I use it as a mask once a week and a daily cleanser 2x a day. I follow up with my witch hazel and either coconut oil or coca butter(which ever one is near) for moisturizer. I have very sensitive skin and I have no problems with it.
Date published: 2018-03-16
Rated

5

out of

5
by
Nicole7472
from
Really Refreshing
I bought this yesterday and i havent used it more than twice, but my face already feels clean and refreshed. Really great product!
Date published: 2018-03-11
Rated

5

out of

5
by
CC1z
from
So glad it works
Using on scalp problem after spending a small furtune on Drs. and products. It's hep a lot with the discomfort.
Date published: 2018-01-20
Rated

4

out of

5
by
HeidiAnne
from
Great face mask!
Love this product, it is a wonderful and affordable face mask and does wonders to my skin
Date published: 2017-10-30
Rated

5

out of

5
by
MRiggs27
from
Best! Thing! Ever!
I deal with bad adult acne and had trouble maintaining it. Then once I started using this product, my acne was gone so quickly! It helps with my oily skin too. The mask is great especially after a sweaty day or wearing heavy makeup all day. PLEASE NEVER GET RID OF THIS.
Date published: 2017-10-05
Rated

4

out of

5
by
jwunder725
from
Great cleansing and tingle!
I really enjoyed this face wash/mask. I loved the tingle on my skin when I washed with it and how refreshed my face felt afterwards. I did find that it helped control excess oil for longer than my regular facewash.I will continue to keep this in my face cleanser arsenal.
Date published: 2017-09-01
Rated

4

out of

5
by
swtnpeachy
from
Surprising results for a great price
The Garnier SkinActive Pore Purifying 2-in-1 Clay Cleanser / Mask (...wow that's a mouthful) is surprisingly good for the low price. After a long day, I typically have some oil build-up on my forehead an in my "t-zone," so I usually go for oil free products that are designed to be used on oily skin. Most of the time these products tend to dry my skin out which results in small flakes of skin on the side of my nose. I have regularly been using a much pricier oil free face wash which does what I just described above (just not to the extent of others). I expected the same from the Garnier, but after many uses, typically use in the shower since it is easier/cleaner to wash the charcoal colored fluid down the drain, I am surprised to say I notice much less dry skin after use. The great thing about the Garnier as well is that it is not only a face cleanser, but it also doubles as a cleansing mask when left to dry. When used as a cleansing mask, this cleanser has a cooling feeling as it dries on your face that can get a little intense. After washing it off, this persisted for a couple minutes, but it was not unbearable. As an additional plus, the scent of the cleanser is also pleasant. Overall, I was pleased with the results from using this product, as both a cleanser and a mask, and would recommend it to friends and purchase it in the future.
Date published: 2017-08-31
Rated

5

out of

5
by
asandstrom88
from
Garnier Skin Active to the Rescue
Garnier Skin Active Clean+ Cleanser and Mask is a fantastic product. Has a light fresh scent. Very creamy and easy to apply. With ingredients such as charcoal and clay I expected it to be black or gray but it's a pretty light blue color-not as garish to wear around family while using. It washed off my face and hands easily. Since it contains menthol it left my face feeling refreshed and clean after removing. I love face masks and with Garnier's price point I will definitely purchase it in the future.
Date published: 2017-08-30
Rated

5

out of

5
by
kirgall
from
Gentle and Effective Cleanser
I love this product. As someone who loves skin care but doesn't like to have too many products this is a fantastic 2-in-1. When I use it at night as a cleanser I am able to easily get off all my makeup off and when I feel like using it as a mask my face feels purified and clean. The smell is also pleasant and not overwhelming.
Date published: 2017-08-29
Rated

4

out of

5
by
MackBrown
from
Pretty good face mask
I was pleasantly surprised by how nice my skin felt after using this Garnier face mask. I have very sensitive and oily skin, so trying new face products can be a bit tricky. This mask, however, did not break me out at all! It was gentle and seemed to help control the oil slick. After using it, my skin felt so clean and fresh. There were a couple things I wasn't the biggest fan of. First, it has one of the strongest smells of any face mask I've ever tried. To me, it smells like strong cologne. Luckily, I don't think it's a bad smell, but it is very strong, and some people can't use products with a lot of fragrance. So if you are one of those people, watch out. Second, the mask felt slightly sticky in a way that I'm not sure it should feel. It wasn't anything that took away from the usefulness of the mask, just a tad annoying. Overall, I think this is a solid face mask that will help clean out your pores a bit and leave you feeling nice and refreshed.
Date published: 2017-08-29
Rated

4

out of

5
by
LarynW
from
Great Mask
My skin is very oily & a little bit picky about what products I use. I'm always worried to add new products into my skin care regimen, but this product did not disappoint. I used this primarily a couple of times a week as a mask & liked the results. My face was left feeling refreshed & clean, & I never had any issues with breakouts or added skin issues.
Date published: 2017-08-28
Rated

5

out of

5
by
cfaulds02
from
Love my face now thanks to Garnier !
I love this product!! I am reaching 50 and my face still breaks out... This has been my lifesaver. I use it several times a week as a mask. It has cleared up my acne prone skin, while not irritating it (I also have sensitive skin). In a pinch, I will dot a bit of it on a large pimple, let it dry, and leave it overnight. It does not rub off on my pillow case. It does an amazing job of drawing out the moisture and minimizing the pimple. I have tried so many creams, lotions, cleansers, prescription everything - this simple cleanser is the answer.Oily skin has specific cleansing needs. Garnier SkinActive cleanser formulas infused with Charcoal draw out dirt and impurities like a magnet for a deep, thorough clean.
Date published: 2017-08-28
Rated

4

out of

5
by
Leighla
from
Refreshing
I really liked this product. Not only is it a daily cleanser but can also be used as a mask! I've used it as a mask about once a week, and using it daily has helped a bit with my oily skin. It's very refreshing and has a cooling effect and my skin feels soft and clean after using. It's very easy to spread on the skin and doesn't make a mess. This is a product that I will definitely consider purchasing in the future.
Date published: 2017-08-28
Rated

4

out of

5
by
Bykerladi
from
Not bad, could use some improvement
I was really excited to try this product. I've been wanting to buy a clay based skin cleanser for a while. And this one seemed perfect!! It advertises to help clarify skin, remove impurities, and decrease surface oil. The instructions only say to wet your face and hands before applying, but I actually washed my face first to give this product its best chance. The first thing I noted was.... tingling. Mint? Menthol? Yep, menthol. Not sure what menthol does for oil, but I loved the tingly sensation and the fresh scent. The instructions say the mask will dry, but it never actually did for me, even after 10 minutes. I also found that it left a slightly greasy feel on my skin after washing it off. I used the product every night for two weeks. At first, I think it caused all the impurities to rise to the surface and, of course, I broke out. I even broke out in areas where I never had pimples before. After a week or so all those pimples disappeared in some areas. But other areas the pimples stayed and wouldn't leave. I did not notice a decrease in blackheads. So, I'd say the results were a mixed bag. In some areas, my skin is clearer than it was before. But in other areas its even worse than before. More importantly, I did NOT see a decrease in surface oil. I would actually continue to use this product as part of a larger routine IF it didn't leave that greasy feel after you wash it off.
Date published: 2017-08-28
Rated

5

out of

5
by
Ldtinker
from
Great for cleaning pores out
I love the charcoal mask! It makes my skin feel refreshed and cleaned. The charcoal really gets in my pores and get out blackheads and dirt. My face is less oily and I been having less break outs!
Date published: 2017-08-27
Rated

5

out of

5
by
Nutty82
from
Clay-tastic!
I mostly used this as a facial cleaner, rather than a mask, just because of the time element. I felt like the cleanser did a great job of ridding my face of oils. It Claims that the "charcoal draws out impurities like a magnet" and I have to agree! I did use it once as face mask and I enjoyed this as well. It did not dry my face out, but left me pores feeling open and clean. I will buy this product again!
Date published: 2017-08-26
Rated

5

out of

5
by
shannx3
from
Awesomesauce!
Awesomesauce - the mask/cleanser is completely amazing, i love it to much. It makes me feel clean and refreshed without feeling slightly too moisturized. I dont know if it was just me but at first it smelled a bit funky. But over all, yeeees!
Date published: 2017-08-25
Rated

4

out of

5
by
wanapoohz76
from
Works great on my skin
Garnier Skin Active New Pore Purifying 2-in-1 Clay Cleanser & Mask worked very well on my skin. I have very oily skin with large pores. I used the product as daily cleanser and as a detox Mask for eight consecutive days, and I'm impressed with the results. DAILY CLEANSER: I used the product as a daily cleanser in the mornings. I dampened my hands and face with luke warm water, massaged a dollop of product onto my face and neck, then I rinsed the product off with warm water and a sponge. My skin felt clean, soft and rejuvenated. I noticed my skin didn't get too oily throughout the day, & after using the product for a week, my pores appeared smaller. DETOX MASK: I used the product as Detox Mask every 2 days, and I liked the product much better as a mask versus a daily cleanser. At night, I would wet my hands and face and apply a the product to my face and neck, let it sit on my face for five minutes, then I rinsed product off with warm water and a sponge. After rinsing off the product I felt that the mask drew out impurities. My skin felt and looked so refreshed, less oily and my pores appeared smaller. I really like this product a lot, and I plan to continue using Garnier Pore Purifying 2 in 1 Cleanser and Mask.
Date published: 2017-08-25
Rated

4

out of

5
by
llywellynsion
from
Refreshing Mask
I have a great cleanser, so I really wanted to use this product as a supplementary mask treatment. To use it as a mask, the instructions say to wet both your face and hands before applying, then let dry for 5 minutes before rinsing. I tried this the first time but found it made the mask much too wet and difficult to spread evenly or consistently. So on my next use, I dampened my face with one hand and kept the other dry to apply the mask. This worked MUCH better, giving me a good, even spread of the product and giving a chance to dry. I also left it on for 10 minutes instead of 5 so it would dry just a smidge more (I found it was still mostly wet after only 5 minutes). Application tweaking aside, I loved the way this smelled and felt on the skin. It has a refreshing minty scent and tingles while on the skin, but not in that "burning" way. It's a pleasant sensation that leaves my skin feeling fresh once I rinse it off. It did leave my skin feeling a bit taut and dry after immediately rinsing it off, but I expect that for a product aimed at oily skin. Thankfully, this feeling didn't last long. Just enough so I felt the mask had done its job and left my skin cleaner and less clogged than before. I wouldn't recommend using it more than twice a week as a mask as I think overuse could lead to overdrying your skin. Use it just enough to keep everything in balance!
Date published: 2017-08-25
Rated

5

out of

5
by
ironmaidenleigh
from
Seriously refreshing!
I'll start off by saying I feel like a swamp monster most of the time. I have very oily skin. Extremely so, and as such I suffer from a lot of black heads on top of having sensitive skin. Garnier has made the skin care product of my dreams. I like to think I'm low maintenance, but I am not. But it is really nice to have an all in one product. Especially traveling as frequently as I do, it's nice and compact to be able to grab one item instead of multiples. Back to swamp monster talk, when I use this mask it literally draws all the oil from my face. It also clears out my pores significantly, so much so that I can tell the difference after one use. With some products, I don't feel like my skin is clean after washing. And I feel like I have to double cleanse. With this clay mask, my skin feels refreshed during and after. There is a wonderful cooling effect, which is nice for tired skin. I also love how clean I feel once it's removed. Not an ounce of oil remains. But it's also doesn't strip my skin. It's the perfect product! I recommend it to everyone who tells me about problematic oily skin! I'll be using it for a long time!
Date published: 2017-08-25
Rated

5

out of

5
by
MPlasencia
from
Garnier Review
This was my first time using this Product and I really liked it, My 16 year old also loved it..It left my skin feeling clean, and soft...I totally recommend it and I will be purchasing it..
Date published: 2017-08-24
Rated

4

out of

5
by
mariahw
from
Fun and makes my skin feel great
I enjoy using this product as a mask. I put it on before my shower. Let it set for 5 minutes and then rinse it off in the shower. My skin feels really clean and smooth after using it. I don't like that it leaves black traces in my sink after I rinse my hands but I can clean those off. I am also not a huge fan of the smell. It smells like men's cologne.
Date published: 2017-08-24
Rated

4

out of

5
by
relentpersistx
from
I loved how it felt
I really enjoyed this as a mask, it was ok as a cleanser. It kept my skin clean but it striped it a little and has a pretty strong scent.
Date published: 2017-08-24
Rated

5

out of

5
by
dilligaf31
from
This is a great product!
This made my face feel so fresh and clean. I even loved the smell of it. I feel like it opened and cleaned out my pores.
Date published: 2017-08-24
Rated

5

out of

5
by
Tpmaster
from
Really loving this product
I have used many face products and for about 2 years now I have been using a prestige face cleaner so I wasn't sure if I would like this. My first use was the face mask, I feel in LOVE, its amazing. I was so excited to use it as a face wash the next morning. I was also in love with if as a face wash. I really feel like my face is clean from deep down and not the surface. What really amazed me is after the use I took a wipe with alcohol/witch hasel mixture to see if I could get any more makeup off and it was gone. I would recommend this to my friends which I did.
Date published: 2017-08-23
Rated

4

out of

5
by
Ashleysalcedo3232
from
Good product
At first I wasn't sure I would like this product but after using it for a little over a month I really enjoy his product! The smell is amazing it is a manly smell but I enjoy using man scented products. I also feel like it kept my oily skin from producing too much oil and you actually can feel the product getting into your pores and cleaning them out! I would reccomend this product and will repurchase!
Date published: 2017-08-23
Rated

4

out of

5
by
tamararlh
from
Garnier Skin Active
Garnier skin active 2 in 1 clay mask made my skin feel clean and soft. It's really easy to use and my teenage daughter also uses it. She loves the way it makes her skin feel. The Garnier brand is used in my house often and one of the most trusted brands for my family and I. I definitely recommend the Garnier brad and the 2 in 1 clay mask to my friends and family.
Date published: 2017-08-22