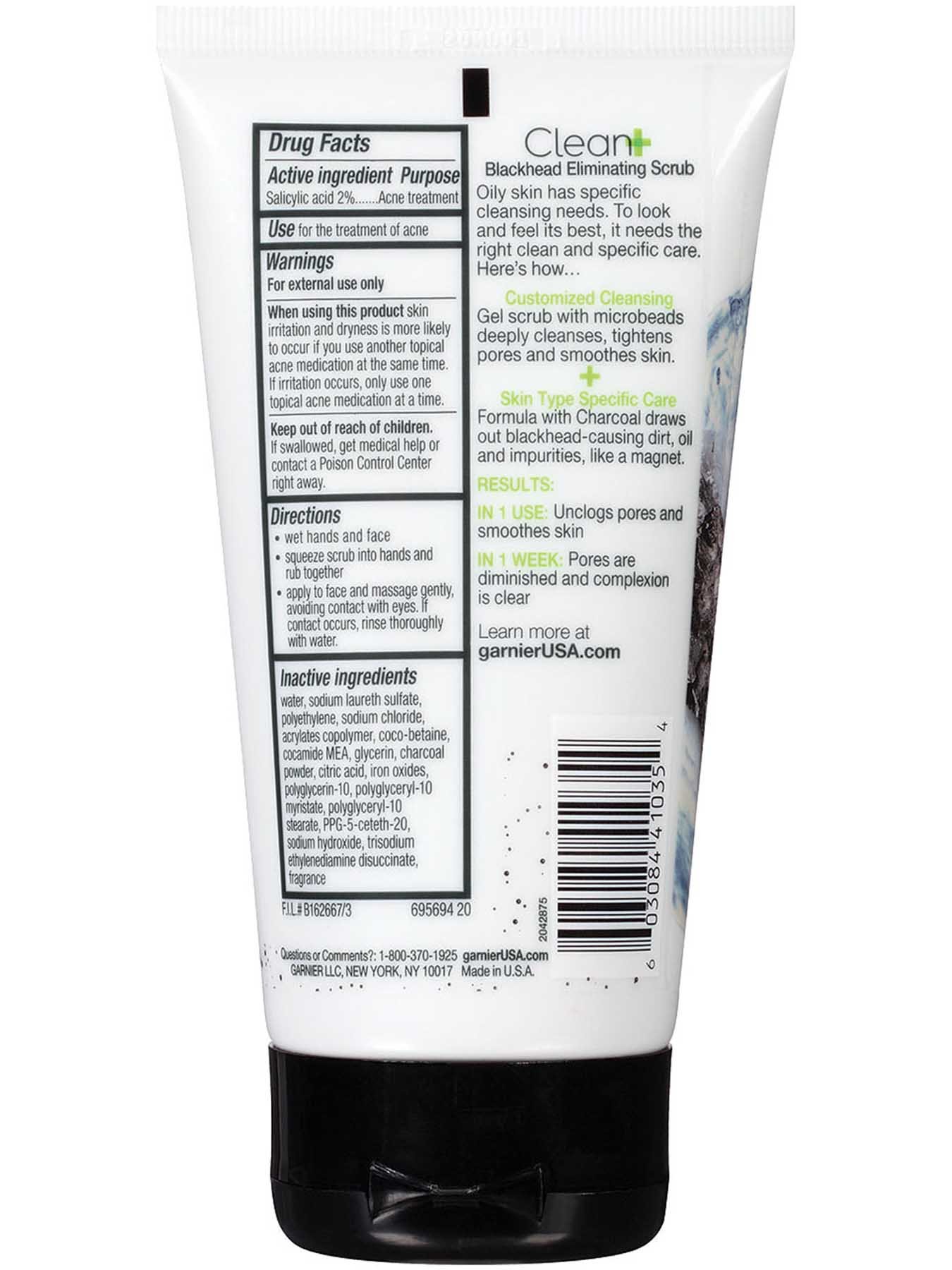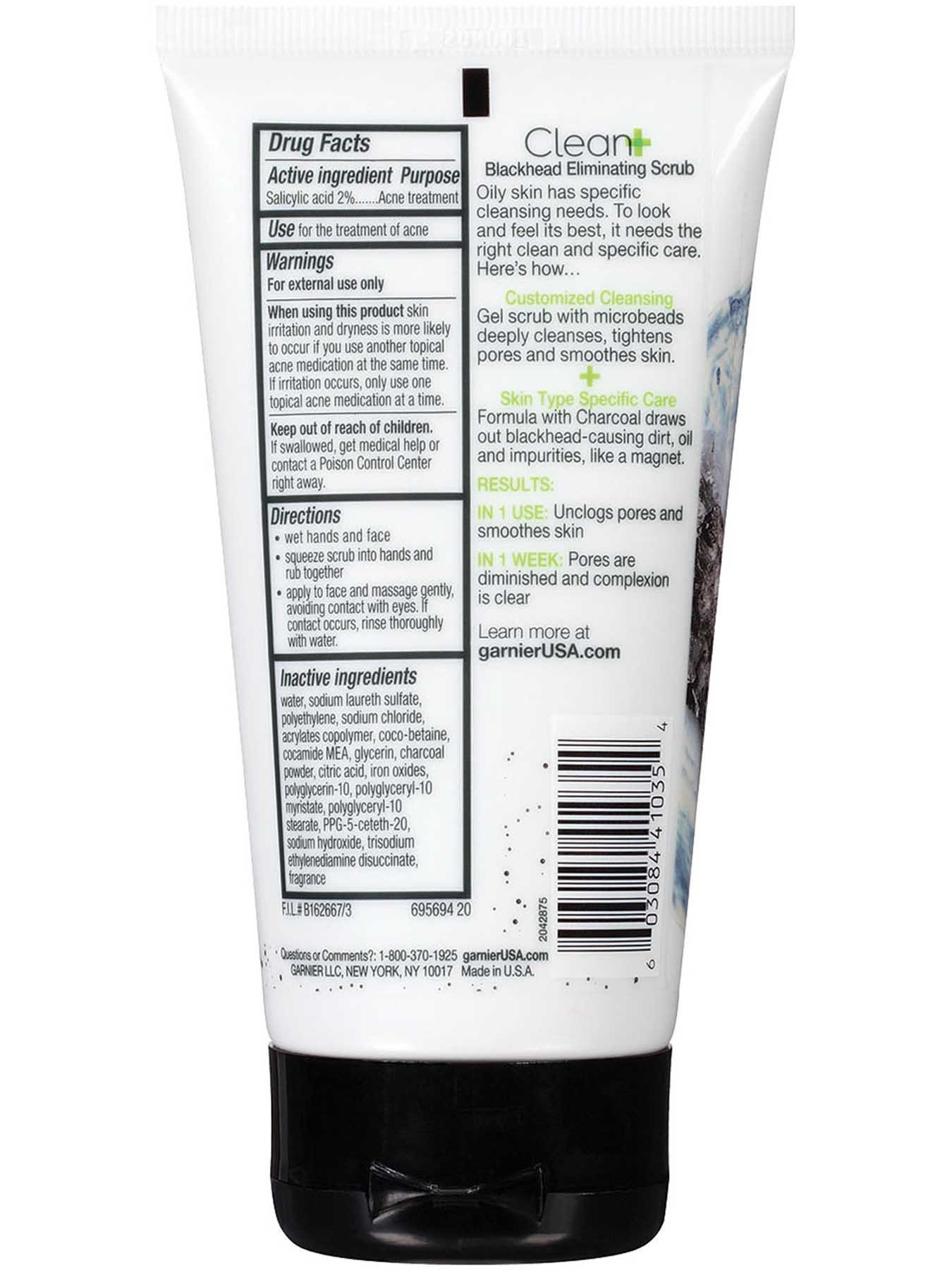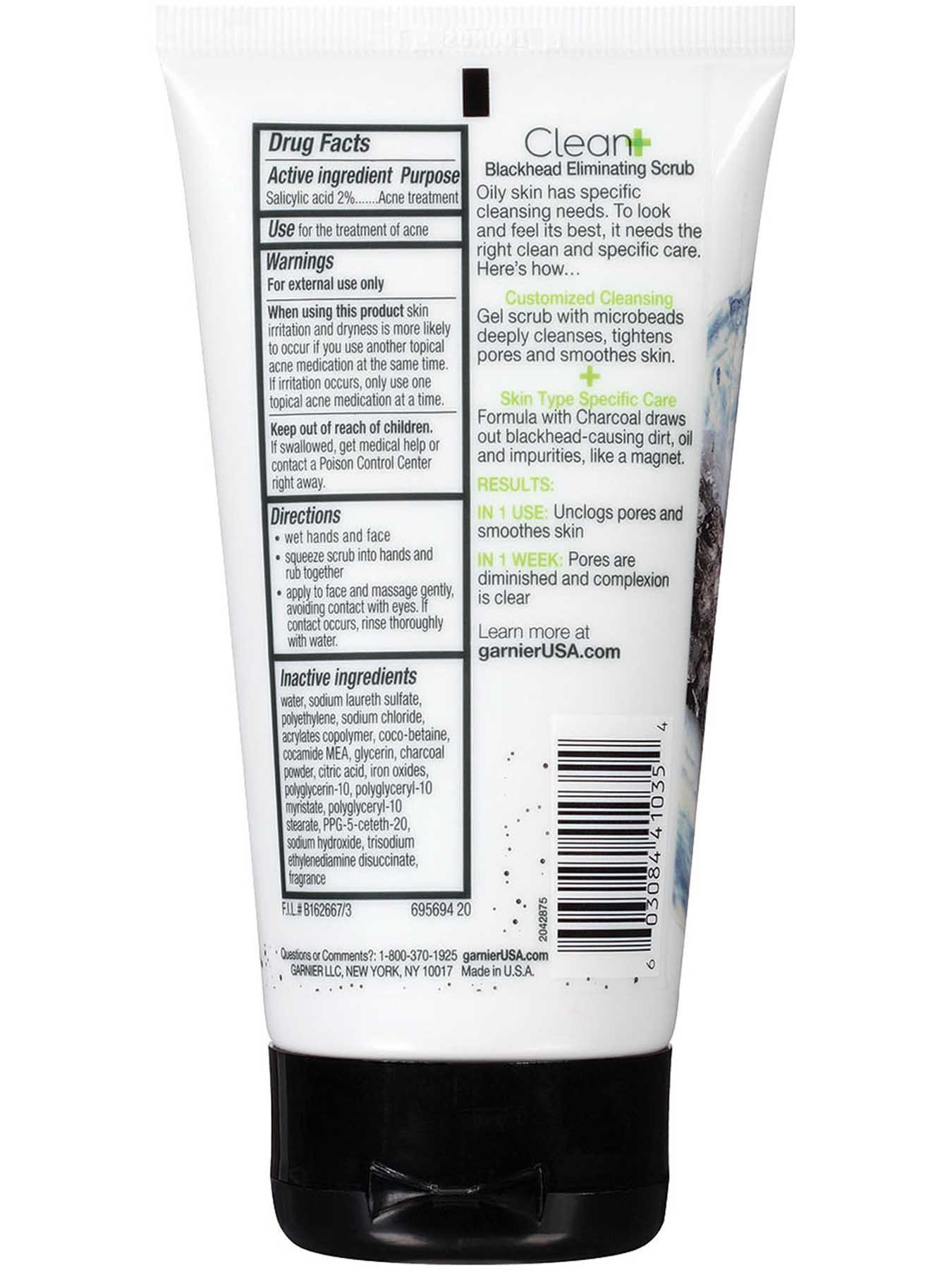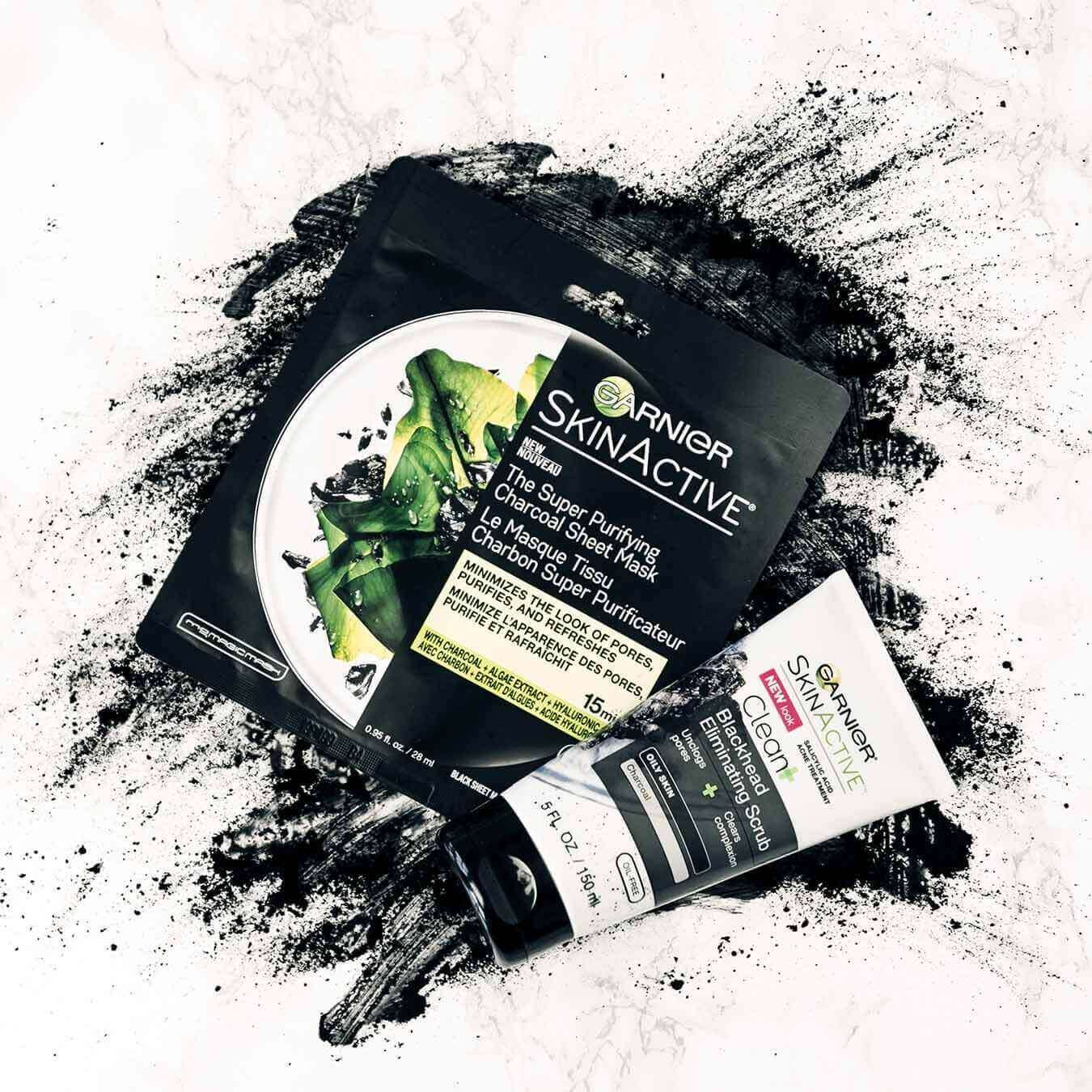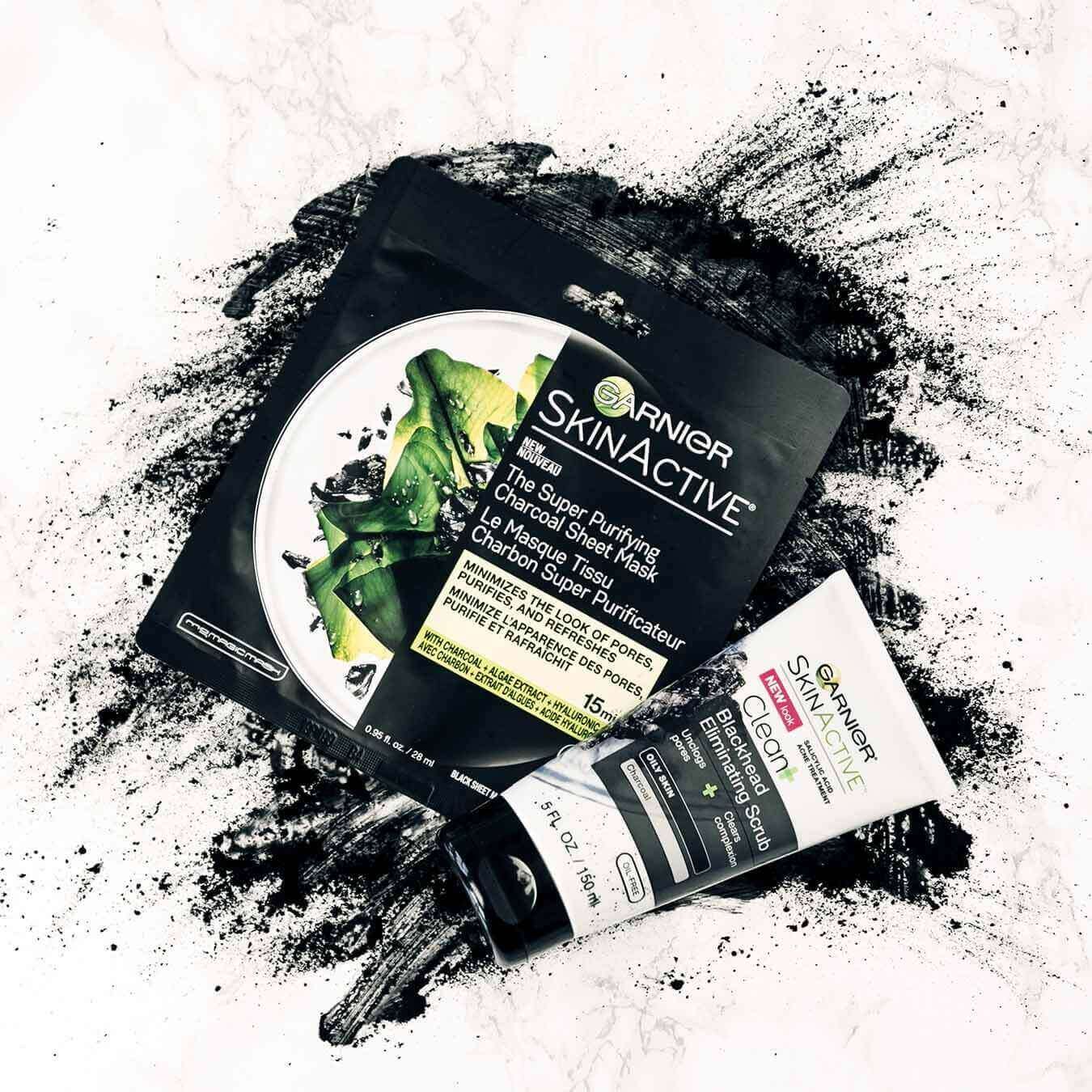 Blackhead Eliminating Scrub with Charcoal
Garnier SkinActive
$7.99 MSRP
Unclogs pores + Clears complexion. With Salicylic Acid
PRODUCT INFORMATION:
Oily skin has specific cleansing needs. To look and feel its best, it needs the right clean and specific care. Our gel exfoliator deeply cleanses, tightens pores and smoothes skin. The formula with charcoal draws out blackhead-causing dirt, oil and impurities like a magnet.

For external use only. When using this product, skin irritation and dryness is more likely to occur if you use another topical acne medication at the same time. If irritation occurs, only use one topical acne medication at a time.
How to use:
Wet hands and face. Squeeze scrub into hands and rub together . Apply to face and massage gently, avoiding contact with eyes. Rinse face thoroughly

Oil-free • Salicylic acne treatment

How do I use Clean+ products together?
For optimal results, alternate use with Clean + Shine Control Cleansing Gel.
For advanced care, incorporate into your routine:
For advanced care, incorporate an oil-free moisturizer such as Moisture Rescue Oil-Free, or BB Cream Oil-Free for Combination/Oily skin, into your routine.
Ingredients:
Active: Salicylic Acid 2%.
Inactive: Water, Sodium Laureth Sulfate, Perlite, Sodium Chloride, Acrylates Copolymer, Coco-Betaine, Cocamide Mea, Glycerin, Charcoal Powder, Citric Acid, Hydrogenated Castor Oil, Hydrogenated Jojoba Oil, Iron Oxides, Polyglycerin-10, Polyglycerly-10 Myristate, Polyglyceryl-10 Stearate, PPG-5-Ceteth-20, Propylene Glycol, Sodium Dehydroacetate, Sodium Hydroxide, Sorbitol, Trisodium Ethylenediamine Disuccinate, Vaccinium Myrtillus Fruit Extract, Fragrance.
Charcoal
When activated by a process that makes it porous and, therefore, more absorbent, Charcoal is known to purity skin naturally.
Salicylic Acid
In cleansers, moisturizers, and masks, Salicyilc Acid is used to soothe irritation, prevent breakouts, and plump skin for a more youthful glow. In shampoos, conditioners, and hair treatments, it leaves the scalp feeling healthier and refreshed.
Rated

2

out of

5
by
KristenFTX
from
Loose the perfume!
I bought this last week at Walmart to save myself a trip to Sephora to purchase my usual charcoal mask. Works okay, but I won't purchase again because of the way too strong perfume smell. It's like slathering your face with Pinesol! Anyone using a charcoal anything knows it doesn't have a pleasant aroma but this fragrance is so overpowering. Definitely a fail- get rid of that and I might purchase again.
Date published: 2019-02-21
Rated

5

out of

5
by
ZombieCatz
from
Save the scrub
I've been using this product since 2016 and it is the only scrub that really gets my face clear. I absolutely love it but can no longer find it in stores. Please bring it back. I need this product. Nothing else works nearly as well. Do not discontinue it please.
Date published: 2019-02-04
Rated

2

out of

5
by
nicoley97
from
Doesn't work
I bought this product 2 months ago and I've used it atmost twice a day. My pores never got smaller and my blackheads got worse. However, it is a gentle wash and scrub.
Date published: 2018-11-16
Rated

5

out of

5
by
Ally81
from
Makes my face feel so clean
I LOVE this face wash. It's the only thing that really makes my skin feel clean. However, I can't find it anywhere any more! Please don't discontinue it, because it's amazing!
Date published: 2018-08-09
Rated

5

out of

5
by
Ohnaisa
from
Love the micro beads
I like this product because it clean out my pores and it also reduce the pore size now I can see myself in the mirror confidently I don't have to worry about my oily shiny nose.
Date published: 2018-05-26
Rated

5

out of

5
by
Chandler
from
Wonderful
Ive been buying this face wash for over 2years and I love it!!! However. I CAN'T FIND IT IN STORES ANYMORE:( Please don't tell me you're discontinuing it....
Date published: 2018-04-22
Rated

5

out of

5
by
ksdental
from
Only scrub that has worked!
I LOVE this scrub! I have very oily skin which causes clogged pores. This scrub cleans out the yuck. I will never use anything else!
Date published: 2018-02-01
Rated

5

out of

5
by
Bellaecc
from
The best I ever had!!! ;)
I bought this about a month ago to add to my normal skin care routine and I have not had any pimples since!! (I usually blemishes get them in my T-Zone.) My skin is clear and glowing. My one pointer is to not use it around the eyes (eye bags and lids) as it has salicylic acid and can be drying. I use this product 4-6 times a week and would recommend this to anyone looking to exfoliate and clear their skin.
Date published: 2018-01-10
Rated

5

out of

5
by
Analyssa
from
Great product!
I only use this on my nose and it has definitely cleared my blackheads!
Date published: 2018-01-09
Rated

1

out of

5
by
Bessie Mae
from
Pores and Blackheads are still here
I bought this product 3 weeks ago, and I use it every night. It hasn't helped my skin at all. Not sure what it's suppose to do, but it hasn't helped me at all. I really thought that I had found what I needed.
Date published: 2017-12-01
Rated

1

out of

5
by
KATE1
from
Can I get a refund?
I bought this producer over two months ago and have used it every day. Still my skin in rough and my blackheads have not went away after 2 months.
Date published: 2017-10-01
Rated

5

out of

5
by
Thankful1
from
Trust me, try it!
I bought this product because I have oily skin and monthly breakouts. My teenager daughter has lots of blackheads on her nose. This started clearing us both up in a matter of days! I have read a few negative reviews and I'm hoping for the best but loving it as of right now. Still haven't completed the bottle yet but so far so good! Looking into more from this line!
Date published: 2017-09-27
Rated

5

out of

5
by
sdeedec
from
Got rid of my stubborn blackheads!
After trying several products, this cleared my blackheads right up!
Date published: 2017-07-25
Rated

2

out of

5
by
Shantè
from
Too strong
I got this product from Walgreens a couple weeks ago and I thought great I have oily Skin. So to help my skin and have less breakouts I tried this. After trying it a few times my Skin Still Remains the Same and the scent is too strong; it smells like a man's cologne.
Date published: 2017-07-11
Rated

4

out of

5
by
Ydzstg
from
It's working!
I brought this product a couple of days ago, I have acne and as I am using it the acne it's starting to disapear. I can say it's working. My skin feels soft, clean and refreshed I am going to continue using this product for better results.
Date published: 2017-06-29
Rated

5

out of

5
by
savanna
from
Great Product!
This product has really done its job on my skin! Before I used this product I was extremely oily year around. Because of the oil, I would get little bumps on my forehead, nose, and on my chin. This summer I broke out again and I told myself that I had to get a face wash. I have bought several products from Garnier and none of them has disappointed me. I have been using this product for 5 days now. I can truly say that I see a big difference in my bumps and skin. I will be buying this product again. It does its job and takes the oil away.
Date published: 2017-06-17
Rated

5

out of

5
by
WFR7
from
My wife made me use it! No regrets!
Sorry if this is gross. So I got a chin pimple so big I usually have to do some painful ritual to get all the juice out. The pimple I got this time was about the size of a dime and just ugly looking. My wife says use this Charcol cream. So I do. What ever they use worked the first time. It pulled all the pimple juice to the skin surface all at once. I am so shocked I don't know what to think. I do know I am going to apply to my whole face now. Best results ever.
Date published: 2017-04-26
Rated

2

out of

5
by
Ash19
from
Ewwww that smell!
I usually use your grapefruit & pomegranate balancing daily exfoliator, but I've had a hard time finding it, so I grabbed the charcoal scrub to try instead. I really like everything about it, except the fragrance! It smells like cheap men's aftershave :( I used it a few times, but ended up tossing it because the strong scent would stay with me after washing my face.
Date published: 2017-03-02
Rated

5

out of

5
by
Chewy
from
How often should I use this I have sensitive skin
How often should it be used please help!!!! But do far so good
Date published: 2017-02-26
Rated

5

out of

5
by
ChocolateeSmooth52
from
Chocolatey Smooth Complexion
I have been using this product for about a month and I can definitely see the improvements...no tiny oil pimples, complexion very smooth looking, and soft
Date published: 2017-02-24
Rated

5

out of

5
by
Angel ianna
from
The best
I brought this Product a few weeks ago And it's seriously the best thing ever with in a week my pores were smaller and my face isnt as oily I'm going to use this product forever
Date published: 2017-01-09
Rated

1

out of

5
by
AlexGoesRawr
from
This did nothing
I've been using this for almost 3 months and my complexion has not changed one bit. There are still many blemishes on my face yet the product claims "one week: Unclogs pores and complexion is clear
Date published: 2016-11-10
Rated

5

out of

5
by
Teia
from
Great For Morning & Night Time Skin Care
I Purchased This At My Local Walmart Store & I, Myself, Couldn't Wait To Use This When I Got Home. When I Started My Skin Care Ritual Using This Product, My Face Immediately Started To See Results As Soon As I Was Seeing The Mattifying Results. For My Melanin Beauties With Oily/Combination Skin, Use This 2x A Week.
Date published: 2016-10-08
Rated

1

out of

5
by
Trudes
from
My excitement disappeared
I bought this and two other Garnier products to start using after how well they helped a friend. At first it looked like something good was happening. But was I wrong, my face broke out no end and still can't recover. I was in shock because not even during my teenage years did I see those size pimples. I was excited that they had used charcoal and but none of them worked for me even though they turned my friends face into completely radiant.
Date published: 2016-09-24
Rated

5

out of

5
by
Hannahanya
from
Acne free!!
I can't go without this it gets ride of acne so fast
Date published: 2016-09-19
Rated

5

out of

5
by
ikiracrown
from
Best I've ever used!
I tried this product out about a month ago and absolutely LOVED IT! I am in high school and have a really bad blackhead and pore issue. When I first saw on the description that it would diminish my pores, remove, and prevent blackheads I was not believing it. But within a few days I noticed significantly less blackheads and smaller pores. I have been using it for a month now and I can proudly say I only have the occasional blackhead. The oil-control is very nice too! 100% reccomend.
Date published: 2016-09-10
Rated

1

out of

5
by
srryari
from
Dried out my skin!
I used this product for about a week and a half and my skin had only gotten worse. My acne did not clear up, my blackheads did not get any better, and my face dried up to the point where it was painful. Overall, the product was very ineffective.
Date published: 2016-09-06
Rated

5

out of

5
by
Kat1610
from
I love it
I ran out of my face wash that wasn't doing anything. I seen this little bottle setting on the shelf and noticed it was for oil and blackheads. It's my third day and I can't believe the results so far. I noticed a huge difference a few hours after my first wash. The redness, large pores, and pimples are almost unnoticeable. I've been battling issues with my face for a few years now. After I had my second child. I wish I found this sooner. I'm only on day 3. I can't wait to see what week 1 brings. This is liquid gold for oily skin! I can't believe I wasted money on other products in the past. I even saved my receipt thinking I'd be returning this after a week. It'll be staying in my bathroom permanently!
Date published: 2016-09-05
Rated

5

out of

5
by
pixiephd
from
you had me at "blackhead eliminating"!
I purchased this about 3 weeks ago and have been using it daily and LOVE the results! My skin is clearer, smoother, and brighter... so I brought home the shine control gel cleanser AND the 2-in-1 cleanser/mask from the same line today! I am beyond excited to try them and expect FANTASTIC results (as I've had with ALL Garnier Skincare products)! THANK YOU AGAIN, Garnier, and keep up the GREAT work!!!
Date published: 2016-06-15
Rated

5

out of

5
by
SarahCatherine
from
Blackhead eliminating sceib
I've tried TONS of different products for my blackheads and have tried different remedies like steam to open up my pores... I have never gotten results this quick they cleared up almost entirely after one use. If you get blackheads on your nose or chin PURCHASE THIS to get rid of them.
Date published: 2016-05-27