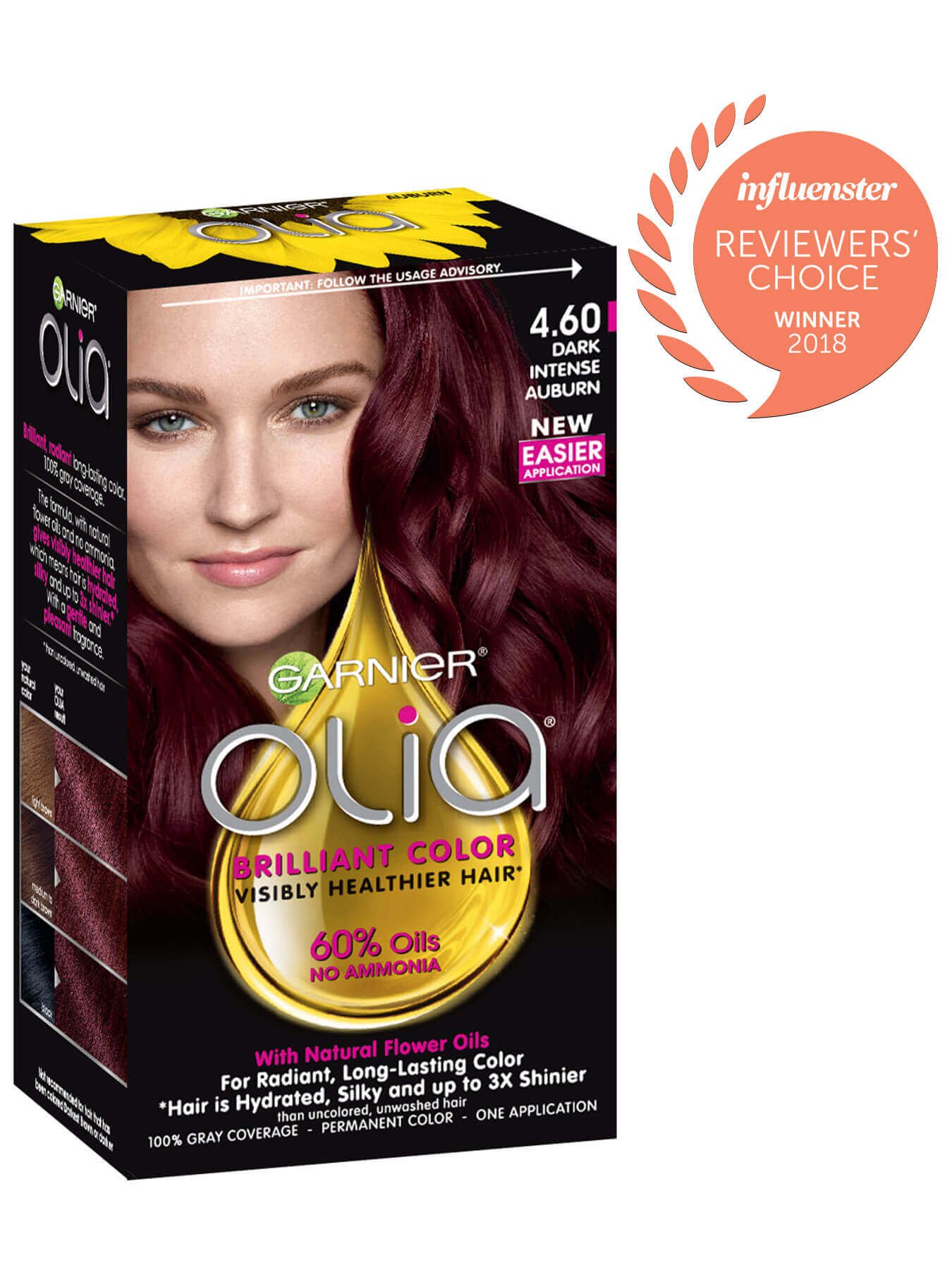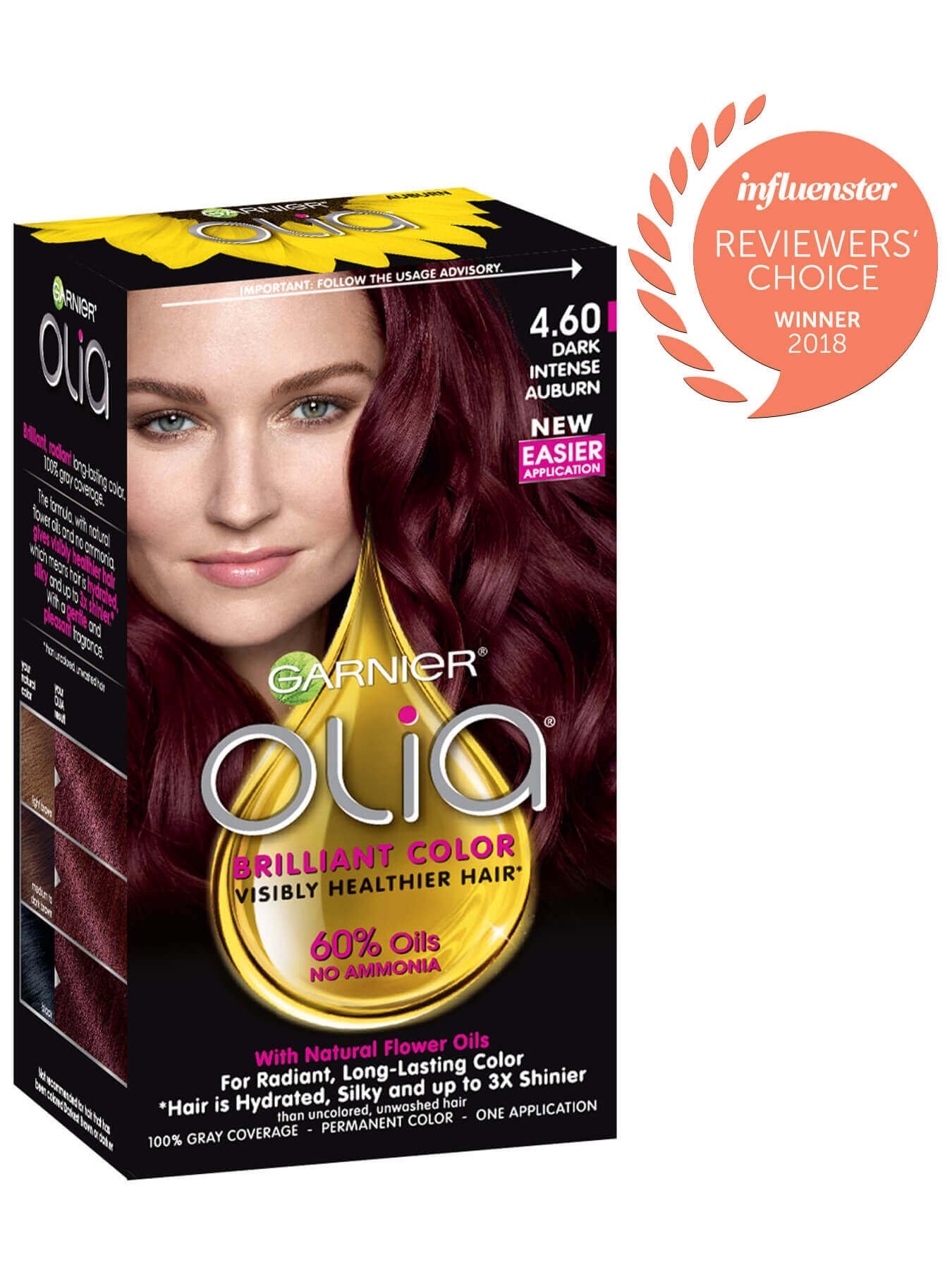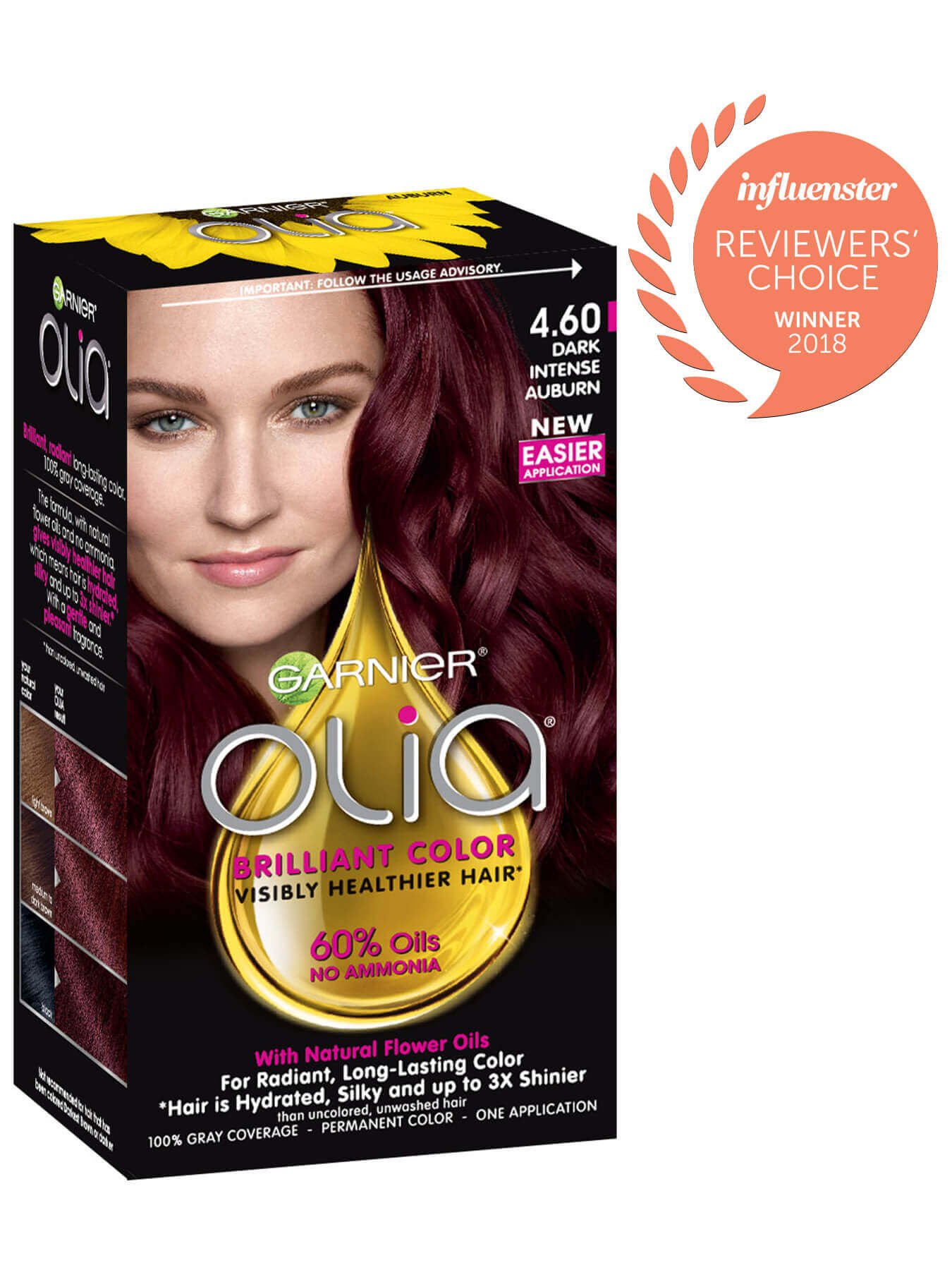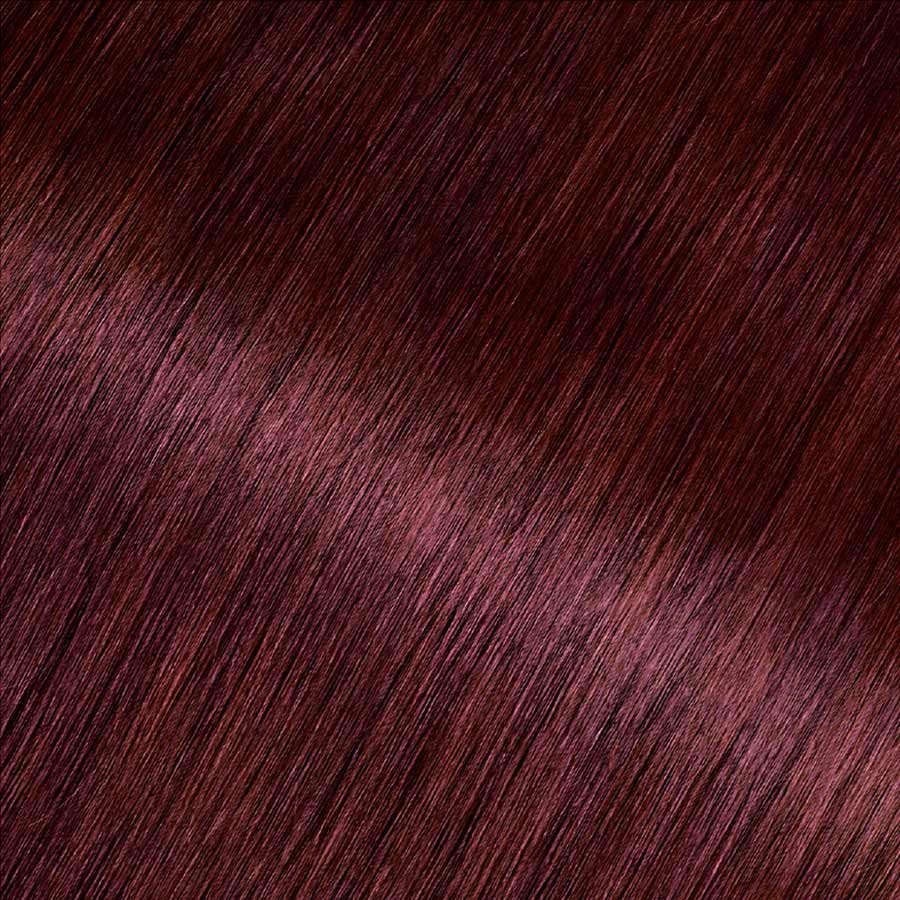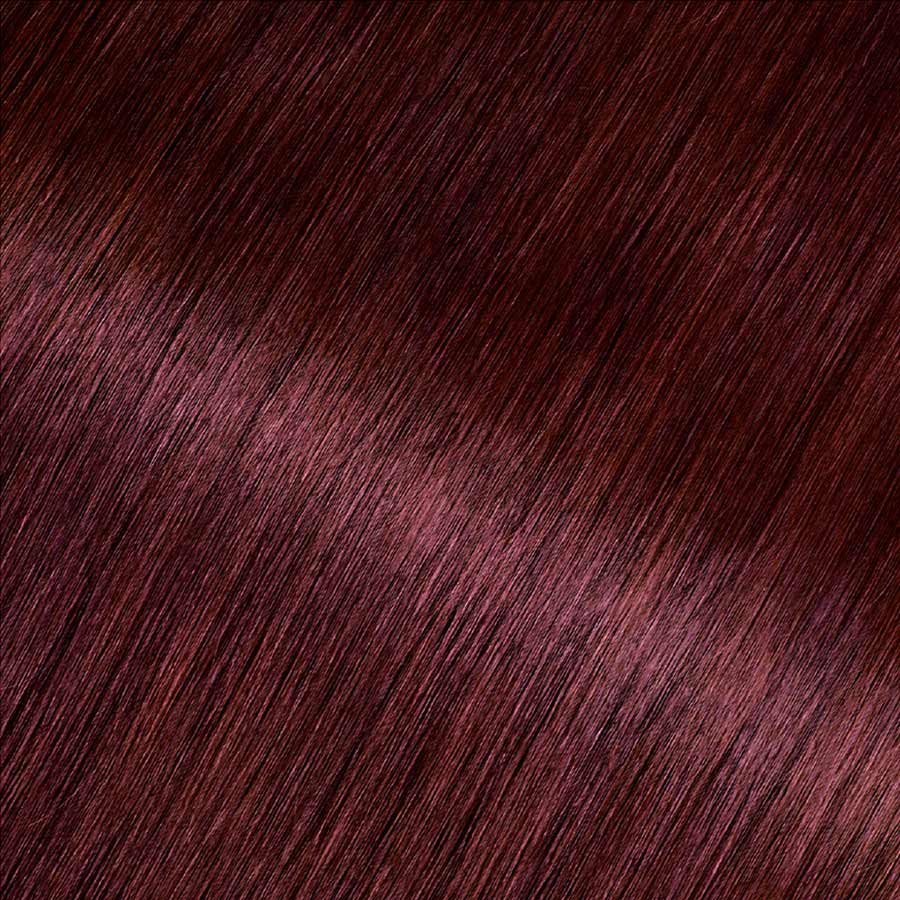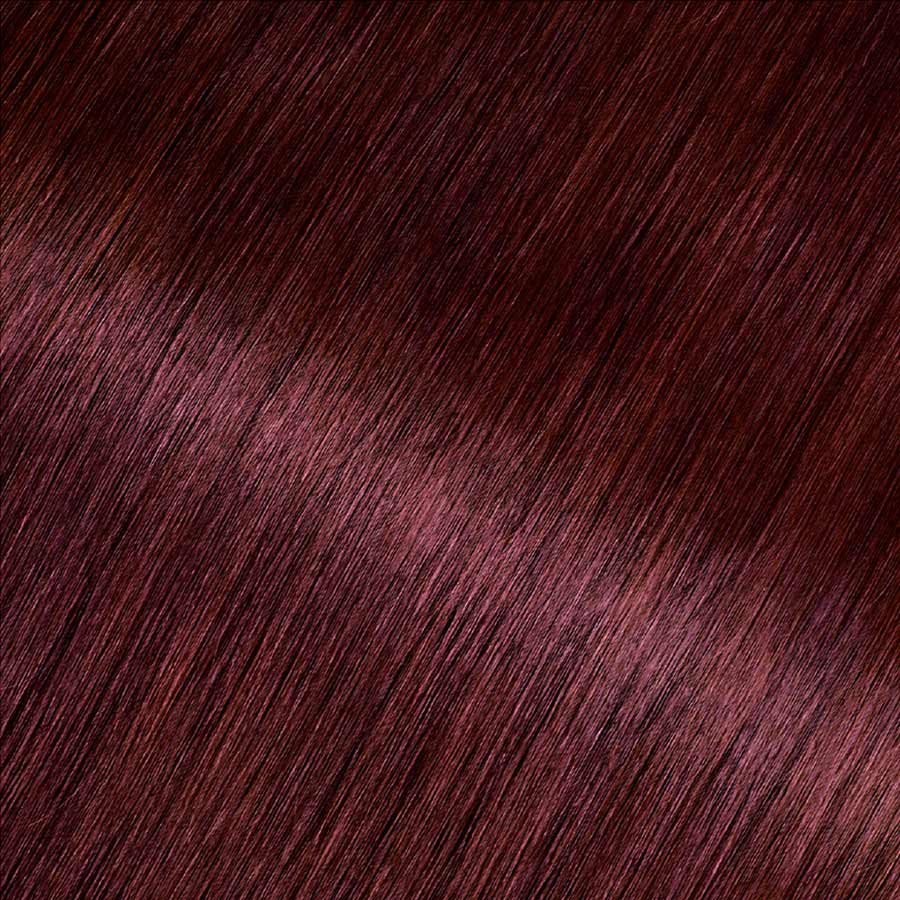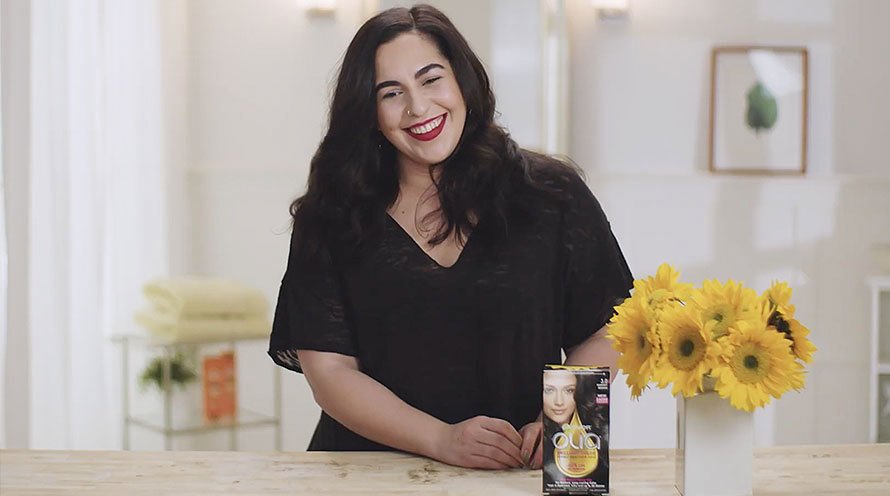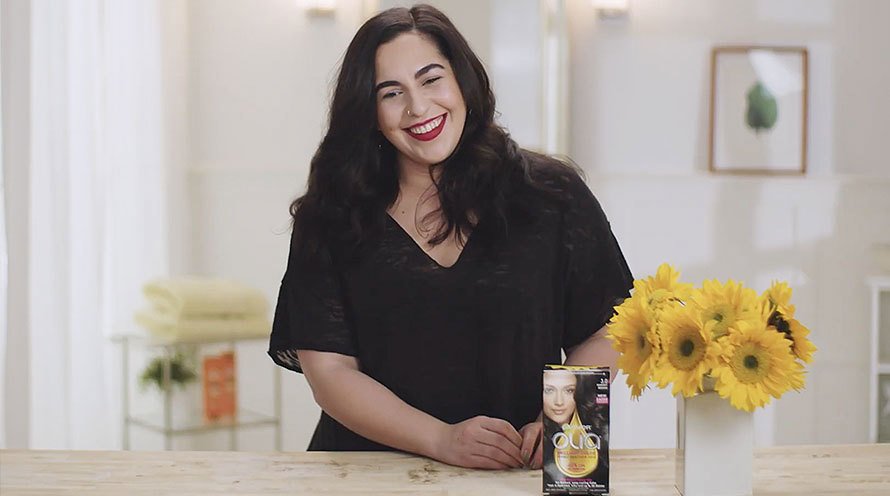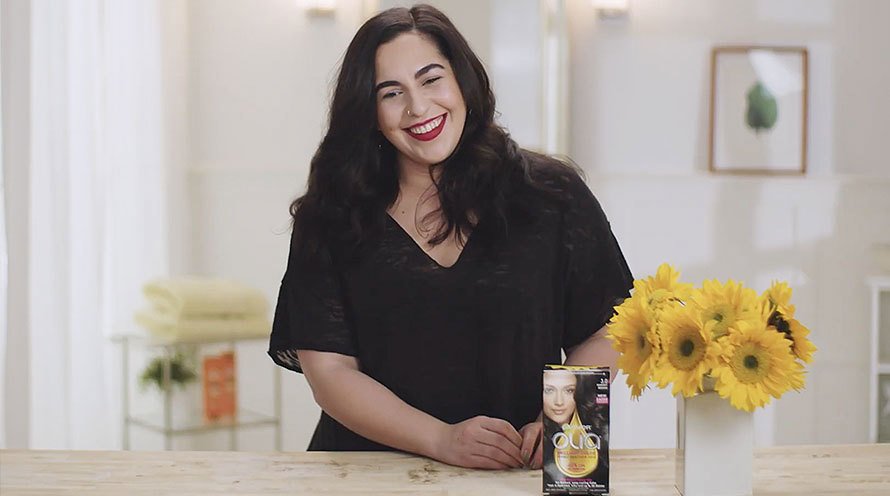 Garnier Olia Ammonia Free Hair Color
Olia 4.60 - Dark Intense Auburn
$9.99 MSRP
Our 1st oil powered permanent haircolor with no ammonia for brilliant color and visibly healthier hair.
PRODUCT INFORMATION:
Our 1st oil powered permanent haircolor for brilliant color and visibly healthier hair.
The oil powered technology propels colorants deep into the hair, without ammonia, giving you pure, vivid, long-lasting color. Olia visibly improves and restores hair as the oils help to reverse roughness and dullness for more brilliant, long-lasting color. Hair is Hydrated, Silky and up to 3X Shinier than unwashed, uncolored hair.


How is Olia different?
Unlike traditional haircolor, Olia uses an exclusive 60% oil blend with natural flower oils to achieve brilliant, radiant color results. The unique non-drip velvet cream formula propels colorants into the hair--without ammonia--with a pleasant sensorial fragrance.


Is this shade right for me?
Garnier Olia shade 4.60 "Dark Intense Auburn," adds rich red reflects to your hair for a brilliant auburn result with 100% gray coverage. It is best for anyone with natural hair between light brown and black. If you prefer a lighter shade that has similar reflects, try shade 5.60, "Medium Garnet Red."

If you would like to remain in the dark brown range but would like to try other reflects and tones, there are many shades to choose from including 4.0, 4.03, 4.15, 4.3, 4.35, and 4.62.

*For women with currently color treated hair, there are special considerations for the color result you can achieve. Because of this, we do not recommend shade 4.60 for hair that has been previously colored shade 3.0 "Darkest Brown," or darker. For more help, use our Shade Selector Tool to find the perfect shade for you!
How to use:
Applying Olia: A Sensorial Experience
Olia transforms coloring your hair into a new sensorial experience. Because Olia is ammonia-free, it won't irritate your scalp and there is no harsh ammonia smell. Instead, Olia has a delicate floral scent. And, its non-drip, velvety cream texture helps provide optimal comfort during application.

Follow this step-by-step process when applying color at home:

1) Always do a skin test 48 hours before.
2) Apply to dry, unwashed hair.
3) Apply gloves, snap off tip and remove the cap of the Developer Bottle and add Colorant.
4) Shake the bottle vigorously to mix.
5) Start applying color at the roots, then away from roots to the tips.
6) Extend color through to the ends and massage into hair.
7) Leave formula on for 30 minutes.
8) Massage hair thoroughly before rinsing to optimize rinsing process.
9) Rinse hair thoroughly until water runs clear.
10) Apply conditioner after color and leave on for two minutes, then rinse thoroughly.
Ingredients:
DEVELOPER:1071397 AQUA/WATER/EAU, PARAFFINUM LIQUIDUM/MINERAL OIL/HUILE MINERALE,CETEARYL ALCOHOL, HYDROGEN PEROXIDE, STEARETH-20, PEG-4 RAPESEEDAMIDE, GLYCERIN,POLYQUATERNIUM-6, HEXADIMETHRINE CHLORIDE, TOCOPHEROL, PENTASODIUM PENTETATE,SODIUM STANNATE, TETRASODIUM PYROPHOSPHATE, PHOSPHORIC ACID. F.I.L.# D42424/9AFTER COLOR CONDITIONER:1119728 A AQUA/WATER/EAU, CETEARYL ALCOHOL, BEHENTRIMONIUM CHLORIDE, CETYL ESTERS, TOCOPHEROL, TRIDECETH-6, CHLORHEXIDINEDIGLUCONATE, HELIANTHUS ANNUUS SEED OIL/SUNFLOWER SEED OIL, CAMELLIA OLEIFERA SEED OIL, AMODIMETHICONE, ISOPROPYL ALCOHOL,PARFUM/FRAGRANCE, CITRIC ACID, CETRIMONIUM CHLORIDE. F.I.L.# D180530/1 US PATENTS: 7,223,385; 7,485,289COLORANT:1183533 E PARAFFINUM LIQUIDUM/MINERAL OIL/HUILE MINERALE, AQUA/WATER/EAU, ETHANOLAMINE, DECYL GLUCOSIDE, SODIUM LAURYLSULFATE, PEG-40 HYDROGENATED CASTOR OIL, PARFUM/FRAGRANCE, DISODIUM COCOAMPHODIACETATE, 1-HYDROXYETHYL 4,5-DIAMINOPYRAZOLE SULFATE, 4-AMINO-2-HYDROXYTOLUENE, HYDROXYPROPYL GUAR, 5-AMINO-6-CHLORO-o-CRESOL, TOLUENE-2,5-DIAMINE, SODIUMMETABISULFITE, EDTA, 2-METHYL-5-HYDROXYETHYLAMINOPHENOL, ASCORBIC ACID, HELIANTHUS ANNUUS SEED OIL/SUNFLOWER SEED OIL,LIMNANTHES ALBA SEED OIL/MEADOWFOAM SEED OIL, PASSIFLORA INCARNATA/PASSIFLORA INCARNATA SEED OIL, CAMELLIA OLEIFERASEED OIL, THIOGLYCERIN, TOCOPHEROL. F.I.L.# D181039/1 US PATENTS: 7,060,107; 7,988,737; 7,988,738; 8,066,781; 8,114,170; 7,494,513 US PATPENDING: 6,306,180; 6,379,396
No Ammonia
With zero ammonia, Olia has a pleasant, floral fragrance as you apply.

60% Oils
Olia's velvety, non-drip formula is made up of a 60% oil blend with natural flower oils from Sunflower, Meadowfoam, Passion Flower, and Camellia to help reverse roughness and dullness, leaving hair more hydrated, silky soft, and shinier.

Rated

5

out of

5
by
Sandrarich
from
Love it
Been using this color for about 6 month or longer, and I love it. I get told all the time how pretty my color is and how good it looks on me
Date published: 2017-03-27
Rated

2

out of

5
by
AwesomeAuntie1369
from
Not the only negative experience
I bought this color a while ago and have been looking forward to trying it out. Decided that tonight was the night- directions were easy enough. This was my first time using this product and the process seemed simple enough. Nope, I was wrong. I've never used a boxed dye before where you had to mix the colorant and developer from there own containers into another bottle, which might I also add is terribly designed. You cannot simply cover the tip with your finger and shake the contents of the bottle without dropping the bottle at least 3 times like I did. The mixture is so thick it takes forever to blend and you can never tell if it's blended enough or not. But worst than that the mixture doesn't cover and spread as nicely as other boxed products I'm used to. In fact it left my hair so uneven I had to touch up my hair a second time after I dried my hair from the first application and discovered how much was missed and how little was actually red. Then after coloring and drying my hair after the second application, the red wasn't much more noticeable and the color was still very uneven. I will not be buying this product ever again and I do not recommend this product to anyone.
Date published: 2017-03-14
Rated

4

out of

5
by
sculondon
from
So easy to use and easy on hair
It was very easy to use: just mix the color and activator together and then apply to your hair. I absolutely loved how easy it was to clean up; there was no color staining my face or hands. If I found a spot, it came off easily with water. It does take a little long to sit on your hair. I think 30 minutes wait time is a little long and not what I'm used to. It rinsed out pretty quickly and the conditioner made my hair super soft. The color is really rich and deep and I love it! I would definitely recommend this brand and consider using it in the future!
Date published: 2017-03-08
Rated

4

out of

5
by
czhang5
from
Pleasant smell, okay color
I received the product after my extended New Year trip abroad. I was really excited to try it because I haven't dyed my hair for a while. Anyway, the package is nice. The instructions are easy to follow. The smell was really pleasant during the process. It was very different from the other products I have tried in the past. I loved the smell so much that I didn't want to rinse it after 30 minutes. This was never the case with other coloring products. After the rinse, I put the conditioner on, which was provided in the package. The conditioner is quite thick and creamy. It has a similar fruity smell. Fast forward, I dried my hair after the final rinse. When I looked at my still damp hair, I didn't notice much change. The color of my hair was still dark brown. I saw a little bit red on my forehead. I figured it's normal that some color will only show when the hair is dry, so I used the hair blower to dry my hair completely. I looked through the mirror at my newly colored hair that was dried completely, I was a bit disappointed at the final result. The color was not what I expected. I wanted a more burgundy touch. What I got instead was a light auburn. The worst part was the color was barely noticeable. In sum, I really enjoyed the process. The product appears to be quite natural, doesn't have ammonia. It does make my hair shiny and look healthy. However, it didn't give me the color I want, which is disappointing. I probably will not buy it in the future.
Date published: 2017-03-08
Rated

1

out of

5
by
serendipitydzine
from
No! No! and more No!
I really can't think of one positive thing to say about this product. Therefore, I will only be able to share with you the negative aspects during my experience of coloring my hair. Let me start by talking about the packaging of this product. I don't think the design could be any worse. You are supposed to put your thumb on the tip of the applicator and shake vigorously to mix up the product. The problem is that the shape of the bottle is so awkward and tall that you cannot hold it and put your finger on the applicator top. I dropped it no less than 5 times trying to do this and it splattered and made an absolute mess. Additionally, the consistency of the product is really awful. It is way too thick. You cannot distribute it evenly which causes the color to take in some areas and not others. I found it impossible to get the color to move throughout my hair evenly. I even tried brushing it through my hair and combing it and nothing worked. I think the worse part about this color is it doesn't work. It didn't cover my gray. around my face. Not even a little bit. It is just as gray now as it was before I used it. I have used other gray coverage products on a regular basis. Not only are they more user friendly, they actually cover my gray. I would also like to add that the tube the product comes in cannot be completely emptied. You can squeeze and squeeze but you will never get all of the product out. This hair color has absolutely no redeeming qualities. If I could give it a negative number I would. Even the color is horrible. Not dark auburn at all. I would call it dark eggplant. Yuck!
Date published: 2017-03-08
Rated

5

out of

5
by
Toyodasan1
from
Stunningly Vibrant
Garnier Olia 4.60 Dark Intense Auburn was and is a great product. This product left my hair shiny, soft and covered my grey rather well. The colors are bright and intense. The application process was easy with the applicators contained in the box. Like I stated before, the whole process was easy and I definitely enjoy the color. Will continue to use this product for my future coloring needs.
Date published: 2017-03-08
Rated

5

out of

5
by
kayxiong7
from
Garnier olia
I love to experience different hair dye with my hair. this will be the first time using Garnier olia. I am simply amazed. the smell wasn't too strong. the best part of it is, is that it was easy in my scalp. it did not have a burning sensation on the scalp! besides all that, the color turned out radiant and made my hair smooth and soft... I would totally recommend this product to everyone.
Date published: 2017-03-08
Rated

5

out of

5
by
katlew2128
from
Amazingly Great!
I just used Garnier Olia 4.60 Dark Intense Auburn hair color. This product made my hair soft and shiny. The color is beautiful. I will be using this product every time I need to dye my hair. Gray coverage was fantastic.
Date published: 2017-03-08
Rated

5

out of

5
by
mrsbandrews
from
Love my hair
This product is amazing, covers my grey and smells decent. Leaves your hair soft, and shiny. Will defiently use this product again.
Date published: 2017-03-07
Rated

5

out of

5
by
roseyred711
from
great hair coloring
I got to try out Garnier Olia hair coloring . I love that it dose not have a strong smell like other hair coloring dose it had a nice scent .The applicator bottle was not too hard to use it was easy to remove the top and apply the dye to my hair with no mess , rinsed out easily and only minimally stained my skin . The best part the color ended up impressively even and my hair was gorgeously smooth, soft and silky afterwards. I love it and will definitely use it again.
Date published: 2017-01-26
Rated

5

out of

5
by
lak656
from
Intense Auburn Haircolor
I think the product was awesome. There was no stinging like other hair colors. The smell was not bad also. Also I loved that there was no ammonia. The fruit oils helped keep my hair nice and soft. I just really loved it.
Date published: 2017-01-26
Rated

4

out of

5
by
Wubby8
from
Great color
I've used many Garnier products with great result so I was excited to try the Garnier Olia permanent hair color line. It comes with an applicator, developer, colorant, after color conditioner and gloves. Like other hair dyes, you first need to mix the colorant and developer together. This is done in a very sleek rounded bottle, which you then use as an applicator when applying the dye. I quite liked the shape of this bottle for 2 reasons. One, it's easy to hold and fits neatly in the palm of my hand making application a breeze. And two, the neck of the bottle is big enough to fit my fingers to scrape out as much of the dye as possible. I have long hair so every drop counts! It's recommended to leave the dye on for 30 minutes for an all over application. I have some stubborn grey hairs so I left it on for an additional 15 minutes. I used the conditioner after rinsing out all the dye. This left my hair feeling soft and silky. There is enough conditioner to use for a few days, depending on how often you wash your hair. I have to mention that there was no strong smell to this dye as it does not contain ammonia like other hair dyes, a huge plus on my side. The results were amazing. I love the color of my hair and the fact that it covered all of my greys. With other hair dyes, after the second wash, my hair usually feels dry and brittle but not with this product. It's been a week since I've dyed my hair and it's still smooth and soft. Garnier Olia is slightly pricier than the other dyes I normally use but I think that it is worth every penny!
Date published: 2017-01-19
Rated

4

out of

5
by
divad
from
Hair color you dream about
I love this hair color! Super soft and smells great. My husband loves the color and I like how easy and fast it was to use. It wasn't dripping down my neck like some colors do so it saved my towels
Date published: 2017-01-19
Rated

4

out of

5
by
jennsater
from
Garnier Olia
I used this over the weekend and I really like that the quality of this product left my hair healthy and I didn't feel the consequences of using an at home color as I had with other at home coloring kits. My hair is still soft and shiny and does not feel or look chemically altered. The color was a bit dramatic but it is still washing out of my hair some when i shower so it is not as dramatic as it was the initial day. I liked the ease of the application with the mixing bottle and the consistency of the cream. I also found that the after coloring conditioner was very good and helped ensure my hair was soft shiny and as it looked before applying the color.
Date published: 2017-01-18
Rated

4

out of

5
by
skalett
from
great dark red color
The instructions of the new Garner Olia hair color are easy to follow. I had no trouble mixing and applying the color paste to my hair. Everything you need is included, hair color to mix, gloves, applicator, conditioner and instructions. The major thing I disliked about this hair color is the time you need to wait after applying it. I am a busy mom and I don't have 30 min to kill while I wait for my hair color to work. In the past I have tried other brands of hair color and they only took 10 min to work and the result was just as good, not sure why this one takes 30 min! Thats just too long in my opinion. But once you're don't the color looks beautiful. Its very nice dark red. I really like the conditioner that comes with the color, it works great, makes your hair soft and shiny and it smells very good. You don't get any of that hair color smell that smells so synthetic and strong - thats a big plus. Another thing I am not too keen on is that there is a lot of color on my actual skin. I was not able to get it off my skin easily (hairlines,...) but other than that - great product!
Date published: 2017-01-17
Rated

4

out of

5
by
sparklemeow
from
Nice color, no problems, would recommend
I love the resulting color of this hair dye! I'm starting to go grey, so like to dye my hair to cover it up, and this dye does a great job of that while still remaining natural looking yet bold. I'd recommend Dark Intense Auburn to those of us who have some kind of brown hair, as it takes your natural color and simply ads some natural-looking red tones to it. The process of using the dye isn't drastically different from any other hair dye you may have used in the past, but the smell of the product is a lot better which is a plus. Ease of use is average, it's neither incredibly simple nor is it complicated- it's about as expected. Overall, I like the Garnier brand and this color dye in particular, and would recommend.
Date published: 2017-01-13
Rated

5

out of

5
by
baHeathersears83
from
Nice deep color
Nice deep auburn which is a perfect shade for this winter! Easy to apply and great aroma from the haircolor
Date published: 2017-01-06
Rated

5

out of

5
by
Jalemany41
from
beautiful red
Love it the smell and the color...will deff use again. This is true to color and made my hair feel so soft
Date published: 2017-01-05
Rated

5

out of

5
by
aquamarine1988
from
Absolutely Gorgeous
Great Product, full coverage. Beautiful color and it made my hair soft and silky. It is very easy to use and even easier than spending the day in the salon. and a lot more cost effective! I definitely recommend Garnier Olia Hair color. A++
Date published: 2016-12-28
Rated

5

out of

5
by
Angeleyes
from
Covers grey longer
I love the dark intense auburn. I am naturally a medium brown and I wanted to go red but not look like a clown. With 4.60 it is now a beautiful red and dark brown. It is beautiful, leaves your hair conditioned, smooth and silky. A lot of hair colors leave your hair dry and not healthy but not Olia. Also, I usually have to recolor my hair about every month1/2 because of my grey and I am 41 so um not ready to go grey yet. With olia I have lasted 4 months before needing to color and even then the grey hasn't grown out even half the length as it would with other brands. I am FINALLY happy with a color and brand and its wonderful to see my hair look so great.
Date published: 2016-12-23
Rated

1

out of

5
by
Heater
from
Dark intense auburn 4.60
My hair is not suppose to be bleach blonde Worst products I have ever used. Why would it do this to my hair???
Date published: 2016-11-28
Rated

2

out of

5
by
deidre
from
Love the color but it doesn't last long :(
I love this color and I can't seem to find anything similar in other brands but I have to color my hair with it every two weeks to keep it looking good. It fades very quickly and very unevenly throughout my hair.
Date published: 2016-11-14
Rated

1

out of

5
by
atty
from
Horrible
I used this product in my hair and i saw no results .
Date published: 2016-10-09
Rated

1

out of

5
by
Corinnalee
from
Color drips out
I used Olia almost two weeks ago and I am still losing color with each shampoo, which is resulting in the staining of my towels. I have more of my natural hair color showing than the hair dye at this point. Super dissatisfied with Olia. I've used Garnier hair dye in the past and have loved it, specifically the one with avocado oil...Olia is just a dud.
Date published: 2016-09-28
Rated

3

out of

5
by
Fayth94
from
I'm kind of mixed!
I put this on my bleached hair hoping for a dark brown red color. My hair had been bleached a week prior to dying with this color. The past week I could not stand my damaged fried bleached yellow nasty hair! It was so stiff unless it was wet and so damaged I couldn't even get a brush through it! I don't know how but this hair color SAVED MY HAIR!! It took all the damage away! My hair is so soft and shiny. Buuuut the color was not at all what I expected. The roots went bright bright red and the ends are pink. I love how my hair feels but I'm going to have to redo it for the color.
Date published: 2016-09-28
Rated

1

out of

5
by
saraajohnsonn
from
Horrible horrible product
I was so excited to use this color and I used TWO boxes on my hair, waited 45 minutes, washed and used the conditioner. When my hair dryed, only my roots were slightly red and the rest of my hair was my original color. I am incredibly upset. Worst product ever
Date published: 2016-07-31
Rated

1

out of

5
by
AR44
from
Absolute worse
This is the absolute worst hair dye I have ever tried. It dried out my hair so bad it felt like straw. The water didn't run clear for about 8 washes possible more and it faded like crazy. Did not work on grays and since it made my hair so dry I have had a lot of breakage. smh terrible product!!
Date published: 2016-05-20
Rated

1

out of

5
by
SaraMcDermott22
from
not happy
I've tried this color twice, and both times it did not go through my hair. I'm very disappointed because the color is really nice, but it won't show up in my hair. the first time I tried it, I had a build up of black in my hair but this time my hair was completely bare. I will not be trying this color again
Date published: 2016-04-02
Rated

4

out of

5
by
Oceane
from
Nice color !
I've been wanting to change my color recently, I was tempted to go red but I wasn't sure it would look good on me so I tried this color. I did it on blonde bleached hair and it didn't come out like the box picture, it came out really dark red, and I love it, I got a lot of compliment about my new hair. I've been using Olia for few years and I like it, it smells good and doesn't leave my hair all dried and damaged, but actually pretty smooth. I just rade previous comments and I have to say to people who complain about the bottle and the application, why don't you just buy a color brush and a bowl, it's cheap and way more ergonomic ! Secondly, all of those who complain about the color washing out and becoming fade, auburn is a kind of red, and red hair color is well known to be really hard to maintain. You need to wash your hair with cold water, not every day, and to use special products. It's not really convenient and a little pricey, but that's the price to pay to have an original and nice color. So for all of you who don't want to take care of their hair, DONT GO FOR ANY RED SHADE.
Date published: 2015-09-27
Rated

1

out of

5
by
Yoon
from
Totally Disappointing!
I wish I had read the reviews before buying this product! Complete waste of money. The applicator is such a poor design, like they made it so you would drop it. Even getting all the developer out was a pain with the kind of plastic tube used. Then, trying to mix that bottle was worriesome. It shouldn't be that complicated to dye ones hair! The final straw was not having enough product to finish all of my hair, and thinking that I got decent coverage with what I had, only to spend an hour rinsing and find that MOST of the length of my hair was not even colored at all. I have never had such an issue with hair color before, especially one that advertises such brilliant vivd color! The cake is a lie! Don't waste your time and money on this brand haircolor, you will be disappointed. And the extra bummer is that I have not colored my hair in almost five years, I finally buy some and I get stuck with this!
Date published: 2015-09-13