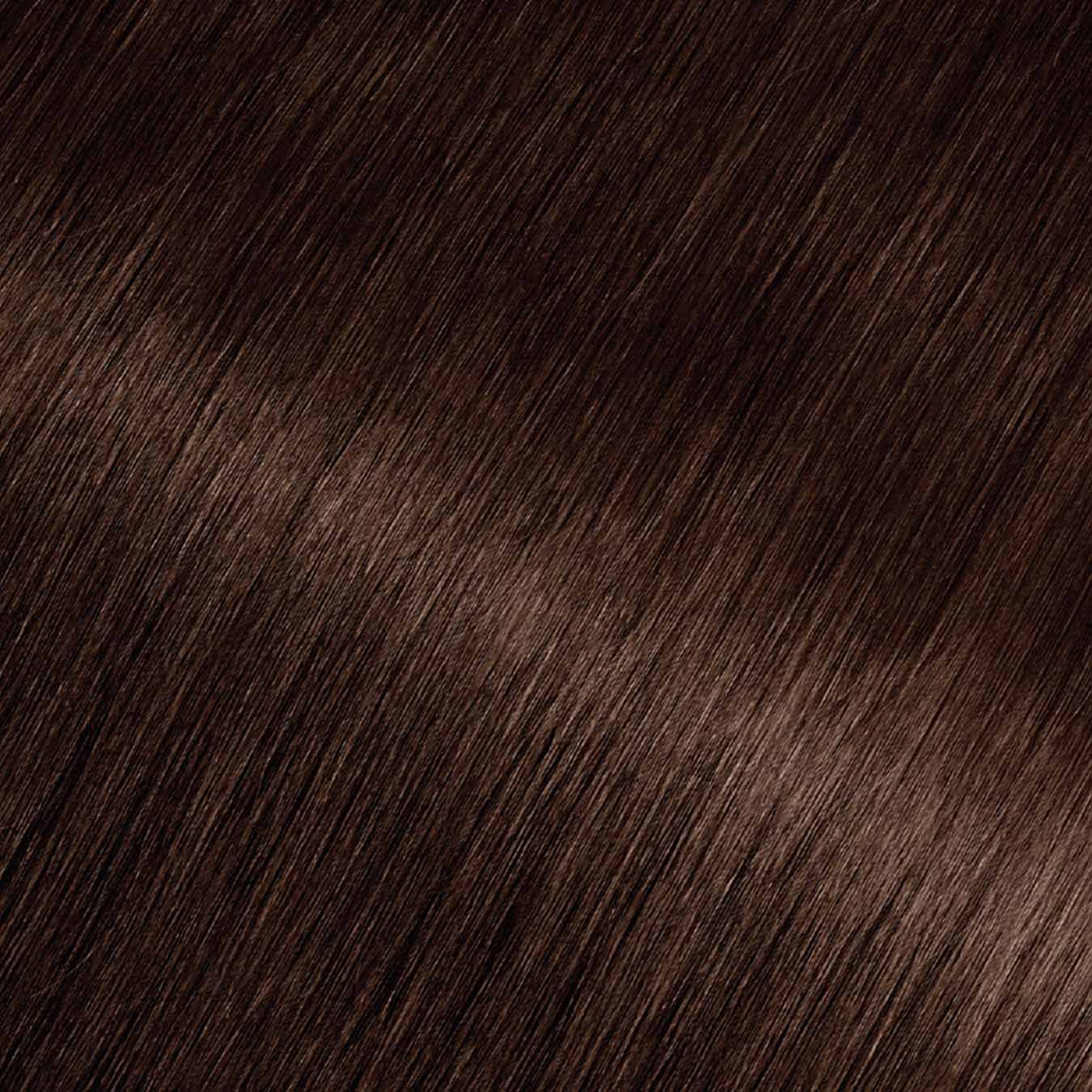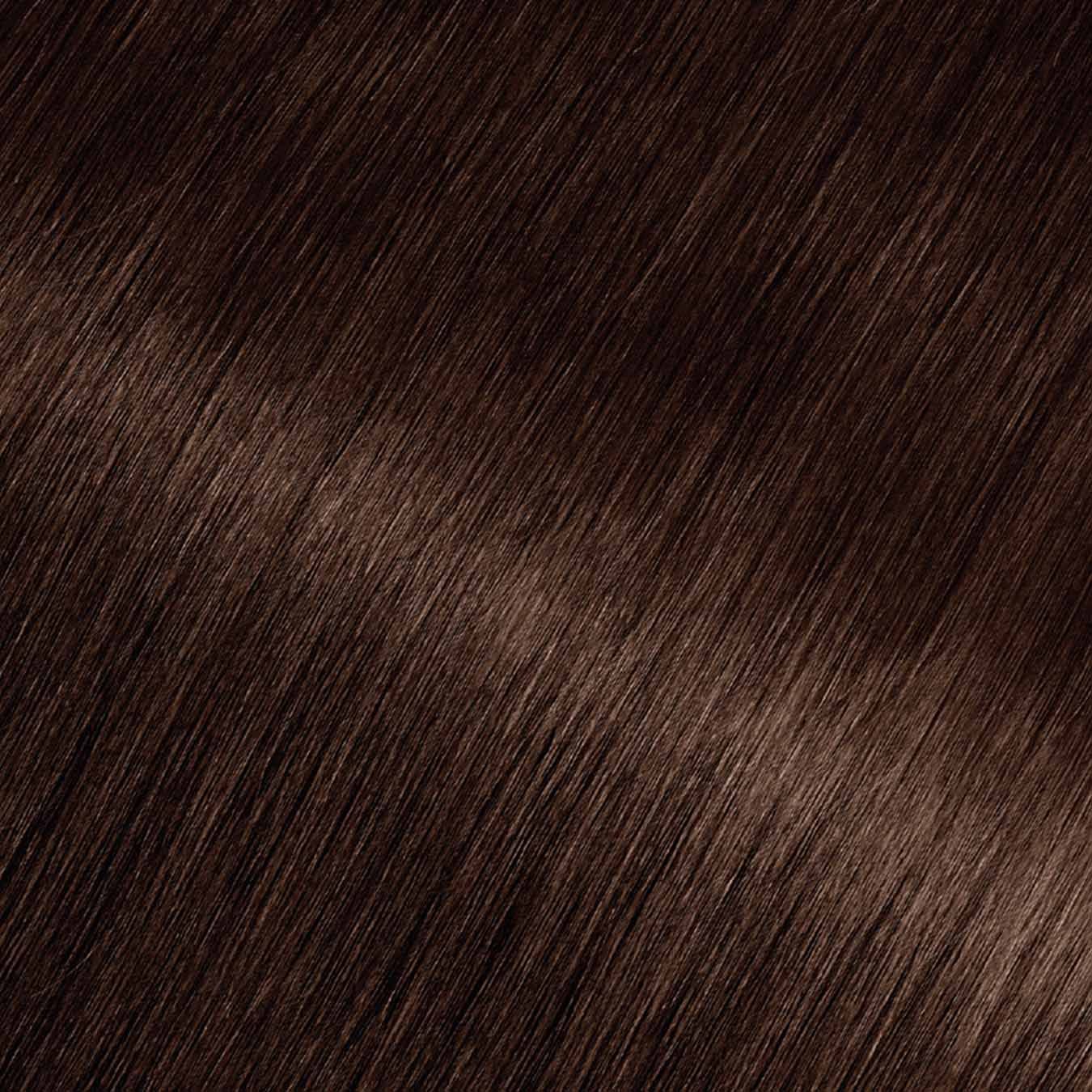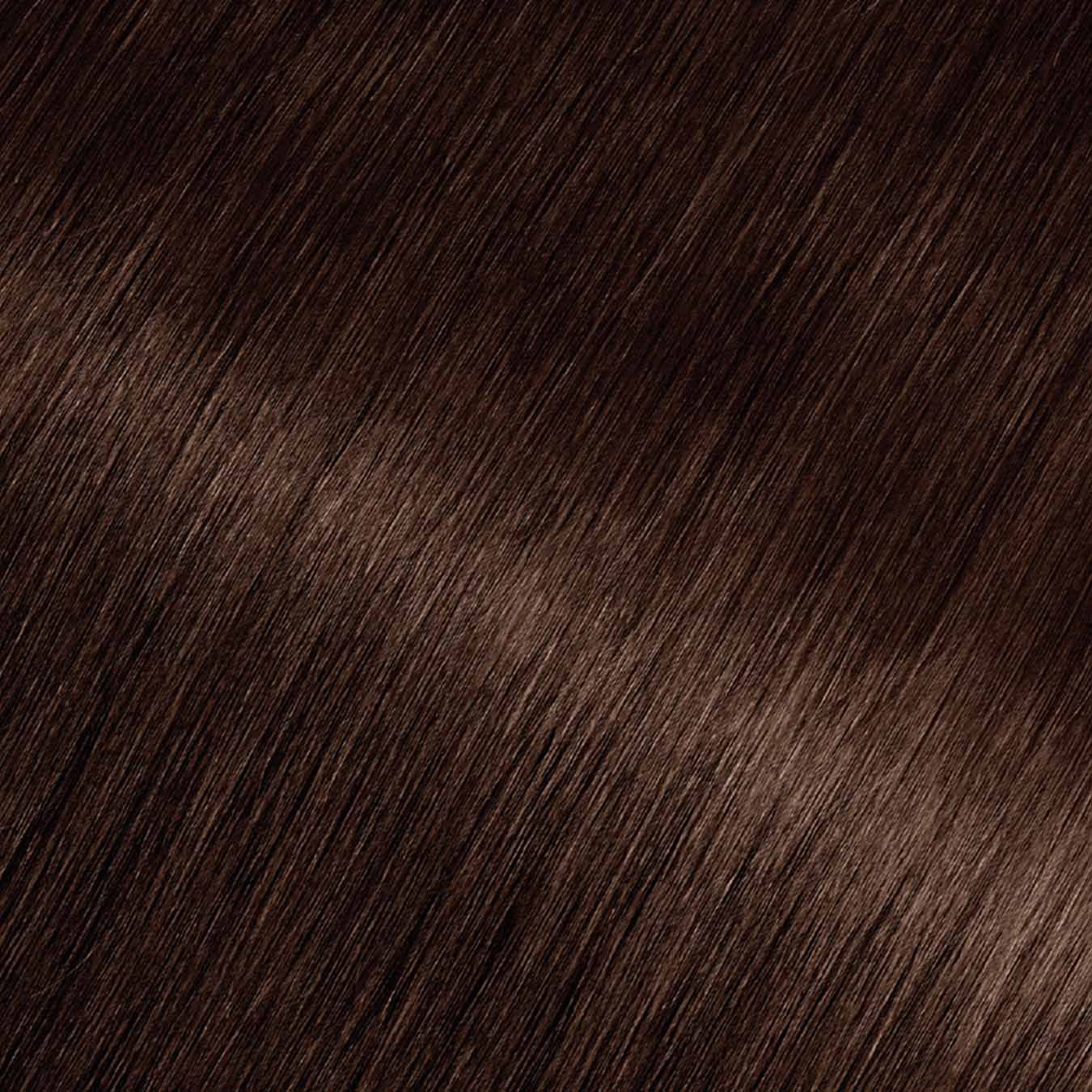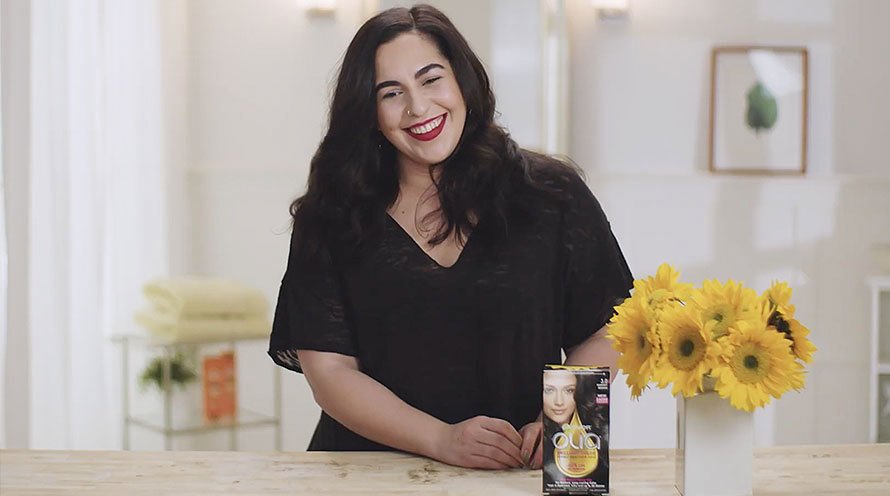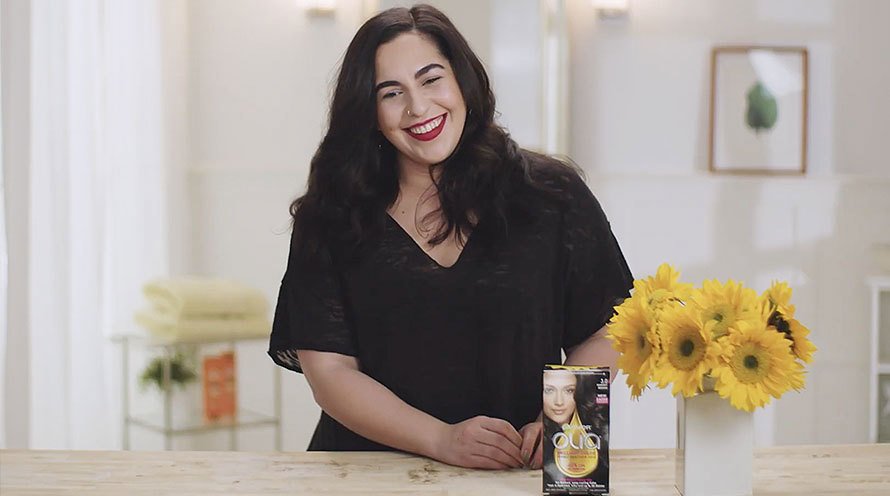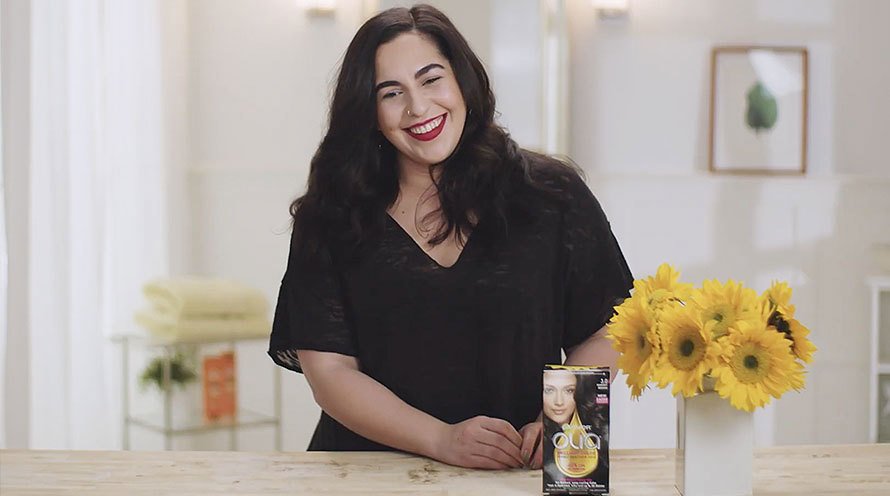 4.35 - Dark Golden Mahogany
Garnier Olia Ammonia Free Hair Color
$9.99 MSRP
Our 1st oil powered permanent haircolor with no ammonia for brilliant color and visibly healthier hair.
IMPORTANT: Like how this shade looks on you? Make sure it works with your hair. Take our 1-minute haircolor quiz to be certain.
PRODUCT INFORMATION:
Is this shade right for me? Garnier Olia shade 4.35, "Dark Golden Mahogany," adds golden tones and reddish reflects to your hair for a brilliant, chestnut brown result. 4.35 provides 100% gray coverage and is best for anyone with natural hair between light brown and black. If you prefer a lighter color, shade 5.3, "Medium Golden Brown" may be for you; however, it does not have any red reflects.

If you prefer to remain in the dark brown range but would like to try other reflects and tones, there are many shades to choose from including 4.0, 4.03, 4.15, 4.3, 4.35, 4.60, and 4.62.

*For women with currently color treated hair, there are special considerations for the color result you can achieve. Because of this, we do not recommend shade 4.35 for hair that has been previously colored shade 3.0, "Darkest Brown," or darker. For more help, use our Shade Selector Tool to find the perfect shade for you!

Our 1st oil powered permanent haircolor for brilliant color and visibly healthier hair. The oil powered technology propels colorants deep into the hair, without ammonia, giving you pure, vivid, long-lasting color. Olia visibly improves and restores hair as the oils help to reverse roughness and dullness for more brilliant, long-lasting color. Hair is Hydrated, Silky and up to 3X Shinier than unwashed, uncolored hair.

How is Olia different? Unlike traditional haircolor, Olia uses an exclusive 60% oil blend with natural flower oils to achieve brilliant, radiant color results. The unique non-drip velvet cream formula propels colorants into the hair--without ammonia--with a pleasant sensorial fragrance.
How to use:
Applying Olia: A Sensorial Experience
Olia transforms coloring your hair into a new sensorial experience. Because Olia is ammonia-free, it won't irritate your scalp and there is no harsh ammonia smell. Instead, Olia has a delicate floral scent. And, its non-drip, velvety cream texture helps provide optimal comfort during application.

Follow this step-by-step process when applying color at home:

1) Always do a skin test 48 hours before.
2) Apply to dry, unwashed hair.
3) Apply gloves, snap off tip and remove the cap of the Developer Bottle and add Colorant.
4) Shake the bottle vigorously to mix.
5) Start applying color at the roots, then away from roots to the tips.
6) Extend color through to the ends and massage into hair.
7) Leave formula on for 30 minutes.
8) Massage hair thoroughly before rinsing to optimize rinsing process.
9) Rinse hair thoroughly until water runs clear.
10) Apply conditioner after color and leave on for two minutes, then rinse thoroughly.
Tip: Try Micellar Cleansing Water, Waterproof to remove hair color stains
Ingredients:
DEVELOPER: 1071397 AQUA/WATER/EAU, PARAFFINUM LIQUIDUM/MINERAL OIL/HUILE MINERALE, CETEARYL ALCOHOL, HYDROGEN PEROXIDE, STEARETH-20, PEG-4 RAPESEEDAMIDE, GLYCERIN, POLYQUATERNIUM-6, HEXADIMETHRINE CHLORIDE, TOCOPHEROL, PENTASODIUM PENTETATE, SODIUM STANNATE, TETRASODIUM PYROPHOSPHATE, PHOSPHORIC ACID. F.I.L.# D42424/9

AFTER COLOR CONDITIONER: 1119728 A AQUA/WATER/EAU, CETEARYL ALCOHOL, BEHENTRIMONIUM CHLORIDE, CETYL ESTERS, TOCOPHEROL, TRIDECETH-6, CHLORHEXIDINE DIGLUCONATE, HELIANTHUS ANNUUS SEED OIL/SUNFLOWER SEED OIL, CAMELLIA OLEIFERA SEED OIL, AMODIMETHICONE, ISOPROPYL ALCOHOL, PARFUM/FRAGRANCE, CITRIC ACID, CETRIMONIUM CHLORIDE. F.I.L.# D180530/1 US PATENTS: 7,223,385; 7,485,289

COLORANT: 1173493 C PARAFFINUM LIQUIDUM/MINERAL OIL/HUILE MINERALE, AQUA/WATER/EAU, ETHANOLAMINE, DECYL GLUCOSIDE, SODIUM LAURYL SULFATE, PEG-40 HYDROGENATED CASTOR OIL, PARFUM/FRAGRANCE, DISODIUM COCOAMPHODIACETATE, TOLUENE-2,5-DIAMINE, RESORCINOL, HYDROXYPROPYL GUAR, p-AMINOPHENOL, SODIUM METABISULFITE, EDTA, 2-METHYLRESORCINOL, ASCORBIC ACID, m-AMINOPHENOL, HELIANTHUS ANNUUS SEED OIL/SUNFLOWER SEED OIL, LIMNANTHES ALBA SEED OIL/MEADOWFOAM SEED OIL, PASSIFLORA INCARNATA/PASSIFLORA INCARNATA SEED OIL, CAMELLIA OLEIFERA SEED OIL, 2-AMINO-3-HYDROXYPYRIDINE, 2-METHYL-5-HYDROXYETHYLAMINOPHENOL, 4-AMINO-2-HYDROXYTOLUENE, 6-HYDROXYINDOLE, THIOGLYCERIN, TOCOPHEROL. F.I.L.# D182376/1 US PATENTS: 7,060,107; 7,988,737; 7,988,738; 8,066,781; 8,114,170; 7,494,513; 6,093,220; 5,900,028 US PAT PENDING
Rated

5

out of

5
by
fatimamagg
from
Im really happy I was given this item complementary to try out Ive never use this particular hair dye before and the outcome was exactly what I was wanting. I really love Influenster because it introduces me to new brands I have a lot of gray hair and this dye was able to cover them up and make my hair look so healthy.
Date published: 2020-01-19
Rated

4

out of

5
by
hadleyg10
from
This product gives good color and it stays for awhile before fading out. I have thick hair so one application is not enough. Its kind of difficult and messy to do by yourself but if you want a quick fix or color touch up this is a great affordable option.
Date published: 2020-01-16
Rated

4

out of

5
by
megiwankenobi
from
If youre on a hair budget, this product is OK. I had better experience with other hair dye brands. The smell of this dye was better than others though, not as chemically. I would probably not purchase this again.
Date published: 2020-01-14
Rated

5

out of

5
by
magoozz
from
this is a great hair dye that gave my hair gorgeous color and healthiness. I would recommend to anyone who wants to dye their hair.
Date published: 2020-01-12
Rated

5

out of

5
by
alixndria
from
Im actually really impressed with this box color. I have long hair and usually need more than one box. I said heck lets try it anyway... I even had a little bit left over! The color is a little lighter than what it shows on the box but overall I like it and would buy this over other box dyes. I also like they put in a small conditioner bottle instead of the tubes.
Date published: 2020-01-07
Rated

4

out of

5
by
courtneya4365
from
I got this hair dye from a VoxBox and Ill be honest I was a little nervous. I havent died my hair myself since middle school. But I was pleasantly surprised. It was easy to apply and the color was pretty close to what was shown on the box.
Date published: 2020-01-07
Rated

3

out of

5
by
sanah06
from
I really liked that this didnt have ammonia so I wasnt knocked out by the chemicals. But this color sounds beautiful but barely touched my hair. I have black hair and this just lightened it up a tad bit. I do like it because I didnt want something drastic.
Date published: 2020-01-07
Rated

5

out of

5
by
Anonymous
from
I loved the color, I like that the dye doesnt have a super strong smell to it like other dyes. I like using garnier because it makes my hair super soft after use. I was really happy with the results and will definitely be using again!!
Date published: 2020-01-06
Rated

5

out of

5
by
alexusss21
from
Great at covering greys. The color I used was a great match for my natural dark brown hair
Date published: 2020-01-02
Rated

4

out of

5
by
annalisew3
from
Good product. Not drying at all. The color I got was only slightly darker than my hair now so I would probably go a touch darker if I purchased it again.
Date published: 2019-12-31
Rated

5

out of

5
by
sarahcamille
from
I have used Garnier Olia products before, for fun! Now that I have crazy grays all along the front part of my hair this has been AMAZING! Totally matches my hair color and gives my hair a nice brown glowy tone! Very soft on hair and doesnt hurt your scalp at alllll!
Date published: 2019-12-30
Rated

3

out of

5
by
mrsrolon927
from
I am honestly disappointed with this hair color. On the box it showed according to my hair color it would be brown with red hue but after I washed it out and dried my hair it looked just dark brown. Even in sunlight there was no red shine. It covered up my grey hair which was the only plus. Ive tried Garnier Hair Coloring products before and was very satisfied but this one was a downer.
Date published: 2019-12-29
Rated

4

out of

5
by
briemic
from
(Coming from a girl with JET black hair) First overall impression: this did not work. The color I received is dark golden mahogany, and on the box, it claims to take black hair and lighten it to a dark brown shade. Though I do see some change in my hairs color, it is not much to notice if I didnt mention the color is different. (My man couldnt tell) I actually only colored the back lower section of my hair, so in my photos, you will (hardly) be able to see the difference between the colored hair, versus the untouched hair. I WILL SAY that my hair is extremely soft and silky for it to have just been colored! The scent is also so heavenlyyy. And my hair has smelled good for hours! SO, if your hair is a lighter color or just not black, you will have a much better outcome with this hair color kit! But, if you have extreme black hair like me, I do not recommend.
Date published: 2019-12-29
Rated

5

out of

5
by
kelseym71
from
I love olia! I have dyed my hair multiple times with this type of dye, but this color was especially beautiful!
Date published: 2019-12-28
Rated

5

out of

5
by
aliciaba171
from
So I received this box at the perfect time. My hair was starting to turn a really light brown and I was about to go completely black until I received this hair dye in Mahogany! It was just such a beautiful color! Its sort of brown with a touch of red. My husband absolutely loves the way it looks in the sunlight, its so stunning!
Date published: 2019-12-28
Rated

5

out of

5
by
rachael34
from
It's my first to put hair color on my hair by myself. As a first time it's kinda doubt for myself since I am afraid the color will not blend all over my hair. So I applied it and since I have a dark hair strand the color effect is visible on top of my head ( hairs), it's also very visible under the sun, or else no one will recognize I put some color into my hair.
Date published: 2019-12-28
Rated

2

out of

5
by
alicet3720
from
I cant say much about this product because the color didnt quite show up on my hair. (Even though it says it can make black hair brown)
Date published: 2019-12-28
Rated

5

out of

5
by
Anonymous
from
I love love love this at home color! The ammonia free formula keeps my hair from smelling intensely like regular at home colors and the color itself it absolutely beautiful, and left my hair soft. I will definitely be buying this again.
Date published: 2019-12-28
Rated

5

out of

5
by
xoxo_agv
from
Ive always heard about this hair product through other beauty influencers and Ive always wanted to try it myself. Compared to other hair products it didnt have a strong paint smell that stays on after its painted & much more easier to use.
Date published: 2019-12-26
Rated

4

out of

5
by
mommyl
from
I was really suprised in how even and colored my hair was. I always had one even coloring with other box hair coloring. Left hair looking shiny too. I will continue to buy this product in the future. My hair is dry so adding extra moisture and shine are a plus in my book.
Date published: 2019-12-20
Rated

5

out of

5
by
emilyrose_913
from
This was the first time I dyed my hair by myself and I absolutely LOVE the way it came out! They made it so easy - anyone can get a beautiful result. My hair had yellow-y highlights and this dye gave them a warm-toned new life.
Date published: 2019-12-15
Rated

1

out of

5
by
yoostace
from
Should of known not to use this because of the lack of ethnic (3a-4c type hair) hair representation. This thing dried out my hair and left a grey hue to my hair. Mind you, Ive never had a strand of gray hair to date. My hair color was a medium brown before this. Now I have to wait weeks to repair this mess
Date published: 2019-12-15
Rated

5

out of

5
by
krayyyonnn
from
This dye was so easy to use! It was easy to apply all over my hair and one box was enough for my long hair. The color came out rich and made my hair so shiny!
Date published: 2019-12-15
Rated

5

out of

5
by
courtneyha9d6
from
I love garnier hair dye! The smell is wonderful doesnt overpower. The colors are beautiful and leaves your hair feeling so soft!
Date published: 2019-12-14
Rated

4

out of

5
by
kasimaa
from
Very nice color, packaging looks great. Hair dyes smells is one thing I dont like but this was pretty okay, surprisingly.
Date published: 2019-12-14
Rated

5

out of

5
by
cheymarie19
from
My hair is pretty dark already but this gave it a more brown/red tone to it. The kit was so easy to use and I absolutely love that it is ammonia free so my bathroom doesn't stink! I wasn't expecting much color change but it did more than I expected, next time Id probably go with black or create highlights!
Date published: 2019-12-10
Rated

4

out of

5
by
aralyg
from
I received this product as #complimentary and is the first time I dye my hair, it was very easy to follow instructions and my hair felt very soft after I finished, but I was scared to see how much hair I lost in the process, not sure if thats normal. [product:3-pack-garnier-olia-ammonia-free-hair-color-[4.35]-dark-golden-mahogany-1-ea]
Date published: 2019-12-09
Rated

4

out of

5
by
sheilab3e67
from
I had tried Garnier hair dye before, but not the Olia brand. The smell is a bit stronger, but the thickness is perfect. I was able to apply the product with no issues, and it wasn't running down my face or neck. It washed with no issues and I had a consistent color through my hair. Just because of its thickness and moisturizing properties I like it more than other options I had tried.
Date published: 2019-12-09
Rated

5

out of

5
by
abagaill6470
from
This stuff is amazing. My hair feels so healthy, the color is amazing. I will never use any other again. This will always be my go to. I highly recommend this stuff to everyone.
Date published: 2019-12-07
Rated

5

out of

5
by
emzy
from
Absolutely love Garnier products and Im so excited to try this hair color out. That shade is perfect for my skin tone and I would for sure recommend it to anyone.
Date published: 2019-12-06