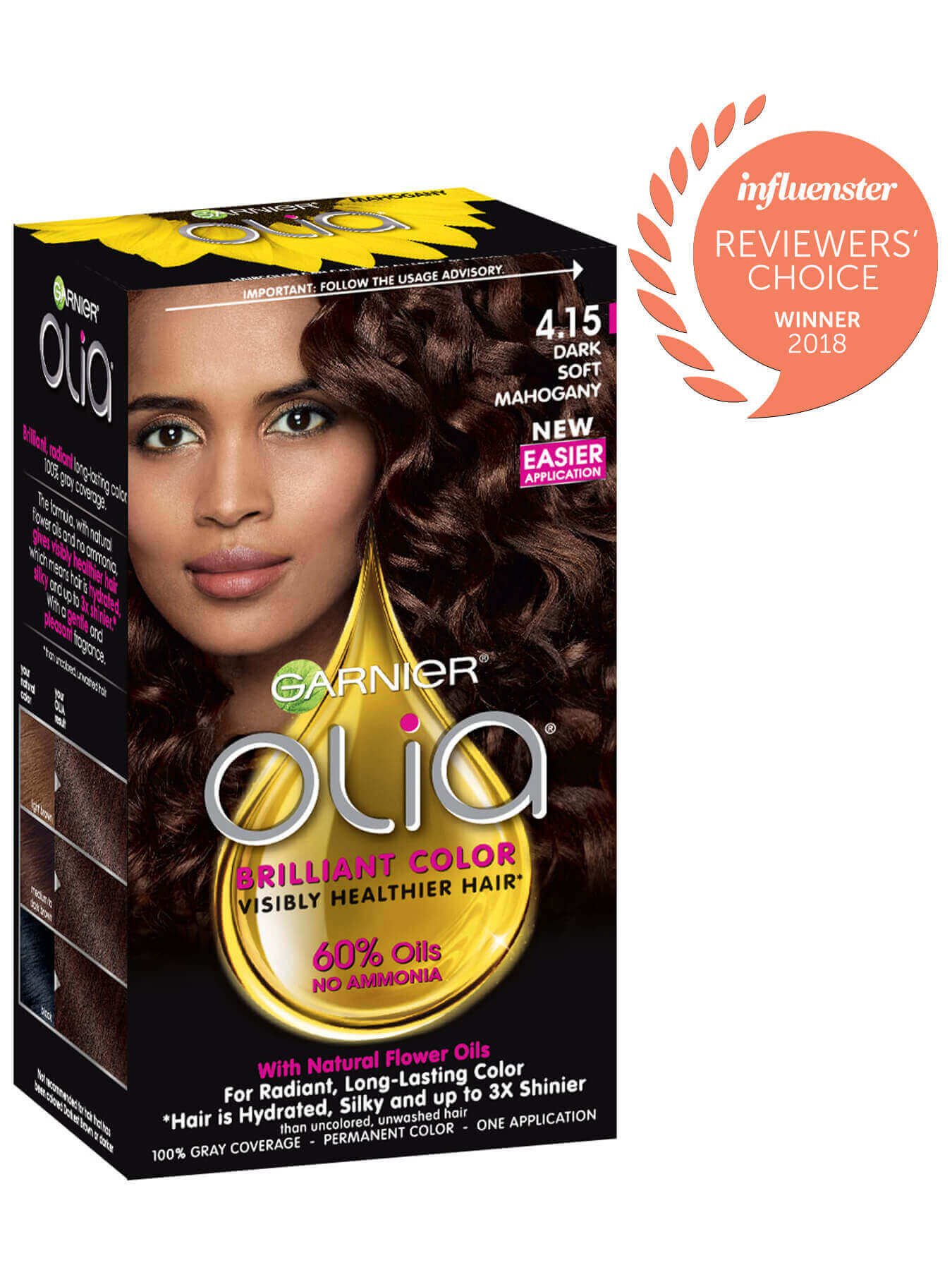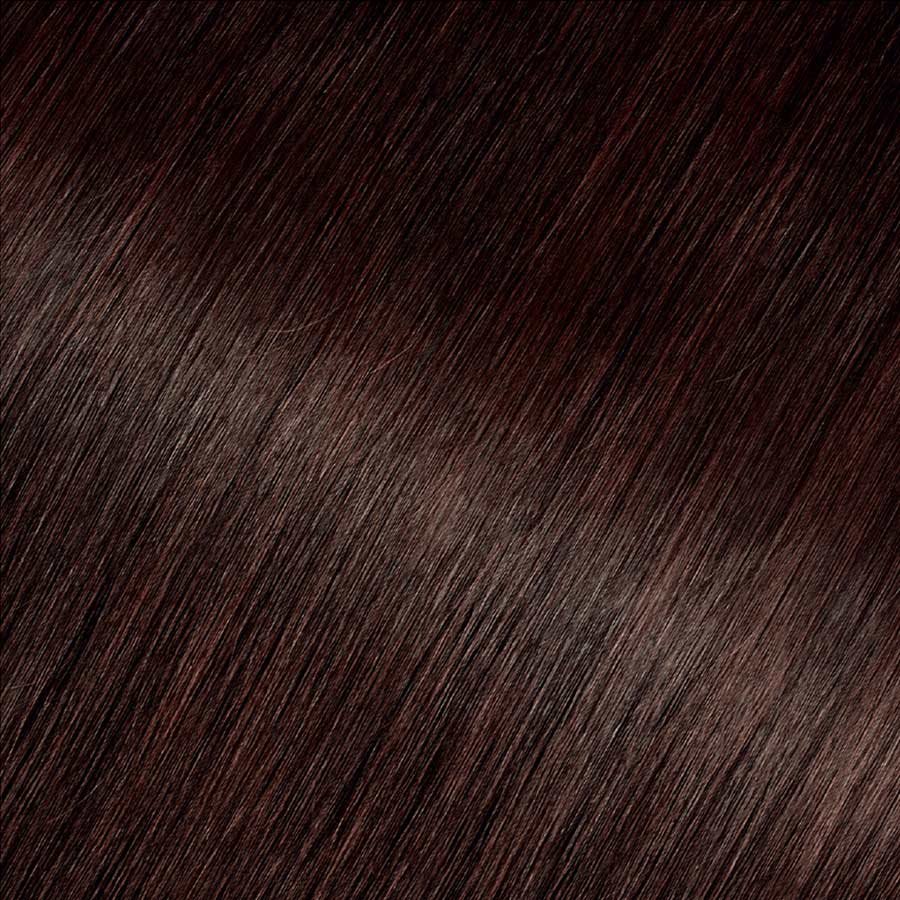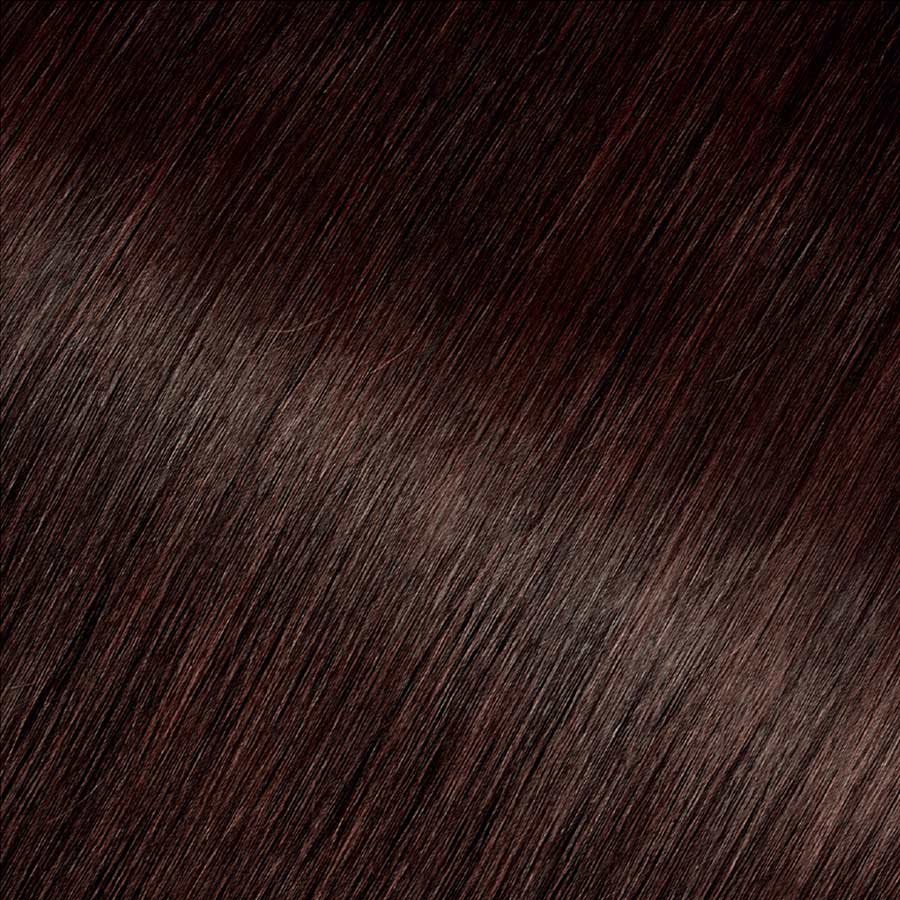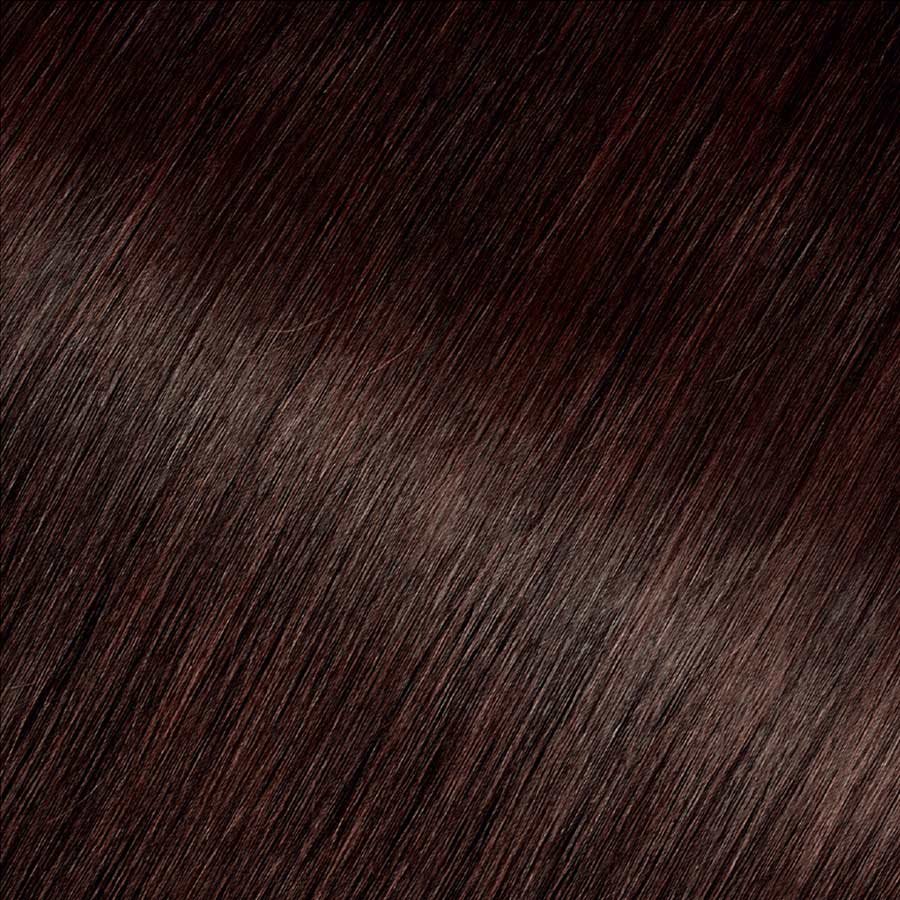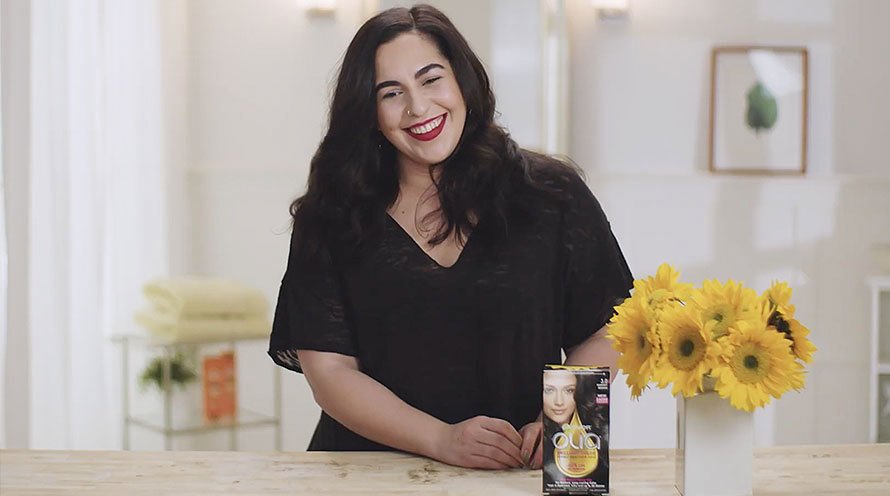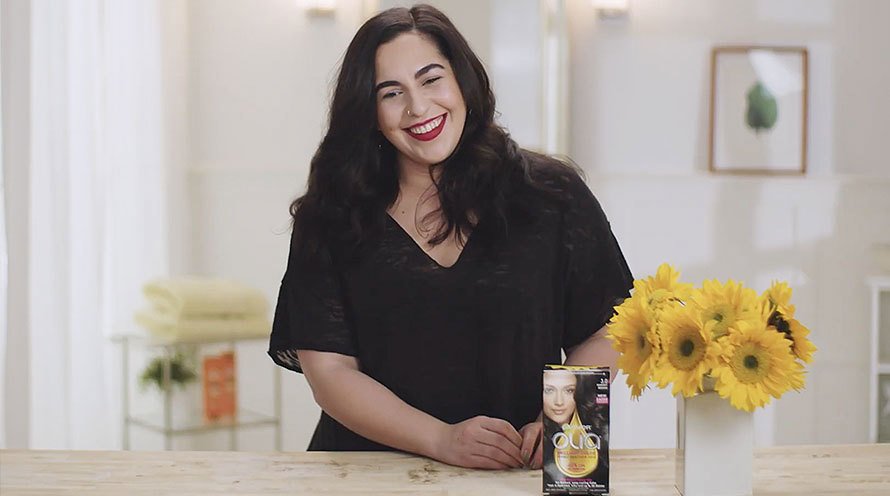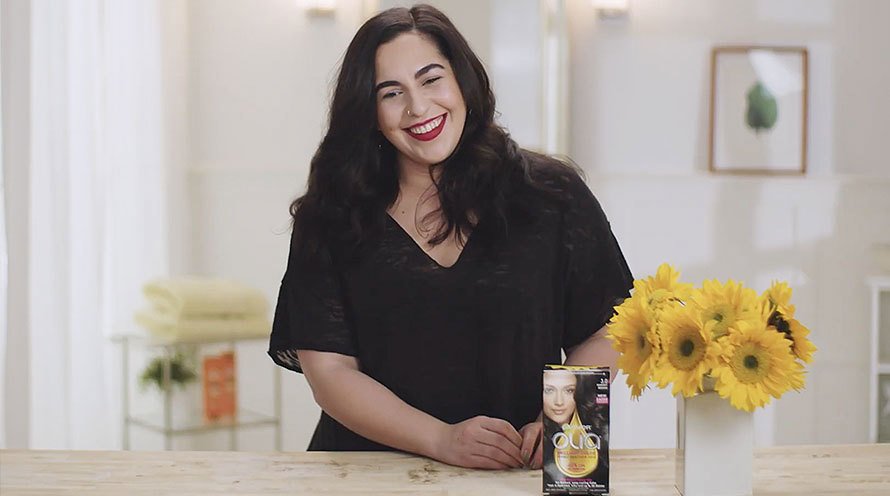 Garnier Olia Ammonia Free Hair Color
Olia 4.15 - Dark Soft Mahogany
$9.99 MSRP
Our 1st oil powered permanent haircolor with no ammonia for brilliant color and visibly healthier hair.
PRODUCT INFORMATION:
Our 1st oil powered permanent haircolor for brilliant color and visibly healthier hair.
The oil powered technology propels colorants deep into the hair, without ammonia, giving you pure, vivid, long-lasting color. Olia visibly improves and restores hair as the oils help to reverse roughness and dullness for more brilliant, long-lasting color. Hair is Hydrated, Silky and up to 3X Shinier than unwashed, uncolored hair.


How is Olia different?
Unlike traditional haircolor, Olia uses an exclusive 60% oil blend with natural flower oils to achieve brilliant, radiant color results. The unique non-drip velvet cream formula propels colorants into the hair--without ammonia--with a pleasant sensorial fragrance.


Is this shade right for me?
Garnier Olia shade 4.15, "Dark Soft Mahogany," adds cool, somewhat red tones to your dark brown results for the most brilliant mahogany color with 100% gray coverage. It is best for anyone with natural hair between light brown and black.

If you would like to remain in the dark brown range but would like to try other tones, there are many shades to choose from including 4.0, 4.03, 4.3, 4.35, 4.60, and 4.62.

*For women with currently color treated hair, there are special considerations for the color result you can achieve. Because of this, we do not recommend shade 4.15 for hair that has been previously colored shade 3.0, "Darkest Brown," or darker. For more help, use our Shade Selector Tool to find the perfect shade for you!
How to use:
Applying Olia: A Sensorial Experience
Olia transforms coloring your hair into a new sensorial experience. Because Olia is ammonia-free, it won't irritate your scalp and there is no harsh ammonia smell. Instead, Olia has a delicate floral scent. And, its non-drip, velvety cream texture helps provide optimal comfort during application.

Follow this step-by-step process when applying color at home:

1) Always do a skin test 48 hours before.
2) Apply to dry, unwashed hair.
3) Apply gloves, snap off tip and remove the cap of the Developer Bottle and add Colorant.
4) Shake the bottle vigorously to mix.
5) Start applying color at the roots, then away from roots to the tips.
6) Extend color through to the ends and massage into hair.
7) Leave formula on for 30 minutes.
8) Massage hair thoroughly before rinsing to optimize rinsing process.
9) Rinse hair thoroughly until water runs clear.
10) Apply conditioner after color and leave on for two minutes, then rinse thoroughly.
Ingredients:
DEVELOPER: 1071397 AQUA/WATER/EAU, PARAFFINUM LIQUIDUM/MINERAL OIL/HUILE MINERALE, CETEARYL ALCOHOL, HYDROGEN PEROXIDE, STEARETH-20, PEG-4 RAPESEEDAMIDE, GLYCERIN, POLYQUATERNIUM-6, HEXADIMETHRINE CHLORIDE, TOCOPHEROL, PENTASODIUM PENTETATE, SODIUM STANNATE, TETRASODIUM PYROPHOSPHATE, PHOSPHORIC ACID. F.I.L.# D42424/9

AFTER COLOR CONDITIONER: 1119728 A AQUA/WATER/EAU, CETEARYL ALCOHOL, BEHENTRIMONIUM CHLORIDE, CETYL ESTERS, TOCOPHEROL, TRIDECETH-6, CHLORHEXIDINE DIGLUCONATE, HELIANTHUS ANNUUS SEED OIL/SUNFLOWER SEED OIL, CAMELLIA OLEIFERA SEED OIL, AMODIMETHICONE, ISOPROPYL ALCOHOL, PARFUM/FRAGRANCE, CITRIC ACID, CETRIMONIUM CHLORIDE. F.I.L.# D180530/1 US PATENTS: 7,223,385; 7,485,289

COLORANT: 1173409 C PARAFFINUM LIQUIDUM/MINERAL OIL/HUILE MINERALE, AQUA/WATER/EAU, ETHANOLAMINE, DECYL GLUCOSIDE, SODIUM LAURYL SULFATE, PEG-40 HYDROGENATED CASTOR OIL, PARFUM/FRAGRANCE, DISODIUM COCOAMPHODIACETATE, TOLUENE-2,5-DIAMINE, RESORCINOL, m-AMINOPHENOL, HYDROXYPROPYL GUAR, SODIUM METABISULFITE, EDTA, p-AMINOPHENOL, ASCORBIC ACID, HELIANTHUS ANNUUS SEED OIL/SUNFLOWER SEED OIL LIMNANTHES, ALBA SEED OIL/MEADOWFOAM SEED OIL, PASSIFLORA INCARNATA/PASSIFLORA INCARNATA SEED OIL, CAMELLIA OLEIFERA SEED OIL, 6-HYDROXYINDOLE, 2,4-DIAMINOPHENOXYETHANOL HCl, 2-AMINO-3-HYDROXYPYRIDINE, THIOGLYCERIN, TOCOPHEROL. F.I.L.# D181090/1 US PATENTS: 7,060,107; 7,988,737; 7,988,738; 8,066,781; 8,114,170; 7,494,513 US PAT PENDING: 5,900,028
No Ammonia
With zero ammonia, Olia has a pleasant, floral fragrance as you apply.

60% Oils
Olia's velvety, non-drip formula is made up of a 60% oil blend with natural flower oils from Sunflower, Meadowfoam, Passion Flower, and Camellia to help reverse roughness and dullness, leaving hair more hydrated, silky soft, and shinier.

Rated

5

out of

5
by
vickic8428
from
I love the color. It was what I expected by looking at the box. It was very easy to apply. The consistency is perfect. It is not messy and stays put. It left my hair soft and silky. It has a pleasant scent that is a huge plus. I was very satisfied with the results and would recommend.
Date published: 2018-05-09
Rated

4

out of

5
by
michellek1be8
from
This product was sent to me for free via Influenster. It doesn't drip or smell bad like most other dyes. It gives me vibrant hair color that doesn't fade right away. I'm excited to show off my new look this summer at parties!
Date published: 2018-05-07
Rated

5

out of

5
by
jadec2
from
Rich color that covered my grays, and made my hair look and feel healthier. Easy to apply and maintain. I will definitely purchase this product after using it for first time.
Date published: 2018-05-01
Rated

5

out of

5
by
allysonl
from
I got this for free from Influenster and though I didn't use it on myself (I have some blonde I'm keeping in my hair for now), I used it on my mom who buys that color frequently for herself in other brands. The color turned out beautiful and it softened her hair to the extreme. Love this product and would recommend to anyone.
Date published: 2018-05-01
Rated

4

out of

5
by
ashleytc086
from
I really enjoyed trying this product. It didn't fry my hair it actually felt really great after it was done. The color was rich and amazing. I did feel like it faded down after a couple of washes but has held since then I waited to write my review a couple weeks to see how it held up and it's done very well. I get lots of compliments on the color I love it. it's very affordable and easy to do at home. I would recommend anyone looking for an affordable at home hair dye to try this.
Date published: 2018-04-30
Rated

5

out of

5
by
mwiegert05
from
I had received this in a voxbox from Influenster for free for review. I really like this! The color is gorgeous and I love that the dye doesn't have too chemically of a smell (it smells pretty good actually). The dye was easy to apply and wasn't a huge mess. After washing my hair with the conditioner that comes with it, my hair was soooo soft and shined! It's just a fraction of the price of the salon, but you'd never be able to tell the difference. I would definitely recommend this to anyone who likes to color their hair at home! You could find this at Walmart or Target or any drug store.
Date published: 2018-04-29
Rated

5

out of

5
by
roxannela198
from
I have been dying my hair for years, when I was younger for fun and now to cover my gray hair. I have alway done it at home myself so I was happy to receive this product to try. With that being said I did have to go to the store to purchase a second kit to cover all of my very long hair so I did this in advance. The packaging was easy to use as well as the directions and the gloves we better then a lot I have tried. I was very surprised that there was NO chemical smell of burning of any kind. I think the color is pretty and I will continue to use this product. The real test will be how long the color holds.
Date published: 2018-04-28
Rated

5

out of

5
by
jamieg948f
from
I tried this as part of a VoxBox through influenster. It is one of the few that didn't leave my hair in intense knots and left it absolutely beautiful. I love the color, and after a wash or two it became less harsh (my hair takes color really quick). I will buy this again!
Date published: 2018-04-27
Rated

5

out of

5
by
sarab9de8
from
I love Garnier Olia! My hair desperately needed some color. It smells amazing! Very floral scent, no chemical smell at all! Color is vibrant. I get many compliments how beautiful and shiny my hair is! I received this product free from Influenster to review.
Date published: 2018-04-25
Rated

5

out of

5
by
melindacd0da
from
This product was sent to me for free, from Influenster, to try and give my honest review. Love love LOVE! This hair color! Lately I have really tried not to do a lot of home dye jobs because it's been drying my hair out. This Olia color really blew me away! My hair was soft and silky afterwards and the color....wow! I will definitely buy this again and recommend it to any of my friends looking for a box dye!
Date published: 2018-04-24
Rated

4

out of

5
by
jaimeg1
from
The color is very vibrant and shiny. Much prettier than I expected. The kit was very easy to use and is similar to all other home dye kits. I didn't find it to be more gentle or moisturizing than any other kits. My grays were covered initially. However after a week of normal washing (every other day with expensive shampoo for color treated hair), there are a few grays peeking through. Aside from that, the color has worn well so far. It is still shiny and I still like it more than I thought I would.
Date published: 2018-04-23
Rated

5

out of

5
by
Angela1962
from
Great color -if you're not looking for high drama
I have been using this shade for several years now --especially since the Darkest Violet shade has been discontinued and is not available. It's a good dark mahogany brown (yes, it does come out quite dark at first, but it does lighten up a bit after a few washes) and it doesn't fade quickly. However, I would caution those with a lot of gray (at the roots) that it will lighter on the gray roots (especially if your gray is almost white) and darker on the hair that already has color (especially if you have brown or dark brown hair). I have quite a bit of gray and if I let my roots grow way long (more than two inches), I do see a difference in the color between the new application and the older one. One good thing that I have experienced in general with Olia (at least with most of the Brown shades and the Dark Mahogany one) is that they don't fade quickly --some other brands do (and I have used many over time). I also like that Olia isn't as aggressive to my scalp and doesn't itch. At least this is my own experience. I noticed from comments posted that some users have had negative experience with coverage. I never had a bad experience with coverage because I use a brush applicator to be sure that the color is applied thoroughly. I mix the contents (the developer and the colorant) in a bowl (I purchased this at Sally's) and use a brush applicator (also bought at Sally's), and I work as quickly as possible to ensure even and thorough application. Even when I used to use the provided applicator bottle (which in the case of Olia, the older bulb shaped bottle was completely insane and impractical --which prompted immediately to use the bowl and brush method), I still used a brush to spread the color on. Anyhow, that's just me.
Date published: 2018-04-23
Rated

4

out of

5
by
jessican8586
from
I have used this product before and garnier is always my go to for box dying, only con about this product is one box is never enough so make sure to get two boxes of you have long hair!
Date published: 2018-04-23
Rated

4

out of

5
by
brendabfeea
from
This stuff was just great. This was the first hair color that I have ever used on my hair. The only concern that I had was that I had a few grays I wanted to cover up. Nothing major and not a complete change of color. Well this product lived up to its name. It worked just like it said it would. I will be trying this again in the near future.
Date published: 2018-04-23
Rated

5

out of

5
by
ve858884betzaidar
from
I'm in love with the tone 4.15 Dark Soft Mahogany of the Olia Brilliant Color line by Garnier. It's formula of 60% Oils and without ammonia leave the hair with a very beautiful shine and with a minimum of damage. In addition, it does not bother or itch when applied and does not have an unpleasant odor like other dyes. The tone is very beautiful and almost close to my natural hair color. I love that they have added oils to the formula, since they are my favorites when making masks to hydrate my hair.
Date published: 2018-04-23
Rated

3

out of

5
by
campingandcocktails
from
I have not used this particular color, but am familiar with the brand and have seen success with others.
Date published: 2018-04-18
Rated

5

out of

5
by
baileys7
from
Good stuff! I let my mom use the product and she absolutely loves it. She uses hair dye quite frequently and though it was great.
Date published: 2018-04-17
Rated

5

out of

5
by
terraniy
from
I have died my hair many times over the years but I really liked this one. It was the right consistency to where it was not so runny that it got everywhere. It also didn't leave a strong hair dye smell and was easy to get off my skin afterwards. I really liked the conditioner for afterwards. It did dye my hair darker than expected, but my hair often soaks up dye and darkens my hair, so I am not upset. Overall I would absolutely use this again.
Date published: 2018-04-17
Rated

5

out of

5
by
charisman
from
I.T was awesome and i.t didn't even let my hair lose moisture. Color is very vibrant and highly recommend to anyone planning on changing color because it is also easy to use. I.T was my first time so
Date published: 2018-04-17
Rated

5

out of

5
by
cobywillardsandefur
from
The application was very user friendly. I wish I could use it everyday because it smells divine. I love the way it make my hair feel when its completed! Super soft and shiny. The color was perfect as well!
Date published: 2018-04-17
Rated

5

out of

5
by
naomir2
from
I received a box of this color for free to review. I ended up buying another box to make sure I had enough to color my hair. I was honestly worried that it would be too dark but I love it!! The application process was comparable to other box colors out there in the same price range. My hair was nice and shiny too. I'm curious to see how long the color will last since my hair tends to fade really quickly. Garnier® Olia® Oil Powered Permanent Hair Color
Date published: 2018-04-17
Rated

4

out of

5
by
heatherkatlas
from
I love the color, it is a nice dark brown with some red undertones. The smell is very pleasant, it doesn't smell like chemicals at all. It was quick and easy to set up. However, for advertising that it is a gray hair coverage it isn't. It didn't cover all of my gray hair very well, and i didn't miss any spots on my hair. I have a few pieces of gray still shining through.
Date published: 2018-04-16
Rated

5

out of

5
by
kimberlyhc06e
from
Garnier olia made my hair feel so soft. Just like any other hair dye it is so simple to use but what was great is the color was truly a mahogany brown which I thought was great. If I were to buy a box color I would definitely check this one out
Date published: 2018-04-16
Rated

5

out of

5
by
kaitlynk8ee1
from
Really love the color! #thanks influenster #free color came out perfect #vox box plan on recommending to others
Date published: 2018-04-16
Rated

5

out of

5
by
amandat13
from
This is a fantastic box dye from Garnier. The color was beautiful and looked super natural! Super easy to apply and wash out all on your own-- no help needed. I have only used a few box dyes, but this one was great. Definitely satisfied and would recommend to others. I received this complimentary from Influenster for reviewing purposes and all opinions are my own.
Date published: 2018-04-16
Rated

4

out of

5
by
paboyle1
from
Thank you @Garnier for the @Olia hair color! I just colored my hair this morning. Right away I noticed that thi product did not have a strong odor like most other hair colors do and I found that refreshing! I placed the color on my hair (greys first) and then the remainder of my hair. While the color is beautiful, my only disappointment was the fact that it didn't cover my greys as well as I would have liked. I have stubborn greys in the front. Other than that, I really enjoyed this product and loved the smell of the Step 3 conditioner that was included. Thanks!
Date published: 2018-04-16
Rated

4

out of

5
by
peej1081
from
It's been a looong time since I've used home hair color, mostly due to a combo of stubborn, resistant gray, and a love affair with balayage. I'm here to say that this was the perfect band aid for roots, when you can't get to the salon. The shade I received looked a bit darker than I expected, but ended up blending beautifully into my roots, without leaving any trace or line of where the color stopped. I applied to my roots for 15 min, and then combed through the color to about the middle of my hair, and let that sit another 15 min. There was no strong scent, and the application process was a piece of cake. A few of my grays remain, but definitely seem tinted and less noticeable, if not totally covered. If I have trouble getting into the salon, I'll definitely be reaching for this savior in a pinch next time!
Date published: 2018-04-16
Rated

4

out of

5
by
loriy18e8
from
Thanks to Influenster, I received a free box of Garnier Olia hair color! I tried the dark soft mahogany. Left my hair soft and feeling great. The only downside was it left my grays much lighter in color than the rest of my hair- almost orange.
Date published: 2018-04-16
Rated

5

out of

5
by
brennag0560
from
Added my before and after photos to show how much my hair changed. So impressed! My hair is a natural light brown and as you can see it was starting to become quite prominent. I was so excited to receive this hair dye for free to try! I love it, my hair looks great and it is so smooth from the oils in the dye. Would definitely purchase this in the future!
Date published: 2018-04-16
Rated

3

out of

5
by
mayrah1
from
It's your average box color kit. The only difference is the scent is more pleasant then others.
Date published: 2018-04-15