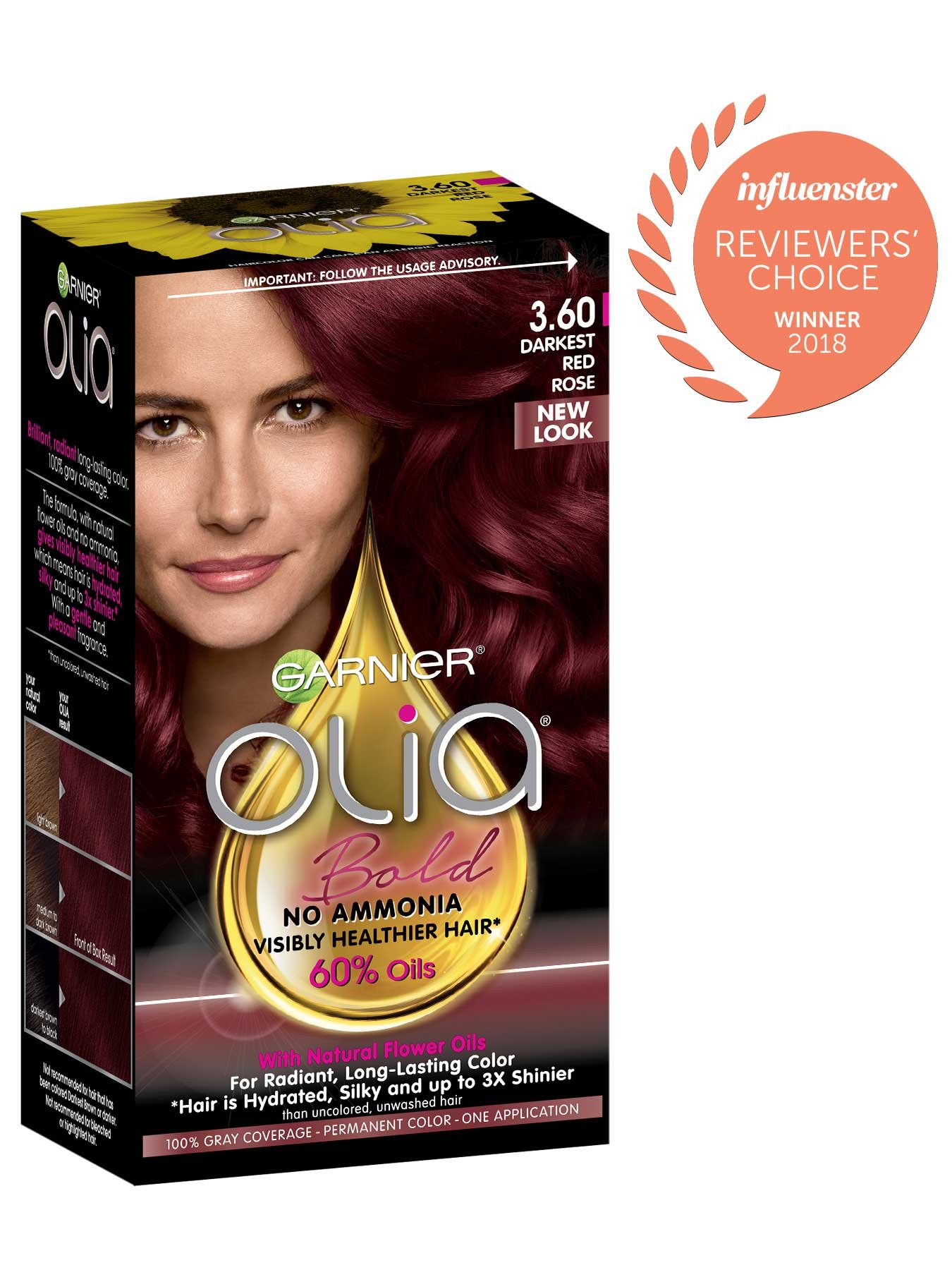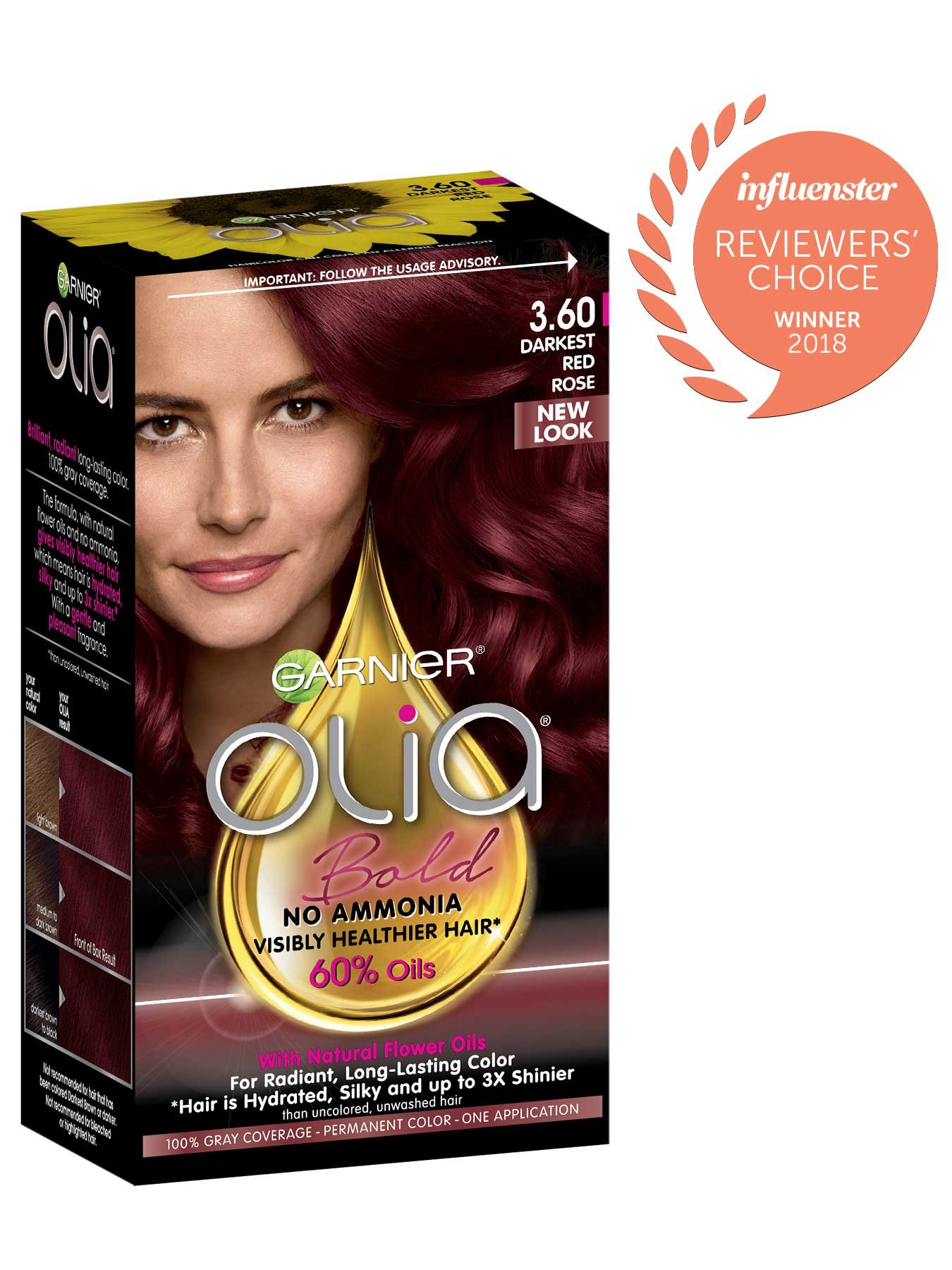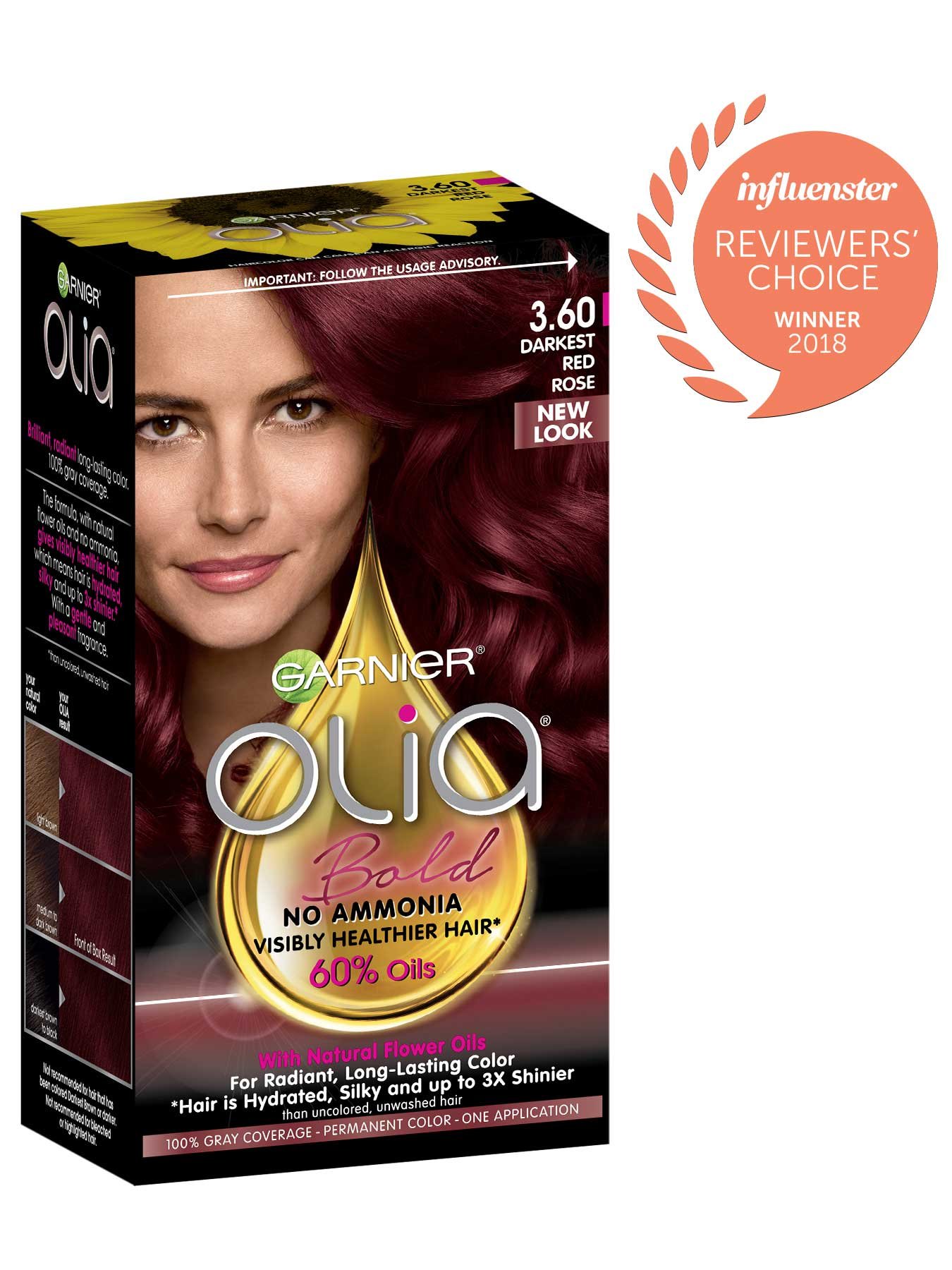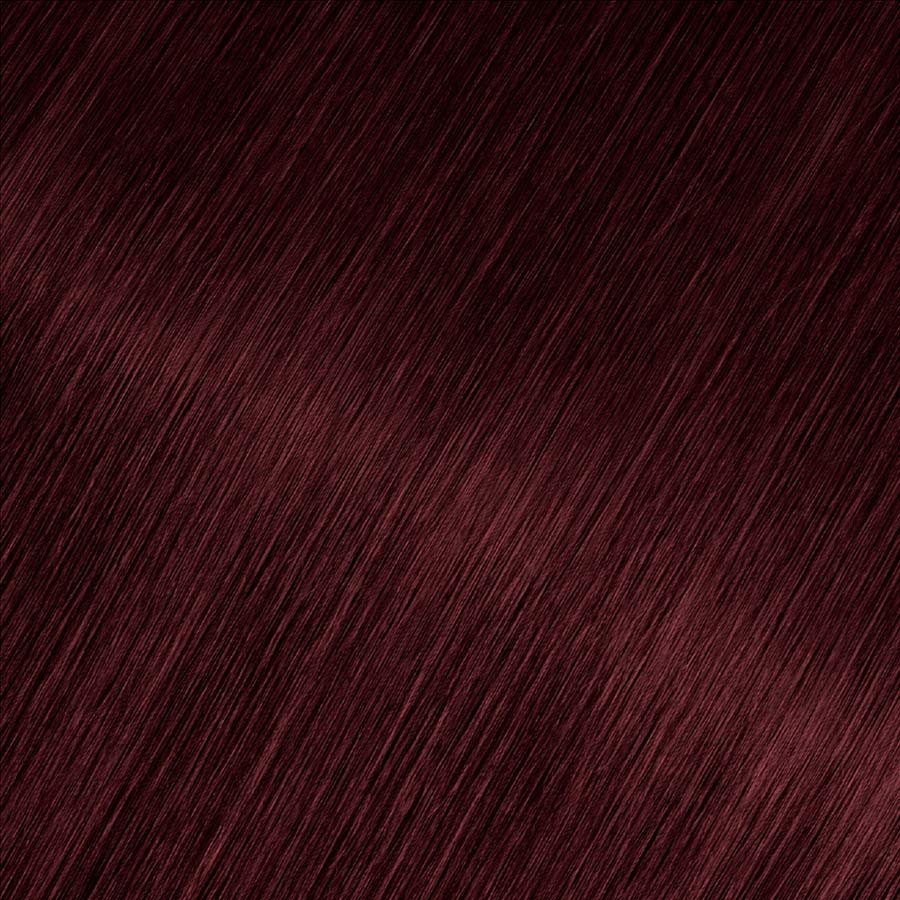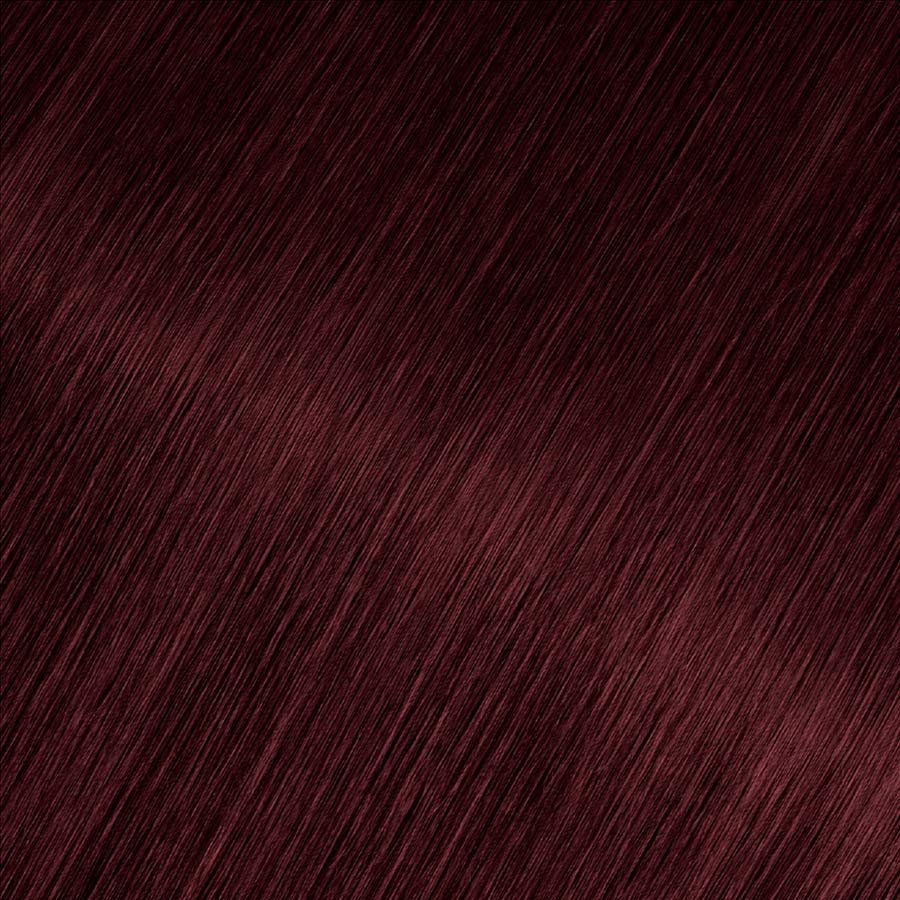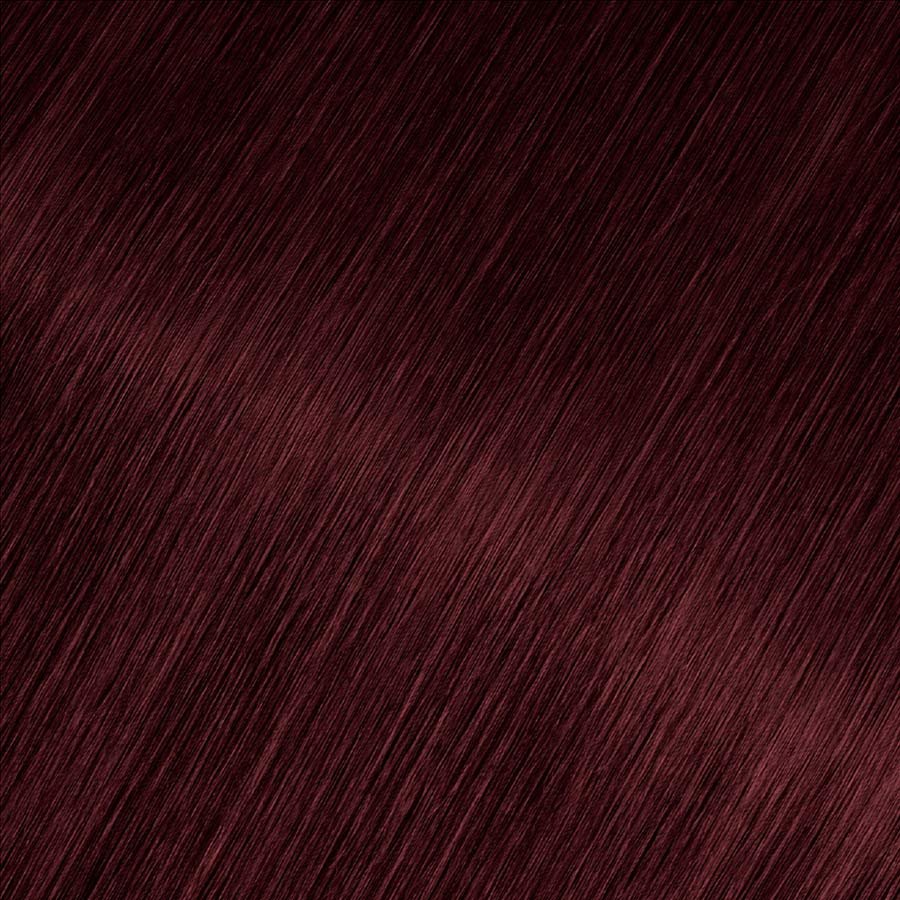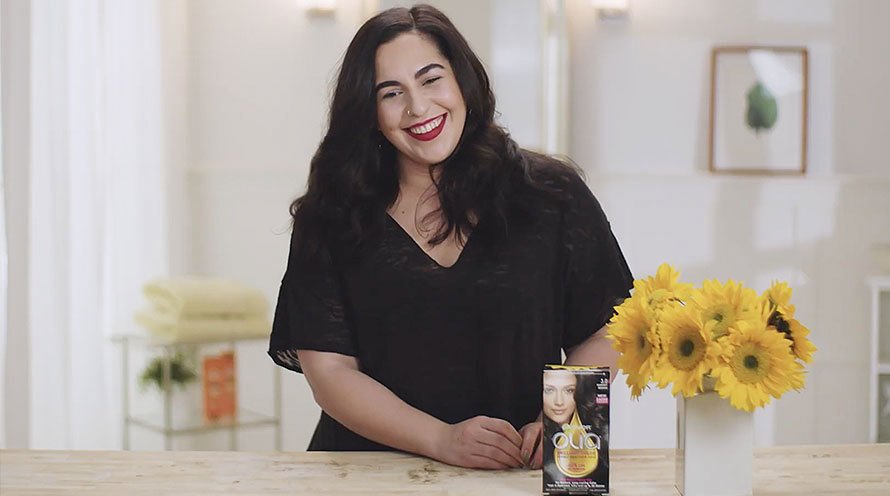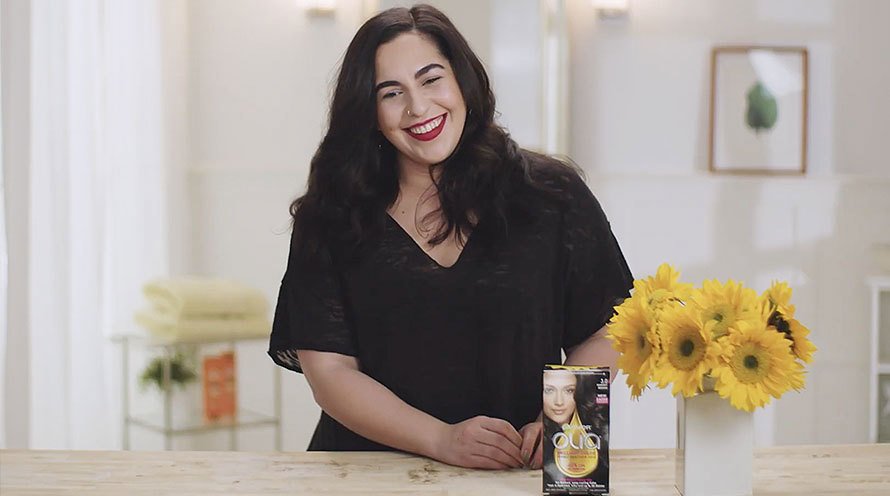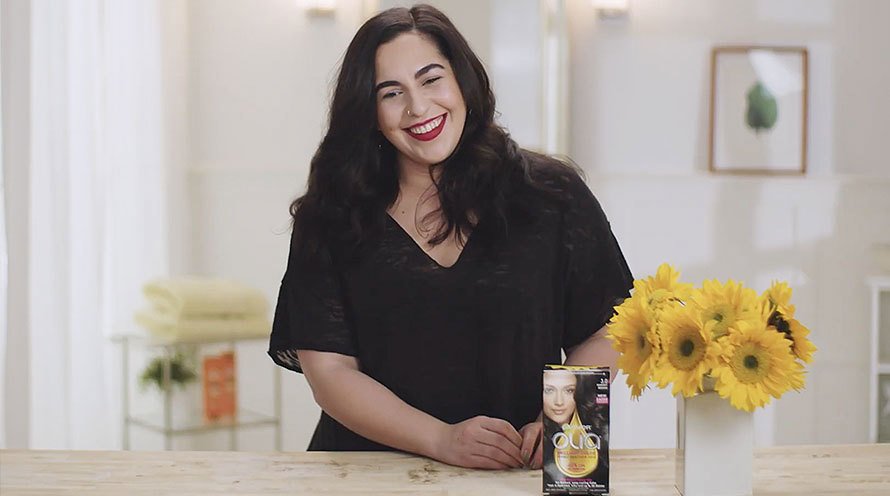 Garnier Olia Ammonia Free Hair Color
Olia 3.60 - Darkest Red Rose
$9.99 MSRP
Our 1st oil powered permanent haircolor with no ammonia for brilliant color and visibly healthier hair.
PRODUCT INFORMATION:
The oil powered technology propels colorants deep into the hair, without ammonia, giving you pure, vivid, long-lasting color. Olia visibly improves and restores hair as the oils help to reverse roughness and dullness for more brilliant, long-lasting color. Hair is Hydrated, Silky and up to 3X Shinier than unwashed, uncolored hair.

How is Olia different?
Unlike traditional haircolor, Olia uses an exclusive 60% oil blend with natural flower oils to achieve brilliant, radiant color results. The unique non-drip velvet cream formula propels colorants into the hair--without ammonia--with a pleasant sensorial fragrance.

Is this shade right for me?

Garnier Olia shade 3.60, "Darkest Red Rose," is a shade full of deep, intense red reflects. It provides up to 100% gray coverage. The color will be more vibrant on grays. Shade 3.60 is best for anyone with natural, uncolored hair between Light Brown and Black.
For other deep red shades, try 4.60, "Dark Intense Auburn" or 4.52, "Dark Garnet Red." If you would like to remain in the darkest brown range but would like to explore other reflects and tones, try shade 3.0, "Darkest Natural Brown" or 3.11 "Dark Platinum Brown" for an ashy reflect.
*For women with currently color treated hair, there are special considerations for the color result you can achieve. This shade is not recommended for hair that has been colored Darkest Brown or darker, is bleached or is highlighted. For more help, use our Virtual Shade Selector Tool to find and try-on the perfect shade for you!
How to use:
Applying Olia: A Sensorial Experience
Olia transforms coloring your hair into a new sensorial experience. Because Olia is ammonia-free, it won't irritate your scalp and there is no harsh ammonia smell. Instead, Olia has a delicate floral scent. And, its non-drip, velvety cream texture helps provide optimal comfort during application.

Follow this step-by-step process when applying color at home:

1) Always do a skin test 48 hours before.
2) Apply to dry, unwashed hair.
3) Apply gloves, snap off tip and remove the cap of the Developer Bottle and add Colorant.
4) Shake the bottle vigorously to mix.
5) Start applying color at the roots, then away from roots to the tips.
6) Extend color through to the ends and massage into hair.
7) Leave formula on for 30 minutes.
8) Massage hair thoroughly before rinsing to optimize rinsing process.
9) Rinse hair thoroughly until water runs clear.
10) Apply conditioner after color and leave on for two minutes, then rinse thoroughly.
Ingredients:
PARAFFINUM LIQUIDUM / MINERAL OIL / HUILE MINERALE, AQUA / WATER / EAU, ETHANOLAMINE, DECYL GLUCOSIDE, SODIUM LAURYL SULFATE, 1-HYDROXYETHYL 4,5-DIAMINO PYRAZOLE SULFATE, PEG-40 HYDROGENATED CASTOR OIL, m-AMINOPHENOL, ASCORBIC ACID, TOCOPHEROL, HYDROXYPROPYL GUAR, SODIUM METABISULFITE HYDROXYBENZOMORPHOLINE, THIOGLYCERIN, HELIANTHUS ANNUUS SEED OIL / SUNFLOWER SEED OIL, TOLUENE-2,5-DIAMINE, LIMNANTHES ALBA SEED OIL / MEADOWFOAM SEED OIL, CAMELLIA OLEIFERA SEED OIL, 2-METHYL-5-HYDROXYETHYLAMINOPHENOL, PARFUM / FRAGRANCE, DISODIUM COCOAMPHODIACETATE, RESORCINOL, PASSIFLORA INCARNATA SEED OIL, EDTA, FIL CODE: D212132/1
No Ammonia
With zero ammonia, Olia has a pleasant, floral fragrance as you apply.

60% Oils
Olia's velvety, non-drip formula is made up of a 60% oil blend with natural flower oils from Sunflower, Meadowfoam, Passion Flower, and Camellia to help reverse roughness and dullness, leaving hair more hydrated, silky soft, and shinier.

Rated

4

out of

5
by
Peaches1
from
I LIKE!!!
This was my first time dying my hair by myself and I must say that I am satisfied. It was very simple and fast. I absolutely love this color and how it makes my hair stand out. It didn't cause dryness to my hair. #garniergirls, #olia, #sponsored,
Date published: 2019-03-06
Rated

5

out of

5
by
Eduran1129
from
Red hue love
I am love with this color hue it smells good and leaves a nice shiny look . You have to try it.
Date published: 2019-03-06
Rated

5

out of

5
by
Mhyman27
from
Love the color
My hairs already dyed red so I had gave it to my mother she likes it
Date published: 2019-03-06
Rated

5

out of

5
by
Red and happy
from
Red and Happy
I've gone red before but I love how this Red Rose turned out. It's bright at the roots and dark towards the end of my hair. Maybe it's based off of my semi dark brown hair color to begin with, but I'm very happy. It's subtle enough for me but still exciting because it's very bright in the light. My hair remains soft with no issues. My hair goes past the mid of my back and it still feels healthy and brushes well after the dye.
Date published: 2019-03-06
Rated

4

out of

5
by
BrittMarklin
from
Radiant Red
I love the color!!! The boldness, radiance and shine are astounding, and something I would never expect from a box. Still prefer professional coloring solely based on my own inexperience with at-home color and fear of imperfections.
Date published: 2019-03-06
Rated

5

out of

5
by
sweet1
from
Beautiful!!!!!!!!!
I tried this hair color and I must say I like it so far.
Date published: 2019-03-06
Rated

5

out of

5
by
MissGlamourGal1978
from
Garnier Hair Color Olia- Darkest Red Rose
Garnier Hair Color - Olia- Darkest Red is an amazing hair color product. Love the garnier brand, bt havent tried olia kind. Love the oils it has. It makes my hair so shiny, silky, & hydrated! I always use burgundy's & i love this color! My hair gets dry & is thin, bt this hair color after its done & dry fluffs it up nicely with volume with great color! I shake it up really good, so its all mixed in, that i would receive a great color & it looks amazing! I love thicker hair dyes, cause u know how much going in your hair. When its thin hard to manage. Only benefit with thin hair, which is long i can use a lot in 1 bottle & covers it very good latering it up nicely. I would love try other few colors, that interested me! Great hair product!
Date published: 2019-03-06
Rated

5

out of

5
by
Arie1
from
Nice Color!
I was very nervous about coloring my hair myself, but it was very easy to do and even though my hair is naturally black, the color showed up nicely. It doesn't look like a dark red, but it is lighter and has nice hints of brown that are more obvious in the sunlight.
Date published: 2019-03-06
Rated

4

out of

5
by
Han1
from
One of the best brands
Easy application and not so messy to work with. One of the best and most reliable brands I've ever used for a good price and found at most stores
Date published: 2019-03-06
Rated

5

out of

5
by
Cat5
from
Loved the color!
Was so bright and easy to apply. I have used 2 times each time it's went on flawlessly and without any blotches.
Date published: 2019-03-06
Rated

5

out of

5
by
HAB1
from
Easy to use
This hair dye is simple to use. I am not that great with some health and beauty products and can get lost rather easily. But, this hair dye had easy to follow instructions, and the color was unique and very pretty. It did not dry out my hair either, which is a definite plus.
Date published: 2019-03-06
Rated

5

out of

5
by
Gfulmore
from
Vibrant color
This color was so vibrant! The color came out better than expected. The instructions were very clear and easy to follow. The color took well to my hair. I received many compliments and many people can't believe I did it myself.
Date published: 2019-03-06
Rated

4

out of

5
by
nrawdav
from
New Me!
I recently tried this hair color. I like it. It made my hair soft and silky. I am loving my brilliant colored hair and new shade. I started with dark brown. Now my hair has a reddish tinge to it. I am a member of the #garniergirls squad. #garniergirls, #olia, #sponsored, and tag @garnierusa
Date published: 2019-03-06
Rated

5

out of

5
by
britany8
from
great color!
This color is really pretty in my hair. It turned out exactly how it was suppose to and the color has faded at all. I would definitely buy this product again.
Date published: 2019-03-06
Rated

4

out of

5
by
staciesplace
from
Very pretty color
This color ended up working really well in my hair. In the shower as I was washing the color out after 30 minutes, my hair felt soft, even before I put the conditioner in. It also had a nice smell to it, not like other dyes I've used in the past. I wish they would include an extra glove or pair of gloves in the box. My husband dyes my hair for me and after I rinsed out my hair, I saw some spots he had missed even though during the process it felt like he got my hair 100%. I also wish there was a little more dye, my hair is thick and just past my shoulders and my husband and I both felt like it was a stretch to get enough out of the bottle. Would have been nice to have a bit more product to work with.
Date published: 2019-03-06
Rated

5

out of

5
by
Cupcakebands1
from
Olia Darket Red Tips
This color look good on the ends at the tip of your hair if you are debating whether or not to dye your whole head then the tips are something I would suggest you cannot go wrong. The kit is so easy to use and I'm loving the natural flower oils it's 60% oils and no ammonia.
Date published: 2019-03-06
Rated

4

out of

5
by
Mandy7
from
Vibrant, easy to apply color
I really liked the Garnier Olia hair color in Darkest Red. It was very easy to apply, the instructions were easy to follow and it includes everything you need for salon level hair color at home. The color is very vibrant and left my hair looking healthy and shiny. The best way I can describe my hair is radiant! I love the color and would definitely use this color and this brand again when doing my color at home.
Date published: 2019-03-06
Rated

5

out of

5
by
Danielle3
from
So pretty!
I dyed my hair using this yesterday, and I am loving the color! It's a subtle wine color. I have really dark hair, so maybe that's why it's more subtle, but that's what I wanted and I love it!
Date published: 2019-03-06
Rated

3

out of

5
by
Kayla3
from
Garnier Hair Color
Although I followed the instructions exactly like it said, this product didn't dye my hair. Instead it gave my hair more of a reddish tint. Therefore I ultimately had to go to a professional and let them dye my hair. However since this product didn't fully work for me, I still would recommend this product to others. This product left my hair soft,managble, and didn't harm my hair.
Date published: 2019-03-06
Rated

5

out of

5
by
shellyrosewilliams
from
Garnier Olia Oil Hair Dye not only give my hair the beautiful desired color but also makes it feel soft and look shiny. I color my hair often and this product is one of the best drugstore box dyes available.
Date published: 2019-02-15
Rated

4

out of

5
by
itzayanav1
from
I'm not sure how the make the formula but my hair feels so soft after i dye my hair with this. the Smell isn't you strong either
Date published: 2019-01-25
Rated

3

out of

5
by
juliachan888616e26fa44b28
from
I have black hair which is very hard to dye so I go into this knowing that I wouldn't get the best results ever. I was quite disappointed because my hair on the ends are actually lightened by a previous hair dye I used at home, so I was hoping it would get that nice color shown on the box. I saw minimal difference in my hair. In the sun, you can see the tint of pink, but indoors, it's very hard to see it at all. The only thing that I did appreciate was that it was very gentle on my hair. My hair didn't feel extra dry or damaged after having dyed it.
Date published: 2019-01-17
Rated

4

out of

5
by
mummymegz
from
I recently tried this product as I heard its the best for not damaging hair so though I would give it a go and I fell in love the colour was lovely and it didn't damage my hair at all.
Date published: 2019-01-01
Rated

5

out of

5
by
1AAredhead
from
Just went to Darkest Rose Red!!! Was med auburn
Over the summer I did the pomegranate shade. I loved it, I was bold but I still got a lot of compliments. Then I I did Medium Intense Auburn. Very lovely, even more complements. Tonight I west Darkest Rose Red. And WOW! It's stunning. It's a little softer than I'm use to BUT it darker and deeper, looks way natural with just a little pop. I'm used to a lot of pop lol, but if you are nervous going red I think this is a perfect starter shade. It looks classy and professional. I can't wait to show it off my next day at work. Beautiful Garnier, very beautiful shade.
Date published: 2018-12-19
Rated

5

out of

5
by
micheller16df
from
I am a 27 year old that has a lot of grey hairs. I have dark brown hair so they really stand out from the rest. I wasnt sure about what dye to buy but after reading a lot of reviews I settled for this one. The instructions are ve
Date published: 2018-11-09
Rated

5

out of

5
by
Linda3418
from
Love it!
I have medium/dark brown hair and when I used color 3.6 darkest Red Rose, it was the best shade of red I have ever found. I got a ton of compliments and everyone kept asking me what shade it was. The frustrating part was that when I went to purchase another kit, I literally had to go to 5 different stores to find it. Each of the stores had every other color but this one. I finally found 1 box left at the 5th store. Next time I will purchase more than 1 box!
Date published: 2018-10-01
Rated

4

out of

5
by
nbubule
from
Coloring my hair for many years i can say that this a basic coloration, but thé color really pops with really nice reflections
Date published: 2018-09-28
Rated

5

out of

5
by
RosieGirl
from
Lovely color, lasts well
I have naturally thick, dark brown hair, but like to change the color. This darkest red rose is my favorite in a long time--natural enough to not be distracting in professional settings, but definitely fun and unique, and especially brilliant in the sunshine. After first applying, the color is a deep red (almost pinkish-Ruby), that gradually fades to a beautiful auburn color over six weeks. The coverage is very even and complete. Last but not least, the dye does not stink or dry out my hair--in fact, it smells kind of nice, and my hair is left shiny and smooth after coloring. Highly recommend for brunettes wanting to try red hair.
Date published: 2018-09-27
Rated

5

out of

5
by
wavy_mermaidc
from
I love this hair color. My hair feels amazing. It does an excellent job of covering my special glittery hairs for about 6 weeks. This red has staying power too. Of it fades just like any red, but my color still looks nice until my next time. Oh and the best ..it doesn't stink!
Date published: 2018-08-02
Rated

1

out of

5
by
Muñeca
from
Not great
I bought this hair dye and regret the day I did. I've always had light brown hair and when I used this hair dye with my long curly hair, the top half that was virgin hair was super dark, almost black and then the rest turned an ugly dark red. I had no option but to dye my hair again. I tried light brown but because the top half was so dark, it didn't lighten up at all. I waited two weeks and decided to put bleach in my hair to lift the dark almost black color and then I dyed it all light brown again and finally my hair looks normal again and isn't two colors. I chose this red color after seeing the YouTube video of Eman and how great the color looked in the video. However once I tried it, the color was way inconsistent and not worth the damage I've done to my hair, with my having to dye it twice and bleach it to fix the color and lift out the dark and ugly red.
Date published: 2018-07-23