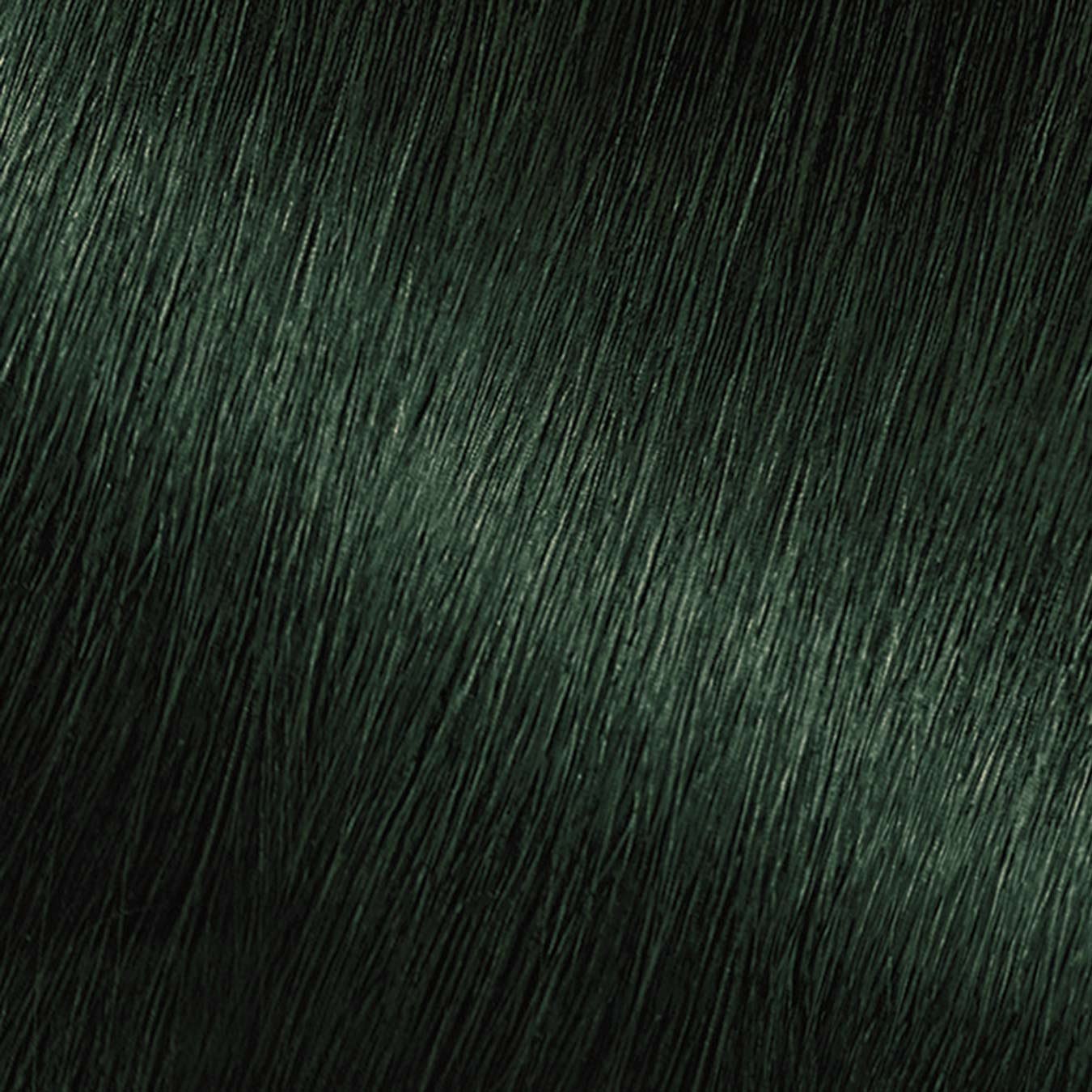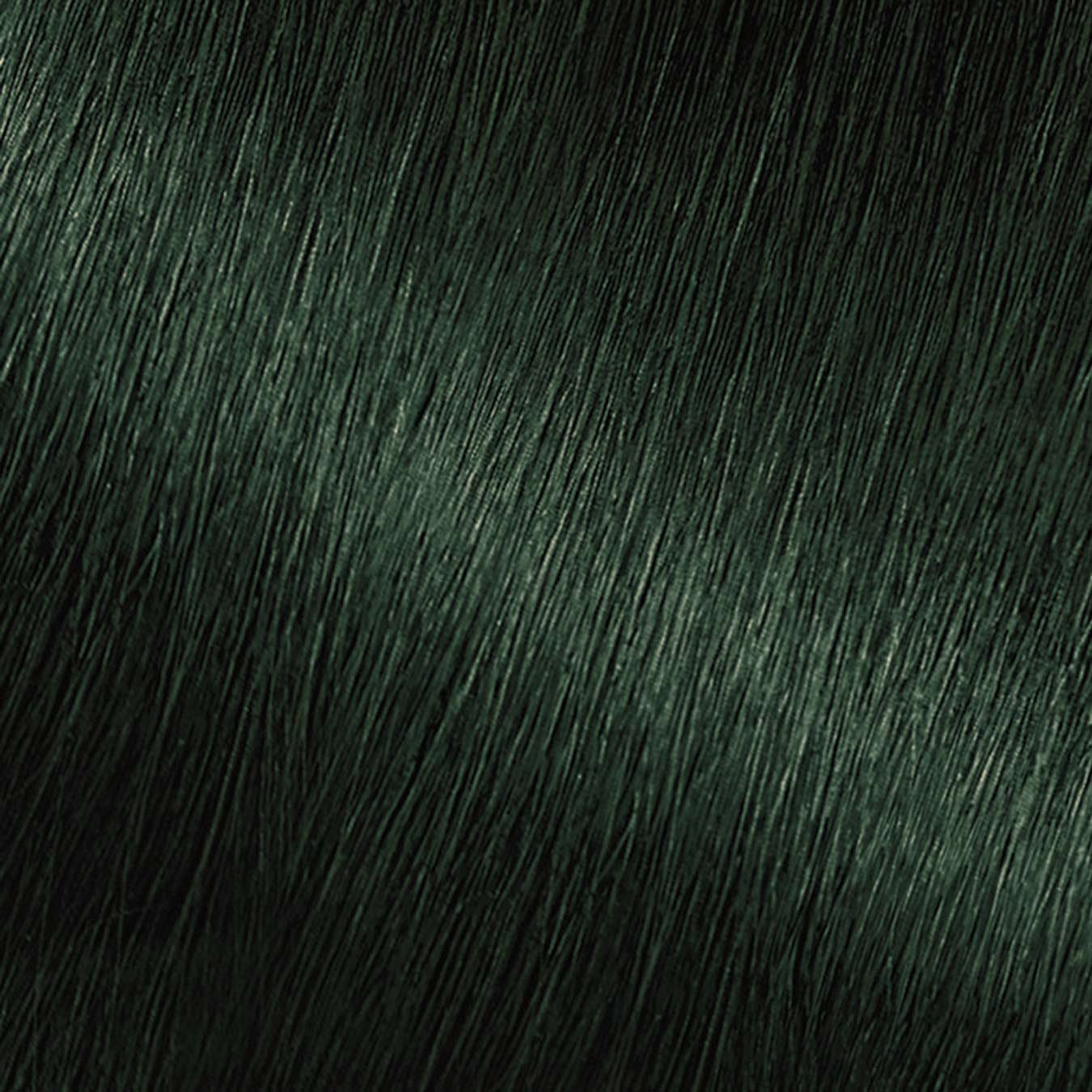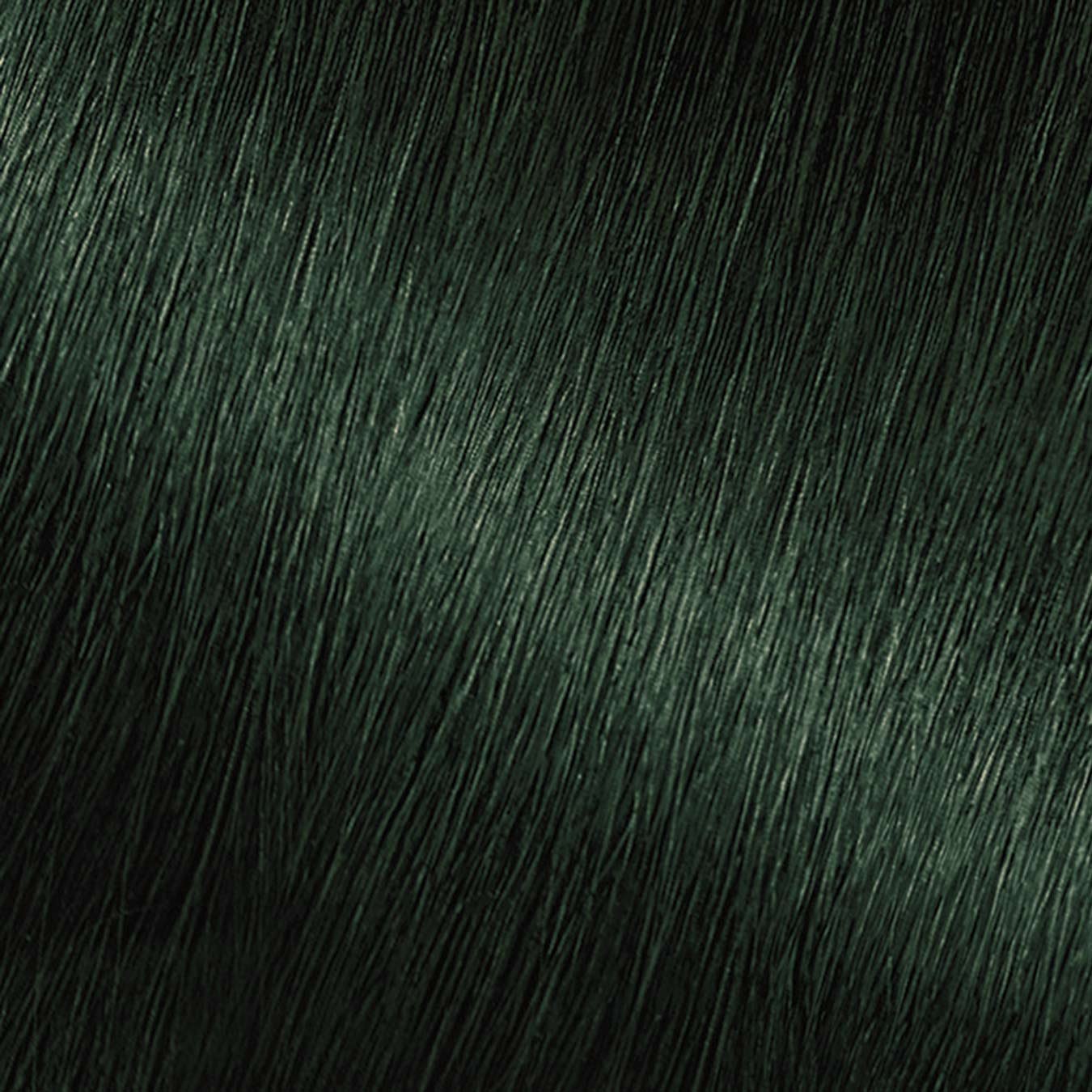 Matcha Latte EM1
Garnier Nutrisse Ultra Color
$7.99 MSRP
Permanent, nourishing hair color creme with three fruit oils- avocado, olive, and shea
IMPORTANT: Like how this shade looks on you? Make sure it works with your hair. Take our 1-minute haircolor quiz to be certain.
PRODUCT INFORMATION:
Garnier Nutrisse Ultra Color Nourishing Hair Color Creme dramatically transforms naturally dark hair with ultra reflective tones.

Choose from Ultra Light Blondes, Ultra Intense Reds and Burgundies, Ultra Lightening Browns, and Ultra Reflective Blacks. Ultra Light Blondes take dark brunettes to blonde without bleach, Ultra Intense Reds and Ultra Intense Burgundies offer vibrant red tones for darker hair, Ultra Lightening Browns lift dark hair up to three shades lighter without the brassiness, and Ultra Reflective Blacks transform even the darkest hair with visibly reflective, shiny tones.

Garnier Nutrisse Ultra Color Nourishing Hair Color Creme comes with an ampoule of grapeseed oil to start nourishing hair while you color because nourished hair means better color. The non-drip hair color formula spreads easily and the after-color conditioner is infused with 3 fruit oils--avocado, olive and shea--for silkier, shinier, more nourished hair.

Packaging may vary, what you receive may not be what is reflected on site.
How To Use
Applying Nutrisse: Nourished Hair means Better Color Garnier Nutrisse Hair Color nourishes while it colors with a rich, non drip creme formula, and with an ampoule of grape seed oil, it smells great while you apply.

Follow this step-by-step process when applying color at home:

1) Always do a skin test 48 hours before.
2) Apply to dry, unwashed hair.
3) Apply gloves, squeeze colorant (tube b) into developer bottle (a).
4) Break off the tip and shake the bottle vigorously.
5) Start applying color at the roots, then away from roots to the tips.
6) Extend color through the ends, and massage into hair.
7) Leave formula on for 25 minutes or 30 minutes if you have lots of gray hair or resistant/coarse hair.
8) Massage hair thoroughly before rinsing to optimize rinsing process.
9) Rinse hair thoroughly until water runs clear.
10) Apply conditioner after color and leave on for two minutes, then rinse thoroughly.

See our How-To videos for detailed instructions on how to apply.
Tip: Try Micellar Cleansing Water, Waterproof to remove hair color stains
Ingredients:
Ampoule 1028840 PARAFFINUM LIQUIDUM / MINERAL OIL / HUILE MINERALE
VITIS VINIFERA SEED OIL / GRAPE SEED OIL
PARFUM / FRAGRANCE
TOCOPHEROL
HELIANTHUS ANNUUS SEED OIL / SUNFLOWER SEED OIL
ROSMARINUS OFFICINALIS EXTRACT / ROSEMARY EXTRACT
Conditioner 1100858 3 AQUA / WATER / EAU
CETEARYL ALCOHOL
ELAEIS GUINEENSIS OIL / PALM OIL
BEHENTRIMONIUM CHLORIDE
CAMELLIA SINENSIS LEAF EXTRACT
BUTYROSPERMUM PARKII BUTTER / SHEA BUTTER
OLEA EUROPAEA OIL / OLIVE FRUIT OIL
STEARAMIDOPROPYL DIMETHYLAMINE
NIACINAMIDE
SACCHARUM OFFICINARUM EXTRACT / SUGARCANE EXTRACT / EXTRAIT DE CANNE A SUCRE
GLYCERIN
GLYCINE SOJA OIL / SOYBEAN OIL
RIBES NIGRUM SEED OIL / BLACK CURRANT SEED OIL
PYRIDOXINE HCl
ISOPROPYL ALCOHOL
CITRIC ACID
CITRUS LIMON PEEL EXTRACT / LEMON PEEL EXTRACT
PERSEA GRATISSIMA OIL / AVOCADO OIL
PYRUS MALUS FRUIT EXTRACT / APPLE FRUIT EXTRACT
TOCOPHEROL
PHENOXYETHANOL
CHLORHEXIDINE DIHYDROCHLORIDE
CI 15985 / YELLOW 6
CI 19140 / YELLOW 5
PARFUM / FRAGRANCE
LINALOOL
BENZYL ALCOHOL
Developer 1190015
AQUA / WATER / EAU
HYDROGEN PEROXIDE
CETEARYL ALCOHOL
SODIUM SALICYLATE
TRIDECETH-2 CARBOXAMIDE MEA
PHOSPHORIC ACID
CETEARETH-25
TETRASODIUM ETIDRONATE
TETRASODIUM PYROPHOSPHATE
GLYCERIN
Colorant
AQUA / WATER / EAU
CETEARYL ALCOHOL
PROPYLENE GLYCOL
DECETH-3
LAURETH-12
AMMONIUM HYDROXIDE
OLETH-30
LAURIC ACID
HEXADIMETHRINE CHLORIDE
GLYCOL DISTEARATE
N,N-BIS(2-HYDROXYETHYL)-p-PHENYLENEDIAMINE SULFATE
POLYQUATERNIUM-22
ETHANOLAMINE
SILICA DIMETHYL SILYLATE
CI 77891 / TITANIUM DIOXIDE
2,4-DIAMINOPHENOXYETHANOL HCl
ASCORBIC ACID
TOCOPHEROL
SODIUM METABISULFITE
HYDROXYBENZOMORPHOLINE
HELIANTHUS ANNUUS SEED OIL / SUNFLOWER SEED OIL
DIMETHICONE
1-NAPHTHOL
PARFUM / FRAGRANCE
CARBOMER
ROSMARINUS OFFICINALIS EXTRACT / ROSEMARY EXTRACT
EDTA
VITIS VINIFERA SEED OIL / GRAPE SEED OIL
F.I.L. D25829/7, D214819/1, D209747/7, D223967/1
Rated

5

out of

5
by
MrNicki83
from
I am SO in Love!
I read the reviews for this color after buying two boxes on clearance. Most stated their hair turned blue. I already had hair that was denim blue, purple and silver due to fading. So I figured what did I have to lose? I am beyond happy with the results! It most definitely isn't green but a beautiful Navy blue that I always wanted to have. The color payout makes the chemical burns I got make it SO worth it!! I have already used it twice and I will keep using it.
Date published: 2020-02-08
Rated

1

out of

5
by
Chloe23
from
Doesn't work
I hadn't colored my hair in a year, the instructions say to use if hair hasn't been colored in 3 months or longer, my hair is a medium brown and after 30 minutes it's still brown.
Date published: 2020-01-30
Rated

1

out of

5
by
_Gabbs_
from
disappointed
I have like a medium brown natural hair and I was super excited to use this product and It absolutely ruined my hair it looks semi green but more than anything it bleached my hair it's even lighter than it originally was probably not gonna buy this color ever again.
Date published: 2020-01-28
Rated

2

out of

5
by
Anonymous
from
Did not work!
I love this color and was so excited to dye my hair. My hair is medium to dark brunette (it's more medium) and it just looks a little bit darker than my natural hair color. My hair doesn't look green at all and I left it in for 30mins instead of 25
Date published: 2020-01-26
Rated

5

out of

5
by
Weirch
from
Wow
I love this color I wish I found it sooner. It isn't a green green but I live the color I got anyway it actually turns a greenish blue a color that I've been trying to achieve with the other blue dyes of this brand but can never achieve and now I got it buying this one. So hopefully I can keep getting this color and it doesn't become discontinued. I have a medium brown hair color. I need to get a second box cause it didn't cover all my hair and I have medium length hair.
Date published: 2020-01-03
Rated

4

out of

5
by
Rzombie79
from
Loved the color on the box!
I was excited to see one of my favoroite colors for sale. But it ended up not being the color of my hair. I left it on for 30 minutes. The color that washed out wash dark blue. The same color as when I use black dye. Hopefully I will see a little green. But with still wet hair it looks black, which is fine. I usually dye my hair black.
Date published: 2019-12-21
Rated

1

out of

5
by
Carollll
from
Blue not green:(
I've been wanting to do a nice green to my hair and was really disappointed to see it turn blue. It has nothing to do with the base color cause any paint drips I had stained blue as well. :(
Date published: 2019-11-21
Rated

3

out of

5
by
Steph_89
from
Blue not green
I love the brand but I wanted green and it like a lot of people have mentioned it turned blue. I love the blue that it turn (actually it was the blue that I was trying to get a few months ago) BUT I wanted green.
Date published: 2019-10-13
Rated

1

out of

5
by
sarahhh123
from
don't recommend at all
my hair isn't even emerald green it's literally black. like jet black and i dyed it on my very light brown hair. it's really not worth buying this at all. be prepared to be disappointed.
Date published: 2019-10-06
Rated

1

out of

5
by
FinT
from
Extremely Disappointing results...
When I tried it the first time, I had dyed-red hair that was growing out. It turned a beautiful dark emerald, and I was in love. I've gotten in twice since then, with my hair it's natural medium auburn (and it's been cut short since, no possible hair dye still in it) and BOTH times it's turned out an intense denim blue-- it's almost as if the bottles were switched with the "intense indigo" exactly, which is what I thought after the first time it had happened. But with it happening again just now, I'm not so sure and am just extremely disappointed. It's a beautiful shade of blue, but it is not the green I wanted. I feel like I keep chasing that first outstanding shade of green that I'd had.
Date published: 2019-09-28
Rated

1

out of

5
by
MandiAnn93
from
Its Blue Black not Green...
Since absolutely love this brand of hair dye, I was excited to see a green one. Imagine my disappointment when the dye that came out of the bottle was a deep silver-ish blue and now my hair is black with a hint of blue. If I wanted blue hair. I would have bought blue. So disappointed.
Date published: 2019-09-27
Rated

5

out of

5
by
zombieerin
from
It covered my grays!!!!!!
After trying everything to find a green to cover my grays its amazing be warned it starts blue but quickly goes box color!
Date published: 2019-09-26
Rated

1

out of

5
by
Kayfun
from
Blue
I just dyed my hair today with Dark Matcha and my hair is blue. The box showed it would turn my hair color green. Its not an ugly shade of blue, but I bought green dye not blue
Date published: 2019-09-13
Rated

1

out of

5
by
Nena10
from
Don't buy!
I had just tried this out last week bought 3 boxes because I do have a lot of hair, did absolutely nothing to it! Was a waste of money not happy at all.
Date published: 2019-08-27
Rated

1

out of

5
by
Striker
from
Crushed
I'm so bummed. I was so excited to try this, and, since my hair color matches the dark color example on the box, I was eager to have that pretty green color. Well, I followed the instructions, and...it's not green. At all. I'm crushed. It's practically black with the slightest purple/blue sheen—and that only in super-bright light. I'm so disappointed.
Date published: 2019-08-15
Rated

1

out of

5
by
Saltykitsune
from
Ruined my hair
Do not buy this. I had light brown/ medium brown hair I dyed my hair with this and it literally made my hair 4 or 5 different shades of blue. It looks absolutely horrible. Now I have to go out and try to find something darker to put over it seeing as I can't go into work in two days looking like a 13 year old the dyed their hair he first time. Completely ridiculous!
Date published: 2019-08-11
Rated

1

out of

5
by
KatD1390
from
Garbage
Not green in the least. Turned my highlights deep teal and did NOT take at all on my natural medium roots.
Date published: 2019-07-28
Rated

5

out of

5
by
xjules
from
Beautiful emerald coloring and leaves it silky!
My hair is naturally dark and never takes in colors like blue, purple, etc but this Dark Matcha color really turned out great. My hair has a beautiful hue that is not overly bearing or green. You mainly see the color in the light but it does not look too dark indoors. I would definitely re-dye once it fades. This will be my new go to color.
Date published: 2019-07-26
Rated

1

out of

5
by
Agui86
from
Horrible results!
I used this product last night and did not get the expected results. I have dark brown hair that has not been treated with hair color in over 7 years. I finally chose to dye my hair as I have some white hair. Thought this would be an awesome color but it did not work. I saturated my hair in the product for 30min and all of my white hair still shows! It's either still white or a shade of blue that stands out even more... very disappointed ☹️
Date published: 2019-07-05
Rated

1

out of

5
by
kennedypaige1218
from
Fairly Disappointing
I actually have just dyed my hair this box color tonight, was insanely excited as the color was such a gorgeous green that I have been wanting to do forever. I have fairly light blonde hair but not bleached, and it turned out dark blue. Although the blue is very pretty it was not what was intended and I am particularly sad as I love this brand and how it works with my hair, but this box was very disappointing.
Date published: 2019-07-01
Rated

1

out of

5
by
Alex111
from
Worst product ever
This color is utter garbage, it did not add the smallest hint of color to my lengths that were previously colored with the deep indigo from the same line, and lightened my natural roots to a horrible orangey light brown.Not a single strand had even a little green to it . Useless product that wasted my time and my money. Please improve formula or pull off the market. Oh, and please I want my money back.
Date published: 2019-06-29
Rated

1

out of

5
by
Jenn44
from
Not as advertised
I just tried this out and it will not work on natural brown hair. I have natural dark brown to highlighted brown (from sun not bleached or dyed) the highlighted portions come out a more teal or aqua which I've seen in the comments, the lighter brown did show up green but not a deep emerald and it lightened my roots to a swampy yellow green. I'm not sure what color hair this will work on but it must be very specific like the one girl on the box specific. I have dark brown to light brown and not one area reached a emerald green. Looks like I will have to buy a semi permanent like Artic Fox or Splat to get my desired result. Very disappointed I'll have to be swamp lady for a while.
Date published: 2019-06-25
Rated

1

out of

5
by
Liza J
from
It's useless.
Bought this to try a nice dark green that should just show up in my highlights like other different brands have in the past. Saturated the hair very well and let it sit for 45 minutes. Followed all the instructions with the conditioner and it still completely washed out (blue, of all things). Didn't even dye the white hairs or hit the highlights. "Even dark brunette can achieve ultra bold emerald reflects", left my hair feeling a little fried but that's about it.
Date published: 2019-06-16
Rated

1

out of

5
by
Splinda
from
Blue, not green
Do not buy unless you want blue hair. What's weird is that while the dye was in my hair, it turned green, when I rinsed my hair was green, after I left the conditioner in and rinsed it was blue. Reading responses from other reviews I keep seeing that results will be more "intense" on hair color lighter than light brown. More "intense" emerald green should still contain some trace of green. This does not. I'm going to try Arctic Fox over it to see if I can get some kind of green going on. From reading reviews it looks like samples of this product gives a dark green while the full retail size results in blue.
Date published: 2019-06-08
Rated

2

out of

5
by
tyche
from
It's a pretty teal
I should have known that permanent dark green was too good to be true. The green shown on the box isn't blue at all, so the teal I ended up with was a big surprise. There are plenty of Garnier products I love, but this isn't one of them!
Date published: 2019-06-06
Rated

1

out of

5
by
nope19
from
Garbage Color, don't do it.
Bought this yesterday and my brother very thoroughly covered my shoulder length hair with it. We used the entire bottle. I had read some reviews prior to trying it, and was willing to possibly end up with a denim blue color if the green didn't show well enough. The dye, when mixed, is very very blue. Rinsing, it is blue. When I finished my thorough rinse and dried it, I was absolutely horrified. Yes, SOME parts of my hair were a swampy green color, but it wasn't even close to the box color, and even though we covered every single strand of my hair with the dye, it was blotchy, didn't take, and wasn't even a good, solid green where it did settle in. I am honestly so disappointed in this color. It came out looking about the same quality as taking a photo of a dumpster on fire, rolling down a steep San Franciso street, using an ancient Nokia phone. Read the reviews, take them with a grain of salt, and then straight up do not get this color. It is NOT worth it even in the slightest. Get your act together, Garnier Nutrisse.
Date published: 2019-06-03
Rated

2

out of

5
by
WhatsToday
from
Color Is Not Accurate
I bleached my sister's hair beforehand and it lifted to a very decent blonde. Waited two days and used two boxes ofthis hair dye. The color did not turn into a dark green. Instead it was more of a dark blue color. Since I took the pictures in the sunlight it's ligher than if it had been taken inside a building or house. It's a nice color, but just not the one that's advertised.
Date published: 2019-06-01
Rated

1

out of

5
by
TheRrrra
from
So...
So I love this brand and the feeling of my hair after the dye... BUT I have dark brown hair and was hoping for even just a tint, as that was what I wanted originally, dark hair with a greenish tint. I was a little wary because I had read some of the reviews beforehand but thought if anything my hair would just become darker or dark blue (which I would've been fine with too) but it made my roots a lighter brown, lighter than my natural color. I no longer bleach my hair so I was shocked when I saw how light my roots were...I wonder if you guys will try this color again or how exactly that works...because the color on the box is just so lovely.
Date published: 2019-05-29
Rated

5

out of

5
by
x1csny3x l
from
it is AWESOME
Starting with a box dye dark brown over a natural ash blonde, this dye made my hair more of a deep denim. After a few washes it was beautiful and definitely the color I anticipated.
Date published: 2019-05-18
Rated

1

out of

5
by
Jayde725196
from
NOT DEEP EMERALD!!!
per my job, i cannotnhave bright funky colors. I thiught using this deep emerald would.give memthat off black greenish look. ABSOLUTELY not! My hair is BLUE!! BRIGHT BLUE! luckily i got to sallys and got a different ion dyebthat im goong to habe ti use before my 7am shift tomorrow !
Date published: 2019-05-12