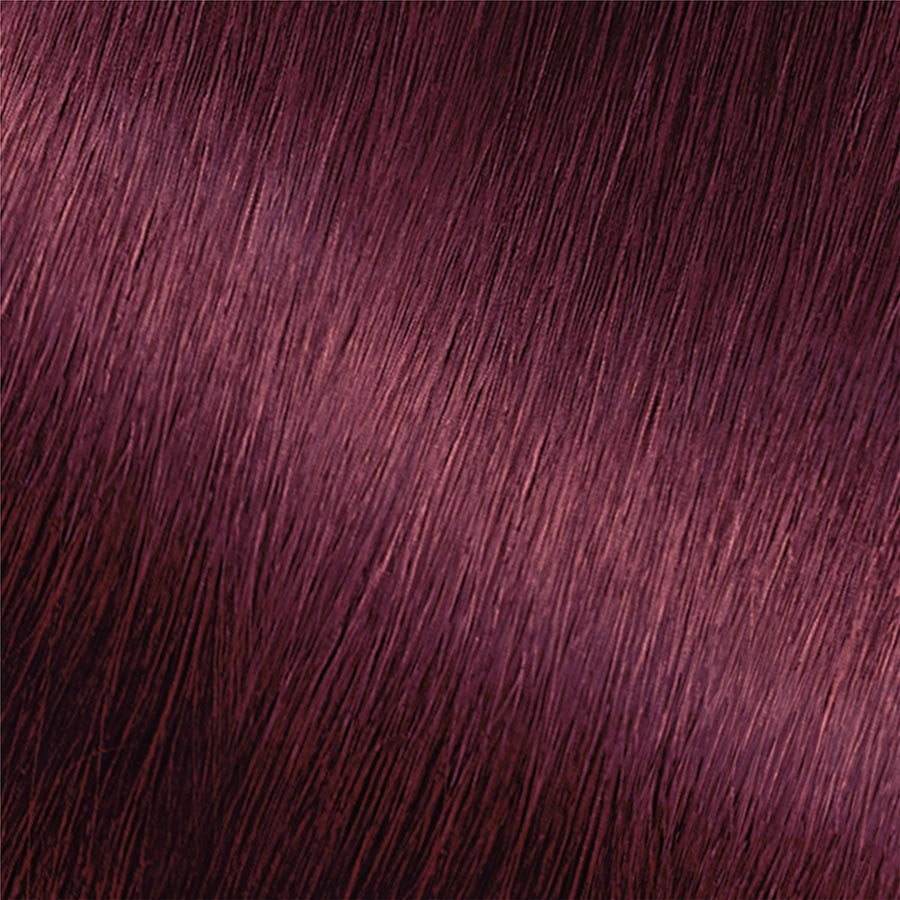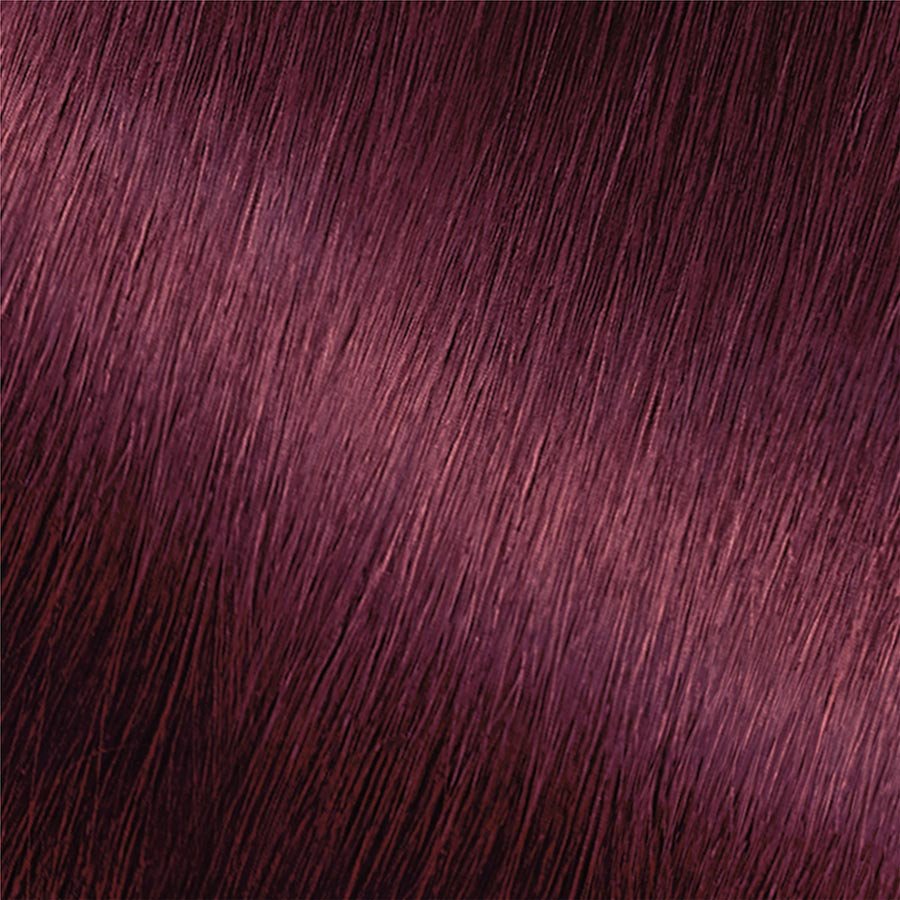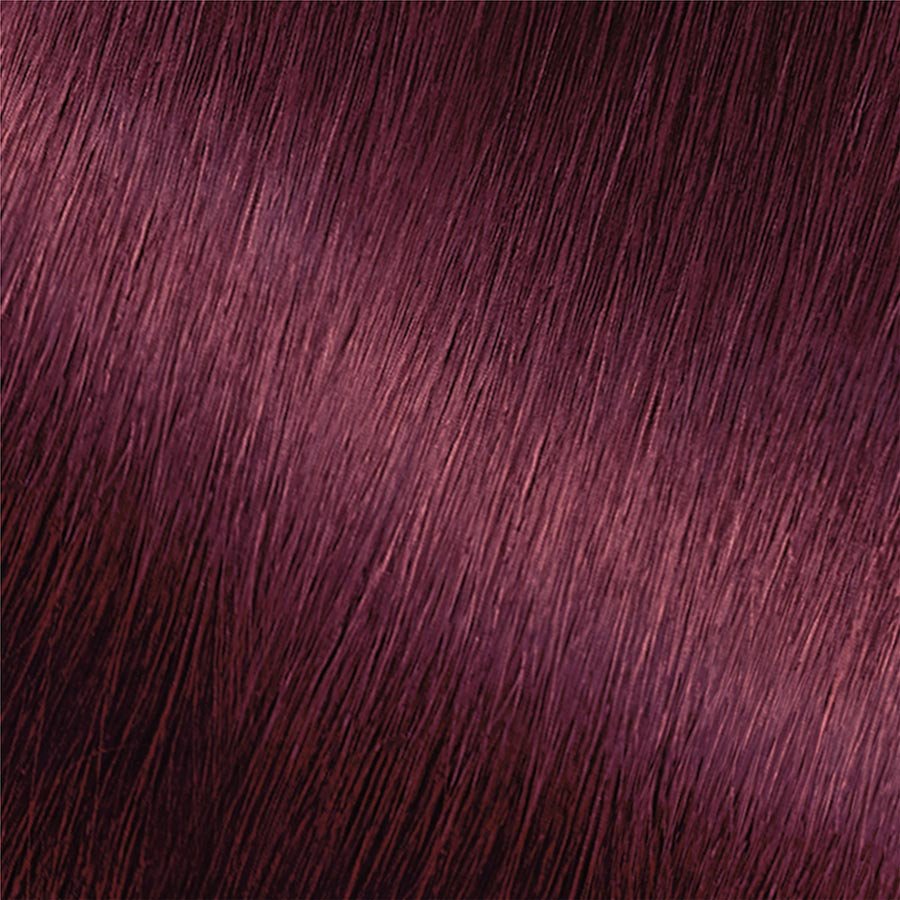 Garnier Nutrisse Ultra Color
Ultra Color BR2 - Dark Intense Burgundy
$7.99 MSRP
The Nutrisse Ultra Color series is exclusively designed to transform dark hair with ultra-reflective tones - in just one easy step!
PRODUCT INFORMATION:
The Nutrisse Ultra Color series is exclusively designed to transform dark hair with ultra-reflective tones - in just one easy step! Choose from four shade families: Ultra Intense Reds for visibly intense red tones on darker hair, Ultra Lightening Browns to take dark hair up to three shades lighter without the brassiness, Ultra Reflective Blacks to transform even the darkest hair with visibly reflective, shiny tones, and Ultra Lightening Blondes to lighten dark bases up to 4 levels without the brassiness.

How is it different?
Nutrisse Ultra Color has color-boost technology that nourishes while it dramatically lifts even the darkest hair. No bleach!

Is BR2 right for me?
Garnier Nutrisse Ultra Color BR2, "Medium Intense Burgundy," is the middle of our three Ultra Color Burgundy shades and gives hair a medium, intense burgundy reflect. It is best for anyone with natural hair between medium brown and black. Explore our other two shades: BR1 and BR3.

*For women with currently colored hair, there are special considerations for the color result you can achieve. Because of this, we do not recommend shade BR2 for hair that has been previously bleached, highlighted, hair that is predominantly gray, or if you have previously colored your hair "Medium Brown" or darker. For more help, use our Shade Selector Tool to find the perfect shade for you!
How to use:
Applying Nutrisse: Nourished Hair means Better Color Nutrisse nourishes while it colors with a rich, non drip creme formula, and with an ampoule of grape seed oil, it smells great while you apply.

Follow this step-by-step process when applying full-head color at home:

1) Always do a skin test by following the insert instructions in the kit 48 hours before.
2) Apply to dry, unwashed hair.
3) Apply gloves, squeeze colorant (B) into developer bottle (A).
4) Break off the tip and shake the bottle vigorously.
5) Start applying mixture through roots first before spreading through mid-lengths and ends until hair is saturated. Leave formula on for 25 minutes.
6) Massage hair thoroughly before rinsing to optimize rinsing process.
7) Rinse hair thoroughly until water runs clear.
8) Apply Nourishing Conditioner (D) and leave on for two minutes, then rinse thoroughly.

If you only need a root touch-up, please follow insert Touch-Up Application instructions.

Always read insert instructions before applying any hair color.
Ingredients:
Aqua / Water / Eau, Cetearyl Alcohol, Deceth-3, Propylene Glycol, Laureth-12, Oleth-30, Ammonium Hydroxide, Lauric Acid, Hexadimethrine Chloride, Glycol Distearate, Toluene-2,5-Diamine, Resorcinol, Ethanolamine, Polyquaternium-22, Silica Dimethyl Silylate, Ci 77891 / Titanium Dioxide, 2,4-Diaminophenoxyethanol Hcl, M-Aminophenol, Ascorbic Acid, Sodium Metabisulfite, Thioglycerin, 2-Methylresorcinol, Dimethicone, Pentasodium Pentetate, N,N-Bis(2-Hydroxyethyl)-P-Phenylenediamine Sulfate, Parfum / Fragrance, Carbomer, Vitis Vinifera Seed Oil / Grape Seed Oil.
Avocado Oil
A smoothing and silkening hair booster, Avocado Oil is loaded with plant-based fatty acids, which have a unique ability to penetrate for deep long-lasting effects. This rich indulgent ingredient helps to smooth split ends while adding a brilliant shine.
Olive oil
Olive Oil, which contains antioxidants, has been a high-performance beauty elixir for centuries. In hair care formulas it helps coat hair, leaving strands strong, glossy, and resilient. In face moisturizers, it soothes as it smoothes for glowing skin.
Rated

1

out of

5
by
DisappointedinATL
from
Did Nothing
I followed the instructions to the letter and my hair came out the same as it was before. Very disappointed now I have to wait before I can try again.
Date published: 2018-10-23
Rated

1

out of

5
by
Hershie
from
My hair turned black
This was the worst hair dye I have ever used it actually changed the hair altogether to a shade that looked black. I was very disappointed
Date published: 2018-10-14
Rated

5

out of

5
by
carolinehdd3f
from
I usually buy my hair color from Sally's but I was in a pinch and I went with this product and I really liked it! Garnier usually has pretty good products so I remained pretty confident and was not disappointed. The smell was not too harsh and my hair felt soft and healthy after the coloring. Whether you usually go to Sally's or buy store brand hair dye I would definitely give this beauty a try!
Date published: 2018-09-30
Rated

3

out of

5
by
kassandraroseblum
from
This is a very beautiful color. And I love the way that my hair fell out after I used it. I had just cut a whole bunch off. If feel so healthy. But it did wash out very quickly. I've only had it just a few weeks and the ends are already starting to go a light shade of almost pink. Like a red wine stain. I will purchase again I'm sure.
Date published: 2018-09-29
Rated

4

out of

5
by
moon1d
from
I tried the red color. This red is dark without looking brown and bright without looking pink or orange. Sounds impossible, but it looks red in a poorly lit room and vibrant in the sun. It lightens dark hair beautifully and leaves your hair soft and smelling like the concentrated fruit oil included in the kit. I wish I could buy a few gallons of that stuff for use as a deep conditioner and perfume. It has amazing staying power in virgin hair and healthy treated hair, much better than any other red I've used and I've tried them all from drug stores to Sally's to salons.
Date published: 2018-09-18
Rated

5

out of

5
by
blogger_deepajaisingh
from
Oh what colour it gives. Never had any issues, not drying and moisturises as it has olive content. Much better than other wella, loreal. Good coverage
Date published: 2018-09-17
Rated

4

out of

5
by
labrishanicolewilloughby
from
This is affordable, a decent dye for what you're paying. Smells about the same as most at home due. It was easy to use. Color is exactly what I was hoping for, didn't fade after many washes.
Date published: 2018-08-31
Rated

5

out of

5
by
mariahsmom21
from
Pleasantly surprised
I just used this Dark Intense Burgundy color last night and I love it. I have naturally regular brown hair, but when I dyed it last night, it was my natural color at the roots but very blonde the rest of the way from having done at the salon a few months ago. This evened out my whole head to this purple-y color and I love it. I can't speak to how long it lasts yet, and burgundys/reds tend to last less than other colors but we shall see, the other reviews make me hopeful. For the price, I will just buy another box and do it again in a month or 6 wks. The avacado oils and conditioner really give it nice moisture.
Date published: 2018-08-31
Rated

5

out of

5
by
shawnalee16752
from
This is the MOST ABSOLUTEY AMAZING hair color I have ever used in my life!! It is a wonderful color,and it lasts. It also makes and keeps your hair beautifully soft!!! I would never use any other hair dye on my hair ever!
Date published: 2018-08-25
Rated

5

out of

5
by
kendrav3178
from
Love this one too it comes out great every time... And it makes my hair shiny and it stays healthy would recommend it to anyone
Date published: 2018-08-24
Rated

1

out of

5
by
Rissa89
from
Not As Advertised
I am very dissatisfied with this product. I bought this product from Target thinking it would work on my hair, because it says on the box, if you have black hair it would look med to burgundy?! So, I came home and used two boxes only for all the dye to rinse right out my hair! I followed the instructions to the T, so I'm not sure why it didn't work??? I haven't colored my hair in two-three years so I am very unclear as to why it didn't work? Waste of time & my money! I am very upset and will never buy these products again!!!!!!
Date published: 2018-08-18
Rated

5

out of

5
by
brenndastacey
from
With having blue black hair im always dying my hair! So I always turn to this brand bc its long lasting and the avocado oil conditioner that comes with it makes my hair feel so amazing and gives it an amazing shine as well
Date published: 2018-08-17
Rated

5

out of

5
by
mariahhughesbf8c8da1
from
Okay I love this color and I trust this coloring system. It is super easy to use, develops fast and rinses easily. The color is vibrant and fun.
Date published: 2018-08-16
Rated

5

out of

5
by
sbartle75
from
Great hair dye!! Leaves your hair soft and silky. The colors look so vivid. Ladies if you color your hair I recommend you try this product.
Date published: 2018-08-15
Rated

4

out of

5
by
splootella
from
I used the color in BR1 Ultra Bold Burgundy and I was really happy with how it turned out immediately after dying. The color was a very deep red-black and it looked incredible in the sunlight (brilliant red undertones on that deep black-ish color). However, it doesn't look that awesome in all lighting. At home or at the office, it just looked like a very dark shade of brown. It also faded very quickly, much to my dismay with shampooing (even though I used color safe shampoo and was careful to not over shampoo). It was extra frustrating that the color was still running out of my hair for a few days after dying. Though, that is more about my hair's texture and quality (dyes regularly have a VERY hard time sticking to my hair and actually coloring it). I really would recommend these colors as they're very fun and the color does turn out great.
Date published: 2018-08-07
Rated

5

out of

5
by
thjewett
from
I like the hair color. It was easy to use and have had no negative skin reaction. The color has not washed away too much. My natural hair is dark brown.
Date published: 2018-08-04
Rated

1

out of

5
by
Justine13
from
Didn't really work
My natural hair is dark brown almost black and I used to dye it jet black but I hadn't dyed my hair since last year so my hair looked back to its natural color and this hair dye said it'll work for dark bases but it didn't it just has a slight tint that you can only see in the light
Date published: 2018-07-30
Rated

3

out of

5
by
kearstinc1
from
Not really a burgundy colour it is more of a brown colour. Also fades very fast. The brand isn't too bed but this color sucks. I wouldn't buy it again.
Date published: 2018-07-30
Rated

4

out of

5
by
jamies6
from
I love the coverage I get with this hair color. The shade is perfect and I love how great it smells and feels when Im done.
Date published: 2018-07-22
Rated

3

out of

5
by
kristenib6c2
from
I usually have luck with Nutrisse on my naturally dark brown hair. This color, however, faded out after about 2-3 days and my hair didn't really even look like I dyed it. It was easy and quick to use though. I'll try again with a different shade.
Date published: 2018-07-16
Rated

1

out of

5
by
tricyia
from
No changes
tbh, i had used this product 2 days ago. My hair didn't change to red burgundy at all and my hair still in black colour. I think I had used it according to the directions given. How can this happened?
Date published: 2018-07-01
Rated

5

out of

5
by
raelynnm1
from
Yes, would love to try this color out. I love Garnier Nutrisse hair color. It smells so good and leaves my hair feeling so soft and the color does last a good while and a great bargin for the cost.
Date published: 2018-06-29
Rated

1

out of

5
by
heatherg04b3
from
I received the garnier nutrisse in deep violet to try out for free courtesy of influenster. I had just had my hair dyed professionally so I had to wait a bit before I could try it on very light brown hair. It washed out within a week. It didnt give me a fun violet color or even a glimmer of the pretty color on the box. I actually love garnier products and will continue to buy them but this didnt work out for me.
Date published: 2018-06-25
Rated

5

out of

5
by
ahlgxo
from
Love this product! Full coverage and doesn't fade too fast. Easy to apply and wash out, color is as shown on the box
Date published: 2018-06-25
Rated

4

out of

5
by
gomez_rocii_
from
I rarely dye my hair. About a month ago i used this and I'm ok with the color. Since my hair is dark you can notice the color a little bit. It's very easy to use. Instructions are easy to follow.
Date published: 2018-06-24
Rated

4

out of

5
by
Sami219
from
it dyed my scalp, not my hair
i have almost black hair, and it didn't change the color but it made my scalp purple. i feel like if my hair was lighter it would have worked but the box said for dark hair so i thought I'd give it a try. the color is gorgeous, if only my head wasn't purple now! but i will try it again and hopefully it works this time! made my hair so soft and shiny and definitely would recommend this dye but more so if your hair is not black.
Date published: 2018-06-21
Rated

4

out of

5
by
jennbice6
from
Great hair die. When I am trying to go back to my natural color this is thest to do it with. Makes my hair actually feel healthy and sometimes even better than it was before.
Date published: 2018-06-19
Rated

4

out of

5
by
ellissam
from
This is a good product for any color! Easily affordable and also an easy color application. This is one of my favorite products from Garnier
Date published: 2018-06-18
Rated

5

out of

5
by
china_68
from
The only hair dye I use because it's easy to get out and won't stain your face and forehead. I used Blackest Black
Date published: 2018-06-15
Rated

5

out of

5
by
kristinebec95
from
This is my all-time favorite hair color I've been coloring my hair this color for years makes my hair soft
Date published: 2018-06-15