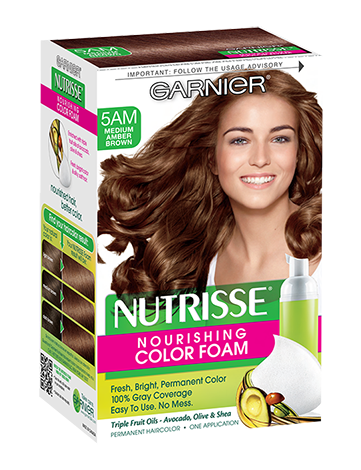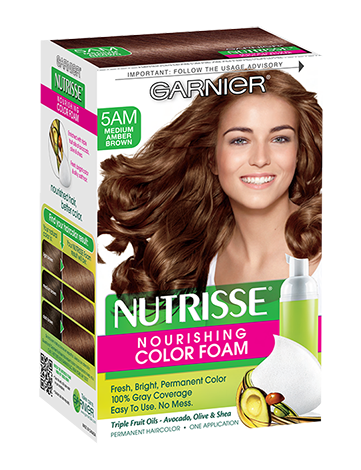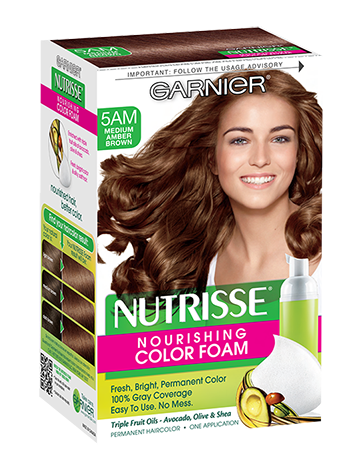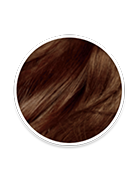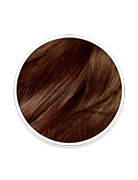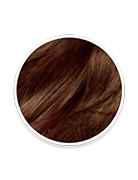 Garnier Nutrisse Color Foam
Nourishing Color Foam 5AM - Medium Amber Brown
PRODUCT INFORMATION:
Is it right for me?
For an Easy, No Stress, No Mess application, try our Nourishing Color Foam.
How is it different?
Enriched with nourishing triple fruit oils - avocado, olive and shea - Nutrisse Nourishing Color Foam is our first foam to nourish, while locking in your radiant color and moisture. This creamy foam gives you fresher, brighter, permanent color results* and 100% gray coverage.
*vs. before coloring
Product Discontinued. Please see Garnier's
Nourishing Color Creme 535 - Medium Golden Mahogany Brown .
How to use:
It's a no stress, no mess application – comes with an easy-to-use pump applicator which dispenses a non-drip, creamy foam that smells great and lathers-in like a shampoo. Quick and comfortable to apply, for All-Over or Root Touch Up applications. See our How-To videos for detailed instructions on how to apply. Fresher, brighter permanent color results with 100% gray coverage. Available in 18 radiant shades.

Nutrisse Nourishing Color Foam also comes in an FSC-certified carton packaging with PVC-free gloves to help sustain a cleaner, greener future.
Ingredients:
Liquid-To-Foam Colorant: Aqua/Water, Alcohol Denat., Peg-4 Rapeseedamide, Glyceryl Lauryl Ether, Deceth-3, Propylene Glycol, Laureth-5 Carboxylic Acid, Ethanolamine, Dipropylene Glycol, Hexylene Glycol, Ammonium Hydroxide, Poloxamer 338, Polyquaternium-6, Oleyl Alcohol, Parfum/Fragrance, p-Aminophenol, Resorcinol, Ammonium Thiolactate, 2-Methyl-5-Hydroxyethylaminophenol, Toluene-2,5-Diamine, 2-Methylresorcinol, Erythorbic Acid, 2-Amino-3-Hydroxypyridine, EDTA, m-Aminophenol, Sodium Metabisulfite, Thioglycerin. F.I.L. D49972/2. Liquid-To-Foam Developer: Aqua/Water, Hydrogen Peroxide, Glycerin, Laureth-11, Tetrasodium Etidronate, Tetrasodium Pyrophosphate, Sodium Salicylate, Phosphoric Acid. F.I.L. D48403/8. Nourishing Conditioner: Aqua/Water, Cetearyl Alcohol, Behentrimonium Chloride, Peg-180 Cetyl Esters, Niacinamide, Ribes Nigrum Oil/Black Currant Seed Oil, Saccharum Officinarum Extract/Sugar Cane Extract, Hydroxyethylcellulose, Olea Europaea Oil/Olive Fruit Oil, Trideceth-6, Chlorhexidine Dihydrochloride, Camellia Sinensis Extract/Camellia Sinensis Leaf Extract, Benzyl Alcohol, Linalool, Amodimethicone, Isopropyl Alcohol, Pyrus Malus Extract/Apple Fruit Extract, Parfum/Fragrance, Pyridoxine HCl, Persea Gratissima Oil/Avocado Oil, Methylparaben, Butyrospermum Parkii Butter/Shea Butter, Citric Acid, Cetrimonium Chloride, Butylphenyl Methylpropional, Citrus Medica Limonum Peel Extract/Lemon Peel Extract. F.I.L. D42540/5.
Rated

5

out of

5
by
Megan10
from
Best Foam Hair Color
This stuff is awesome! I have tried a few different shades and brands of foam hair color, and I haven't been too impressed with any of them; they always faded rather quickly and never colored the handful of grey hairs that I have. But this foam color is honestly the best hair color that I have used so far. It is very easy to apply, and not messy at all. It does not have a very strong smell like liquid or some cream colors do. It also rinses out very neatly, so you don't have to tangle your hair up by scrubbing with shampoo to get the excess off. I was extremely impressed with the quality of this color. It covered all my roots (even the greys) perfectly and left my hair feeling very "nourished". I chose the color "Medium Amber Brown" and I love the way it looks. The color, when put on top of my light/medium brown hair, turned into a medium brown with a pretty, almost auburn-like tint to it. I am definitely in love with the color! Overall, I am very pleased with this product and will definitely be using it again in the future!
Date published: 2012-11-04
Rated

1

out of

5
by
Concerned
from
BUYER BEWARE
Please be very aware that this product has no resemblance to the color indicated on the box. What appears to be a somewhat brown with a slight red hint, is actually a dark brown (almost black) with a deep red tone. If you're looking for a natural color, this is not it. Garnier really needs to consider updating the color on the box to accurately reflect the color that you will get.
Date published: 2012-11-02
Rated

1

out of

5
by
Massage
from
Please compare box code the the color devloper bottle code, they do not match!!
I had bad experience with my hair color too (same Medium Amber Brown). I thought it would come out a nice "medium amber brown". instead I ended up with a RED, almost Orange color. Needless to say I had to recolor it the next morning. I compared the product code at the bottom of the box and it reads "30HD0L" while the code on the developer bottle shows "30HN07". I think there may be a mix up at the factory...PLEASE INVESTIGATE!!
Date published: 2012-10-06
Rated

1

out of

5
by
psycogirl40
from
NOT PLEASED
I went w/ the Medium Amber Brown to cover over blonde (with roots showing) to get my natural of Brown back. This was the closest to my natural that I could find, and let me tell you it came out like DARK DARK AUBURN OR RED!!!!!! I am so disappointed...
Date published: 2012-09-11
Rated

5

out of

5
by
gypsy
from
Amazing Product1
I have wanted to try a foam/mousse colorant for quite some time, but was hesitant because of the reviews I have read regarding a competitor's product. My local Meijer supermarket had Garnier foam color on sale and since I love the Nutrisse and Herbashine, decided to give it a try. I am so happy I did. Garnier - you ROCK!! I am so excited about this product! It is so super easier to apply (absolutely no drips and no messy sink area), it is fast, quick, and wonderful. The color is rich and shiny, and my hair felt so moisturized and conditioned that I wouldn't even have needed to use the after-color conditioner! Please don't ever discontinue or change this product. In my opinion, Garnier is the best line of hair products out there. Years ago, I used to use the Belle Color but it is no longer available here in the U.S. Will it ever be brought back? I miss it!
Date published: 2012-07-13
Rated

3

out of

5
by
AmyT
from
flaming red!
I have colored my hair 3-4 times just for fun, over the past ~5 or so years. I usually choose auburn, in a different brand, which starts out VERY red and mellows to reddish brown. This time around I wanted to try a rich brown, for something new & different. The Garnier was slightly less expensive and the box photo showed a very rich brown on the cover of 5AM. The photo on the box shows no red tinge whatsoever, nor does the back of the box. This product left my hair soft & shiny BUT it is flaming red!! Exactly the same color as the "dark intense auburn". Yikes!!! Nowhere near what it shows on the box.
Date published: 2012-07-02
Rated

3

out of

5
by
sparkalina
from
Good product - not the right color
This product did cover my greys, and my hair is actually pretty soft and shiny, however the color came out VERY RED. I know that when you use a box color you need to be prepared for different results, but wow, my hair is now RED. I guess I should have gone with my first thoughts and gotten a more ash brown color because while pretty, this is not the color I wanted, nor is it close to what is on the box.
Date published: 2012-05-23
Rated

5

out of

5
by
SpiRitEyeZ
from
I completely love this hair color .. it leaves my hair feeling soft and shiny..
I completely love this hair color .. it leaves my hair feeling soft and shiny..it did however turn out a bit more reddish than what the swatch shows.. but I love red so I didnt have a problem with the outcome.. as far as covering my greys it did a wonderful job .. completely satisfied with my outcome.. I highly sugguest the use of this product .. another thing I absolutely love is the fact of only having to buy one box instead of two .. the foam seem to go a long way and covers my hair wonderfully and ends up saving me money cause I dont have to buy an extra box.. It dont drip or run .. pretty much stays put until you rinse... awesome product and love this color along with the intense light auburn.. both very beautiful shades.
Date published: 2012-05-12
Rated

1

out of

5
by
MoonGoddess
from
Did not fully cover
I used this product tonight, and it did not cover as it should have. I still have gray hair showing, and it is spotty in places. I saturated my hair, and thought it would come out a consistant color, but it did not. I have spots in my hair that the color did not take. I do not have that problem with other brands. The gray hairs in my part and around my hair line are not fully colored. I would not recommend this hair color to anyone with long hair, or anyone with gray hair.
Date published: 2012-04-23
Rated

4

out of

5
by
Chloe
from
Easy, quick, no-mess
I normally buy hair color from Sally's but was in Wal-Mart and saw this, so I figured, why not? I gave it a try in 5AM (Medium Amber Brown), and I'm pretty satisfied with the results. My most immediate reaction is that the color is redder (on me), than it looks on the box model. But that's the risk you take with any box product; they are kind of like the grab bags of hair dye. The color is flattering and not garrish, though, so I would say it's still within the same family of colors. It was easy to apply and only took one package to cover my beyond shoulder-length hair. Best of all, it was only around $7.
Date published: 2012-04-06
Rated

3

out of

5
by
deb58
from
doesn't cover gray that way I hoped it would
Love the color I chose (medium amber brown foam) because it lightened my hair somewhat. Also love the feel of my hair, but I'm disappointed at the gray coverage. I'd recommend this product for people that aren't gray.
Date published: 2012-03-31