This site is intended for US consumers.Cookies and related technology are used for advertising.To learn more or opt-out, visit Ad Choices and our privacy policy.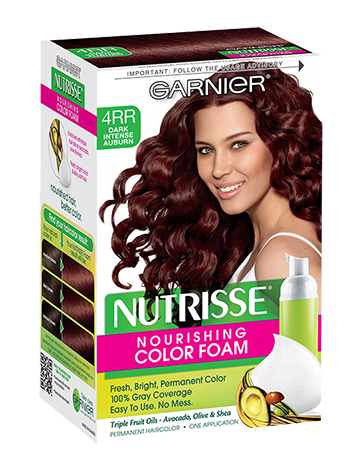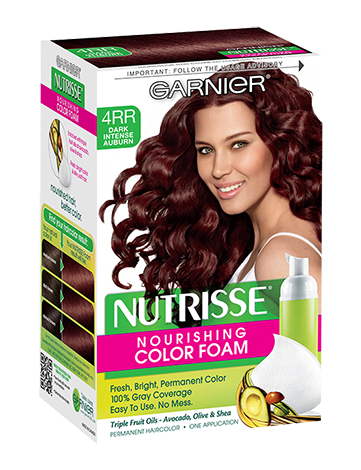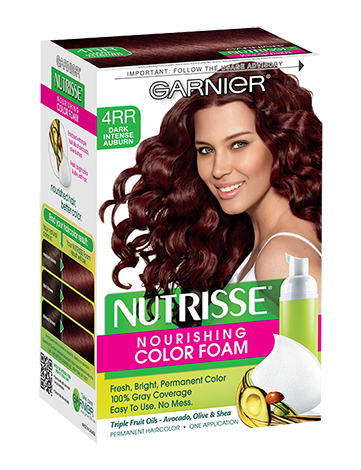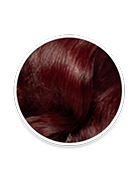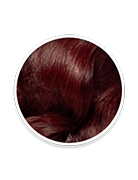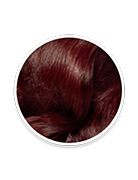 Garnier Nutrisse Color Foam
Nourishing Color Foam 4RR - Dark Intense Auburn
PRODUCT INFORMATION:
Is it right for me?
For an Easy, No Stress, No Mess application, try our Nourishing Color Foam.
How is it different?
Enriched with nourishing triple fruit oils - avocado, olive and shea - Nutrisse Nourishing Color Foam is our first foam to nourish, while locking in your radiant color and moisture. This creamy foam gives you fresher, brighter, permanent color results* and 100% gray coverage.
*vs. before coloring
Product Discontinued. Please see Garnier's
Ultra Color BR3 - Intense Burgundy.
How to use:
It's a no stress, no mess application – comes with an easy-to-use pump applicator which dispenses a non-drip, creamy foam that smells great and lathers-in like a shampoo. Quick and comfortable to apply, for All-Over or Root Touch Up applications. See our How-To videos for detailed instructions on how to apply. Fresher, brighter permanent color results with 100% gray coverage. Available in 18 radiant shades.

Nutrisse Nourishing Color Foam also comes in an FSC-certified carton packaging with PVC-free gloves to help sustain a cleaner, greener future.
Ingredients:
Liquid-To-Foam Colorant: Aqua/Water, Alcohol Denat., Peg-4 Rapeseedamide, Glyceryl Lauryl Ether, Deceth-3, Propylene Glycol, Laureth-5 Carboxylic Acid, Ammonium Hydroxide, Ethanolamine, Dipropylene Glycol, Hexylene Glycol, 4-Amino-2-Hydroxytoluene, Poloxamer 338, p-Aminophenol, Toluene-2,5-Diamine, Oleyl Alcohol, Parfum/Fragrance, 2-Methyl-5-Hydroxyethylaminophenol, Ammonium Thiolactate, Erythorbic Acid, EDTA, 5-Amino-6-Chloro-o-Cresol Thioglycerin, Sodium Metabisulfite. F.I.L. D49653/5. Liquid-To-Foam Developer: Aqua/Water, Hydrogen Peroxide, Glycerin, Laureth-11, Tetrasodium Etidronate, Tetrasodium Pyrophosphate, Sodium Salicylate, Phosphoric Acid. F.I.L. D48403/8. Nourishing Conditioner: Aqua/Water, Cetearyl Alcohol, Behentrimonium Chloride, Peg-180 Cetyl Esters, Niacinamide, Ribes Nigrum Oil/Black Currant Seed Oil, Saccharum Officinarum Extract/Sugar Cane Extract, Hydroxyethylcellulose, Olea Europaea Oil/Olive Fruit Oil, Trideceth-6, Chlorhexidine Dihydrochloride, Camellia Sinensis Extract/Camellia Sinensis Leaf Extract, Benzyl Alcohol, Linalool, Amodimethicone, Isopropyl Alcohol, Pyrus Malus Extract/Apple Fruit Extract, Parfum/Fragrance, Pyridoxine HCl, Persea Gratissima Oil/Avocado Oil, Methylparaben, Butyrospermum Parkii Butter/Shea Butter, Citric Acid, Cetrimonium Chloride, Butylphenyl Methylpropional, Citrus Medica Limonum Peel Extract/Lemon Peel Extract. F.I.L. D42540/5.
Rated

5

out of

5
by
Kim0117
from
Bring it back
I love the 4RR. PLEASE BRING IT BACK. I can not find anything even close to the quality.
Date published: 2016-12-15
Rated

5

out of

5
by
Sonya
from
Love My 4RR Dark Intense Auburn Color Foam
I finally found a hair color (Garnier Nutrisse Nourishing Color Foam 4RR Dark Intense Auburn) that makes my hair look and feel wonderful, but now can't find it at the store. I see that it has been discontinued on Garnier's website. Have they replaced the FOAM type with Color Cream which you brush on? Is there any place I can buy the foam color on line from another company? Sonya From Atlanta
Date published: 2016-03-18
Rated

1

out of

5
by
perlex
from
Very Disappointing
This was my fifth time buying Garnier's foam hair color over the past three years and each time has been a little problematic but always turned out well in the end, although this time I've encountered numerous problems. First, every time I have tried to shampoo my hair, my hair has gotten very hard and crackly feeling and I have to condition it multiple times before it untangles and bends. Secondly, my scalp which was healthy before, has drastically dried out giving me horrible and embarrassing dandruff. Lastly, the hair color has completely come out and it has only been three weeks. Although the "permanent" color washed out, I'm still left with a horrible scalp and frizzy, dry, almost unwashable hair. It's very upsetting to me as someone who cares a lot about her hair and has also wasted money not only in the dye but also in the extra conditioner and treatments I have to buy to try and help my hair and scalp. Overall I'm very disappointed with this product and would hesitate in recommending it.
Date published: 2014-09-28
Rated

4

out of

5
by
JenMarie13
from
Worked Pretty Well!
My hair is a medium brown color and part of it was bleached for a red strip that was in my hair for a while. I was hunting for a job so I had to remove the streak, but I didn't want to just have normal brown hair again. It was my first time using foam and it was quite easy and didn't drip everywhere. The color comes off dark but it is red in the sunlight. Also, the more you dye the more it become the color intended. If you're looking for something a bit out of the ordinary but still somewhat natural looking, I'd say give this a try.
Date published: 2014-08-06
Rated

4

out of

5
by
Lisaree
from
Best dye ever used
Easiest way to dye your hair without going to a salon! I have always used garnier hair dye but this foam made it so I can do it myself. I love the color results and it spreads so nicely that I only need 1 box while with other liquids, I needed 2. Highly recommend this product.
Date published: 2013-12-31
Rated

1

out of

5
by
Clarissa
from
Horrible Color and smell
I wanted to go just a shade or two lighter than my normal color of dark auburn, what I got was 3 shades darker. The dye was easy to use but it smells horrible! It actually took my breath away and made my eyes water while I was putting it on. My husband had to get a fan to help clear the air. After I rinsed, conditioned and dried my hair I discovered to my horror that my hair is actually much darker than it should have been. It is now more of a mahogany with a little bit of red rather than auburn. The color comes out MUCH darker than the box showed it would. I am not at all happy and will now have to go to a salon and spend hundreds of dollars to get the color repaired. I will never use this product again and recommend no one else does either.
Date published: 2013-11-09
Rated

1

out of

5
by
MyRootsArePURPLE
from
I have purple roots
I used this product for the first time last week - mostly for root touch up and gray coverage, plus I needed to brighten my professional coloring from 7 weeks before. I chose this shade because it was closest to what I had received at the salon. I followed the directions precisely - I'm not normally a stickler for directions but since it was the first time with this product I wanted to do it right. I now have purplish-red roots and bangs. The rest of my hair is brown. (As in, the product did not work on the rest of my head at all). I FOLLOWED THE DIRECTIONS!!! I am incredibly disappointed with this product and will never purchase anything by this company again. I was trying to stretch out professional colorings but will have to go in this week to get this mess corrected. And the gray coverage lasted 2 whole shampoos.
Date published: 2013-03-05
Rated

5

out of

5
by
PatriciaA
from
Fabulous color from a color snob
I bought this product out of desperation because I am staying with my son for awhile helping him and his wife with my new grandson. I needed to color my hair so badly but I was in fear to do anything to make a big mess in the bathroom. I got the foam color and prepared to get it done with some mess, but less than with the other product I normally use. To my surprise not only was this color dripless (not one drop on anything) but it turned out positively gorgeous!!! The color is rich, and just what I wanted. It is also very shiny and healthier than it has been in a long time. I will be using this again and again! I would echo the other Lady asking for you not to ever discontinue this product and color, please!!!
Date published: 2012-11-29