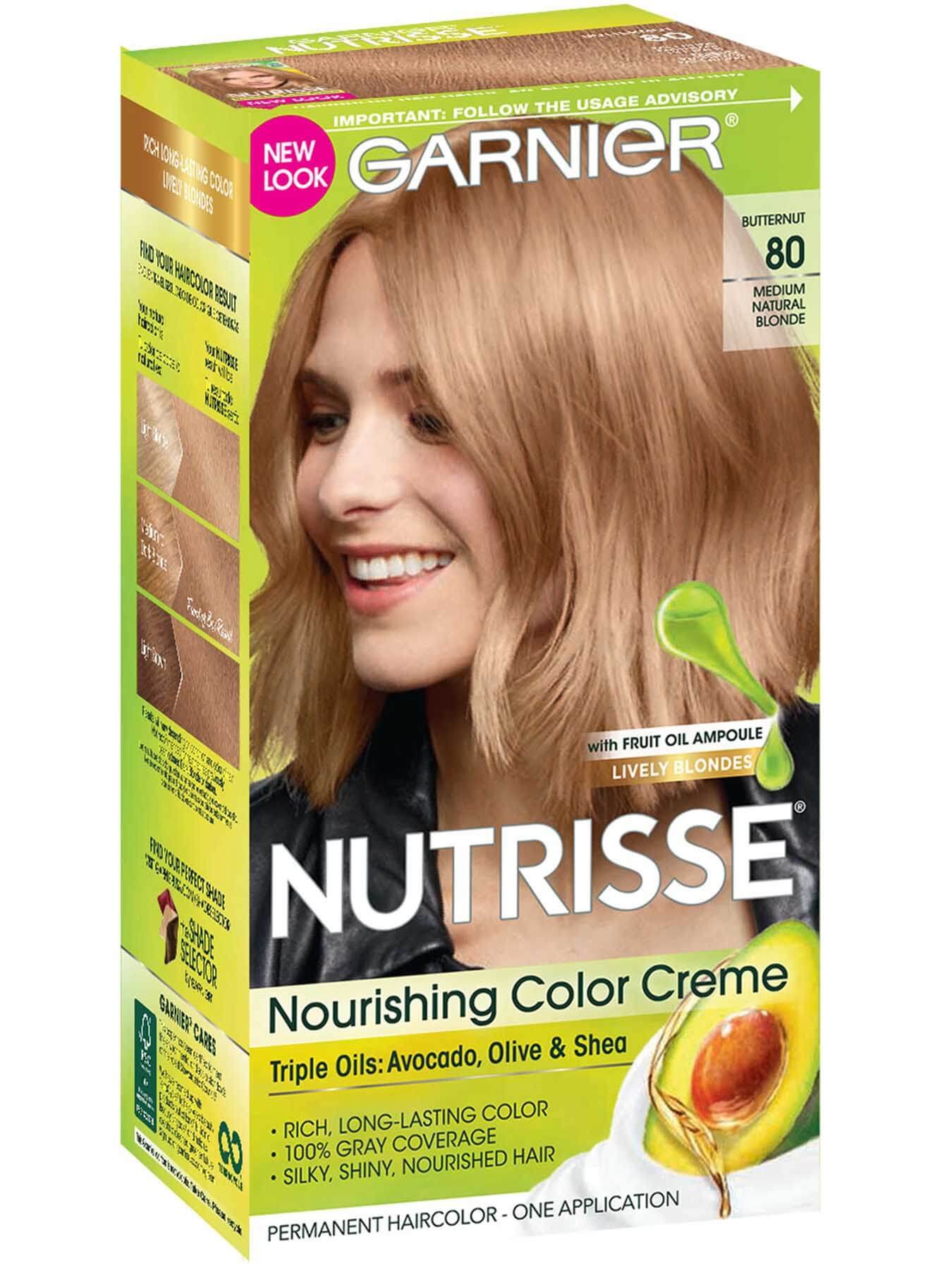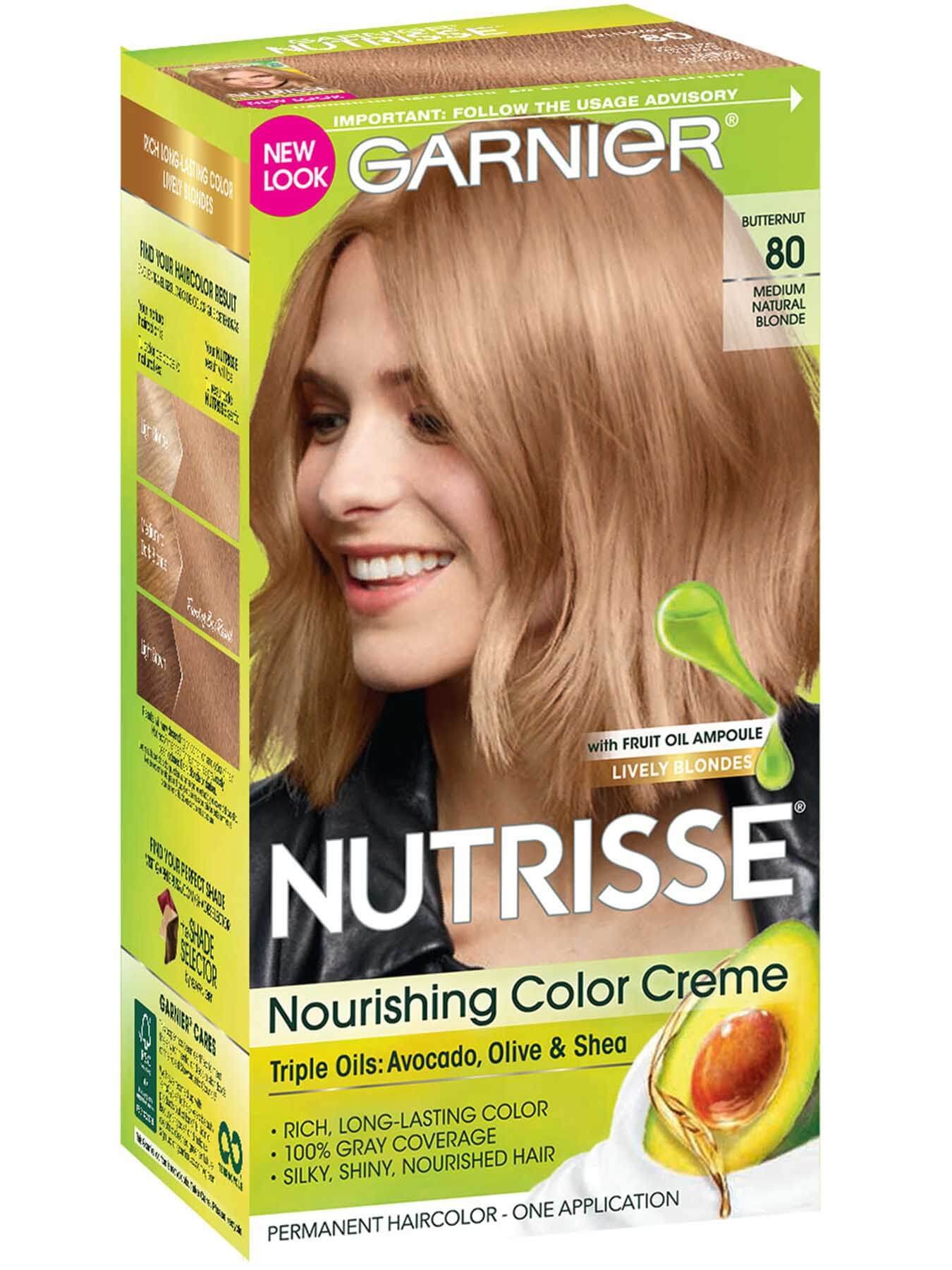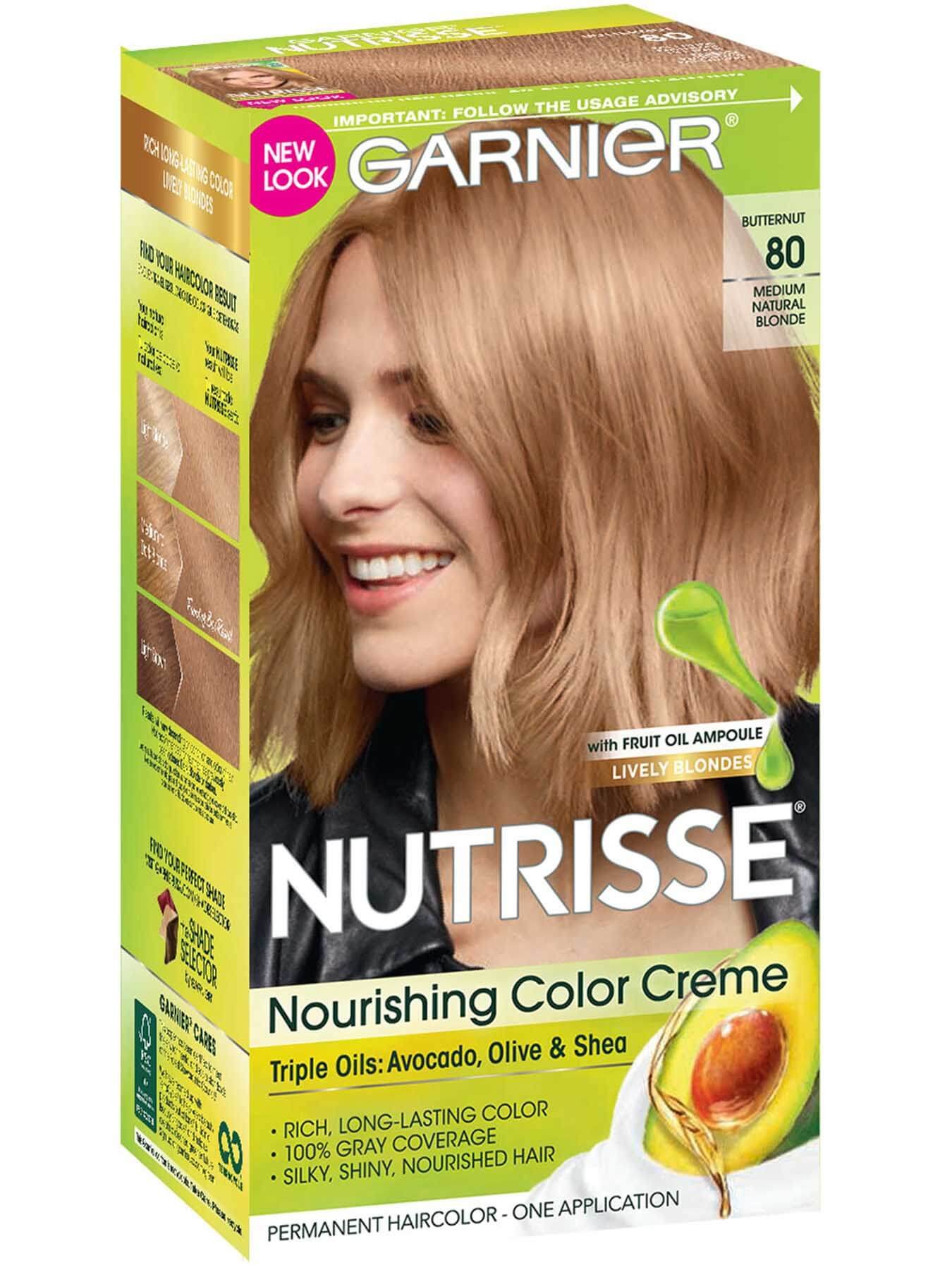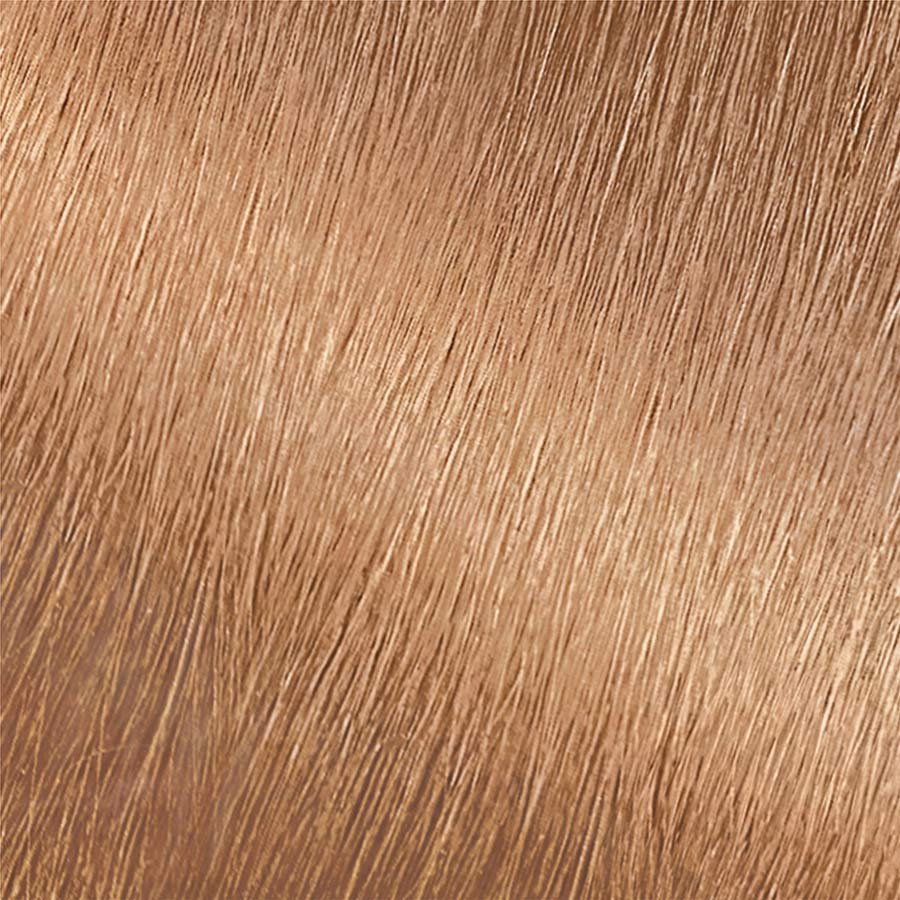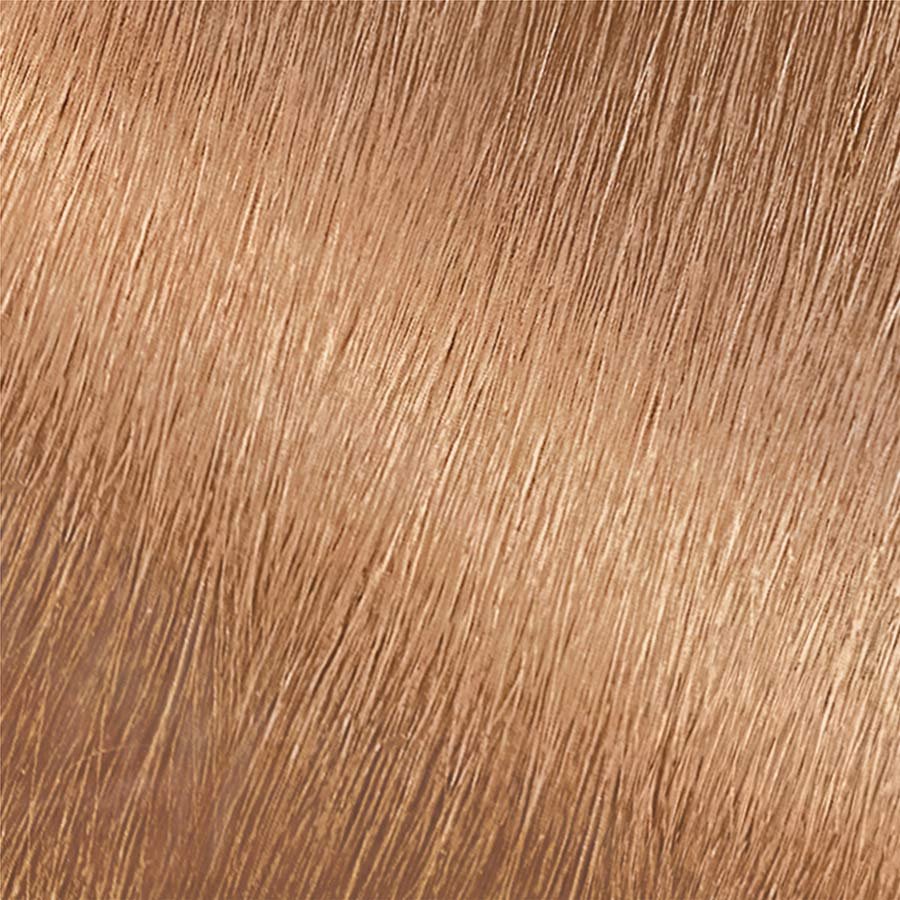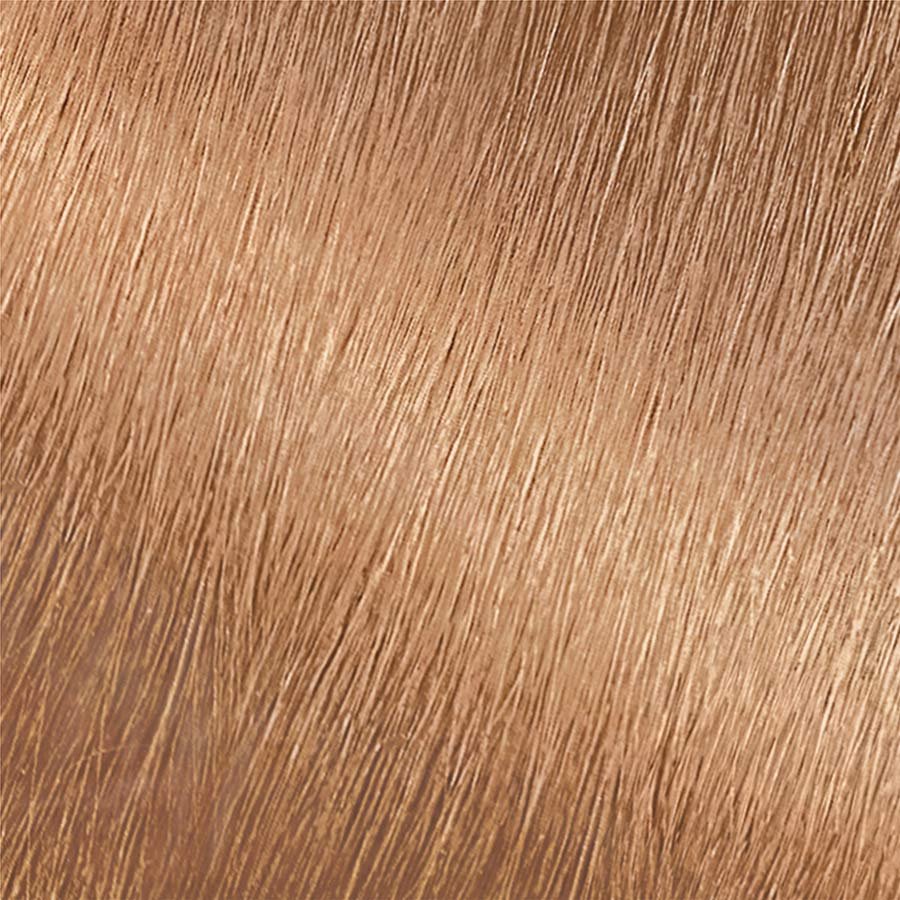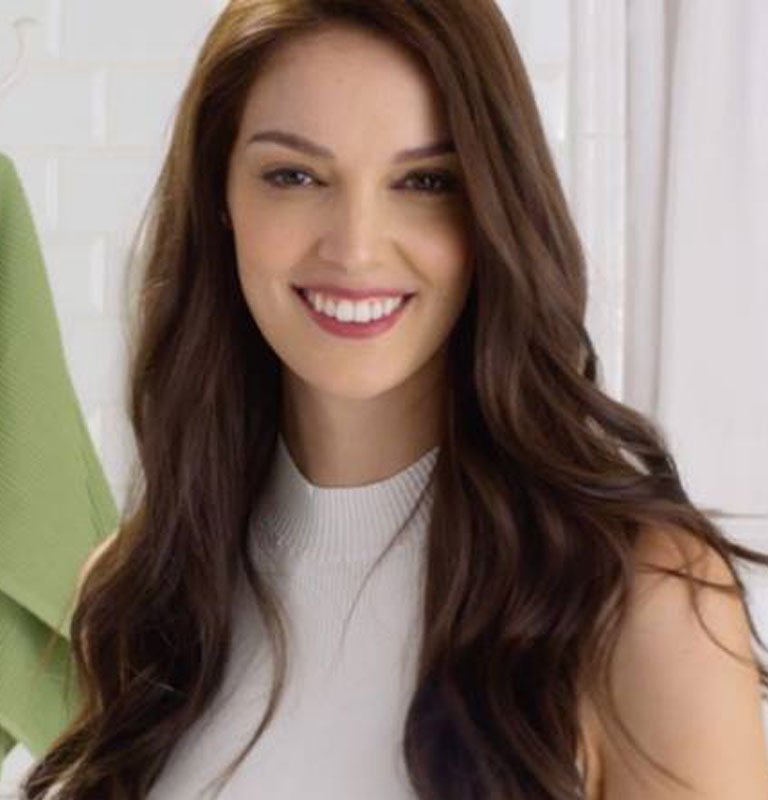 Garnier Nutrisse Nourishing Color Creme
Nourishing Color Creme Medium Natural Blonde 80 (Butternut)
$7.99 MSRP
NOURISHED HAIR MEANS BETTER COLOR
PRODUCT INFORMATION:
Garnier Nutrisse hair color creme nourishes with grape seed and avocado oil. The nourishing color creme enriched with fruit oil concentrate, penetrates deep into hair fibers to nourish and condition your hair so it takes color better and holds it longer, root-to-tip. Garnier Nutrisse delivers rich, long-lasting color with 100% gray coverage.

Is Shade 80 (Butternut) right for you?
Garnier Nutrisse Medium Natural Blonde 80 (Butternut) is a pure, natural blonde, one shade lighter than Nutrisse Dark Natural Blonde 70 (Almond Creme). It will allow your natural tones to show through and will provide 100% gray coverage. Shade 80 (Butternut) is best for anyone with natural hair between light blonde and light brown.

If you would like a lighter shade that still reflects naturally, shade 90 (Macadamia) might be for you. If you would like to remain in the medium blonde range but would like to explore other reflects and tones, explore shade 82 (Champagne Fizz) and 83 (Cream Soda).

*For women with currently color treated hair, there are special considerations for the color result you can achieve. Because of this, we do not recommend shade 80 (Butternut) for hair that has been previously colored Light Natural Brown 60 (Acorn) or darker. For more help, use our Shade Selector Tool to find the perfect shade for you!
How to use:
Nutrisse nourishes while it colors with a rich, non drip creme formula, and with an ampoule of grape seed oil, it smells great while you apply.

Follow this step-by-step process when applying full-head color at home:

1) Always do a skin test by following the insert instructions in the kit 48 hours before.
2) Apply to dry, unwashed hair.
3) Apply gloves, squeeze colorant (B) into developer bottle (A).
4) Break off the tip and shake the bottle vigorously.
5) Start applying color at the roots, then away from roots to the tips.
6) Extend color through the ends, and massage into hair.
7) Leave formula on for 25 minutes or 30 minutes if you have lots of gray hair or resistant/coarse hair.
8) Massage hair thoroughly before rinsing to optimize rinsing process.
9) Rinse hair thoroughly until water runs clear.
10) Apply Nourishing Conditioner (D) and leave on for two minutes, then rinse thoroughly.

If you only need a root touch-up, please follow insert Touch-Up Application instructions.

Always read insert instructions before applying any hair color.
Ingredients:
Nutrisse Colorant: Aqua/Water, Cetearyl Alcohol, Propylene Glycol, Deceth-3, Laureth-12, Ammonium Hydroxide, Oleth-30, Lauric Acid, Hexadimethrine Chloride, Glycol Distearate, Polyquaternium-22, Ethanolamine, Silica Dimethyl Silylate, Ci 77891/Titanium Dioxide, 2,4-Diaminophenoxyethanol Hcl, M-Aminophenol, Ascorbic Acid, Sodium Metabisulfite, Dimethicone, Pentasodium Pentetate, N,N-Bis(2-Hydroxyethyl)-P-Phenylenediamine Sulfate, P-Phenylenediamine, Parfum/Fragrance, Carbomer, Resorcinol, Vitis Vinifera Seed Oil/Grape Seed Oil. F.I.L. D35219/3. Fruit Oil Concentrate: Paraffinum Liquidum/Mineral Oil, Vitis Vinifera Seed Oil/Grape Seed Oil, Parfum/Fragrance, Tocopherol, Rosmarinus Officinalis (Rosemary) Extract. F.I.L. D25829/5. Rinse-Out Conditioner: Aqua/Water, Cetearyl Alcohol, Elaeis Guineensis Oil/Palm Oil, Behentrimonium Chloride, Pyrus Malus Extract/Apple Fruit Extract, Glycerin Parfum/Fragrance, Stearamidopropyl Dimethylamine, Niacinamide, Pyridoxine Hcl, Butyrospermum Parkii Butter/Shea Butter, Citric Acid, Olea Europaea Oil/Olive Fruit Oil, Saccharum Officinarum Extract/Sugar Cane Extract, Benzyl Alcohol, Chlorhexidine Dihydrochloride, Persea Gratissima Oil/Avocado Oil, Ribes Nigrum Oil/Black Currant Seed Oil, Linalool, Citrus Medica Limonum Peel Extract/Lemon Peel Extract, Ci 19140/Yellow 5, Camellia Sinensis Extract/Camellia Sinensis Leaf Extract, Ci 15985/Yellow 6. F.I.L. D35637/3. Nutrisse Developer: Aqua/Water, Hydrogen Peroxide, Cetearyl Alcohol, Trideceth-2 Carboxamide Mea, Ceteareth-25, Glycerin, Pentasodium Pentetate, Sodium Stannate, Tetrasodium Pyrophosphate, Phosphoric Acid. F.I.L. D12836/26.
Avocado Oil
A smoothing and silkening hair booster, Avocado Oil is loaded with plant-based fatty acids, which have a unique ability to penetrate for deep long-lasting effects. This rich indulgent ingredient helps to smooth split ends while adding a brilliant shine.
Olive Oil
Packed with antioxidants, Olive Oil has been a high-performance beauty elixir for centuries. In hair care and hair color formulas it helps coat hair, leaving strands strong, glossy, and resilient. In face moisturizers, it soothes as it smoothes for glowing, youthful-looking skin.
Rated

4

out of

5
by
Erin2383
from
You can use as a toner
I went from dark brown/reddish hair to blonde in one day. Used a professional toner and it did nothing. Bought this on a whim because the 9.3 color is gorgeous and decided to suck it up and be dark blonde. Well to my surprise it toned my hair! Not too dark and very even!
Date published: 2018-08-23
Rated

4

out of

5
by
SunnyinCO
from
New Look, yes
I am a long time user of this product and noticed a change in the color when I started using the box with "New Look" in the upper left corner as pictured on your site. My hair was noticeably lighter and any low lights associated with the old formula began to disappear! It was not just my observation. My hairstylist noticed the same thing. I told her the color was an 80 and she said it looked more like a 90 something. I really liked the different shades of color associated with the old color. The only benefit with the new formula (which you deny has changed) is that my white/gray roots don't show as easily. Therefore I use the color less often. The latest problem associated with this product is the stores in my area are no longer carrying the "new" formula and have mysteriously started carrying the "old" formula. At one point I could only find the "new" formula in the stores!
Date published: 2018-07-28
Rated

1

out of

5
by
lewis2034
from
80 Medium Natural Blond
I have been using Garnier 80 Medium Natural Blond for years and have loved the results -color. Hear recently I bought it with the new packaging and the color is different. I look like an old lady, it does not cover the gray roots like the old packaging did. I have even called them about the color change and they insist they did not change the color. Someone is wrong. I will not buy there products again.
Date published: 2018-06-30
Rated

1

out of

5
by
Jan42
from
Formula Change?
I've been using Garnier Nutrisse Butternut 80 for years to cover my grey hair. I've always loved the results and the color. I recently bought some with the new package design and it did nothing for my hair. It didn't cover my roots at all, even though I left it in for an extra 30 minutes. I tried it again with the same result - no grey coverage. I even tried adding Grey Magic drops, still nothing. Has the formula changed? I will now be scouring stores to look for the old style packages and may have to find a different product. I'm very disappointed.
Date published: 2018-06-27
Rated

1

out of

5
by
ChrisE
from
My roots are copper
So I bought this yesterday and knew I would have somewhat different results because my hair is medium brown, not the recommended light brown. As this was my first time dyeing my hair, I made sure to watch a couple videos and read the instructions. I even did a strand test and my hair showed a subtle lighter change in color which was pretty. I decided to go ahead and dye my whole head but when I washed it out, my roots have turned an awful coppery color and it looks horrendous!
Date published: 2018-06-04
Rated

5

out of

5
by
Kdtribb
from
Easy
Just enough to look fresh! Live the softness! So easy and quick.
Date published: 2018-05-11
Rated

3

out of

5
by
crysteamer
from
I have ALOT of hair and it's really thick & curly...so 1 box will NOT color my whole head. I had to decide what section of hair I want colored. The color turned out okay, I knew it wasn't going to be as light on the box, because of the base I was starting with.
Date published: 2018-05-08
Rated

5

out of

5
by
shelbyh4fae
from
I absolutely loved this color! I already had pretty blonde hair, so I used it to balance the tone and keep it even. It extended my colorings from 5 weeks to 10 at the salon, and I could have gone longer. It's a warmer shade and added a lot of dimension into my hair. This was sent to me to review in a #voxbox, but I will continue to purchase on my own! #influenser
Date published: 2018-05-03
Rated

4

out of

5
by
vam1390
from
Left my hair really soft and the conditioner smells great. Had a very strong chemical smell during application, and probably needed a second box given how long my hair is. Still left a reddish undertone, but did a good job evening out my hair color.
Date published: 2018-05-02
Rated

5

out of

5
by
snpulham
from
Great product. I have been dying my hair at home for ever and this product is great. It is equivalent to the higher end expensive dyes without the high costs. I got this box to test for free to review, but I have used it before and like it, and I will buy again.
Date published: 2018-05-01
Rated

5

out of

5
by
alexandriaa342f
from
This color is something else. It's a soft gold that looks great in every light. And it goes on like a dream. I loved the smell, and how my hair felt better after application than it did before. Garniers use of oils in their colorist fantastic! Of only all hair colors did this!
Date published: 2018-04-29
Rated

5

out of

5
by
brittneyr1660
from
Garnier Nutrisse Nourishing Color Creme Medium Golden Blonde 83 (Cream Soda)This colour is absolutely amazing. My grandma used the dye the day after my COMPLIMENTARY VOXBOX came in the mail. I love the colour, it did not damage her hair either! #voxbox #free #complimentary #influenster
Date published: 2018-04-28
Rated

4

out of

5
by
magenb1
from
Garnier Nutrisse Nourishing Color Creme work really well for me. Great coverage of greys and roots and no damage to my hair. I love the conditioner that is included in the kit. It always leaves my hair feeling healthly and smooth. The color was rich and multidimensional. Overall, I was very satisfied and I would use the product again.
Date published: 2018-04-27
Rated

4

out of

5
by
kenzieb2236
from
I did really enjoy this box dye. It applied well and covered my hair well. I have a lot of hair so I ended up buying another box of it before actually using, but overall, I really did enjoy the product.
Date published: 2018-04-25
Rated

4

out of

5
by
ingridengine
from
Received the garnier color (butternut) Just used it this passed week. It was lighter than I expected to turn out. I like that it didn't smell too strong and left my hair soft. I haven't had the best experiences with box dye in the past. Left my hair looking like I had highlights and low lights.
Date published: 2018-04-25
Rated

4

out of

5
by
tiffanyjd1d3
from
Smells good. I have strawberry blonde hair naturally so I didn't notice a big difference
Date published: 2018-04-24
Rated

4

out of

5
by
kelliv1
from
I dyed my hair about two weeks ago now. I only received one box so I had to buy a second because I have thunk hair but the color matched perfectly to the box. The color took well to my hair too!
Date published: 2018-04-24
Rated

4

out of

5
by
crystalh1ec4
from
I really enjoyed this product. It's nice for the price and easy to use! Worked well and smelled decent color was a little off but other than that was good
Date published: 2018-04-24
Rated

5

out of

5
by
laurabethjeffriesgonzales
from
Love this product! I applied the product and received even coverage and a beautiful color. The price is reasonable and the color was as expected. I would highly recommend the product. The oil and conditioner that comes with it helps keep the hair healthy.
Date published: 2018-04-24
Rated

5

out of

5
by
danamack0909
from
I got this hair color as a free trial from influenster. It is the color I expected, and my hair looks great! I haven't dyed my hair at home in a while and it turned out great!
Date published: 2018-04-24
Rated

1

out of

5
by
elisabetharrendale
from
I personally won't be purchasing this product. I originally had platinum bleached blonde hair. After using this product, I have three different colors of hair. I still have some platinum spots, some brown spots, and some yellow spots. I've been dying my own hair at home for 4 years. I'm not a beginner at hair dying. I followed the directions.
Date published: 2018-04-24
Rated

5

out of

5
by
dazzlinglatte
from
Came out beautiful!! I loved the fact that it didn't damage my hair. In fact, it felt really soft afterwards. The instructions were really easy to follow. The color was slightly darker than the box. Overall, I think it's a really good hair dye kit.
Date published: 2018-04-21
Rated

5

out of

5
by
lindsayg4301
from
I am super impressed with the overall quality of this hair dye and my amazing results . The color is crisp and clear , left me feeling like a million bucks . I like that it nourishes while coloring your hair and doesn't cause any unnecessary damage . It was super easy to apply and didn't call for much effort at all . The smell wasn't at all overwhelming or unpleasant. I really love that you don't have to use as much of the product at once to reach your goal look ; I went from 2 or sometimes even 3 boxes to one ! Approved and recommend by me !!
Date published: 2018-04-21
Rated

3

out of

5
by
roses1c1b
from
My hair started as a medium brown and this is what the dye turned my hair color to. It was a very small change and i even left the dye on for 5/10 mins longer than the box said. I personally would not use this color again but i was able to try it for free and all opinions are my own. I did like how easy it was to use and how good the directions were laid out very easy to read and understand how to use the product.
Date published: 2018-04-18
Rated

4

out of

5
by
kathyl6ef1
from
I am no stranger to hair dye--at home, in salon, in my sisters bath tub, you name it. I found this product pretty simple to use and the packaging bright and appealing. I will say, the color deposit is not as great as the salon stuff, but you can't beat the ease of which it was to use. The Medium Natural Blonde was not as light as I hoped it would be, but this is WITHOUT bleaching my Asian hair again. The smell is great too--not too chemically. I received this product complimentary for review purposes.
Date published: 2018-04-18
Rated

5

out of

5
by
tangieb
from
Great product and easy to use,I like the color I got and it turned out really nice and left my hair soft and smelling great .will try again.
Date published: 2018-04-17
Rated

4

out of

5
by
nicolemcelhiney
from
I love Garnier products! I feel like they are good quality for cheap price. The color was as expected, and it was pretty! I've used other store color before, and this one is right up there with the others. Easy to use & affordable, definitely satisfied.
Date published: 2018-04-17
Rated

5

out of

5
by
rurut
from
I have always relied on garnier when it comes to hair dye because the color pay off is amazing. I received a voxbox with the color 80 butternut it's a medium blonde. My hair is a medium blonde but it has some brassiness to it and the only way to remove it is to dye/lift it. And this is exactly whT I needed. My hair did not break either it was gentle and the smell wasn't too strong and the dye was easy to apply on the hair. It's a warm color without the orange. I only put it over the bleached part of my hair (not the Virgin root). I highly recommend!
Date published: 2018-04-17
Rated

1

out of

5
by
Lamarc
from
They changed the formula
I've been using Garnier #80 for over 10 years & recently they changed the formula. It doesn't cover as well & it seems to be much lighter color. I bought 2 bottles (from different stores) & they were both the same result - not what it use to be.
Date published: 2018-04-16
Rated

1

out of

5
by
britniem
from
I received this product for free from @influenster. I did not try this product. The color on the actual box looks like yellow hair. For any of you who have dyed their hair yellow and tried to fix it with toner you know what a mess this is. I would not recommend this color for any dark blonde with reddish tinted hair people.
Date published: 2018-04-15