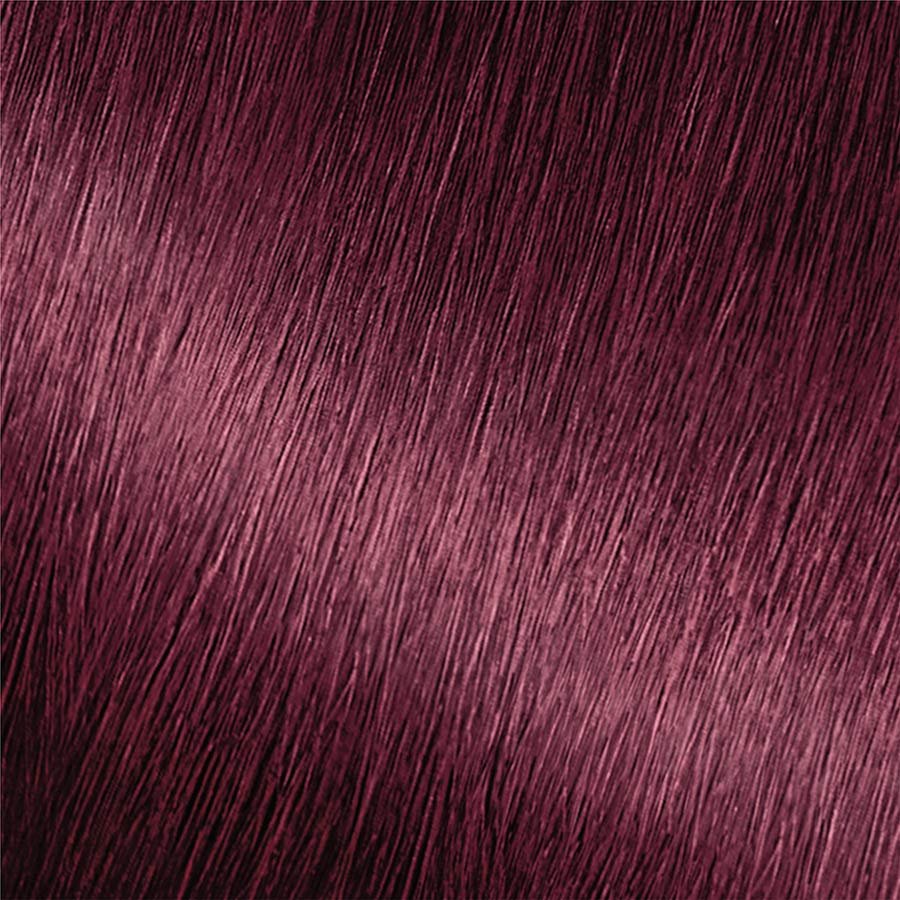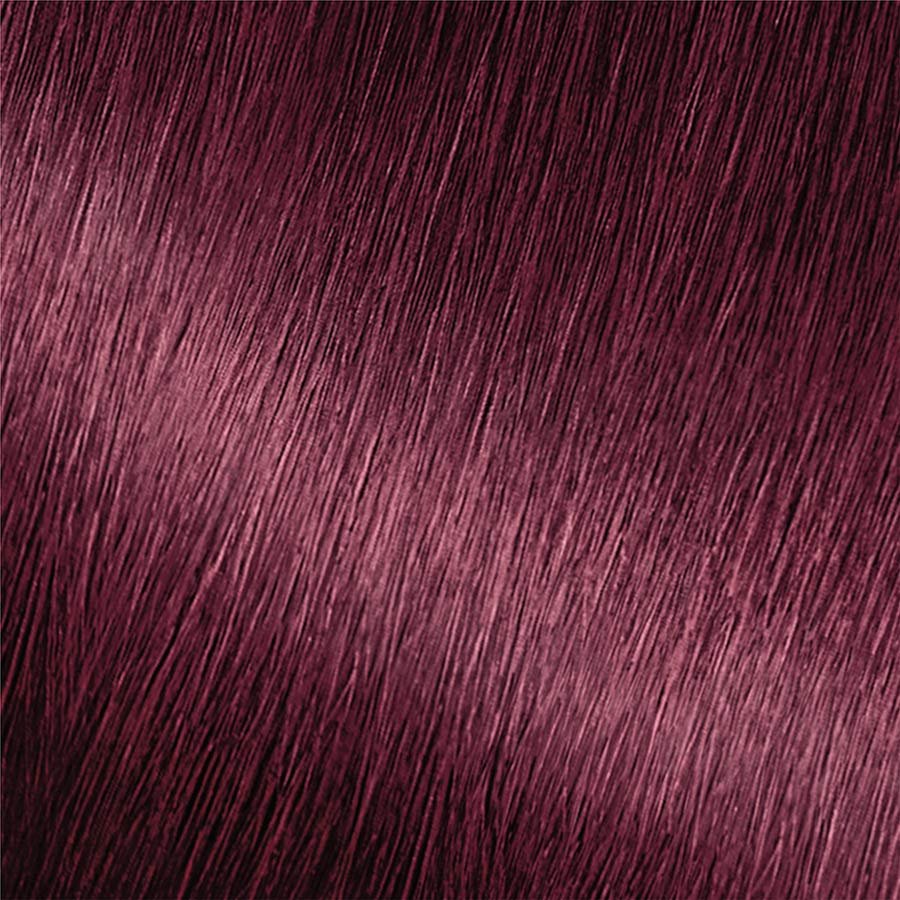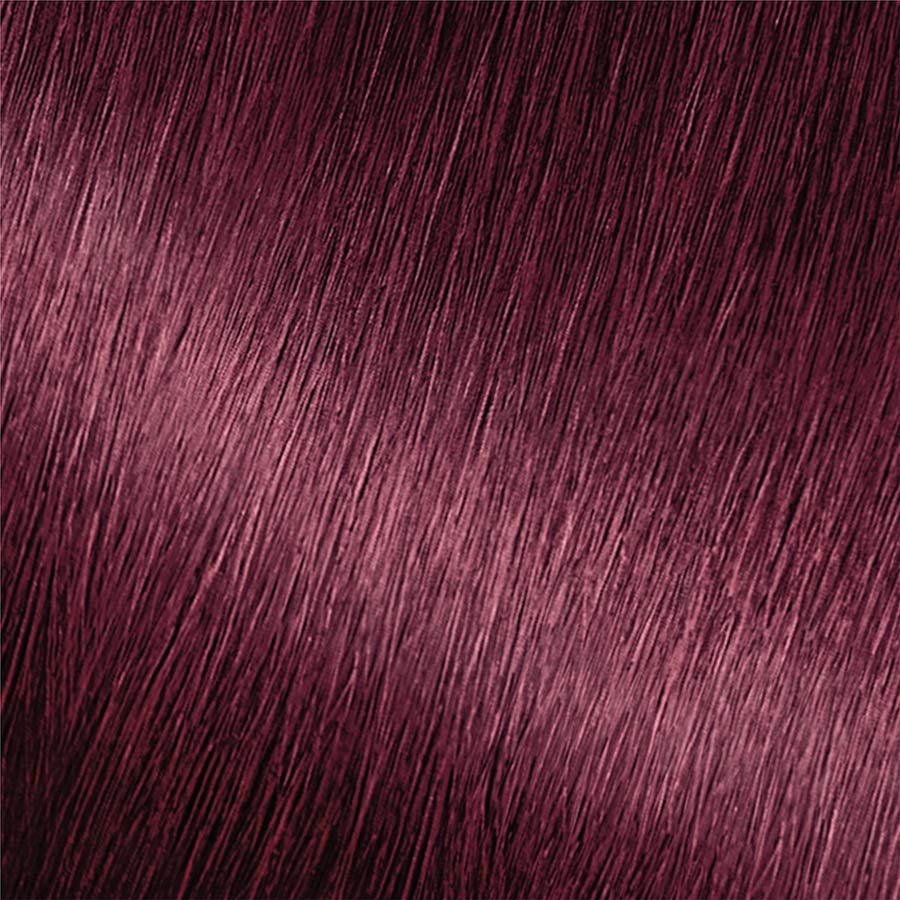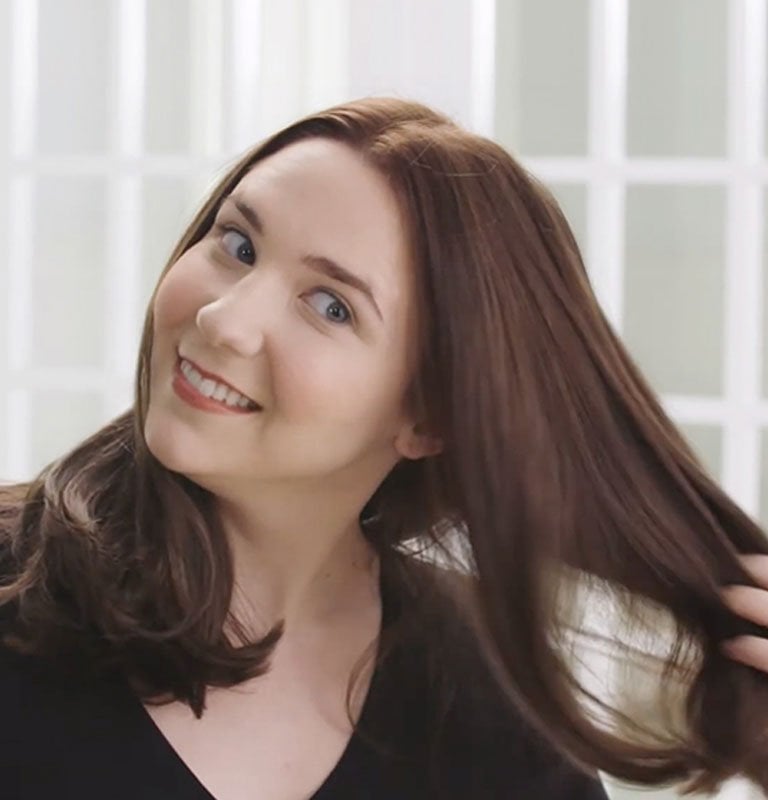 462 - Dark Berry Burgundy
Garnier Nutrisse Nourishing Color Creme
$7.99 MSRP
NOURISHED HAIR MEANS BETTER COLOR
IMPORTANT: Like how this shade looks on you? Make sure it works with your hair. Take our 1-minute haircolor quiz to be certain.
PRODUCT INFORMATION:
Garnier Nutrisse shade 462, "Dark Berry Burgundy" is a part of our Very Berry collection, specially formulated with cool tones for a vivid, reddish-burgundy color. Dark Berry Burgundy provides 100% gray coverage and is best for anyone with natural hair between Light Brown and Black.

If you would like a lighter red shade, try 56, "Medium Reddish Brown." For a darker burgundy shade, try 362, "Darkest Berry Burgundy," within the collection. If you would like to try other reflects and tones within the Burgundy range, there are many shades to choose from including, Ultra Color BR1, BR2, and BR3. Please note that Ultra Color is not designed for 100% gray coverage.

*For women with currently color treated hair, there are special considerations for the color result you can achieve. Because of this, we do not recommend shade 462 for hair that has been previously colored shade 30 "Darkest Brown," or darker. For more help, use our Shade Selector Tool to find the perfect shade for you!

Garnier Nutrisse hair color creme nourishes with grape seed and avocado oil. The nourishing color creme enriched with fruit oil concentrate, penetrates deep into hair fibers to nourish and condition your hair so it takes color better and holds it longer, root-to-tip. Garnier Nutrisse delivers rich, radiant, long-lasting color with 100% gray coverage.
How To Use
Nutrisse nourishes while it colors with a rich, non drip creme formula, and with an ampoule of grape seed oil, it smells great while you apply.

Follow this step-by-step process when applying full-head color at home:

1) Always do a skin test by following the insert instructions in the kit 48 hours before.
2) Apply to dry, unwashed hair.
3) Apply gloves, squeeze colorant (B) into developer bottle (A).
4) Break off the tip and shake the bottle vigorously.
5) Start applying color at the roots, then away from roots to the tips.
6) Extend color through the ends, and massage into hair.
7) Leave formula on for 25 minutes or 30 minutes if you have lots of gray hair or resistant/coarse hair.
8) Massage hair thoroughly before rinsing to optimize rinsing process.
9) Rinse hair thoroughly until water runs clear.
10) Apply Nourishing Conditioner (D) and leave on for two minutes, then rinse thoroughly.

If you only need a root touch-up, please follow insert Touch-Up Application instructions.

Always read insert instructions before applying any hair color.
Tip: Try Micellar Cleansing Water, Waterproof to remove hair color stains
Ingredients
COLORANT: 1183968 D AQUA/WATER/EAU, CETEARYL ALCOHOL, DECETH-3, PROPYLENE GLYCOL, LAURETH-12, AMMONIUM HYDROXIDE, OLETH-30, LAURIC ACID, HEXADIMETHRINE CHLORIDE, GLYCOL DISTEARATE, ETHANOLAMINE, POLYQUATERNIUM-22, SILICA DIMETHYL SILYLATE, 4-AMINO-2-HYDROXYTOLUENE, PARFUM/FRAGRANCE, PENTASODIUM PENTETATE, SODIUM METABISULFITE, TOLUENE-2,5-DIAMINE, CARBOMER, 2-METHYL-5-HYDROXYETHYLAMINOPHENOL, p-AMINOPHENOL, N,N-BIS(2-HYDROXYETHYL)-p-PHENYLENEDIAMINE SULFATE, ASCORBIC ACID, VITIS VINIFERA SEED OIL/GRAPE SEED OIL, CI 77891/TITANIUM DIOXIDE, RESORCINOL, THIOGLYCERIN, DIMETHICONE, TOCOPHEROL, HELIANTHUS ANNUUS SEED OIL/SUNFLOWER SEED OIL, ROSMARINUS OFFICINALIS (ROSEMARY) EXTRACT. F.I.L.# D188488/1 FRUIT OIL CONCENTRATE: 1028840 PARAFFINUM LIQUIDUM/MINERAL OIL/HUILE MINERALE, VITIS VINIFERA SEED OIL/GRAPE SEED OIL, PARFUM/FRAGRANCE, TOCOPHEROL, ROSMARINUS OFFICINALIS (ROSEMARY) EXTRACT. F.I.L.# D25829/5 RINSE-OUT CONDITIONER: 1100858 AQUA/WATER/EAU, CETEARYL ALCOHOL, ELAEIS GUINEENSIS OIL/PALM OIL, BEHENTRIMONIUM CHLORIDE, PYRUS MALUS EXTRACT/APPLE FRUIT EXTRACT, GLYCERIN, PARFUM/FRAGRANCE, ISOPROPYL ALCOHOL, STEARAMIDOPROPYL DIMETHYLAMINE, NIACINAMIDE, PYRIDOXINE HCl, BUTYROSPERMUM PARKII BUTTER/SHEA BUTTER, CITRIC ACID, OLEA EUROPAEA OIL/OLIVE FRUIT OIL, SACCHARUM OFFICINARUM EXTRACT/ SUGAR CANE EXTRACT/EXTRAIT DE CANNE A SUCRE, BENZYL ALCOHOL, CHLORHEXIDINE DIHYDROCHLORIDE, PERSEA GRATISSIMA OIL/AVOCADO OIL, RIBES NIGRUM OIL/BLACK CURRANT SEED OIL, LINALOOL, CITRUS MEDICA LIMONUM PEEL EXTRACT/LEMON PEEL EXTRACT, CI 19140/YELLOW 5, CAMELLIA SINENSIS LEAF EXTRACT, CI 15985/YELLOW 6. F.I.L.# D174455/2 DEVELOPER: 178914 U AQUA /WATER/ E AU, HYDROGEN PEROXIDE, CE TE ARYL ALCOHOL, TRIDECETH-2 CARBOXAMIDE MEA, CETEARETH-25, GLYCERIN, PENTASODIUM PENTETATE, SODIUM STANNATE, TETRASODIUM PYROPHOSPHATE, PHOSPHORIC ACID. F.I.L.# D12836/26
Rated

5

out of

5
by
vannafaith
from
I love this hair dye so much. Easy to apply, comes with conditioner, and also a hair applicator. Super cheap and the color lasts a very long time. Did not damage my hair even half as bad as other hair dye I have used in the past. I would most definitely recommend.
Date published: 2019-05-08
Rated

2

out of

5
by
jennalynnerose
from
Did not last nor did the base shade. My hair turned a rust shade almost instantly. The tips are almost orange. Will be buying different brands from now on
Date published: 2019-04-28
Rated

5

out of

5
by
Just Liz
from
Beautiful color!
Finally! The color that I was looking for. I made the mistake of ordering a hair color from an online e-salon and it ruined my hair! I've dyed my hair twice trying to get my hair back to it's original color and state without any success. I used Nutrisse Sagria years ago so I thought I would try it again. Although a beautiful color I wanted something a bit deeper and richer, This color is spot on. My hair looks exactly like the model on the front of the box from the roots to the tips of my hair. I am thrilled beyond thrilled. I saw reviews where others said that it dried their hair out. I didn't have that problem. It left my hair silky and luxurious, but I did apply Garnier leave in conditioner with 7 drops of pure Aragon oil on my wet hair afterwards. I have fine, long hair, that is dark brown with natural red highlights so this color is just perfect. I will continue to buy and use this product. I absolutely LOVE IT!
Date published: 2019-01-17
Rated

3

out of

5
by
missnatashad
from
So the colour looked amazing at first but faded reasonably quickly unfortunately, it also bled into my towels for an abnormally long time, like three weeks. Though the colour was true to what was advertised and easy to use.
Date published: 2019-01-13
Rated

5

out of

5
by
jadeh4
from
I used this hair dye and it had a great effect. It would show as a dark red in the dark, but a beautiful vibrant red in the sunlight. When the color began to fade it gave a gorgeous red copper color. I definitely recommend
Date published: 2019-01-05
Rated

5

out of

5
by
tarab7faf
from
I use this every couple of months in the shade deep burgundy or medium brown & I love the results. My hair is so shiny and nourished after application. Also the smell is different from most boxed hair dyes it has a very fruity scent that smells amazing. Great product ill continue to use.
Date published: 2018-12-16
Rated

3

out of

5
by
aliciak5ac7
from
Use this colour regularly. Easy to apply and gives an even glossy colour that stays fresh looking for a long time. The only disadvantage to using it, is that it leaves my hair feeling more worn and dry than other brands.
Date published: 2018-08-27
Rated

5

out of

5
by
zaassb
from
Economical and easy to acquire. Pigments very well, even in dark hair. It is a product that comes in different colors, it is easy to apply. I have used it for many years.
Date published: 2018-08-01
Rated

4

out of

5
by
kimberlys0c2e
from
I have used probably every hair color brand there is. This was great. Hair felt great afterwards and color was vibrant
Date published: 2018-05-20
Rated

2

out of

5
by
phoenixrayne89
from
quickly fades, little color payoff, leaves hair feeling funky and pretty gross. ultimately I wouldn't recommend unless you're going light to dark and dont care about having to do a few deep conditioning.
Date published: 2018-05-14
Rated

5

out of

5
by
luzr
from
I received Garnier voxbox in the shade very berry and I absolutely love it! Before receiving this voxbox Garnier hairdye has always been my go to. I personally love to have my hair in the shade burgundy. It has been a while since I pampered myself so thank you for this amazing gift I love it
Date published: 2018-05-11
Rated

4

out of

5
by
reneewilli13
from
I never thought that the purple tones would look good on me, but the color looked great on my naturally dark brown hair. Just enough depth without looking like a clown.
Date published: 2018-05-08
Rated

5

out of

5
by
roxannet
from
I received the Dark Berry Burgundy color and love it! It is such a wearable color. I am used to having bright colors in my hair but it was refreshing to have something that was still colorful but muted enough to not have those comments about looking wild/kooky/like a cartoon in a professional setting. I have used this formula before and was happy to get a complimentary box from influentster to review! Due to my many trips to the salon, I have lightened/stripped color quite a bit so my hair has seen better days. The formula is nourishing, easy to apply (my husband colored my hair for me), and smells like I'm doing something HEALTHY for my hair instead of damaging- hooray! The color came out as expected from the box and other photos I looked up on the internet and has worn well with multiple showers and different hair products. I would purchase this formula again and would love to try more of their shade range!
Date published: 2018-05-04
Rated

2

out of

5
by
doreenc
from
I received the Garnier hair color box.whem I first applied the color and washed it, it came out beautiful. As days passed and I washed my hair the color was still bleeding. The color bleed for 2 weeks. Now the color has faded out and my bottom color now looks brown and and the top of my hair looks a faded red brown.
Date published: 2018-04-30
Rated

3

out of

5
by
countrygirllife23
from
Definitely need to go to a salon to get my hair colored...this washed out very quickly and needed to redo it every two weeks
Date published: 2018-04-28
Rated

5

out of

5
by
elizabethv1
from
This color is amazing and everything that I wanted it to be. I'm the past I have bought Garnier hair color and loved it but this color is just soooooo good!! I definitely will be buying it again from my local store!
Date published: 2018-04-26
Rated

5

out of

5
by
chasityl2413
from
I love this color . I always dye my hair myself and this brand is one of my go to for hair color . I love the cherry color . It makes your hair so silky after
Date published: 2018-04-26
Rated

4

out of

5
by
sbullitt
from
FULL DISCLOSURE: I have not yet used the color I received in my voxbox, only because it is a rather bold purple-ish shade and I don't want to color my hair anything too drastic with my wedding later this year. However I have used Garnier colors many times before and have had great experiences. The formula includes great conditioners that leave my hair looking shiny and in even better condition that I started.
Date published: 2018-04-24
Rated

5

out of

5
by
mrsmox
from
I'm a long time fan of Garnier. So when I received this color in the Influenter Garnier Voxbox, I was super excited. Im used to dying my own hair so I got right to work. This shade and its included serum and conditioner is no different than the others from Garnier I have used in the fact that it smells great and leaves my hair smooth and soft after the dying process is complete. Some brands burn or itch during the development process but Garnier never has. I tend to stick to red shades so this one was perfect for me. Its deep and vibrant and hasn't faded yet after 3 weeks. Garnier® Nutrisse® Ultra Color Nourishing Color Creme BR3 Intense Burgundy
Date published: 2018-04-24
Rated

5

out of

5
by
trishmf102
from
This is now my go to brand if I ever run out of my favorite color at Sally's. I love how well this covered my hair and didn't leave any spots where the hair wasn't dyed. The dye also didn't damage my hair(which also depends on how well you take care of your hair). I like that throughout the process, your hair is being nourished with ingredients to help hydrate and protect your hair from a process that can be drying. It puts moisture back into your hair this way which is not something every dye can do. I definitely recommend this product.
Date published: 2018-04-24
Rated

5

out of

5
by
claudiao579f
from
I love the way this color turned out. It didn't ruin my hair and it left my hair feeling soft. It had a bit of a hair dye smell but not to strong.
Date published: 2018-04-24
Rated

4

out of

5
by
ashleyr27
from
I'm currently in the process of bleaching my hair so I wasn't able to test the color personally, but I asked my mom if she could test it for me and she happily agreed. I colored her hair myself and out of all the colors she has don't this Burgundy was my favorite and it makes her hair look like a deep purple. It is beautiful but the only thing I don't like about the hair dye is the strong odor. But overall the color was beautiful, and my mom really wants to buy it again.
Date published: 2018-04-24
Rated

5

out of

5
by
shawnnar
from
I recieved a box of garnier hair dye from influenster & I used it on the bottom half of my head. It didnt stain my scalp, ears, neck or anything. It didnt leave my hair coarse. It didnt smell as bad as typical hair dye. It smelled like a hint of shampoo actually. It turned out great. I'm putting another color on the top, but I love it.
Date published: 2018-04-23
Rated

5

out of

5
by
simoneb1
from
I absolutely loved this hair color kit!! It is super easy to apply and is not very messy. I love how the color came out and how soft it made my hair feel!! I would definitely recommend to anyone who use dyes their hair!!
Date published: 2018-04-21
Rated

4

out of

5
by
clee0411
from
I received this as a sample to try from Influenster for my opinion. I like the color very much. It is very vibrant and shiny. I do not usually dye my hair from the box, so I probably would not purchase this. But it is a nice color and the smell is not strong or offensive. If I did dye my hair from a box, I think I would like this product. Thank you, Influenster for the chance!
Date published: 2018-04-21
Rated

5

out of

5
by
savannaho2
from
Absolutely Love Garnier Hair Dye! Doesn't damage hair and the smell is amazing. Leaves hair feeling nice and soft after the dying process. Color is exactly what I wanted! Would definitely buy again and recommend!
Date published: 2018-04-20
Rated

4

out of

5
by
brynnb1
from
It's a very pretty color and this formula leaves your hair feeling so soft! I would have preferred a color that was more brown or red toned just to fit my style a little better, as this one was pretty purple.
Date published: 2018-04-19
Rated

5

out of

5
by
lucianat
from
Garnier offers a great product that gives you a great color while also providing your hair with a nice shine.
Date published: 2018-04-19
Rated

5

out of

5
by
nicolilili
from
I got my first ever voxbox from influenster and I received this Garnier Nutrisse hair dye in the color very berry burgundy, which had red and purple tones in it. The instructions were pretty easy to follow, application was easy to do, but I did need help applying from the back part of my hair, the smell was bearable compared to my old hairdye that I used. Then came the rinsing part, I dont know if it's normal that the dye took a while to come completely off, and my hair felt very damaged, but their conditioner worked like magic, because the minute I put it on my hair immediately got de tangled and felt softer, I decided to do the conditioner twice since I felt like my hair needed it. And when I was deying my hair, it did not end up staining my towels! Which made me happy. Overall, I would definitely use nutrisse again and would recommend it to my friends!
Date published: 2018-04-19
Rated

5

out of

5
by
nancym03b1
from
I absolutely loved this product. I have very black hair and with this box, I was able to dye it to a dark burgundy. I left the product on my hair an extra 30 minutes to achieve the color. The product was easy to use and I'm so glad it came with plastic gloves. Would totally recommend this even if you have black hair.
Date published: 2018-04-19