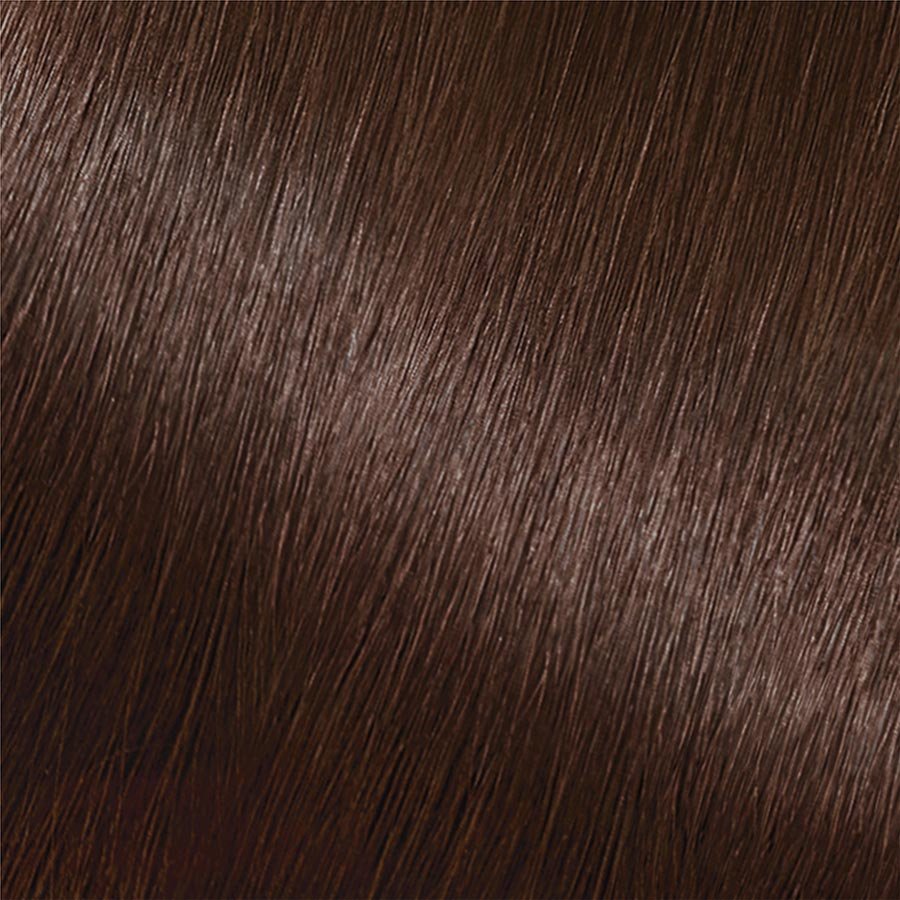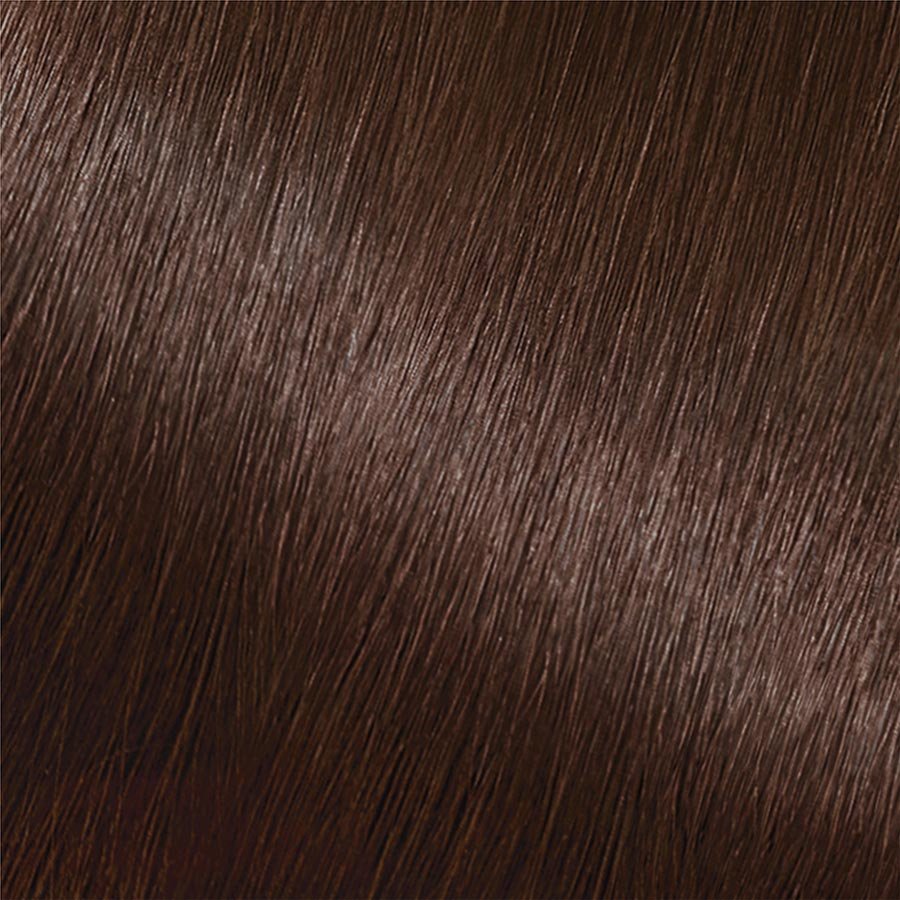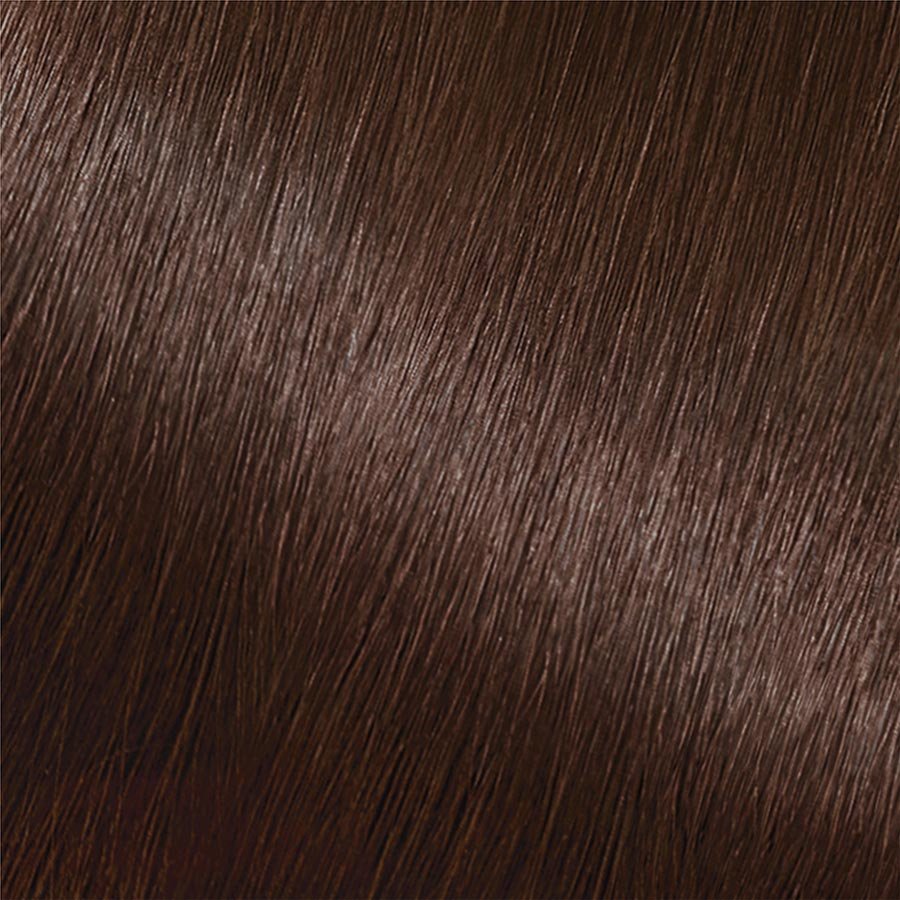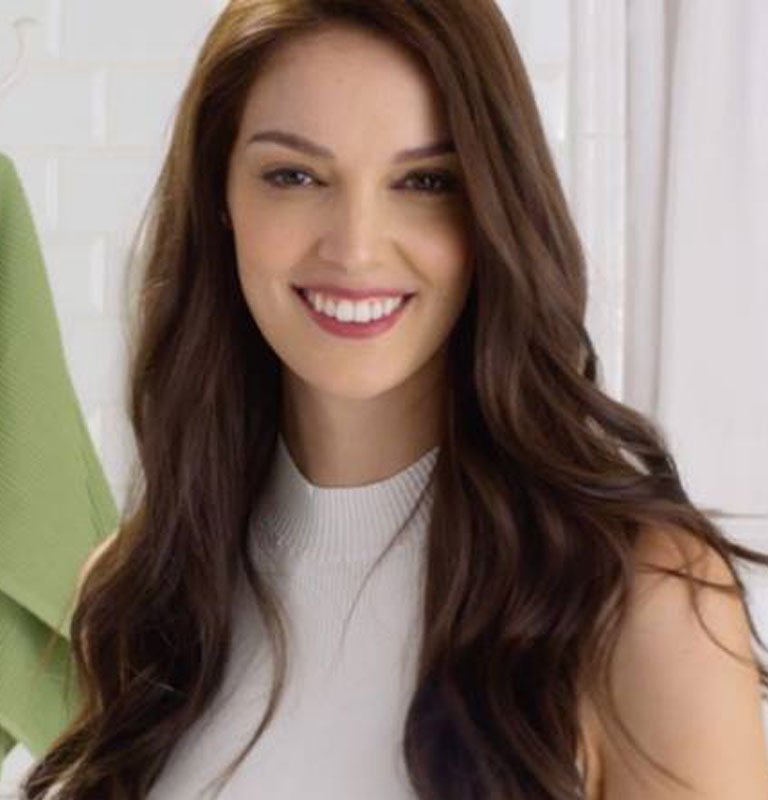 IMPORTANT: Like how this shade looks on you? Make sure it works with your hair. Take our 1-minute haircolor quiz to be certain.
Garnier Nutrisse Nourishing Color Creme
Nourishing Color Creme Dark Brown 40 (Dark Chocolate)
$7.99 MSRP
NOURISHED HAIR MEANS BETTER COLOR
PRODUCT INFORMATION:
Garnier Nutrisse hair color creme nourishes with grape seed and avocado oil. The nourishing color creme enriched with fruit oil concentrate, penetrates deep into hair fibers to nourish and condition your hair so it takes color better and holds it longer, root-to-tip. Garnier Nutrisse delivers rich, long-lasting color with 100% gray coverage.

Is Shade 40 (Dark Chocolate) right for you?
Garnier Nutrisse Dark Brown 40 (Dark Chocolate) is a pure, natural brown shade that is one shade lighter than Nutrisse Darkest Brown 30 (Sweet Cola). It provides 100% gray coverage and is best for anyone with natural hair between light brown and black.

If you prefer a lighter color that still reflects naturally, try Medium Natural Brown 50 (Truffle). If you would like to remain in the dark brown range but would like to try other reflects and tones there are many shades to choose from including 413, 415, 42, 434, and 452.

*For women with currently color treated hair, there are special considerations for the color result you can achieve. Because of this, we do not recommend shade 40 (Dark Chocolate) for hair that has been previously colored Darkest Brown 30 (Sweet Cola) or darker. For more help, use our Shade Selector Tool to find the perfect shade for you!
How to use:
Nutrisse nourishes while it colors with a rich, non drip creme formula, and with an ampoule of grape seed oil, it smells great while you apply.

Follow this step-by-step process when applying full-head color at home:

1) Always do a skin test by following the insert instructions in the kit 48 hours before.
2) Apply to dry, unwashed hair.
3) Apply gloves, squeeze colorant (B) into developer bottle (A).
4) Break off the tip and shake the bottle vigorously.
5) Start applying color at the roots, then away from roots to the tips.
6) Extend color through the ends, and massage into hair.
7) Leave formula on for 25 minutes or 30 minutes if you have lots of gray hair or resistant/coarse hair.
8) Massage hair thoroughly before rinsing to optimize rinsing process.
9) Rinse hair thoroughly until water runs clear.
10) Apply Nourishing Conditioner (D) and leave on for two minutes, then rinse thoroughly.

If you only need a root touch-up, please follow insert Touch-Up Application instructions.

Always read insert instructions before applying any hair color.
Ingredients:
Nutrisse Colorant: Aqua/Water, Cetearyl Alcohol, Propylene Glycol, Deceth-3, Laureth-12, Ammonium Hydroxide, Oleth-30, Lauric Acid, Hexadimethrine Chloride, Glycol Distearate, Polyquaternium-22, Ethanolamine, Silica Dimethyl Silylate, Ci 77891/Titanium Dioxide, 2,4-Diaminophenoxyethanol Hcl, M-Aminophenol, Ascorbic Acid, Sodium Metabisulfite, Dimethicone, Pentasodium Pentetate, N,N-Bis(2-Hydroxyethyl)-P-Phenylenediamine Sulfate, P-Phenylenediamine, Parfum/Fragrance, Carbomer, Resorcinol, Vitis Vinifera Seed Oil/Grape Seed Oil. F.I.L. D35229/6. Fruit Oil Concentrate: Paraffinum Liquidum/Mineral Oil, Vitis Vinifera Seed Oil/Grape Seed Oil, Parfum/Fragrance, Tocopherol, Rosmarinus Officinalis (Rosemary) Extract. F.I.L. D25829/5. Rinse-Out Conditioner: Aqua/Water, Cetearyl Alcohol, Elaeis Guineensis Oil/Palm Oil, Behentrimonium Chloride, Pyrus Malus Extract/Apple Fruit Extract, Glycerin Parfum/Fragrance, Stearamidopropyl Dimethylamine, Niacinamide, Pyridoxine Hcl, Butyrospermum Parkii Butter/Shea Butter, Citric Acid, Olea Europaea Oil/Olive Fruit Oil, Saccharum Officinarum Extract/Sugar Cane Extract, Benzyl Alcohol, Chlorhexidine Dihydrochloride, Persea Gratissima Oil/Avocado Oil, Ribes Nigrum Oil/Black Currant Seed Oil, Linalool, Citrus Medica Limonum Peel Extract/Lemon Peel Extract, Ci 19140/Yellow 5, Camellia Sinensis Extract/Camellia Sinensis Leaf Extract, Ci 15985/Yellow 6. F.I.L. D35637/3. Nutrisse Developer: Aqua/Water, Hydrogen Peroxide, Cetearyl Alcohol, Trideceth-2 Carboxamide Mea, Ceteareth-25, Glycerin, Pentasodium Penetate, Sodium Stannate, Tetrasodium Pyrophosphate, Phosphoric Acid. F.I.L. D12836/26.
Avocado Oil
A smoothing and silkening hair booster, Avocado Oil is loaded with plant-based fatty acids, which have a unique ability to penetrate for deep long-lasting effects. This rich indulgent ingredient helps to smooth split ends while adding a brilliant shine.
Olive Oil
Packed with antioxidants, Olive Oil has been a high-performance beauty elixir for centuries. In hair care and hair color formulas it helps coat hair, leaving strands strong, glossy, and resilient. In face moisturizers, it soothes as it smoothes for glowing, youthful-looking skin.
Rated

5

out of

5
by
marissab1996
from
I used to dye my hair a lot in college, and this was always my preferred line of dye! It feels gentle on hair, and the fruit extract makes it smell really good instead of strictly smelling like chemicals!
Date published: 2019-06-11
Rated

3

out of

5
by
thatradmom
from
Ive purchased Garner hair die from Walmart. I no longer choose to purchase boxes die as I prefer to mix my own for better resorts.
Date published: 2019-06-10
Rated

4

out of

5
by
gabygtarin
from
Affordable Do At Home product. I like this brand because it doesnt totally damage your hair and I appreciate the avocado oil included in the kit. It lasts a couple of months, so its worth what youre paying for it (FYI- not a lot).
Date published: 2019-06-10
Rated

5

out of

5
by
nachtsohnelicht
from
Doesnt stink as much as other hair dyes and stays for a long time. After a few showers its a bit washed out but still brilliant
Date published: 2019-06-10
Rated

5

out of

5
by
kayleek
from
I only ever get this box hair dye for the face that other ones I have used have made my hair fall out and they smell so horrible where as this smells almost fruity and it makes my hair healthier after I use it. If they stopped making this then Id only trust a salon
Date published: 2019-06-10
Rated

5

out of

5
by
babybrina97
from
Whenever I need to dye my roots or dye my hair I always use garnier! I feel like it does the job perfectly and the color comes out like its supposed to
Date published: 2019-06-10
Rated

4

out of

5
by
lacey_66
from
I know this is a cheaper brand, but I love it. I have darker hair to start with, but I think the color lasts very well. It may not be the best for the health of your hair, but I honestly will continue to buy this brand for awhile!
Date published: 2019-06-01
Rated

5

out of

5
by
paolan383b
from
I dont usually change my hair color a lot, but when I do I use products that nourish my hair and this one really does the job. Easy to apply and is not harsh on the scalp.
Date published: 2019-05-03
Rated

5

out of

5
by
melw4
from
This hair color was so easy to use! I used it to dye extensions and it was easy, virtually mess-free and the color turned out just as expected. So far, the color hasn't bled on to anything or faded. I love the conditioner they included in the kit and was contemplating getting the full size of it! I was very satisfied with this product.
Date published: 2019-05-03
Rated

5

out of

5
by
everythingb324f
from
i love how this product applies gently to the hair with a really nice smell not hard to use at all. one of mty fav. it honestly need to be a bit biggerbin my opinion. the color is amost true to what is on the box. i was satisfied with what i received. wil recommend
Date published: 2019-05-03
Rated

4

out of

5
by
milagrop
from
Like the color and the fragrance of the conditioner. Though it took awhile for it to show on my moms hair. Then again she does have darker hair color but over I was pretty good
Date published: 2019-05-03
Rated

4

out of

5
by
mahamm1
from
I love this hair color. My hair is getting white so love and trust on garnier but I dont know why this color is getting off soon so nd I have dye again my hair. This color is perfect color for my hair cz it looke like natural on me
Date published: 2019-05-03
Rated

5

out of

5
by
khatiak4
from
This dye hair for a long time I have a lot of other colors than I like Very almost everything I love What I'm trying to give my hair a natural color
Date published: 2019-05-03
Rated

5

out of

5
by
shyannesummerhowell
from
I get garnier nutrisse nourishing color cream in the red color it works very well last a long time it's a color for dark brown hair
Date published: 2019-05-03
Rated

5

out of

5
by
tanyal6fbf
from
I wanted to try out black but was a little iffy about it, and this ended up being the perfect shade for me. It covered those stubborn grey edges. I personally love it and like how it changed but I feel that the color didnt last as long as the box stated.
Date published: 2019-05-03
Rated

4

out of

5
by
nanciejul
from
Good color for my wigs because I do not color my natural hair. I find that I have to use two packs to have a defined and obvious color change. Good price point and very easy to use.
Date published: 2019-05-02
Rated

4

out of

5
by
jessicass_
from
I like too much the garnier nutrisse, I have always used this because keeps my hair hydrated and shiny!
Date published: 2019-05-02
Rated

5

out of

5
by
marys11
from
I love this hair dye! It works really well and is my go to! Very easy to use, has clear instructions that make it easy to follow along!
Date published: 2019-05-02
Rated

3

out of

5
by
mamma_bear_01
from
I used this product a few months ago, to take a step down from my dark hair colour. It worked pretty good, tho it did not hold the colour for long. I felt like it faded back to my dark colour quickly, within a few months. I have used Garnier for years, and am usually pretty satisfied.
Date published: 2019-05-02
Rated

5

out of

5
by
jyothig1
from
Good colour and gives the right colour even after 10 washes and lasts for a long time than normal ones
Date published: 2019-05-02
Rated

5

out of

5
by
nikkin682a
from
I like the quality of this hair color. Good packaging. Hair come application is easy and the price of the hair color is very reasonable. Hair color stays for a month.
Date published: 2019-04-07
Rated

3

out of

5
by
biancav2
from
I really like this hair dye. This is my to go hair dye, I also like the black hair dye a swell. The smell of the rinsing shampoo make leaves my hair soft and smelling amazing. I recommend using Garnier all their hair products have an amazing smell.
Date published: 2019-04-06
Rated

4

out of

5
by
debbiem2184
from
I have used this and I liked it . It is one of my favorites because it leaves your hair shiny and healthy. I would recommend it and I have to my clients.
Date published: 2019-04-06
Rated

4

out of

5
by
kimberlya22
from
I enjoy this product to cover up my grey hair. Keeps my hair feeling smooth without feeling damaged
Date published: 2019-04-06
Rated

4

out of

5
by
anniec75
from
Love how long the color last and its smells amazing I really like this hair die I have used it for years.
Date published: 2019-04-06
Rated

4

out of

5
by
manalew
from
The most popular thing in this brand is that it enters natural ingredients such as olive oil, avocado and apple as the dye is ammonia-free I am better this brand on many other brands Maybe in the coming years will become better and free of other serious materials hope so
Date published: 2019-04-05
Rated

5

out of

5
by
crystalc18
from
I really enjoy using garnier haircolors . Color lasts well . The smell isnt unbearable which is great lol . Overall a good product and brand that ill use again . Also the conditioner tubes are always a treat that leave my hair feeling amazing !
Date published: 2019-04-05
Rated

4

out of

5
by
emilyh21
from
I dont typically use box dyes anymore (thats why I gave it a 4 star because box dyed arent good for your hair) but when I did I used this one and I loved it.
Date published: 2019-04-05
Rated

4

out of

5
by
notadeb
from
This color was beautiful and covered my grays well. It was easy to use which is always a plus.
Date published: 2019-04-05
Rated

5

out of

5
by
reesew1
from
This is my favorite coloring kit. It doesnt have a smell that makes my eyes water and it goes on easily. I love the conditioner that comes with it, it lasts me a good two weeks since I have shoulder length hair.
Date published: 2019-04-05