This site is intended for US consumers.Cookies and related technology are used for advertising.To learn more or opt-out, visit Ad Choices and our privacy policy.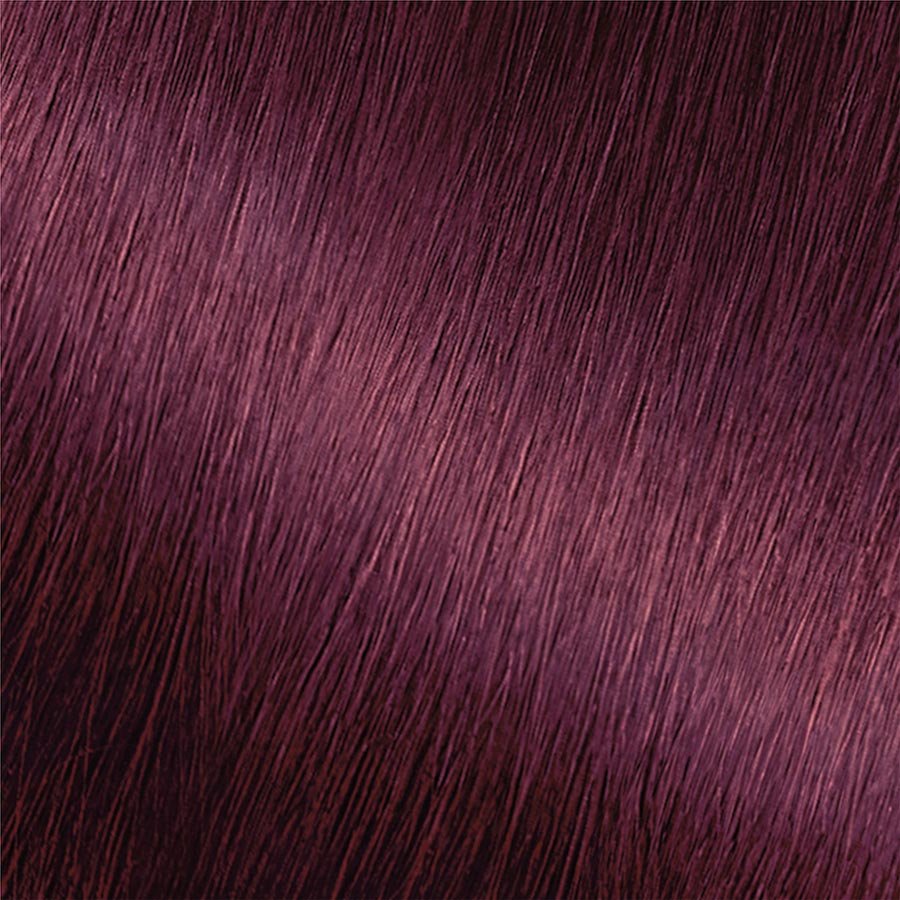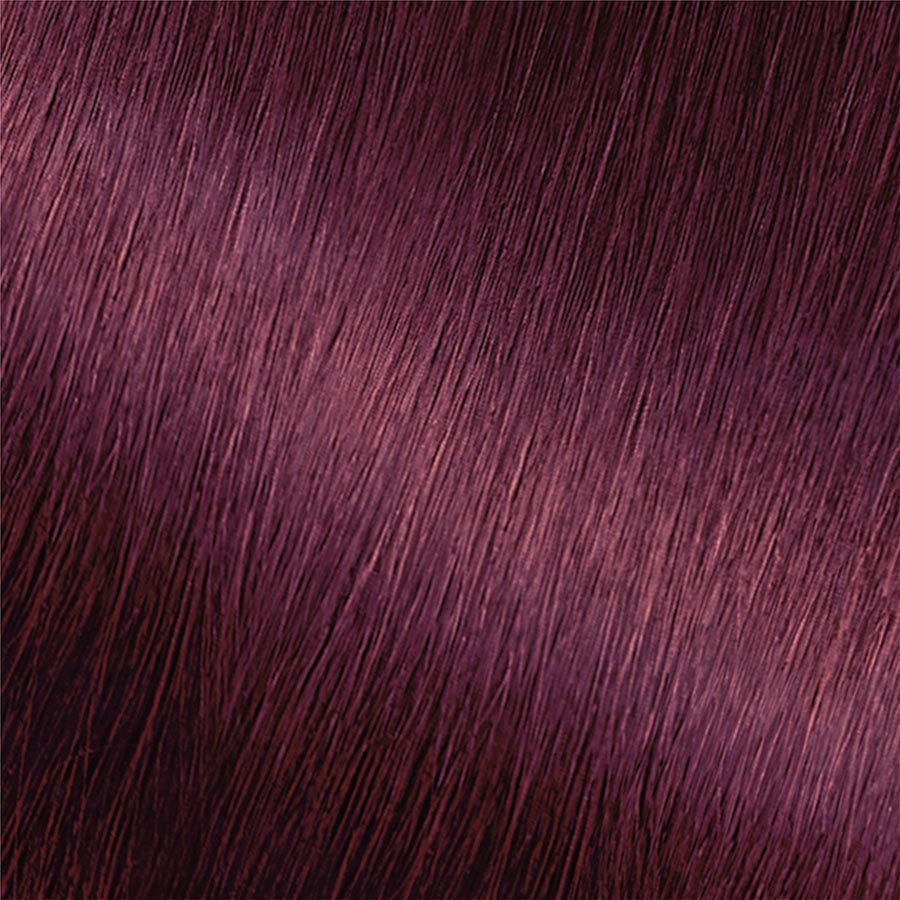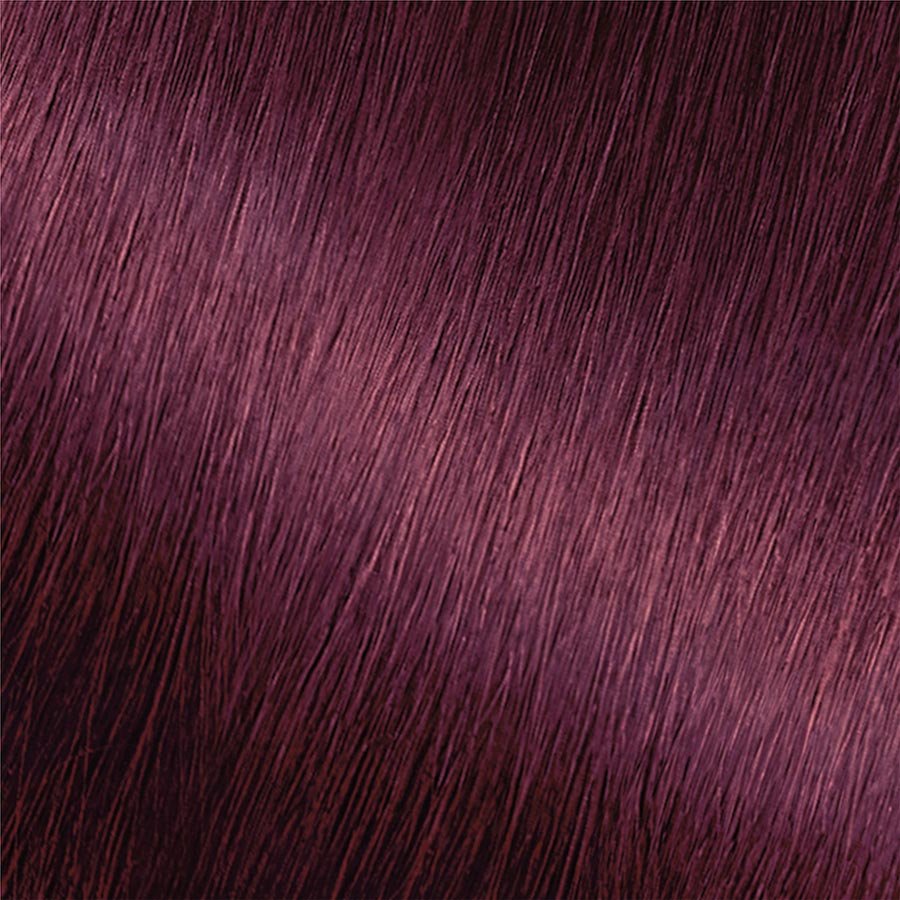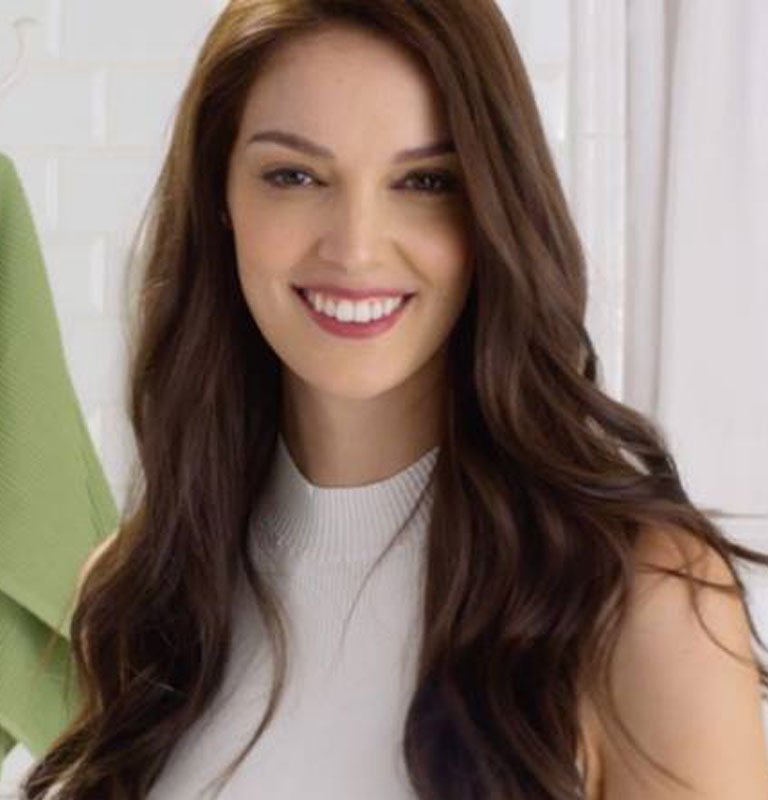 IMPORTANT: Like how this shade looks on you? Make sure it works with your hair. Take our 1-minute haircolor quiz to be certain.
Garnier Nutrisse Nourishing Color Creme
Nourishing Color Creme 362 - Darkest Berry Burgundy
$7.99 MSRP
NOURISHED HAIR MEANS BETTER COLOR
PRODUCT INFORMATION:
Garnier Nutrisse hair color creme nourishes with grape seed and avocado oil. The nourishing color creme enriched with fruit oil concentrate, penetrates deep into hair fibers to nourish and condition your hair so it takes color better and holds it longer, root-to-tip. Garnier Nutrisse delivers rich, radiant, long-lasting color with 100% gray coverage.

Garnier Nutrisse shade 362, "Darkest Berry Burgundy" is a part of our Very Berry collection, specially formulated with cool tones for a vivid, deep burgundy hair color. Dark Berry Burgundy is best for anyone with natural hair between Medium Brown and Black.

This is the darkest berry shade in our collection. If you would like a lighter burgundy shade, try 462, "Dark Berry Burgundy," within the collection. For a darker burgundy shade, try BR2, "Ultra Color Dark Intense Burgundy." If you would like to try other reflects and tones within the Red range, there are many shades to choose from including, Ultra Color BR1 and BR3. Please note that Ultra Color is not designed for 100% gray coverage.

*For women with currently color treated hair, there are special considerations for the color result you can achieve. Because of this, we do not recommend shade 362 for hair that has been previously colored shade 30 "Darkest Brown," or darker. For more help, use our Shade Selector Tool to find the perfect shade for you!
How To Use
Nutrisse nourishes while it colors with a rich, non drip creme formula, and with an ampoule of grape seed oil, it smells great while you apply.

Follow this step-by-step process when applying full-head color at home:

1) Always do a skin test by following the insert instructions in the kit 48 hours before.
2) Apply to dry, unwashed hair.
3) Apply gloves, squeeze colorant (B) into developer bottle (A).
4) Break off the tip and shake the bottle vigorously.
5) Start applying color at the roots, then away from roots to the tips.
6) Extend color through the ends, and massage into hair.
7) Leave formula on for 25 minutes or 30 minutes if you have lots of gray hair or resistant/coarse hair.
8) Massage hair thoroughly before rinsing to optimize rinsing process.
9) Rinse hair thoroughly until water runs clear.
10) Apply Nourishing Conditioner (D) and leave on for two minutes, then rinse thoroughly.

If you only need a root touch-up, please follow insert Touch-Up Application instructions.

Always read insert instructions before applying any hair color.
ingredients
COLORANT: 1121431 AQUA/WATER/EAU, CETEARYL ALCOHOL, DECETH-3, PROPYLENE GLYCOL, LAURETH-12, AMMONIUM HYDROXIDE, OLETH-30, LAURIC ACID, HEXADIMETHRINE CHLORIDE, GLYCOL DISTEARATE, ETHANOLAMINE, 2-METHYL-5-HYDROXYETHYLAMINOPHENOL, 4-AMINO-2-HYDROXYTOLUENE, TOLUENE-2,5-DIAMINE, POLYQUATERNIUM-22, SILICA DIMETHYL SILYLATE, PARFUM/FRAGRANCE, PENTASODIUM PENTETATE, SODIUM METABISULFITE, CARBOMER, p-AMINOPHENOL, ASCORBIC ACID, N,N-BIS(2-HYDROXYETHYL)-p-PHENYLENEDIAMINE SULFATE, VITIS VINIFERA SEED OIL/GRAPE SEED OIL, CI 77891/TITANIUM DIOXIDE, RESORCINOL, THIOGLYCERIN, DIMETHICONE, TOCOPHEROL, HELIANTHUS ANNUUS SEED OIL/SUNFLOWER SEED OIL, ROSMARINUS OFFICINALIS (ROSEMARY) EXTRACT. F.I.L.# D188294/1 FRUIT OIL CONCENTRATE: 1028840 PARAFFINUM LIQUIDUM/MINERAL OIL/HUILE MINERALE, VITIS VINIFERA SEED OIL/GRAPE SEED OIL, PARFUM/FRAGRANCE, TOCOPHEROL, ROSMARINUS OFFICINALIS (ROSEMARY) EXTRACT. F.I.L.# D25829/5 RINSE-OUT CONDITIONER: 1100858 AQUA/WATER/EAU, CETEARYL ALCOHOL, ELAEIS GUINEENSIS OIL/PALM OIL, BEHENTRIMONIUM CHLORIDE, PYRUS MALUS EXTRACT/APPLE FRUIT EXTRACT, GLYCERIN, PARFUM/FRAGRANCE, ISOPROPYL ALCOHOL, STEARAMIDOPROPYL DIMETHYLAMINE, NIACINAMIDE, PYRIDOXINE HCl, BUTYROSPERMUM PARKII BUTTER/SHEA BUTTER, CITRIC ACID, OLEA EUROPAEA OIL/OLIVE FRUIT OIL, SACCHARUM OFFICINARUM EXTRACT/ SUGAR CANE EXTRACT/EXTRAIT DE CANNE A SUCRE, BENZYL ALCOHOL, CHLORHEXIDINE DIHYDROCHLORIDE, PERSEA GRATISSIMA OIL/AVOCADO OIL, RIBES NIGRUM OIL/BLACK CURRANT SEED OIL, LINALOOL, CITRUS MEDICA LIMONUM PEEL EXTRACT/LEMON PEEL EXTRACT, CI 19140/YELLOW 5, CAMELLIA SINENSIS LEAF EXTRACT, CI 15985/YELLOW 6. F.I.L.# D174455/2 DEVELOPER: 178914 U AQUA /WATER/ E AU, HYDROGEN PEROXIDE, CE TE ARYL ALCOHOL, TRIDECETH-2 CARBOXAMIDE MEA, CETEARETH-25, GLYCERIN, PENTASODIUM PENTETATE, SODIUM STANNATE, TETRASODIUM PYROPHOSPHATE, PHOSPHORIC ACID. F.I.L.# D12836/26
Rated

4

out of

5
by
Dawn40
from
Loved it!
I have red copper hair with grays naturally. I was looking for a bold beautiful color and I believe I have found it! I love how the purple blackish plum hues mix stand out in the sunlight! My hair has always "lit up" when I went out and that it still does. This color has one downfall in my opinion as it did bleed a bit into my towel even though my hair was thoroughly rinsed. I would recommend using an old towel to dry your hair. Otherwise I feel my hair looks gorgeous in every light and very pleased with end result. I used a hair mask afterwards and my hair is the healthiest looking after a dye job that I've seen! Great product despite the small bleed.
Date published: 2019-06-08
Rated

1

out of

5
by
Laura78
from
DON'T USE THIS PRODUCT
I wish I had checked reviews before using! I've dyed my hair black cherry shades many times over the years but never this exact product. My medium/dark brown hair is now black at the ends and purple in general. It has been 4 days now and I've washed 6 times with no change. I guess I'm going to have to go spend $200 to have a professional stylist fix it. I will NEVER buy Garnier again.
Date published: 2019-04-03
Rated

3

out of

5
by
Rewardedwithwords
from
Meh
I am really disappointed in the after color of my hairI normally go with another product (I don't remember the name, only the box lol) anyways, the color came out super dark, almost a walnut brown. My hair was light brown with medium tinges of red. Now it's an unfavorable color. My guess is if you have light hair, use it. If you have medium or dark hair, skip it.
Date published: 2019-03-13
Rated

5

out of

5
by
Florcita
from
I am satisfied with this product! :)
When I used Raspberry Jam for the first time, I was changing the color from 70- Dark Natural Blonde. I knew that I was taking a risk; I was nervous, but I was willing to try the color. When I completed my color change, I was satisfied. As the color faded, I noticed the blonde coming through even though the burgundy was vibrant still. I use Fructis color care shampoo and conditioners such as Fructis Color Vibrancy Treat 1 Minute Hair Mask to maintain the vibrancy. Recently, I saw a Fructis how-to video. A Fructis hair model demonstrated a color application: a darker tone at the roots and a lighter tone extending down the hair shaft. My bright idea was to try the application with 362-Rasberry Jam and 462 Sugar Beet. Following Fructis' example, I used those tones because I wanted use the closest possible dark and slightly lighter color tones for subtlety and since the blonde began showing after 5 shampoos. Again, I am pleased with the results. I really like using Raspberry Jam, by itself or with a slightly lighter tone extended down the hair shaft for subtle color enhancement. I will stick with the color for a while.
Date published: 2019-02-14
Rated

5

out of

5
by
Tiffanynichoel
from
Love at first dye
Naturally I'm a light blonde and wanted to try an extreme color and I fell in love with it, will continue with this color
Date published: 2019-01-22
Rated

1

out of

5
by
Carol G
from
Disappointed
I always buy Garnier. It's a great product that I would recommend to anyone. I have never had a problem until I wanted to dye my hair burgundy for Christmas. I bought #362 because it showed burgundy on the box. My hair came out BLACK no burgundy at all. The box should show that this product could come out black. I'm an adult and will survive, just disappointed.
Date published: 2018-12-22
Rated

1

out of

5
by
ellen_z
from
This might as well be false advertising.
Garnier please consider changing the name of this color . It's way more of a "blackberry" than the burgandy I was expecting. The photos on this box hardly represent the color you are actually getting. I have medium brown hair and now my hair looks almost black with a very slight reddish/purple hue that's only noticeable in light. It looks like many other people were surprised by the darkness of this color & Garnier's response is to keep washing it to help fade the color. If so many people are experiencing the same thing, change the advertising for this color! I've had great experience with Garnier colors in the past and now I'll probably buy your hair dye again.
Date published: 2018-12-12
Rated

5

out of

5
by
NikolLamar
from
I adore this color!!!
This color is beautiful! It reminds me of the color that used to be black cherry. It looks almost black, but in light there are beautiful highlights of reds and purple's. I've had so many people compliment me on the color and ask where I got my hair done at. Then when I reluctantly tell them it's a box color they are all too excited to find out they can get it too. I see many complaints from people on here saying how dark it made their hair. The name of the color is DARKEST BERRY BURGUNDY. Usually, for future reference, the color it says your hair will be, always count on it being a shade for 2 darker, especially if you already have dark hair. However, as with all dark hair colors after a few week or so of washing you hair, it will begin to lighten up.
Date published: 2018-09-28
Rated

2

out of

5
by
Melanie29
from
Not what i expected .. turned black
Spent like an hour trying to decide if i wanted to go black or red/purplish in store! Time wasted because I was only deciding between two blacks lol its a nice formula but def not what is on box =X
Date published: 2018-09-13
Rated

5

out of

5
by
Kari87
from
I love the color but understand the frustrations
I just wanted to let everyone know that this product does look black with a berry overtone at 1st but once you wash it a couple times with shampoo, it will lighten up into a beautiful dark berry.
Date published: 2018-09-04
Rated

2

out of

5
by
Janna11390
from
Too Dark
Bought this color to cover my red/brown grown out hair...used Color Prep before and this still turned my hair almost black. Was really excited hoping to have the color on the box :(
Date published: 2018-08-21
Rated

1

out of

5
by
Andi12
from
Turned my hair black!
This stuff is such a pretty color...on the box. Now my tips are blackish with the tiniest hint of purple. Not at all the pretty berry color on the box. Would not recommend!
Date published: 2018-08-02
Rated

1

out of

5
by
Kaybee
from
Disappointed turned hair black
I am disappointed in this product. My natural color is brown. I was hoping it would turn out like the picture on the box, but nope. It's just black. I can't even see any hint of burgundy. Will not buy Garnier Nutrisse any more.
Date published: 2018-07-17
Rated

1

out of

5
by
KennedyT
from
Horrible
My hair was a light brown and I tried the dye it turned my hair black. I'm highly upset that I wasted my money on this!!
Date published: 2018-07-11
Rated

1

out of

5
by
Am123
from
Worst representation of color
I bought this dye because I wanted the purple raspberry color. From the samples on the box and the color of my hair(light brown) it should of worked perfect. I had no such luck. My hair is black. I hate it. The samples do not show the color being black in anyway. I highly do not recommend this to anyone. This is the first time I dyed my hair in a year. I cut off all the previous color but now my hair is now ruined.
Date published: 2018-05-27
Rated

1

out of

5
by
Angry person
from
Product sucks
I will never buy this product again .I have a 40 Gal tank and it took all of that and I have short hair . I then dried my hair thinking the water was running clear and got color on my towel . had to wait till my not water tank refilled to to back in to rinse my hair AGAIN .even if this was on sale for .50 I would buy it again. Will tell all my friends do not buy this product . It sucks
Date published: 2018-01-26
Rated

1

out of

5
by
Becka1912
from
Turned hair black
Bought this yesterday to put over dyed red hair. Not a dark red, not a light red but red. Put this stuff on for 20-25 min my roots are an odd mix of red and purple and the rest of my hair is straight up black. I understand not to trust the box, but i know it shouldn't have turned BLACK.
Date published: 2018-01-05
Rated

1

out of

5
by
Denise86
from
Worst dye ever
I started out BLONDE and I was wanting to go darker but still wanted a nice color to my hair. I decided to try this color because on the box it shows dark hair tones being LIGHTEN to a beautiful burgundy/plum color. I figured with my hair being so light the color would be more intense and brighter. My hair looks like i used BLACK hair dye. When the light hits it it looks like it has a really dark dark dark Purple undertone. I hate my hair so much and there's nothing i can do about it without risking over processing my hair.
Date published: 2017-12-27
Rated

1

out of

5
by
Amber1029
from
Buyer beware
I loved the color as it looks on the box but not how it turned out. I used this dye after using shade 56. It's was three weeks since I last dyed it with 56 so it has lightened up. This shade(362) turned my hair almost black. It should be sold as a berry black instead.
Date published: 2017-11-28
Rated

1

out of

5
by
Subha
from
It Turned My Hair Black..Totally Disappointed
I was so much excited to color my hair but this dark berry burgundy shade just disappointed me. It totally made my hair look black and no changes in look of my hair..Am not going to purchase it anymore in wasti g my $ for something that doesnt give any change.
Date published: 2017-11-10
Rated

5

out of

5
by
kianarae
from
Best Box color I've ever used
I had darker brown hair with blonde highlights, the color came out a Deep/dark purple tones w/ red in it and I love it.
Date published: 2017-10-30
Rated

5

out of

5
by
PlumAwesomeness
from
Definitely worth a try!
I had a color mishap from another brand that turned my hair black and I was devastated. I went to the store set on getting Color Oops and a nice Garnier dark reddish/purplish shade which is originally what I was going for and I settled on Darkest Berry Burgundy. I will admit it did look black immediately after dying it and I was so upset because the Color Oops turned it blonde and I didn't understand how it went black again. So I came on here and read the reviews and some of the replies from Garnier and I read to try washing it with regular shampoo to help let the color bleed out a little more. So I gave it a shot and it worked! My hair is now a gorgeous dark plum color! Hair can really make a girl feel good about herself and I love my hair now!!
Date published: 2017-09-14
Rated

5

out of

5
by
Aneaters
from
The color I've been waiting for <3
This color is the dark cherry color that I've been wanting without having to go to a salon. I've gotten so many compliments and inquiries on what color and brand I used so they could go and get some themselves. I'm so grateful for my beautiful color, along with shine and softness my hair.
Date published: 2017-09-11
Rated

4

out of

5
by
stlmom26
from
Purple and Loving It!
I normally use Garnier Nutrisse to dye my hair. i started with blonde tips, faded red, and my natural dirty blonde roots. It is pretty much exactly what i was expecting. parts look black and in the right light you can see the purple. I absolutely love it! I have to go over my hair again because it didnt take in some spots and its very noticeable with the half zebra stripes/leopard spots. It was my fault it didnt take in those spots, once i get it fixed i will 100% satisfied.
Date published: 2017-08-25
Rated

5

out of

5
by
Dhizzle
from
Felt the need to defend this color.
I was weary about trying this color because of the the reviews. It is a very dark burgundy. I like it because it's burgundy but it looks natural. It's called darkest burgundy and guess what? It's dark! So don't be afraid to try it out. I love it. I hope this color sticks around in the product line.
Date published: 2017-07-14
Rated

2

out of

5
by
Miss D
from
Turned my hair black
My hair has not been dyed in about 10 months, and I had used a similar color. Dyed it today, and it's black. Good condition though, very shiny. I'm trusting it will fade to a more burgundy color.
Date published: 2017-06-21
Rated

3

out of

5
by
water
from
Gorgeous color
I dont know about the other reviews...this color is very pretty.
Date published: 2017-06-13
Rated

1

out of

5
by
Miss J
from
Don't waste your time
I haven't had any color treatments or dye used on my hair for years. This color just turned my hair into a darker black. I naturally have regular black hair. I was so disappointed. It didn't give any "darkest berry burgundy". I pretty much just damaged my hair by putting color on my hair again for no reason. I wish I can just get my money back and or my hair untreated with this color. So disappointed. Please don't buy it.
Date published: 2017-06-09
Rated

1

out of

5
by
silk72
from
Disappointed
I regret buying this hair dye. I have never had any problems in the past with any dye not coming out how it's suppose to but this time I did. My hair turned out Black not the color I was going for. Before dyeing it My natural color is a dark brown with some red in it. It hadn't been color treated so that wasn't the problem.... I wish I could get my money back.
Date published: 2017-06-05
Rated

1

out of

5
by
Dgrlent
from
BLACK HAIR DYE
I just dyed my hair and it looks black. I love the color on the box and I have light brown hair... but it just looks black.... very dissapointed
Date published: 2017-05-26