This site is intended for US consumers.Cookies and related technology are used for advertising.To learn more or opt-out, visit Ad Choices and our privacy policy.
Color Reviver - Golden Blonde
Garnier Nutrisse Nourishing Color Creme
$7.99 MSRP
Color Reviver's creamy mask is enriched with avocado oil to leave hair smooth and shiny.
Product Information
Garnier Nutrisse introduces New! Color Revivers ranging from beautiful deep browns to the coolest of blondes. With rich, depositing color pigments, you can instantly refresh your hair in 5 minutes. Enriched with avocado oil, Color Revivers instantly restores softness, shine and smoothness to even the most damaged dry hair. If sun and styling take away from the radiant hair color, Color Revivers is the answer! Available in 5 shades, Color Revivers is a match for numerous hair color shades. No gloves and no staining! Get ready to have beautiful, radiant color all the time.
How to Use
Shampoo and rinse hair before applying. Spread evenly throughout damp hair, then wash hands thoroughly. Leave in for 5 minutes. Rinse thoroughly. No need for a conditioner after. Use every two weeks.
Tip: Try Micellar Cleansing Water, Waterproof to remove hair color stains
Ingredients
1166921 AQUA / WATER / EAU, CETEARYL ALCOHOL, PARAFFINUM LIQUIDUM / MINERAL OIL / HUILE MINERALE, DIPALMITOYLETHYL HYDROXYETHYLMONIUM METHOSULFATE, CETYL ESTERS, CI 60730/ACID VIOLET 43, CI 45100/ACID RED TOCOPHEROL, SODIUM HYDROXIDE, SODIUM CHLORIDE, PHENOXYETHANOL, CHLORHEXIDINE DIGLUCONATE, HELIANTHUS ANNUUS SEED OIL / SUNFLOWER SEED OIL, LIMONENE, BENZYL SALICYLATE, BENZYL ALCOHOL, LINALOOL, PERSEA GRATISSIMA OIL / AVOCADO OIL, BASIC BROWN 17, BASIC RED 51, BASIC ORANGE 31, BASIC YELLOW 87, ROSMARINUS OFFICINALIS LEAF EXTRACT / ROSEMARY LEAF EXTRACT, CETRIMONIUM CHLORIDE, CITRIC ACID, HEXYL CINNAMAL, PARFUM / FRAGRANCE. F.I.L. # C236246/1
Frequently Asked Questions
1. How often do Nutrisse Color Revivers need to be used? Can they be used more than once in 2 weeks?
Nutrisse Color Revivers do not need to be used daily or even every other day. The product deposits color pigments with every use. The product should be used in place of your conditioner after shampooing with your regular maintenance shampoo for color-treated hair. Therefore, we recommend using the product to revive hair color once every 2 weeks.
2. Can I mix different Nutrisse Color Revivers shades to achieve in-between results?
Yes! You can combine any Nutrisse Color Revivers you want to achieve your desired result. For instance, if the Cool Blonde shade is too cool, add some warmth with the Golden Blonde shade.
3. What happens if I leave Nutrisse Color Revivers on longer than 5 minutes?
Nutrisse Color Revivers are designed to deposit color on color-treated hair. After testing and evaluating the product performance when applied for 5 and 10 minutes, we've concluded that the best revived results occur when the product is left in hair for 5 minutes. The longer you leave on Nutrisse Color Revivers, the more color pigment will be deposited on your hair.
4. Will Nutrisse Color Revivers cover gray roots?
No. Nutrisse Nourishing Color Crème permanent hair color is the best product for covering gray hair. If you want to revive the color of hair that's already color-treated, we recommend using Nutrisse Color Revivers.
5. If I don't have color treated hair, can I use Nutrisse Color Revivers? What will the product do?
Yes. However, Nutrisse Color Revivers are designed to nourish and add tones to color-treated hair. If you apply the product to un-color-treated hair, the added tones will not be as visible as when applied to color-treated hair.
6. Will there be more shades?
We are currently exploring new shades to add to the Nutrisse Color Revivers range.
7. Are Nutrisse Color Revivers a semi- or demi-permanent dye?
Nutrisse Color Revivers are not a demi-permanent hair color product. They can be understood as a conditioner that contains color pigments similar to what is found is semi-permanent offerings.
8. Will Nutrisse Color Revivers stain my hands and fingers?
Nutrisse Color Revivers will not stain your hands or fingers! They are meant to be as user-friendly as possible.
9. Should I shampoo before using Nutrisse Color Revivers?
Yes, shampoo and rinse your hair before applying Nutrisse Color Revivers. Because the product is a conditioner, it will not clean your hair.
10. Should Nutrisse Color Revivers be applied to wet or dry hair? Why?
Wet. We have evaluated applications on multiple hair conditions and have concluded that the best application for revived color results is on freshly washed, damp hair.
Have more questions? Check out our Color Reviver guide with everything you need to know.
Everything You Need to Know About Nutrisse Color Revivers
Don't let your hair color fade away on you. Keep it looking fresh and vibrant for weeks with Nutrisse Color Revivers.
MATCH WITH YOUR PERFECT PERMANENT HAIR COLOR
All Shades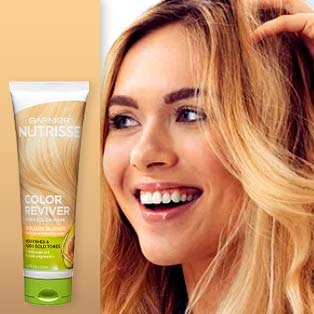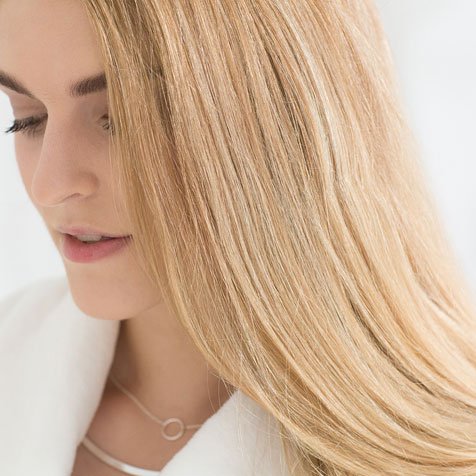 Nutrisse Color Cream

Blonde Shades
Dark Golden Blonde 73 (Honey Dip)
Medium Golden Blonde 83 (Cream Soda)
803 - Medium Buttery Blonde
Light Golden Blonde 93 (Honey Butter)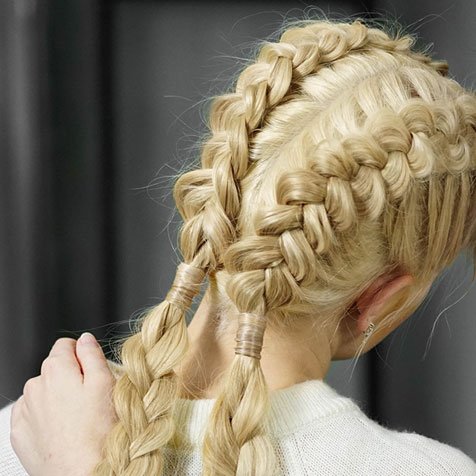 Nutrisse Ultra Color

Blonde Shades
HL1 - Bright Toffee
HL1 - Bright Toffee
Avocado Oil
Enriched with solidary-sourced avocado oil, restore soft texture and visible shine to even the most damaged, dry hair.
Vitamin E
Infused with Vitamin E to create a glossy texture and smooth shine for color-treated hair.
Rated

5

out of

5
by
_yamileet_
from
I received this product from Influenster in the light blonde shade and let me tell you this has been such a great product. I have very light blonde hair but I struggle to maintain it. Especially since it begins to turn orange with time. So I use this every now and then and it has helped keep my hair beautiful and blonde. Its a purple colored creme and I leave it on for about 15 mins and once I wash it of my hair is nice and blonde again. Really recommend it. I am almost out of this product so I will be repurchasing.
Date published: 2020-03-11
Rated

5

out of

5
by
aliciac38c3
from
Love this purple conditioner. It leaves my hair so soft and goes on easy. It also doesn't stain your hands purple like a few other products. Takes alot of the brassy color away leaving ur hair shiner. #influsentervoxbox cant wait to tryout more products
Date published: 2020-03-08
Rated

5

out of

5
by
trista_kottke
from
This is amazing! This color revived works better than any other drug store one Ive purchased! The smell is very pleasant
Date published: 2020-03-08
Rated

5

out of

5
by
davenr
from
Greatttt product! Love it so much, I highly recommend! Awesome price, awesome results, and awesome amount
Date published: 2020-03-08
Rated

4

out of

5
by
martij
from
I received this as a complimentary item from Influenster and loved it. It colored my hair well! And it lasted a while. I will be using again and recommend
Date published: 2020-02-20
Rated

4

out of

5
by
melissam48a3
from
I just used this tonight and I have to say I definitely see a difference. It made my hair soft and it smelled really good. I was nervous it was going to do something crazy but it came out really good. I got the cool blonde tone. The last one is before an the other 2 are different lighting Garnier Nutrisse Nourishing Color Creme Color Reviver - Cool Blonde
Date published: 2020-02-19
Rated

4

out of

5
by
annas4512
from
Smells good and doesnt leave my hair feeling dry like other purple treatments. The pigment is not potent enough for what I like.
Date published: 2020-02-16
Rated

5

out of

5
by
msterkowitz
from
I am blown away by this product. It does wonders to my hair. It is very effective and leaves my hair a beautiful blonde. It takes all the brassyness out of it. It is very affordable and I will be purchasing it again.
Date published: 2020-02-14
Rated

2

out of

5
by
laurenxrachelx
from
Not the best and doesnt conform to my hair color. There arent many shades available and it doesnt adapt to your hair color very well. I wont be buying the product. I have plenty of products that keep the shade I dyed my hair to without it looking awkward.
Date published: 2020-02-13
Rated

5

out of

5
by
justbreann
from
I used this product on my wig reluctantly because I had never worked with blonde hair before and I really didnt want to mess it up. I thought the colors wouldnt match up but they end up working out and the wig looks great !
Date published: 2020-02-09
Rated

5

out of

5
by
elly_manuel
from
This is the best purple shampoo I have found that is affordable. Makes your hair less brassy and more platinum almost immediately. This extends the salon color so much longer!
Date published: 2020-02-06
Rated

5

out of

5
by
kmlittle
from
This creme made my hair feel amazing. It was a little difficult to wash out because my hair is super thick, but I didn't notice too much residue when I dried my hair. The smell is a little strong, but when used sparingly it's nice. It's a great touch up tool for my balayage.
Date published: 2020-02-04
Rated

1

out of

5
by
juli__anneee
from
Did not like this product. I didnt see any difference in my hair, and it was extremely thick so it was hard to use with a head full of hair honestly. I only used it a couple times since I did not enjoy it much.
Date published: 2020-02-03
Rated

5

out of

5
by
style_beautybyale
from
I really recommend it it taste a yellow away in five minutes its like magic I couldnt believe it to be honest I even did a video for Instagram and everybody was Asking me about it they love it
Date published: 2020-01-31
Rated

5

out of

5
by
elizabethr75
from
This hair mask helped me with the undertone I have on my hair right now I also love how smooth and shiny my gets. Its also have a great scent I would highly recommend this product specially if you trying to maintenance your hair color
Date published: 2020-01-30
Rated

5

out of

5
by
jennahed03
from
I ised the red version of this and it was something I got from Influenster and I love it! It doesnt dye your hair but it does give it the color back
Date published: 2020-01-29
Rated

5

out of

5
by
jenni_freduhh
from
I had my doubts at first, but this product did wonders to my hair. After having color treated and bleached hair for a year, and not retouching it, it started to turn bronze instead of blonde. This product helped bring life back into my locks and the golden color really shone through. Not a harsh or long lasting scent, and it really detangled my hair as well, leaving it smooth and brighter!
Date published: 2020-01-22
Rated

3

out of

5
by
linnethb
from
I like that I dont have to use conditioner with this product because it leaves my hair soft. I didnt see a difference in the color though. It wasnt more vibrant or anything.
Date published: 2020-01-14
Rated

4

out of

5
by
catherinec14
from
I really did enjoy this color mask. It made my hair feel nice and smooth afterwards and I could tell it made my color more vibrant. I think it is affordable and would recommend this to anyone with color treated hair!
Date published: 2020-01-14
Rated

5

out of

5
by
lizedd
from
Honestly I was super impressed with this product. I did not notice the difference in color until a couple washes, but I did notice a big difference in softness and frizz after the first wash. I would buy and use again.
Date published: 2020-01-14
Rated

2

out of

5
by
karlaa2
from
Didnt really like this product it made my hair look more on the brassy side and also made it feel damaged! I thought it was going to be more of a repairing treatment. My hair is a balayage soni dont know if its better on a soild color hair! I personally wouldnt purchase this product!
Date published: 2020-01-14
Rated

3

out of

5
by
loviee_98
from
The garnier color reviver smelled good. It went on smooth. it made my hair suuper soft. But as far as reviving my color i didnt ser muvh of a difference. maybe because my bleavhed blonde hair was already faded? im not sure. will try again in the future and update my review if i have different results.
Date published: 2020-01-13
Rated

5

out of

5
by
marandak
from
I was a little hesitant at first because my natural hair pulls red tones very easily. It had been two months since I had my hair highlighted. After my first application, my highlighted blonde was a beautiful refreshed blonde with warmer tones but my roots were a little too warm for my liking. As soon as I was in the sun though my natural hair cooled down. My second time using it, my roots didnt warm up at all and the highlighted portion once again turned into a beautiful warmer blonde. The scent is nice and it seems to be long lasting. Overall this is great for keeping my hair refreshed in between salon visits. Its now been 3 months since Ive been to the salon but my hair is not dull but instead, a refreshed blonde! The picture on the couch is before and the other two are after using the product.
Date published: 2020-01-12
Rated

3

out of

5
by
jordya6282
from
This product smells SO good! Also, for a color-distributing product, it does a great job moisturizing the hair! My hair is always so smooth and shiny once Im done! My only qualm is that the color payoff was not as noticeable as it says on the bottle. My hair was almost identical to the before picture, however the color didnt really take to my hair, even though I followed the instructions. After using it a couple times, it started to work. But it just didnt work as quickly as it says it would. But for the price and the AMAZING smell, of you arent looking for dramatic, instant results, its definitely a nice product for upkeep between getting your hair done!
Date published: 2020-01-10
Rated

5

out of

5
by
katelyne
from
When I got this product I was not expecting it to work or for it to fade very quick. I was surprised when I noticed the extra blonde my hair had and that it lasted a couple weeks. This is going to be a game changer so i dont have to dye my hair as much!
Date published: 2020-01-10
Rated

4

out of

5
by
miuricad20
from
I liked, at first It didnt seem to do something but after some times applying it works
Date published: 2020-01-09
Rated

4

out of

5
by
daniellegd490
from
I was hesitant to use this since I have balyaged hair and I tend to like it less golden toned, overal it didnt have a major effect on the color but it did make my hair reallly soft! It smelled really nice too. Definitely recommend using once every other week as instructed as normal deep conditioners should still be used.
Date published: 2020-01-09
Rated

5

out of

5
by
miller_makeupp25
from
This kept the color for my hair bright and shiny! I love this stuff. The scent is great and I would recommend this product
Date published: 2020-01-09
Rated

4

out of

5
by
meaganh1774
from
I had purple hair when I started using this, and it definitely helped get rid of the purple. It also made the my blonde a little blonder! My only issue is that I feel like it dried out my hair. I guess thats why they say only use it once every two weeks!
Date published: 2020-01-09
Rated

4

out of

5
by
Anonymous
from
I liked this product in short. I tried it about 4 times so far and I dont think it has made a drastic change to my hair at all. But it was a great deep conditioner for the shower. It was very easy to use and the smell was not like a box dye. It simply helps with the tone of your hair color. It doesnt change it.
Date published: 2020-01-08