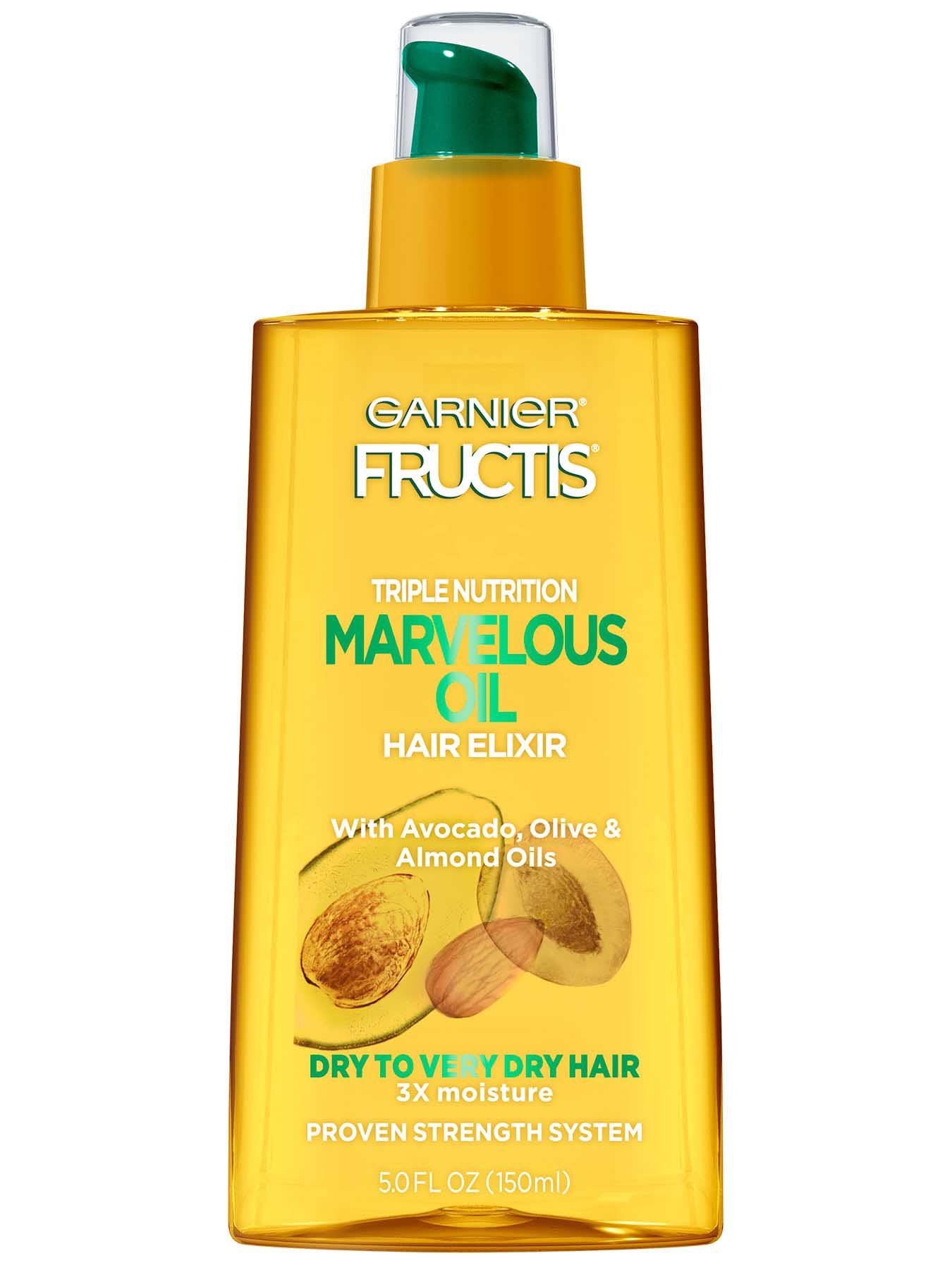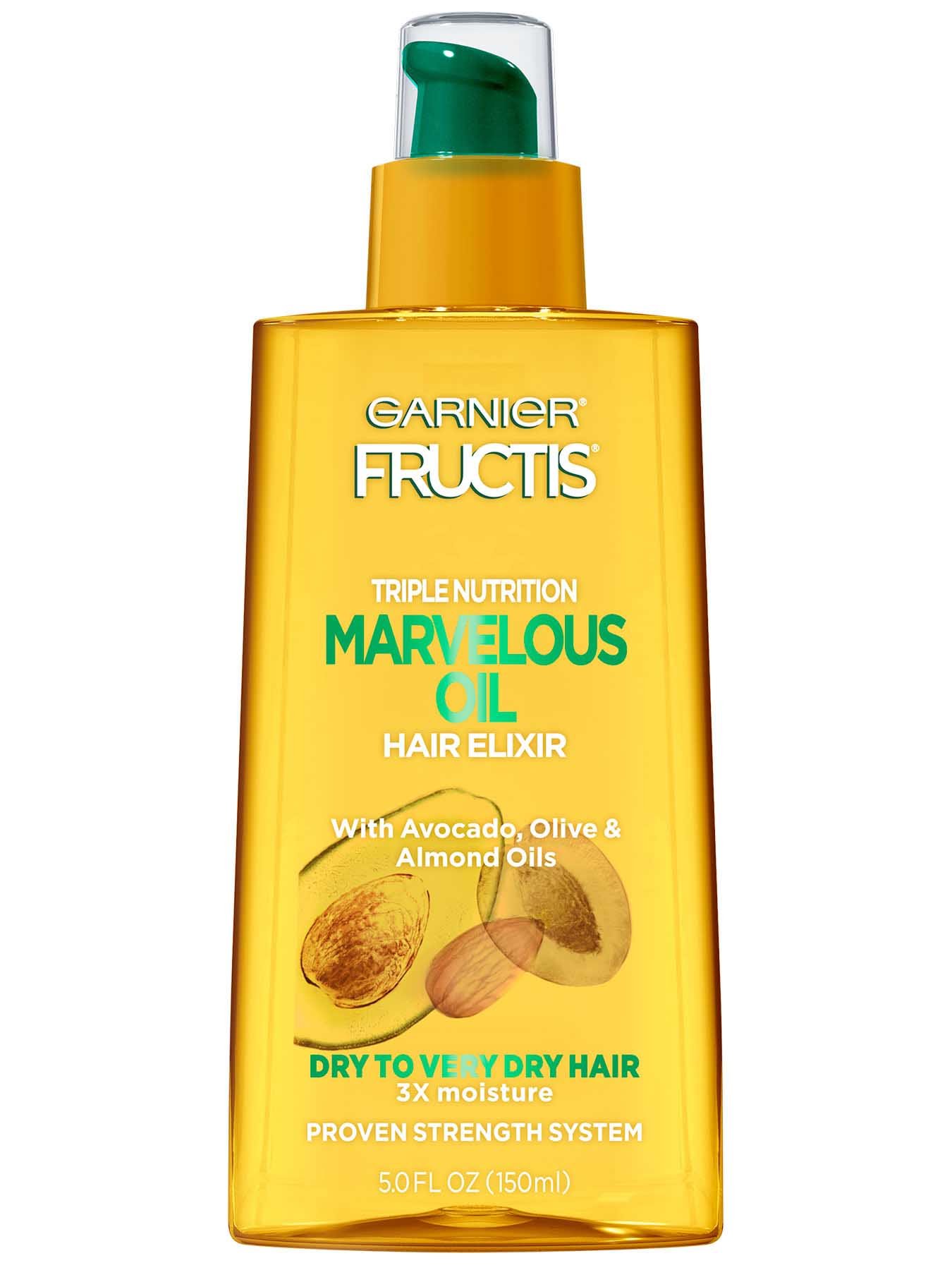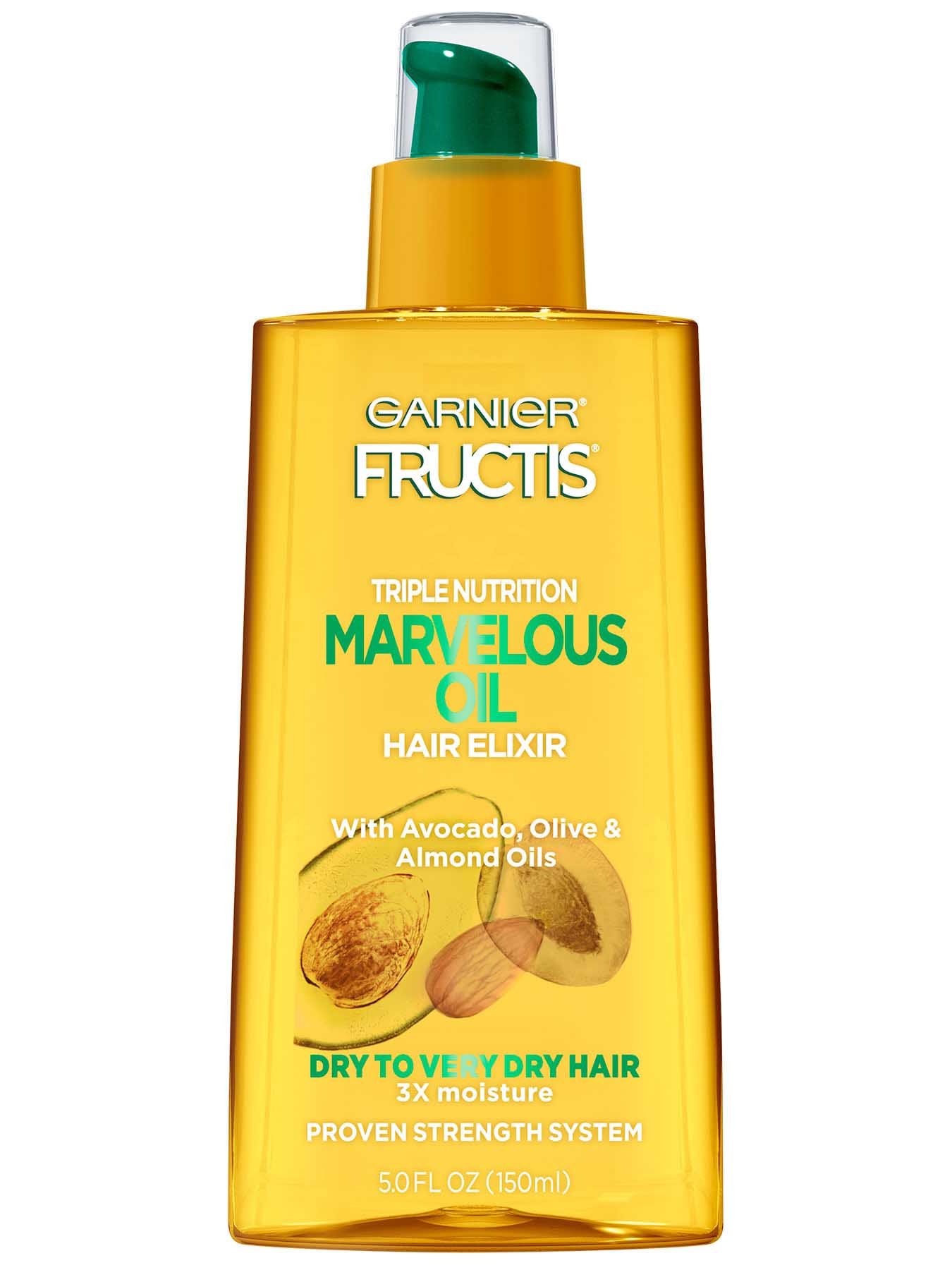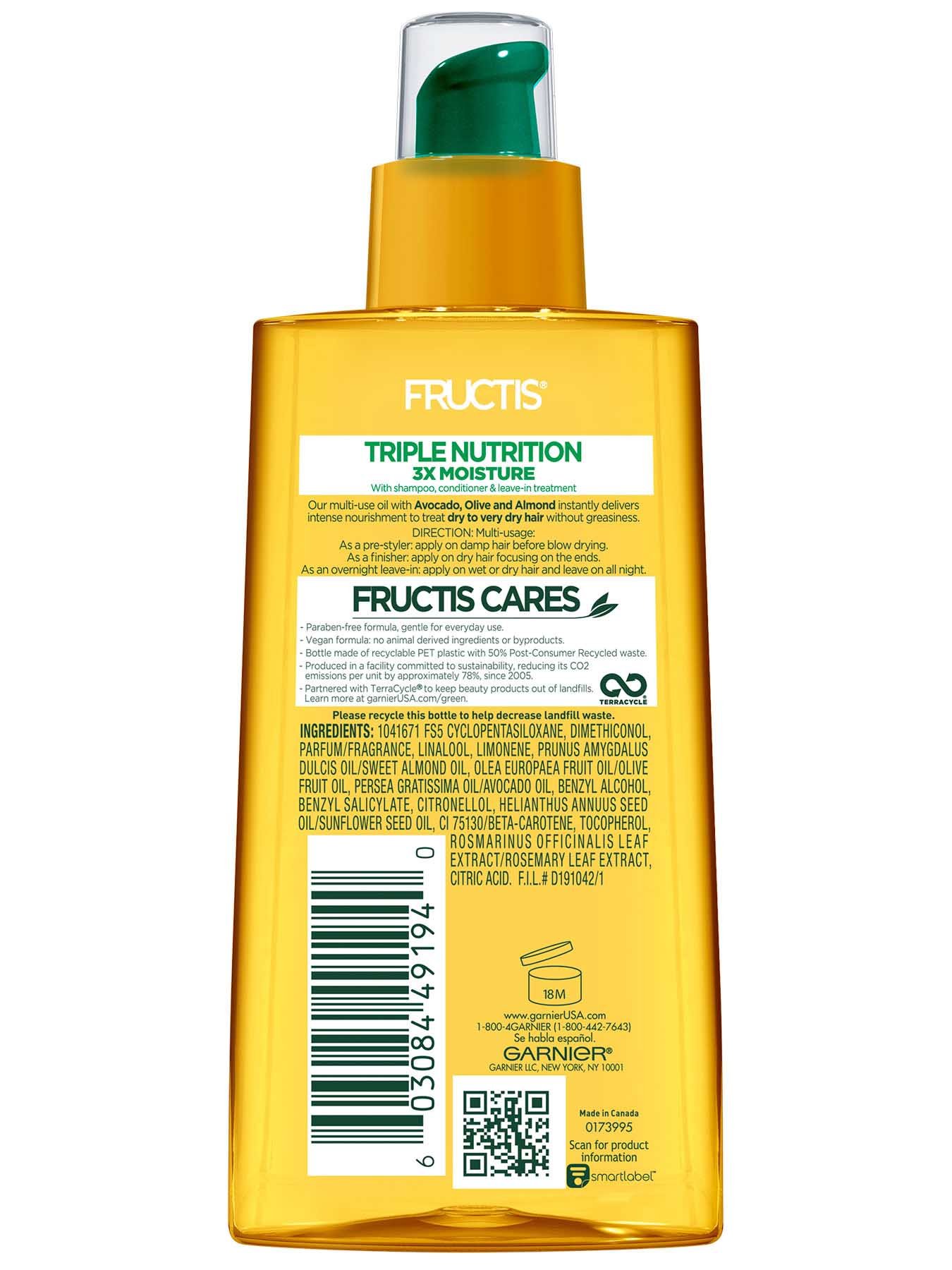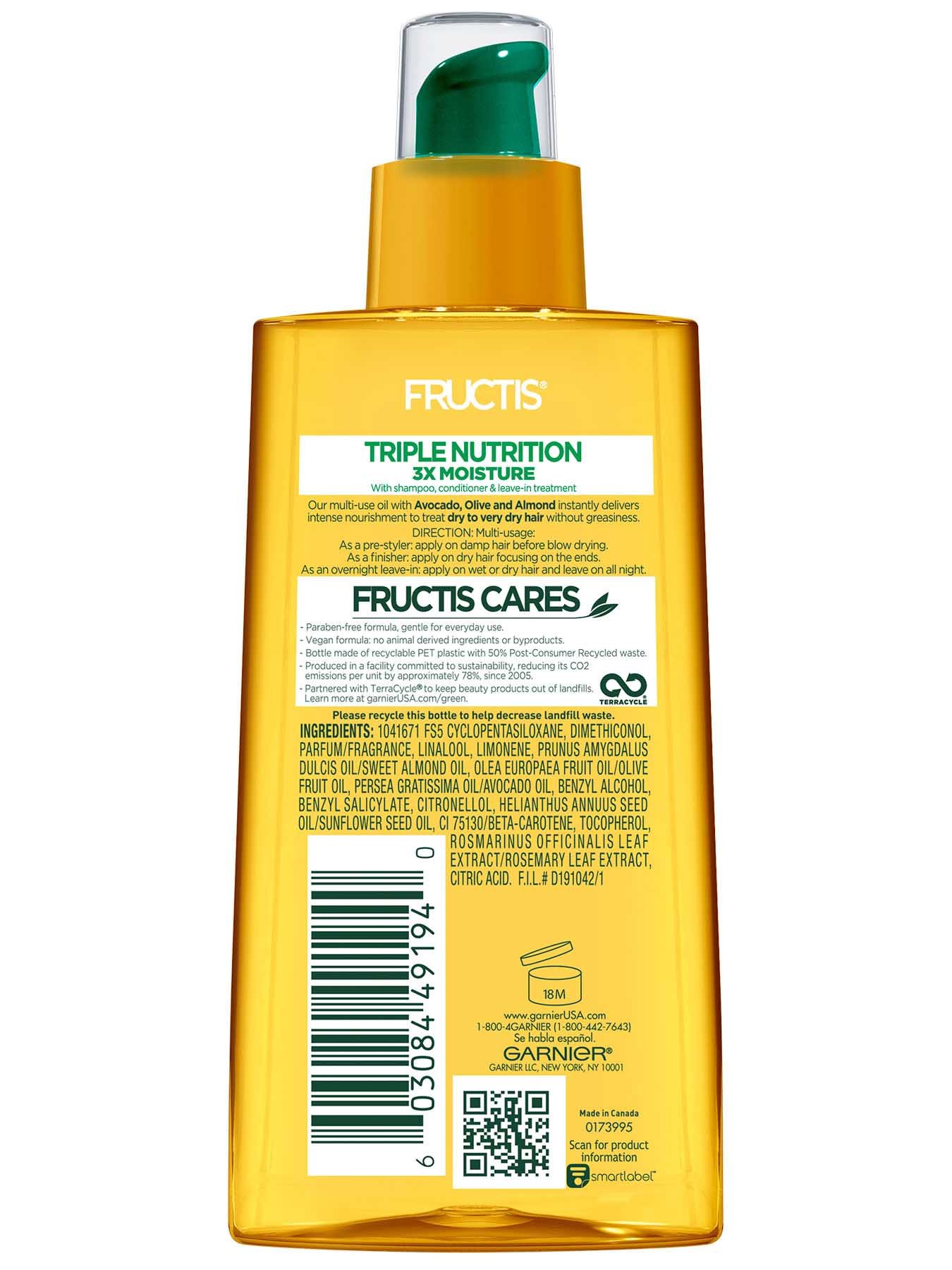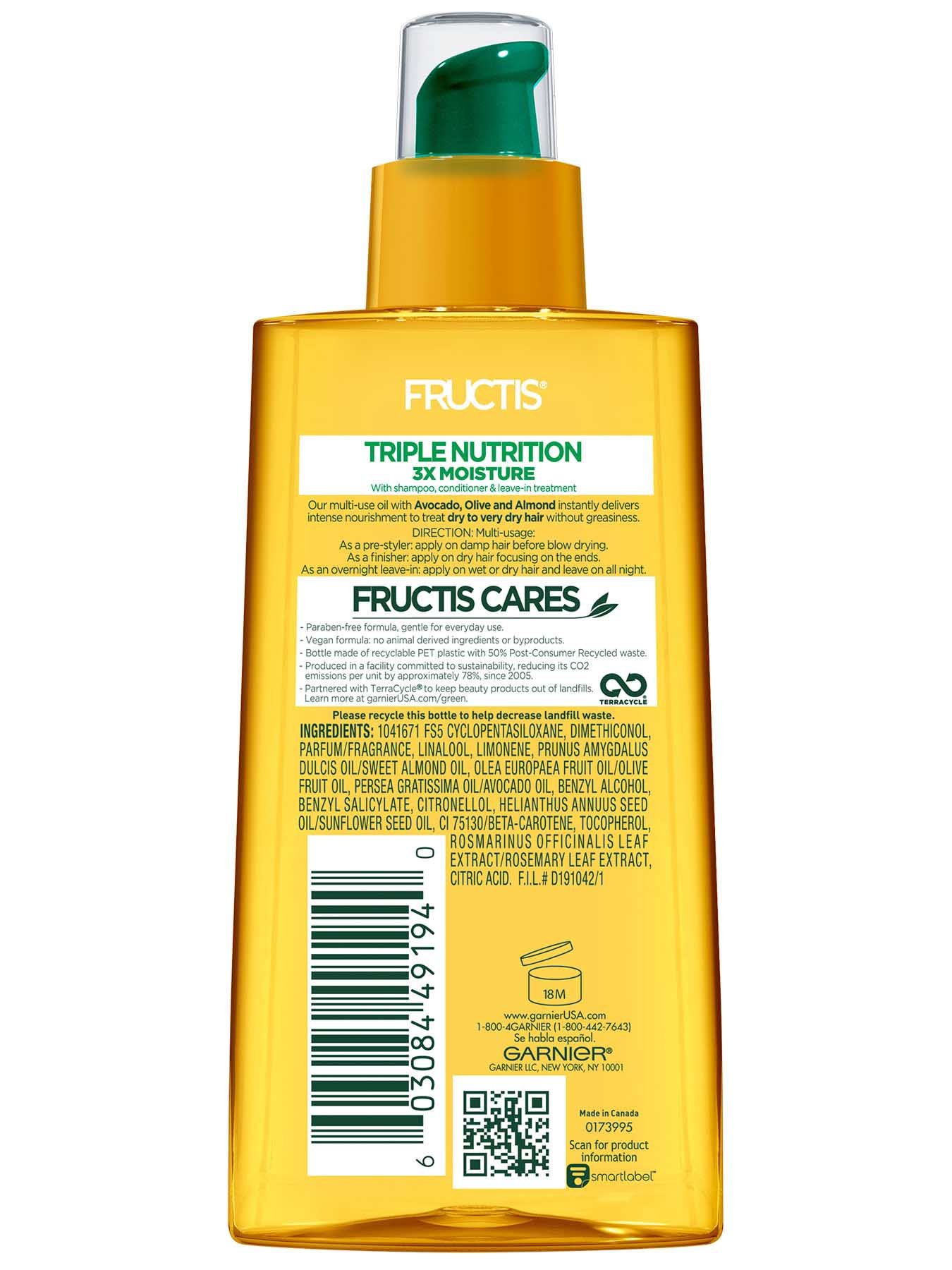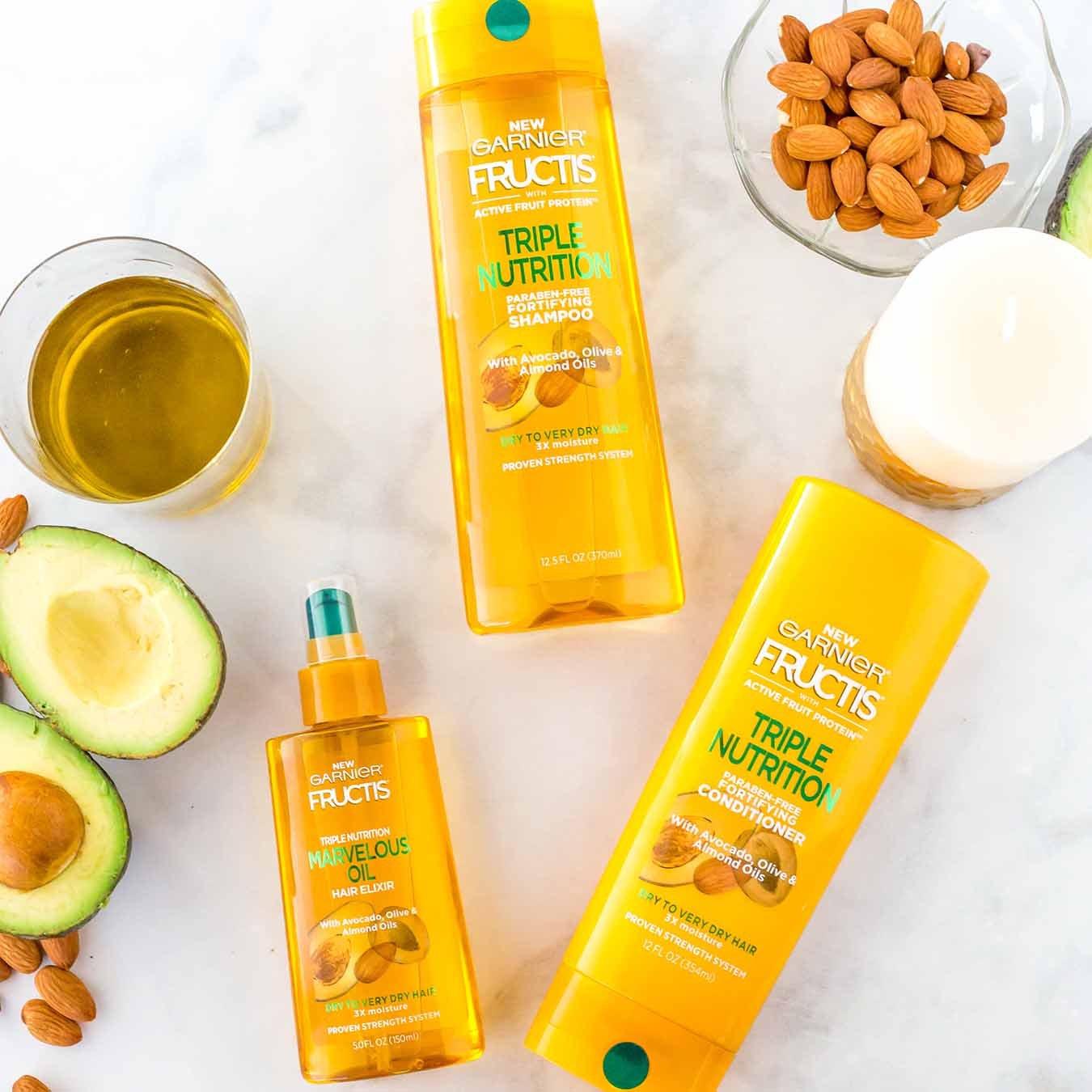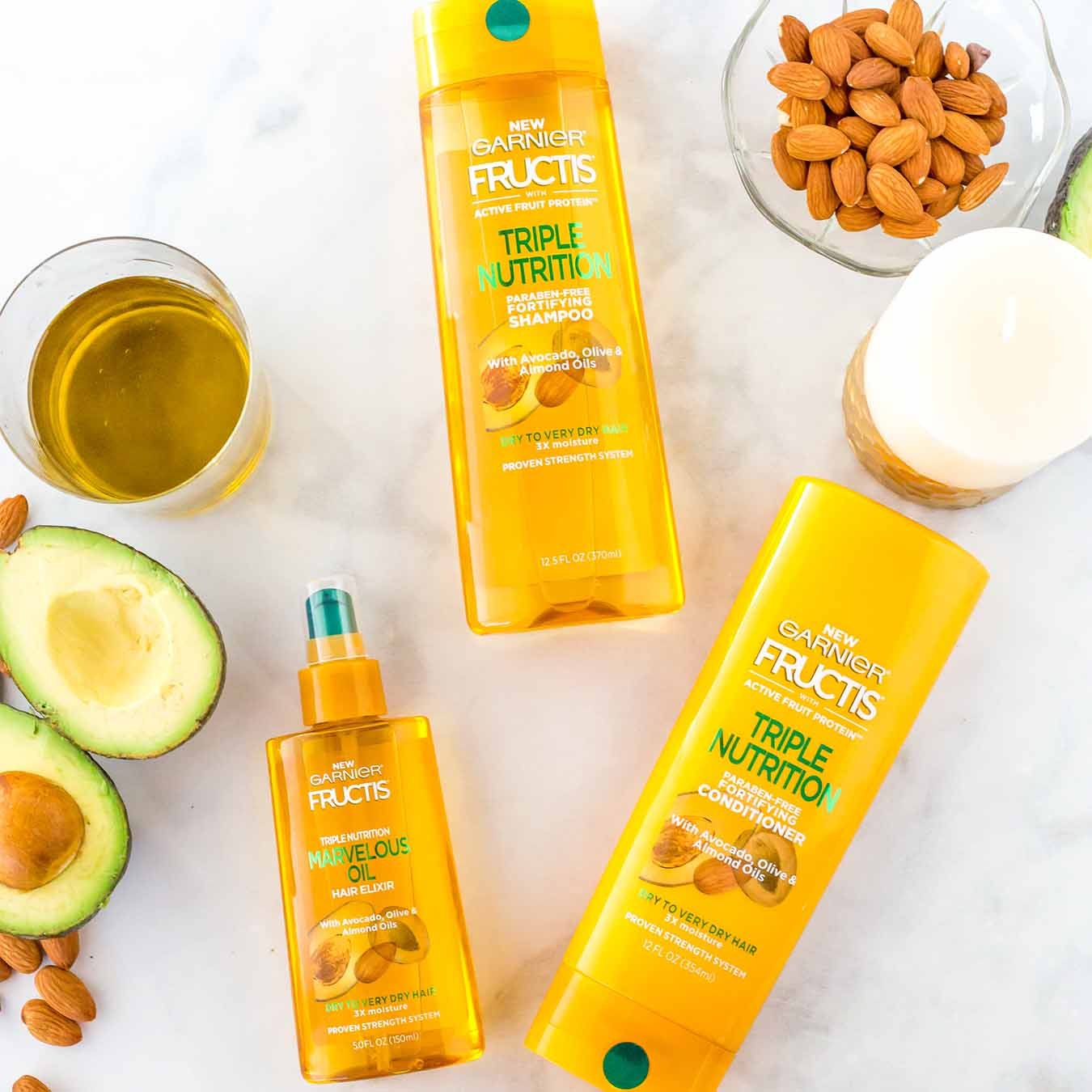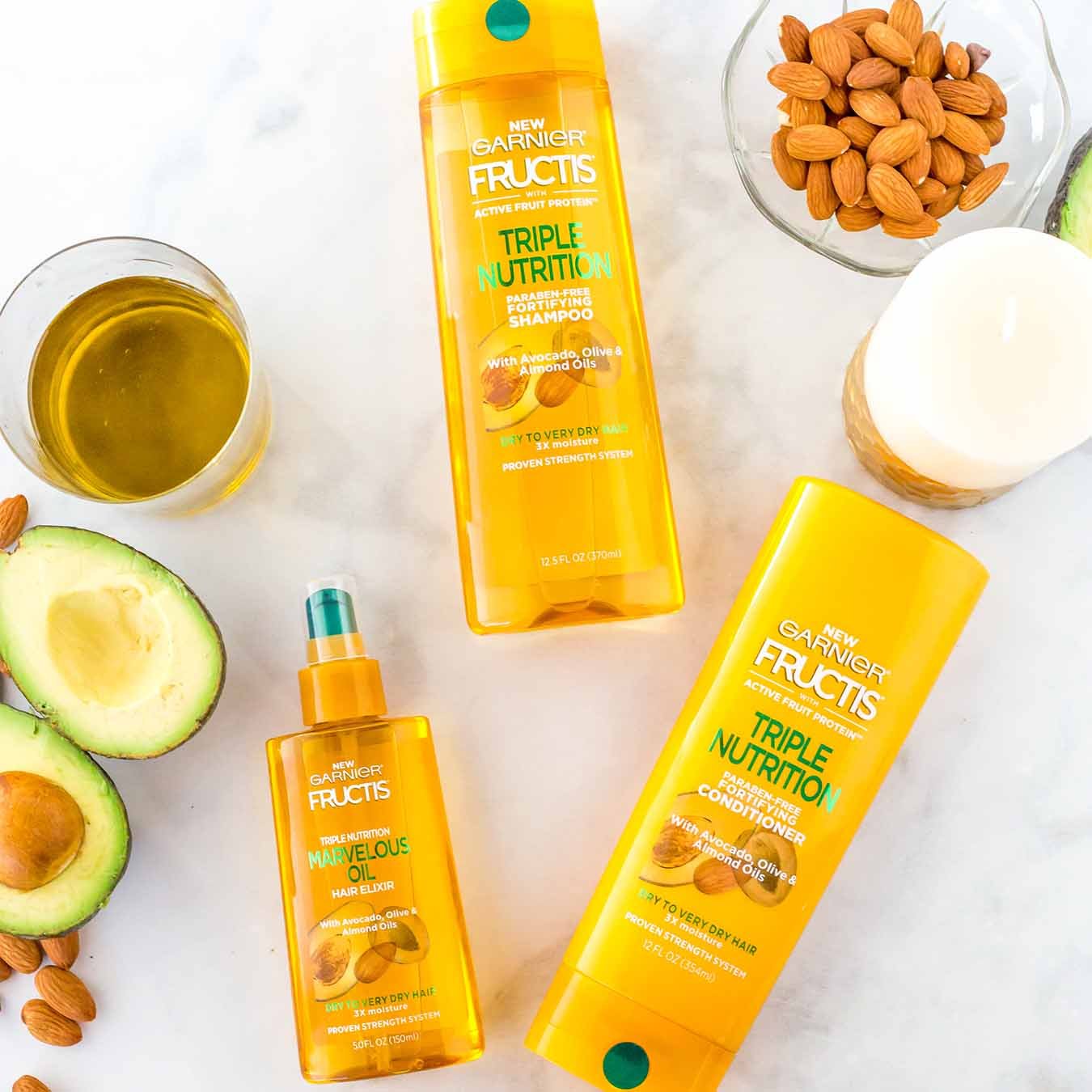 Triple Nutrition Marvelous Oil Hair Elixir
Garnier Fructis
$5.99 MSRP
Hair oil for 3X moisture*
*With shampoo, conditioner & leave-in treatment
PRODUCT INFORMATION:
This multi-use oil with Avocado, Olive and Almond instantly delivers intense nourishment to treat dry to very dry hair without greasiness.
How to use:
Multi-usage: As a pre-styler: apply on damp hair before blow drying. As a finisher: apply on dry hair focusing on the ends. As an overnight leave-in: apply on wet or dry hair and leave on all night.
Ingredients:
1041671 FS5 CYCLOPENTASILOXANE, DIMETHICONOL, PARFUM/FRAGRANCE, LINALOOL, LIMONENE, PRUNUS AMYGDALUS DULCIS OIL/SWEET ALMOND OIL, OLEA EUROPAEA FRUIT OIL/OLIVE FRUIT OIL, PERSEA GRATISSIMA OIL/AVOCADO OIL, BENZYL ALCOHOL, BENZYL SALICYLATE, CITRONELLOL, HELIANTHUS ANNUUS SEED OIL/SUNFLOWER SEED OIL, CI 75130/BETA-CAROTENE, TOCOPHEROL, ROSMARINUS OFFICINALIS LEAF EXTRACT/ROSEMARY LEAF EXTRACT, CITRIC ACID. F.I.L.# D191042/1
Almond Oil
A distant cousin to plums, cherries, roses, and peaches, almonds are nutritionally dense. Rich in vitamins, essential minerals, and healthy fats, and known for its gentle nature, it's popular in formulas that soothe skin and smooth away frizz.
Avocado Oil
A smoothing and silkening hair booster, Avocado Oil is loaded with plant-based fatty acids, which have a unique ability to penetrate for deep long-lasting effects. This rich indulgent ingredient helps to smooth split ends while adding a brilliant shine.
Olive Oil
Packed with antioxidants, Olive Oil has been a high-performance beauty elixir for centuries. In hair care and hair color formulas it helps coat hair, leaving strands strong, glossy, and resilient. In face moisturizers, it soothes as it smoothes for glowing, youthful-looking skin.
The Full Regimen
Everything you need to complete your Triple Nutrition hair care routine.
Wash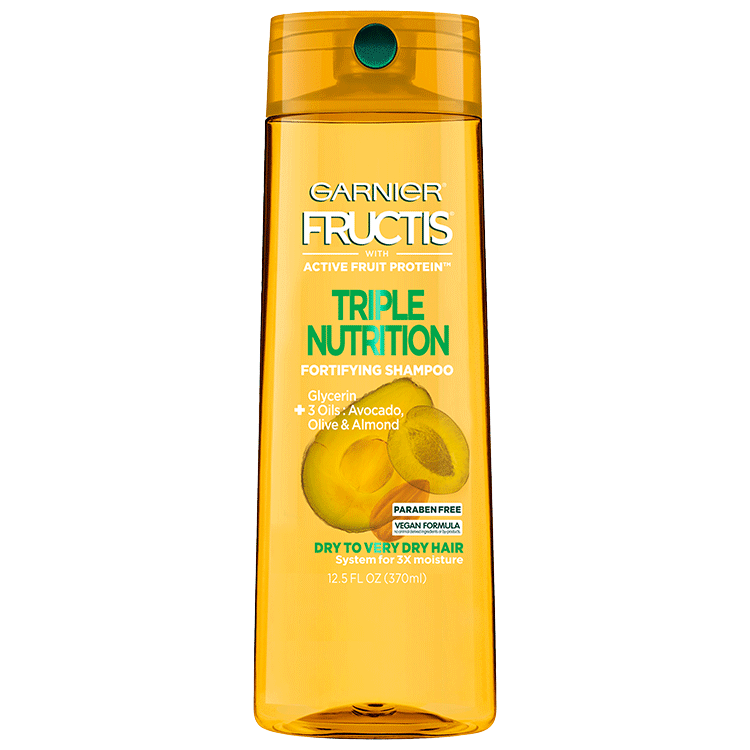 Garnier Fructis
Triple Nutrition Shampoo
Shampoo for dry to very dry hair
Condition
Garnier Fructis
Triple Nutrition Conditioner
Conditioner for dry to very dry hair
Treat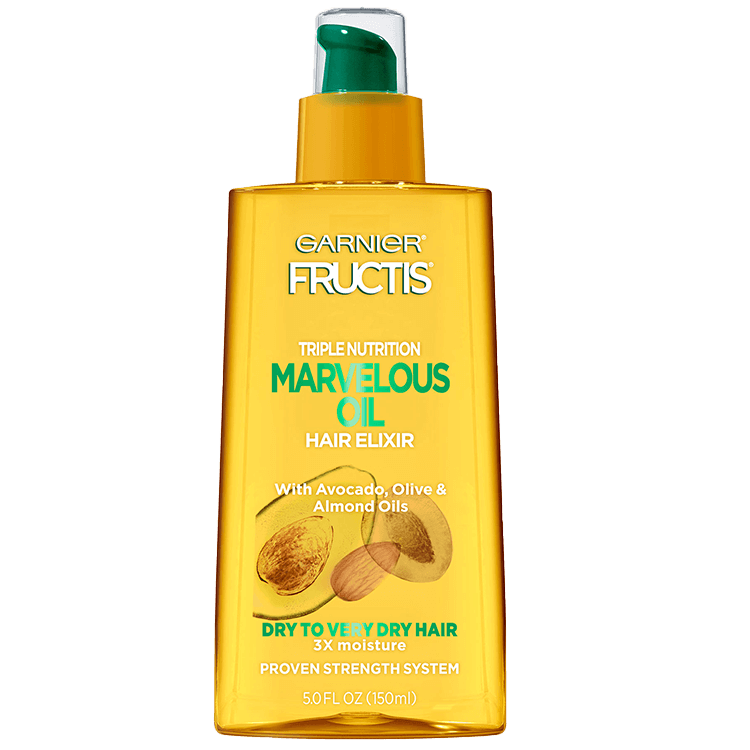 Garnier Fructis
Triple Nutrition Marvelous Oil Hair Elixir
Oil treatment for dry to very dry hair
Rated

4

out of

5
by
Natbat222
from
Great product
I just started using this product and it's very good but do you put in your hair morning and night or what
Date published: 2019-04-28
Rated

5

out of

5
by
jujubooboo
from
The only hair product that works
I first received this in a holiday kit like the ones that come with shampoo, conditioner, and the treatment. I had never used a leave in treatment let alone an oil. Two years later I just bought my second bottle of this stuff and it's amazing. I have extremely long, fine, pin straight hair (never use heat/chemicals/dye) and this does a really good job of keeping my hair tangle free and leave it nice and shiny but not oily at all. I have tried other leave ins since using this, and they only ever tangle my hair worse than without and work best on wet hair. This product however, works just as good on dry hair as it does on wet. I will forever swear by this and do not plan to take it out of my routine.
Date published: 2019-04-06
Rated

5

out of

5
by
Lvyrskin
from
Love the smell, look of bottle and lightweight oil
Love this lightweight great smelling oil! Great for colored ends! Tell me why was the previous oil discontinued? I see no difference though both are marvelous! A part of my hair routine now!
Date published: 2019-01-12
Rated

4

out of

5
by
NaturalNubie25
from
Meant to be for my dry hair!
I recently discovered this product not too long ago at my local Wal-mart or Kroger(can't recall which now). And have to admit, I was rather leery, about trying it at first; as my natural hair does not tend to play well with olive oil at all(actually contributes to it becoming dryer. Along with some other curly hair or natural hair products I've been trying out lately. Along with just being naturally dry). But I figured/hoped the avocado and the almond oils would offset any effects of the olive oil. And I wasn't wrong! This triple oil mix has definitely helped to soften my hair! I use it at night along with some emu oil during my night time scalp massages, before wrapping my hair. And the next day, when I add in my regular moisturizing/styling products. I get the softest and well moisturized feeling curls ever! Really wish I discovered this elixir much sooner. As I think it may have helped my hair out a long time ago. As I believe it also aids in helping reduce my frizz as well.
Date published: 2018-11-06
Rated

5

out of

5
by
Jaceface1998
from
MY HAIR IS AS FLOWY, LIKE A TV HAIR MODELS!
I bought this last week and since I've been using it my hair has literally been so beautiful. My husband is getting super annoyed with me because I keep rubbing my hair all over his face telling him to feel it! Haha. I use to walk through the store with my hair in a bun looking like a homeless princess laya, now I walk through the store like How I assume Selena Gomez does, whipping my hair back like a Queen.
Date published: 2018-11-03
Rated

5

out of

5
by
krymic
from
BEST PRODUCT1
I got this as a bonus when i bought my shampoos, it came as a bundle. & i love it!!! my hair was very dry & with this i use everytime i shower i put in on my wet hair & my hair stays so soft & it has made my hair grow. im very skeptical with drug store hair products but this will be forever my go to! LOVE LOVE LOVE!
Date published: 2018-10-26
Rated

1

out of

5
by
Lily2
from
Discontinued Miracle Dry Oil was 100% Better
I bought this new product because the Miracle Dry Oil was discontinued and I used that product before. I thought "Hey it's all under Garnier so it should work the same!" Boy was I wrong. Using the old Miracle Oil I only needed to spritz my hair 4 times after I shower and I would not have a single tangle. I could wake up the next morning and not even need to brush my hair! I've been using this Hair "Elixir" for two months and half the times I don't use it because it barely makes a difference. This bottle is a pump so each time you use more product and I have to use multiple pumps as I dry my hair, in the morning when I wake up and sometimes just randomly throughout the day to get the same effect. The old product was much nicer and the spray made it so you could treat your hair without getting your hands oily (plus the spray coated the strands of hair so much better). This product hardly does anything for me. I have pretty manageable hair but I still enjoyed the luxury of having no tangles at all.
Date published: 2018-03-25
Rated

5

out of

5
by
Starr
from
Hair of color in transition
I have been relaxer free for about six months and this products has been great with my hair. I uses it daly, I add a quarter size to the ends and hair, my hair is not oily or dry. I love the scent and softness to my hair. As a woman of color, I never knew there are some products that can be effective to black texture hair.
Date published: 2018-03-25
Rated

5

out of

5
by
Suzyt11982
from
Soft hair, great scent
I color my hair once a month and use a blow dryer a few days a week, which left it very dry and damaged, after shampooing and conditioning it my hair would be sticky and gummy, I have a short hair so I only use about 3 or 4 pumps on my towel dried hair and my hair is so soft it reminds me of a fresh haircut and the smell is wonderful. Sometimes it's so soft, smooth and weightless that it's hard to style lol
Date published: 2018-03-13
Rated

5

out of

5
by
SandraDee
from
Absolutely love it
I just bought this to help with my dry and frizzy hair. I absolutely love it! My hair is smooth and lively. Brightens my color a little. Love love love it! Thank you!
Date published: 2018-02-18
Rated

5

out of

5
by
BleuChopstix
from
Delicious Scent
So I use this on clean, damp hair with a dime size amount of leave in and it works perfectly to smooth out the frizz and leave my hair soft and without flyaways.
Date published: 2018-02-04
Rated

5

out of

5
by
Steena
from
My favorite hair oil.
Please don't ever discontinue this product I cannot live without it. I have 3a-c curls and I use this for everything. If I happen to run out it's a disaster. Can't recommend this enough.
Date published: 2018-01-29
Rated

3

out of

5
by
Ricci
from
Good
I bought this as a less expensive alternative to my saloon oil. While it is effective it is not as good as my previous brand but the price difference makes up for it. However my main concern is the delivery method. The pump is to short to get the oil to the center of my Palm making it difficult to use without waste. I have poured the product into another squeeze bottle losing product in the transfer so now I have to wonder if the price is really worth it. In a different bottle I would consider switching brands.
Date published: 2017-12-27
Rated

1

out of

5
by
cwazygirl
from
This is NOT a better option then the orig dry oil
I tried using this in place of the Triple Nutrition Miracle Dry Oil and it make my hair frizzy and uncontrollable. I don't know why you took the Triple Nutrition Miracle Dry Oil off the market, but this produce is definitely not a replacement.
Date published: 2017-12-03
Rated

1

out of

5
by
Bob G
from
BRING BACK MIRACLE DRY OIL!
Miracle Dry Oil worked great on my hair- looked good, controlled the friz, wasn't greasy. This does not work for me- an hour after I put it on my hair is a frizzy mess.
Date published: 2017-12-02
Rated

5

out of

5
by
Annmorton
from
Marvelous oil
I have had bad hair all my lif I have love this oil has done wonders for my hair I also use it on my skin work wonders on my skin too
Date published: 2017-10-12
Rated

5

out of

5
by
MMaynard
from
Marvelous!
I bought this a few weeks ago for something other than hair (as a paint additive). Not only did it work for what I wanted it for but, it made my hair feel amazing and, it looks great!
Date published: 2017-08-20
Rated

5

out of

5
by
Bcham
from
I am in LOVE!
I usually use oils that leave my hair super oily and leave stains on just about anything my hair touches! This product was recommend to me by my best friend and after the first use i was sold one it! It felt my hair feeling so silky and smooth and also double as a detangler. I am in so much love with this product!
Date published: 2017-07-17
Rated

1

out of

5
by
korina1997
from
not better
this is advertised as better than the miracle dry oil. this product is horrible!!! does absolutely nothing for my hair but make it really really frizzy. bring back the miracle dry oil!!!
Date published: 2017-07-10
Rated

5

out of

5
by
rosina0101
from
Great for curly hair !
i recently bought this product and i love it!! i have curly thick hair and i am always looking for products to help with keeping my hair moisturized and this is perfect for it. it also helps for when i need to straighten my hair and i don't want it to greasy
Date published: 2017-05-08
Rated

5

out of

5
by
Gig0321
from
Fantastic results
My hair was dry course and frizzy. The first time I used it on my just shampooed hair right before blow drying made my hair silky, smooth and shiny. I will use this product forever and I am recommending it to everyone.
Date published: 2017-04-17
Rated

5

out of

5
by
Casey53
from
Great Product
This product reduced my hair from breaking while giving my hair shine.
Date published: 2017-03-24
Rated

5

out of

5
by
olearykj14
from
Adds shine without a greasy look
I really like this Garnier Fructis Triple Nutrition Marvelous Oil. My hair can get really dry, especially in the winter. This oil does the perfect job of moisturizing my hair and adding shine to it, without making it look greasy or oily. I have never used an oil like this on my hair before. So I was a bit concerned that it would make my hair look oily and dirty. But it actually doesn't make my hair look that way at all! My hair just absorbs all the oils and ends up looking and feeling super soft and smooth. I love it! The smell is very nice too and not overwhelming.
Date published: 2016-12-17
Rated

4

out of

5
by
Supercoldsummer
from
Smoothing sealant!
As a hairstylist, I was very impressed at how comparable this product was to salon brands. It has a wonderful, invigorating smell and is perfect for sealing in your finis he'd style. I have tried this product on both curly and straight hair and it worked great on both. Just enough to keep the frizz out without weighing down the hair. This product is also environmentally friendly, as its container is made of recyclable PET plastic. They keep their beauty products put of landfills!
Date published: 2016-12-16
Rated

4

out of

5
by
jessicalee1228
from
Great for dry ends!
I tried the Mervelous Oil Hair Elixer and it worked really well. I warmed up a small amount in my hands and applied it to my color treated hair/ends and definitely made it look a little less dry and frizzy. It didn't leave my hair greasy or weigh it down compared to other drugstore and luxury brands I have tried, which is one of the main reasons why I loved this product! I have fine hair and greasy hair is very apparent, so I am very particular using product that weighs it down and makes it feel extra greasy. After a few weeks of use, my ends looked healthier and I felt that the oil really helped repair some of my color treated hair.
Date published: 2016-12-16
Rated

5

out of

5
by
ayeshaqm
from
Garnier Mavelous Oil
I personally have tested a Garnier oil in the past and it was the Garnier Triple Nutrition Miracle Dry Oil. I enjoyed that product as I was able to use it on my body and hair. The product I recently have been testing, the marvelous oil elixr is a lot better than the oils I have been putting in my hair. I used this product mainly for two purposes: for a style finisher and to damp hair to smooth out any flyaways and frizziness. This oil not only smells amazing, it is a really good product. I like how this has only one purpose and it is for the hair compared to my dry oil and I feel that this is a lot more potent. I am an avid user of hair oils and I apply them for certain benefits such as hair growth and moisturizing and style finishers. I like how a little bit of product went a long way in applying to my hair as I know this will last me a while.
Date published: 2016-12-16
Rated

4

out of

5
by
jamy_qn
from
Great For Natural Hair
I applied this oil after using the shampoo and conditioner i noticed my hair was soft and less frizzy and much easier to manage
Date published: 2016-12-15
Rated

5

out of

5
by
jekka627
from
Wonderful hair treatment.
This hair treatment is nice. It's lightweight and does wonders. I love that it has a light but good smell. It won't over power any other scents you may have on but still smells quite lovely. I used it combined with the shampoo and conditioner and I feel the three combined really helped to improve my hair's health overall.
Date published: 2016-12-15
Rated

4

out of

5
by
atinauy
from
Will try again
I think this is a great product. I have a dry and damaged hair from previously used products. With this product my hair is very moisturized and feels repaired.
Date published: 2016-12-14
Rated

5

out of

5
by
lispeace2
from
Moisture magic without looking greasy
I have very thick, long, dry, curly hair, and it's very difficult to find a good moisturizing oil that doesn't make my hair look dirty/greasy or sticky/stiff. After using the Garnier Fructis Triple Nutrition Shampoo and Conditioner, and while my hair was still slightly damp, I used a silver-dollar-sized amount of the Garnier Fructis Triple Nutrition Marvelous Oil Hair Elixir. I then used a diffuser so as to not mess up the curl. My hair soaked the product up really well (so as to not look dirty/greasy), while still providing lots of silk and shine without being weirdly sticky or stiff. It's definitely my favorite oil/moisturizing product I've ever used. Two more reasons to love this product - first, it smells amazing! Second, it can double as a great skin moisturizer. I may even use some of this product during my at-home manicures.
Date published: 2016-12-14