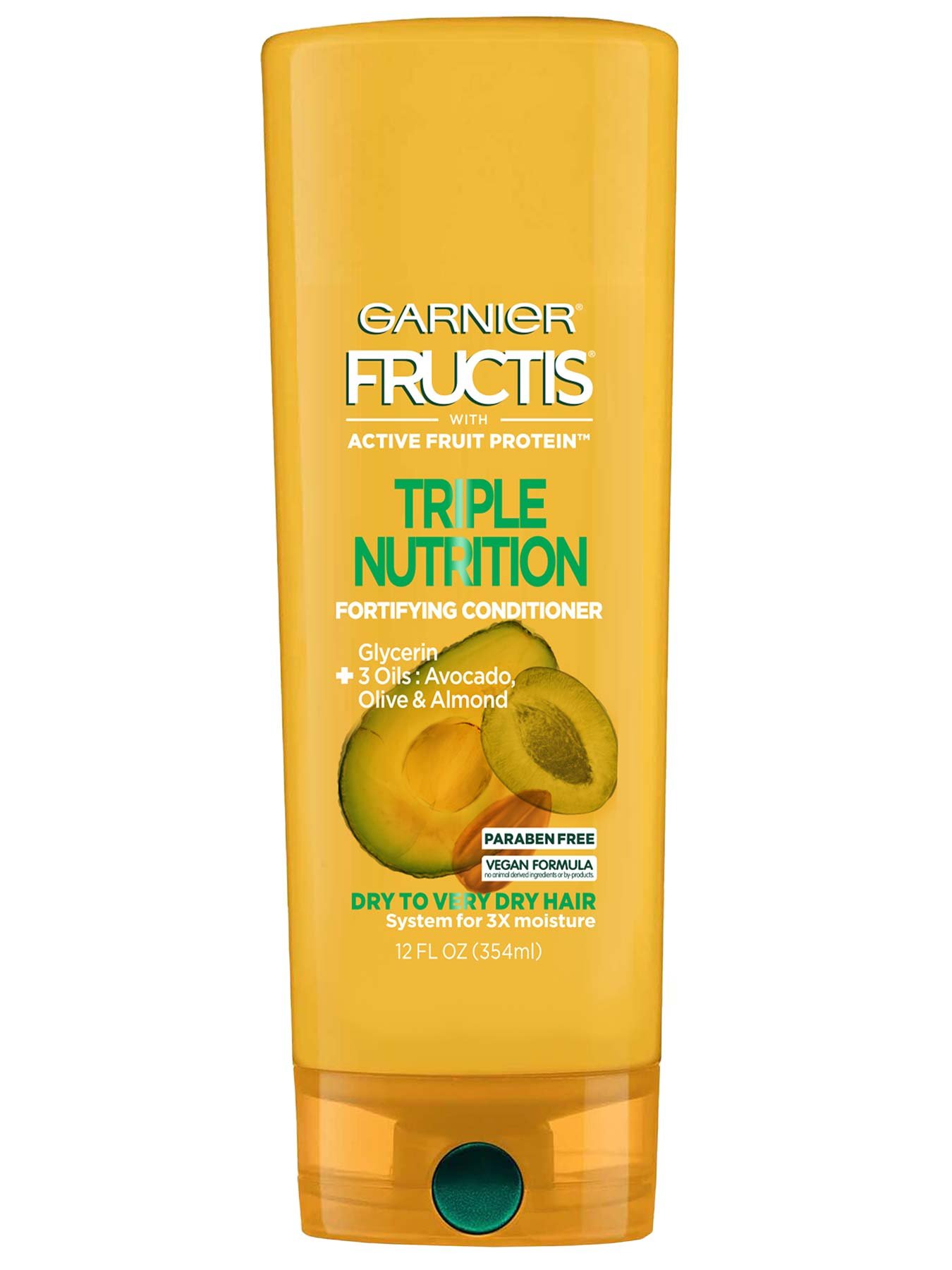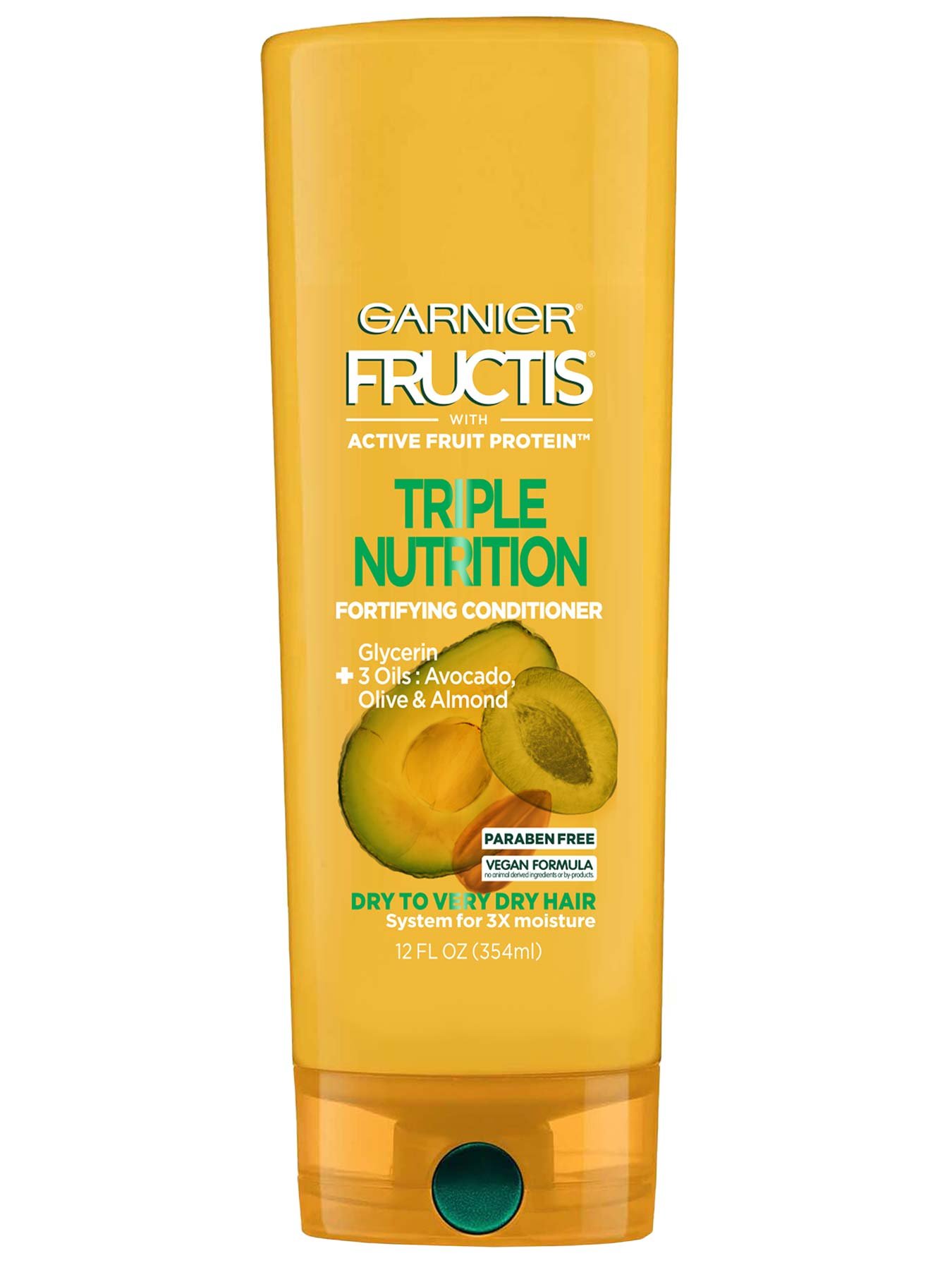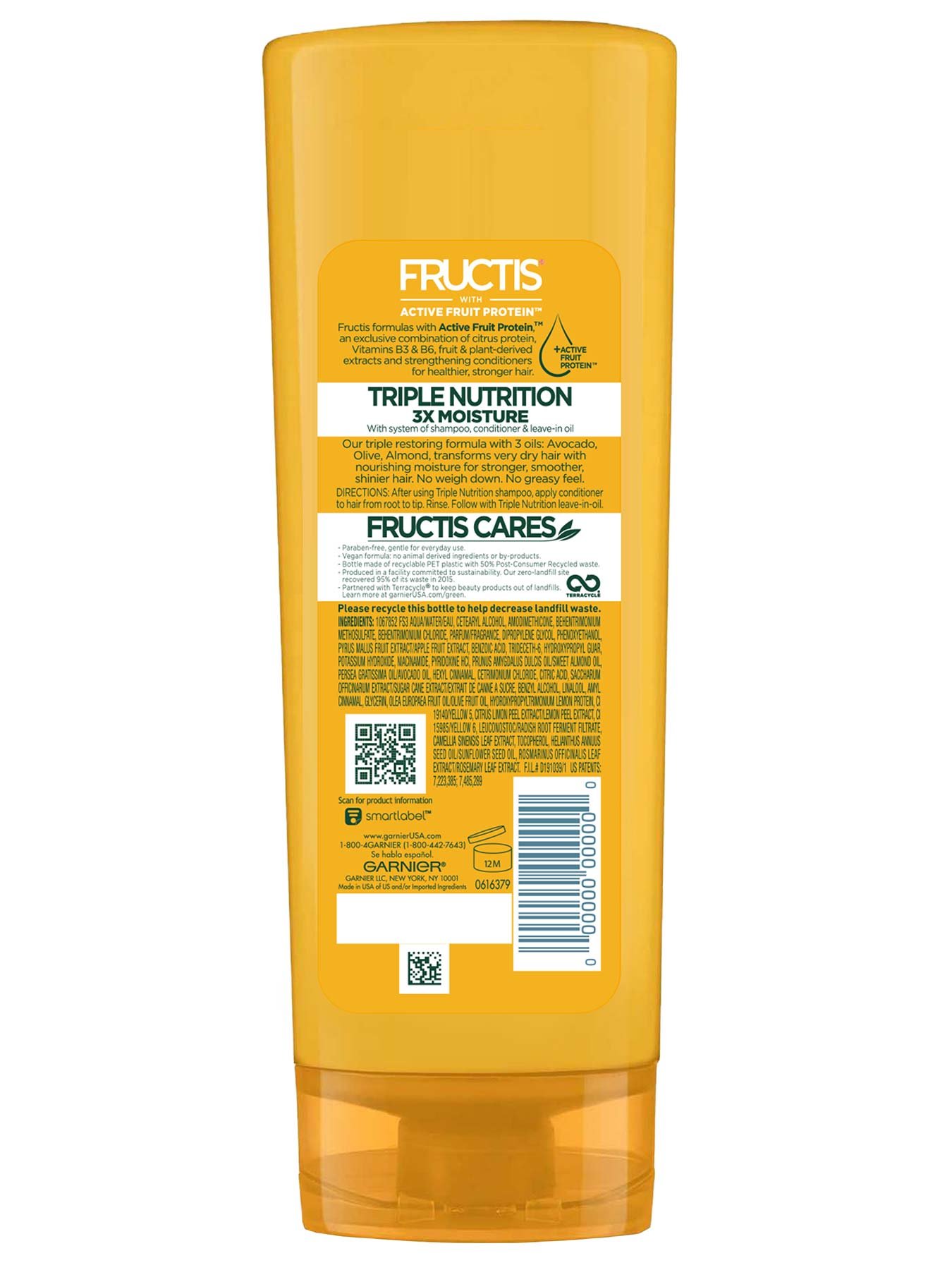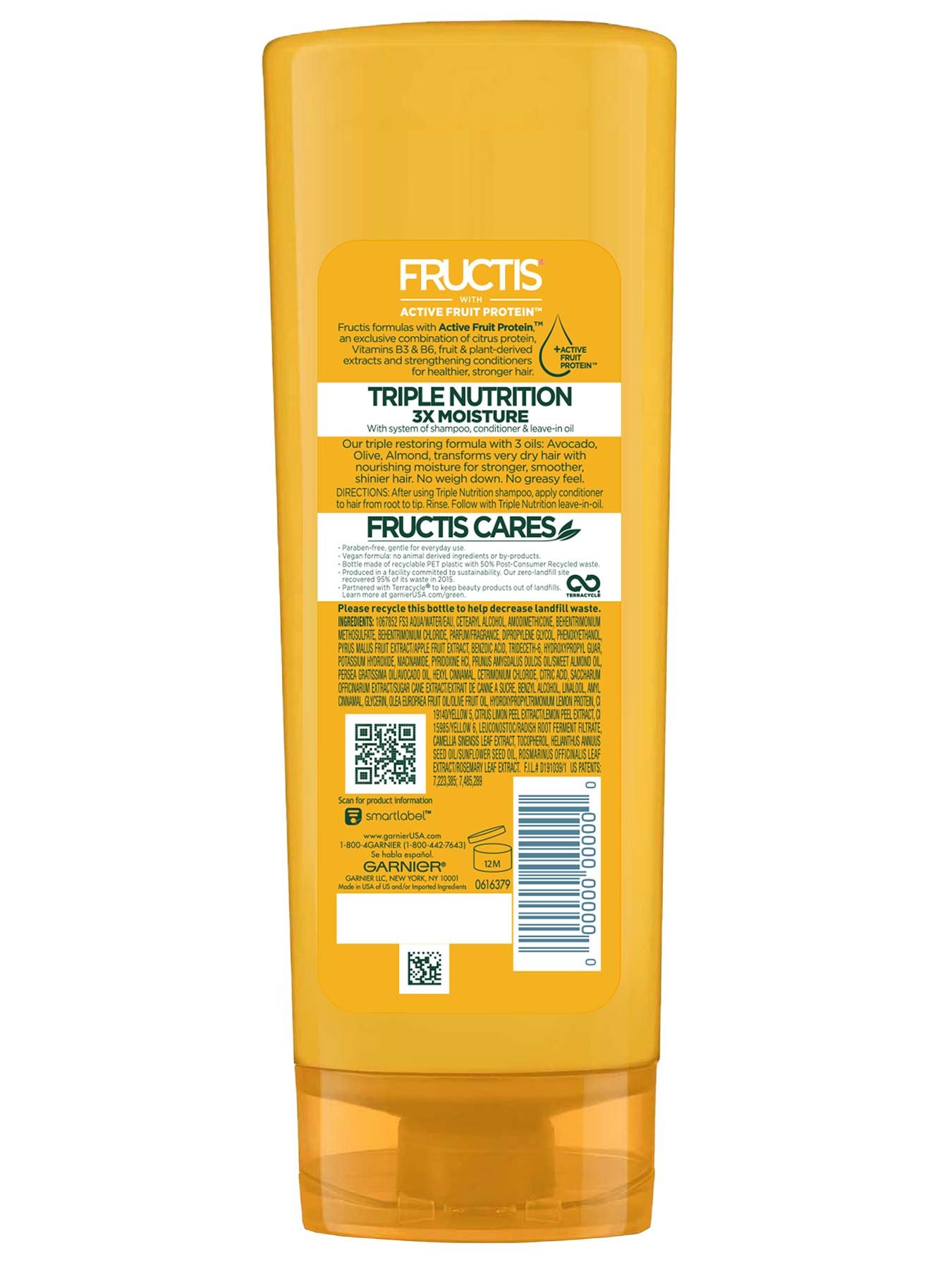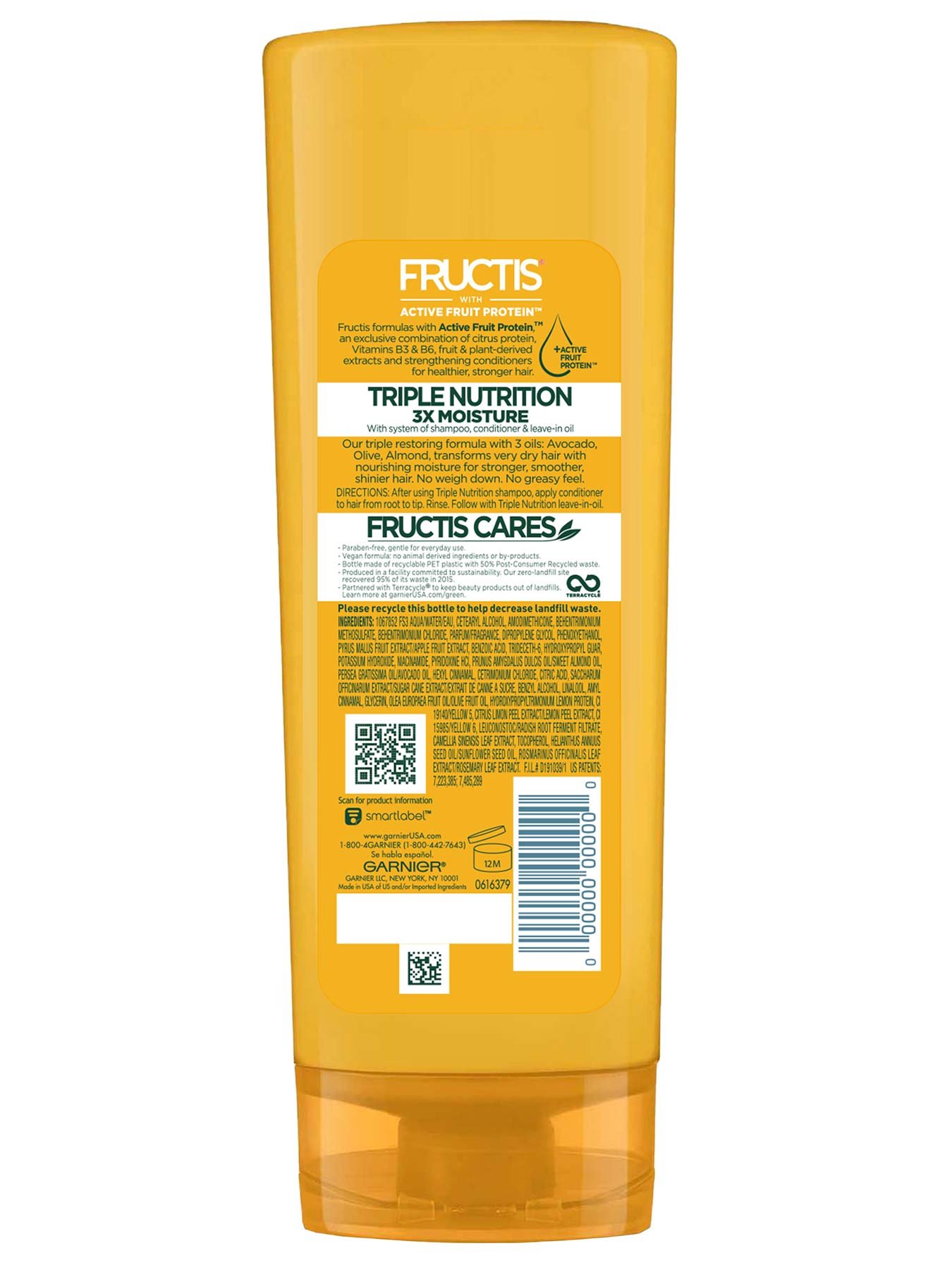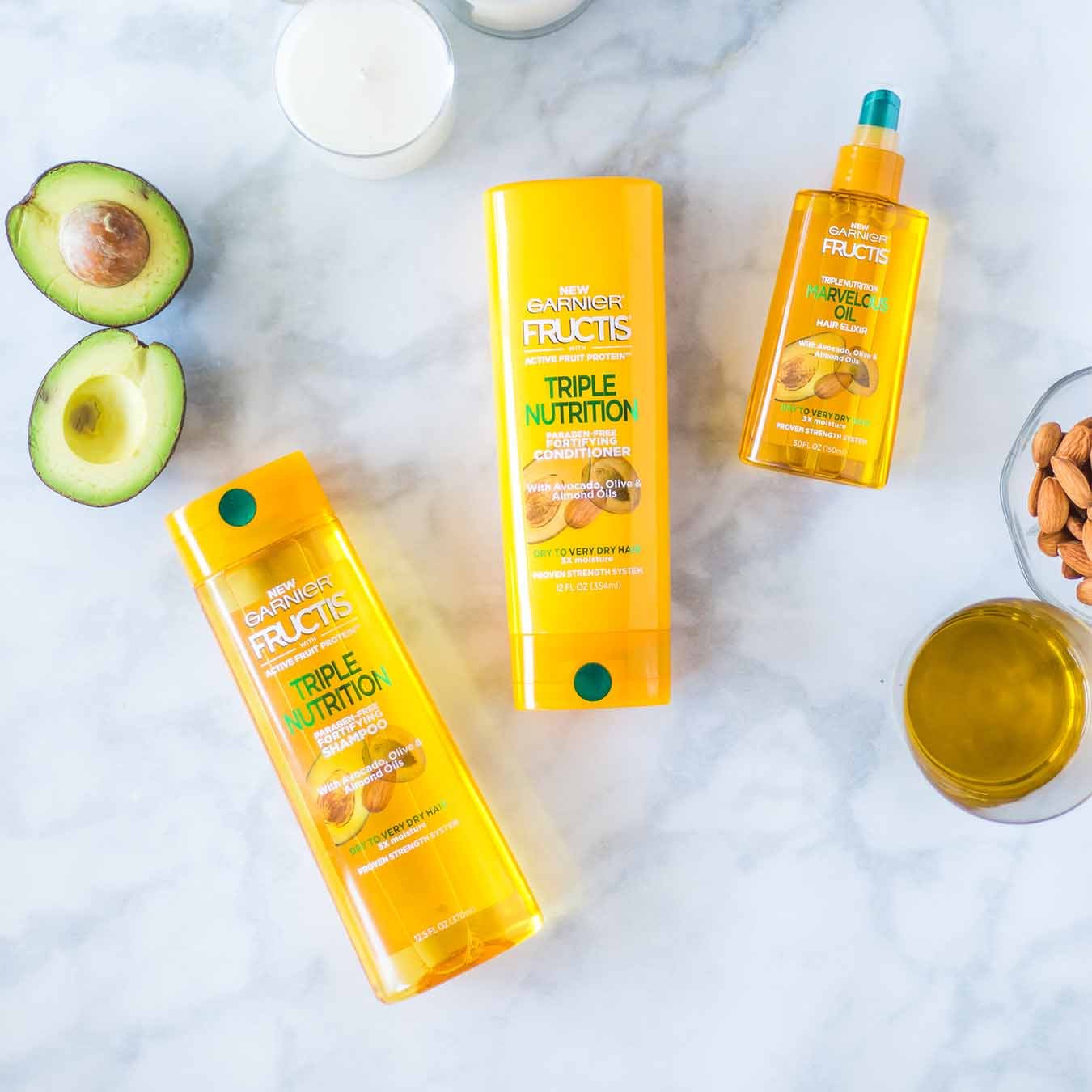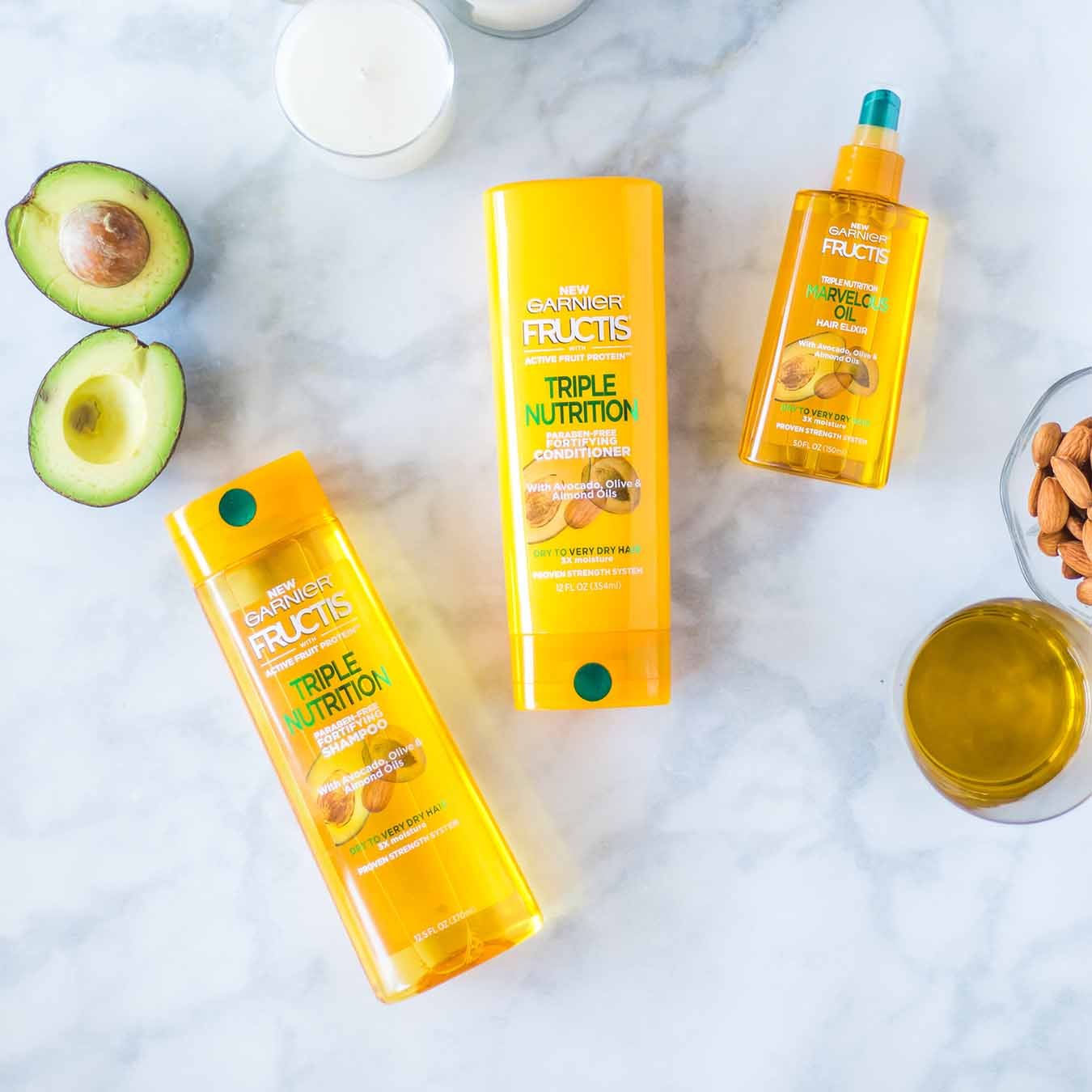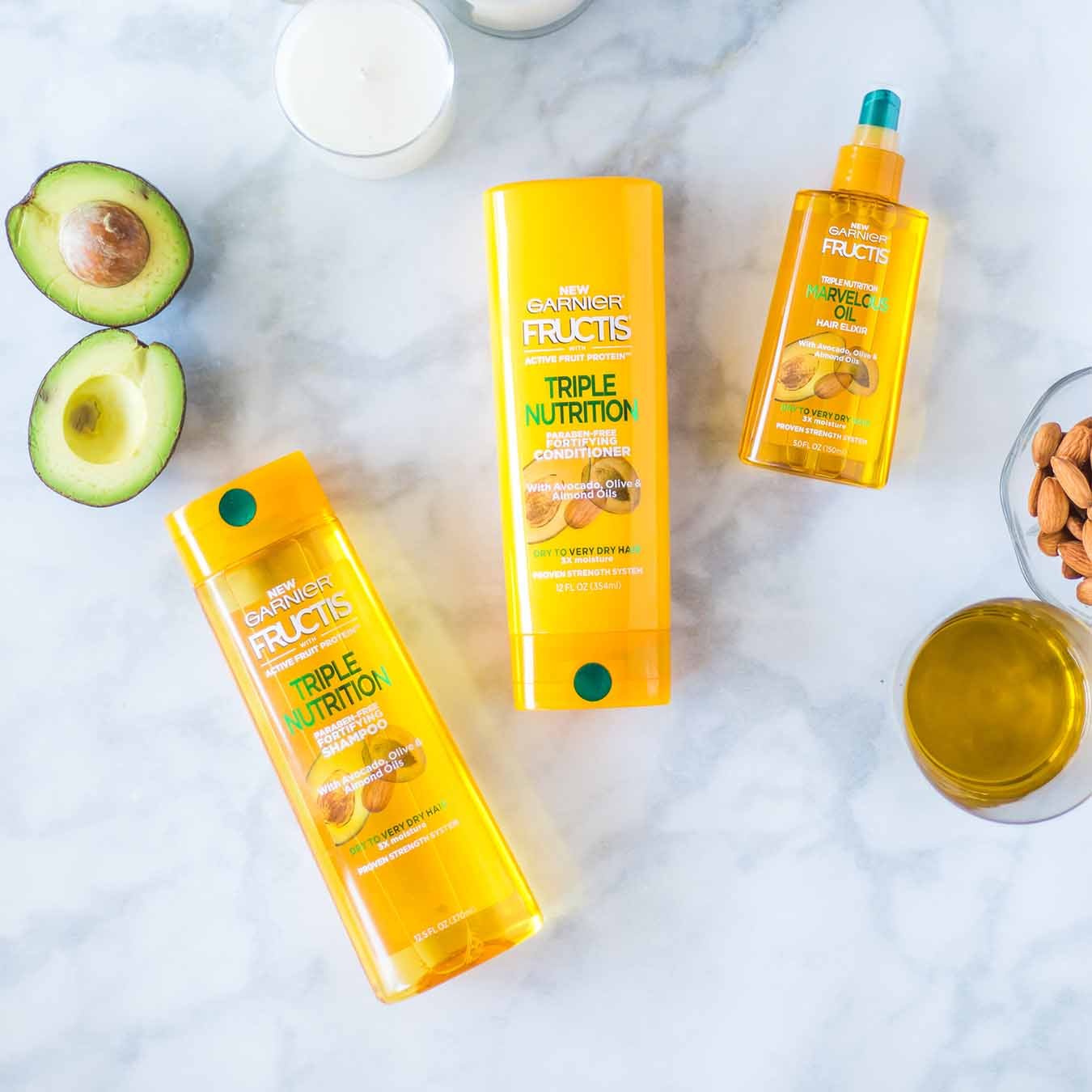 Triple Nutrition Conditioner
Garnier Fructis
$4.49 MSRP
Fortifying conditioner for 3X moisture*
*With shampoo, conditioner & leave-in treatment
PRODUCT INFORMATION:
Hair is almost entirely made up of protein, which gives hair its strength. Paraben-free Fructis formulas with Active Fruit Protein™, an exclusive combination of citrus protein, Vitamins B3 & B6, fruit & plant-derived extracts and strengthening conditioners, are designed for healthier, stronger hair.

Fructis Triple Nutrition's triple restoring action formula, infused with 3 oils: Avocado, Olive, Almond, intensely transforms dry to very dry hair with 3X nourishing moisture* for stronger, smoother, shinier hair. No weigh down. No greasy feel.
How to use:
After using Triple Nutrition shampoo, apply conditioner to hair from root to tip. Rinse. Follow with Triple Nutrition leave-in oil.
Ingredients:
1067852 FS3 AQUA/WATER/EAU, CETEARYL ALCOHOL, BEHENTRIMONIUM CHLORIDE, AMODIMETHICONE, PARFUM / FRAGRANCE, ISOPROPYL ALCOHOL, PHENOXYETHANOL, PYRUS MALUS FRUIT EXTRACT / APPLE FRUIT EXTRACT, BENZOIC ACID, TRIDECETH-6, POTASSIUM HYDROXIDE, NIACINAMIDE, PYRIDOXINE HCl, PRUNUS AMYGDALUS DULCIS OIL / SWEET ALMOND OIL, HEXYL CINNAMAL, CETRIMONIUM CHLORIDE, CITRIC ACID, SACCHARUM OFFICINARUM EXTRACT / SUGARCANE EXTRACT / EXTRAIT DE CANNE A SUCRE, BENZYL ALCOHOL, LINALOOL, AMYL CINNAMAL, GLYCERIN, OLEA EUROPAEA FRUIT OIL / OLIVE FRUIT OIL, PERSEA GRATISSIMA OIL / AVOCADO OIL, HYDROXYPROPYLTRIMONIUM LEMON PROTEIN, CI 19140 / YELLOW 5, CITRUS LIMON PEEL EXTRACT / LEMON PEEL EXTRACT, CI 15985 / YELLOW 6, LEUCONOSTOC/RADISH ROOT FERMENT FILTRATE, CAMELLIA SINENSIS LEAF EXTRACT, TOCOPHEROL, HELIANTHUS ANNUUS SEED OIL / SUNFLOWER SEED OIL, ROSMARINUS OFFICINALIS LEAF EXTRACT / ROSEMARY LEAF EXTRACT. F.I.L.# D191039/1 US Patents: 7,223,385; 7,485,289
Active Fruit Protein
An exclusive combination of ingredients, Active Fruit Protein is the key to all of Garnier's fortifying Fructis formulas. Made with Citrus Protein as well as Vitamins B3 and B6, and fruit- and plant-derived extracts, the formula delivers stronger, healthier-looking hair.
Almond Oil
A distant cousin to plums, cherries, roses, and peaches, almonds are nutritionally dense. Rich in vitamins, essential minerals, and healthy fats, and known for its gentle nature, it's popular in formulas that soothe skin and smooth away frizz
Avocado Oil
A smoothing and silkening hair booster, Avocado Oil is loaded with plant-based fatty acids, which have a unique ability to penetrate for deep long-lasting effects. This rich indulgent ingredient helps to smooth split ends while adding a brilliant shine.
Olive Oil
Packed with antioxidants, Olive Oil has been a high-performance beauty elixir for centuries. In hair care and hair color formulas it helps coat hair, leaving strands strong, glossy, and resilient. In face moisturizers, it soothes as it smoothes for glowing, youthful-looking skin.
The Full Regimen
Everything you need to complete your Triple Nutrition hair care routine.
Wash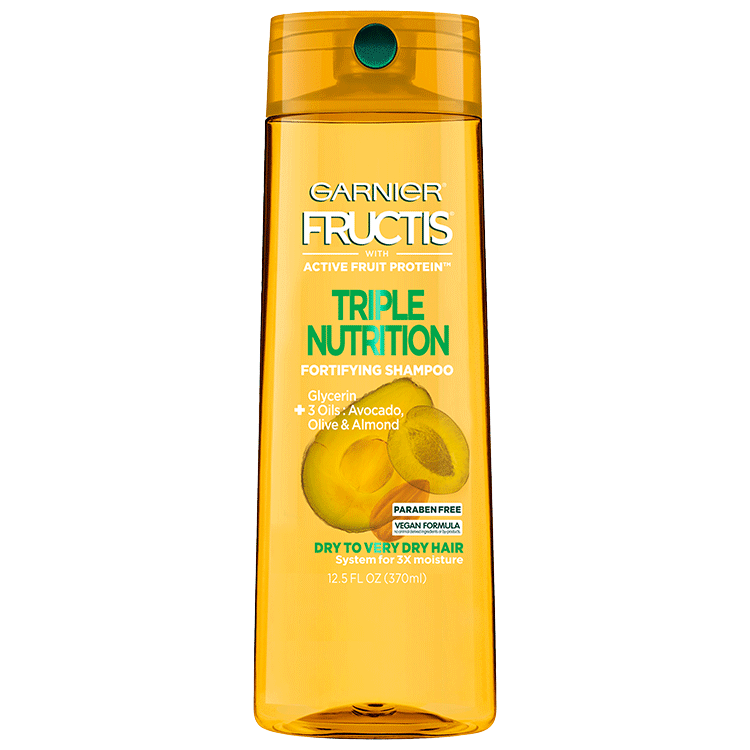 Garnier Fructis
Triple Nutrition Shampoo
Shampoo for dry to very dry hair
Condition
Garnier Fructis
Triple Nutrition Conditioner
Conditioner for dry to very dry hair
Treat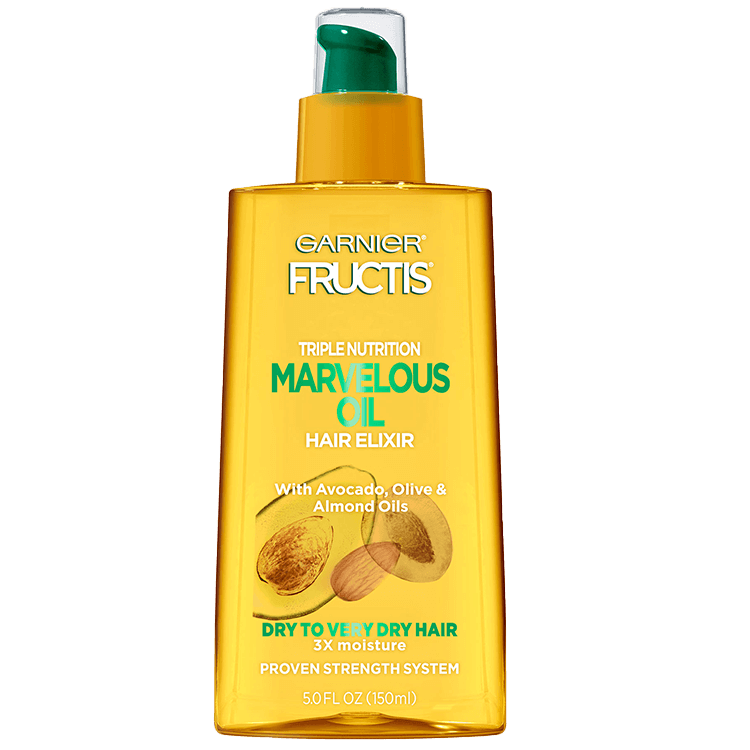 Garnier Fructis
Triple Nutrition Marvelous Oil Hair Elixir
Oil treatment for dry to very dry hair
Rated

5

out of

5
by
bzzagentxheavensentx313
from
No more tangles
This conditioner worked great for my hair. My hair gets very tangled and knotted. After using this I could easily run a brush through my hair. I feel consistent use of this will help the overall health of my hair. So glad I tried this product! It's a relief to not have all that tangled hair anymore after a shower!
Date published: 2017-11-06
Rated

5

out of

5
by
jordansmom09
from
Works even better
This an amazing combo to use with the shampoo. Makes my hair silky and smooth and smells great as well. Ithas no parabens so its totally healthy.
Date published: 2017-11-05
Rated

5

out of

5
by
Gigi1456
from
It's great!
After rinsing the shampoo off,I apply this to my hair. You can feel immediate results right after you wash it. It leaves my hair so smooth and makes it smell great. Would definitely recommend this product!
Date published: 2017-11-05
Rated

5

out of

5
by
angelvelvet
from
Perfectly silky
This creamy conditioner goes on so nice! It's actually easy to use too much on accident. It goes on smooth and soaks into your hair without feeling heavy, and it works great in conjunction with the shampoo! Overall my hair came out feeling soft, silky, and nice and smooth.
Date published: 2017-11-05
Rated

5

out of

5
by
nameeter
from
Awesome Conditioner!
I loved using this conditioner! It made my hair super soft and nourished. Plus, the scent was lovely and lasted all day!
Date published: 2017-11-04
Rated

5

out of

5
by
AmandaLei
from
So soft and smooth
This is a great conditioner. I have been using Garnier for years, and have never experienced a bad product from them. I have long, thin, wavy hair. It is thick, but my hair strands are thin. I need a conditioner that will nourish my hair, and keep it from drying out. This conditioner definitely accomplishes that! Its so perfect for the fall and winter months. It keeps my hair feeling soft and smooth for multiple days after the initial use. And it does not leave my hair feeling dry at all. The natural oils are so great for your hair and keep it shiny and nourished. This is one of my favorite conditioners!
Date published: 2017-11-03
Rated

2

out of

5
by
carlymiller
from
Meh... Not very impressed
So for me, my conditioner is VERY important! I have long, thick, color treated, and therefore damaged hair. That being said, I'm always willing to try a new brand and don't have loyalty to a specific one yet. I've always been a fan of Garnier, so I was excited to try their Triple Nutrition conditioner. I loved the smell, but, for me i felt like it lacked the "nutrition". After using the entire bottle (which only lasted me about 2 weeks) I noticed my hair wasn't any healthier and in fact, I felt like it was more damaged than before... Wont be buying this one again unfortunately. I would recommend this to someone who has short or fine non damaged hair.
Date published: 2017-11-03
Rated

5

out of

5
by
Tranthuy02122
from
Silky smooth
I'm loving this condition and shampoo. I have thick dry hair because I use to color my hair a lot and would have to bleach it several time to get it to a lighter color. This shampoo and conditioner is like giving life back to my hair. I use to never touch my hair at all but now i like to run my hand through my hair to feel how smooth it is!
Date published: 2017-11-02
Rated

1

out of

5
by
Narielle
from
Nope nope nope
If I could give this a zero, I would. Im Puerto Rican, 23 and have long thick wavy-to-curly hair that almost reaches my hiney. I have bleached the bottom half of my hair and the tips of my upper layers and have dyed the rest. Needless to say, I have chemically damaged and dry, frizzy hair. This is supposed to moisturize the hair. Usually I can use a shampoo and conditioner and it'll last a while but I'll have to change it up so my hair isnt "used to it" anymore and my hair will curl again. This didnt even work the first time paired woth its shampoo. It created a huge tangle in my hair and I literally cried trying to fix the mess this thing created in my hair. Usually a consitioner will smoothen out the hair enough to have tangles disappear but this did the exact opposite. I was hesitant to use it again but did it for the purpose of reviewing it. I tried it with another shampoo and it still didnt work but it created less tangles than it did being paired with the shampoo version of this. It didnt provide any moisture whatsoever. My hair literally looked and felt as if I just drenched it woth water and got out. It smells great and it lingers for a couple of days but thats about it. I wouldnt purchase this in the future and I wouldnt suggest this for anyone who has similar hair.
Date published: 2017-11-01
Rated

3

out of

5
by
cupcake11313
from
Good for what it says, not much more.
I loved the smell of this product and it seemed to make my hair smoother. The drawback was that it was thick and I had to use a bunch to get my hair covered. It also seemed to leave a buildup on my hair after a few uses. It seems hard to rinse out also, I had to rinse for way longer than my usual shampoo.
Date published: 2017-11-01
Rated

5

out of

5
by
EmilyBrooke27
from
Garnier Conditioner
I love the Conditioner most of all. It is wonderful to try a paraben free conditioner that leaves my hair feeling soft & shiny. I'm not a huge fan of the scent, but the feel of my hair is well worth it!
Date published: 2017-11-01
Rated

2

out of

5
by
hebbs512
from
Too heavy for my hair
I'm a natural redhead and I have hair that is pretty long and very thick. I thought this would be great since I blow dry my hair almost daily and it's definitely dry and damaged. It made it feel nice right after using the conditioner but once it dried it was weight down and almost greasy looking. I used less and tried to use it separately but it was still too heavy. It smelled great though.
Date published: 2017-11-01
Rated

5

out of

5
by
JulieButcher88
from
Great product
I recently used this conditioner and I love it! It is a thick and creamy formula that really coats the hair and adds moisture! It smells great and leavs my hair feeling silky and smooth! Even my girls love it, they are young girls, and prefer the smell of this to their children's shampoo. It leaves their hair easy to brush and not tangled! I would definatly recommend this to anyone. Great conditioner...
Date published: 2017-10-31
Rated

5

out of

5
by
rockyhorrorsbabe1975
from
Leaves hair silky smooth!
My hair is extremely dry and even though this conditioner isn't specifically for dandruff it does keep my hair nourished and maintained between using my regular shampoo. Not only does it smell great, it is really good for your hair. It's paraben free and vegan which means it doesn't have a bunch of harmful things in it.
Date published: 2017-10-31
Rated

5

out of

5
by
JamJam12
from
AMAZING for Natural Hair
I have natural hair and I have previously used the Garnier Fructis Triple Nutrition Conditioner and I loved it! The smell is the same; which is absolutely amazing! I can't get over how moisturized my hair is when I use this conditioner. Being a natural, I have a hard time finding products that provide my hair with the moisture I need! Especially since fall is upon us-the cooler air makes my hair really dry. The natural oils in this conditioner make this such a great product. I also enjoy that this conditioner is paraben-free with a vegan formula. This product is something I recommend to anyone who suffers from dry to brittle hair. You will not be disappointed!!
Date published: 2017-10-31
Rated

4

out of

5
by
Caitlynp343
from
Hair is smooth!
I think this is a great product! After using it for 2 weeks, it's done wonders for my hair! My hair looks noticeably healthier, smells AMAZING, and is actually less prone to snarls (coming from someone who wears messy buns- this is great!) I would definitely recommend to anyone! Plus the price is great!
Date published: 2017-10-31
Rated

5

out of

5
by
xamoralesx
from
Triple Nutrition Conditioner - Reccomend
I really like this conditioner - it smells great and is not overpowering. It's available pretty much everywhere and super affordable. I have been struggling with dry damaged hair and really needed a conditioner to restore some nutrition back into my hair and I am finally seeing results with this conditioner. My hair feels so much healthier, and the ends don't look as damaged anymore.
Date published: 2017-10-31
Rated

4

out of

5
by
Danaaaxd
from
Love the smell
The Garnier triple moisture conditioner has made my hair feel soft and moisturized. I love the way it smells, and the scent lasts on your hair for hours after you've washed it! I would definitely recommend this to a friend. I also love that it is very affordably priced so I will definitely purchase this in the future.
Date published: 2017-10-31
Rated

5

out of

5
by
rachelsammarco
from
Quality for less
Great quality! The bottle and marketing is appealing. The conditioner smells wonderful and works better than past experiences I've had wih garnier!
Date published: 2017-10-31
Rated

4

out of

5
by
claire12
from
Soft and moisturized hair!
As a person with very long hair, it's important to keep it moisturized so it doesn't break. I have to say, this conditioner really does the trick! My hair is strong and nourished, and I've had very little breakage as of late. Overall, it's a great conditioner for dry hair. However, focus the application on the middle and end of your hair. It's very difficult to fully rinse it out, so if you get too much on your roots it will leave you with greasy-looking locks (I learned this the hard way).
Date published: 2017-10-31
Rated

5

out of

5
by
tommiem
from
Soft, silky hair for several days.
I love the Garnier Fructis Triple Nutrition conditioner, and was very pleased with my experience. I have combination hair, so the ends are always dry and brittle. The conditioner made my hair feel soft and shiny, and lasted for several days. I have previously bought the conditioner, and will buy it in the future. My only issue is that the conditioner can leave a silky film on the body when rinsed off, but otherwise is a great product.
Date published: 2017-10-31
Rated

3

out of

5
by
Brittniejean
from
Not for frizzy hair
I have very thick, curly and frizzy hair. This shampoo and conditioner smells great and makes my hair silky smooth when it is still wet. Unfortunately, this shampoo and conditioner do not help my frizz at all. Before buying this you should know that I would not recommend this product for someone with my hair type (thick,curly,frizzy.)I have recommended this product to a few of my friends and co workers that do not have frizzy/curly hair like mine. I'm not sure if any of them have purchased and tried it out yet but if they do I'm sure they will love it!
Date published: 2017-10-31
Rated

5

out of

5
by
ehouck95
from
triple nutrition, triple hydration
When paired with the shampoo, this conditioner helps to nourish and strengthen your hair while making it smell amazing! It doesn't make your hair feel sticky or weighed down like some other products do. I also love that the formula has so many yummy, natural ingredients like avocado, olive, and almond oil!
Date published: 2017-10-31
Rated

5

out of

5
by
Staciarawr
from
Great conditioner
It smells really nice and fruity and has a very nice luxurious texture to it. The very first time I used it my coworker complemented me on how shiny and straight my hair looked! I was hooked after that!
Date published: 2017-10-31
Rated

5

out of

5
by
laurarusselburg
from
Good stuff
My girls and I use a lot of different conditioners and this is one that we like. It smells good it has a smell that even a man could like. It works well on straight, curly, wavy hair. My niece and nephew that stay with me often have biracial hair and have beautiful tight curls and this conditioner has been great for co washing and moisturizing their hair. Keeps their curls in check and the frizz at a minimum! We will definitely continue usaing it!
Date published: 2017-10-31
Rated

4

out of

5
by
ksoccerstar17e
from
Average conditioner
It was a good conditioner and it did what was expected but it wasn't anything amazing. I guess it really depends on the cost. If it is on the cheaper side I would start buying this because it was good
Date published: 2017-10-31
Rated

5

out of

5
by
jalday
from
Way to go Hair
I have to admit that the conditioner works to keep your curls nice and formed and It also keeps straight hair straight with hardly any frizz at all. I have both straight and curly hair. The bottom half of my hair is curly because it was permed and the top half is naturally straight. So, most of the time I would have to apply some sort of anti frizz cream or deep conditioner to try and control my frizzy hair but the Garnier Fructis Triple Nutrition surprised me this time because I didn't have to spend a whole lot of money to buy a set of 5 products just to keep my hair tamed. I am impressed with the conditioner and the shampoo they both work great together. Compared to other expensive conditioners. I had to give it it's five stars. Hope that helps for those trying to maintain perfect curls or the straighten hair looks. I am satisfied with the results I have received and plus the product is so economical.
Date published: 2017-10-31
Rated

5

out of

5
by
Kwalton2116
from
My hair feels great!
I loved using Garnier Fructis Triple Nutrition conditioner! First off, the smell is fruity and pleasant. Using it in companion to the shampoo makes my hair soft, shiny and manageable. I love how soft my hair is after using this conditioner. It's easy to brush and stays frizz free all day long. I highly recommend this product!
Date published: 2017-10-30
Rated

4

out of

5
by
Lmarkcum524
from
Great paraben free shampoo
Great shampoo for damaged,dry,or overly processed hair.I recently went from blonde to dark blonde and then redish brown all in one week and my hair feels better than it did before i colored my hair honestly.It does get a little heavy at the roots after about a week of use but still a great product.smells like licorice
Date published: 2017-10-30
Rated

5

out of

5
by
VIPgenesis
from
Smells great and worked as described
Great conditioner that left my hair looking full and shiny. Would recommend to a friend 100 percent!
Date published: 2017-10-30